Personalized father gifts are a wonderful way to show dad how much you care on Father's Day, whether you're partying in person or sending him a special message from afar. It's never too early to start looking for the ideal gift, one that's both considerate and unique, even if the big day is still a few weeks away.
Oh Canvas has compiled a list of the greatest personalized Father's Day gifts to help you choose the perfect present for your dad. It doesn't matter what kind of personalized present you choose for your dad; he'll cherish it for years to come.
Engraved Gifts For Father's Day
1. Custom Leather Apple Watch Band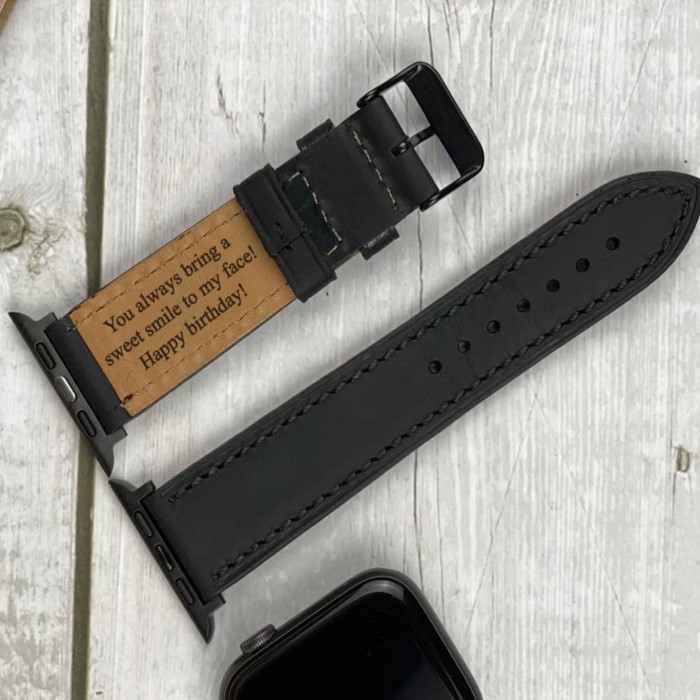 A special leather band for his Apple Watch may be the best personalized gifts for Father's day if he has one already. This band is a great compromise between classic and modern thanks to its high-quality leather construction and personalization features. You can make a fashion statement with the Apple Watch by personalizing the band with your initials, a meaningful message, or a unique design.
2. Quadruple Cube Packing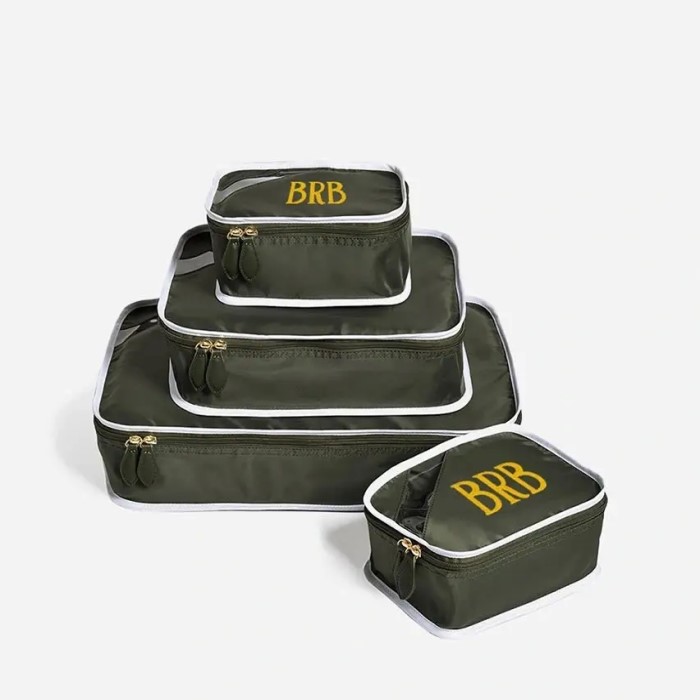 A trip can rapidly devolve into a chaotic mess, but these packing cubes will help him get organized and reduce his stress level. Let him put an end to wasting time and energy digging around in the suitcase and instead embrace quick, easy packing. Embroider his initials on each cube made from high-quality recycled materials.
3. Classic Initial Cufflinks For Men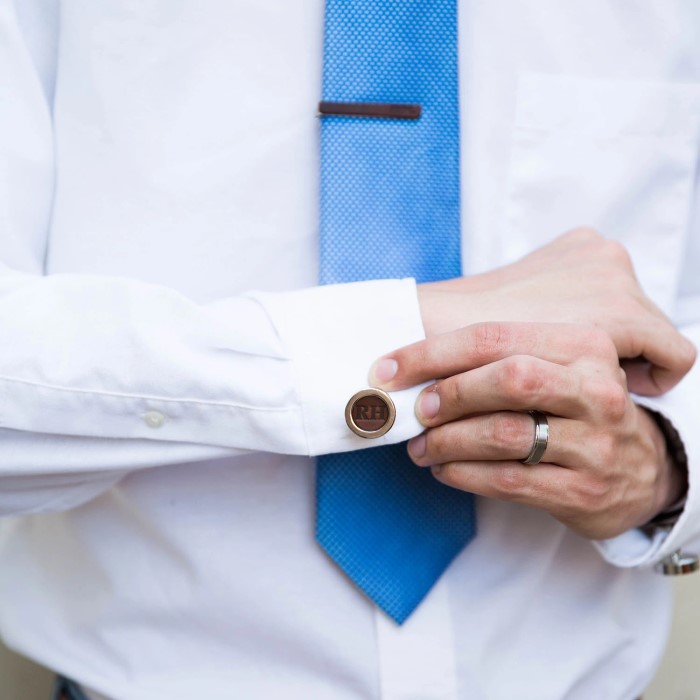 You can choose these initial cufflinks as personalized Father's Day gifts if you're not sure what to get him. They're an inexpensive present that goes well with just about any collared shirt he owns. These cufflinks are also great gifts for a dad celebrating his first Father's day or any special occasion.
4. A Customized Charging Station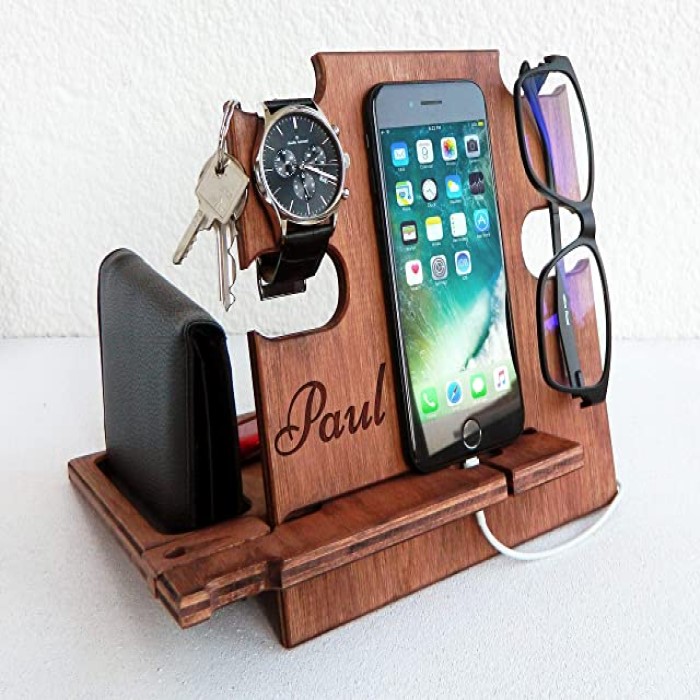 Even though it may be more frequent than he would want to admit, having his own charging dock for all of his essential goods will make it ten times easier for him to keep track of them all. From the color of the wood to the engraving type, make it completely unique to him.
5. Personalized Whiskey Barrel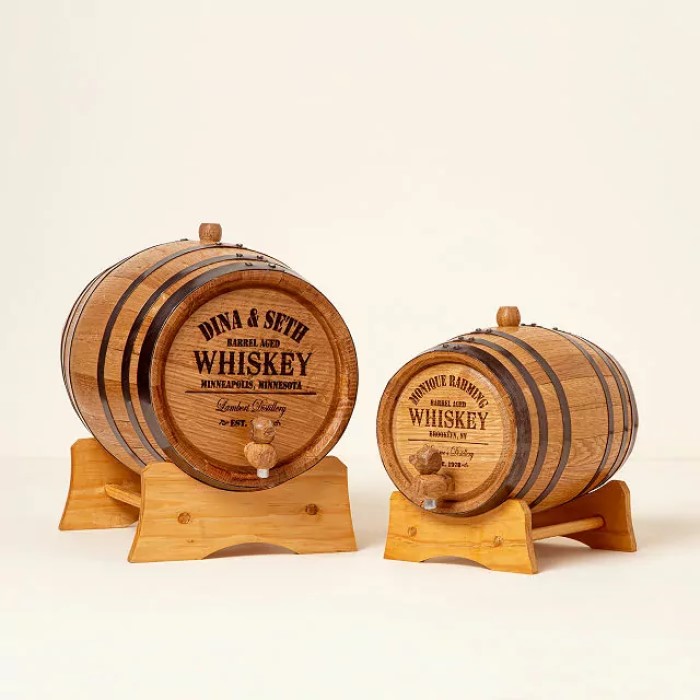 This engraved whiskey barrel is one of the perfect dad personalized gifts for the man who enjoys a good swig of the black stuff. There are a number of options for naming and branding the barrel, including your own "distillery."
6. Personalized Cutting Board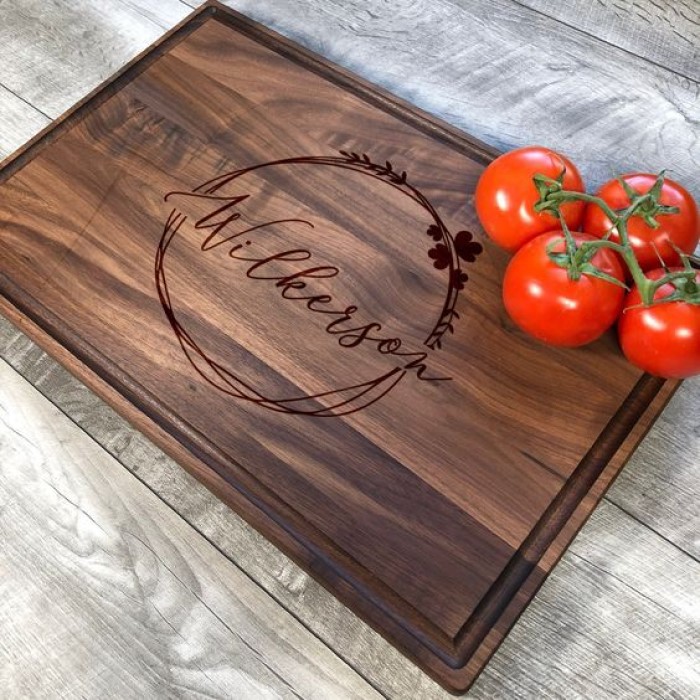 Is your dad a fan of spending time in the kitchen? If this is the case, the perfect customized Father's day gift for him would be a personalized bamboo cutting board that allows for the addition of a large name as well as any writing of your choosing.
7. Apple Products With Engravings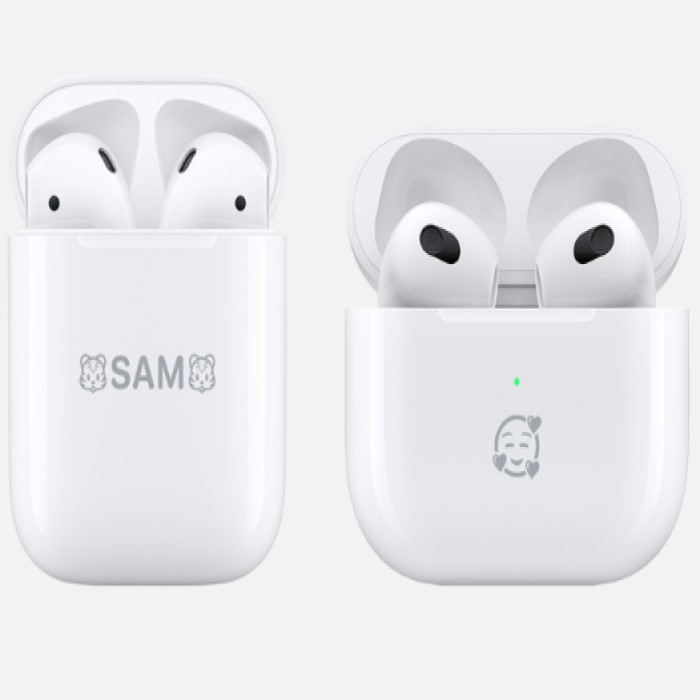 To make your personalized Father's Day gift even more special, consider customizing them with an Apple product. There are a number of Apple items that are eligible for complimentary engraving and gift-wrapping, including the AirPods and iPads.
8. Father's Day Hammer Engraved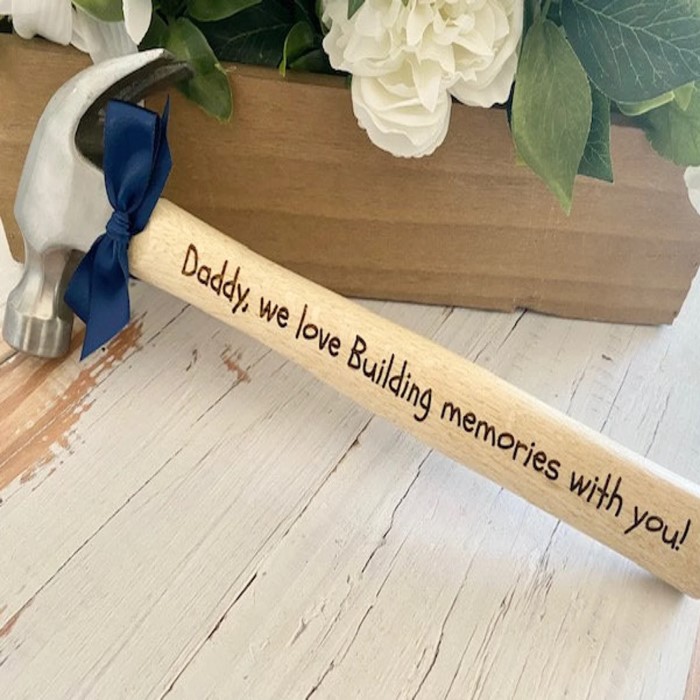 It's for all the fathers who spend their free time fixing chores around the house without getting anything in return. Even though the alternatives for engraving are virtually endless, the phrase "Daddy, thank you for helping me build my life!" is very touching in these custom Father's Day gifts like this.
9. Personalized Leather Bookmark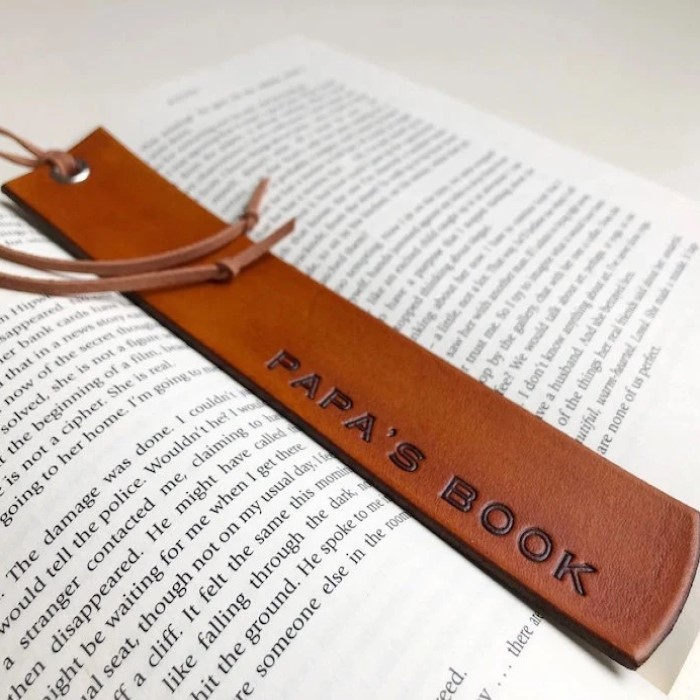 Dad will never lose sight of where he left off during his latest literary journey thanks to a stylish customized bookmark. It's one of the must-have personalized gifts for Father's day, one that will make reading a book more convenient and comfortable for him. Every time he sees this bookmark, he'll think of you and miss you even more.
10. Towel With A Custom Design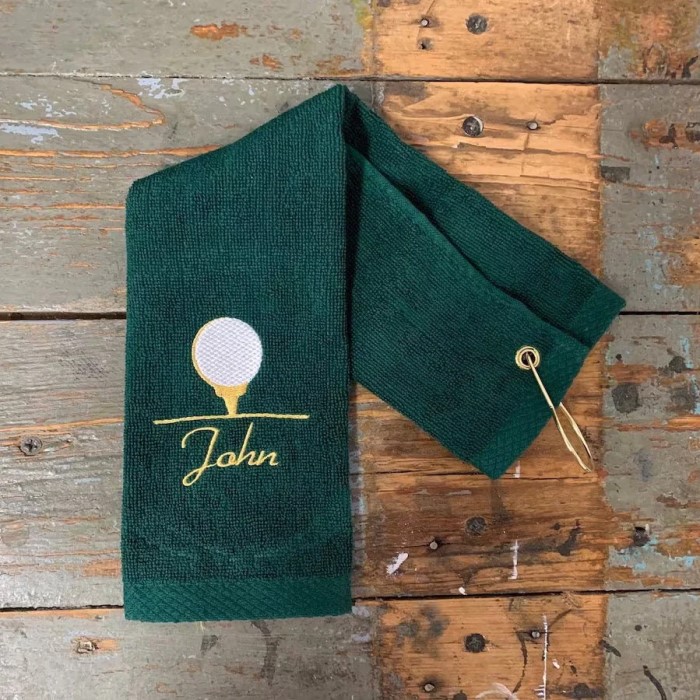 Looking for something special to give your dad this Father's Day? If you want to make an impact that lasts, think about ordering a personalized Custom Towel. This personalized towel is the perfect way to show your dad how much you care, whether he uses it at the beach, the gym, or just around the house. A personalized Custom Towel is a thoughtful and useful customized Father's day gift for your dad.
11. A Tie Clip With Your Message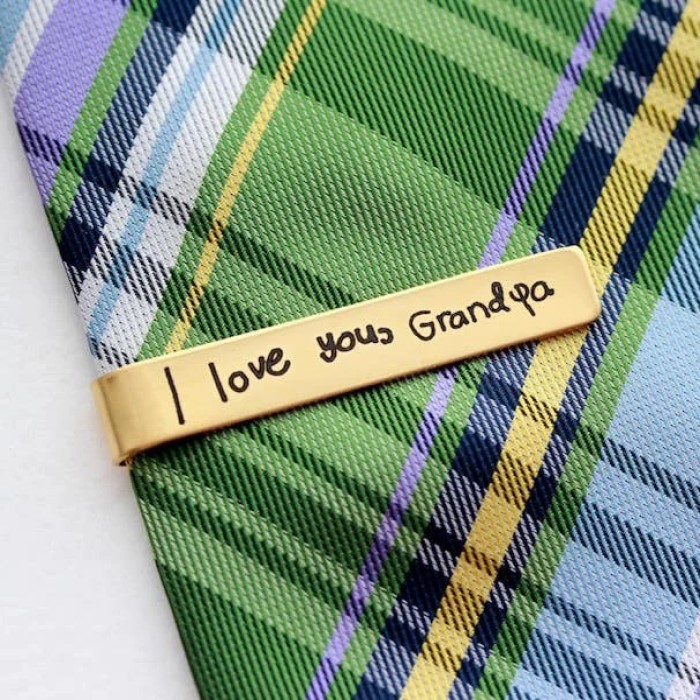 Is there a better Father's Day present than a personalized one? One of the most personal accessories you can own is a tie clip personalized in your own handwriting with a personal message. When he gets dressed, he'll have a big grin on his face.
12. A Customized Camera Strap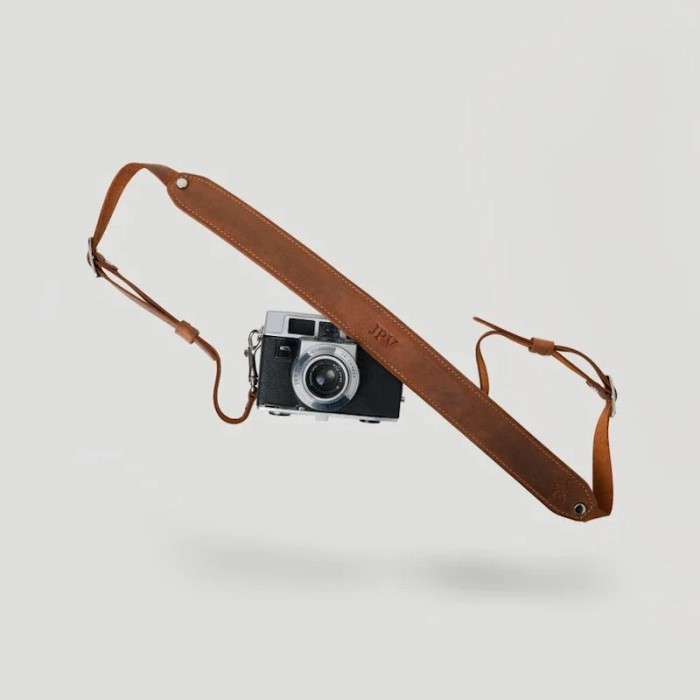 Maintaining a photo album is a great way to keep your favorite memories alive for future generations. With a monogrammed camera strap meant to last, he'll become the most stylish photographer in town. Consider these unique personalized first Fathers day gifts like this to bring convenience to him.
13. Personalized Poker Set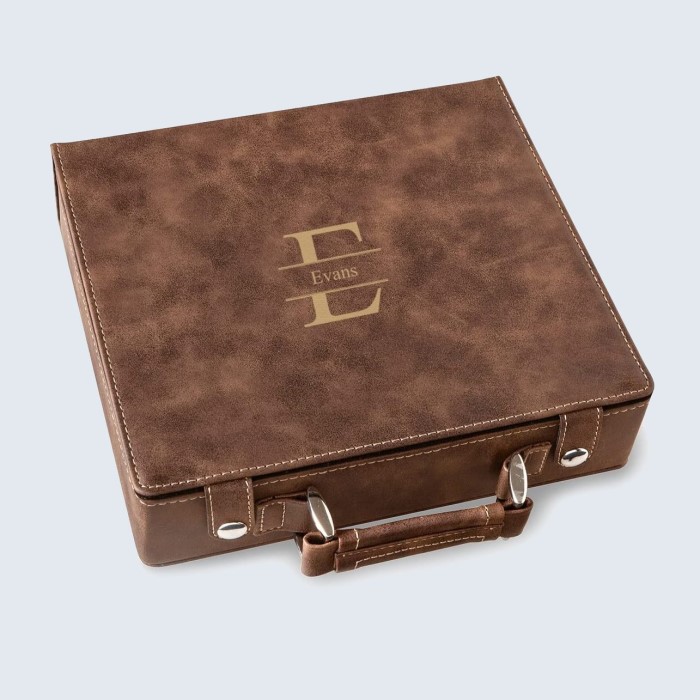 Using the same poker set he bought at a second-hand store in college is a waste of time and money for your best dad. All of his game nights will look better with this monogrammed version, which is constructed of water- and stain-resistant imitation leather and can be used repeatedly. This pocket set can also be personalized with his name engraved on it to make it more special.
14. Pen With A Personalized Engraving
Personalized Father's Day gifts are a great way to show your dad how much you appreciate him. It'll look great on his desk and feel great in his hand with this chrome-plated silver pen that's been personalized just for him. If you want to make him feel more special, you can engrave his name or a small message on the pen.
15. Letter Holder With A Personalized Design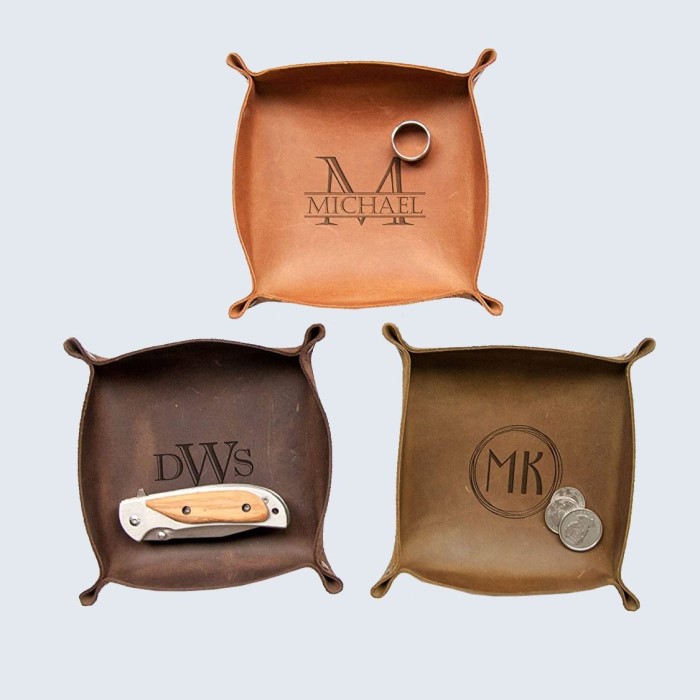 Your father figure could always use a little extra organization at his bedside. This eye-catching personalized tray is just what he needs! Rings, cufflinks, and spare change can all be stored in the leather valet. Why not gift him these personalized gifts for Father's day like this? He'll treasure this thoughtful gift for many years to come.
16. Luggage Identifiers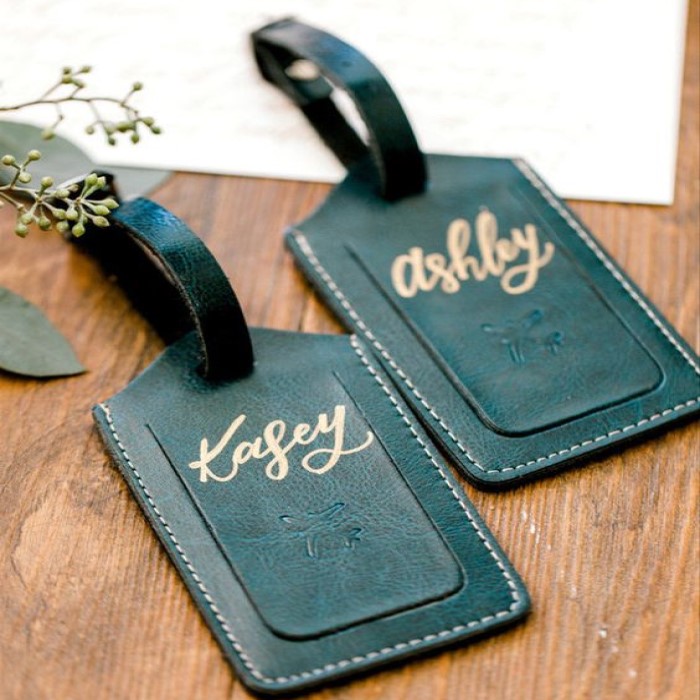 When Dad goes on vacation, he makes a point of labeling his suitcase with his name and address. Personalized baggage tags come in a three-pack, so he can travel in personal style. There is a privacy flap on the tags, so only those who need to read his information can.
17. A Passport Case Made Of Leather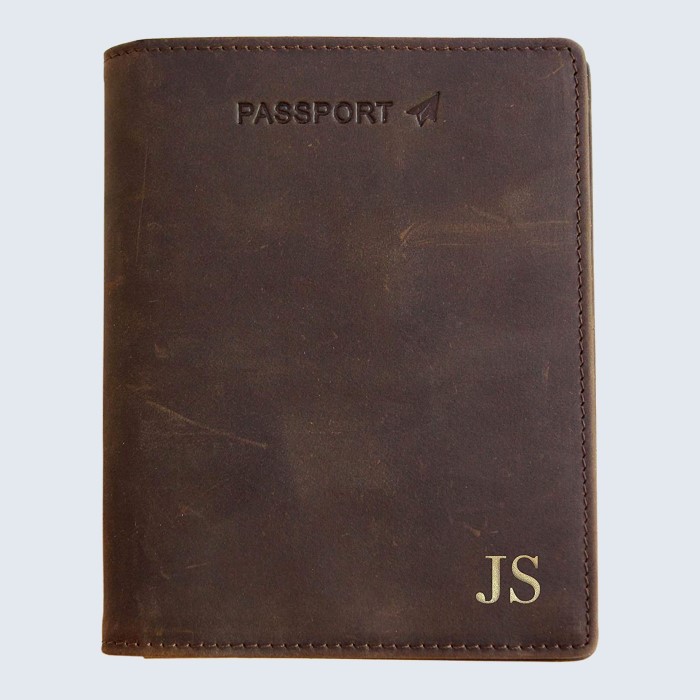 If your father figure is planning on going on another trip, you need to make sure that he has somewhere secure to keep his passport. This genuine leather passport wallet protects all of his important travel documents, including his passport and boarding pass stubs.
18. A Bi-Fold Wallet With Engraved Initials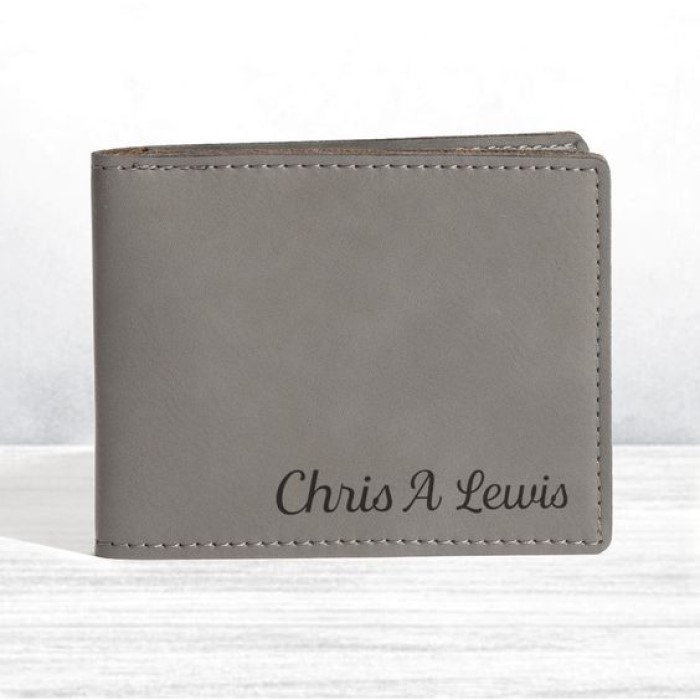 There is no limit to the number of wallets you can own, especially if one of them is personalized. In this light brown variant, the initials are in dark brown. All of Dad's favorite leather items will look great with this. It might even become his new favorite if you give him the best Father's Day gift like this.
19. An Attractive Leather Key Holder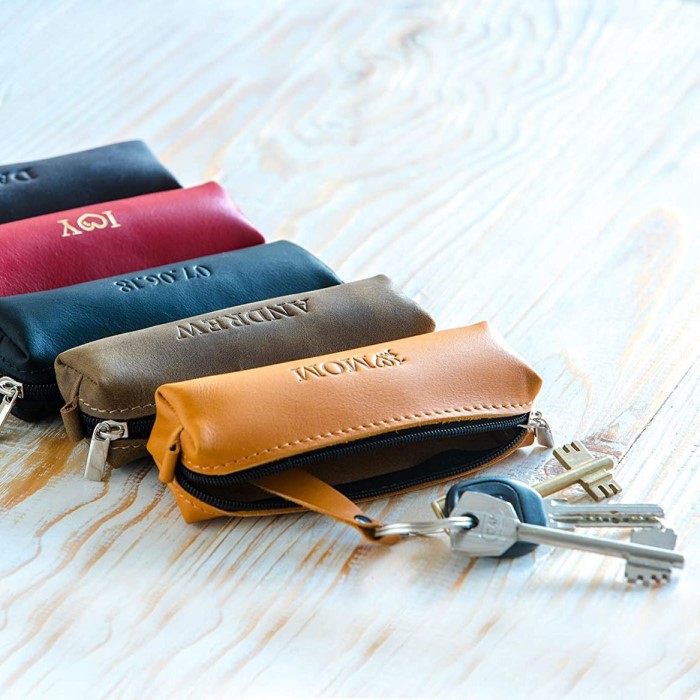 Why not get Dad this awesome key pouch rather than another key chain? To keep all the things organized, he may either put his keys in it or attach them to his key chain and use this to contain anything else. It'd be perfect for carrying headphones or gum around.
20. Belts With Embedded Messages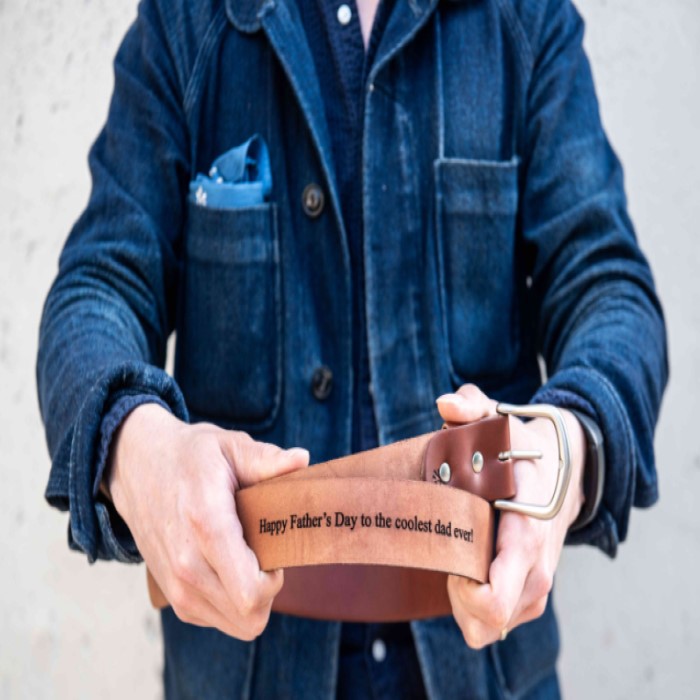 Make this big day even more special by gifting your best dad one of the excellent leather belts with hidden messages. No matter what your father says, make sure that he keeps his pants up!
21. Desk Mat Of Leather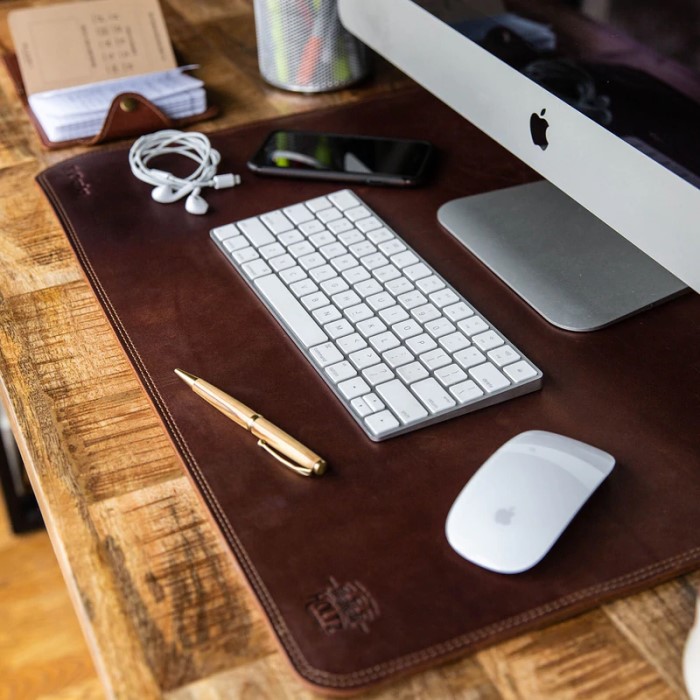 Keep your desk looking good and functional at the same time with the desk mat. The ideal personalized Father's Day gifts for 2023 are unique, the quality leather gift that you can give to your guy.
22. A Pair Of Leather-Trimmed Rock Glasses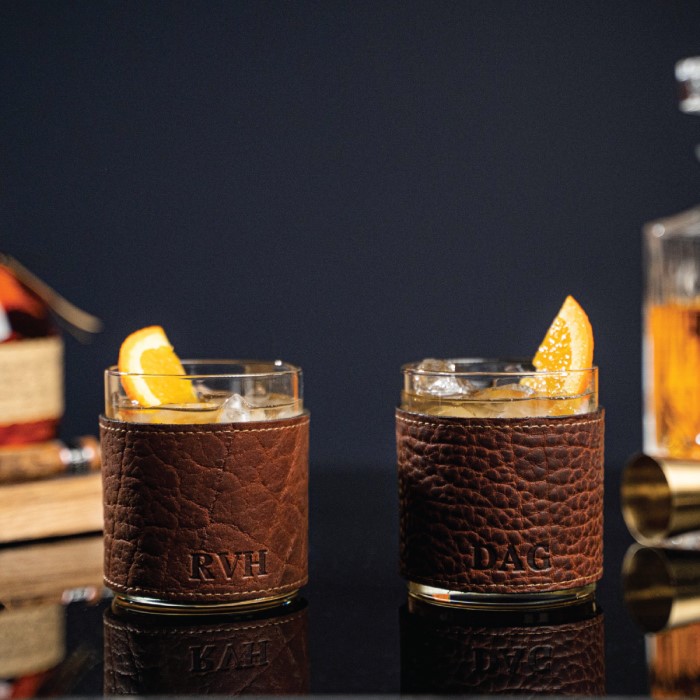 A combination of two and three initials looks great engraved on this whiskey rocks glass, and it's the perfect way to show your admiration for the refined gentlemen in the rear. Because it is perfect for a night spent watching the big game, the customized Father's day gift will be very well received by Dad.
23. A Handmade Pottery Mug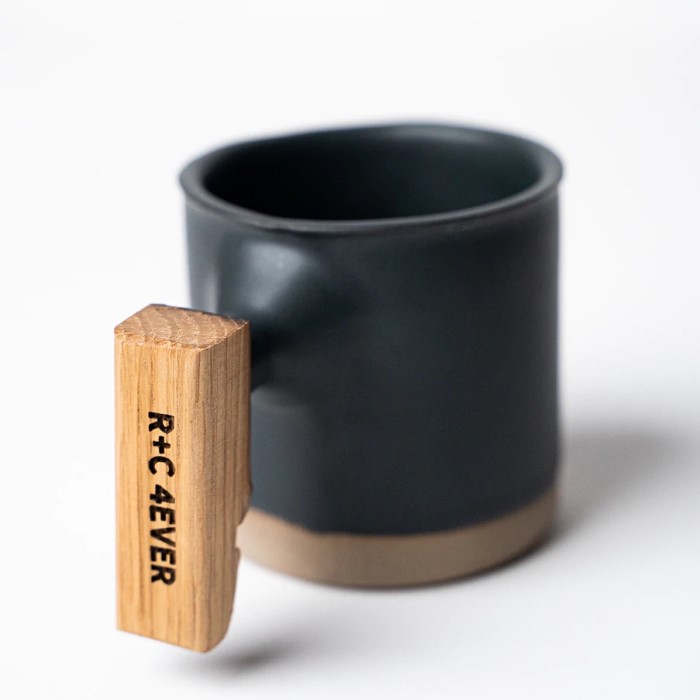 These mugs are a thoughtful gift because they are a collaboration between both millworks and pottery. Names or initials can be laser etched into these handles. This is the best personalized gift for your dad that he'll adore!
>> Maybe you love:
Sentimental Father's Day Photo Gifts
24. A Photo Frame With A Unique Design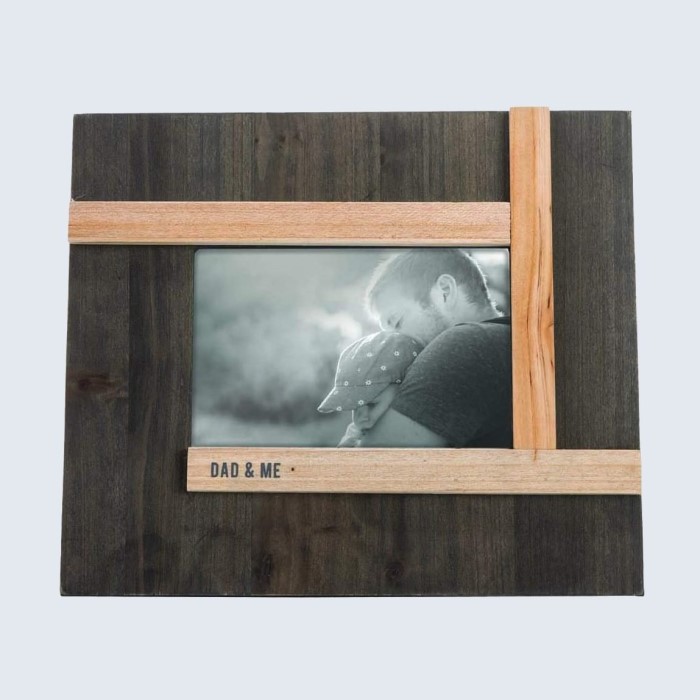 Picture frames personalized with a loved one's photos make the best gifts ever. Take a picture of your dad and put it inside of this one for him. You can use it in any room of his house or his man cave because of its stylish, simple design. He'll have it on his nightstand by the time Father's Day comes around.
25. A Keychain With A Personalized Photo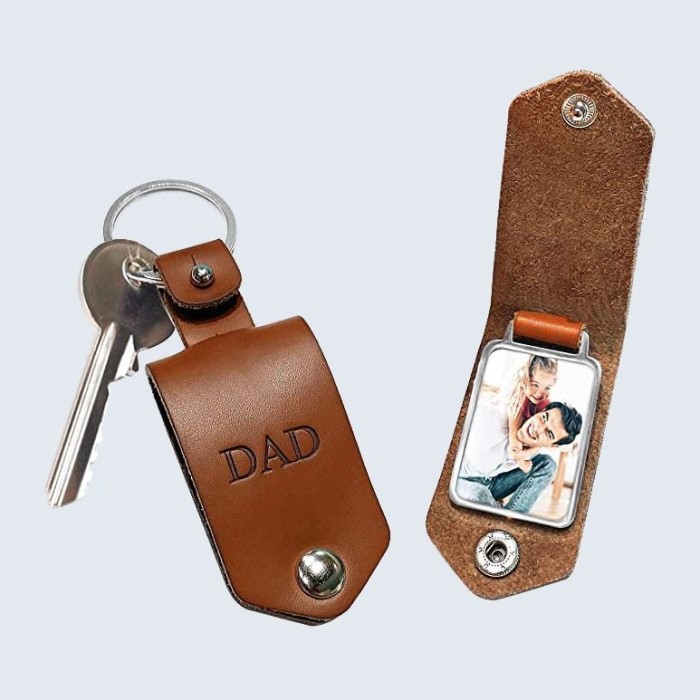 Because he has your picture in his wallet, why not gift him a key ring-sized version of it? You will always be my hero on the exterior, and a tiny personalized photo on the inside of these personalized first Fathers day gifts for Dad. Pick a photo of you with your father that you like best.
26. Family Canvas Prints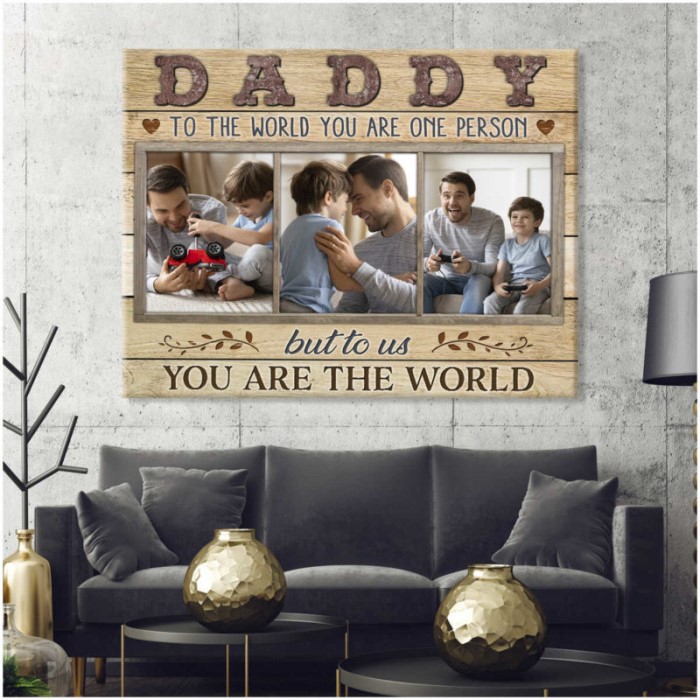 This touching personalized canvas is the perfect way to express your love and gratitude for your father. Giving him a keepsake featuring your favorite photo is sure to make you seem good in his eyes. In addition to being a beautiful piece of decor, this painting is a significant heirloom that he'll love for years to come.
27. Photographic Rubik's Cube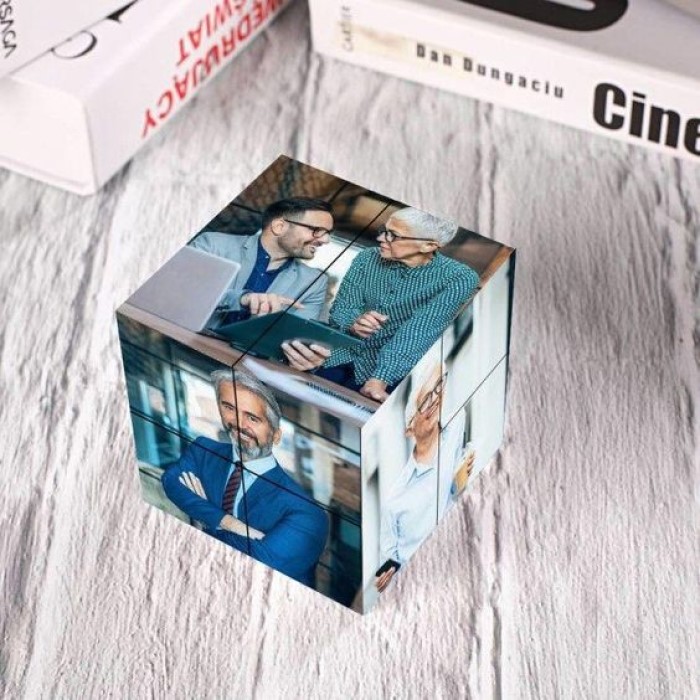 It's a puzzle and a paperweight in one with this custom-made Rubik's cube! Consider it a desk item that Dad can play with when he gets bored. After completing it, what do you get? It was wonderful to see a picture of his loved ones.
28. Pet Portrait Canvas Wall Art Decor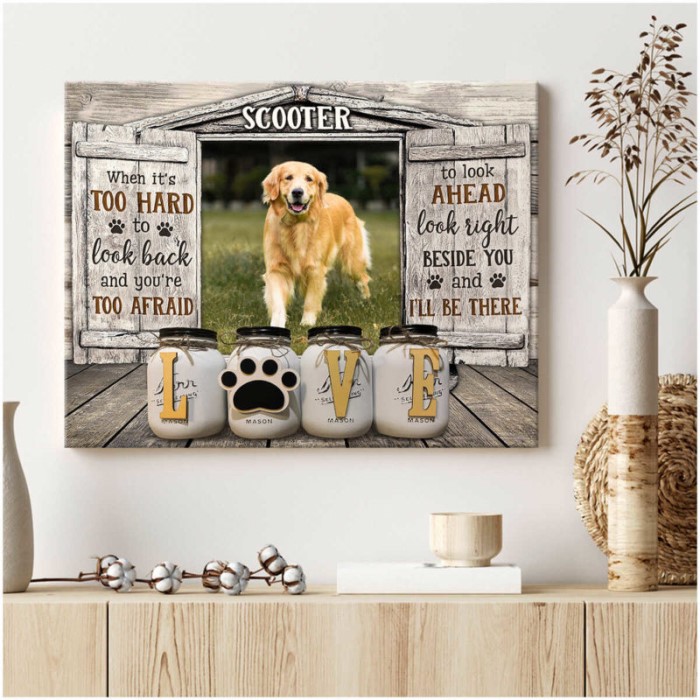 Your dad deserves to receive this adorable print if he is a dog lover. It'll make dad smile whenever he sees this great customized Father's day gift. It can be hung in any room of his choosing to remind him to appreciate each day more than the one before.
29. Printed Beer Bottle Labels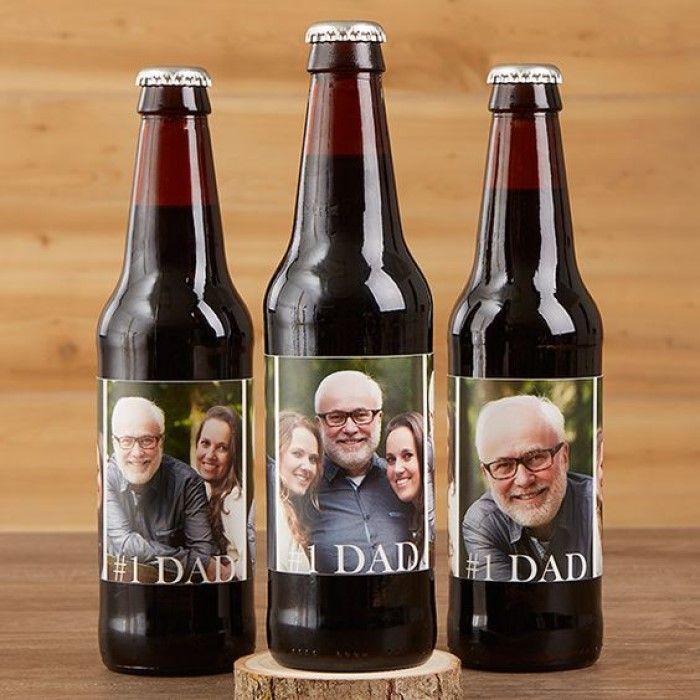 Even when the beer was not included, he'll be delighted to see the personalized graphics and phrases you've picked out for him to enjoy. The labels consist of six sets, so you'll get two labels for each of the six bottles in the pack. The personality labels are easy to attach once you've picked up a case of his favorite brew.
30. Custom Photo Mug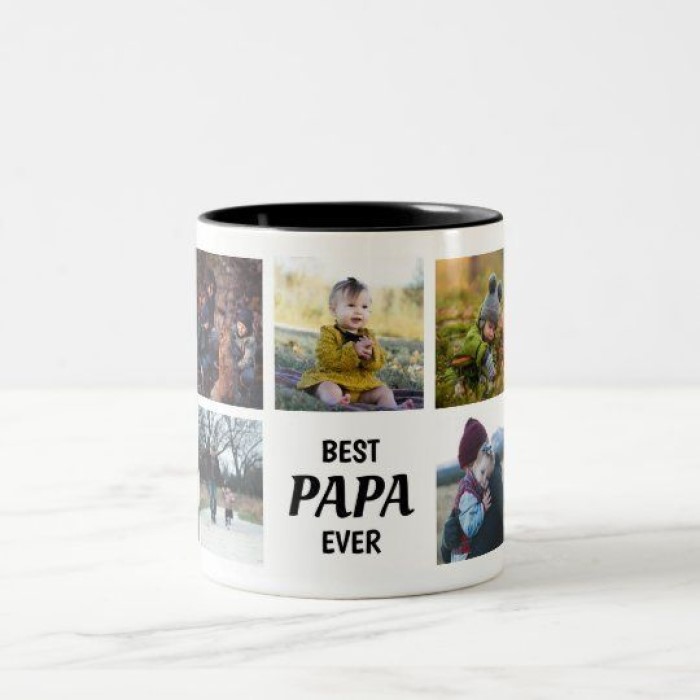 An adorable personalized dad mug is a thoughtful gift for his special day. What better way to show him how much you care than to put a photograph of the two of you together. The best part is that this cup will remind your father of the favorite memories you have every time he takes a sip from it.
31. A Personalized Photo Book Album
Make a lovely gift that your father can preserve and look at for years to come by capturing special moments. You may create a unique keepsake that celebrates your special relationship by adding your photos, captions, and artwork to a premade photo book album.
32. A Unique Video Book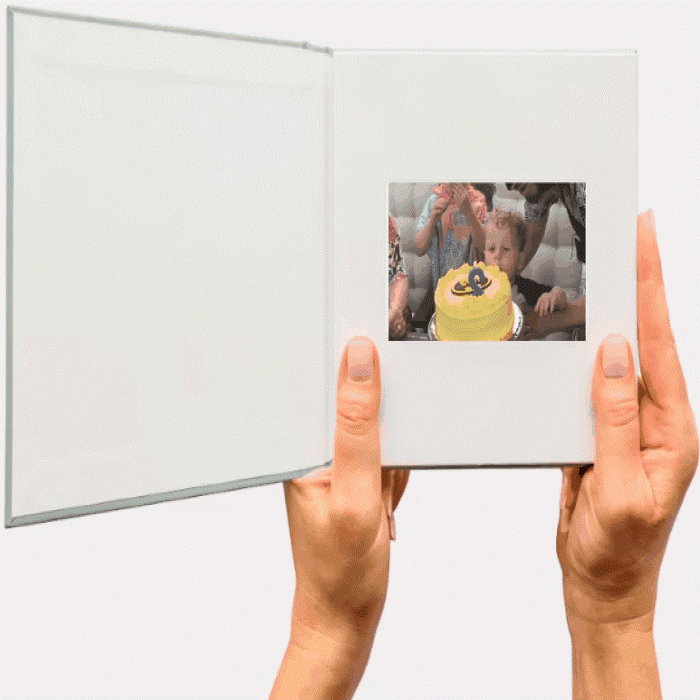 Let rid of your picture books, because this video book is bringing personalized greetings to a new level. Make a video that the people on your present list can watch time after time for years. The Father's day photo book can be personalized with your own photos, videos, and comments to create a unique personalized Father's day gift he will treasure.
>>> Further reading: The Best 53 Fathers Day Gifts For Husband For Every Budget

Best Personalized Father's Day Gifts
33. Natural Kit For Men's Self-Care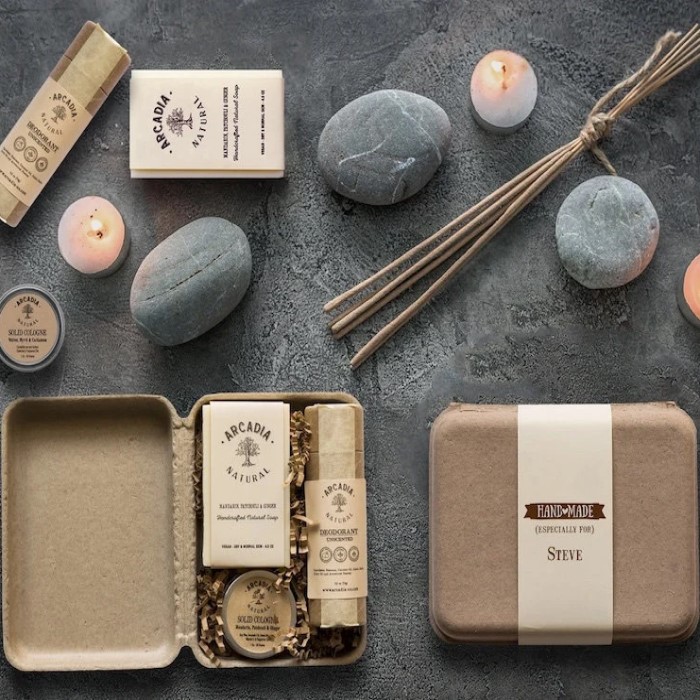 Dad, too, deserves a little pampering! Gift boxes may be tailored to meet the grooming needs of every man, whether he prefers a musky scent or a fruitier aroma. I believe that he will really appreciate this practical customized Father's day gift.
34. A Key Chain Made Out Of Camera Film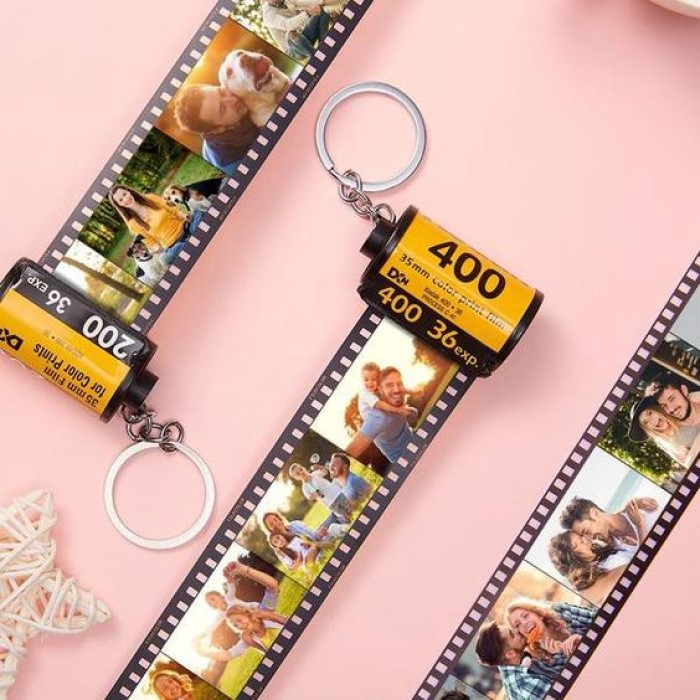 It's a great way to relive some of the best times you had together for a family with this key chain. The key chain has a roll of five photos that can be rolled up and down like film. Make sure to use photographs that will bring a smile to Dad's face anytime he looks.
35. A Personalized Apron For Grill Master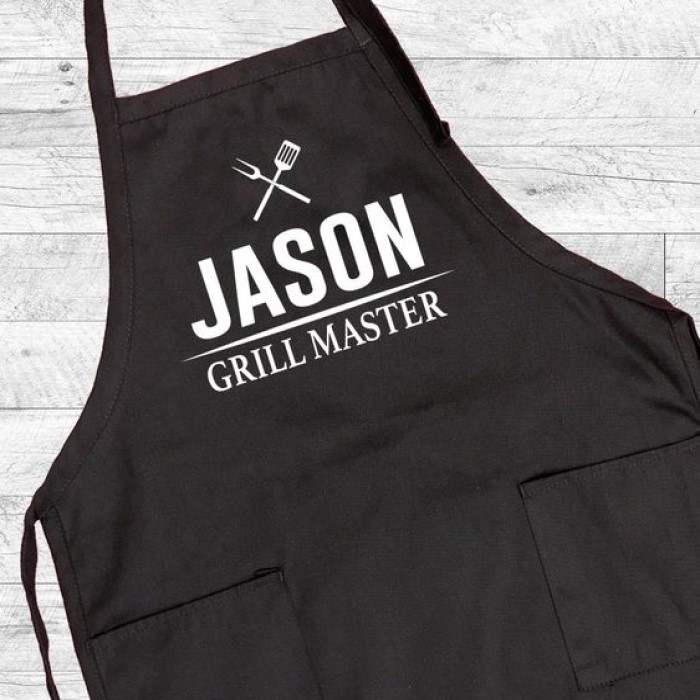 A personalized apron would make a great present for the grill master in your life. A bespoke apron is a great way to show your gratitude for dad's interests of barbecuing in a way that is both useful and unique. Give the grill master in your life a gift as exceptional as his culinary talents with a personalized apron for Father's Day, his birthday, or any other event.
36. A Carry-On Bag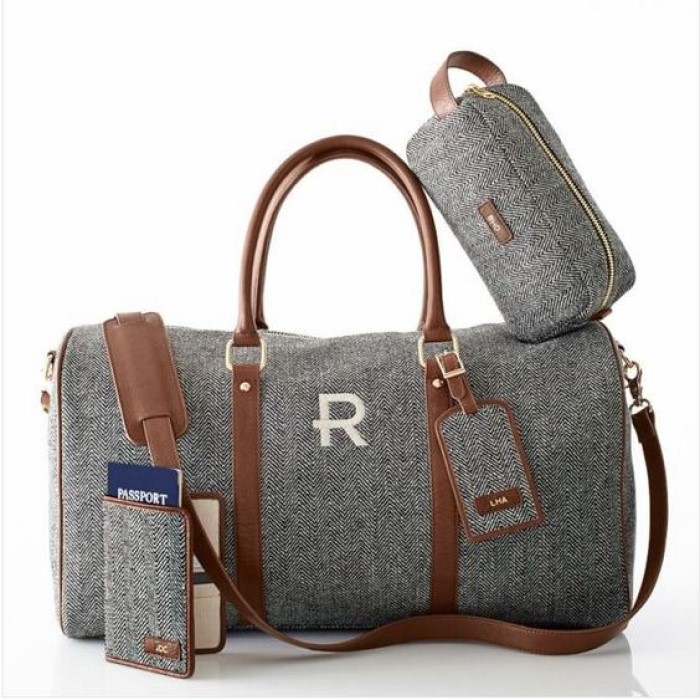 If your father is often on the go, whether it's for work or a weekend getaway, this gorgeous monogrammed duffel bag is one of the great personalized Father's Day gifts for him. It's the kind of item he'll reach for time and time again because it's made of durable canvas and tan leather. Even though this is a lovely gift, it's the best Father's Day gift for stepdad from a daughter.
37. Super-Dad Puzzles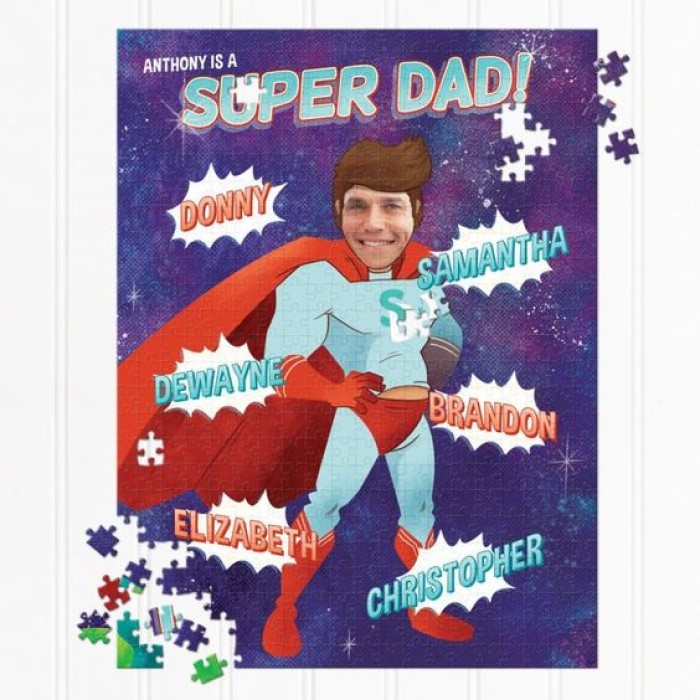 It has 500 pieces, so new dad will have plenty of time to work on this puzzle for a couple of days. With the name of each family member, you can personalize it. It's possible he'll let you assist him to put it all together. If you want to go the additional mile, include some puzzle glue in the package so that he may frame the finished work.
38. A Unique Adventure Tracker Print
Let all the dads reminisce about past travels and plan enjoyable moments ahead of time with a customized map of their favorite happy spots. To give it an even deeper level of significance, consider including some personal touches, such as individualized marks or labels, or perhaps a unique message.
39. Tumblers With A Personal Touch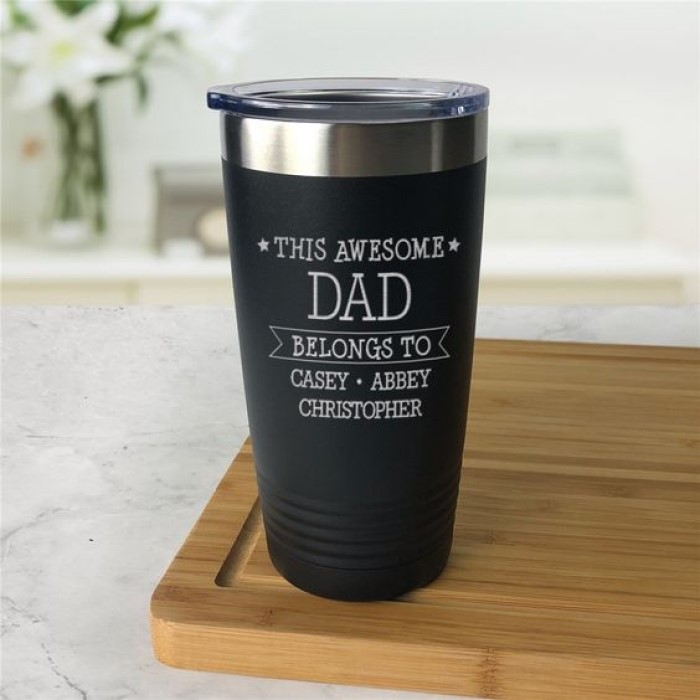 The only thing more important to dad than coffee is spending time with his loved ones. To keep his cup of joe hot or cold for hours, this double-insulated tumbler is the way to go! In addition, the thermos is universally compatible with most cupholders, making it ideal for road trips and other forms of transportation.
40. Flag Bearing A Person's Name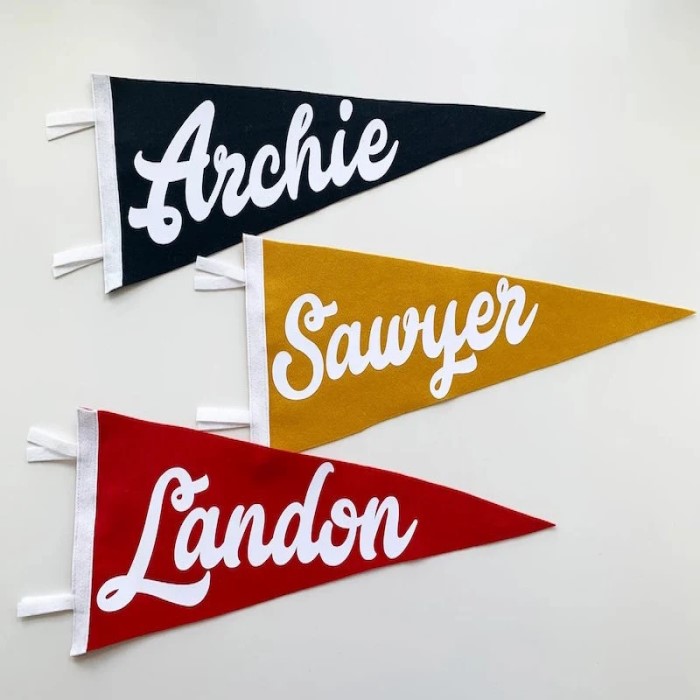 Father's Day is a great time to show your dad how much you care about his favorite football team, former university, or hometown with a handmade tribute. Putting his name on a flag, whether it be a national flag or a flag for his favorite sports team or pastime, makes it more personal. These personalized father's day gifts, with its sturdy construction and eye-catching design, is guaranteed to be treasured for years to come.
41. A Unique Bottle Opener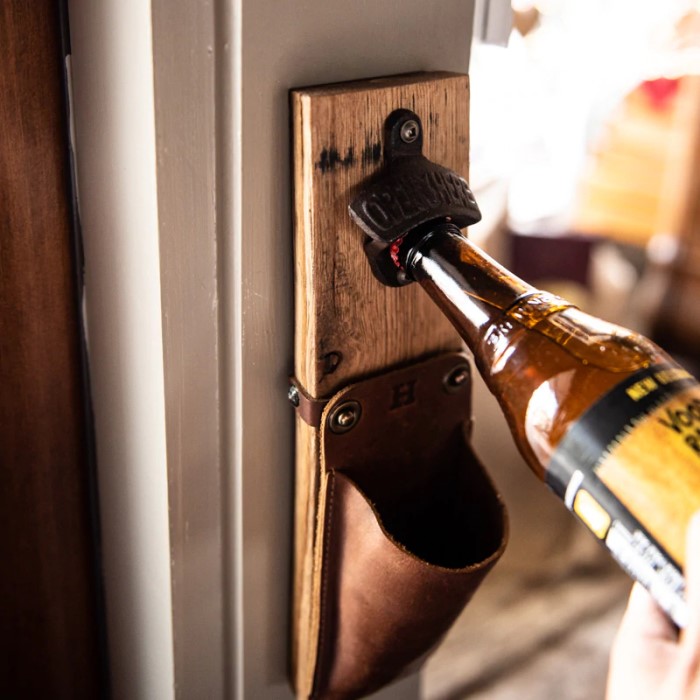 A flexible leather cap catch is included with this bottle opener. There is no doubt that this screwdriver is both functional and epic, no matter what kind of man cave or patio you're working on. Father's Day is coming up, and you want to get a great gift with your personalized touch for the best dads that supports him both personally and professionally.
42. A Custom-Made Watch Case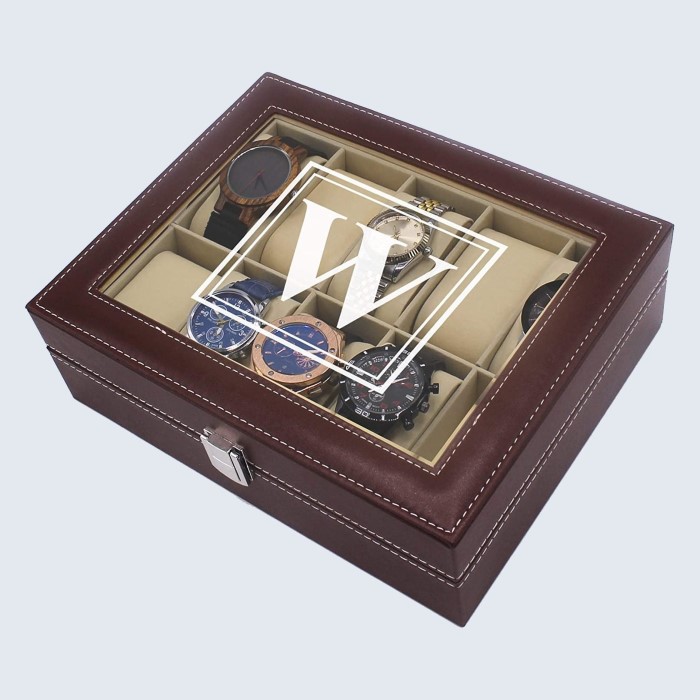 Having a large collection of watches can be daunting, but not if you have this clear-top box. Up to ten timepieces on suede pillows can be shown in this personalized display box, which is available in a variety of colors. This means dad will never again have to go through all of his watching boxes to select the correct band for his timepiece.
43. A Photo With Sentimental Messages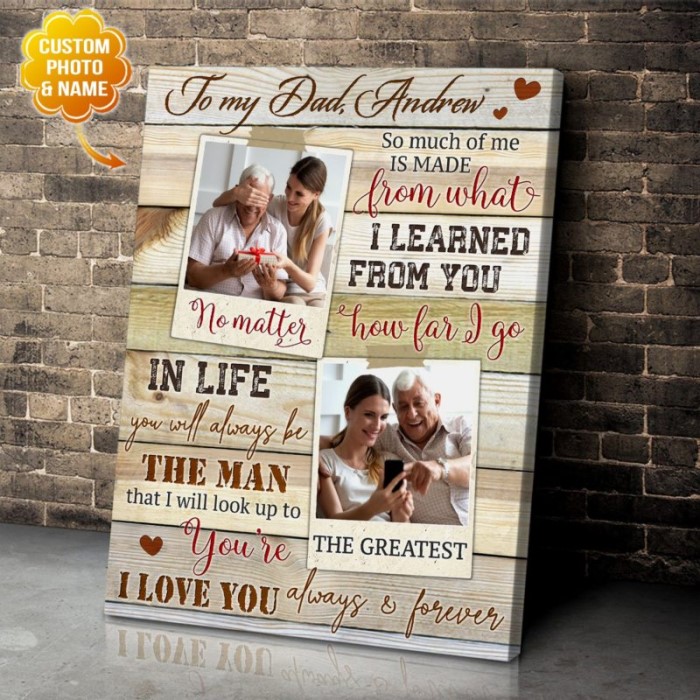 On Father's Day, show your dad how much you care by giving a custom canvas gift for him with a heartfelt and special message. Personalized with two photos of you and your beloved one, this keepsake is sure to bring back happy memories. A declaration like "I love you always and forever" is a sure sign of your undying devotion to one another. You will always be there for him and love him unconditionally, no matter what happens in your life.
Read more:
For a variety of reasons, men are notoriously difficult to shop for when it comes to personalized Father's Day gifts. Choosing the perfect gift for your sweetheart or spouse can be challenging, especially if you've never done it before. Oh Canvas's post on his special occasion gifts may have inspired a few of your own. As soon as possible, we should implement this idea for that person!