Dads are among the most difficult members of the family to shop for. They have so many interests, but it can be intimidating to discover something they don't already own. Helping him improve on tried-and-true favorites is sometimes the best course of action. If you want to go above and above, you can get him something he'll never be able to find on his own. Luckily, Oh Canvas has gathered the best Father's Day gift ideas for dads of all stripes, from stepdads to fathers-in-law to grandfathers. Read on and make him proud on his day!
Luxury Gift Ideas For Dad
1. Luxury Watches Gift Card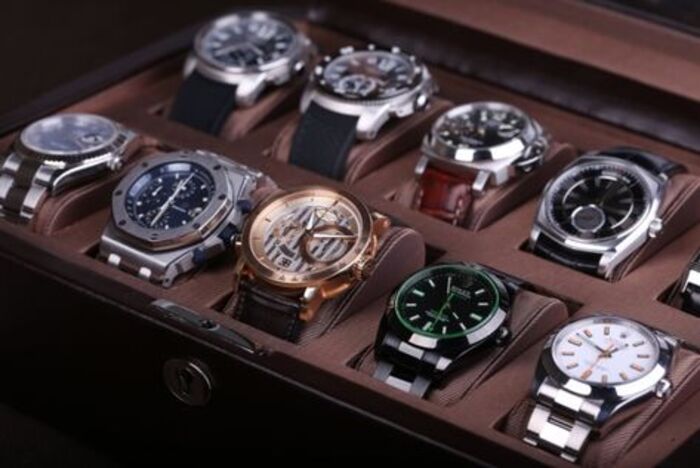 Having a new, high-end watch given to him every month or season will make him even more stylish. It's a sweet way to show your dad how much you care.
2. Electric Wine Bottle Opener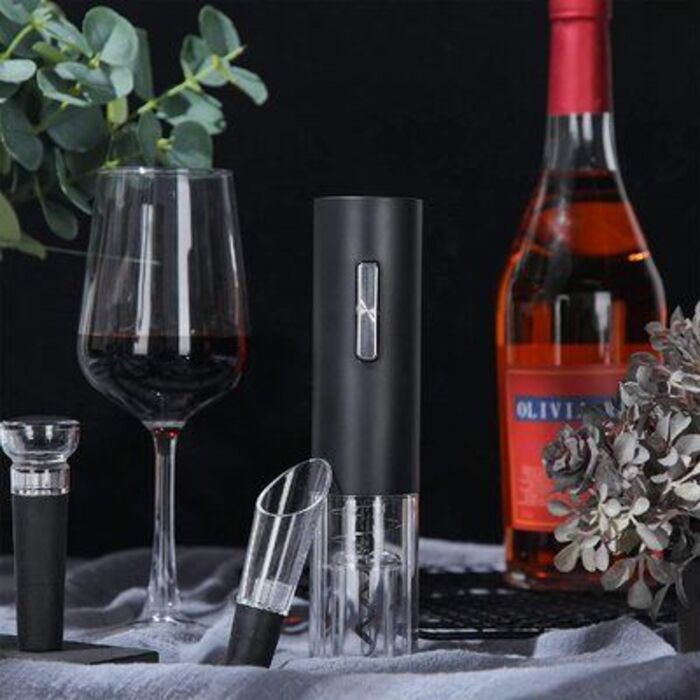 For unique Father's Day gifts from son this year, we're confident that you'll wonder why you didn't get Dad an electric wine opener sooner. With only one push of a button, this pick can open up to 30 bottles on a single charge.
3. Foldable Drone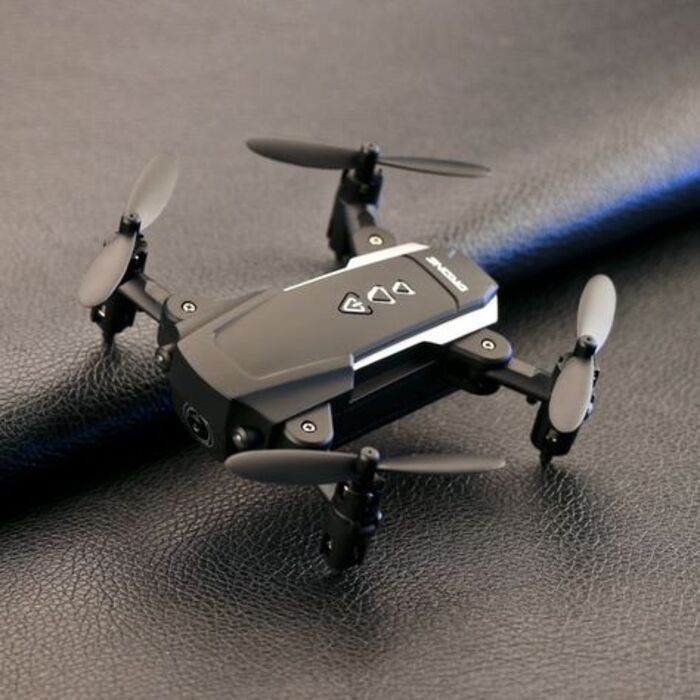 This drone will provide your father with a birds-eye perspective of his surroundings. While the 1080p HD camera captures photographs and video in crystal clear detail, the optical flow placement of the drone makes hovering a breeze. Additionally, the drone's foldable arms make it easy to carry on all of his travels.
4. Ultra-Compact Golf GPS Watch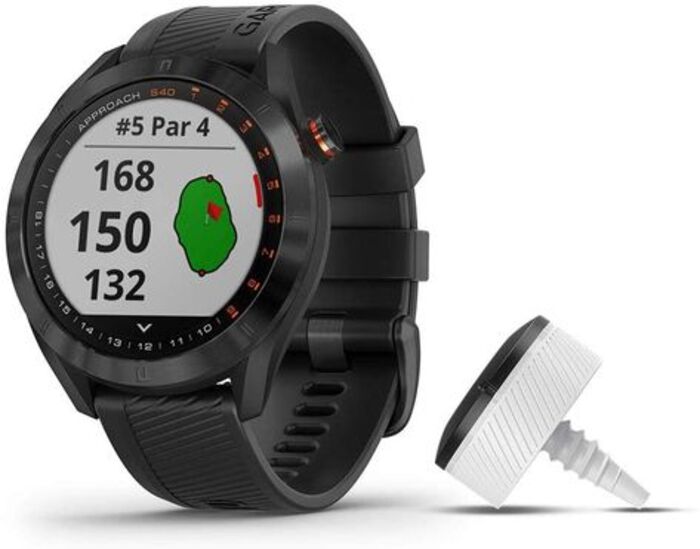 Your golf-obsessed father will appreciate the convenience of this wrist-worn gizmo. If he's on one of the more than 41,000 pre-loaded course maps, it will immediately recognize that one and tell him how far he has to go in order to get to the front, middle, and back. In addition to keeping score, he can also use it to track the amount of time and distance he spends playing.
5. MiniPresso GR Espresso Maker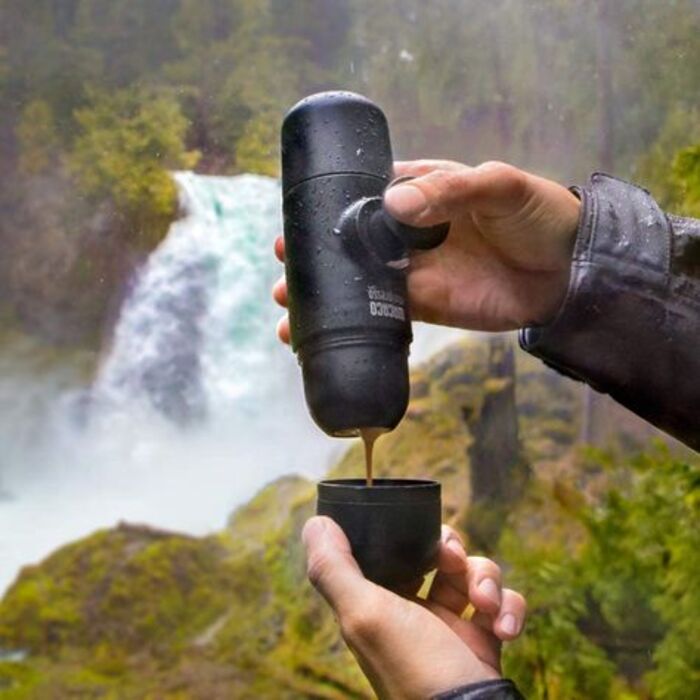 If your coffee-loving father isn't satisfied with a simple cup of coffee, get him an easy-to-use espresso maker for Father's Day. The best part? He can take it with him everywhere he goes because it's battery-powered. This is one of the most considerate last-minute Father's Day gifts that he's sure to appreciate.
6. Weight-Adjustment Dumbbell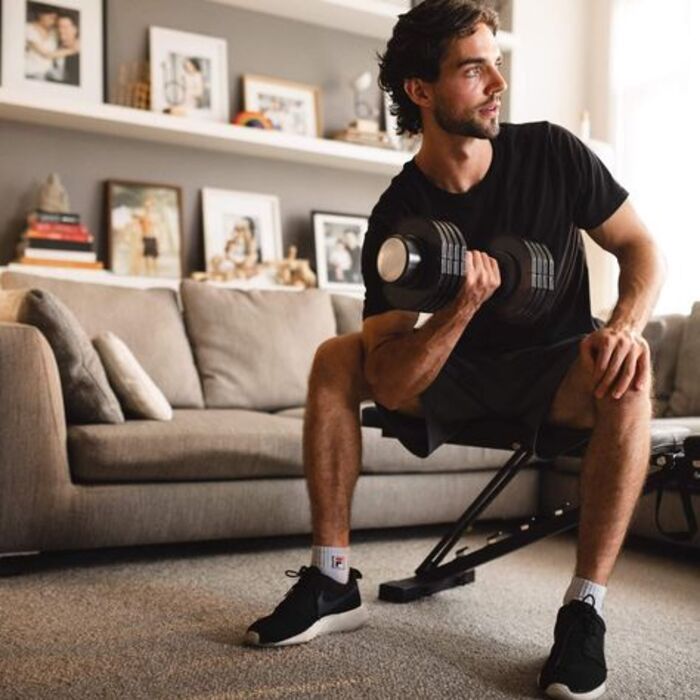 These adjustable dumbbells might help Dad incorporate weightlifting into his at-home fitness routine. Using one single dumbbell, Dad can work out with weights ranging from 5 to 25 pounds by just turning the wrist. An excellent space-saving piece of fitness equipment.
7. In-Shower Bluetooth Speaker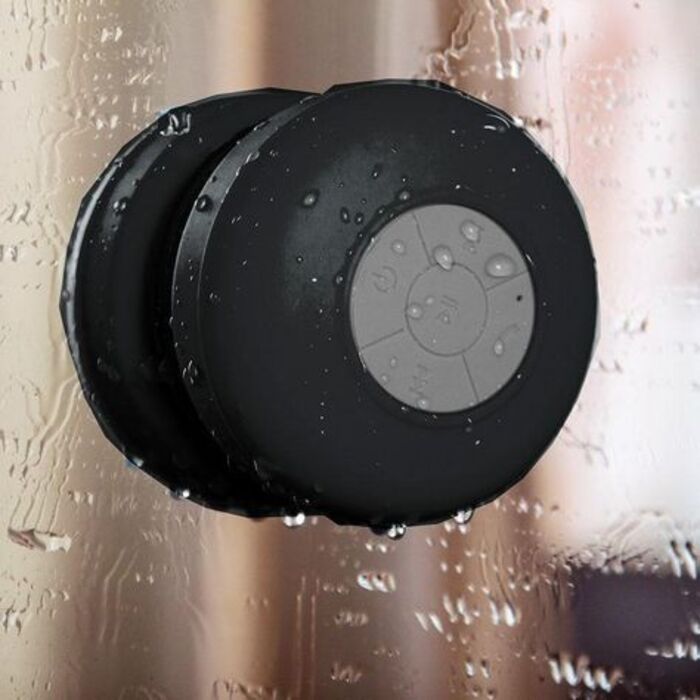 Your dad can now enjoy shower music while he sips his beer in the shower! Waterproof and powerful, this low-cost Bluetooth speaker is a great buy. It'll stay put thanks to the integrated suction cup's ability to adhere to any flat surface. Get this best Father's Day gift and he'll be so proud of you.
8. Fitbit Inspire HR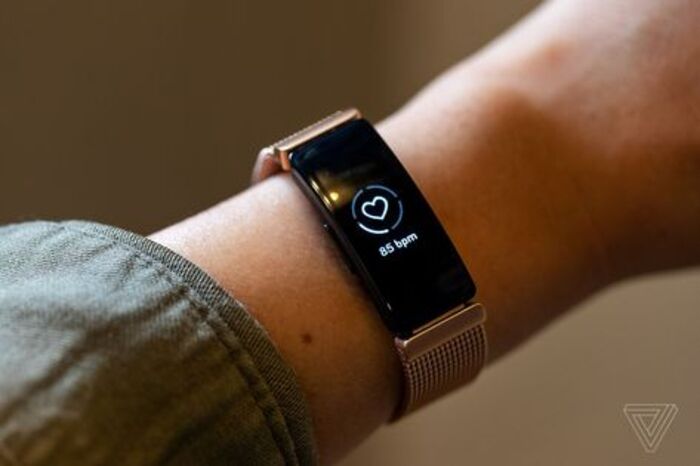 Ensure that Dad's health is being properly cared for. He won't want to take off the Fitbit Inspire HR because it looks so good on his wrist. It contains a heart rate monitor that works around the clock to keep track of how many calories he burns, what his resting heart rate is, and what heart-rate zone he is in throughout the day. Even his sleep will be monitored.
9. Mini Projector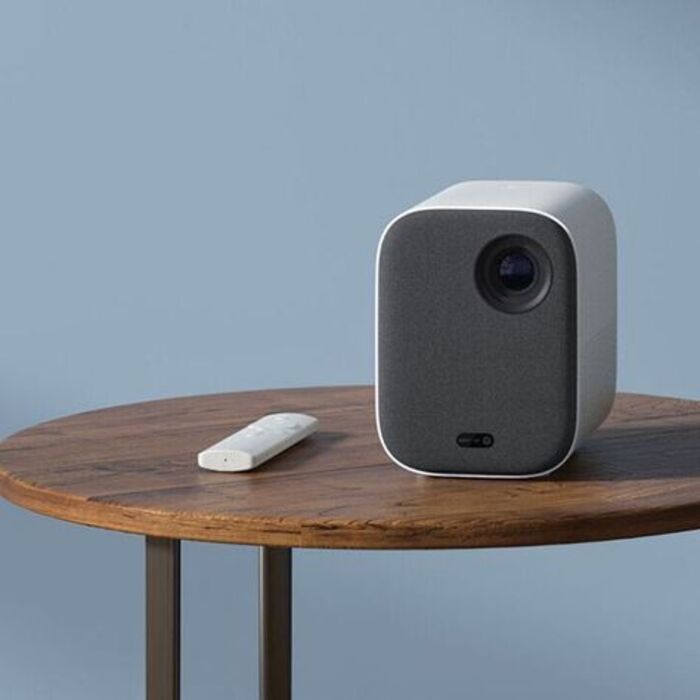 Looking for good Father's Day tech gifts from daughter that he'll be interested in? Consider small projectors for hassle-free outdoor entertainment this summer and take one task off of Dad's to-do list. Whether you're inside or outside, you can use this projector to turn any flat surface into a screen. For Dad's movie nights, this is a great way to spice things up!
10. Echo Dot (4th Gen)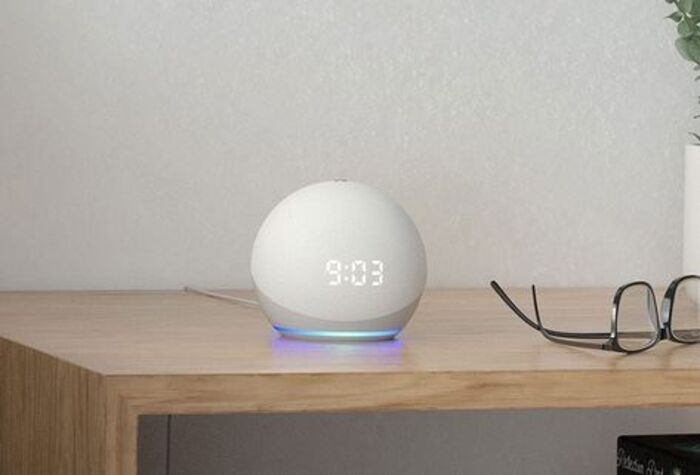 To play music, read the news, or even order pizza, he may simply say, "Alexa," to the Amazon Echo Dot. The LED display even shows the time, alarms, and timers.
11. Subscription to Flaviar's Spirits
As a hybrid subscription box and private club, Flaviar allows dad to broaden his spirits horizons by discovering new bottles and labels that aren't readily available. The All Access subscription includes a quarterly tasting box, a full-sized bottle, and invitations to private sipping parties.
12. Chicago Gift Box Of Steaks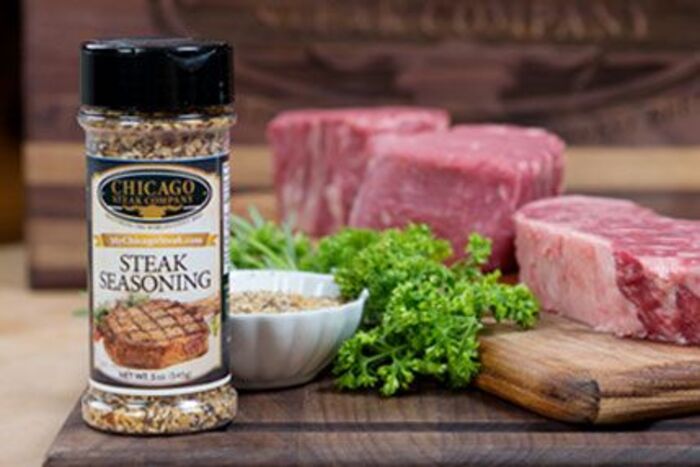 You can send a gift basket filled with favorite steaks like filet mignon, top sirloin, steakburgers, and steak seasoning to the grillmaster. It's a great way to surprise him with cool Father's Day gifts from kids.
See also:
Unique Father's Day Gifts To Save Memories
13. "You Are The World" Canvas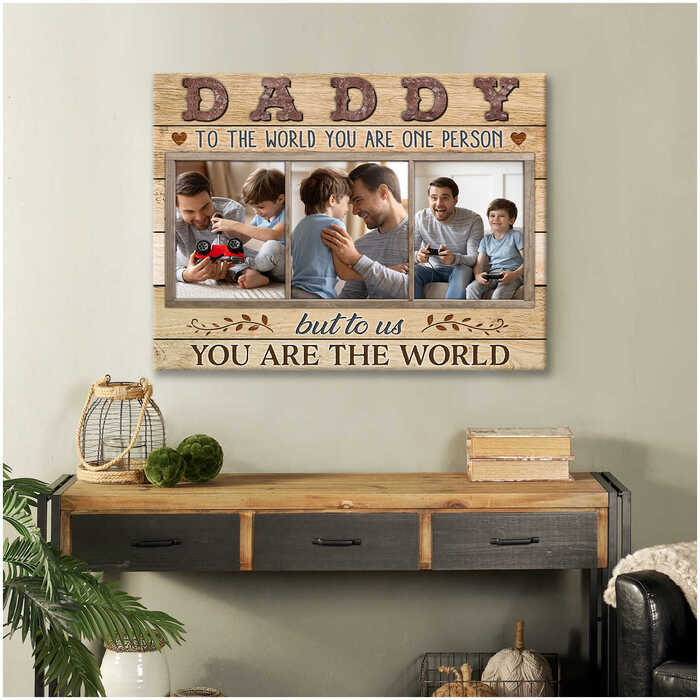 Tell your dad he is the world to you with this sentimental print that will make him burst out into tears. Every time he looks at it, he'll feel your love and gratitude.
14. Portable Photo Printer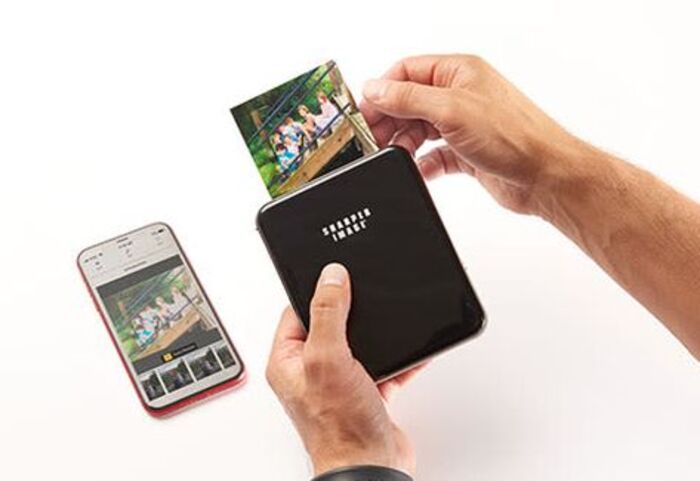 In search of the best Father's Day gift for new dad that'll make him smile? With this photo printer, your dad will be able to hold a photograph he took on his phone in his hands immediately. He'll find it special to personalize and print smudge-proof images that will be treasured for years to come.
15. Leather Valet Tray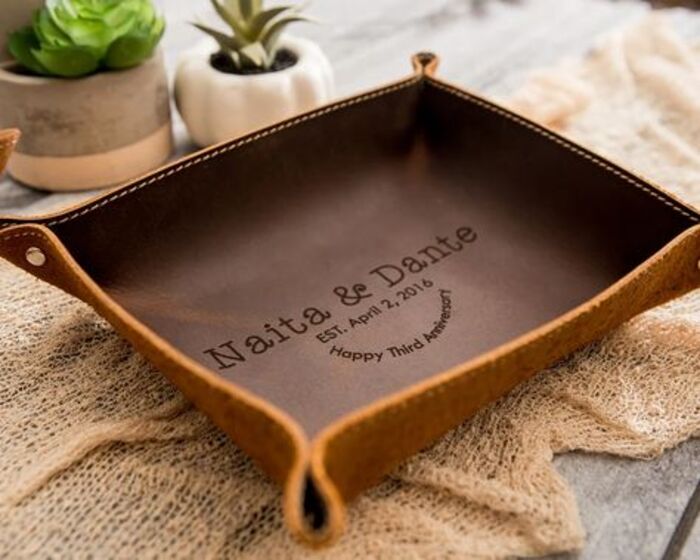 This tray will make your dad's life a lot easier at the end of the day because he will have somewhere to put his keys and other critical belongings. Create a one-of-a-kind leather catch-all with your dad's favorite phrases. It is manufactured from full-grain cowhide leather and is available in distinct colors.
16. To My Dad Canvas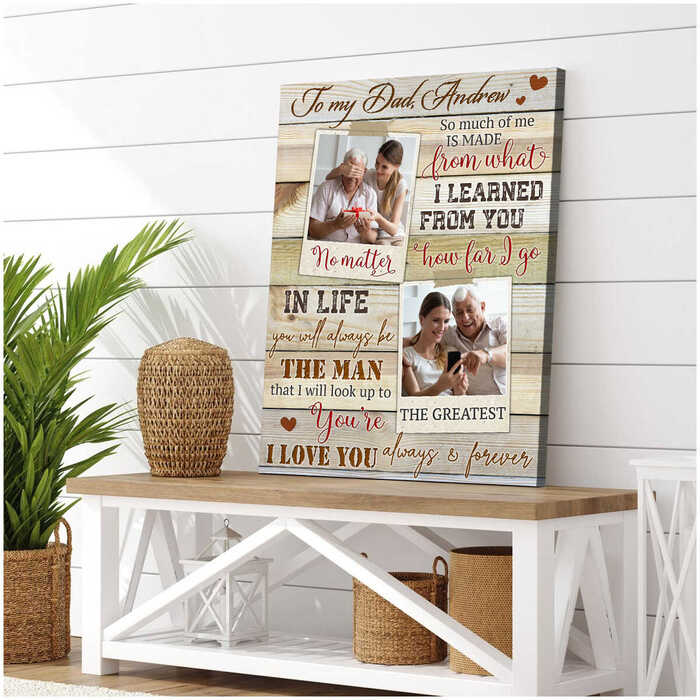 Your father is one of the most important people to you. Let him know you much you care by giving him this touching canvas print this Father's Day. With your favorite images with him displayed on it, this canvas is a keepsake that he'll treasure till the end of his life.
17. Engraved Wooden Hammer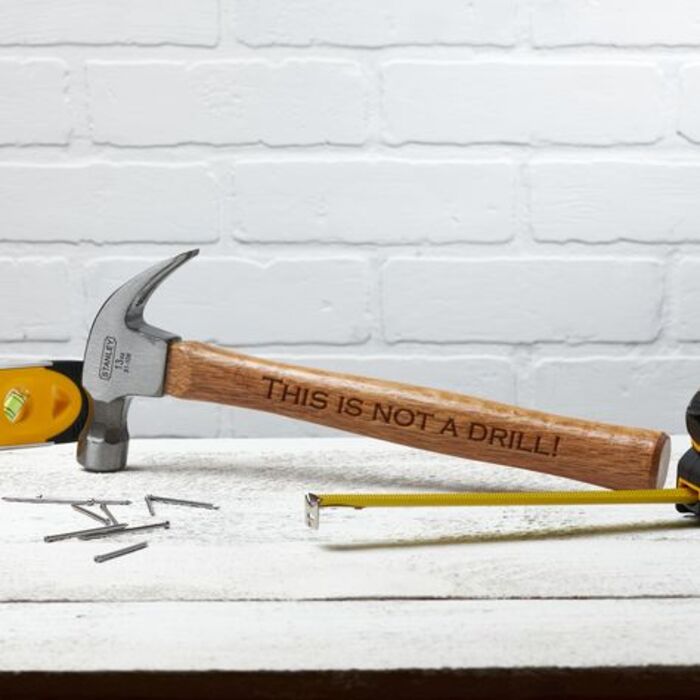 Looking for cool personalized Father's Day gifts? It's a good bet that your dad will shed a tear this Father's Day when he unwraps this personalized hammer from you in his tool shed.
18. My Angel Dad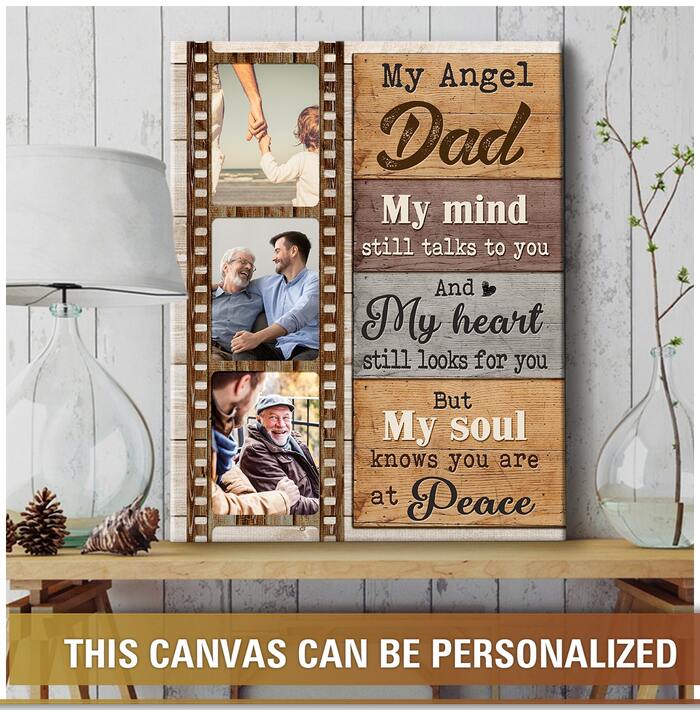 If you want to give your father something that helps preserve the memories between you and him, this is it. He'll be eager to display it in his bedroom or living room.
19. Digital Picture Frame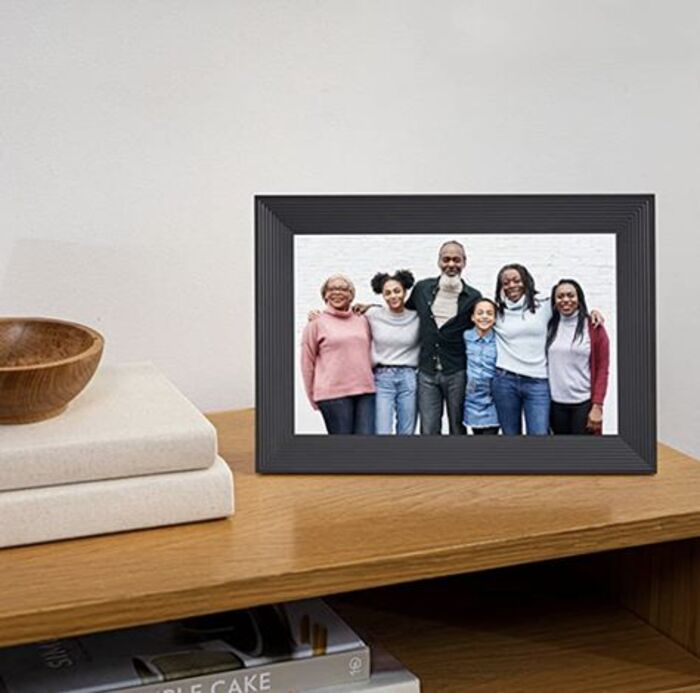 The Nixplay smart photo frame is a great way to keep in touch with dad. Google Photos, Dropbox, Facebook, and Instagram may all be synchronized with the digital photo frame. By transmitting a photo or video straight from your phone to the frame, even if you live hundreds of miles away from your father, you can let him know that you care.
20. Dad's Spot Throw Pillow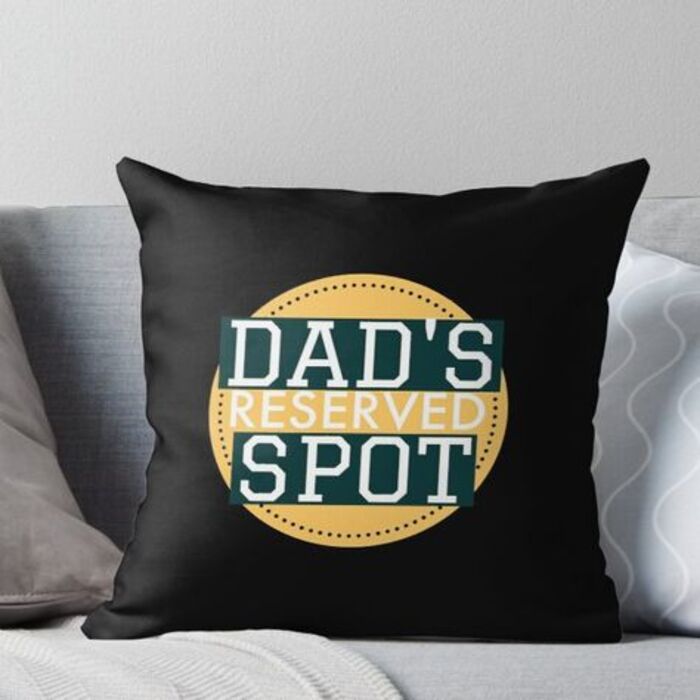 If you want to make things official, here is how you do it. You may add a pillow insert to your order, which will be ready and waiting for your dad when he arrives. Don't miss out on this brilliant idea when looking for unique Father's Day gifts for grandpa.
21. "To My Loving Dad" Print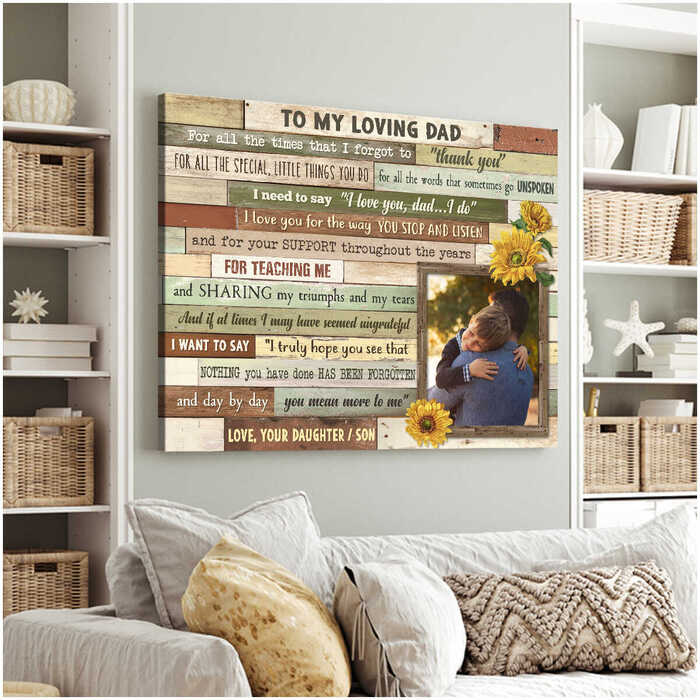 This "To My Loving Dad" canvas is a sweet way to show your father how much you love him. No matter how far you're living, he'll feel your love right in his home.
22. What I Love about Dad Journal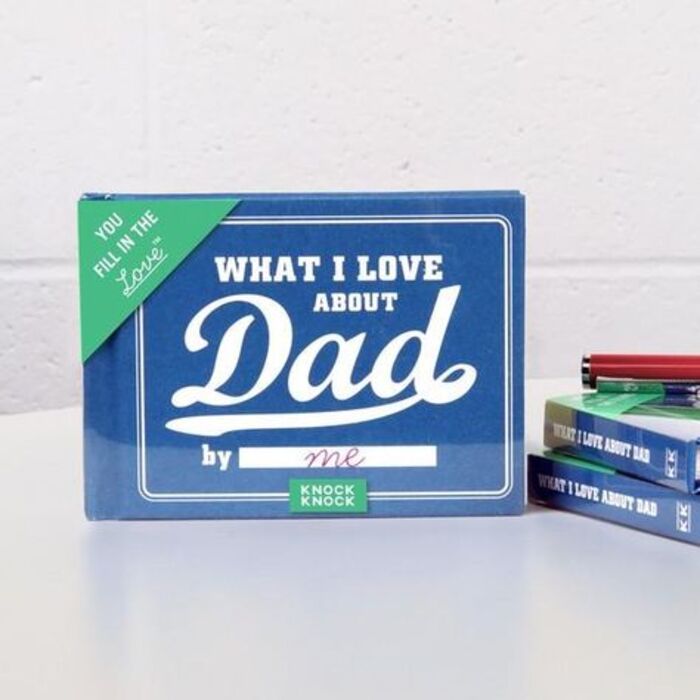 Getting a Father's Day card is great, but what's better than that? A collection of all the things you love about him, the things you admire most about him, and all the other things that make your relationship unique.
23. Rustic Canvas For Dad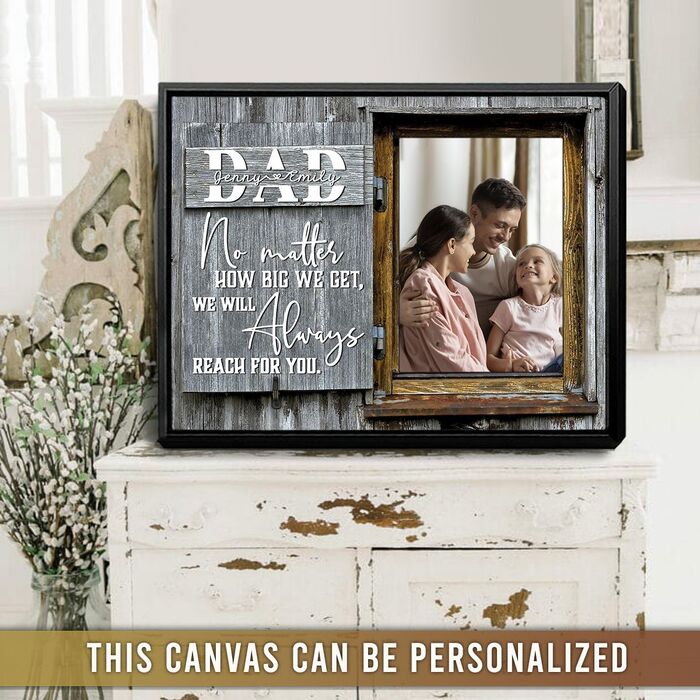 When you feel it's hard to find the best Father's Day gift, this is the way for you. A sentimental canvas always plays its best in showing your dad how much you love him. Take this canvas and you'll love it when seeing a bright smile on his face.
24. Personalized Engraving Knife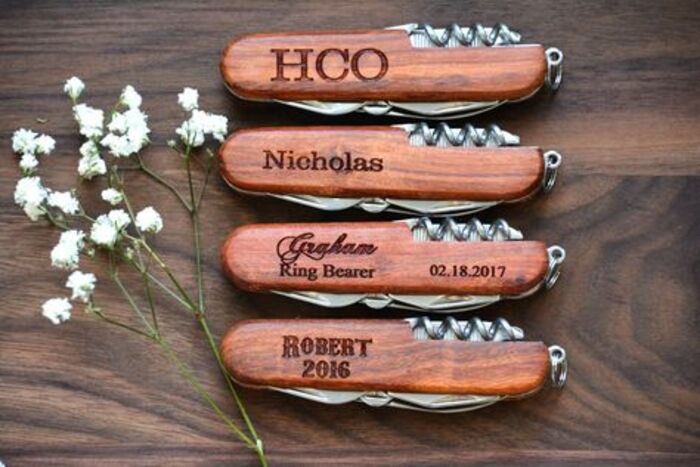 Pocket knives are useful for opening envelopes, cutting threads, or chopping a steak while he's camping, among other tasks. Engrave his name or a meaningful quote on this one instead of the generic one you'd find at the hardware store.
25. Bespoke Bracelet For Men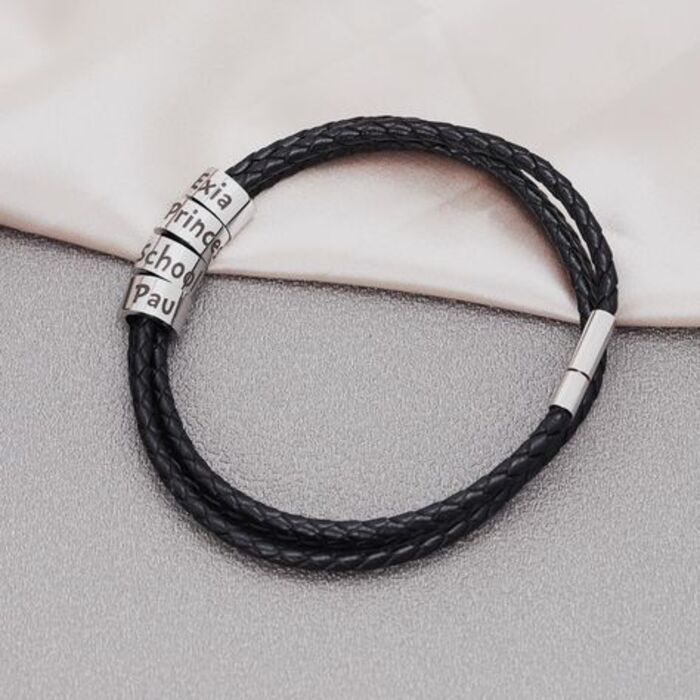 Your children's names can be inscribed on the beads with the seller's assistance, making this bracelet perfect for him to wear every day. Keep in mind that each bead has a tag attached.
26. "Love You Always and Forever" Canvas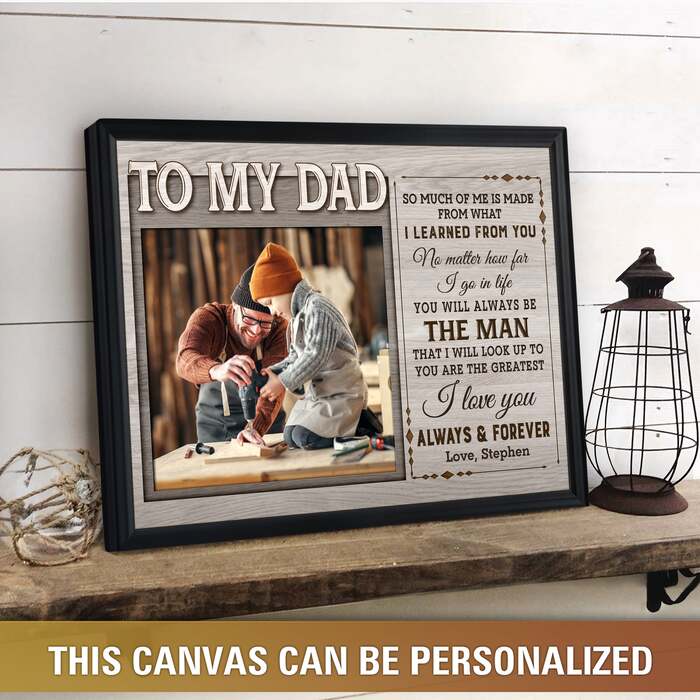 If you want to give something different this time, try a sentimental canvas print. It's a piece of decoration that tends to add the warmest touch to his living space. Unique Father's Day gifts from kids like this one will be a delight.
Read also:
Practical and Thoughtful Father's Day Gift Ideas
27. Portable Sanitizer and Charging Station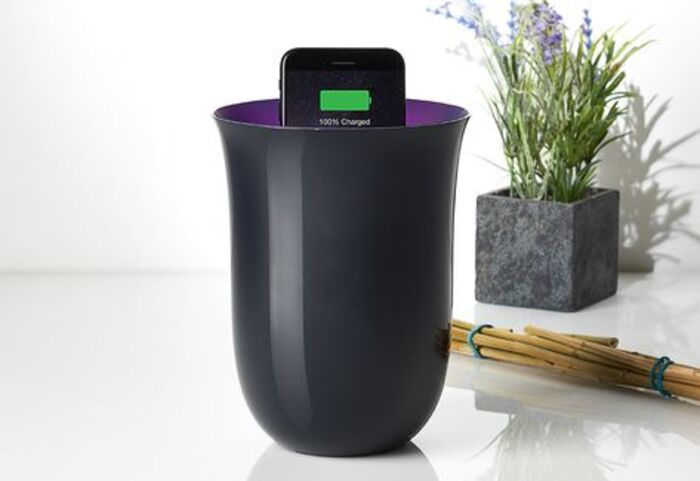 This technical present has two benefits: it charges smartphones wirelessly, just like it disinfects them with a UV light. If your father has this device, he'll love how thoughtful you are.
28. Craft Beer Club Subscription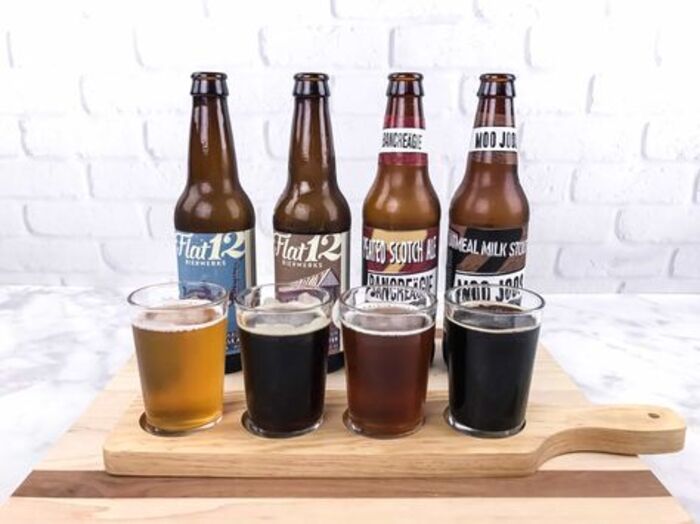 Your dad's beer fridge will be filled to the brim with a subscription to a monthly club like this if he always has a favorite beer of the week. This is one of the most unique Father's Day gifts for father-in-law that he'll love and use.
29. Shiatsu Massagers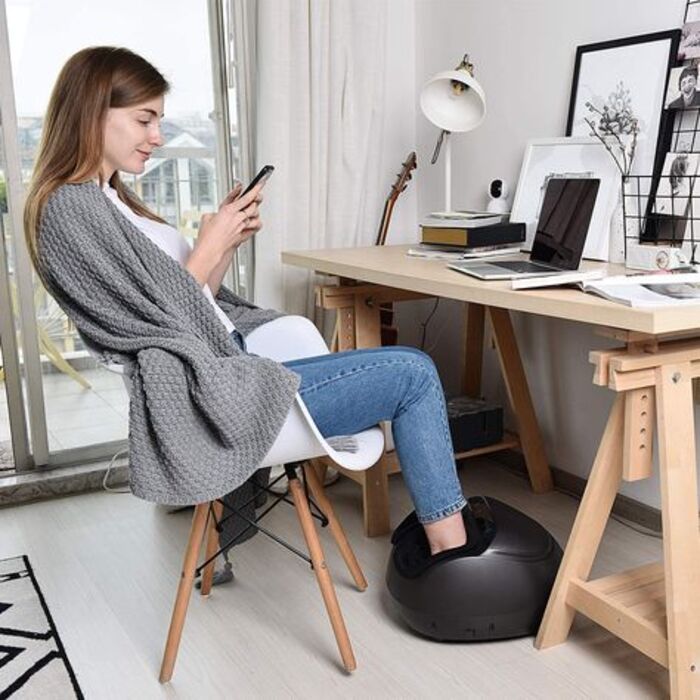 You know what dad is lacking? Something cutting-edge and health-conscious. An activity that will help relax him without any effort on his part. Some relief for his sore feet, too.
30. Magnetic Wristband for Tools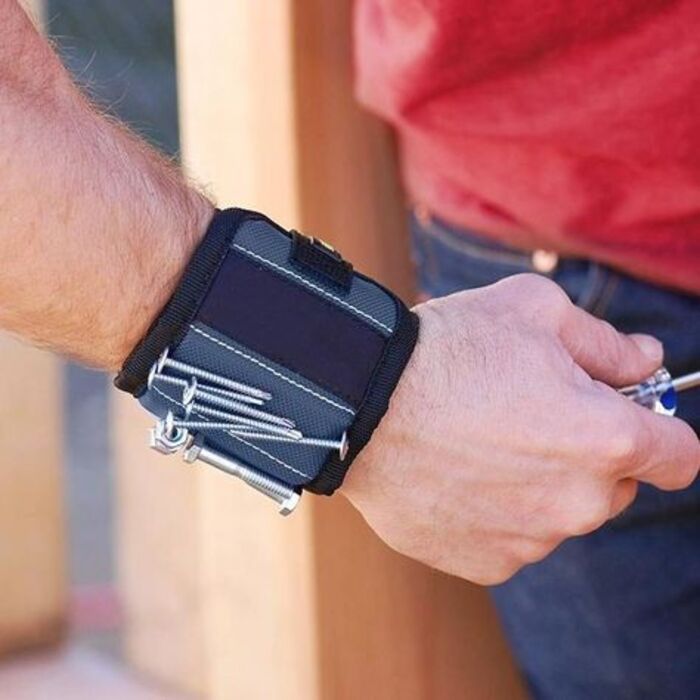 Swearing and scouring through his garage for at least 10 minutes while trying to find the correct socket wrench is unnecessary with this clever design. It's a great support to make him the best father on this planet.
31. Freezable Whiskey Glasses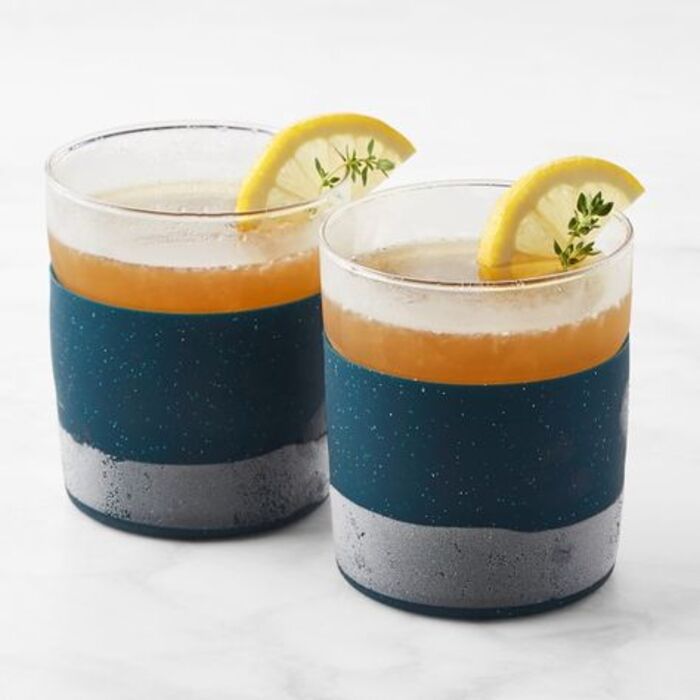 These freezable glasses are perfect gift ideas for dads who want to appreciate their whiskey, drink, or beer to the very last drop. Exactly as though God had wanted them to be intoxicated.
32. Self-Sanitizing Water Bottle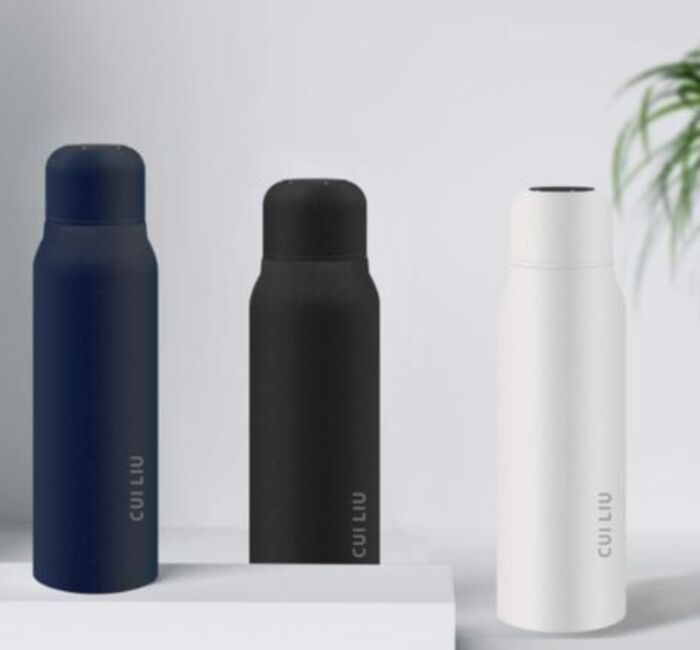 To keep bacteria out of dad's water bottle, the adventure mode on this bottle really ramps up the sanitizing power. It's also stylish, too. Dad'll love bringing it with him to the gym or when he goes backpacking.
33. Pet-Friendly Plants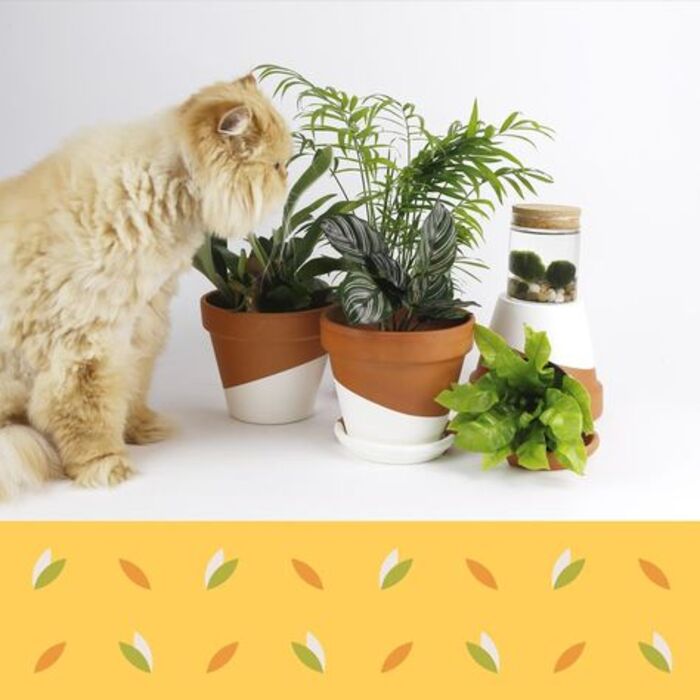 Dad is probably eager to add some decorative greenery to his home office after having it stripped down for months on end. For dads with pets, The Sill has pet-friendly plants available. They're truly thoughtful Father's Day gifts for boyfriend that can bring a smile to his face.
34. Money Clip and Wallet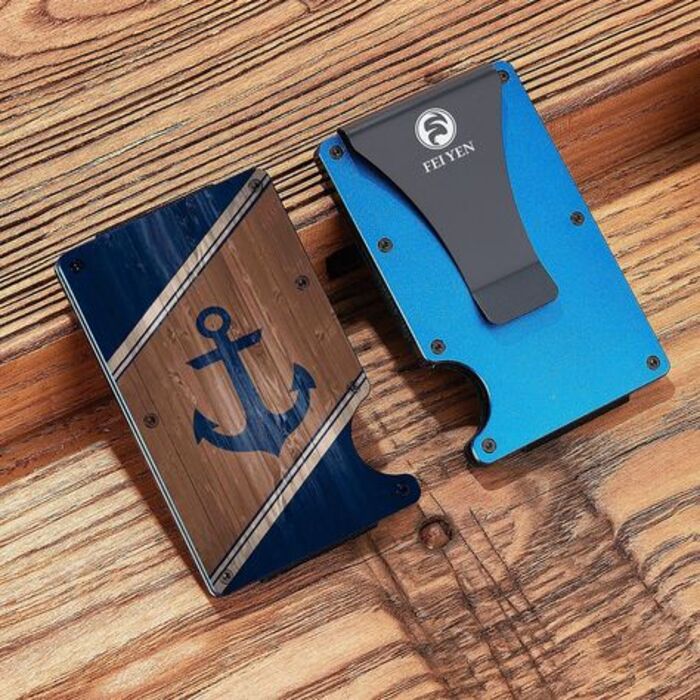 Instead of lugging around his bloated wallet, dad may simply throw it away. Despite the fact that this aluminum cardholder can contain up to 12 cards and a substantial amount of cash, you'd never know it. It's simple and effective, just like he likes it to be.
35. Pizzeria Pronto Stovetop Pizza Oven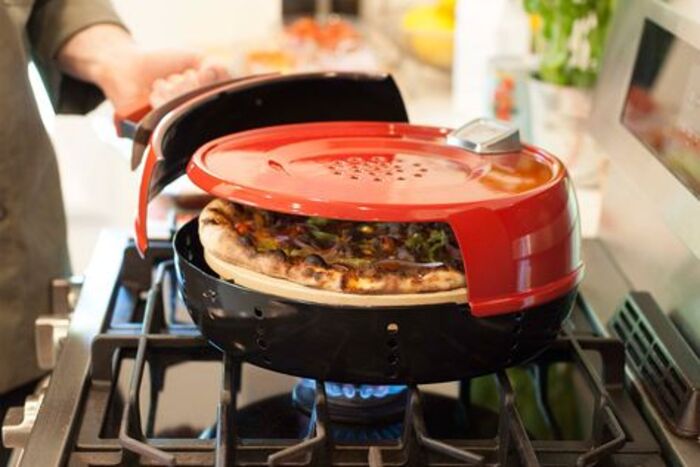 Your dad's stovetop may be transformed into a pizza oven with this simple-to-use appliance. The best approach to cook pizza at home is to ask your neighborhood pizzeria for homemade dough if your dad doesn't want to prepare the dough from scratch.
36. Travelling Dopp Kit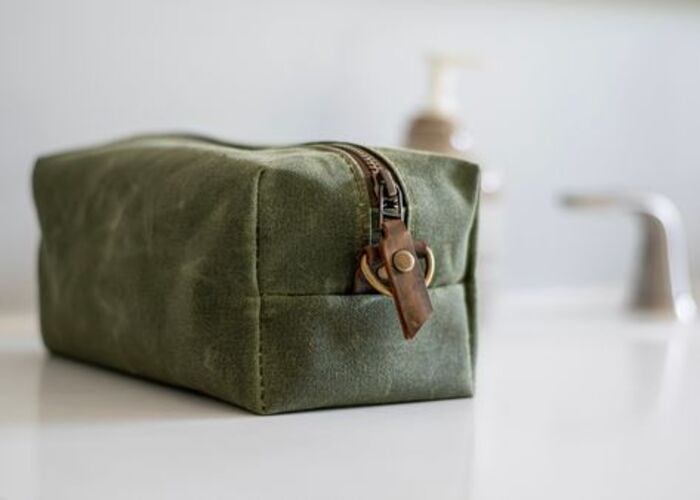 On the hunt for the best Father's Day gift this year? Waterproof Dopp kits look as good in a Marriott as they do in an Acadia pine forest. He'll be able to use it for a long time while crisscrossing the globe.
37. Temperature Control Smart Mug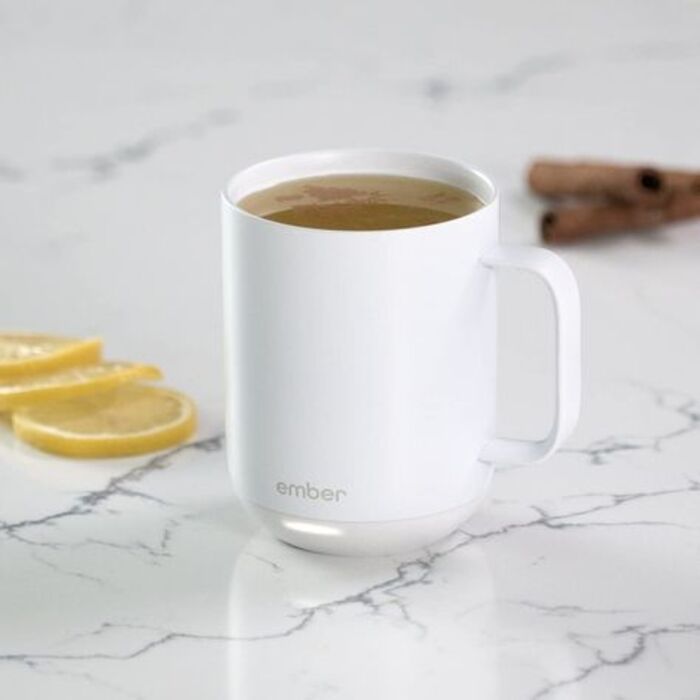 This mug will spare your dad the embarrassment of having to brew a cup of iced coffee. For up to 90 minutes on a full charge, the charging coaster delivers all-day heating for your hot beverage of choice. If you'd prefer to manage the temperature from afar, there's an app for that.
38. Tile Pro
Have a hard time finding your dad's wallet, keys, or phone? If that's the case, he'll be thrilled to receive the Tile Pro for Father's Day. In no time, Dad will know how to use it to track down just about anything he may otherwise lose track of. The Tiles can be found using an app on his smartphone.
39. Bartender's Kit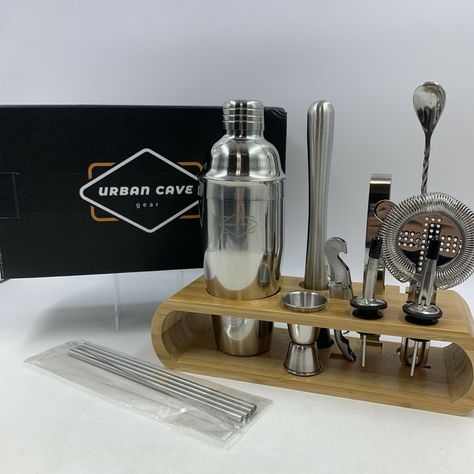 You can use this kit if your dad would rather have a specialized cocktail than a draft beer. Making his own liquid creations will make him feel like a true mixologist. With the best gifts for dad like this one, he'll enjoy his life to the fullest.
40. Weighted Blanket for Dual Therapy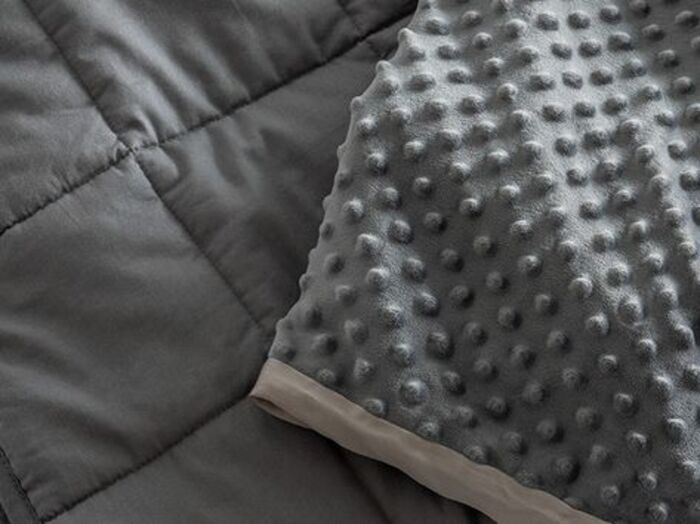 With this weighted blanket, your father will receive a peaceful night's sleep. Your father will sleep soundly and wake up feeling rejuvenated thanks to the dual-sided comfort of a heated side and a chilly side. The duvet cover is machine washable, and it comes in either 15 or 20 pounds of weight.
41. Small Waffle Iron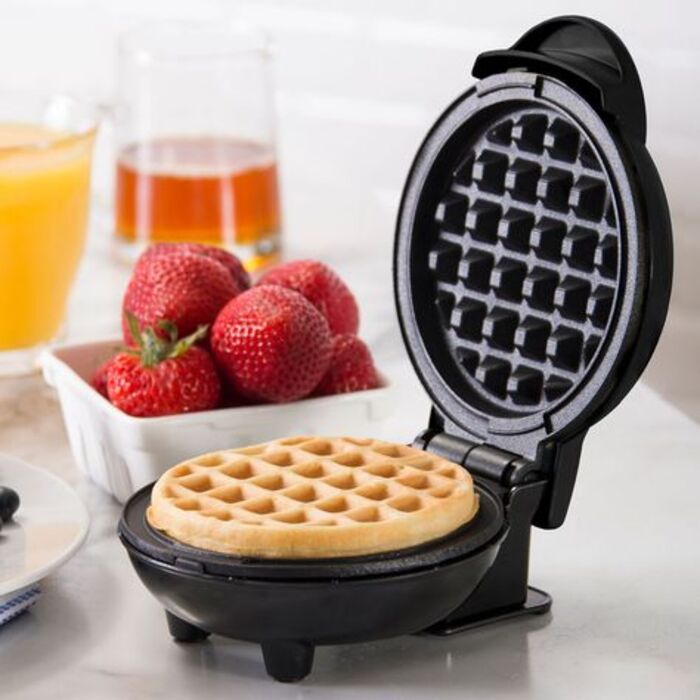 A nonstick tiny waffle maker would be a great Father's Day present. In addition to making waffles, reviewers praise the 4-inch appliance's capacity to make hash brown patties and egg scrambles.
42. Concrete Fire Pit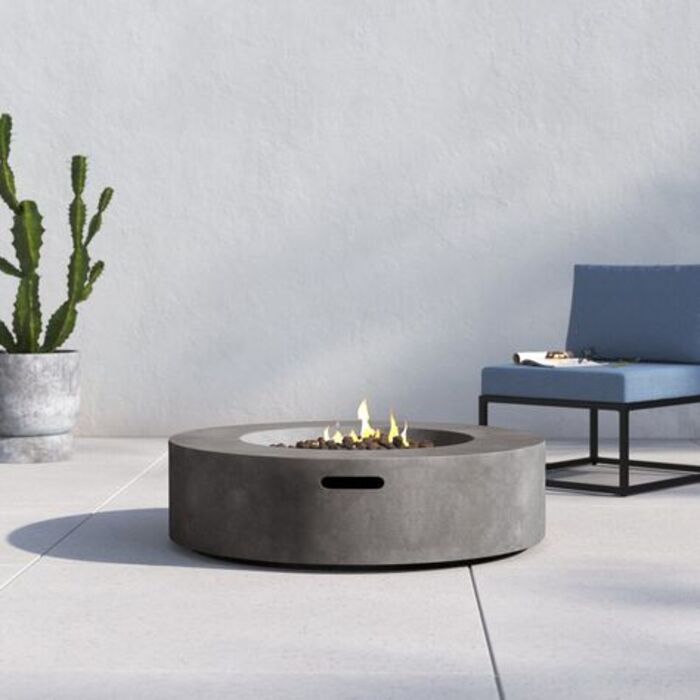 Use rubbing alcohol to protect the surface of the little fire pit and then enjoy the warmth. It's safe to bring it inside, so it's perfect for romantic evenings, family meals, and late-night get-togethers.
43. Coffee Subscription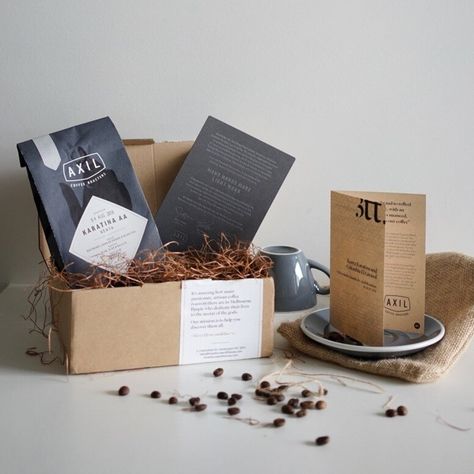 Seeking unique Father's Day gifts from son that might suit his interest? This coffee subscription won't let you down. Once he's signed up, he'll take an online questionnaire to discover the finest coffees for his palate and equipment. It is at this moment that they are able to determine their order frequency, grind setting, and coffee choice.
44. Cedar Shoe Shine Box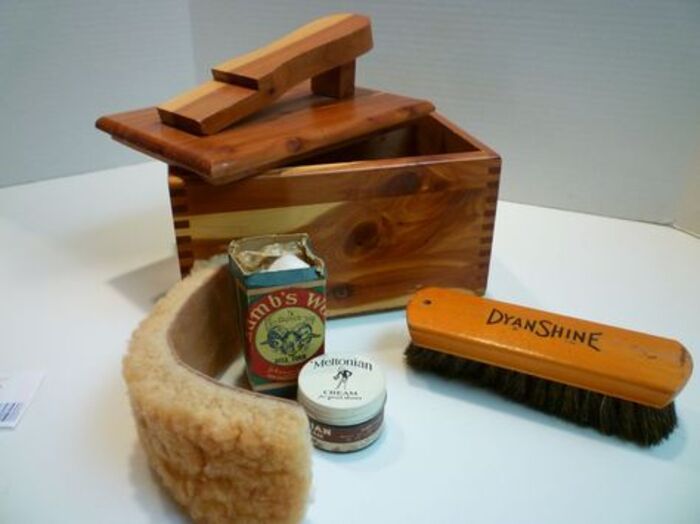 With a shoe care set that includes polish, horsehair brushes, and even a shine cloth, you can help dad keep his beloved sneakers in top shape. Take care of your shoes and they'll take care of you, as the saying goes.
Further reading: 
We've all heard a little something about our dads. On a more fundamental level, however, you realize that he's a fantastic dad with excellent taste. He's introduced you to a world of fine whiskeys, high-tech gadgets, and opulent accessories. As a result, you're never able to come up with the best Father's Day gift ideas that are truly original and will be appreciated by dad. But with this list by Oh Canvas, you're sure to make his day the most memorable.