A bonus dad may have a huge impact on the life of a person. Assuming the role of a parent is no easy feat, so a bonus dad deserves all of your respect and gratitude towards him.
A nice letter with stepfather quotes, a batch of handmade cookies, a few sweet messages with an inside joke only the two of you will get, and one of these great gifts would be perfect this year that he'll love. As your connection, these presents are one-of-a-kind, and many include interesting extras like the customization or stepfather-specific wording.
This guide of Oh Canvas will help you discover the perfect Father's day gifts for stepdad or any other occasion present for him.
Customized Father's Day Gifts For A Stepdad
1. Keychain made from Alphabet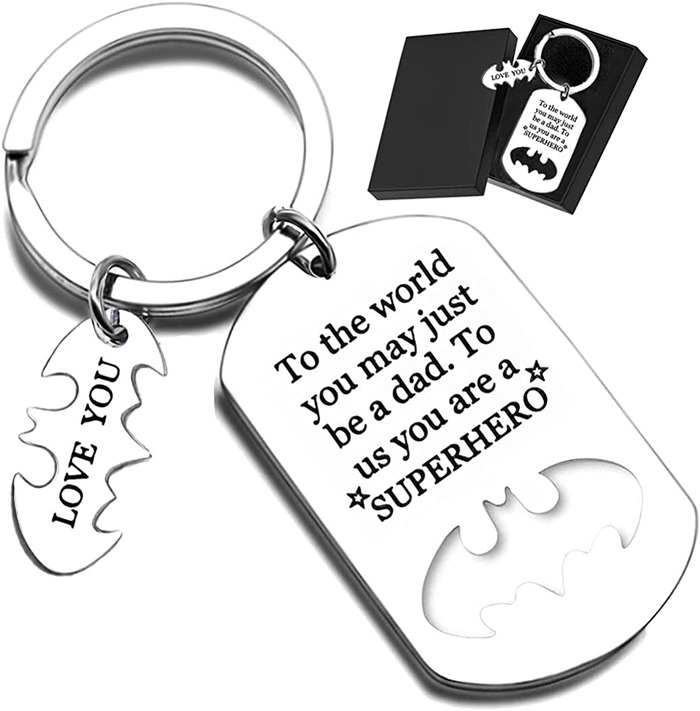 A leather alphabet keychain is an ideal Father's Day gift for the best bonus dad if you want to give a perfect gift to your stepfather but don't know him well or have a special message in mind. Select the initial letter of either his first or last name. He'll appreciate that you bought him something customized, but it won't be too sentimental, and he can bring it wherever he goes.
2. Metal Stepdad Picture Frame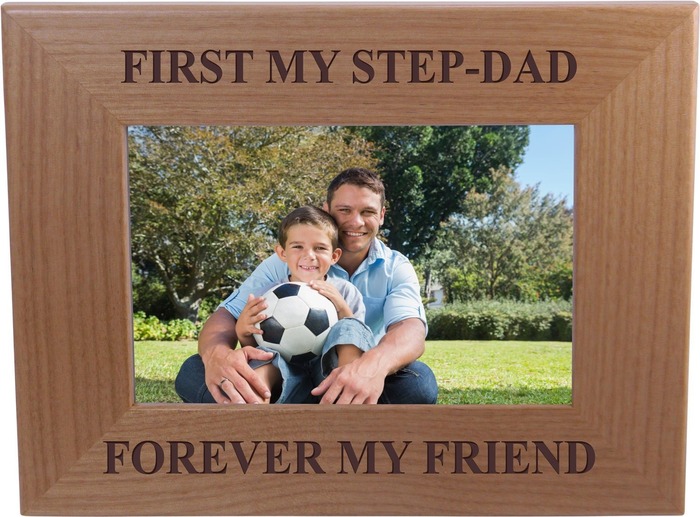 If you are considering the best Father's Day gifts for a bonus dad this upcoming occasion, you may be able to get a ready-made stepfather photo frame. You may add a family portrait or a snapshot of anything, like his dog, to the macho matte black frame with a silver finish. There is the capacity for five lines of text, but you may write "Stepfather" at the top with no more text.
3. Set of Initial Cufflinks with Money Clip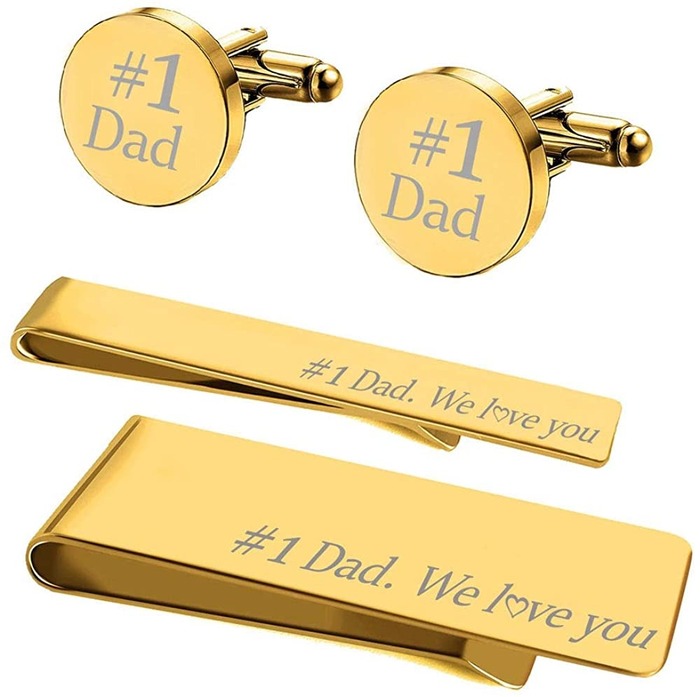 If your dad loves a good-looking style, you and your mom may choose the best Father's Day gift for stepdad: a $30 cufflink and money clip set with his initial or initials engraved. The initial makes it more personalized, and the material imparts a sense of uniqueness. A wooden keepsake box is also included.
4. Custom Bonus Dad Phone Grip Ring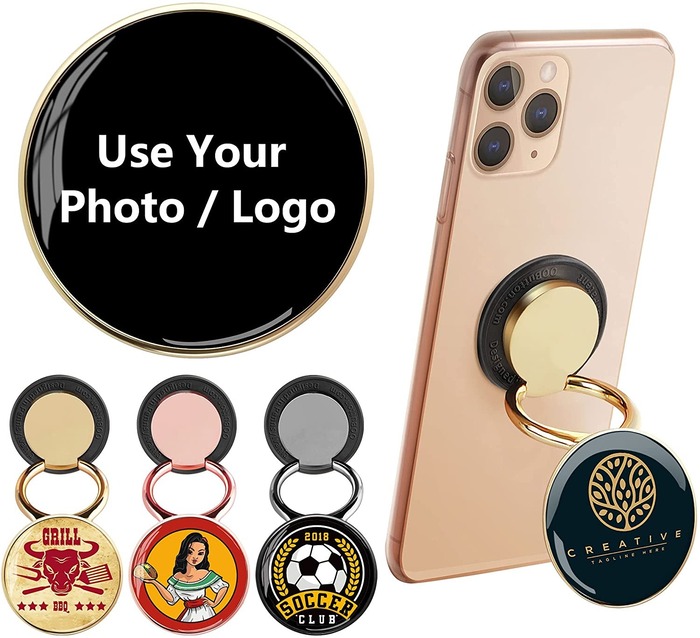 No matter your budget, you may personalize a phone grip ring for your bonus dad for around $10. You may add up to two lines of text on the black and gunmetal phone grip. You may add a monogram or a statement such as "Super Stepfather." These are, indeed, perfect Father's day gifts for stepdad.
5. "Thanks for Being the Dad…" Bottle Opener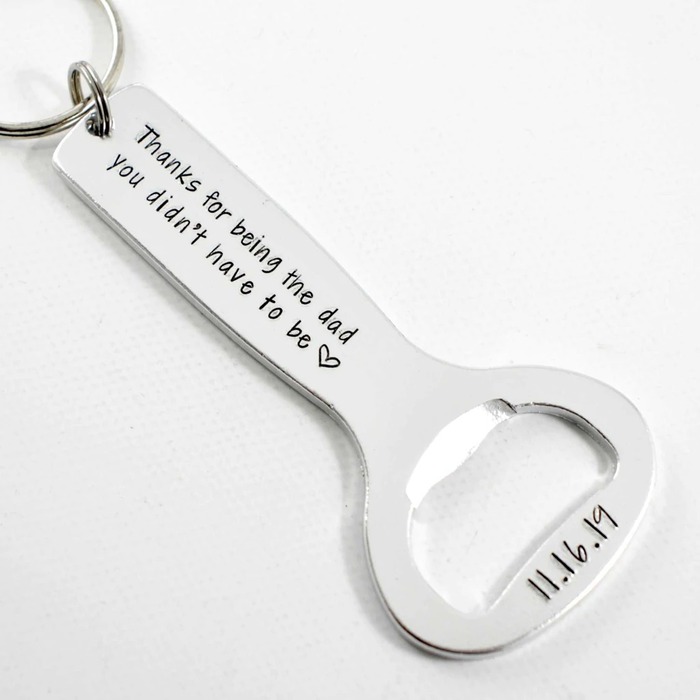 Okay, this is a very thoughtful, nice, and perfect gift. This simple bottle opener is engraved with a sweet message: "Thank you for being the father you didn't have to be." At under $13, this is a Father's day gift for stepdad that he will cherish and use anytime.
6. Bonus Dad Canvas Gift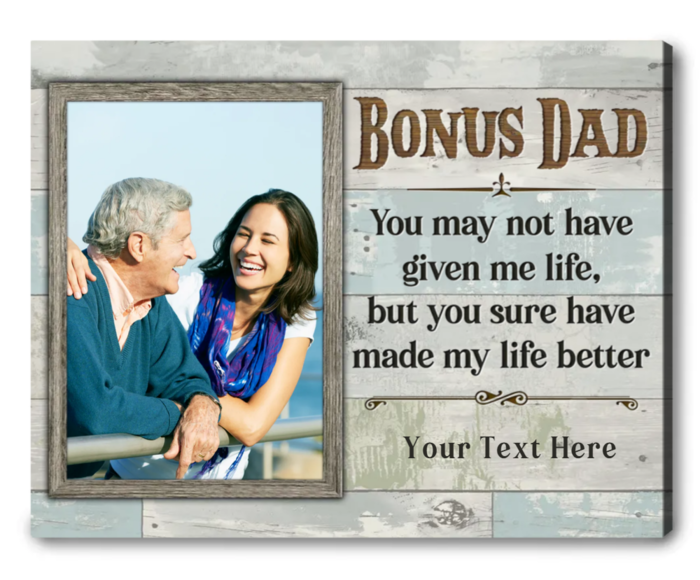 Even though your stepfather is not your biological father, he never makes you feel that way. It's like winning the lotto and having an extra father. Let your stepfather know how much he means to you by giving him the greatest gifts for your Dad on Father's day, which include a touching quote and a family photo.
7. Bonus Dad Quote Key Chain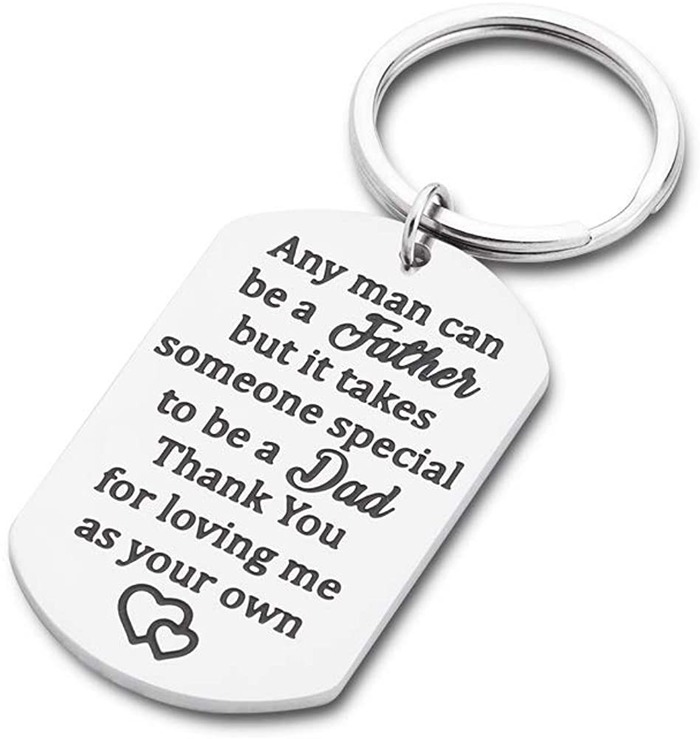 Even though they are only mementos of your devotion, the heartfelt inscriptions on these keychains will bring him to tears. Thank your bonus dad for his presence in your life with one of the following love messages: "I'm Not The Stepfather; I'm the Father Who Stepped Up" or "Fatherhood Requires Love, Not DNA." You are the one sobbing, not me.
8. Flask Individualized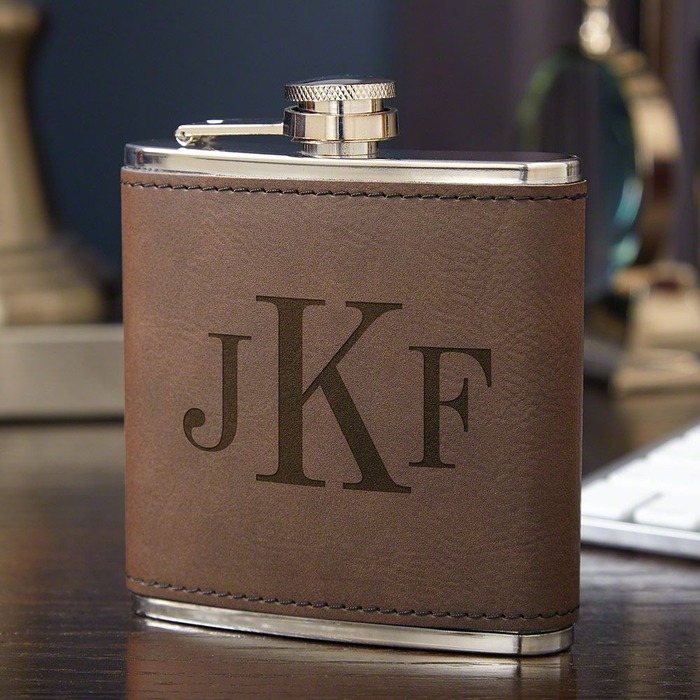 Are you looking for the best Father's day gift ideas for stepdad he'll love? A flask lends a bit of elegance to campfire evenings and home bars. We appreciate the customizable nature of this six-ounce choice from Zazzle. Choose the font style, color, and size, then add your stepfather's name or initials, a photo, a meaningful quotation, or a meaningful phrase to the card.
9. Custom Family Tree Gifts for Stepfather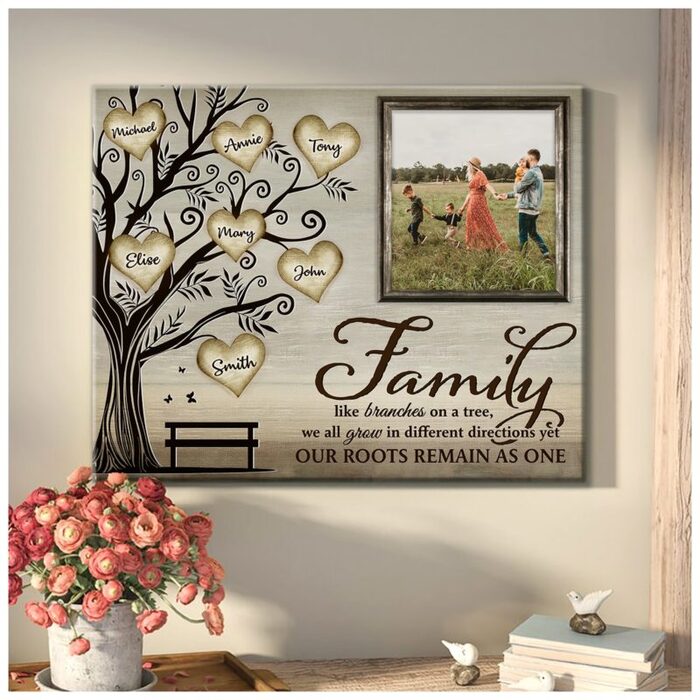 Your stepfather is like a powerful force. He is there for you, like a big tree of knowledge, vigor, and caring. He protects you anytime you require it, even if you are unaware of your need for protection. The family tree canvas print is the perfect outlet to express appreciation for your father's unwavering support. With these Father's day gifts for stepdad, he will be emotionally touched.
10. To My Bonus Father Canvas Artwork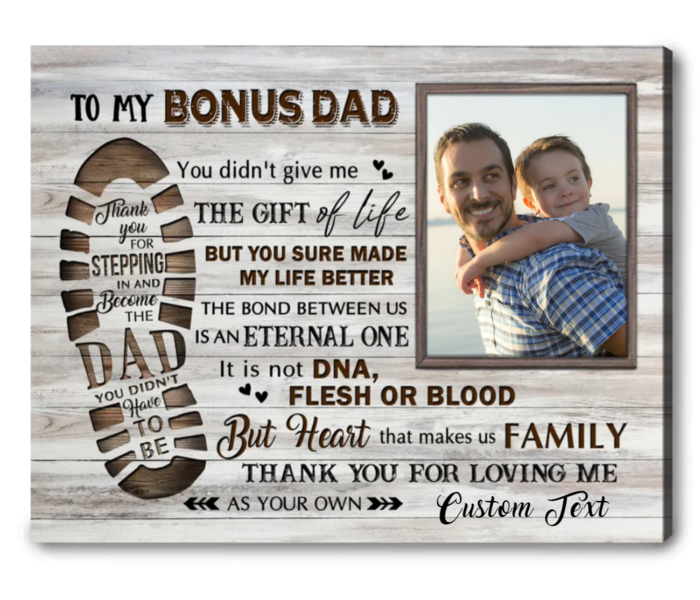 The 'To My Bonus Dad' canvas poster will demonstrate your affection for your stepfather or bonus father. The unique gift ideas for stepdad for Father's day include a heartfelt, sincere note that is certain to make your bonus father smile and tear up.
11. Wooden Pen Personalization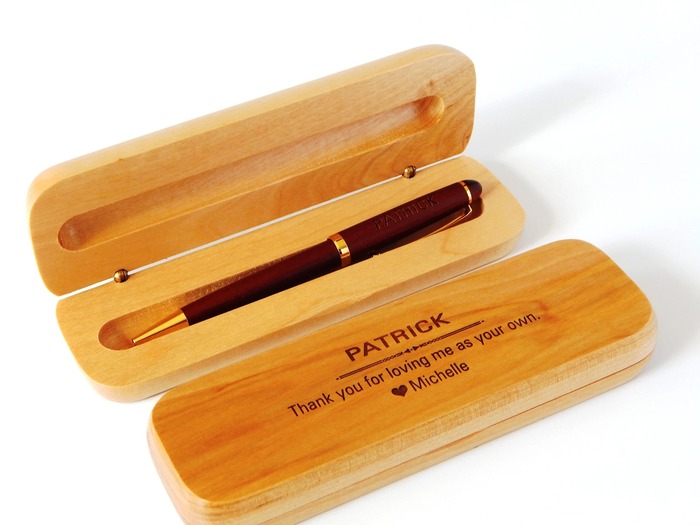 If you are a college student or on a tight budget, it is always a perfect idea to consider modest presents for your stepfather. This customized wooden pen is a cost-effective Father's Day present that does not compromise quality and love.
12. Canvas Print of Your Dad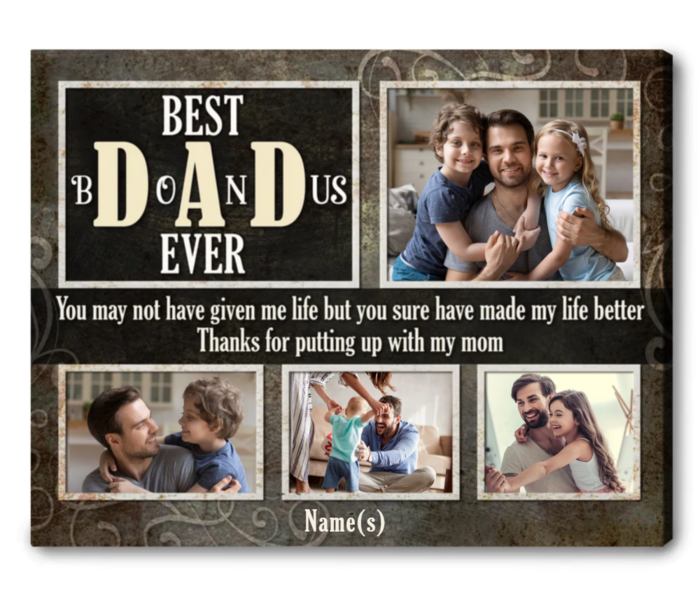 A man who chooses to become a father is exceptional. Because of his own volition, he joins your life and adopts you as his own. The best part about him is that he suddenly flies into your life like a superhero and claims your home – your planet – for all eternity. You are his kid, and he is your father, with whom you share a close relationship based on affection and protection. On Father's Day, it is one of the best Father's day gift ideas for stepdad.
13. Leather Bracelet with Lovalita Birthstones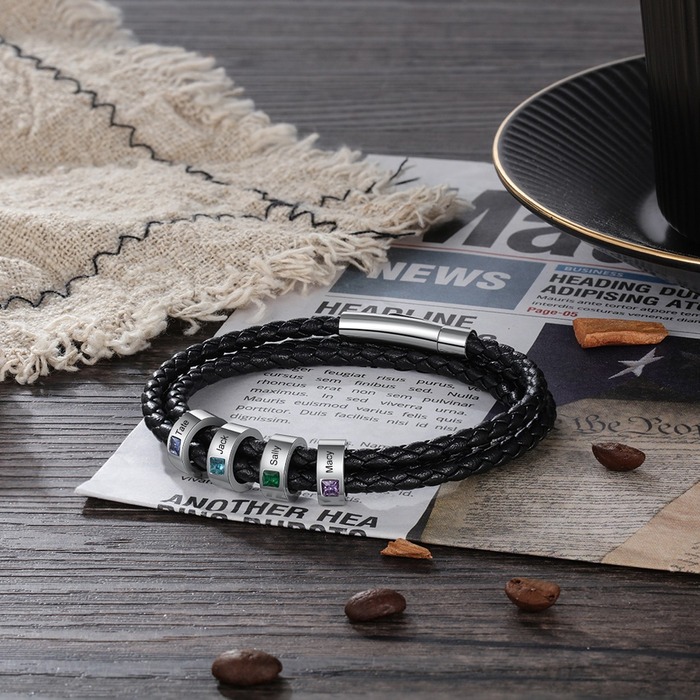 Bring a smile to your dad's face with this lovely leather bracelet. He'll be reminded of you and your siblings when he wears this accessory. Make it a good Father's Day gift set by adding beaded charms with the child's name and birthstone. There's enough room for a large, blended family on the bracelet, carrying up to eight charms.
Sentimental Father's Day Gift Ideas For Stepdad
14. Personalized glassware makes a meaningful Father's Day gift for stepdad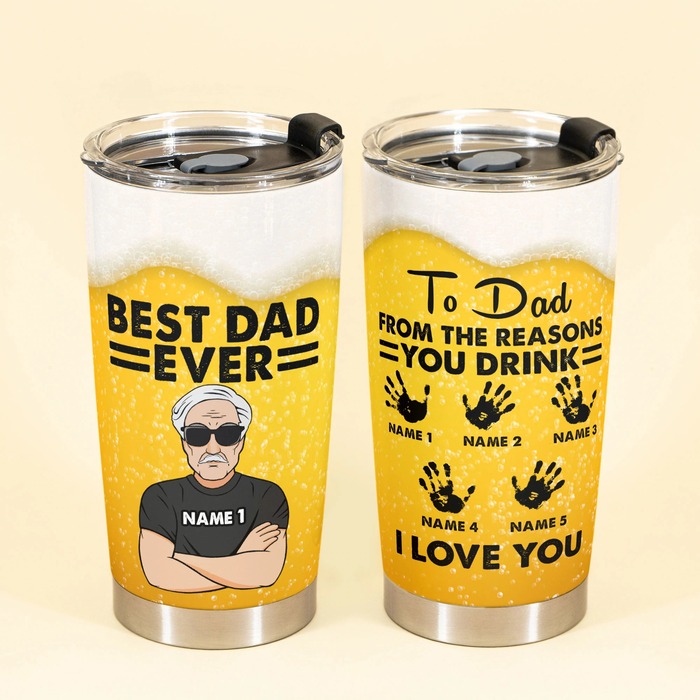 A classic approach for a parent to spend time with an adult kid is sharing a drink with a dear old dad. Celebrate this momentous occasion in your relationship with a personalized bespoke pint glass.
15. A customized pillow is a thoughtful Father's Day gift for stepdad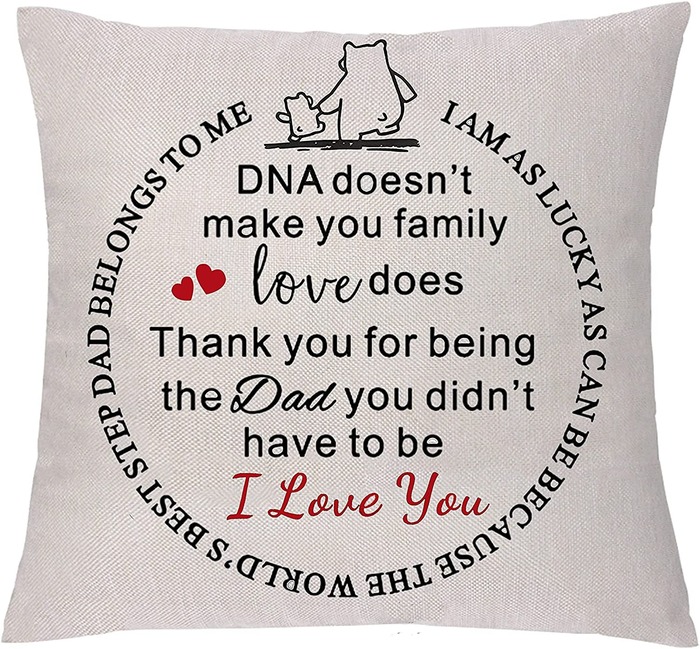 The family transcends the ties of blood. Show your stepfather how much he means to you with a thoughtful and uncomplicated present. The Step Daddy Throw Pillow is certain to bring a grin to his face. On the next upcoming and special day, you should surprise him with this cheap father's day gift for your stepdad.
16. Card for Bonus Dad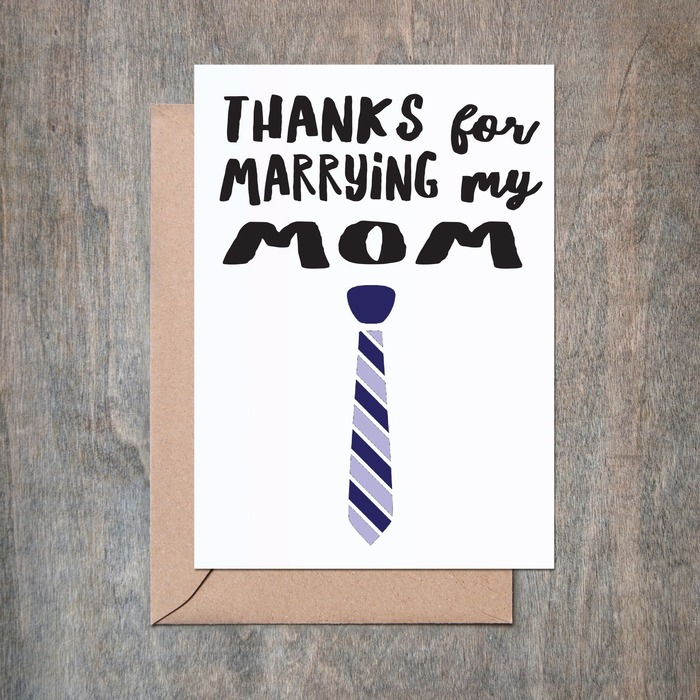 You don't have to pay much attention to elaborate or expensive things. In fact, the most thoughtful Father's day gifts for stepdads are frequently those that come from the heart. Create the desired effect by writing a short statement on a greeting card that expresses your boundless love.
17. "Dear step dad" Mug Gift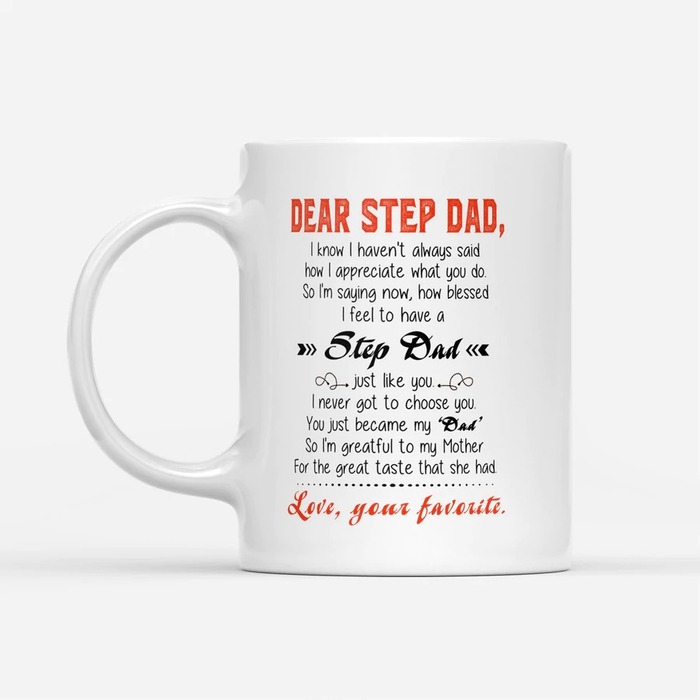 A family is brought together by the growing pains of family life, mischievous conduct, and foolishness. This requires a stepfather to experience these times with his stepchildren. Even when you're at your wildest, stepfathers love and care for their stepchildren just as much as any other father would. This is one of the most terrific Father's Day gift ideas for stepdad, who desires to please bonus dad.
18. Best Stepdad In the Universe T-shirt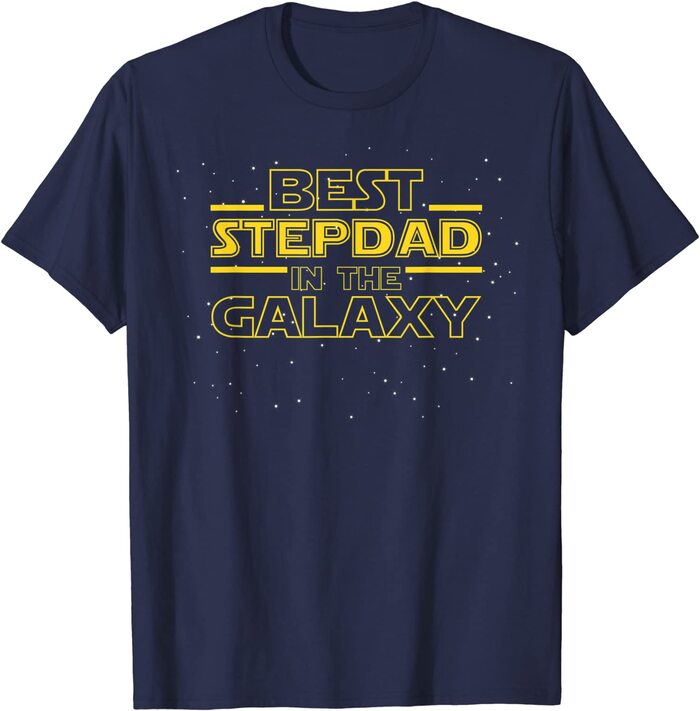 Many fathers, despite their often serious or harsh demeanor, are geeks at heart. If your bonus dad loves stories set in other places, he will undoubtedly value Star Wars gift ideas for a bonus dad for Father's Day, such as this comfy and witty T-shirt.
19. Warm Pipe Tobacco Scented Candle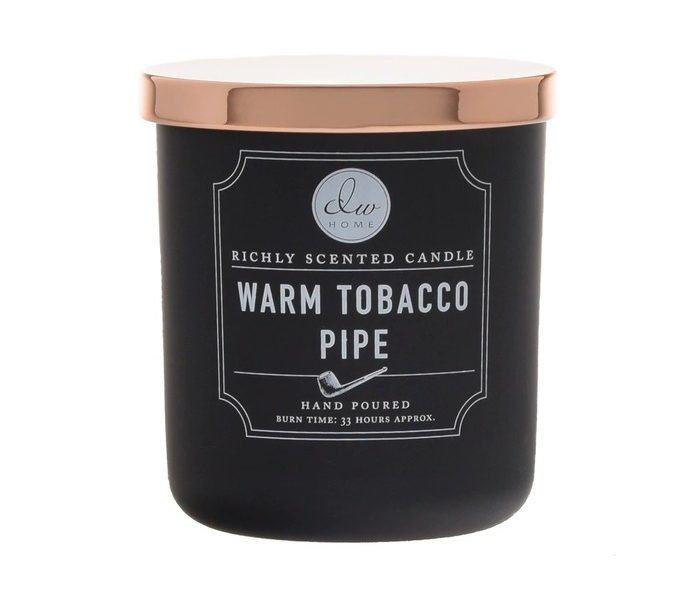 Scented candles are a perfect way to illuminate a room. If your stepfather dislikes floral or sweet scents, purchase him a scented candle with pipe tobacco's deep, warm aroma. This Father's day gift for stepdad is a manly smell for sure.
20. Best Step Dad Gift Custom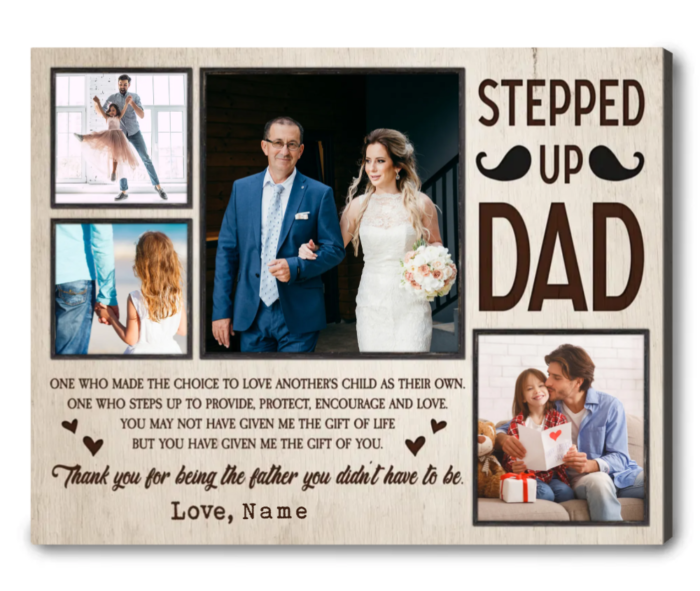 There is more to a family than the connection of blood. Looking for a thoughtful way to show your stepfather how much you care and love him from the bottom of your heart, just like your mom? Amaze your stepfather with this personalized painting featuring a family portrait. Among the perfect gift set for your stepfather, this special photo canvas is perfect for sharing your love and happiness with him.
21. Personalized Photo Stepped Up Dad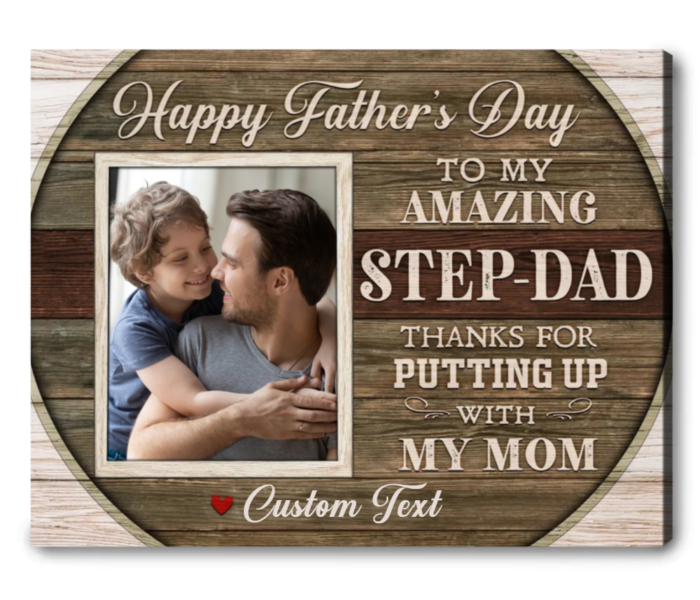 Dads are like a second set of parents who can always help us whenever needed. You may express gratitude to your great stepfather for everything he has done with the funny message "Happy Father's Day to my amazing stepdad" photo canvas print. The unique gift showcases your stepfather's natural parenting qualities and your family's sense of humor. Add it to your shopping list and give it to your hero dad.
22. "Dear Bonus Dad" Personalized Mug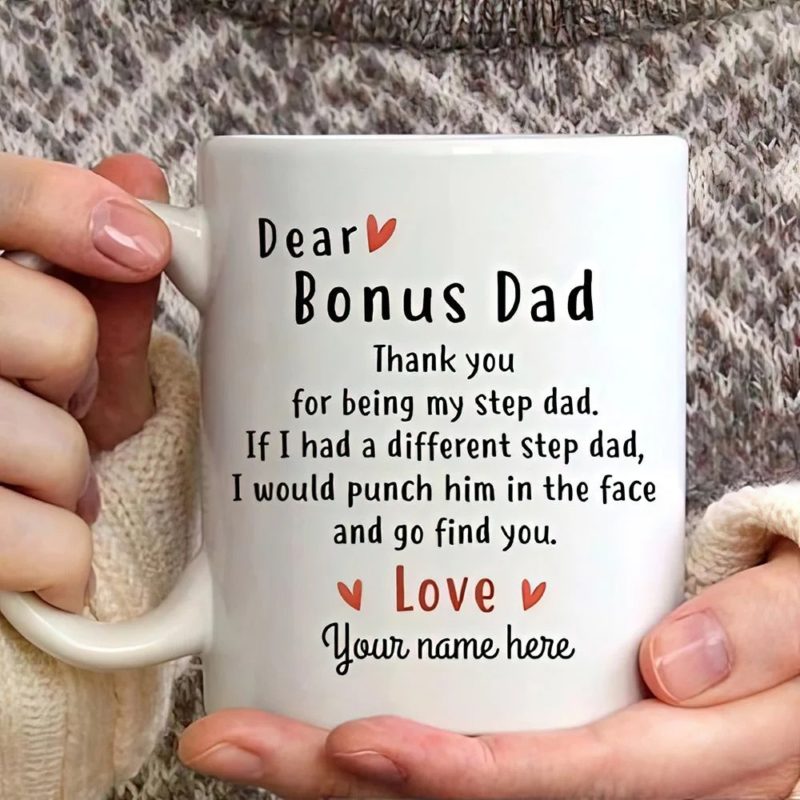 A stepfather would be thrilled to receive our customized mug that reads "Dear Bonus Dad." This morning coffee will be a daily reminder of how much you care for your stepfather as much as your mom. Make it a great gift for Father's Day with all your heart by having it personalized with his name; nobody will ever take it away from you!
23. Solids Ankle Socks by Bombas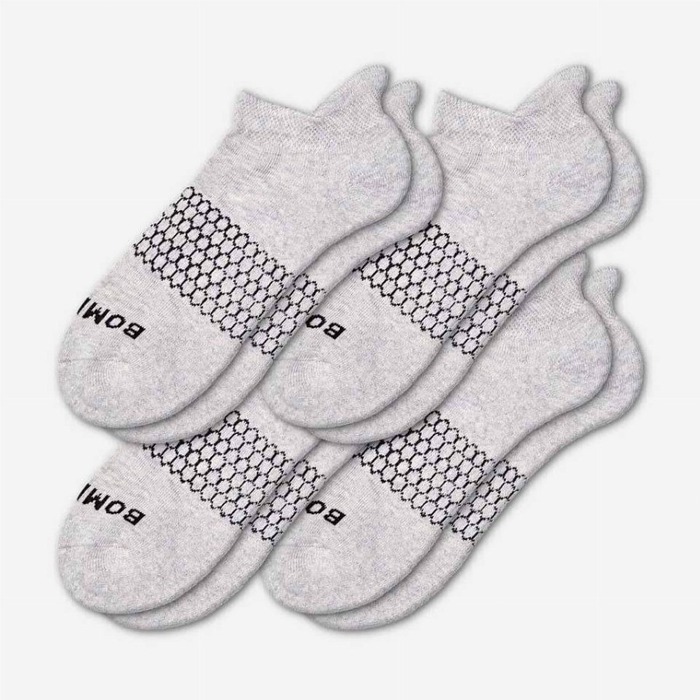 If you're not sure what to get him, get him socks! But not just any socks will suffice. The Bombas ankle sock is marketed as the "world's most comfortable sock," It features a cushioned footbed, no-blister heel, and built-in arch support to keep your stepfather warm in the cold weather. It's easy to see why Bombas socks made our list of cult-favorite dad gifts worth the investment.
24. Utility Knife by RoverTac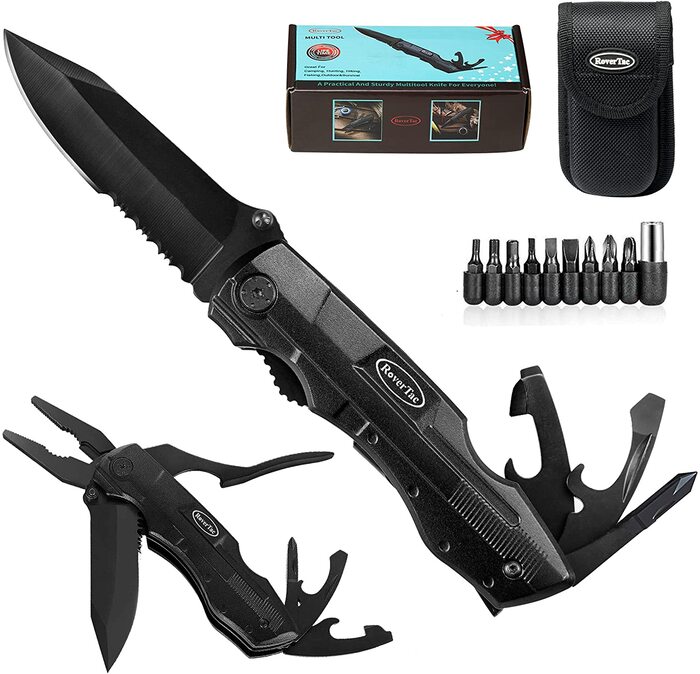 This all-in-one gift is perfect for the off-grid dad in your life. A screwdriver (a nine-bit set is included), two types of pliers, a wire cutter, a can opener, and a bottle opener are all hidden tools inside the RoverTac pocket knife's body. It's a lovely good Father's Day gift set from a daughter or son, especially since he'll appreciate showing you how to use all of the knife set's capabilities.
25. Sofa Armrest Organizer by SYSOV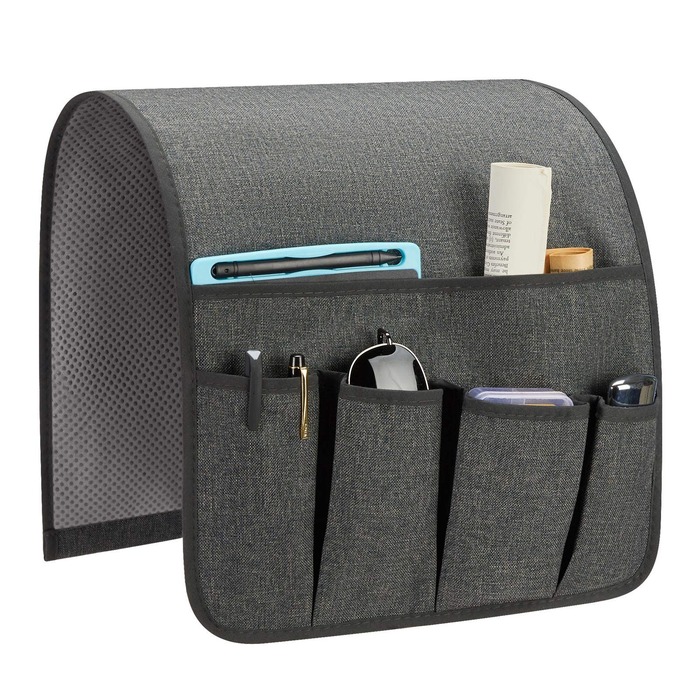 If he parks his keister on the sofa when he gets home from a long day at work and doesn't get up until nighttime, he'll appreciate this special caddy, which keeps his nocturnal essentials within reach.
The SYSOV armrest organizer is held in place by a nonslip backing and fits discreetly on the arm of the couch (or his favorite recliner). He can store remotes, reading glasses, his phone, a tablet or notebook, an e-reader, periodicals, or any other nighttime favorites in the five compartments.
Funny Father's Day Gift Ideas For Stepdads
26. Funny Stepfather Gifts: Notebook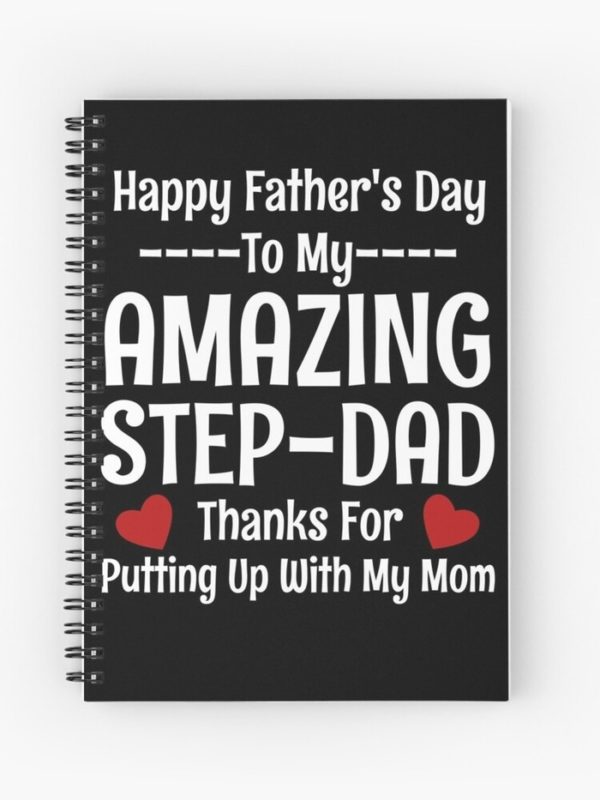 Stepfathers and their daughters or sons might develop a close bond. If you're searching for the best Father's day gift for stepdad, a humorous notepad is an excellent option. This funny gift has a powerful emotional love that will make Dad cry.
27. Bad Dad Jokes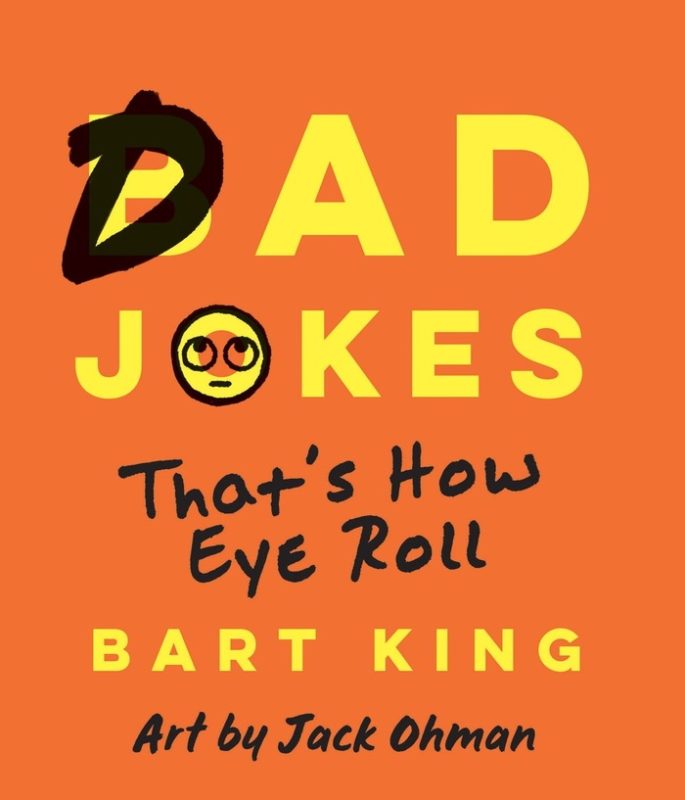 Dad jokes are a combination of classics and duds. Even if some fathers are funnier than others, everybody will enjoy a collection of the funniest awful dad jokes available. You will have to endure hearing them! Not only is it a funny gift, but it is also a meaningful gift set that he'll love.
28. Amusing Stepfather T-Shirt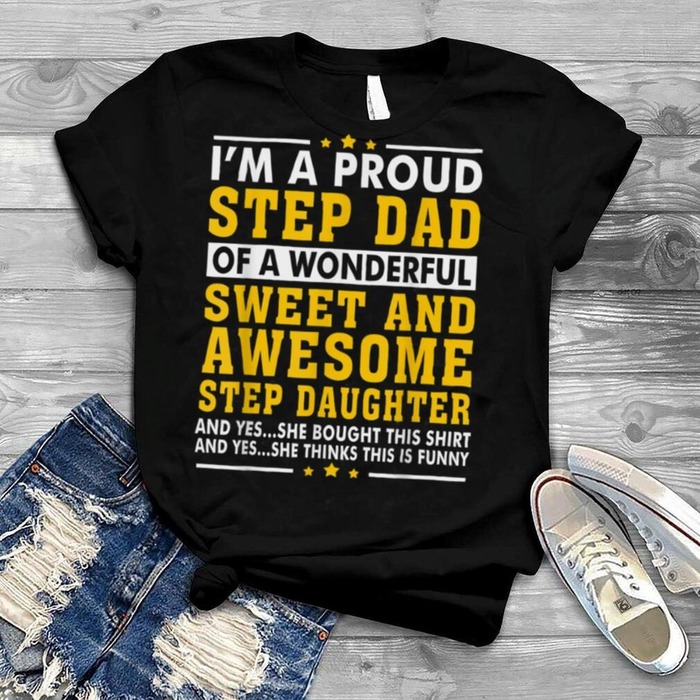 A basic tee with a humorous phrase is ideal for the stepfather who enjoys reading t-shirts. Blood isn't thicker than love is a variation on the idiom "blood is thicker than water." The humorous Father's Day gifts for a father recognize stepfathers who are adored, even if they did not contribute DNA to their kids.
29. Blank Funny Stepdad Notebook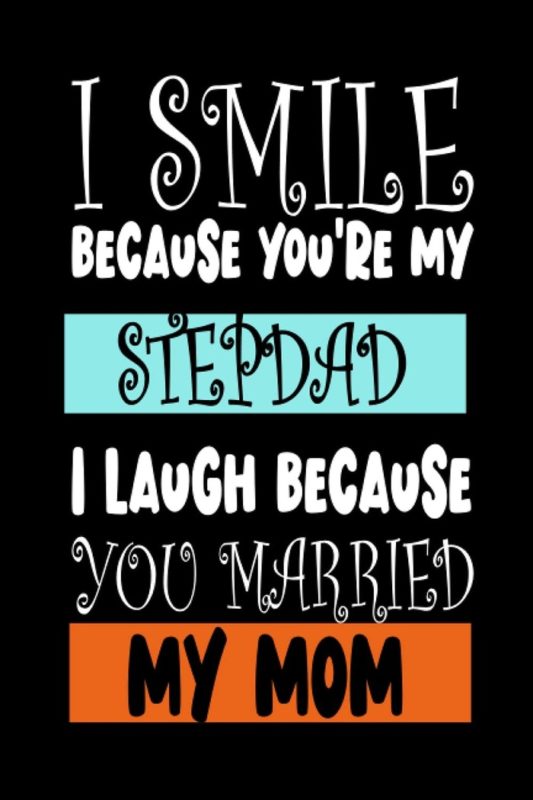 Give your stepfather the best Father's day present for stepdad of laughter with this hilarious stepfather notepad. On the front cover of the blank notebook is a humorous adage that reads, "Being my stepfather is simpler than living with my mother."
30. Awkward Family Photos Game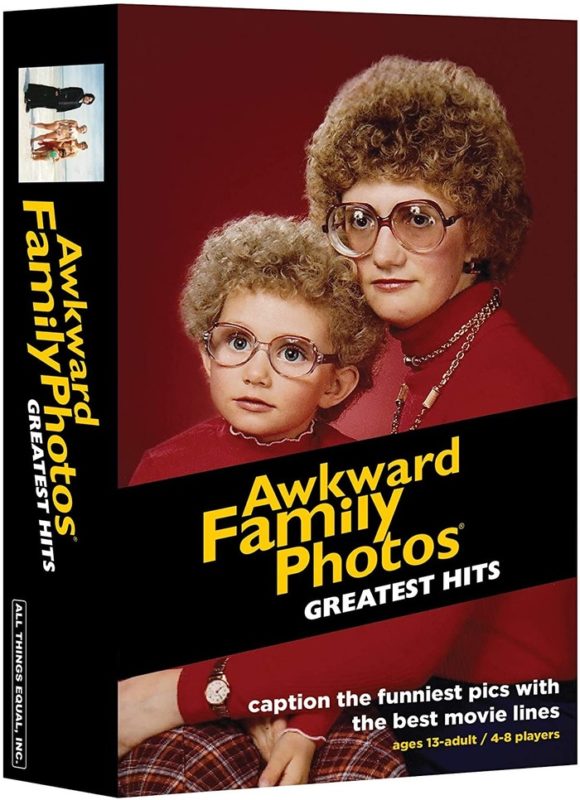 Having a blended family might lead to uncomfortable family dynamics. Embrace the fun that sometimes accompanies uncomfortable stepfather-stepchild relationships by playing a game with a suitable title. This is one of the fun gift ideas for the stepdad for Father's Day. The Awkward Family Photos board game is an adaptation of Apples to Apples in which players assign humorous film titles to awkward family photographs.
31. Funny Stepfather Films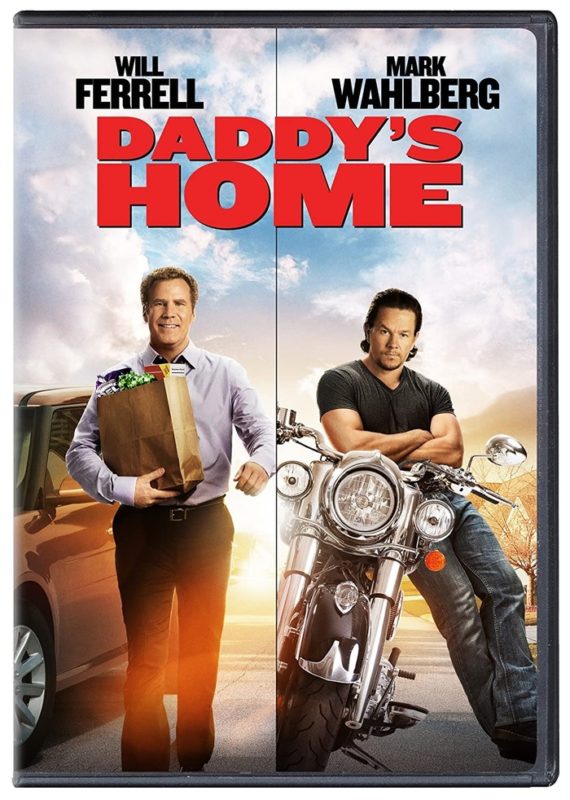 If your stepfather likes comedy films, he may appreciate it if you make light of his position by showing him comedies about stepfather relationships. Choose a single film, such as Daddy's Home starring Will Ferrell and Mark Wahlberg, or a collection of films to give as a present. Blended and Yours, Mine, & Ours are other comedic stepfather films. Make Father's Day more fun with laughter with this Father's day gift for stepdad.
32. Novelty Tie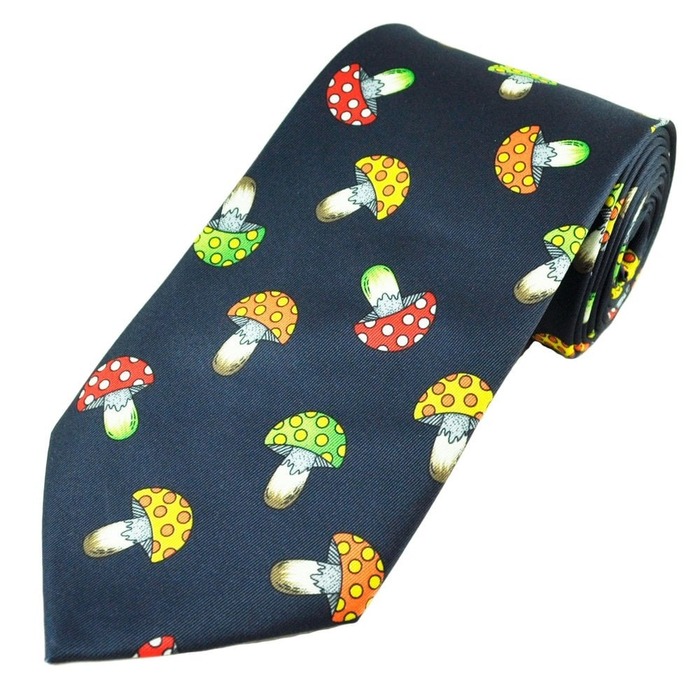 Buy your stepfather a quirky novelty tie to poke fun at the traditional Fathers day gifts for step dad, a tie. Consider his interests and inside jokes when selecting the appropriate ugly tie to make your stepfather feel like any other father.
33. Exceptionally Bad Dad Jokes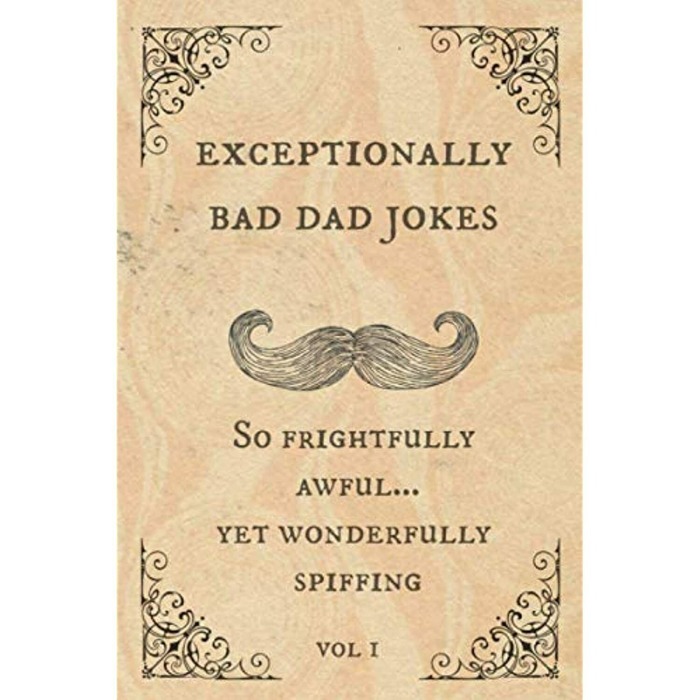 We love dad jokes at Reader's Digest, and the corner, the better! Even if the rest of you groan with laughter, if your stepfather needs some new material, he'll like this volume of clean, family-friendly jokes (or just groan). A blank page for a personalized dedication is included as a bonus.
34. Baseball Game Against the Home Team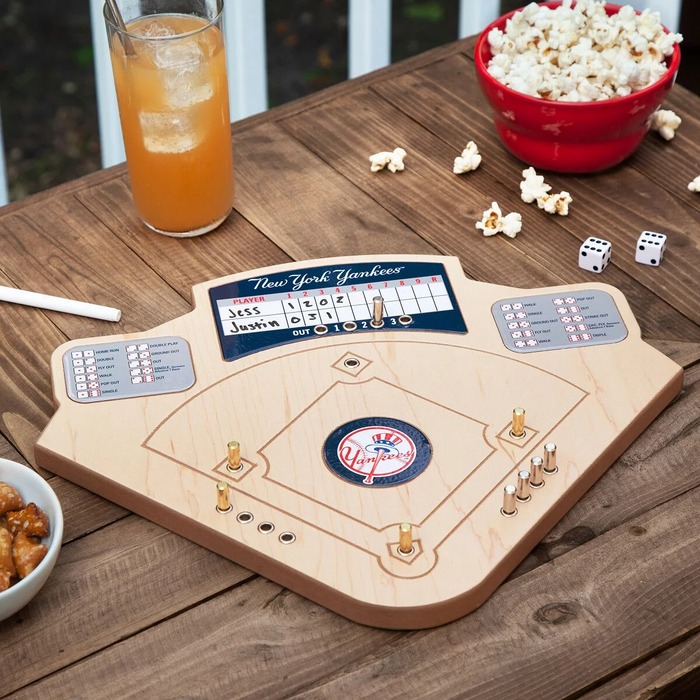 When your guy isn't watching baseball on TV, he can relax with a brewski and some Cracker Jacks and enjoy America's favorite pastime the old-fashioned way. This is a game that the whole family will enjoy at any moment: Simply roll the dice to control your player's movements and the team's lineup.
See also: 35 Cool Ideas For Father's Day Gift For Brother That He'll Love
Father's Day Gifts For Stepdads Related To Interests And Hobbies
35. Hand-Impressed Guitar Pick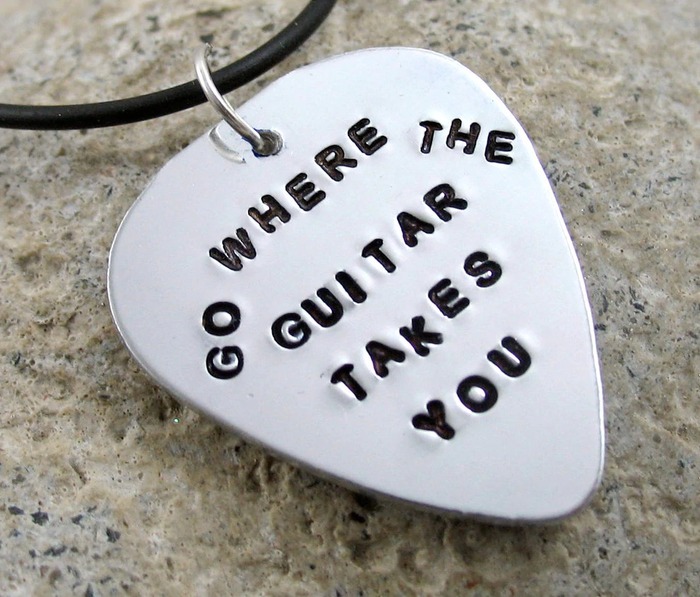 Some fathers like sharing their enthusiasm for music with their families. If your stepfather enjoys playing guitar at any relaxing moment, on Father's Day, try giving him a personalized guitar pick with a hand-stamped inscription as a Father's day gift for step dad.
36. The Grillmaster Gift Set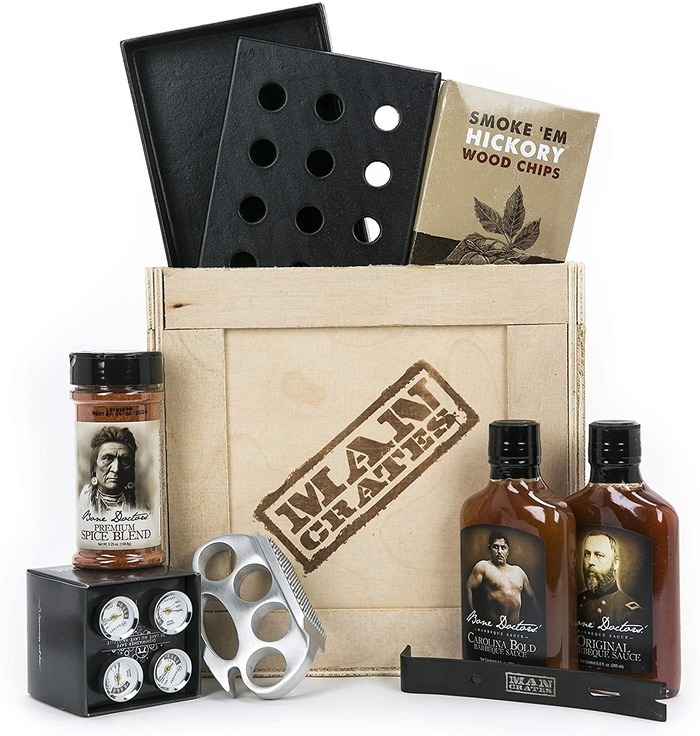 Accepting grilling duties is a requirement for assuming the position of the father. Whether your bonus dad loves to cook or grill, don't hesitate to demonstrate gratitude to your stepfather by giving him this grilling set, entailing all the necessary tools to enhance his grilling experience.
37. "A Man, A Pan, A Plan" Cookbook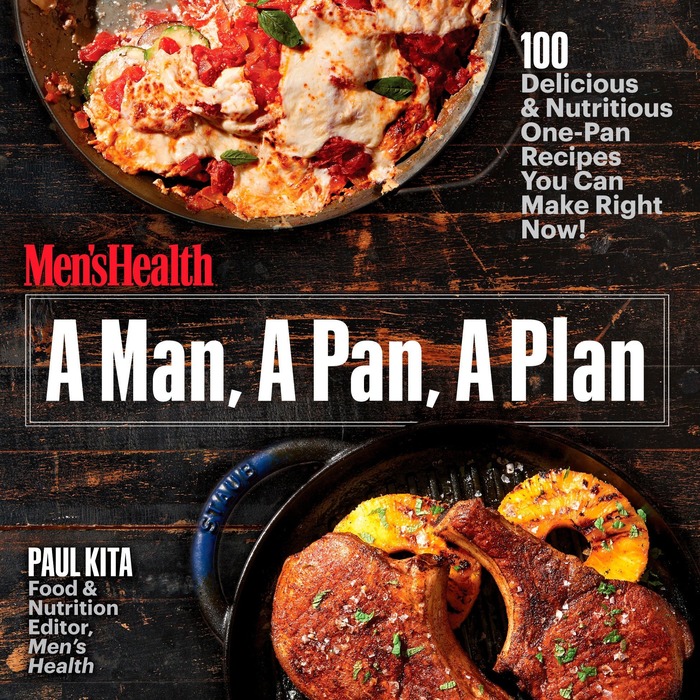 Family meal preparation may be an awesome experience. If your dad loves cooking, consider giving him a cookbook with detailed guidance on preparing healthy meals for his family. This Father's day present for stepdad keeps giving as he tries new recipes.
38. Hot Sauce Membership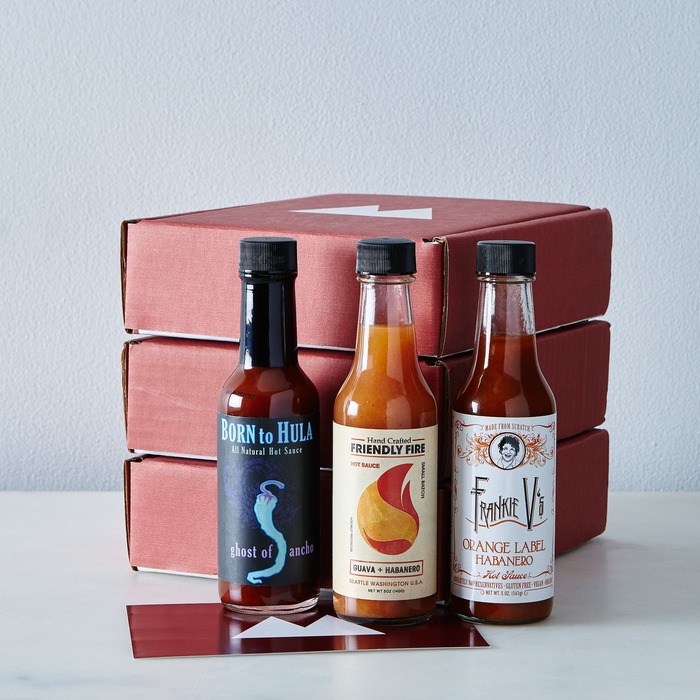 Does your stepfather enjoy a dish with a high amount of heat? Then he will adore a subscription to hot sauce. With these Father's day gift ideas for stepdad, he will receive different tastes of hot sauce every month, which he may use to add zest to his cuisine. There's no doubt he'll obsess over the variety of hot sauces.
39. Customized Fishing Bait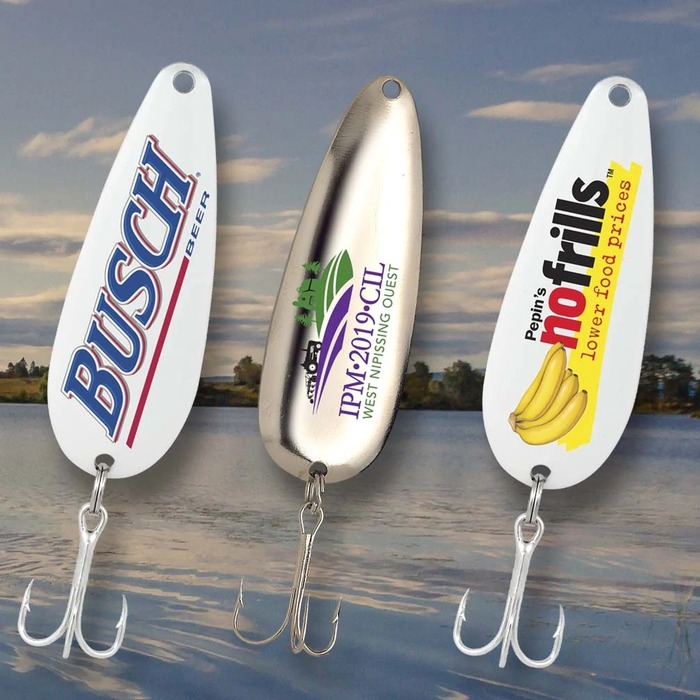 Some fathers find nothing more soothing than spending time on the water attempting to catch a few fish. On Father's Day, give your stepfather fishing-related gift ideas for step dad for father's day that will enhance his next experience.
40. Lace-up Sneakers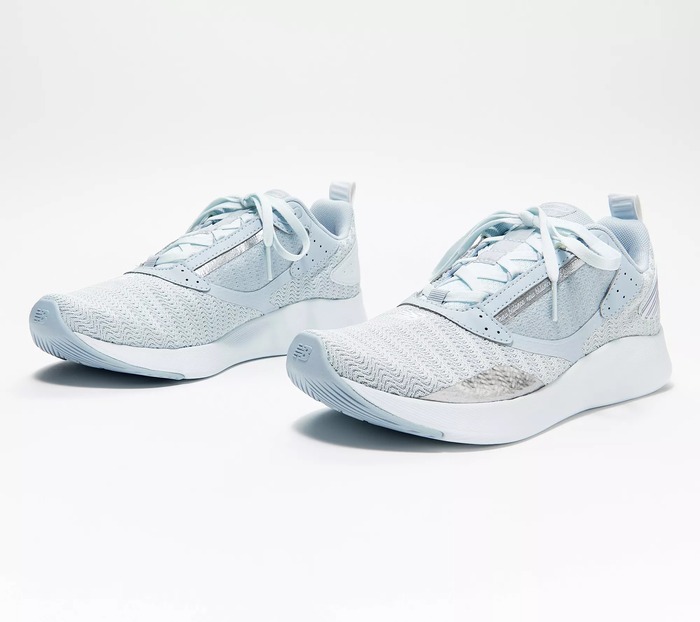 When you're in a rush to find the finest Father's day gifts for a stepdad, a new pair of sneakers is never a terrible choice. If you know his shoe size and favored style, you may give him the best gifts he would like.
41. Beer Club Subscription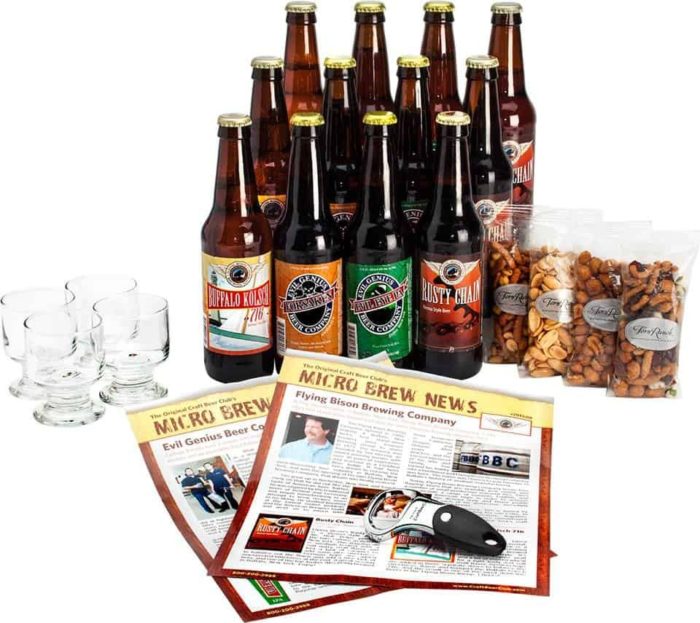 Is beer a favorite beverage of your stepfather's? If this is the case, giving beer is an awesome gift to investigate. Your stepfather will have the opportunity to sample beers from all around the world without having to leave the house by subscribing to a beer club. A small tip for your dad: serve the beers chilly, then enjoy the cold ones!
42. Bean Box – World Coffee Tour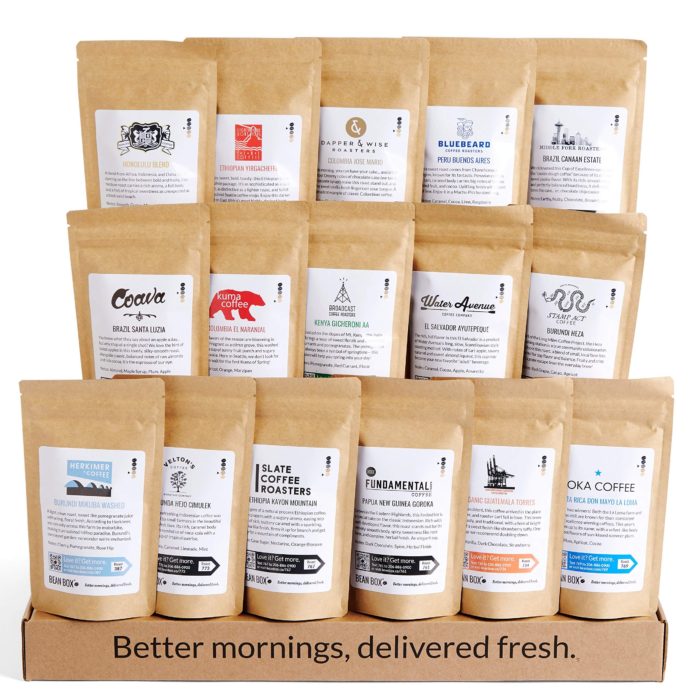 Coffee is vital to many people's ability to carry out their everyday activities. If your dad considers himself a coffee connoisseur, getting him a coffee gift set is a fantastic way to introduce him to some delectable coffees from around the world.
43. Grassroots Par Three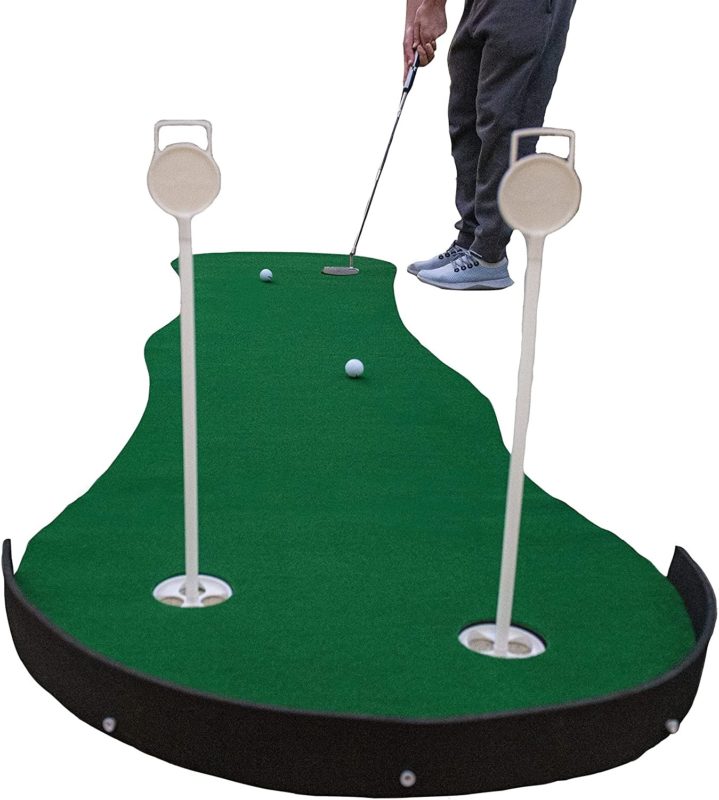 You are still vague about what sport your stepfather loves most. You can move the putting green inside if your father desires to incorporate more physical activity into his normal routine at home. Because this pad also has a pair of "sandtraps," it will be an excellent tool for him to use in honing his art.
44. Bacon Crate Gift Set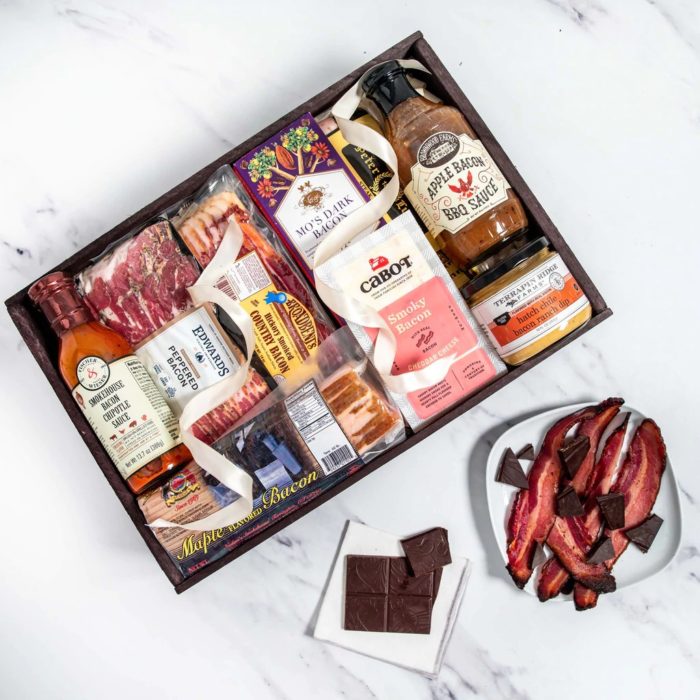 The MacCrates Bacon Crate is a selection of holiday treats with bacon, making it an awesome gift for stepfathers who are bacon fans. This Father's Day gift set has almost everything your stepfather needs to have tasty bacon treats that the whole family will enjoy, from bacon jerky to bacon jam and everything in between.
45. Set of Whiskey Decanter Globes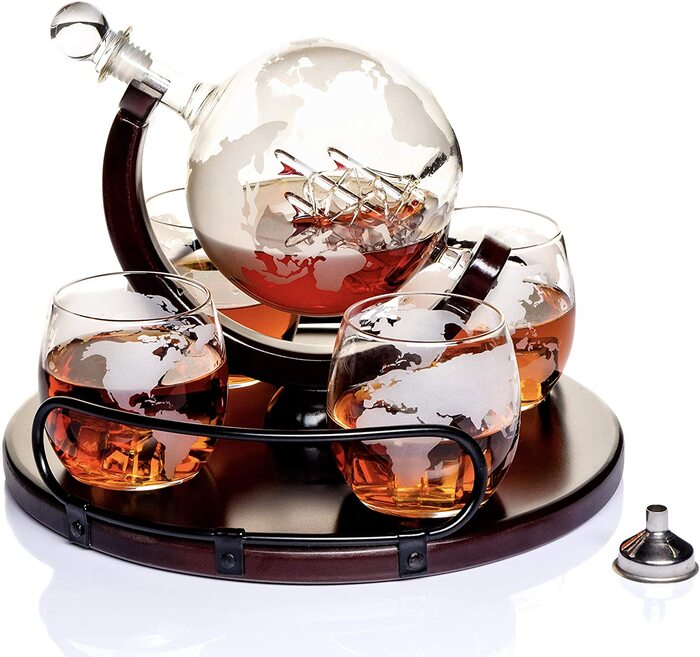 Are you in need of stepfather gifts for this Father's Day occasion? This is the ideal decanter and old-fashioned glass set for the whiskey-expert stepfather. It even has a gold stopper to keep his favorite spirits sealed inside.
46. Champagne Veuve Clicquot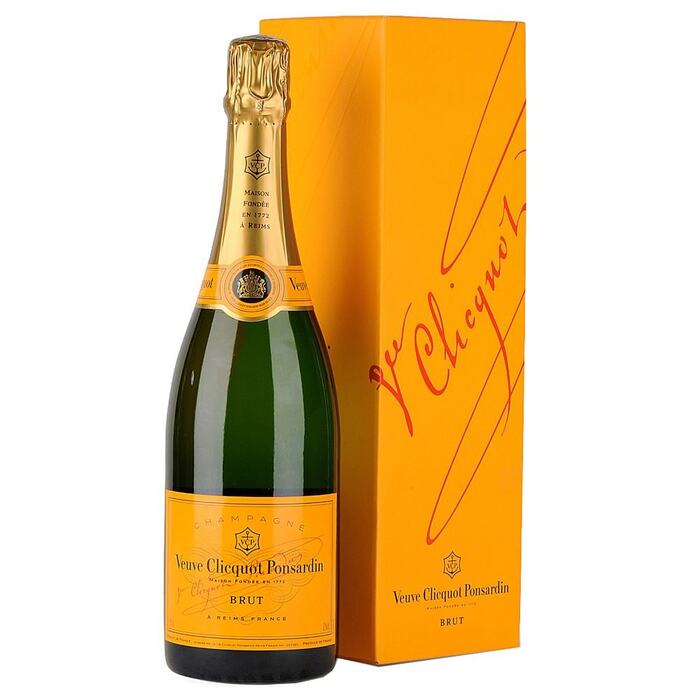 What better way to honor Father's Day than with a bottle of fine Champagne? Laurent Perrier's trademark Champagne is made annually and is a bottle of non-vintage champagne. It is made with a high percentage of Chardonnay grapes and has a fresh, light, and exquisite flavor. Therefore, as frigid temperatures hit, a glass of champagne would be ideal to keep your bonus dad warm during the cold season. You can put the Champagne in one of 'Father's Day' wooden gift boxes as a special gift.
47. Subscription Box for Cocktails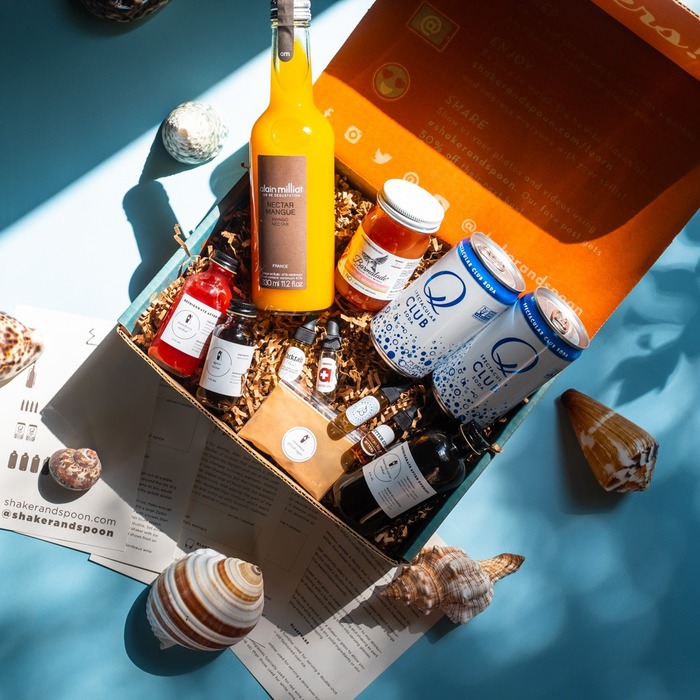 Making craft cocktails at home requires many (often expensive) ingredients, bar tools, time, and effort. Therefore, this subscription package will include everything he needs to make three seasonal cocktails, including syrups, bitters, mixers, and garnishes. Because all drinks may be created with the same liquor, leave a brand-new bottle under the tree for him to get started.
DIY Father's Day Gifts For Stepdad
48. Homemade Barbecue Apron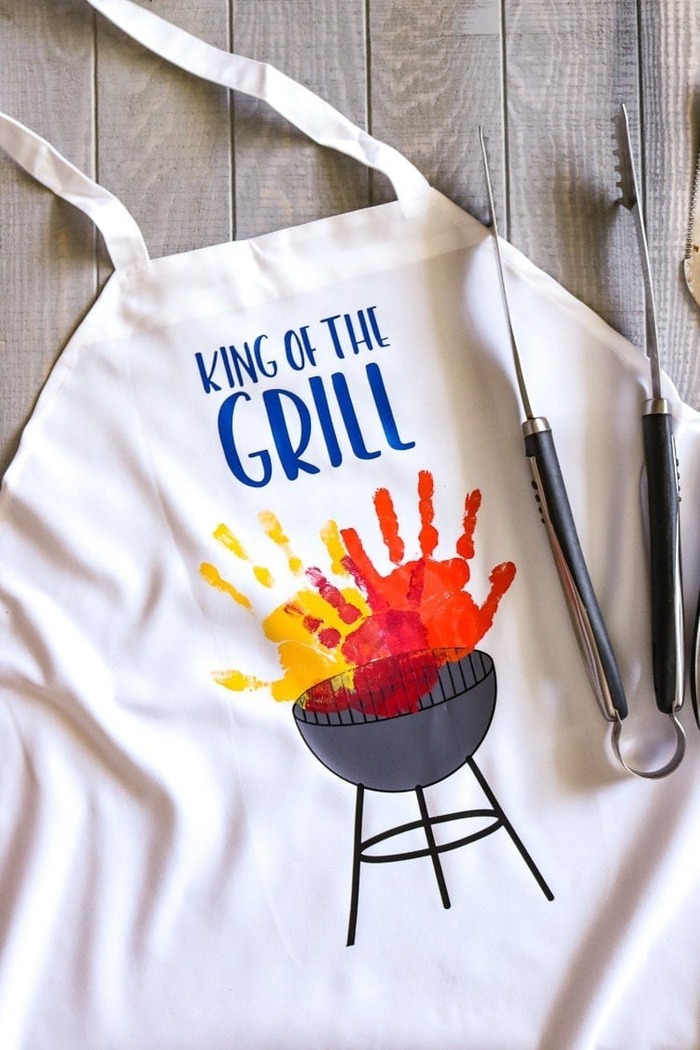 Provide your kids various fabric markers and paints, then watch as they transform a standard white apron into something unique for the family's grill master. With these awesome gift ideas for bonus dad for Father's day, the kids can make a meaningful gift for their stepfather with their own hands.
49. Customized Spatula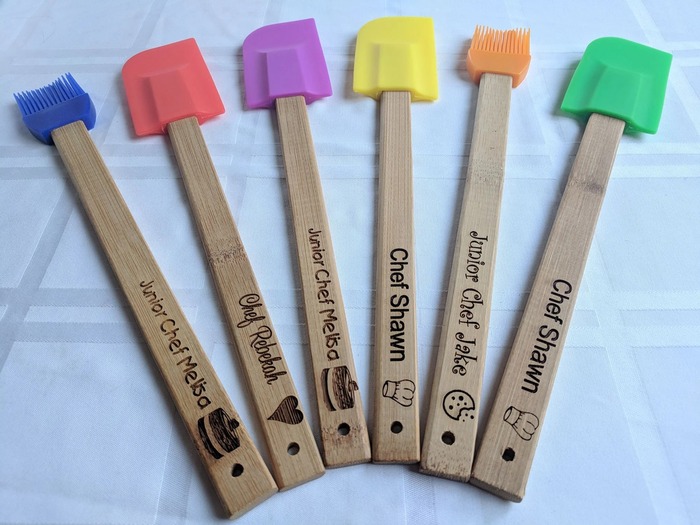 It is only right that he has a customized burger, hot dog, and vegetable flipper, given that he is the gift set of choice. Let the children paint a personalized inscription on the wooden handle, such as "#1 Dad" or "Best Dad Ever." This will be the best Father's day gift for stepdad; he'll love it when receiving it for the special day.
50. "Thank You for Helping Me Grow" Cactus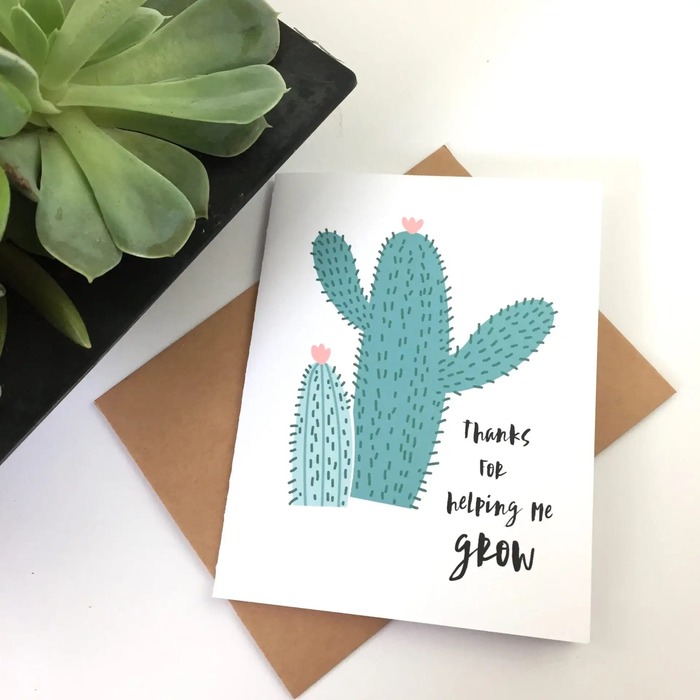 Succulents are extremely low maintenance, so he need not worry if he lacks a green thumb. Simplify Father's Day gifts for a stepfather with a hand-drawn but meaningful symbolic card.
51. Set of Embroidered Photographs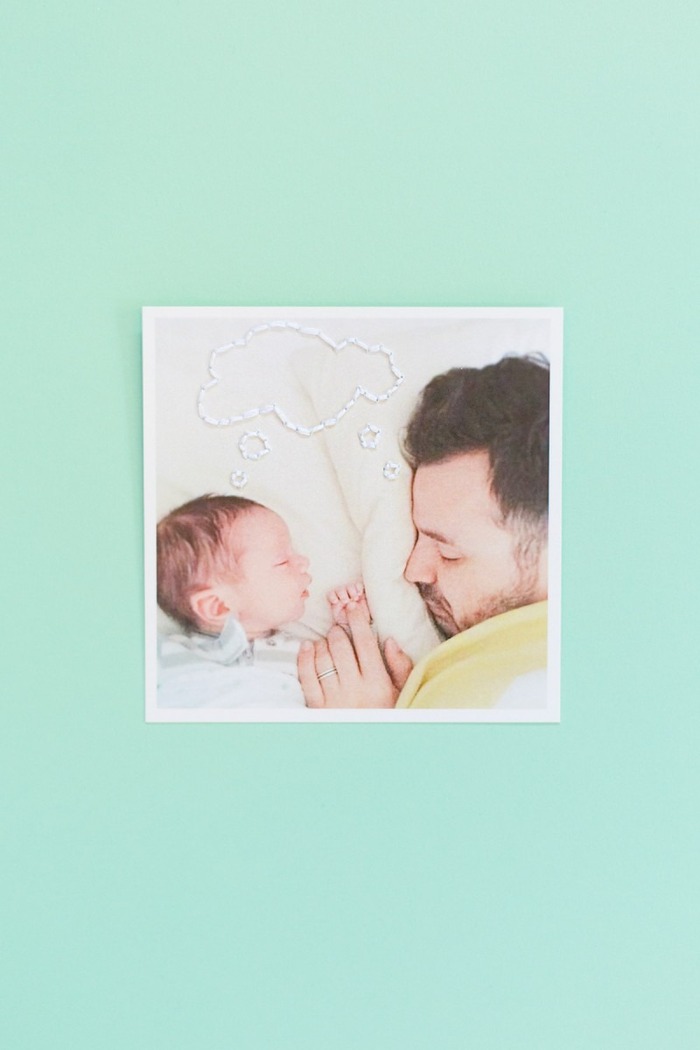 Embroidering photographs transform them into museum-worthy works of art. It's a wonderful approach to enhance memories and capture the emotions of the occasion. Embroider is a collection of your father's favorite family photographs with hearts, thinking bubbles, and other embellishments.
52. Photo Frame With the Phrase "We're Nuts About You"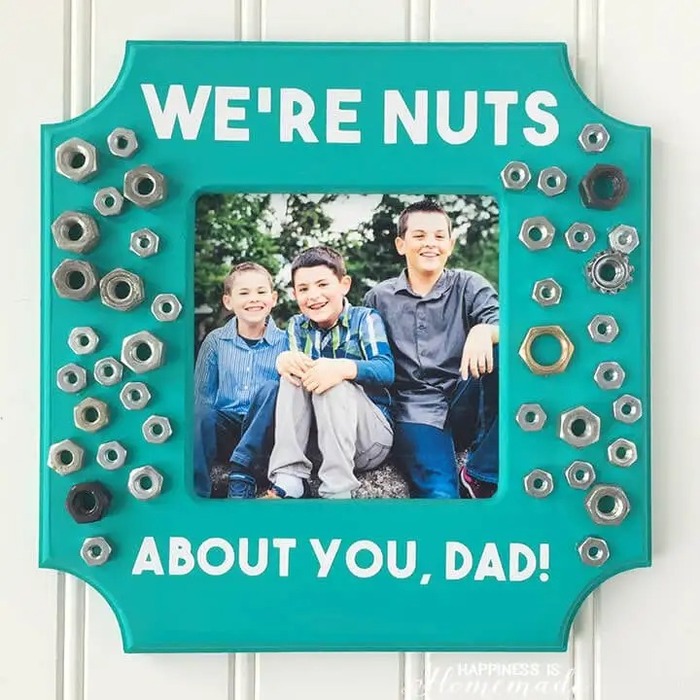 Is your father the DIY expert in the family? This adorable and punny photo frame is perfect for him. He may hang it in his office, woodshop, or garage—anywhere the creativity occurs!
53. Printable Photo Calendar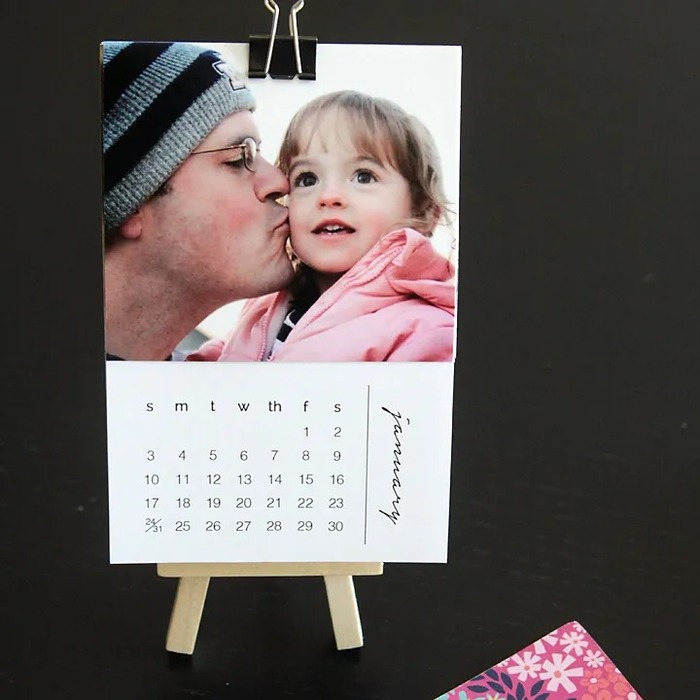 This calendar will collect all of your most cherished memories in one volume. Choose adorable family photographs or series from your most recent vacation. In addition, when the year is through, he can retain it as a photo book. Now you can give him the unique Father's day gift for stepdad that does not require any more time.
54. Superhero Bookends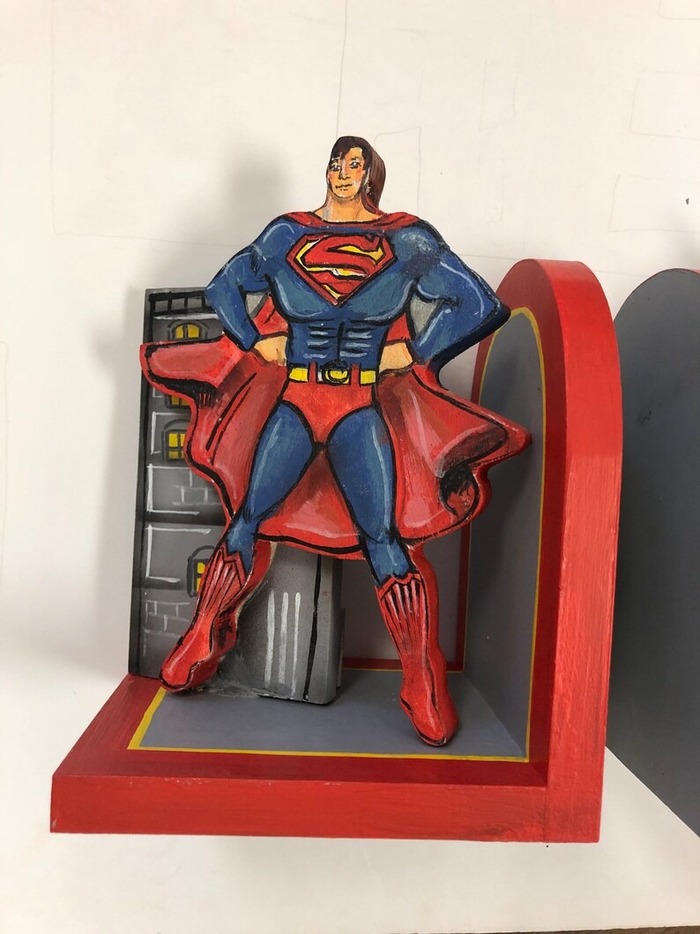 Since Dad is actually a superhero in disguise, he gets bookends befitting his abilities. These superheroes clad in black foam appear to be holding books on a shelf.
55. Handprint 'Best Dad Ever' Sign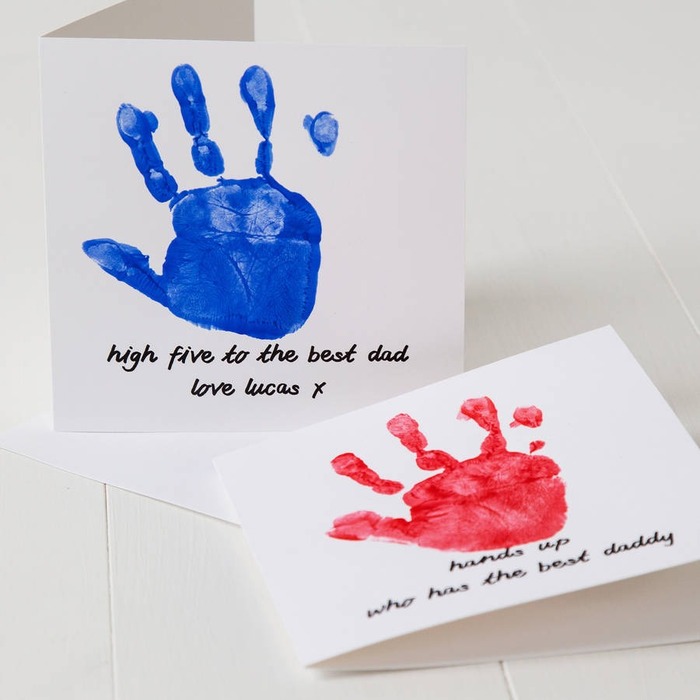 For very meaningful Father's Day stepfather gifts that will remind Dad of his loved ones, have your kids create this adorable handprint sign.
56. Picture Puzzle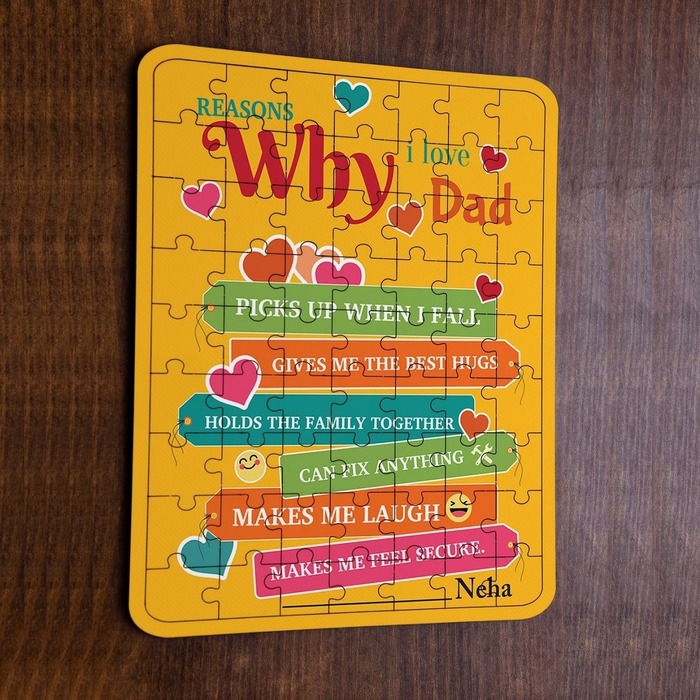 On the lookout for stepfather gifts for this June, this idea is suitable for any dad and his kids. On his desk, Dad will enjoy displaying this Lego image puzzle. You only need Legos and sticky paper, which you may already have.
57. Stenciled Tie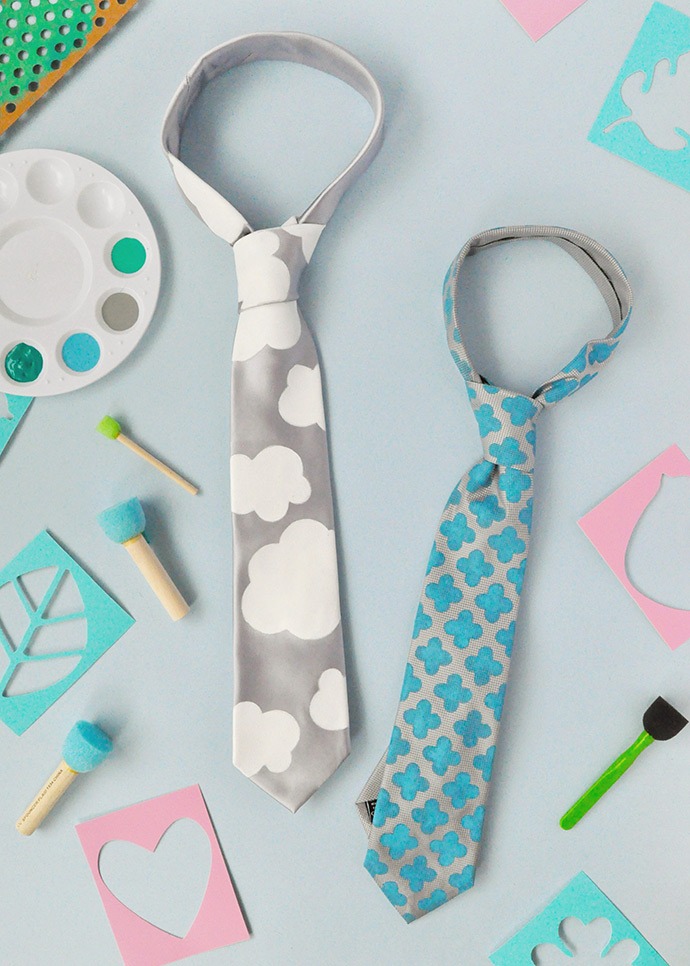 Ties with stenciled designs are a reliable Father's day gift for stepdad. Stencil this year's selection for a unique spin! The children will love creating this tie for Dad. With a sense of humor, Dad will love this cute gift from his daughter.
58. Gourmet Gift Basket in Wooden Tray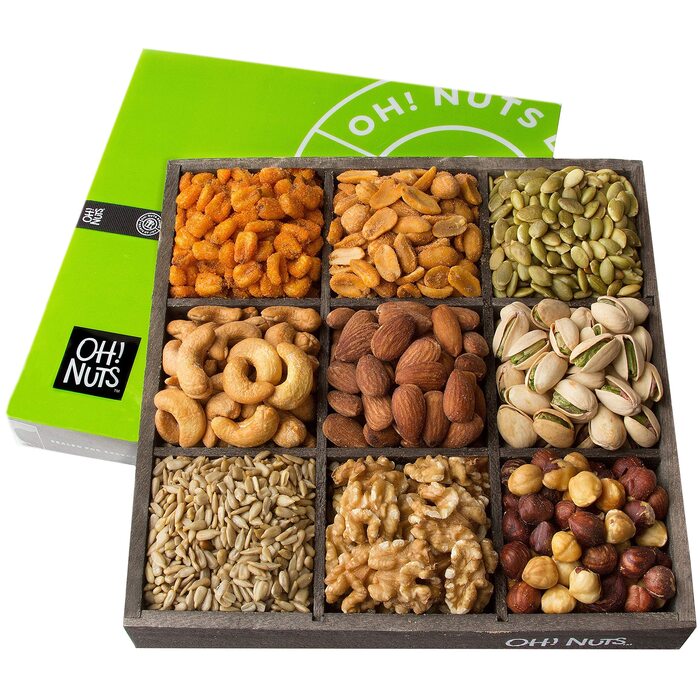 You can't go wrong with these best gifts for Father's Day as food if you don't know what else to get him. This variety gourmet gift basket will impress your stepfather if he likes savory or sweet nuts. You can make your own different cakes that he loves, and that will surely be the most meaningful gift set he will receive. Remember to include a sweet message for him as well.
59. Stepfather's Father's Day Card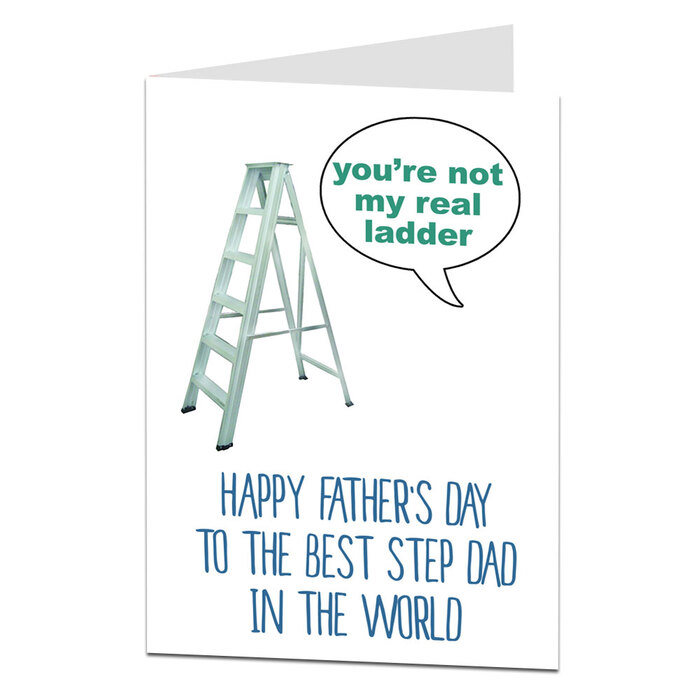 This is a great alternative for a card to accompany your love gift to the man who stepped into your life. Your stepfather will undoubtedly know your heart. A heartfelt and sweet message from either his son or daughter will bring tears of joy to his eyes.
60. Tennessee Whiskey Coffee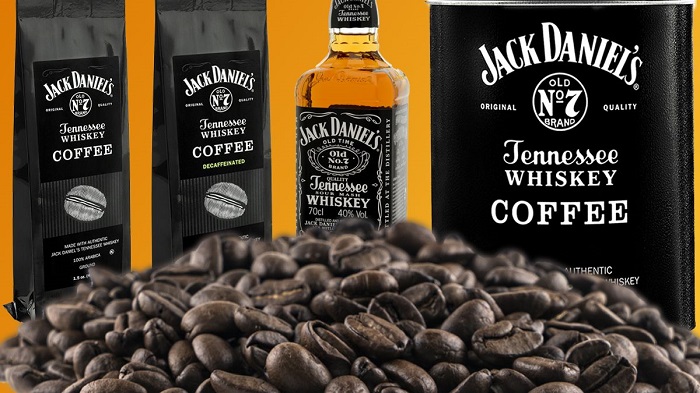 Are you looking for a love gift for someone who enjoys whiskey and coffee? With this wonderful Jack Daniel's Tennessee Whiskey Coffee, you can kill two birds with one stone. For extra richness, it's infused with lots of whiskey flavor but devoid of alcohol so that this coffee won't intoxicate them.
Read also:
Finding the ideal Father's day gifts for a stepdad might be difficult. Whether you choose a humorous, emotional, useful, or inexpensive gift for him, you can be certain that he'll love it if you think about it. Examine your selections and choose a Father's day gift for stepdad that expresses your heartfelt admiration and thanks.