There is no doubt that police retirement gifts are among the most memorable of any kind. For someone who has spent their career to ensuring our safety, retiring after decades of service is a significant milestone. They are deserving of the most unique and thoughtful law enforcement retirement gifts. If you are still searching for gift ideas, try our recommendations. The gifts for retired police officers featured in this post from Oh Canvas will not disappoint.
Practical police officer retirement gifts that he'll actually use
1. Blue Line Rock Glass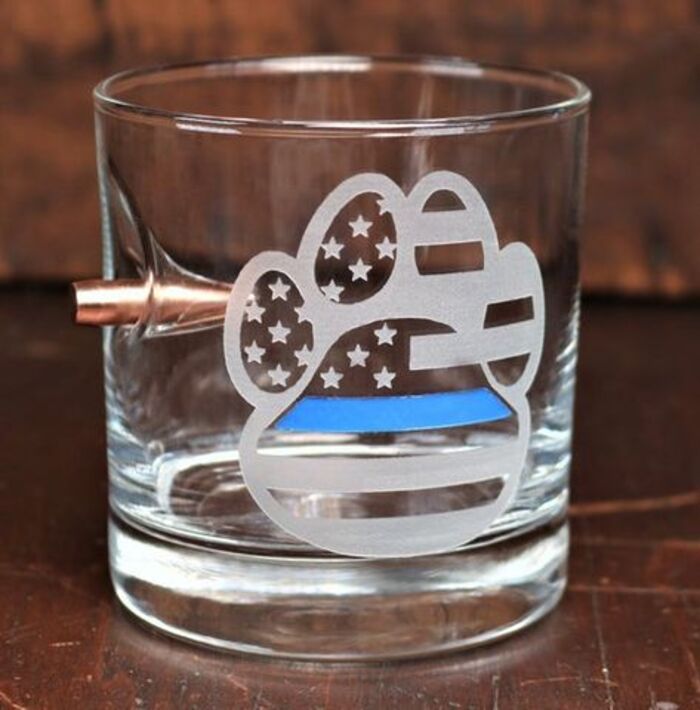 Policemen are the only ones who truly understand what it's like to put their lives on the line to protect the thin blue line. In order to show your appreciation for their service, give them this meaningful token of gratitude.
2. Whiskey Glasses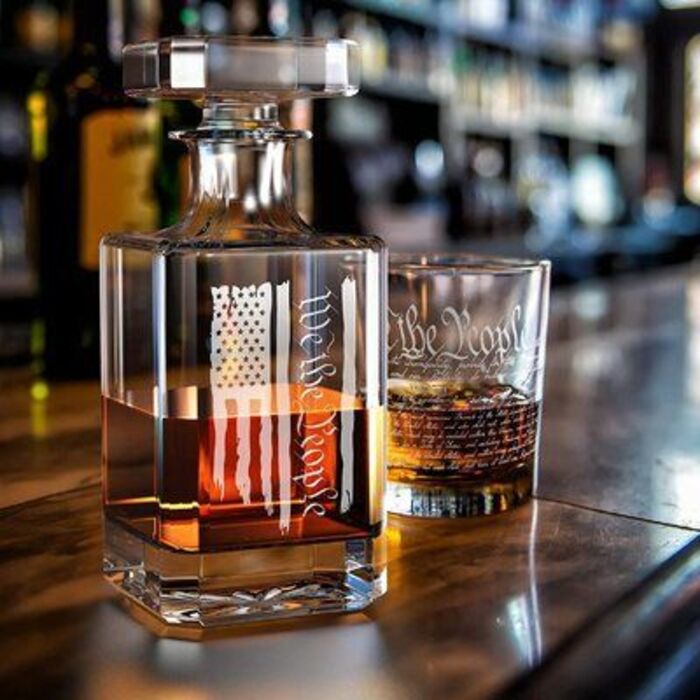 Even for a sheriff who has dedicated his entire career to serving the people of his town, retirement is never without its share of sadness. This whiskey glass set is a perfect retirement gift for him to elevate his home bar. In order to reminisce with his fellow officers, he can lay out the whiskey glasses and stones and enjoy a few rounds.
3. Cool Coffee Mug
Retirement gifts for cops who enjoy getting small tokens of gratitude are easy to come by, and novelty mugs fit the bill perfectly. It's easy to see why these mugs have become so popular. When they need a fresh break in the morning, this coffee mug is ideal.
4. Retired Police T-Shirt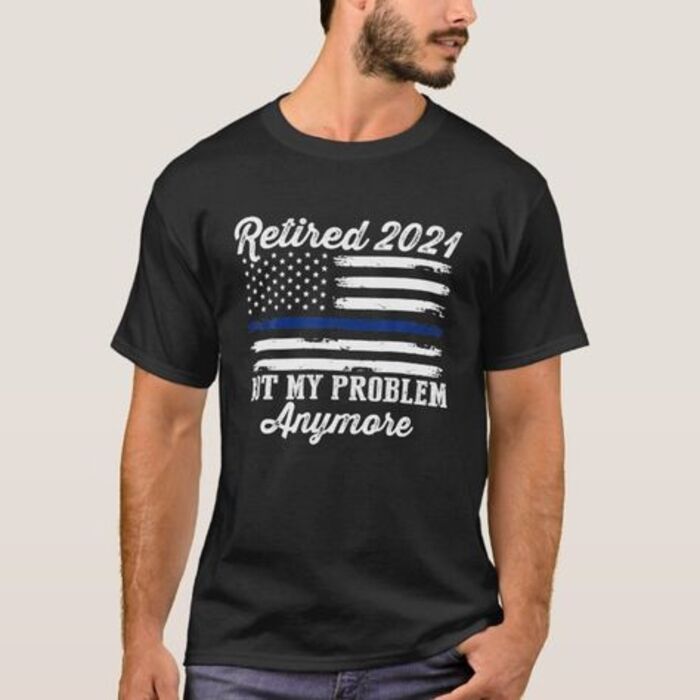 They may be retired, but their profession was an important part of their identity. For a recently retired cop, this shirt is a great retirement gift for police officer. If he wants to inspire the next generation of cops, he should display his oath of allegiance in public.
5. Beer Caddy
You don't want a police officer to arrive at a picnic, BBQ, or tailgate without their beer, so make sure they're well-stocked before they go. This beer caddy is one of the best retirement gift ideas for police officers that you can get so far. It is engraved exactly with the recipient's name, making it a very unique present.
Oh Canvas Tips:

If you want to give a gift that the recipient will treasure forever, you may want to consider making it yourself. It is possible to get step-by-step instructions on the Internet and follow them with ease.
6. Personalized Ammo Can Set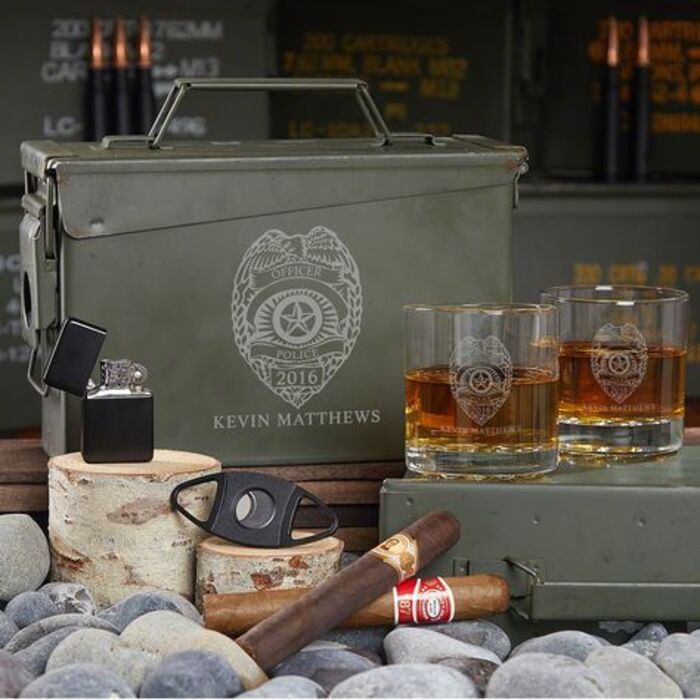 With this wicked customized ammo can gift set, you can make sure the officer you're buying a present for has everything they could possibly need to celebrate a big case bust! Every time they need to toast a special event, they'll reach for these glasses!
7. Bullet Whiskey Stones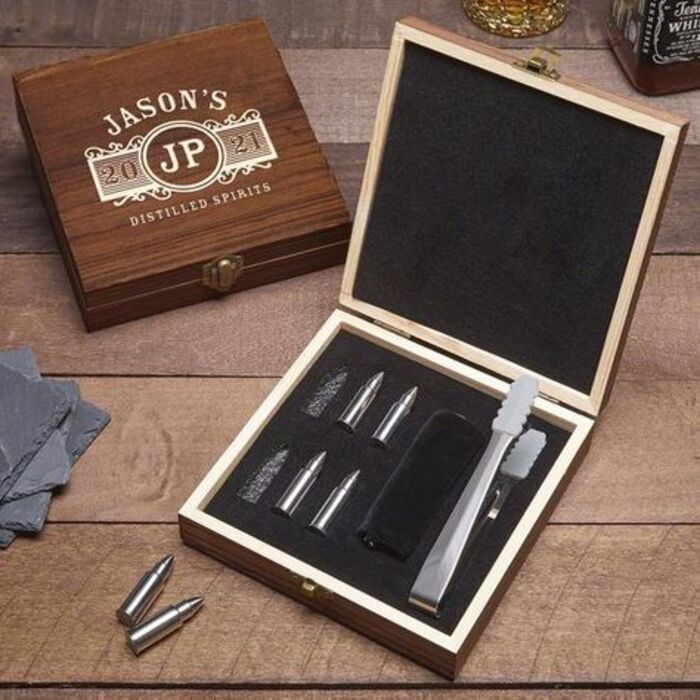 Looking for brilliant law enforcement retirement gifts to surprise them? Help your favorite police officer get off to a great start in their retirement by donating to their cause! Drinks may be chilled in less than four minutes with these stainless steel bullet-shaped whiskey stones, making them ideal for individuals who prefer their whiskey neat. Every hour may become a joyful time with these whiskey stones!
8. Police Journal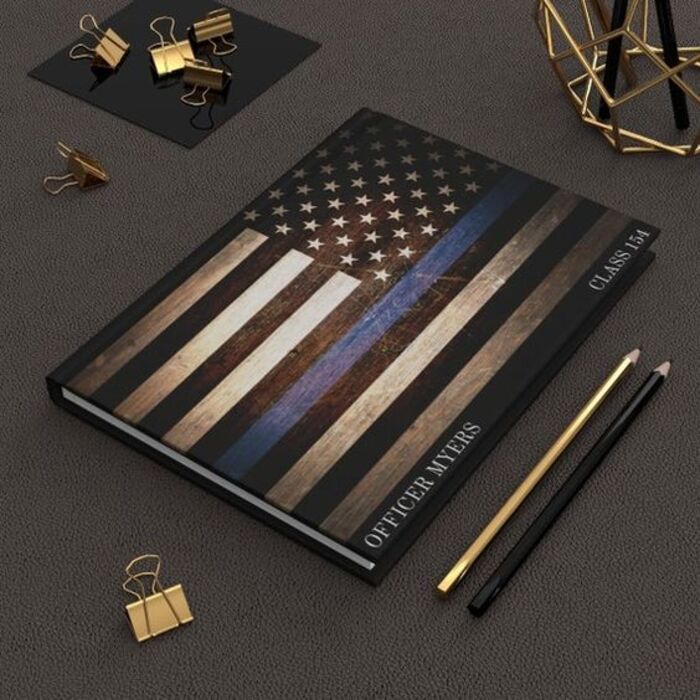 Anyone who has worked in the police department knows that it is a career that is full of hardships, tribulations, and amazing moments. Make a point to get your retiring cop to start a journal so they can tap into their inner storyteller. Designed for police officers, this journal encourages them to capture their unique and intriguing work throughout the past years of their life.
>>> Recommend reading: Top 30+ Retirement Gifts For Dad Who Has Everything (2023)
Meaningful police retirement gifts to make a keepsake
9. Officers' Tumbler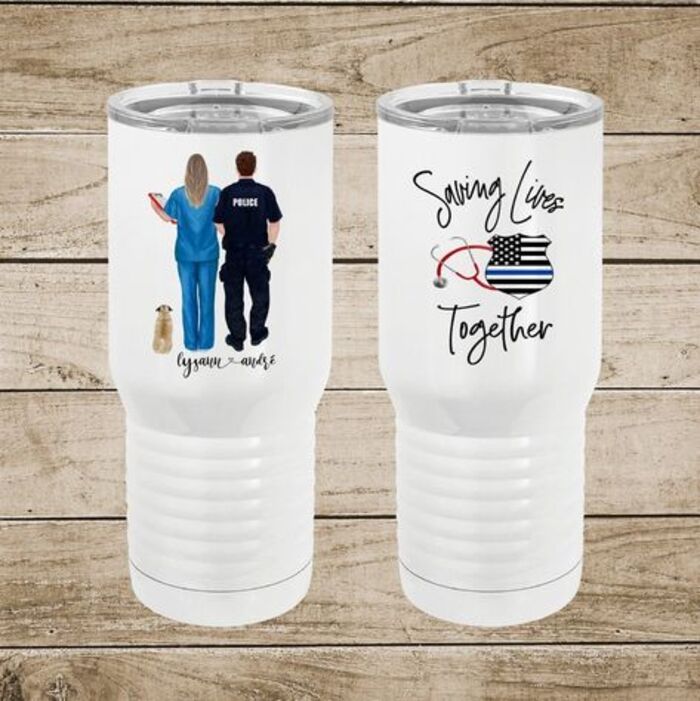 Service-oriented couples succeed in their endeavors together. And these tactical tumblers make great Valentine's Day gifts for them. It perfectly encapsulates their mutual desire to save lives, and it serves as a reminder that they are in this together, through thick and thin.
10. Police Badge Pendant Necklace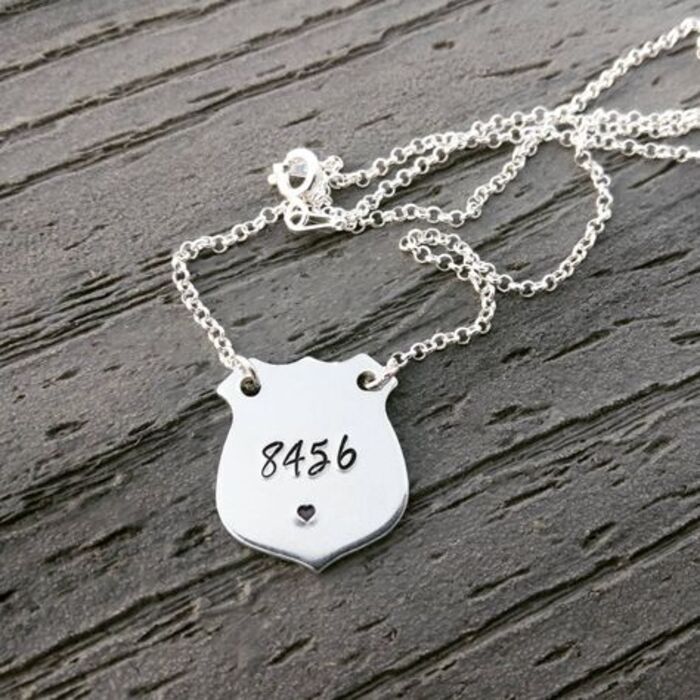 The badge number of a police officer is one of the most crucial components of their employment and has a significant emotional impact on them. Make him a pendant necklace with his badge number for his approaching birthday. Police retirement gifts like this will be treasured for years to come.
11. Christmas Ornament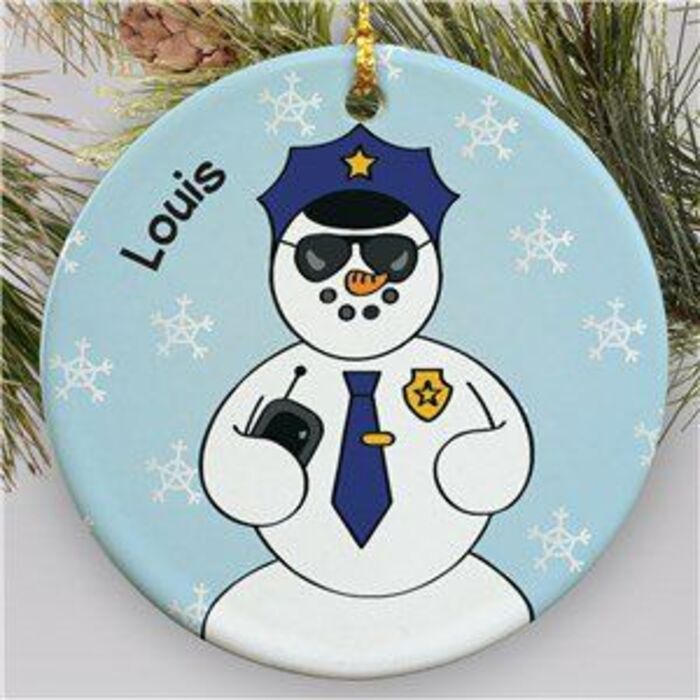 Cops will love this adorable ornament with his name on it. Gifting this small yet lovely piece is a beautiful way to show your affection during the joyous season.
12. Photographs Desk Plaque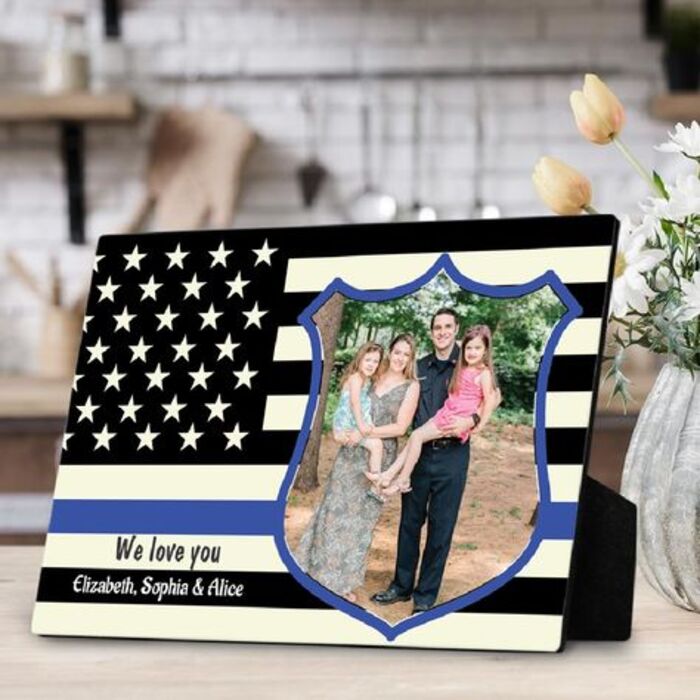 Since the police officer of your life has spent a large portion of their time on the job, this gift idea is something that preserves all the memories. Personalized desktop plaques are thoughtful police retirement plaques that tell how much you treasure his work for long past years.
13. Metal Sign Police Badge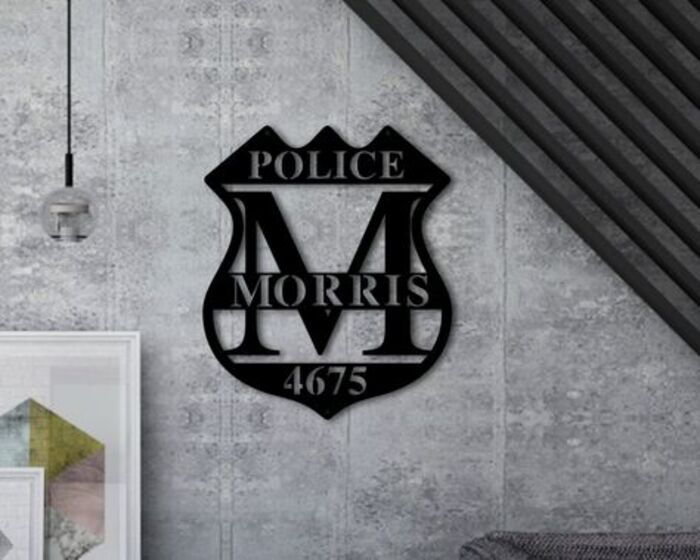 The badge of a police officer is of great significance to him, and he regards them with a great deal of reverence. You can give him this police badge sign to hang outside or inside the house for his birthday this year. It'll become a focal point that he loves presenting to any guest coming to his home.
14. Retired Canvases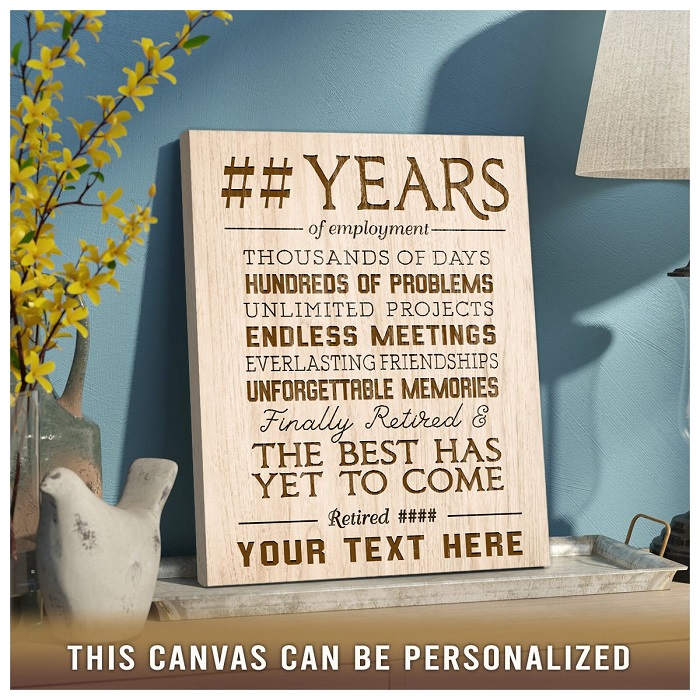 With this canvas print hanging in their home, you won't need to worry about attending gatherings or returning phone calls. It is one of the best possible policeman retirement gifts, therefore it is going to come as a pleasant suprise to him.
>>> Recommend reading: 30+ Best Firefighter Retirement Gifts To Express Your Love
Unique and pleasing retirement gift ideas for police officer
15. Personalized Name Hanger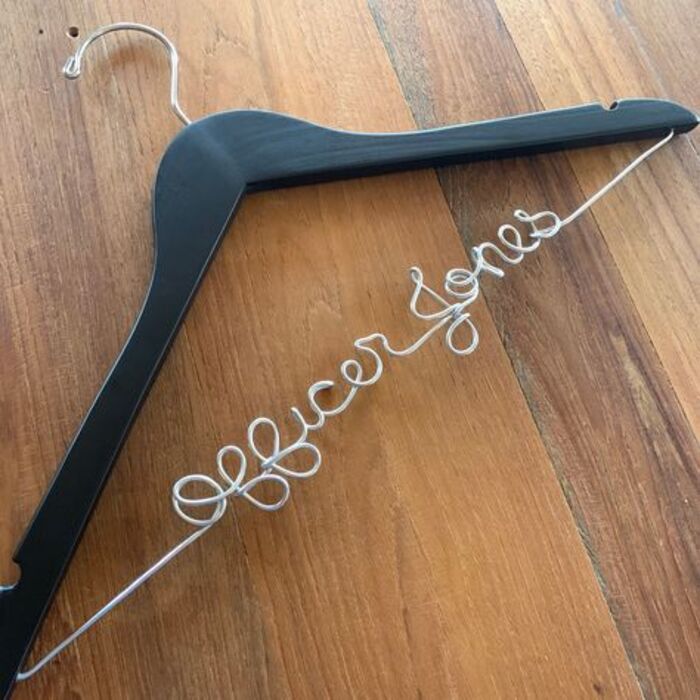 In search of unique police retirement gifts that show how much you care? This hanger makes an excellent present for a retired soldier who needs to preserve unforgettable memories. In addition to boosting his self-esteem, this creative personalized retirement gift will make him feel good about his accomplishments.
16. Badge Holders Wallet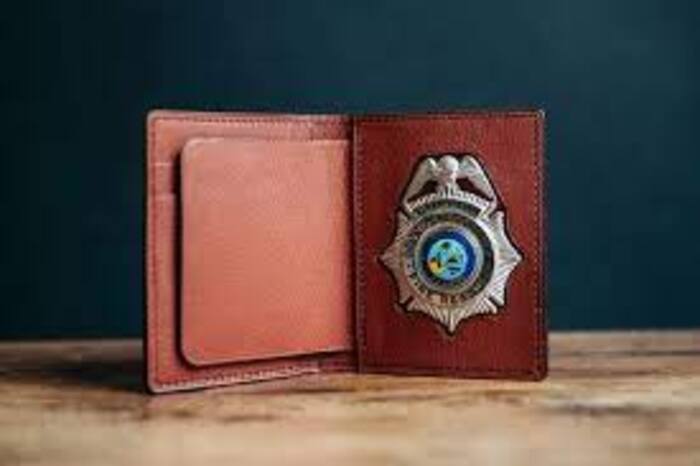 A retired law enforcement officer will require this badge holder wallet in order to safely maintain one of the most important and irreplaceable items in his life. When he opens this retirement gift for police officer, he'll be sure to appreciate the thoughtfulness with which it was given.
17. Personalized Timepiece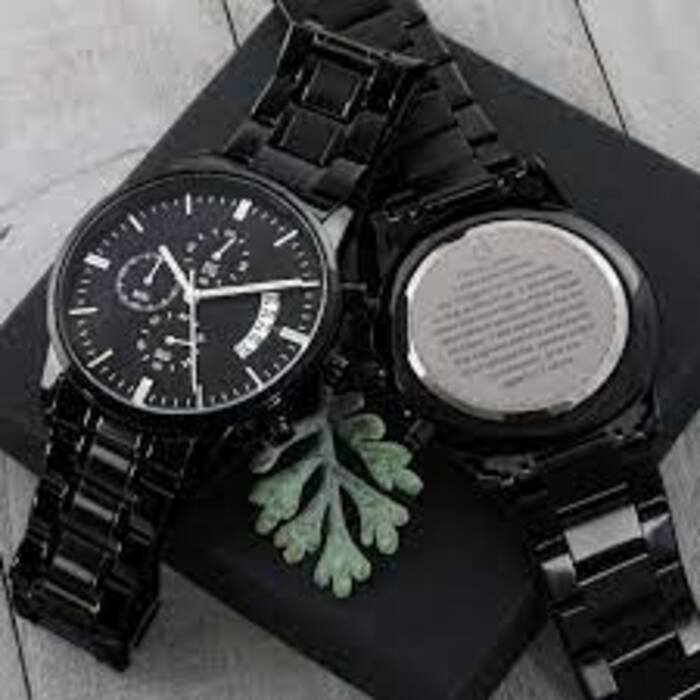 Though your endearing policeman is retired now, he'll always remember all the memories that he had during years of working. This custom watch is a valuable piece of keepsake that reminds him of how brave and enthusiastic he was during that time.
18. Police Officer Portrait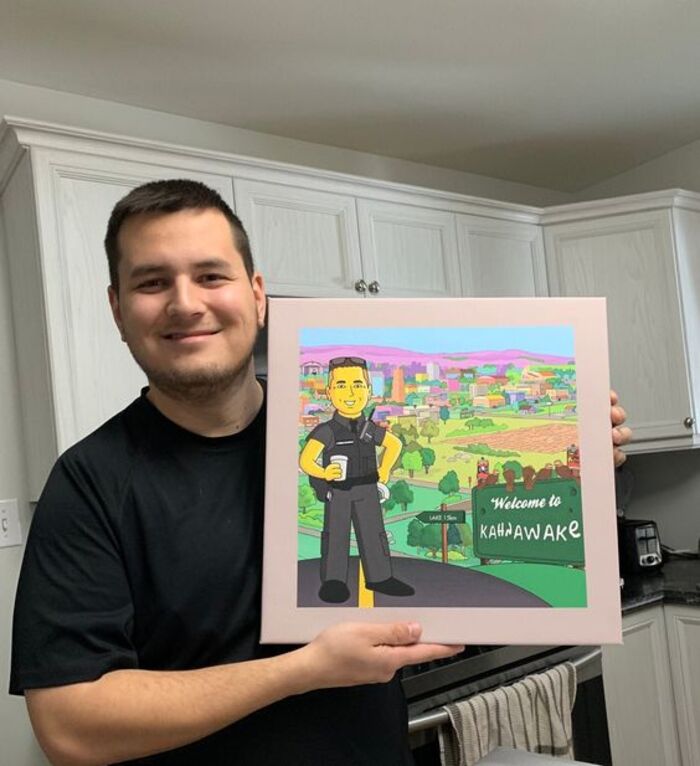 This police officer portrait is an excellent choice for thoughtful retirement gifts for cops that you like. They'll be overjoyed if they're lovers of the sentimental pieces and can't wait to display this heirloom in their home.
19. Keepsake Box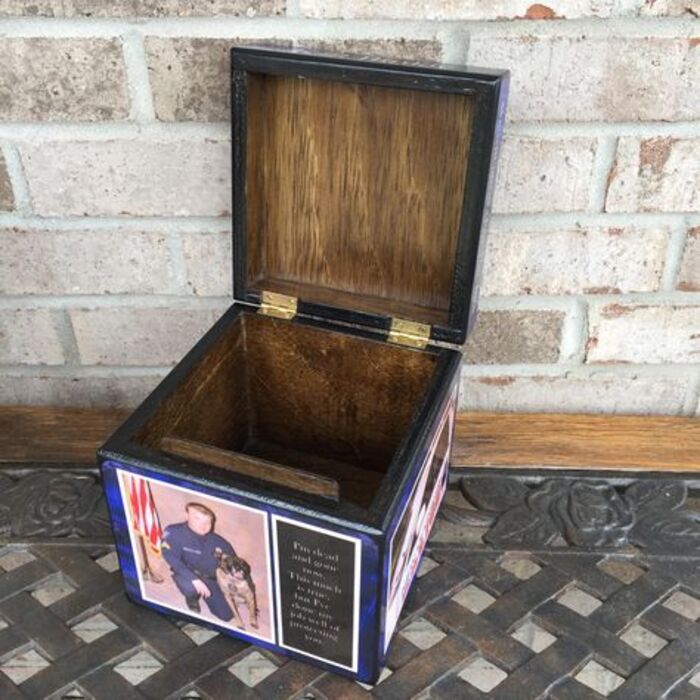 On either his birthday or Father's Day, he will be pleasantly surprised to receive a keepsake box that has been created. Because of its high quality and enduring construction, this box will store all of his necessities in a centralized position for many years to come.
20. Thin Blue Line Plaque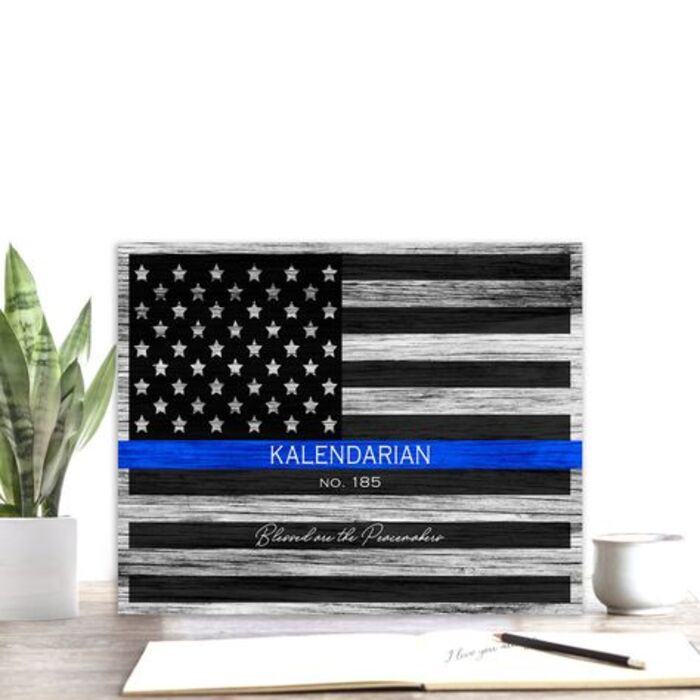 For police officers, retirement plaques are a popular method to commemorate their service to the community. This magnificent, two-tone crystal remembrance can be engraved and turned into a unique award. It's one of the most wonderful law enforcement retirement gifts because of its exceptional craftsmanship and top-notch quality.
21. Flag Display Case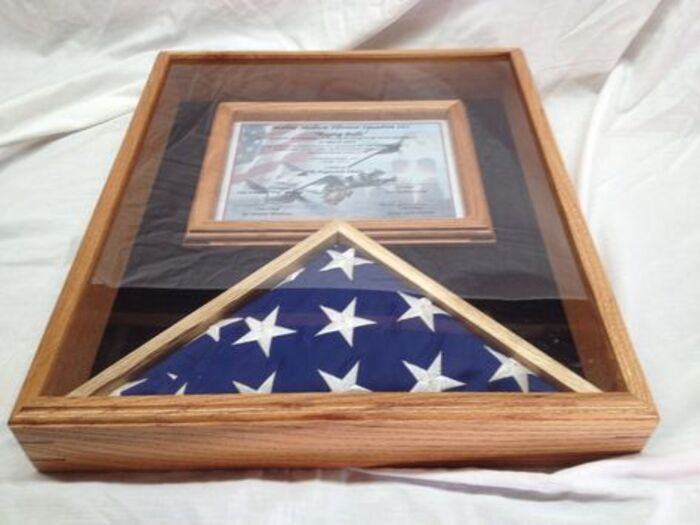 Displaying a police officer retiree's trophies and medals in a well-built display case is a practical option for those who have a distinguished career in law enforcement. There aren't many better policeman retirement gifts than these! This display case's workmanship and ease of installation have been praised by many customers for several years.
22. Personalized Etched Glasses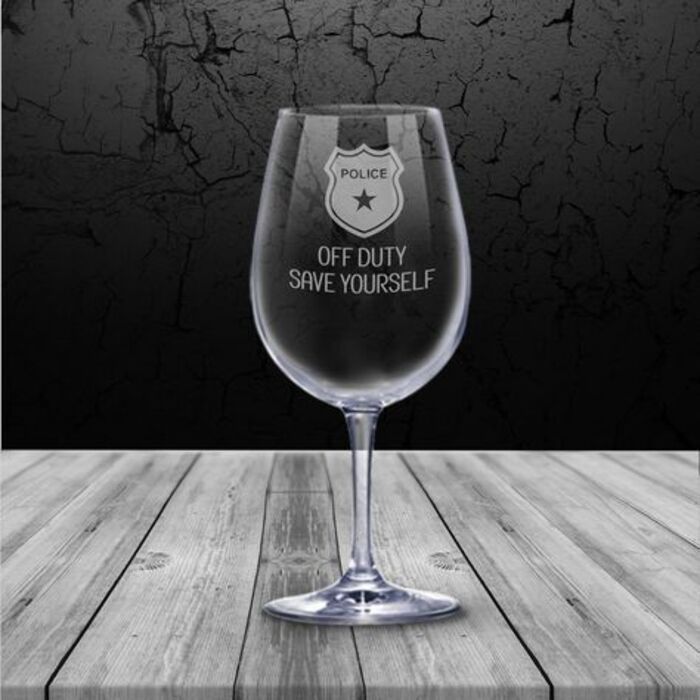 The one thing you can count on from having a family member who is a police sergeant is that no two days are ever the same. To lighten the mood, give him a pair of glasses that wonderfully encapsulate the uncertainty. To get a sense of their day, pay attention to how much they fill their cups.
Oh Canvas Tips:

If you want to give a homemade present but don't know how to etch glass, you can get a book with step-by-step instructions on how to do it. The book then moves on to provide guides for several types of cream etching, engraving, and sandblasting.
23. Charging Station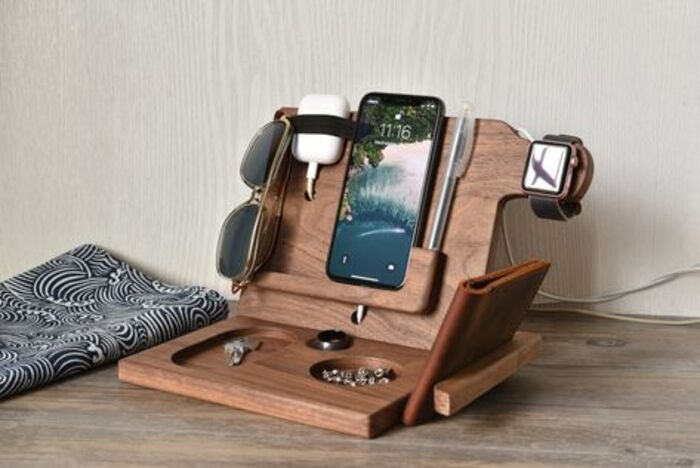 Digital gadgets of troopers and police sergeants are excellent unique police retirement gifts that will be used and appreciated. When your police partner has retired, you can give him this charging station. Because he can simply place the objects on it, he'll find his life much more comfortable in this next chapter.
24. Custom Wall-mounted Bottle Opener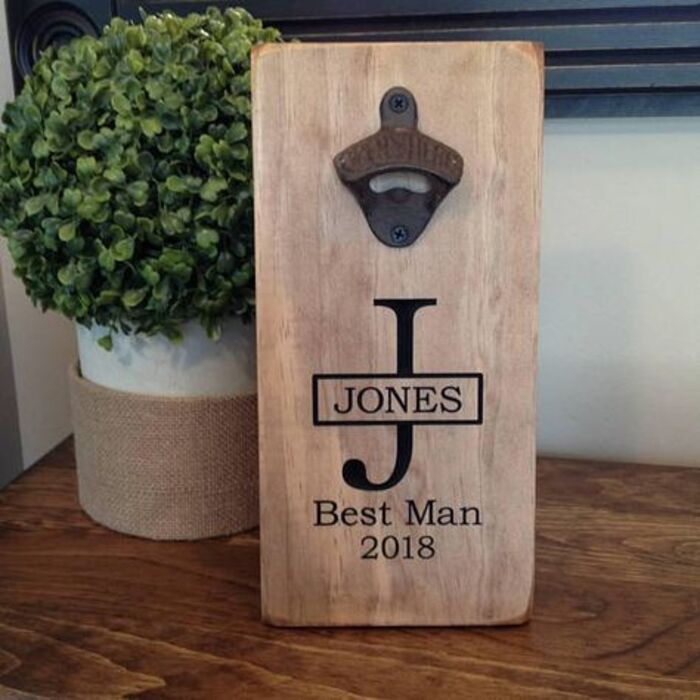 After a long day of relaxation, who doesn't want a cool beer? With this bottle opener made of walnut and maple, it's a cinch to open a bottle. It can be personalized with the name and retirement year of a beloved service member. In order to ensure that the new retiree enjoys their time off, this may be the ideal solution.
25. Stylish Poker Set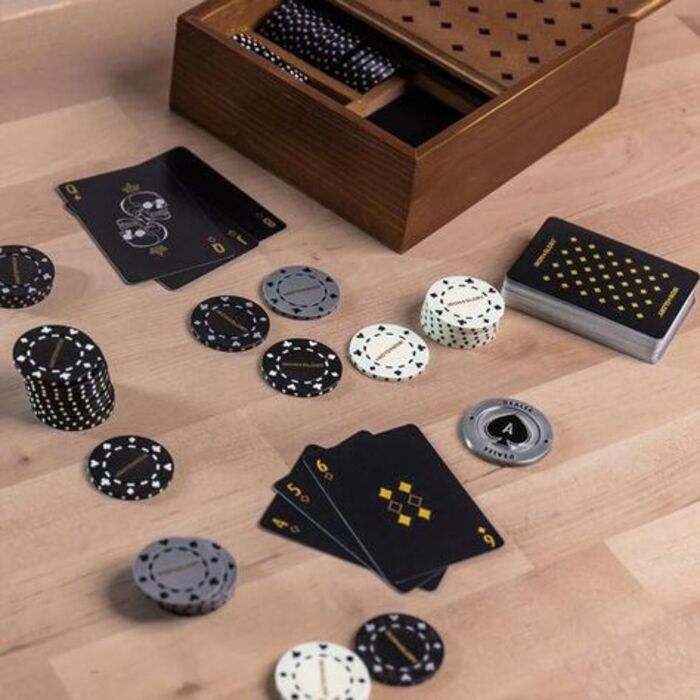 This poker set is one of the nicest gifts for retired police officers to have fun with their friends and loved ones after retiring. It offers everything they need to establish a weekly poker night, from Blackjack to Texas Hold 'Em, as well as family-friendly games like Farkle and Go Fish to enjoy with the kids. They may even take pleasure with them wherever they go with this handy gift.
Personalized Police Retirement Gifts
26. Custom Blanket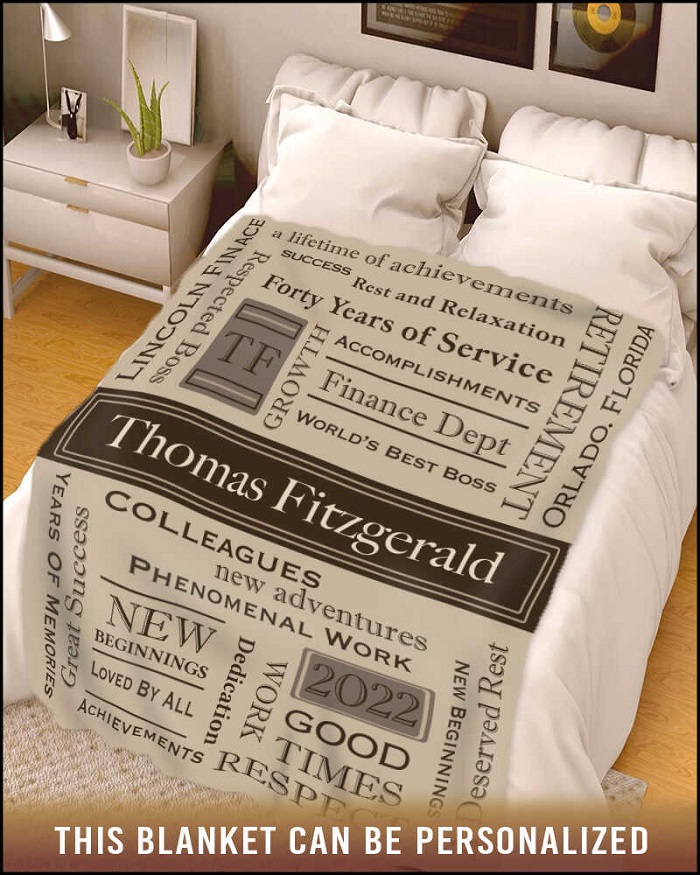 On a wet day, curling up with this cozy blanket is the best way to unwind. Make it extra personal by adding his name to this retirement present. It is possible to choose from a variety of super-soft fabrics. He'll treasure this thoughtful retirement gift for police officer for years to come!
27. Police Officer Cigar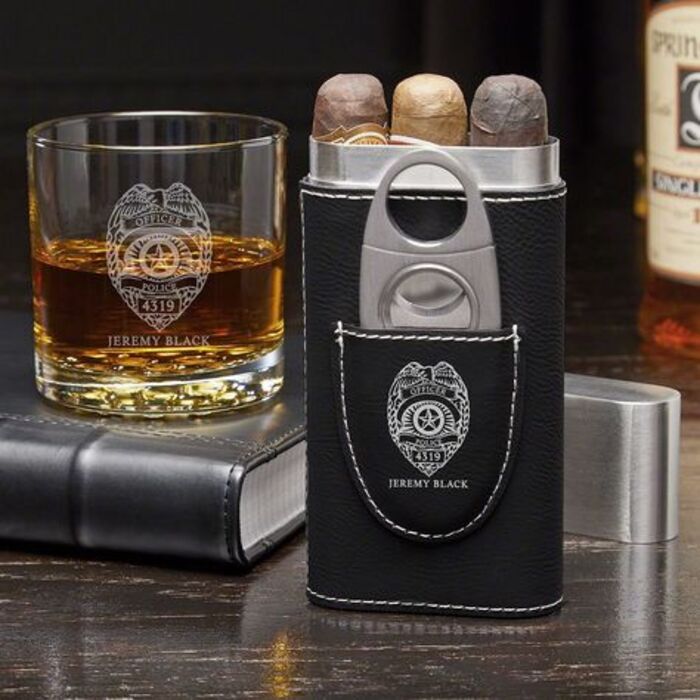 Do you know a police officer who, on sometimes, likes to light up a cigarette? They will be able to smoke whenever they want to as long as they have a humidor in their home. This is one of the creative police officer retirement party ideas that you may offer to them in celebration of a promotion or retirement.
28. Drive Safe Daddy Keychain
As his family, you all worry just as much as he does about the well-being of the police officer who is the father of your children. As a consequence of this, on Father's Day, his children will present him with a keychain that they have personalized just for him.
29. Custom Challenge Coin Holder Decanter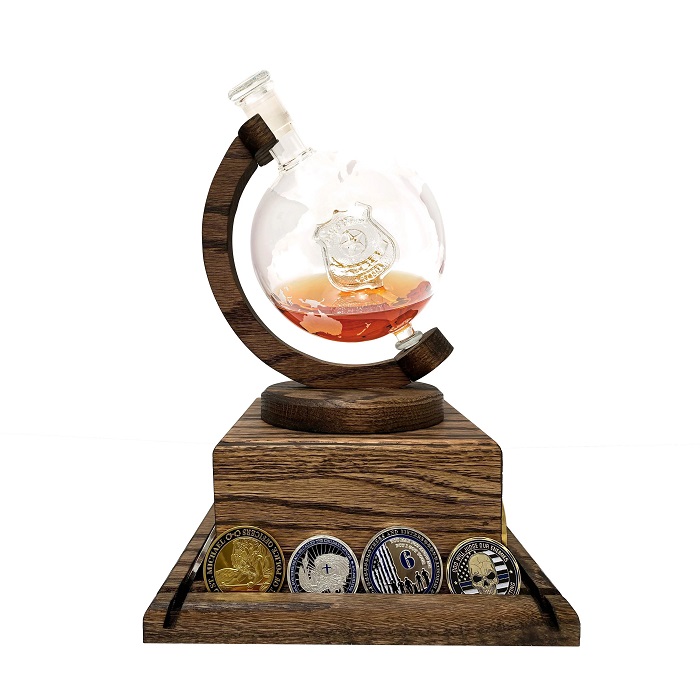 One of the most appreciated retirement gifts for police officers is a trophy case in which to showcase their many accomplishments. To that end, we fashioned this magnificent decanter to house your Challenge Coins. The decanter is crafted from mouth-blown glass and features a glass emblem with intricate detailing. The Challenge Coins can be viewed on a shelf built into the carved hardwood base. Adding a personalized stainless steel nameplate to the decanter transforms it into a one-of-a-kind keepsake.
Oh Canvas Tips:

Do not display your currency in the same way as a bracelet or belt buckle. Absolutely do not construct a necklace out of it by boring a hole in it. Wear it around your neck by stowing it in a pouch that also functions as a necklace.
30. Police Officer's Bar Tray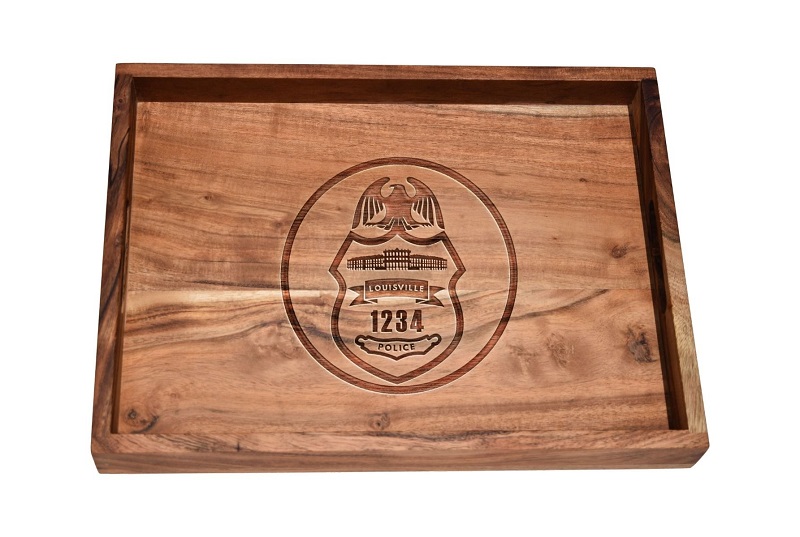 To further celebrate the service of police officers, here is yet another exclusive graphic created specifically for them. An engravable police badge decorates the surface of this serving dish. Serve beverages at happy hour, have breakfast in bed, or keep track of keys, sunglasses, and mail with this eco-friendly acacia wood tray. Each tray is unique due to the wood's natural grain patterns, making them a very special present. They will be proud to show off this tray in their home.
Read more:
More than a job, being a police officer is a way of life, and they deserve a fitting send-off. These thoughtful and unique police retirement gifts say "thank you for your service" and let them know how much they'll be missed. Help them celebrate and give them a lasting remembrance this time. Oh Canvas believes that, with a thoughtful gift for retiring police officer, you'll create a warm and comfy vibe for your beloved man who's getting used to a new chapter of life.
If you want to find a more sentimental retirement gift for police officer to commemorate the occasion, browse our site for adorable personalized canvas artwork. You'll see something that tends to brighten his day!