Your buddy has just become engaged; cause for celebration! (And even a few tears of joy.) After the engagement announcement, it is time to celebrate before entering into wedding preparations.
If you are looking for engagement gifts for bride that is your lovely bestie, these just engaged items are ideal. Keep in mind that these are not traditional engagement gifts for her, which are normally presented to her during an engagement party or after a formal engagement announcement, but that does not make them any less important. Here are 43 engagement gift ideas for bride of Oh Canvas to share the love.
Special Engagement Gifts For Her
1. Subscription to the Miss to Mrs. Bridal Box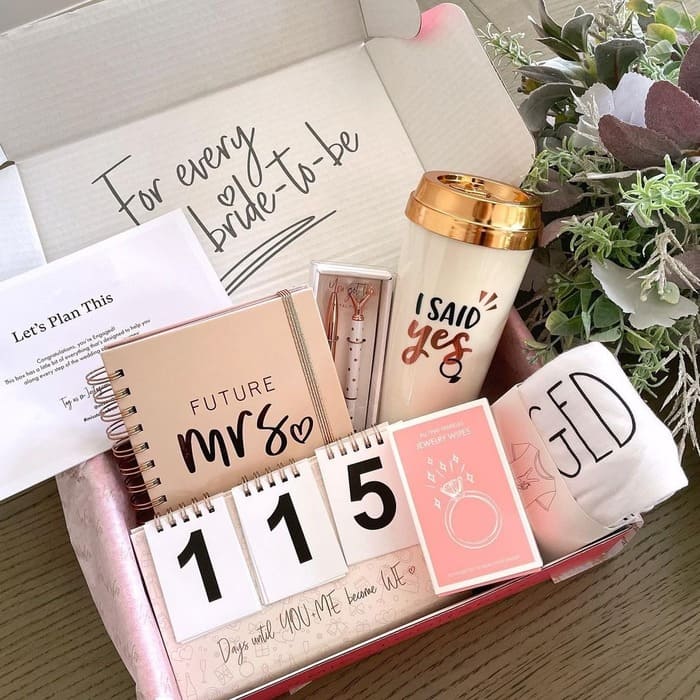 Miss to Mrs. Box tops our list when it comes to engagement gifts for bride. For about $37 per month, you can send your closest friend a box full of wedding-related items and planning advice!
2. Future Mrs. Journal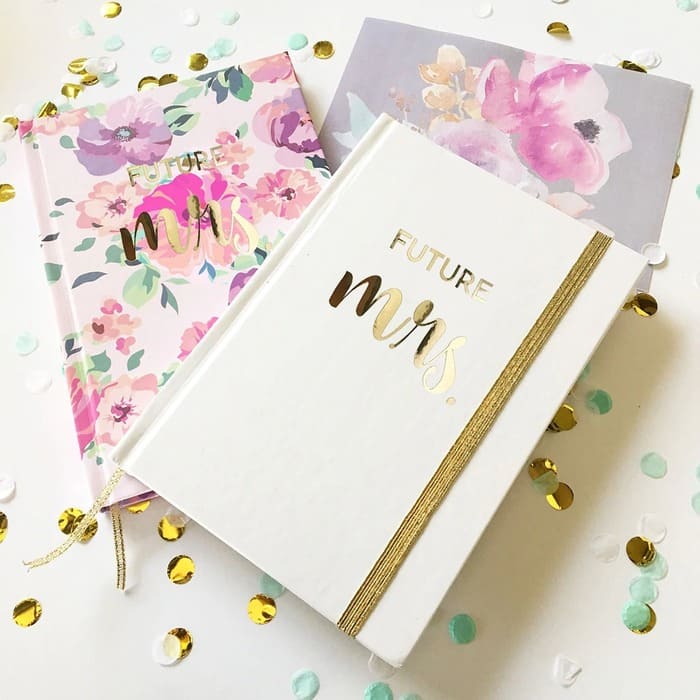 This adorable diary is the ideal gift for bride on engagement, who will need to scribble down a ton of notes on her wedding planning journey. Choose from black, white, pink, mint, pink marble, or blush floral from the six color options available.
3. Initials Ring Saucer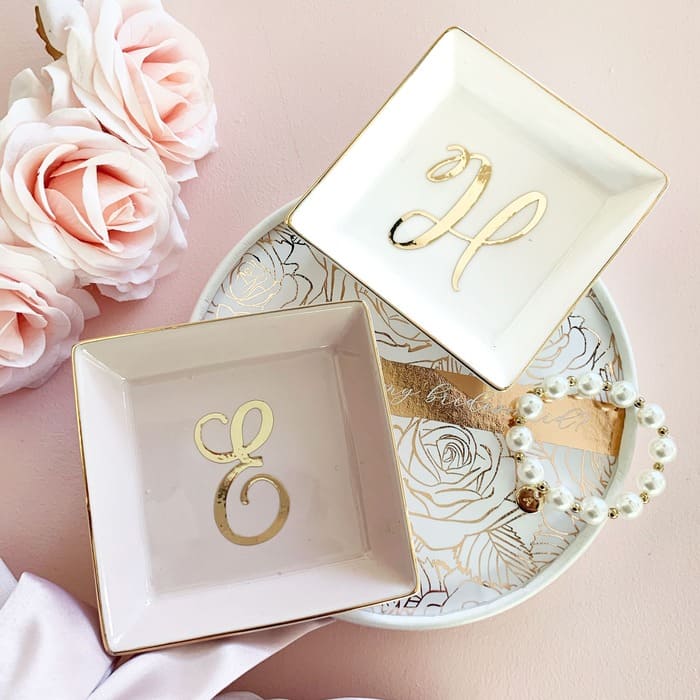 Despite the fact that your soon-to-be bride may never want to remove her exquisite new jewelry, there may be instances in which she must. Not only is this initials ring dish the ideal resting place for her cherished ring, but it also offers an excellent photo opportunity.
4. Classic Mrs. Shirt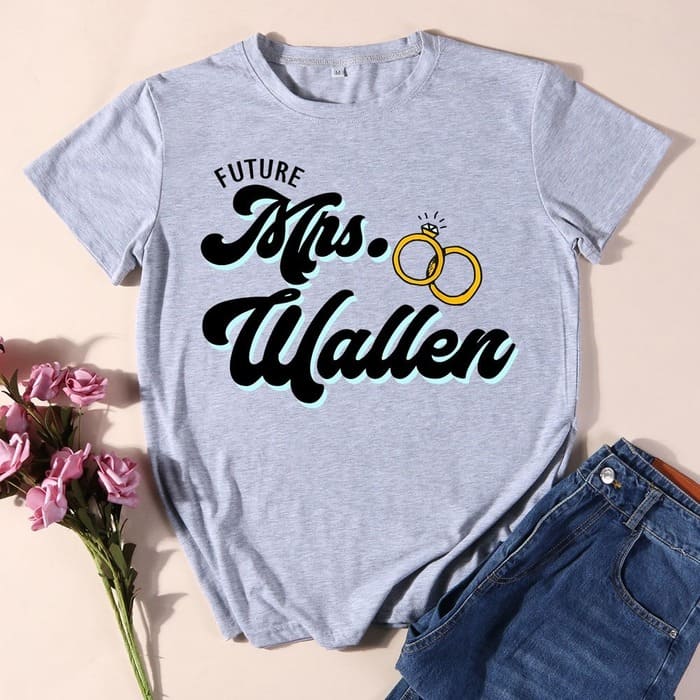 This is one of the most perfect engagement gifts for bride for your closest friend if she plans to change her last name. She can also wear this shirt at her engagement party and on her wedding day.
5. Wedding Planner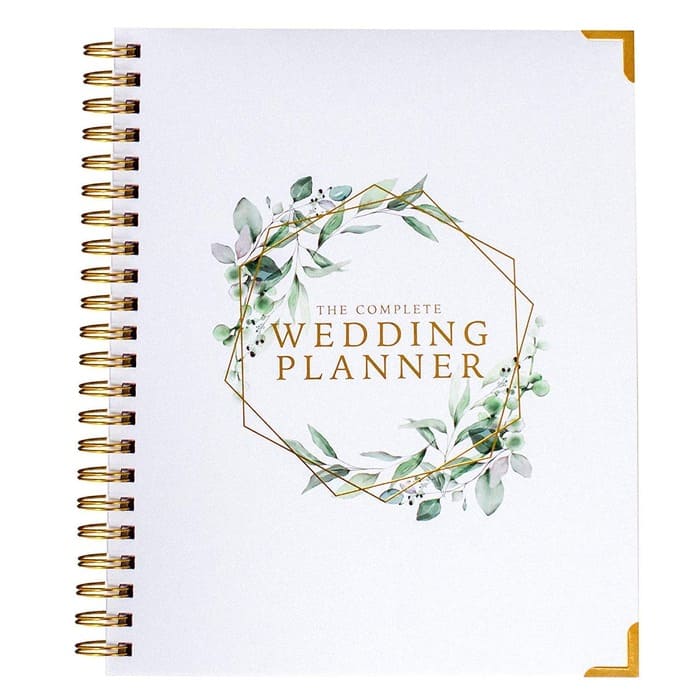 Assuming this would be her first time walking down the aisle, your bride-to-be will need all the assistance she can get when arranging a wedding. These engagement gift ideas for bride are loaded with worksheets, checklists, and other helpful resources.
6. Mrs. Coffee Mug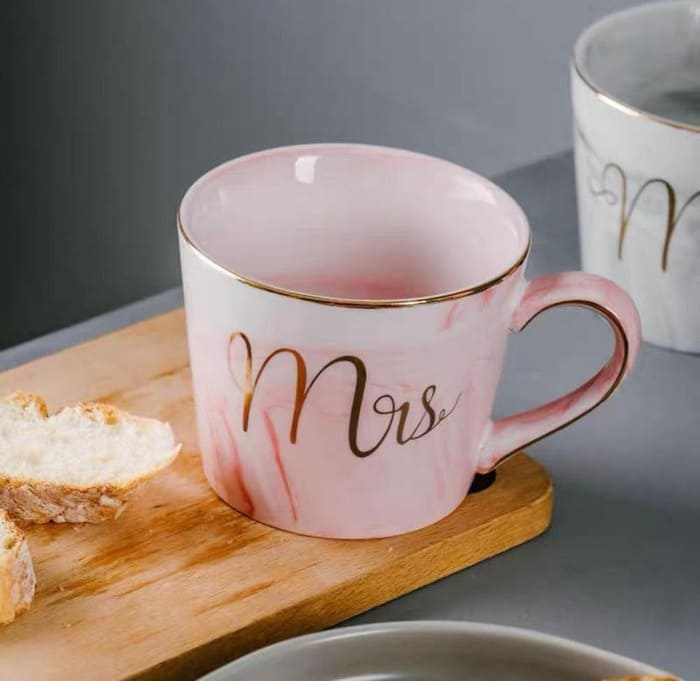 Why not give your best friend a perfect engagement gift for bride to sip from throughout the next few months of wedding planning? This mug for the future Mrs. comes in two different sizes and three distinct styles.
7. Symbolic Wall Art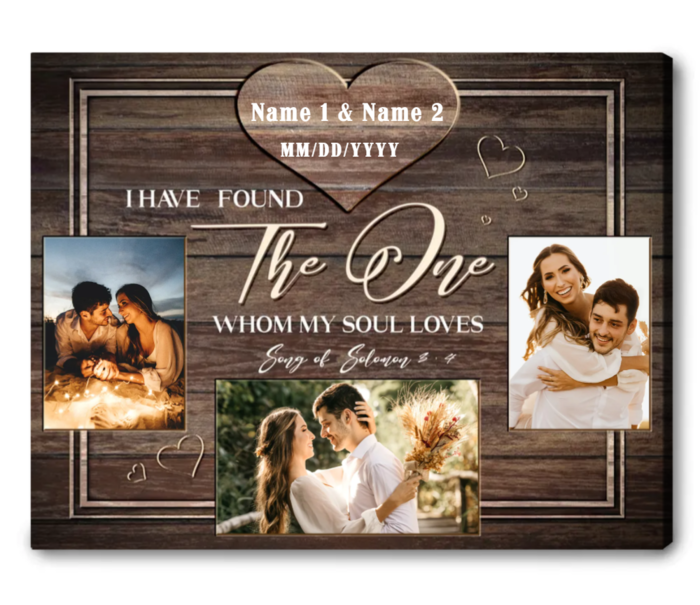 What about bespoke engagement gift ideas for bride? This canvas can be customized with their surnames and significant engagement date. Customize it with the year they met and the year they got engaged for a thoughtful present.
8. Baublerella Bling Brush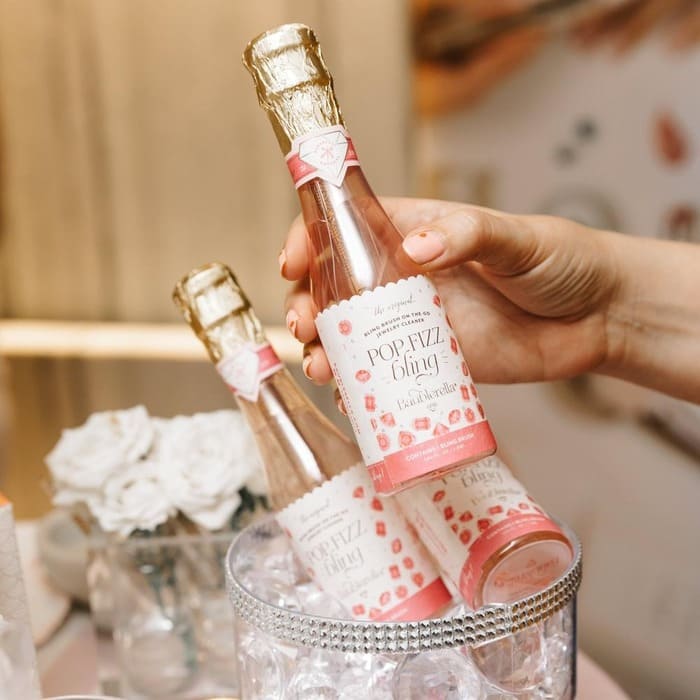 The only thing as crucial as organizing her ideal wedding planning will be maintaining the pristine condition of her new engagement ring. On her special day, give your closest friend cleaner-related engagement gifts for bride that will aid her in this endeavor for the next experience.
9. "Totes Involved" Bag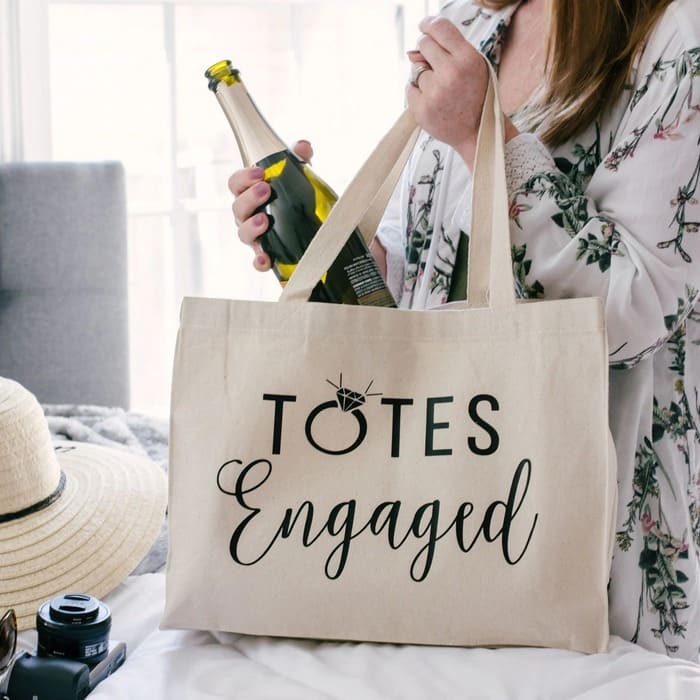 This is one of our favorite engagement gifts for her because it is both humorous and useful! Your BFF will need something to store and transport her wedding planning paperwork to all of the vendor meetings she will be attending.
10. Inspired Print Store Unique Couple Artwork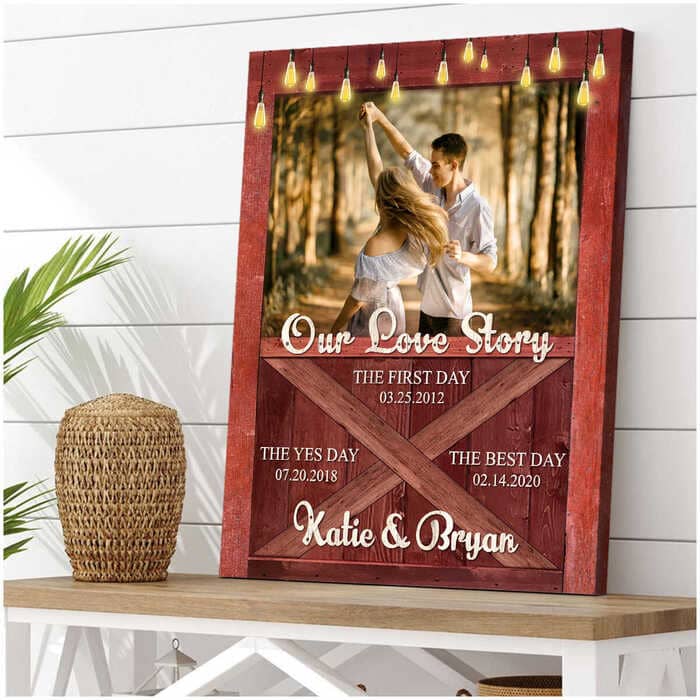 They will cherish this unique photo for many years. Personalize everything from hairstyles and attire to the pets on either side of the marriage – it's a thoughtful and perfect gift for bride on engagement that will win a permanent spot on their wall!
Personalized Engagement Gifts For Bride
11. Polaroid Photo Block
The Polaroid photo block comes out on top as the best idea for a personalized engagement gift for bride in our book. Not only does it come with the Polaroid photo of your choice, but it also has a secret message that is quite cute!
12. Engagement Map Print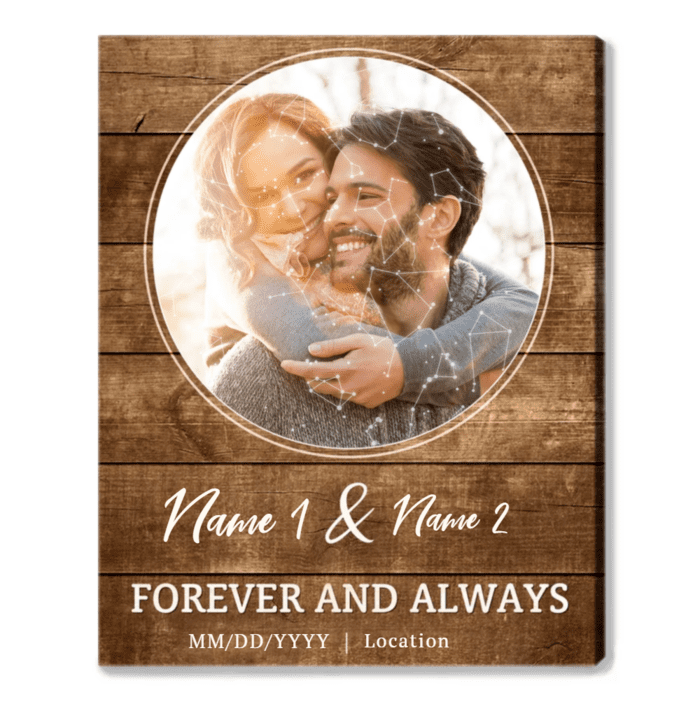 What could be a more fitting way to commemorate your best friend's engagement than to frame a print of the spot where she actually said "yes" to the proposal? Amongst the most meaningful engagement gifts for bride, this print will make her day more special.
13. Last Name Doormat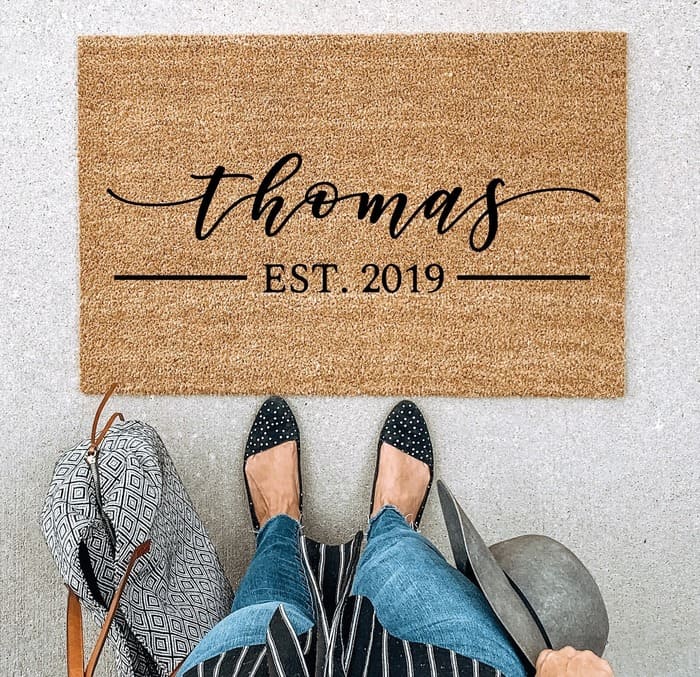 Get this funny doormat to deviate from the same old types of engagement gifts for her. This doormat may be personalized with your best friend's new last name, so she'll have a reason to replace the one she's been using all this time and start bragging about it.
14. Wine Cork Letters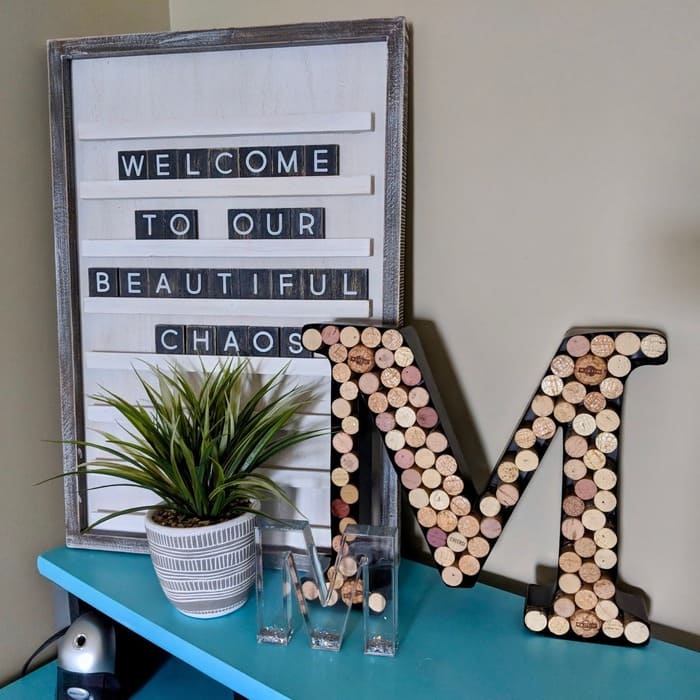 These wine cork letters would make the ideal and perfect engagement gift for bride who will soon be Mrs., especially if she is a fan of wine. You could go all out and obtain both of their first initials, or you could keep it simple and just acquire the initial of your friend's new last name.
15. Couple's Portrait Print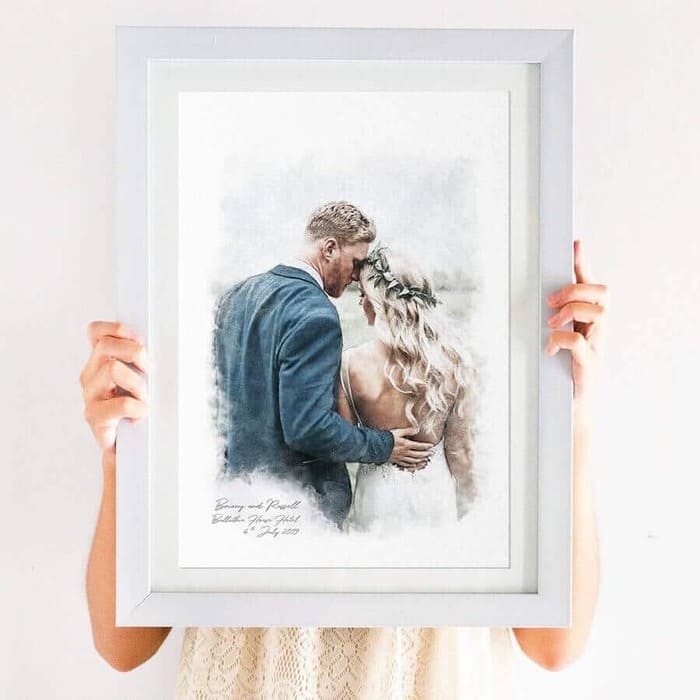 There is no better way to convey a sense of individualization than with a hand-drawn portrait that is based on the features of the newly engaged couple. This is an extremely thoughtful gift for bride to be on engagement because it offers a selection of eight various fonts and backgrounds, as well as a large number of alternatives for hair and clothing combinations.
16. Map Candle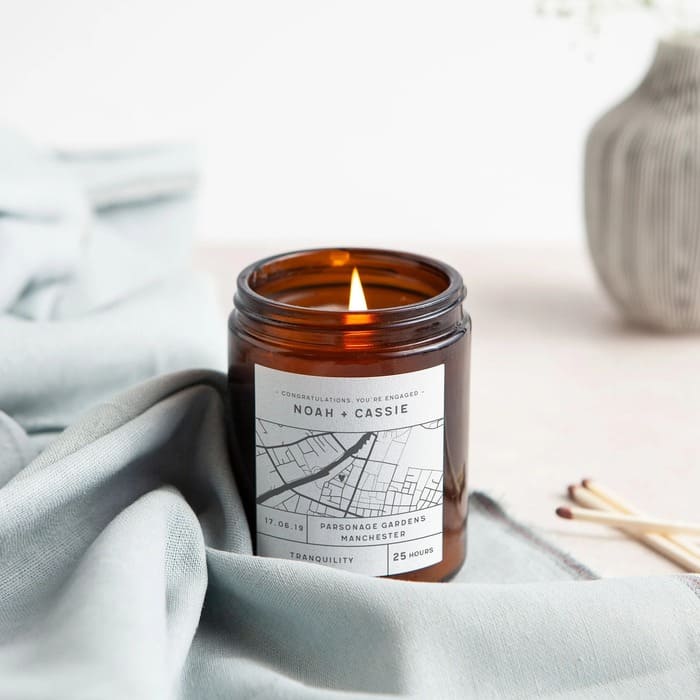 This bespoke candle design is the perfect addition to the cute engagement gift ideas for bride. There are 11 distinct fragrances available for the natural wax that can burn for up to 40 hours. Presented in a box and fitted with patterned dust protection.
17. Return Address Stamp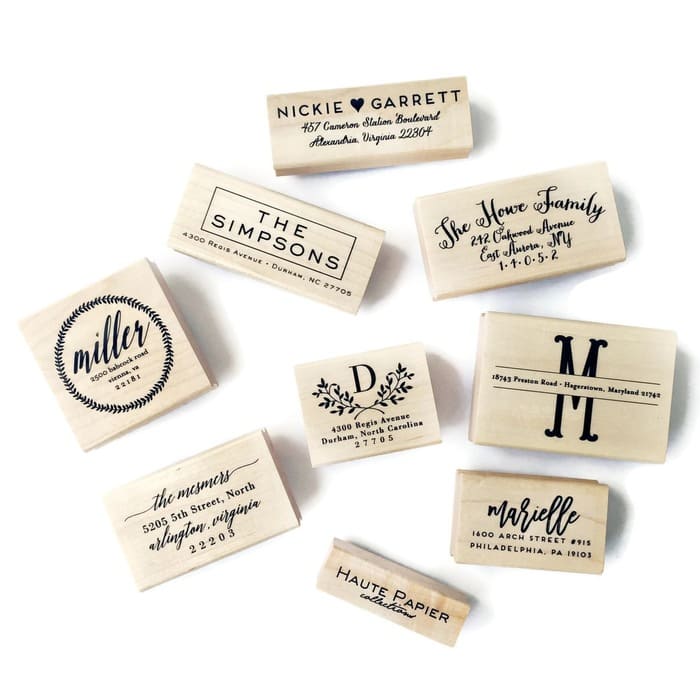 Over the following several months, your buddy will be sending you a significant amount of mail between her "thank you" cards and her "save the date" cards. By providing her with this personalized self-inking return address stamp, you will help them simplify the process and save much-needed time.
18. Wooden Keepsake Box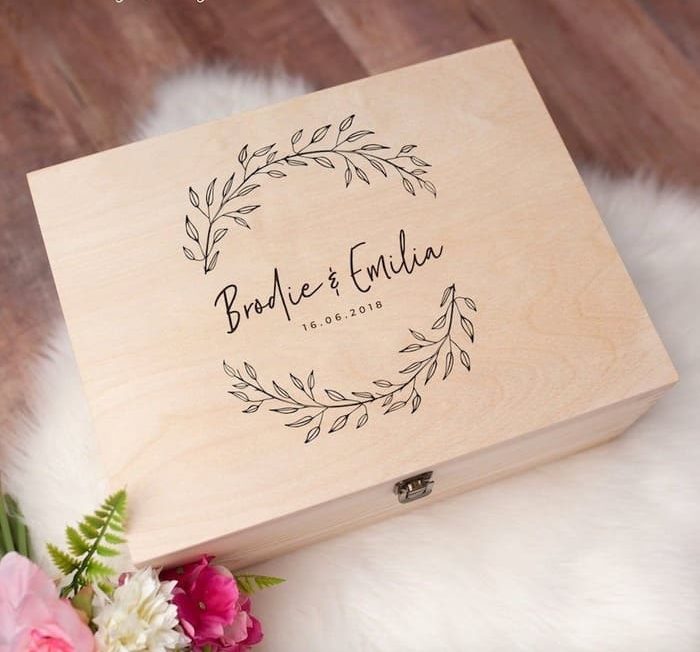 Your dearest friend and her soon-to-be husband will have an entire life together as a married couple to look forward to, and they are sure to make some memories along the way. If you look forward to engagement gifts for bride that they can keep all of their cherished items in one convenient location, give them a personalized keepsake box.
19. Gift Tree Personalized Wine Bottle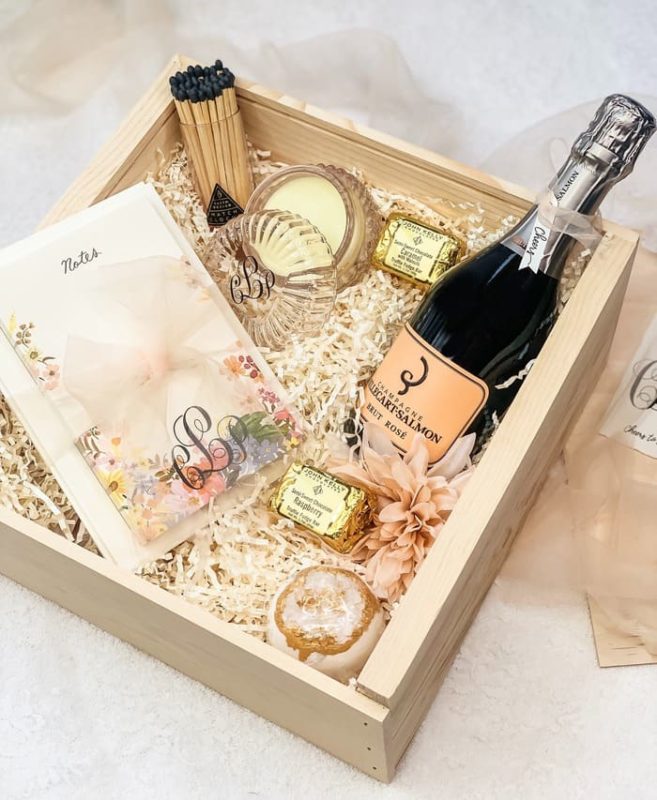 You could go up to an engagement party with a bottle of wine, but if you put some thought into it, you could really step up your gift-giving game with something like this personalized version of the bottle. Take this special gift for bride to the engagement party to make it more fun.
A robust California red mix that comes encased in a bottle that can be engraved with whatever message you select comes packed for you to enjoy (and is packaged in a gift-ready box, eliminating the need for wrapping). It's possible that the wine won't keep for very long, but the distinctive bottle absolutely will.
20. Save The Dates He Asked She Said Yes Canvas Print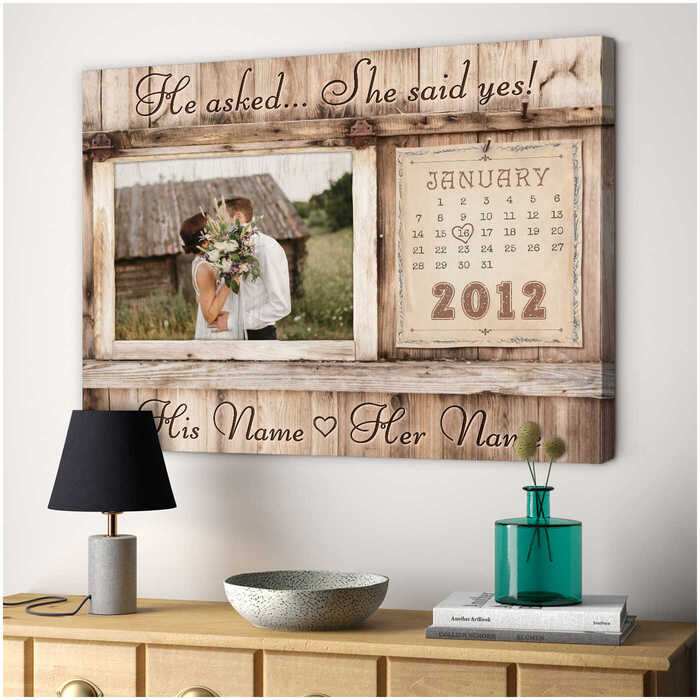 Remember the time he got down on one knee during a romantic occasion. She was wiping away a tear while saying "Yes." The moment is passed, yet it will never be forgotten. Maybe this is one of the best engagement gifts for her and will serve as a lasting memento of this momentous occasion.
21. An Old-Fashioned Photo Album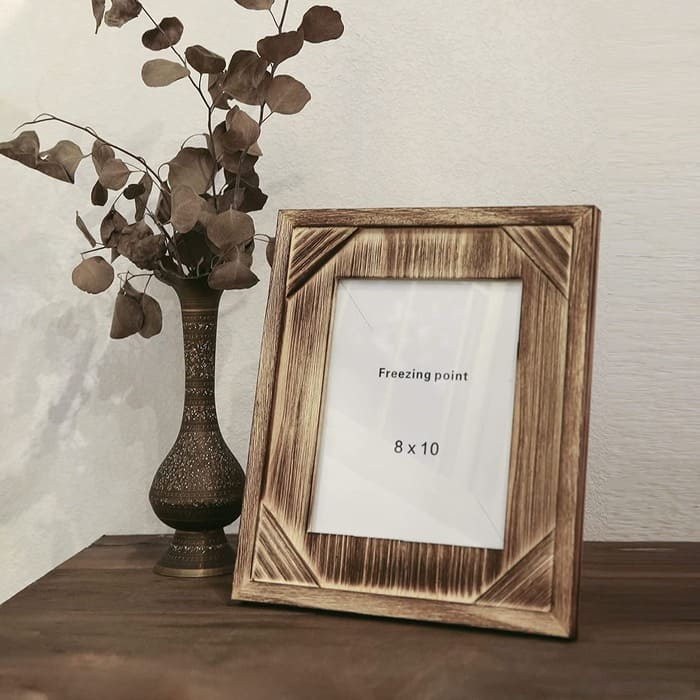 A Polaroid photograph of the happy couple is included in the personalized picture display that has been created for them. There is a secret message that reads, "Congratulations on your engagement," which can be found at the bottom of the picture. An additional helping of happiness each time the photo is removed from its frame. They are thoughtful engagement gifts for couples who already share a home.
Cute Engagement Gift Ideas For Bride
22. Photo Gifts Canvas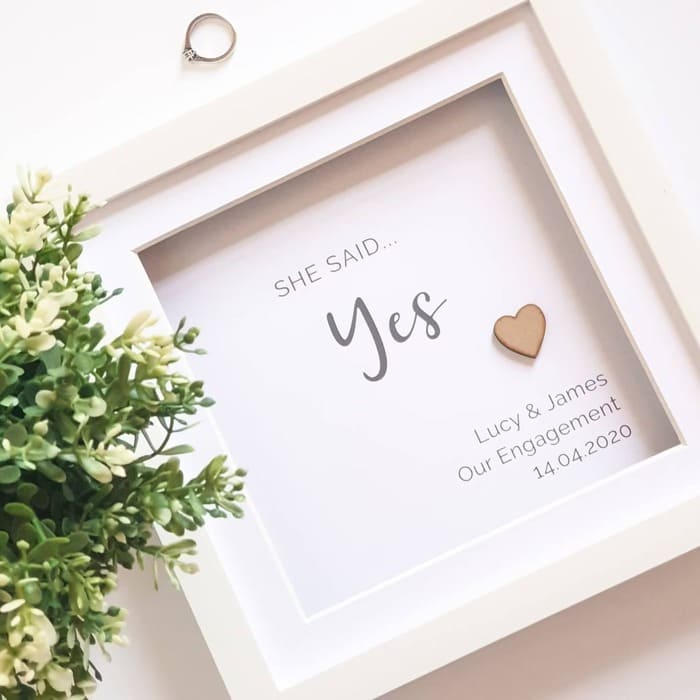 Prepare the best engagement gifts for bride that can make her day feel happier, cherish and respect more! This simple yet utterly charming engagement photo frame is certain to elicit an "awww" from your best friend. Print a picture of their engagement so that they don't have to!
>>> Curious about what to send as engagement gifts for best friend?
23. Dog Bandana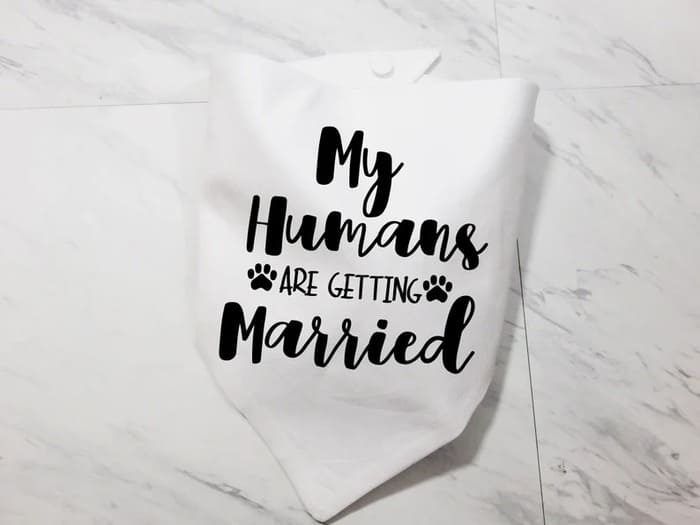 If your best friend and her fiancé have a dog, this adorable engagement gift for bride is a must. What better way to announce they are good news than with their four-legged animal companion?
24. Discreet Gold Bracelet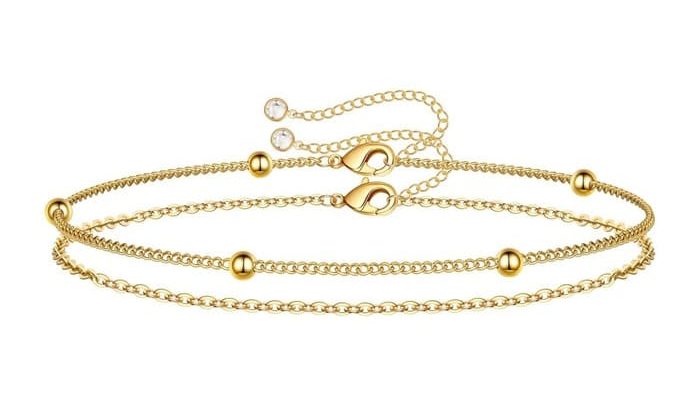 Considering our favorite engagement gift ideas for bride? This bracelet has the words "forever after" split by a delicate crystal pavé heart. It's a thoughtful way to honor their engagement.
25. What I Love About Us Journal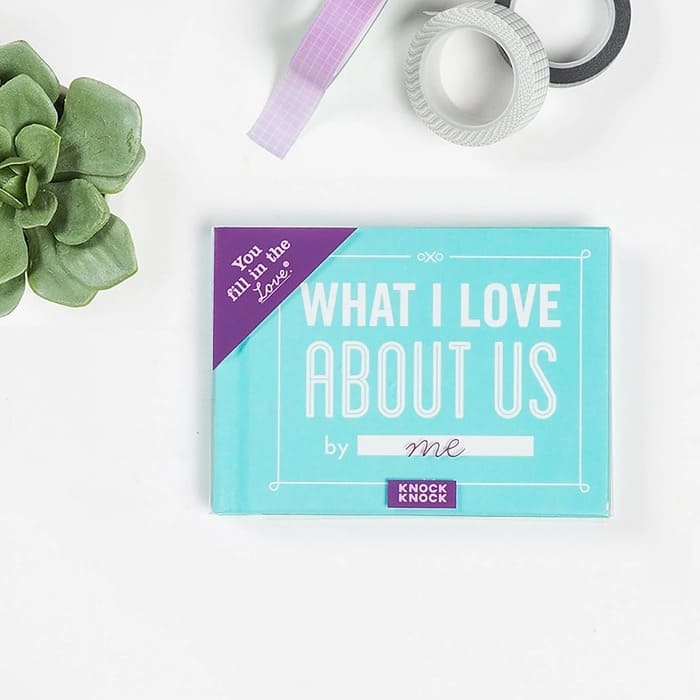 This diary is such a cute way for the pair to commemorate their special bond. It is also quite inexpensive, making it an excellent option for people who are presenting multiple engagement gifts for her.
26. Customized Tic-Tac-Toe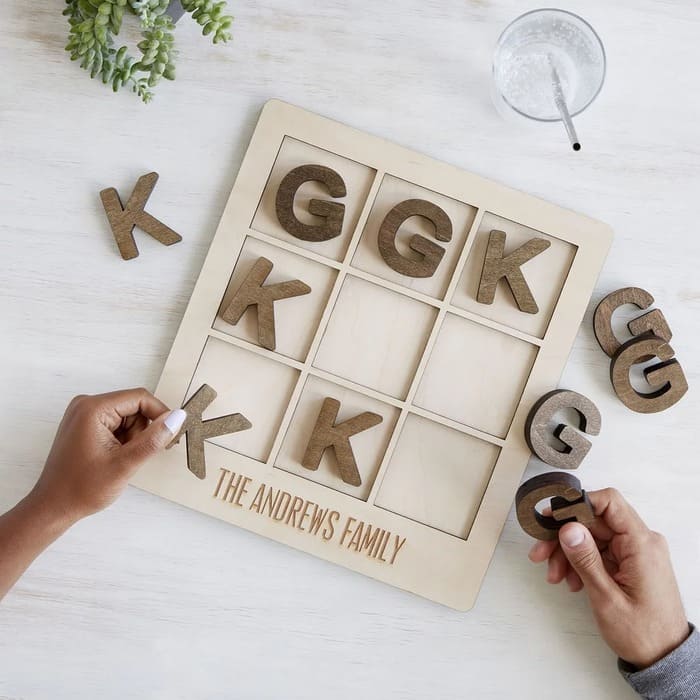 Give your best friend and her significant other an opportunity to unwind after a long day of wedding day preparation with this personalized tic tac toe board. It also serves as a charming coffee table topper for all other occasions. How beautiful and useful these engagement gifts for bride are!
27. Notebook of Small Notes for the Big Day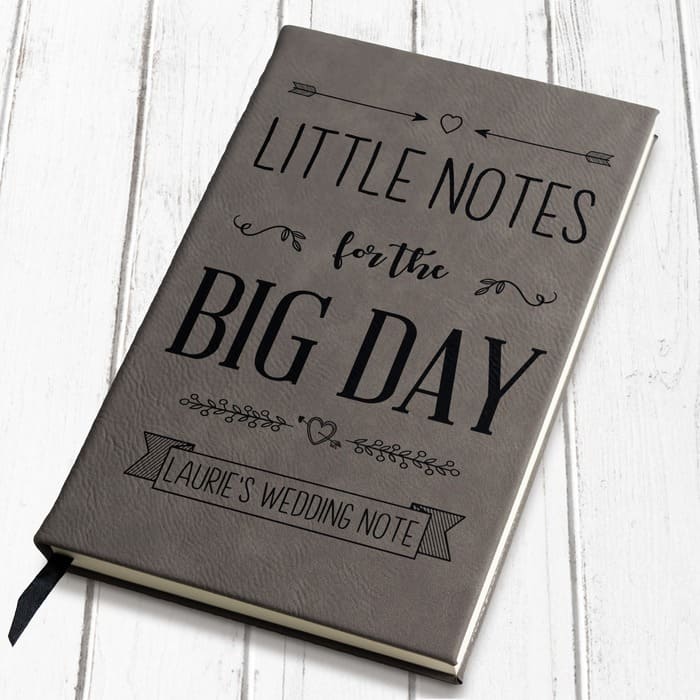 This lovely notebook is the perfect alternative for brides-to-be who don't want to carry about a bulky wedding planner to keep their ideas organized. With this good engagement gift for bride, help her save time on the small but very important details of the special day coming up.
28. Engagement Ornament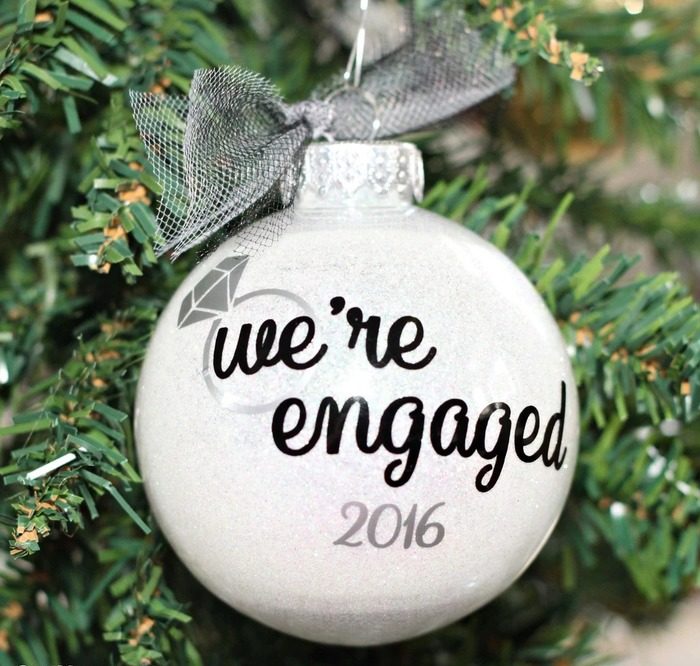 If your closest friend got engaged close to the holidays or if this is her first Christmas as a bride-to-be, she must have a personalized ornament for her tree.
29. Lace Bridal Robe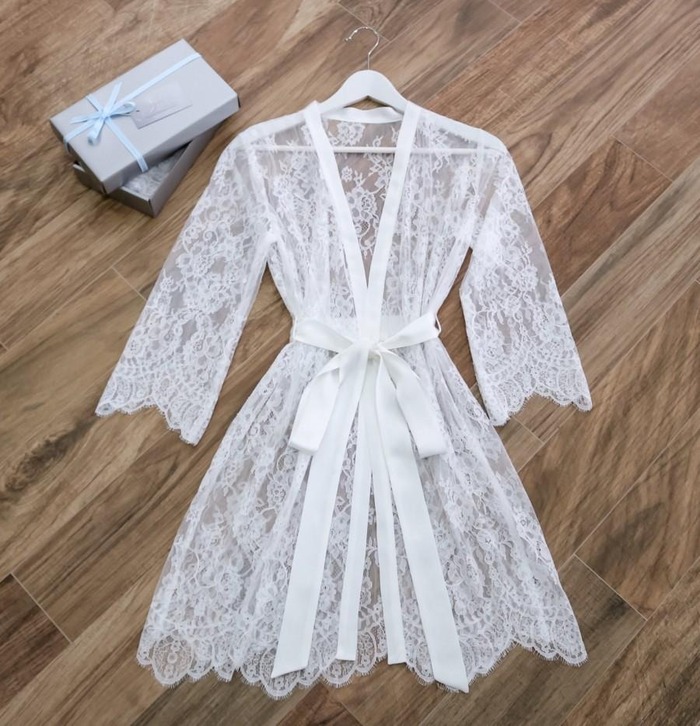 This lace bridal robe is not only an adorable gift for bride on engagement that your best friend can wear throughout her engagement, but it is also the ideal clothing for the wedding morning and the honeymoon.
30. Venus Et Fleur Fleura Vase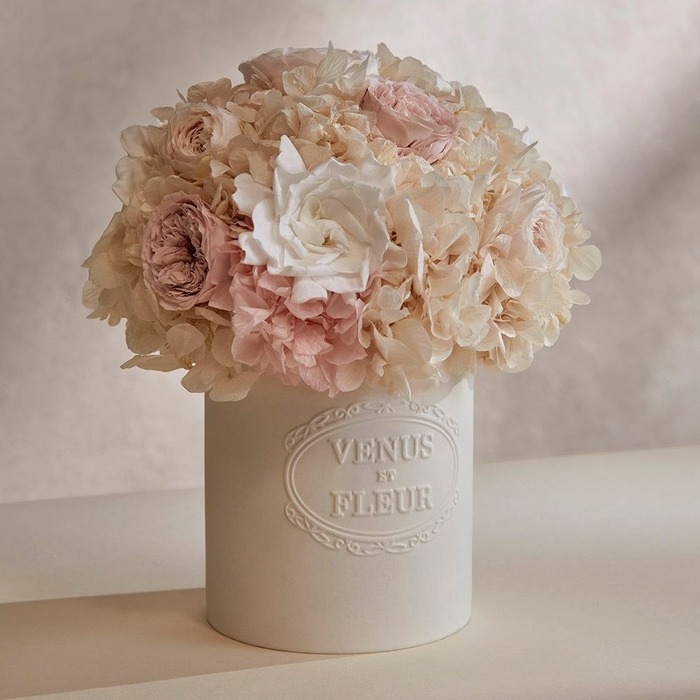 Flowers are always delicate and wonderful engagement gifts for bride. This bouquet is a terrific alternative for people looking to splurge on an extravagantly beautiful and unique present. These real roses (take a whiff) are maintenance-free and will last up to one year. Choose from any of the twenty-four available flower hues for this arrangement, which is presented in an exquisite porcelain vase.
>>> Love ideas about lesbian engagement gifts?
31. Artifact Signature Photographic Album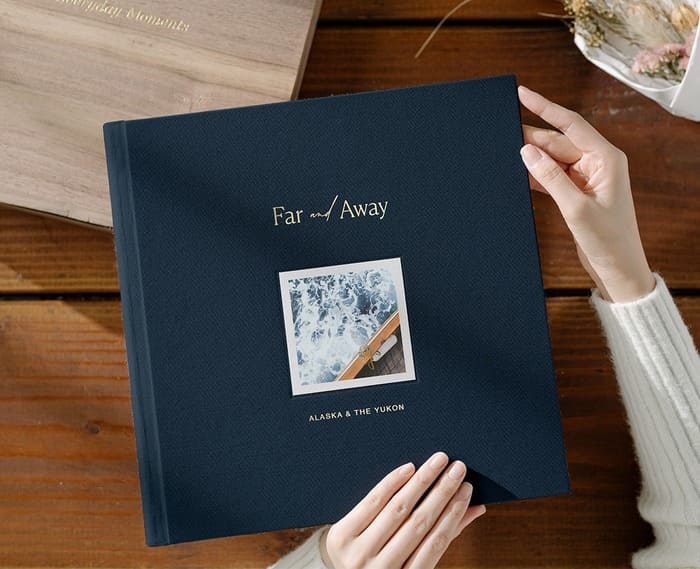 Whether they use it to store their wedding photographs or to document their engagement, a picture album is a foolproof present. Especially when it's as gorgeous as this one! Choose between a linen or leather cover with pages that lay completely flat and are extremely thick.
There is now the option to add a beautiful walnut storage box to make this item turn to be one of her memorable engagement gifts for her.
32. Custom velvet ring box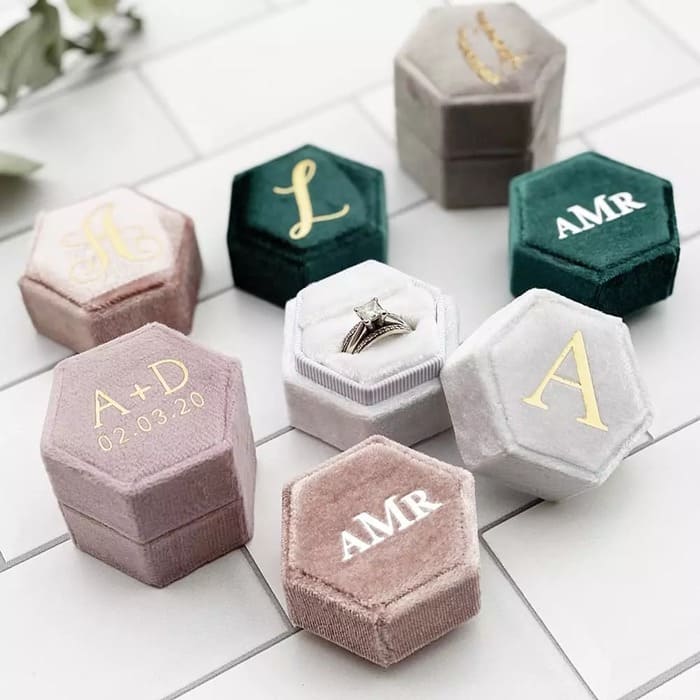 When you're in a rush to find the best engagement gifts for bride, make sure that it is a functional and unique item. This personalized ring box is the ideal engagement gift for monogram enthusiasts and it has both what are you looking for.
33. Vosges Haut-Chocolat champagne truffles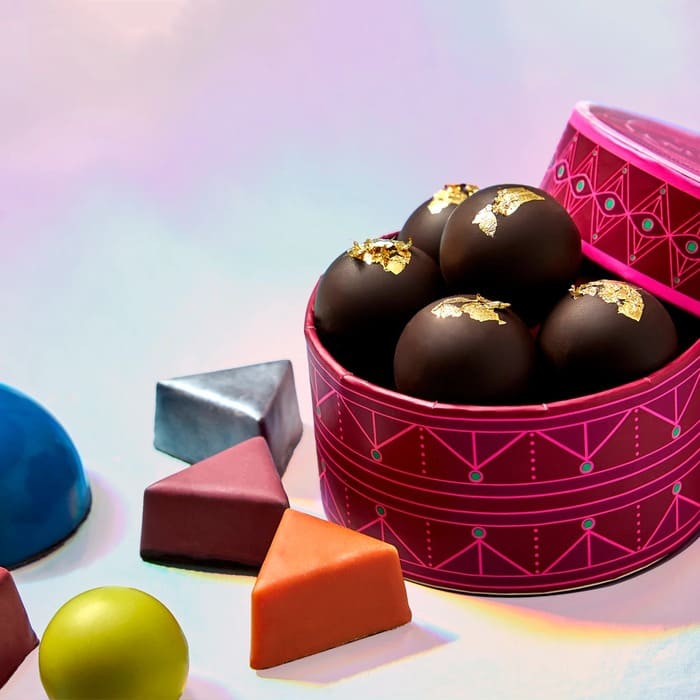 Delectable chocolates are always a treat as sweet and cute engagement gift ideas for bride, they take on a unique significance. These freshly crafted delicious truffles arrive in a stunning colorful box.
Funny Engagement Gifts For Bride
34. Engaged AF Candle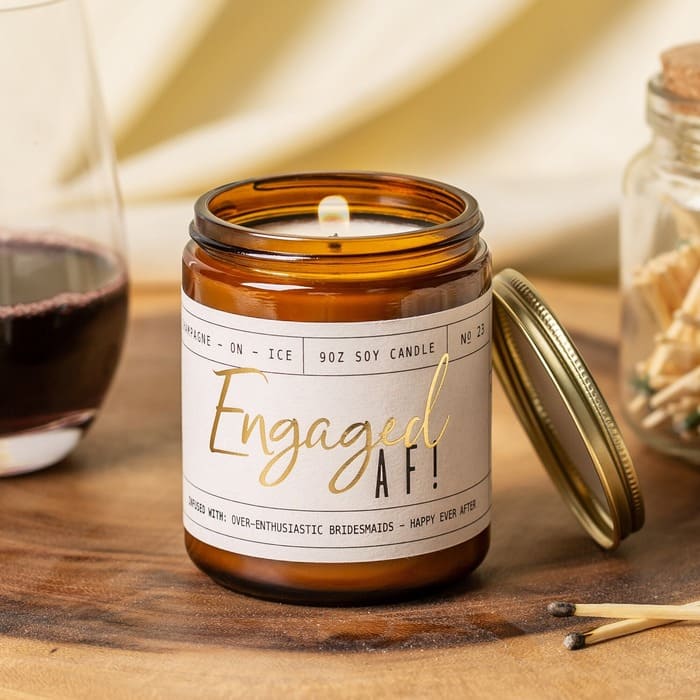 Buy her this humorous candle a departure from the usual sorts of engagement gifts for bride. Assist your best friend in announcing her engagement and sprucing up her home with this candle. Available in two sizes with over twenty different fragrance selections.
35. Customized Magnets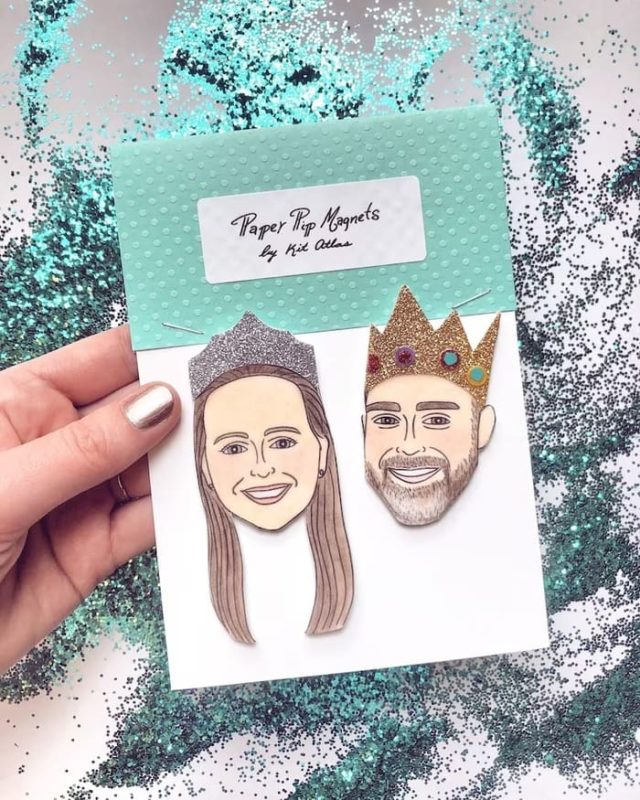 Give your bestie and her fiance a reason to smile each time they visit the refrigerator with these amusing customized engagement gifts for her. You can even commission a portrait of their dogs!
36. Coffee Mug With A Unicorn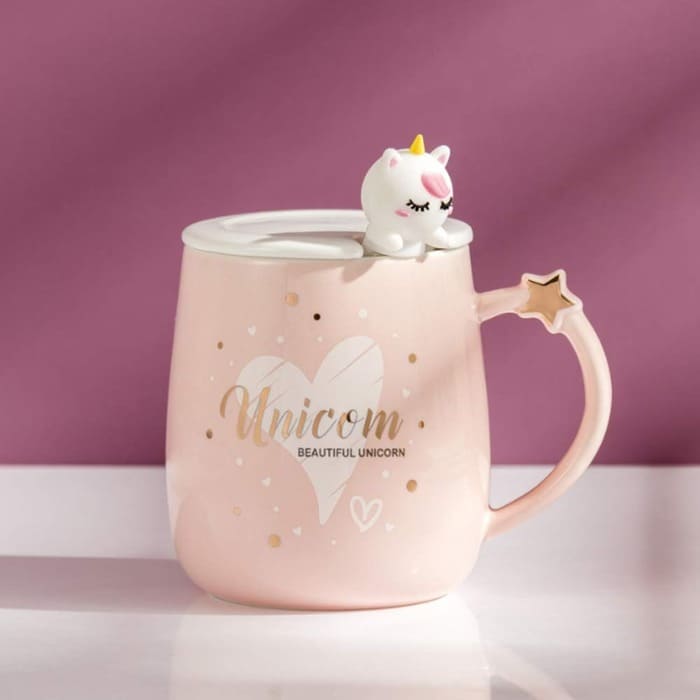 Let your closest friend know how magnificent and legendary she is with this humorous engagement gift for bride suggestion. Believe us when we say she won't receive anything similar.
37. Marital Bliss Game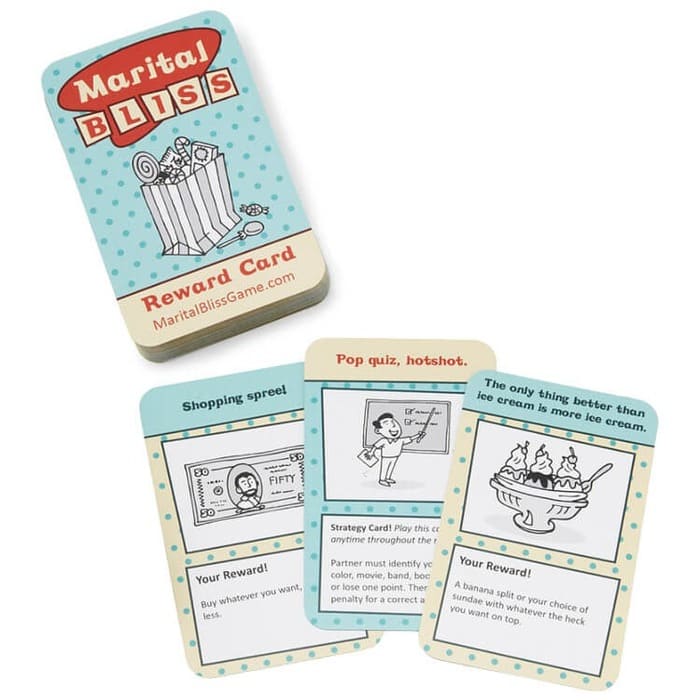 On the lookout for engagement gifts for her that can connect that cute relationship with more laughter? This humorous card game can help the pair shake up their game night routine. As stated in the description, "competition has never been so romantic."
38. Crazy Little Thing Identified as Love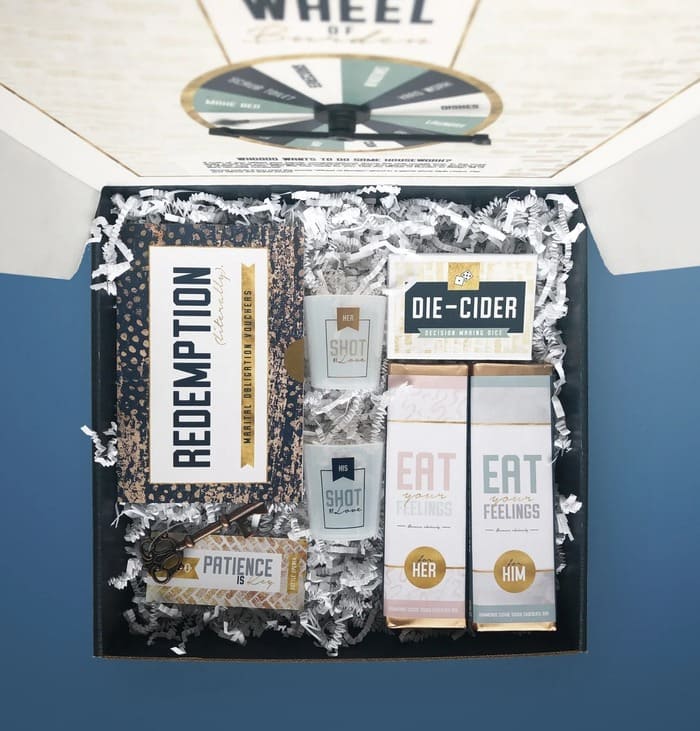 This humorous gift for bride on engagement is described as "A Marriage Survival Kit for newly engaged and married couples" and is filled with crazy games and goodies. You can even insert a personalized note inside a card.
39. The Newlywed's Operating Instructions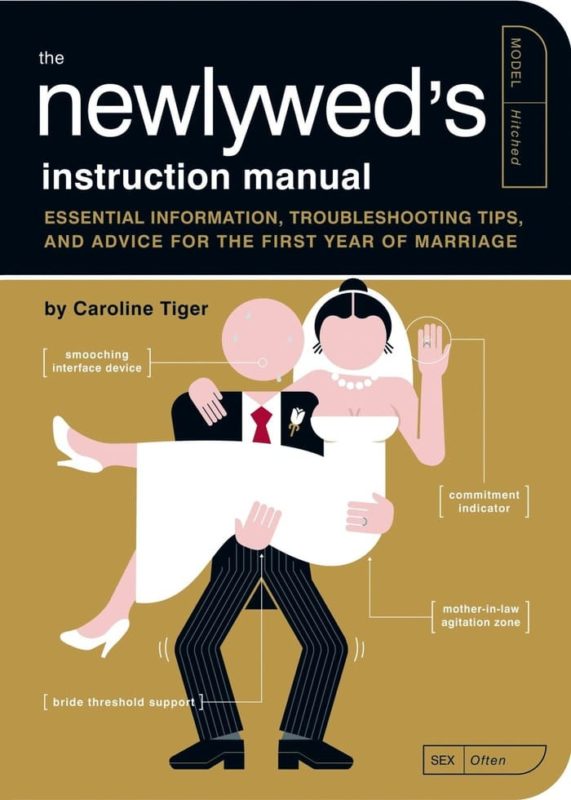 The Newlywed's Instruction Manual provides a humorous glimpse into the couple's future. Even add-on instructions for the bride and groom are available!
40. Kissing Mugs Set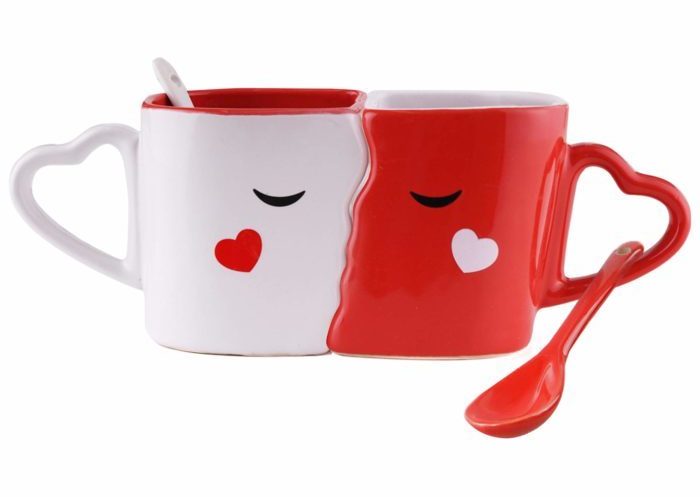 Similar to the recently engaged pair in your life, these two gorgeous engagement gifts for bride mugs go together perfectly. The kissing cups are microwave and dishwasher safe and come with matching spoons.
41. Extremely Delicious Cupcakes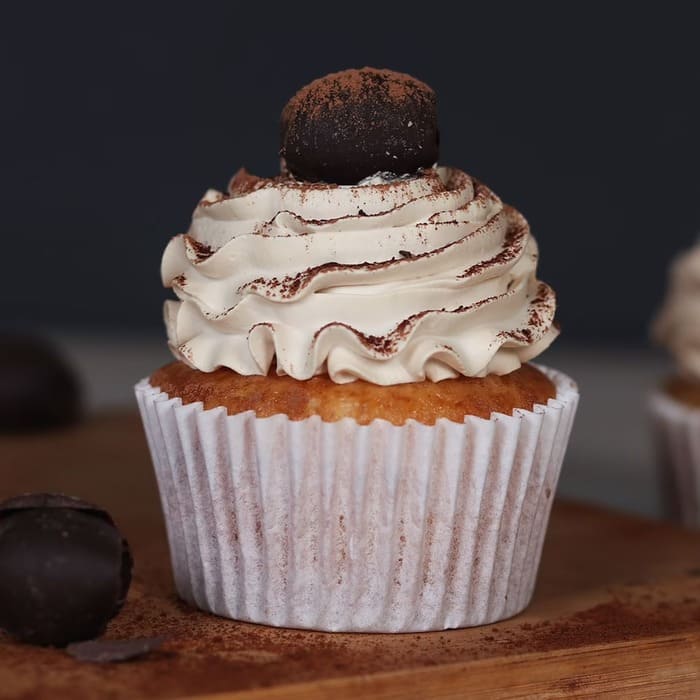 What is the most endearing way to express "congratulations?" With a box of 25 incredibly scrumptious tiny cupcakes. These delectable treats surpass typical engagement gift ideas for bride in every way. Vegan, gluten-free, and nut-free choices are available to accommodate any dietary restrictions the couple may have.
42. Funny Scented Candle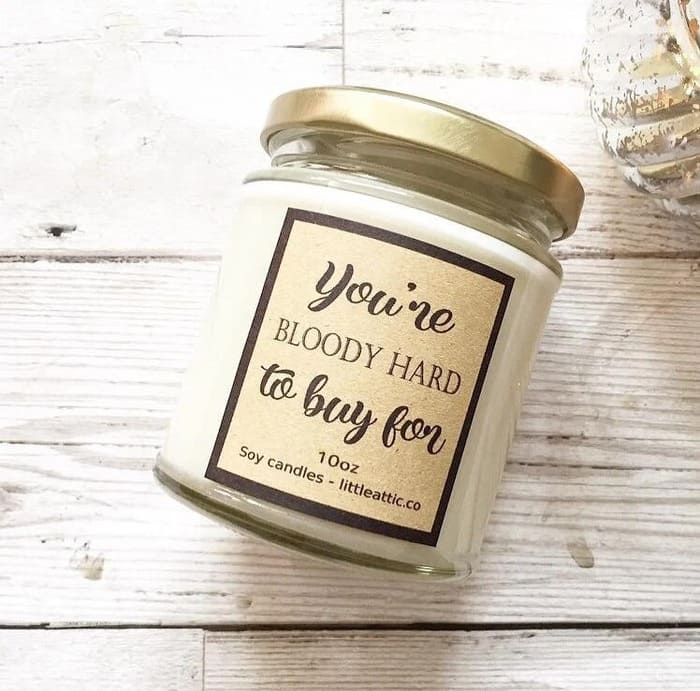 Candles are always a funny engagement gift for bride, but the humor of this candle elevates it to an entirely new level. Even when the candle has burned out (it can last up to 100 hours! ), they will want to keep the adorable container. There are thirty distinct fragrances to pick from, including a particularly appealing banana bread flavor.
43. Decorative Throw Blanket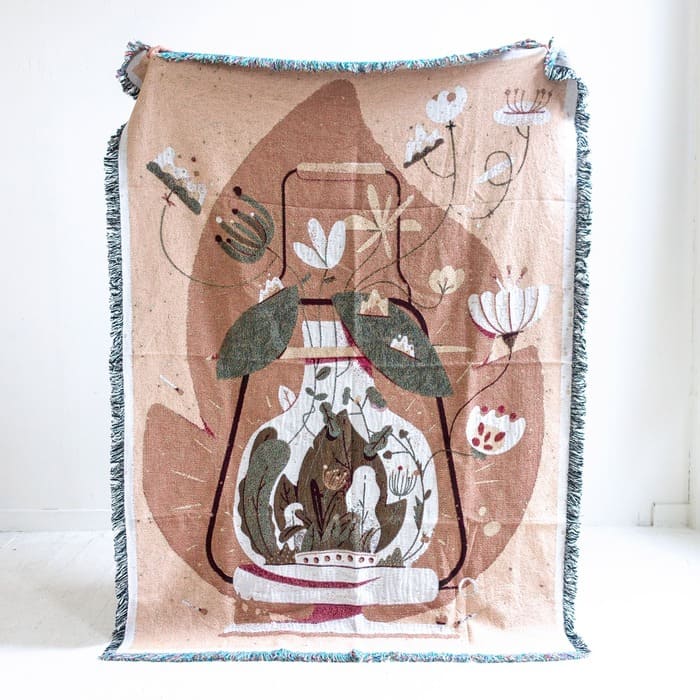 This artist produces adorably cute paintings of couples engaged in their favorite activity, then prints the photo on a soft throw blanket. This engagement gift will become their favorite piece of décor because it is 1) unique and 2) reflective of their shared passions.
>>> Further reading:
We know there are a ton of engagement gifts for bride out there, but it's ultimately up to you as the maid of honor to determine which engagement presents best reflect your BFF's personality. To help make you are choosing a bit easier, we've condensed down the choices into five popular categories! Oh Canvas hopes they'll be able to assist you in finding the perfect engagement present for your pal.