Let Oh Canvas showers your husband with love with one of the best Father's Day gifts for husband, hand-picked for a thoughtful and loving wife like you on this bespoke post! This is one of the ideal days for you and your children to lavishly shower your number one guy in the entire world: your spouse, with the most thoughtful Father's Day gifts for husband.
Personalized Father's Day Gifts For Husband
1. Customized Photo Golf Balls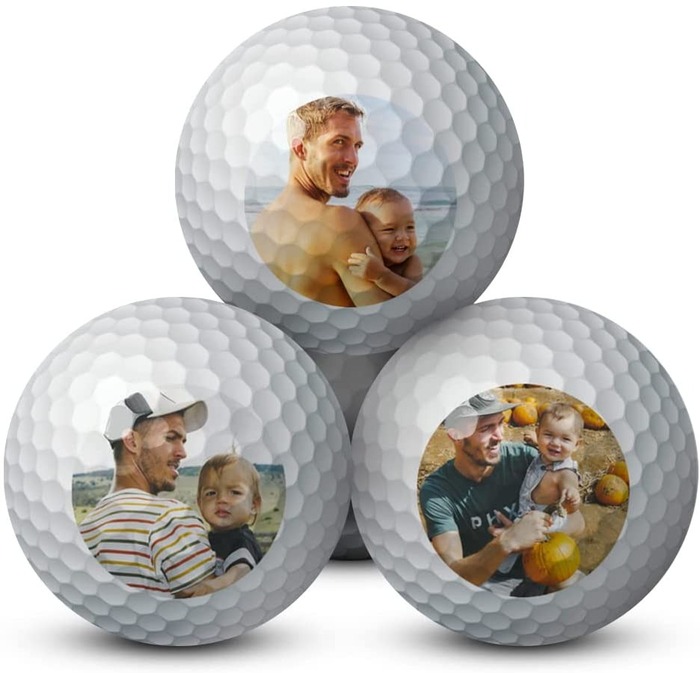 Make his next trip to the golf course a bit more memorable with this unique take on a personalized Father's Day present for husband. Whether you choose a family portrait or the emblem of his favorite sports team, these customized golf balls are on par with the nicest present he'll receive this year.
2. Personalized Bamboo Cutting Board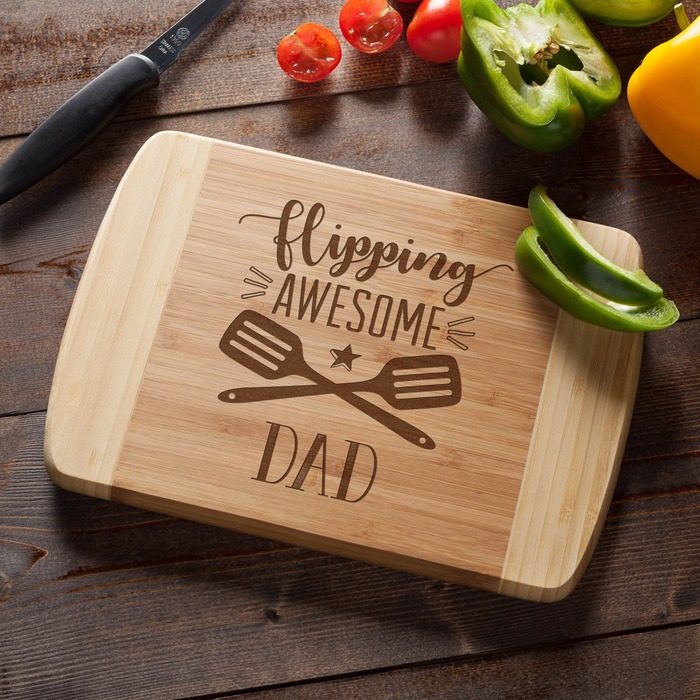 In the matter of personalized Father's Day gifts for husband, this handcrafted bamboo cutting board can show him how much you appreciate his grill master talents. It comes in various sizes and may be customized with his name or the official "King of the Grill" title.
3. Personalized Family Name Pillow Cases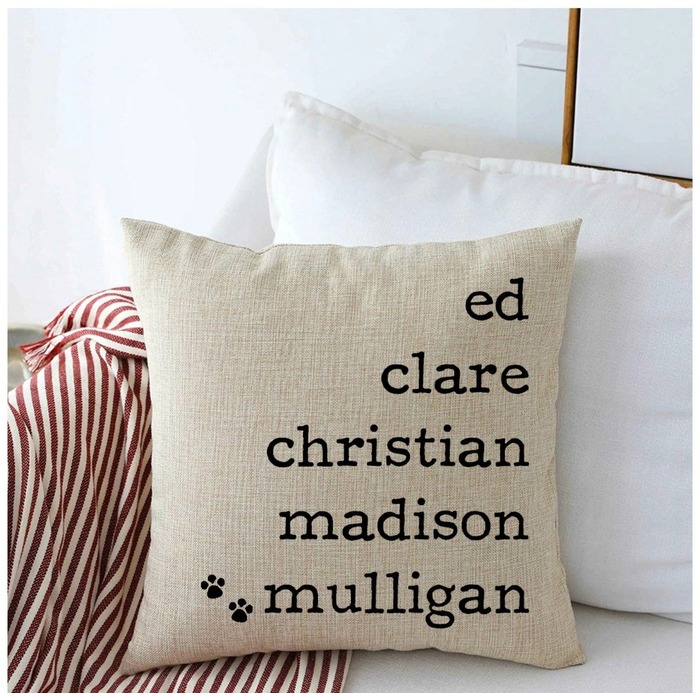 Even if your children are all grown up, this throws pillow cover with a personal touch will be a keepsake he will treasure. Whatever message you choose to have on the front, he may always have it near his location on the sofa.
4. Leather Wallet with Engraving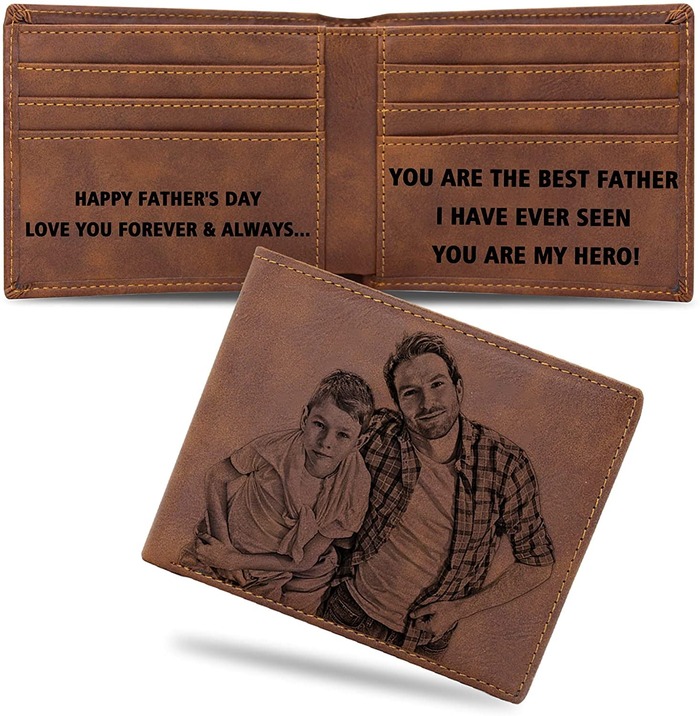 This custom-engraved wallet, made of Argentinian leather, will be one of the practical Father's Day gifts from wife for him this year. You may engrave his name or initials on the front or inside the wallet, which also has an RFID-blocking lining.
5. "We will always reach for you" Canvas Print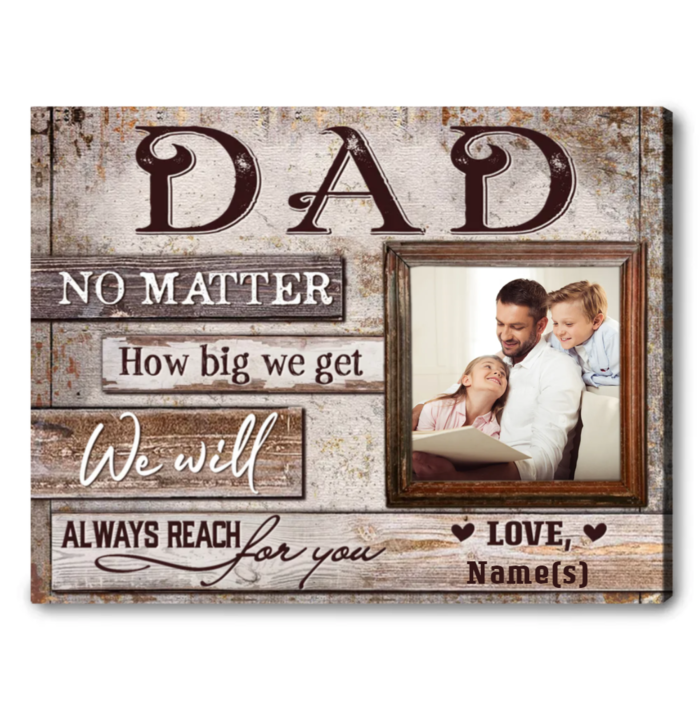 Concerning the best Father's Day gifts from wife to husband, a one-of-a-kind film strip canvas design will display memories between him and the children. "Dad, no matter how big we become, we will always reach for you." However, you may alter it to another message to express the affection of the entire family for your spouse.
6. 3D Stadium Photo Frame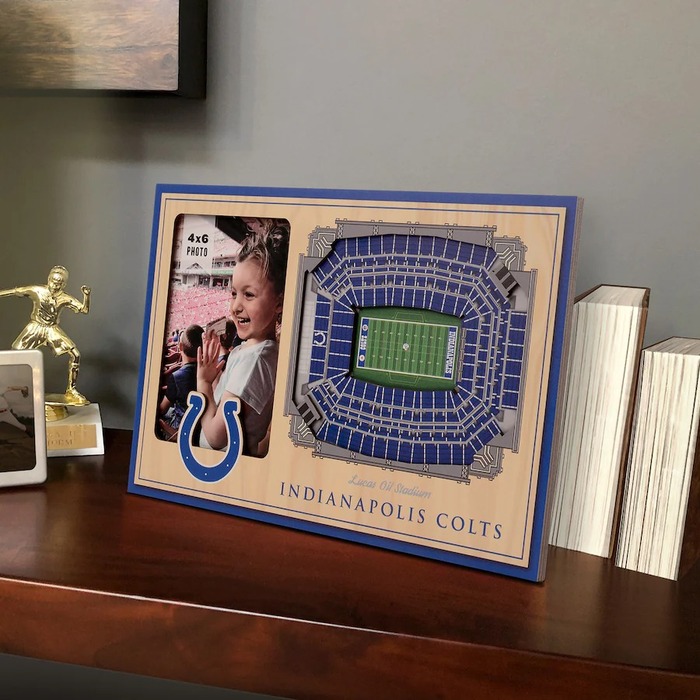 He's certainly got a lot of memories from the big game, so this 3D picture frame will help him keep his favorites. Almost every athletic league, from the MLB to the NHL, has a frame.
7. "To My Husband" Canvas Print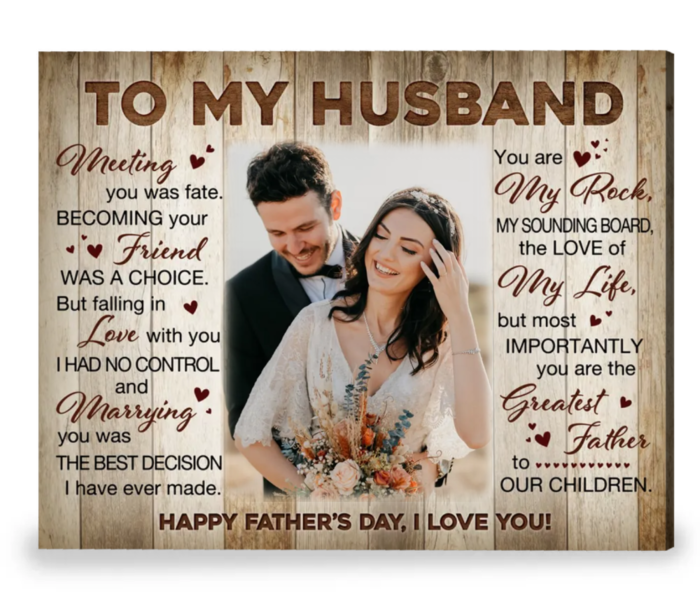 This photo plaque is both beautiful and poignant, and it was created to warm hearts. Personalize it with a photo of you and your husband, and let the words make him happy! One of the nicest Father's Day gifts for husband from a lady who enjoys surprising her husband is a souvenir!
8. Rocks Glass Etched Coordinates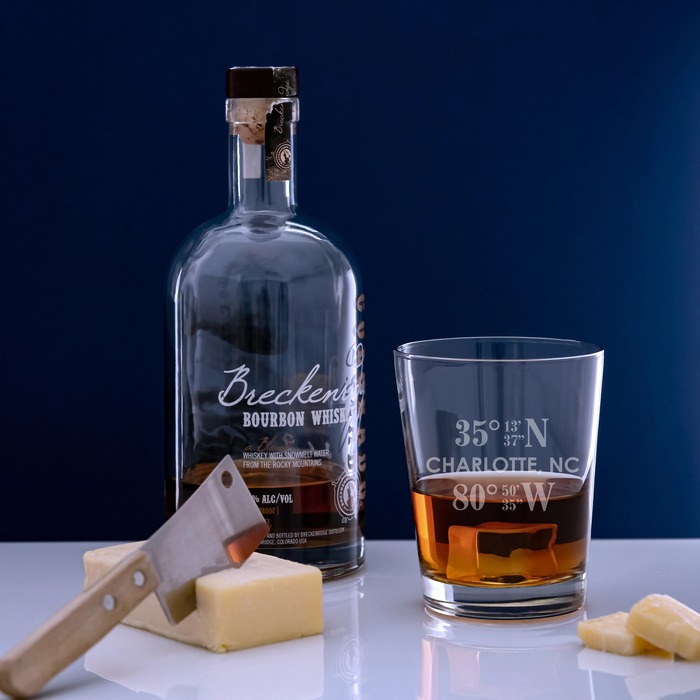 Instead of the same old bottle of whiskey, give him something a little more personal. These personalized Father's Day gifts from wife with matching glasses may be a remembrance of a special place, such as your home or a favorite vacation destination. Each glass is handcrafted in the United States and custom-etched in Pennsylvania. Alternatively, you might give him a wine or craft beer club membership.
9. "That Day You Became A Dad" Print Star Map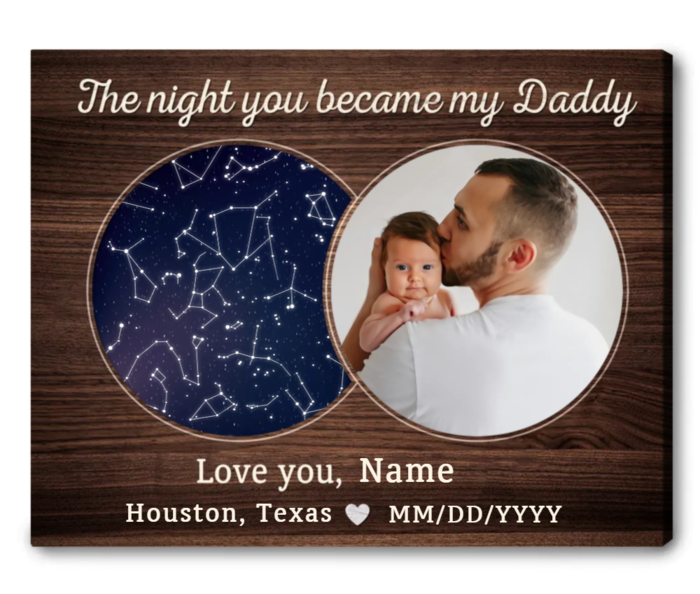 What about a Father's Day present for husband that would remind him of the first time he held his newborn son or daughter in his arms? This poster also depicts how the stars aligned on that momentous occasion. Prepare to witness his reactions when he receives the present!
10. " To Us You Are The World " Print on Canvas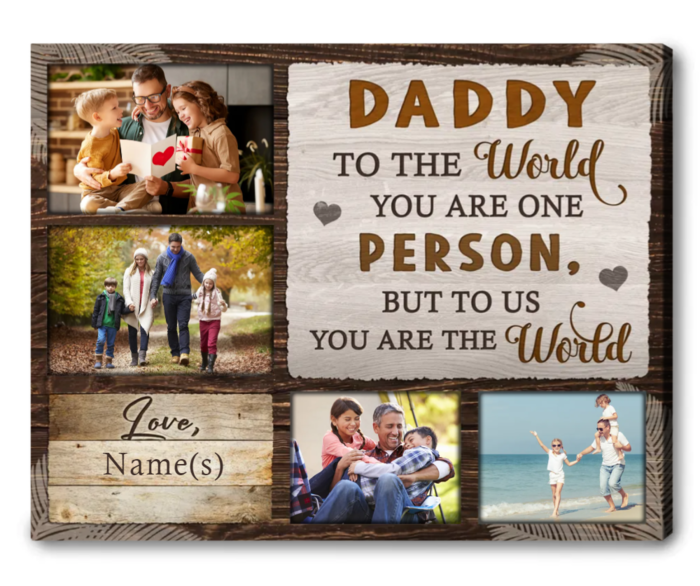 Fathers are the cornerstones of each family; without them, the family is incomplete. He is your husband, your child's greatest friend, and her first love. Make this Father's Day special by gifting him one of the most thoughtful Father's Day gifts for husband. Express your feelings and assure him that his efforts are not in vain.
Father's Day tech gifts for husband
11. Bluetooth Speaker Oontz Angle 3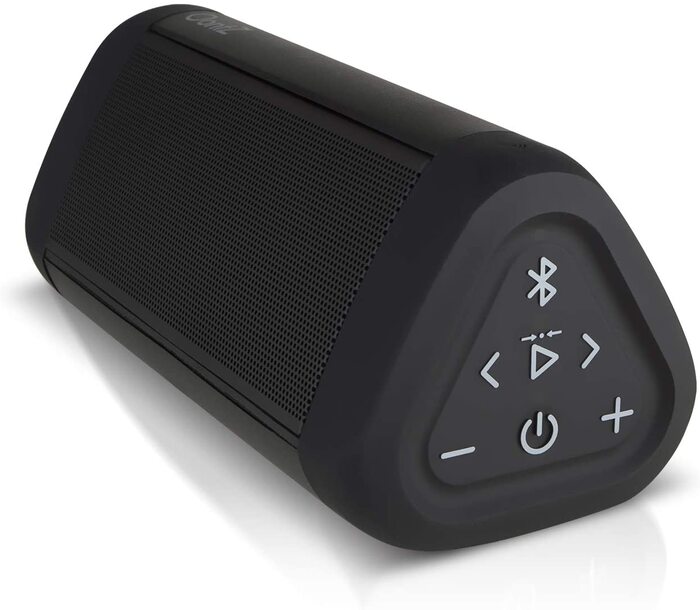 When it comes to Father's Day gifts for husband that will make everyone happy, a speaker projector like this one might fit the bill. Even if it's only a modest family BBQ, a speaker is required for every outdoor gathering. This speaker is simple to use and can last up to 14 hours on a single charge, allowing him to listen to his favorite music without worrying about recharging.
12. Bluetooth Tracker Tile Pro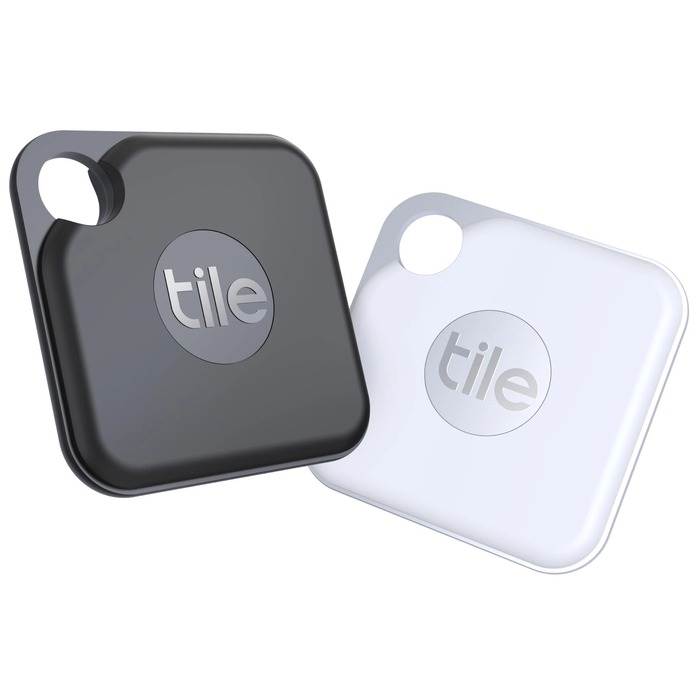 Is he often misplacing things? That problem will be solved with this Bluetooth tracker. It can be connected to his other Apple gadgets and attached to anything from his bag and wallet to his favorite remote. This Father's Day present for husband will help him solve some unnecessary trouble every morning.
13. Wireless Charging Station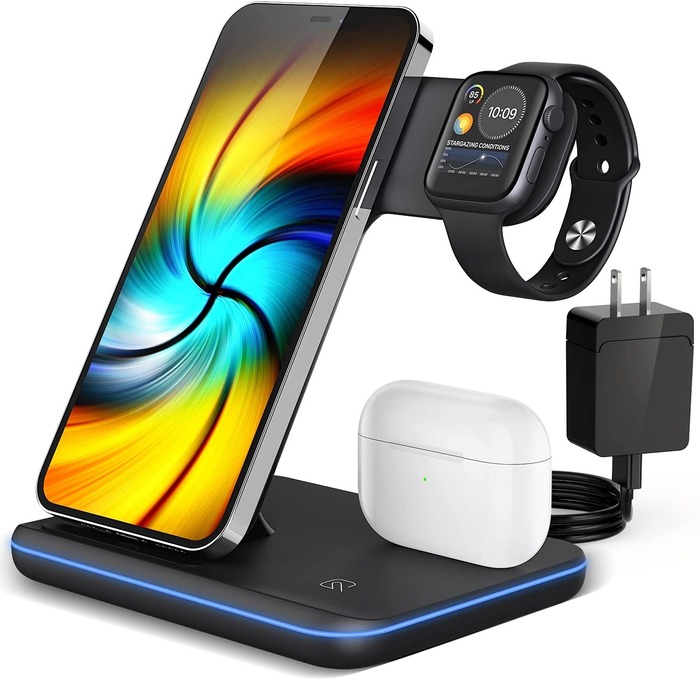 With this wireless charging stand, he can keep all his favorite gadgets charged, free of tangled cables, and in one place. It works with the majority of Apple and Samsung smartphones.
14. Fitness Tracker Fitbit Inspire 2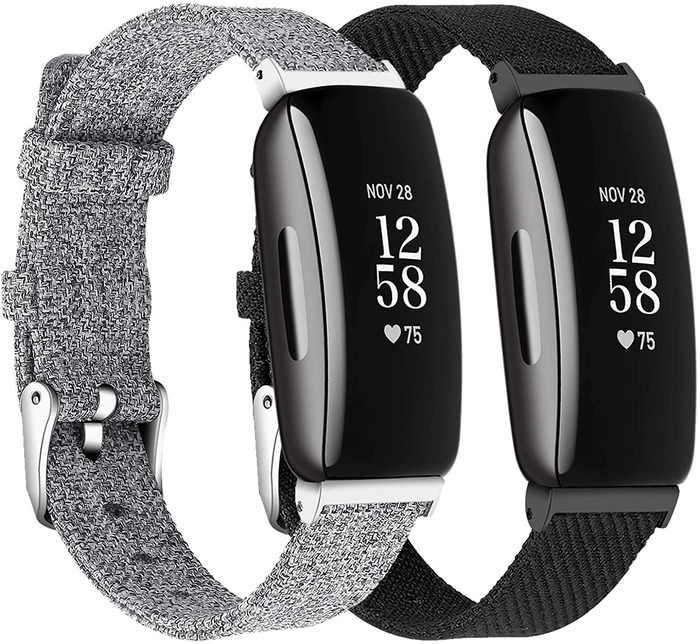 The Fitbit is a terrific alternative for his fitness objectives, whether he is training for the next marathon or wants to keep track of his everyday activities. It is water-resistant and has automated fitness tracking and heart rate monitoring so that he may use it in the shower or pool.
15. AirPods by Apple (3rd Generation)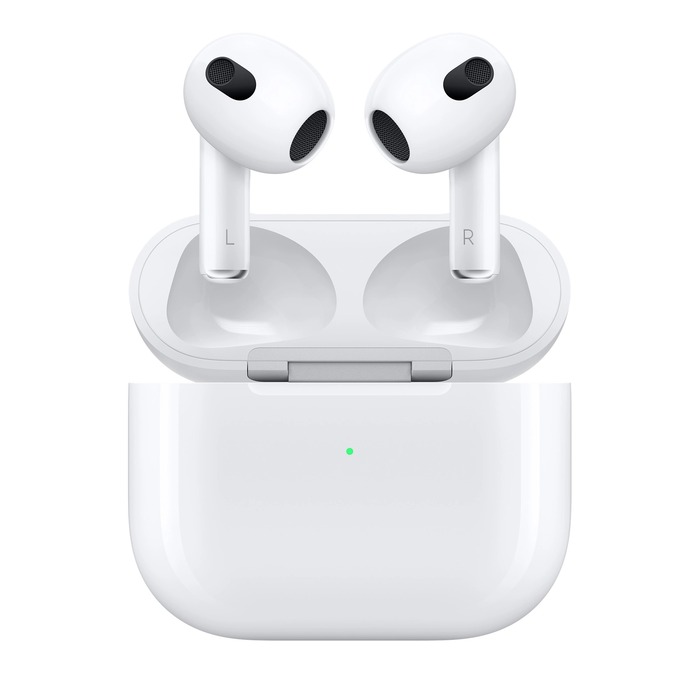 If he's been taking walks around the neighborhood or working out at home, Apple's popular AirPods will be a much-appreciated Father's Day present this year.
16. Bluetooth Stereo Speaker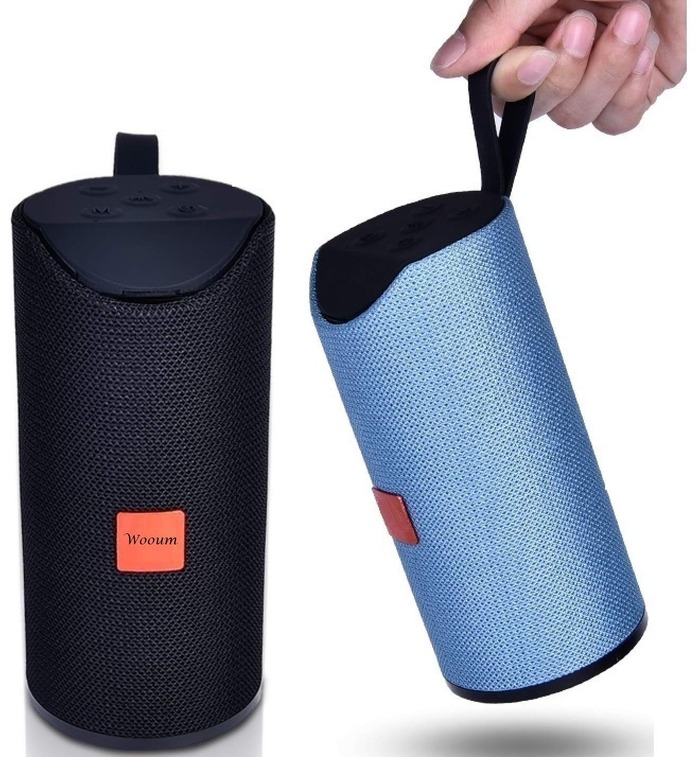 Are you looking for Fathers Day gifts for husband? This Bluetooth speaker is an ideal gift for him, maybe noisy, waterproof, and ultra-modern! Take a look at the JBL Flip 4 Bluetooth speaker. This powerful device will turn your casual yard dates into entertaining, music-themed nights!
17. Heat Massager for the Back, Neck, and Shoulders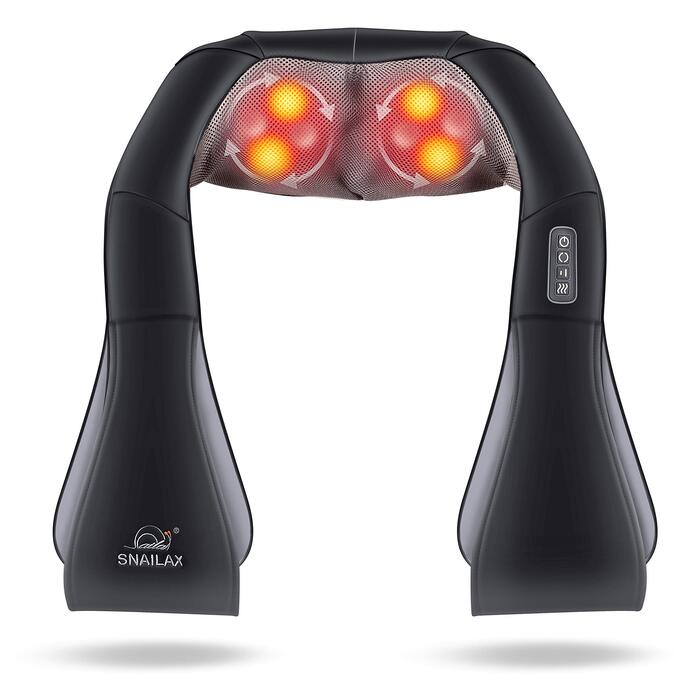 For those occasions when he needs his shoulders rubbed but you don't have the energy, there's a self-massaging gadget with a heated function that will sore muscles and massage him while you both rest. On the next occasion, give the best Father's Day gift from wife to husband to enhance his next experience.
18. Nikon Z 5 Digital SLR Camera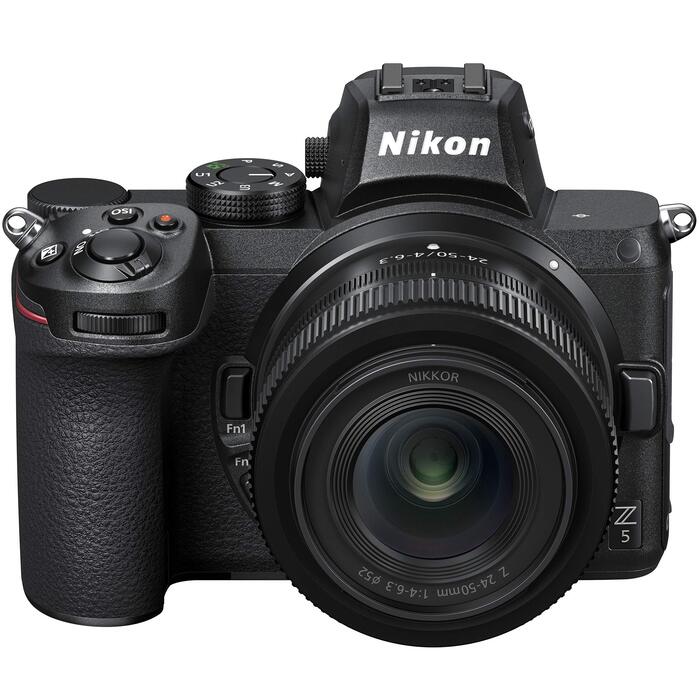 On the lookout for Fathers Day gifts for husband that he can use for going on another adventure? Treat him to this Nikon camera so he can remember everything. Its tiny form makes it ideal for traveling without adding bulk, and it has a slew of intriguing capabilities like 4K UHD video, time-lapse photography, and seamless networking to your smartphone.
19. Camera for Dogs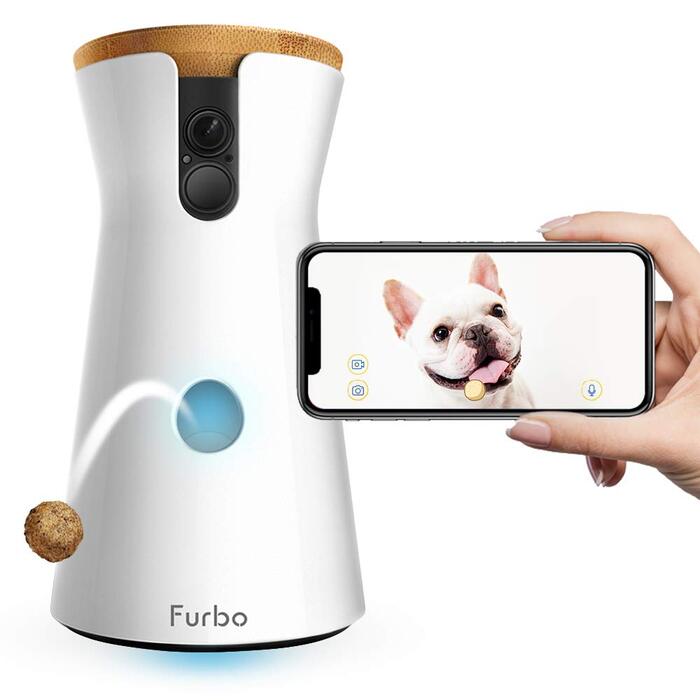 Even if you don't *technically* have children, you can still spoil your spouse on Father's Day. Dog dads are also fathers! Get him a "from the dog" treat-dispensing pet camera that the whole family will appreciate. This is just a cute Father's Day present for husband.
Father's Day cooking gifts for husband
20. "Something Hot Is Coming Through" Apron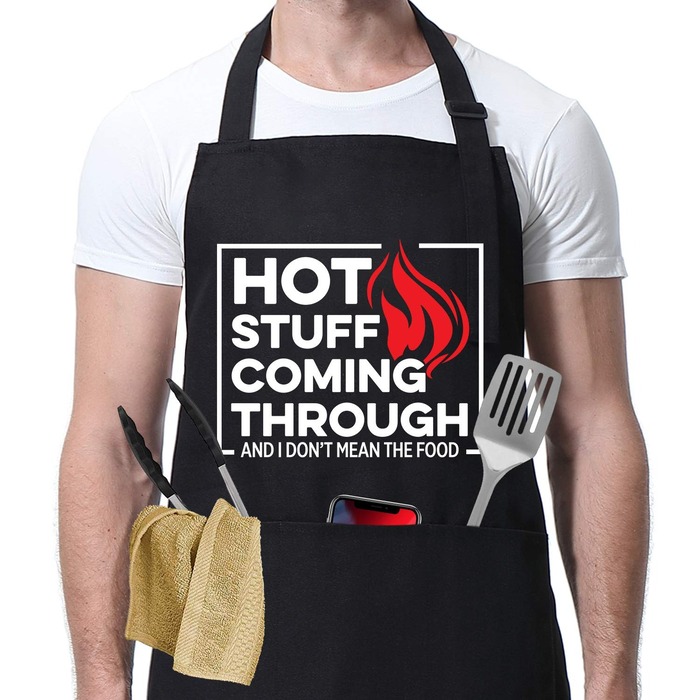 Does your husband enjoy demonstrating his culinary abilities in the kitchen? As a Father's Day present for husband, get dad an apron with the hilarious slogan, 'Hot Stuff Coming Through.' Tell him he looks sexy in an apron and out of the kitchen. You understand what I mean.
21. White Truffle Truff Hot Sauce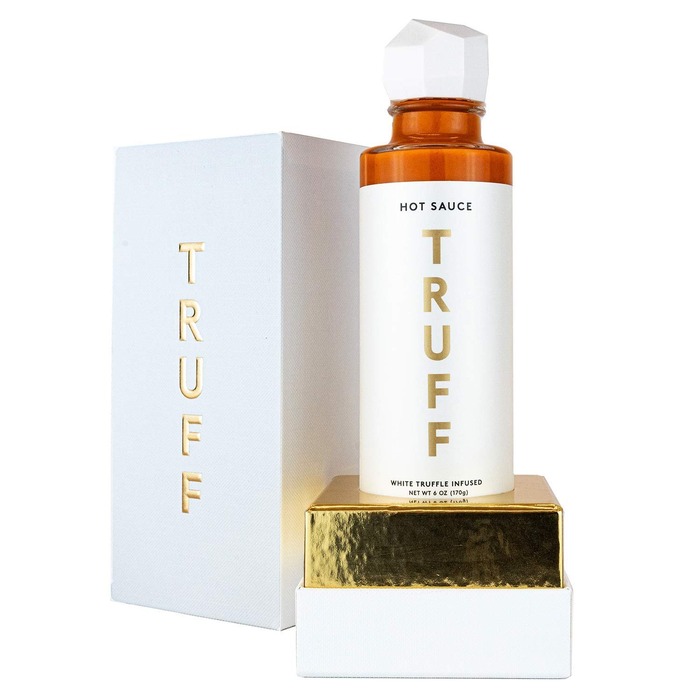 When you rush to find the finest Fathers Day gifts for husband, this one can be a good choice. Truffle sauce may boost the ante on any cuisine, but this truffle hot sauce, according to one reviewer, may completely change it. If he has a refined palette, this spicy sauce might be just what he wants.
22. Pour-Over Coffee Maker Brim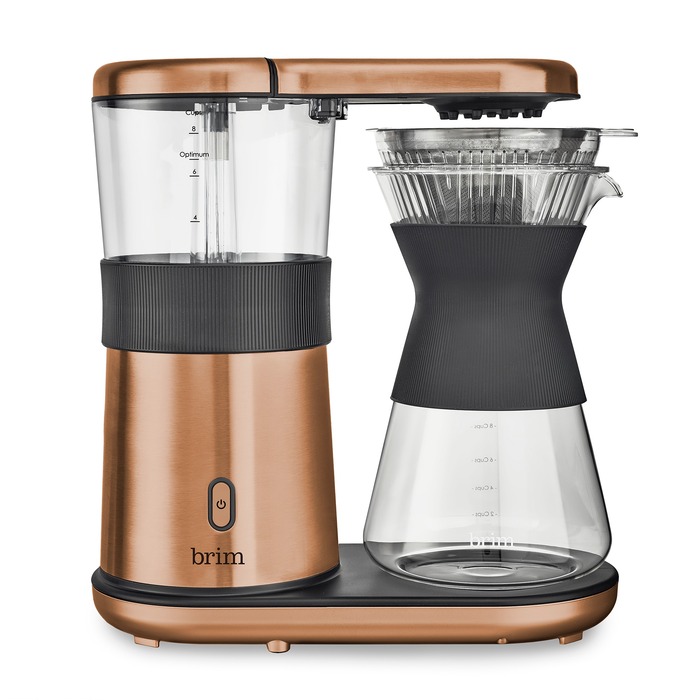 This is one of the romantic Father's Day gifts from wife to husband that can brighten his morning. Pour-over coffee from coffee beans will always provide an excellent cup of joe for the serious coffee connoisseur. This package includes the decanter, stainless steel filter, pint glass, and heat-resistant silicone sleeve to get his mornings started correctly.
23. Homemade Hot Sauce Kit from Chili Lab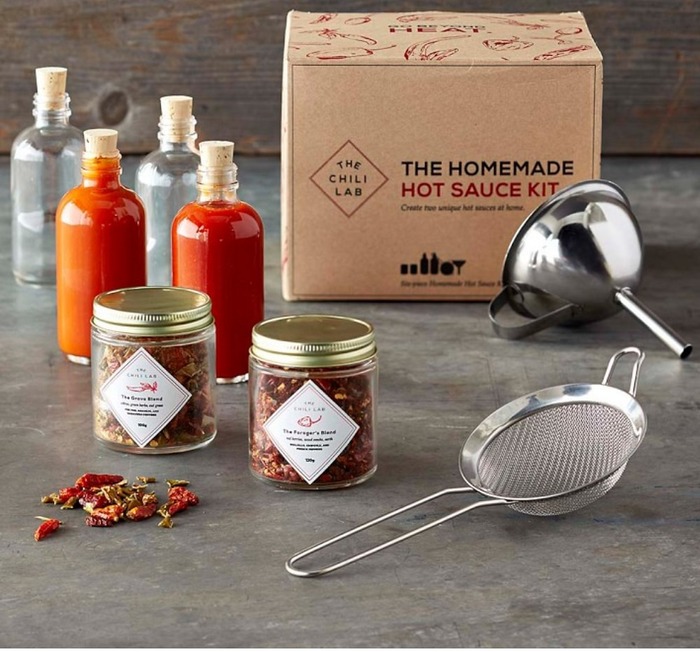 If he loves spice and refuses to settle for a pre-made spicy sauce, this kit allows him to take control. The kit includes everything he needs to produce two full bottles of artisanal hot sauces, allowing him to any item he cooks on the barbecue this summer with these Father's Day gifts from wife. Besides, you can give him a monthly subscription box of hot sauce kits as a useful Father's Day gift for husband.
24. Barbecue Tool with 6 Functions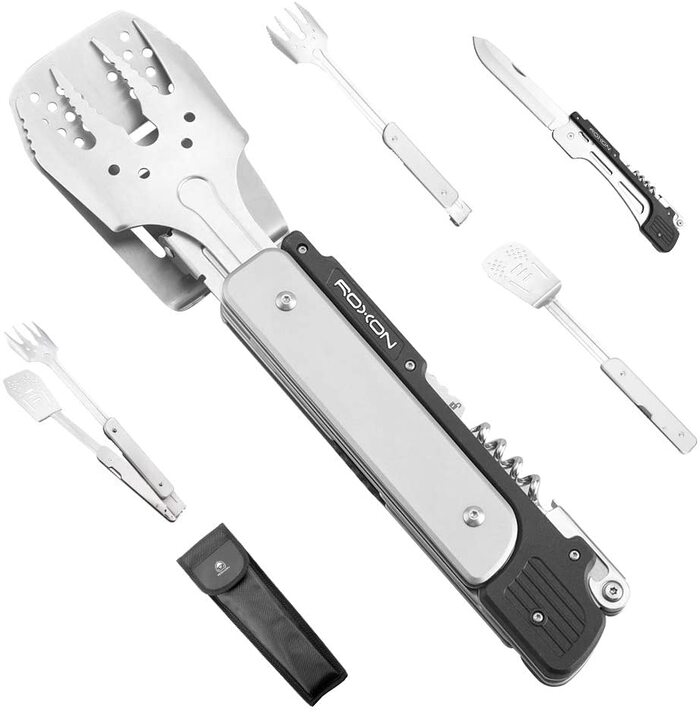 If he intends to grill all summer, this six-in-one tool will assist in reducing the number of stainless steel tools he'll need to carry. It includes a marinade brush, spatula, grill fork, corkscrew, utility knife, and even a bottle opener, so he doesn't have to make repeated journeys in and out of the house.
25. Whiskey Making Kit Unusual Goods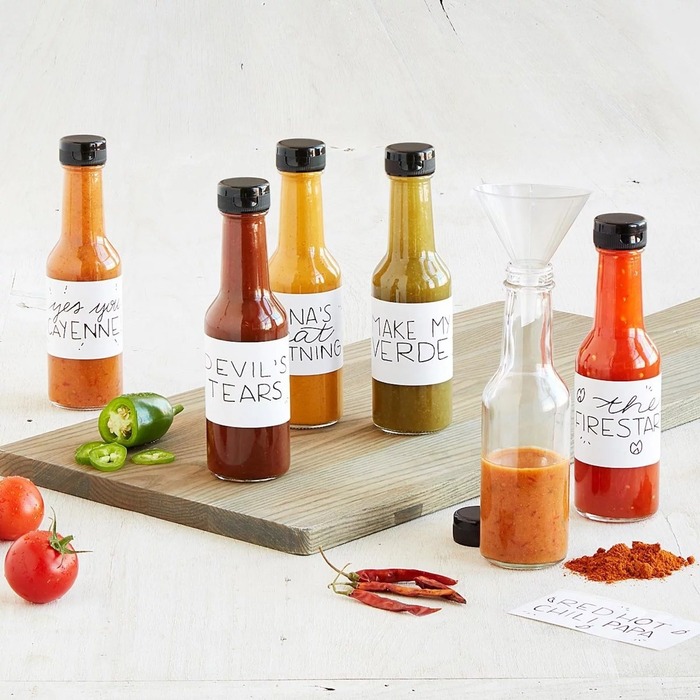 Is your hubby interested in artisan whiskey? He may now make his own with this unique Father's Day present for husband whiskey manufacturing kit or cocktail recipes by Vincent and Leon Horst. This package, made in Wyoming, contains orange peels, chai tea mix, coffee beans, six test tubes, two glass bottles, filters, and other accessories. Combine it with his favorite whiskey.
26. Combo of Island Pops Ice Cream and Sorbet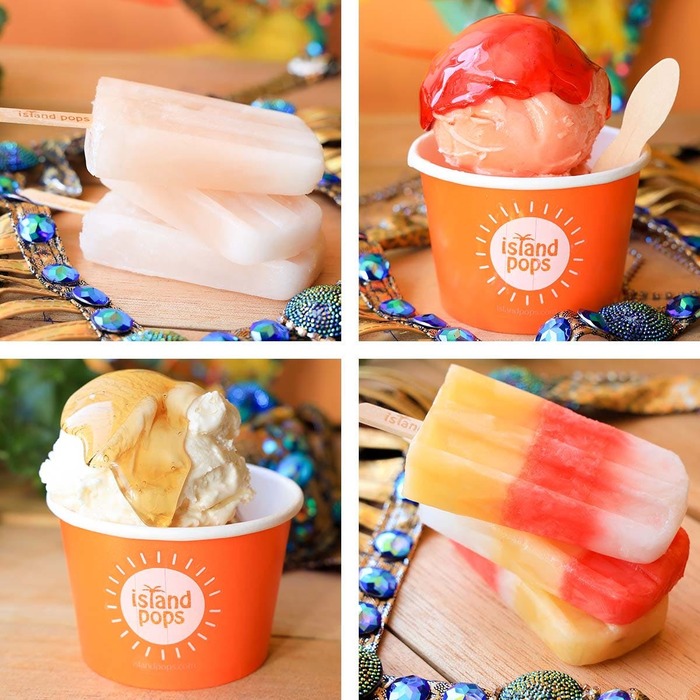 Hook him up with a tropical flavor with the idea of Father's Day gifts for husband. Island Pops, based in Brooklyn, New York, specializes in ice cream and sorbet influenced by Caribbean tastes. With this quartet, you may select up to four of the ice cream shop's best-sellers, such as soursop and sorrel rum.
27. Steaks Gift Box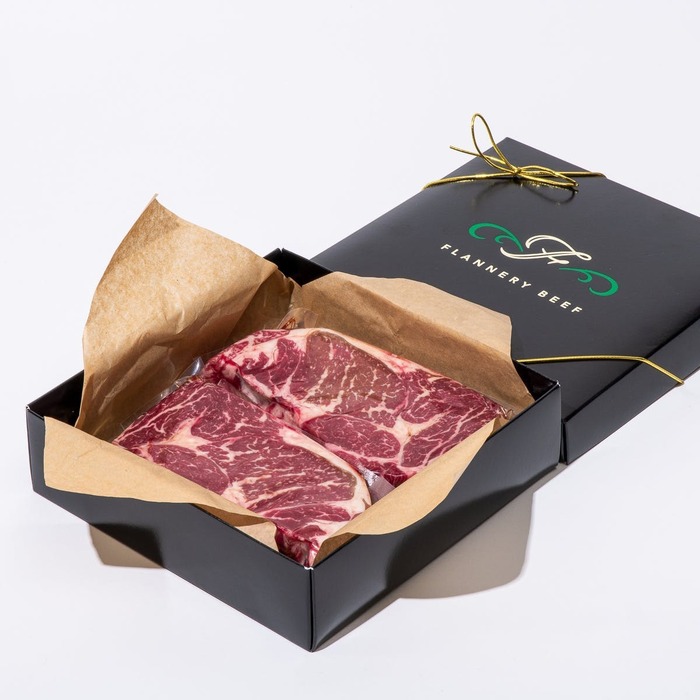 If he's been wanting to barbecue some meats, this Father's Day present for husband package is the best way to go. It has two barbeque classics: dry-aged, boneless ribeyes and hand-cut ribeyes. According to the firm, the beef is all-natural and obtained solely from small California farms.
28. Air Fryer Ninja Max XL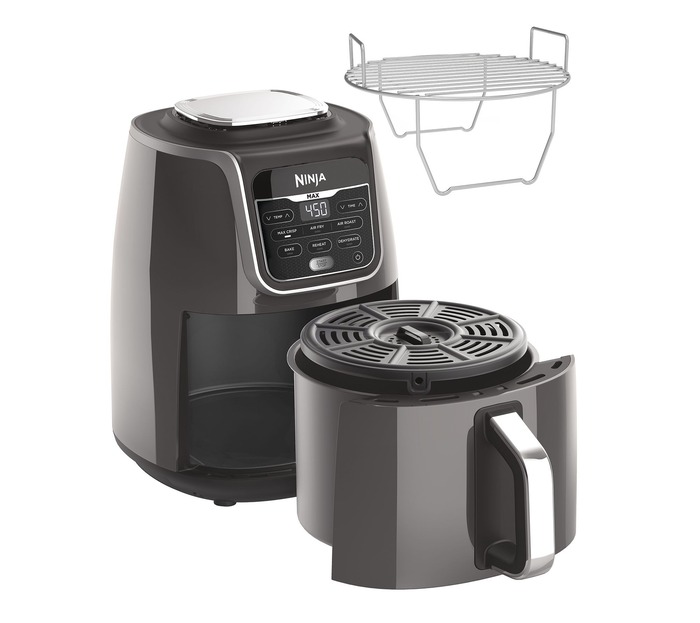 Get him an air fryer when in doubt! This top-rated kitchen gadget has seven preset settings and fries food up to 30% quicker than a standard fryer. He'll love this thoughtful Father's Day gift from you.
Father's Day Clothing Gifts For Husband
29. "Husband — Dad — Protector — Hero" T-Shirt
This is a modest and best classic Father's Day present for husband that is full of affection from the wife to the husband. Demonstrate how much you value him as your spouse, father, protector, and your children's hero!
30. Deer Stags Nordic Slipper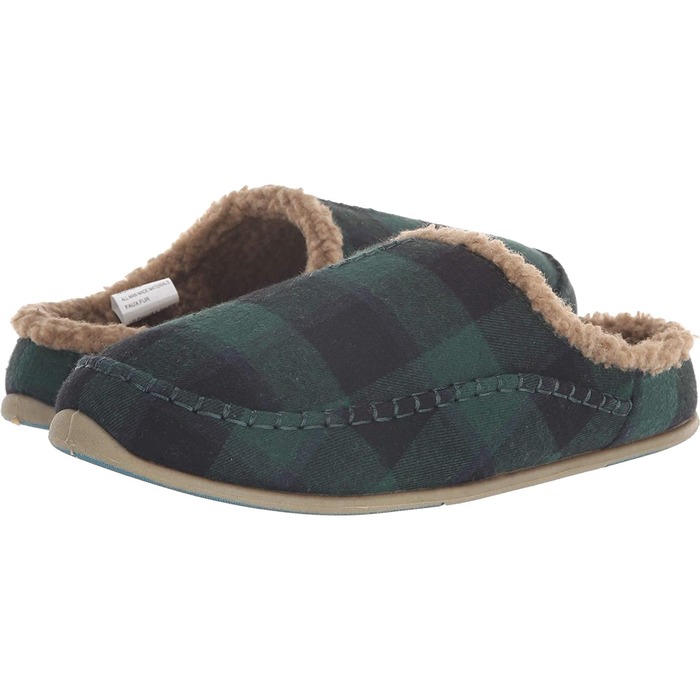 Slippers are the perennially popular choice of Father's Day gifts for husband, and if your husband values comfort, he will certainly want to join the trend. These top-rated cushioned slippers are constructed with fake shearling for a soft and velvety feel.
31. The Tie Bar x Mark And Graham Gift Set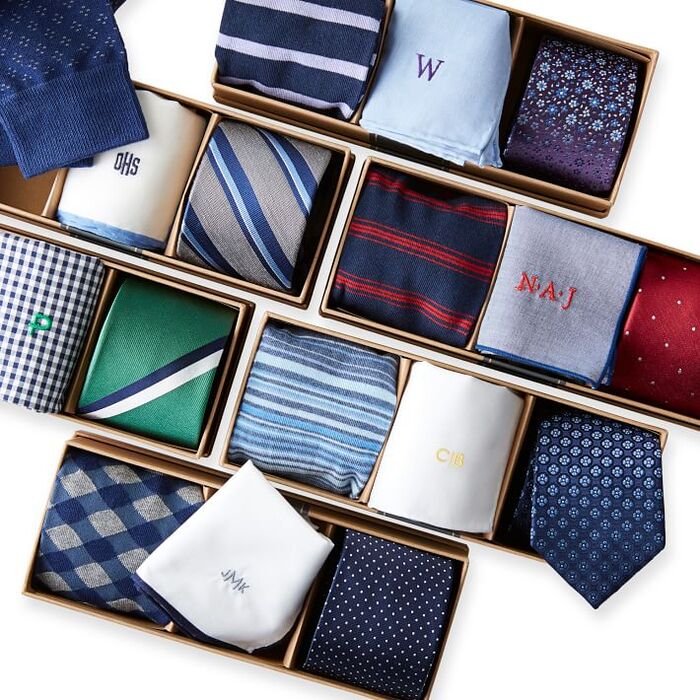 A range of customized ties will suffice when in doubt! These Father's Day gifts from wife to husband include a tie, a pair of socks, and a pocket square that may be monogrammed with your husband's initials.
32. "If Daddy Can't Fix It, We're All Screwed" T-Shirt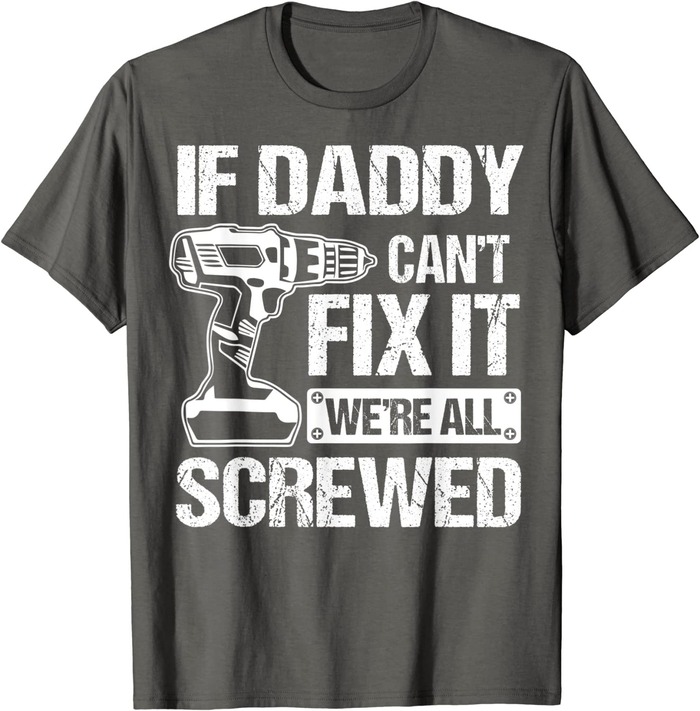 This is the ideal gag gift for your hubby on Father's Day, the "Mr. Fix, It" of the family! The humorous shirt will undoubtedly elicit laughter anytime he wears it, and it will also make him feel unique and cared about, knowing that his efforts to improve his family's house are appreciated.
33. Lightweight Jersey Robe for Men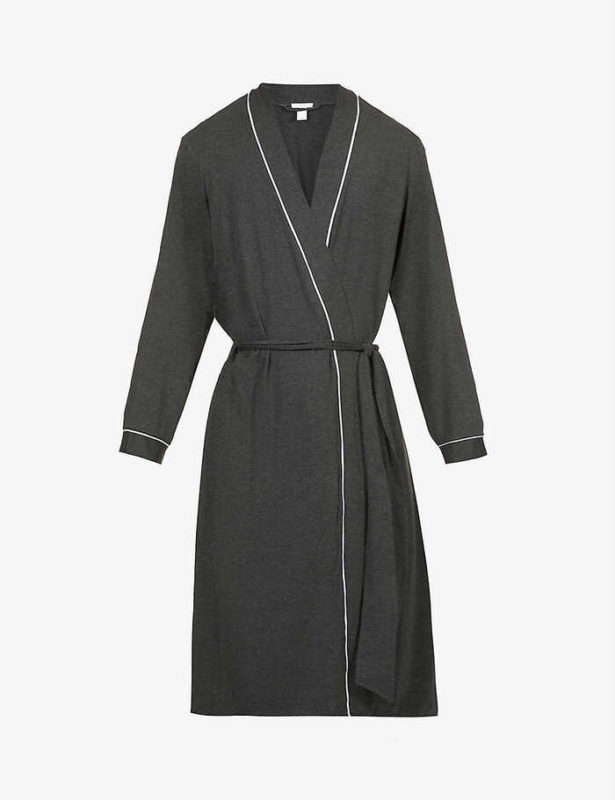 A lightweight jersey robe is ideal for the gentleman who enjoys spending mornings with his family and evenings reclining with you.
34. Men's Stretch Cotton Megapack Boxer Briefs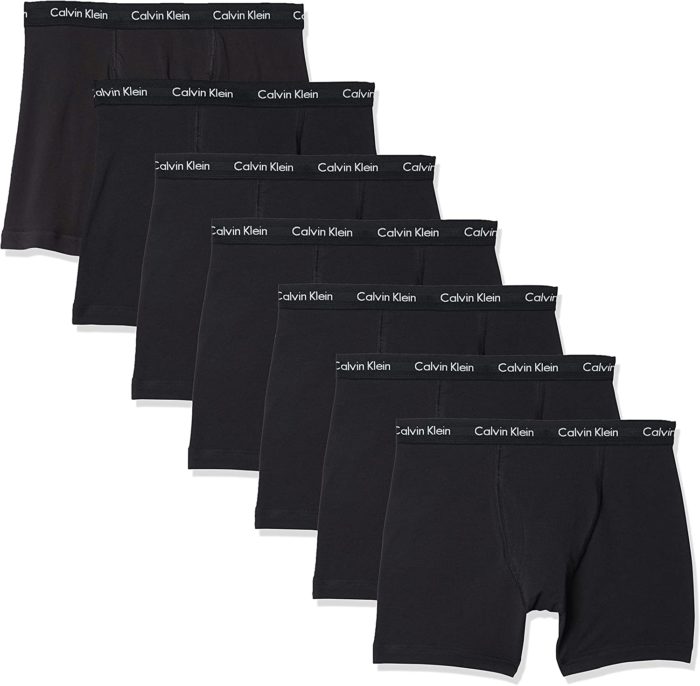 If your spouse could need new boxers but would never purchase them for himself, utilize Father's Day to refresh his underwear drawer. Consider this seven-pair box as his new underwear for the week.
35. Munir Straight Leg Jeans with Monogram Print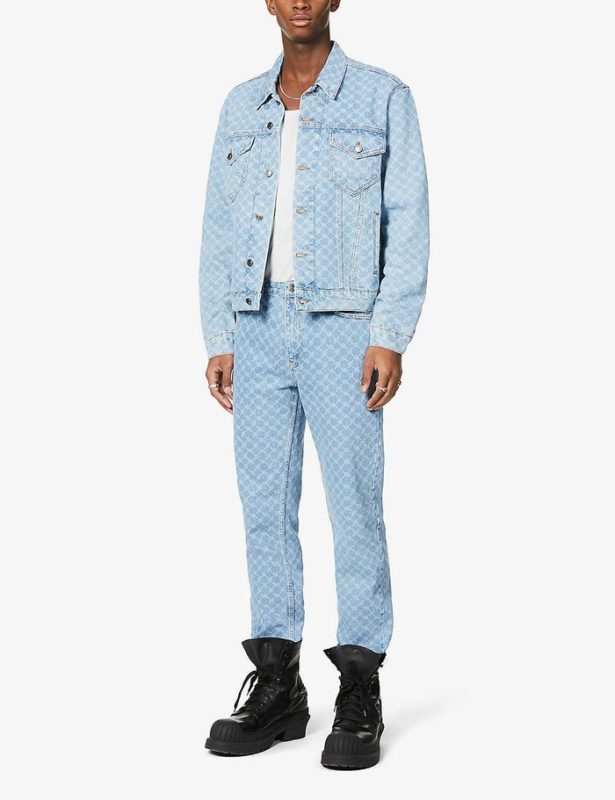 If he lives in jeans, he will love a new pair with a stylish monogram pattern and a thin fit. These monogram leg jeans are a great option for him on this occasion.
36. Subscription to Socks or Underwear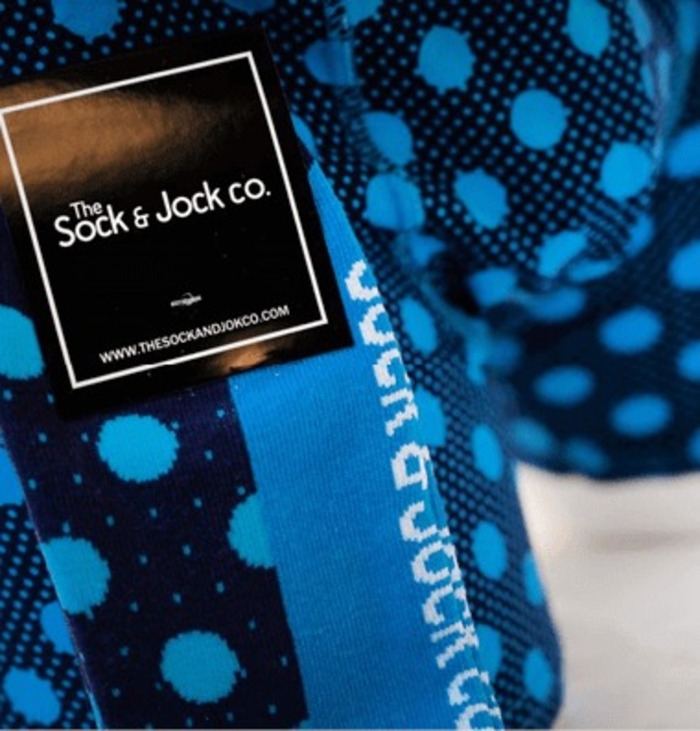 Choose between sock or underwear deliveries with these Father's Day gifts for husband, and your husband's underwear drawer will be clean and odor-free every month.
Read also:
Father's Day Grooming Gifts For Husband
37. Wet/Dry All-In-One Trimmer from ConairMan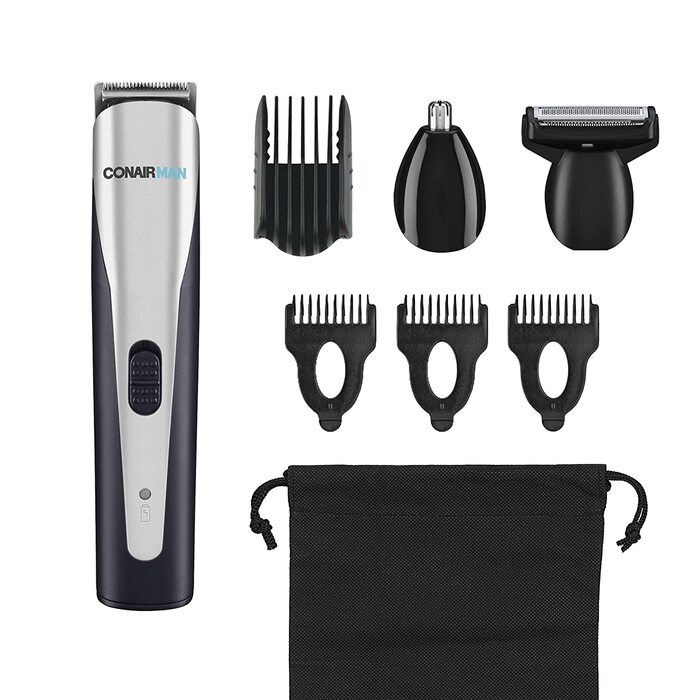 Self-care is a Father's Day present for husband that can never go wrong. This set includes a full-body trimmer, an ear and nose trimmer, three jawline combs, razor burn, and more!
38. Homedics Shiatsu Neck Roller
If you often book a massage session as a thoughtful Father's Day gift for husband, this shiatsu massager is an alternative for an at-home spa day. It utilizes deep kneading technology and soothing heat to deliver instant relaxation at the touch of a button.
39. Harry D. Koenig Shaving Kit, Silver-Plated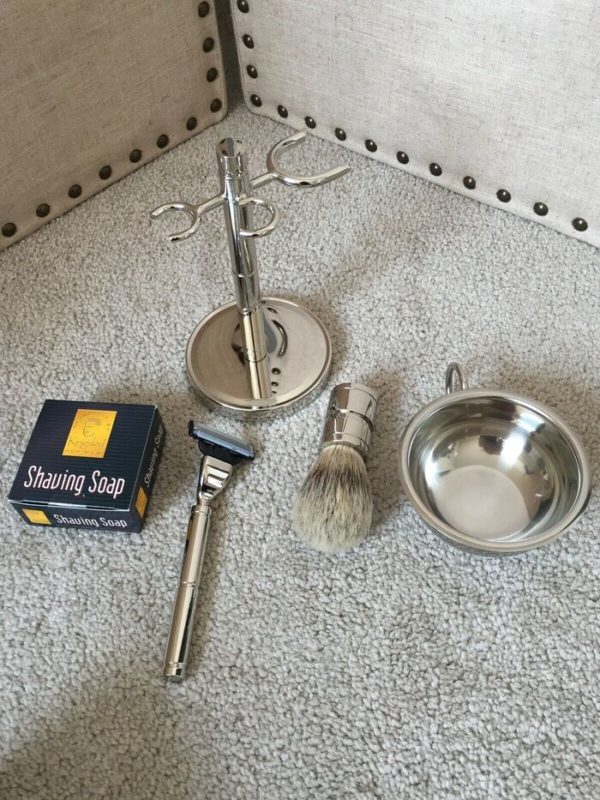 This silver-plated, vintage-inspired shaving set with a natural bristle shave brush, razor blade, detachable bowl, and stand will elevate his grooming regimen. This shave kit is an awesome gift he'll appreciate.
40. Wild Man Grooming Kit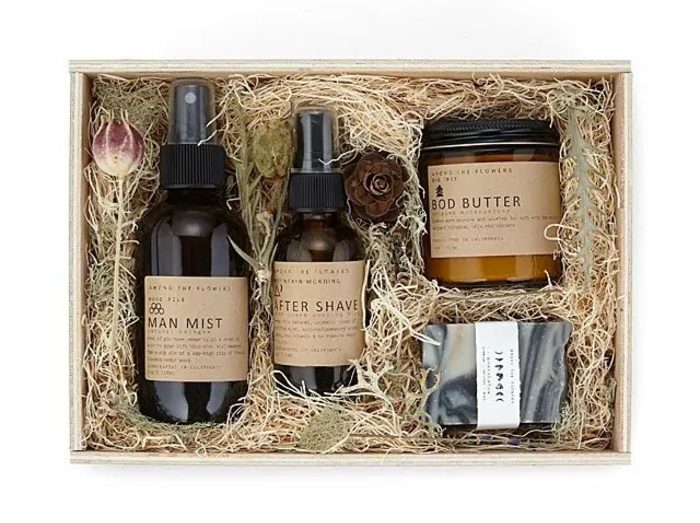 A lengthy shower and some pampering alter a person like nothing else. These beauty products from Father's Day gifts from wife to husband contain calming grooming like an aftershave, olive and coconut oil soap, and a man mist made with pure essential oils.
41. Sampler of Sephora's Favorite Perfumes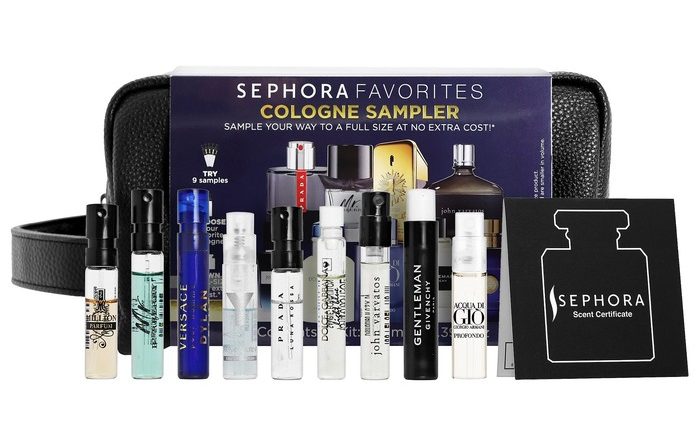 If your spouse is considering a bar of Irish Spring fragrant, it may be time for an upgrade. A sampling pack from these Father's Day gifts from wife lets him test a range of new colognes, and once he finds his favorite, he can exchange the attached card for a complimentary full-size.
42. Manscaped Shears Nail Grooming Equipment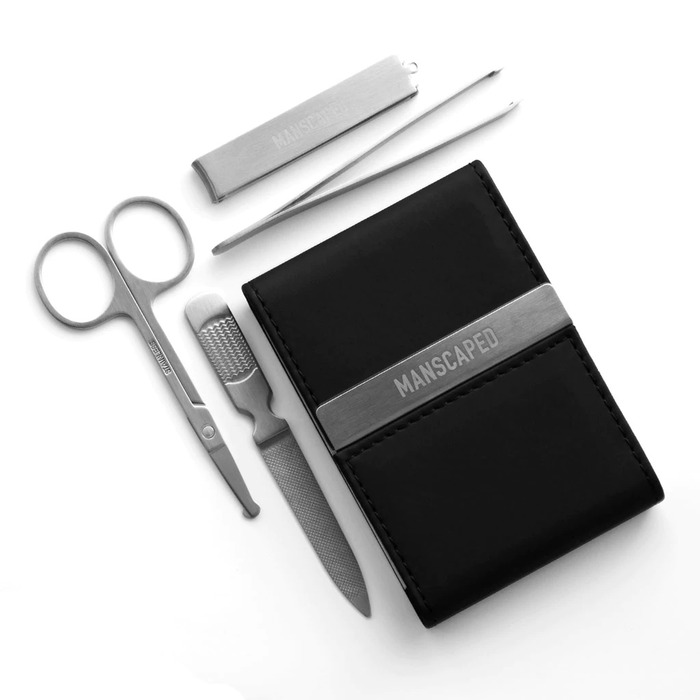 This five-piece "Father's Day gifts for husband" set is made from tempered stainless steel and designed for precise nail care for guys. The portable carrying case contains nail clippers, safety shears, tweezers, an ear pick, and a nail refining file.
43. Dagne Dover Hunter Toiletry Bag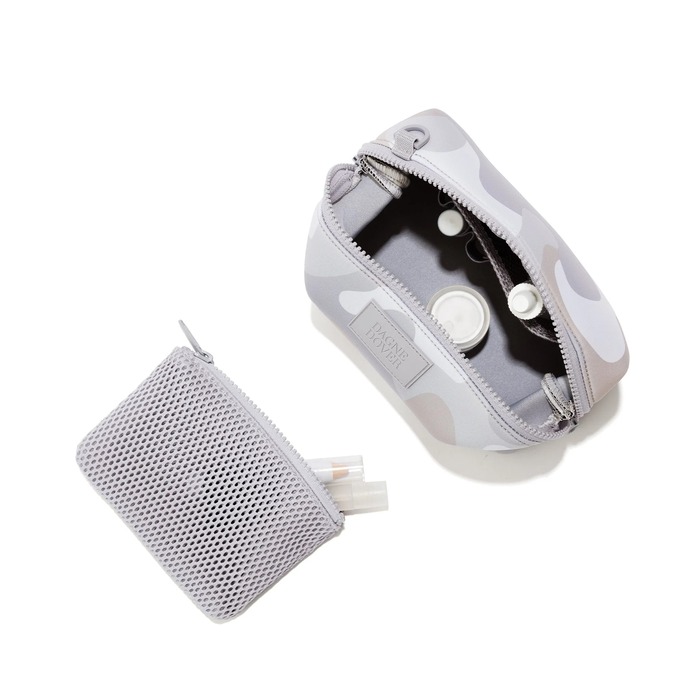 The Father's Day present for husband is ideal for the father who wants to keep their razors, grooming equipment, and toiletries organized and in one location, ready to travel should the need arise. The beauty bags are available in various hues, from black to heather grey to blue, and are water-resistant and machine-washable.
Unique Father's Day Gifts For Husband
44. Bracelet Personalized with Children's Names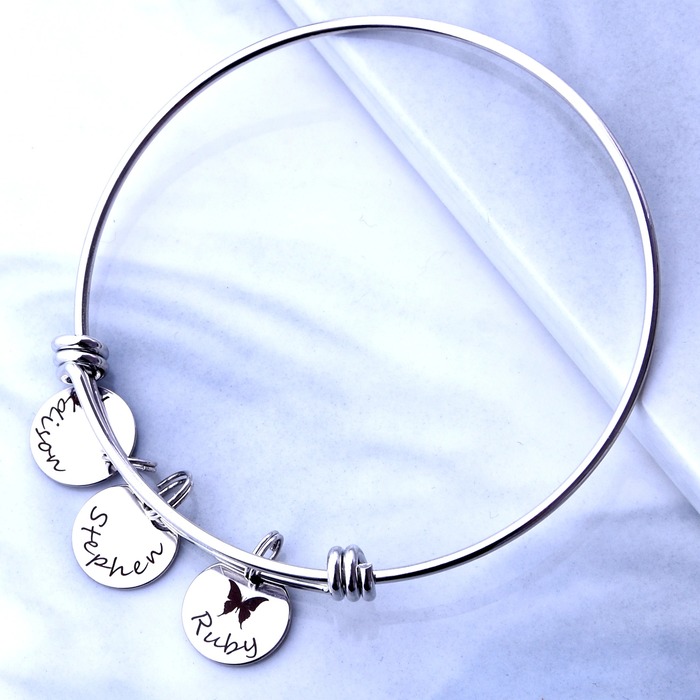 You and your spouse have transformed your two-person family into a larger one by putting in so much love and work while overcoming life's hardships. Demonstrate how much you value his enduring presence by gifting him this stunning bespoke bracelet with small monogrammed beads featuring your children's names. This is one of the most thoughtful Father's Day gifts for husband.
45. "World's Best Farter, I Mean Father" Amusing Coffee Cup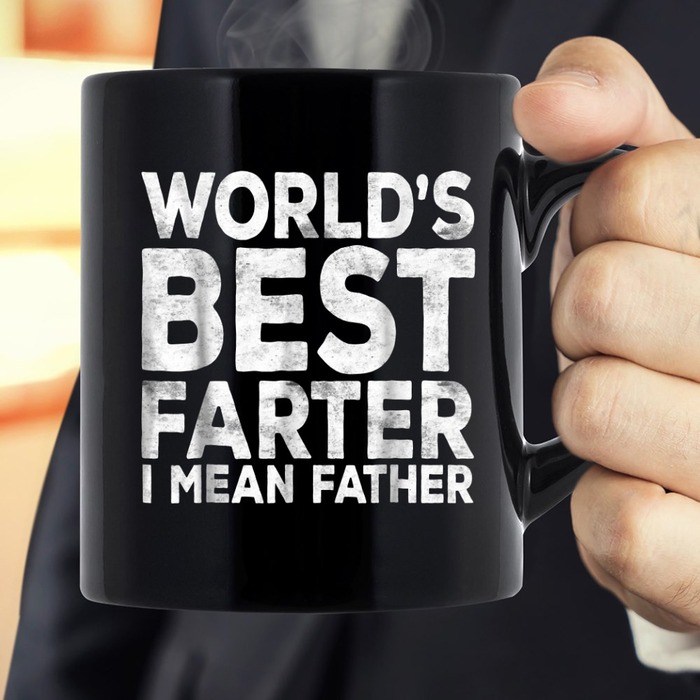 Buy him this humorous mug that reads "World's Best Farter, I Mean… Father" as a departure from the usual sorts of Father's Day gifts from wife to husband. This amusing present will make him chuckle each time he uses it.
46. Photo Bottle Opener Keyring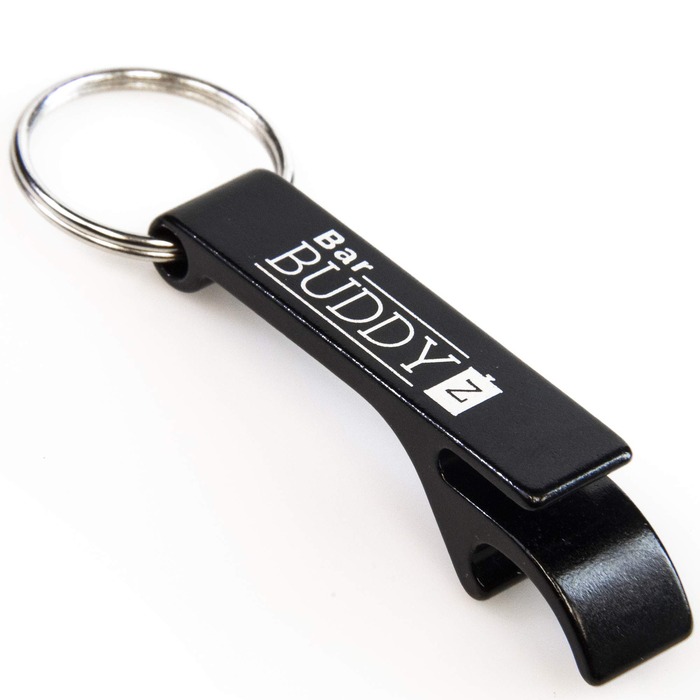 These personalized keychains are excellent Father's Day gifts from wife from the wife when imprinted with a favorite photo of the husband and child.
47. Coffee Mug Featuring Romantic Verse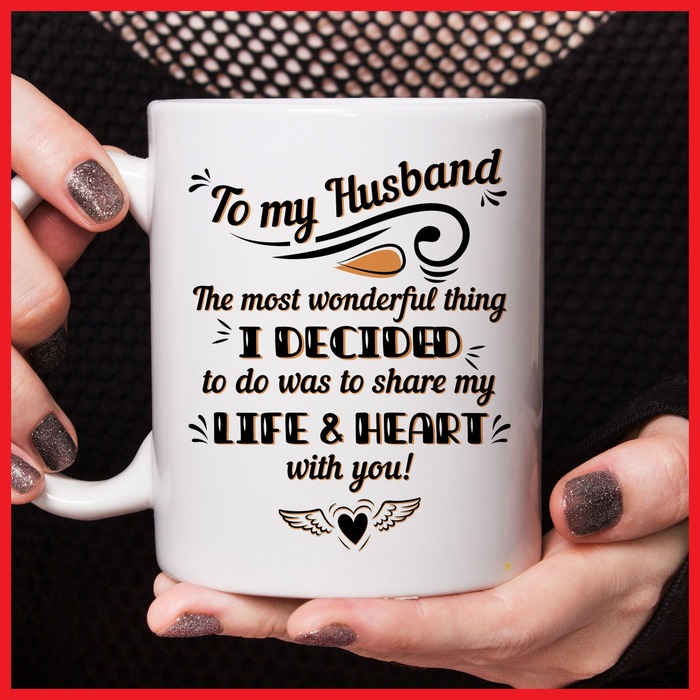 You cannot even express how you feel about your husband with words. However, you might try purchasing this coffee mug with a love poem printed on it. A terrific Father's Day gift idea for husband option for wife who wants to touch their husband's heart in the most seductive way possible.
48. Individualized Song Lyrics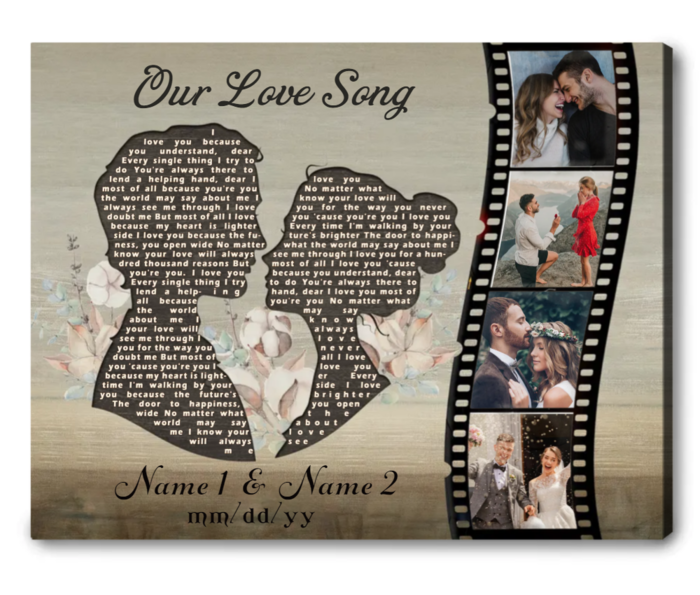 If you are still searching for Father's Day gifts for husband, consider this painting. You may personalize it with the lyrics to your favorite song and sing to that significant tune whenever you want! Isn't that beautiful?
49. Framed Revolver Album Cover Artwork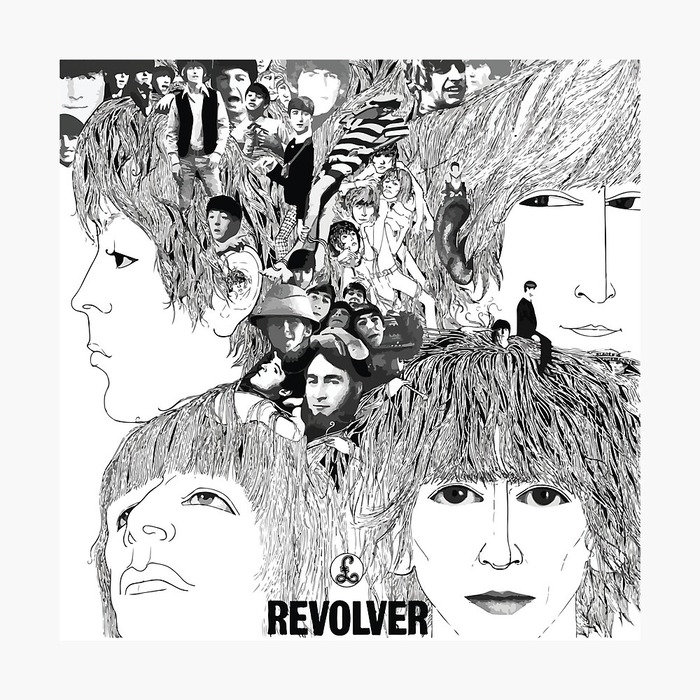 Are Beatles fanatic? Give him a print of the greatest Beatles album cover of all time. And if Revolver is not his favorite album, Redbubble has many other album covers and performers available. When he gets it, he'll have a good laugh.
50. Leather Cosmetic Case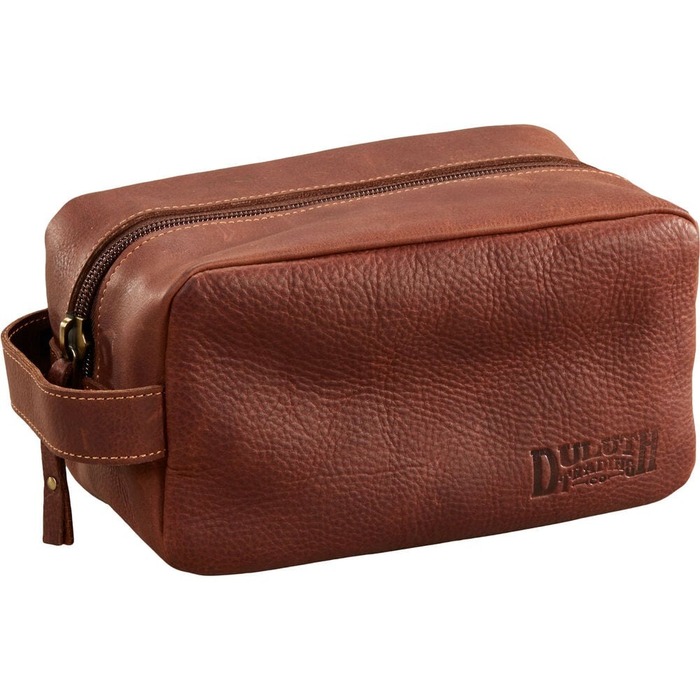 Give him one of these ultra-chic toiletries bags as Father's Day gifts from wife to husband, personalized with his initials, monogram, or name, in preparation for your next travel. Choose a gym bag toiletry between two sizes based on the extent of his skincare, razor burn, and shaving collection.
51. MLB Ballpark Traveler's Map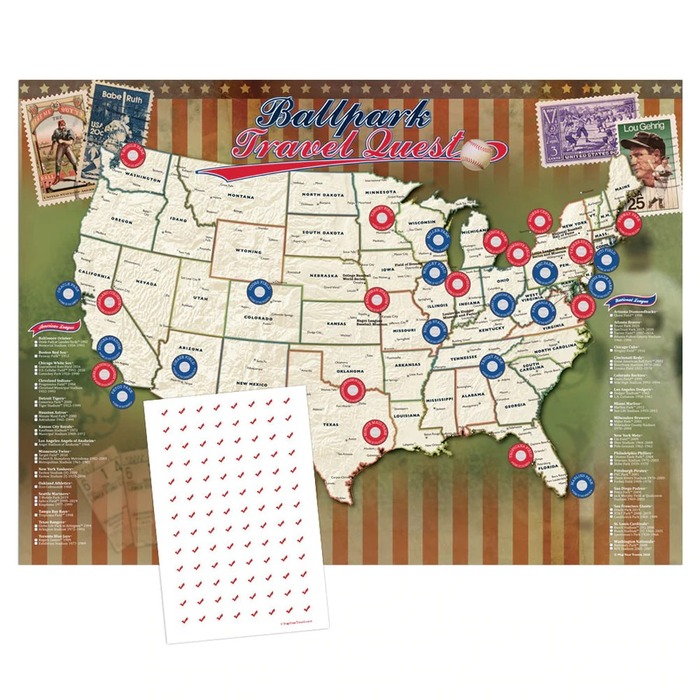 During the summer, your spouse enjoys nothing more than a day at the ballpark. This bucket list-inspired map will motivate him to leave his comfort zone and take in the sights and sounds of 30 MLB stadiums, even if he is only devoted to one club.
52. Rational Lowball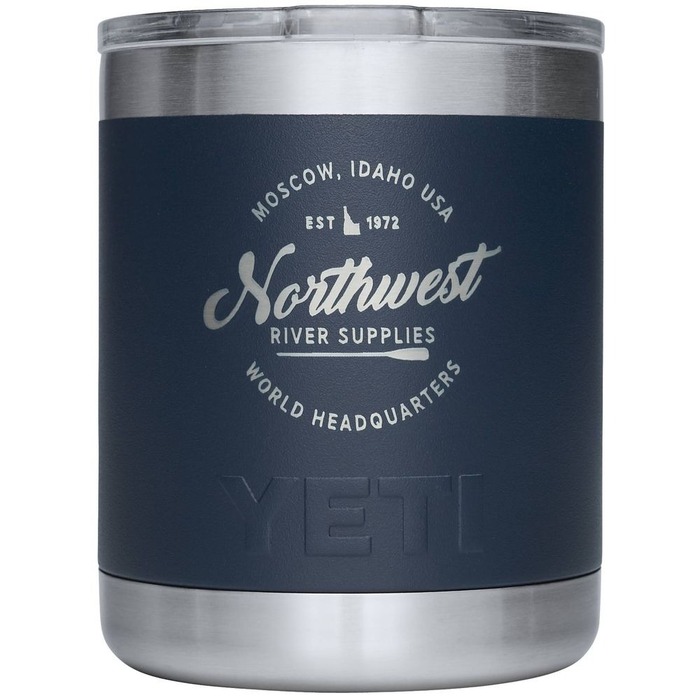 Traditionally, rocky cocktails are served in lowball glasses. He may fill this insulated version with his preferred whiskey, but he can also use it to preserve his coffee or tea at the perfect temperature until the very last sip.
53. Walnut Woodcuts and Prints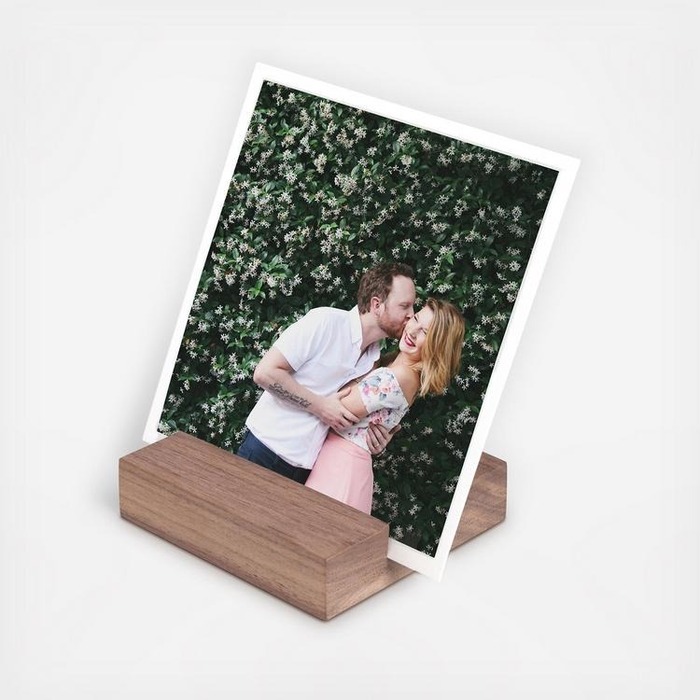 This is one of the most unique Fathers Day gifts for husband on our list. Print 10 family milestones, such as first birthdays, prior Father's Day celebrations, and romantic moments you've enjoyed through the years, and offer him the opportunity to show one photo at a time on this simple wooden platform. He will laugh when he receives this awesome gift.
Read more:
It is time for you and your children to choose the greatest gifts for the superhero who puts his heart on his sleeve. Choose the greatest Fathers Day gifts for husband this year to demonstrate your undying affection and concern for him!