To help you find the perfect gift ideas for truck drivers, Oh Canvas compiled this list to help you. From accessories that will make the rough roads feel a little smoother and safer, to personalized gifts that will make truck drivers feel closer to home when they couldn't be further away. A gift from this list shows a trucker that you're proud of them and grateful for what they do.
For many truck drivers, their employment is more than just a job. It's a way of life. That lifestyle comes with its own set of demands and circumstances, which may make selecting the right present for a truck driver difficult.
Amazing Personalized Gift Ideas for Truck Drivers
1. Keychain With Initials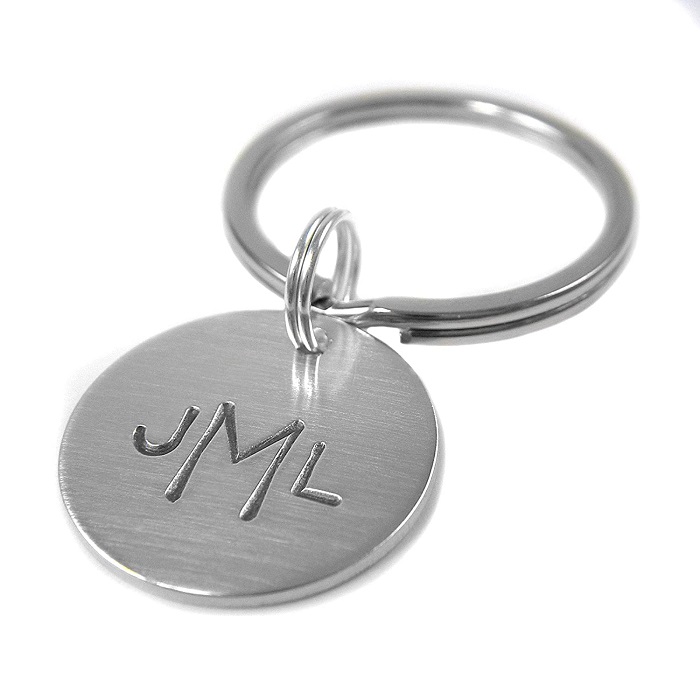 The first gift for a truck driver on our list is a great customized keychain that they might utilize; this shows your trucker buddy how much you appreciate them and their profession. It not only has emotional value, but it also has practical appeal; they will think of you every time they drive.
2. A Personalized Canvas Of An Old Farm And Truck
There is no better confession than stating, "I wish I met you sooner than I could love you longer." Because sweetness uplifts our love and relieves the strain or tiredness that comes with arguments.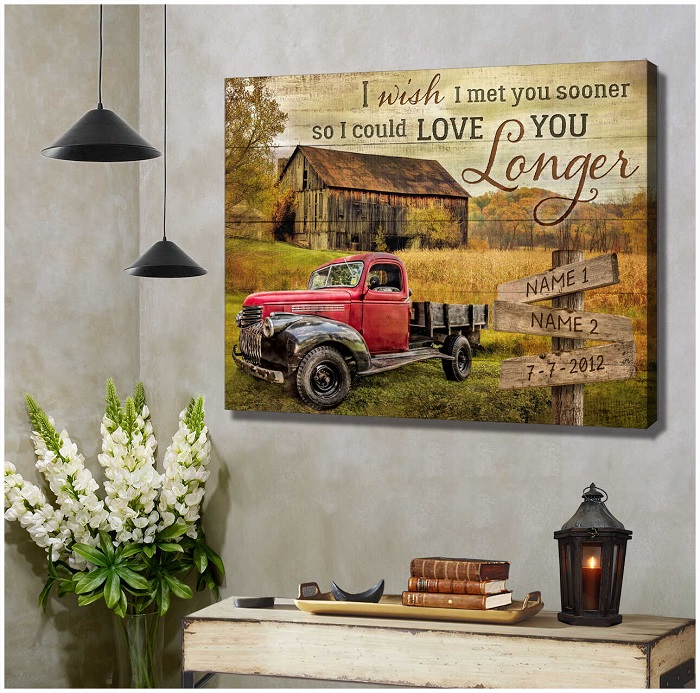 It also helps us to rediscover our initial love, a pure and untainted love. Awaken the depths of your special truck driver's heart with this personalized canvas print for those wonderful words. A gift has the capacity to reignite love words and revitalize your love.
3. A Customized Cartoon Character Portrait
Give the cartoon-loving truck driver a reason to smile with these amusing presents. This is the ideal present to show them they are one of your favorites.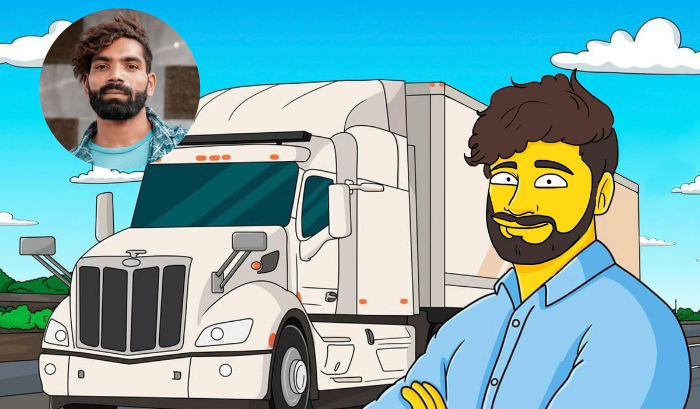 This present, which has a bespoke yellow-colored cartoon image of your recipient, is one they will adore.
4. A Customized Gift Box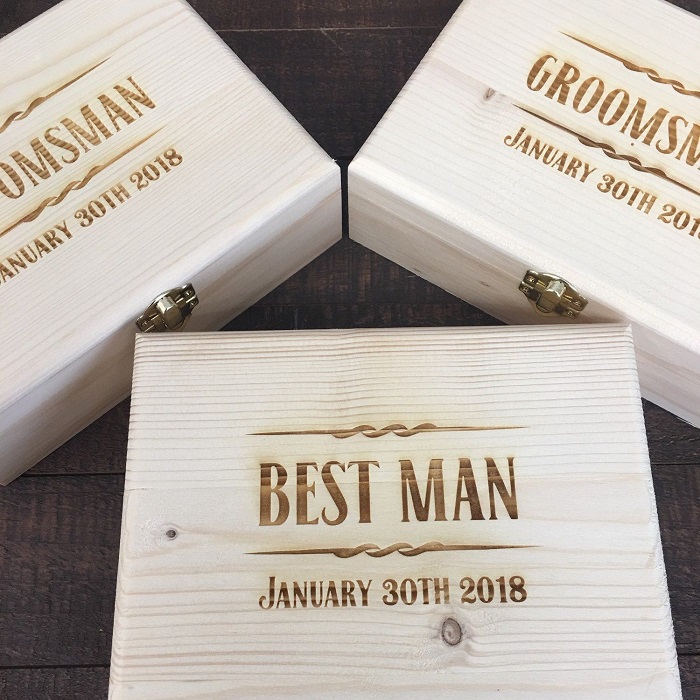 Together, these are unique gifts for truck drivers to purchase. It has a plethora of fun products that your favorite trucker needs to make their life away from home more pleasant.
5. A Personalized Multi-Key Chain
With this lovely Christmas stocking stuffer, a truck driver's key collection may be kept organized. With enough space to carry at least ten keys, these keyrings are very great gifts for truck drivers.
6. Customized Truck Window Decals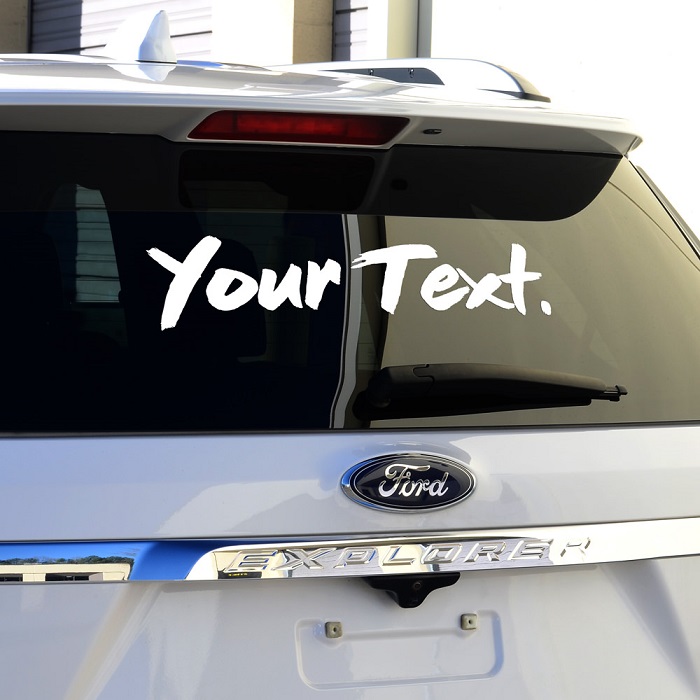 A personalized windshield decal is one of the most classic trucker presents. When the road takes a monotonous turn, the trucker in your life may use some amusement. You may want to consider making something amusing so that the truck driver can giggle while his vehicle is loaded.
7. A Set Of Personalized Decanters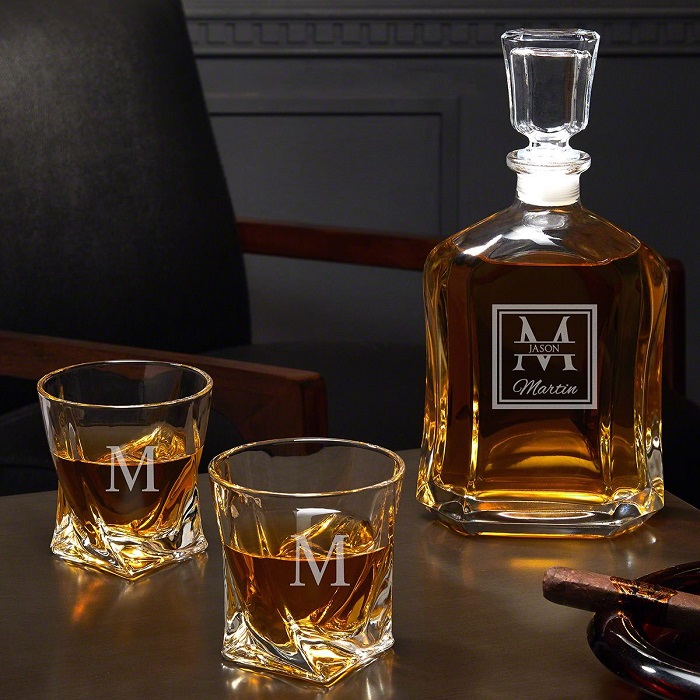 Even though truckers spend the majority of their time on the road, that does not mean they cannot take a vacation from time to time. Why not make their breaks more memorable with truck driver gifts like a customized whiskey decanter and glasses to keep in their kitchen or living room? Ideal for Christmas cocktails.
8. A Customized Pocket Watch

Best Gifts For Truck Drivers – A Customized Pocket Watch

With so many present options available, it's not easy to discover nice things to purchase for trucker parents year after year. A high-quality customized pocket watch, on the other hand, cannot go wrong. These are the best gifts for truck drivers that they will remember since they are the right combination of aesthetic appeal and functionality.

>>> Maybe you love: 25+ Best Viking Gifts For Him That Will Make Him Feel Badass

9. Gift For Truck Driver Husband With Customized Sunglasses

Gifts Truck Drivers – Customized Sunglasses

Isn't it true that there's nothing worse than a sunburn while driving? That is why safety is essential! Sunglasses aren't really an accessory for truckers, but they are a must-have if they are to survive the rigors of their profession.

10. Personalized Docking Stations

Personalized Docking Stations

A docking station may guarantee that the trucker in your life never leaves home without all of the required gear. A charging outlet on this station serves as a subtle reminder for him to charge his phone before leaving the house.

11. Hand Forged Bottle Openers With Personalization

Hand Forged Bottle Openers With Personalization

While a bottle opener may not seem like a thrilling item, it is a customized present gift for him who is a truck driver. This is not simply very functional. However, its individualized design contributes greatly to its emotional appeal.

12. Personalized Wall Art Decor Gift For Your Husband

Many people assume that there are only so many hours in the day because we spend so much time developing, becoming older, and settling down. Our principal life objectives take a long time to attain, and the older we become, the less we pretend to love our other half.

Personalized Wall Art Decor Gift For Your Husband

So, convey your sentiments with the greatest gift ideas for truck drivers to the spouse who has everything before it's too late. The canvas poster "I'd find you sooner so that I could love you longer." is an excellent option. Personalize it with your name and particular date to strengthen your bond.

>>> Recommend reading: Top 25 Awesome Gifts for Male Coworkers Will Relish

Wonderful Truck Drivers Gift Ideas – What Every Trucker Needs

13. A Comfortable Seat Cushion

A Comfortable Seat Cushion

The orthopedic tailbone cushion aids in proper posture by straightening the spine. The ergonomic seat cushion alleviates sciatic nerve discomfort, lumbar or lower back pain, and pressure sores. Unlike other pillows, the seat pillow promotes healthy blood circulation, making it the ideal present for anybody who travels long-haul miles in a huge rig.

14. An Organizer For The Front Seat

You understand how difficult it is to keep his automobile tidy and clean. When you're on the road, it's never simple to find gifts for truck driver spots for their auto accessories.

A Set Of Personalized Decanters – gift ideas for truck drivers

The issue with typical automotive storage space is that it is designed for large objects and is distributed around the vehicle in such a manner that convenient access is almost impossible. With a front seat multi-pocket organizer, he can reach everything you need in one orderly location, eliminating the need to look for lost things on the floor, center console, or in the glove box.

15. Mattress With Memory Foam

This useful trucker present will help them sleep better no matter where they are. They need a comfortable spot to lay their heads while traveling. Unclip and roll out in seconds to sleep, far handier than an air mattress.

Gifts Truck Drivers – Mattress With Memory Foam

The high-quality memory foam delivers exceptional overall comfort and support. The Hypoallergenic cover protects against dust mites, allergies, germs, mold, and mildew while providing the soft and dry feel of breathable cotton terry—excellent gift ideas for truck drivers.

16. Urinals For Emergencies

The emergency urinal is a fantastic device that provides unlimited convenience to folks who have to urinate but can't locate a toilet. Unlike others on the market, the body of this urinal is made of robust polymers, making it durable even after frequent usage.

Urinals For Emergencies

It takes into account the unique physiological structure of women, and the lid cover has a natural camber shape that effectively avoids side leakage.

17. Gift Ideas For Truck Drivers With The Dash Cam

Best Gifts For Truck Drivers – The Dash Cam

Because of all the odd things your driver may encounter on the road, dash cameras are useful gadgets to have while trucking. They can present strong evidence in court and monitor drive safe driving behaviors.

18. Towels That Dry Quickly

Good Gifts For Truck Drivers – Towels That Dry Quickly

This travel towel folds four times smaller than a standard terrycloth towel of the same size. Each size has a hanging hook. The elastic band makes folding a breeze. This compact mesh carrying bag packs quickly and leaves room for other necessities. Useful gifts for truck drivers for those who are always on the go.

19. Stalwart – A Heated Electric Blanket

A Heated Electric Blanket

This warm and cozy electric blanket immediately heats up when plugged into the cigarette lighter of your car, truck, SUV, or recreational vehicle and keeps you comfortable until you unhook it. It helps them be warm and comfortable while traveling. This heated throw blanket is large enough to cover his whole body. It delivers continuous and soothing warmth for full-body relaxation, making it excellent for resting, reading, sleeping, and other activities.

20. Best Gifts For Truck Drivers With Snack Basket

Because there might be a long haul travel time between truck stops, they should store some food in the truck. It offers a variety of gift options: sweet and salty, as well as a variety of healthy snack care packages in big and small sizes.

Best Gifts For Truck Drivers – Snack Basket

It includes a 6-quart reusable snack bin filled with the finest and most popular snacks on the market. Each bin will be shrink-wrapped to ensure safe transportation.

21. Work Gloves Made Of Leather

Full-leather work gloves keep his hands comfy and protected while you're on the job. Each glove is composed of high-quality grain cowhide, which provides outstanding abrasion and puncture resistance for the work.

Good gifts for truckers – Work Gloves Made Of Leather

The adjustable waist ensures a proper fit while keeping dirt and debris out of his gloves. Furthermore, its reinforced leather patch on the palm adds grip and durability to this 'jack-of-all-trades' work glove. These are the best gift ideas for truck drivers.

22. Gifts Truck Drivers With Keychain

Give your trucker a piece of you to take with him wherever he travels. This keychain has a wonderful saying: "May all the roads lead you back home to me." For a skin-safe, rust-free finish, we utilize plated brass with soft enamel.

Keychain gift ideas for truck drivers

Furthermore, the back of this key chain has been sandblasted to make it even more durable. This is a truly unique Father's Day gift.

23. Good Gifts For Truck Drivers With Sleeping Masks

Best gifts for truckers – Sleeping Mask

They'll have to sleep whenever and wherever they can. Sleeping masks conform to his face flawlessly to shut out all light. True darkness enables his deep slumber in any setting and posture. Fully adjustable, extra-deep eyecups enable him to blink normally when wearing a sleeping mask.

24. Gifts Truck Drivers With A Bluetooth Headphone

This hands-free headset has dual-mic noise-canceling technology that works together to give crystal clear audio and a natural sound to decrease distracting background noise and wind whether driving, in traffic, or in crowds—especially outdoors.

Good Gifts For Truck Drivers – A Bluetooth Headphone

Because it is forbidden for a driver to use a hand-held mobile phone while driving a commercial vehicle, attaching a headset to their cell phone will allow them to stay in touch with their loved ones.

25. Gift Ideas For Truck Drivers With Multi Tool

Multi-tool has everything he needs to handle challenging jobs and complicated situations, thanks to its industrial strength, simple handling, and remarkable adaptability.

Multi-tool gift ideas for truck drivers

It has sturdy construction with 12 stainless steel tools that are bigger and more durable than typical. This is a fantastic gift idea for any trucker.

26. Gifts Truck Drivers With Lockbox

Best Gifts For Truck Drivers – Lockbox

The Lock Box keeps firearms and other valuables safe at home, on a nightstand, in the vehicle, or when traveling. The Lock Box is secured to an immovable object by the provided thick steel cable.

27. Gift For Truck Driver Husband With a T-shirt Trucker

Good Gifts For Truck Drivers – T-shirt Trucker

Every trucker needs a shirt like this that is both comfortable and humorous, and that they will be glad to wear throughout the long haul hours that truck driving entails. It is available in both men's and women's cuts, as well as a range of colors. This is sure to be a great truck driver gift idea on their birthdays or for any other reason.

28. Food Warmer (Electric)

One way to help keep his favorite truck driver safe is to provide them with healthy home-cooked meals using this incredible food warmer. It plugs into a standard 12-volt outlet and cooks the food in 20 minutes.

Gift Ideas For Truck Drivers – Food Warmer (Electric)

This is ideal since he can't simply carry a slow cooker with him on the trip! It just takes a few minutes to heat up a meal when the driver plugs it into the cigarette lighter in the truck. It also includes a lovely insulated bag, a fork, a spoon, and a separate plastic container for fruit or snacks.

29. Essential Oil Diffuser for Car Aromatherapy

Essential Oil Diffuser for Car Aromatherapy

Those truck drivers who take pride in maintaining a fresh-smelling cab will appreciate this thoughtful present. The essential oils in this diffuser can help you relax as you drive, thanks to the convenience of plugging it into the truck's cigarette lighter. If the driver is in the mood for a specific aroma, they can select it from a menu of oils.