The canvas wall art will make your room into a dazzling center point and contribute to creating the ideal ambiance. You've already decided on the ideal print piece of artwork for your space, but you're not sure how to put the canvas on the wall. If you do it correctly, your new piece of art will give your room a fresh look. In this article, Oh Canvas will share with you how to hang canvas art properly.
What You Need to Hang To Hang Canvas Art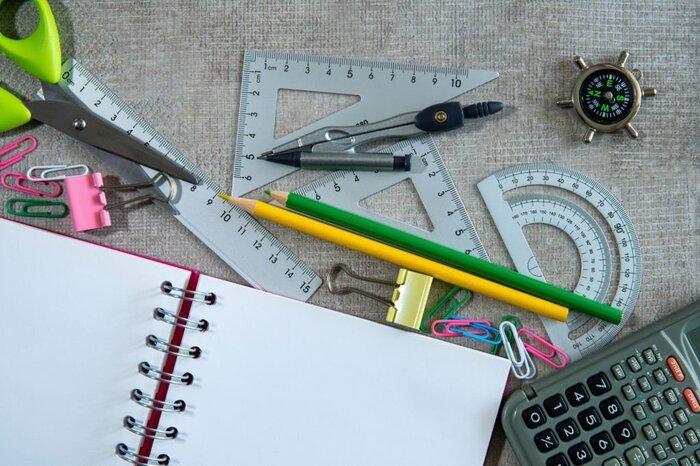 The following tools must be obtained before anything else. Even though they are not required, these will be some easier ways to hang canvas:
– A screwdriver and a pencil
– Wall protection pads
– A hammer and measuring tape
– An inclinometer
These might already be in your home. If not, you can locate them at your neighborhood hardware store.
Basic Tips Before Hanging Canvas Art
Pick a layout for your canvas print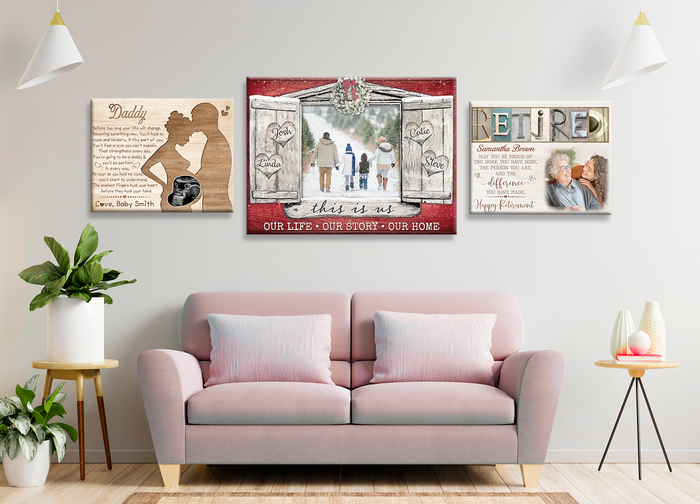 To hang canvas art, you must first realize what you want to achieve. Are you displaying a work of art or just a single enormous canvas print? Would you prefer a well-organized grid layout or something a little more whimsical? Do you wish to incorporate additional ornamental elements like hooks, mirrors, or shelves? Or would you want to let the canvas art stand alone?
To find out what is the best way to hang canvas art, start doing some research online or in periodicals and catalogs. Take a photo for reference if you come across a picture arrangement you like in a friend's house, a nearby gallery, or your preferred coffee shop.
Choose a position for your canvas print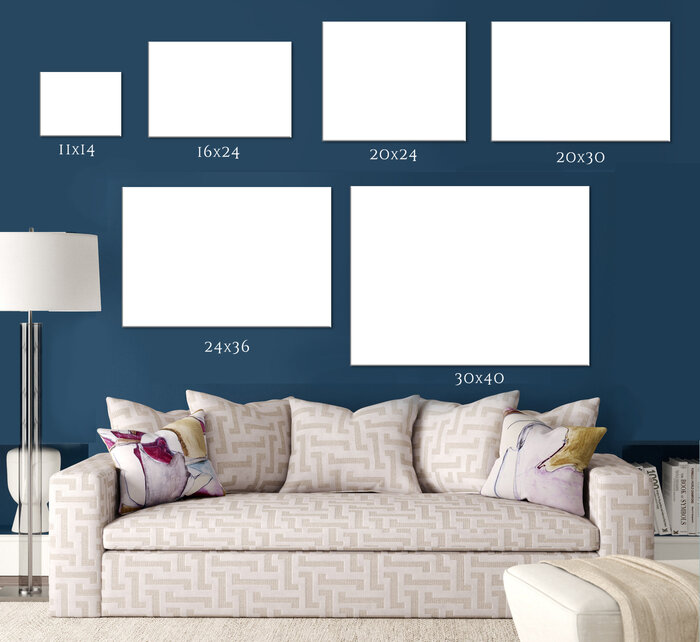 You need to decide where to hang your canvas print now that you are aware of the style you want to attain. A single large painting makes sense to hang at the head of a bed, above couches, or behind a workstation.
If you want to hang several large canvas panels, you can either stagger them or hang them in a straight line. A best way to hang canvas and give a room a dynamic sense is to follow the rise of steps. Small and medium-sized pieces can be hung on their own or put together to make bigger designs. You can refer to the sizes of canvas paintings in this canvas sizes post.
Canvas framed or unframed
Whether you choose to frame your canvas print depends on your personal preference. Particularly simple to hang without a frame is canvas paintings and picture prints that have been stretched over a wooden mount. The stretched canvas already has a polished appearance, so the print is ready to be displayed right away.
Stretch-mounted canvas pieces, however, can optionally have a wood frame or molding around them. The advantage of frames is that you can choose to protect the print with glass. In addition to adding refinement, this shields the canvas print from UV radiation.
Even without stretch mounting, you might use clips to hang your canvas print without a frame. Unmounted prints can also be framed like regular photos or put into glass inserts to protect them from the weather without changing their clean, floating look.
Tip: "How to hang canvas art without frame?

Nails, wire hooks, or clipboards can be used to hang a canvas without a frame. Binder clips and Washi tapes are other viable options. If you're hanging a canvas that's been stretched across bars, hammer a nail or two into the wall, and then rest the top stretcher bar on top of the nails.
>>> Recommend Reading: 9 Type Of Canvas Sizes – Ultimate Guide For Your Home Decoration
How To Hang Canvas On Wall – The Ultimate Guide
Step 1: Choose Your Hanging Hardware
Choosing how to hang your new wall art is now necessary. If your wall art print does not already have hanging hardware like string, D-rings, or picture wire attached, you will need to add a method of hanging it.
For particular canvas sizes, there are a variety of techniques that work well: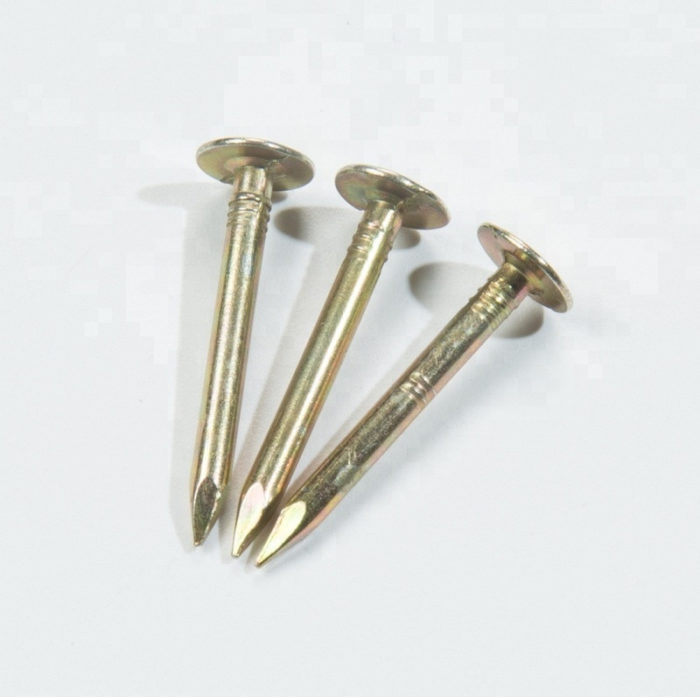 Broadhead nails – Although it's not the best way to hang canvas art, using nails is the fastest option. Although it does the trick, it isn't ideal, and there's a good chance your canvas won't stay level for very long.
The smallest disturbance, such as your children or dog running through the house or your surround sound speakers, will cause them to go out of alignment, even if they are level when you hang them.
Using these brackets, created specifically for this function, is a superior way to hang your canvas artwork. To fasten a sawtooth hanger, position it in the middle of the top of the back stretcher bar and secure it with a nail. The center "tooth" of the bracket should be placed on a nail that has been inserted into the wall. With a bubble level, verify that the canvas is straight and level.
Tip: How to hang canvas on wall with nails?

Step 1: Prepare the wall and place your mark with a pencil. Step 2: Hammer the nail into the mark with one or two quick hits. Step 3: Don't hammer the nail all the way in—leave half an inch to an inch out. Step 4: Hang the canvas on the nail.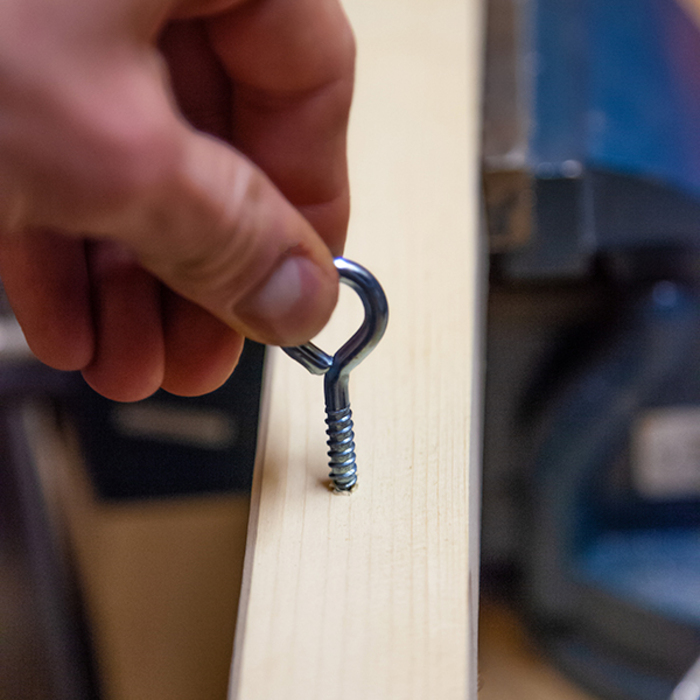 Eye hooks – are essentially wood screws with hooks on one end for threading wire through. They are used with wire and nails. Add an eye hook on the left and right inside of each of the wooden stretcher bars at a distance of 13 from the top of your canvas. Make sure that the space between each hook and the top of the canvas is the same.
Cut a length of steel wire that is the canvas' width plus 8. With a straightforward knot, fasten it through each eye screw. Then, wrap the extra wire around each screw. At its midway, the stretched wire should be 2 to 3″ below the top of the canvas.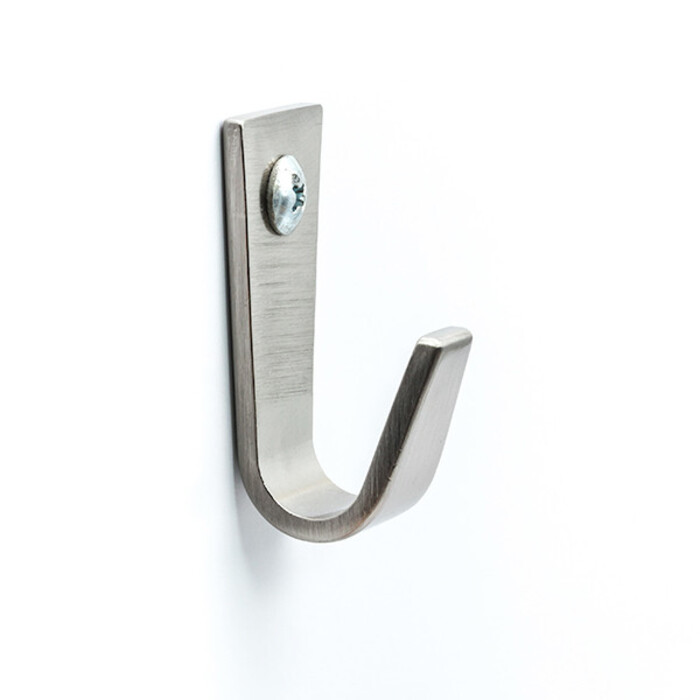 J-Hooks – For the question "How to hang a large canvas painting without wire?", these are good solutions. J-hooks can support big or huge canvases because they come in a variety of sizes and with one or two nails. It's advisable to use two hooks for large canvas prints in order to ensure that they stay level on the wall, even though you can use one hook for smaller canvases. If you don't measure precisely, the hooks won't line up correctly, and your canvas will hang unevenly.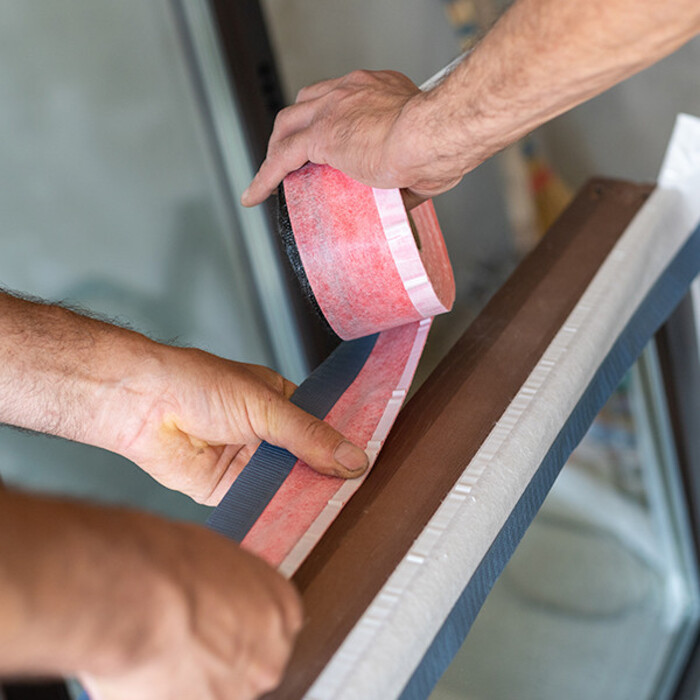 Adhesive Strips – These are most likely the easiest way to hang canvas art and have the least negative effects on your walls. Glue strips are convenient to use and typically include both adhesive and velcro. Make sure you select the appropriate strips for the size and weight of your canvas prints because they come in a variety of sizes with different weight restrictions.
We suggest attaching eye hooks to the top of the canvas, sawtooth hangers or D-rings to the back of the canvas, or both, to hang your print. You can get each of these things at your neighborhood hardware shop.
We do not suggest hanging your canvas print from a few nails or nail hooks hammered into the walls beside the stretcher bar. In addition to nails and nail hooks, real picture hangers should be used for even more security.
Step 2: Take a measurement of the canvas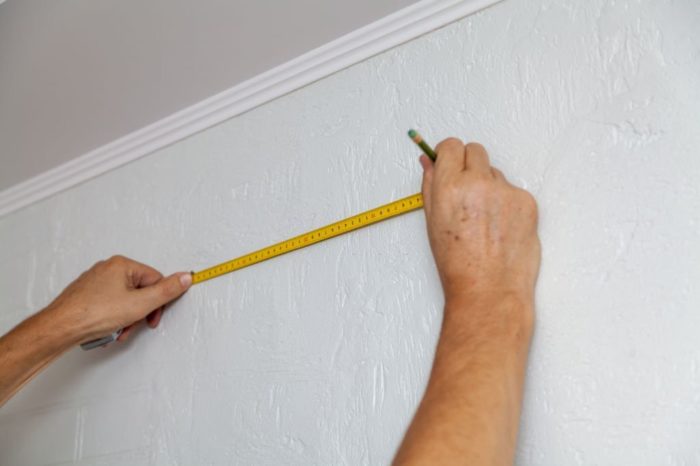 Check your canvas art's dimensions first, and pay particular attention to where the center points are so you can allot the proper amount of space on your wall.
To avoid mistakenly having the artwork overlap with other decorative items, you should carefully measure the area where the artwork will be displayed. Establishing the ideal distance from the ceiling is another smart move. The standard midway for canvas art is 125 to 150 cm from the floor and 25 cm above a piece of furniture.
Step 3: Hammer the spot after marking the wall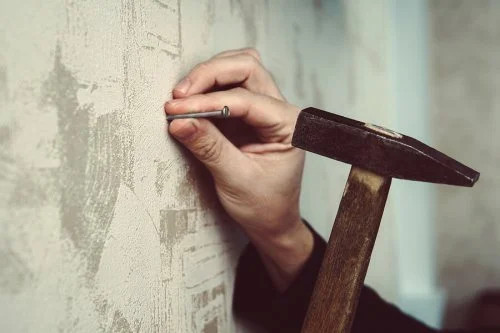 After cleaning the wall, make sure to level out any ridges that could interfere with the balance of your new ornamental item.
Once you've completed that, gently attach the hook to the wall where you placed an X where the center point should be. Keep in mind that your canvas will extend a little past your mark.
Carefully drive the nail into the ground where you've marked it with your hammer. In order for the wall to support the majority of the weight of the canvas, try to nail it at a little slant.
Step 4: Attach the Canvas to the Hanging Hardware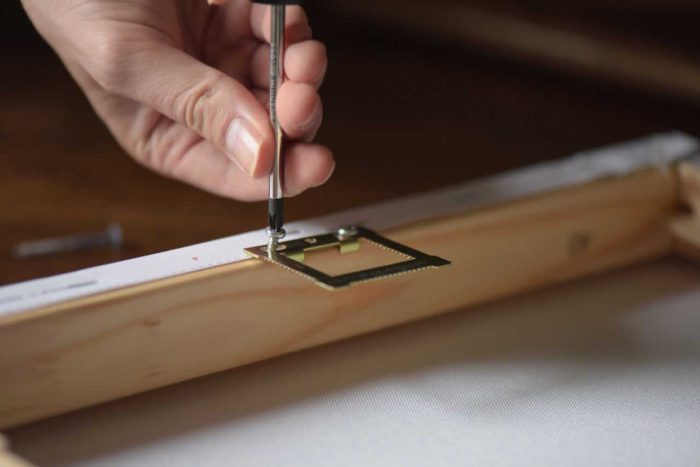 It's time to fasten your chosen hanging hardware to the back of the canvas if it doesn't already have it. The size of your canvas will determine where you put them.
The hardware can be positioned directly in the center of smaller canvases or close by. While you want to space them further apart for wider canvases, the same idea applies to taller pieces.
Step 5: Attach the canvas to the wall
Hang your canvas after that, then stand back. Look at it closely to determine whether it is even with the wall. If you need to make changes, use your spirit level to help you level the canvas.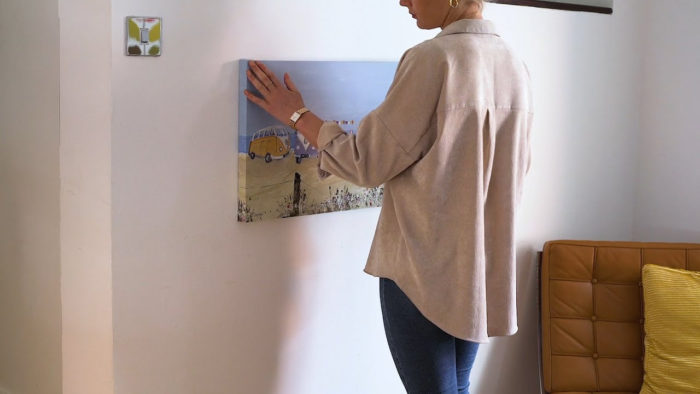 Feel free to embellish the area around the new piece once you're finished. Just keep the distance in mind—at least 25 cm from the next piece of furniture—if you prefer that it stand alone.
Finding the correct piece of art to complement your room's tone and environment can be challenging because each piece of art is distinctive. Oh Canvas is a market leader in premium canvas prints, and we have a strong eye for what suits every space and home the best.
>>> Read more:
No matter how you decide to hang your canvas wall art, adding custom canvas prints to the decor of any room in your house makes it more unique and lovely. Hope this article about how to hang canvas art will help you hang canvas properly.
Making affordable canvas prints is simple and can be done totally online. Making your own wall art is satisfying and enjoyable, and Oh Canvas is here to assist you with that goal with our user-friendly online design tool that guides you through the procedure step-by-step. Get started right away by making your own canvas wall art!