When your parents' wedding anniversary comes around, you may find that you have a newfound appreciation for them and their union. These surprise gifts for mom dad anniversary will convey your deepest gratitude and love (and how grateful you are for them paving the way). You can start your search for the best anniversary gifts for parents here at Oh Canvas, whether you're searching for sentimental keepsakes, practical pieces, or unique presents to totally surprise mom and dad.
Personalized Anniversary Gifts For Parents
1. Wedding Vow Photo Frame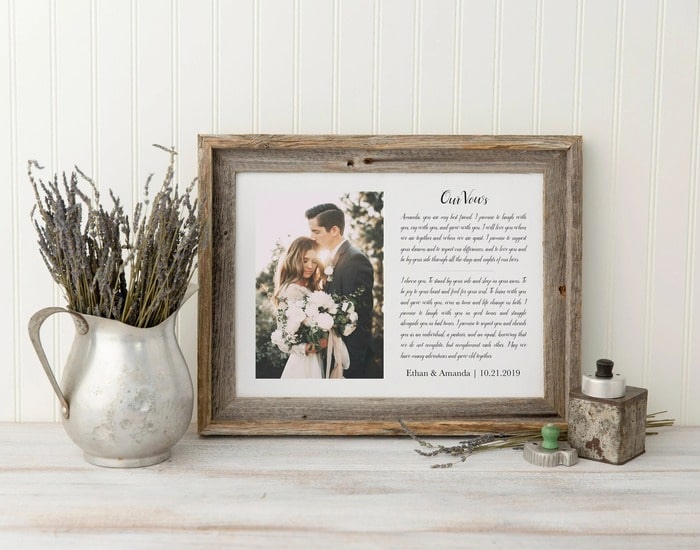 You can guarantee that there will be no dry eyes in the house if you give your parents this sentimental keepsake. They will forever cherish the heartfelt portrait that is created from their vows and wedding photo. For an additional fee, you can have your poster framed in either black, white, or real barn wood.
2. Sound Wave Canvas Art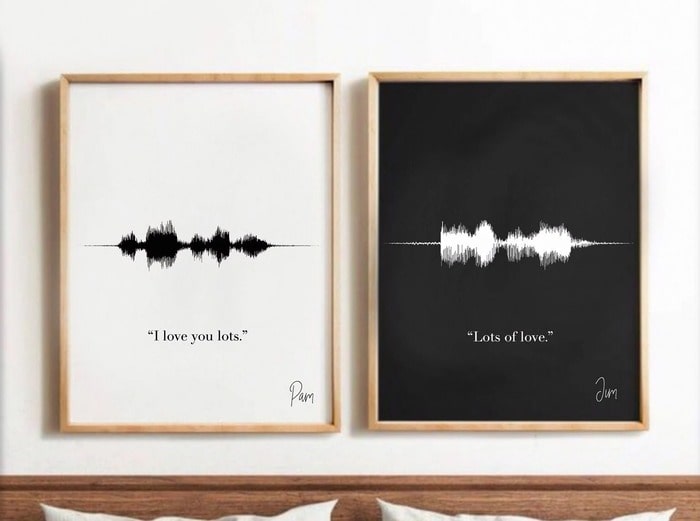 Fans of music and emotions will like this soundwave canvas. Select a song—perhaps the one your parents danced to at their wedding or their favorite song, and it will be turned into a beautiful work of art. The printed waves of sound look like glimmers of a beautiful starry sky in blue, green, purple, black, copper, or red.
3. Personalized Coasters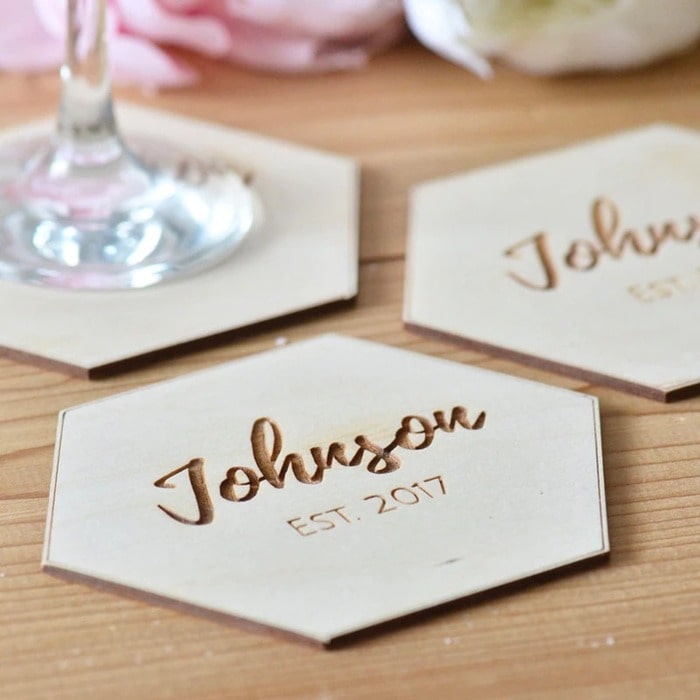 You may get thoughtful anniversary gift ideas for parents that will make them both happy since they won't have to worry about the water rings on the table. All your favorite photographs, messages, and their wedding date may be printed on these adorable custom coasters in a polaroid symbol style.
4. Heart Collage Artwork
To celebrate your parents' evolution from young parents to seasoned family builders, select recollections from any point in their parenting careers. You may also personalize this timeless wall hanging by selecting your preferred color scheme, molding style, and frame size.
5. Photo Album
In search of the best last minute anniversary gifts for parents from daughter? A personalized picture book is a perfect way to showcase all the photographs your parents have taken over the years. Aside from being a breeze to put together, this book would also look fantastic on any coffee table.
6. Family Tree Wall Art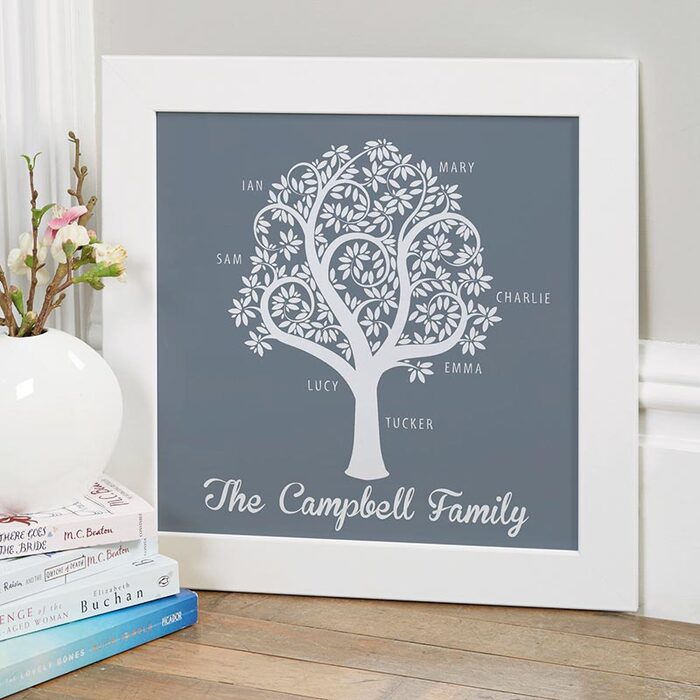 A family tree is a wonderful keepsake to have on display when your family is an important part of your life. To begin, select a palette of colors for the print that is reminiscent of spring or fall. The next step is to have everyone in the family contribute their names so they can be written on the tree's ribbons.
7. This Is Us Canvas Wall Art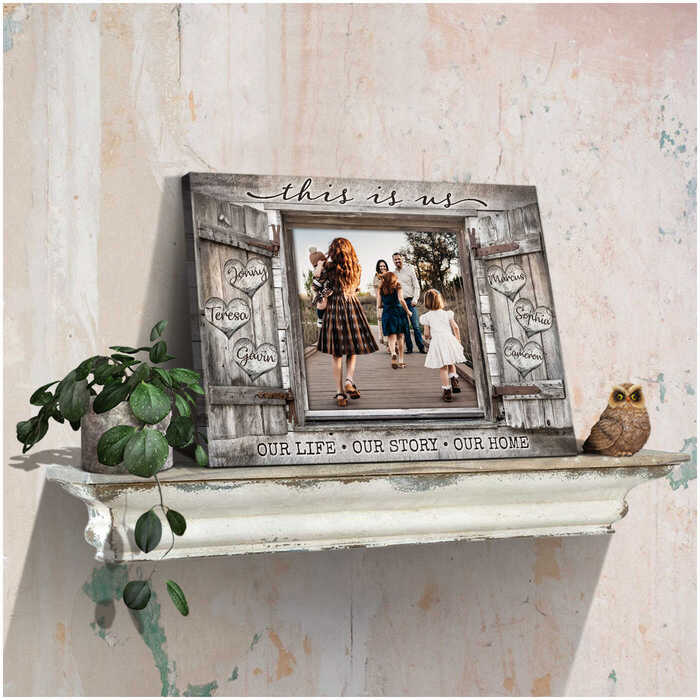 Shop Now
Are you searching for unique personalized 50th anniversary gifts for parents to celebrate their special day? Customize this canvas print with their initials or names to make their wedding unforgettable. Never miss a chance to tell them you adore them!
8. Anniversary Candle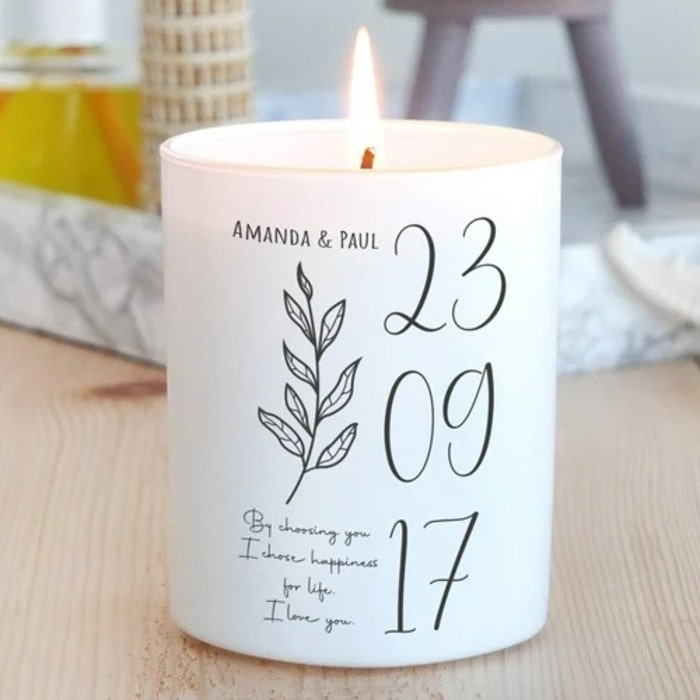 This chic wedding anniversary candle is crafted from all-natural soy wax, comes in a variety of 12 different fragrances, and may be engraved with your parents' names, wedding dates, and a special message. It's a romantic anniversary gift for her that will never go unnoticed.
9. Personalized Cutting Board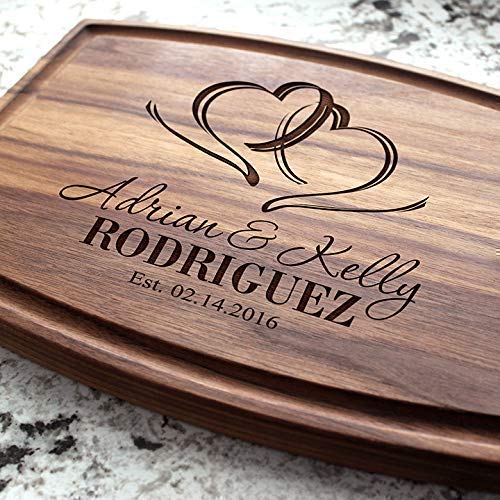 This beautiful cutting board doubles as a stylish serving piece, perfect for any cook. The sturdy olive wood used in each item is patterned by nature. Engrave it with their names and anniversary date, then watch them wonder over the unusual live edges. What a beautiful anniversary gift for mom and dad this year!
10. Custom Photo Canvas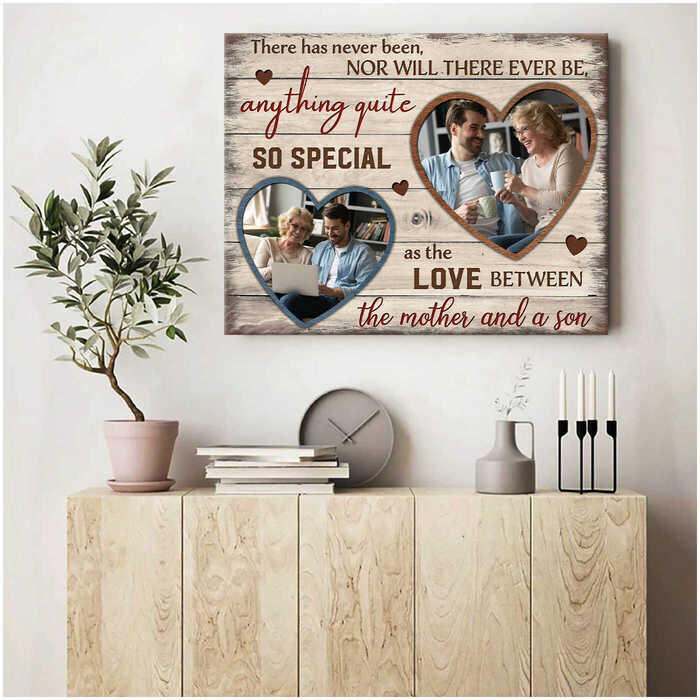 Shop Now
Are you searching for a good anniversary gifts for parents for milestone anniversaries? This photo canvas is a wonderful present for your family members to enjoy life's biggest moments. Let your parents feel and know how much you care by expressing your feelings through the personalized message you want to convey.
11. Cheese Board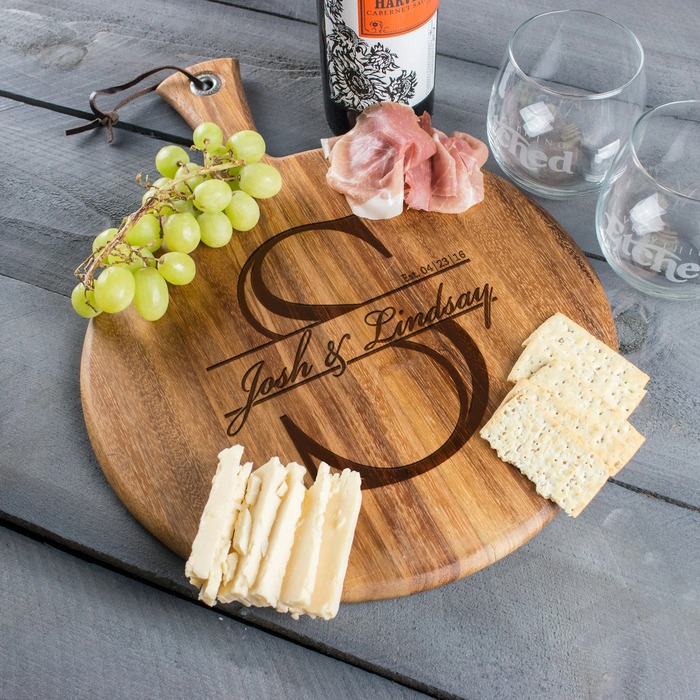 This isn't the most original present idea, but it'll be put to good use, especially by parents who enjoy throwing parties and other celebrations. Two pull-out drawers provide extra space on the hardwood board, and one compartment stores the cheese knives provided in the set.
12. Casting Kit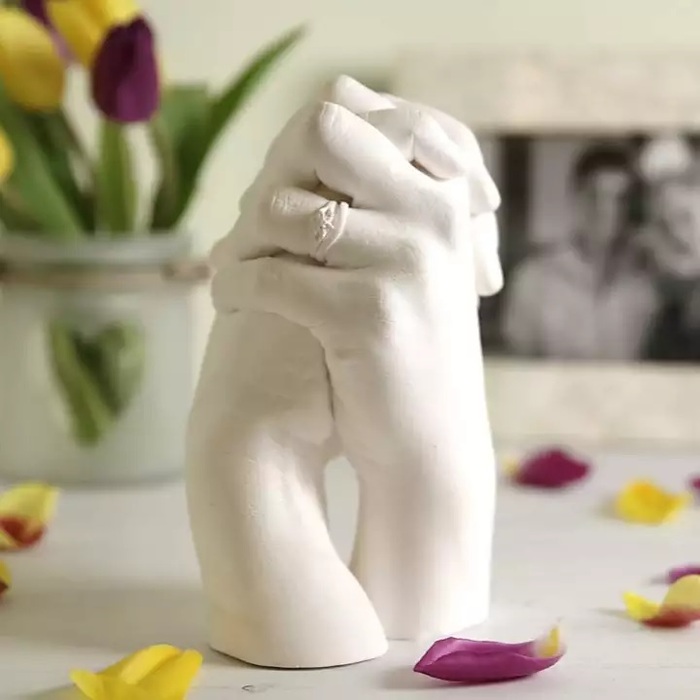 This is a do-it-yourself package to make memorable anniversary gifts for parents. By using a unique casting recipe, the couple's hands were cast with lifelike precision, capturing every nuance of their appearance. The components are safe for contact with the skin and do not release any hazardous chemicals.
Oh Canvas Tip

To guarantee that the process of casting goes as smoothly as possible, select a kit that comes with detailed instructions and, if possible, a video demonstration. Verify that the package contains all of the required equipment and components, such as a mixing cup and gloves, before purchasing it.
>> Do not miss out on these 70th anniversary gifts!
Funny Anniversary Gifts For Parents
13. Personalized Cookie Cutter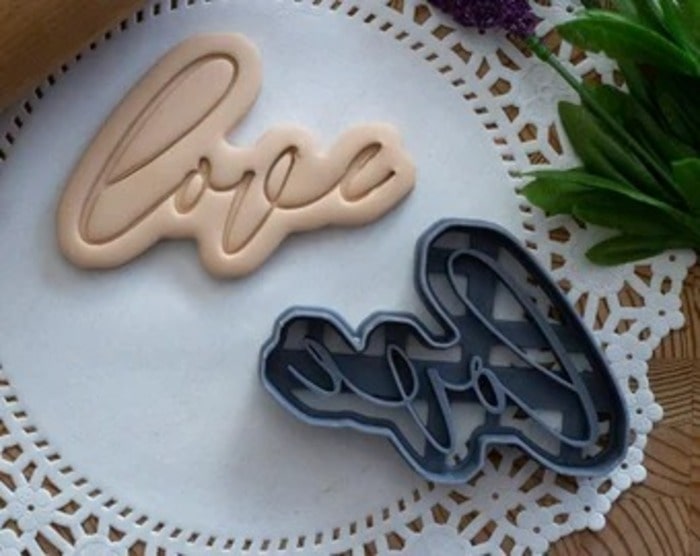 Our parents, like yours, have been harping on us about being frugal. A unique cookie cutter is an excellent way to personalize freshly baked treats. Your parents' first names and wedding dates are engraved on the front. There will be love in every bite of these cookies because you baked them with care.
14. Custom Warm Coasters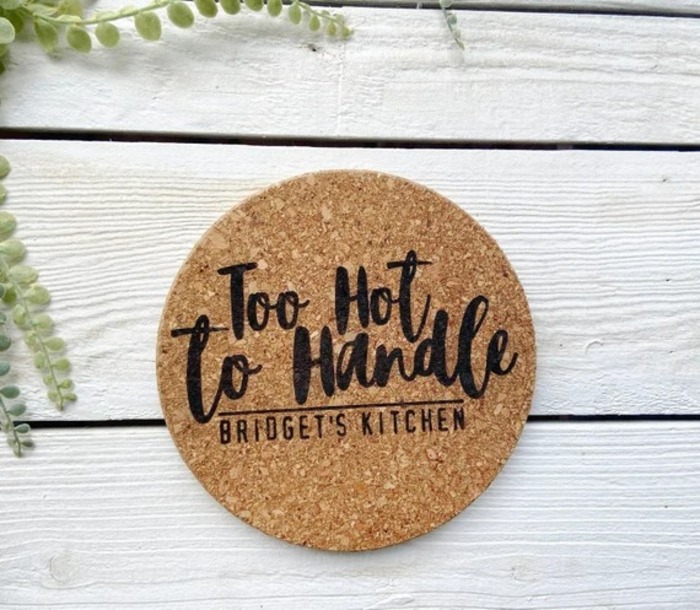 The new pair will cherish these one-of-a-kind hot plates for years to come. Thanks to the fact that there are four different layouts to choose from, you may personalize the present to make it just right for the happy couple. When purchasing this set of 2, please specify the design, date, and name.
15. Love Letter Blanket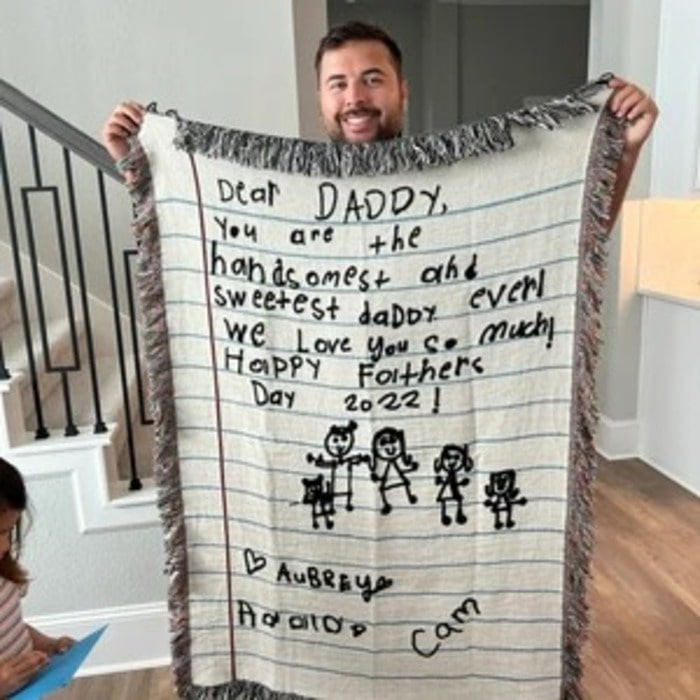 Are you looking for some funny anniversary gifts for parents? With this blanket, they may truly wrap themselves up in each other's love. Find one of their handwritten love notes and have it transferred to a soft, cozy blanket. It will make a cute addition to their sofa decor and will become a fast favorite for cuddling.
16. Personalized Wedding Portraits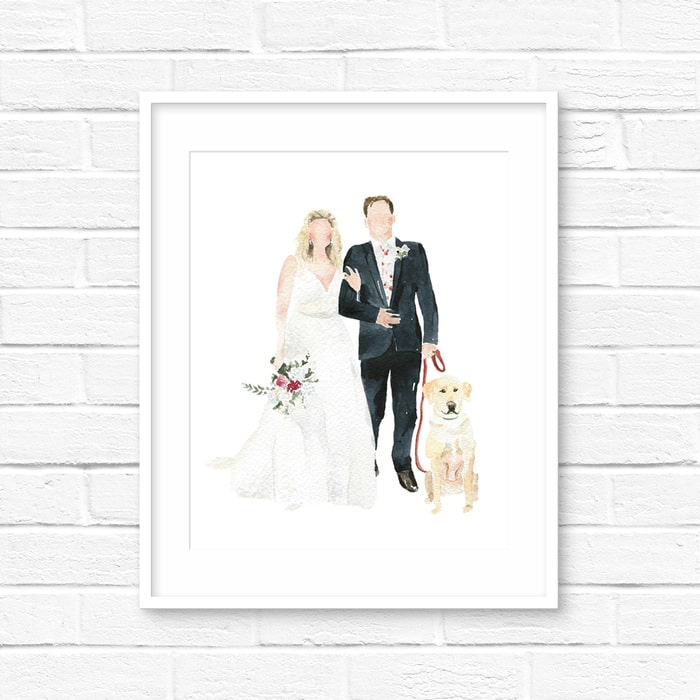 Create a bespoke portrait of your parents instead of giving them a framed wedding day photo. This can be done using an image from their wedding or any other special occasion.
17. Custom Photo Cookies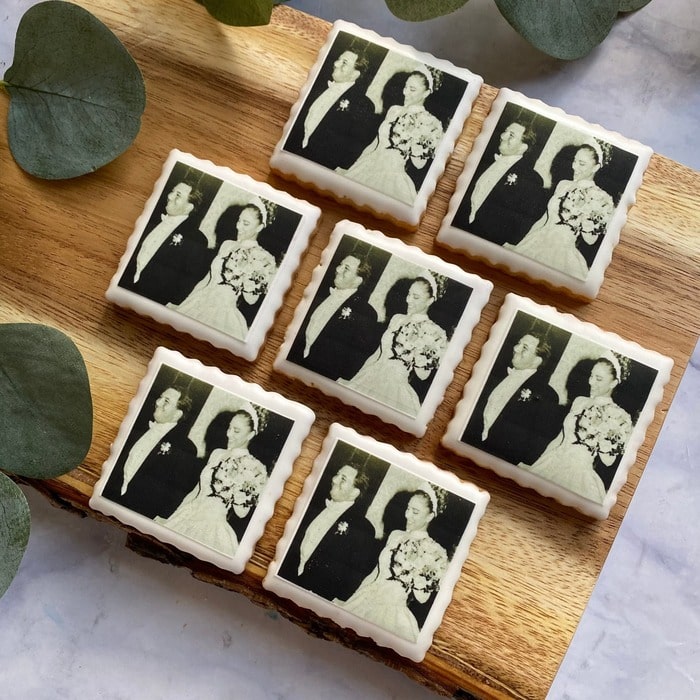 If you're seeking a one-of-a-time personalized anniversary gift for mom and dad, take a look at this suggestion. Twelve custom-made sugar cookies featuring a photo from your parents' wedding day are individually wrapped in teeny little bags, and they're the next best thing to freshly baked cookies from your oven.
Oh Canvas Tip

Look for a shop or service that will print your custom image onto cookies. Verify that reliable means of transport are available and that the cookies will reach on schedule and undamaged. If you need to get the gift out quickly, you could appreciate the fact that several bakeries offer delivery the same day or the following day.
18. Lake Art Serving Tray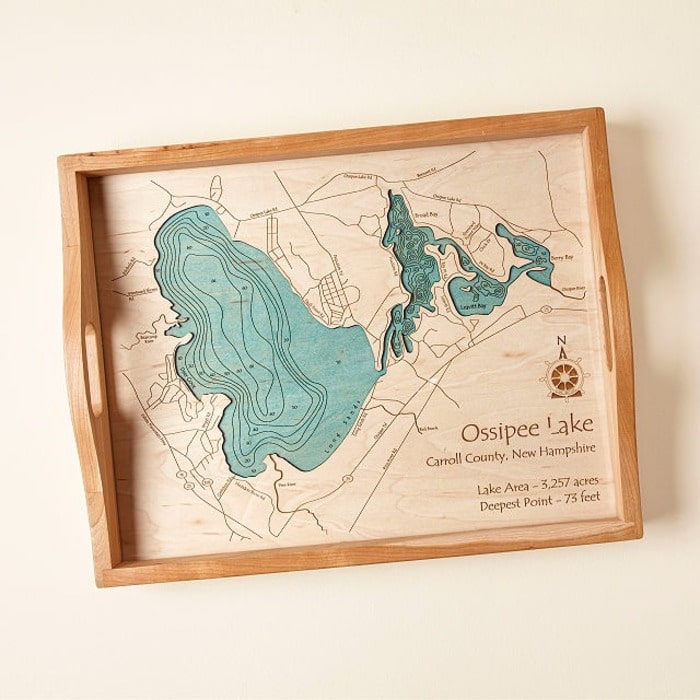 I was wondering if your folks enjoy going on boat trips. Do they fantasize about retiring to a lake house? Although a lakefront home is probably out of your price range, this charming serving tray is the next best thing. Whether they're celebrating a milestone year or just another year of happy marriage, there are plenty of meaningful and thoughtful marriage anniversary gifts for parents that will make their special day even more memorable.
Oh Canvas Tip

Consider trays constructed of sturdy, easy-to-clean materials of superior quality. Moreover, find the location of the lake portrayed on the tray; choose a lake that is significant to your parents. To make the tray even more personalized, you can add their names or the anniversary date.
19. Kissing Cups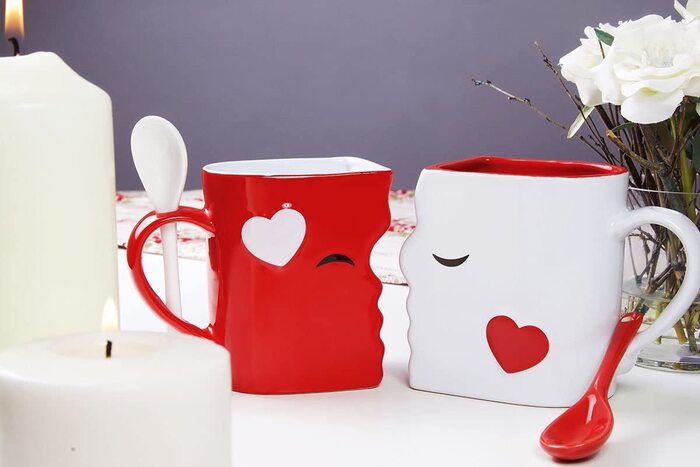 I can't think of a more adorable way to show your affection than with this adorable set of porcelain coffee mugs in the shape of two kissing faces. They're truly cute yet special anniversary ideas for parents that they'll actually use and love.
20. Monthly Plant Subscription
Your parents would love this anniversary present of a monthly plan subscription. They will have a low-maintenance plant in a charming ceramic pot delivered to their doorstep on a monthly basis.
21. Crafted Wedding Dinnerware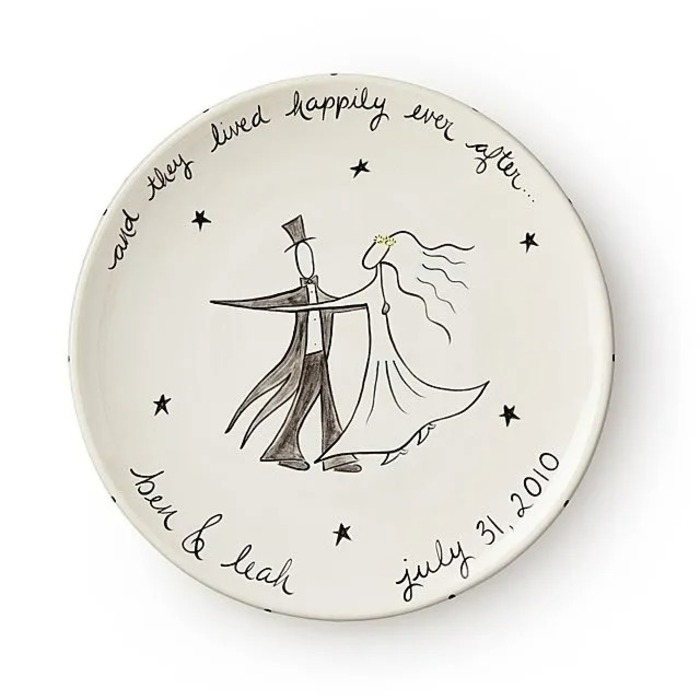 This beautiful dish commemorates your parents' wedding with sentimental touches, like their names and a timeless message written in calligraphy. It's something your parents will adore showing off in their kitchen.
>> It's time to plan the most remarkable day with those 65th anniversary gifts!
22. Couples' To-Do List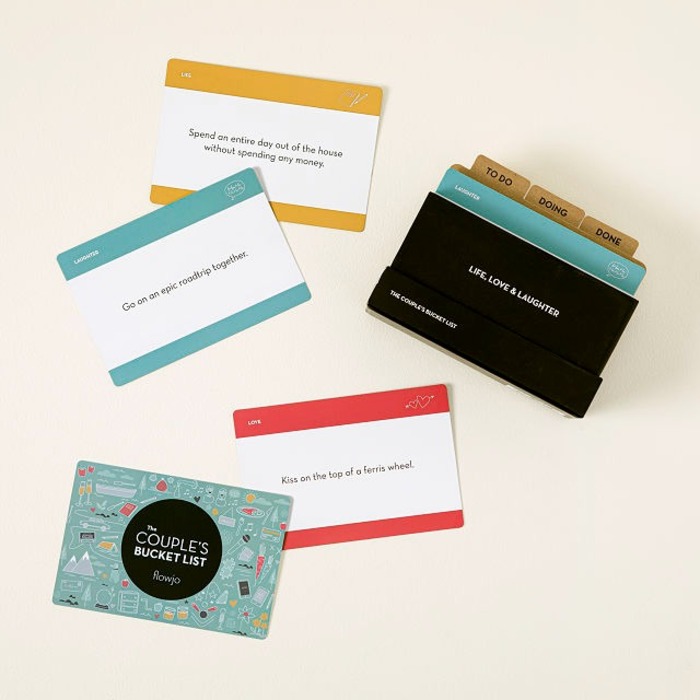 If you know a couple who always seems to struggle coming up with new ideas for date night at home, consider giving them a date night in a box. This compact deck of cards is packed with inspiration for living joyfully, laughing heartily, and loving deeply, and will keep you busy and fulfilled for weeks.
23. Love Card Game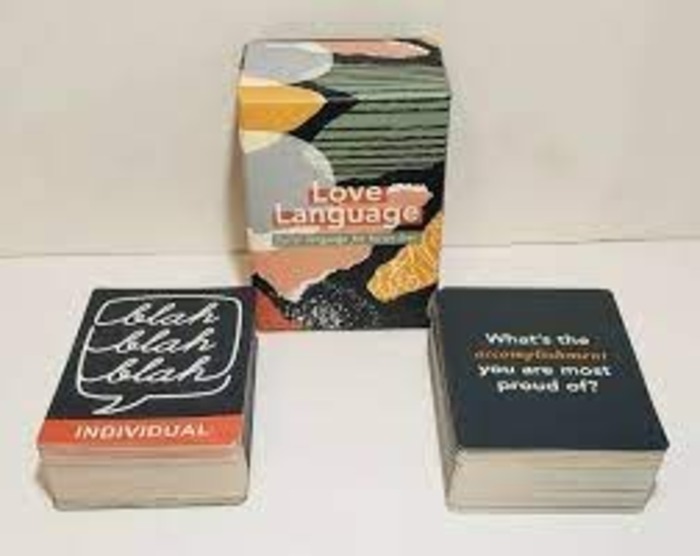 Discovering each other's "Love Language" is a wonderful approach for any couple to grow closer to one another. Using these 150 interesting questions on a wide range of themes, the happy couple can settle in for a new kind of date.
Luxury Anniversary Gifts For Parents
24. Custom Decanter Set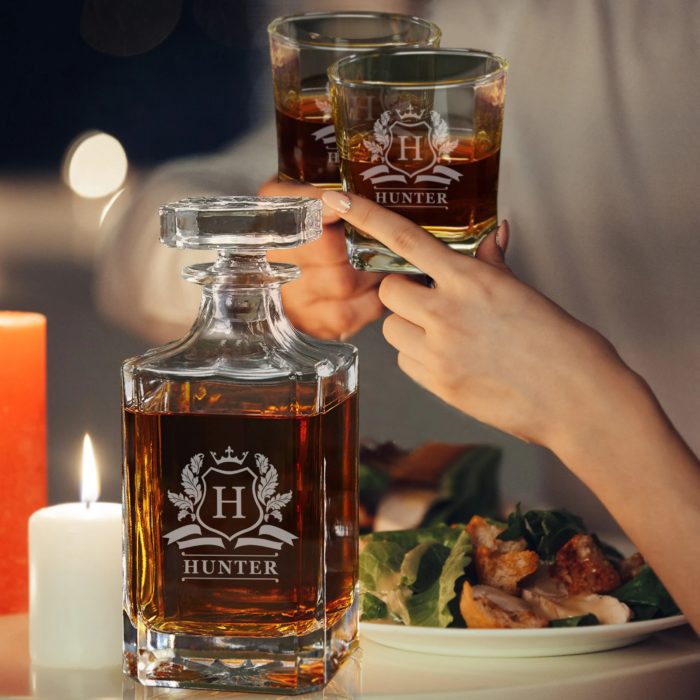 Looking for surprise gifts for mom dad anniversary? Gift this engraved decanter set to the pair whose relationship is as smooth as a great whiskey. The set of glasses is presented in an attractive walnut-stained maple gift box and may be personalized with whatever initials you like.
>> You can also send it as the 40th Anniversary Gift as well!
25. Customized Tree-trunk Glasses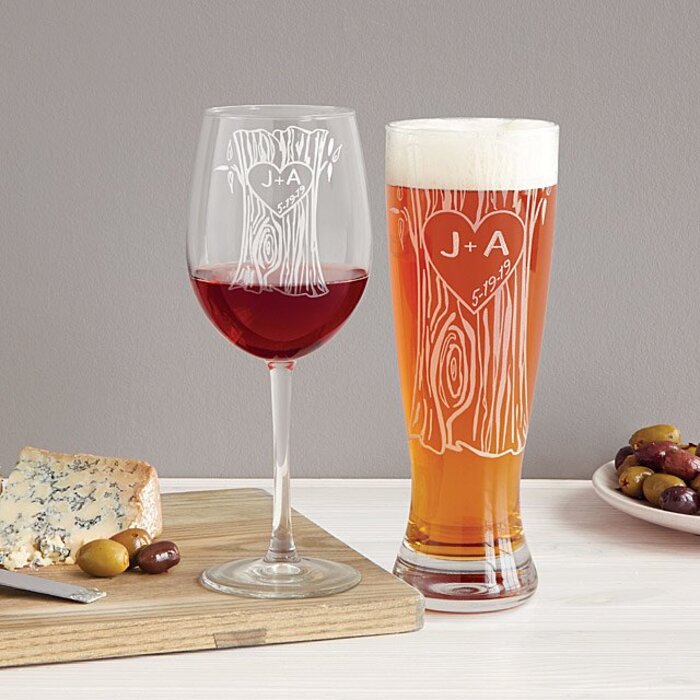 These lovely glasses are excellent anniversary ideas for parents who are a beer or wine enthusiasts. Each includes a hand-engraved tree-trunk pattern, complete with a "carved" heart that carries your parents' initials and the date of their anniversary.
26. Song Lyrics Wall Art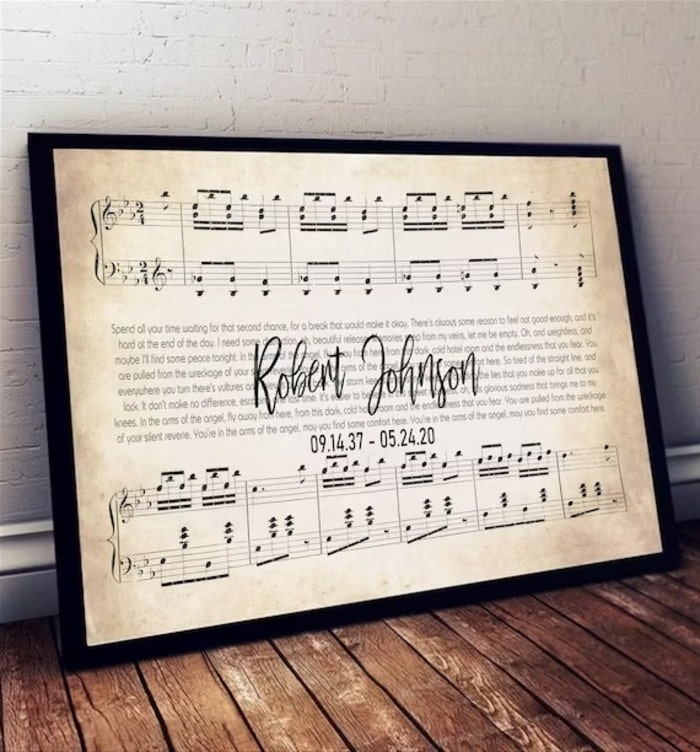 Is there a song that you and your parents always sing together? So, the cute anniversary gifts for parents like this print be appreciated by the recipient every time they walk inside their home. The music sheets for a song of your choosing are included. It's the epitome of how well contemporary and classic elements can coexist.
27. Linen Sheet Set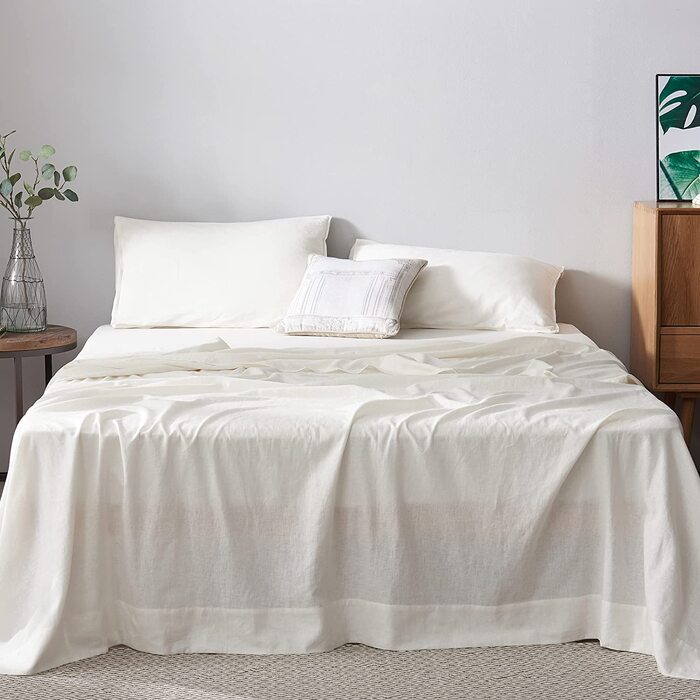 Soured from mills in Italy and Belgium and available in virtually every color imaginable, this incredibly popular linen sheet set is a great option for 30th anniversary gifts. It comprises one flat sheet, one fitted sheet, and two pillowcases to offer your parents the finest sleep of their life.
28. Reed Diffuser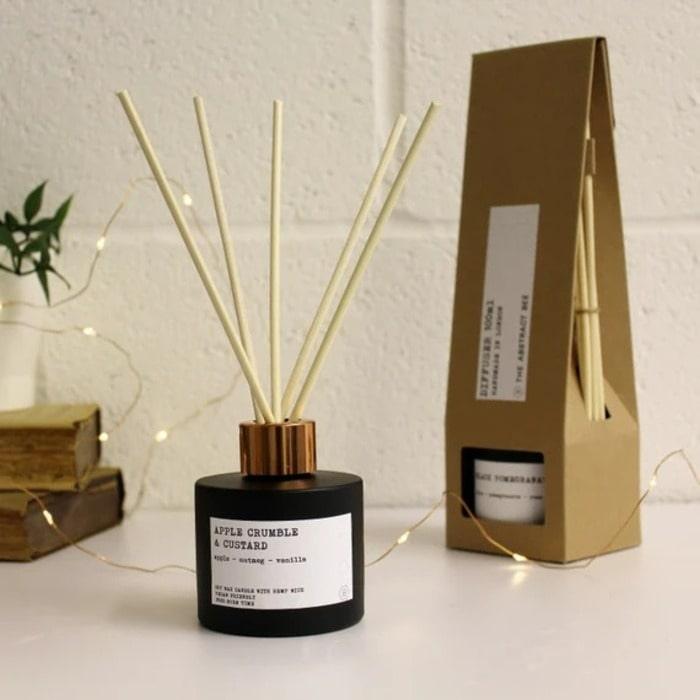 Finding luxury anniversary gifts for parents to help them relax in their cozy nest? Toast to another year of marriage with this festive reed diffuser, which smells just like mandarin and grapefruit.
29. Crystal Champagne Flutes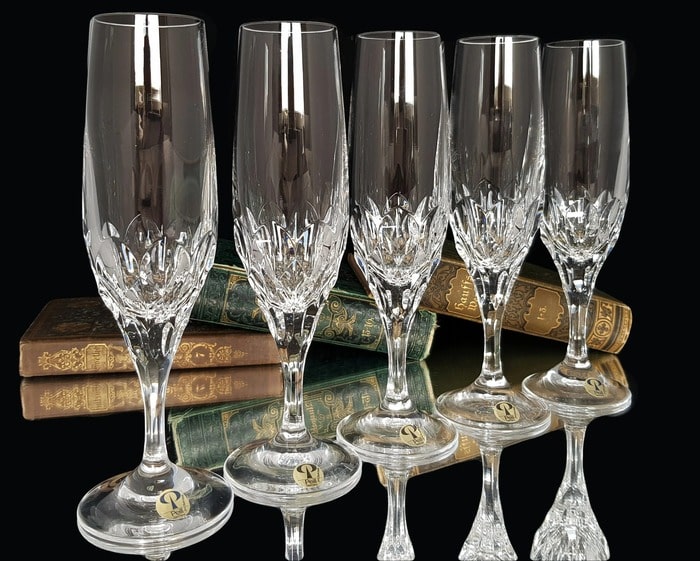 Elegant glassware is a safe bet for last-minute anniversary gifts by year for parents; after all, they'll need something to raise a glass to! These high-quality glasses have a modern and streamlined appearance, making them ideal for serving the finest champagne.
30. Home Canvas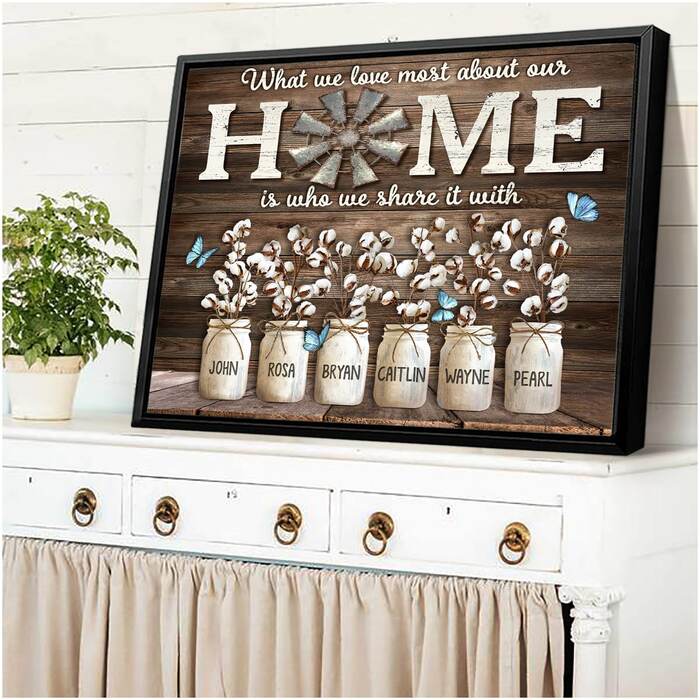 Shop Now
The home canvas with the names of your family members or your parents initials is a fun way to remember the good times you had together, such as the wedding date or any other special date. Your parents will treasure this best anniversary gift for parents for a lifetime.
31. Espresso Maker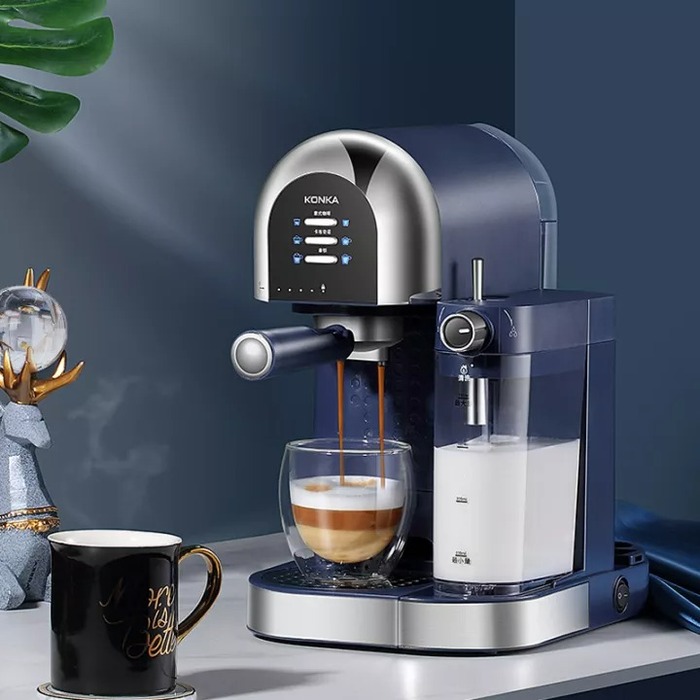 Even if your parents already have a regular coffee maker, this appliance will come in handy whenever they have a hankering for a latte, espresso, or cappuccino. Include a fresh supply of Nespresso capsules and a set of matching coffee mugs to round out the luxury anniversary gifts for parents.
32. Family Camera Set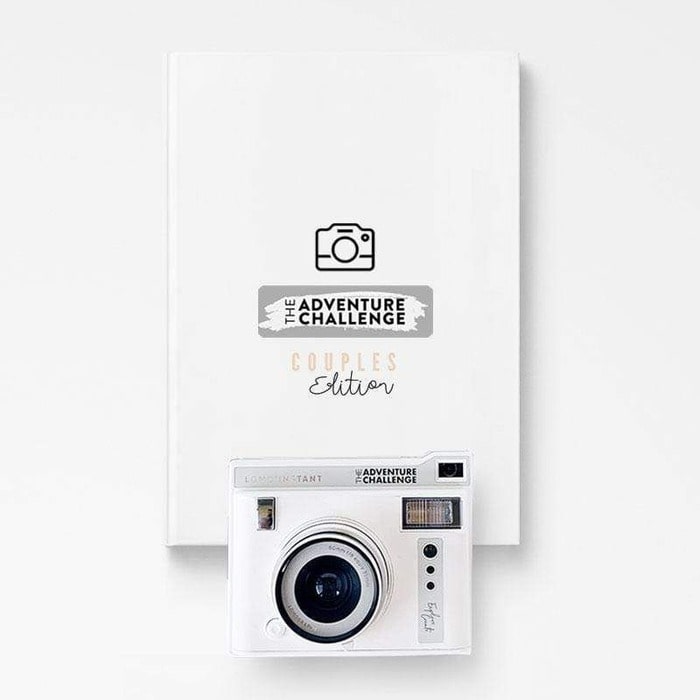 The Adventure Challenge is a great way for your parents to spend time together, whether they are game for anything or have run out of date ideas. The couple will receive an automat camera and an adventure book as part of their camera kit to help them capture their new memories.
33. Spa Gift Card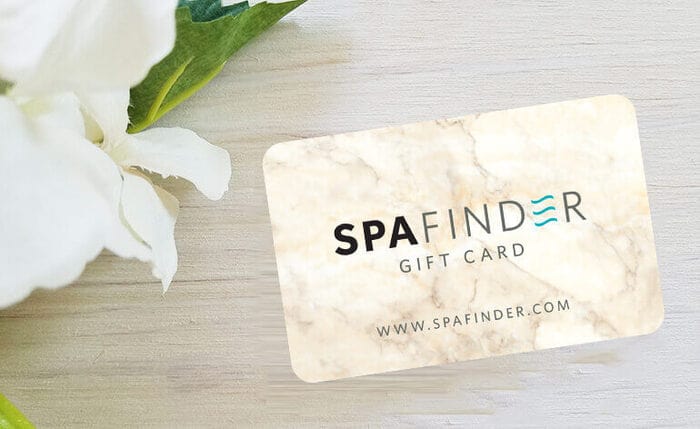 When it comes to sweet luxury anniversary gifts for parents, don't miss out on a spa gift card. They will appreciate this present so much that they can treat themselves to a day of relaxation and rejuvenation at a spa together.
DIY Anniversary Gifts For Parents
34. Personalized Planter Box
If your mom and dad are green thumbs, this planter box will be a nice and useful gift for years to come. Your parents' names and the year they said "I do" can be engraved on this gorgeous keepsake, which comes in your choice of seven soft, muted colors.
35. Watercolor House Paintings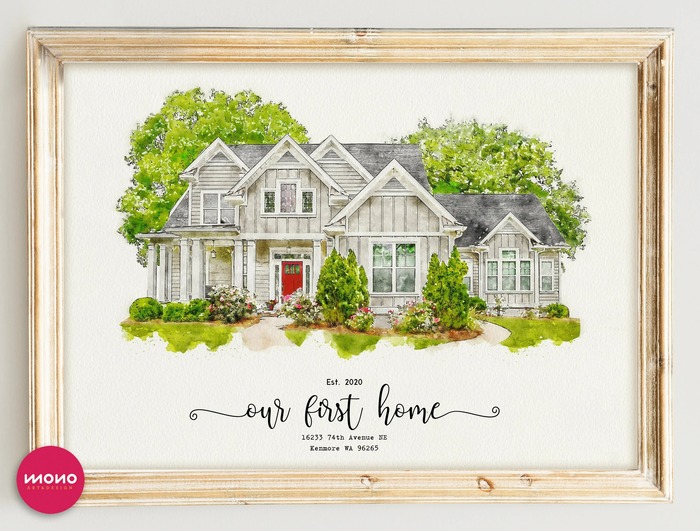 The drawing of a childhood home is one of our favorite anniversary gift ideas for parents. This can be done in either the couple's first house or their present home; either will serve as a wonderful keepsake.
>>> Consider this painting one of the most satisfactory 55th anniversary gift ideas!
36. Manhattan Flower Arrangement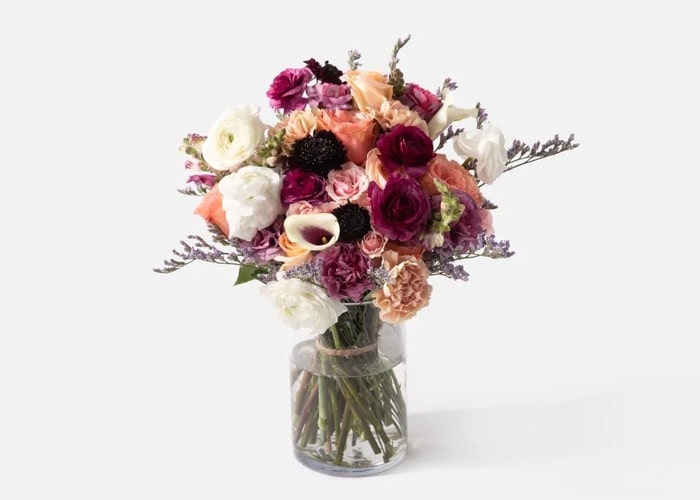 This stunning arrangement is as lovely as parents love for one another. They'll be in an anniversary mood after seeing this breathtaking bouquet of roses, snapdragon sprigs, burgundy Cala lilies, and carnations. A few candles and you've got the makings of a cozy, intimate evening in.
37. Hanging Planter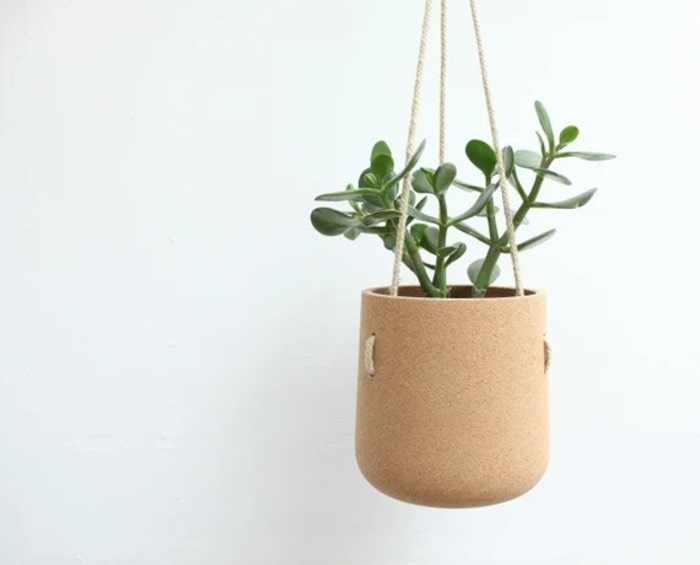 The hanging planter is a creative 25-year anniversary gift for the minimalist in your life since it allows them to enjoy plants without sacrificing counter space. This cork planter, made by hand, looks great with any style of decor. It's a great complement to your mom and dad's favorite flowers or plants.
38. Flower Seeds to Grow Kit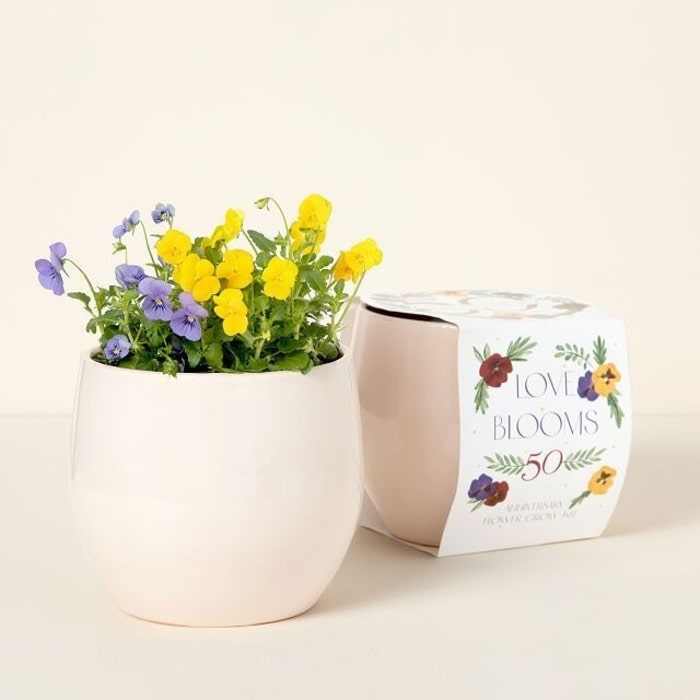 One of these flower grow kits would make a lovely anniversary gift for mom and dad to commemorate their milestone. It includes potting soil, seeds, instructions, and an attractive glazed pot in which to cultivate your anniversary blooms.
39. Foodie Gift Card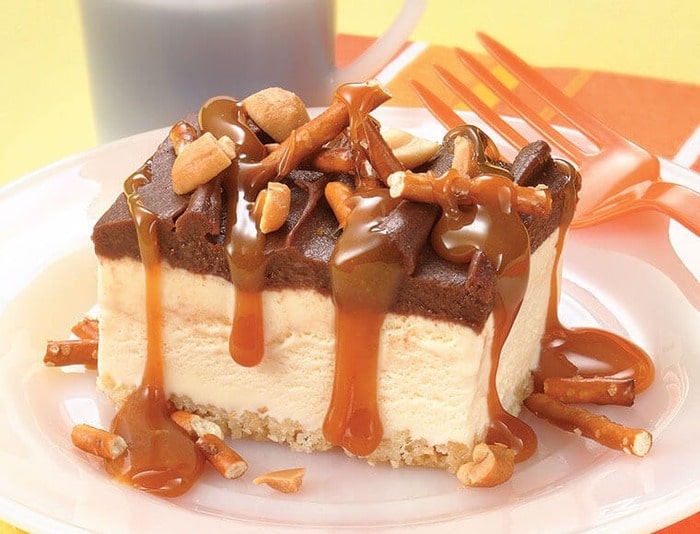 Running out of practical anniversary ideas for parents? They can pick from a wide variety of in-person and online cooking classes, cocktail masterclasses, and wine tastings with this gift card.
40. Couple's Anniversary Gift Baskets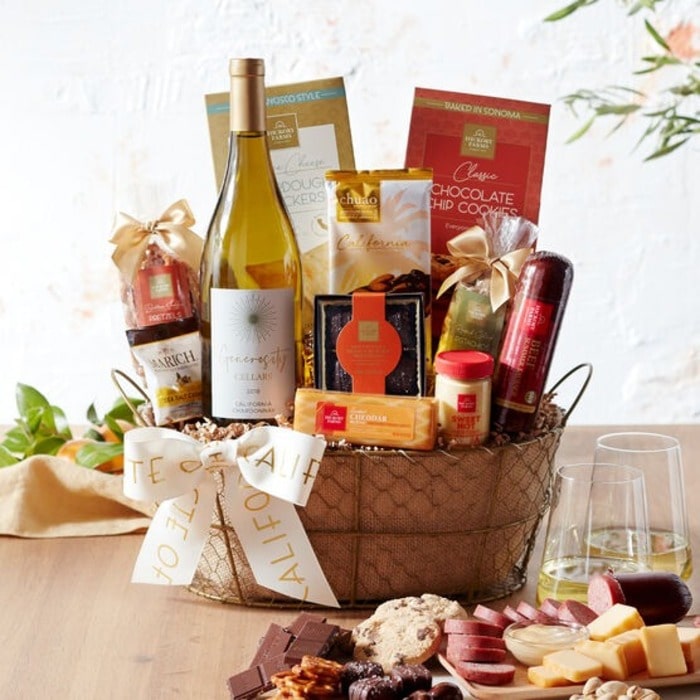 Looking for some luxury anniversary gifts for parents from daughter that they can enjoy together? This gift box is stocked with crackers, smoked gouda, salami, bruschetta, and a bottle of Chianti to help your parents prepare the Italian charcuterie board of their dreams.
Useful Gifts For Parents Anniversary
41. Parents Tumbler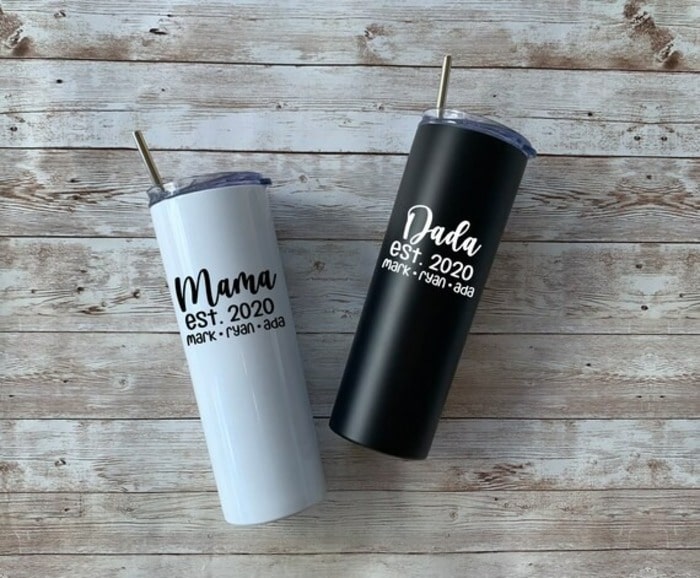 This collection of tumblers is guaranteed to be a hit with mom and dad. A terrific present on its alone, or included in a basket with their favorite tea and coffee products. These stainless-steel tumblers are double-walled vacuum insulated for cold drinks and come with reusable straws for on-the-go sipping convenience.
42. Hoya Heart Succulent Set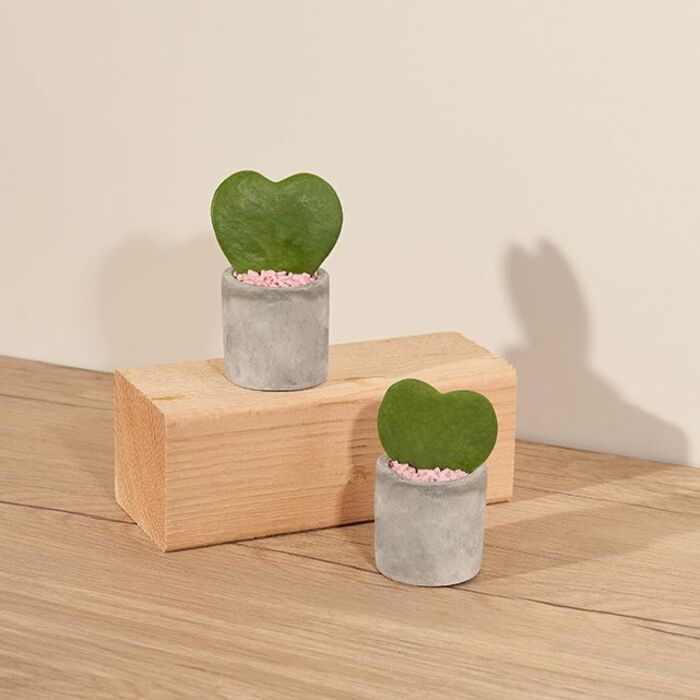 You can't find a more thoughtful gift than two hearts that almost precisely complement your parents. These Hoya succulents are heartfelt surprise gifts for mom dad anniversarythat are charming and long-lasting. Small enough to fit in the palm of your hand, these chic cement planters are filled with light pink rocks and make a lovely addition to any window sill.
43. Soft Blanket
This wool and cotton polka dot throw is machine washable and comes in nine stylish colors, perfect for adding coziness to their next movie night. This thoughtful present is a great way to show them how much you care.
44. Smart Hub Garden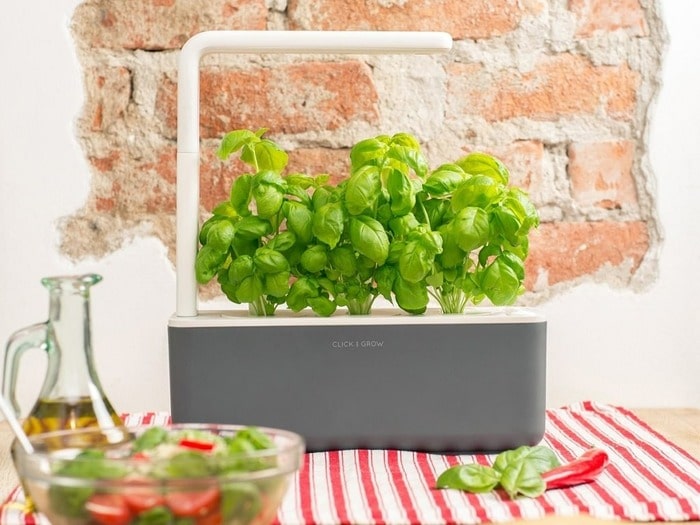 Your parents will appreciate this small indoor smart garden if they have a green thumb but no outdoor area to cultivate it. Your parents won't have to do any work because the system will automatically supply them with the ideal amount of water and lighting.
45. Picnic Gift Basket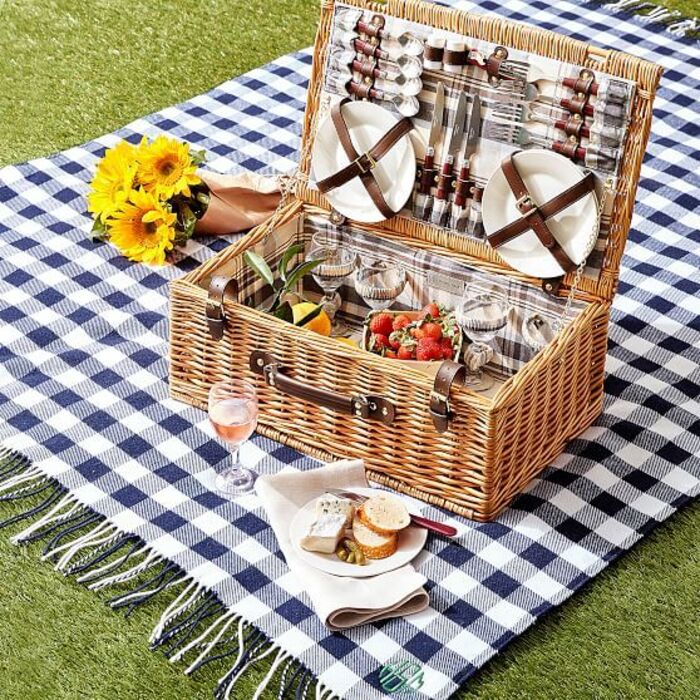 A picnic sounds like the ideal way for a couple to spend quality time together. So, with this picnic basket in hand, you can quickly pack up and head off. In addition to the straps, it features a corkscrew, wine glasses, and a set of ceramic plates. A customized, foil-debossed leather tag is available for the handle.
46. Coffee Delivery Service
A subscription to gourmet coffee is one of the wonderful useful gifts for parents anniversary because it is something they can share. Monthly, they will receive a new shipment of exotic flavors from all around the world. Your parents may have a preference for either a light or dark roast, so feel free to mix and match.
47. Harry & David Merchandise Bag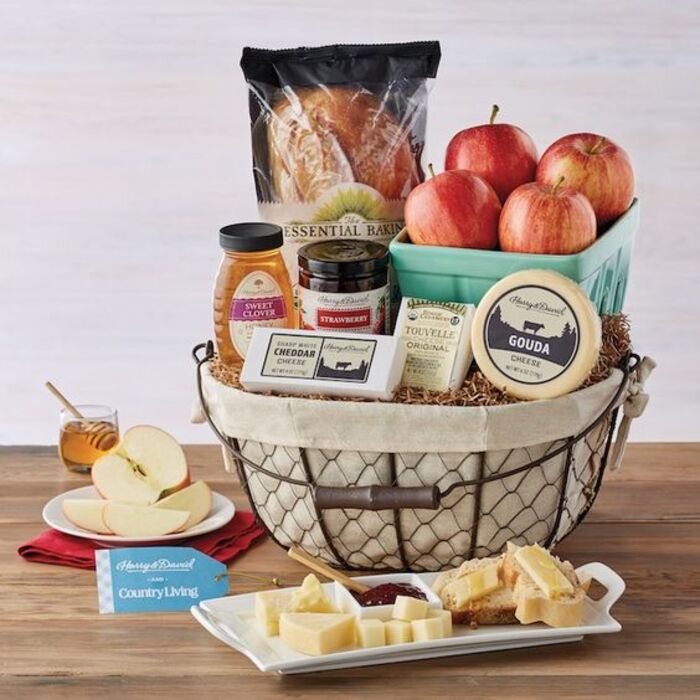 This basket is perfect for those parents who would rather stay in and enjoy a quiet, romantic evening together. It's got everything you need to put together a gourmet charcuterie board, such as gouda and sharp white cheddar cheeses, filled olives, salami, sausage, strawberry fig spreads, or even lemon shortbread cookies.
>>> Further reading about Anniversary gift ideas:
Time flies by. If your parents have been married for a long time, their relationship has probably taught you a lot about love. Thus, it is important to celebrate our love milestone anniversary. For us, it's about commemorating and sustaining the passion that two people have for each other. So, while considering a thoughtful gift, consider methods to commemorate their shared memories or ways to bring them closer together. Hope those suggestions from Oh Canvas for good anniversary gifts for parents above will work well for your situation!