Whether you're preparing for celebrating a Blue Sapphire Anniversary or looking for 65th anniversary gifts, this momentous occasion deserves to be commemorated in some way.
Couples celebrating 65 years of marriage deserve to be treated to a very memorable event to commemorate this remarkable milestone. Nearly all couples reach their 65th wedding anniversary having accomplished nearly all of their life's goals. Here, our wedding anniversary gift ideas come in useful!
Find the perfect present for a spouse or parents with Oh Canvas ideas and inspiration.
What is the 65th Wedding Anniversary Gift?
There are a few different presents that are linked with the 65th anniversary gifts, thanks to both ancient and modern customs. The blue sapphire is by far the most significant of these, but as you will see in a moment, the anniversary is also associated with a certain color and a flower.
65th Anniversary Traditional Gift – Blue Sapphire
Traditionally, 65th wedding anniversaries are celebrated with a gift that symbolizes the longevity of the marriage. The blue sapphire is associated with faithfulness and serenity within, as well as the satisfaction of wishes and the accumulation of money. Also, it's a beautiful diamond that any sex can wear.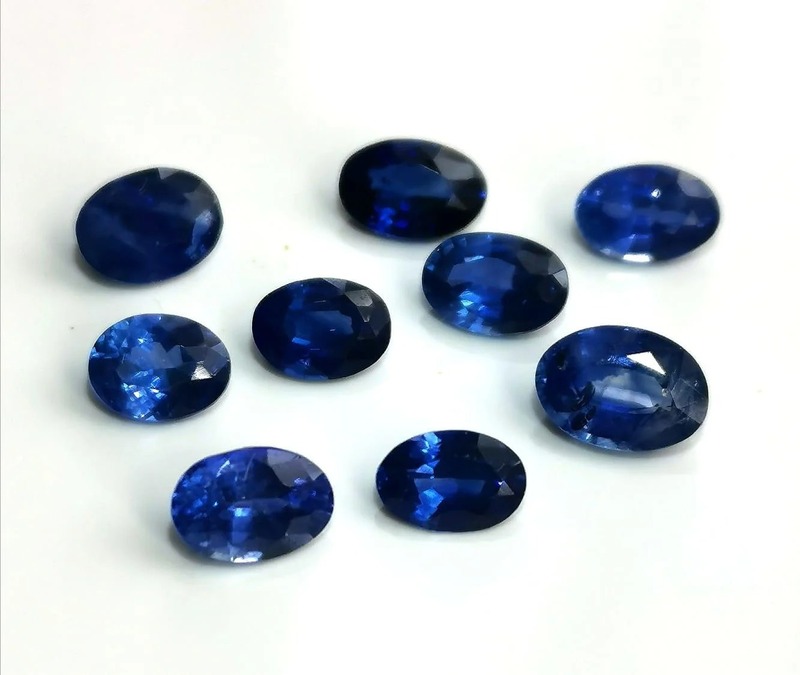 65th Anniversary Contemporary/Modern Gift – Star Sapphire
A star sapphire is the perfect modern gift for a couple's 65th anniversary. Little mineral inclusions give this gemstone its deep blue color and star-shaped reflection. Star sapphires symbolize knowledge, integrity, and sincerity, making them ideal gifts for a long-lasting marriage. A star sapphire, whether in jewelry or décor, will leave a lasting impression and remind the recipient of their love and commitment.
65th Anniversary Flower: Blue Hydrangeas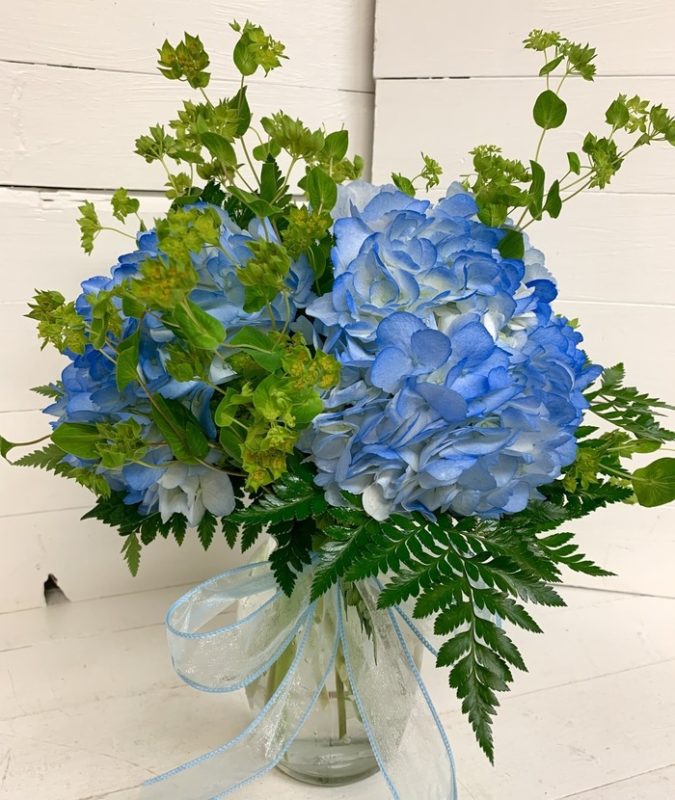 The 65th anniversary is associated with blue hydrangeas, which is a tradition that began very recently. When given as a present on a special occasion, the flower stands for the expression of sincere feelings, a more profound understanding between individuals, gratitude, prosperity, grace, and beauty. The meaning of blue hydrangeas in the Victorian language of flowers was bragging, and we believe that a couple that is celebrating their 65th anniversary has every right to boast about their accomplishments.
65th Anniversary Gifts For Her
1. Bracelet with Sapphires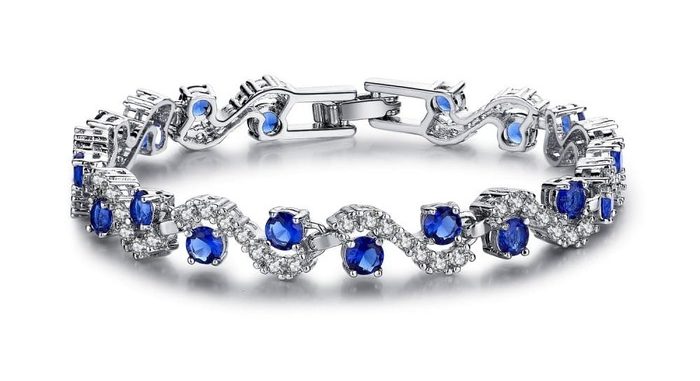 Finding a 65th wedding anniversary gift for your wife might be a challenge. The beauty of blue sapphires may be showcased in a piece or set of jewelry. Van Cleef & Arpels' Folie des Prés bracelet and matching ring have our full seal of approval.
2. A Murano Glass Centrepiece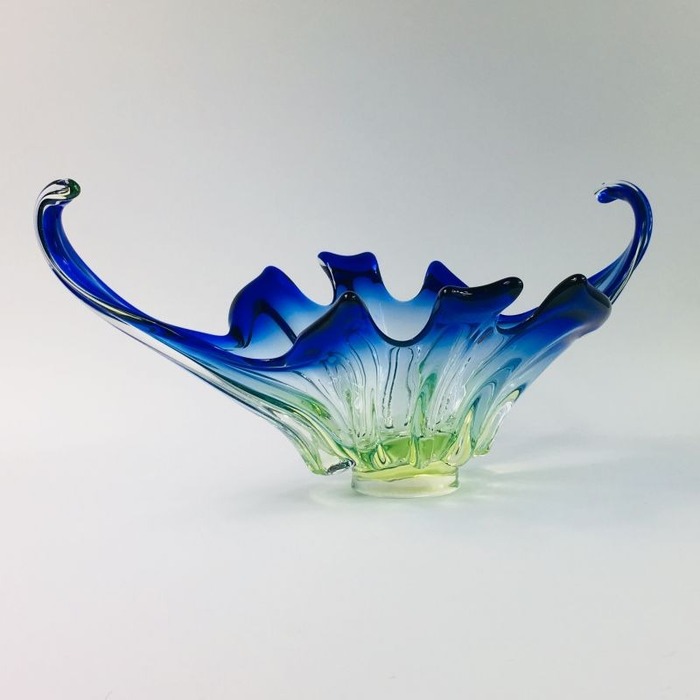 It's hard to go wrong with a piece of Murano glass, which is famously created in Venice. A vase or bowl might be a kind gift if that's what you're thinking of doing. For her 65 year wedding anniversary gift, give her a blue gift from Original Murano Glass, like this stunning flower vase adorned with 24-carat gold leaf.
3. A Painting Class Focused on Meditation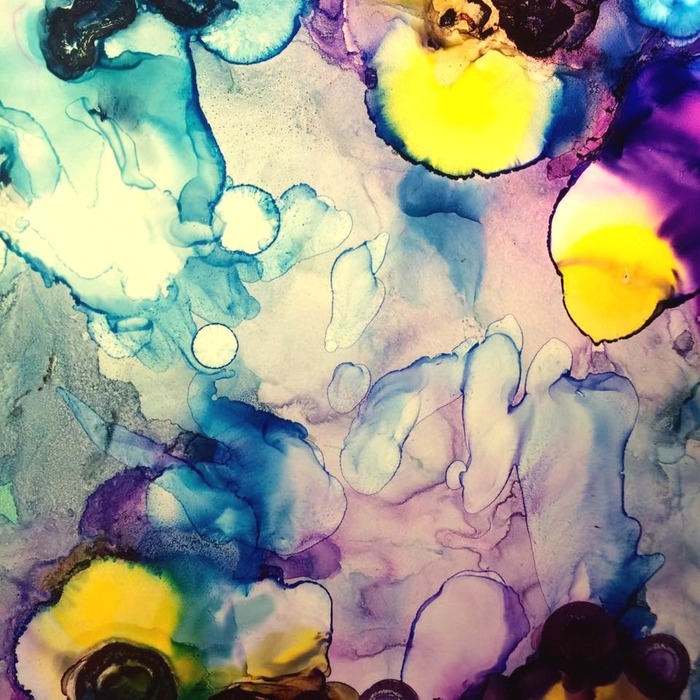 Do you think she has any hidden creative abilities? This gift offers meditative painting classes that might be perfect for your girlfriend. Students learn relaxing techniques such as meditation and creative expression in this session.
She'll love this thoughtful anniversary gift by year, and she'll be proud to show it off to her friends and family after it's finished.
4. A Blue Silk Scarf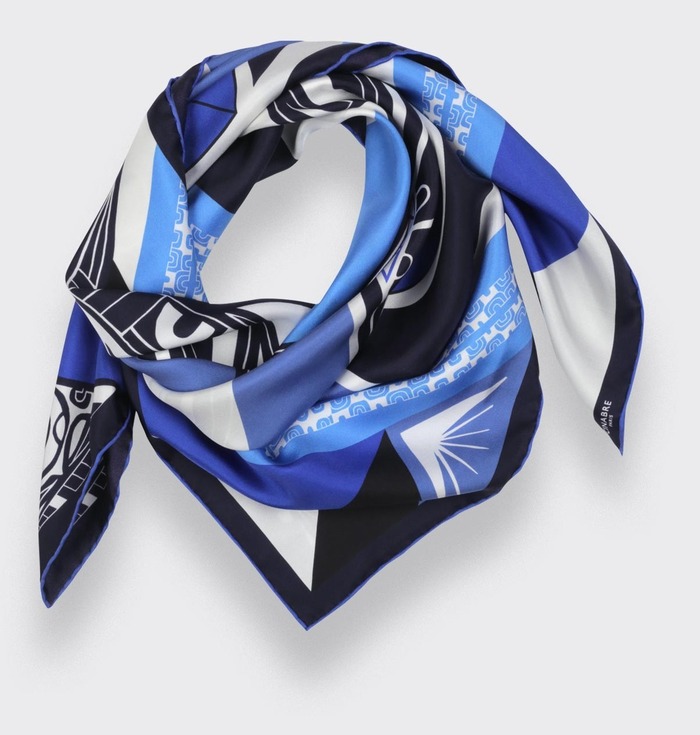 Give her a beautiful blue item to wear on your anniversary as a gift. An elegant silk scarf is an ideal complement to any outfit. Is there anything you'd want to know? Beautiful in bluebird, the scarf is a standout in our book.
Oh Canvas tips

If you're in the market for a silk scarf, consider these guidelines:

Quality fabric: Mulberry silk, Endi silk, and Tassar silk are the three most common kinds. When compared to the other two types, mulberry is the heaviest and has the best fall and flow.

Color: Colors like blue, brown, black, and beige are great options because of their versatility.

Length: For more customization, a longer rectangular style is the way to go. These are also suitable for use as shawls.

Quality craftsmanship: It is possible to classify the skill put into making a silk scarf into two factors: Printing Quality & Scarf finishing
5. It's a Gorgeous Teapot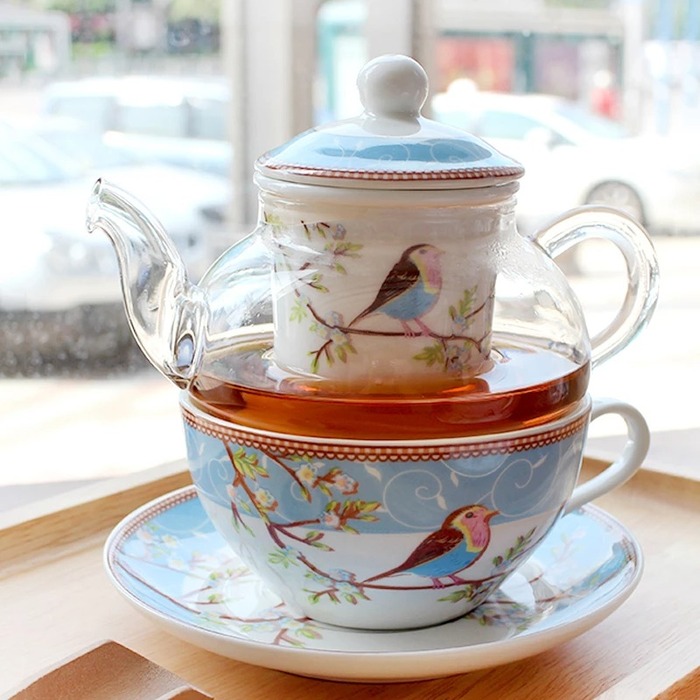 When it comes to 65th anniversary gifts for your lover, the teapot idea is the ideal way to show your affection for your wife or husband. There is no better way to show her how much you care about her than by giving her an expensive tea/coffee pot that she can use to brew her favorite hot beverage.
To commemorate your 65th wedding anniversary, consider Bernardaud's In Bloom – Zemer Peled jug in white and blue. Adding matching cups, bowls, and a tiny jug to your present will make it more substantial.
6. A Floral Workshop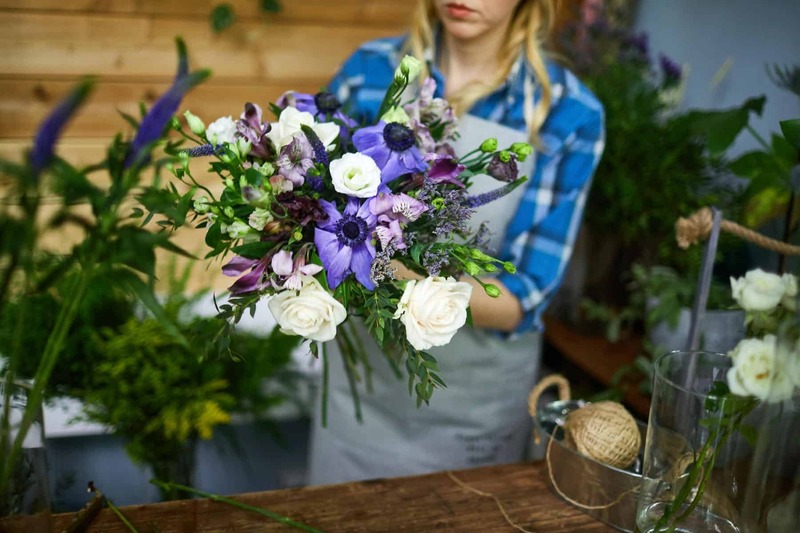 To be honest, we don't think she likes fresh flowers and the task of putting them together. For 65th anniversary gift ideas, give her a seat in a one-day flower lesson with McQueens. Fresh flowers brighten up any room. They are uplifting and help alleviate stress and anxiety.
Oh Canvas tips

It will mean more to your wife if she doesn't have to struggle to put it wherever she can appreciate it. Make sure the arrangement you choose fits the her favorite area.

You shouldn't get the posy too large if her workplace (or home workstation) is on the smaller side. You may go big if you have a bigger house or workplace and the money is there for it.
7. Embroidered Sapphire Wedding Anniversary Card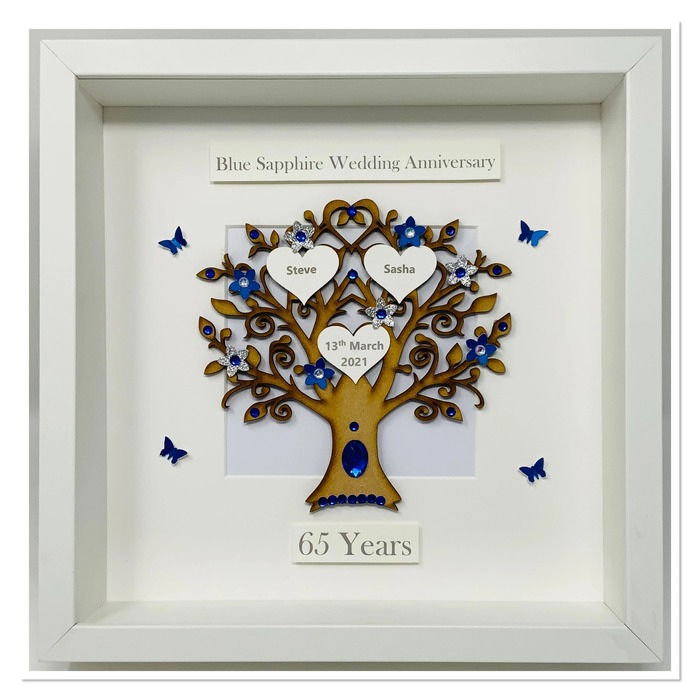 The traditional anniversary card has been elevated to a whole new level with this embroidered version by Sarah Designs. We're in love with the sapphire blue sequins on the front, and the inside is blank so you can write your own personal message.
8. Pendant in Stainless Steel by Swarovski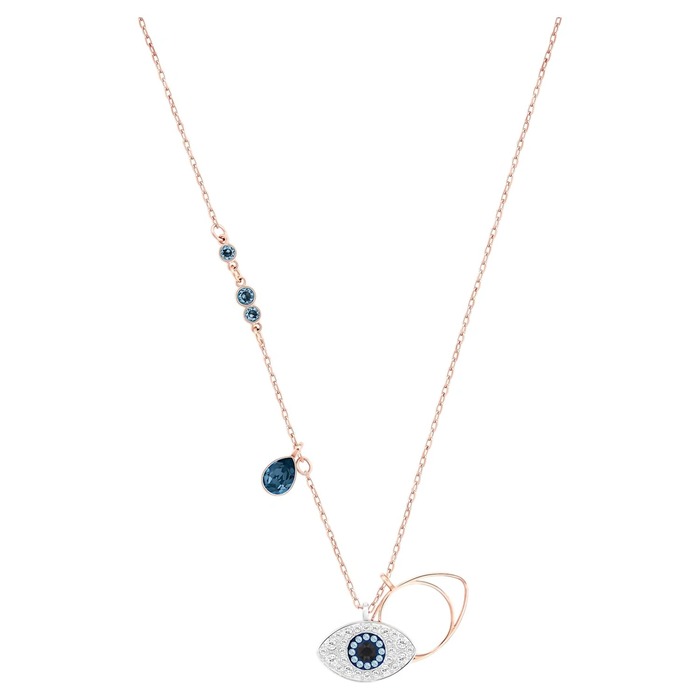 This stainless steel necklace features a sapphire blue Swarovski crystal in the center, surrounded by two single clear crystals, making it a lovely 65th wedding anniversary gift that won't break the bank.
9. Earrings with Diamonds and Sapphires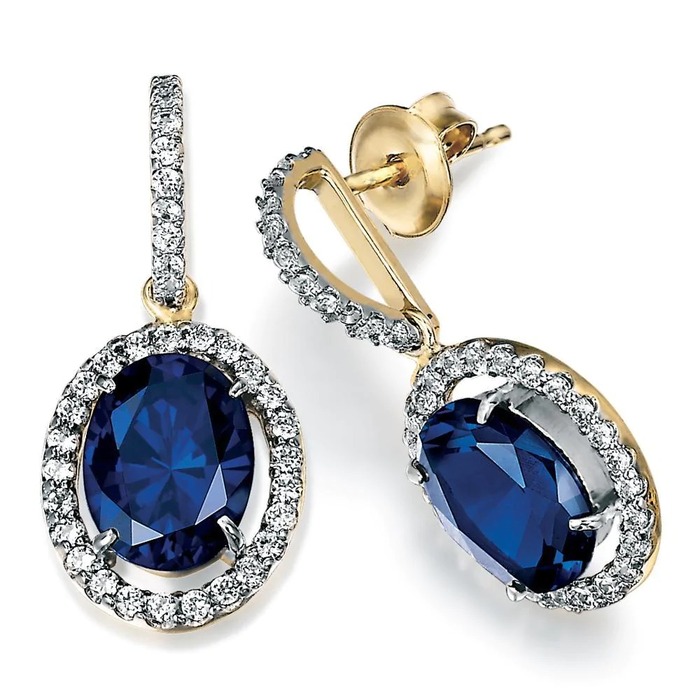 A solitaire cut sapphire surrounded by diamonds and set in an 18ct white gold setting makes these earrings from John Lewis an exceptionally spectacular gift for 65th wedding anniversary.
>>> Also looking for 70th anniversary gifts?
10. Canvas "I'm with you Bluebird"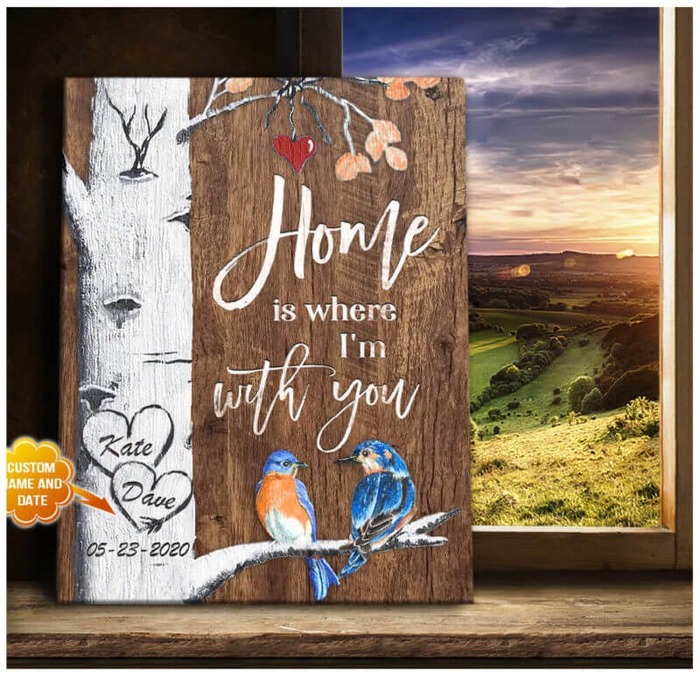 Alternatively, these canvases might make nice 65th anniversary gifts for your wife if you don't want to follow the sapphire gift concept too literally. Don't forget to order a custom frame for the print which can be personalized for your names and special day.
11. Perfume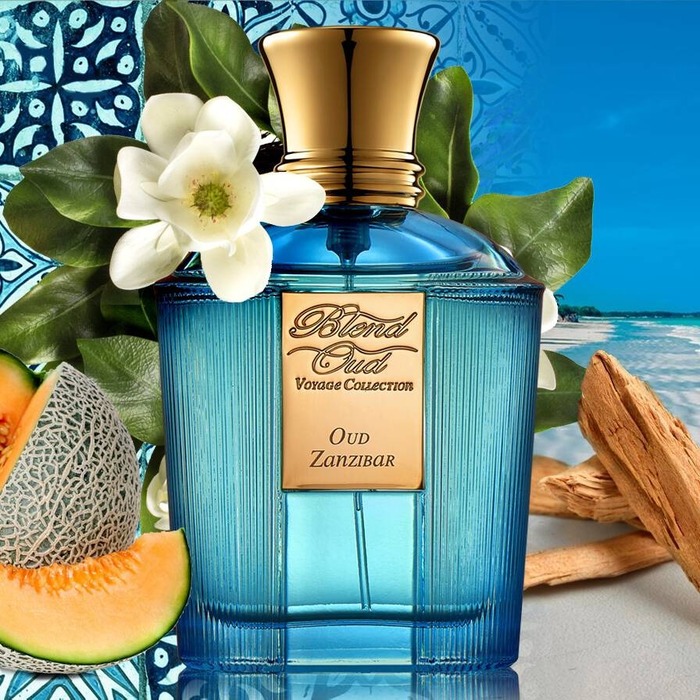 Violet, Turkish rose, and vanilla combine to create a feminine yet powerful perfume in this intoxicating blend. The sapphire blue color of the bottle is also a reference to the sapphire's 65th wedding anniversary.
12. Flowers in the Sky of Cerulean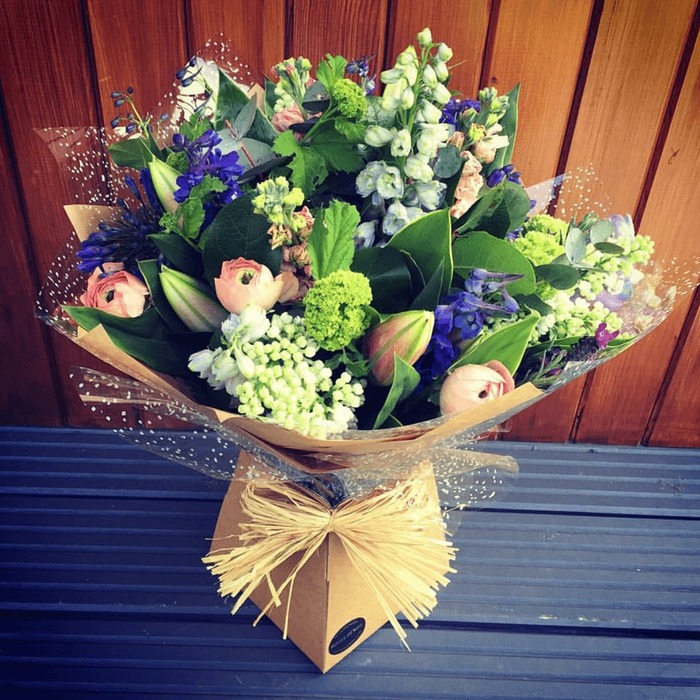 For a special event, it's timeless and appropriate. Flowers such as delphinium, blue hydrangea, dusty miller, ivory roses, and more are arranged in an aesthetically pleasing arrangement.
>>> You may also love to read about Top 31+ Touchy Anniversary Poems to Enhance Your Romance!
65th Wedding Anniversary Gifts For Him
13. Timepieces from Cartier in Sapphire
If he's still dressed to impress, a blue sapphire watch is a perfect way to give him the customary anniversary present. It's a thoughtful 65th wedding anniversary gift that will serve as a reminder of your marriage for the next 65 years. A Cartier timepiece, on the other hand, is the definition of traditional and timelessness. Finished with a single sapphire stone in a rose gold and steel casing, this piece is really stunning.
14. Whisky And Chocolate Tasting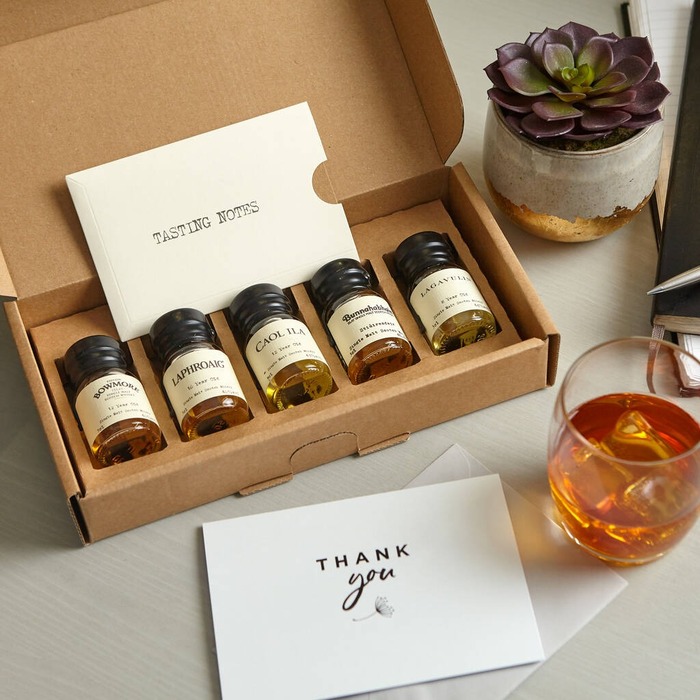 Gifting a whiskey and chocolate tasting to a partner who appreciates both is one of the most excellent 65th wedding anniversary gift ideas. With this idea, he'll try six Glengoyne whiskies masterfully matched with chocolates from Iain Burnett Highland Chocolatier. It's a wonderful way to mark a particular occasion.
Oh Canvas tips

If you're just starting out on your adventure into the world of flavor, here are some suggestions for matching tastes:

Fresh & Fruity and white chocolate

Sweet & Spicy with 85% dark chocolate

Smooth & Complex and raspberry & dark chocolate

Rich & Smoky and chili dark chocolate

Peaty & Coastal and salted caramel milk chocolate
15. Johnnie Walker Blue Label with a Message in It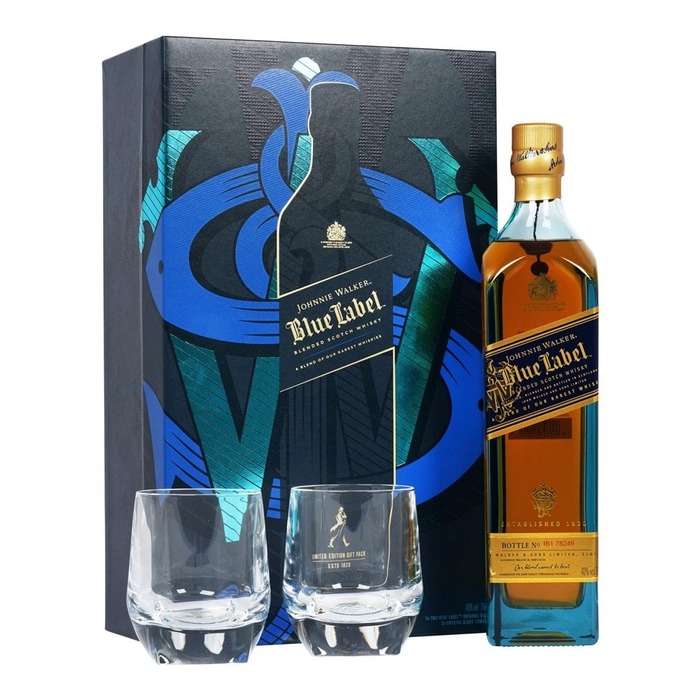 Instead of chocolates, why not give him a bottle of Johnnie Walker Blue Label that's been personalized just for him?
For the 65th anniversary gifts, you may personalize the bottle by having it engraved with a statement of your choice, making it even more meaningful. For him, every taste of this wine will bring back memories of six and a half decades of joyful times spent with family and friends.
16. Comfortable Loafer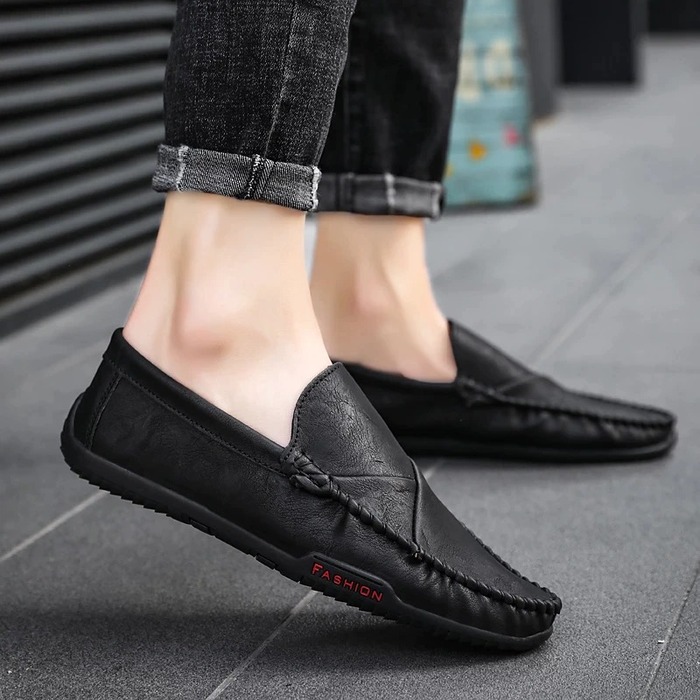 What better 65th anniversary gift than a pair of loafers to put on his feet and relax his stiff ankles than that? These Gucci Jordaan shoes are casual enough to wear around the house yet stylish enough to wear out. They're wonderfully comfortable. For a homage to the 65th wedding anniversary, go for blue leather instead of the more traditional black.
17. A romantic Meal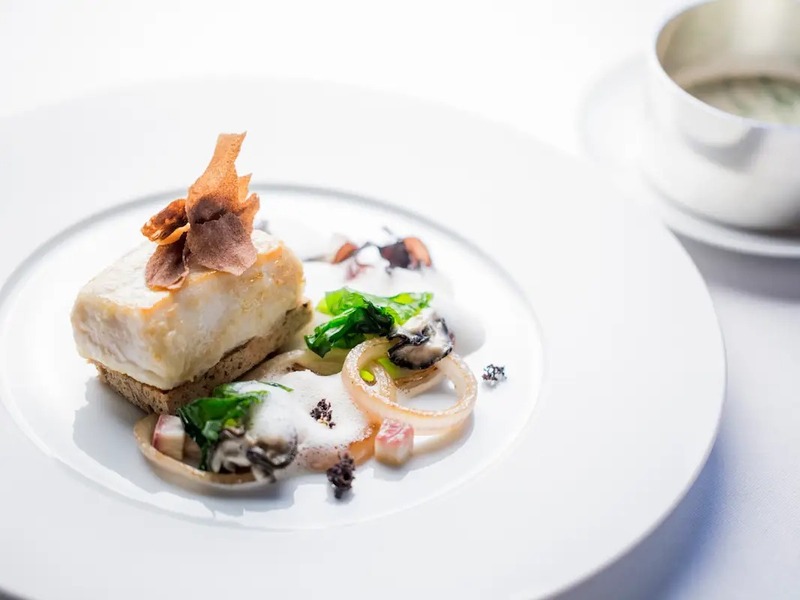 Allow him to experience the best of modern British cuisine as a part of your anniversary gift to him. Enjoy a romantic dinner and reflect on the years you've spent together. You and your friends will have the most fun and eat the best together if you do this.
18. Royal Brierley Luxury Cut Crystal Decanter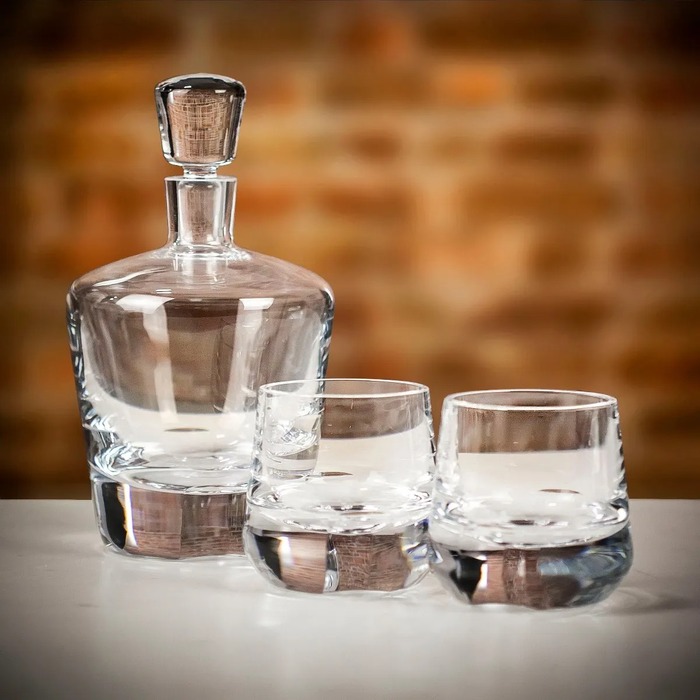 This stunning cut crystal decanter with an inky blue sapphire base would make thoughtful 65th wedding anniversary ideas for a man who will cherish them for years to come if you're looking for something special.
19. Cufflinks made of Sterling Silver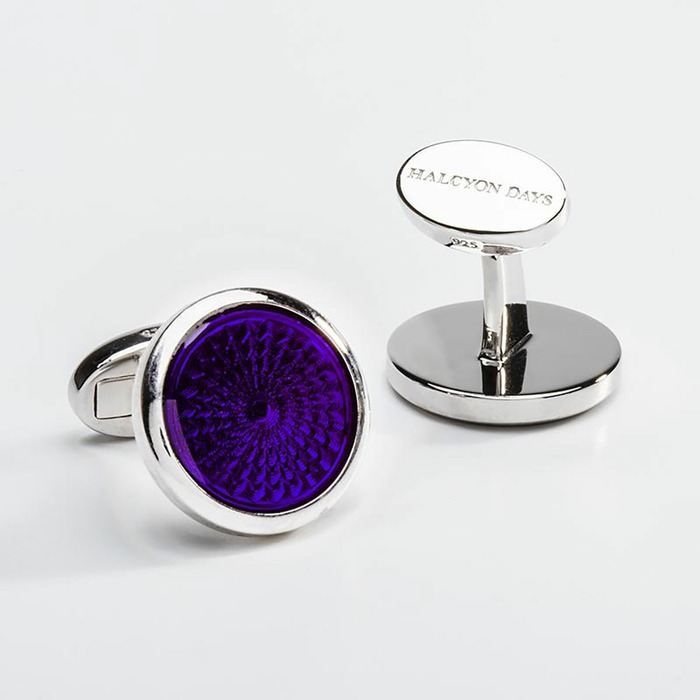 You can wear these lovely cufflinks every day, not only on special occasions, thanks to their basic design and delicate sapphire accent. Our guess is that your spouse would be delighted by these if he's gentlemanly and kind.
>>> Read more about Best 90+ Romantic and Funny Anniversary Quotes for Couples here!
65th Anniversary Gifts For Parents
20. Comfortable Chairs in a Set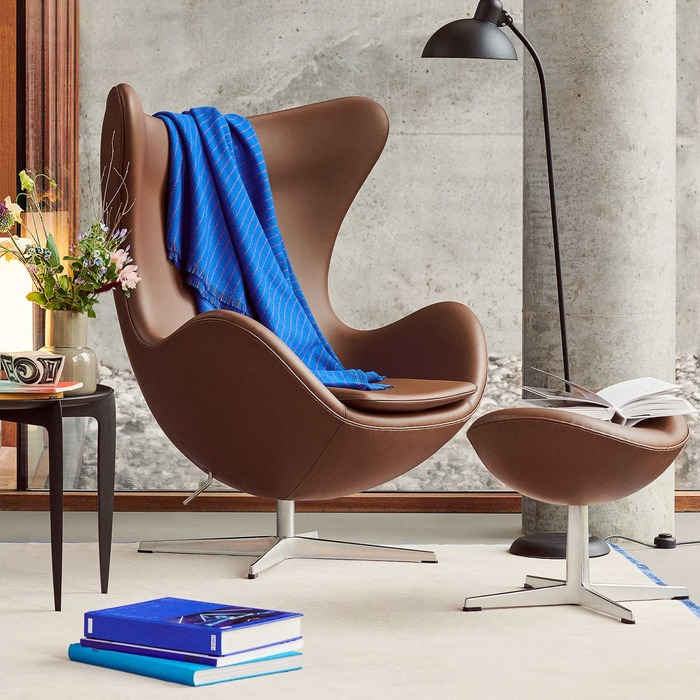 Make your parents' lives a little easier by giving them matching comfortable chairs as a gift for 65th wedding anniversary. Armchairs aren't what we're talking about here. We're referring to models that provide the ultimate in comfort.
21. Custom Photo Prints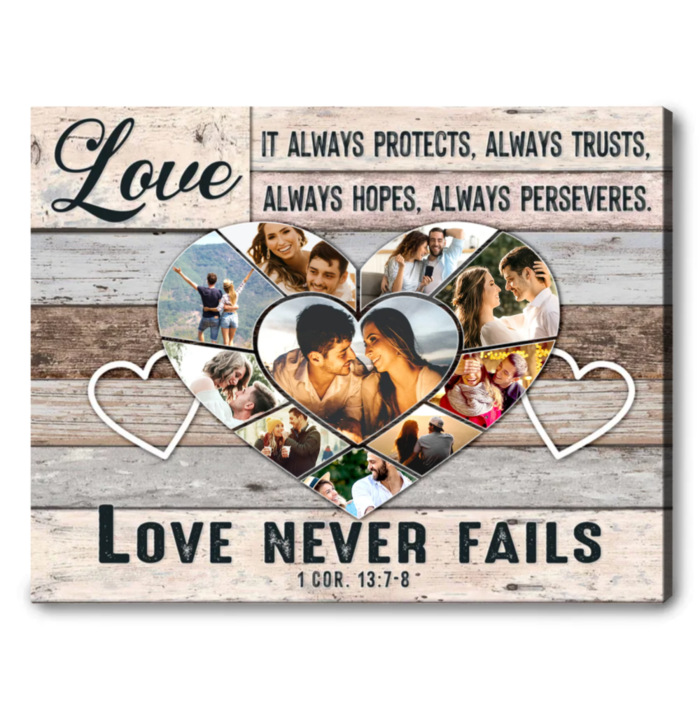 The happy pair is sure to have a lot of lovely images of their time together after 65 years together. Print out some of your favorite memories from the years and display them in these one-of-a-kind, personalized 65th anniversary gifts.
22. Carafe Rivka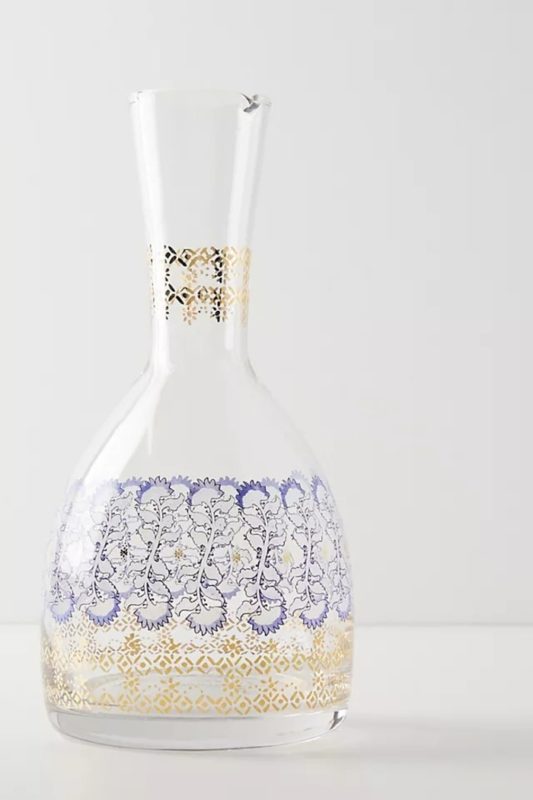 When it comes to gifts for 65th wedding anniversary that don't sacrifice design, Anthropologie's Rivka carafe is a perfect choice. Wine glasses and tumblers in the same unusual finish are also available for purchase.
23. Vase of Sapphires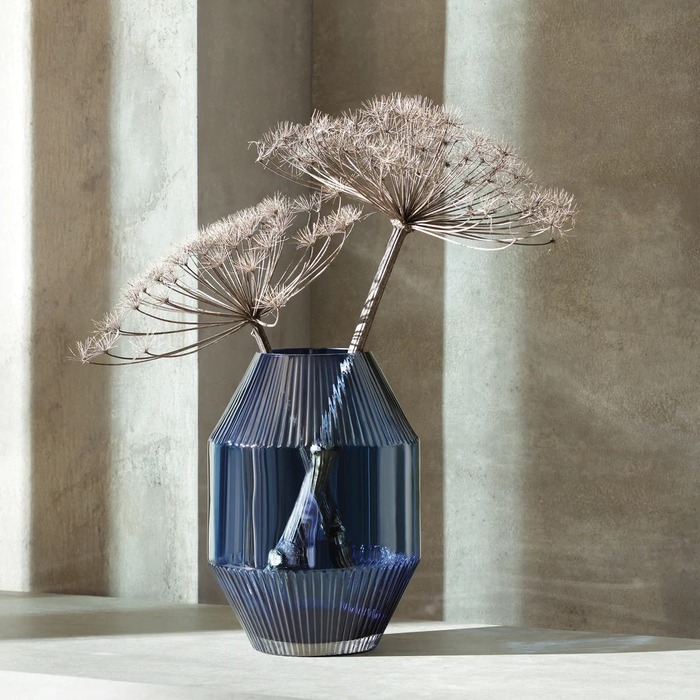 John Lewis's vase, which is made of sapphire blue glass, stands out because of its distinctive design. If you'd like to go the extra mile, why not send a stunning bouquet of flowers to accompany your 65 year wedding anniversary gift?
24. Rachael's Ceramics Cup of Eggs
To celebrate 65 years wedding anniversary, Oliver Bonas has a sapphire-colored egg cup that is sure to please. A beautiful stoneware egg cup is the perfect addition to any special occasion breakfast.
25. Bombay Sapphire and Original Newspaper Set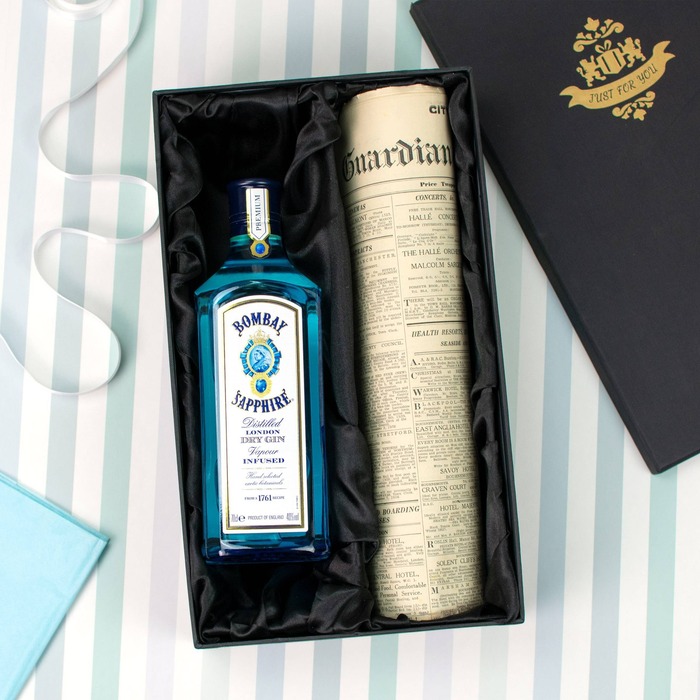 To celebrate your sapphire wedding anniversary, we recommend this bottle of Bombay Sapphire gin. It also comes with a newspaper from a specific date that you specify, allowing you to pick the exact day of your wedding.
Oh Canvas tips

It's quite versatile and may be used in anything from basic highballs to sophisticated dessert cocktails. If you're in need of some cocktail ideas, we've included a few below:

Candy Corn

Early Autumn

Sapphire AlpineMassey Cocktail

Pineapple and Sage Gimlet
26. Anniversary Pillow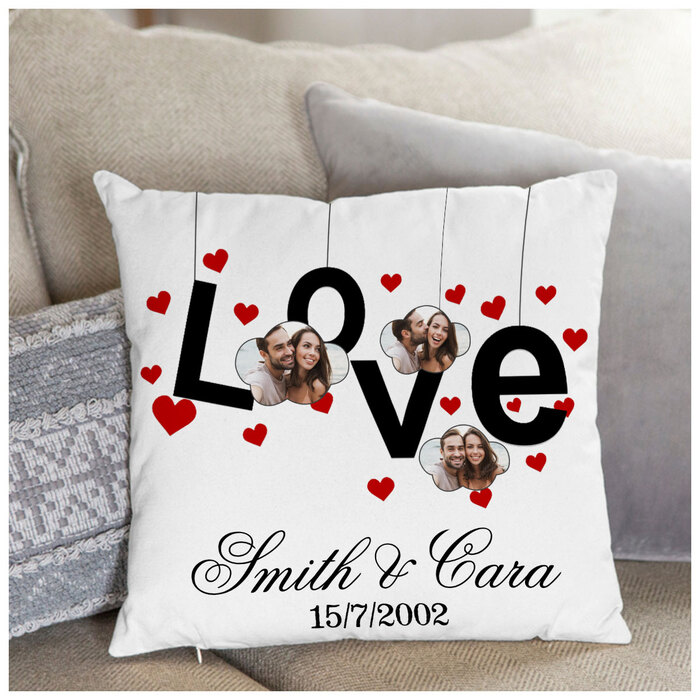 The names of the happy couple and the date of their wedding are embroidered on this lovely anniversary pillow. It's a wonderful remembrance of their special day, and something they can use every day in their house.
27. Canvas of the Greatest Parents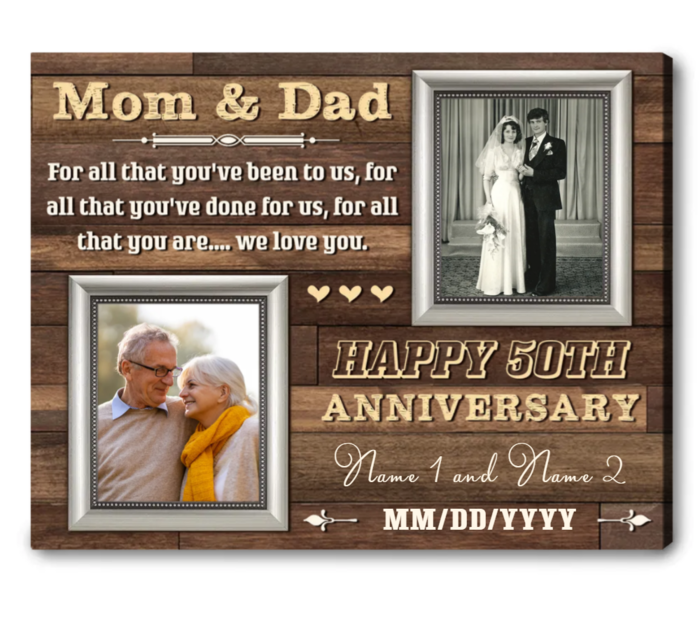 You can't go wrong with a wooden canvas bearing an encouraging quotation if you're looking for a meaningful present to give someone with 65th anniversary gifts.
28. 65th Anniversary Wedding Ornament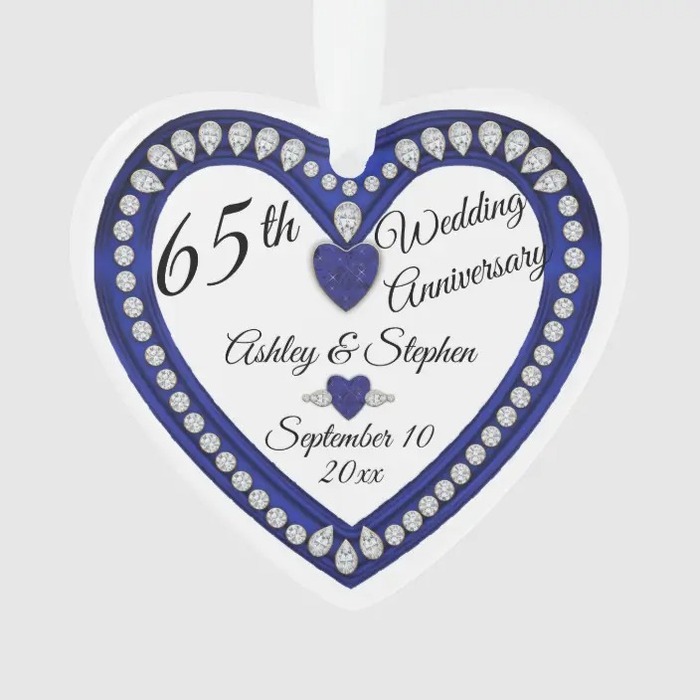 Giving a 65th-anniversary ornament as a 65th-anniversary gift is the perfect method for you to build everlasting loving memories for your friends, parents, and grandparents.
>>> Don't miss out on this recommendation about the 50th Anniversary Gift!
29. Hydrangea Solar Garden Lights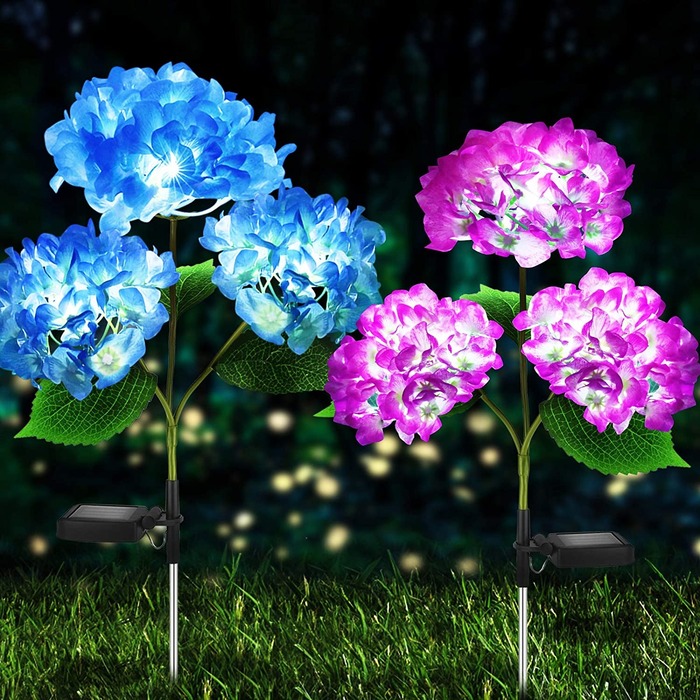 The perfect decoration for your garden, yard, patio, and landscape, these beautiful solar flower lights come in a variety of vibrant colors and high-quality, soft fabric material.
30. Gift Basket, Broadway Deluxe, Filled with Chocolate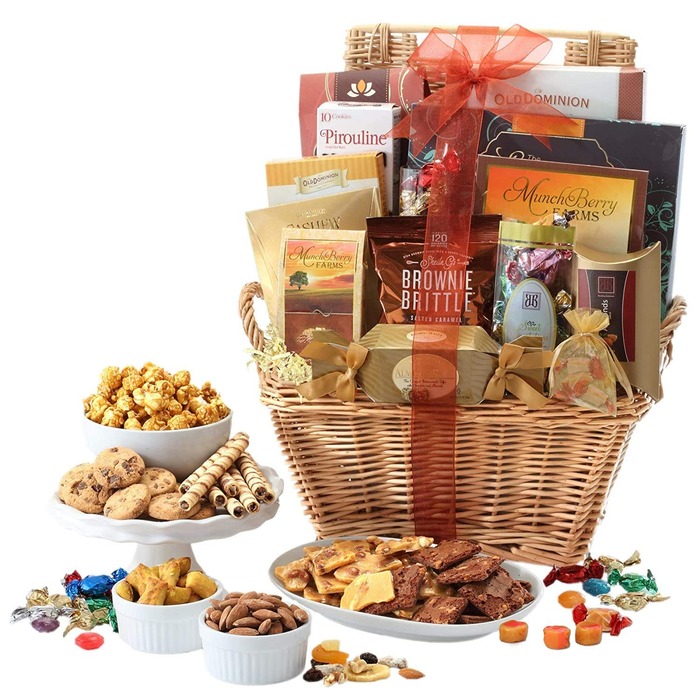 This Deluxe Gift Basket is the best way to show someone how much you care, and it works especially well as an anniversary gift for couples. Including a variety of the finest chocolates in its contents. Including Chocolate-Covered Lint Truffles, Cookies, and a variety of Flavored Nuts and Sweets Snacks.
31. Bouquet of Marvelous Hopes and Dreams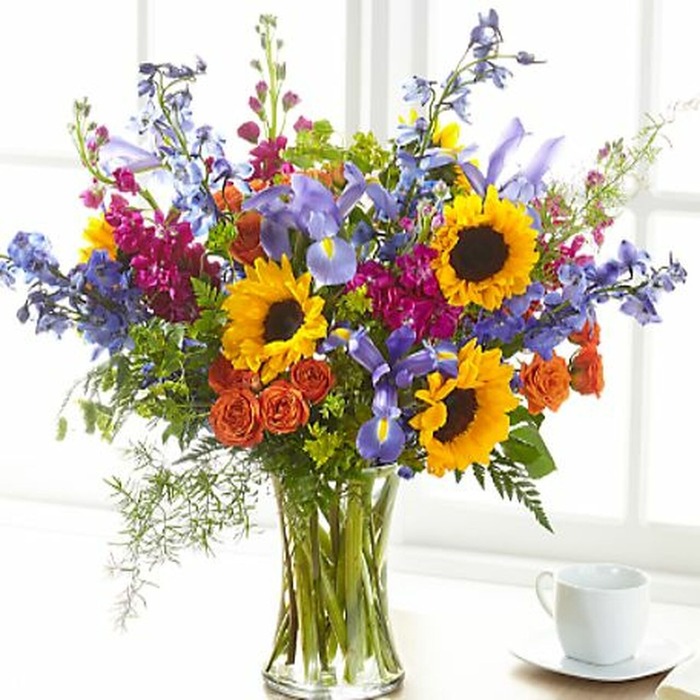 This vibrant bouquet is always a customer favorite because it contains a vast and fascinating variety of flowers in a single arrangement. Hydrangea, roses, lilies, alstroemeria, gerberas, daisies – they're all here in exquisite variety.
>>> Read more:
Well, take heart. A marriage lasting 65 years is, in fact, the longest in history. You and your spouse or your parent will soon celebrate 65 years of marriage. Those were some of the most trying years of your lives, but you had each other, and you overcame it all together. Above are some beautiful blue sapphire 65th anniversary gifts to mark this significant occasion.