When you've been married for a quarter of a century, you are likely going to be doing a toast at significant celebrations or moments you experience. Amazing, to say the least. With whoever you've been able to experience both joy and sorrow, you've discovered your soulmate. That long-lasting love deserves spectacular 25th anniversary gifts to mark the occasion. Is there a specific answer to this question? To learn all there is to know, check out Oh Canvas' blog!
What's the 25th Anniversary Gift?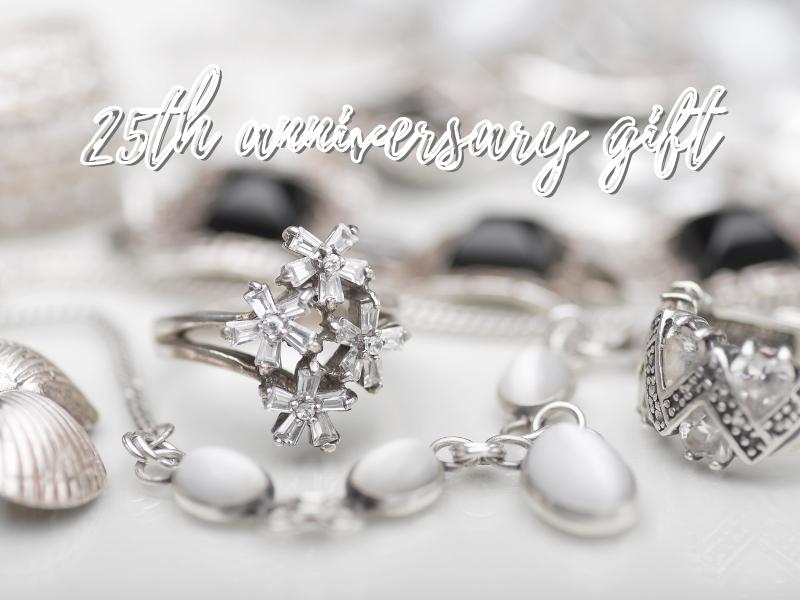 Symbolic of both classic and contemporary gifts, silver is the only choice for this simple milestone. When it comes to celebrating 25 years of marriage, silver is the ideal precious metal because of its brightness and brilliance. Moreover, silver also represents the value of a long lasting marriage.
Your present doesn't have to be constructed of metal to meet the quarter of a century anniversary motif, since it is also the traditional 25th anniversary color. Traditional 25th wedding anniversary gifts are available in a variety of styles and price points.
Gift for a 25th Wedding Anniversary
Don't worry if you're stumped when it comes to this year's milestone typical gift material. To help you out, we've done the legwork for you and compiled a collection of the greatest quarter-of-a-century anniversary presents to help you enjoy life's biggest moments with your love. We've got something for everyone, from a magnificent piece of sterling silver jewelry to a heartfelt art print in the color of your 25 years milestone anniversary.
25th Anniversary Gifts for Her
1. Silver Band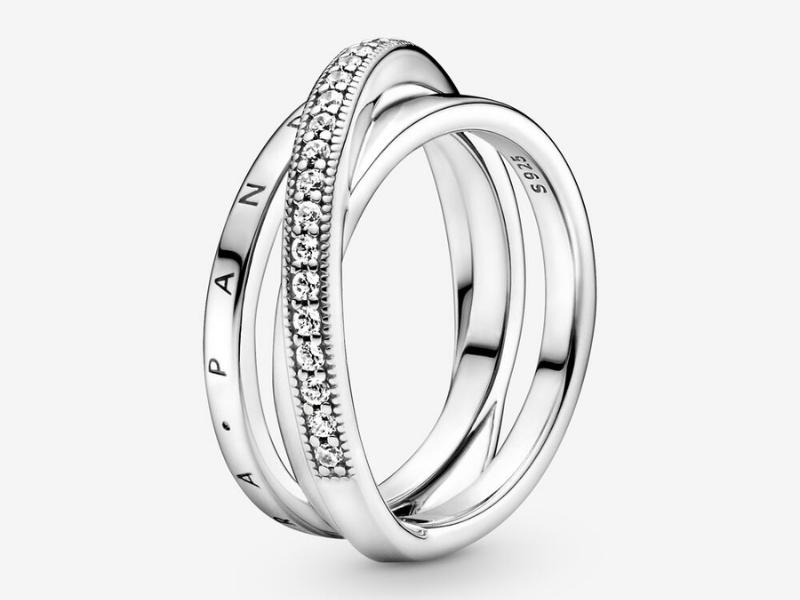 The jewelry selection on your spouse's right ring finger is likely to be the same as it has been for the last two decades. If you've been hoping for something to update their collection, this is the way to celebrate the inner beauty of your marriage. Your everlasting love and dedication to each other are represented by this stackable eternity band, both glitzy and heartfelt!
2. Sheet Music Art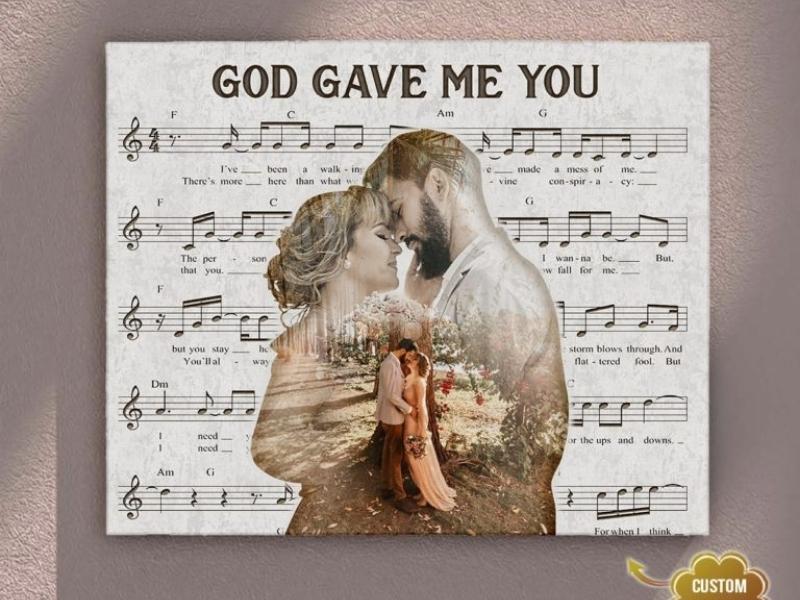 There have been 25 years, meaning that you know everything about each other, but it seems like just yesterday that a couple said "I do," yet it all comes back to that perfect milestone. As a result, some of the most significant 25th anniversary gifts for her are a reminder of that special occasion. Your first dance music may be painted on a photo frame canvas wall art in an appropriate silvery color for your big day.
3. Sterling Silver Linked Circle Studs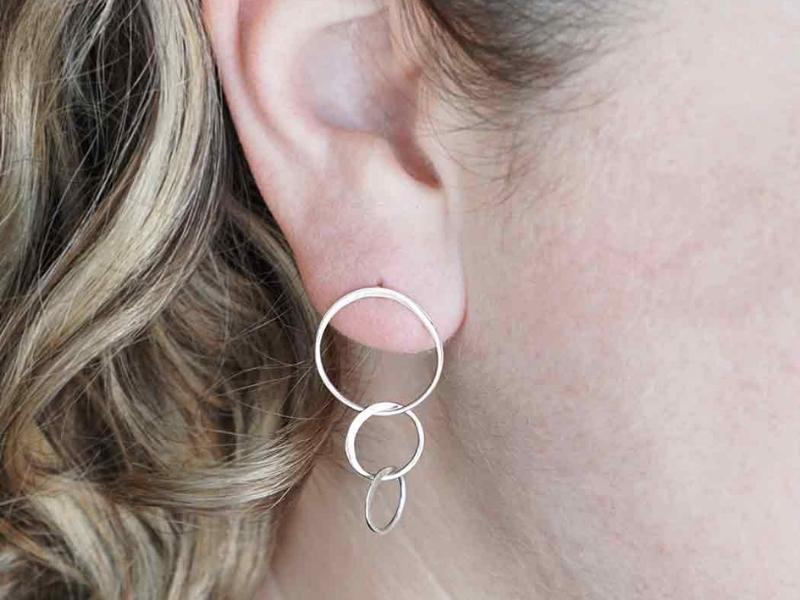 What would a silver jubilee be in the absence of something glimmer? This pair of timeless studs symbolizes your unending love and captures the meaning of your partnership with its interlocking circles' design. They'll make your partner feel like a million dollars. That makes them something that you may earn as soon as possible!
4. Dainty Pendant Necklace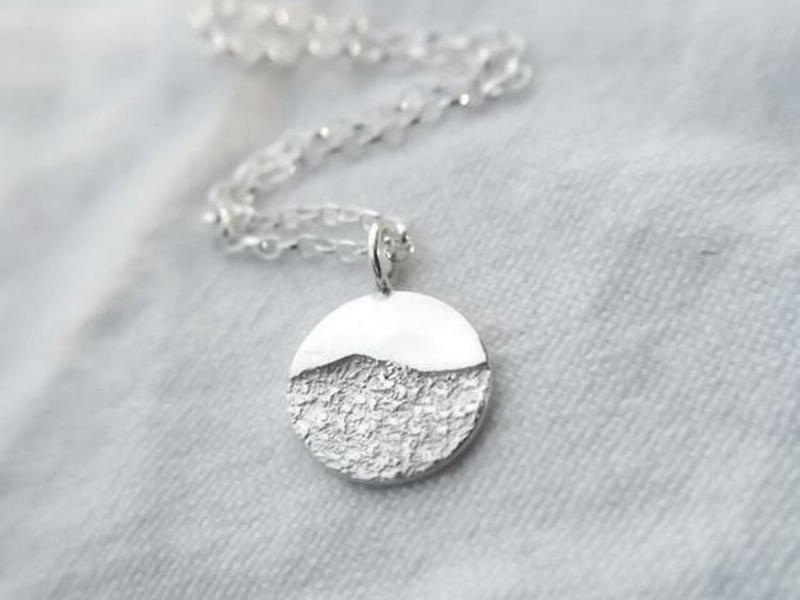 Necklaces composed of sterling silver and white crystals, such as this delicate pendant silver necklace, may help enunciate the hidden beauty of your love from the deep bottom of her heart. Wearing it as part of their regular outfit would look as good as wearing it with a formal dress for the evening. For silver anniversary engraving ideas, have their initials or an acute emblem etched on them.
5. Silver Roses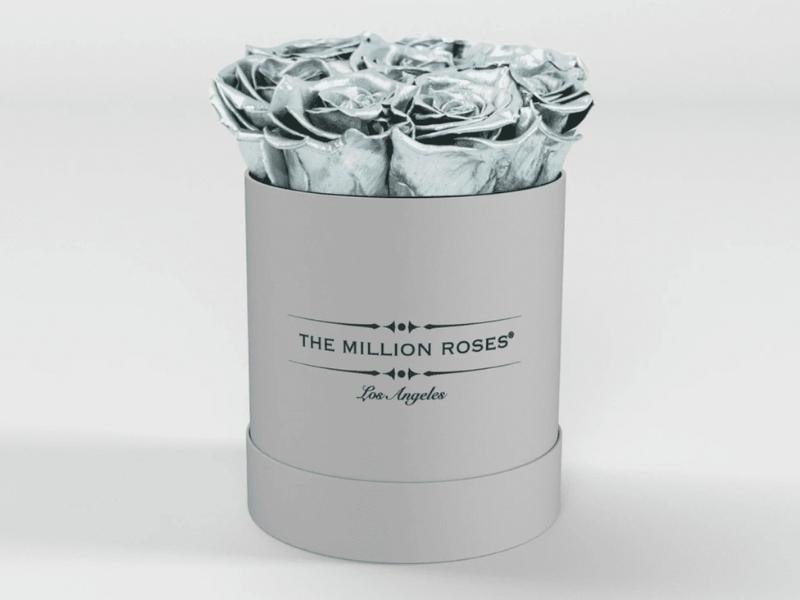 Classical 25th anniversary gifts for partners like bouquets of roses wither and perish over time because of their beauty. With this flower box, it's simple to fix the problem. The glycerin-based rehydration technique allows these million roses to endure for up to three years. The silver metallic sheen of this flower bouquet certainly sets it apart from any other arrangement.
6. Personalized Photo Gift For 25th Wedding Anniversary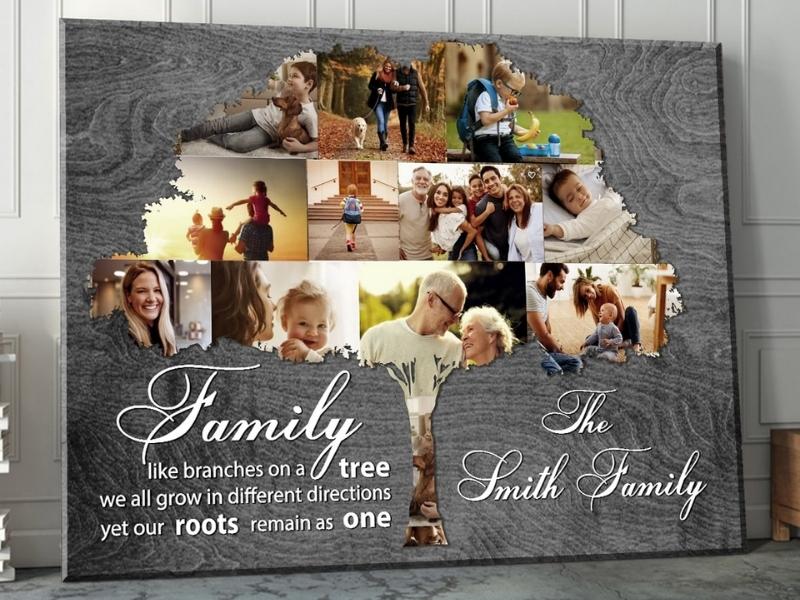 Our canvas art print of a family tree photo collage is not just a unique-looking piece of wall decor, but there's a special meaning. This gift is something wonderful to preserve a variety of special memories for you and your loved ones. This publishing family photo frame will look great in your home. Also, it's a great 25th anniversary gift option for people like parents, and closest friends… You don't have to be an artist to create a lasting remembrance of your loved ones.
7. Vintage Silver Candlestick Holders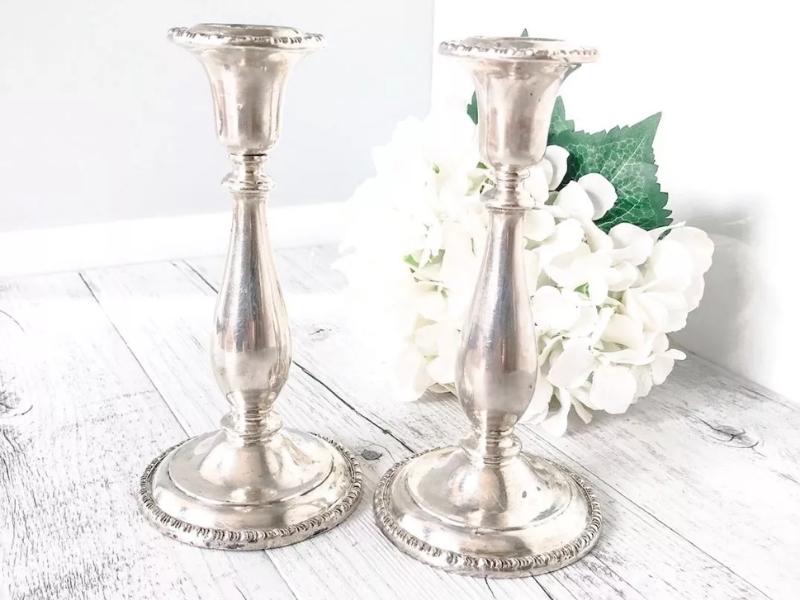 This 25th anniversary wedding gift is something noteworthy to remind you that your marriage has lasted the test of time if you choose a cherished item from your past. I'm a fan of antique silver candle holders. If you ask me, there's nothing more romantic than decorating luminous candle flickers for a cozy couple's party.
8. Silver Charm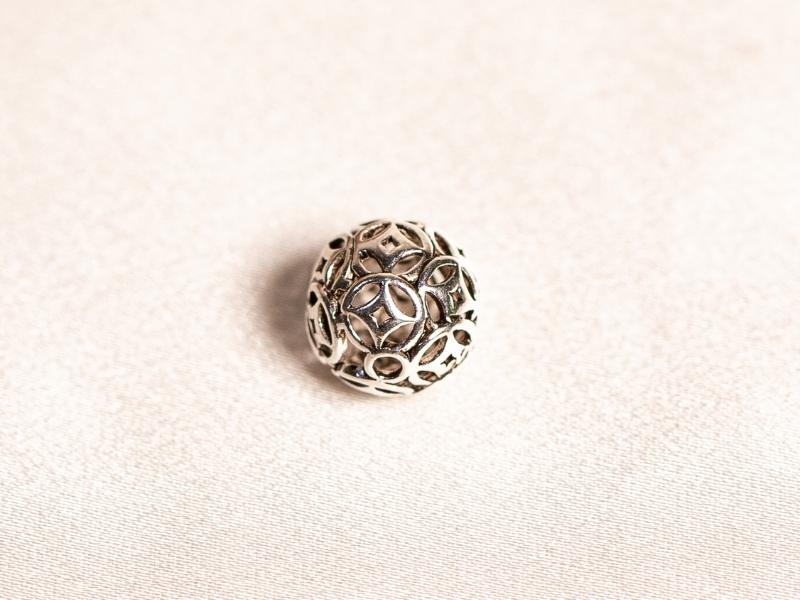 Whether she wears them every day or just on special occasions, silver charms are a traditional and timeless 25th anniversary wedding gift. This is the perfect way to show your love and how much you appreciate and need her in your life by gifting her a stunning silver piece instead of the charms you've given her over the years. Her first 25 years together will be brought back to each other every time she wears it.
9. Interlocking Bangle Bracelet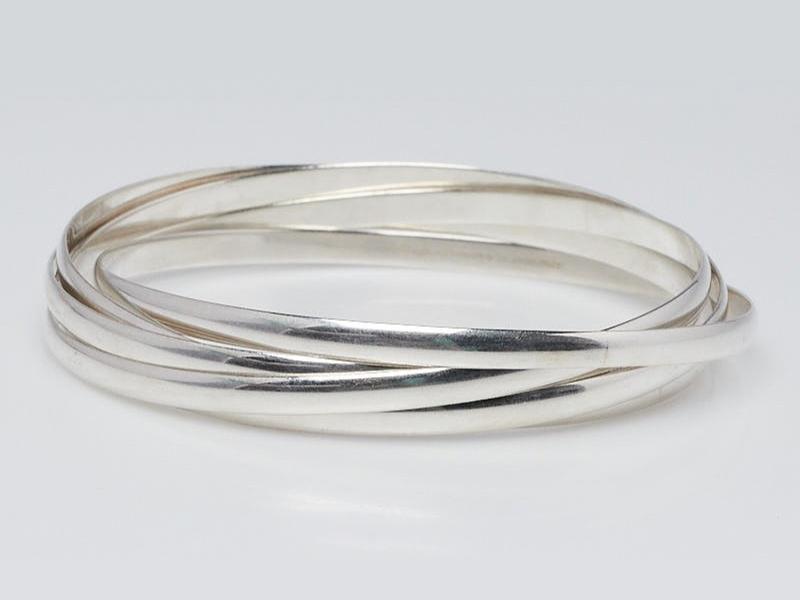 Even if your partner isn't a big admirer of jewelry, there are some anniversaries in which a piece of wearable art is the perfect present. This long-lasting bracelet, which is made of sterling silver, is perfect for both a formal and informal appearance.
10. Sterling Silver Hoop Earrings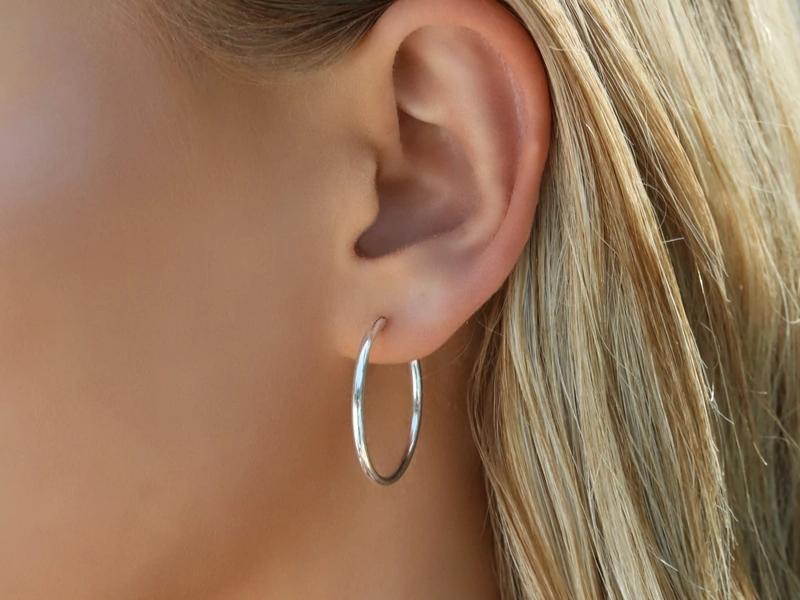 These understated but stunning earrings are also a big hit with me. In order to mark your traditional 25th milestones with jewelry, but since your wife likes other precious metals as well, they are a variety of perfect options for years to come.
11. Silver Locket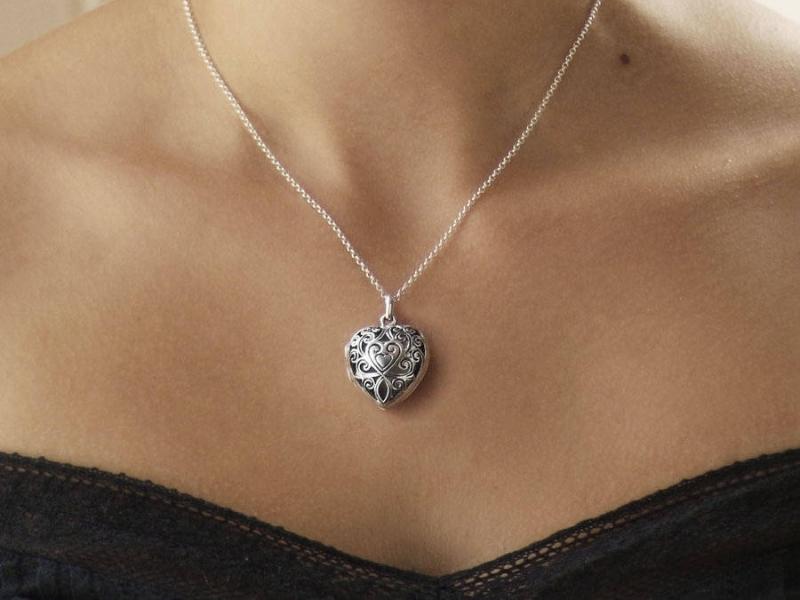 Consider a locket as an anniversary present by year that is both beautiful and useful. This piece of jewelry may be worn every day and on special occasion by your wife, and it will keep an image of you two near to her heart at all times.
12. Silver Caress Sculpture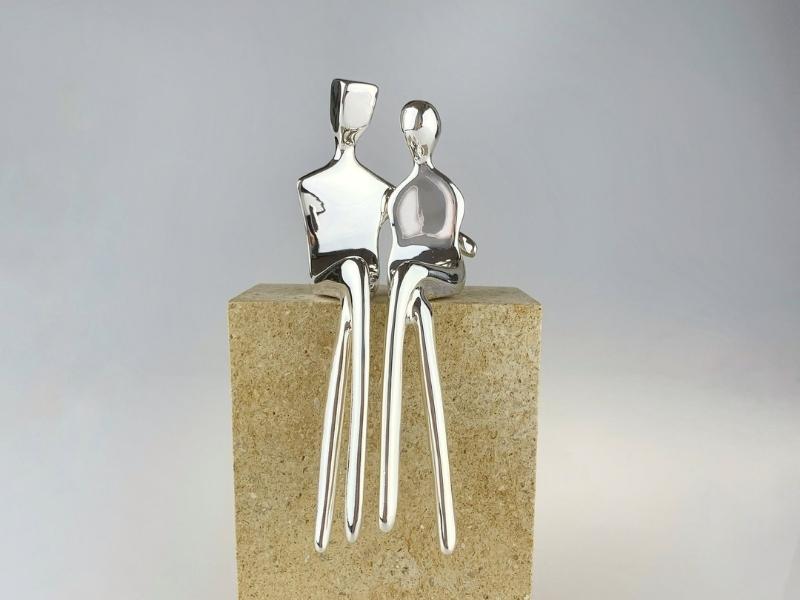 It's hard to believe how beautiful this piece of art is. It's both romantic and contemporary at the same time. There's a strong possibility she'll be as obsessed with everything, from minimalist to modernist design if she's in a relationship with you.
>>> Read more: Top 30 Unbeatable 20th Anniversary Gift Ideas for A Couple
25th Anniversary Gifts for Him
13. Sterling Silver Engravable Tie Bar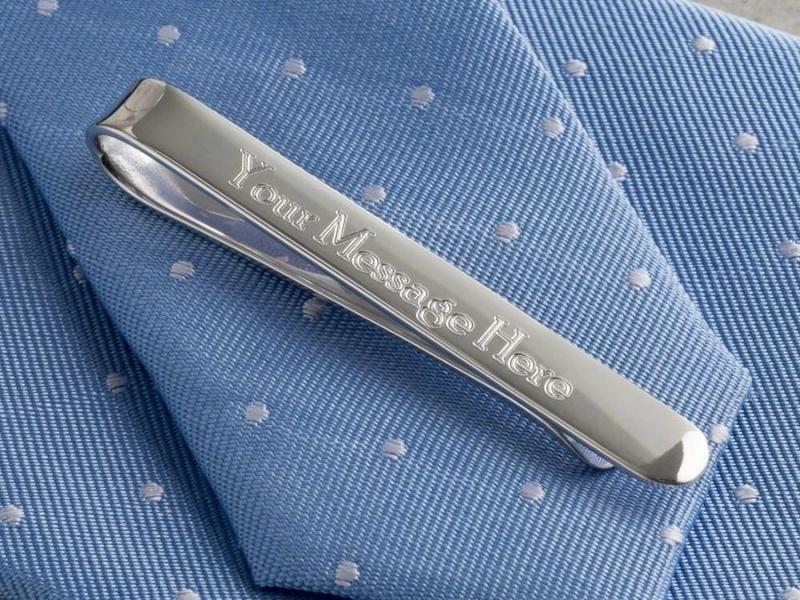 If you're stuck for 25th anniversary engraving ideas, go no further than this list. Don't panic if you can't get a reservation at your favorite restaurant. Dressing up in your finest gear is one method to make a celebration at home seem as meaningful as a party at a friend's house. This stylish tie bar may be personalized with a variety of graving options, such as the initials of both of you, your anniversary date, or any special message for each other.
14. Silver Chain Necklace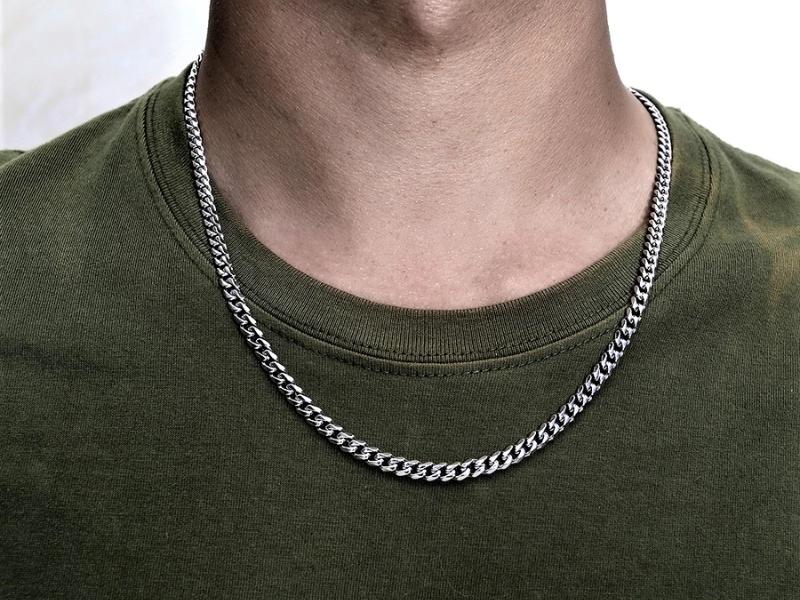 If your S.O. appreciates a little glitz, a simple silver chain would go well with everything available in their closet. It's never too late to start wearing jewelry, even if he doesn't generally do so! Make certain, though, that anything you choose reflects your partner's own sense of style.
15. Street Lovely Canvas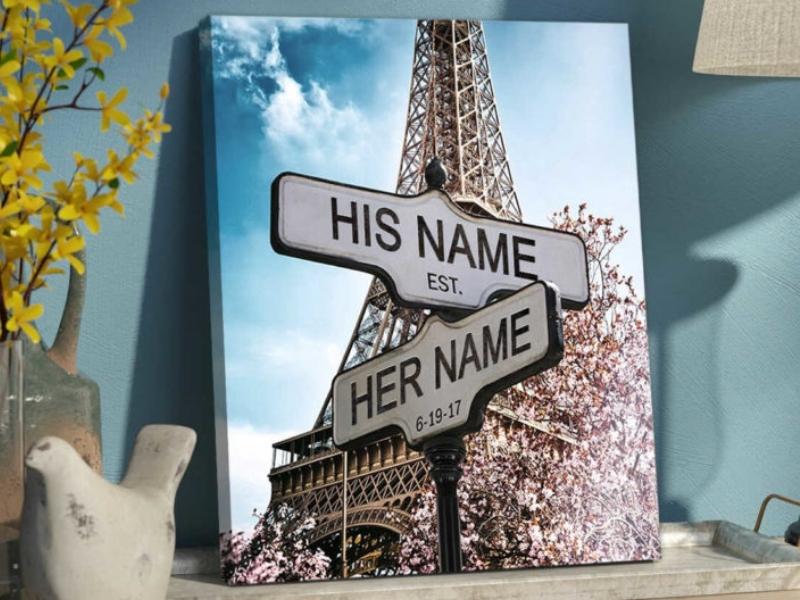 An art print commemorating the special location of your first encounter is a lovely way to show how far you've gone. This chic picture art commemorates the first time the two of you met paths. It's one of our favorite silver anniversary gifts since it's framed in the year's customary color.
Tips: Get your email savings here to get the best offers at our personalization mall!
16. Silver Watch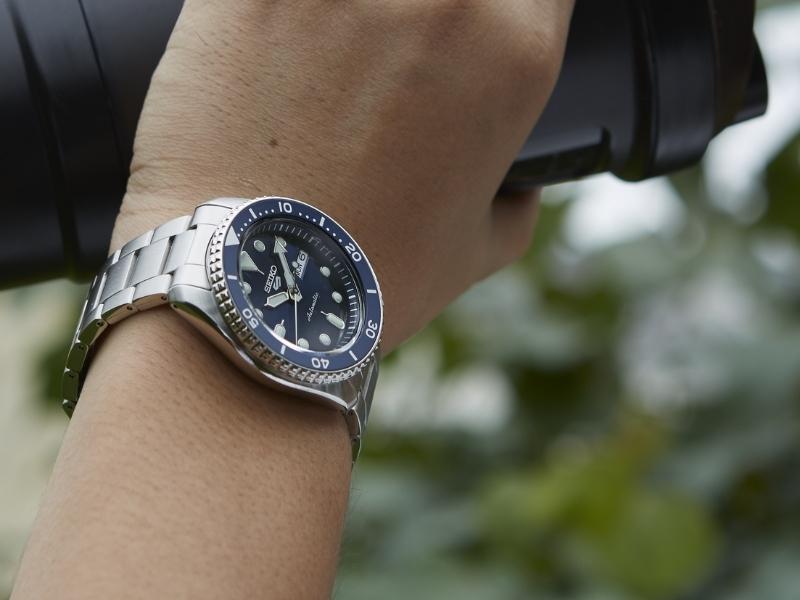 This stainless steel watch would be a thoughtful gift for my husband who appreciates fine timepieces. The open aperture dial and all-over silver color scheme give this watch a sleek, contemporary look, while the self-winding mechanism within pays homage to vintage clocks.
17. Wedding Vow Books Handmade With Silver Silk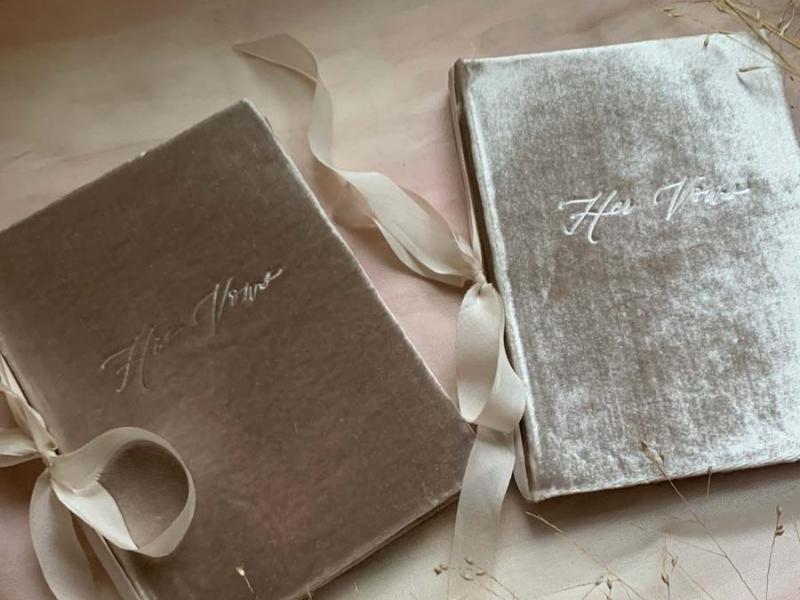 Silver promise booklets are a thoughtful traditional gift for your marriage. Tell him you wish to reaffirm your vows when he asks why. Silver silk is used to create this sophisticated pair, which would make an ideal 25th anniversary gift for the husband.
18. Coffee Brewer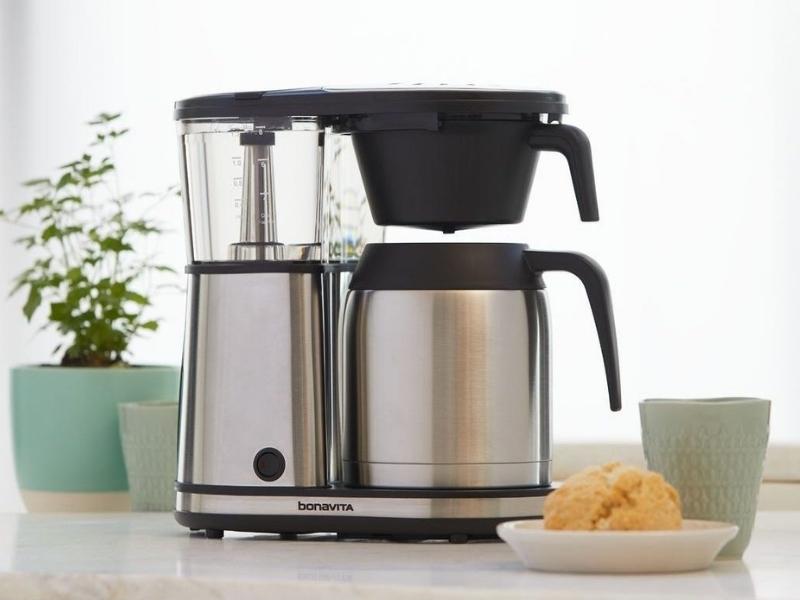 Is there anybody in the house who would like to hold a coffee party? Modern coffee brewers may make the couple's mornings more efficient. These parents' lives will be forever changed with the arrival of their first child.
19. 25-Year Wedding Anniversary Gift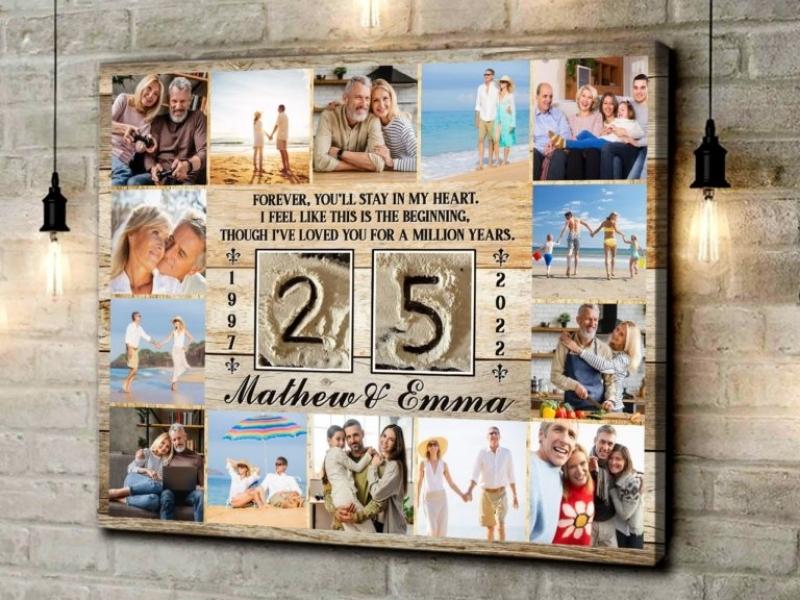 The anniversary gift you give your spouse should be distinctive and meaningful, capturing the difficult and wonderful events you've shared over 25 years. As a classic 25th anniversary gift, this option is affordable and meaningful for everyone. This printed canvas may be customized with each name, anniversary date, photo, and personalized message as a marker of the milestone moments with your love. It's time to show how much you care by celebrating your silver wedding anniversary with your spouse.
20. Stamped Personalized Key Chain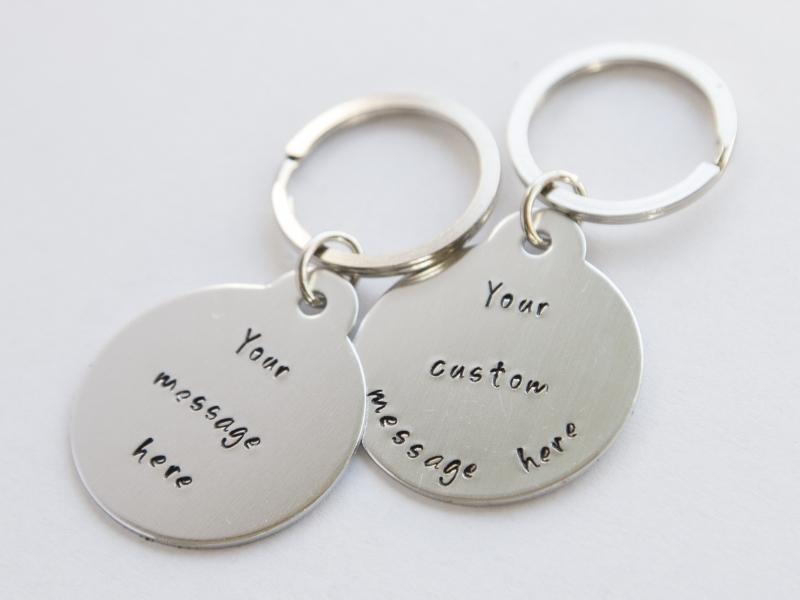 This customized key chain is the best 25th anniversary traditional gift choice he can take with him wherever he goes for a tiny gesture. A metal piece contains the unique message attached to the coin's reverse.
21. Silver Fortune Cookie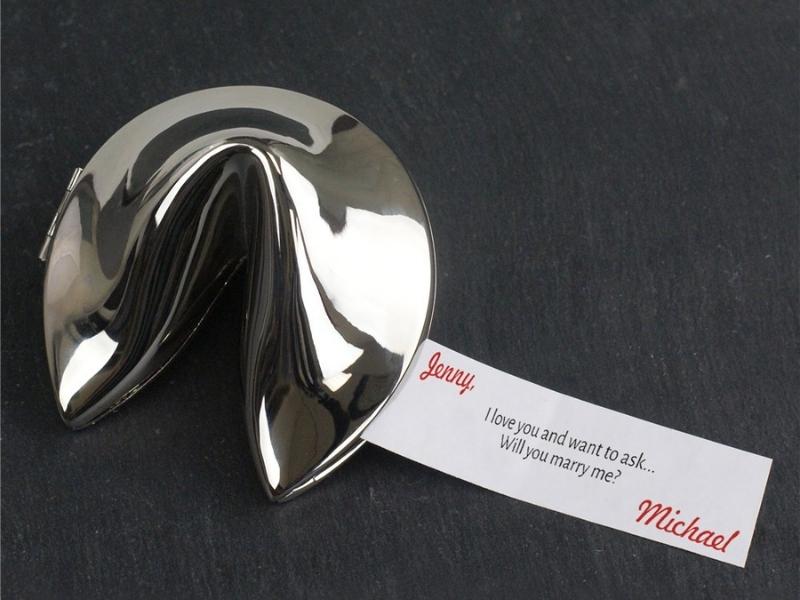 Make your loved one's day by presenting them with this modest yet meaningful token of your affection. Fortune cookies are nothing new, but this one is a little bit different from the others. In a takeaway box, the cookie has a customized greeting. Love and admiration may be expressed in up to two lines of text.
22. Espresso Machine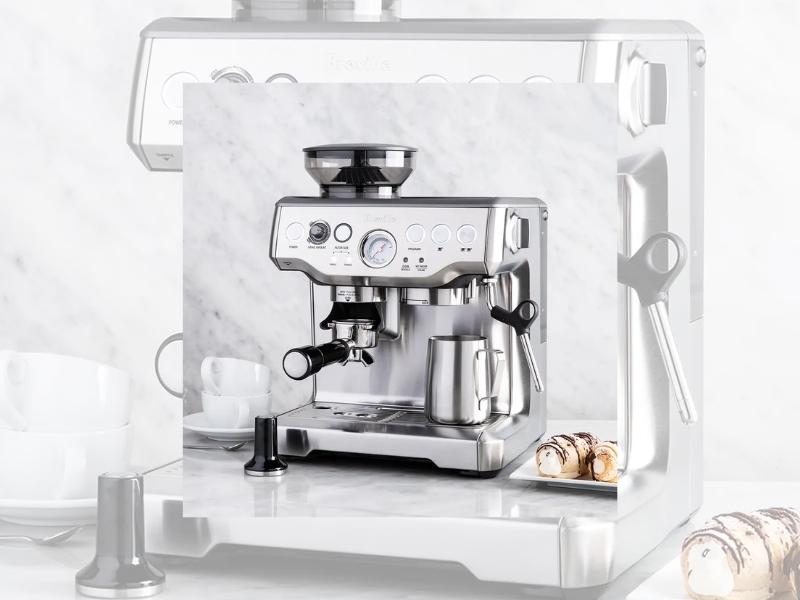 In terms of appearance and performance, this isn't your typical coffee maker. In addition to the brew temperature, the grinder has more than a dozen options. In addition, the stainless steel coffee maker will look extra special and beautiful on any counter, and the integrated storage conceals accessories when not in use. Let's celebrate your anniversary with a light party, including sweet cookies and aromatic espresso cups.
23. Silver Guitar Pick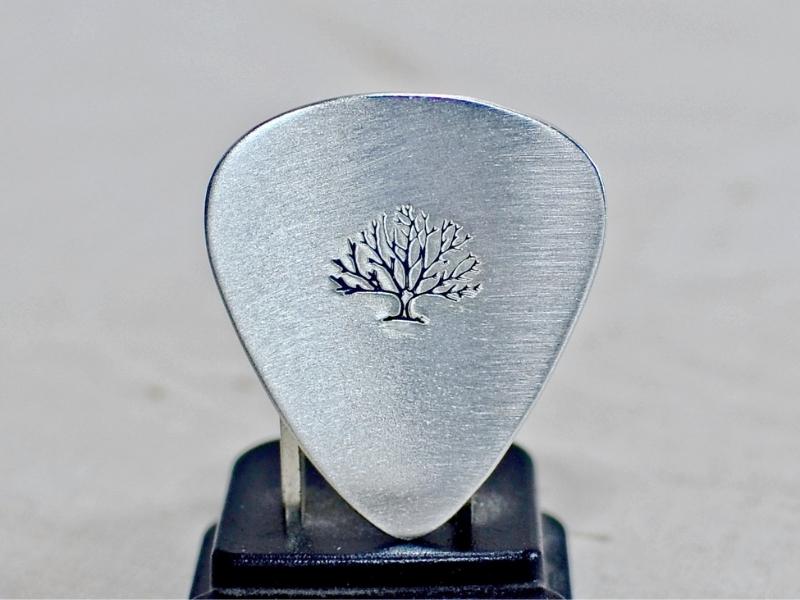 You can't go wrong with this real silver guitar pick as the best 25th wedding anniversary return gift theme for your musical hubby. You may frame it as a sentimental memento for him to keep on his desk in the form of a coin dish.
24. Silver Fishing Lure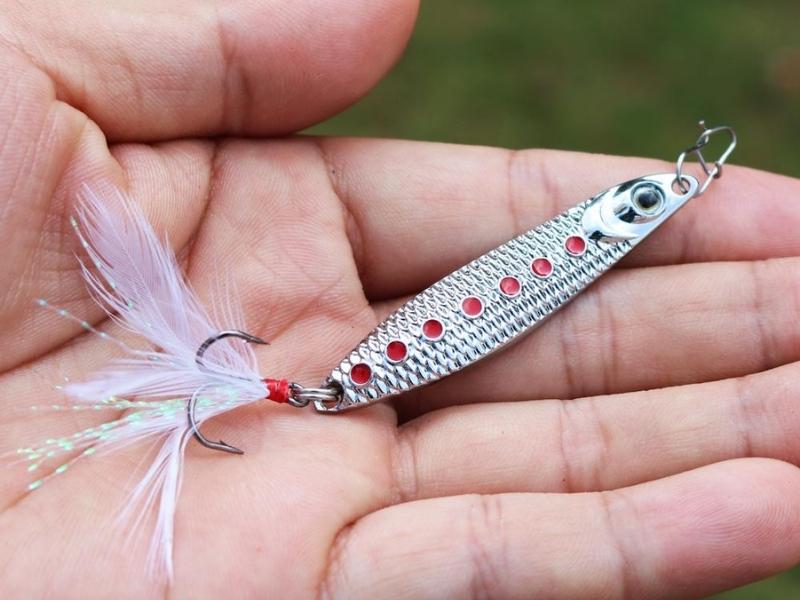 He'll be hooked on this silver lure when it comes to fishing. The best part is that you can personalize this handcrafted 25th wedding anniversary gift for your spouse with your wedding date to make it even more meaningful for years to come. Consider booking a cooking class to make this perfect gift more meaningful!
25. Silver Cufflinks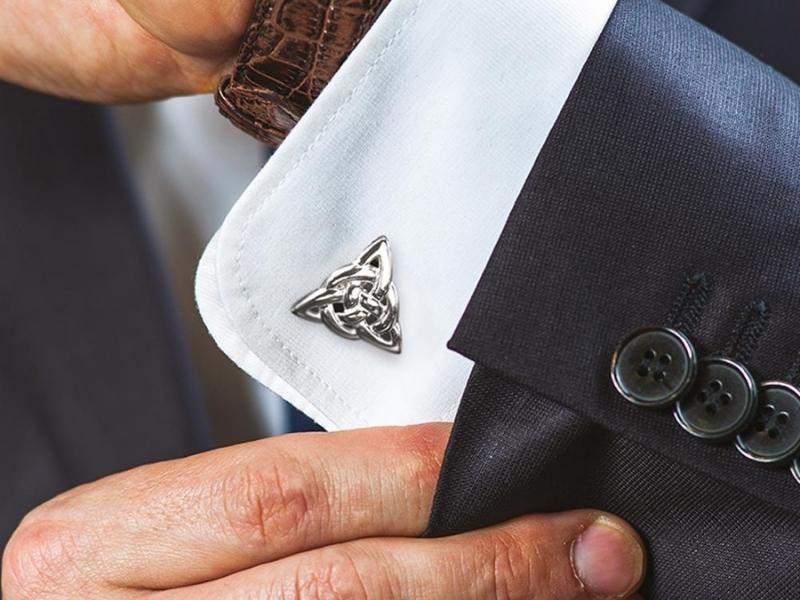 Cuff links are a basic item for any man's wardrobe, and this simple silver set is one of my favorites. It's a given that he'll be delighted to play them on your wedding anniversary! Attached it with a handwriting collar will make him thrilled for sure!
26. Silver Ballpoint Pen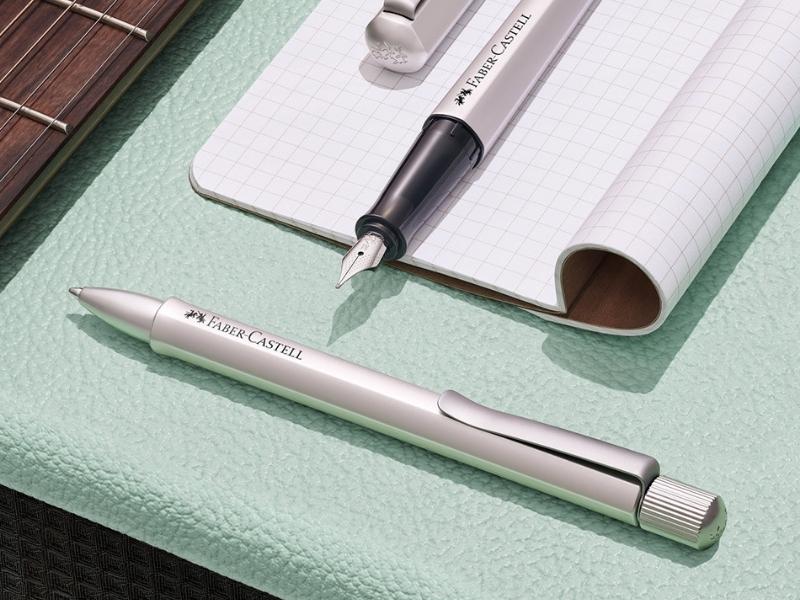 A high-quality pen is a need in everyone's life at some point. It's a pen that can handle all of the crucial paperwork and cards that life throws at us. Get him a pen he'll like using to sign his name and send you to love letters from time to time.
27. Personalized 25th Wedding Anniversary Gifts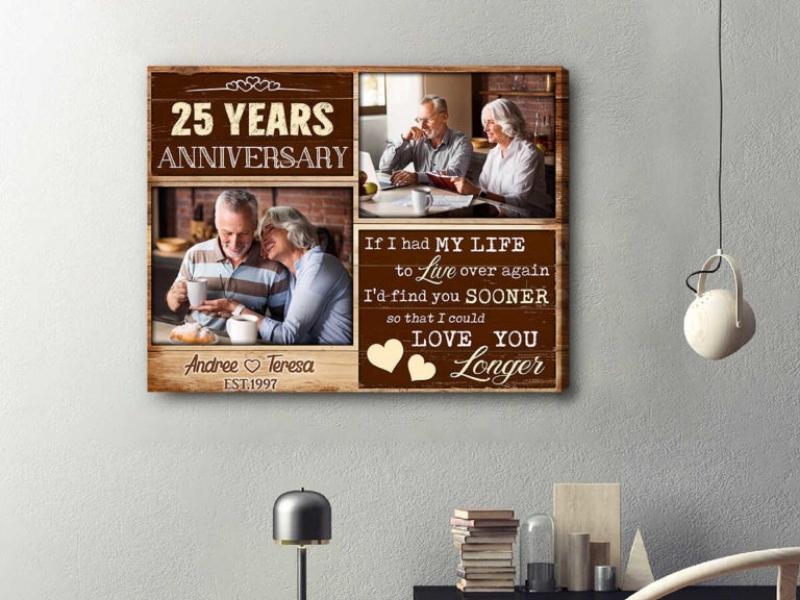 When it comes to gifts for 25th anniversary gifts for couples, a bespoke canvas print is an excellent option. In addition to adding photographs, you can also alter the names and dates on the images. This one of the 25th wedding anniversary decoration ideas stands out from the crowd.
28. Sterling Silver Paperweight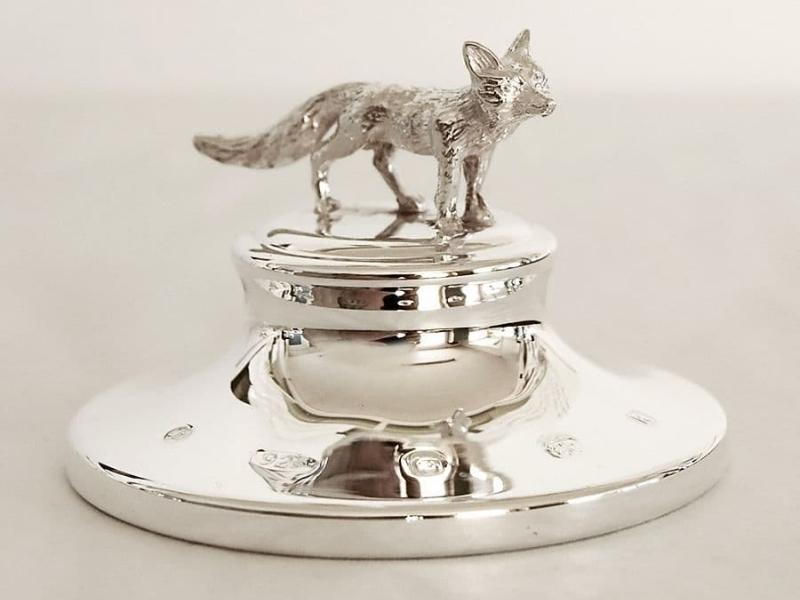 Invest in a silver paperweight to spruce up his workspace. With this 25th marriage anniversary gift traditional, you may give him a memento of your 25 years together while yet keeping it inconspicuous.
29. Pure Silver Moon Coin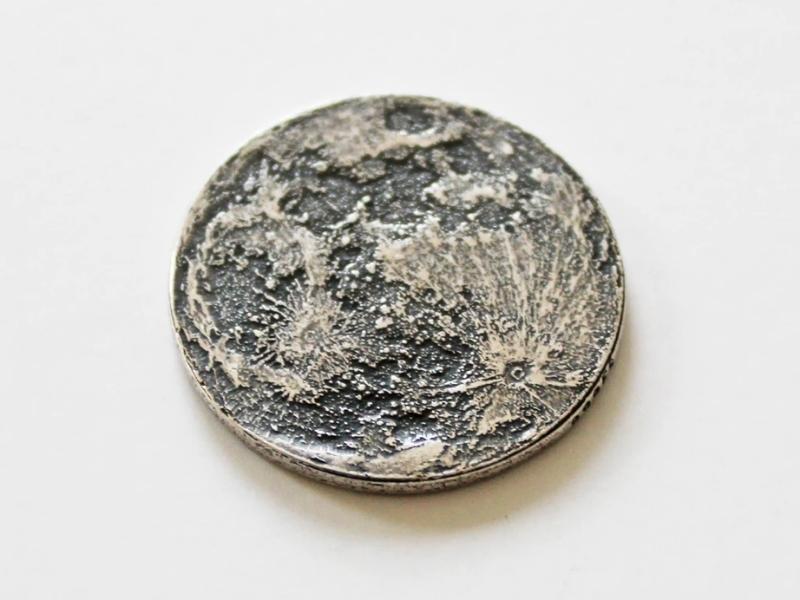 Amateur astronomers will appreciate the attention to detail in this one-of-a-kind moon coin. For those couples who vow "I'll love you to the moon and back," this one of 25th anniversary engraving ideas will be a valuable reminder for years to come of their devotion to one another.
30. Silver Luggage & Tickets to Somewhere Special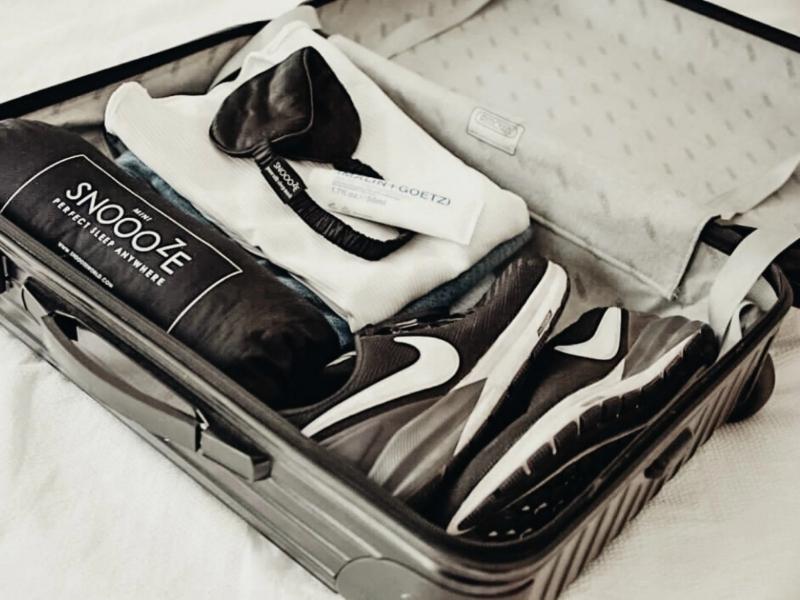 The 25th wedding anniversary is a perfect excuse to take that journey around the world you've always dreamed of taking with your spouse. Go on a luxury cruise or a vacation abroad to keep making lifelong and new memories. Make your 25th anniversary trip ideas even more memorable by spicing them up with a silver baggage tag.
31. Silver Corkscrew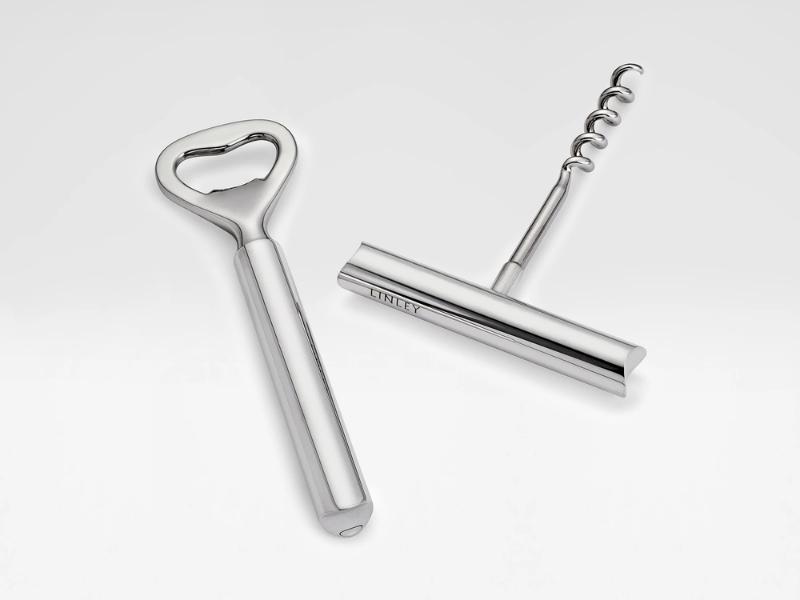 Open a bottle of your favorite wine to celebrate your quarter of a century anniversary. With this sterling silver corkscrew, you can make it even more unique. If you're not going to overspend now, when are you going to?
>>> Read more: Top 40+ Anniversary Gifts for Friends They'll be Delighted
25th Wedding Anniversary Gift Ideas For Couples
32. Custom Sheet Music Canvas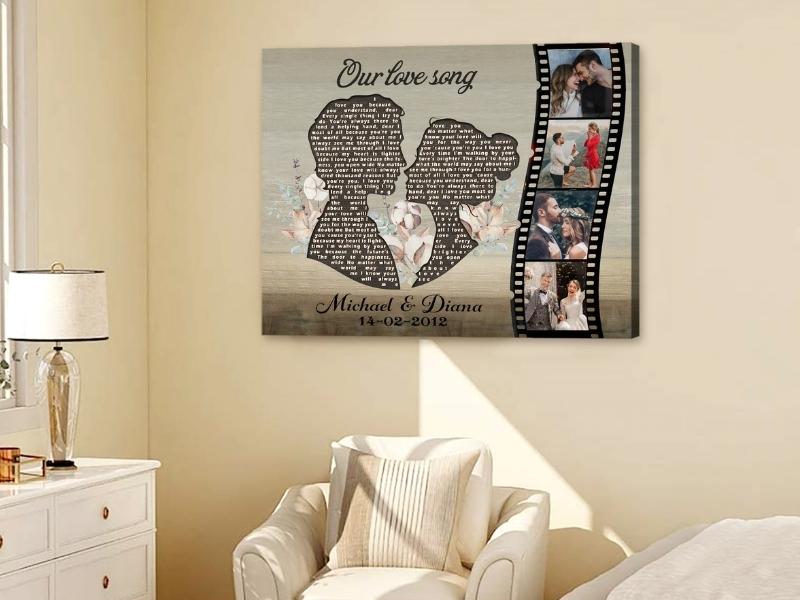 This music painting is a lovely 25th anniversary gift for your sister and brother-in-law who has stated, "that's our song". Aside from the fact that it's an eye-catching wall decoration, it also has a deeper significance. This would look fantastic in the family room or the workplace, and there is a heartfelt narrative to go along with it.
33. Memento Personalized Silver Tray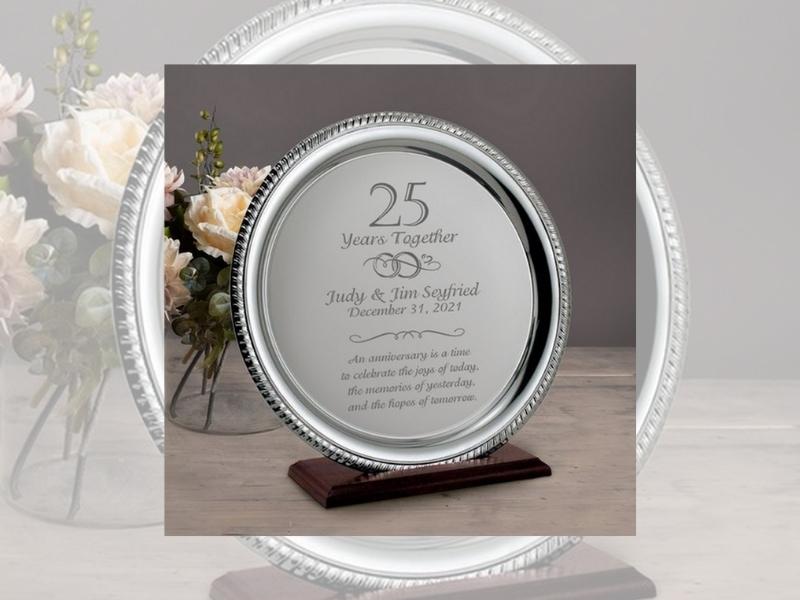 Silver gifts aren't only jewelry and accessories, as we've previously said. A beautiful tray engraved with the happy couple's names, wedding date, and 25 year anniversary milestone is just one of several best 25th anniversary gifts for couples that suit the traditional theme. What could possibly go wrong with this heirloom-worthy piece of memorabilia?
34. Past Present Future Silver Bracelet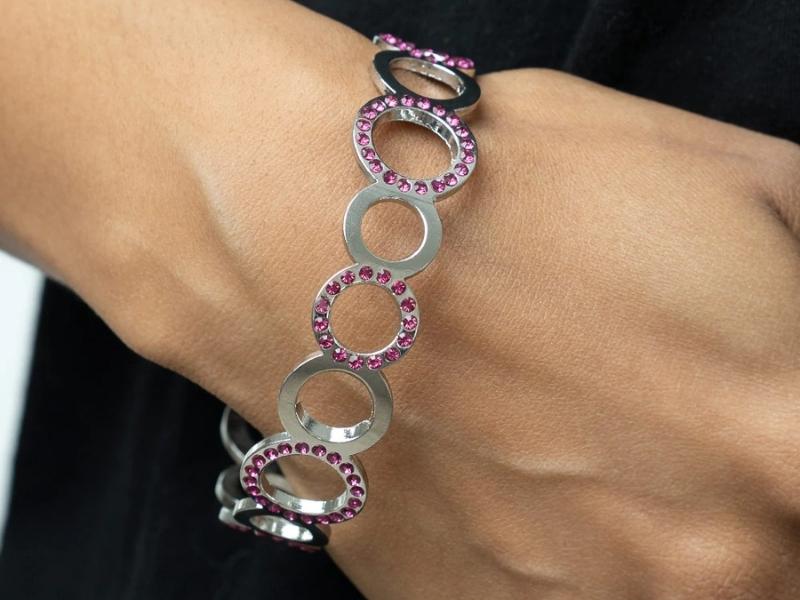 Sterling silver bracelets that represent the past, present, and future of your relationship are a perfect choice for marking such an important occasion. Wearing this piece of the important style of jewelry serves as a reminder to live in the now while remembering the past and preparing for the future.
35. Silver-plated Coin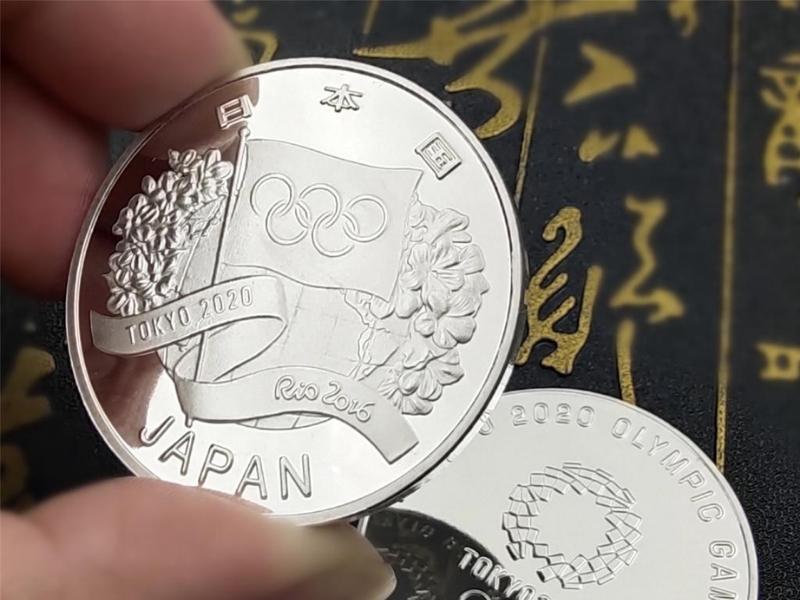 Looking for affordable 25 year anniversary gifts for him? This commemorative silver-plated coin is just the ticket. Embossed with a meaningful message on the front and a heartfelt poem on the back, it's a sentimental keepsake they'll treasure.
Bonus: The coin comes in an extra special elegant stainless steel gift box so it's ready to hand over right away.
36. Silver Sundial
If you're searching for 25th anniversary decoration ideas, this is a fantastic option. You may proudly put on a display in your house or lawn with this symbolic decoration that provides an exquisite homage to the silver jubilee milestone.
37. Slip Pure Silk Sleep Mask in Silver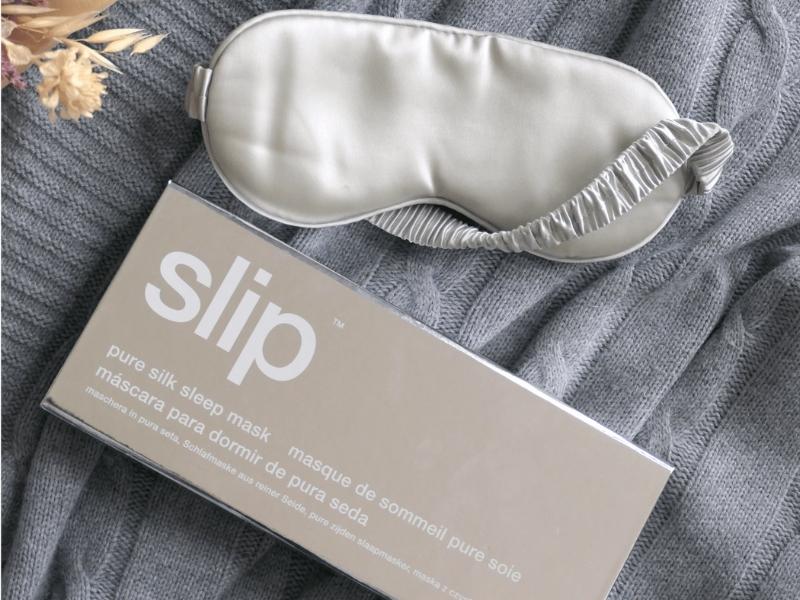 When it comes to 25th-anniversary getaway ideas for a happy couple, this silver eye mask provides a unique spin on the classic motif. Made from the finest silk, it's meant to be soothing on the skin while encouraging comfortable slumber. Plan a whole spa day for each other, replete with face masks, massage oils, and their favorite beverage.
38. Silver Plated Picture Frame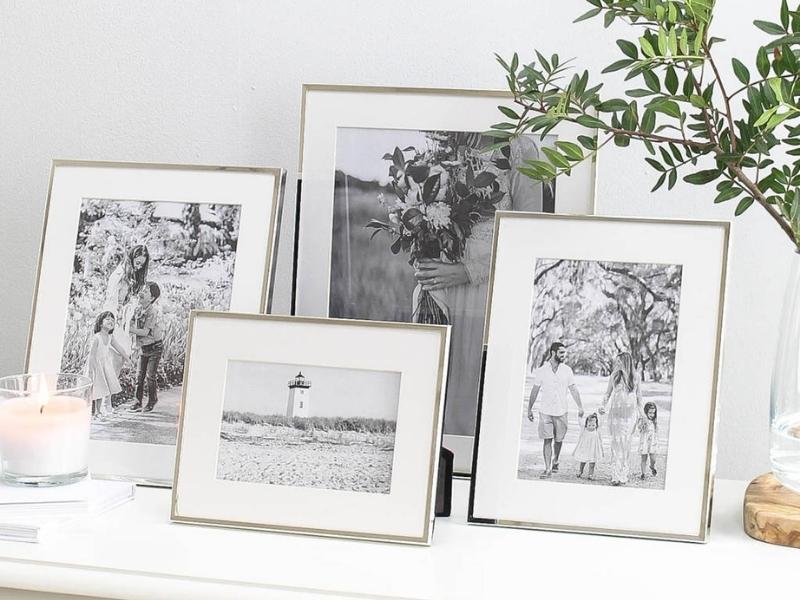 When it comes to romantic gifts for friends' 25th-anniversary, nothing beats putting a special memory in photo frames. Make a lasting impression occasion with a magnificent silver frame and a sentimental picture of them.
39. Silver Marble Coasters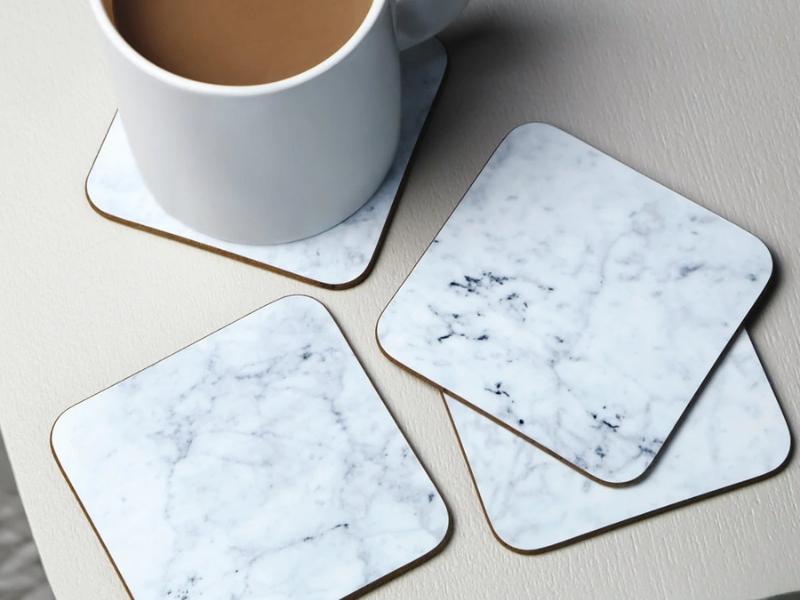 Gifts for a 25 year anniversarydon't necessarily have to be costly or extravagant. The nicest presents may be found in the tiniest of packages. Small but sweet, this set of silver marble coasters is sure to be appreciated by the newlyweds for a long time to come.
With each sip, they will be reminded of that happy day when they said "I do" with the beautiful engraving of their names and their milestone date. As an added bonus, their 25 years together are present because of their lovely gray marble.
40. Happy 25th Wedding Anniversary Custom Photo Canvas Print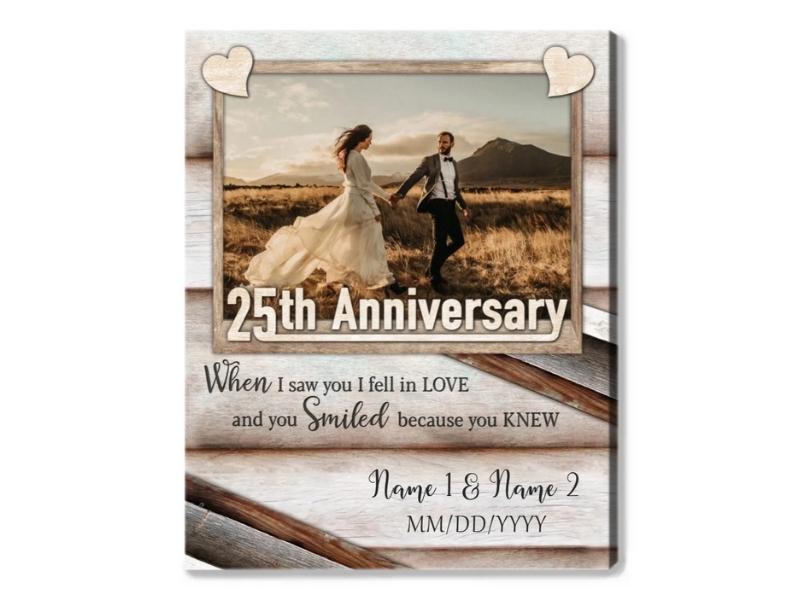 The personalized picture and text canvas poster for a silver wedding anniversary is an opportunity to commemorate the importance of cherishing the person you're married to for your entire life. Celebrate this milestone in the most lavish fashion possible if you're one of the fortunate few. This is one of the greatest 25th wedding anniversary decoration ideas since it's made of silver! Furthermore, you can add those special moments like a picture of you and your spouse, your names, your wedding day, the special day you met, or the birth of a child.
41. Beer Growler Set with Silver Crests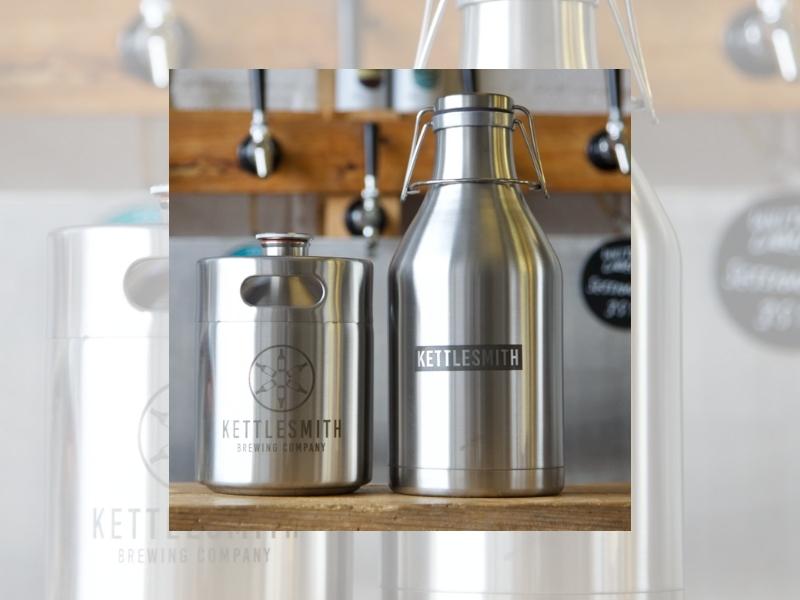 Get a growler and a pint glass in one convenient package for your spouse. The initial of your choosing is etched in an elegant metal crest on each piece of this set. Drinking a cold one from a pint glass will make your spouse feel like the beer king. Whether it's his newest batch of homebrew or his favorite craft beer from the local brewery, he'll enjoy utilizing the growler. Beer Growlers are the best 25th wedding anniversary gifts for a couple if you're a beer fan.
42. Diamond Eternity Ring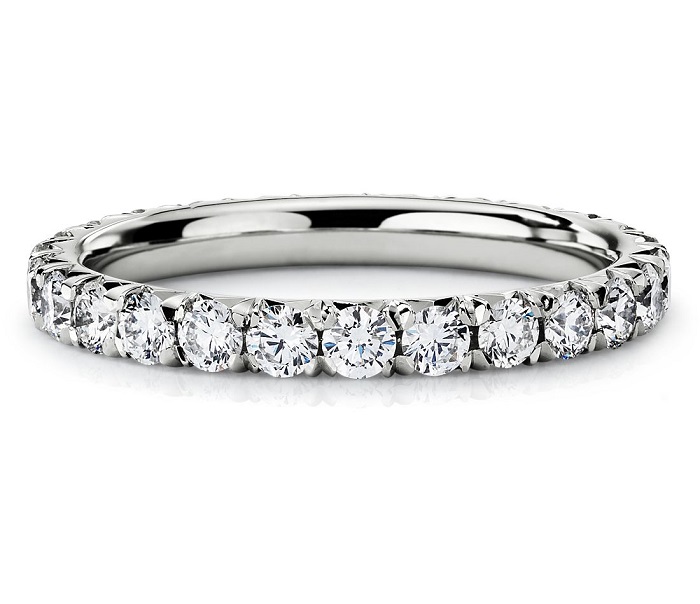 An eternity ring is a traditional anniversary present to commemorate the auspicious occasion and symbolize eternal love. Depending on your budget and choice, you may select between whole-diamond eternity rings and half-diamond eternity rings. The quantity of diamonds distinguishes the two styles: half-eternity rings are partly studded with diamonds, whilst full-eternity rings are embellished. Your loved one may wear their eternity band on the same hand as their engagement and wedding ring, or on the other hand if they prefer.
43. Blue and Purple Iris Flowers
Irises are most usually seen in blue and purple types, but yellow and white irises are also available. The three blooms of the iris flower symbolize the trinity of hope, trust, and knowledge. Because your silver wedding anniversary is in your 25th year of marriage, jewelry is the most appropriate 25th anniversary gift to offer with flowers. You might also choose an arrangement of silver-toned flowers to celebrate a quarter-century of love.
>> More ideas about DIY Anniversary Gifts here!
44. Champagne Glasses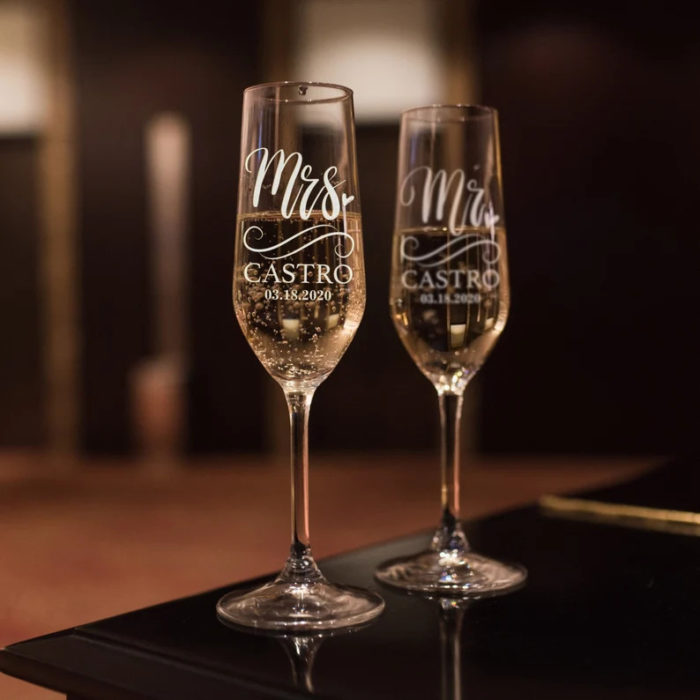 With these charming champagne glasses, the customary anniversary for couples has been given a romantic makeover. The couple's initials and wedding date are displayed on an exquisite glass backdrop, which they will treasure for a long time.
What to Look for in a Gift Idea?
Return Policy
Always check out the return policy of the business you're shopping at when purchasing a unique 25th anniversary gift, particularly if it's something personal like jewelry that will be worn. You may need an email address to send to the help account info to ask clearly about this issue.
The item should be a hit with your spouse and not be a problem, but having the all rights reserved option of getting your money back or shop credit makes a more costly buy feel less hazardous. A bonus is that if your presence doesn't go down well with the recipient, you've given them the all rights reserved option to choose something else.
Sustainability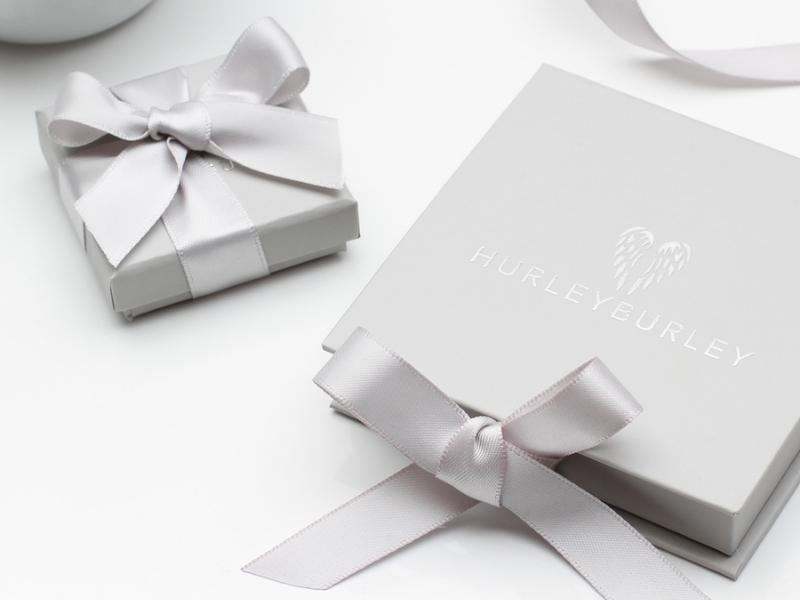 When selecting an anniversary present, you should always consider the gift's origins and long-term viability. This includes variables like where and how the 25th wedding anniversary gift was made. How much did the craftspeople earn? How far does it have to go to reach your location?
Price
Payment information is another remarkable point that may earn a commission. Various beautiful and meaningful anniversary presents are available for all budgets, from the cheapest to the most expensive. You don't have to spend a lot of money to purchase something. Smaller items like keychains and silver-colored items are also options. Make sure the 25th anniversary wedding gift is from a reliable shop if you want to spend a little extra money.
Read more articles:
Just a few days ago, you and your partner in crime tied the knot! Because you and your spouse have gone through so much together after exchanging vows, your marriage is stronger than ever. And each of those anniversaries is worth celebrating. 25 years later, it's hard to realize how much has changed. Get out there and celebrate your day with a little help from the 25th anniversary gifts from Oh Canvas's gift guides.