Nothing beats the 50 years of marriage that a happy couple has spent together. Now, that's something worth celebrating. To help you find perfect golden anniversary presents, Oh canvas has rounded up an adorable archive with useful gift guides. So brush up on your knowledge of 50th anniversary gifts first, then dive into every incredible piece below.
Though there have been ups and downs, this special occasion marks half a century of a loving, committed relationship, creating a great opportunity for any couple to celebrate a major milestone together. So no matter who you are, the spouse or the one who has spent years together as a couple, don't hesitate but toast to the long years with the most thoughtful and best gift ideas ever.
What are 50th wedding anniversary gifts?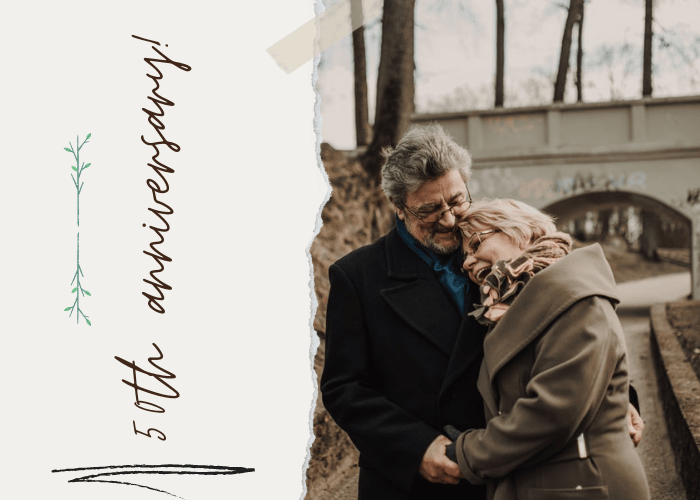 The term "golden anniversary" got its name from the early days in Northern Europe when a husband would usually give his wife with a gorgeous golden wreath or necklace on their 50th wedding anniversary. Gold is luxe and enduring material. It symbolizes compassion, courage, and eternal love. Thus, no wonder that golden anniversary presents play their best in accomplishing this remarkable milestone. If you want to stay on theme, opt for gold. It'll help renew the vow from half a century ago.
Though there's no denying that gold is the soul of the golden anniversary, how about straying away from these traditional golden anniversary gift ideas? Not a bad idea, isn't it? That said, feel free to choose the unique and customizable items to celebrate this special day in the traditional sense and boost the well-being of the married couple.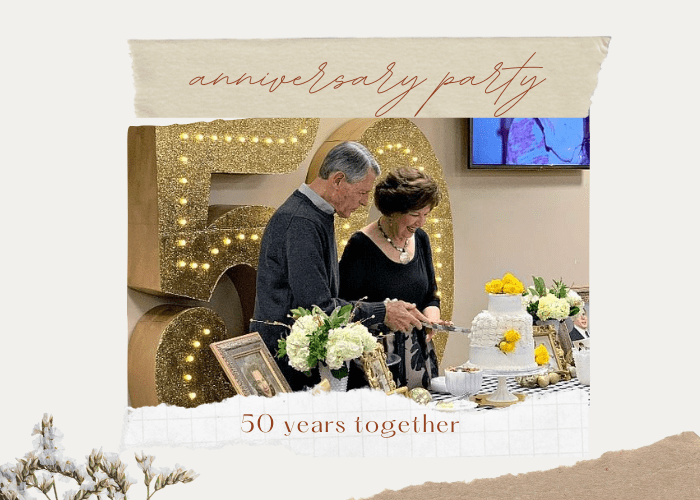 Besides the visible gift ideas for the celebration for 50 years of marriage, a sweet party can also be thrown between the two spouses or among their family members and friends. It's a perfect gift to help them take a trip down memory lane and let their nearest and dearest gather and cheer for the fifty years.
Now, it's time to dive into the best pieces of golden anniversary gift ideas in our archive. There are both traditional and unusual 50th anniversary gifts. We hope this list helps tick all your boxes. Check out some suggestions that we've collected for you.
The Best Luxury 50th Wedding Anniversary Gifts
Golden Wedding Gifts Ideas for Husband
1. Gold tie bar with a hidden sweet message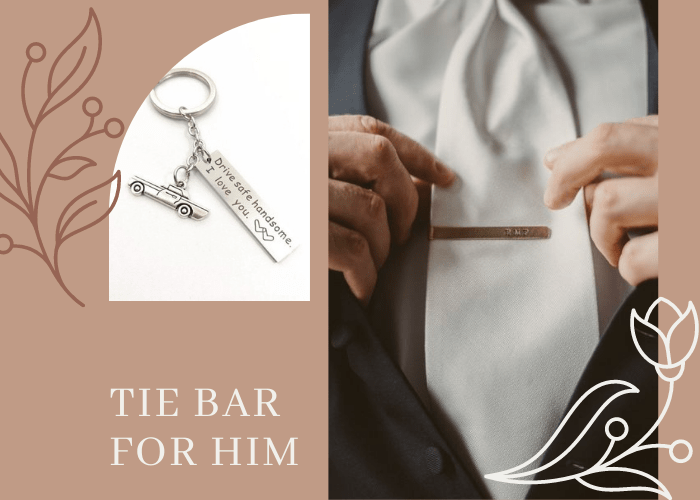 If you want to buy the 50th anniversary gift for husband, a gold tie bar is a great idea. It's a practical and personalized gift that a man can receive. More meaningful if you have crafted hidden messages on this tie bar. It helps show your endless love and makes you be with him in every little moment of his life. He surely knows that you care about him. And we're still sure that your spouse will be very pleased every time he has this tie bar on.
2. Gold engraved cufflinks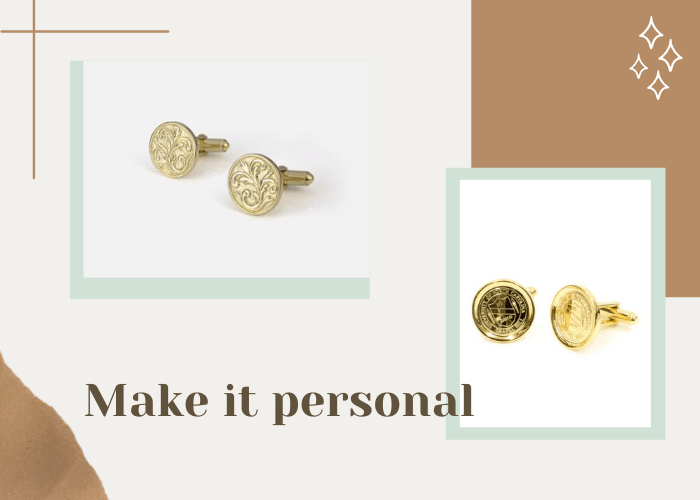 Of all the best golden anniversary gifts, we're so impressed by the gold engraved cufflinks with a minimalist design. They're small but obtain lovely care and gestures from you. The cufflinks will make your husband's shirt more chic and impressive. That makes him much more excited every time he wears it on special occasions.
We believe that your husband will love this sentimental gift a lot. He also appreciates how you care for any little thing in his life. So if these adorable gold cufflinks enchant you, don't skip them for the upcoming golden anniversary.
3. Personalized leather wallet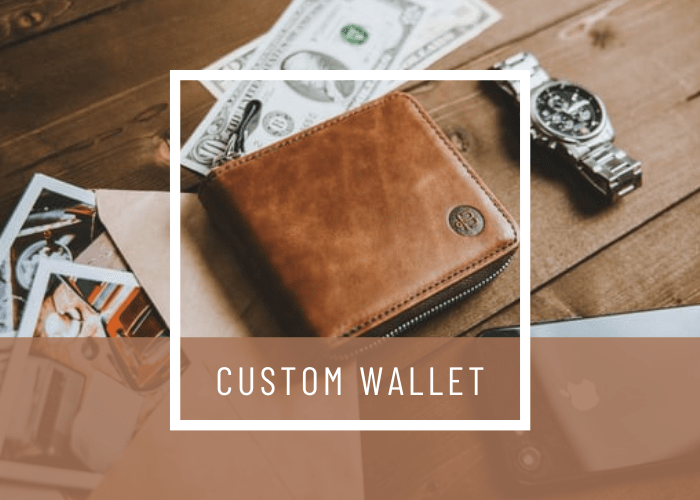 If you've noticed that his wallet has worn out, consider new ones as the unique 50th anniversary gift. The personalized leather wallet is recommended since it not only lasts long but also is hand-crafted with love letters.
Couple's names can be personalized outside or inside the wallet. Maybe his name outside and yours inside or both names outside. For this preparation, your husband has got another amazing personal stuff. He'll carry all your love with him to wherever he is.
4. Gold-tone stainless steel watch for men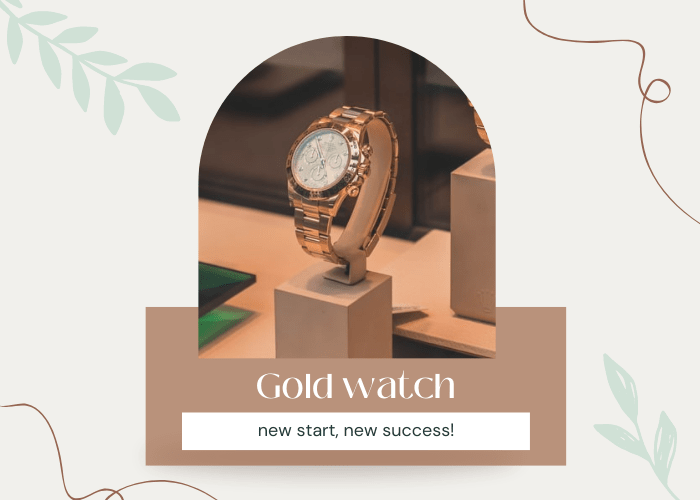 Great and luxurious gifts to celebrate 50 years of marriage, go to gold-tone stainless steel watches. It might cost you a fortune, but it's worth it. You two have gone this far, and there's nothing that can stop you from buying valuable golden anniversary gifts for your spouse.
Your husband will respect this watch a lot. He'll wear and keep it with care and love since he knows how important this thoughtful gift is in his life. Moreover, if you want it more unique, order a personalized watch that can be hand-crafted. Now, it becomes a sweet piece that lasts long and counts every delightful second you've spent with your beloved husband.
5. Custom engraved keychain
Small but meaningful golden anniversary gifts for your man might be custom engraved keychains. They're extra special since you can personalize them with names, the wedding anniversary date, or a thoughtful message. If you want to go with the 50th anniversary special gift, have a gilded or gold-color keychain. Then, your husband will carry a sweet reminder of you whenever and wherever he goes.
6. Custom wallet insert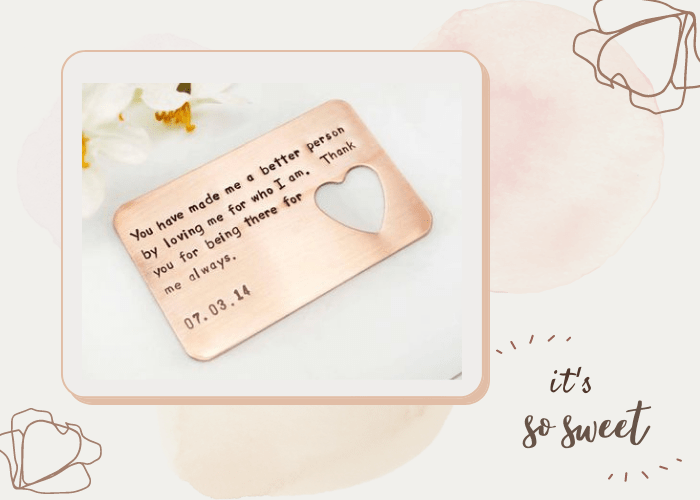 Looking for more unusual 50th wedding anniversary gift ideas? Grab this golden wallet insert for your spouse now. It can be stamped with a meaningful message which makes it an extra special gift. Your husband will love the idea of having this sentimental piece with him when he's outside.
>>> Further reading:
Golden Wedding Anniversary Gift Ideas for Wife
7. Gold jewelry for golden anniversary gifts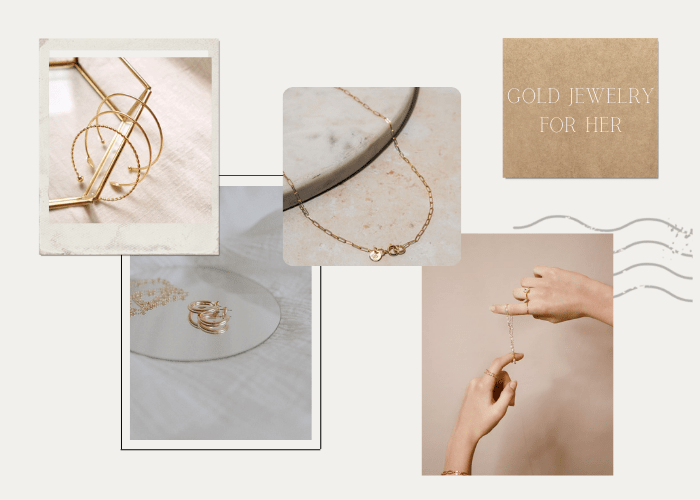 In order to truly celebrate the golden anniversary in the traditional sense, we suggest choosing a gift that features the gold theme in some way. Gold jewelry is one of the most practical 50th anniversary gifts. "Gold" is a phrase associated with 50 years of marriage. It carries the meaning of traditional classics, mixed with modernity in today's life. The timeless and understated gold material helps to showcase your true love and feelings. It also satisfies your beloved wife with its delicate beauty and the possibility of going well with any costume, from dresses to casual sweaters.
Gold jewelry stands at the top of our collection of 50 year anniversary gifts for wife. Therefore, choosing a thing for the anniversary brings infinite nuances to the couple's love, going together from the past to the present. If your spouse loves adorable gold jewelry, don't hesitate to give her a gold cuff bracelet, necklace, or crossover hoop earrings on this special milestone.
8. Personalized metallic record for your spouse
What do you think about recalling and creating beautiful memories through music? A personalized metallic record can help you with that. By having several favorite songs that you and your spouse both love embedded on this record, there'll be utmost romantic moments to enjoy.
To make it more like the traditional 50th anniversary gift theme, have it in gold color. Especially, don't forget to include the song from your first dance. It's a great way to remind you of every major milestone after your wedding day. We believe that if your other half receives this unique present, she'll love it and burst into tears right away.
9. Custom canvas prints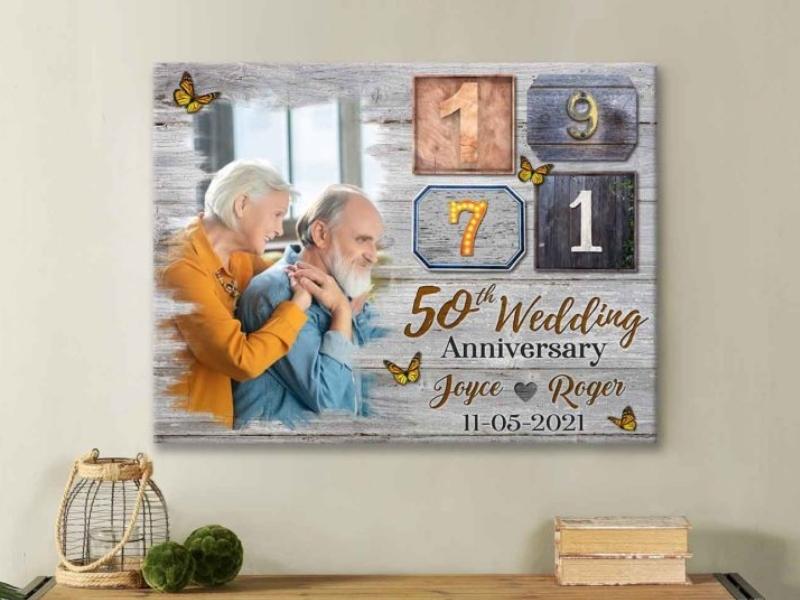 If you want to have a gift that can be the most visible in your cozy nest and a special present for any occasion, head to custom canvas prints. They are stunning and enduring artwork. Having them as the special 50th anniversary gifts helps strengthen your love and proves a long-lasting life with your spouse.
Oh Canvas recommends custom prints since they play their best in showcasing your relationship and storing memories. You can inscribe your name, wedding date, and even family photos on them. Hang them on the wall, and your wife will love seeing them every day. It can be said that personalized canvas print is one of the best customized anniversary gifts in that couples can express their love for their other half.
10. Cashmere scarf – Warm gift idea for the golden anniversary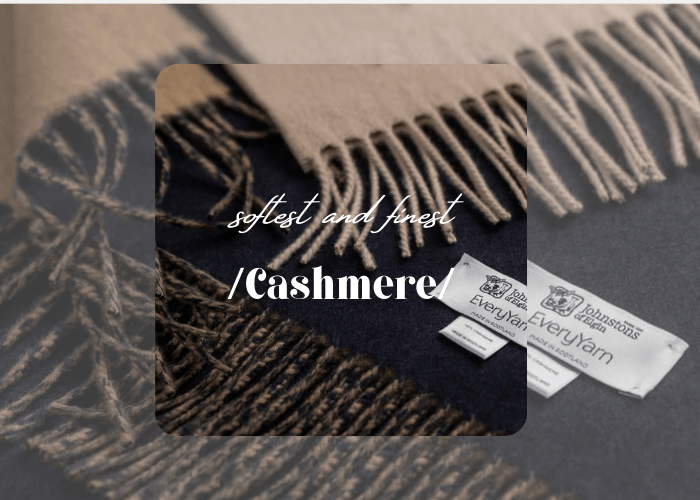 Another stunning piece for unique gifts for 50th wedding anniversary is the cashmere scarf. You both grow older. Therefore, health is always needed to be cared for and protected the best. And this scarf keeps your spouse warm and comfortable in cold weather.
Choosing a cashmere scarf will show how thoughtful and delicate you are. This high-quality fabric is soft and fine. It's light and also able to keep warm well. Give this scarf to her, and we're sure that you'll see a delighted expression on her face. It's priceless.
11. Personalized compact mirror in gold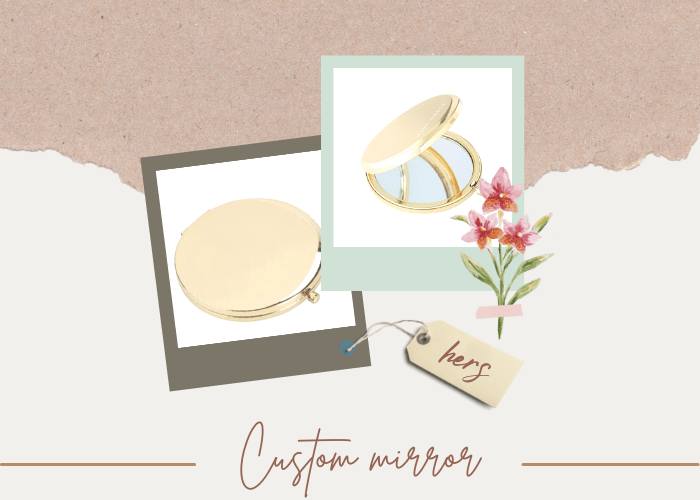 Among various ideas of the 50th anniversary gifts for woman, the personalized compact mirror in gold stands out to be practical and affordable. Additionally, this mirror can be personalized with your wife's name on it, making it more attractive and valuable. More significantly, some compact mirror types allow a photo on it as well. Then your favorite photo (for example, the wedding photo) can appear beautifully on the gold surface. Now, give this lovely piece to your spouse, and she'll add it to her list of inseparable things.
Oh Canvas Tip

Many makeup artists prefer 5x magnification mirrors, which is one of the most common options available. They don't zoom in too closely, but they do help reduce eye strain and reveal more of your overall appearance.
12. Jewelry Dish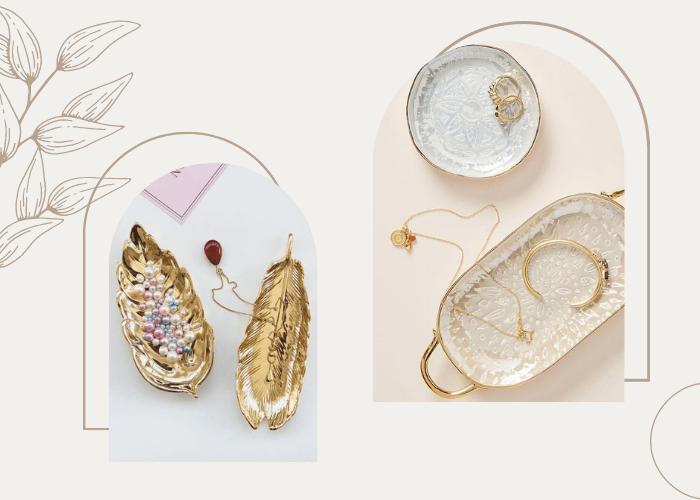 Keeping favorite accessories in jewelry dishes is a lovely idea. Your wife will be very pleased to receive them as unusual 50th wedding anniversary gift ideas. The dish would supplement her pretty private corner and help showcase the most beautiful pieces of jewelry that she has. To make it more on-themed, opt for dishes in gold color. Besides, they can be easily personalized as well. Have the couple's names and the wedding date on it to make that dish the best anniversary offering for the wife.
>>> Recommend reading: Top 35+ Best 40th Anniversary Gift for Couple You Should Know
The Best Gifts for 50th Anniversary Couple
13. Personalized Canvas Print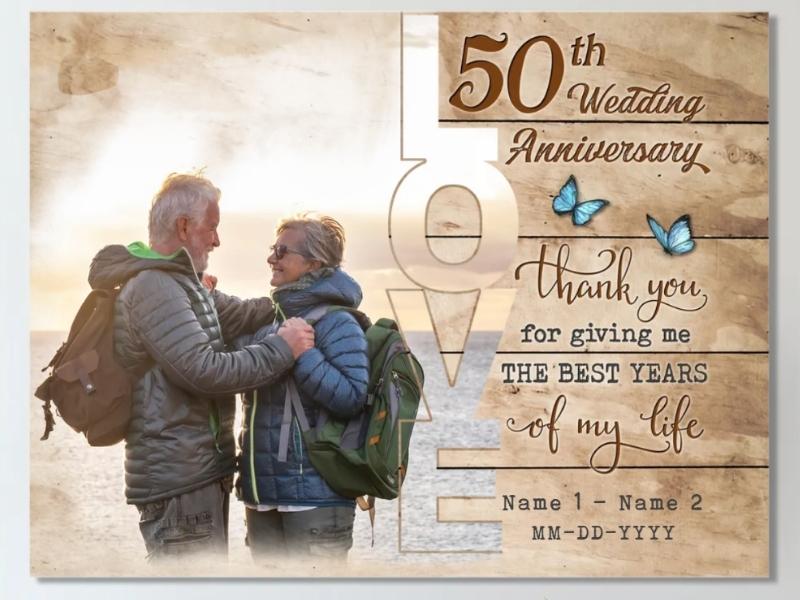 They've experienced 50 years of marriage, and they're still in love. Their loyalty is a precious asset. Our customized photo canvas print makes a lovely gift to mark this big day. An ideal 50 year anniversary gift for a couple that appreciates the simple enjoyment of living together is a bottle of champagne.
The two of them have been together for the last 50 years and have enjoyed every holiday, birthday, and other significant occasion. You'll be able to touch their hearts on their golden anniversary with this thoughtful anniversary gift. This handmade piece has their photo, names, and the date of their wedding. 50th Anniversary Gifts Unique For Couple Personalized Canvas Print is a lovely way to mark their golden jubilee!
14. BBQ grilled set
For any BBQ lover, having a grill set as a 50th anniversary gift will be a delight. They'll use it for family parties or any reunion event. That's when memories are created and happiness is preserved. To have it more special, ask for a custom grill box. There can be names and the wedding date hand-crafted on it, making the gift much more wonderful.
15. Beautiful Personalized Photo Gifts Canvas Print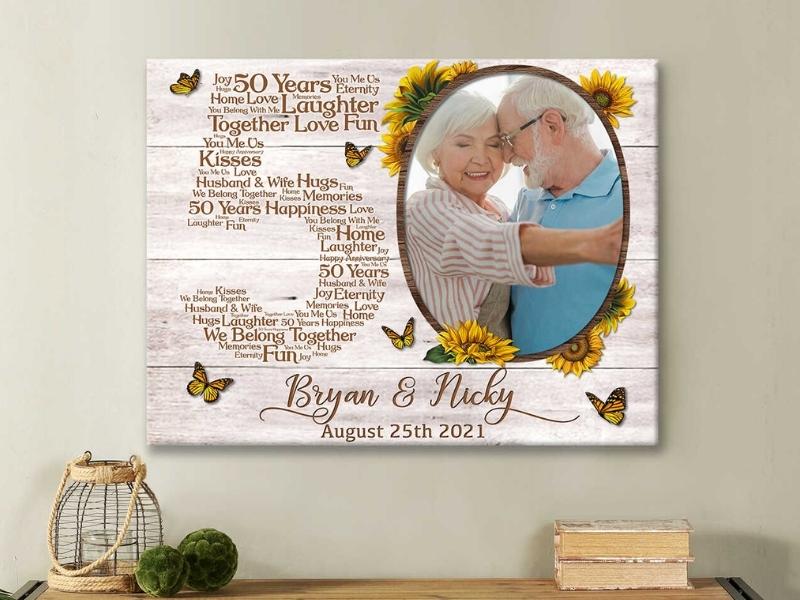 Is this the first time you've given your parents an anniversary gift? This time around, things are different. Half a century later, they remain inseparably linked. What To Get For Parents On Their 50th Wedding Anniversary? Stunning Photo Gifts Customized Using Your Own Photos It's a lovely way to commemorate their 50 years of marriage. Demonstrate to them that they have a fantastic love story to share.
If you're going to commemorate your wedding's golden anniversary, do it in style. Add a photo and the date 50th Wedding Anniversary to personalize your letter art painting. Keep in mind the progress they've made throughout the course of their marriage. They'll be grateful for it. Don't forget to tell them how far they've progressed.
16. Customizable photo book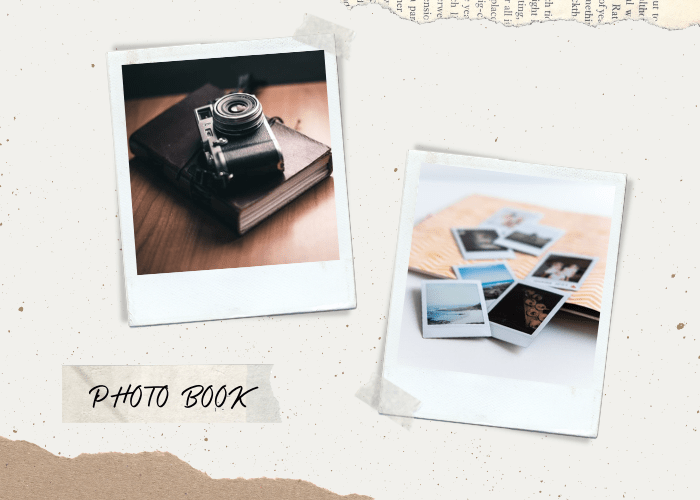 Long years have passed and a married couple (who are about to celebrate their golden anniversary) must have lots of favorite photos together. Then they'll need a new photo book to keep them all and store new ones in the upcoming years.
Members of the family may customize pages for their wedding day and 50th wedding anniversary, making this tome a family heirloom. It's a storage of loving moments and memories. It's for the spouses to look back on where they first met and what they've done together, like traveling, raising kids, or gardening.
17. Cashmere sheet set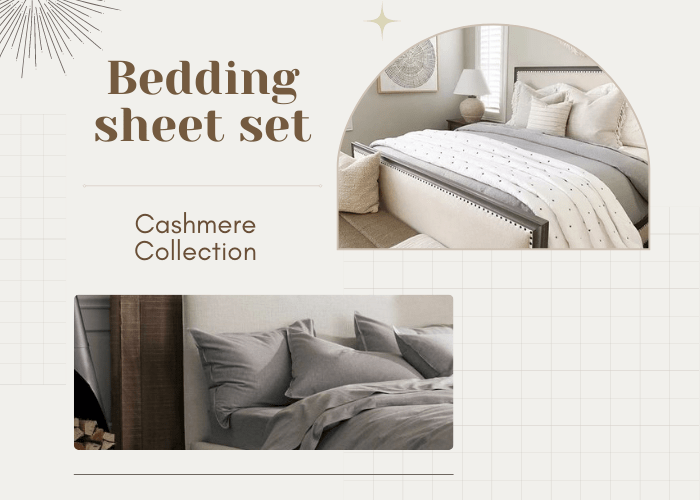 As we've just stated above, cashmere is a high-quality fabric. It brings a smooth and comfortable experience to whoever uses it. Therefore, it's such a great attitude to give a cashmere sheet set to your parents or a specific beloved couple on their golden anniversary. It would stand out among other golden anniversary gifts that they can receive.
When people turn to the 70s or 80s, they often have a lot of trouble sleeping. However, a cashmere sheet set will create an inviting bed that can lull them right to sleep. So wonderful, right? If you love this idea among various 50th wedding anniversary gift ideas for parents, stick with it. It shows how much you care for your parent's health and their daily sleep.
18. Stoneware set for meals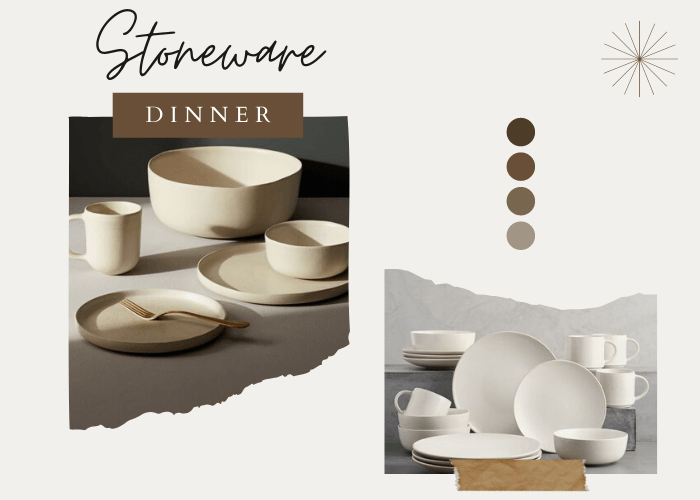 Do you still find other unique 50th anniversary gifts for parents which are out of the theme? A stoneware set for meals might meet your expectations. Let's renew your parents' kitchen and treat themselves to this brand-new set of plates and mugs. They'll appreciate this practical and beautiful gift of yours a lot. We bet that your parents will use this set very often in their daily meals. It's worth all your decisions, isn't it?
19. Personalized 50 year Anniversary Gifts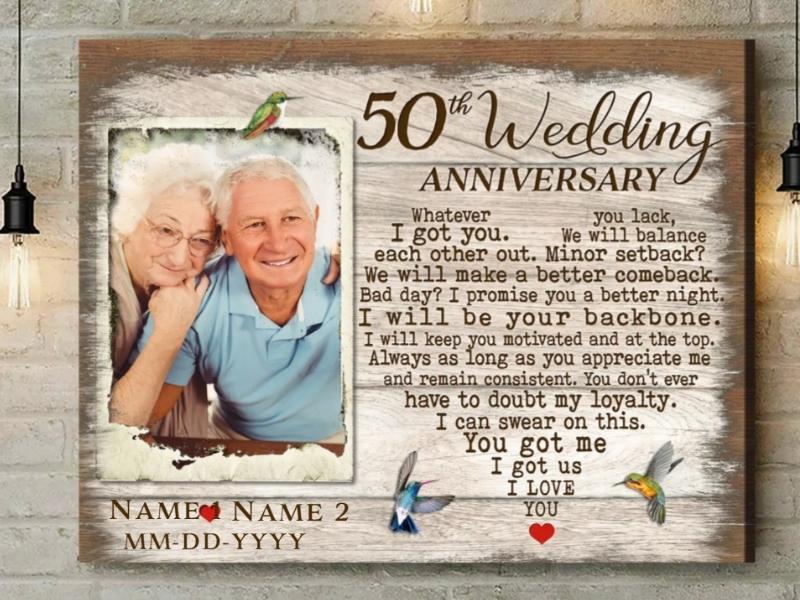 The Personalized 50th Anniversary Gifts Surprise Gifts For Him For Her Canvas Print will be hard to look away from. Giving an emotional 50th anniversary gift is a wonderful way to emphasize the significance of life's most special memories. If there's one thing an elderly couple understands, it's how to make the most of their time together after more than half a century.
The stunning 50th Anniversary canvas commemorates a real-life story. This home decor may be used in a bedroom or a living room, according to your preferences. To recognize a long-lasting love of this magnitude, a stunning piece of wall art would be appropriate as it holds significance to you as a long-lasting couple.
20. Personalized glassware duo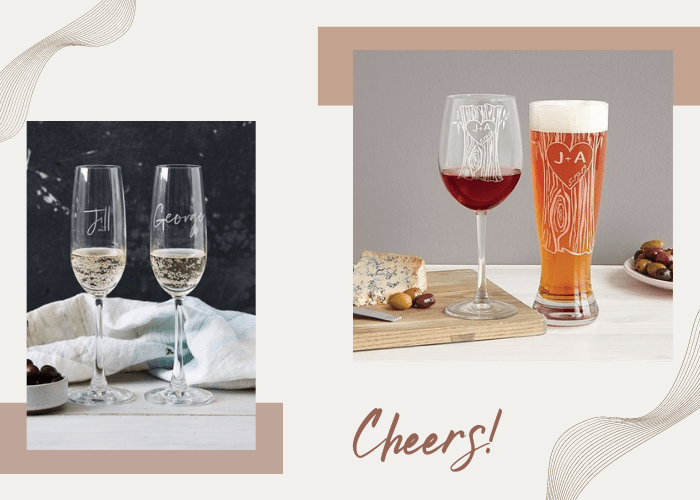 A once-in-a-lifetime golden anniversary like this should be toasted with beer and wine. So give your parents a glassware duo so that they can use them for any momentous occasion. Besides, each piece of glassware can be hand-crafted with your parents' initials or names. Any personalized indication like this creates the greatest 50th anniversary gifts for parents with a unique and friendly taste.
Imagine when it turns to the 55th or 60th anniversary. Then the spouse will be much happier when realizing that five or ten more years have just passed. And they're still together, using this glassware duo to cheer for the moment. Such beautiful scenery! And you know what, you can help them to reach that glass duo part.
21. Leather weekender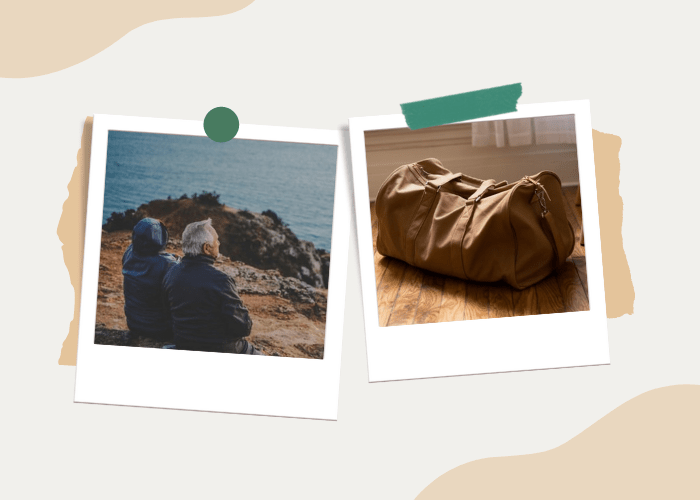 Your parents might have traveled together many times. And we bet that their favorite getaway bag has worn out more or less by now. In addition, the spouses at this age need more time to relax or go on short trips. Thus, considering some types of leather weekenders as unusual 50th wedding anniversary gift ideas is not a bad idea.
Opt for lightweight and waterproof weekenders. They're better for old couples. Go with a minimalist style or choose a color that your parents prefer. Every little consideration will show how delicate you are and take the last minute luxury 50th wedding anniversary gifts to the next level.
22. Thoughtful golden family tree – unusual 50 year anniversary gift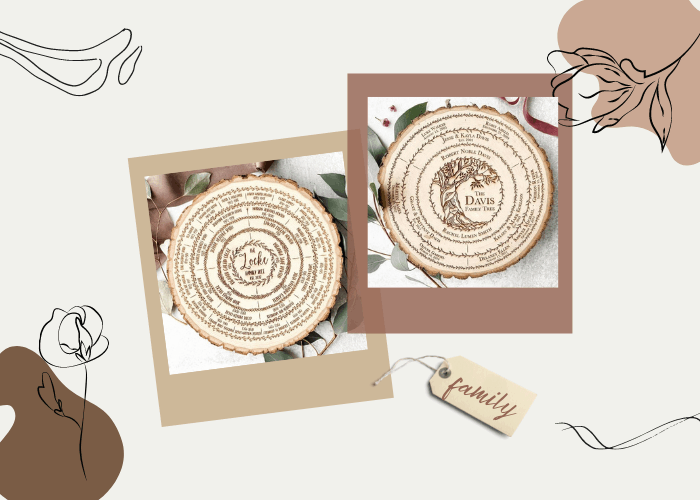 When it comes to unusual 50th wedding anniversary gift ideas, you can't go wrong with a golden family tree engraved on natural wood that will become a family heirloom. Your parents must have turned to the 70s or 80s at this time. So this might become the most sentimental anniversary gift that they have received.
If you give them this unique piece of decor, it's a great way to show how happy and proud you are as an essential part of the family members. The gift shows both your celebration and gratitude at the same time. Since it also has a stunning look, the family tree on wood is a shining piece of home decoration. Such a sweet gesture to prepare an exceptional 50th anniversary gift like this for your most beloved people.
23. Gold-hued photo frame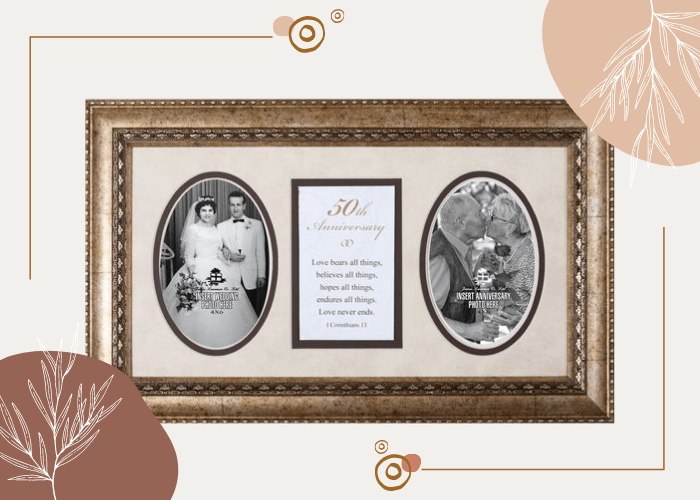 If you have an old wedding photo of your parents (if you don't, any lovely photo of them would be precious), make it shine on this gold-hued frame and nail the theme of the traditional 50th anniversary gifts for parents. It's also a great way to call back the memories and freshen up the nightstand in your parents' room. It would be a great pity if say that this gift is not worth becoming a family heirloom.
24. Tasty on-themed dessert
This is a lovely and impressive 50th anniversary gift idea that you should try. A tasty cheesecake or a refreshing raspberry dessert decorated with beautiful blooms that not only are reminiscent of the color gold, but also have their own distinct significance, as they symbolize friendship, joy, and pleasure. If you can bake the cake by yourself, it's wonderful. But if not, don't be concerned much since your parents will still love how thoughtful you are to give them this adorable gift on their anniversary date.
25. Be My Always Wall Art Oh Canvas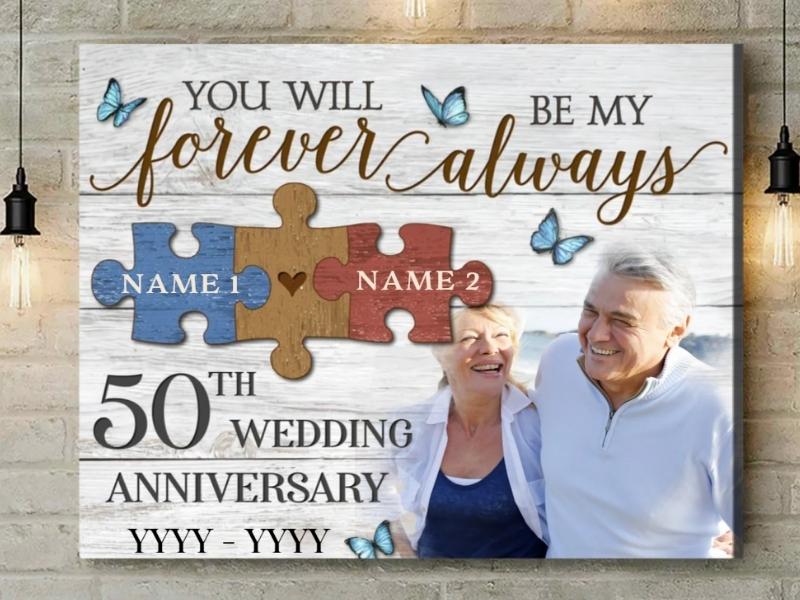 This 50th Wedding Anniversary Custom 2 Photo Canvas Print is the perfect way to commemorate your golden wedding anniversary. Show your lover how much you value and appreciate your relationship, no matter how long you've been together. In the face of adversity, declare to the world that your love is unbreakable and that you will always be there for each other.
As a perfect gift for parents or any other important couple in your life celebrating their golden wedding anniversary, this picture canvas is also a great option. If you're celebrating a golden anniversary, consider giving this 50th Wedding Anniversary Custom 2 Photo Canvas Print to your loved ones as a memento of happy years together.
26. Yellow Roses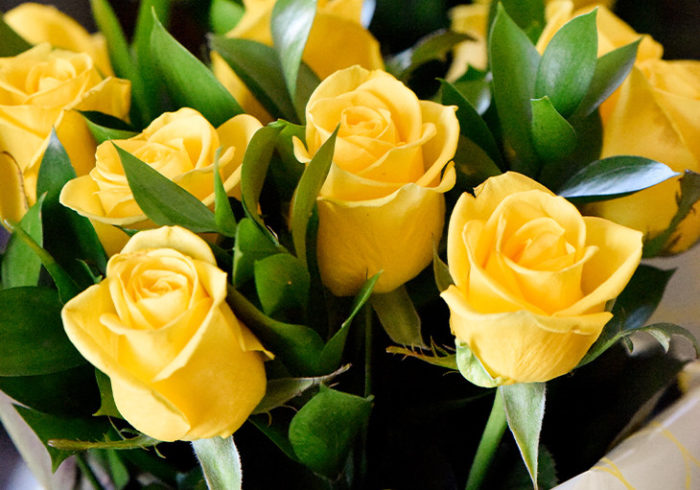 You can't go wrong with a bouquet of yellow roses for a 50th wedding anniversary. When you surprise your spouse with a bouquet of gorgeous flowers on your anniversary, they will be overjoyed. To express your love for your lover, you can buy 50 yellow roses.
>>> Do not pass up this informative blog about:
You've already discovered the most stunning 50th anniversary gifts that we've gathered. Oh Canvas hopes that our collection is an inspirational source to you so that you can make easier decisions in choosing a perfect anniversary gift. But keep in mind that no matter what type of gift you choose, it will be a special and meaningful gift if it carries all your warm love along. So be thoughtful and sincere, and you'll find a gift that your parents or any couple will treasure for a lifetime.