Graduate parties are in full swing! Are you finding your boyfriend something unique to mark this momentous occasion in his life? Oh Canvas has compiled a list of fantastic graduation gifts for him, whether he graduated from high school or college! Personalized dorm room supplies and presents for his new apartment are all included in our carefully picked collection. He'll be the talk of the dorm with these fascinating devices, and his friends will be envious. Write him a card of graduation wishes and you're bound to get the best graduation gift for boyfriend that he'll treasure for years to come.
High School Graduation Gift Ideas For Boyfriend
1. Bedside Essentials Pocket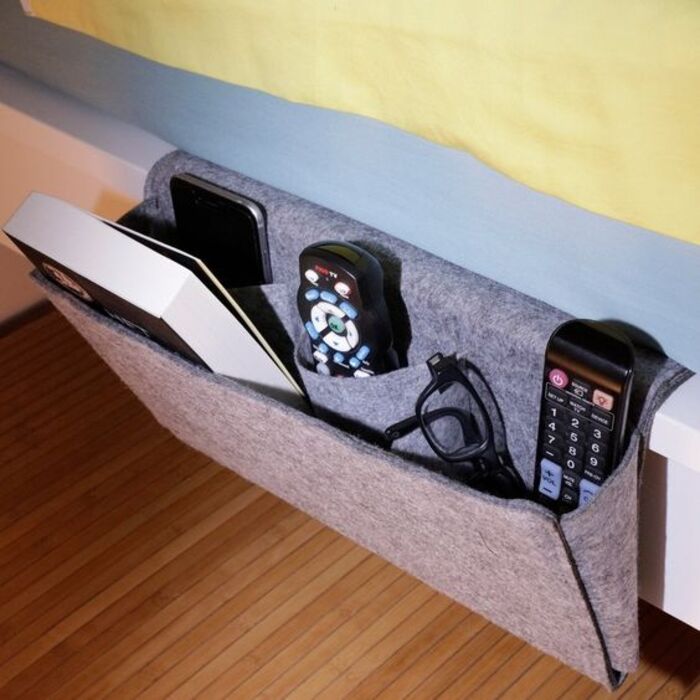 It's all about clever storage in a small dorm. His books, phone, tablet, and other small electronic devices will all fit neatly in this sleeve, which he can tuck into his bed frame.
2. Dorm Bedding Bundle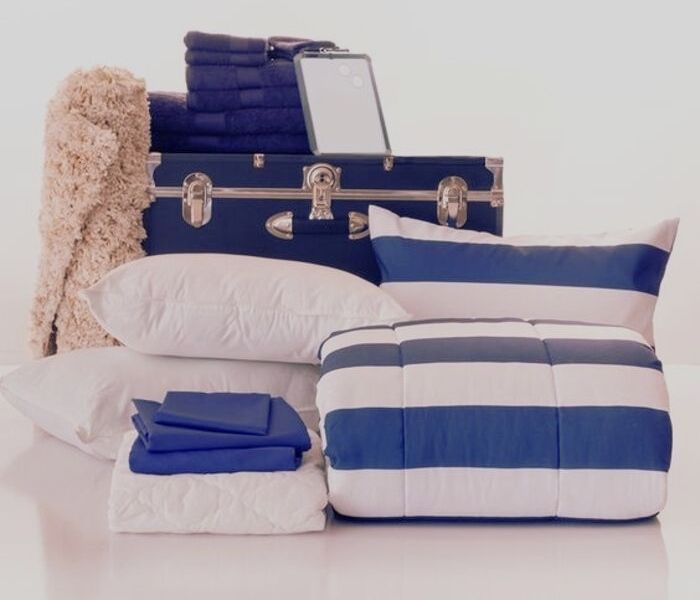 Guys aren't always the most enthused about dorm shopping. Consider getting him this bundle, which will help him cross many items off his dorm checklist. Necessary pieces for bedding, bath, and laundry are all included in this bundle, which tends to give him the most comfortable experience in a new place.
3. Custom Sound Waves Print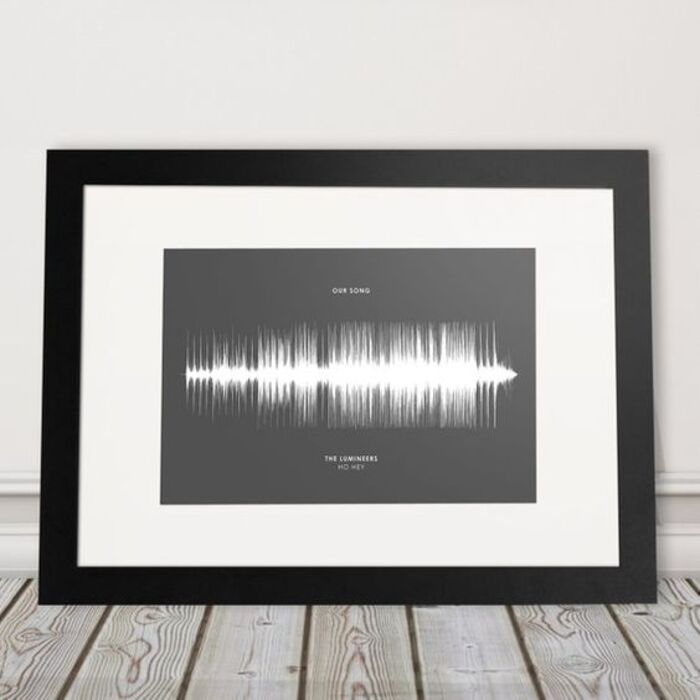 Looking for romantic graduation gift ideas for boyfriend? Consider this print to make a big surprise on his special day. Any love song sentence can be turned into a sound wave painting. No matter where he's going to live, in a new dorm or still in his recent room, he can have this adorable print hung beautifully on the wall.
4. Monogrammed Duffle Bag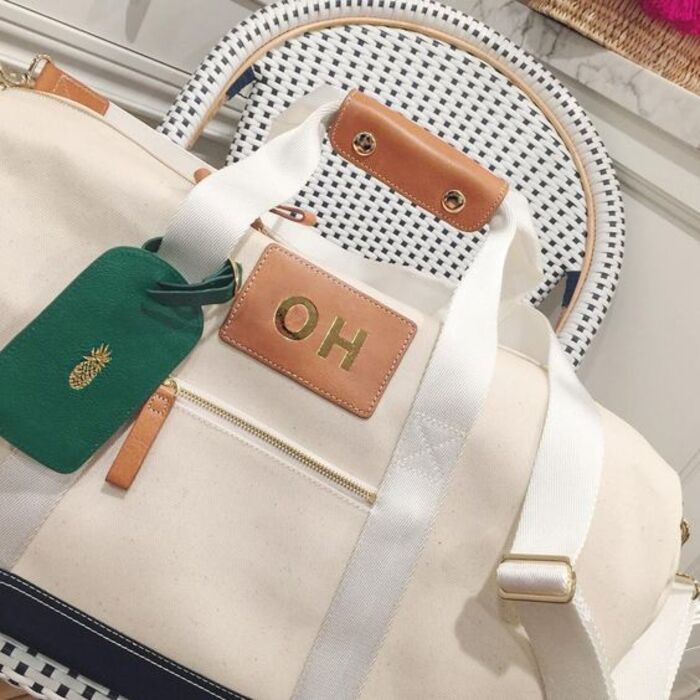 The twenties usher in a time of extensive travel and discovery. It's a unique gift for the boyfriend to discover who he is in the world during this period. For the man who likes to travel, this monogrammed duffel bag with leather and brass embellishments is the perfect gift that he'll actually use.
5. Leather Travel Journal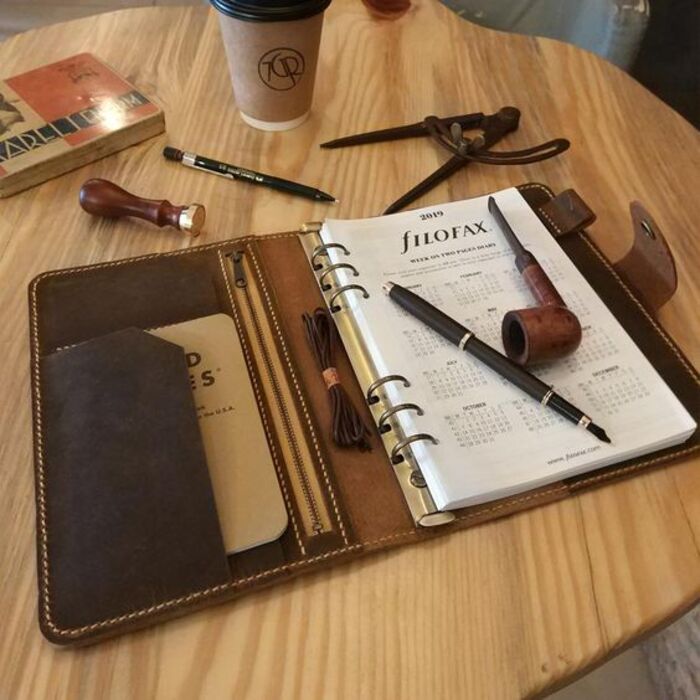 This leather travel journal is made of 100% real, and that will last for years to come. It comes in different colors and a variety of designs to match his personality. Unique and practical, this journal is a perfect graduation present for boyfriend who wants to jot down new memories in the next chapter of his life.
6. Compact Backpack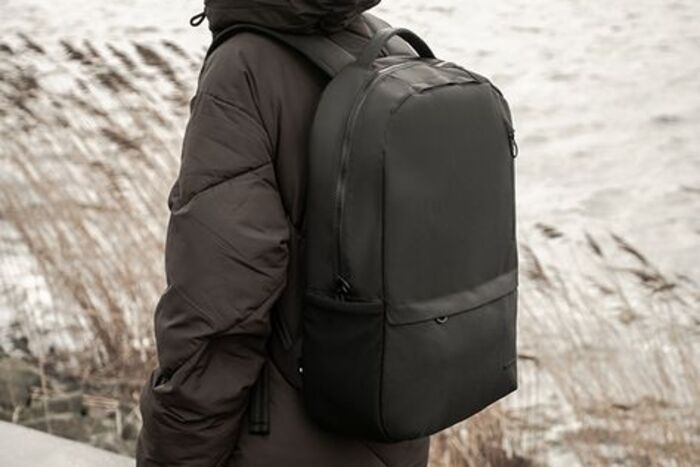 Backpacks with a lot of extra weight were so last year. This compact one is ideal for commuting to and from school or work for being small enough to fit all of his belongings.
7. Custom Dorm Pillows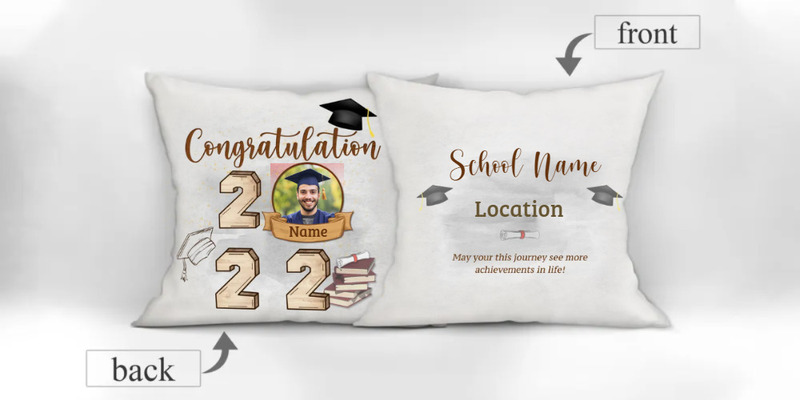 This adorable dorm décor will impress his friends every time they see it. It's a warm and thoughtful present that gives him fun, courage, and comfort in his new living space.
8. Rain Jacket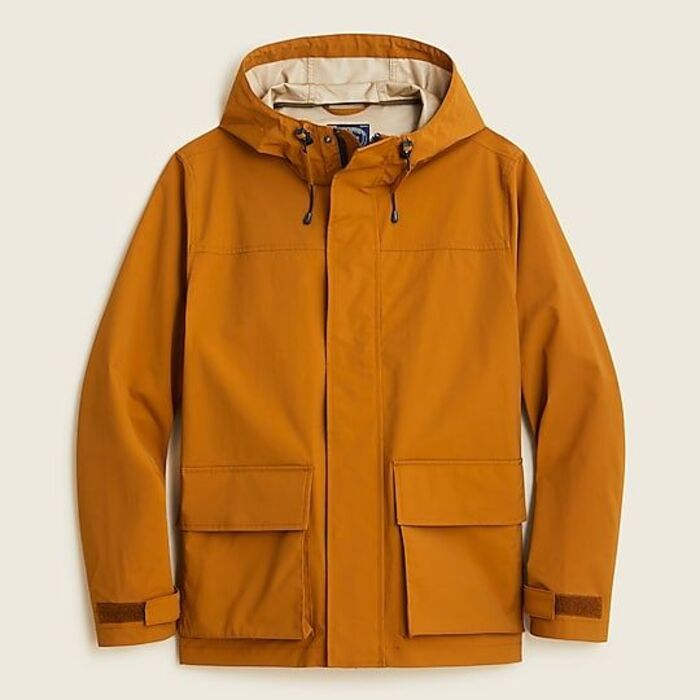 If your young man is going to be attending college, he'll need a new jacket to keep him dry as he walks across campus for courses. A durable, fashionable yet inexpensive jacket will make the best graduation gift for boyfriend.
9. Portable Phone Charger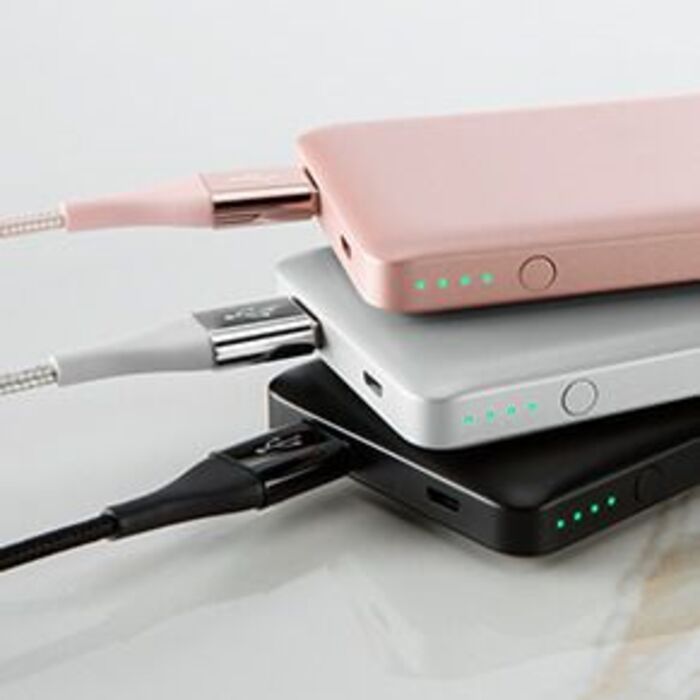 College students are constantly on the go, from their early morning sessions through dinner, homework, and nightlife. While finding a plug to recharge a phone can be cumbersome, this lightweight and portable battery charger can help him keep his phone operating 24 hours a day, seven days a week.
10. Conair Hand Steamer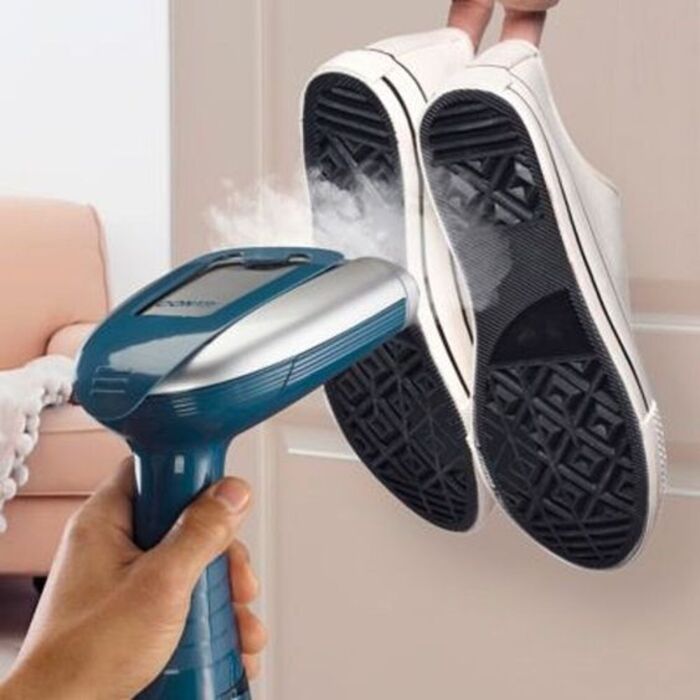 In search of practical high school sentimental graduation gifts for boyfriend that he might wish to have for long? You don't have to worry about your lover looking his finest just because he left the house for courses. This steamer is ideal for first-year college students who have to dig through a laundry basket every morning to find clean clothes.
11. Morse Code Cuff Bangle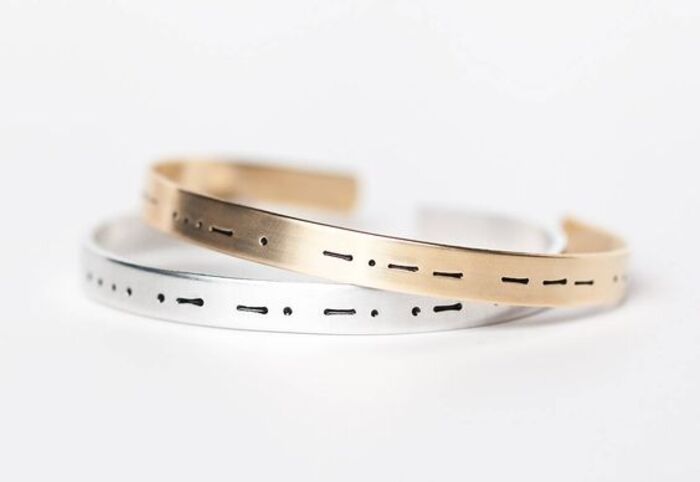 Inspire and encourage new graduates by giving them this cuff bracelet. The special morse code is inscribed on it, which will serve as a continual reminder of you wherever he goes. It will also make him look effortlessly cool on any given day.
12. Wooden Charging Station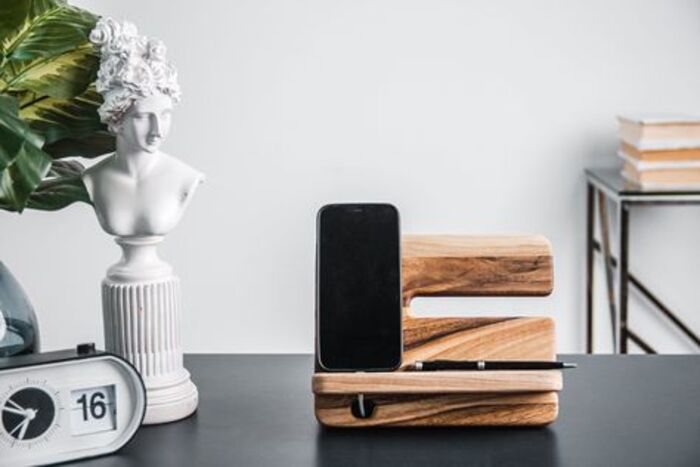 With a solid wood charging station, he'll be able to keep his dorm room free of clutter. Apple Watch, Airpods and other electronic devices are kept safe and conveniently accessible in this multi-purpose dock. Especially, engraving it with his name or initials is a creative way to take your gift to the next level.
13. Custom Name and Date Canvas Print
This custom-made canvas poster commemorates the love between you and him until now. It's a thoughtful graduation present for boyfriend that will be treasured. With this print in his dorm room, he'll find it motivational and to make his years at college memorable and successful.
14. Fashionable Hoodie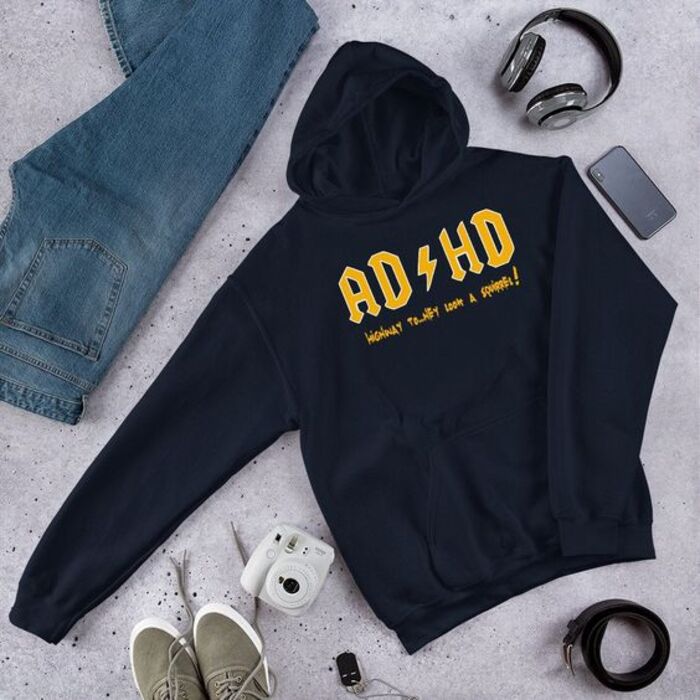 There is no better high school graduation present for men than this stylish hoodie. It's time to get rid of the worn-out ones from his high school days and replace them with something he can be proud of.
>>> Recommend reading: 31 Funny Gifts For Boyfriend That Make Him Happy All Day
Best University Graduation Gift For Boyfriend
15. Cedar Stack Candles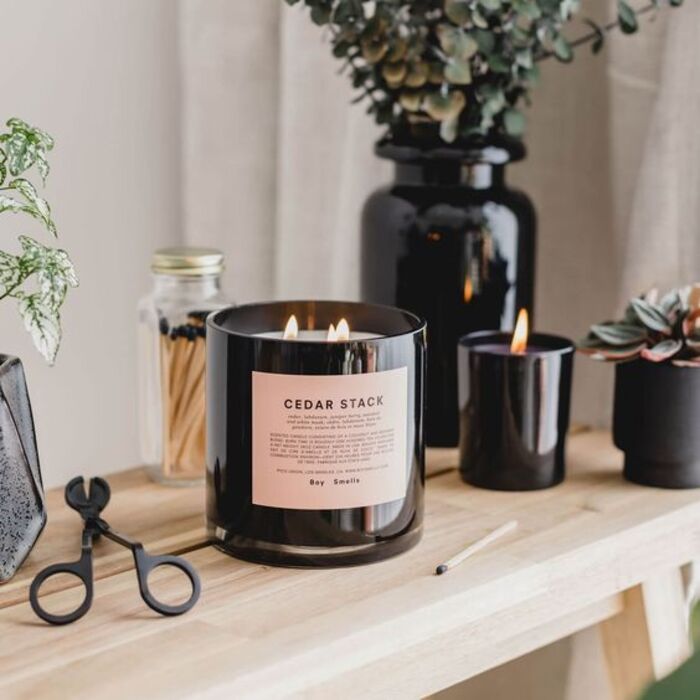 In addition to lighting a room, candles help keep things fresh-smelling. There are flowery tones, but also touches of peppercorn and dried ginger for a little extra heat in this version.
16. Graduation Leather Tray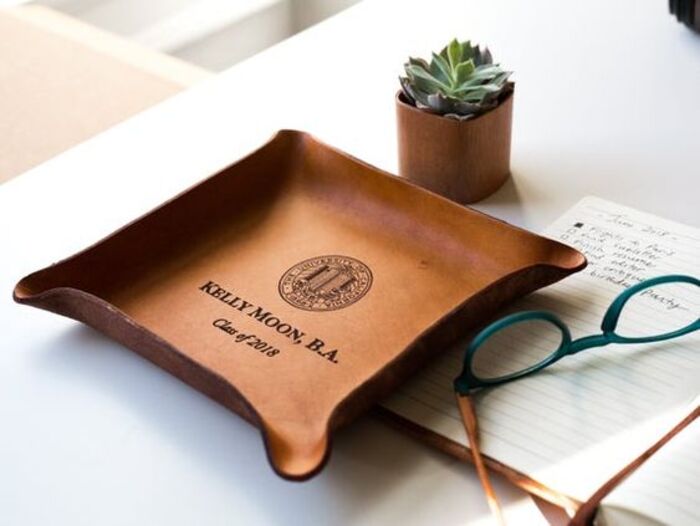 You can't go wrong with personalized graduation gift ideas for him to make him feel special! Keys, phones, jewelry, and pencils all fit well in sturdy trays. Because it's handmade from genuine leather, it has a description of the material as well as details on how it was colored by hand.
17. Men's Apron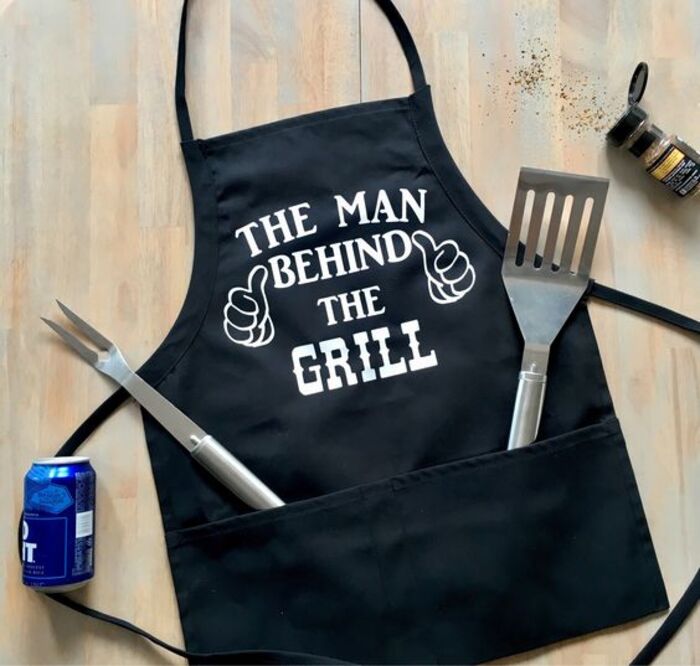 As soon as he no longer has access to the campus dining halls, he'll have to start preparing his own meals. It doesn't matter if it's a last-minute dinner or preparation for a week, his clothes are going to get a workout. This sturdy, breathable apron will give him the best cooking experience ever.
18. Blue Light Blocking Glasses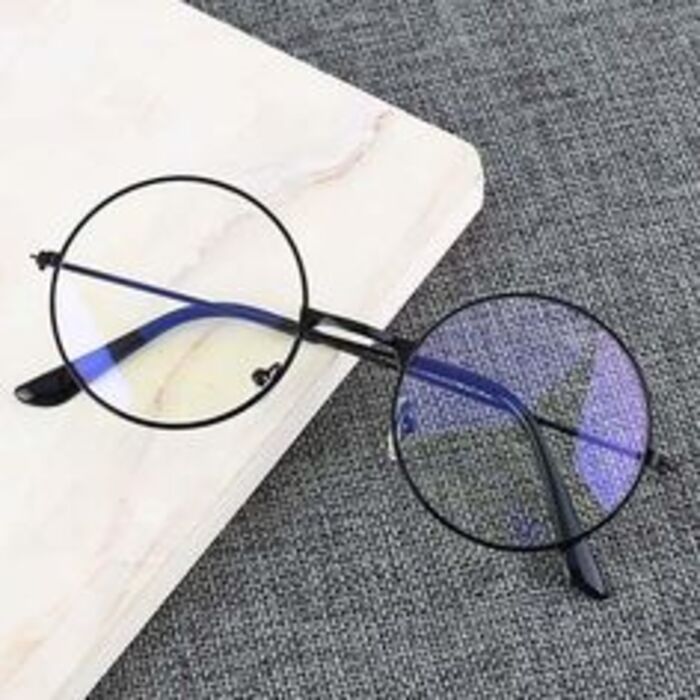 A pair of computer glasses would be a welcome addition to your list of cute graduation gifts for boyfriend. In order to avoid hurting his eyes from the harmful effects of blue light while doing his job or internship, he needs to carry them with him at any time.
19. Brooklinen Gift Card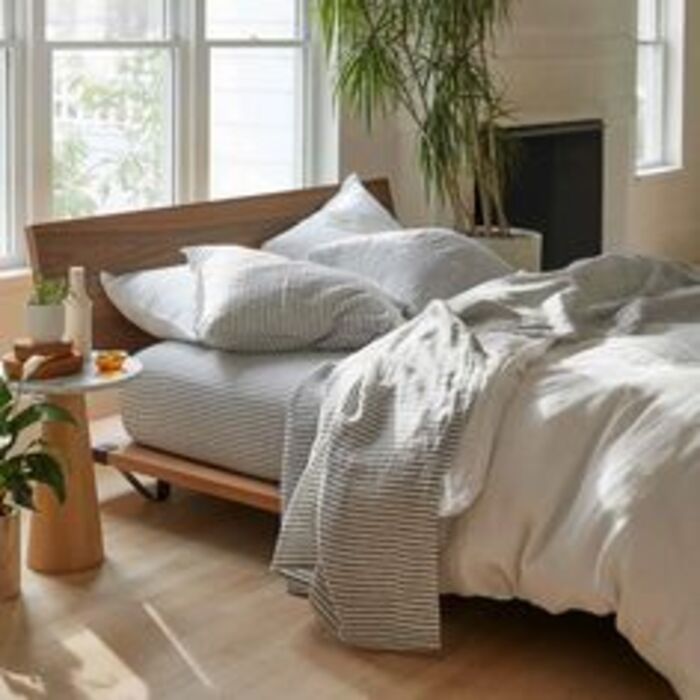 Graduates will soon be moving out of their dorms and into a place where they'll feel more at home, and that necessitates a new bedding set. Giving them a gift card is an excellent approach to let them have something they'll appreciate but may not be able to afford for themselves just yet. Brooklinen's products are brilliant options since they look fantastic, make you feel much better, and truly improve your night's sleep.
20. Tile Mate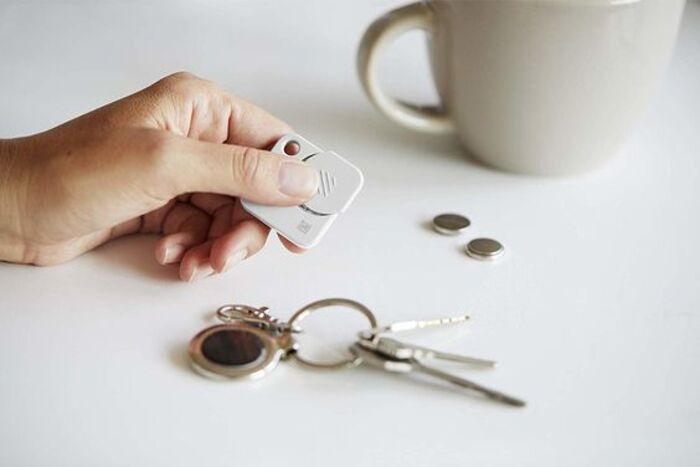 On the hunt for thoughtful university graduation gifts for boyfriend? Keys, wallets, and phone trackers will never go unnoticed. The Tile Mate is a great solution for your lover especially when his new apartment charges him $50 for each time he loses his apartment key.
21. Kindle Paperwhite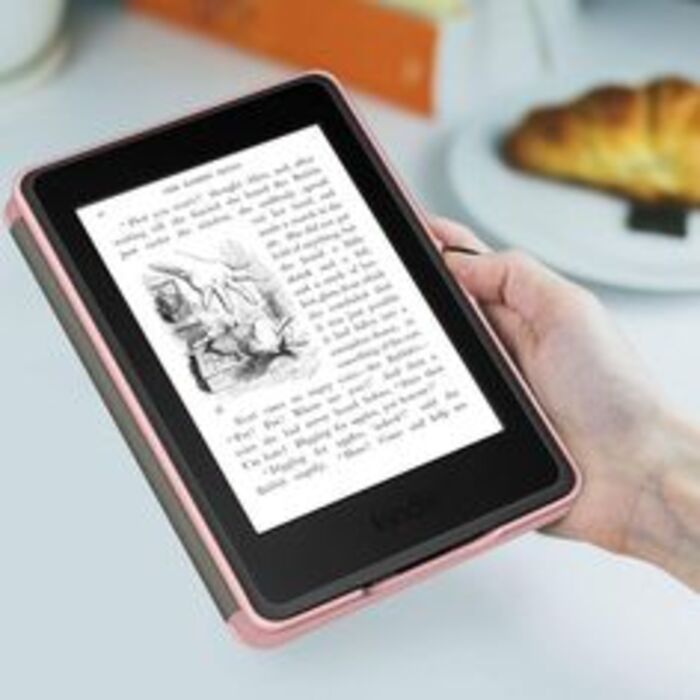 Gifting a Kindle to grads will accomplish the same thing as giving them some of the novels that every young adult should read. After graduating from college, it's not time to stop learning. Since they'll have both the equipment and the reminder, they'll be more likely to continue being curious in their daily lives.
22. Personalized Initial Blankets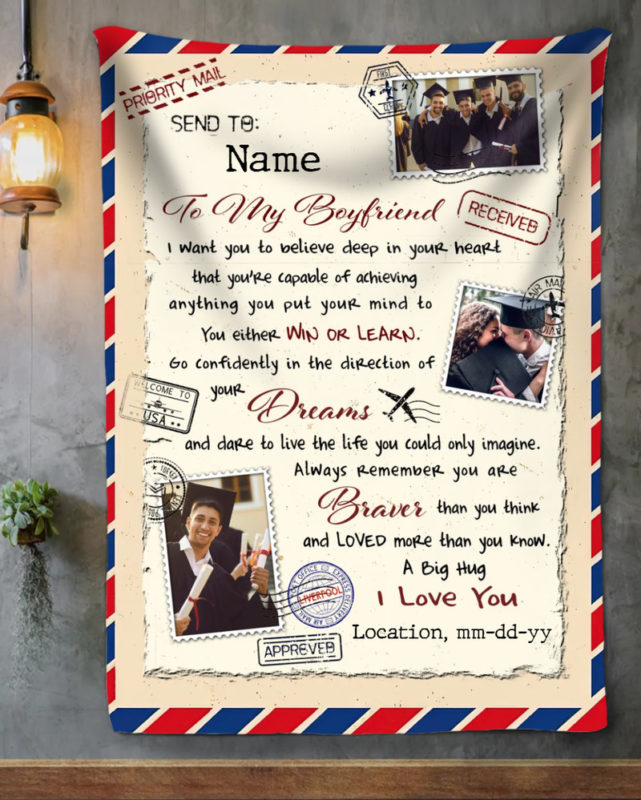 Personalized blankets are a great way to keep your man toasty this winter. This awesome graduation present for boyfriend is the one he'll cherish for a long time. They're fashionable and profound at the same time. It's time to give them a check.
23. Instant Pot Duo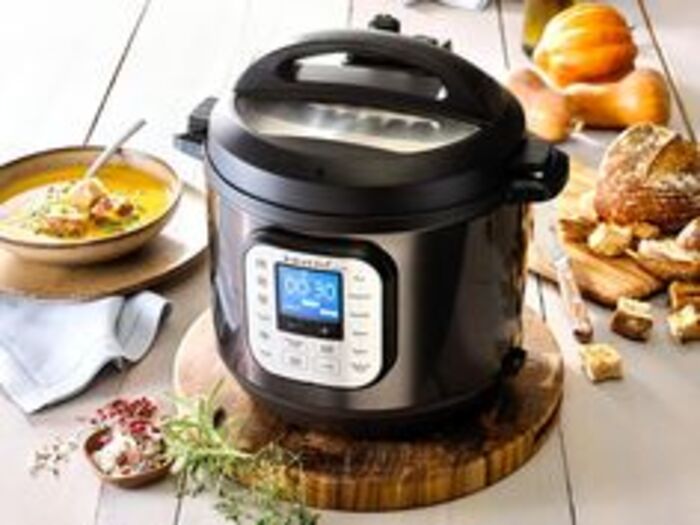 For those of us who have just graduated and are looking for an easy way to prepare a nutritious and economical supper, the Instant Pot is a godsend. After a long day at work or commuting, he'll save time by not having to wash as many dishes. If you're on a budget, this is the greatest electric pressure cooker option.
24. Instant Coffee Maker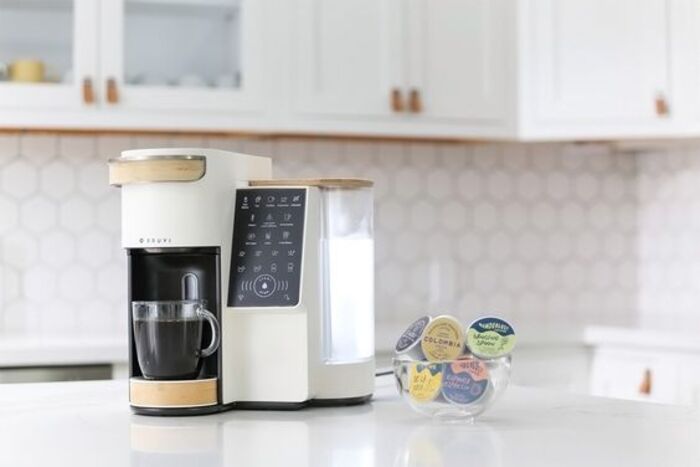 Our regular coffee habit means we don't want to spend a lot of time in the kitchen brewing it. In the morning or if you're in a hurry, instant gratification is the greatest option. Because of this, coffee machines that don't have a lengthy brewing process are in high demand. They're cool graduation gift ideas for boyfriend if he can't live a day without a cup of coffee.
25. Trendy Away Luggage
Gifting a grad a suitcase is a considerate way to show them that you care. Your lover can use it whenever he travels back to his hometown or plans a romantic trip with you.
26. Romantic Love Canvas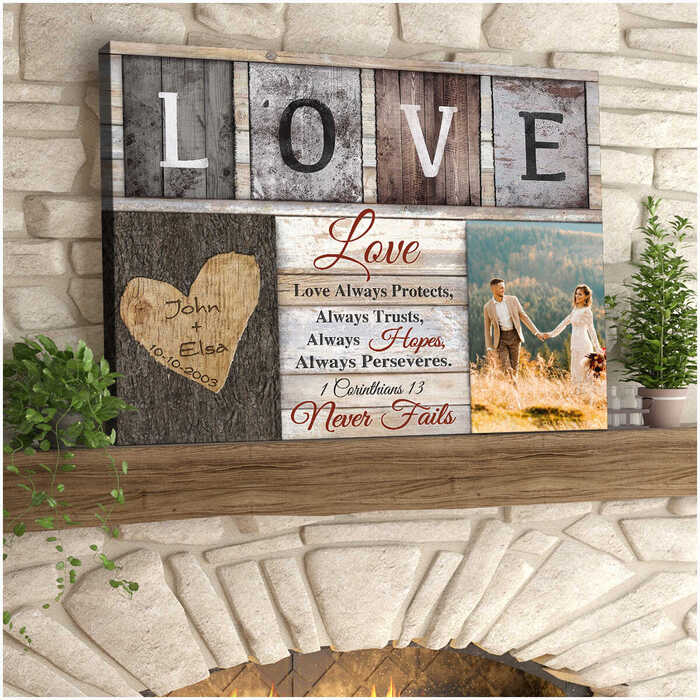 If you're looking for heartfelt university graduation gifts for boyfriend, look no further than this sentimental canvas. It displays your favorite photo in a romantic way that tends to remind him of you wherever he looks at it.
27. Watch Box Organizer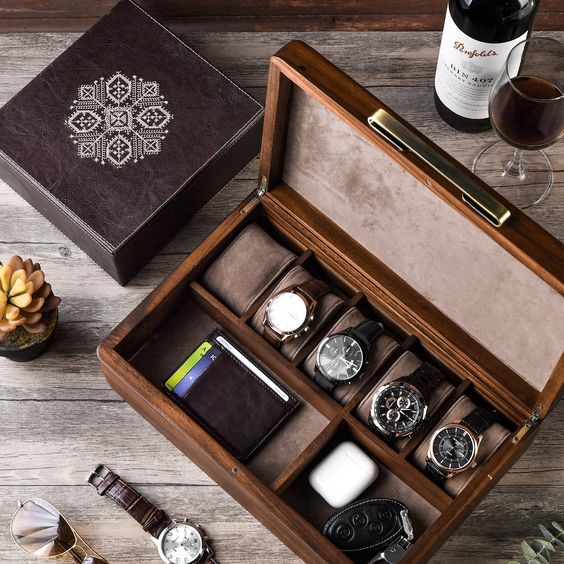 He needs to get his act together now that he's out in the real world. Help him keep track of his timepieces with this watch holder. In addition, there's room for things like keys, passports, and so forth.
28. Graduation Desktop Plaque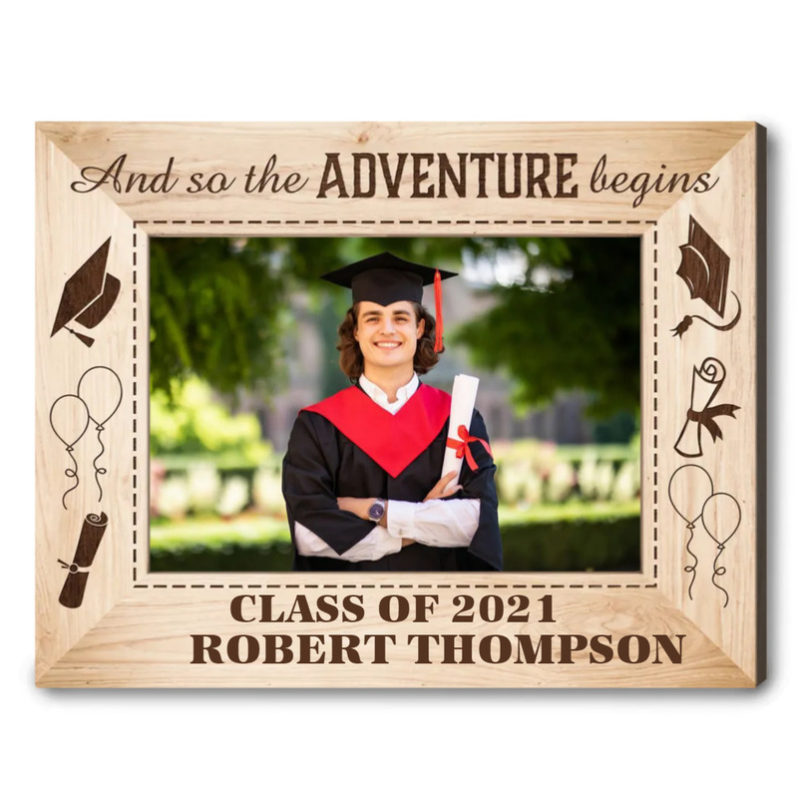 This is the nicest graduation gift for boyfriend that tells him how much you care no matter where he lives. it's sentimental enough to bring a tear to his eye. A wonderful way to commemorate such a significant accomplishment!
29. Matching Keychain & Necklace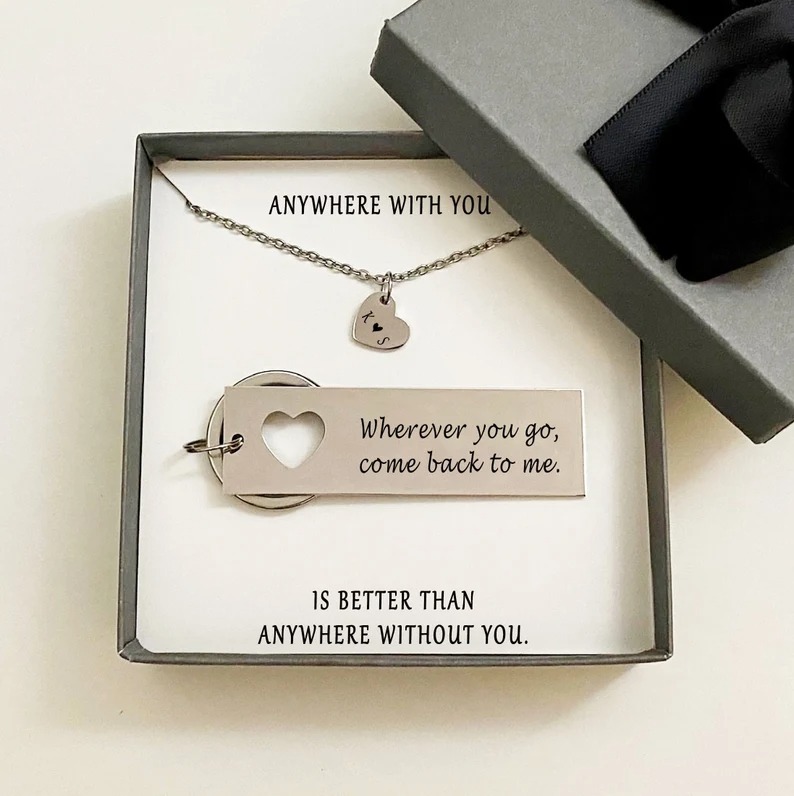 Are you searching for graduation gift ideas for him that are more meaningful to the recipient? So, a keychain and necklace set can be just the thing you can consider. This sweet aphorism is certain to make him feel valued and appreciated in your eyes.
30. Powerbeats Pro Wireless Earbuds
He has probably worn out his current set of headphones on the lengthy road to degree completion. Give him new, high-quality earbuds as great graduation gifts for him. Even better would be a set that doesn't restrict him with cables. The Powerbeats Pro Wireless Earphones are highly recommended. They work with both iOS and Android devices.
>>> Recommend reading: 35 Best Romantic Homemade Gift Ideas For Boyfriend In 2022
Graduation Gifts To Celebrate Boyfriend's Master's or Ph.D. Degree
31. Personalized Door Mat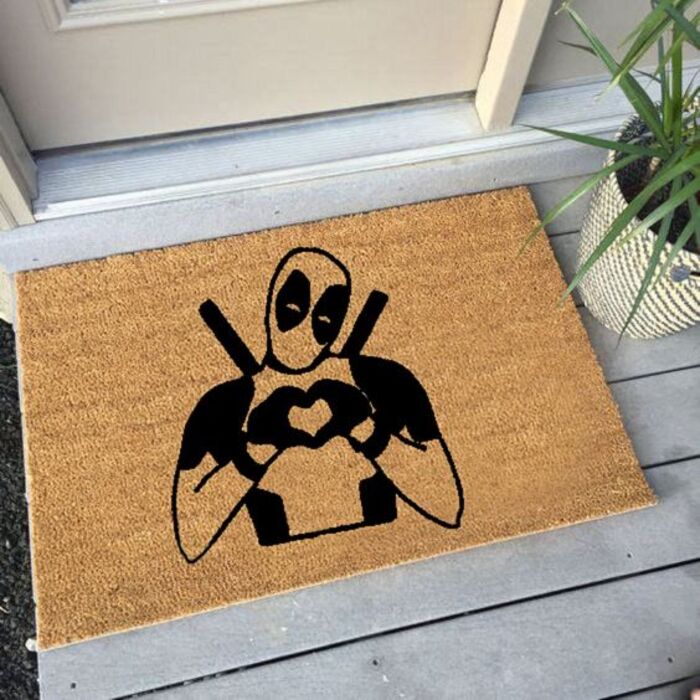 Have you ever noticed how bare-bones most men's living quarters are? If you can't think of a gift for him, just buy him a doormat or something else that he usually forgets to buy for himself.
32. Custom Coffee Cups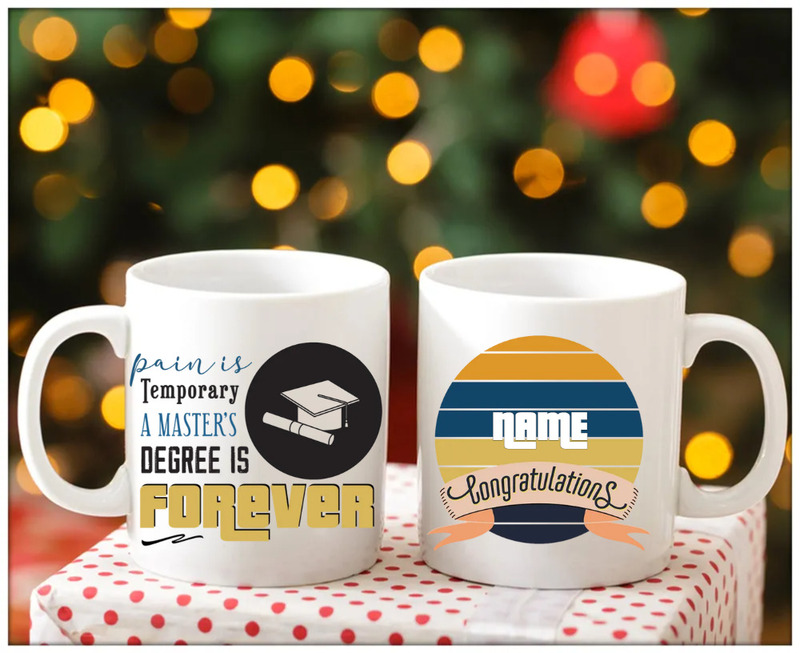 For the best graduation gift for boyfriend, this heavy-duty mug will be a constant reminder of what he's accomplished. Even a global epidemic couldn't stop the class of 2022, so pour your grad some beer and raise a cheerful glass to him.
33. Graduation Message Tumbler
You can't go wrong with personalized graduation present like this tumbler, which is both attractive and durable. An excellent water or coffee flask, made of stainless steel, is intended to retain the heat of hot beverages and keep cold ones precisely chilled. Make it extra personal by adding the recipient's name and the year of graduation!
34. Echo Dot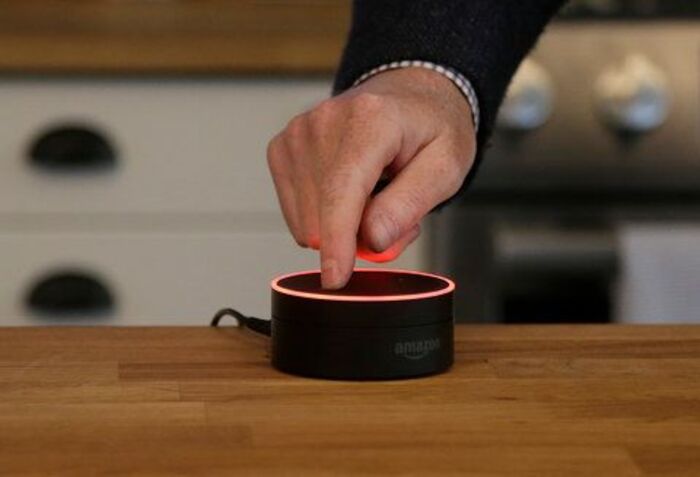 Your lover will be thrilled to have Alexa as a personal assistant to help with everything from setting the alarm to checking the weather, to helping with assignments, to ordering pizza or an Uber, to playing soothing music or sounds to help him fall asleep. This multi-functional device is a must-have for any Ph.D. in your life.
35. Record Player
As the best graduation gift for boyfriend who is a music lover, a turntable for his new home is a terrific idea. It serves a purpose, but it also serves as a work of art. Having a turntable in your home is a great way to create a relaxing atmosphere and enhance the visual appeal of any area. Whether he's in the kitchen or at the workplace, he'll be able to blast his favorite tunes.
36. Customized Card Wallet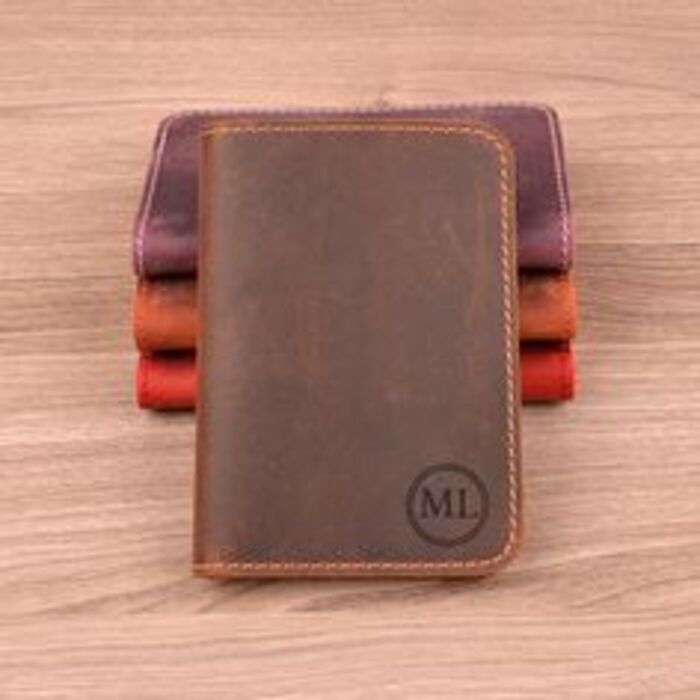 In spite of the fact that his organization will most likely supply him with business cards, he is unlikely to already have a card case in his pocket. This monogram alternative will exude professionalism and thoughtfulness. He'll love it. Trust us!
37. "I Cross My Heart" Canvas Art
It's a big day in his life, and he deserves a special present to mark it. The customized print will become a cherished memento for him. It will also make a wonderful addition to his room's design.
38. Wireless Headphones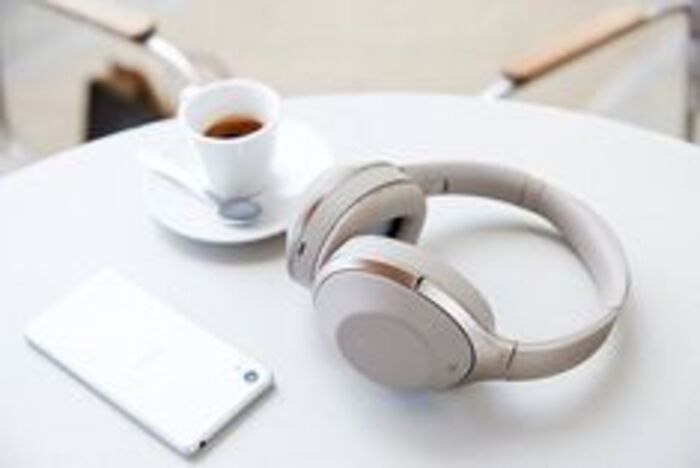 You can be sure he'll get a lot of usage out of these coveted headphones, and they'll be something he cherishes for many years to come. Along with your sentimental card, this is one of the best graduation gift ideas for boyfriend that you shouldn't miss out on.
39. Toiletries Bag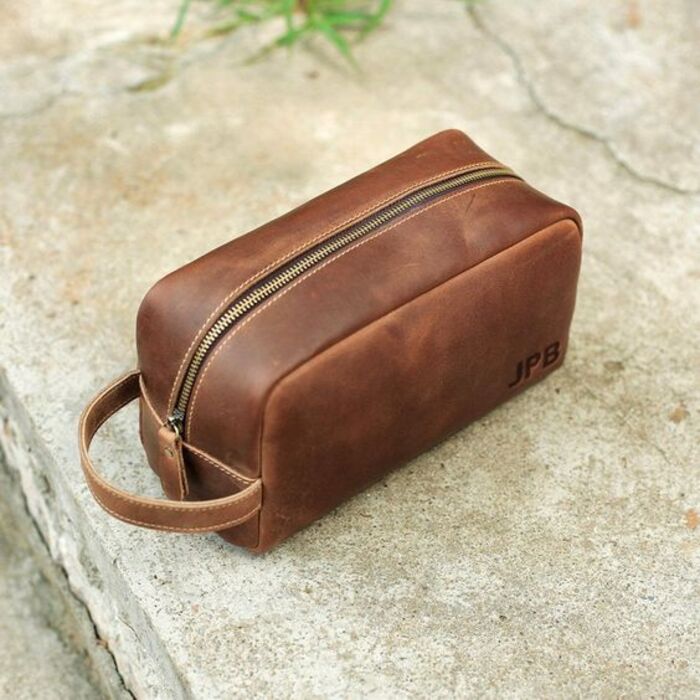 Waterproofness is a must-have feature for every good wash bag. Personalize it with his initials to make this gift more unique and charming. Every time he travels for work, he'll find it a useful item for keeping his small things more organized.
40. Wooden Business Card Holder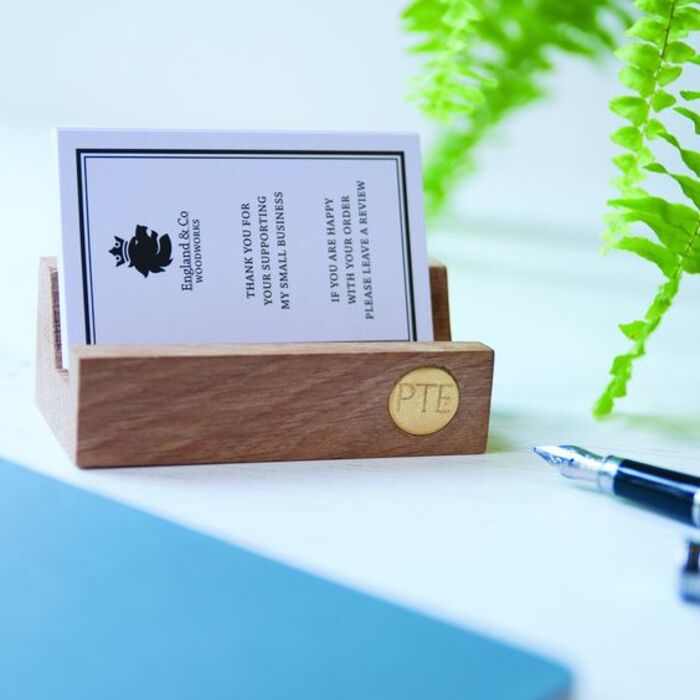 This wooden business card holder is a suitable gift for your man who just received his Mater's Degree. If he keeps his future business cards in this, it will appear more professional.
41. Custom Wood Block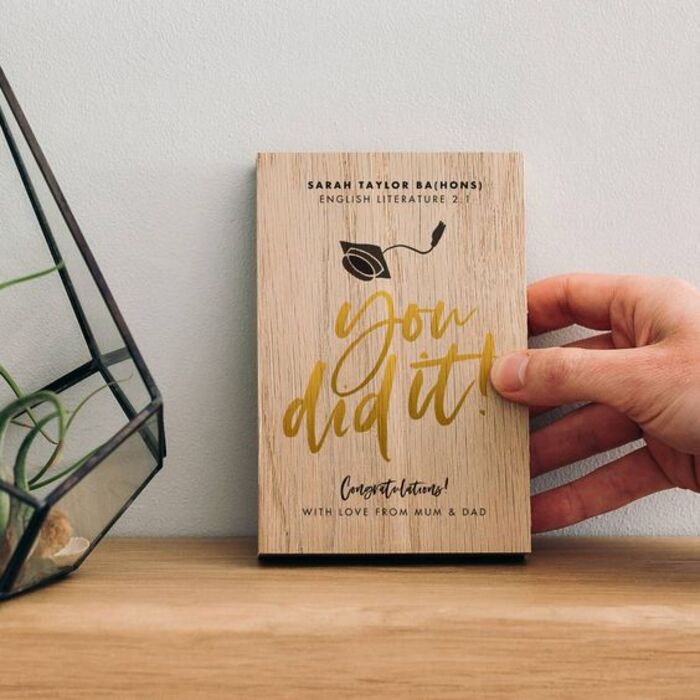 Especially if he is leaving for college, a personalized woodblock is a unique way to mark the momentous occasion. He will be reminded of his accomplishments and his roots with this modest and considerate graduation gift for boyfriend.
42. High-end Timepiece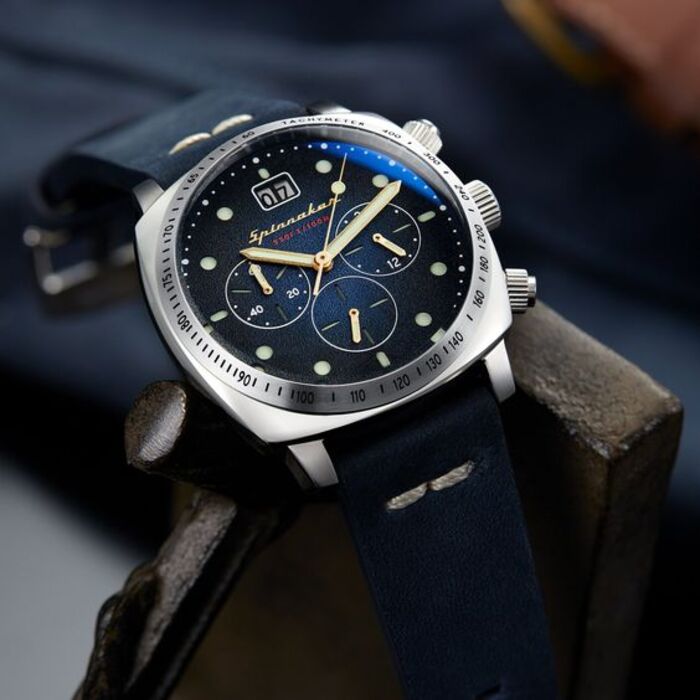 You can purchase the kind of classic, work-appropriate item that instantly elevates an ensemble from decent to established, and he'll be grateful he didn't have to pay for it himself. With the finest men's watch as a last-minute gift for your boyfriend, you're successful in showing him how thoughtful you are.
43. Custom Tie Clips and Cufflinks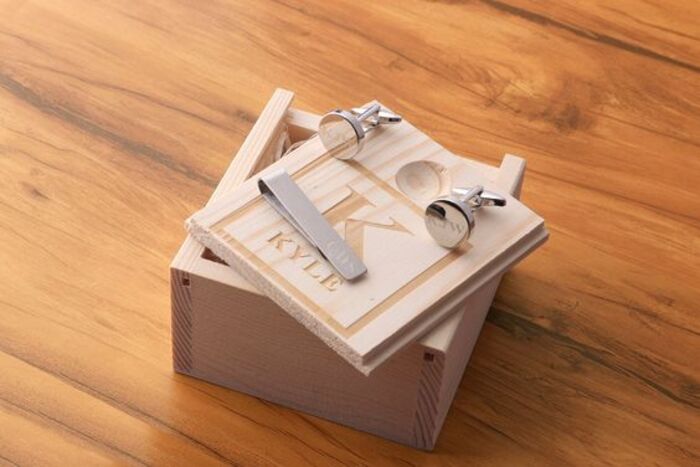 Stainless steel cufflinks and a tie bar with his name engraved on them are the perfect finishing touch to his business attire. This set is a cute gift for your boyfriend that will be treasured for a lifetime for being stylish and meaningful.
44. Cooler Bag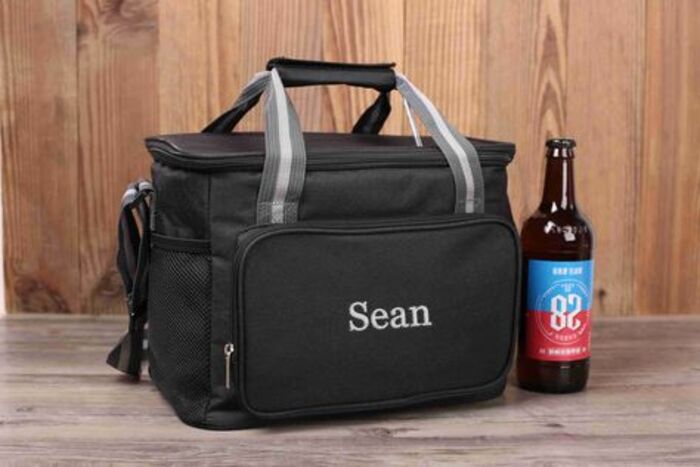 It's a cooler bag that's sleek and smooth. Waterproof insulation and a leather handle complete the package. Metal clasped carrying strap and textured cardstock gift tag are included in this useful bag. If you offer a few snacks and refreshments for your grad, it will be the most thoughtful graduation present for boyfriend that he'll appreciate.
45. Amazon Gift Cards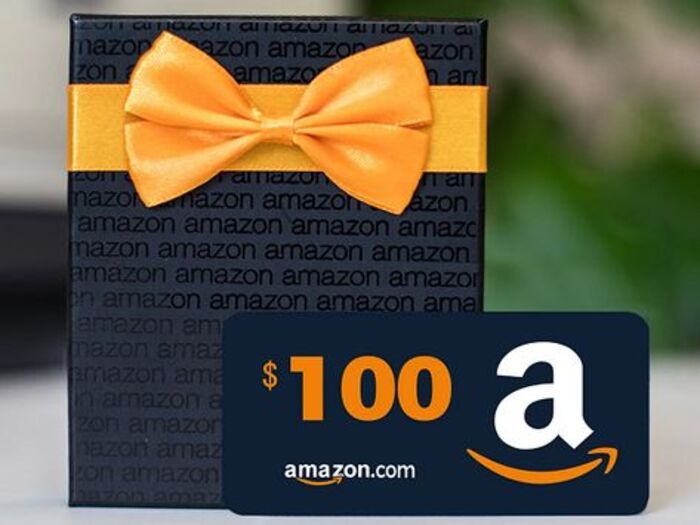 Using an Amazon gift card instead of cash is a clever method to achieve the same freedom and utility. Amazon has virtually everything a new grad could desire, so you know that no matter what they'll be getting, it's the best since they know what they need better than anyone.
46. Wolf & Shepherd Dress Shoes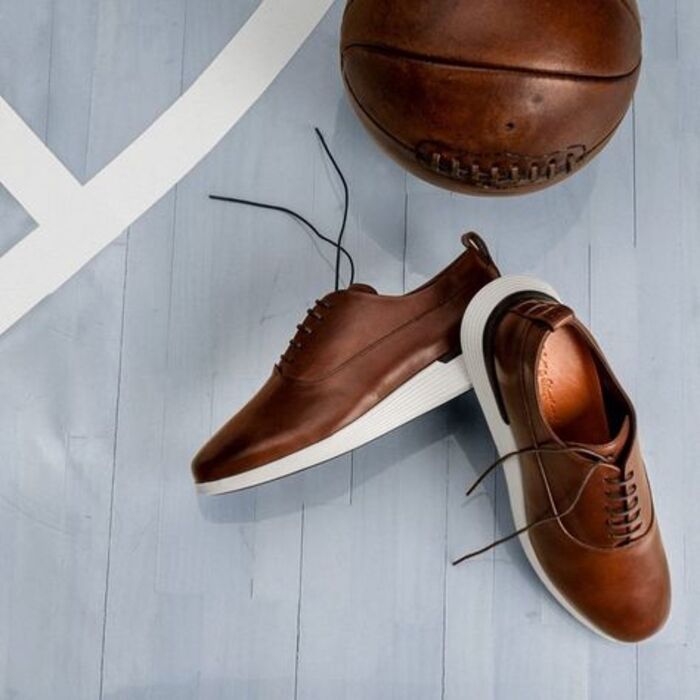 A new pair of dress shoes is always a good idea to wear in the real world, even if he has a few pairs of old ones stashed away somewhere. Comfortable dress shoes are available at moderate prices from Wolf & Shepherd. For a first or second pair of dress shoes, the Athletic-inspired one is a worth-trying option.
47. "To my boyfriend" Letter Canvas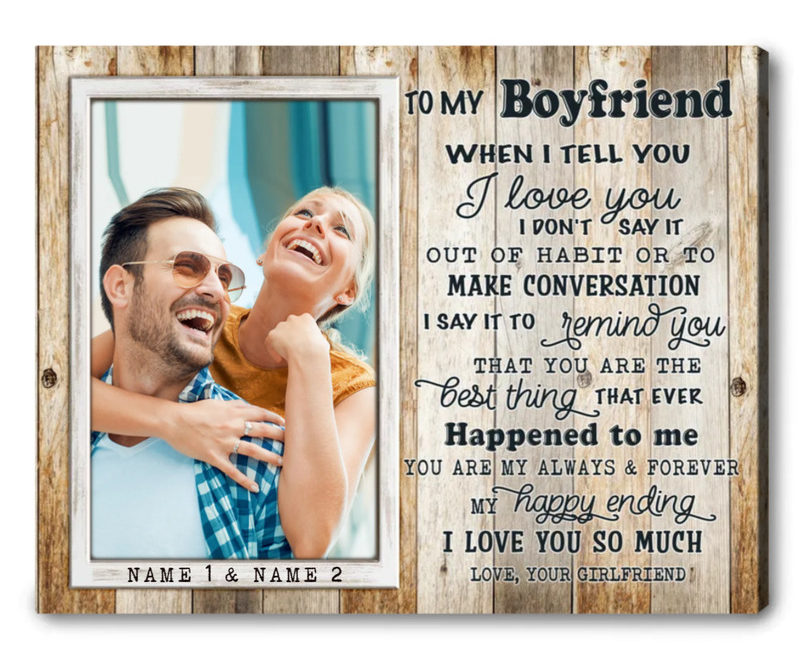 If the man you're dating encourages you to be more expressive for his new journey, then this thoughtful present will help you accomplish just that! The sweet canvas presents a photo of the two of you together with a declaration of your love for one another. Who among us wouldn't swoon over such a kind act?
Read more:
Getting your high school or college diploma signifies the beginning of a new chapter in your life. If you intend to show your loved ones how much you care, this Oh Canvas's list of curated gift ideas is a wonderful place to start. No matter what graduation gift for boyfriend you pick, it's something that makes his day more meaningful.
FAQs about Graduation Gift For Boyfriend
1. Do you give gifts for master's graduation?
An etiquette myth is that you must send a gift if you receive a graduation announcement, but this is not true. Not all announcements imply graduation invites. Despite the fact that it is an option available to you, making a gift is entirely voluntary. In the absence of a gift, congratulations cards or notes are always welcomed.
2. What kind of gift do you give for college graduation?
College Town Cup Of Coffee
Fun Card Game
Amazon Gift Card
Lunchbox for The Grown-ups
Minimalist Card Case
3. How much money should you give a college graduate as a gift?
A college graduation present of $100 to $500 is common, according to Bright Hub. For a 2- to a 4-year degree, a parent should expect to pay anywhere between $50 and $100, whereas the cost of a master's or doctoral degree rises by roughly $100 at every level.
4. How do I celebrate my boyfriend's graduation?
Bake him a cake of success
Organize your future with him
Take him on a trip of a lifetime
Have a special night with him
Go scuba diving
Buy him chocolates and cookies
5. How do you celebrate your husband's graduation?
Organize a movie-themed garden party
Plan a graduation celebration on the internet
Give him graduation presents to show your loved one how much you care
Cook a special graduation dinner and start your "inspiring tunes" playlist
Make a photo album for your grad
Make a list of your hopes and dreams for the future