In search of the most unique gift for boyfriend? Here's the list of practical, stunning pieces that might save you time and effort. Whether you've just been in this relationship for several months or both of you have loved each other for a decade, this guide is still a good inspiration. From technical pieces to personalized items, Oh Canvas believes that you'll find something that leaves him speechless. Now, it's time to browse the list and get ready to surprise him with his favorite things!
Personalized romantic unique gifts for your boyfriend to show your love
1. Personalized Leather Dopp Kit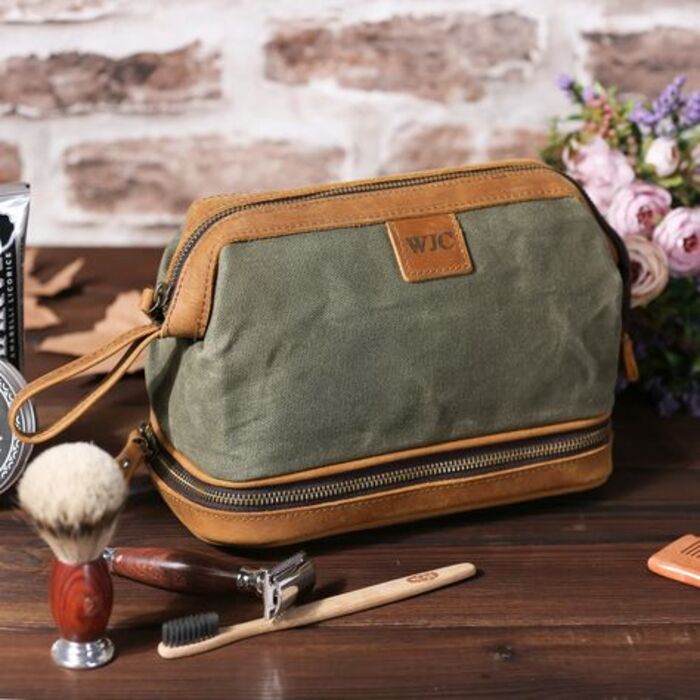 Unique boyfriend gifts like this idea will be the perfect option for his next adventure. Give him this embossed leather Dopp kit so he can store all of his grooming necessities in style before he flies off. Even a brush, comb, and electric razor can fit this one.
2. Custom Men's Wallet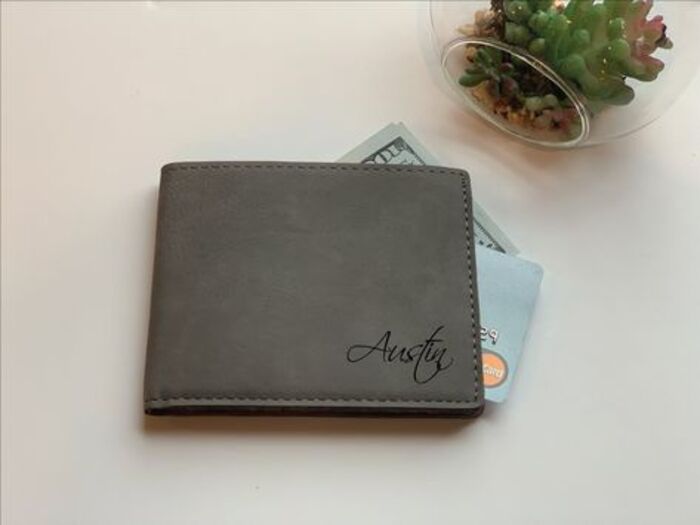 When it comes to unique gift ideas for boyfriend that have your personal touch, a custom wallet stands out to be the ultimate choice. A monogram or initials can be engraved on the outside of this leather wallet. Also, you may engrave a small message on the inside flap and give it to him as a surprise.
3. Personalized Photo Canvas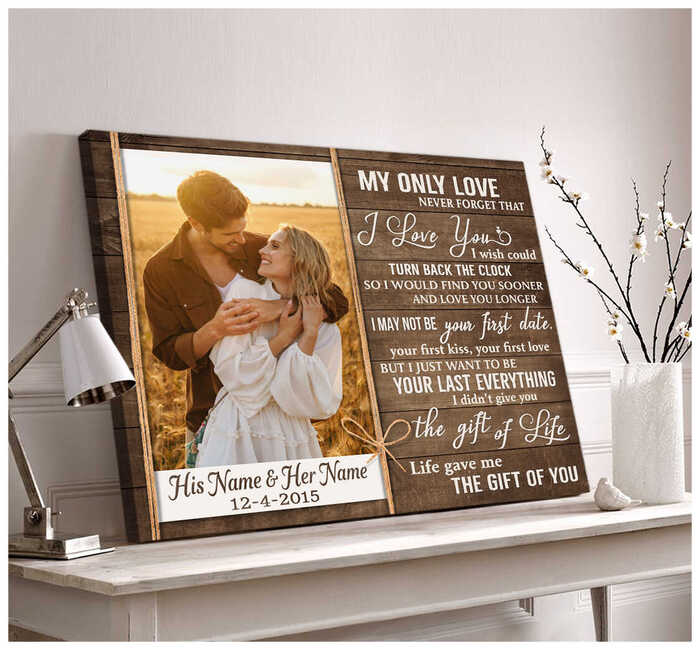 Are you looking for the best personalized gifts for your boyfriend that can express your love for him? Tell your man how much he means to your life via this gorgeous photo canvas print that's sure to make him proud. Sweet and rustic, he'll love displaying and showcasing it to all his friends and family members as an anniversary milestone of your long-lasting love.
4. Custom Watch Box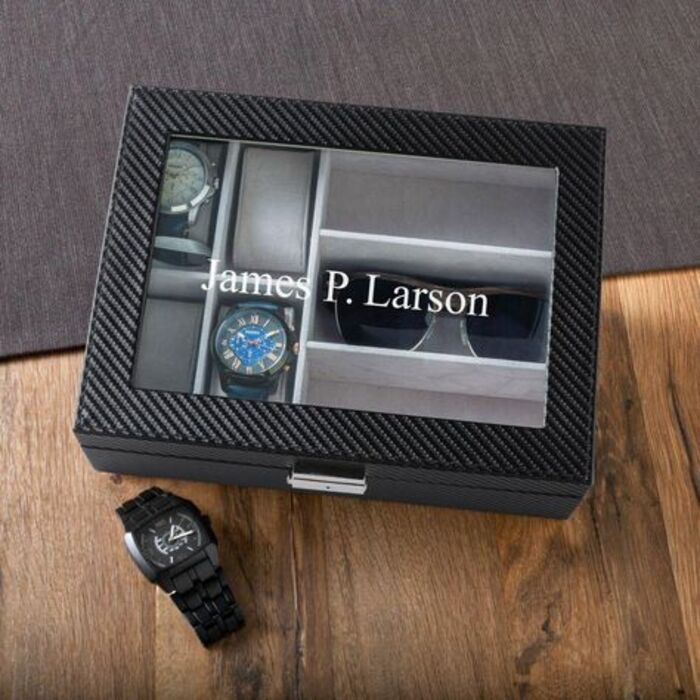 Customize this compact glass box with his name or initials to make it the best unique gift for boyfriend that he's ever received. Besides securing his luxurious stainless steel watches, this tackle box tends to add a charming look to his personal wardrobe or nightstand.
5. Vinyl Record Print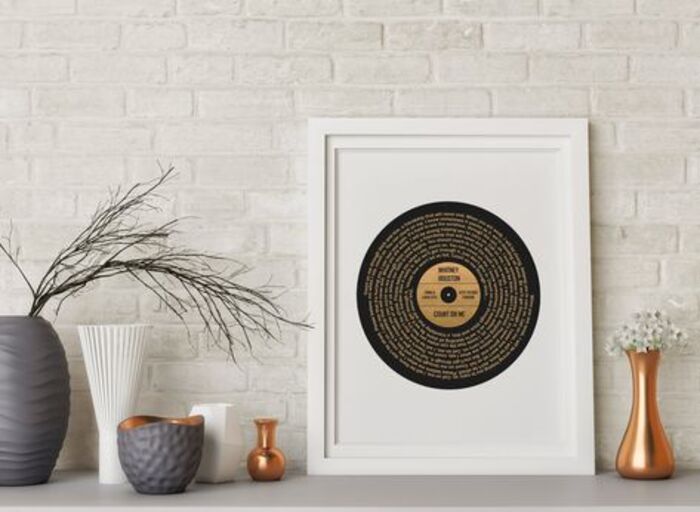 This time, make a creative gift for boyfriend out of a song from your relationship's soundtrack! Tell the manufacturer about the music he played in your delightfully slow dance on your first date night. They'll make a unique record for him, complete with a beautiful letter.
6. State Bottle Opener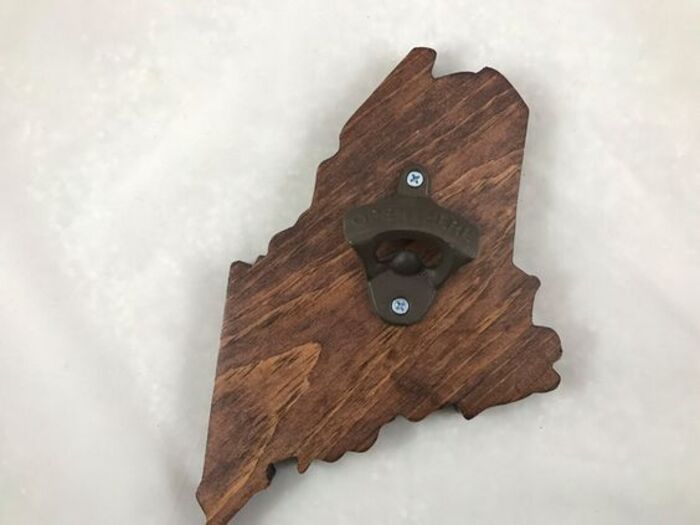 He will cherish unique boyfriend gifts that help him keep his memories. With the state bottle opener (opt for the state where he grew up or where he went to college), he'll find it more special and convenient for any family dinner or party. He'll be reminded of his beginnings and his root every time he cracks open a cool beer with it.
7. Personalized Leather Cufflinks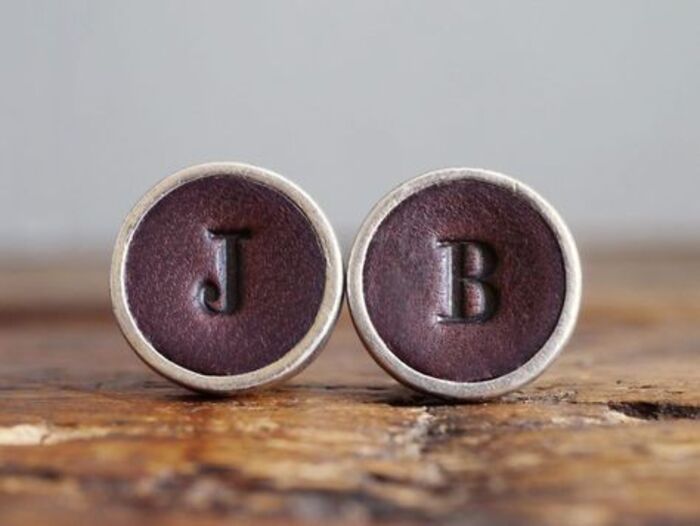 Cufflinks are a great idea for personalized romantic gifts for him when it comes to anniversaries or special events. With these elegant accessories, he'll seem more stylish than ever.
8. Handmade Leather Bookmark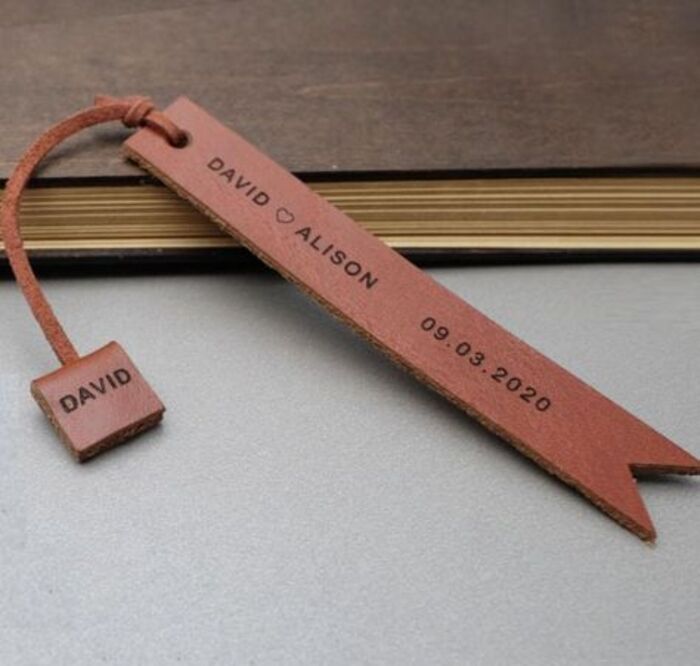 He may or may not follow your reading suggestions, but this personalized leather bookmark is sure to be an essential part of the reading pastime of any bookworm. Customize it with his name or initials and you'll see how often he uses it when he's reading a new book. It is really an appropriate graduation gift for your boyfriend.
9. Custom Air Pod Case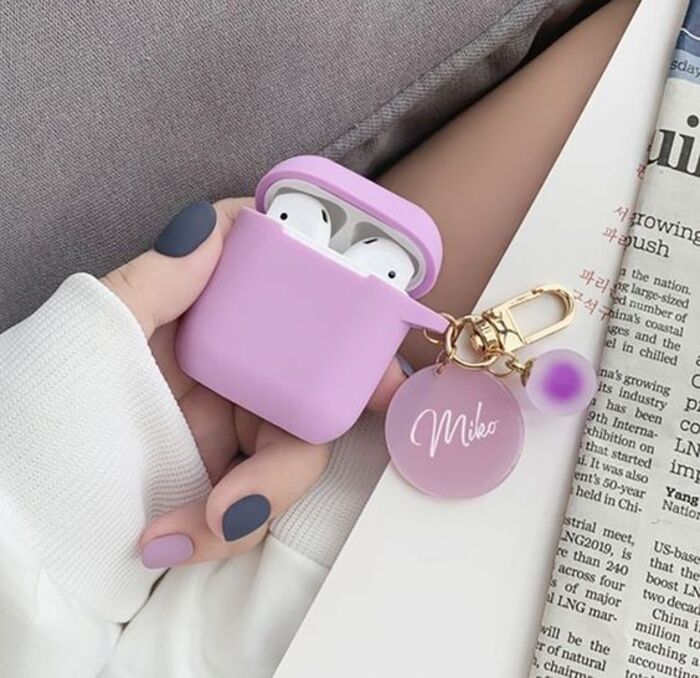 Remember the time he grabbed your AirPods thinking they were his and inadvertently dropped them? This customized case will let him distinguish himself from yours, plus it will look stylish while doing so.
10. Charming Personalized Socks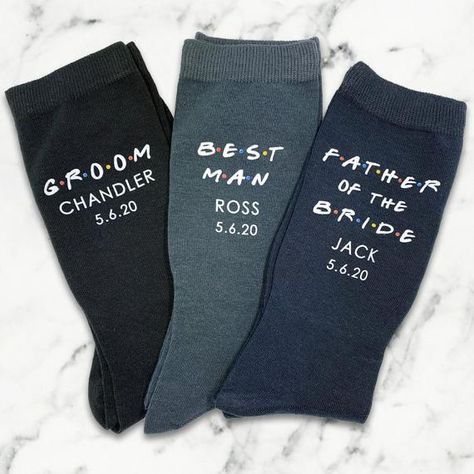 If you're looking for cute boyfriend gift ideas that tend to leave him speechless, we are pleased to recommend products that place importance on your boyfriend's health: adorable custom socks. Being soft and comfy, they'll give him the best experience while keeping him overjoyed.
11. Personalized Stainless Steel Flask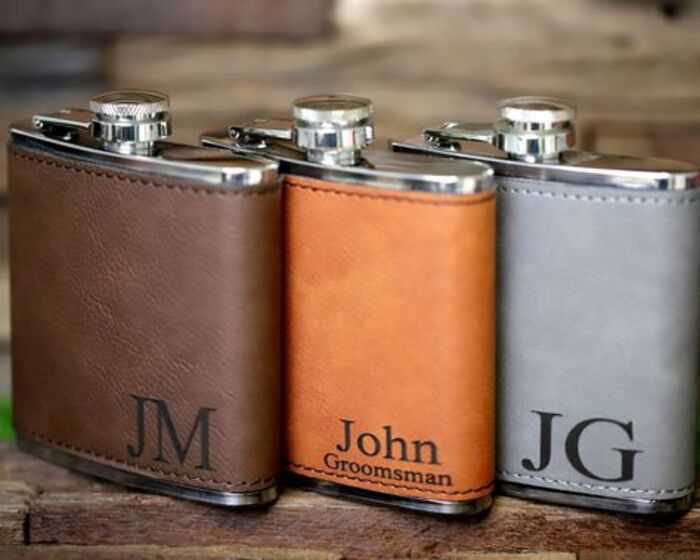 Related to the unique hobby boyfriend gift ideas that he can carry by himself every day, this flask may be felicitous for you to give on the anniversary day. If he's meeting your family for the first time this holiday season, it's a good idea to bring a little booze with him to the festivities. This stainless steel flask is just what he needs for smooth and attractive conversations.
12. "We Decided On Forever" Canvas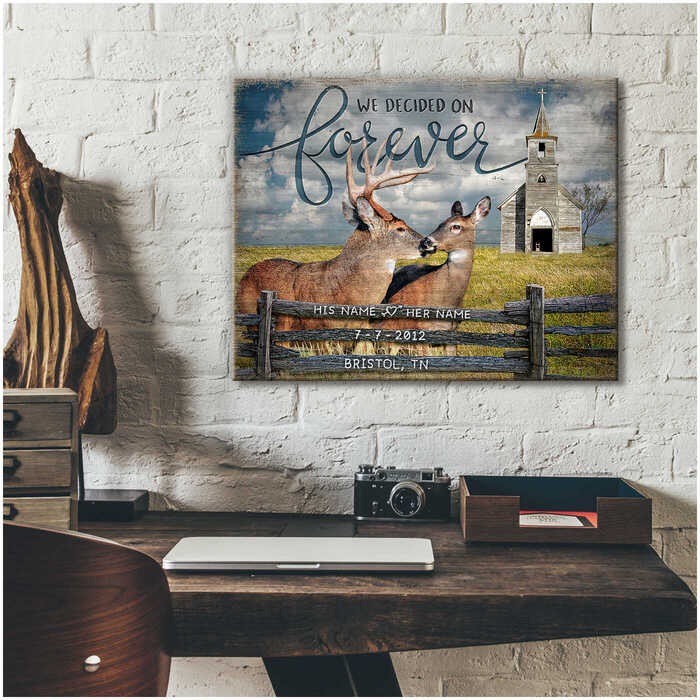 The moment you think that it's time to heat up the romance in your long distance relationship, you can use this "We decided on forever" canvas print as a perfect gift to your boyfriend who has everything. It's a sweet way to let him know how much you love him and treasure this relationship. This is a meaningful present for a special occasion you can give him.
13. Personalized Photo Keychain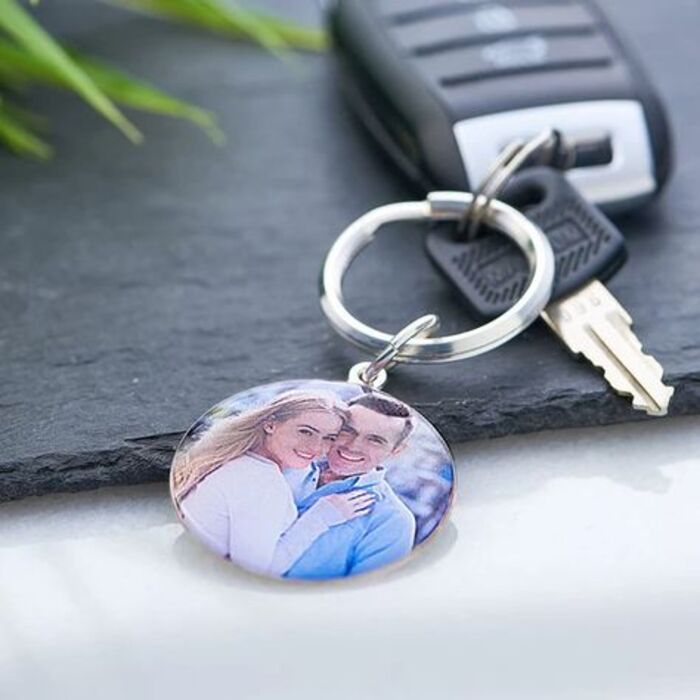 You can never go wrong with a custom photo keychain to surprise him with the best unique gift for boyfriend. When he uses this photo keychain, he'll remember you every time he drives. It's a small but sweet piece that he'll love for years to come.
14. Personalized Whiskey Decanter Set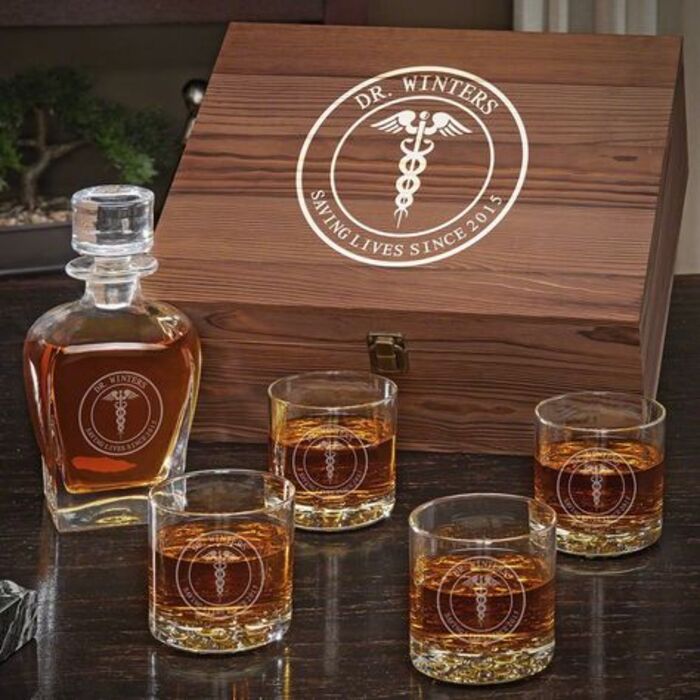 If he's a whiskey connoisseur, this personalized decanter set contained in a compact wood box will be a hit. You have the option to personalize it with his name or a special message. For years to come, he'll still love using this set to commemorate a special date night with you or maybe a fun house party.
>>> Read more: 30+ Gift For Long Distance Boyfriend Ideas (2022 Gift Guide)
Unique gift ideas for boyfriend: Fashion and Wellness Care
15. Everyday Backpack 2.0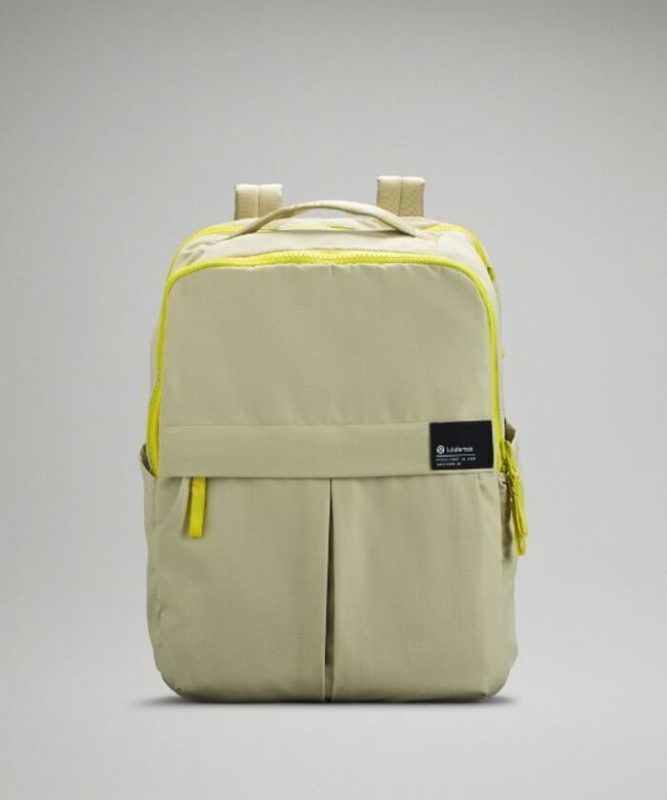 Some boyfriend gift ideas come from familiar ones. This elegant backpack can hold everything he needs. Many inside compartments, including a laptop-sleeved one, are accessible via an exterior zip pocket. Moreover, the bag's trolley strap makes him carry it easier.
16. Electric Razor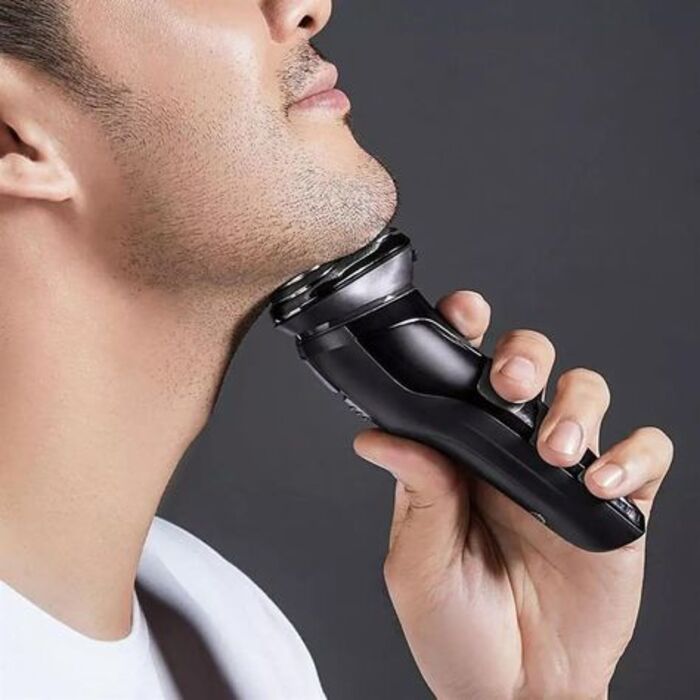 If you've been dating for a long time, then a long-distance relationship will not be a problem. In order to show your passionate love for him despite geographical barriers, a cordless electric razor is one of the best unique gift ideas for boyfriend that he's sure to use and cherish all the time. Three-blade guards and a gentle razor make it easy for him to use on sensitive parts, especially facial hair if he wants to go clean-shaven.
17. Brooklinen Bathrobe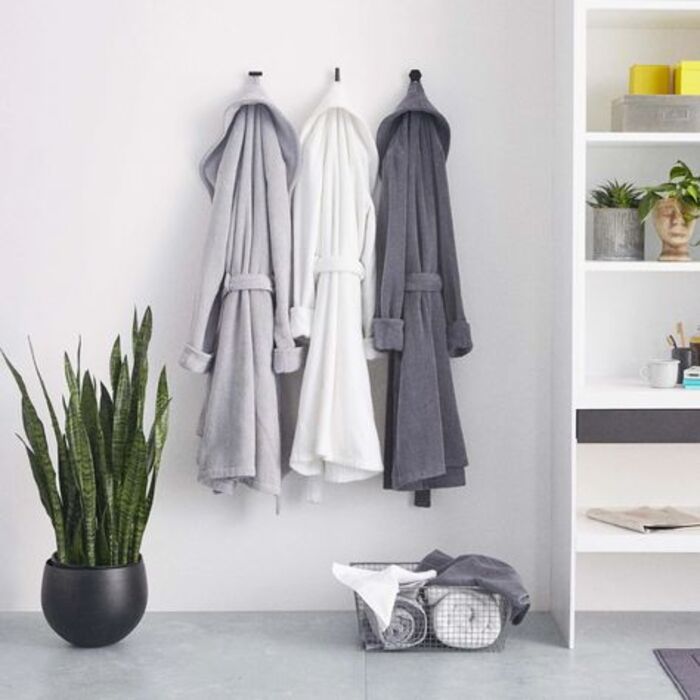 This Brooklinen robe is so luxuriously soft that it feels like you're in a dream. After a long shower, you and your lover will both appreciate the comfort and softness of this bathrobe.
18. Touchscreen Gloves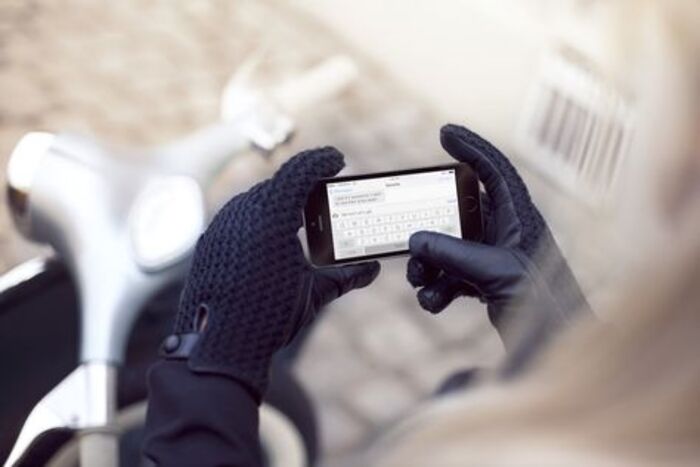 Looking for an impressive, unique gift for boyfriend? These touchscreen gloves, which have a warm, tight shape and silicone grips, make outdoor activities a lot more tolerable. What if he offers to take the dog for a walk more frequently or to clean the windshield? Sounds great!
19. Cozy Seafarer Beanie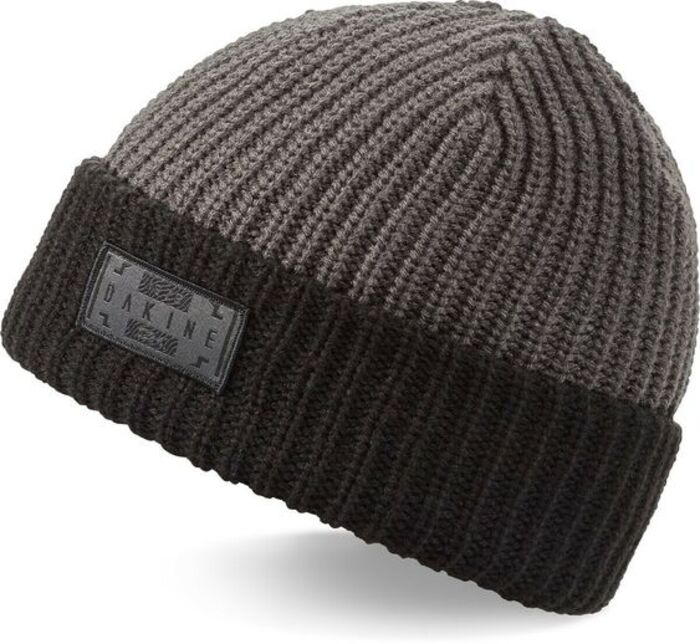 Beanies are a must-have accessory for the fall and winter seasons, so why don't you give these unique gifts. Cashmere-cotton combination is superior to polyester or wool in terms of comfort and durability. Thanks to that, this beanie is really soft and there's no itchiness at all.
20. Cotton Baseball Cap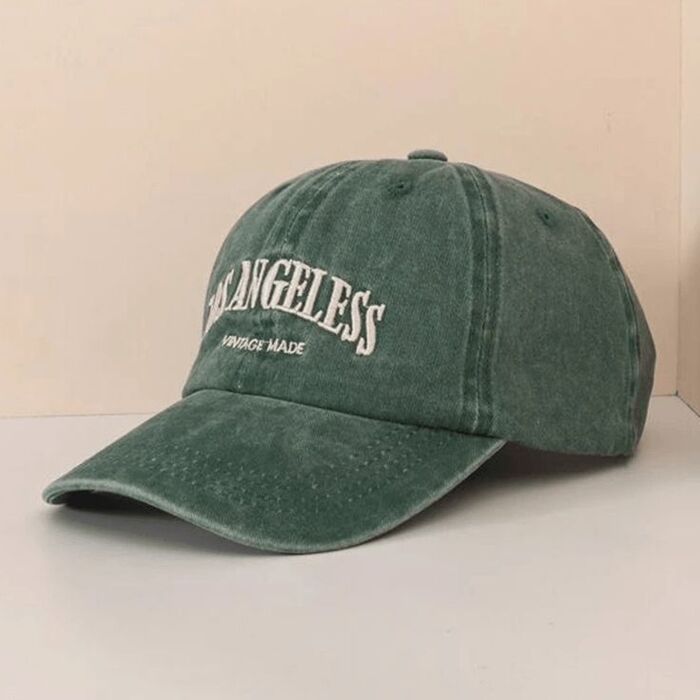 It's cool to give your man a cotton baseball cap for his birthday or Valentine's Day. This pre-washed cap is so inexpensive that he won't believe it. And there are so many variations that you may match it to his school outfits, or even his sports team.
21. Honey Whiskey Soap Bar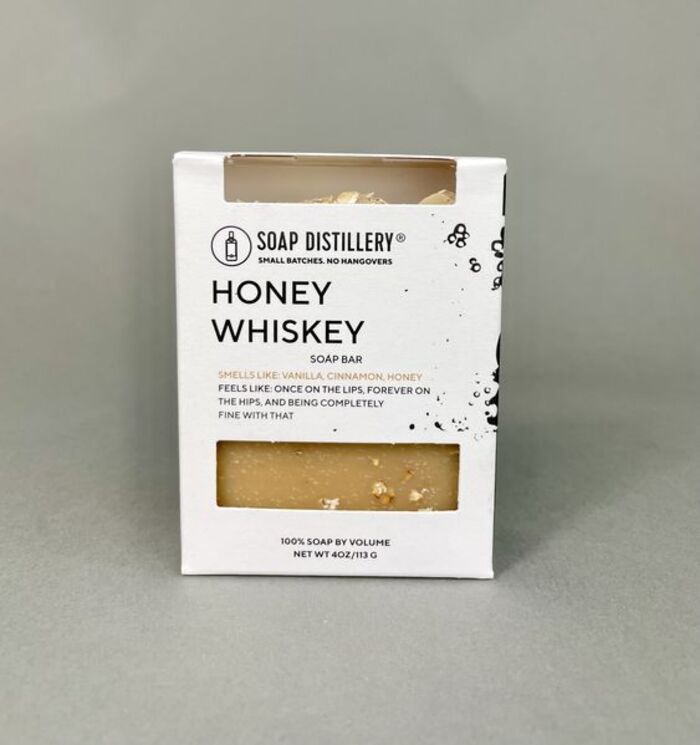 Get this whiskey-themed bar soap for your favorite man if you know he enjoys a good swig. From now on, he'll get excited to have a fun bathtime thanks to this romantic gift for boyfriend from his girlfriend.
22. Men's Skincare Set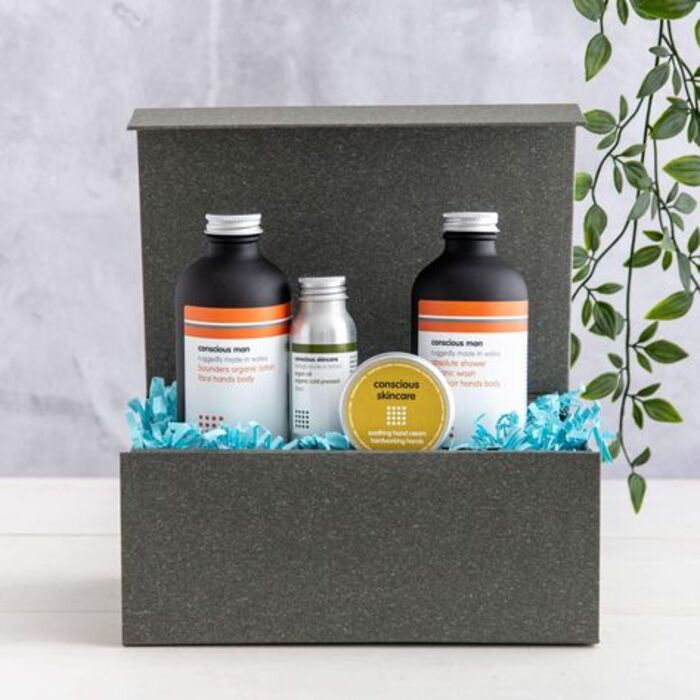 Chances are he doesn't have a skincare routine at all. When it comes to grooming, we've got you covered with this box of essential treatments, including a gentle cleanser, moisturizer, sunscreen, and oil blotting sheets (if he's bald), to give him a glowing look. Importantly, this true prescription for love will make the next year of your boyfriend's life so much better.
>>> Read more: 37 Good Birthday Gifts For Boyfriend That He's Sure To Love
Best ideas for a unique gift for boyfriend who is a technophile
23. Wireless 3-in-1 Charging Stand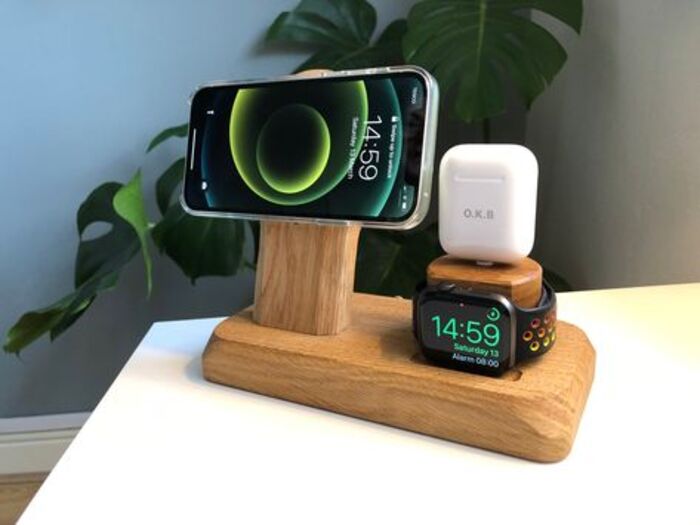 Nowadays, the most unique boyfriend gifts may be simply found on the internet. This one is a quick way for him to charge his iPhone, Apple Watch, and AirPods without cluttering up his nightstand. With this wireless stand, your man will be able to charge his devices in less time and in a more convenient manner.
24. UV Smartphone Sanitizer & Charger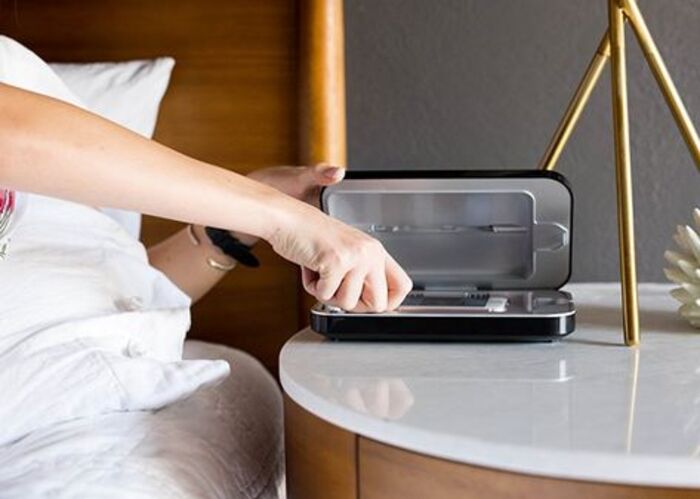 You can use a disinfectant wipe to clean your phone, keys, and other frequently used items, but this UV sanitizer is a more environmentally friendly option. It's as simple as putting your phone in, plugging this device, and letting it do the rest. Unique gifts idea for boyfriend like this one will win him over.
25. Apple AirTag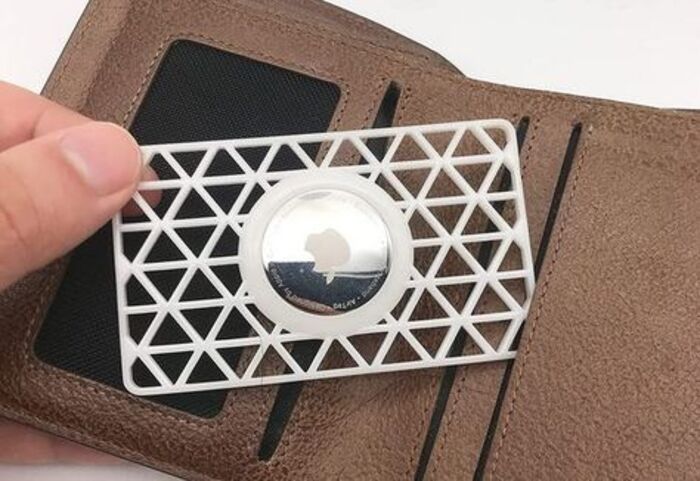 Here is a creative gift for boyfriend that he will appreciate. He'll never lose his keys again thanks to this stainless steel Apple AirTag. If he does, he'll find them in a flash. Put the Bluetooth tracker in the wallet, connect it to his keys, or stick it to his bike and he'll always know where everything is.
26. Luxury Wireless Earbuds
Get these water-resistant wireless earbuds for your boy right away if you want to bring a smile to his face this Christmas. This set has a long-hour battery life and is able to fit tightly. Thus, he can go from the gym to the office with them without worrying about them falling out of his ears. Maybe this is a perfect present on his bucket list.
27. Camera Lenses for Smartphone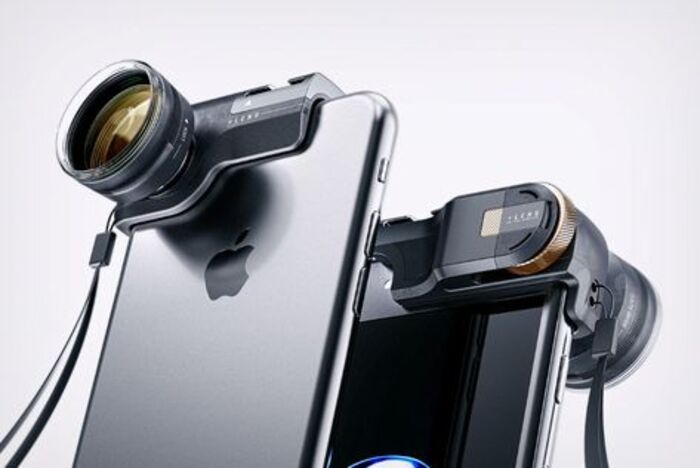 In search of the best unique gift ideas for boyfriend who loves taking photographs? A smartphone camera lens set will be a delight. Fisheye lens, lens cap, microfiber cleaning cloth, and microfiber bag are all included in this set, which may be clipped to the smartphone screen.
28. Wooden Docking Station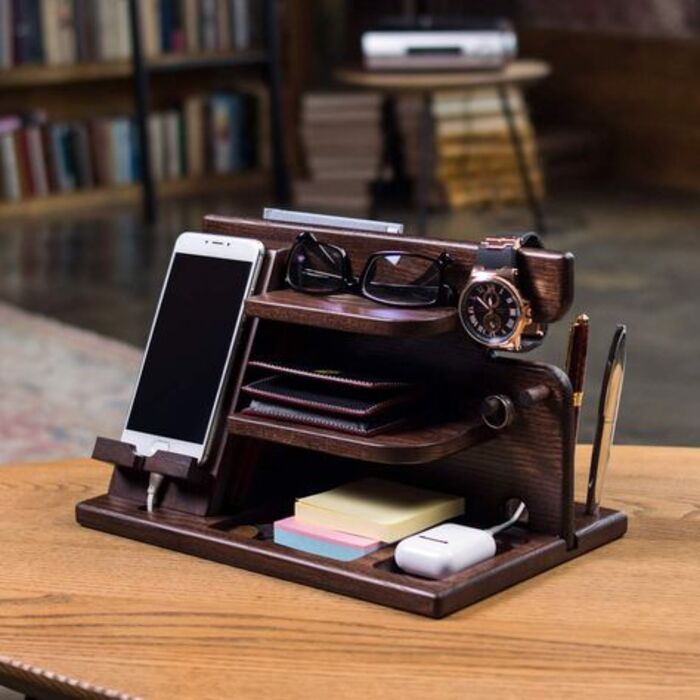 Since it is made of wood rather than plastic, you may engrave this docking station with your loved one's initials or monogram while still providing a convenient place for all of his electronic devices.
29. Bluetooth Speaker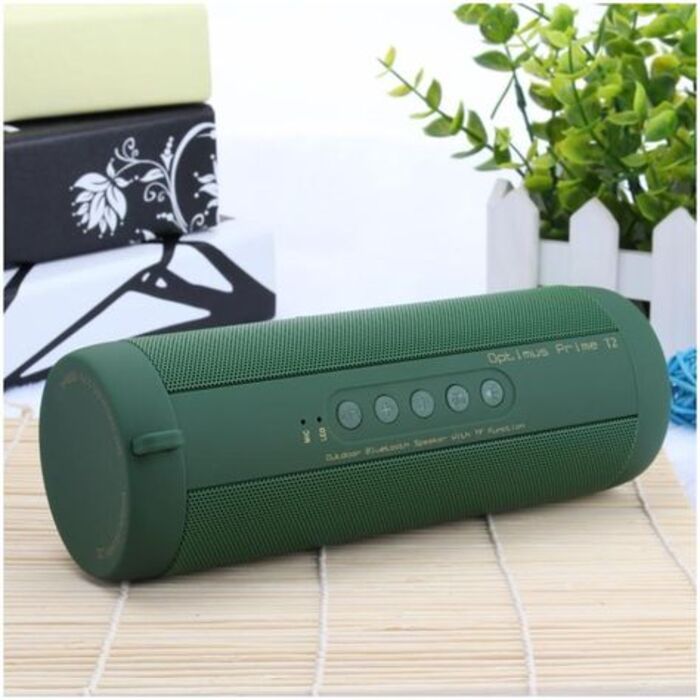 If your music lover to his favorite songs all the time, get him this Bluetooth speaker so that he would fall into melodious songs in his own man cave. With a delicate and contemporary design, this electronic device will be much appreciated in home decoration.
30. Magnetic Wristband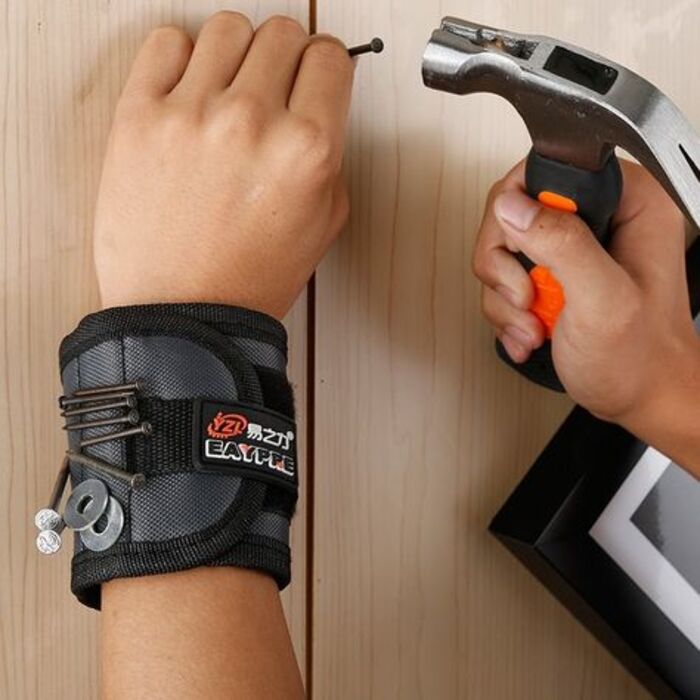 Who cares about having pockets? You can attach screws, drill bits, and other metal tools to your wrist like superheroes the next time you're working on a project. This is the ultimate, unique gift for boyfriend who's in charge of fixing home appliances or plumbing pipes in the home.
31. Portable Charger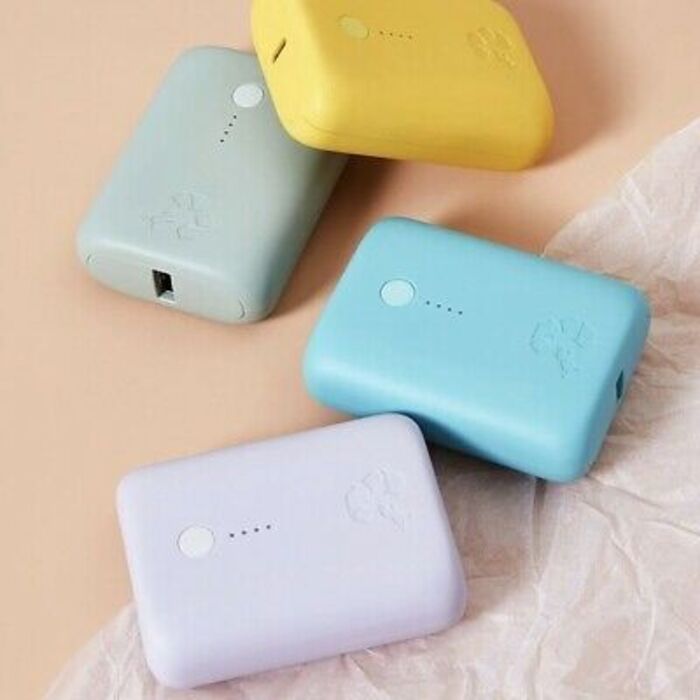 A creative gift for boyfriend that he's no longer able to make excuses for not responding to your messages. Having a portable charger is still useful even if he isn't going somewhere.
>>> Recommend reading: 31 Funny Gifts For Boyfriend That Make Him Happy All Day
Romantic gifts for boyfriend as keepsakes and others
32. Mini Tabletop Fire Pit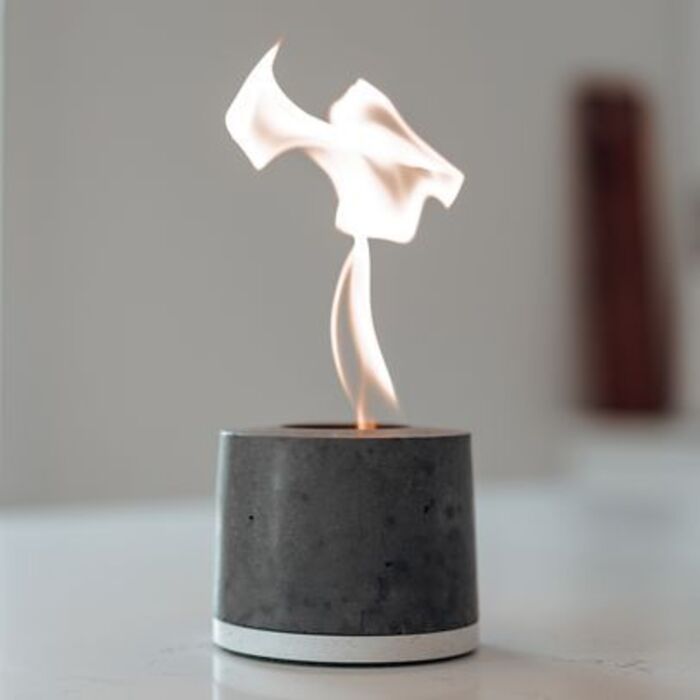 If your partner has always wanted a fireplace but hasn't quite made it, we have something perfect for him. Designed for both indoor and outdoor usage, this fireplace is compact and safe. It's able to keep you and your man warm and cozy for over an hour.
33. Rustic Bluetooth Turntable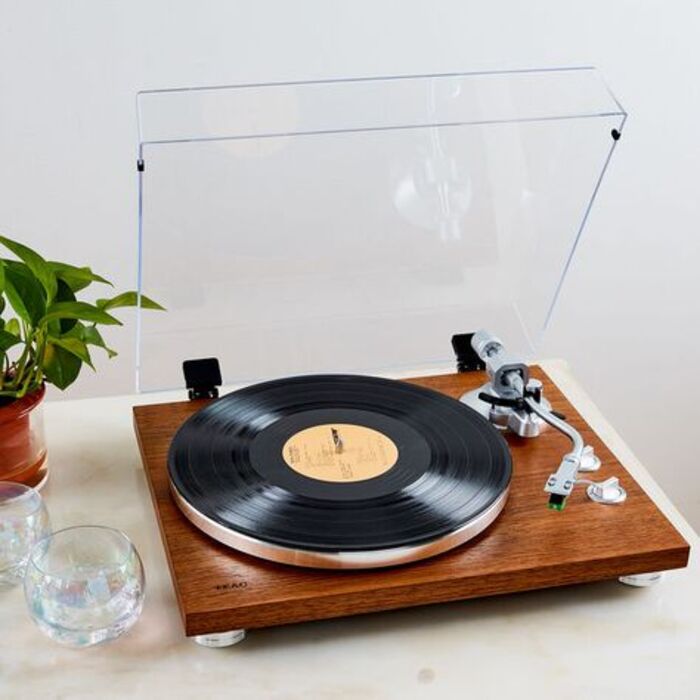 The vintage-style Bluetooth turntable is a unique gift for boyfriend who is a music enthusiast. The built-in Bluetooth allows him to play tunes straight from the streaming services on his smartphone and play his record collection at any of the three speeds.
34. Hand-Woven Blanket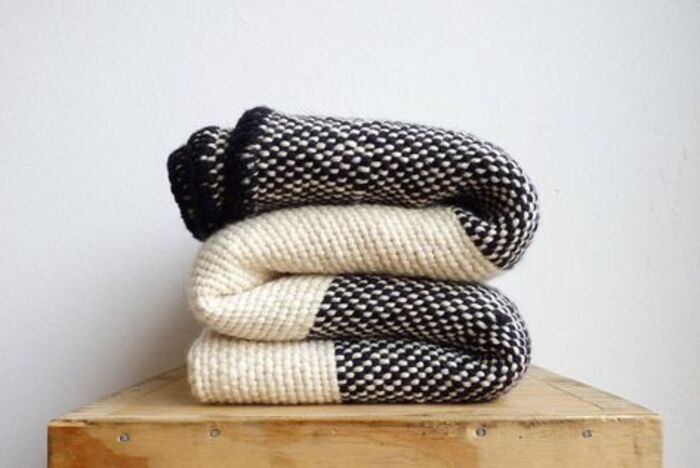 Whether he's going camping, having a picnic, or going to the beach, your man will appreciate having a multipurpose blanket to keep him warm. It's woven by hand on a traditional wooden loom, and it's soft enough for snuggling even though it's made from recycled materials.
35. Canopy Beer Glasses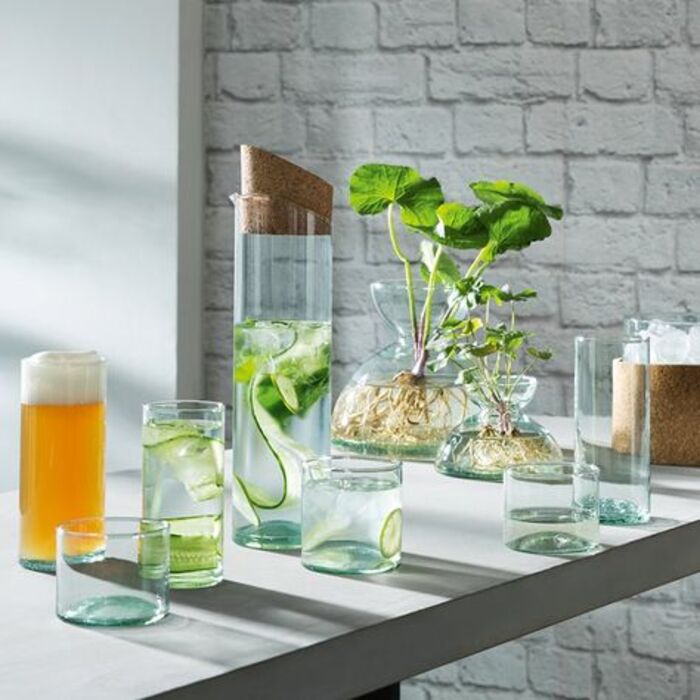 Is there anything better than a sleek, uncomplicated beer glass created from recycled glass? If your guy is of loyal craft beer enthusiasts, he'll be ecstatic to receive a growler or another special craft beer gift. These aesthetically pleasing glasses are totally unique gift ideas for boyfriend that will be a great addition to his bar cart. It has a domed bottom, which mimics a beer bottle and enhances the aroma of the hops in his favorite drink.
36. Basic Apron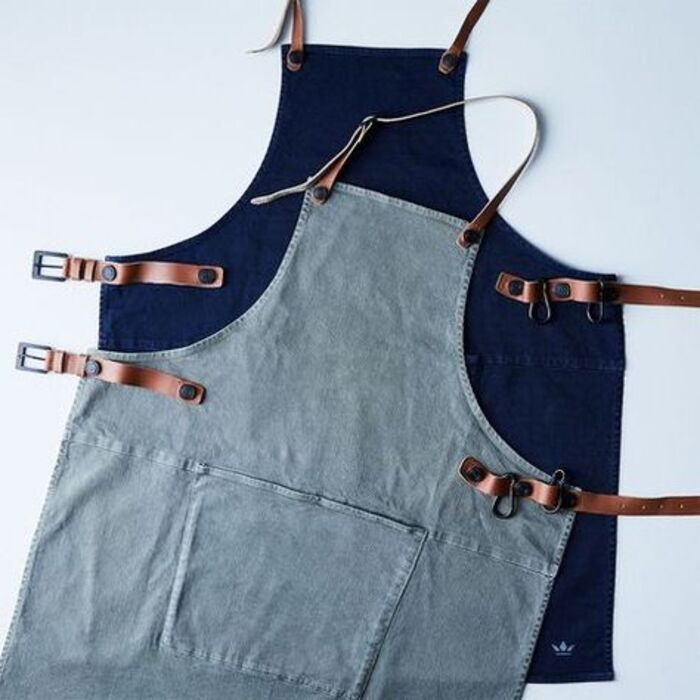 This apron is perfect for the chef in your life. This romantic homemade gift idea for boyfriend helps him wipe his hands and keep his clothes clean as he cooks. When he puts this apron on, you'll see how he becomes much sexier.
37. Scratch Off Movies Poster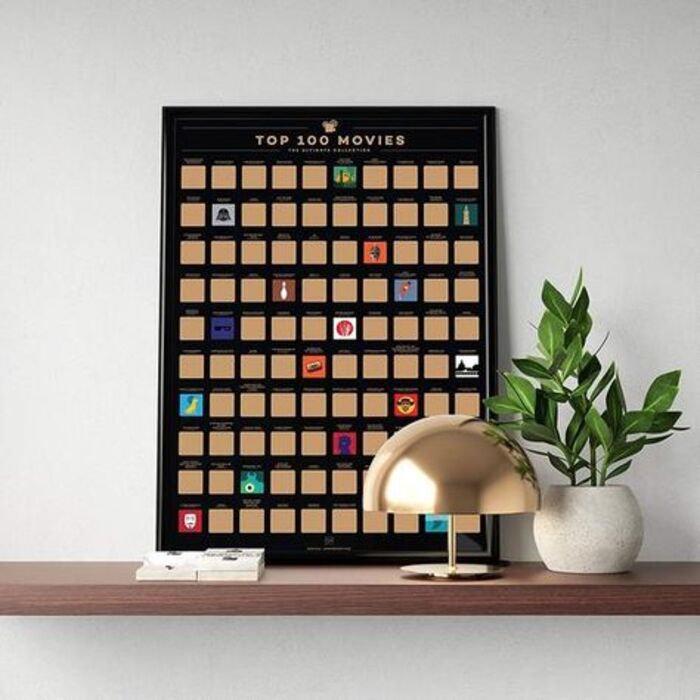 If you're looking to get in on the current trend, a poster that lists the top 100 movies is a great way to do it. Once you've completed them all, you'll have a stunning art piece for your home's interior. That makes this poster a unique gift for boyfriend that he'll treasure for years to come.
38. Travel Suitcase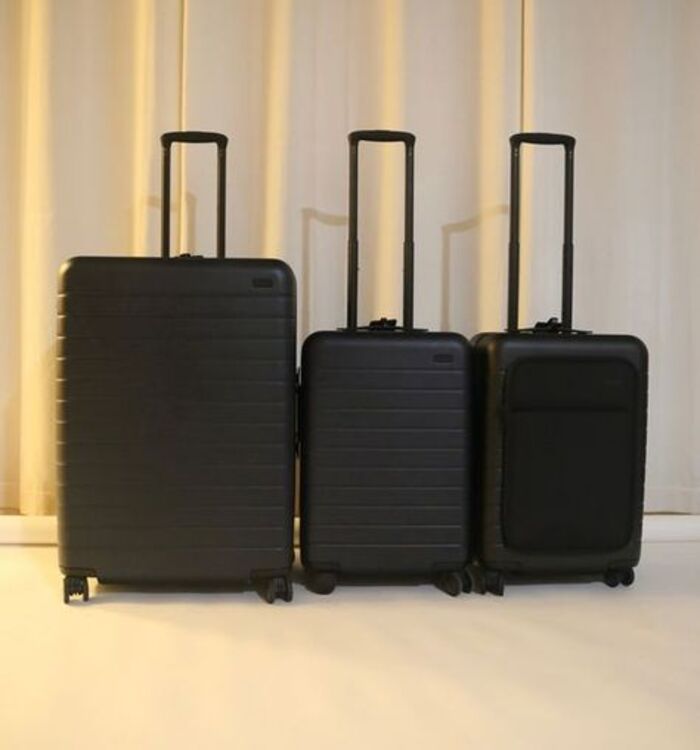 On arranging a vacation with your man? The gift that keeps on giving is an away suitcase. You can charge your laptop and iPhone while you're on the go thanks to its built-in charger that is composed of a durable shell.
39. "God Knew My Heart Needed You" Canvas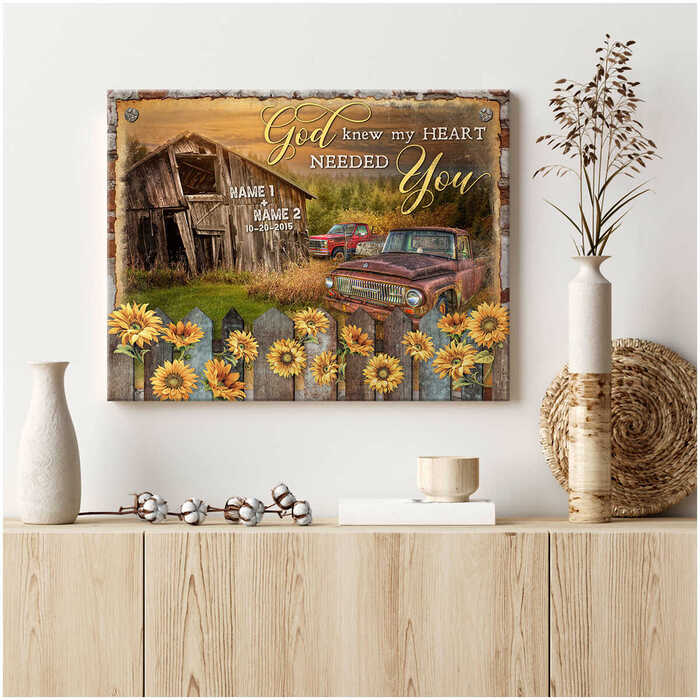 Show your boyfriend he is the love of your life via this "God knew my heart needed you" canvas print. It's a special keepsake that tends to be a focal point of his room. He'll love looking at it every day while also thinking about you. This is one of the unique customized gifts for him or a great gift for your brother-in-law on our list for any special occasion.
40. Duffel Bag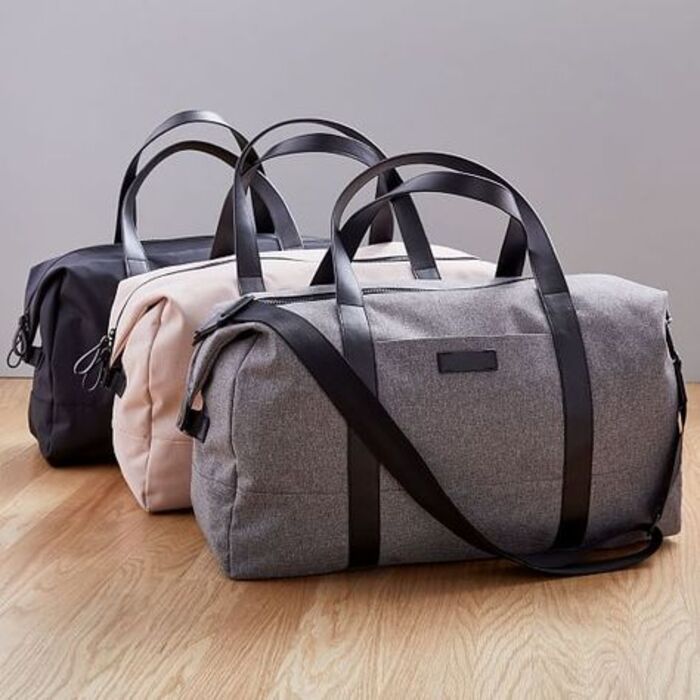 Every guy needs a duffel bag that he can carry with him when going camping, going on holidays, or on business trips. Clean clothing and filthy sneakers will never mix in this bag because it's the perfect size for both traveling and working out at the gym.
41. World Travel Map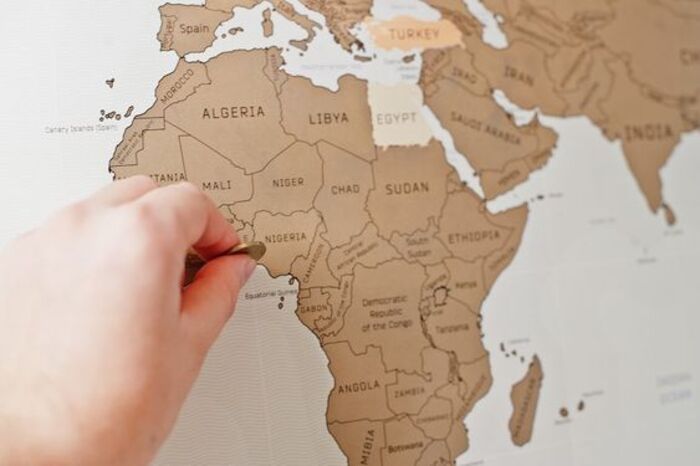 Even after all these years, there are still plenty of surprises in store for him, such as this scratch-off world travel map. He can keep a scratch-off list of places he wants to see when traveling throughout the world with you. Interesting and meaningful, this romantic gift for boyfriend will never go unnoticed.
42. Cocktail Kit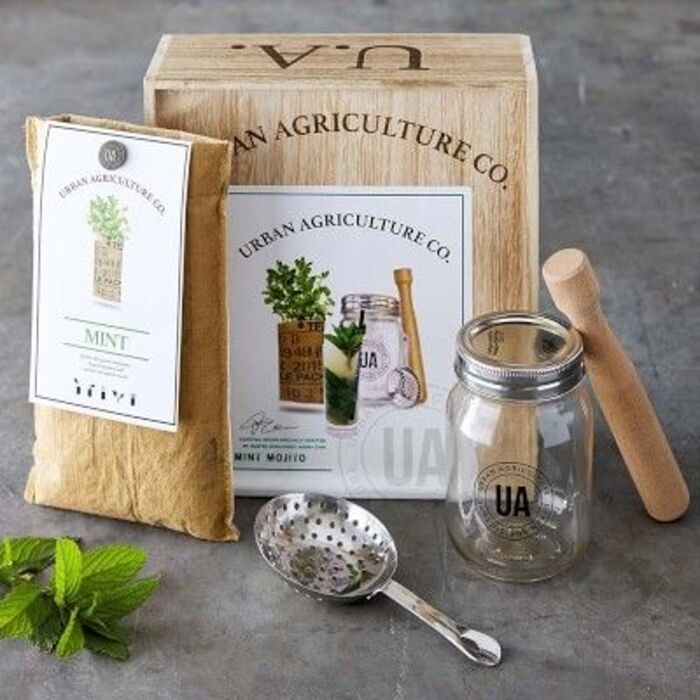 Give him a unique twist on his favorite brews with this beer cocktail kit that includes a trio of mixers. When you come to visit his place, you might be invited to enjoy a glass margarita with harmonious flavor made from nature's ingredients that he proudly makes.
43. Travel Chess Set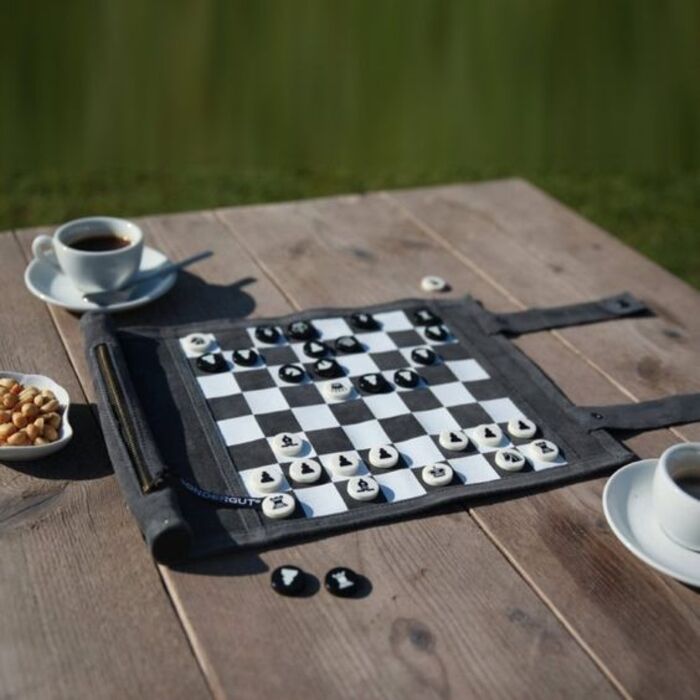 When it comes to chess, he's always up for a game at any time or place. His new leather purse and board are ready whenever he needs a little break and entertainment. It would be best to enjoy relaxing moments after a hard-working day.
44. Morning Coffee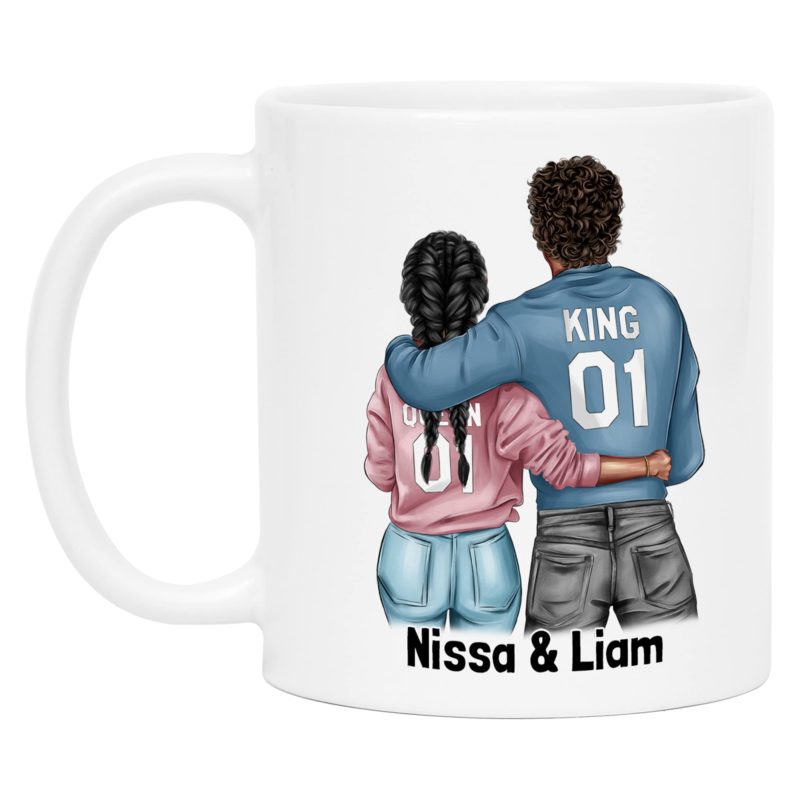 There's something about adding love to the routine, which makes even last-minute boyfriend gift ideas extremely romantic. If he can make you fall in love with him over a cup of morning coffee, then every morning will get off to a good start. Send him a message of love with this great gift because there is no greater source of motivation and energy than the love you have for him.
45. Natural Soy Candles
You adore him, but he's still a male, and that means his apartment may have an odor you don't particularly enjoy. Even if you're not home, he'll want to light this candle because it has a fragrant flavor.
46. Sunflower Bunch Bouquet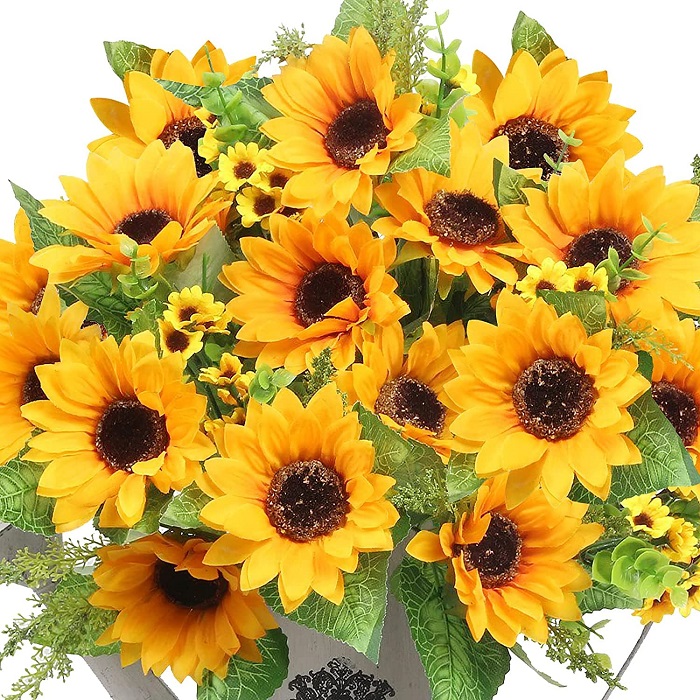 Whether it's your third anniversary or you just like your partner's bright optimism, sunflowers are a new twist on a flower arrangement. You'll get 16 to 20 beautiful flowers ready to arrange in the flower vase at your discretion—talk about walking in the sunshine!
47. Golf Style Grill Accessory Set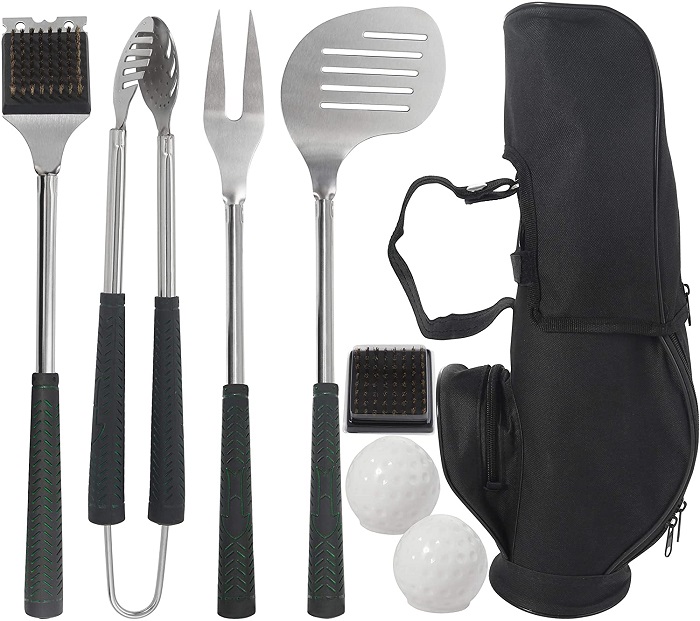 This gift is intended for a certain set of interests among family members. If your guy has a family member who enjoys golf and grilling, such as his father, this is the ideal present.
It is a set of grill equipment and accessories designed like golf clubs that come in a golf bag-like carrying case. If he enjoys golf and grilling, this is the perfect present for him!
Read more:
You've just discovered the best unique gift for boyfriend ideas that are perfect for any occasion. With one of these thoughtful presents, you'll be one step closer to being a wonderful partner of the year. If you're considering gifting him heartfelt personalized pieces, browse Oh Canvas site to explore charming prints that are sure to win him over.