Oh Canvas know that you have a lot on your plate ahead of your important day, and we want to make it easy for you. Of course, you've spent months deciding on the perfect personalized groom gifts. How about giving him something he'll treasure long after the wedding is over? Some of the best wedding gift ideas for the groom from the bride are included in this list of over 32 ideas. It's a safe bet that he'll fall in love with these special gifts. For the newlyweds, even an unofficial exchange of wedding gifts might be a pleasant concept.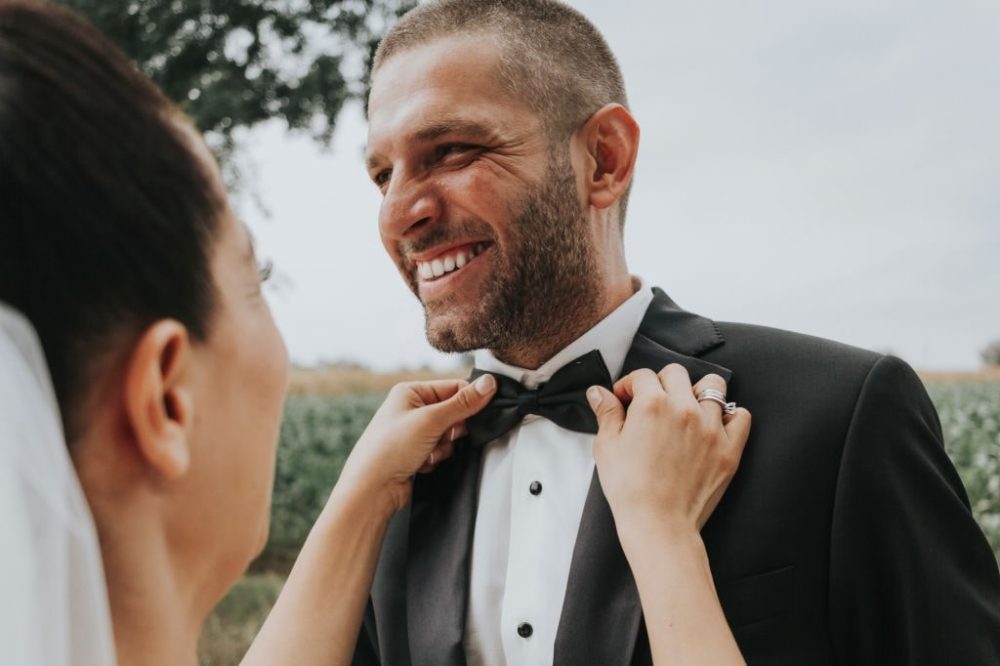 32+ Best Personalized Groom Gifts From Bride
22 Awesome Personalized Groom Gifts That Make He Suprise
1. Loving You Canvas Wall Art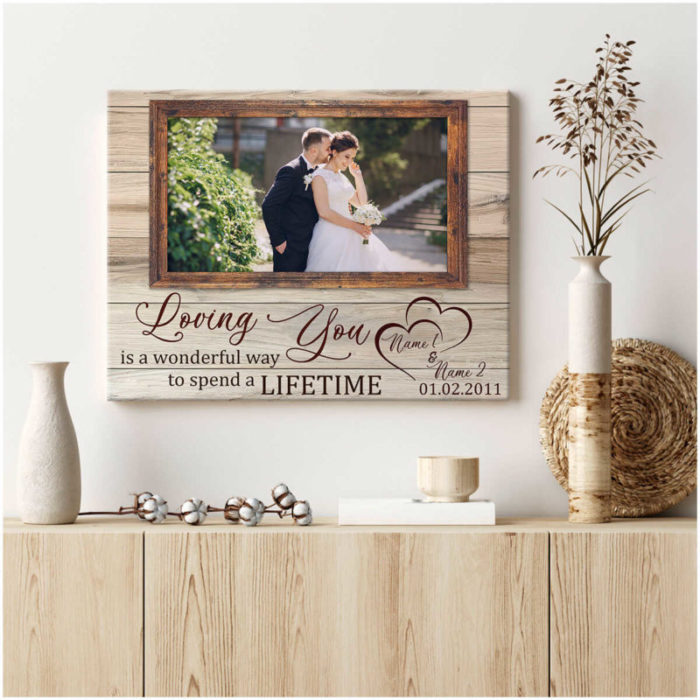 Demonstrate to your groom why marrying him was the best decision you've ever made. This lovely custom photo plaque commemorates your meeting, friendship, and marriage all in one.
2. Customized Whiskey Decanter
Many personalized groom gifts lists include this item. One of those timeless gifts he'll be able to use for a long time. Indeed, he may unwrap the gift on his wedding day, as we've seen numerous examples on the site of grooms doing just that.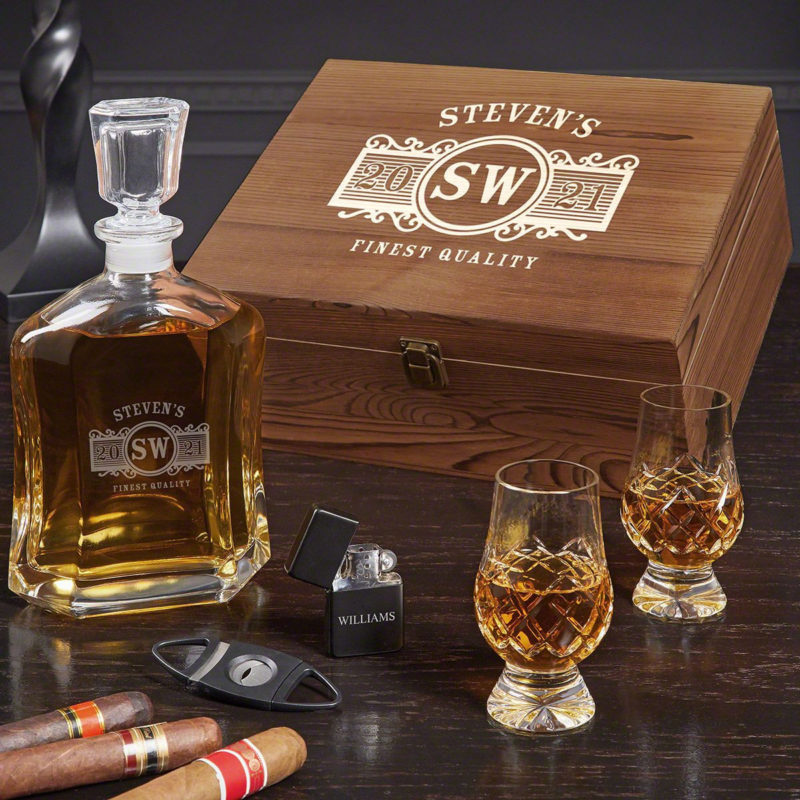 3. Personalized Leather Journal
A leather cover for your groom's notebook is a must-have if he's a lawyer, an architect, or a writer. Engrave a monogram for an added personal touch. Every time he opens it, he'll think of you.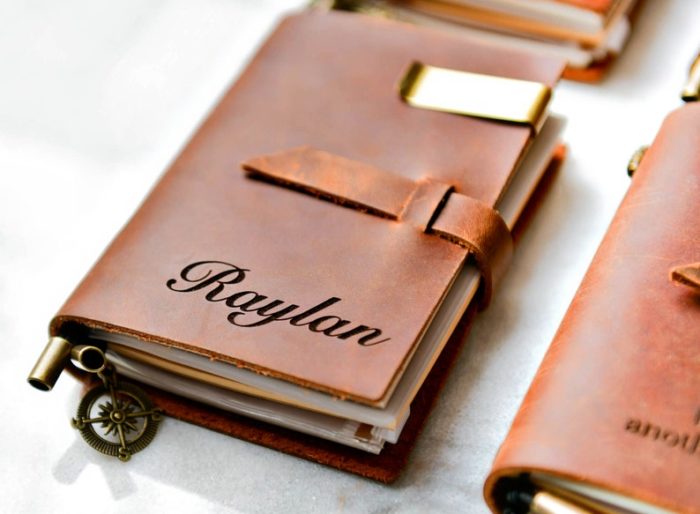 4. Personalized Handkerchief
When he sees you for the first time on your wedding day, give your groom something to wipe away his tears as personalized groom gifts. This handkerchief appears to be both soft and attractive. Make it extra personal by adding his monogram to the embroidery.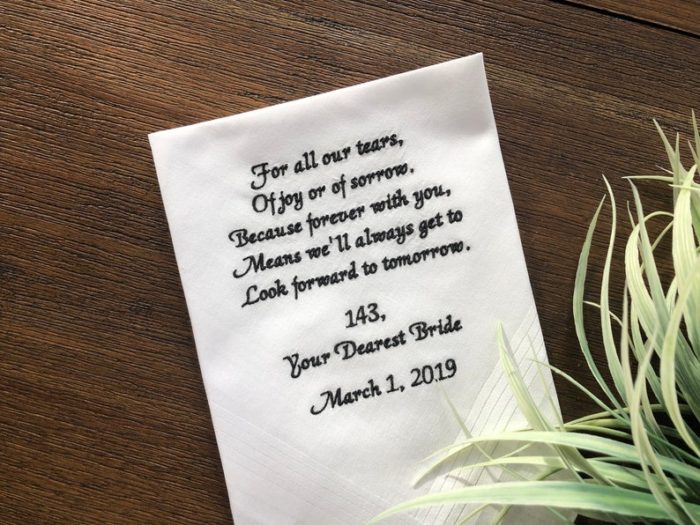 5. Personalized Briefcase
Notebooks, laptops, pencils, and smartphones all have a home in this briefcase. Pebbled leather and a detachable shoulder strap make it as beautiful as it is useful. It's a surefire way to make him or her look smart and elegant as they head to work.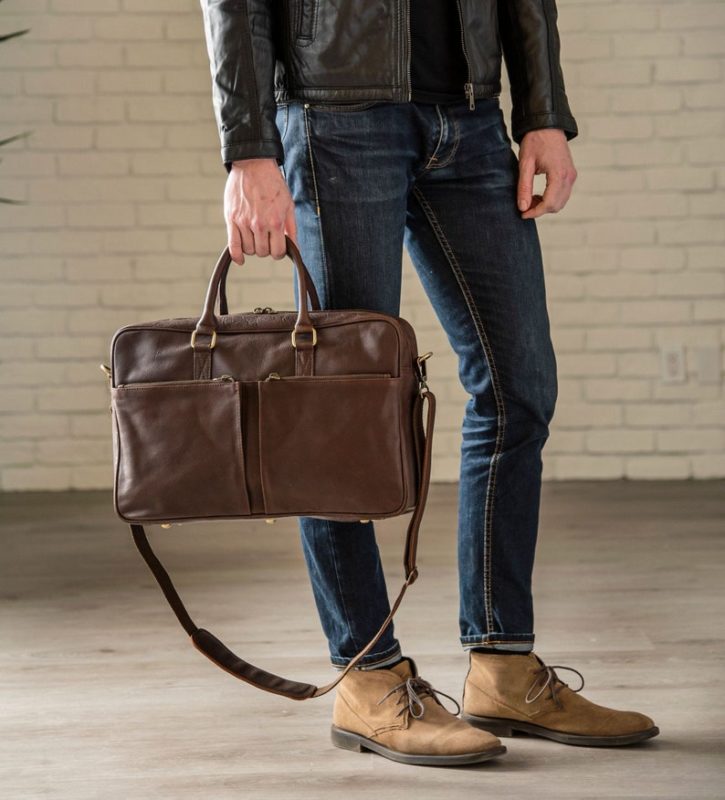 6. Personalized Beer Bucket
Your sweetheart will love you more when he receives these beer buckets as a personalized wedding gift idea for the groom from you. For up to two weeks, this stainless steel small keg will keep the beer cold and fresh. Old-school brewery vibes are provided by the dispenser tap and copper finish, while a monogram provides an individual touch. Don't let him and his mates have too much fun with it before the wedding—they'll thank you for it later!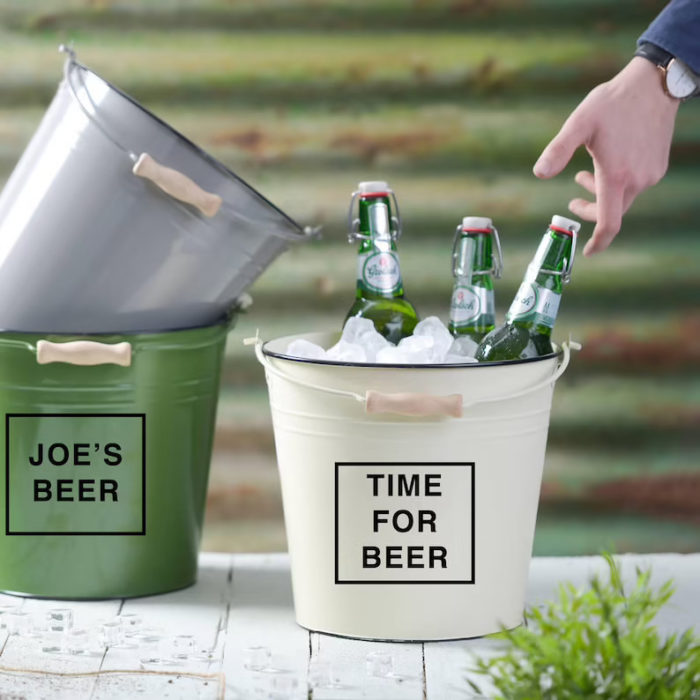 7. Engraved Wallet Cards
At the very least, men and women unlock their wallets on a daily basis. Unique engraved pocket cards as personalized groom gifts are the perfect way to show him how much you care. Every time he plays for his morning latte, he can't help but smile.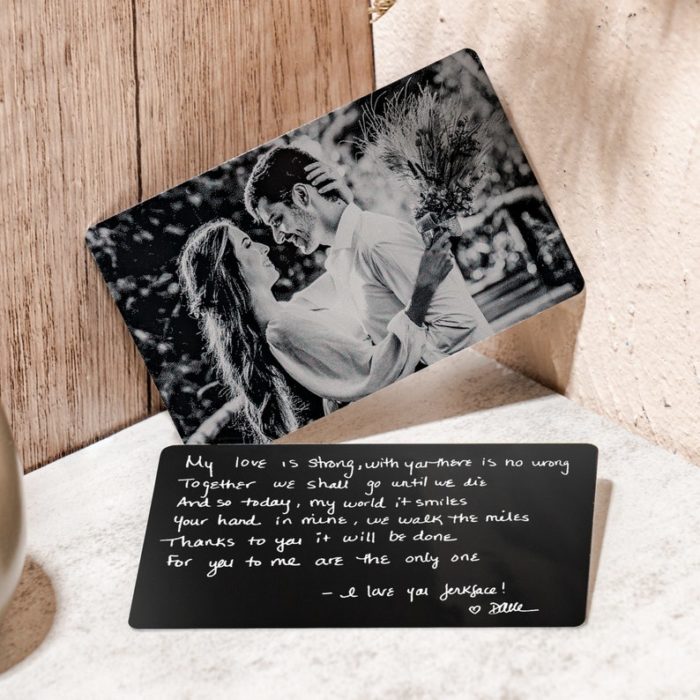 8. Personalized Tie Patch
You can also gift your groom a tie patch personalized with his initials on it the morning of your wedding. With a tie patch, you can add a personal touch to his wedding attire that expresses your undying love for him.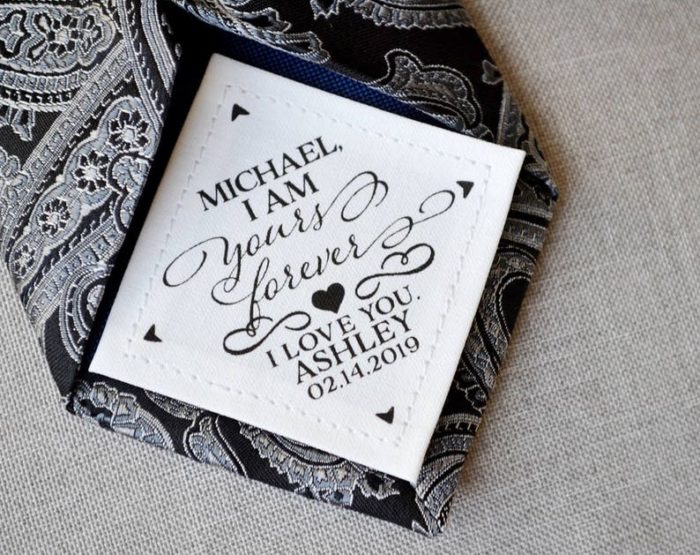 9. I Cross My Heart Canvas Print
These canvas paintings may appear to be a symbol of love, demonstrating how important the pair is to one another. If you give them as wedding groom gifts, they can be the star of his wall art decor. That's fantastic!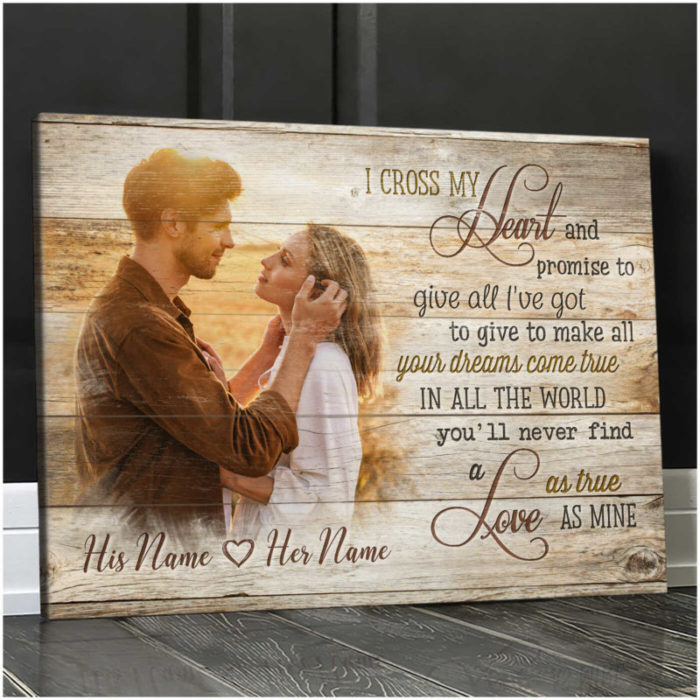 10. Personalized Compass
Do you have a man who is willing to try new things? With this stunning engraved compass, you can be sure he will never get lost in the wilderness again. Because his trusty iPhone compass will fail him if he ventures too far from the established path. In addition, it's a cool old-world artifact that he can show off at gatherings.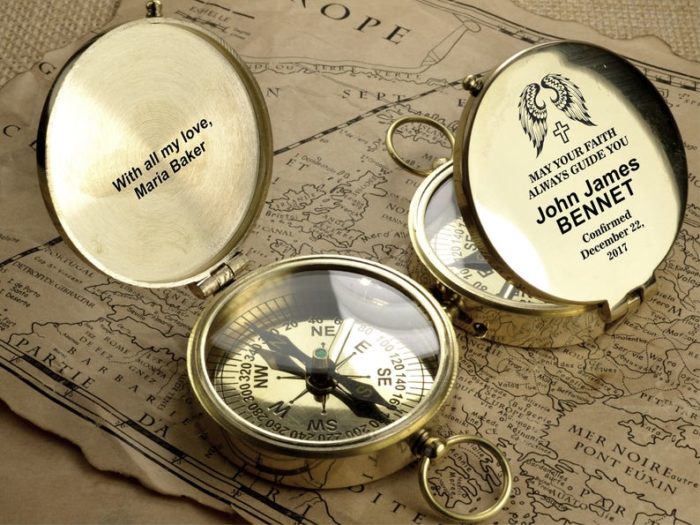 >>> Read more: Best 33+ Wedding Gifts for Groomsmen They'll Treasure
11. Customized Golf Ball Markers
Everybody enjoys a good golfing pun, especially if it's a golfing pun. These personalized ball markers are sure to put a grin on his face every time he lines up a putt on the golf course. He will be amazed by these personalized groom gifts from you.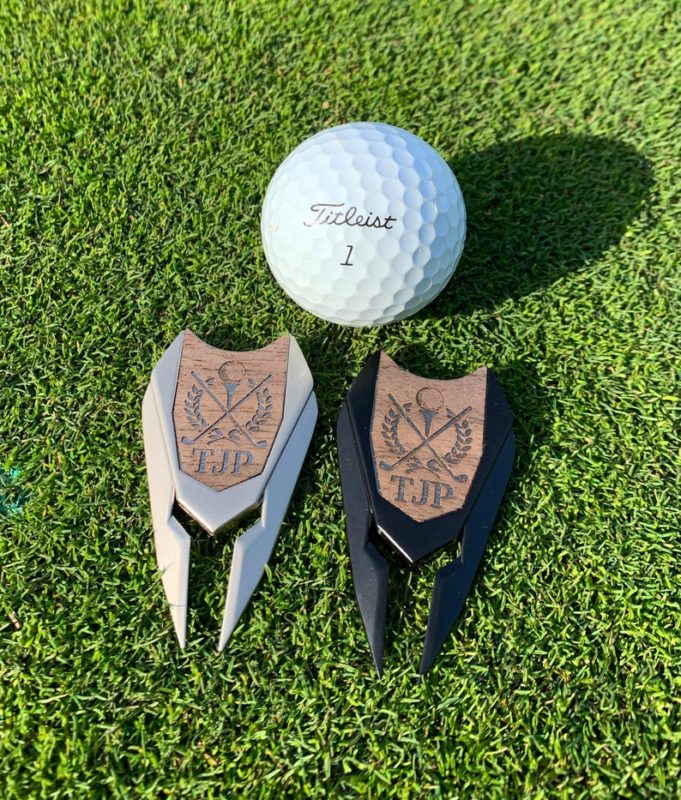 12. Customized Mini Baseball Bats.
Boys who grew up playing baseball may recall smacking homemade masking tape balls with little bats they created themselves. Make him grin the morning of your wedding with this more mature version.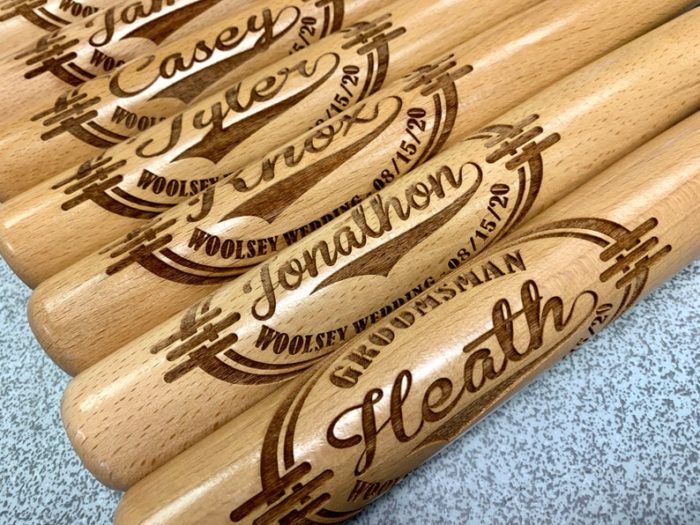 13. Custom Song Lyrics Canvas Print
A Custom Song Lyrics Canvas Print is one of the wonderful personalized groom gifts. You can personalize this painting by letting us know which song takes her breath away. You may personalize this canvas print by adding your names and wedding date to make it a keepsake of your everlasting love.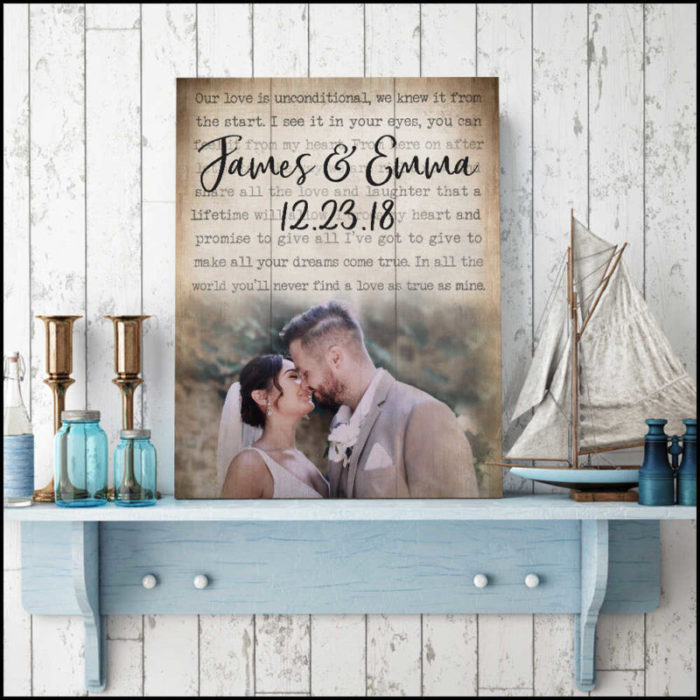 14. Personalized Cigars Set
What better time to buy a box of cigars than on your wedding day? After the reception, he and his groomsmen can enjoy a celebration present in a humidor. Cigars are seen as a symbol of adolescence in our culture. His wedding and the birth of his child may be the only times he allows himself to smoke, even though he doesn't normally do so.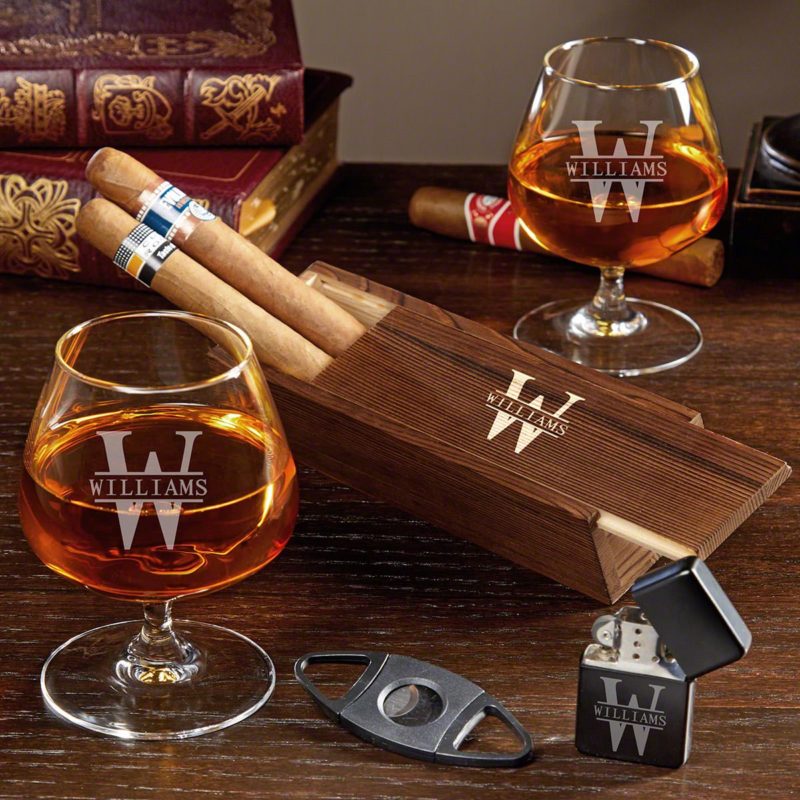 15. Customized Flask
Give him a stainless steel flask with his initials engraved on it as personalized groom gifts. Fill it with whatever beverage he likes best if desired. While flasks are traditionally given as groomsmen gifts, they are equally appropriate for the happy couple. A monogram or name can be added to this flask. Perfect for him to enjoy his favorite drinks in style with this stylish drinkware.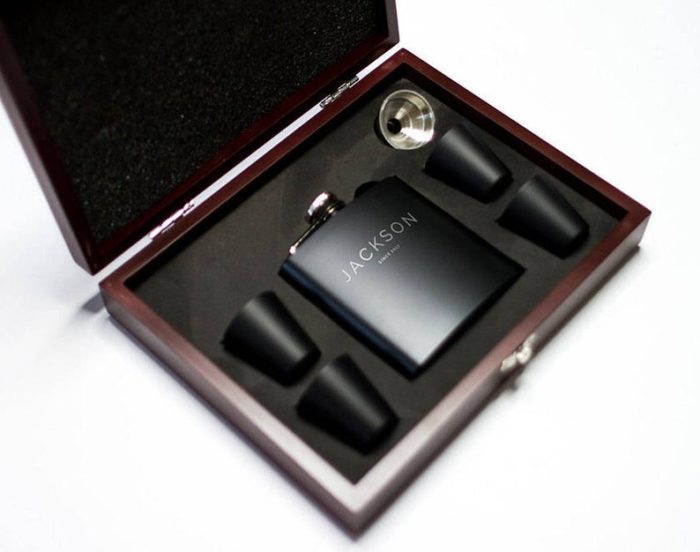 Read more:
16. Personalized Sunglasses
Were you planning on spending the day after the wedding on an exotic beach? Invest in a new set of designer sunglasses for him. As long as he doesn't damage them, they'll look great on him and keep his eyes safe for years to come.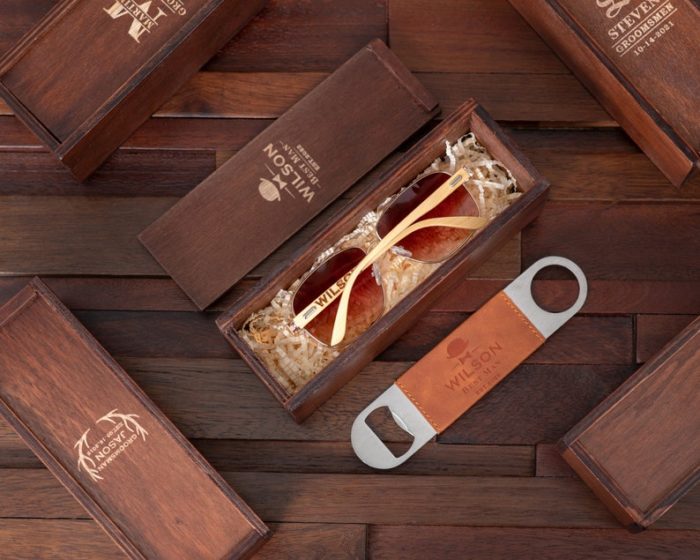 17. Personalized Docking Station
There are a variety of accessories that we look for on a regular basis, from wallets to watches to cell phones to headphones. Make it easy for him to find them by giving him these customized docking stations as personalized groom gifts. With these stands, he'll be able to arrange all of his trinkets neatly in one place. This considerate present from you is sure to please him.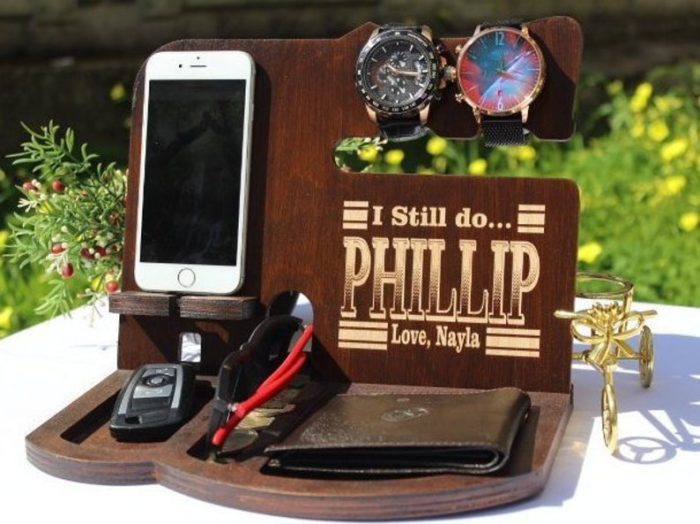 18. Gorgeous Canvas Art
If you don't want to give traditional gifts, why not give your groom canvas art instead? In addition to being a one-of-a-kind ornament, this painting will be a fantastic memento for both you and him.
19. Personalized Groom Boxers and Socks
This monogrammed boxer and sock set will show him where he stands. One of the best-personalized groom gifts for calming any pre-wedding anxieties is a bottle of bubbly. And he'll look great in them, too.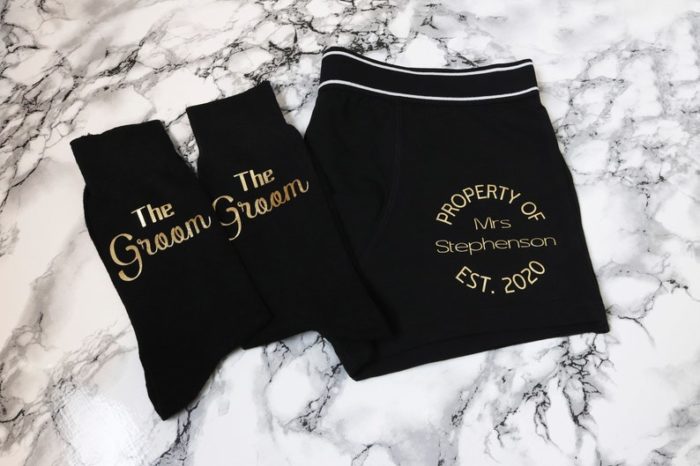 20. Personalized Beer Mugs
Personalized Beer mugs are a funny gift for groom that will last a lifetime for him. In addition to keeping his drink perfectly chilled, he'll be able to take a piece of the wedding day home with him.
21. Customized Robe
It's one of the perfect personalized groom gifts for him to put on when he gets out of bed on your wedding day. The bride and groom can exchange a luxurious robe as a token of their love. A sentimental and unique wedding-day gift from the bride to her husband-to-be. Choose from an array of hues to complement the bride's bridal attire.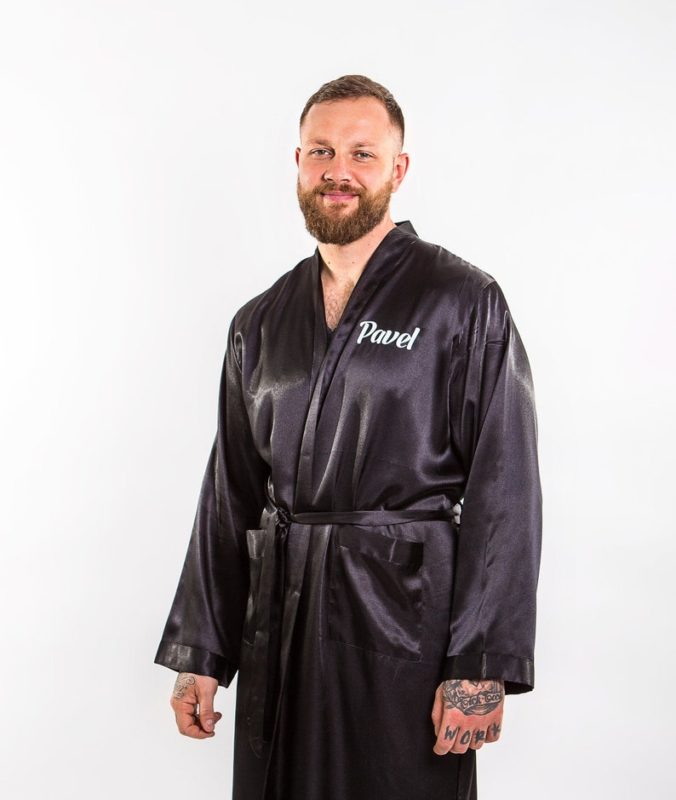 22. Personalized Leather Wallet
Every man enjoys receiving a new wallet since it is an important element of his identity. Made in Spain, this one can be personalized with his name, initials, or a meaningful quote. Years later, when the wallet has worn out and is ready to be replaced, he will be sad to part with it.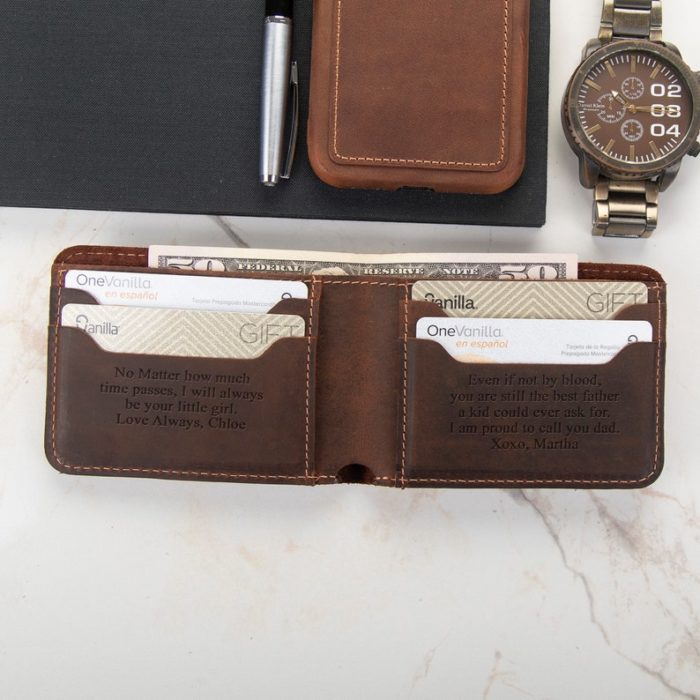 >>> Read more: 45+ Awesome Wedding Gift For Brother That He'll Cherish
12+ Thoughful Personalized Groom Gifts You Cannot Miss
23. Personalized Pocket Watch
Around the turn of the twentieth century, pocket watches were no longer fashionable! They were phased out in favor of the more popular wristwatch. Nonetheless, they continue to be trendy personalized groom gifts on their wedding day. He'll wear his pocket watch to special occasions since it reminds him of the finest day of his life.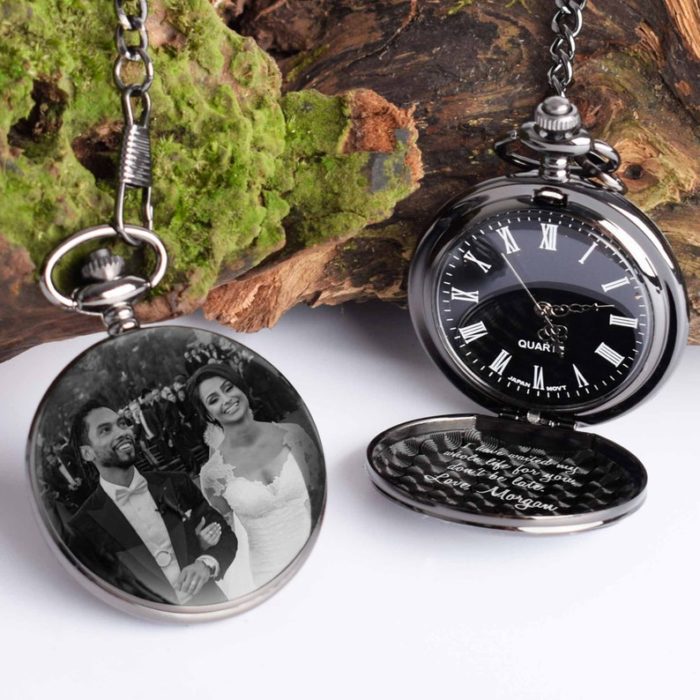 24. Personalized Hanger
This is a cute little personalized groom gifts idea for your wedding morning. He will not only utilize this hanger on your special day, but he will also have a keepsake in his closet to store and hang his formal attire.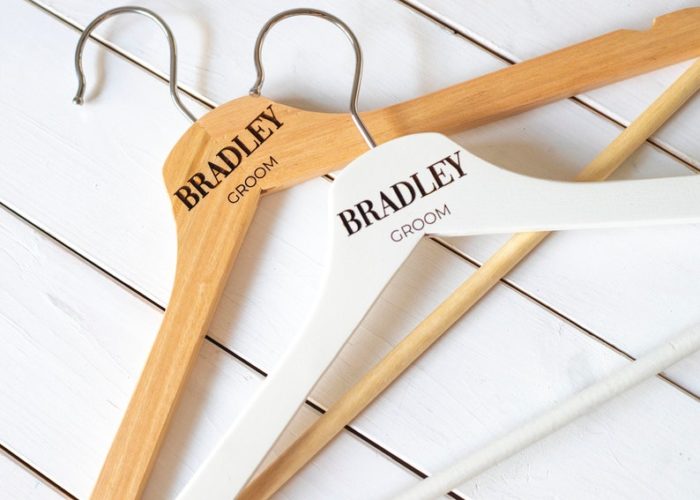 25. Custome Sign
Gifts for the house are often given as part of the wedding celebration. Most goods lack focus on what he's looking for, but yours will! You can't go wrong with a custom-made sign like this one for the man in your life! Whether the date on the sign commemorates the day he and his bride moved in together, their wedding day, or the day he constructed his bar from the ground up, this sign is an excellent wedding gift for the groom.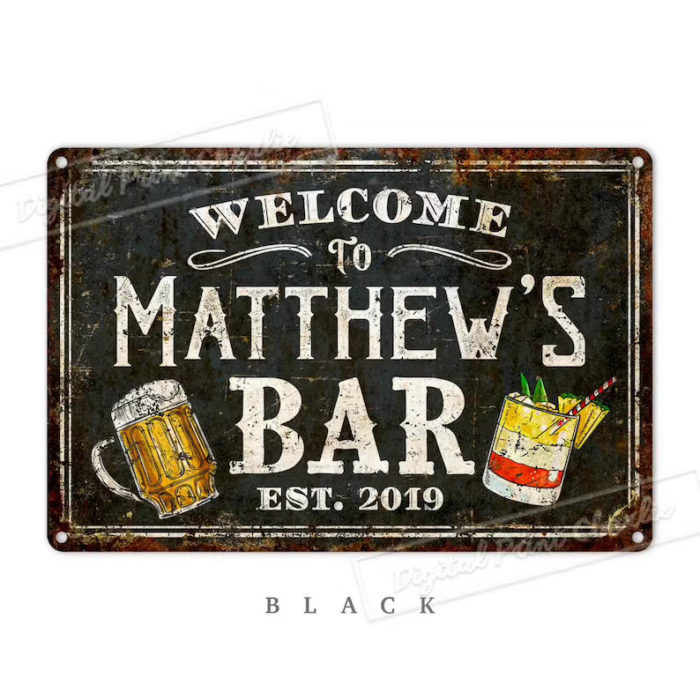 26. Personalized Watch Box
Many of the men I know are watch and accessory collectors. And if they have a "thing" for collecting, they'll likely appreciate a dedicated location to store and display their treasures. This exquisitely constructed box is the ideal spot for him to keep all of his unique accessories safe and secure.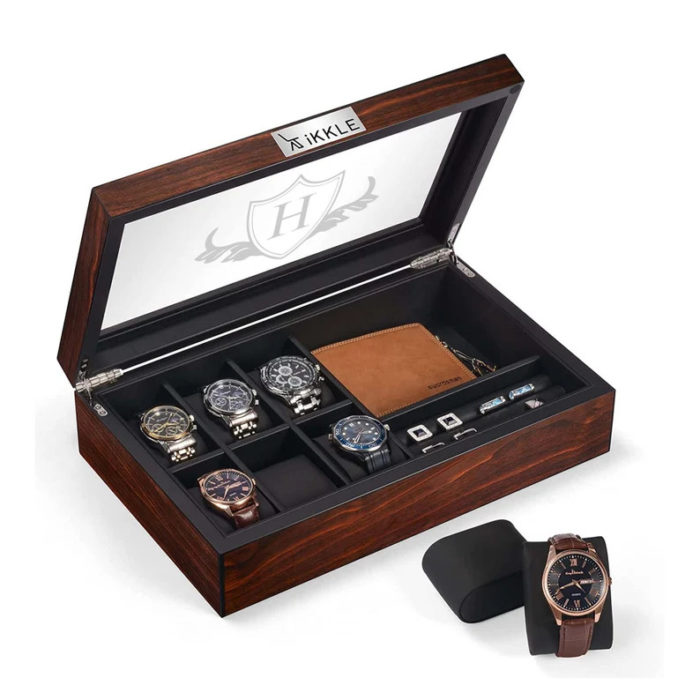 27. Personalized Shaving Set
Shaving is an art that never goes out of vogue. A stylish shaving set that includes everything he'll need for a close shave. Nobody wants to kiss a porcupine, after all! When you store the brush upside down, it will dry out correctly after each use, extending its life.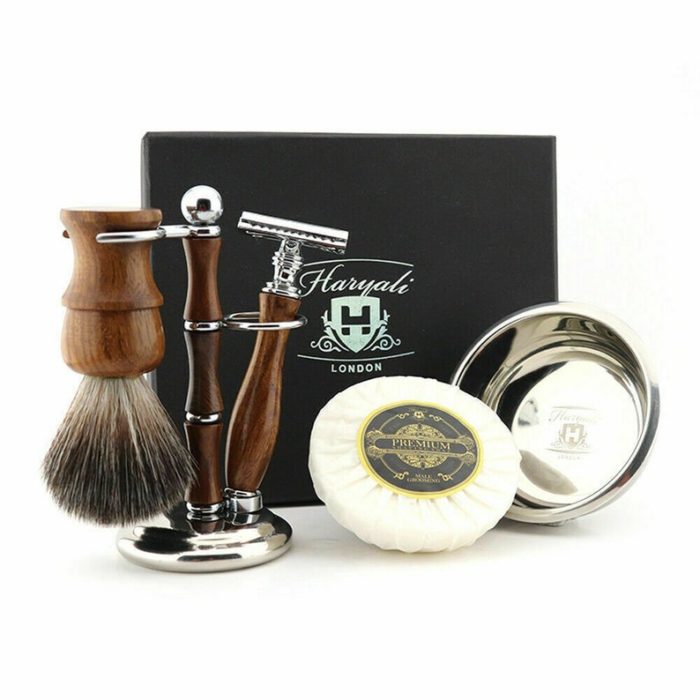 28. Personalized Embroidered Shirt
A personalized shirt with his name on it is another fantastic personalized groom gifts idea that you shouldn't overlook. He will appreciate this special occasion gift that you have placed so much effort into choosing for him.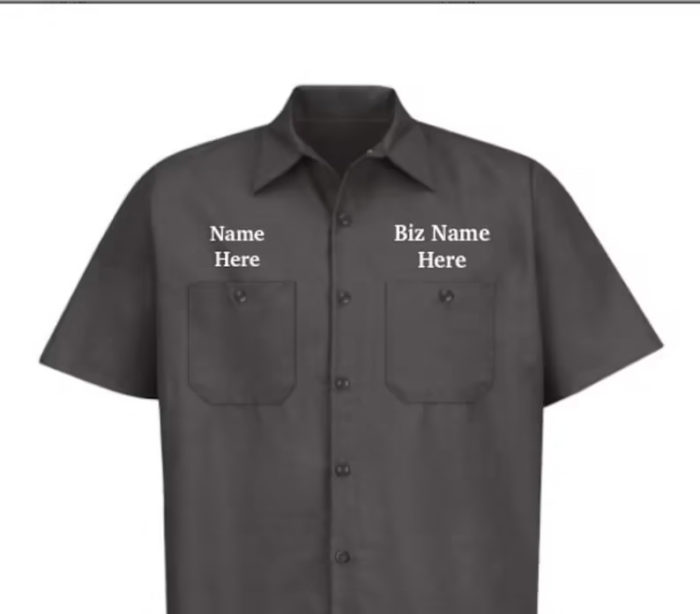 29. Engraving Pocket Knife Set
If your future husband enjoys being outside, Practical personalized groom gifts such as a stylish engraved pocket knife or another useful tool will be a welcome present. At the end of the day, there are two things to keep in mind while purchasing a wedding present for your groom.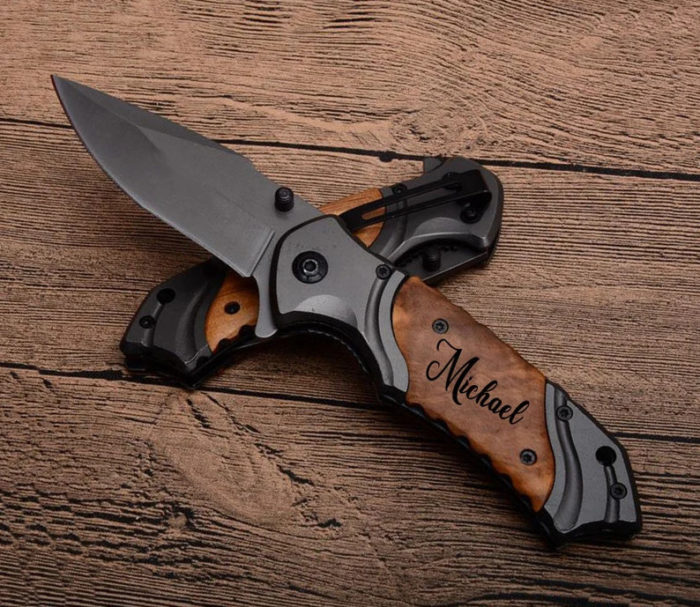 30. Personalized Cufflinks
These cufflinks are monogrammed in a way that we haven't seen before. You can even have your own handwriting incorporated into the design of the cards! When it comes to personalized groom gifts, we can't think of a better one.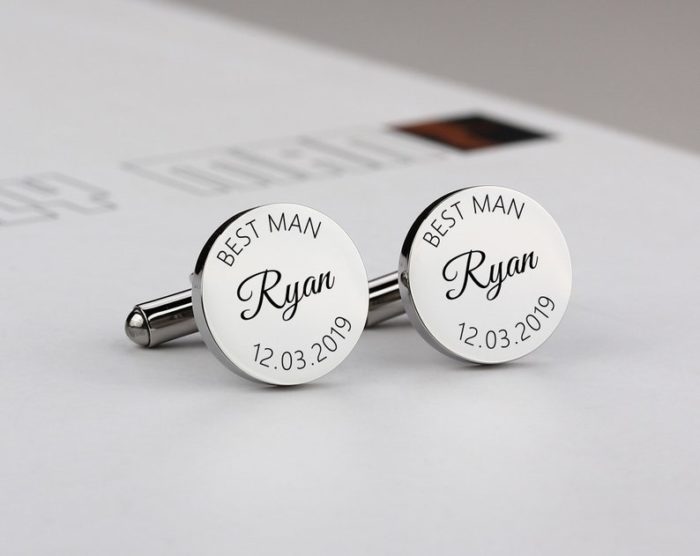 31. Engraved Chess Set
One-of-a-kind personalized groom gifts that will be treasured for years to come. As a thoughtful wedding favor, consider giving the groom this finely built competition hardwood chess set.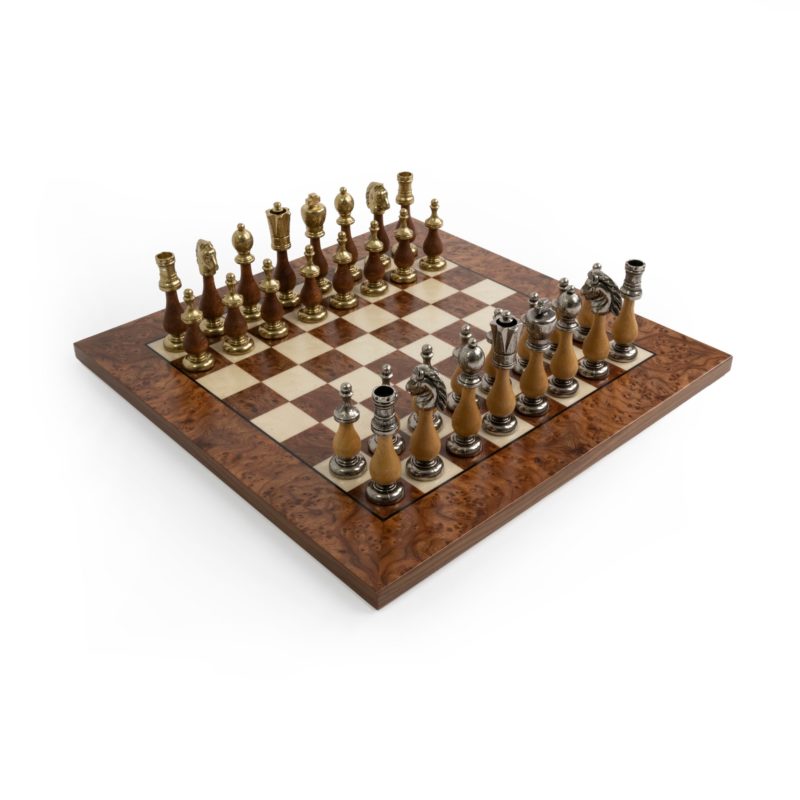 32. Personalized Groom Gift Box
Have you found the ideal personalized groom gifts but don't know where to place them? This lovely box can be used as a gift box or as a gift in and of itself. A meaningful gift for all of his prized possessions is a personalized gift box.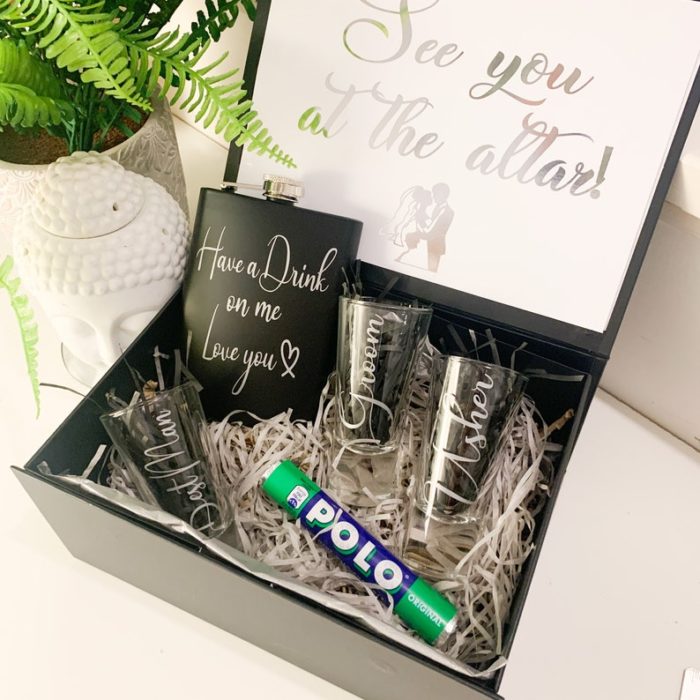 33. Groom's Personalized Fishing Lure
Are you looking for amazing personalized wedding gifts for an outdoor enthusiast? These aren't your run-of-the-mill fishing presents. Apart from his bride, of course, this bespoke fishing lure is likely to become his favorite fishing buddy!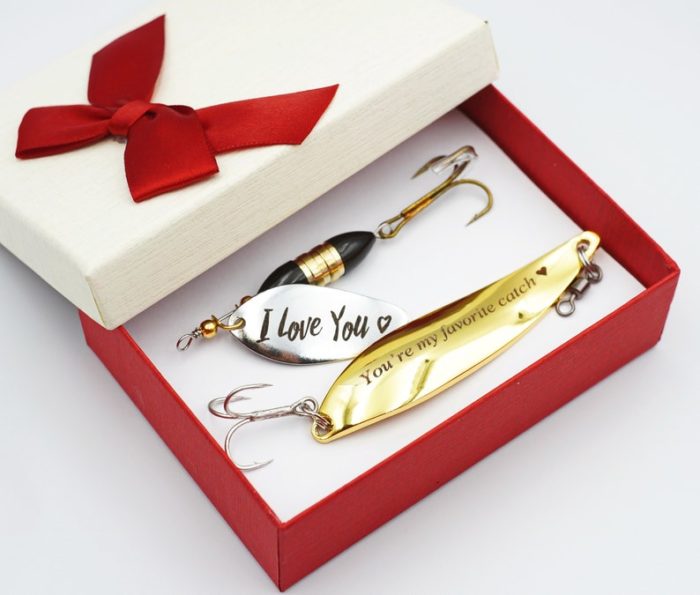 34. Personalized Apron
This apron is a terrific present for the groom who enjoys cooking, grilling, and is a foodie in general. This macho apron will look great in the kitchen or on the balcony with a cold drink.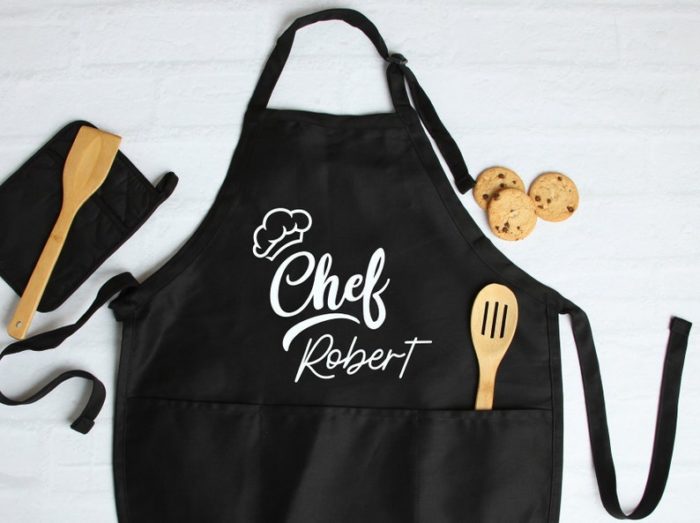 Read more:
Will he appreciate these personalized groom gifts?
Even if you can find a humidor made of excellent Spanish Cedar with a lovely Cherry Wood inlay, if he doesn't smoke cigars, it will fast become a costly paperweight. If you can gift him something that reflects his interests and personality, it will also be a reflection of how well you know him — a beautiful foreshadowing of what's to come.
Consider giving your personalized groom gifts a fun way to show your guy how well you know him and how much you are looking forward to spending the rest of your lives with him, rather than another item to cross off your wedding to-do list.
It doesn't have to be tough to come up with the groom's gift ideas for the bride. 32 personalized groom gifts ideas above are ideal for exchanging gifts before or after the wedding ceremony. Ohcanvas believe these heartfelt to imaginative gifts will not disappoint your future hubby.