Are you looking for last minute wedding gift ideas? If that's the case, Oh Canvas've got the best gift ideas for you. We understand that you've been preoccupied with deciding on attire, scheduling time off from work, or ensuring that you have transportation to the wedding. The wedding is coming up in a few days, and you still don't have a gift. You either forgot to get a wedding gift or waited until the last minute. You'll need a wonderful present idea that's simple to come by and doesn't look rushed.
There is no need to be concerned. We're here to assist you! Here is your comprehensive list of the greatest last minute wedding gift ideas that will appear to have taken a long time to discover.
35+ Best Last Minute Wedding Gift Ideas You Should Consider
Awesome Last Minute Wedding Gift Ideas
1. A Cash Box
A fantastic item you should gift is a money box so that a couple can enjoy saving money. When you purchase a high-quality money box, it will encourage them to consider investing. People want to establish a family or save for traveling once they are married.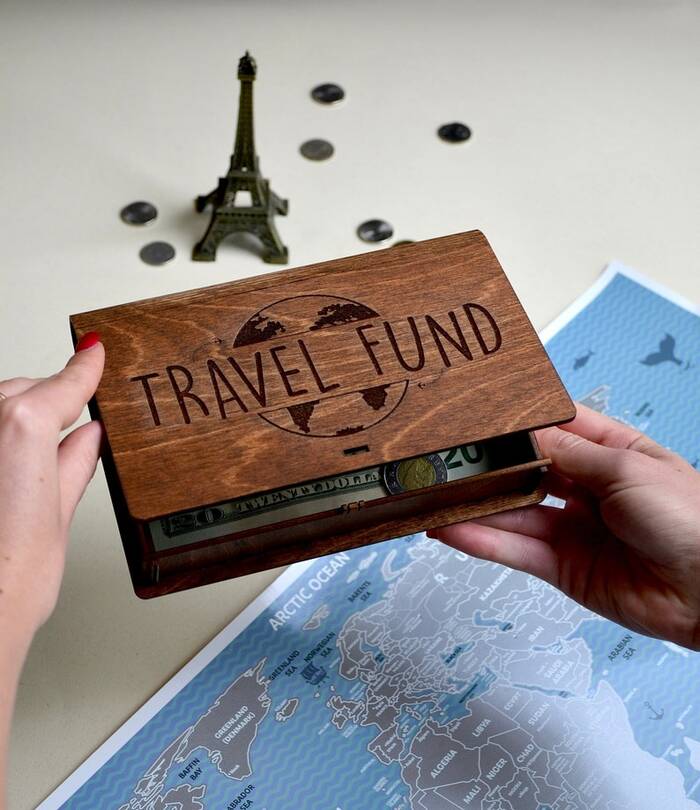 2. Dinnerware Set
Gorgeous dinnerware sets are thoughtful last minute wedding gift ideas who are just starting in their new home. It's a gift that they'll use on a daily basis and will last for many years. This dining set would look great in any contemporary kitchen.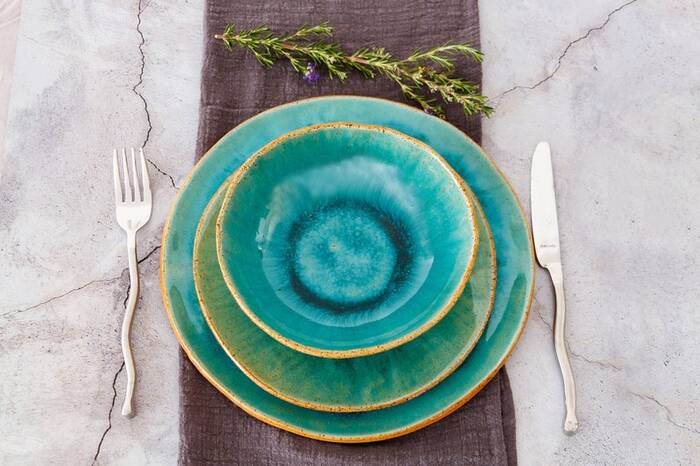 3. A Comfy Bed Sheet
This soft and silky set, woven from the finest single-ply cotton, will provide the happy couple with luxurious bedding. A three-piece comforter set is the epitome of luxury and comfort. You're wishing the pair a restful night's sleep with these last minute wedding gift ideas.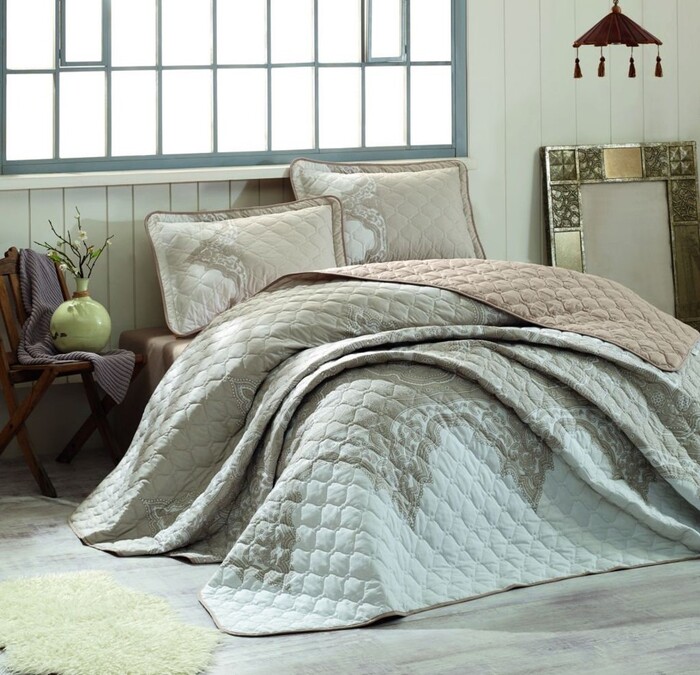 4. Gardening Gift Basket
If you know the couple enjoys gardening, is moving into a home with a garden, or wants to start one, this is the ideal present. It's often a good idea to give the newlyweds things they'll use, so useful goods like these are ideal. You may also have them personalized with a sweet message or their names.
5. Soap and Towels Set
With a present set of monogrammed soaps and guest towels, turn their new initials into a sophisticated gift. When friends and family come to visit, they'll be thrilled to have the set displayed in their powder room or guest bath.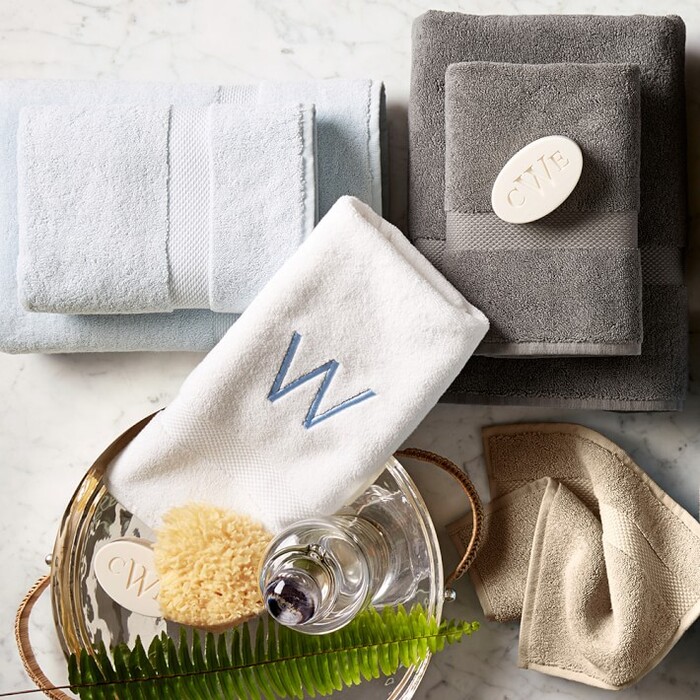 6. It Was Always You Canvas Art
Consider some wall art as a novel method to select a marriage gift for a couple that already lives together. When a couple lives together, it's always nice to have new art to hang on the walls. See how your present illuminates the happy couple's home by finding a personalized piece that appeals to their style.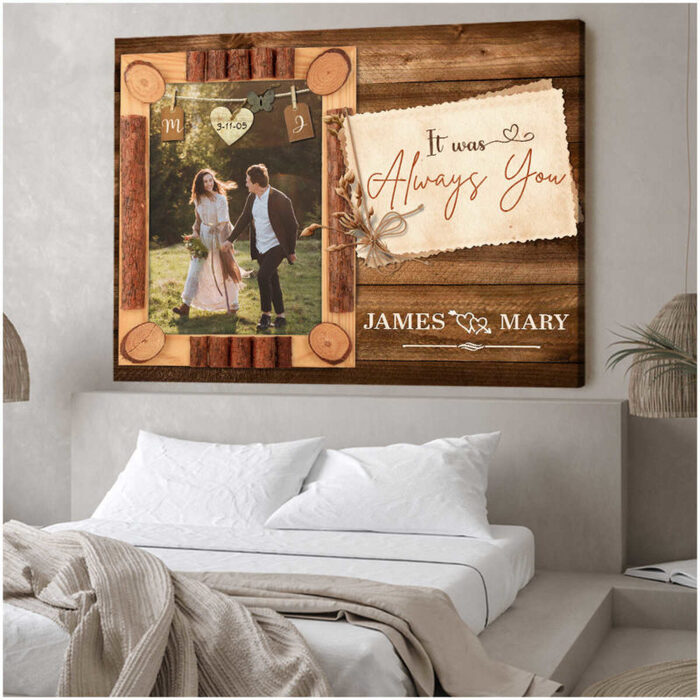 7. Tea Organizer Box
There's a tea for everything: feeling invigorated in the morning, sleeping better at night, soothing the throat, curbing your sweet craving, and so on. Tea boxes can take up a lot of space, whether they're brand new or just have four bags left. This little tea organizer stores more than 100 bags, and the clear, removable compartments make it simple to discover and access the exact tea you're looking for.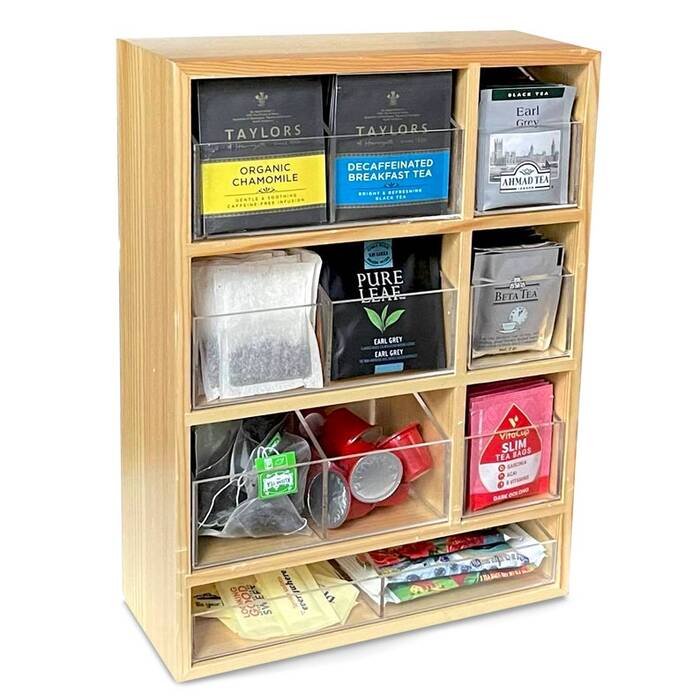 8. Concrete Fireplace
Mini Fireplace is one of the terrific last minute wedding gift ideas. Because they are unlikely to have their tiny fireplace. These tiny concrete pods emit a practically smokeless flame that is both food-friendly (imagine s'mores on demand!) and safe to use indoors.It may be a great wedding gift for your brother.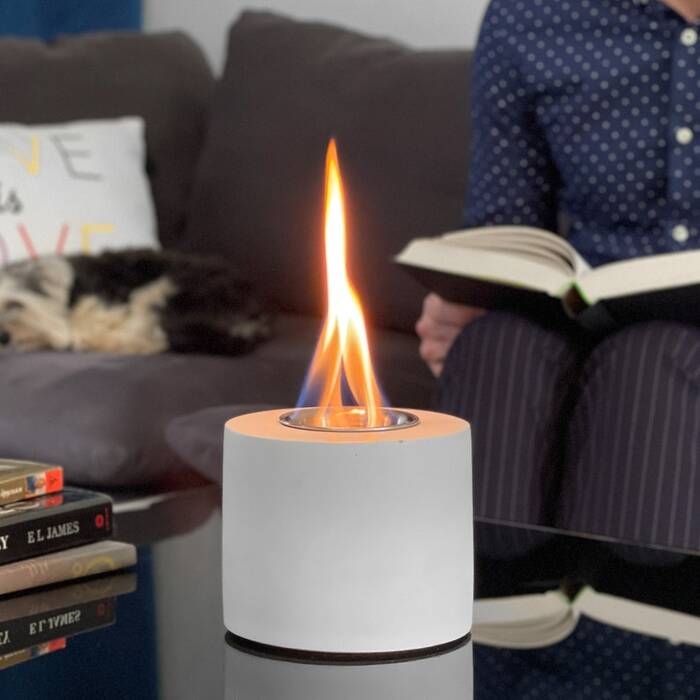 9. Vintage Wall Clock
You can't go wrong with the decor if you have a decent notion of the couple's aesthetic. For friends or family who prefer a minimalist or contemporary aesthetic, the Marble Wall Clocks are excellent last minute wedding gift ideas. The white stone clock would also be appropriate for a couple who likes unique or artistic products and decor.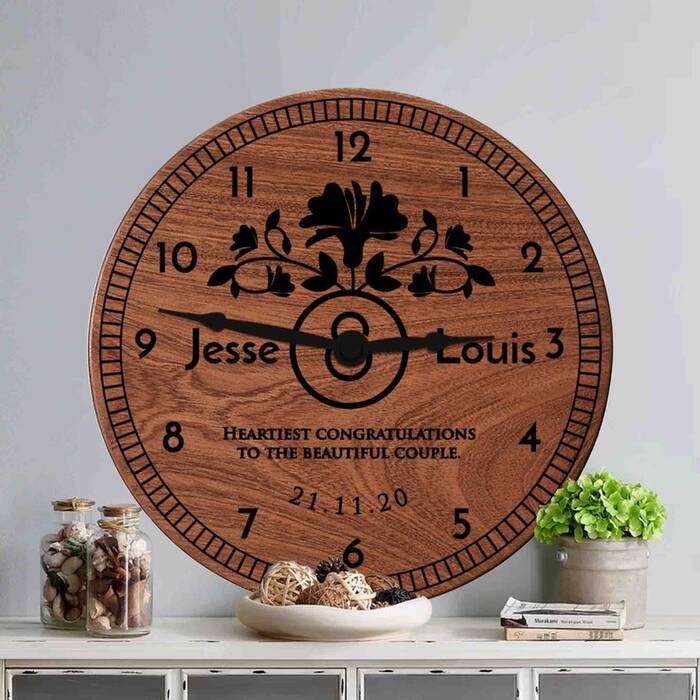 10. Lovely Weekender Bag
As much as the couple is looking forward to their wedding day, it's likely that they are even more excited to go on their honeymoon. With this bag, you can help them prepare for the trip (or future date evenings that grow into weekend vacations).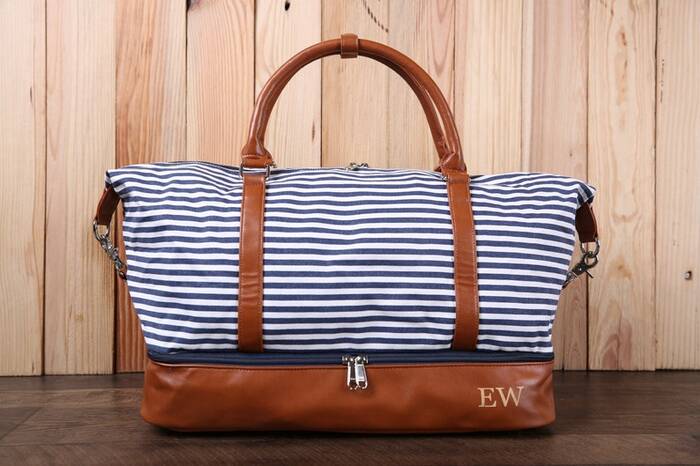 >>> Read more: 32 Funny Gifts For Groom That Are Sure To Get A Laugh
11. Bath Bombs Gift Set
We go through a lot of conflicting emotions and stress during our adolescent years. Bathing can help people relax and de-stress for a variety of reasons. Why not treat your newlywed couple to a set of bath bombs so they can rest and miss you once they've recovered?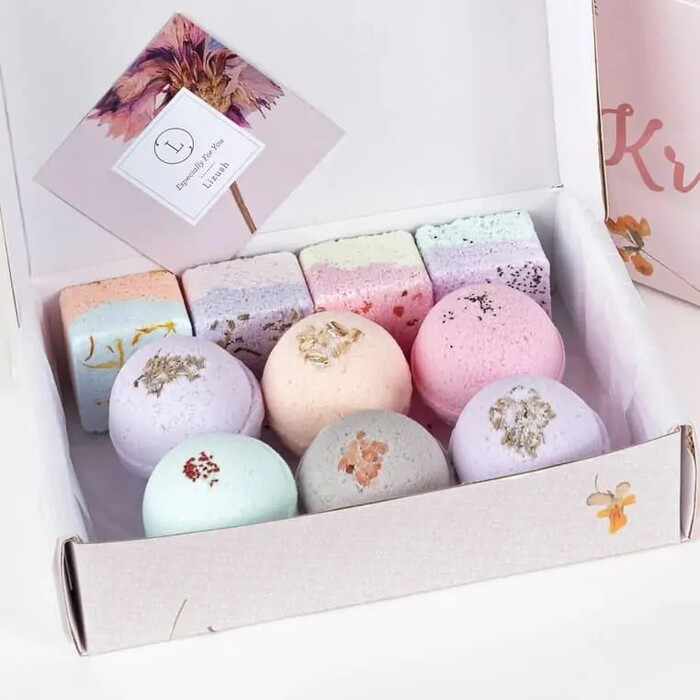 12. A Pair Of Bracelet
When they live far apart, a pair of bracelets could serve as a reminder of each other. A bespoke set of bracelets is one of the most popular personalized presents for couples. They will keep the couple connected no matter where they are.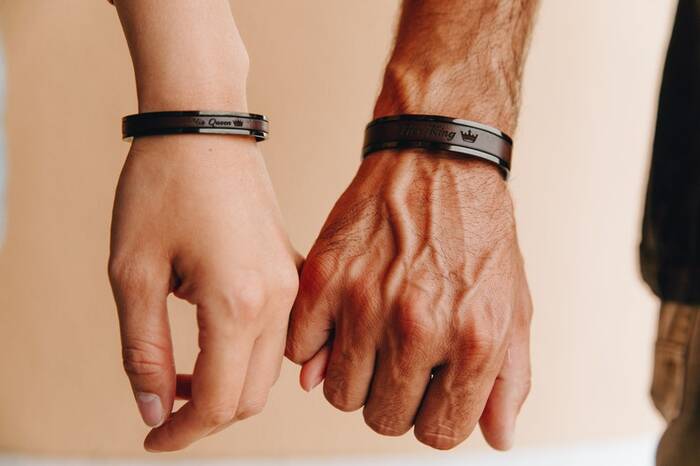 13. This Is Us Canvas Print
A wedding is a once-in-a-lifetime event for a couple. As a result, the newlyweds will want to keep a careful eye on the memories of their special day. In this case, a Custom Wedding Photo Canvas would be an excellent wedding present for newlyweds.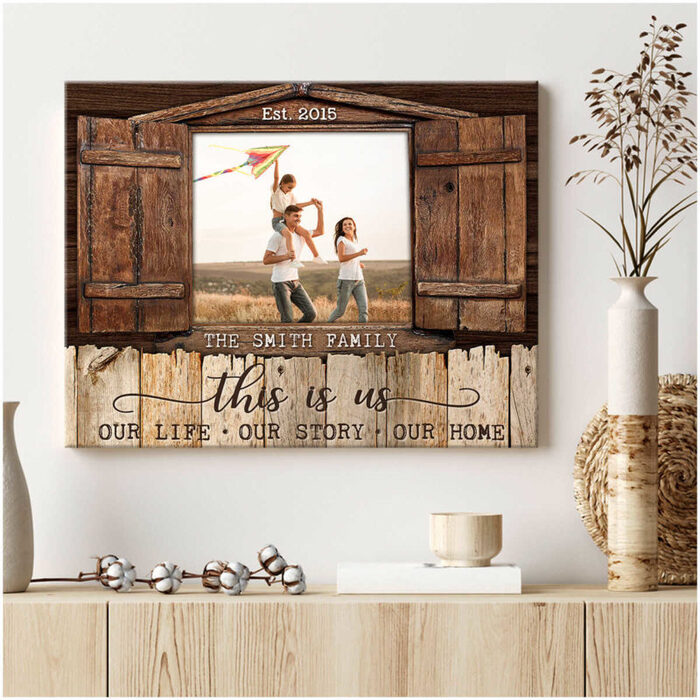 14. Engraved Candle Holder
At the very least, everyone has a few scented candles in their home. With this one-of-a-kind candle holder, their candles will be even more spectacular. This is one of the fascinating last minute wedding gift ideas that you should not overlook.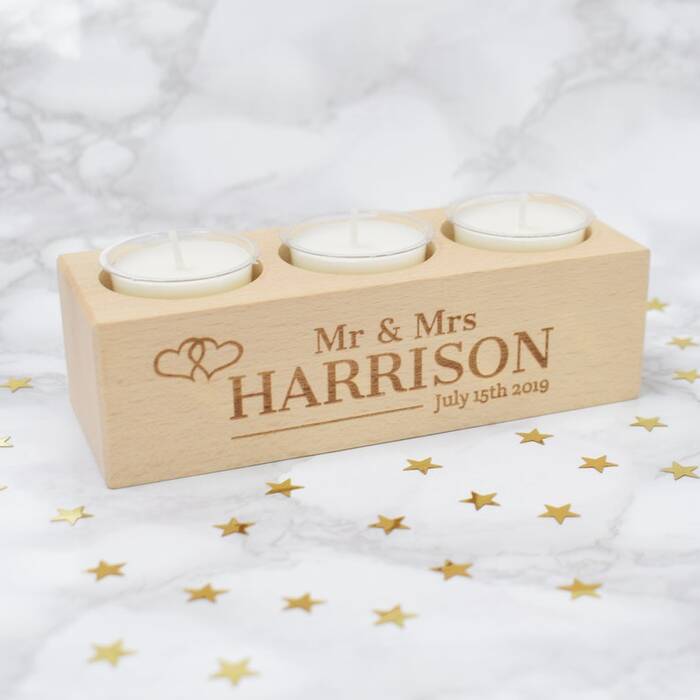 15. A Fantastic Music Box
It's an oldie but a goodie! Within the initial melodies, a music box playing a meaningful love song can send them to tears. If you can personalize it (say, with the wedding date) this sentimental gift for them will be even more meaningful.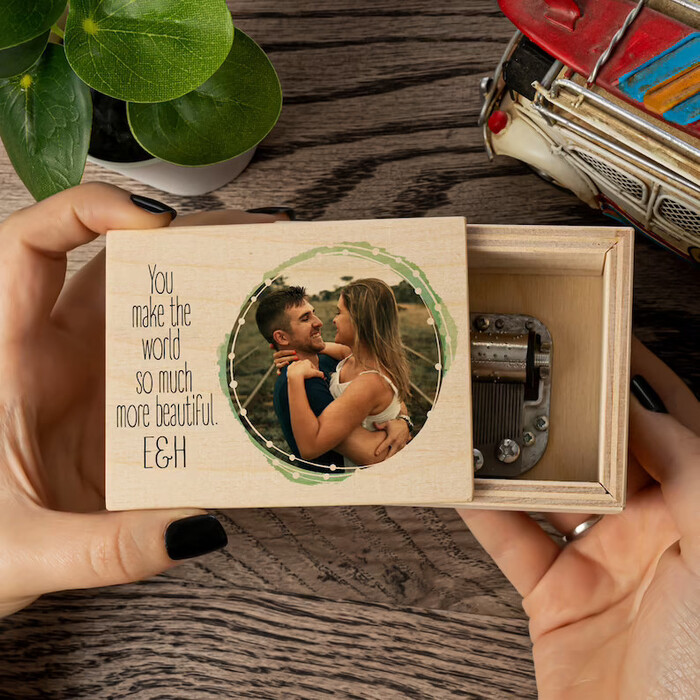 16. Rose Forever
Roses are the perfect token of love, whether as a single flower or in a gorgeous bouquet. However, add a twist to your gift-giving by opting for everlasting roses that will last at least a year.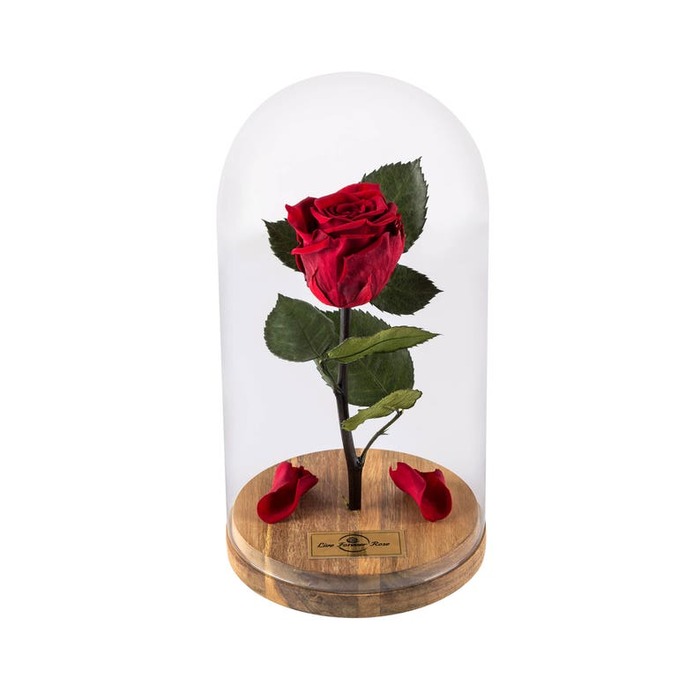 So, when the wedding date has passed and the chocolate bars have been forgotten, they will have one of the most delightful gifts for the lovely couple to treasure on the table. These presents do not take a lot of your time, so there are great last minute wedding gift ideas to consider.
17. Customized Throw Blanket
A warm blanket is a perfect accompaniment to a nice movie (and a cup of hot peppermint chocolate). When not in use, a fluffy blanket is excellent for frizzy binge-watching movie nights and looks festive draped over their couch.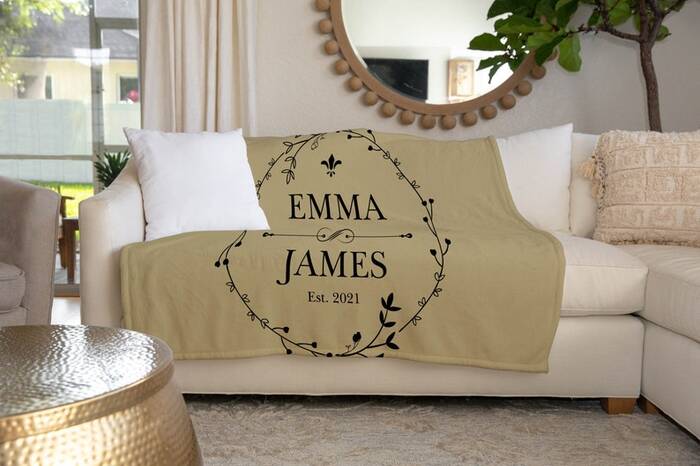 18. Light Blocking Glasses
These lenses shield their vulnerable eyes from the dangerous blue light generated by modern devices. If you're concerned about the health of your favorite spouse, consider this present idea.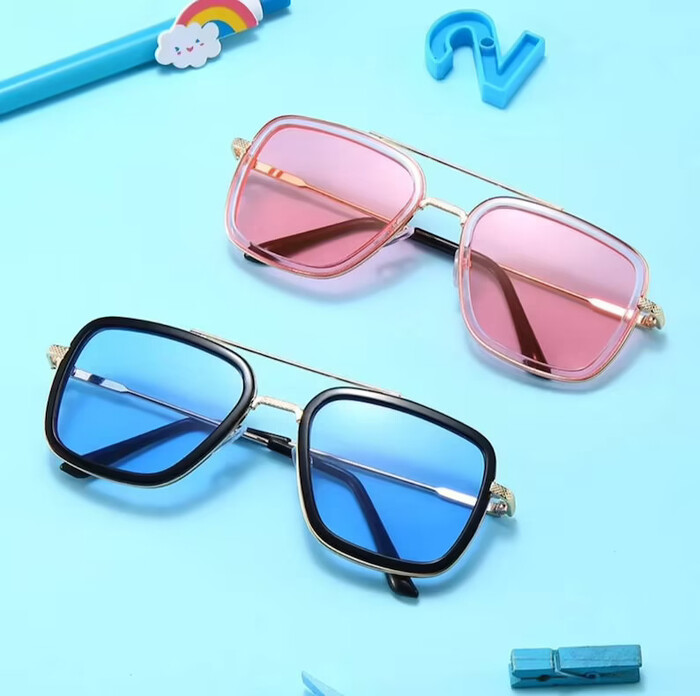 19. A Foot Massager
As time passes, it is obvious that the elderly may experience health issues. Your grandparents aren't the only ones who fall into this category. As a result, buying a foot massager for grandparents as a birthday present is a good idea.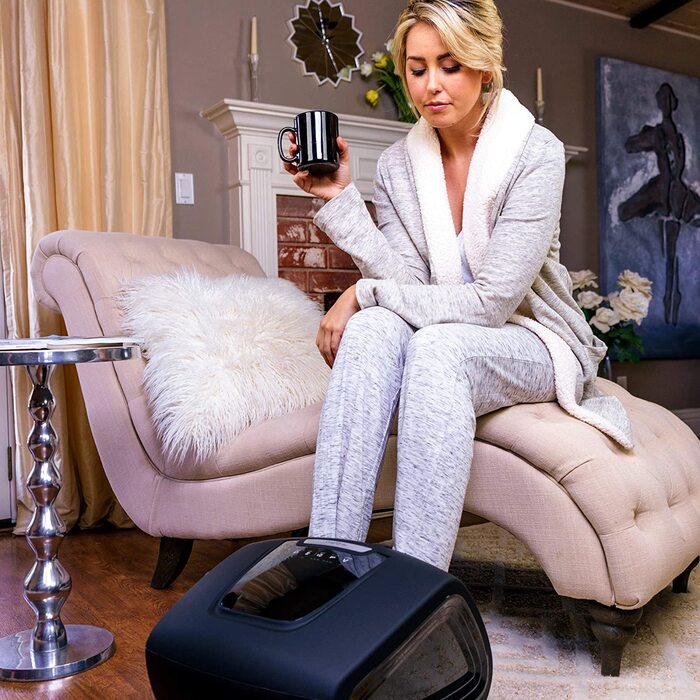 20. Knife Set
A good pair of knives is essential in any kitchen, so give the newlyweds a set that will endure for years. The elegant set features several high-performance knives in a see-through knife block that will look great on their counter.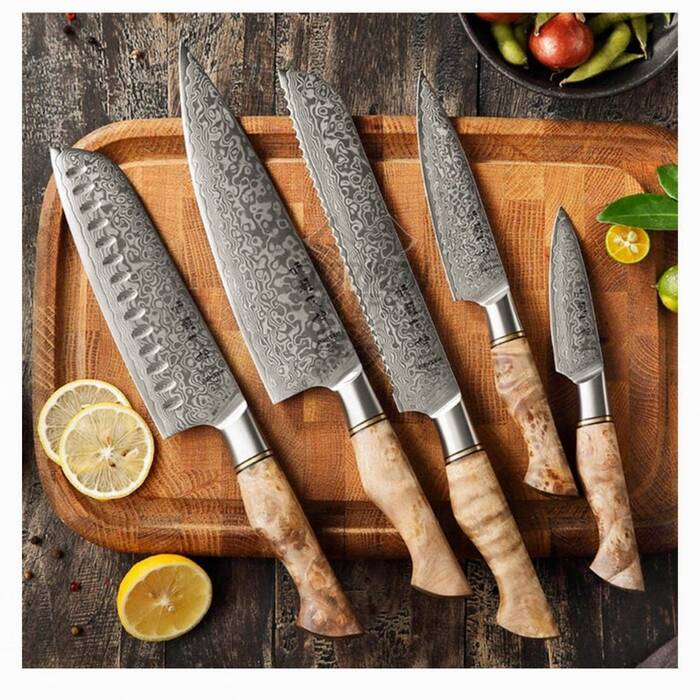 21. Cork Globe
This is a fantastic present for a couple who enjoys traveling. They can affix a thumbtack to any location they've visited or hope to visit in the future. This amusing present allows the couple to reminisce about their vacation and all of the fun they had while on it.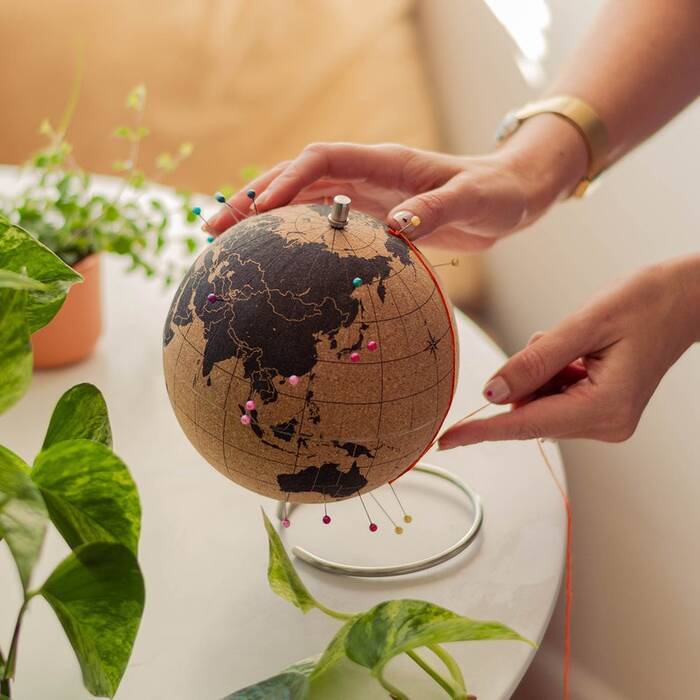 22. Salt and Pepper Set
This is unquestionably one of those gifts for cooking-obsessed couples. To avoid the salt and pepper from getting wet, oak stoppers have been placed in the containers. The streamlined style assures that the set will blend in with the couple's existing decor in their dining room and kitchen.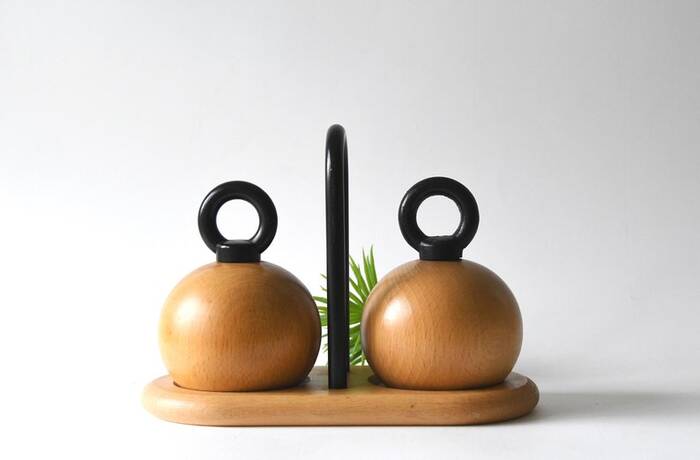 23. Decorative Display Stand
This ornamental stand is not only a great piece to use as a table decoration, but it can also be quite practical for keeping items like food and fruits on the table. Furthermore, the silver piece atop the lid is pretty lovely to look at. Who wouldn't be enthralled by this wedding present?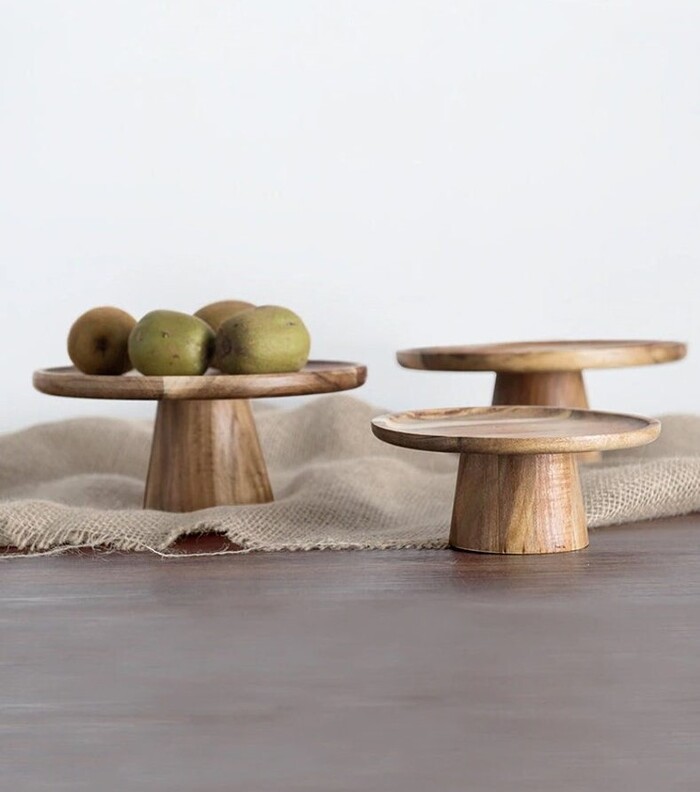 24. Personalized Photo Lamp
Looking for a way to brighten the couple's life? What better way to show them how much you care than by giving them a customized wedding gift which is a wonderful night lamp? It'll undoubtedly bring a touch of dim lighting to the space.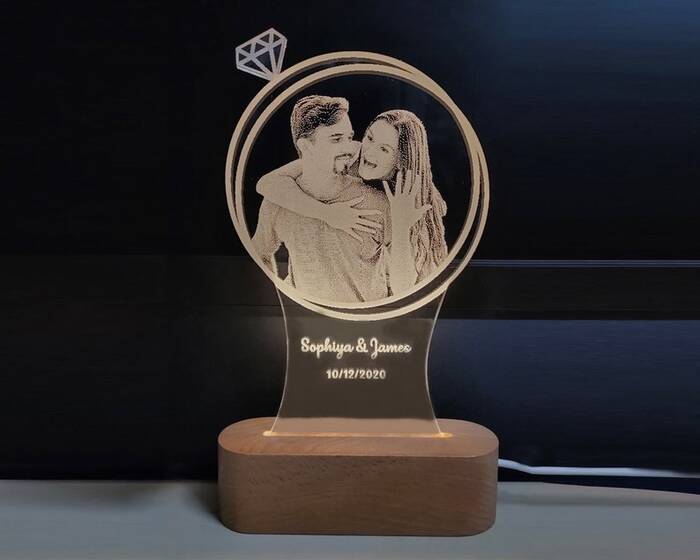 25. Personalized Board and Coaster Set
On their wedding day, these gift sets provide the ideal all-in-one present for a newlywed couple. To mark this momentous day, let's engrave the couple's initials and the date of their wedding on the board. The personalized resin cheeseboard and coasters will become a prized possession that your loved one will use every day.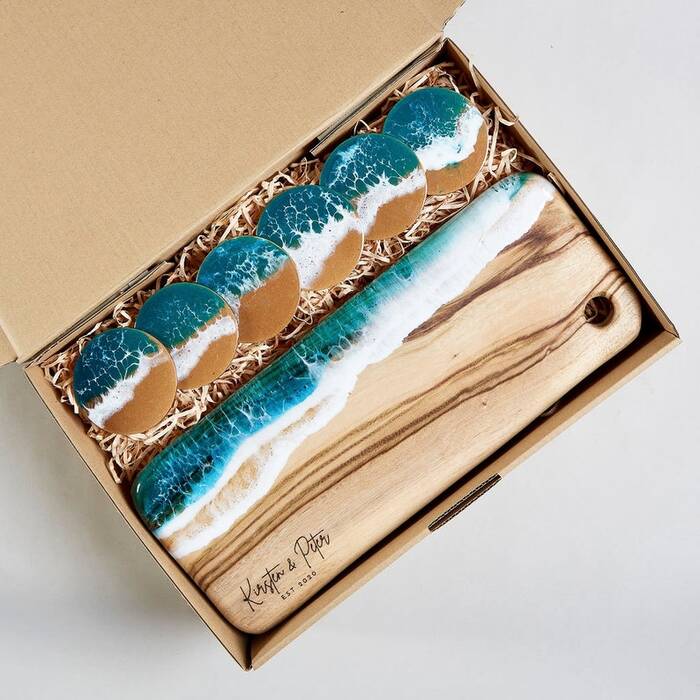 26. Wedding Gift Spirit Bal
This lovely pastel gold makes a unique and long-lasting gift for the couple to bring them good health, money, and fortune for a long and happy marriage. They can be hung in a window or a sunny spot indoors or outside, or on a stand anyplace the sun will catch the beautiful colors.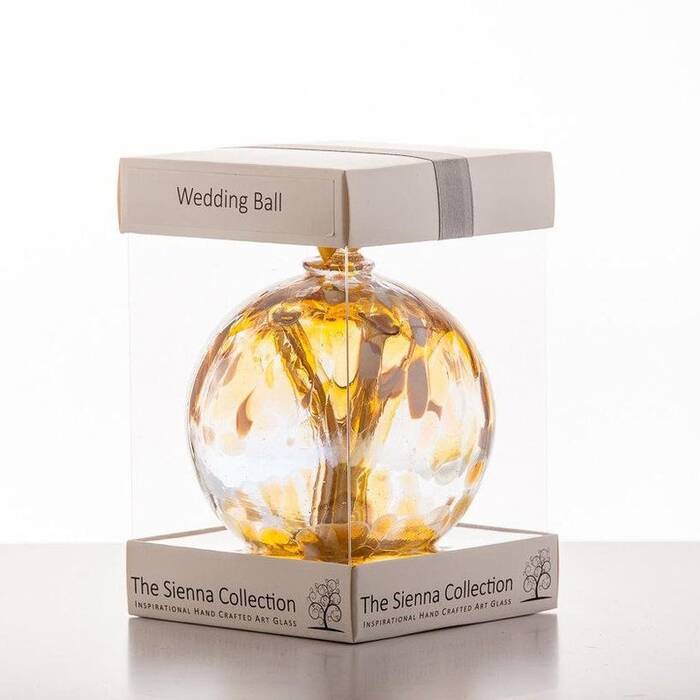 27. Monthly Subscription
A monthly subscription for practically anything, including wine, cheese, chocolate, fudge, coffee and tea, flowers, and cosmetic products, maybe set up quickly and easily. Choose something they'll enjoy and give them a gift that will last to their wedding.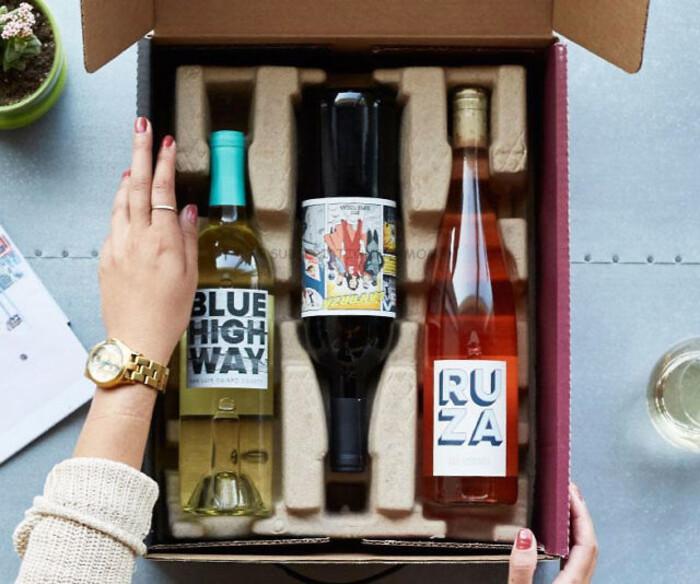 28. Loving You Is Wonderful Canvas Wall Art
With this magnificent personalized home decor, you may honor your cherished pair. You can demonstrate how much you care about them with these customized couple canvas arts as the best last minute wedding gift ideas. The quote on this canvas is inspirational and emblematic of their relationship.
29. Puzzle Guest Book
Giving a wedding guest book is a pretty regular occurrence. So, to leave a lasting impression on your favorite couple, send them this charming puzzle guest book. We're confident they'll think you put a lot of thought and work into this present.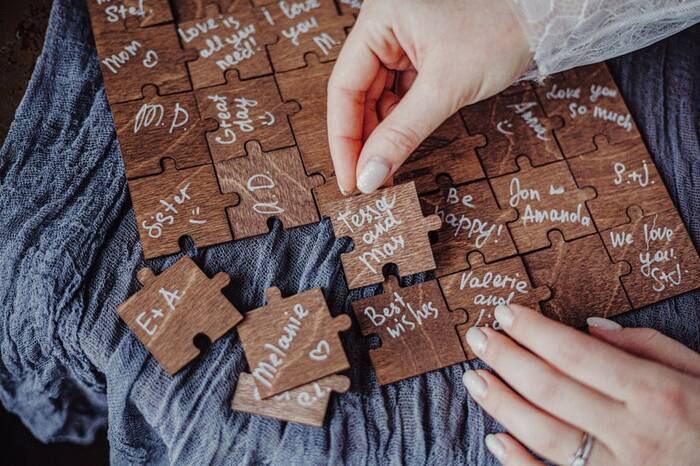 Read more:
Best Gift Cards For Last Minute Wedding Gift Ideas
30. Hotel Gift Card
Although this type of gift card is unlikely to be on the registry, it will be a pleasant surprise. It's a simple gift that you can get online, even if you haven't planned ahead of time. The ideal addition to a honeymoon present idea.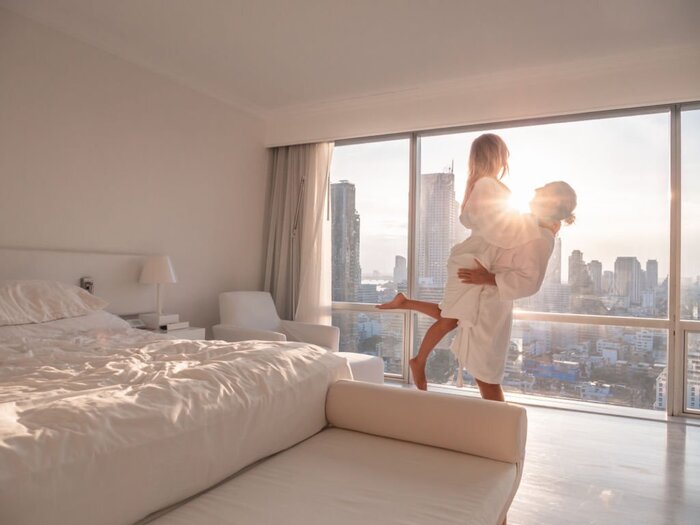 31. Decor Gift Card
What better gift for the happy couple than a gift card to go shopping for new house furnishings? They may choose from all of the hottest new styles and decorate their new home with all of their favorite styles with a Wayfair gift card.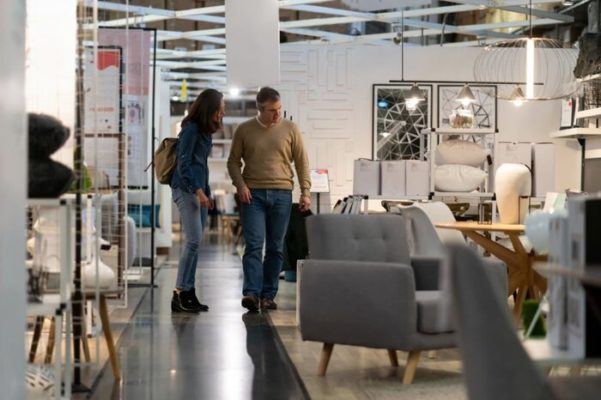 32. Restaurant Gift Card
The best wedding gifts allow the pair to relax and enjoy their first few weeks as husband and wife. The couple may use the gift ticket to have their goods delivered, along with a recipe, so they can create a top-notch meal that rivals the menu items at the best restaurants! What more could one want?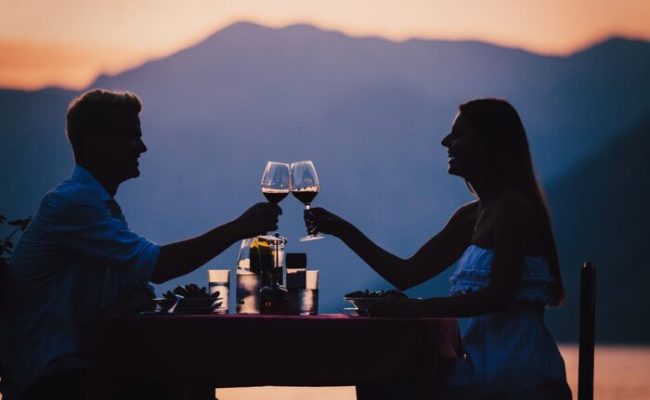 33. Master Class Membership
Marriage is a significant life event for everybody, and it frequently inspires a desire to improve oneself. Master Class classes allow them to learn from the comfort of their home, making it an environmentally responsible wedding gift. They offer couples the knowledge they need to start a job, acquire a new skill, or simply immerse themselves in a topic they are passionate about.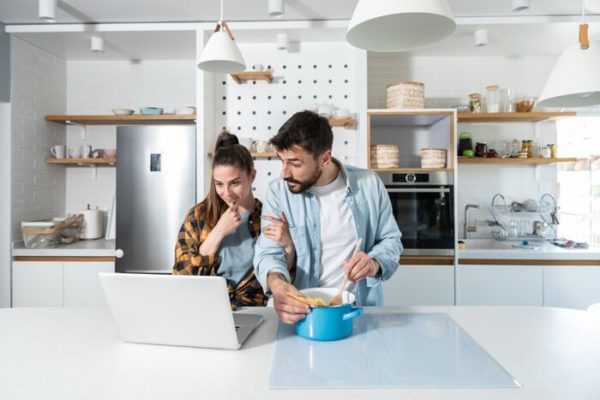 34. Gym Membership Gift Cards
In fact, many couples gain weight after they marry. So why not demonstrate your affection for the newlyweds by giving them gift cards for a gym membership? It is unquestionably one of the last minute wedding gift ideas worth considering.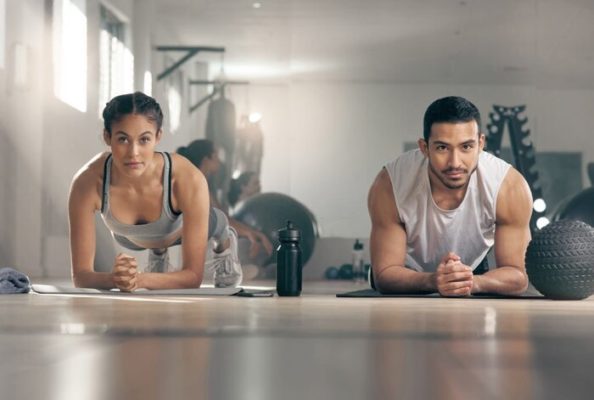 35. Spa Gift Card
Wedding planning is a demanding and frustrating experience, and the newlyweds will be desperate for some relaxation and pampering at the end of it all. So, why not make their dreams come true by having them picked up and pampered at a posh spa? Allow them to pick the day and time of the session to sweeten the deal even more.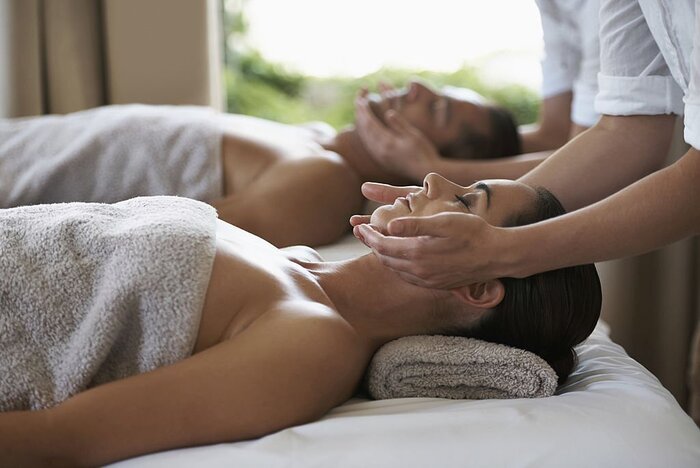 We hope you are pleased with this list of last minute wedding gift ideas for your beloved couple. Any couple can choose from any of the alternatives listed above.
Maybe you interesting: