Your guests deserve a thank-you, even if it's only for showing up to see you get married and celebrate your new family. That's why you should have special personalized wedding gifts for guests. Most wedding favors, on the other hand, are never seen again once they are handed out at the reception. Guests will cherish favors that are as one-of-a-kind as you are for a long time after your wedding is over. Every time your guests utilize these thoughtful wedding favors for guests, they'll remember you and your special day. Ohcanvas have 30+ best-personalized wedding gifts for guests that they will fall in love with.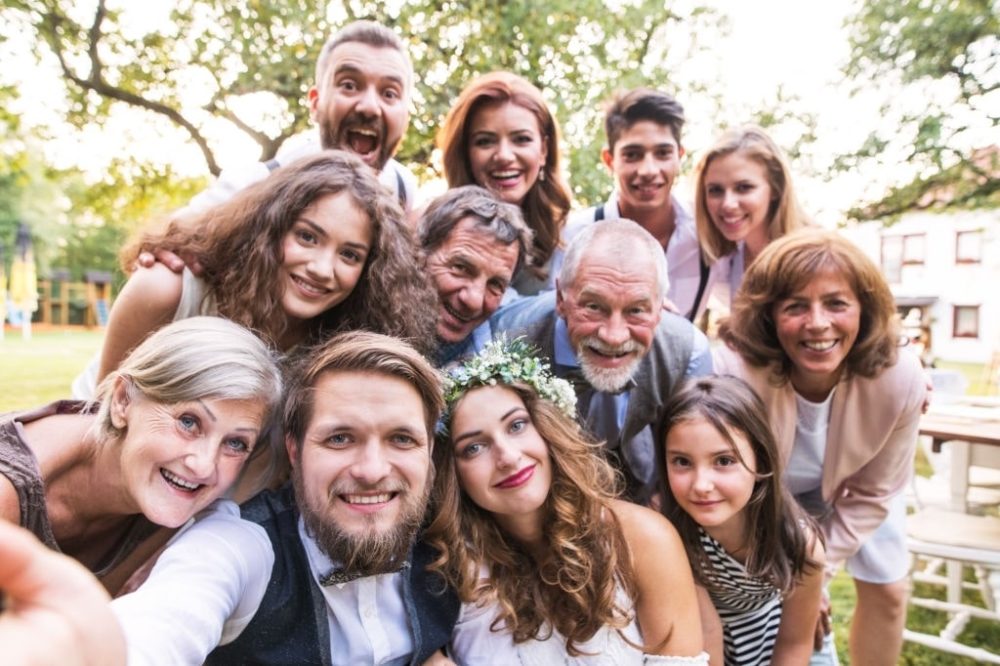 37+ Best Personalized Wedding Gifts For Guests
15 Creative Personalized Wedding Souvenirs For Guests Ideas
1. Mini champagne bottles
Send tiny champagne bottles home with your guests as a memento of the celebration. Custom labels or your preferred bubbly brand can be used to make it even more unique to you. Wine, beer, juice, and even cold brew coffee can all be used in the same way.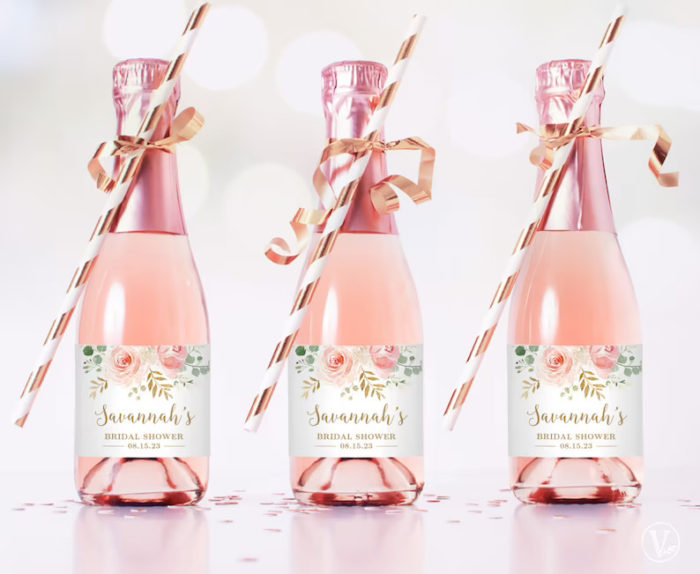 2. Personalized Bags
This wedding favor trend is especially prevalent at beach and destination weddings. Choose from a variety of customizable totes and fillings. Inflatable drink koozies are the perfect accessory for a beach wedding that is both casual and bright. Send Ribbon makes it simple to put together personalized gift bags. To begin, add a headline to the front, and then fill it with items (up to eight to be exact). It's also possible to donate a share of the income, and you can choose which one.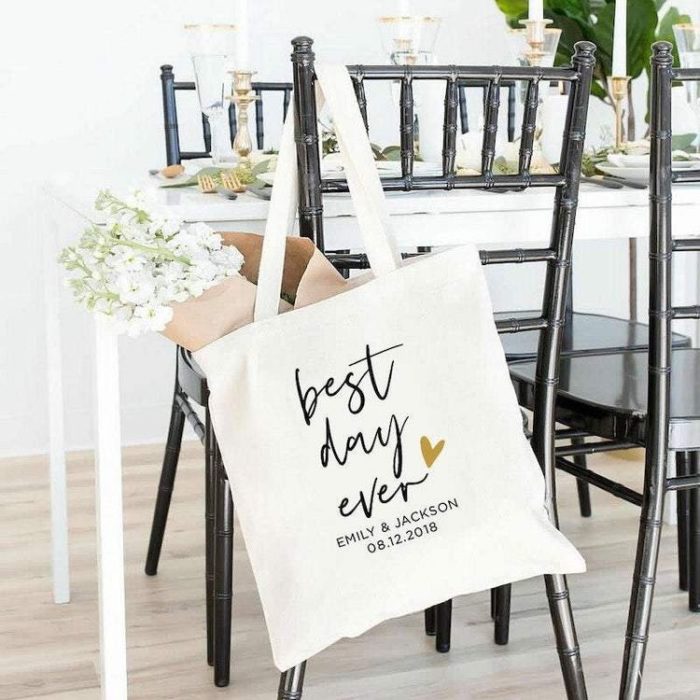 3. Custom Illustrations
What a fantastic approach to making the experience truly unique! An illustrator specializing in fashion created unique images of guests for one real-life couple. Your guests will be able to take home a one-of-a-kind keepsake from your reception if you offer live illustrations.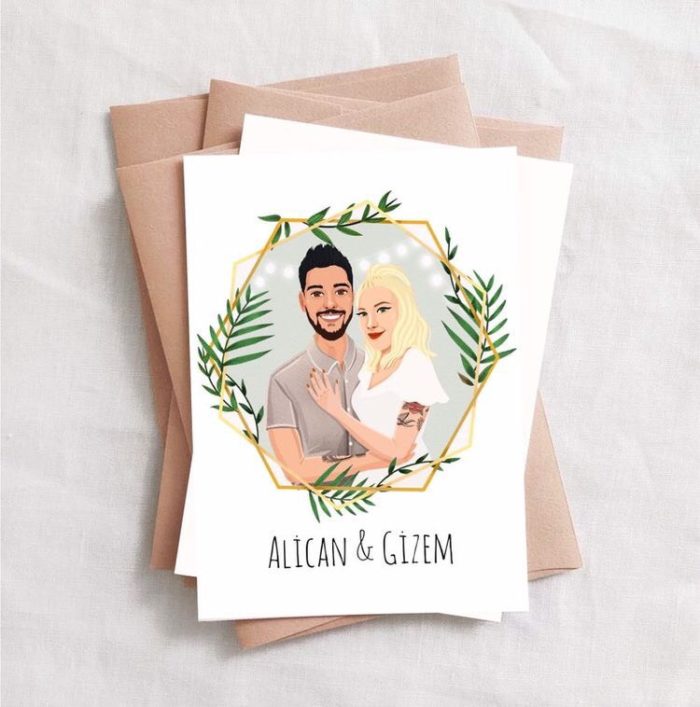 4. Personalized Handkerchiefs
Do you expect to shed a few tears of joy at your wedding? As you recite your handwritten vows, your guests will appreciate the sentimental value of a vintage hanky. Handkerchiefs are thoughtful personalized wedding gifts for guests you can not ignore.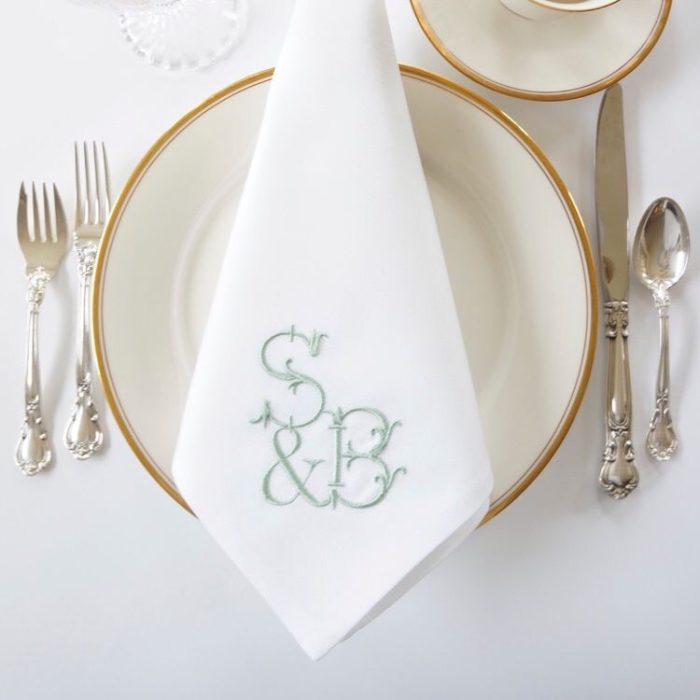 5. Personalized Collection Luggage Tags
Traveling to an exotic location to tie the knot? It's a great way for guests to remember the event, and they can use it whenever they go on vacation. Let's choose it to make sweet personalized wedding gifts for guests.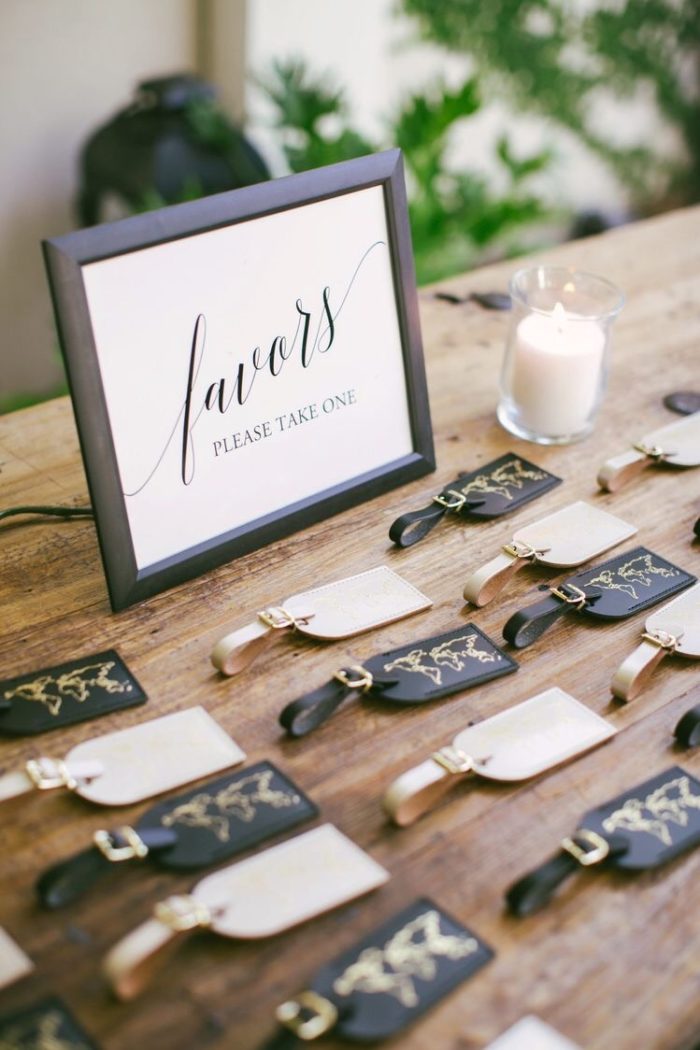 6. Personalized bookmarks
They're ideal for the couple that can't wait to curl up in bed and read for the rest of their life with these rustic bookmarks. As a reference to the couple's shared love of reading, these bookmarks are sure to be a hit with visitors of all ages.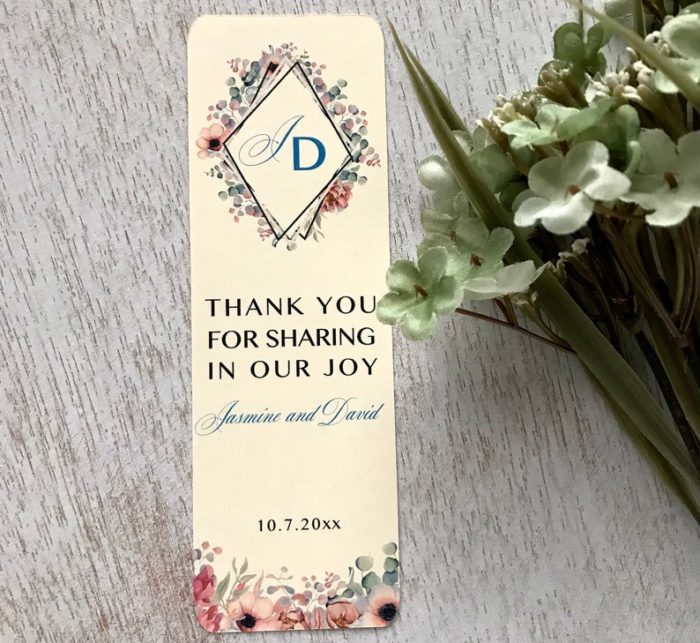 7. Personalized Parasols
For a seaside or summer wedding, parasols are awesome personalized wedding gifts for guests. Mix & match to create a whimsy aesthetic or choose ones that fit your wedding's color scheme. If you're looking to keep your visitors cool in the shade, these umbrellas are an excellent choice. The paper parasols can be replaced with umbrellas if you fear it will rain on your wedding day. Your guests will be grateful for your efforts!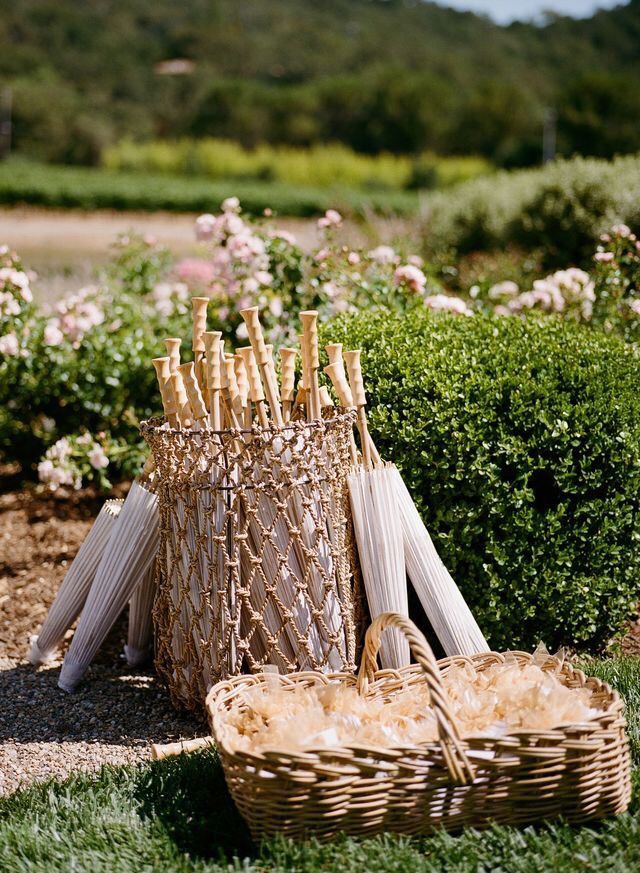 8. Customized Mugs
You should try the mugs with funny farmhouse designs as fantastic customized wedding gifts for guests. It's sure to bring back memories of your wedding for your guests as they sip their coffee from these beautiful mugs.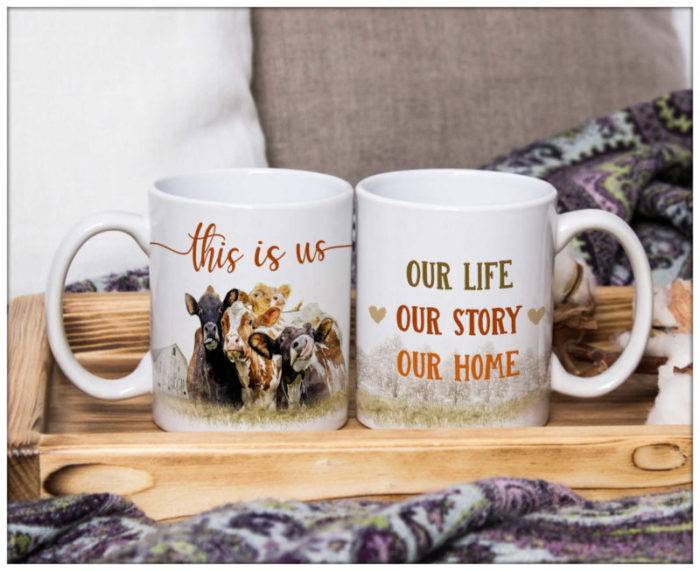 9. Personalized Candles Tin
Mini candles and a thank-you letter are simple ways to show your appreciation to loved ones. Personalize the candle box or tin to make these treats stand out even more. You may thank your guests for coming from all around the world with these adorable tin candles with a customized sticker.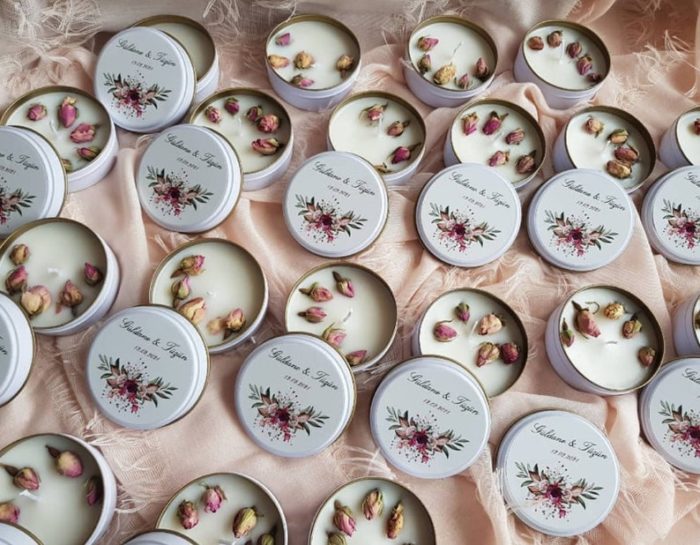 10. Potted Succulents
Succulents in beautiful little pots are a great way to start a tradition of memorable personalized wedding gifts for guests. Hand-lettering the guests' names or painting the pots with your and your partner's initials is a great way to satisfy your DIY itch.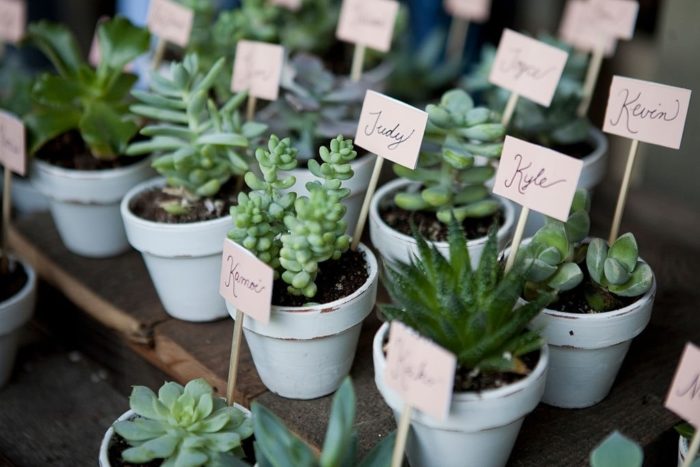 11. Personalized Match Box
You can't go wrong with these monogrammed matchboxes as great personalized wedding gifts for guests! This wedding favor is ideal for every guest.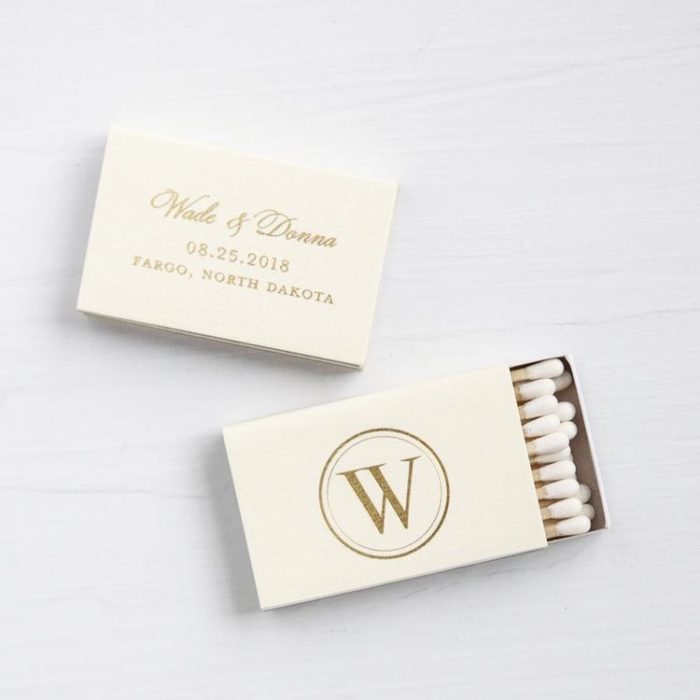 12. Personalized Mason Jars
These stylishly decorated mason jars will be a hit with your visitors. To keep guests hydrated and looking their best at your outdoor summer wedding, you might urge them to bring their own reusable water bottles to the event.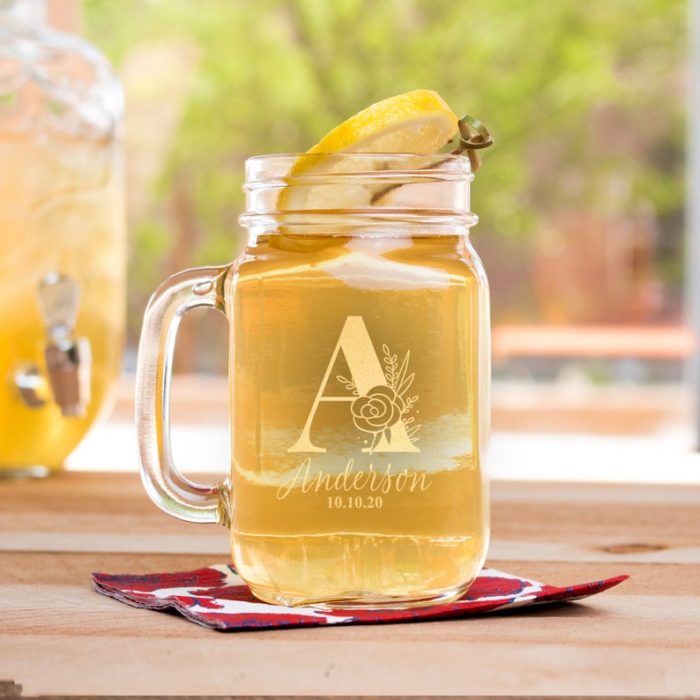 13. Elegant Blankets
It's easy to make a thoughtful present out of a fleece blanket that's been embroidered with your initials and the date in a little area. When it becomes chilly, your visitors will want to grab one, warm up with a drink of wine. In recent years, elegant blankets have become fashionable personalized wedding gifts for guests.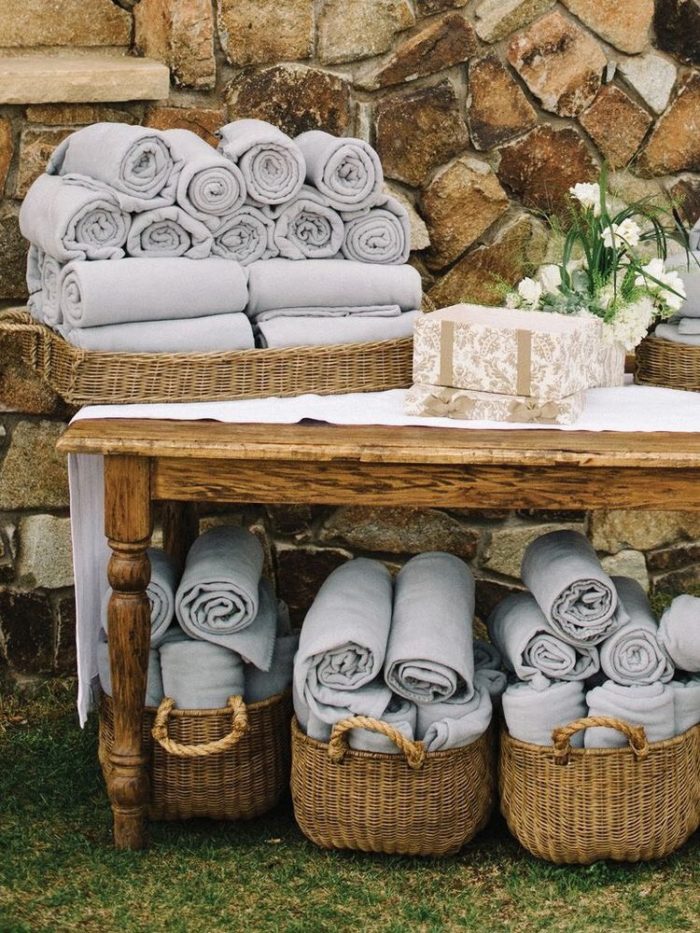 14. Personalized Wedding Favor Sunglasses
Imagine how many fantastic pictures you'll be able to take with your guests wearing these wedding presents. These customized sunglasses will make your day even more special. You may personalize both arms, and the best thing is that this pair will remind them of your wedding.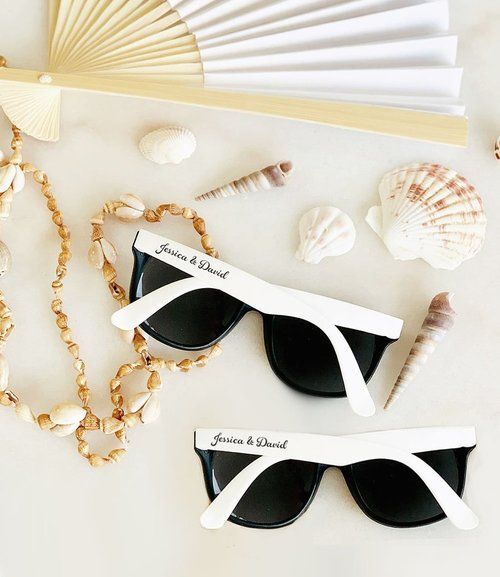 15. Custom Wine Cork
These personalized wine stoppers aren't just pretty; they'll be put to good use for years to come. There are many various designs, so you're sure to find one that matches your theme, and their compact size makes them ideal for visitors who have to drive a long distance home. When your guests open their favorite bottle of wine, they will be reminded of your wedding day every time they do so. I adore this concept!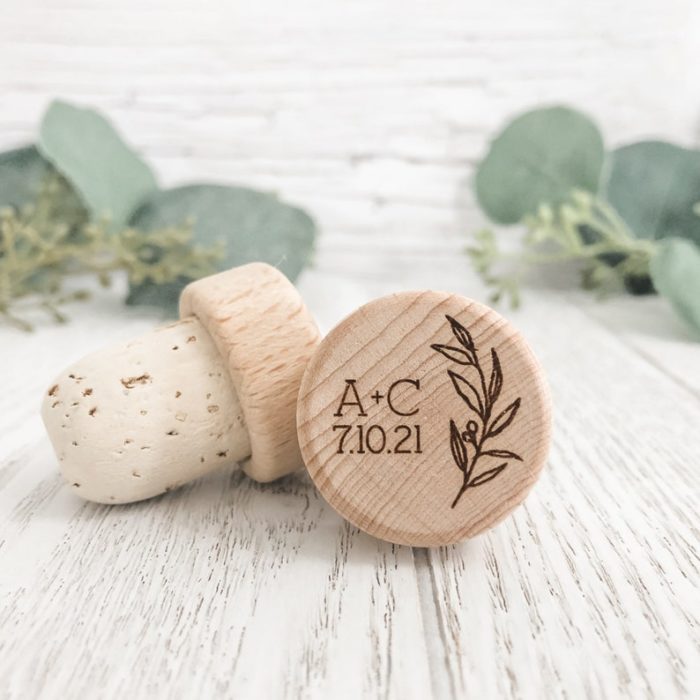 Read more:
22+ Unique Personalized Wedding Favors For Guests
16. Honey Jars
Small jars of honey are the perfect personalized wedding gifts for guests. Burlap lid and "meant to bee" sticker complete the adorable present package. Honey favors are popular right now, so we wrote an entire post about them, along with some kind words for the bees who make them.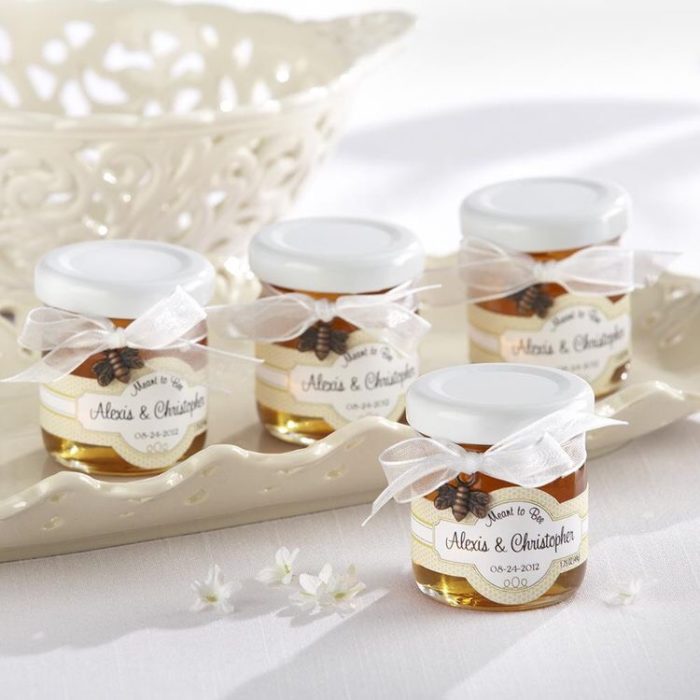 17. Customized Bouquet Favor
Have a bunch of flowers from your wedding that you don't want to throw away? A designated individual should break down centerpieces and flowers at the end of the night, then put them into glass bottles. If you want to ensure that your guests take home a piece of your special day, this is a terrific way to do it.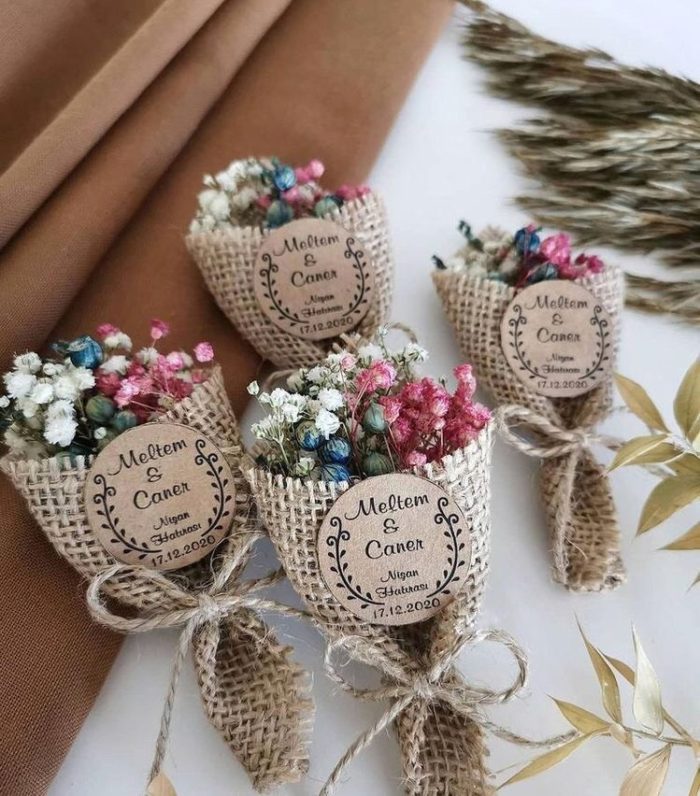 18. Tree Autumn Forest Canvas Print
You can't go wrong with this Tree Autumn Forest Canvas Painting as a personalized wedding gift for your guests. Your beautiful marriage is represented by the romantic scene. This stunning painting may be personalized with your name and wedding date.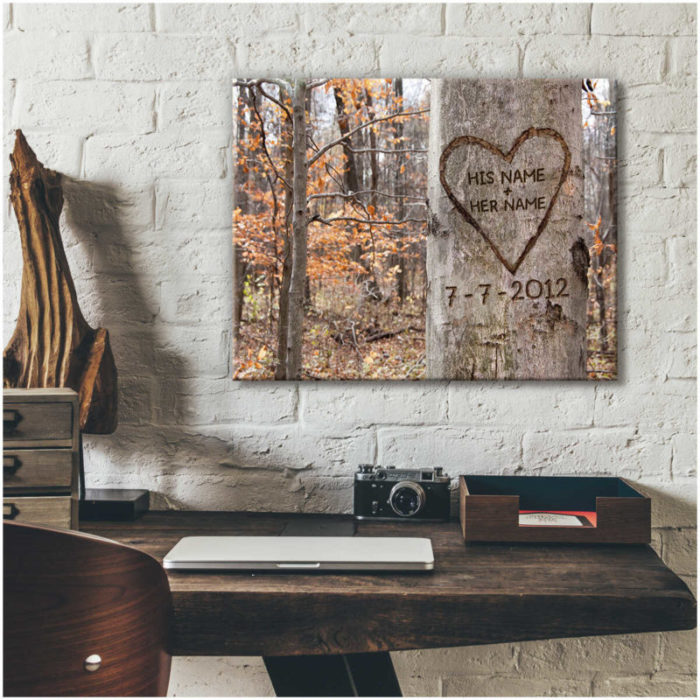 19. Personalized Bottle Openers
After your significant day, your guests are sure to appreciate these bottle openers as useful personalized wedding gifts for guests. A beachside wedding would be complete with these tropical pineapples, palm trees, and flamingos in the shape of your wedding theme.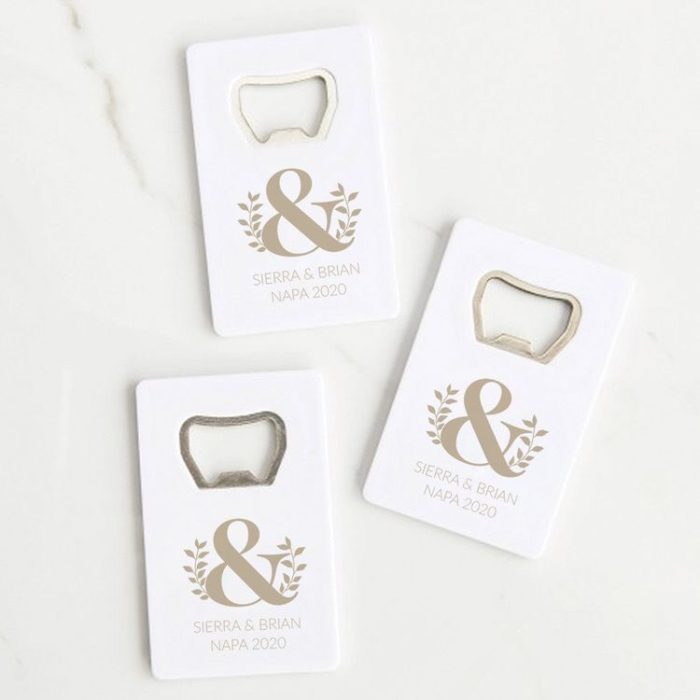 20. Custom Stemless Wine Glasses
These wine glasses can be used long after the party is finished to toast to your new life together. Add your names and the date of your wedding to a phrase and choose a color to match your theme.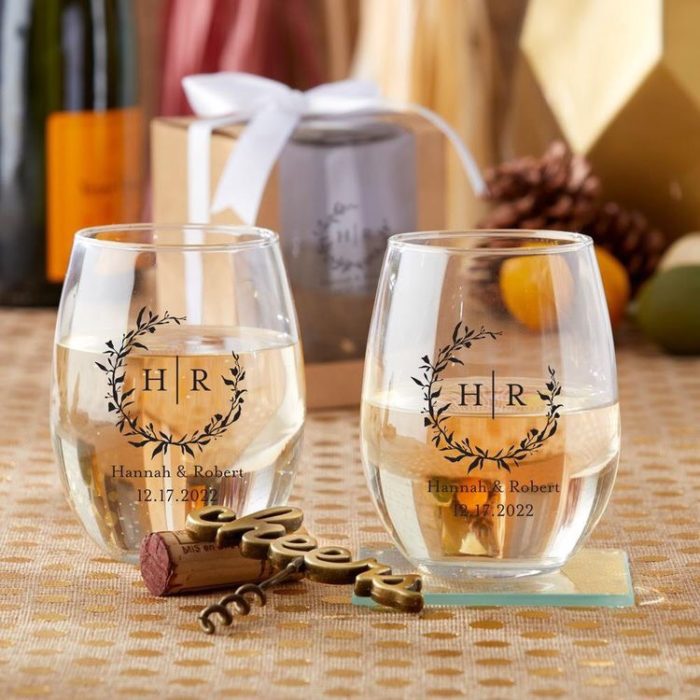 21. Personalized Popcorn
These wedding favors aren't just cute, they're also a hit with guests! You can personalize the label on these sweet popcorn bags with any wording or design you like, making them really one-of-a-kind snacks. If you're hosting a late-night party, these snacks will be a big hit with your guests, and they're also a great option for when your child gets a bit restless!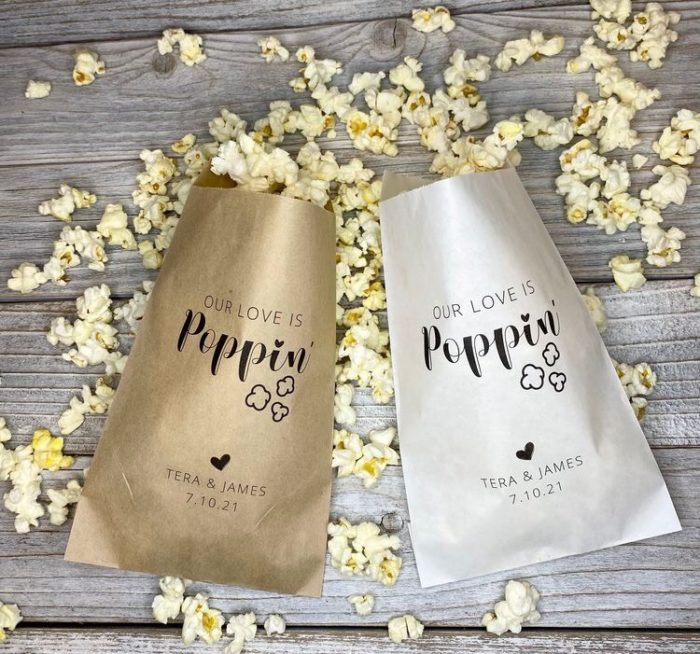 22. Lavender-themed Wedding Favors
These bath salts will help guests unwind after a night of partying. They'll be appreciated by all the women who are wearing high heels that night. what such thoughtful personalized wedding gifts for guests, right?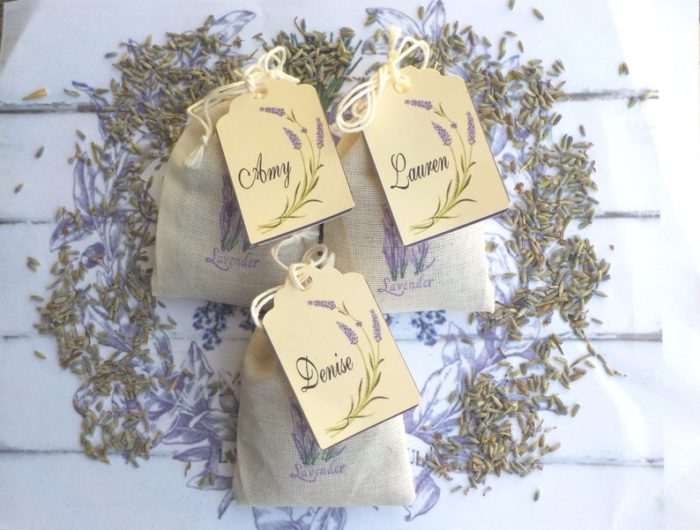 23. Coffee Wedding Favor
Your out-of-town guests will thank you if you serve them a cup of excellent artisan java that is far superior to what they would get in their hotel room. They will delight with these coffee bags as personalized wedding gifts for guests.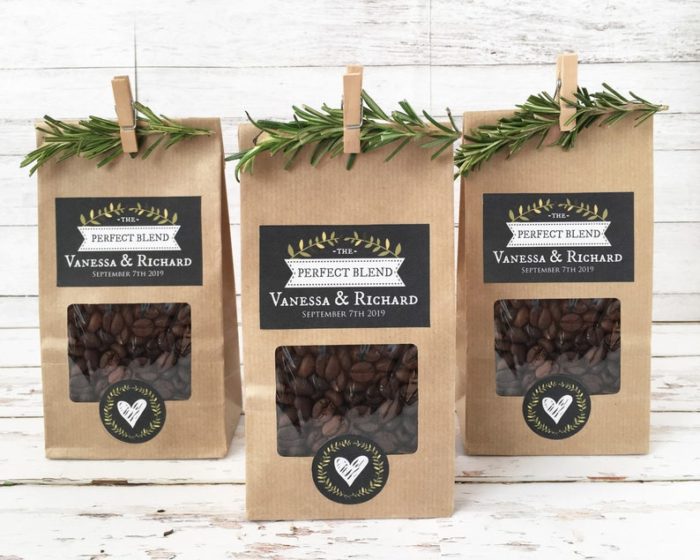 24. Personalized Tea Bag Favor
After the wedding, give your guests a gorgeous tea tin with an adorable quote to help them unwind. These tea jars are a fun way to indicate each guest's place at your reception table. For the last personal touches, include your initials and packaging that matches your color scheme.
25. Street Sign Canvas Prints
There's also a great range of Street Sign Canvas Prints to choose from. Any wedding guest will be impressed by this amazing painting. Personalize them with your and your sweetheart's names, as well as the date of your big day.

26. Personalized Sweet Favor Bag Kit
Do you both enjoy Sweet Tarts or any other candy of the same type? Put your favorite candies in these clear vintage-style jars that pay homage to old-school candy shops. A customized sticker is all that is needed to complete the amusing favor. These are the sweetest personalized wedding gifts for guests ever!
27. Olive Oil
Even olive oil containers may be customized, as it turns out. These bottles can be personalized with your names and wedding date so your visitors will always be reminded of your special day whenever they use them in the kitchen.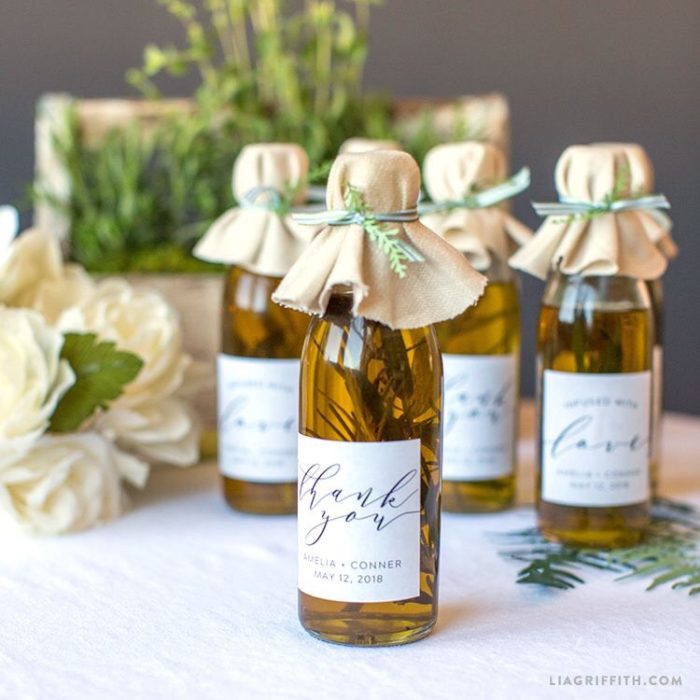 28. Paper Boats Origami
Nothing beats a charming handcrafted gift. Origami paper boats are used as both seating allocations and favors for one couple's wedding reception. These are some of the amazing personalized wedding gifts for guests you should consider.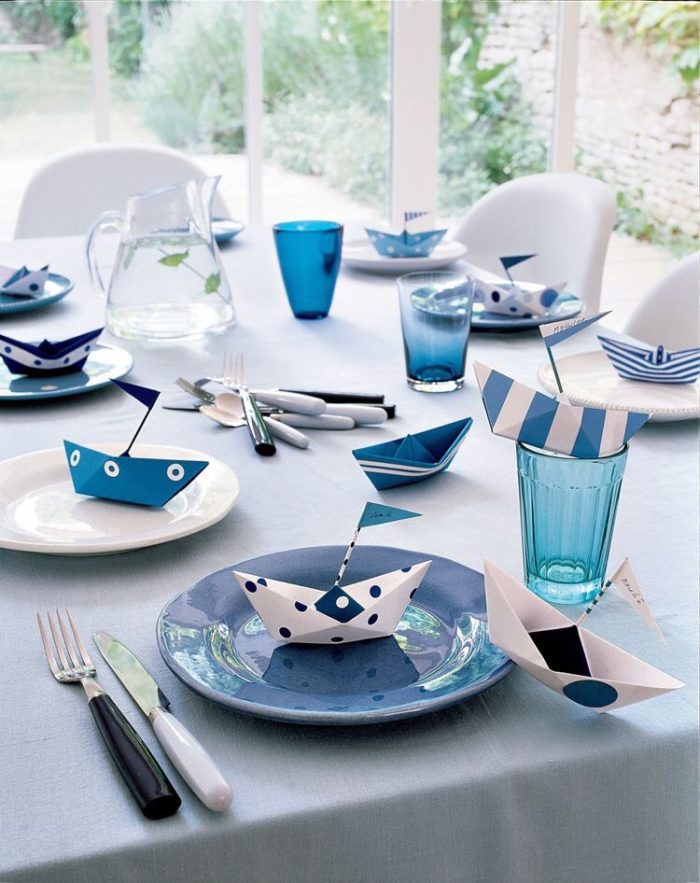 29. Custom Playing Cards
Choose an item that your guests will actually want to use or exhibit if you're serving something other than food. What about a deck of playing cards as a party favor? Every household has a deck of cards handy for playing card games by candlelight in case the power goes out. More than a few of your guests are sure to say things like, "Oh wow, what a fantastic concept!"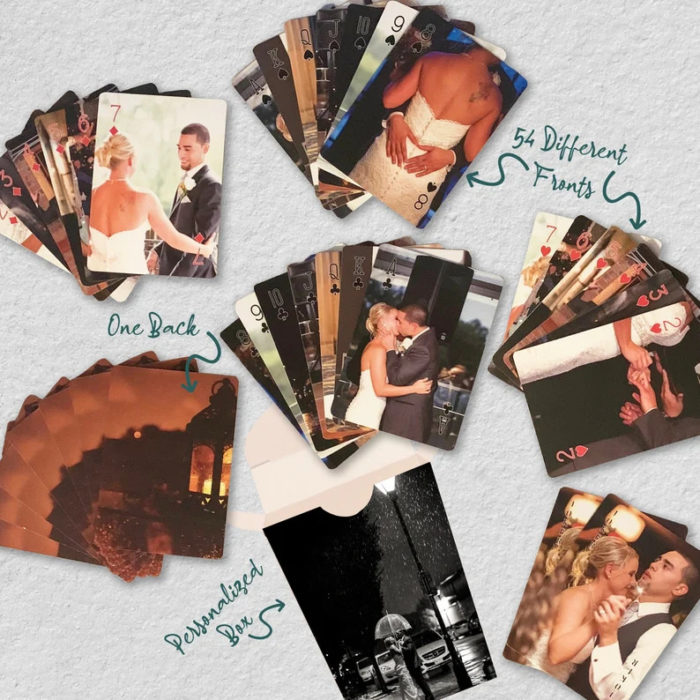 30. Personalizes Sauce Bottles
Use short and lovely notes from the newlyweds on bottles of barbecue sauce as personalized wedding gifts for guests. Our favorite approach is to pick up little bottles of your favorite locally made sauce and dress them up with a pretty bow and a handwritten letter.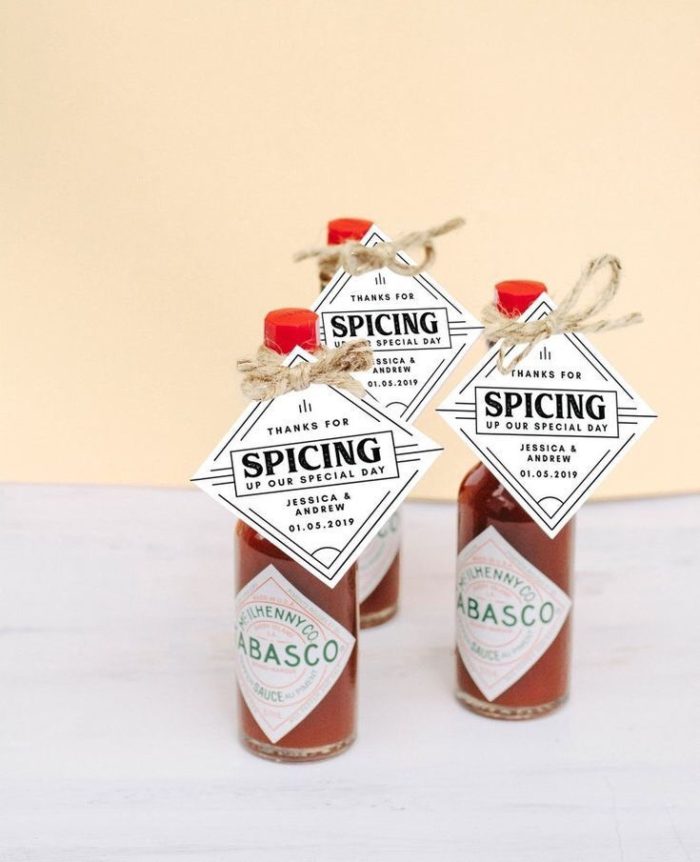 >>> Read more: 38 Greatest Wedding Gifts For Coworker To Show Your Affection
31. Seeds for the garden
Garden seed packets make excellent wedding favors since they may be used again and again. If you're getting married in a garden or farm, this is a great idea. It's best to go with easy-to-care-for plants that can be grown both indoors and outdoors if you want the most helpful seeds.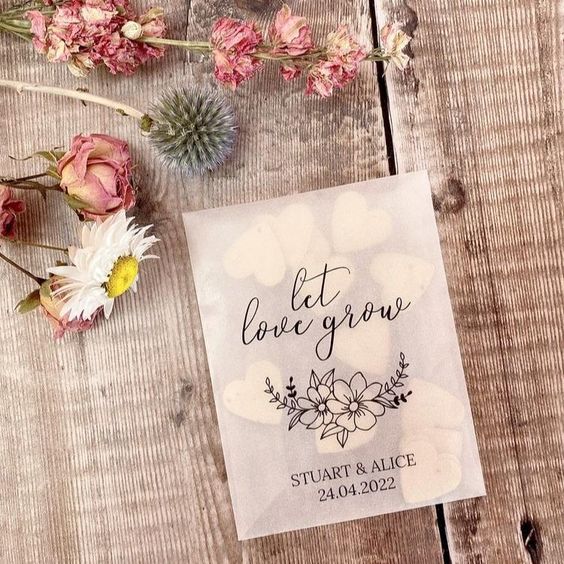 It's simple to grow regional seeds for herbs, vegetables, fruits, or flowers in your garden. Your guests will appreciate the thoughtful gift you've provided them with when you package them in adorable, custom-printed tins.
32. Handmade Soaps
If you're being married outside or during the summer, we recommend handcrafted artisanal soaps as a wedding favor. To make the safest, most allergy-friendly soaps, look for those made with all-natural ingredients or buy them from a small local shop.
33. Towels for Drinking
Tea towels are practical and can be used as part of your table preparations. Let your wedding date and a beautiful phrase do the talking. Tea Towels are the best choice as personalized wedding gifts for guests.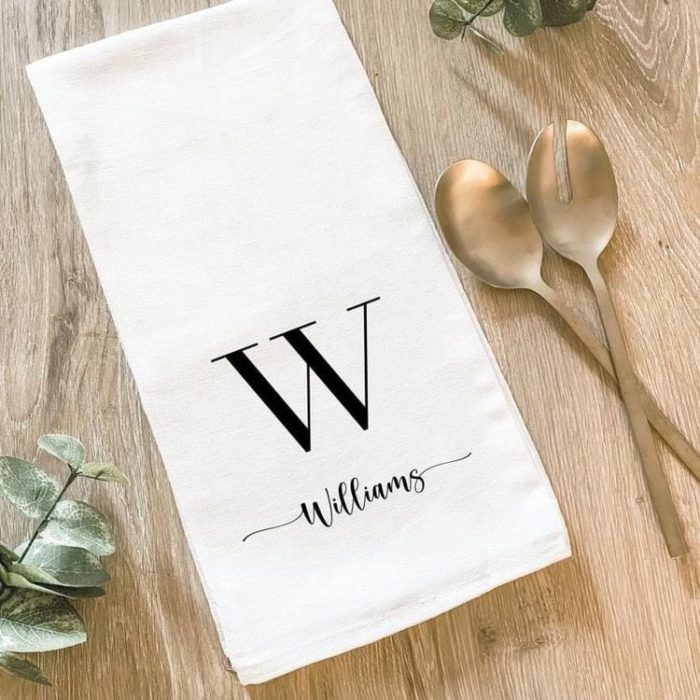 34. Personalized Gift Boxes
These lovely gift boxes are both elegant and versatile. For any sort of wedding, this well-established Etsy seller offers eight different box color options with an almost infinite number of alternative ribbon colors.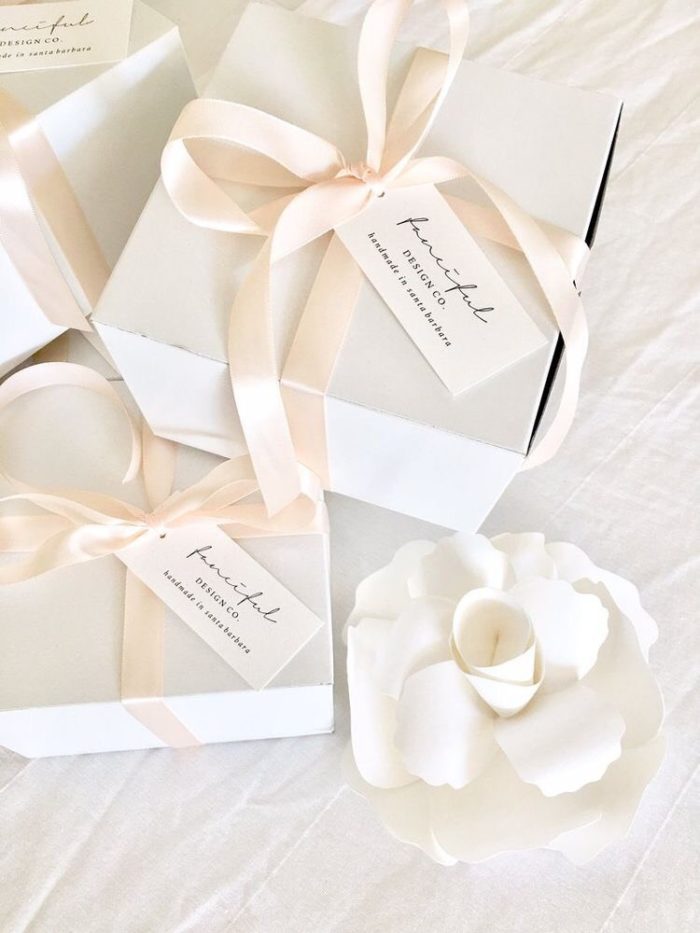 35. Personalized Face Masks
If you're going to wear a mask at a wedding, why not make it adorable? Reusable and washable face masks are great personalized wedding gifts for guests because they can be used after the event and are an easy way to keep your guests safe, too.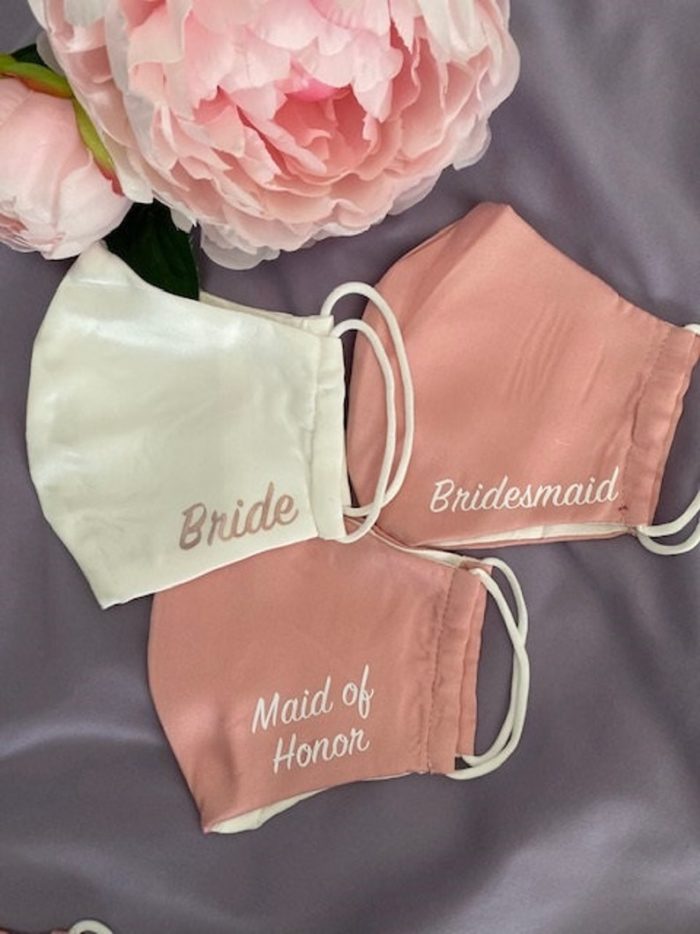 36. Personalized Shot Glasses
After the reception, the fun doesn't have to end! The perfect way to send your visitors off is with one of these stunning shot glasses. Pre-made designs are available, but if you don't see exactly what you're searching for, they'll work with you to build something custom.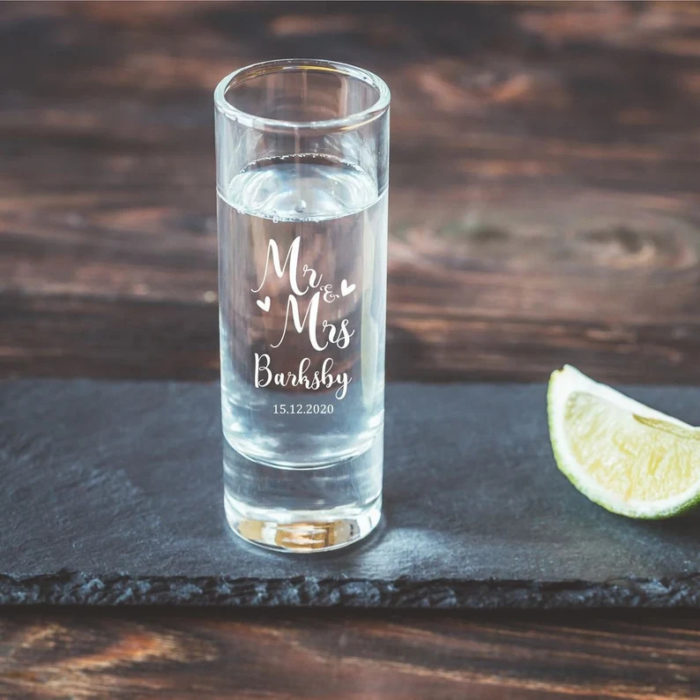 37. Personalized Cocktail Set
Party-loving guests will appreciate the novelty of these small cocktail kits as personalized wedding gifts for guests. You have the option of customizing them to fit your signature cocktail or even to incorporate locally distilled alcohol that you enjoy. If you're having out-of-town guests, these kits would be perfect for your welcome bags.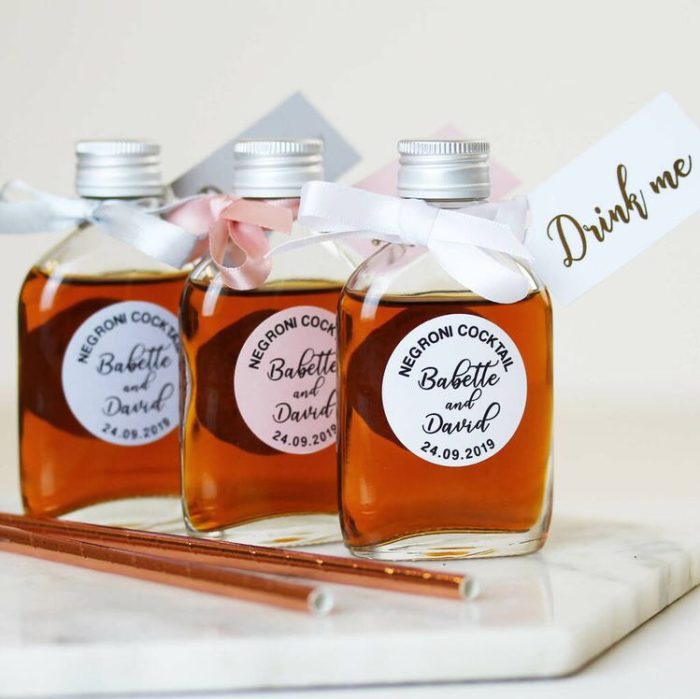 Further reading:
Hopefully, the ideas in the preceding article have helped you find the perfect personalized wedding gifts for guests. Listed above are some of the most amazing gifts from Oh Canvas that they will cherish for years to come. Give them the one you like best, along with a handwritten note from your heart.