If you're looking for the greatest wedding gifts for second marriage, this blog from Oh Canvas is for you! It's great to have a party to honor a second marriage with loved ones and friends. The challenge of coming up with thoughtful presents for a couple's second wedding anniversary is a real one. Support the newlyweds by providing them with experiences rather than material possessions. Celebrate the birth of their new family and honor the unions of their former spouses with a variety of activities that will bring everyone together.
What is Appropriate for a Second Wedding?
From an intimate dinner gathering for close family and friends to an extravagant black-tie ballroom event, second wedding receptions have become more popular in recent years. To avoid the feeling of déjà vu, create a distinct mood from your previous wedding using unique touches and features.
33+ Wedding Gifts for Second Marriage
Gifts for Second Marriage Older Couple
1. Coffee Maker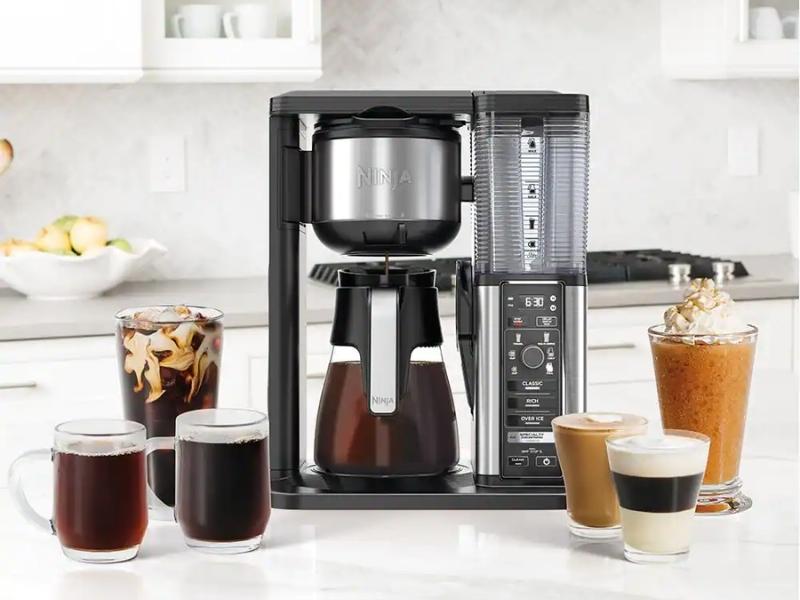 For a second wedding, you can't go wrong with a new coffee machine. What kind of person wants to start their new life together with a coffee machine that has been around for decades? Their residence and their morning jolts of coffee need to be spruced up. Every day, they'll thank you!
2. Journal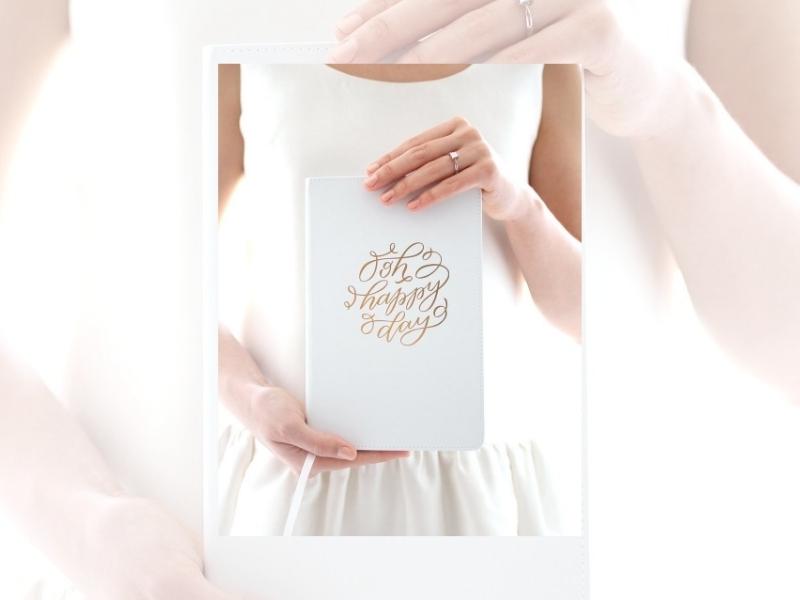 Consider this anniversary diary as a unique wedding gift for 2nd wedding. Every anniversary is commemorated in this gorgeously bound notebook, which includes room for notes, picture pages, and envelopes. It's a great date night activity for a couple. The memories they have of their time together will be carefully maintained for future generations in this manner.
3. Wedding Keepsake Library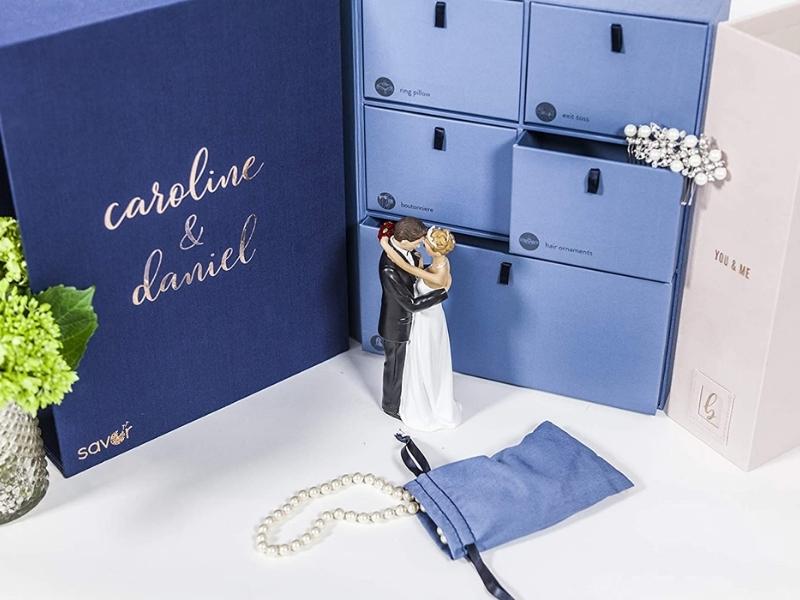 A beautiful bride is about to tie the knot. This is one of the best gifts for second marriages! The library provides a secure place for her to preserve all of her wedding photos. Her heart will have room for all of it!
4. Custom Family Names & Year
The family canvas print is an excellent way to express to your loved ones how much you care. As a wedding present for 2nd marriage, give this stunning piece of wall art to your newlyweds. Make this banner even more special by personalizing it with the names and dates of the happy couple.
5. Personalized Champagne Wedding Vase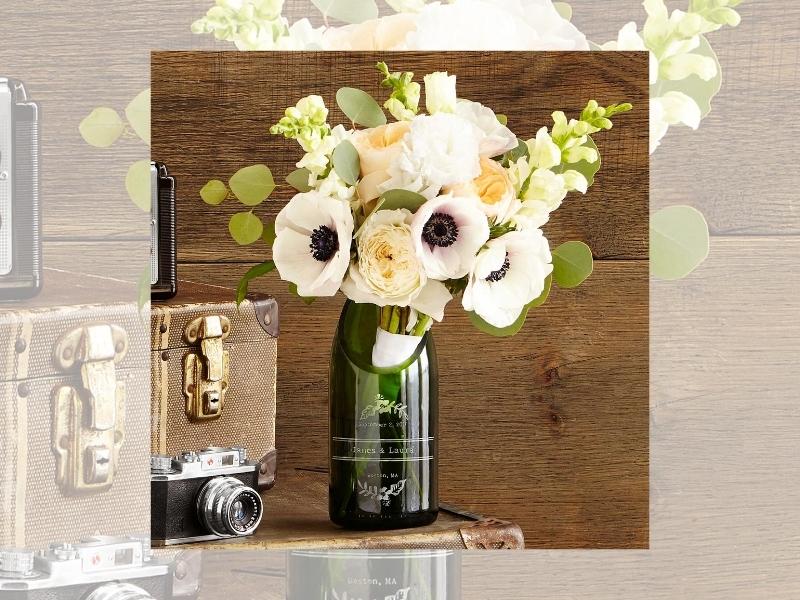 Repurposed champagne bottles are used in this creative present for a couple that enjoys making things at home. To complete the look, customize the engraving with the names of the bride and groom, the date and venue of the wedding, or funny words to make it a fun gift for the groom. Every time they fill it with flowers, it will serve as a lovely memento of their wedding. If you're buying wedding gift ideas for older couple second marriage, this is a terrific choice.
6. Bamboo Lotus Serving Board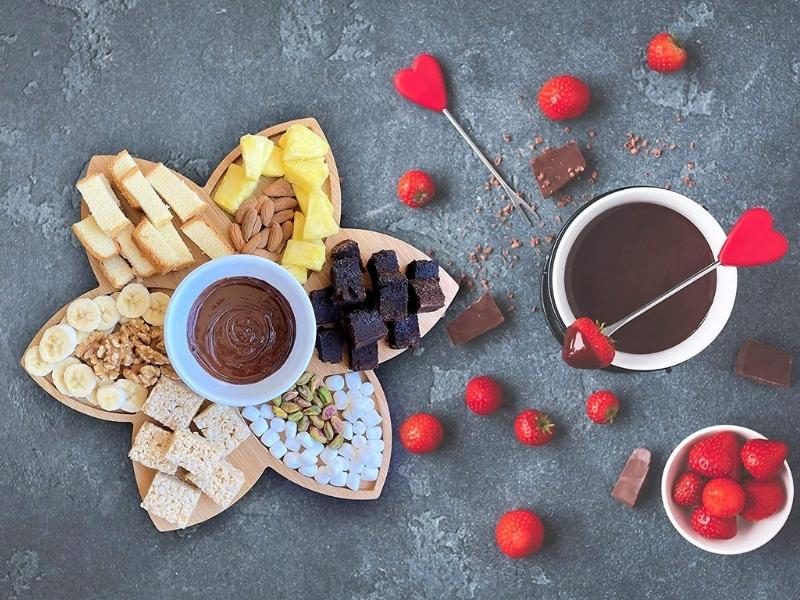 This one-of-a-kind wedding gift for second marriage older couple combines stunning bamboo with the imaginative craftsmanship. All of their entertaining supplies will fit on this serving board. The petals of the lotus may hold a wide array of delectable treats. They form a barrier around a dish of dip or cheese. It's a nice piece of serving ware for entertaining.
7. Custom Wood Cutting Board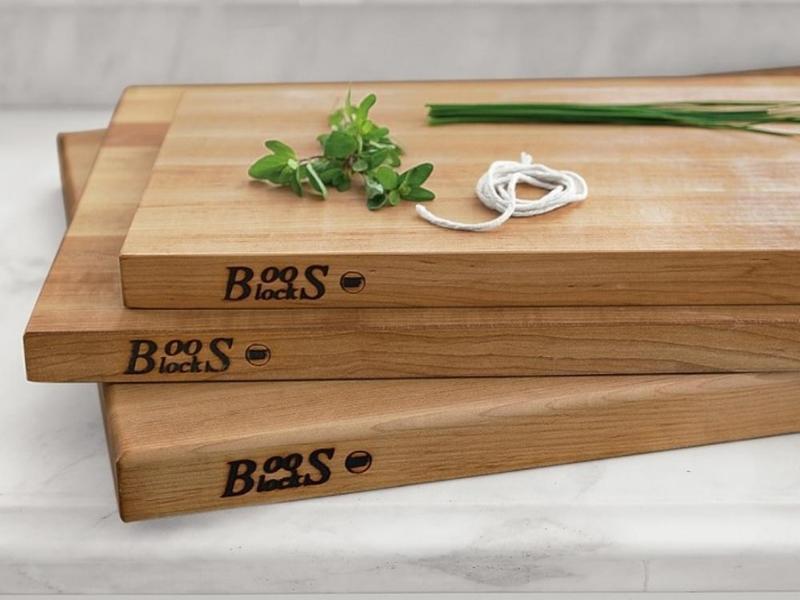 This cutting board is one of a kind because of the maple or walnut wood and the custom engraving that goes along with it. Gifting this item to an elderly couple or a young pair is a wonderful idea. Charcuterie boards that can function as cutting boards are quite useful. This is one of the unique wedding gifts for second marriage if they like entertaining a lot.
8. Home Subscription Boxes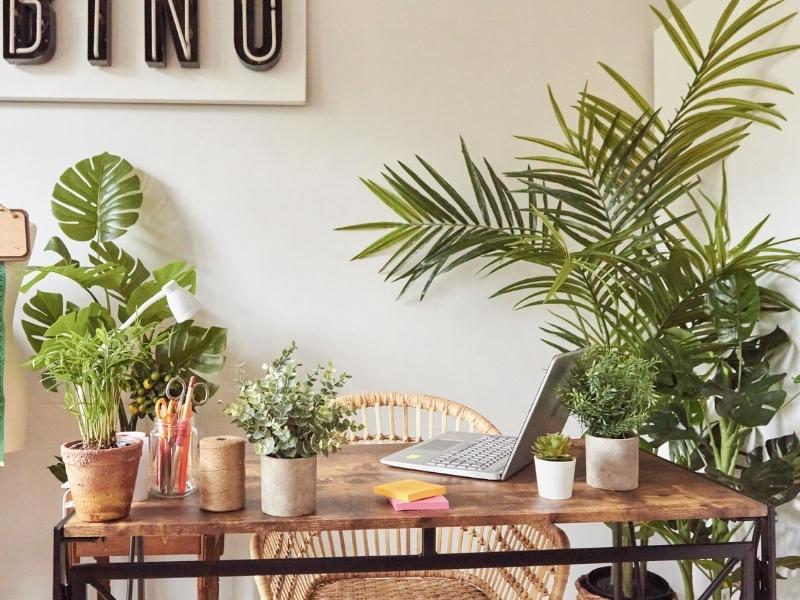 Trying to figure out what to get the couple that has everything as gifts for second marriage? A plant subscription box is a wonderful gift for any couple, no matter how many marriages they've had. Each month, your pals will get a six-inch pot and a plant in one of these boxes. For the newbie gardener or the infamous black thumb, they are great.
9. My Family Cookbook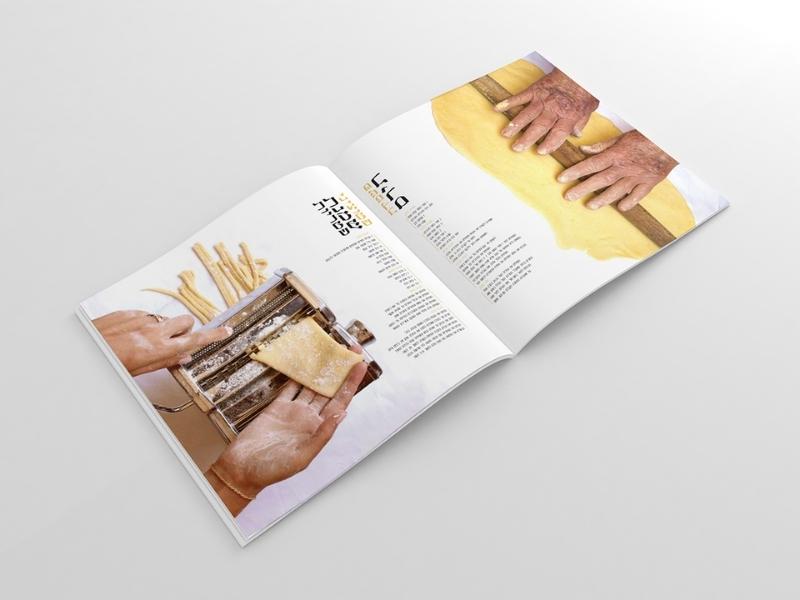 For families with a lot of recipes, this product is a great option. To preserve them for future generations, include them in this "create-your-own" cookbook. Whenever they're cooking again, they may record a fresh recipe. It's even possible to take a picture of it! For couples who are getting married later in life, this would make a great wedding gift for 2nd marriage.
10. Charitable Gift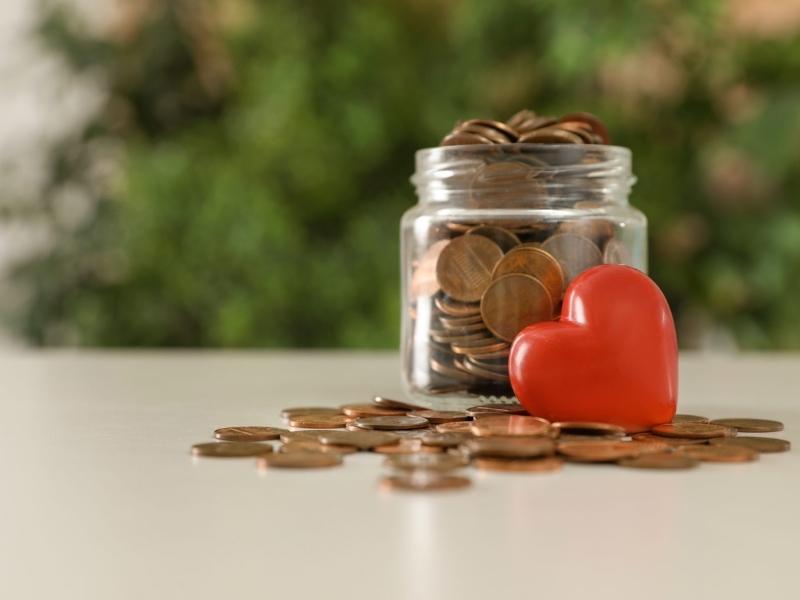 What about making a charitable contribution as a unique present idea for couples over the age of 50? Donate in their honor to the charities of their choice. Let them choose a charity of their choice with a gift voucher. This is a wonderful wedding gift for second marriage older couple that has everything.
11. Home Decor Gift Card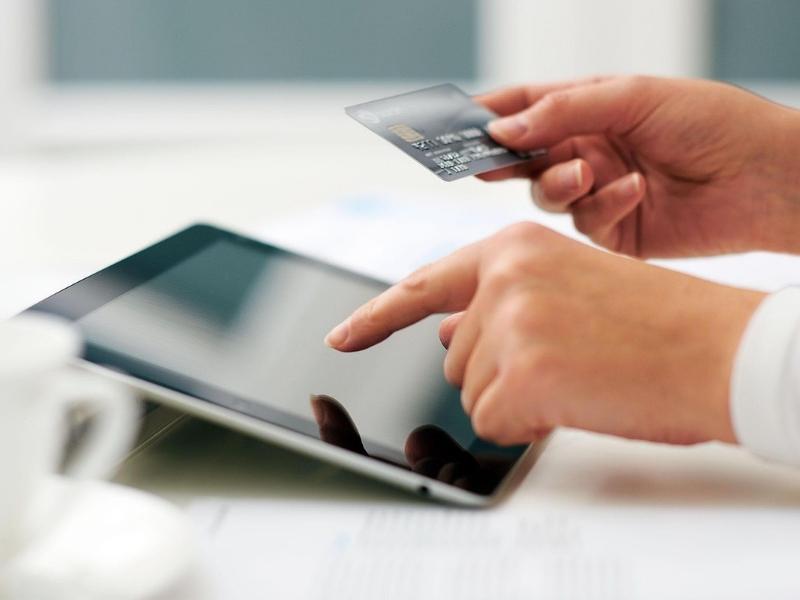 If the happy couple likes gift cards, a gift voucher for home décor would do just fine. In this way, they will be able to personalize everything from their bedding to their kitchenware. Let the bride and groom go crazy with whatever amount you want. As gift ideas for second marriage older couple moving into a new house, gift cards are ideal.
>>> Read more: 40 Touching Wedding Gift For Son That Will Make Him Cry
Wedding Gift Ideas for Friends Second Marriage
12. Spiral Song Lyrics Canvas Print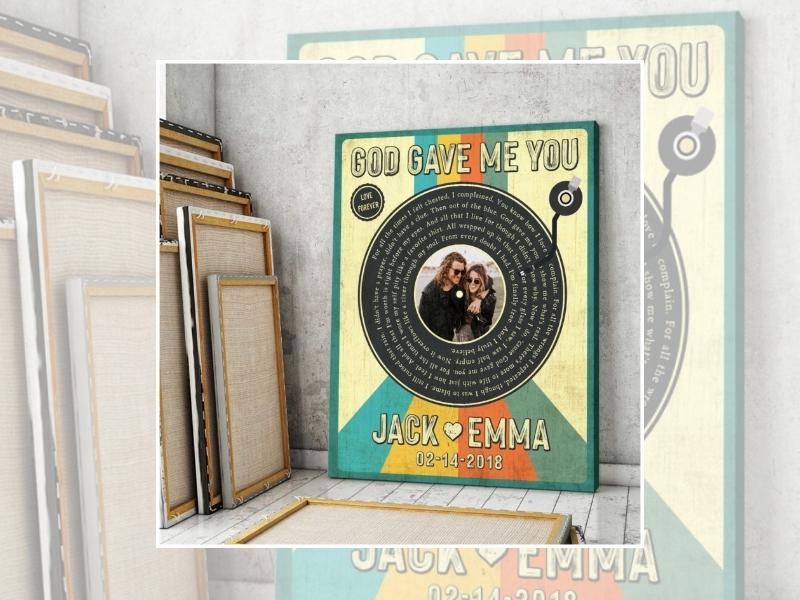 It is believed that when all the love songs begin to make perfect sense, you know that you have fallen passionately in love with someone. The Spiral Song Lyrics Canvas Print is perfect for 2nd wedding gifts if you know of a love song that perfectly reflects your love journey.
13. Personalized Couple Bracelet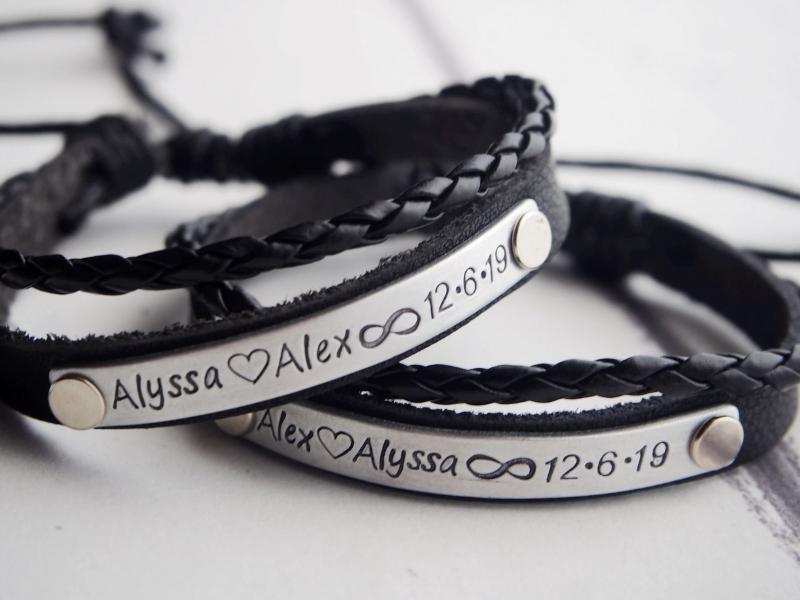 Another opportunity at love and life awaits those who have been married before! Wedding gifts for second marriage are a great way to join in on the celebration. Give the newlyweds a set of bracelets to commemorate their union as husband and wife!
14. Personalized Passport Holder & Luggage Tag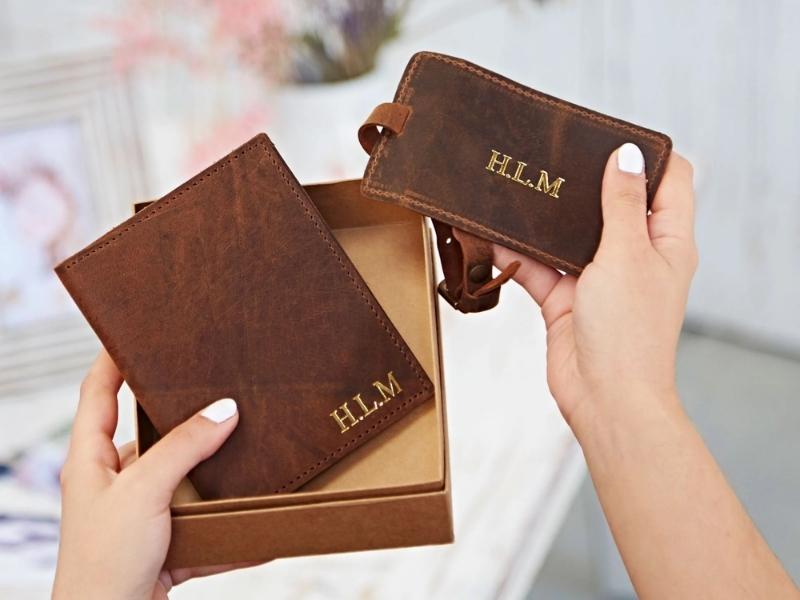 Established couples would appreciate gift ideas for 2nd marriage that are a little more practical. This chic passport holder and baggage tag combo is the perfect way to send them off on their honeymoon in style. This gift, which can be personalized with a name and monogram, is fit for a king or queen.
15. Wine Caddies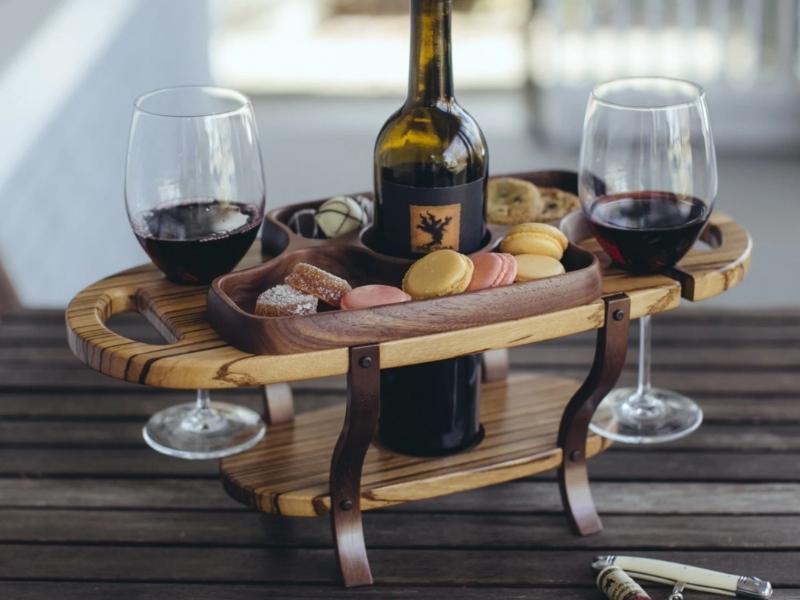 The pair that likes to host will adore these stunning wine caddies! They are available in a wide range of sizes and types of glasses. Some even have space for charcuterie and nuts. Gift ideas for second marriage made from bamboo may be personalized to your heart's content.
16. Wine Carafe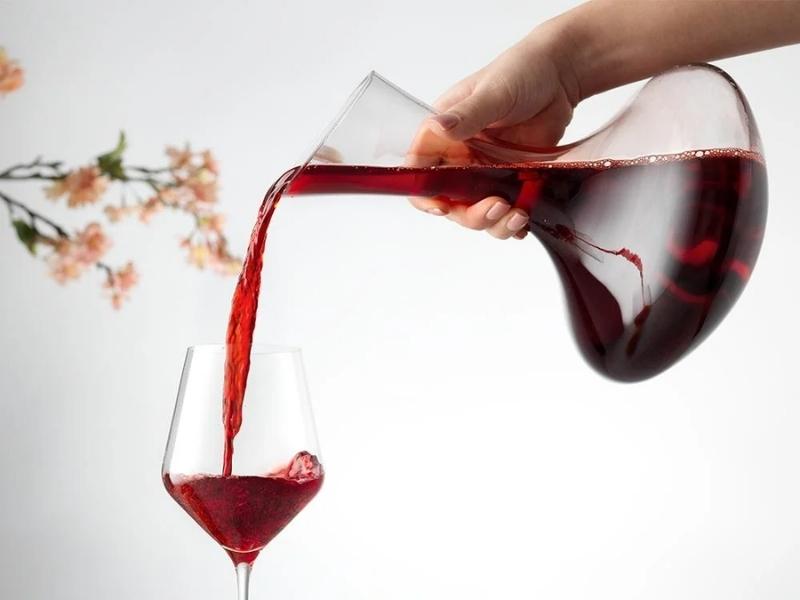 These second marriage gift suggestions are a hit with the partygoers. This wine decanter comes with a customized wooden cork and a large capacity. In addition to being a beloved piece of glassware, it will be a great conversation starter. They may use it for juice or lemonade if they don't drink wine.
17. Stemware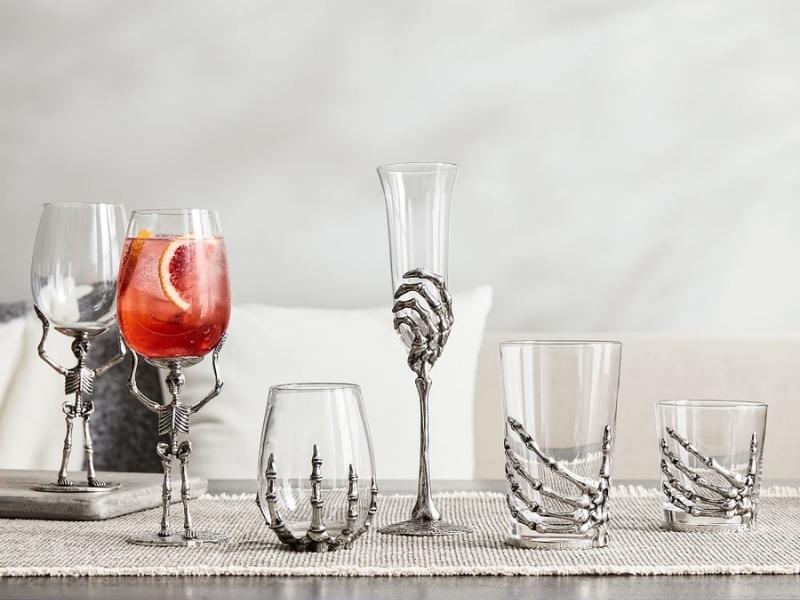 A nice wedding gift for second wedding is a selection of stemware. Whether the newlyweds favor wine or whiskey, there is a glass assortment that will suit their tastes. Buy by the glass to create a personalized gift that fits their requirements. You'll be invited to their housewarming celebration for sure if you give them this gift!
18. Waterford Elegance Tempo 38-ounce Crystal Wine Decanter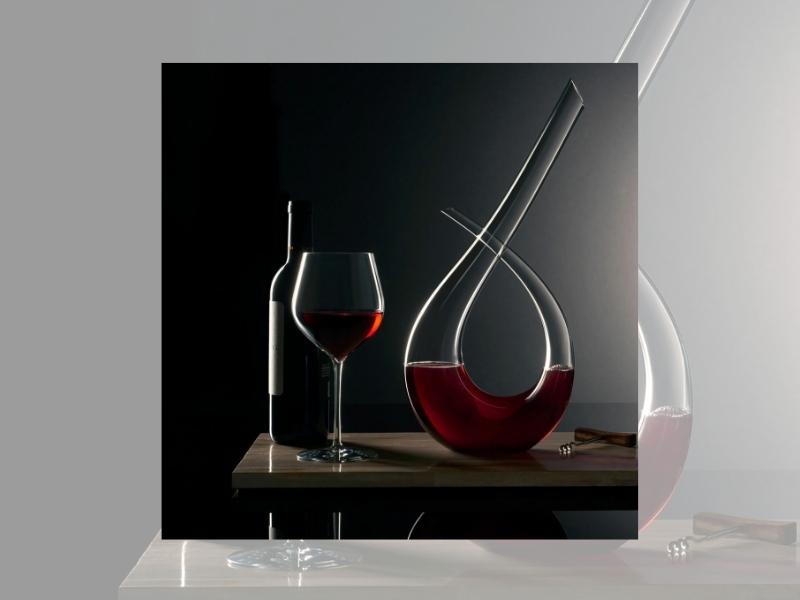 Even a couple with a lot of wine glasses will enjoy this award-winning crystal wine decanter's gorgeous design. This decanter, constructed of crystal, enhances the taste of your favorite bottle of wine to its fullest potential. For couples that like partying, this decanter is a wonderful wedding present for 2nd marriage for wine enthusiasts and those who want to share a bottle of vino.
19. Portioned Ingredients to Cook Monthly Subscription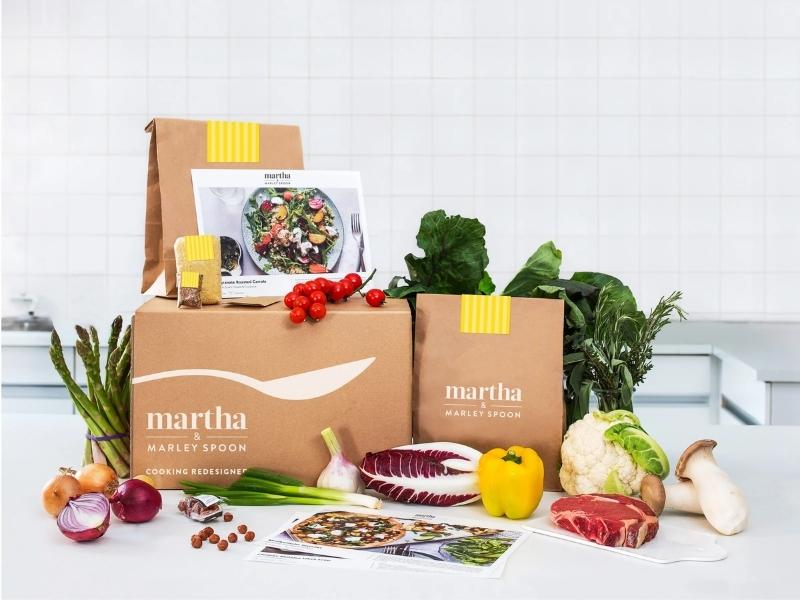 Give them something they'll truly use instead of a second wedding gift etiquette! With a simple meal delivery service, you may expand your culinary interests and test your cooking abilities. This is a great alternative for busy couples who don't have a lot of time. The pre-portioned ingredients in Blue Apron kits eliminate the need for grocery shopping and meal preparation. Cooking together is going to get more time!
20. Wellness Subscription Boxes
A new era of personalized gifts has begun. Instead, one of the greatest wedding gift ideas for friends second marriage is a health and wellness package. Using this option, your favorite pair can have a taste of high-end goods for a fraction of the cost.
21. Song Lyric Canvas Print
Customize this Song Lyric Canvas Print to win over your significant other's heart. Add the date, your names, and the lyrics of a song that you and your partner like listening to. This wedding present for 2nd marriage is really enchanting! It will look excellent in your bedroom, hallway, or home office!
22. Silicone Bread Maker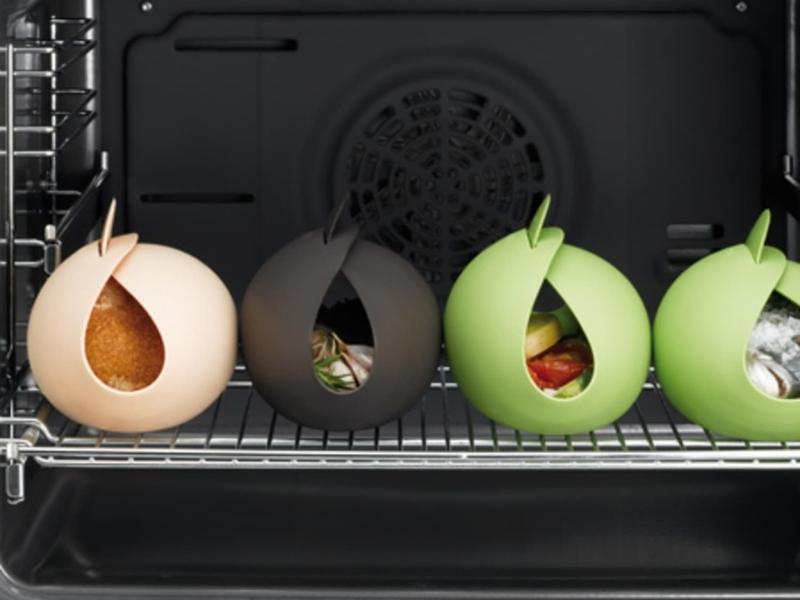 This silicone bread machine is a one-of-a-kind wedding gift for 2nd marriage for a couple that enjoys baking together. The aroma of freshly made bread is irresistible. They may use this tool to consistently produce the ideal loaf. In one container, you can mix, rise, and bake. Beautiful crusty bread with a soft inside is made possible thanks to the design's distinctive features.
>>> Read more: Best 33+ Wedding Gifts for Groomsmen They'll Treasure
23. Bicycle Bookends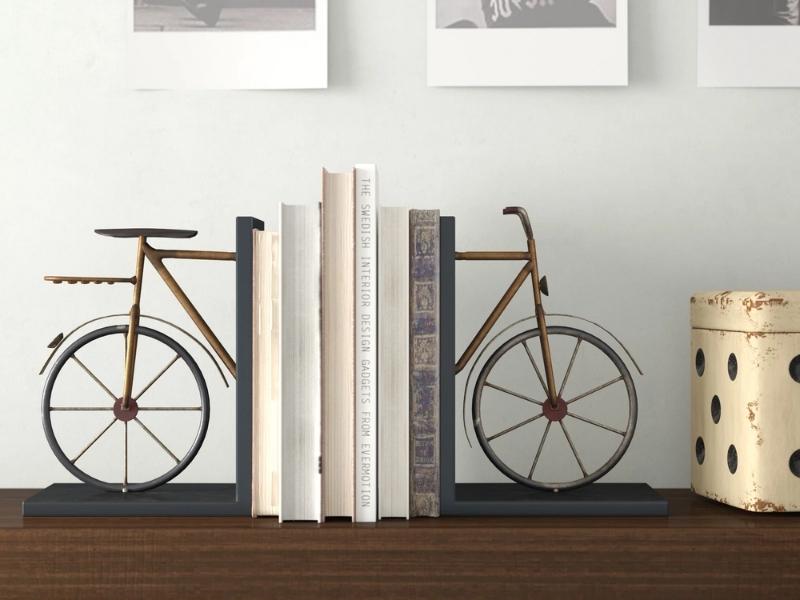 If you have any readers in mind, they'll go crazy over this one-of-a-kind piece of wall art. People who are tying the knot and want to start a joint library would love to receive these stunning bookends as a second wedding present. In the workplace or in the kitchen, they'll look great with your wedding gifts for second marriage.
24. House Cleaning Service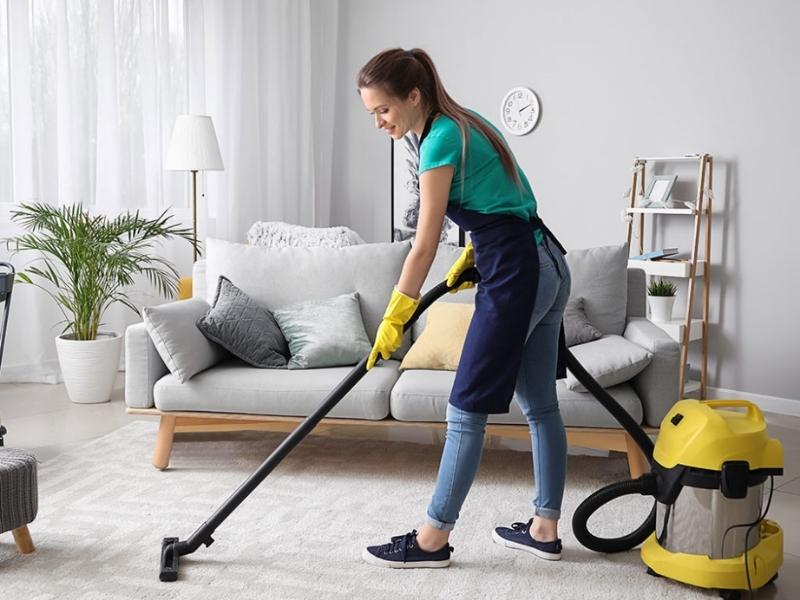 For a busy couple, hiring a house cleaning service is the best option. Even if they have no kids, take the strain off of them. Professional cleaning services for at least a month will allow them time to settle in. Among our favorite wedding gifts for second marriage, it will be one of theirs as well!
25. Bathrobe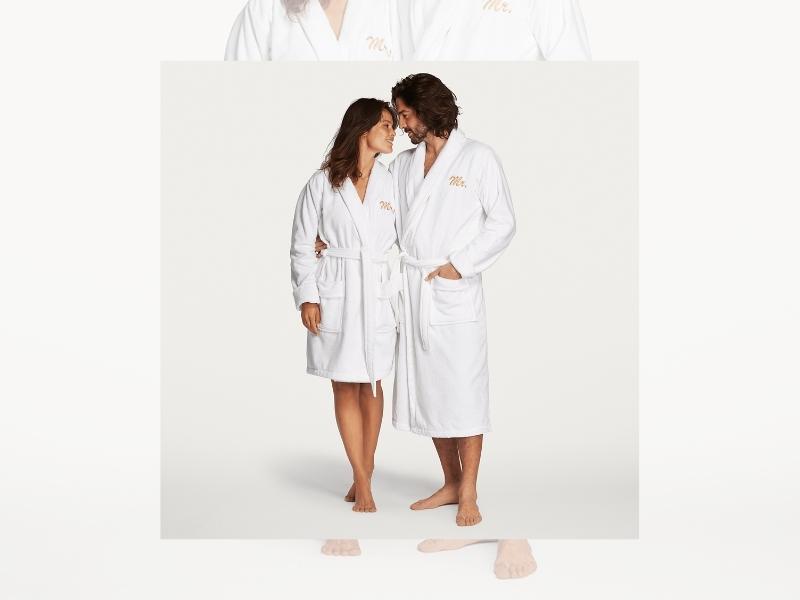 Wedding gift suggestions for second marriages can't go wrong with these luxurious bathrobes. In addition to looking good, they are also really comfortable and cozy. Make a one-of-a-kind wedding gift by adding the names of the newlyweds to them. You'll be appreciated on the coldest days of the year by the newlyweds!
26. Hot Tickets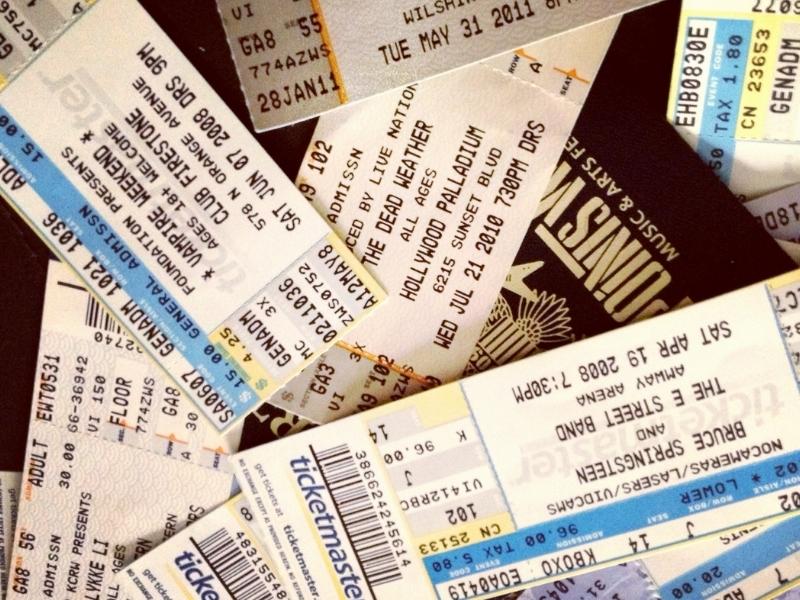 Experience-oriented wedding gifts for second marriage, such as concert tickets or sports season tickets, satisfy everyone. Family-oriented, they are excellent presents for parents getting married. Parents may participate in a one-time event or sign their whole family up for a season of membership. They'll enjoy the opportunity to do something together, no matter what.
27. Hotels and Resorts Gift Card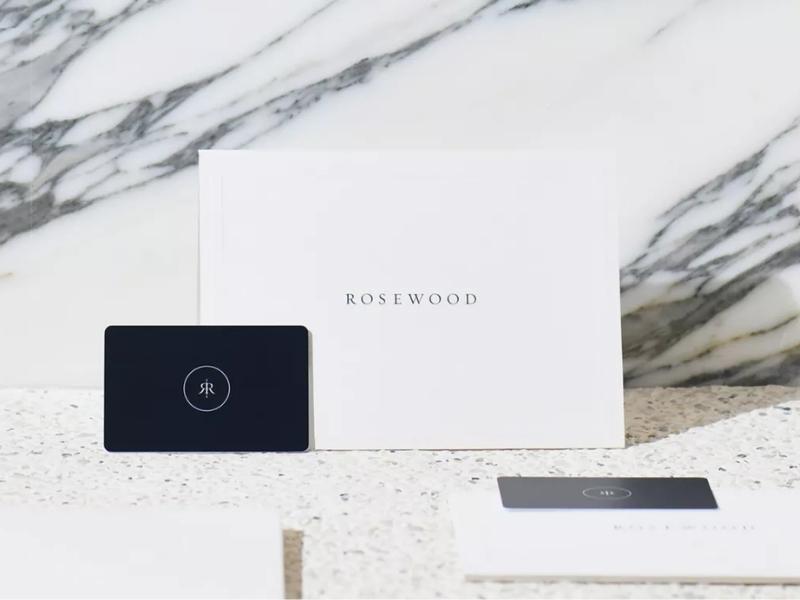 Wedding gift cards are a great way to give an additional wedding gift for 2nd marriage! With your thoughtful gift, you may let the newlyweds select how to spend their honeymoon. It's time to celebrate love in all its glory!
28. Hockey Stick BBQ Set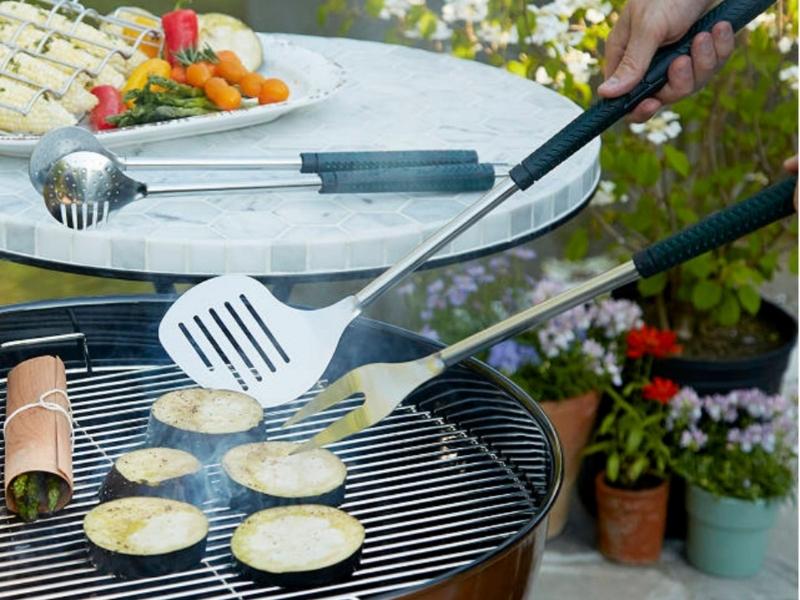 This fantastic present will delight even the most ardent hockey fans! Repurposed hockey sticks go into the construction of this awesome BBQ toolset. Gift this set to a couple that like grilling together, along with some spicy sauce. If you're getting married again, they may not be the best gifts for second marriages, but they're still enjoyable.
29. Dancing Lessons Class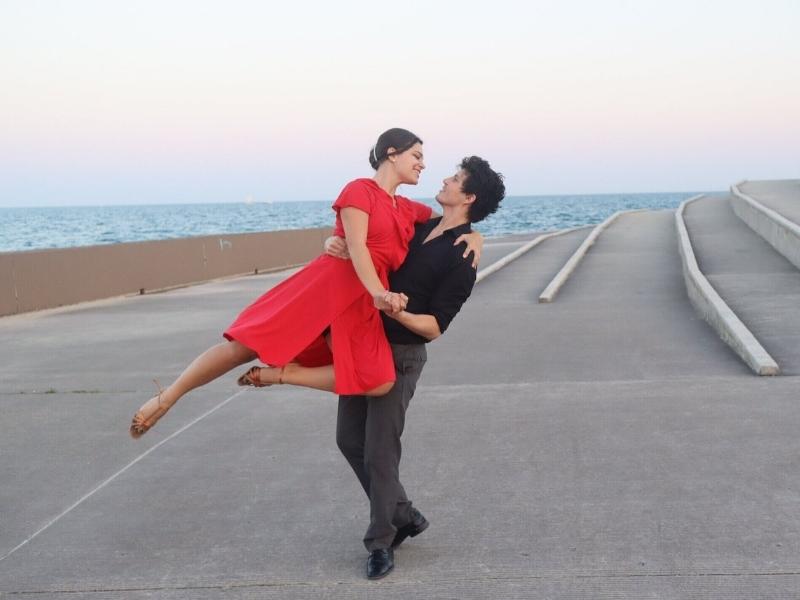 For a fun-filled family outing, bring the entire gang along! Gifts for second marriage like dance classes may be a lot of fun. In order to keep everyone happy, consider square dancing. Growing pains may be eased by laughing and having fun together. They'll be able to show off their newfound talents at the next family gathering.
30. Camping Gear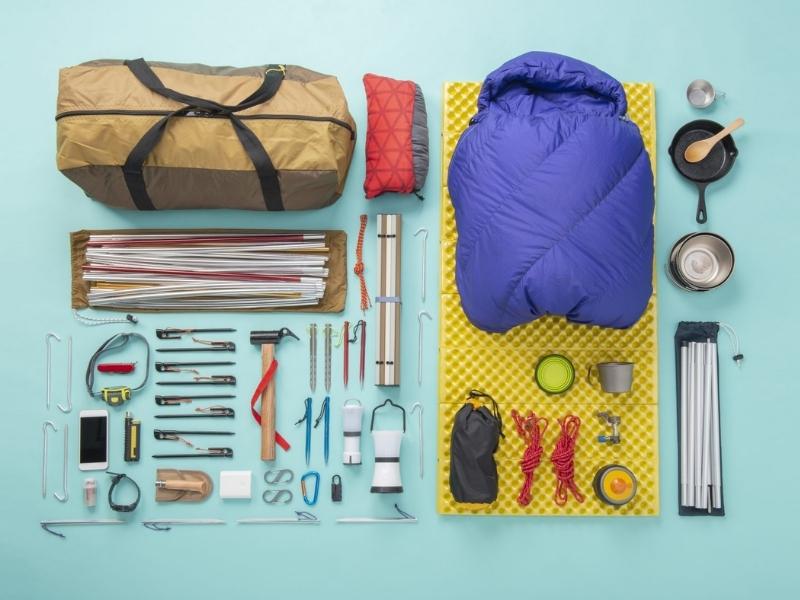 Wedding gifts for second marriage that may be enjoyed by everyone in the family! Whether they're camping or going on a boating trip, this camping gear set is sure to please. A honeymoon present for a second wedding engagement is an excellent idea! Making new memories with your favorite partner will be a special experience for them.
31. Personalized Picnic Table Wine Carrier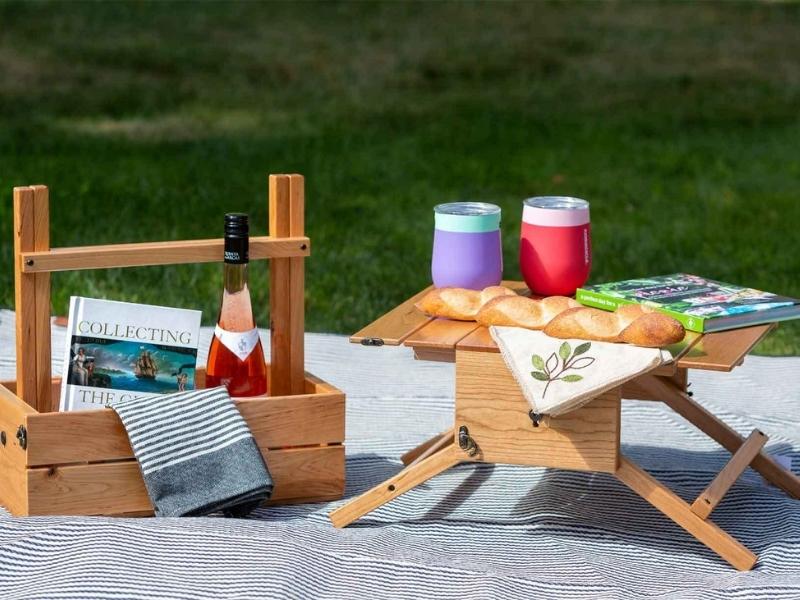 This romantic picnic item is perfect for a couple's outing. Wine and cloud-gazing will be the order of the day as they spend an afternoon together. Gifts for second marriage that are really one-of-a-kind stand out from the crowd. This one-of-a-kind table can do it all and more!
32. Personalized Doormat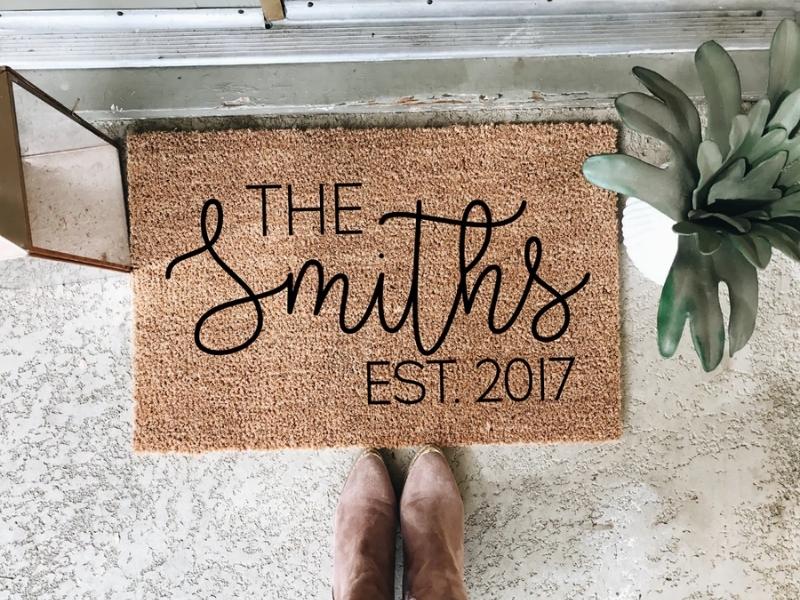 Custom doormats are a great way for newlyweds to kick off their life together. When they move into their new house, it will mark them as a family. As well as becoming thoughtful housewarming presents for newlyweds, doormats also make wonderful presents for those celebrating second marriages.
33. Photo Sound Wave Song Print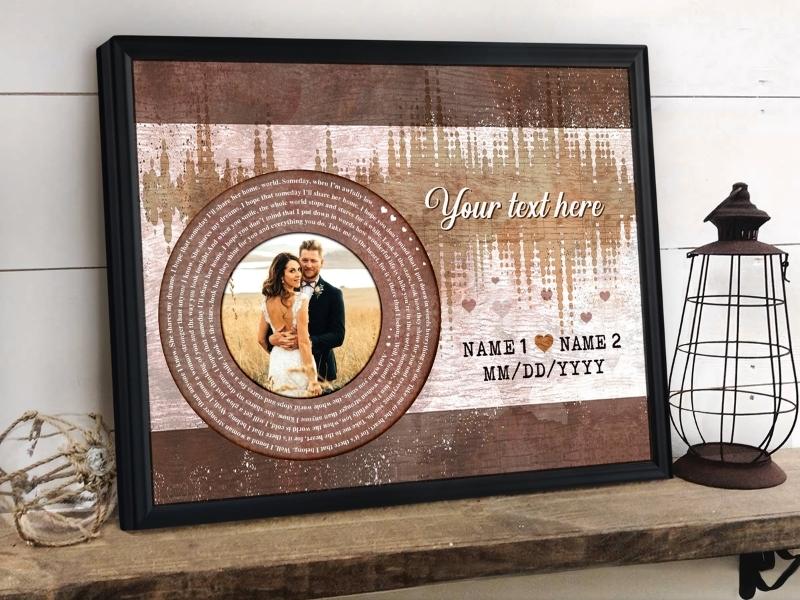 As a team, you're all in sync. Celebrate the love you have for each other! Gift-giving for a second wedding anniversary should be a romantic and enjoyable experience. Using both music and visuals, this wedding gift for second wedding depicts the beauty of your hearts in a unique manner!
>>> Read more: 52+ Best Gifts for Bridesmaid on Wedding Day She'll Adore
How Can I Include Our Children in the Wedding?
Inform Your Children about Your 2nd Wedding
You should inform your children about your engagement as soon as possible, and you may ask or tell them how you picture them participating in the wedding when you do so. Children as young as three may desire to be a flower girl or the ring bearer, while older children may want to be a bridesmaid or a groomsman. Parents might also be escorted down the aisle by their children.
Ask the Officiant about the Possibility of Kids
Inquire with your officiant about the possibility of including your children in the ceremony. Is it possible for you to marry them? Surely they can find a passage that conjures a sense of belonging to a family. Is there anything you can do at the altar as a group to promote unity?
Let your Children Decide if They Love to Attend the Party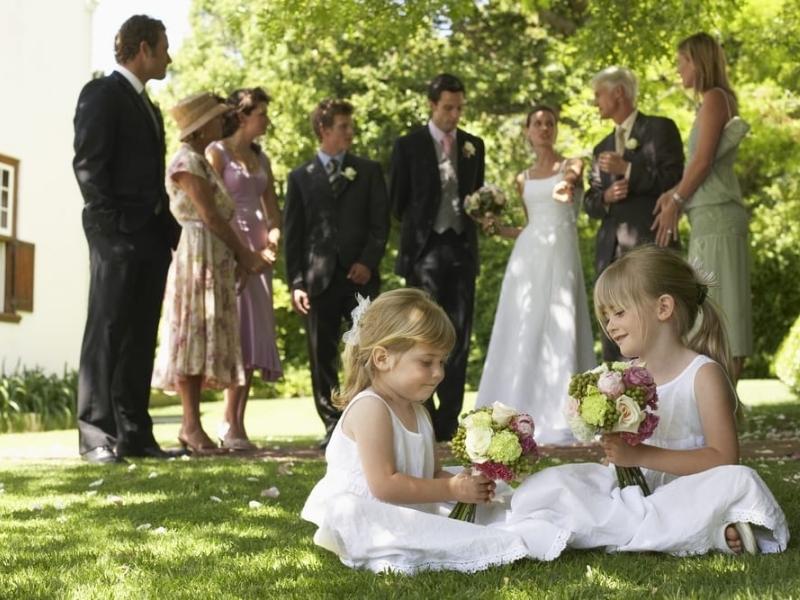 In addition, you may assign wedding-day duties to your children, such as handing out wedding programs to visitors upon their arrival or wedding favors to guests after the event has concluded.
Make it clear that you don't expect youngsters to engage if they aren't interested in doing so. If you're divorced, it may take your children some time to realize that their parents won't be reuniting.
Can a Second Wedding Have a Traditional Wedding Party?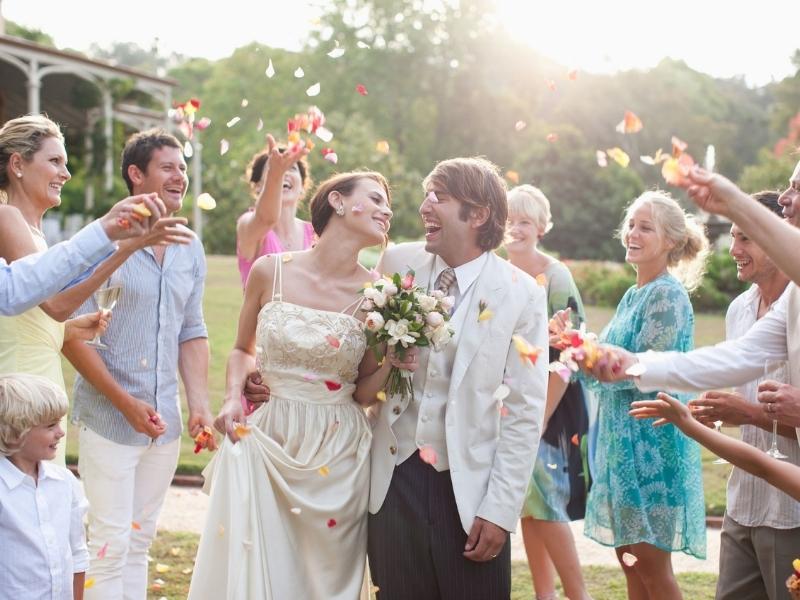 Having bridesmaids and groomsmen at both your first and second weddings is a wonderful way to recognize your closest friends and family members. There is no limit to how many guests you may include in your second wedding's wedding party. Your children may be able to join you on your big day by being part of the wedding party.
According to second wedding etiquette, the wedding party's duties would stay the same: hold a bridal shower, participate in pre-wedding celebrations, and wear a dress or suit that the couple picks or provides parameters for. It's possible that the wedding party's attire will have to be paid for by the newlyweds if they can afford it.
Wedding gifts for second marriage are simpler to come by than you would imagine. Instead of giving goods as gifts, think about giving experiences. In addition to congratulating the newlyweds, give them a gift. Pick a gift from Oh Canvas's selection to express your affection for the newlyweds!
Read more: