The couple in your life is getting married, and have you been struggling to find personalized wedding gifts for them? Have you run out of ideas for a gift for them because they already have everything? Well, there's no need to panic! For couples, Ohcanvas has put together a list of the best-customized presents. With a variety of price points, you may find a nice gift for couples no matter what your budget is this holiday season.
Here are 44+ wonderful personalized wedding gift ideas that we've chosen for their poignancy, originality, and practicality. Enjoy! (monogramming just levels up a practical pick with extra meaning)
Why Customized Wedding Gifts are simply the best?
When shopping for a gift, you want to make sure it's one they'll treasure as well as something they'll appreciate. Customized wedding gifts are the perfect solution to this issue. You may ensure that your friend or family member receives a wonderful gift for their new life together by purchasing these items.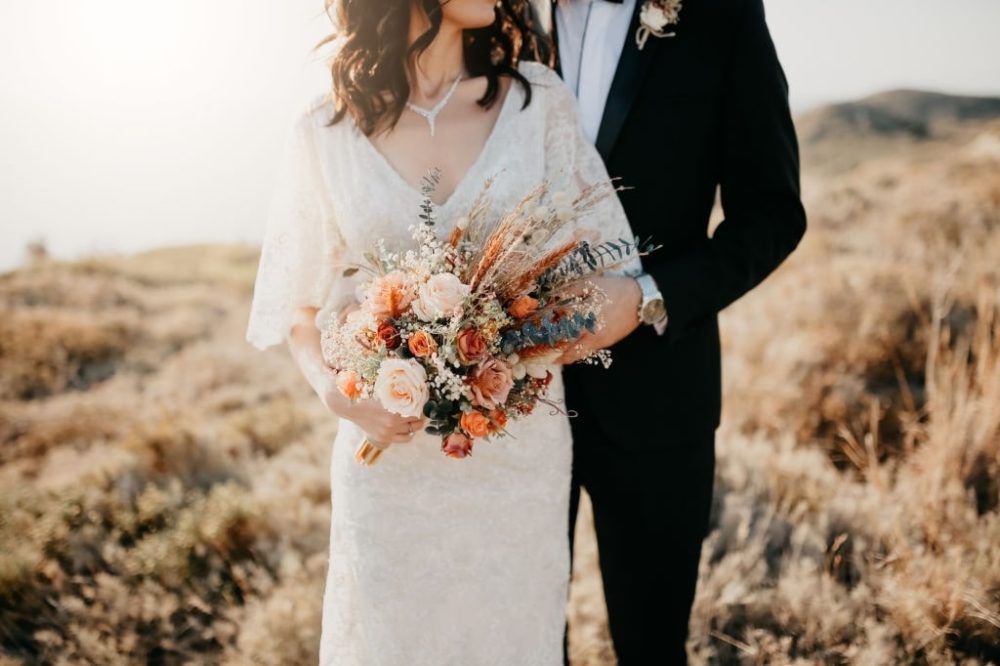 Furthermore, personalized gifts are becoming increasingly popular since they are one-of-a-kind and can brighten any occasion. Engraved, embossed, or printed with the recipient's name are some of the ways you might personalize gifts for them. When someone receives a present from a loved one, they know that the sender has put a lot of time and attention into picking out the perfect one. Personalized gifts, as opposed to more traditional presents like chocolates and flowers, are much appreciated by the recipient.
44+ Great Personalized Wedding Gifts Ideas You Should Consider This Year
1. Customized Wedding Canvas Wall Art
These personalized unique wedding gifts are the perfect way to keep a memory of your first dance together forever. As depicted by the couple's hand-drawn portraits, this piece has a nostalgic-inspired air, yet it is also both whimsical and stylish. Additionally, it is framed and ready to hang.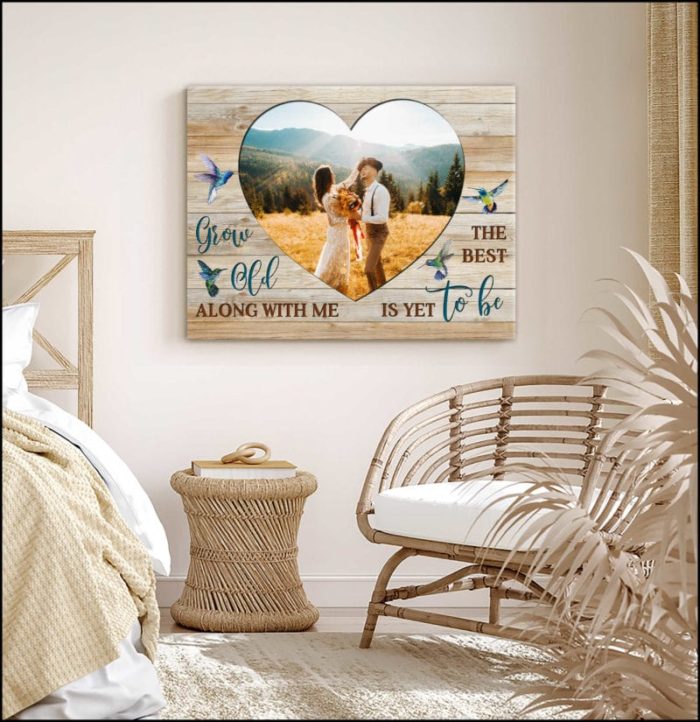 2. Personalized Cutting Board
When in doubt, give them these cutting boards as personalized wedding gifts. Trying to find a unique wedding present for a couple who enjoys preparing meals together? Because it's personalized, it'll make their kitchen feel more personal. A favorite recipe can be added to this one.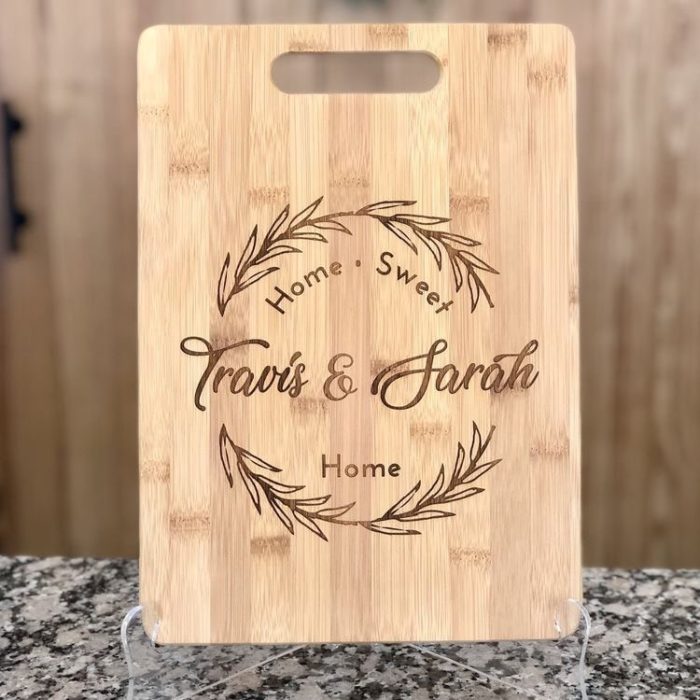 3. Personalized Coasters
These personalized coasters, engraved with crossed arrows and the initials and date of your choice, are great personalized wedding gifts for any occasion. It's an excellent wedding gift if you include a bottle of wine and a set of lovely wine glasses in your purchase.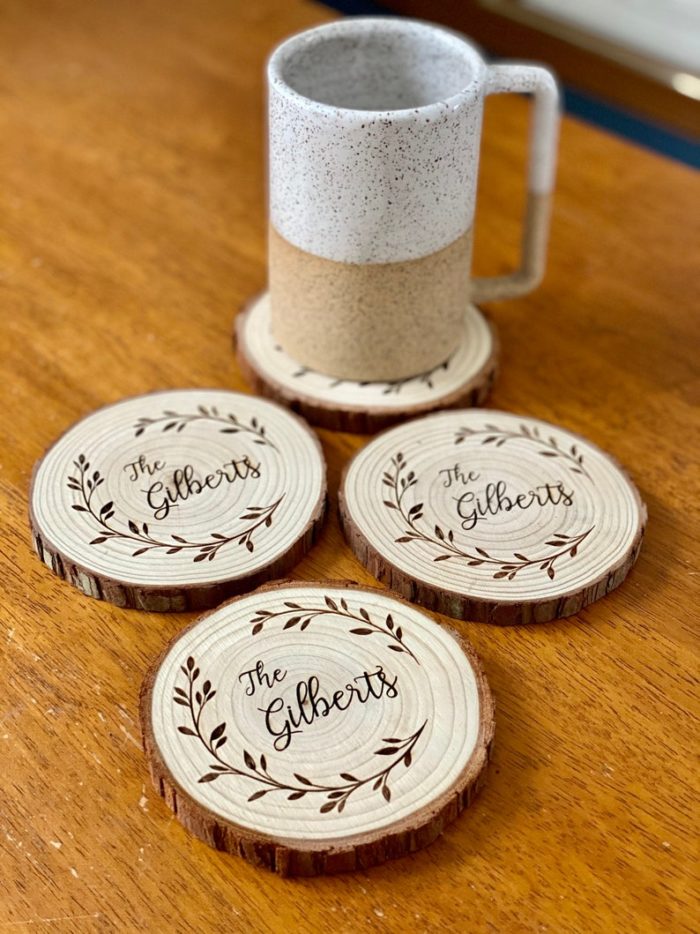 4. Customized World Map
The couple will be able to keep track of all of their upcoming trips with the help of this customized map. The couple's names and wedding dates are engraved on the framed vintage-inspired map.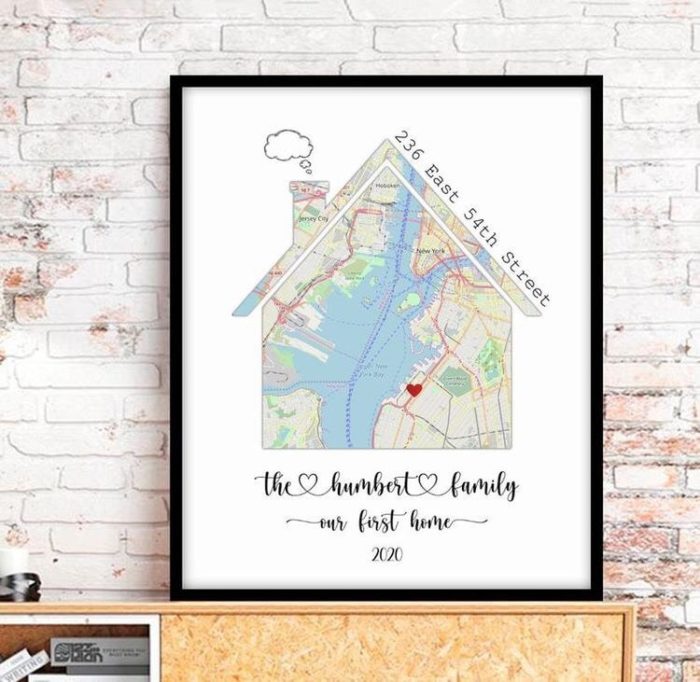 5. Personalized Wine Serving Tray
For a pair who enjoys entertaining in style, this serving tray is a must-have. Serving cocktails has never been easier with this stylish elongated tray, which is personalized with the name and year of the recipients you're beloved. If you serve it with their favorite bottle of Cabernet, you'll get an extra bonus.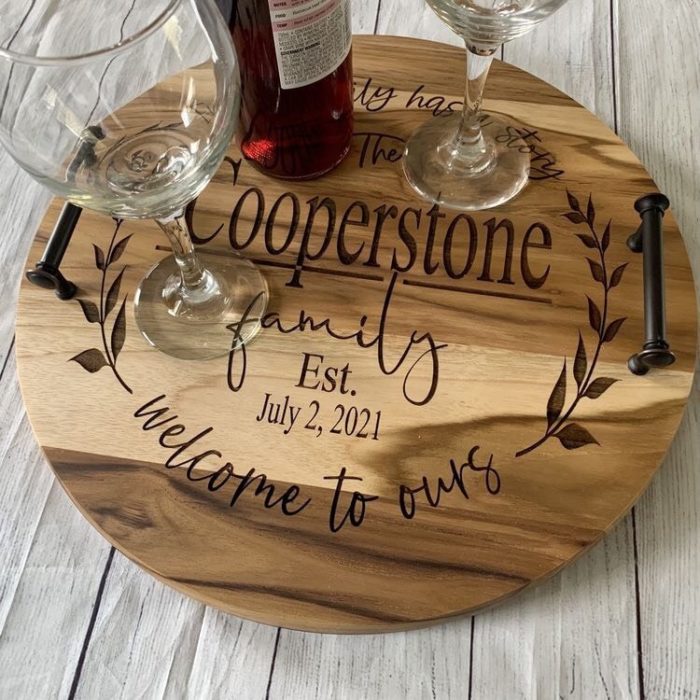 6. Personalized Doormat Frame
These adorable personalized wedding gifts for newlyweds are personalized famous doormats. These hand-printed doormats are a simple and attractive way to welcome guests into your home. You can personalize your gift by adding an address, monogram, or moniker with up to eight characters. Crafted with dense fibers, this heirloom-quality piece will keep everyone warm and snug.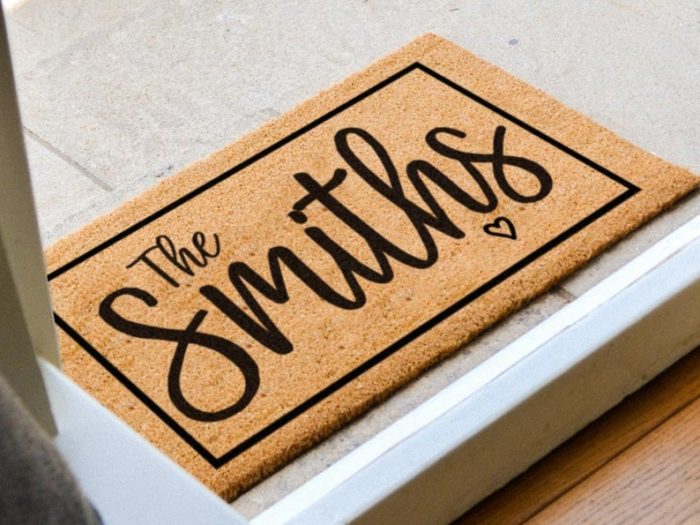 7.  Customized Metal Frame Sign
You may personalize this metal sign for your friend's home with their name and a special message in the frame. It's not every day that you see your name plastered on a billboard. However, with this stunning family name/last name metal wall art, it's possible! Create one-of-a-kind personalized wedding gifts for your loved ones now!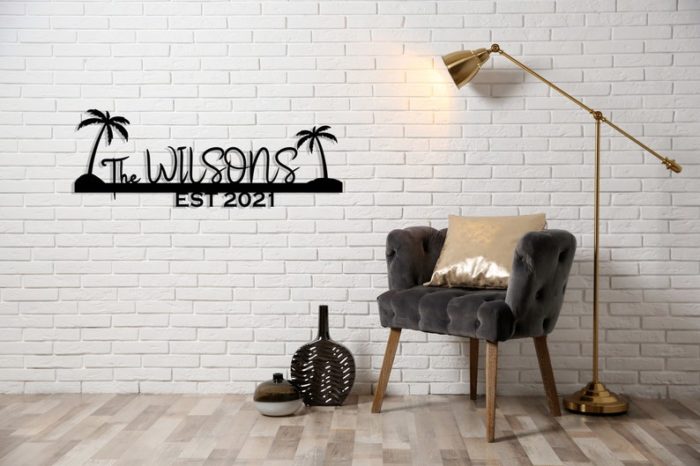 8. Personalized Candles
To congratulate a friend or family member on their lives, give them this elegant new home candle. "New house, new memories, new adventures" are printed on a vintage-style label. Candle burn time, smell, and the first line of the new address are also included.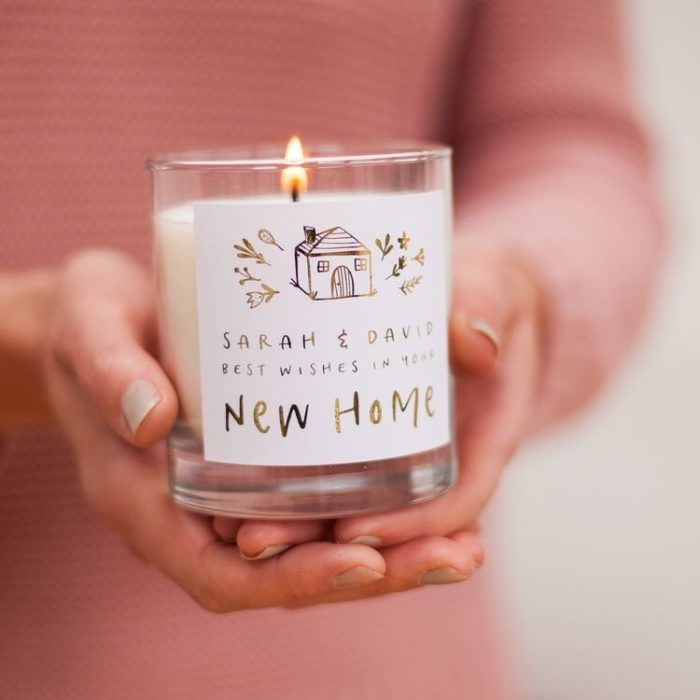 9. Customized Cufflinks
Full-grain cufflinks with an initial hand-stamped on them are ideal personalized wedding gifts for your beloved couple. The initials of the person you're giving them to should be engraved on them.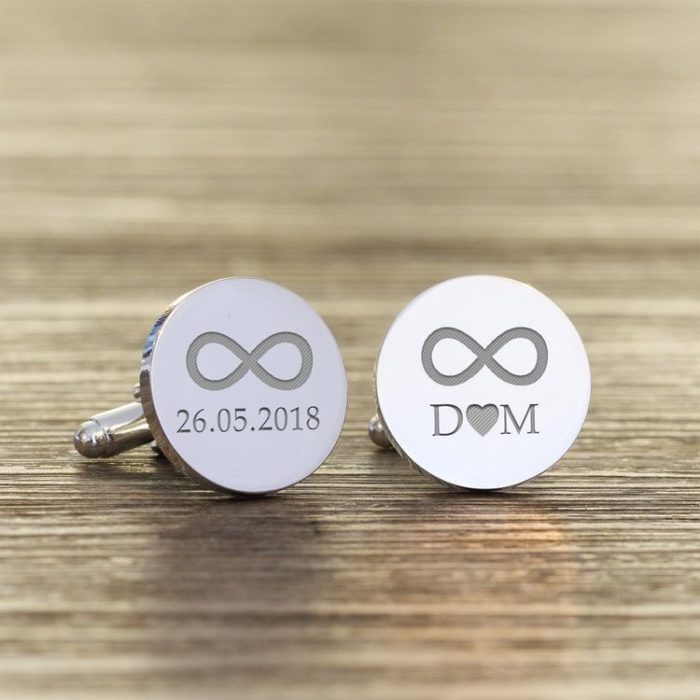 10. Classic Anniversary Journal
This is one of our favorite personalized wedding gifts ideas for newlyweds to use every year on their anniversary. The front of this journal can be personalized with the couple's initial names, their wedding date, or both. For every anniversary, the couple has a place to write down the date, the location, and the details.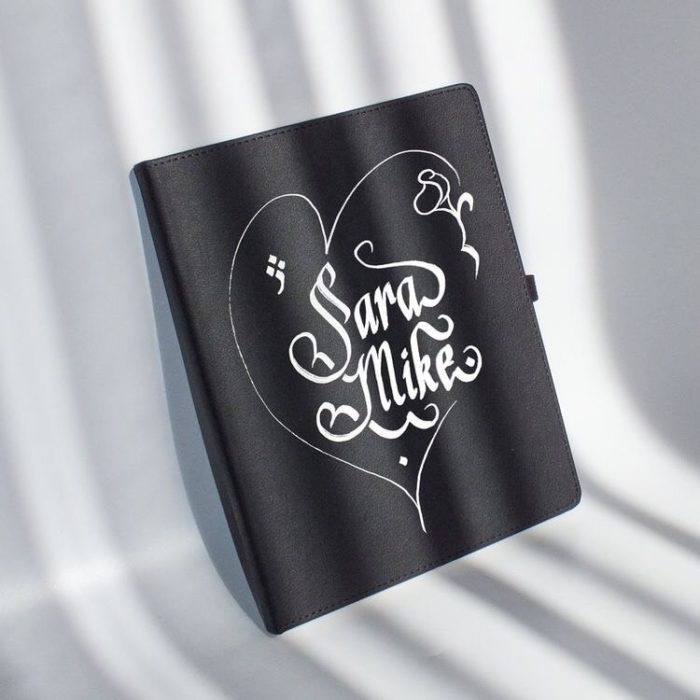 11. Personalized Iron Skillet
The personalized wedding gifts aren't only for show, they may be useful! A personal message of up to 30 characters or the couple's initial names can be engraved on this elegant and practical cookware. The non-stick cast iron skillet is the ideal size for pan-frying poultry and searing steaks, as well as roasting vegetables and baking in the oven. Do you believe that it is the perfect personalized gift for a bride? Let's try this idea as a gift.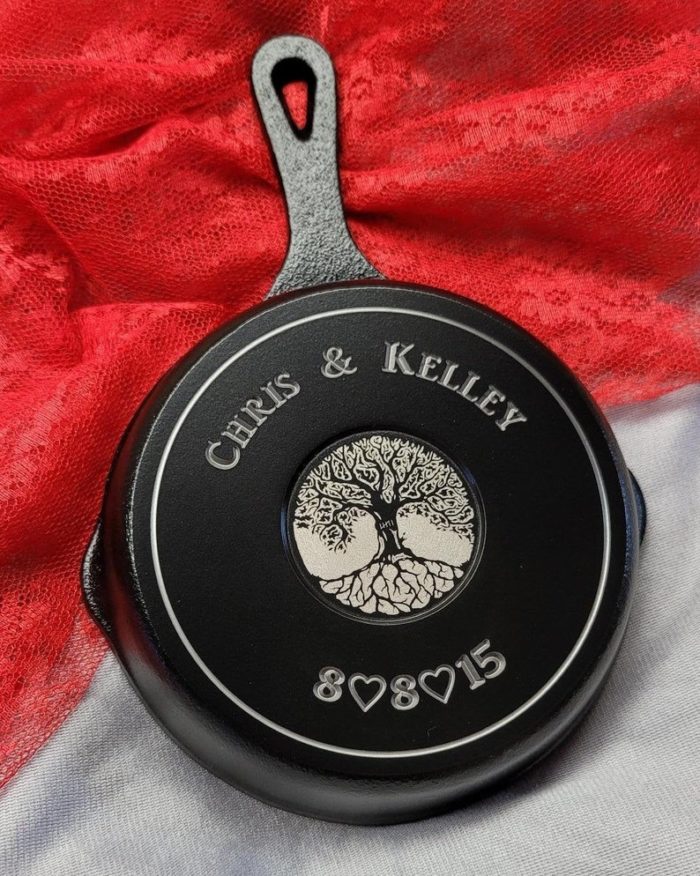 12. A Bottle of Sparkling Wine for Two
To commemorate a significant occasion, nothing beats opening a bottle of wine or champagne. With this customized bottle, the newlyweds may celebrate their special day in their own style. It is really a personalized groom gift from the bride which he will surprise. Don't forget to have the couple's initials engraved on a bottle of champagne or cabernet sauvignon before handing it along.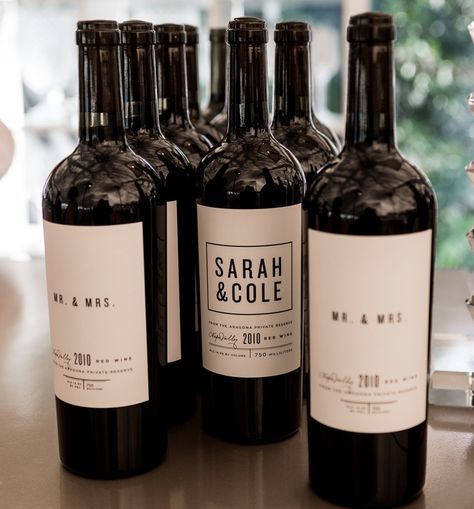 13. Customized Towels
Often, the greatest personalized wedding gifts are based on the couple's wedding registry. It's a great idea if they genuinely desire a new set of luxurious bathroom towels. A beautiful set like this one that may be personalized with their initials is out there. For maximum softness and absorbency, each towel is constructed of 100% long-staple cotton.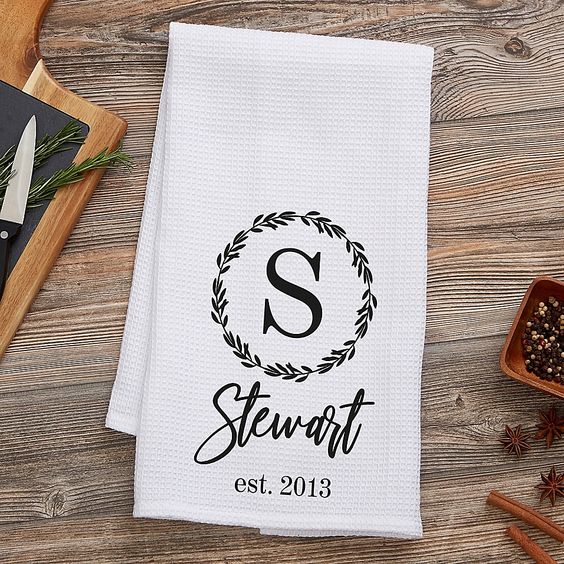 14. Personalized Champagne Flutes
What greater personalized wedding gifts are there than a fresh pair of champagne flutes? Customize these champagne flutes for your loved ones. Glass is used to make these stylish, stemless tumblers. These glasses are versatile because of their stemless form and nicely crafted glass. With their monogram or initial names above a heartfelt message, they can also be personalized.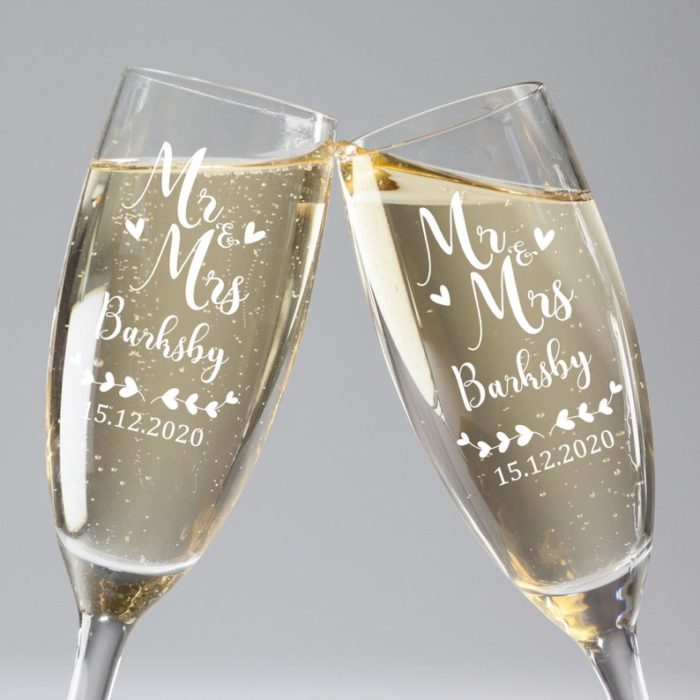 15. Customized Travel Mugs
You've got a couple of outdoorsy people in your midst? These engraved stainless steel travel mugs are amazing personalized wedding gifts for couples. Give them a humorous slogan or a personal note on the back in addition to their initial names or family name on the front.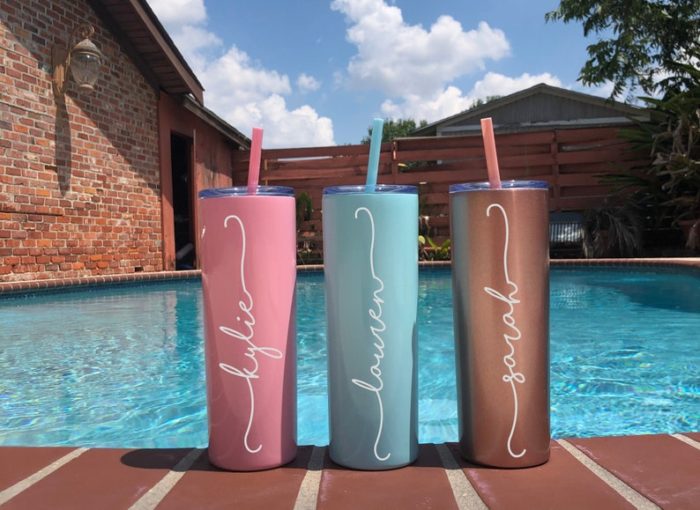 16. Personalized Photo Pop-up Boxes
You can't go wrong with this gift: it's timeless. These Photo Pop-up Boxes as personalized wedding gifts are a fantastic way to keep six of the most treasured memories close at hand. We can retain the images for a long time because they were printed on high-quality paper. This is a thoughtful present for any couple, especially those who live far apart, to brighten their days and their emotions.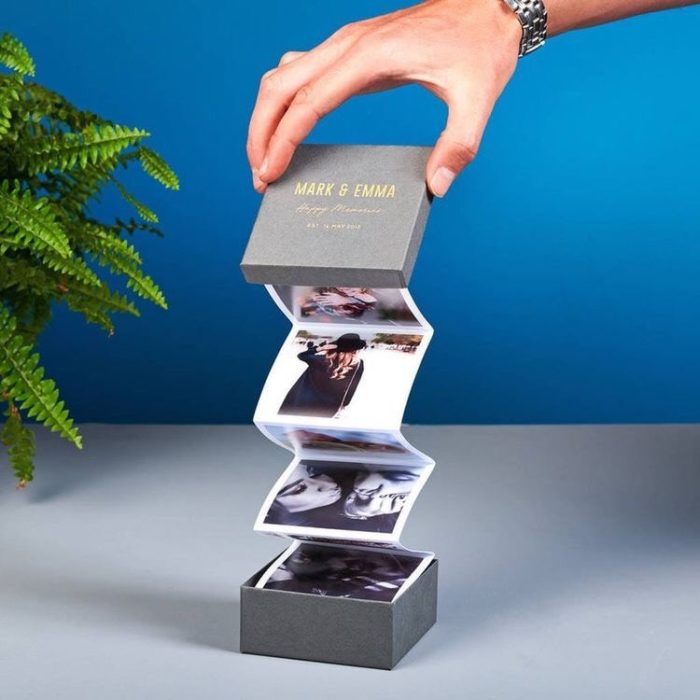 17. Anniversary Wall Clock
There are some of the best-personalized wedding gifts on Etsy, including this beautiful wall clock. The combination of reclaimed barn siding and a cool gray paint color creates the perfect modern farmhouse look. It has Roman numerals, the couple's last initial, and the year they're getting married painted in classic white paint on top of a simple white background.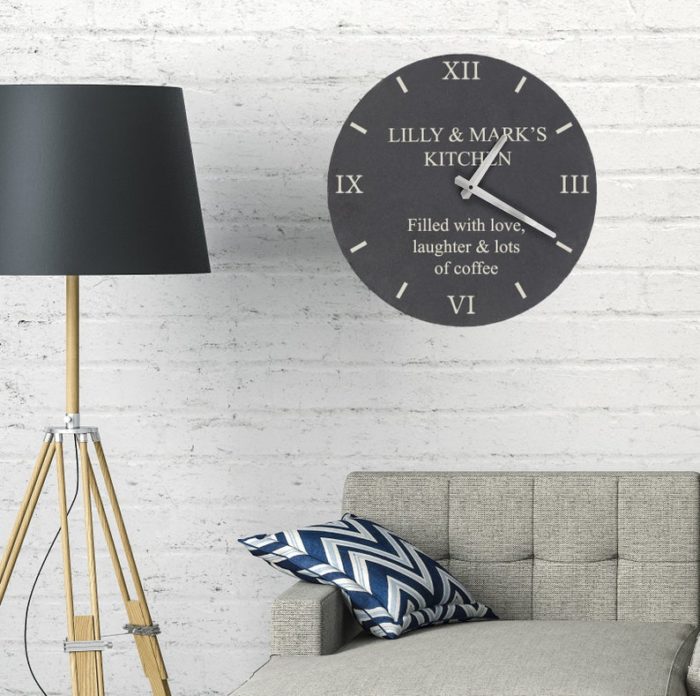 18. An Embroidered Keepsake Invitation
The couple's wedding invitation provides the inspiration for these personalized wedding gifts. For this one-of-a-kind gift, you'll need to email the vendor a copy of the couple's wedding invitation before they can embroider a replica.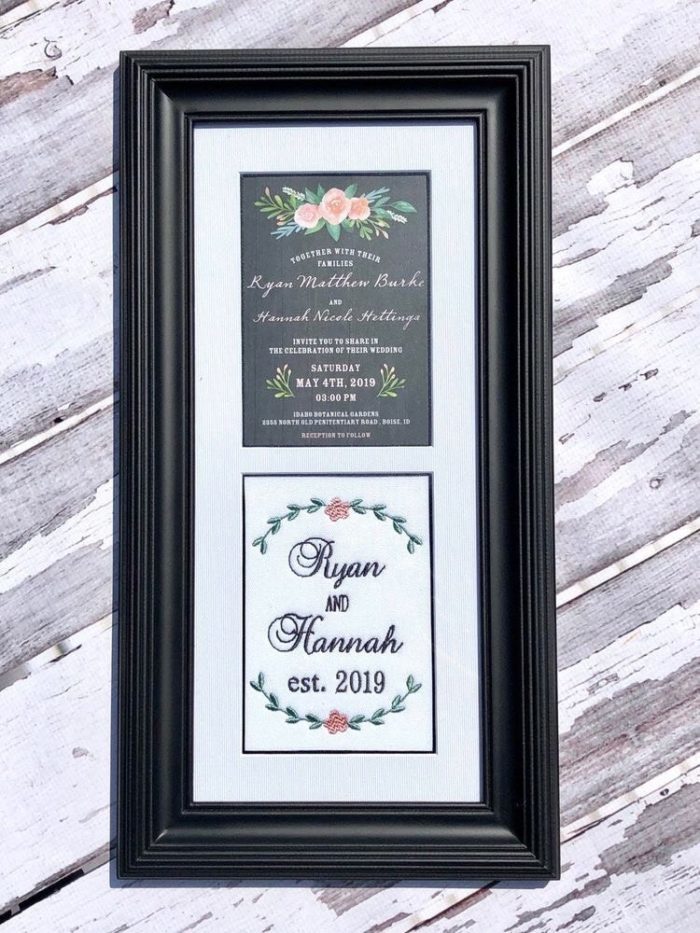 19. Customized Address Stamp
After the wedding, the newlyweds will have a slew of thank-you notes to send out, so this personalized stamp kit is an especially beneficial wedding gift. Add a return address and they'll remember you every time they do so.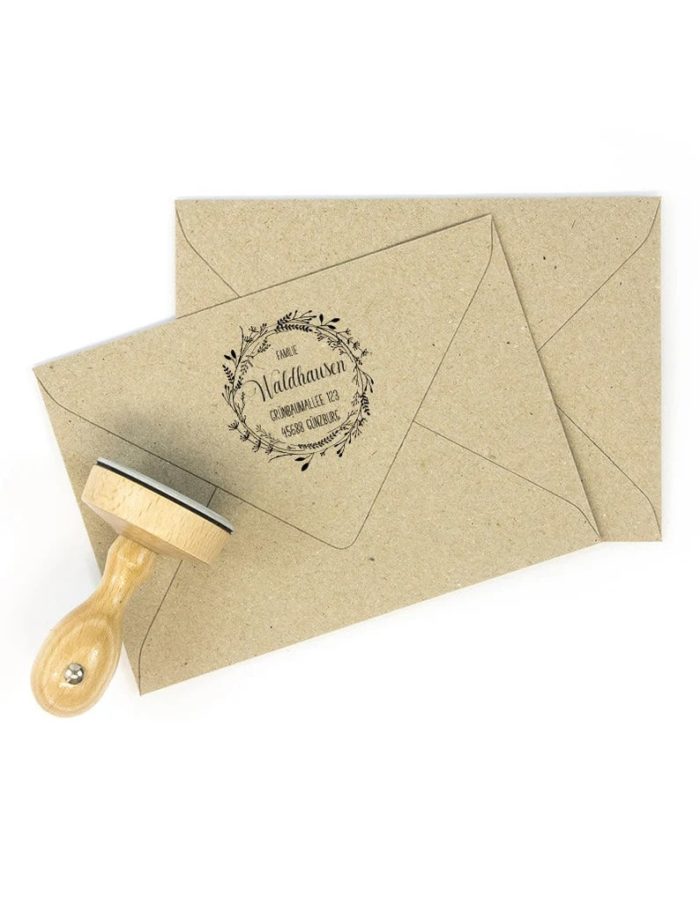 20. Decorative Travel Map
It's an unusual wedding gift that doubles as a means for newlyweds to keep track of where they've been. These are incredible personalized wedding gifts if you know they're planning a cross-country trip to see every state in the Union.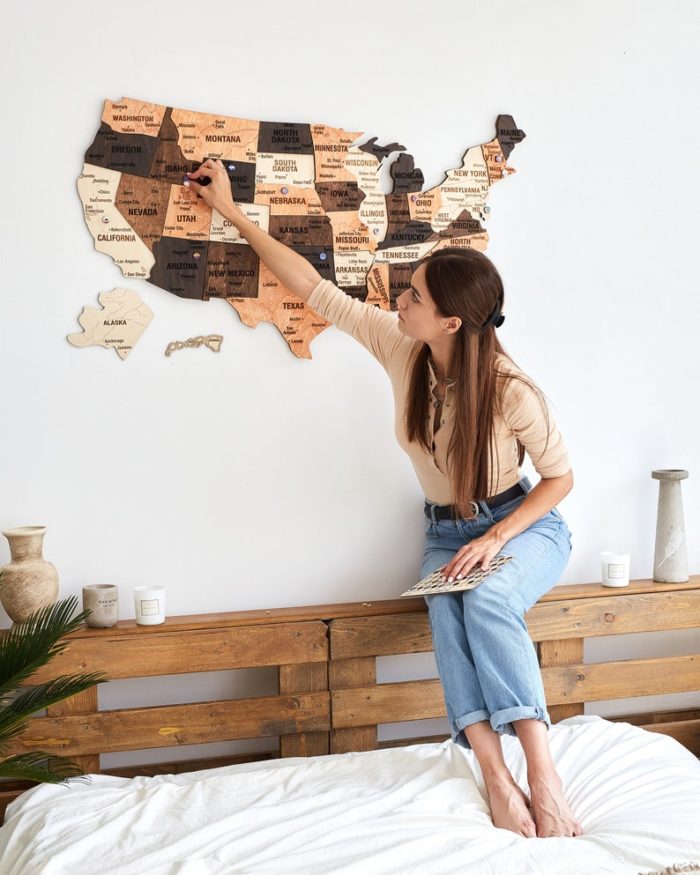 Further reading:
21. Personalized Cozy Blanket
This custom-made blanket makes thoughtful personalized wedding gifts for cozy nights at home with your spouse-to-be. If you and your loved one are looking for a warm place to cuddle up, this is the fleece blanket for you. Customers can select from a variety of color options to match their decor.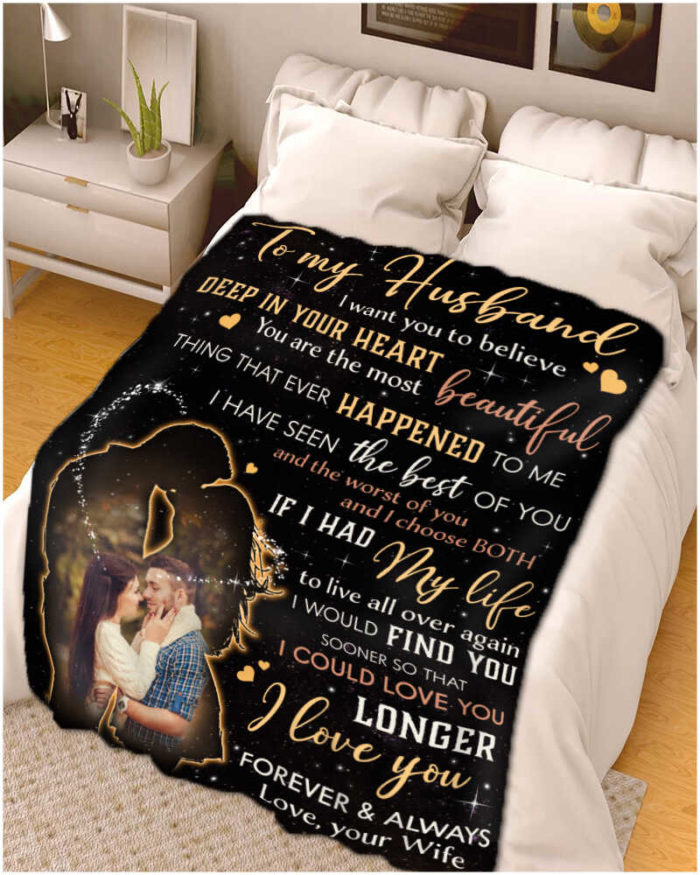 22. Customized Bottle Opener
Do they favor a can or a keg of beer? If so, this wall-mounted bottle opener and cap holder is sure to be a tremendous success. It's a great idea to customize this rustic wooden ornament with the couple's initial names and their wedding date.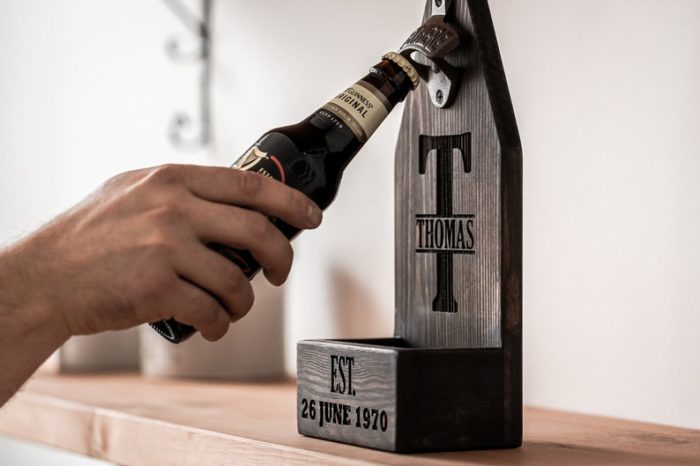 23. Personalized Photo Puzzle
This pretty puzzle is personalized with the lovebirds' first names and a sweet photo of them. It's a great opportunity to showcase a snapshot, and you know, it may become a funny wedding gift for the bride from you.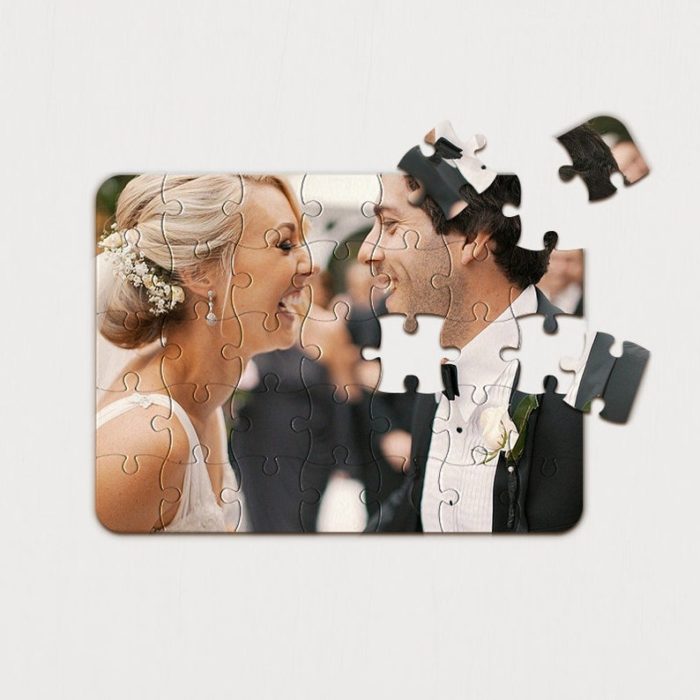 24. Customized Ring Dish
Gifts for engagement, bridal showers, and weddings are all good reasons to get a gorgeous hand-painted ring dish for your loved one's significant day. Personalized with the location where they first fell in love, their names, and romantic sentiment, these ring trays are the perfect personalized wedding gifts for college sweethearts.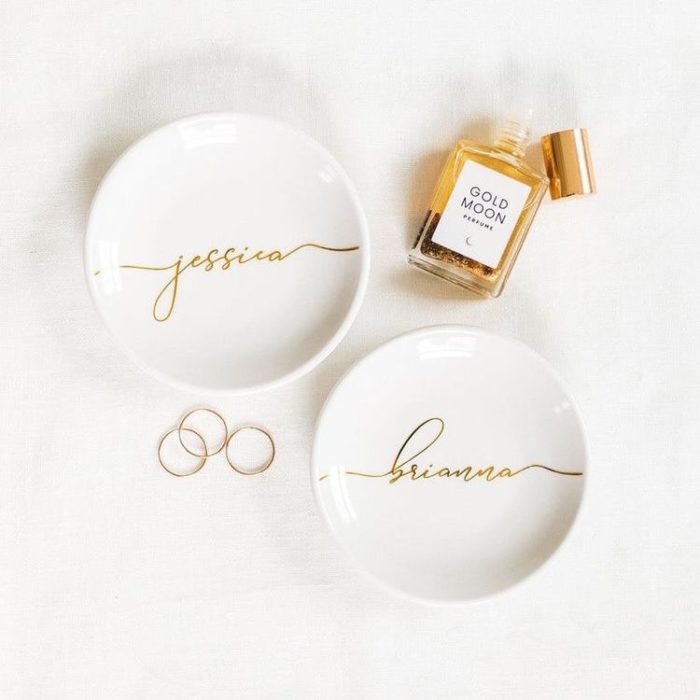 25. Engraved Wine Glasses
There is nothing more romantic than enjoying wine together as a pair, so why not acquire a set of engraved wine glasses? Lightweight and robust, with a creative shape that makes it easy to hold on to. Corkcicle wine glasses can be personalized in whatever way you choose, so you're not limited to "Mr." and "Mrs." You can go with the couple's initial names or their monograms if you choose. It's a nice touch that the glasses arrive in a gift box that's ready to go.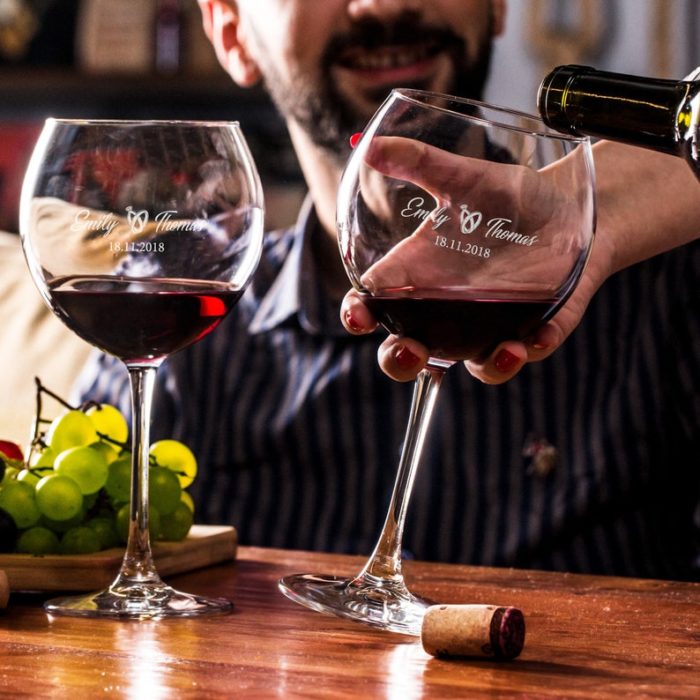 26. Personalized Keepsake Boxes
What better way to preserve cherished wedding mementos than in a stylish hardwood box engraved with the couple's wedding invitation? Alder or walnut wood can be used to make this unusual box, which has a felt-lined interior for the safekeeping of mementos.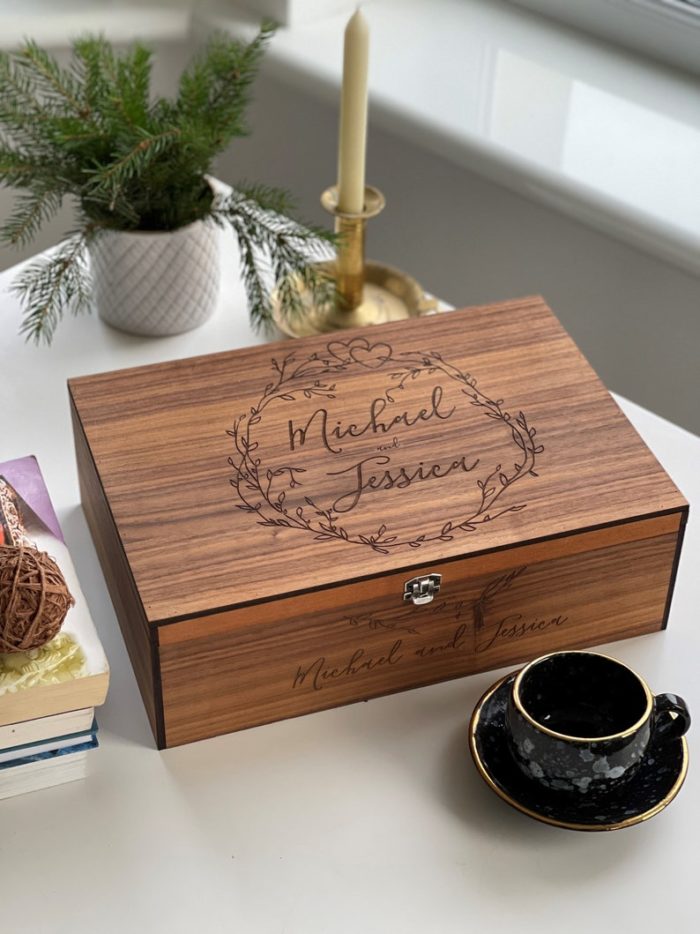 27. Customized Luggage Tags
Your newlyweds will appreciate the thoughtfulness of receiving customized faux-leather luggage tags as personalized wedding gifts. These useful tags will help them maintain track of their luggage no matter where they go on their honeymoon: across the world or to the United States.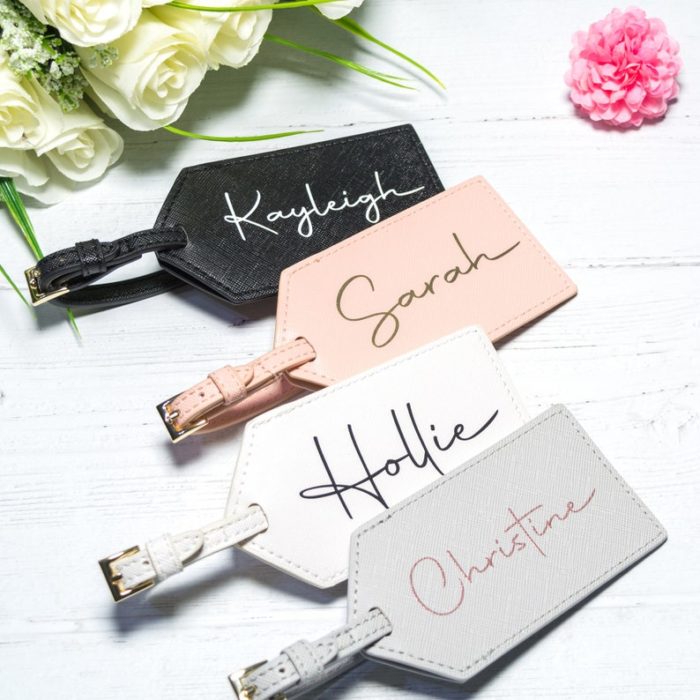 28. Personalized Gift Compass
A personalized compass for the year of marriage can be a great gift. It's a big deal that you can add any two initials to this wonderful accessory! This is a once-in-a-lifetime event for the couple, and you can help them remember it by writing a personal greeting to them.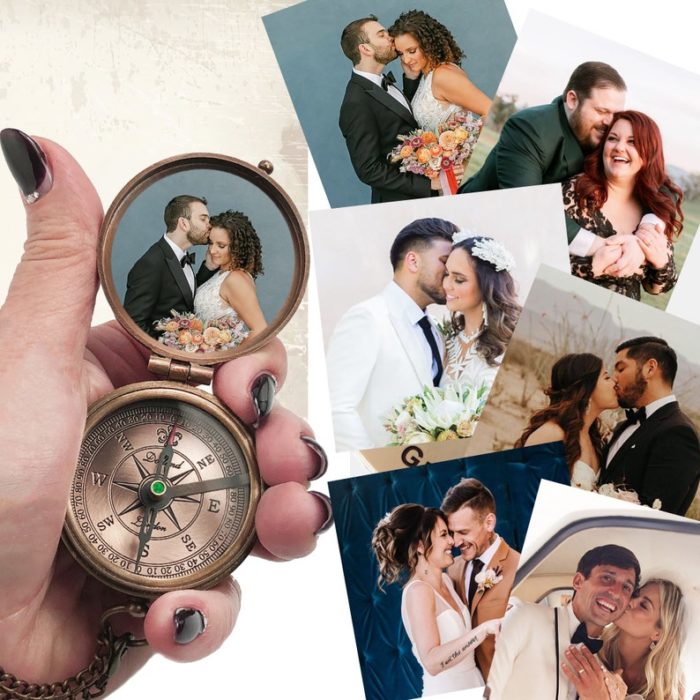 It's now easier for them to plan their next trip because they know exactly where they'll return to when they're done with their present one. This is one of the greatest personalized wedding gifts for couples on their anniversary because of its flexibility to be customized.
29. Customized Passports
Seeing the world expand, we can't wait to get back on the road. What better way to express, "This vacation was well worth the wait?" than with a present that says, "I'm so glad you were able to go away for a few days!"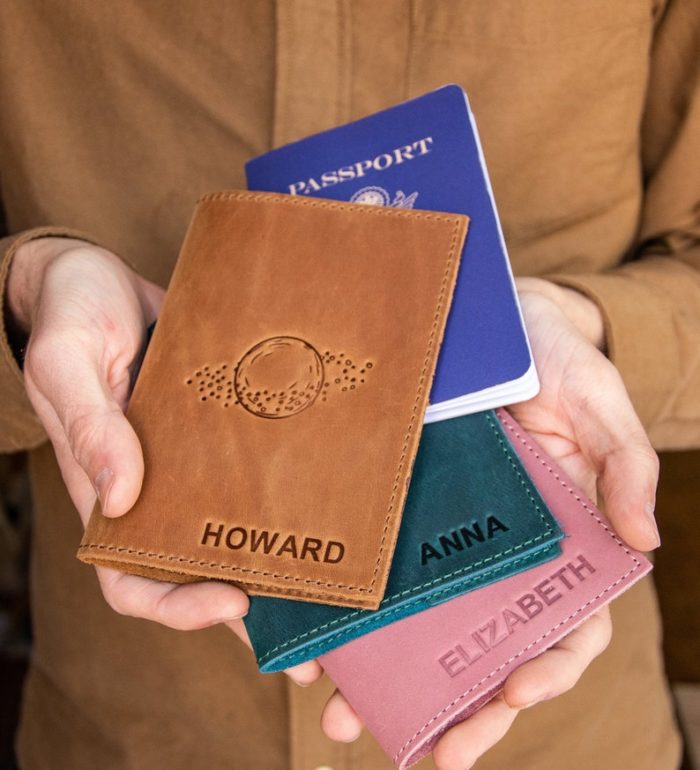 30. Personalized Satin Robes
Give the pair a few luxury leisure pieces to enjoy this weekend, whether they're at work or resting at home. A variety of colors and sizes are available for this satin-covered robe. A name and message can be added to it. You can gift this robe to not only newlyweds but also bridesmaids and groomsmen as personalized wedding gifts.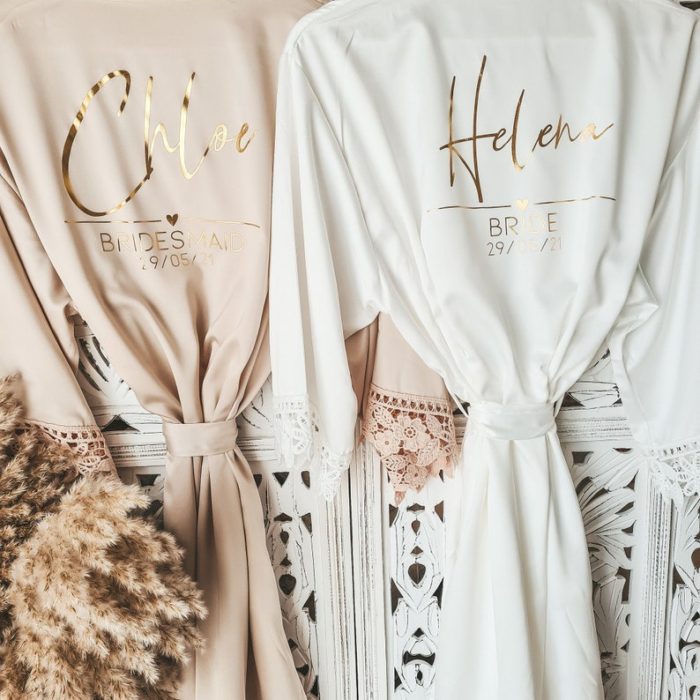 Read more:
31. Personalized Pillows
For newlyweds, Cushions are wonderful personalized wedding gifts. It will add a personal touch to their home! When it comes to color schemes, the natural-colored, customized case can go with whatever you can imagine. The pillow can be personalized with a variety of calligraphy fonts and colors. Then you can decide if you want the pillowcase alone, or if you want the pillowcase with the pillow already inside.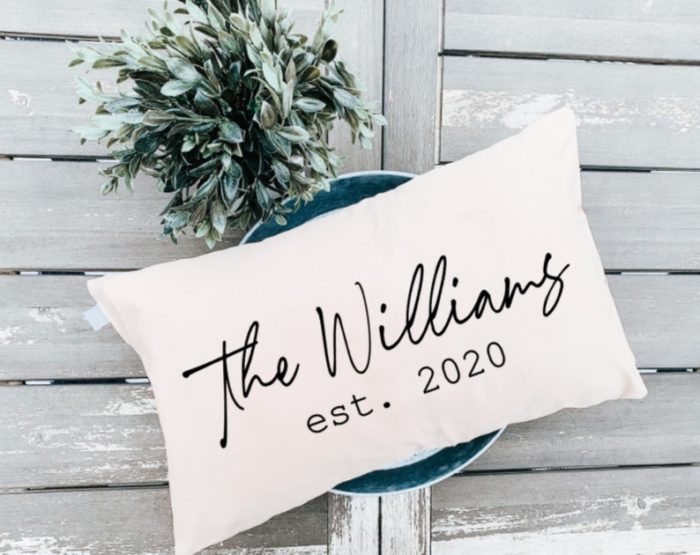 32. Engraved Couple Necklace
The necklace can be personalized with your own handwriting or signature, which adds a distinctive touch. Uploading a clear picture or scan of your handwriting is all that is required. Color and text are available in three different ways. Personalized necklaces are a wonderful way to honor a loved one, and this one is no exception. It's one of the great personalized wedding gifts for any special event.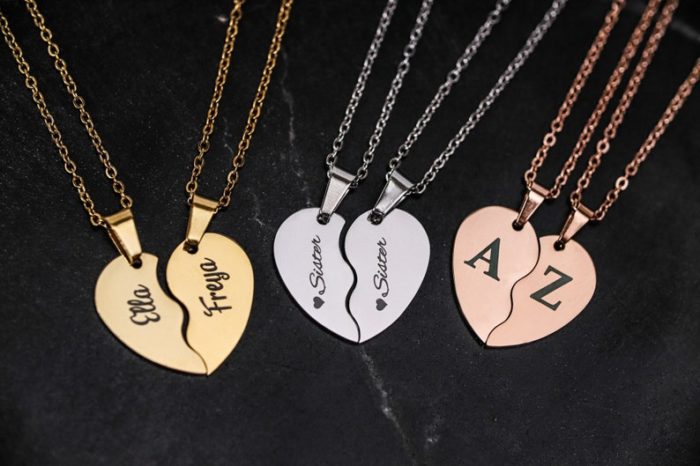 33. Customized Calendar
These embroidered yearbooks look great as part of an art gallery's collection. You only need to provide the manufacturer with the Month, Year, and Day in word form to place your order. Also, if you prefer a different color for the heart than the standard red, please include that in the note.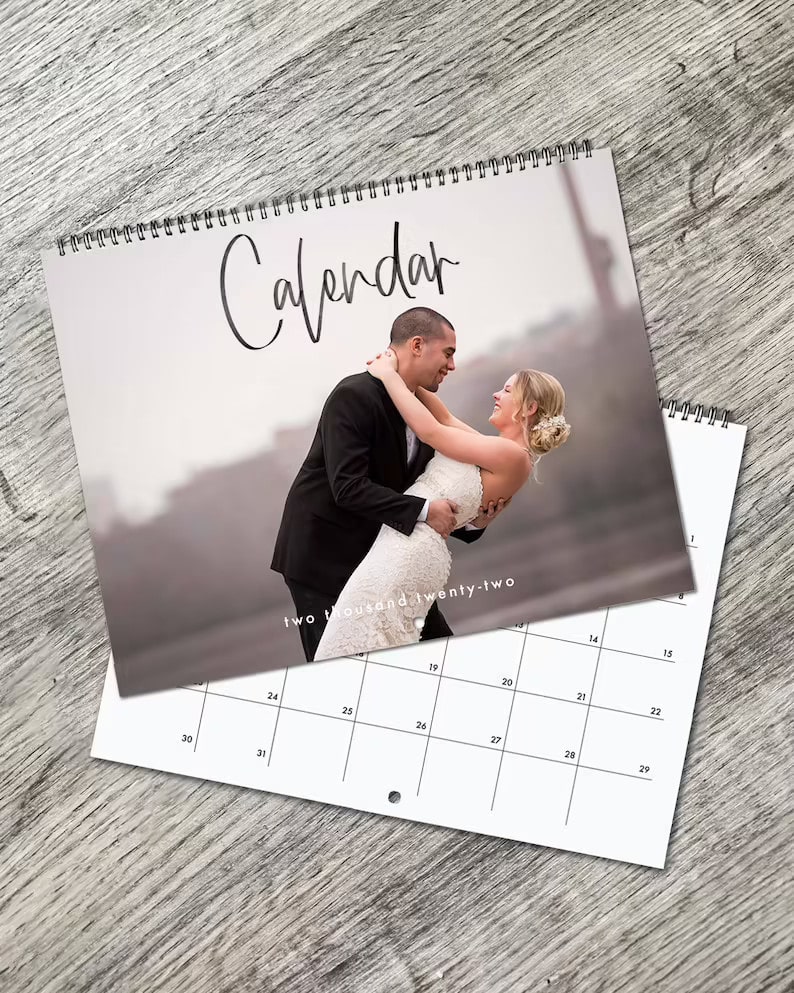 34. Personalized Beer Gifts
What if you're looking for a great present for a beer lover? What better way to show your appreciation than with these customized Beer Gift sets as personalized wedding gifts? With these two sturdy, personalized beer mugs, you'll be delivering the perfect housewarming gift before they realize it.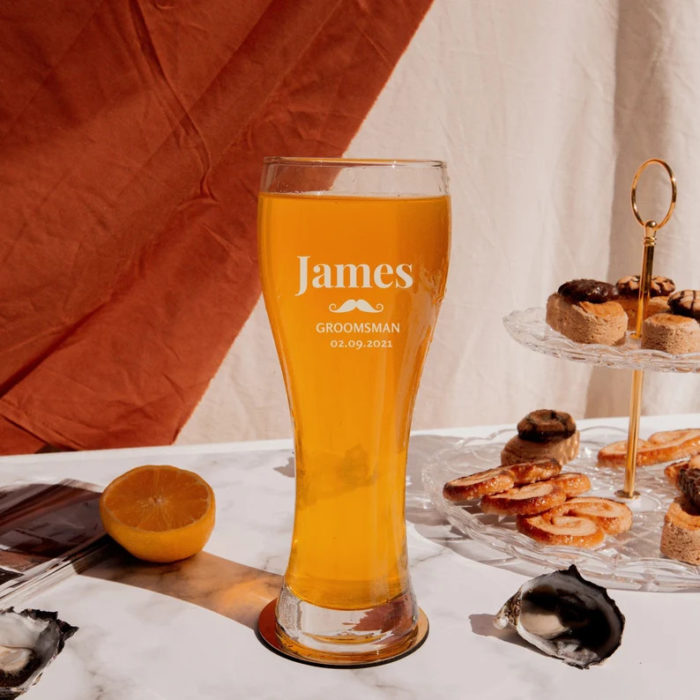 Whatever type of beverage they enjoy, their drinks will always taste better from one of these! The best part is that they can use this set together and have a good time. Having these large mugs on hand is both practical and thoughtful!
35. Customized Four-Across Game
It's a fun twist on the conventional four-across game if the pair never misses out on the family game night! Their last name, the date of their wedding, and a bunch of lovely love hearts fill out the standard circular holes.
36. Personalized aprons
Know someone who's a natural-born cook who can flambé, slice, and sauté like a pro? Embroidered aprons, on the other hand, are the only way to go if you're looking for something a little more special than the usual kitchen utensils and equipment.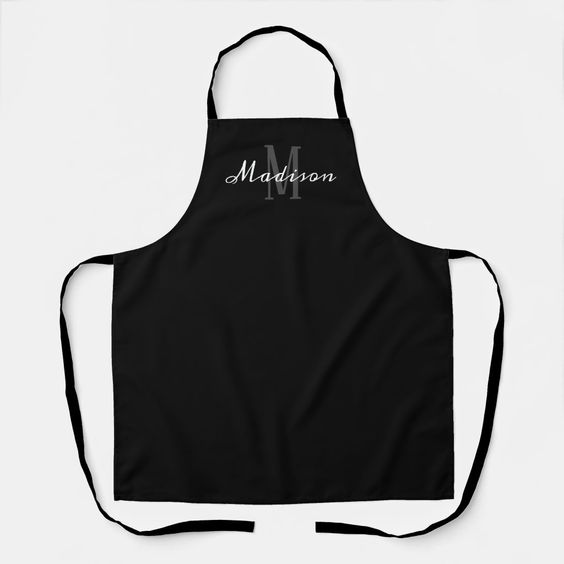 37. Personalized Coasters
These laser-engraved coasters are ideal personalized wedding gifts for those who enjoy rustic or country decor. The year they're making things official and their last name (if they have one) should be engraved on these natural wood wedding gifts. A set of two, four, or six coasters are available.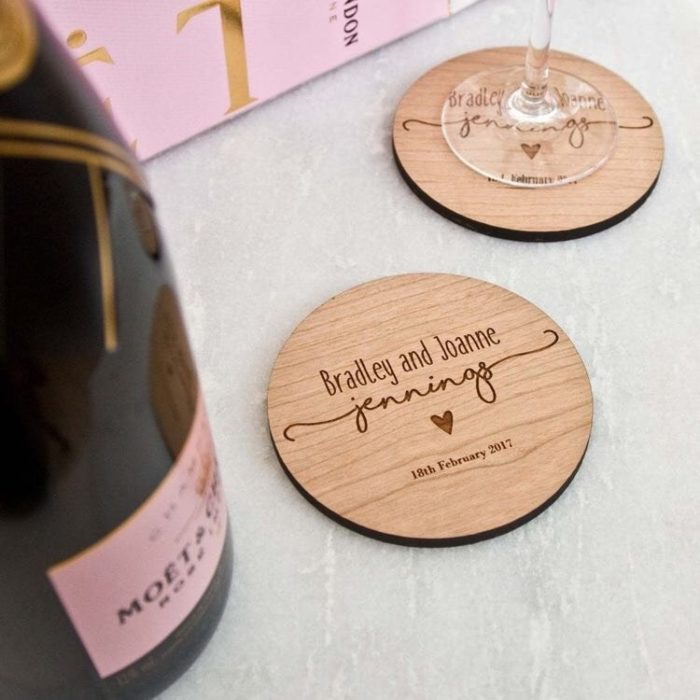 38. Customized Printed Ribbon
If you're looking for low-cost customized wedding gifts, this printed ribbon is a terrific option. It's a simple way to personalize your beloved's wedding gift, and it may be used for future wedding anniversary gifts as well!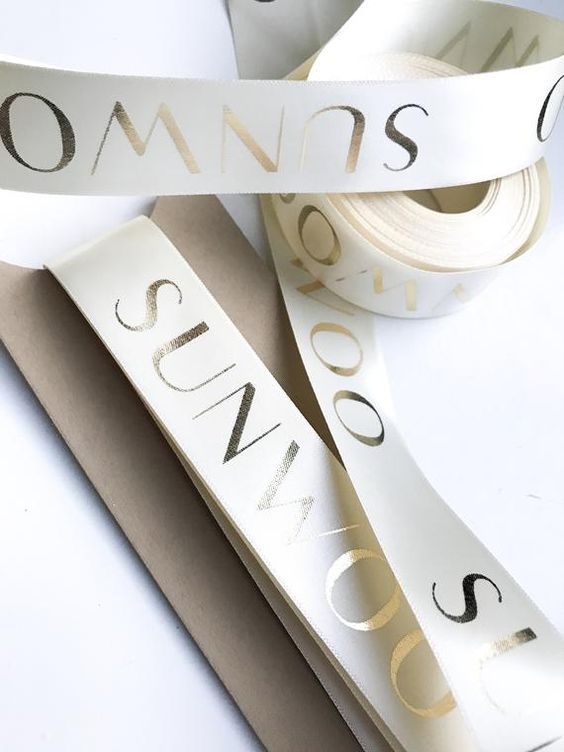 39. Personalized notebook
Subscription wedding presents are a wonderful way to keep the newlyweds happy even after the special day. We adore the concept of a monthly book subscription based on a reader's reading tastes, which sends them a book selected by literary experts.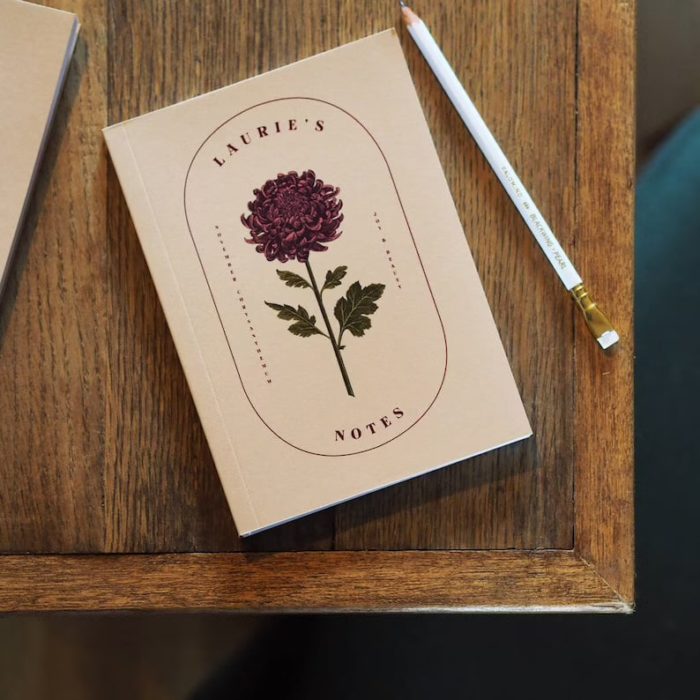 40. Engraved Keyrings
Each of these beautiful leather heart keyrings may be engraved with the names of the happy couple and come in a variety of colors and styles. An everyday reminder of their friendship is what the present is all about.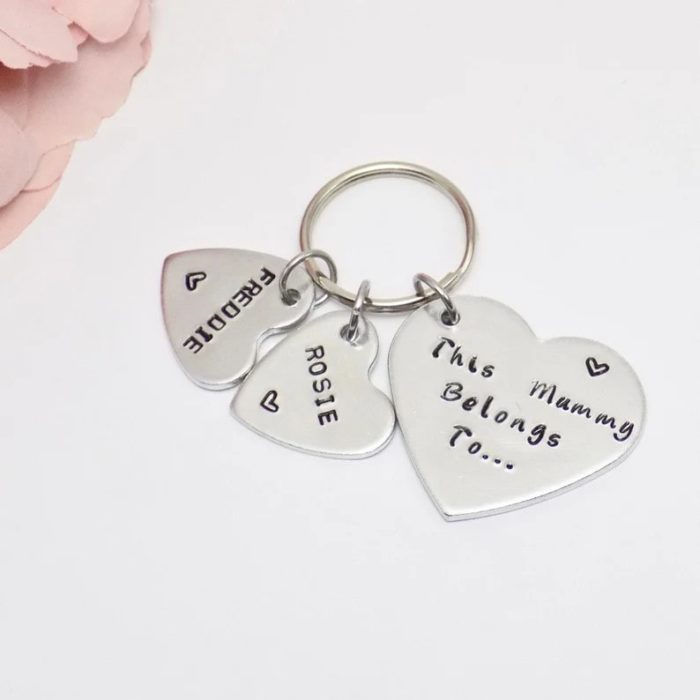 41. Personalized Wedding Dish
Have you ever seen serving ware this stunning? The commemorative dish is a gorgeous work of art that will add a touch of romance to any dinner party. If you want to add a personal touch, provide the couple's initial names and the date of their wedding.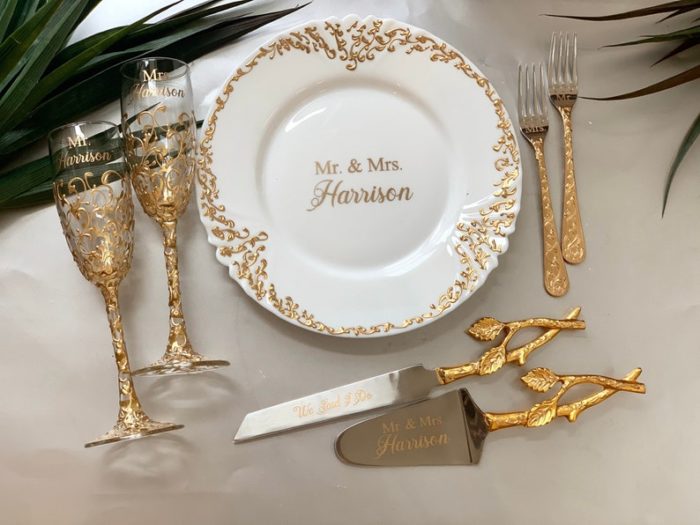 42. Customized Led Lamp
Gifting an Instagram Led lamp is a great way to show off your artistic side and remember the best parts of your relationship. This personalized present is a wonderful way to show your partner how much you care on important occasions.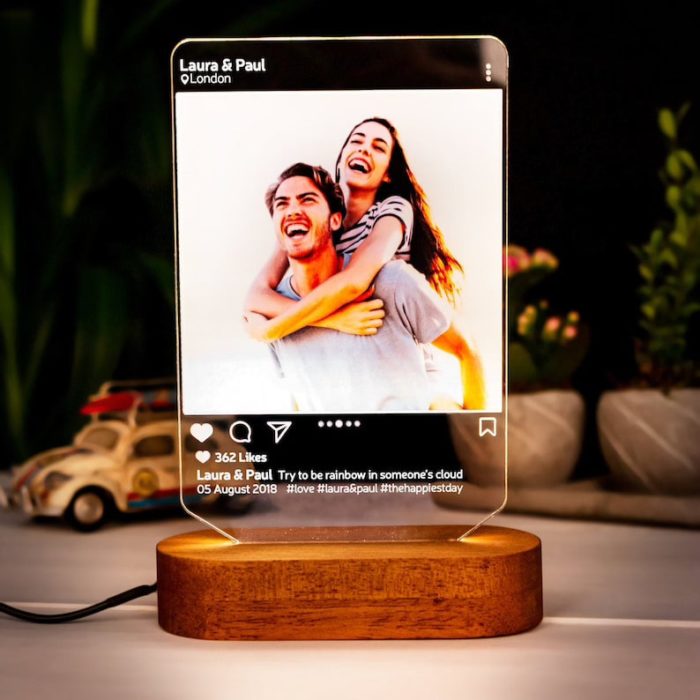 43. Customized Guest Book
You can make your friend's wedding day even more special with this personalized guest book. It will encourage guests to be more imaginative in their well-wishes on this special occasion. The purpose of the guest book is multifaceted. Make a wedding planning book or a photo album out of it.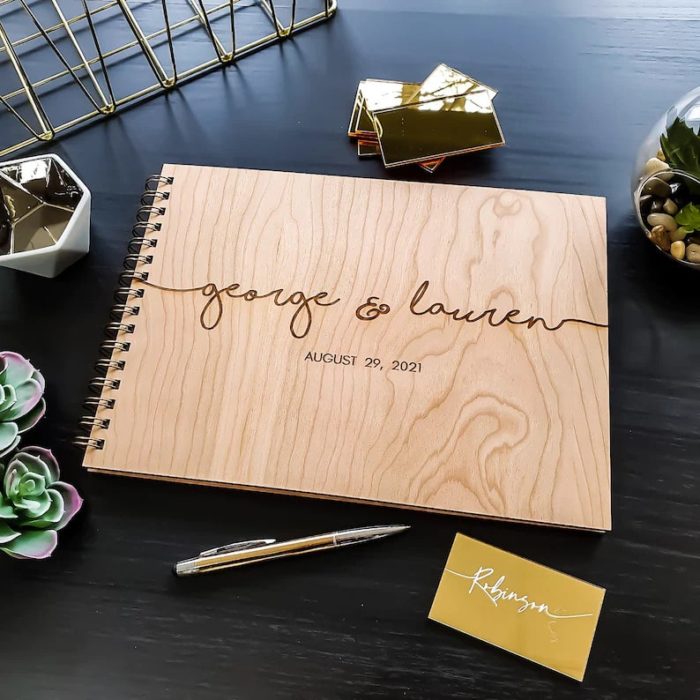 Best Personalized Guest Books on Amazon
44. Personalized Map Pint Glass
A pint glass featuring a map of the couple's house is a sweet personalized wedding gift they'll cherish for a long time—especially if they're moving somewhere new after the wedding! You can personalize each glass with the same spot if they were childhood sweethearts. Alternatively, if they come from various cities, you can customize each one. In cases when the pair first met in a bar or tailgating area, pint glasses are a particularly memorable gift.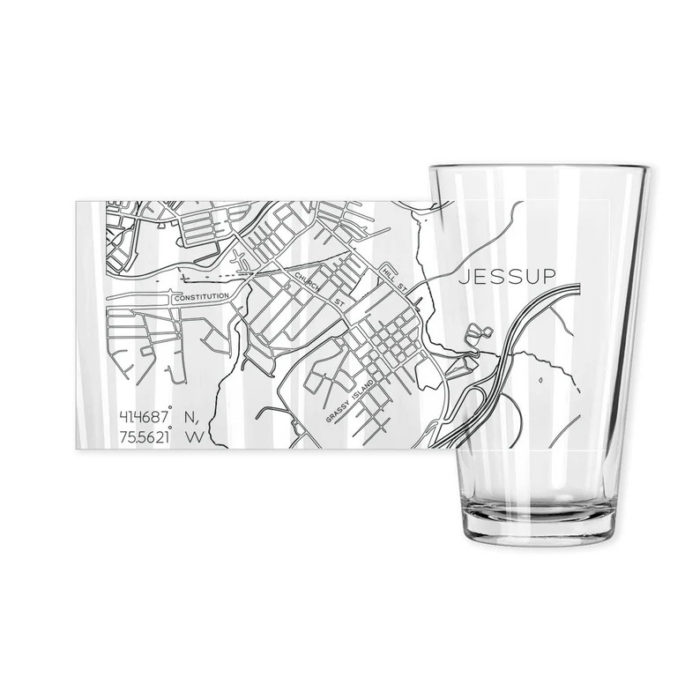 Maybe you're interested:
For couples in your life, it might be difficult to pick gifts that will bring both of them joy at once. It is our hope that this post will assist you in finding the right personalized wedding gifts for your favorite couples! Do not hesitate to share any additional unique ideas you may have with our members. Ohcanvas'd love to know what you've got in mind for the two of them in the comments section below!