Since the most magical time of the year is coming, our home should be decorated as soon as possible to get the best holiday vibe. There are a variety of styles to dress up a house in this festive season. However, if you're targeting warm and rustic farmhouse Christmas decor for your home, this post is an inspirational source of ideas for you. Revise Ohcanvas's unique tips below and get ready to invite the joyous season to your cozy nest.
1. Christmas Farmhouse Decor Interior Ideas
1.1. Christmas Farmhouse Decor Ideas For Your Living Room
1.  Rustic fireplace mantel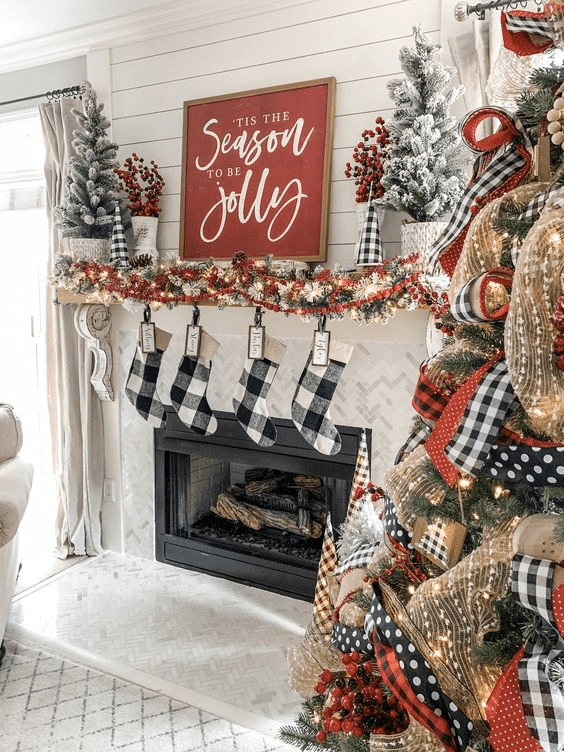 Turn the mantel into a focal point of your living room by decorating it with warm and antique accessories. The red sign with a wood frame, gingham stockings, and bottle brush trees are a perfect combination to get the holiday look. Pair the stockings with some nameplates to earn a more unique appearance for this farmhouse Christmas mantel decor.
2. Black and white Christmas fireplace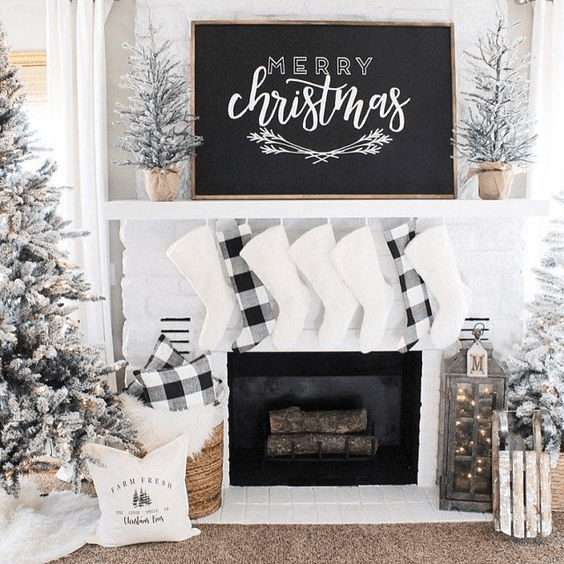 If colorful ambiance is not your favorite choice for the farmhouse Christmas mantel decor, the black and white theme is a magical style that you should try this year. Place a black sign with white letters on top of the mantel to gain a cheery look. Opt for stockings and throw pillows in white or black gingham to support the theme. Besides, tiny trees with faux snow are plus points for this rustic farmhouse Christmas decor.
1.2. Farmhouse Christmas Wall Decor
3. Christmas canvas prints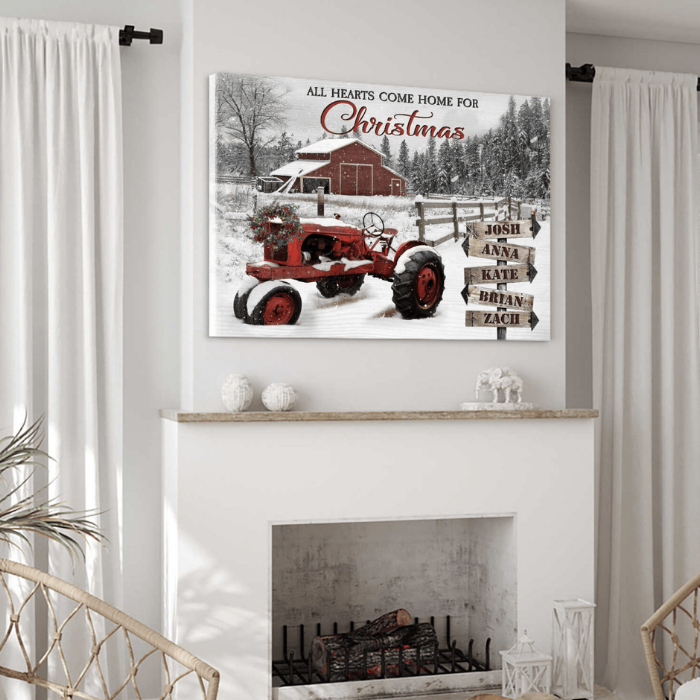 You can't go wrong with Christmas wall art when adding touches of rustic farmhouse Christmas decor to your home. Oh Canvas is excited to share with you our adorable pieces of canvas prints that can make your rooms homey and festive. These pieces never go outdated. You can hang them throughout the holiday, year by year.
For more stunning canvas prints for the holidays, visit our Christmas canvas to find your favorite items for decoration.
4. Rustic Christmas grapevine wreath
The holiday is incomplete without grapevine wreaths for house decoration. Besides hanging a gorgeous wreath on your doors, try to have some on the living room wall to get a fresh and elegant look. These rustic farmhouse Christmas decor ideas will make your home look instantly elevated.
5. Rustic signs in living room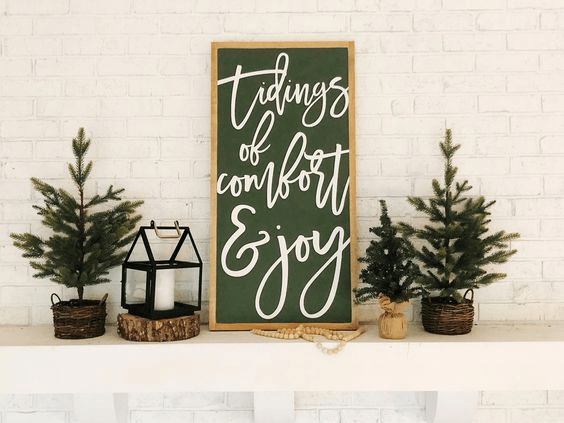 Wooden signs are excellent decorative pieces in farmhouse style. This season, brighten up your living room using Christmas signs that are painted with holiday colors. These pieces will elevate the cheery and vintage look of your farmhouse Christmas decor.
6. Christmas sheet music decor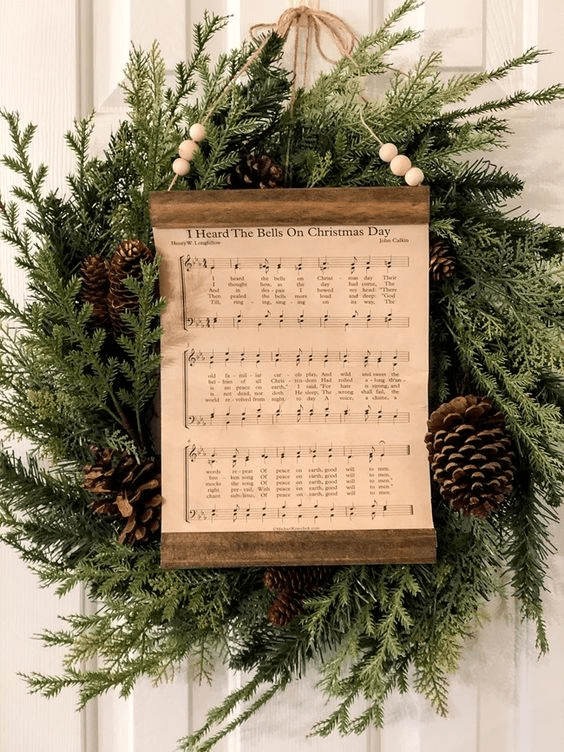 Sheet music is one of the most creative and rustic farmhouse decor ideas to spruce up your home this season. Have some combined with the wreaths, Christmas trees, or just hang them above the mantel. These old sheets in earthy tones add a touch of laid-back charm to any decoration they go with.
1.3. Farmhouse Christmas Kitchen And Dining Room Decor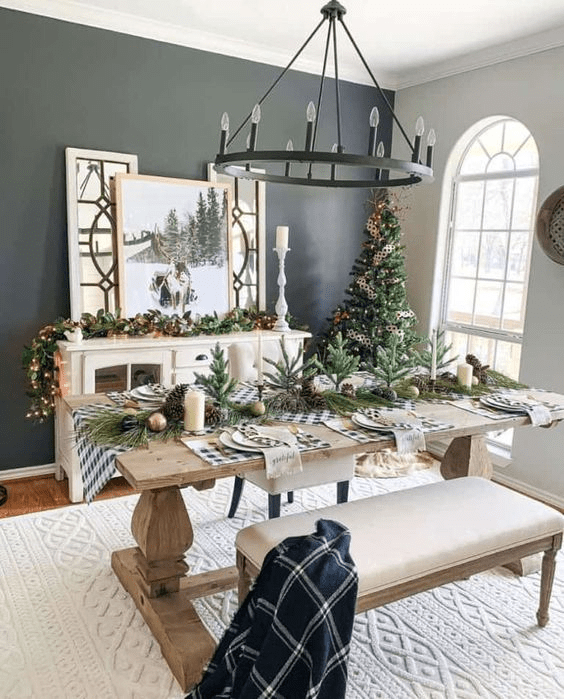 Besides the living room, the dining room is where to provoke all your creative decorations for the holidays. If this room is spacious enough to place a Christmas tree, it's perfect. Or else, the natural vibe can be added via tiny branches, pinecones, and garland. Wintery artwork and gingham pieces are also excellent for farmhouse Christmas decor.
7. Pops of red farmhouse Christmas kitchen decor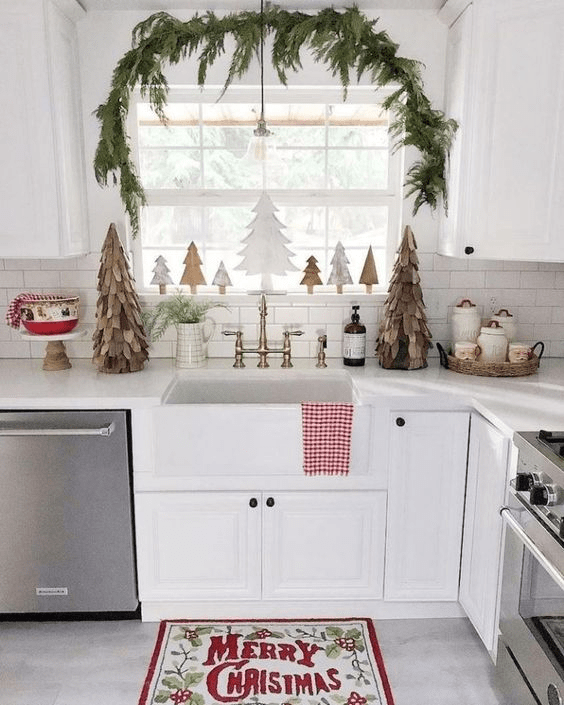 Red is a signature color of this season. When having pops of red in your kitchen, you're feeling that Christmas is all around you. A combination of a red bowl, red cups, a carpet patterned in red, or red tartans is enough to provide a festive and eye-grabbing look for your space.
8. Plaid Farmhouse Christmas Decor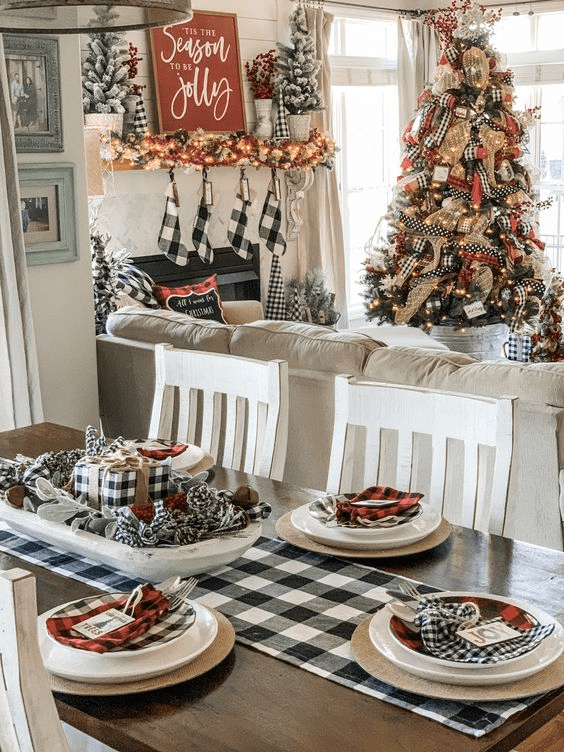 Plaid farmhouse Christmas decor ideas are brilliant choices for anyone who's pursuing warm and cheery looks. Gingham or tartan appears beautifully in form of table runners, napkins, or ribbons, creating a fresh and unique vibe for the dining room.
9. Christmas Farmhouse Chandelier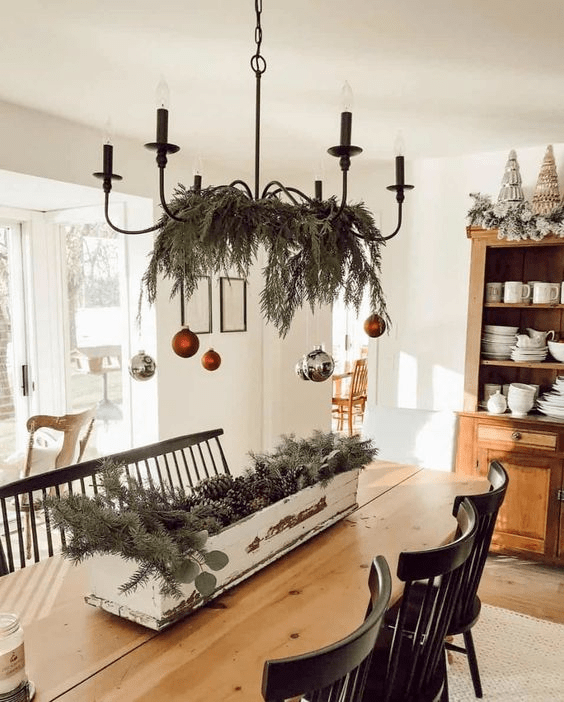 A big part of the dining room that can turn into a stunning Christmas item is the chandelier. By adding some pine branches and colorful ornaments, the chandelier helps spruce up the whole eating space. When the light is on, it'll become much more attractive and gorgeous.
10. Farmhouse Christmas Table Decor
Farmhouse centerpiece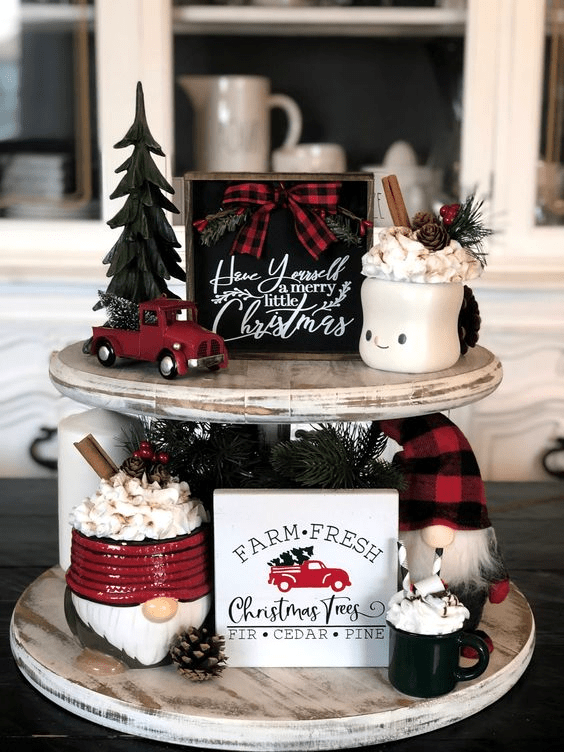 When it comes to farmhouse Christmas decor for the dining table, the Christmas centerpiece is an irreplaceable part. There are a lot of ways to make a seasonal centerpiece. Among that, a tray or a cake tier is usually utilized to display tiny trees, candles, colorful adornments, and so on.
Vintage table setting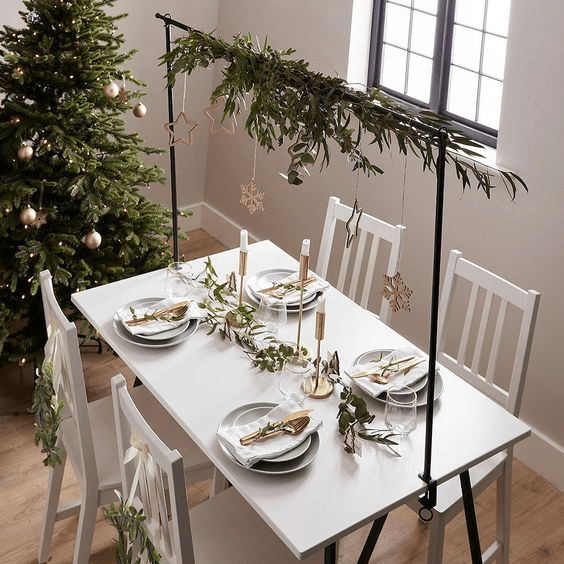 If you're looking for a special way to set up your dining table, try this simple and elegant style with minimalist colors. White napkins, golden silverware, pure glasses, and romantic candles combine in a vintage way. A green touch of tree branches is an extra Christmas charm for the overall arrangement.
Christmas decorated mason jars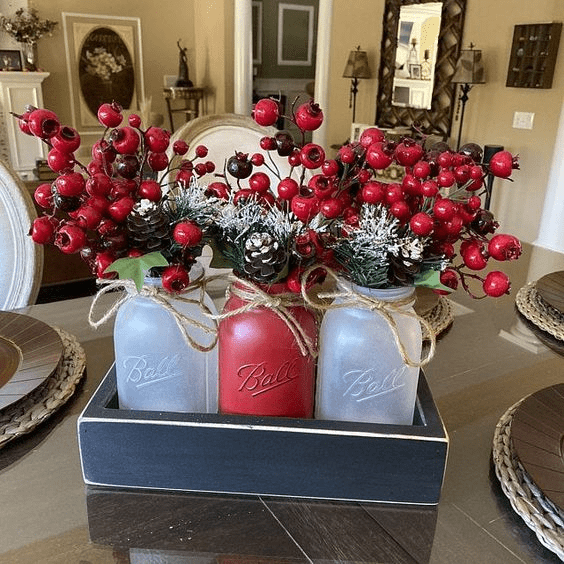 The mason jars are magical pieces for farmhouse Christmas table decor. They bring both an old-fashioned look and a holiday theme to your dining table. By painting the jars with seasonal colors, you'll get amazing vases for displaying different Christmas ornaments.
>>> Read more: 60+ Best Farmhouse Living Room Decor Ideas You Should Know
1.4. Rustic Farmhouse Christmas Decor Ideas For The Bedroom
11. Simple elegance Christmas decor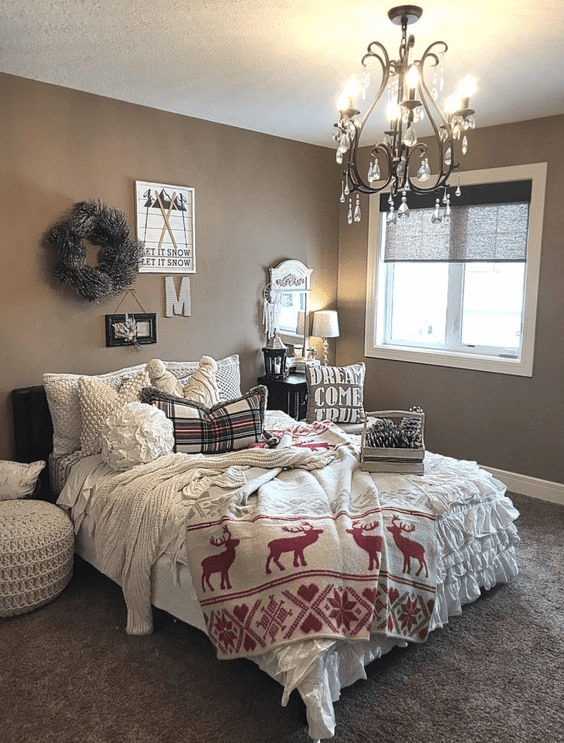 A single wreath is enough to create a holiday vibe in your bedroom. It adds a touch of greenery as well as freshness, making you more cheerful and comfortable. Besides a wreath, an on-theme blanket or pillow is a warm and festive item that fits the season.
12. Modern Farmhouse Christmas Decor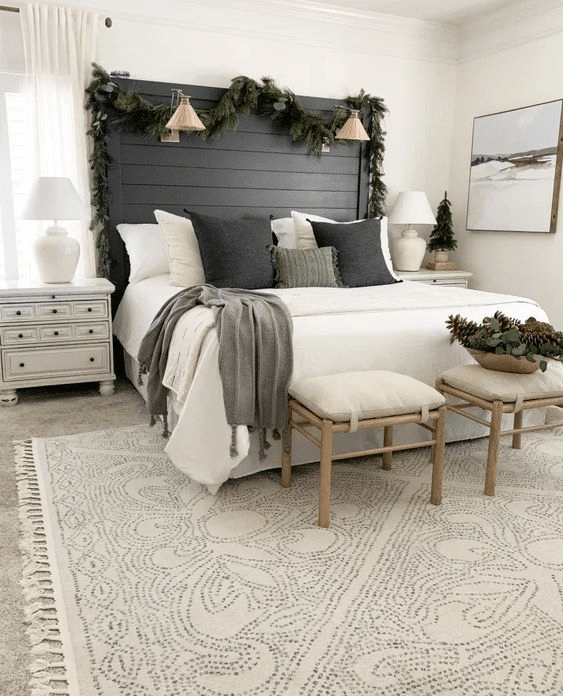 It's not too complicated to complete modern farmhouse Christmas decor for the bedroom. With a mini X-mas tree, a garland over the headboard, and a tray full of seasonal specialties, the look is successfully achieved.
13. Cozy farmhouse bedroom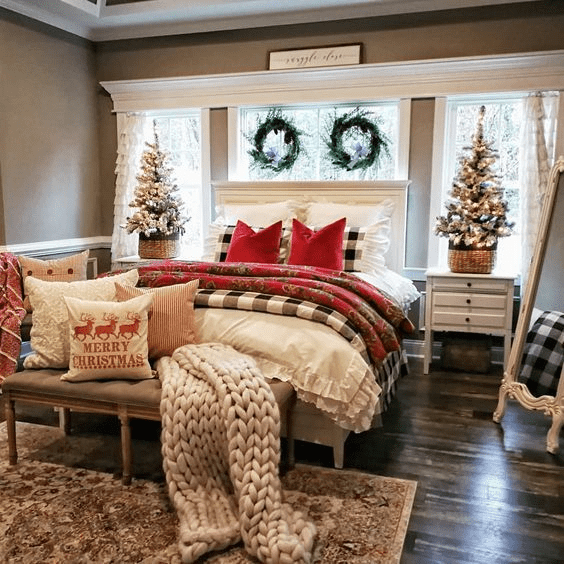 Warm your bedroom up with red and neutral textiles featuring the holiday theme. Besides, adding mini Christmas trees with yellow lights sets your room to a much cozier mood. All the elements combined and lull you right to a warm and sweet sleep.
14. Dreaming of a white Christmas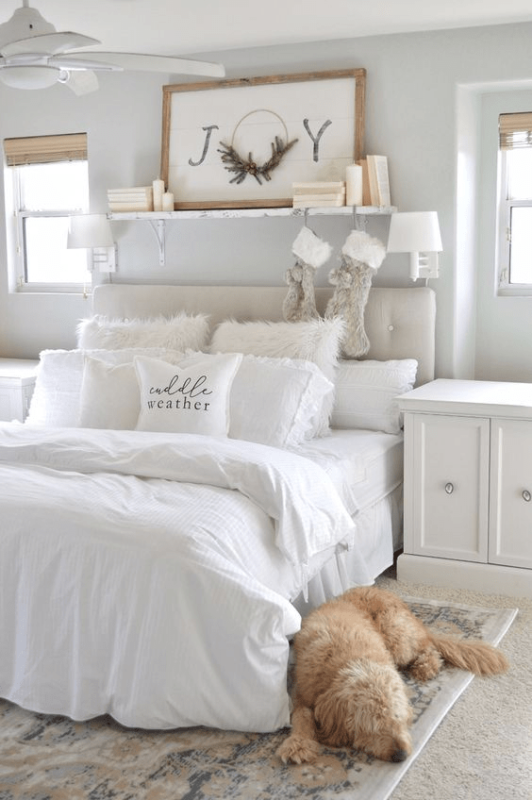 Are you craving a white bedroom this winter? If so, start making some modern farmhouse Christmas decor in your room by using bedsheets, pillows, and blankets in white or bright colors. For the holiday spirit, hang some white or light gray stockings. A wooden sign with a small touch of green is still nice in the whole room.
1.5. Charming Farmhouse Staircase Decor
15. Nature-Inspired Staircase – Fresh greenery Christmas Decor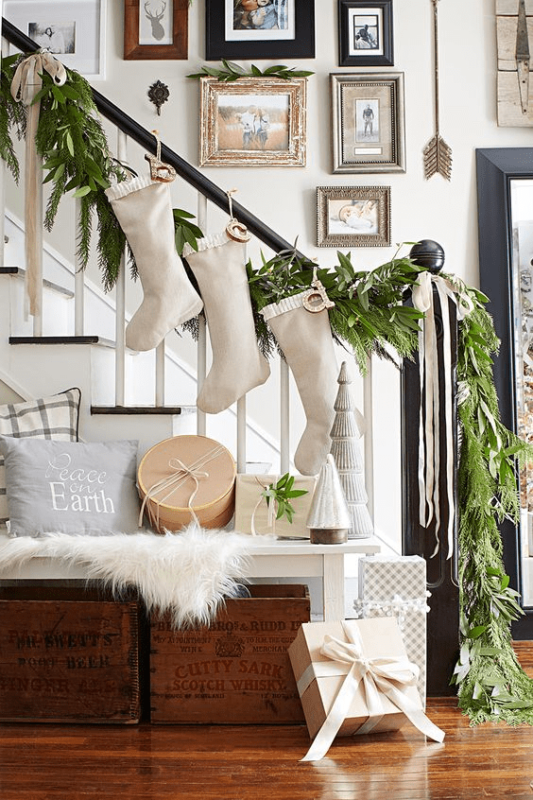 Make your staircase fragrant and distinctive with a green and fresh garland hung on the handrail. To accomplish a more elegant look, hang some neutral stockings. They'll merge nicely with the cream ribbons used to tighten the garland.
16. Winter wonderland staircase decal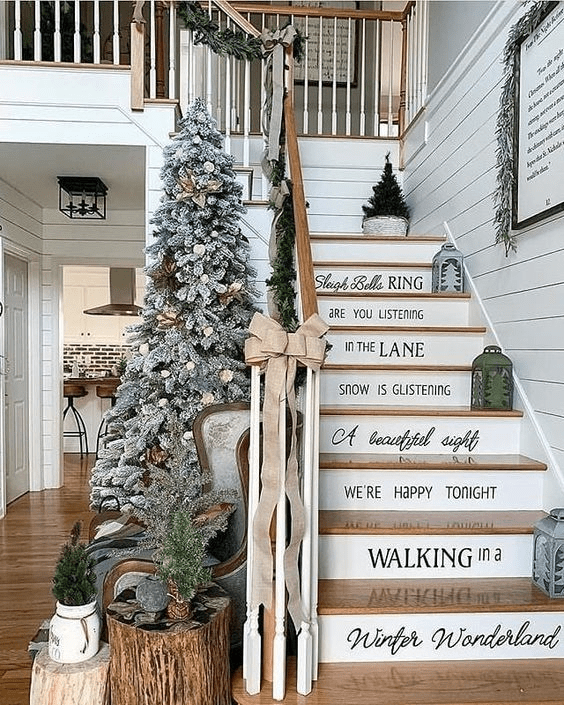 How amazing it is to own a staircase with adorable Christmas decals. It breathes a warm and distinctive glow to your home, making every step more cheery and special. If you have kids, we're sure that they adore this idea a lot.
17. Embroidery hoop wreath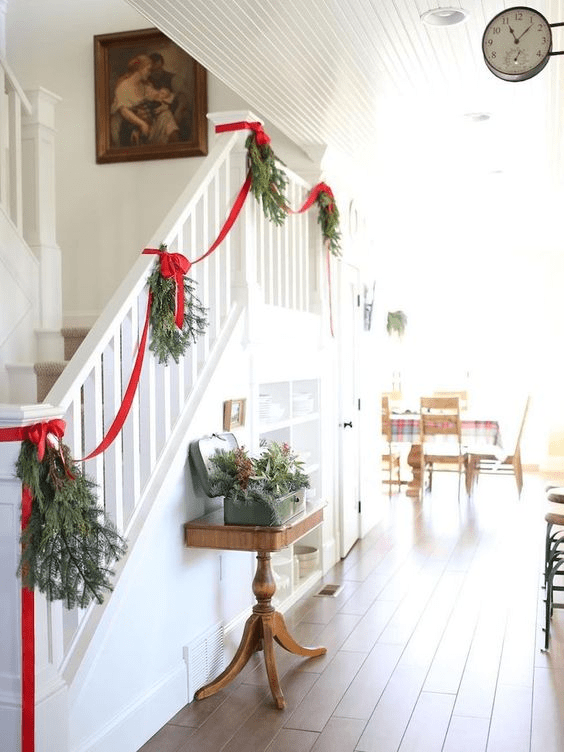 Make a delight on your stairwell by inserting festive hoops with strings of greenery or berries. Secure the hoops to the handrail with red or green ribbons to call for the cherish season. This farmhouse Christmas decor will brighten up every corner of your space.
1.6. Cozy Christmas Decorated Entry
18. Seasonal wooden signs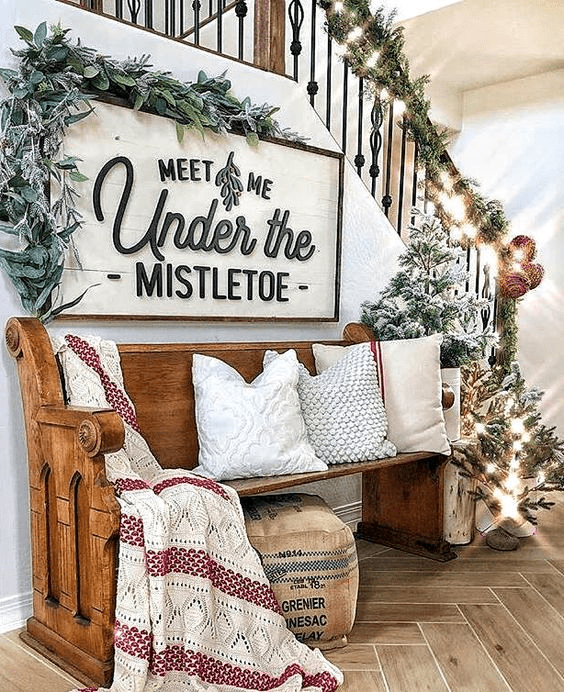 Customize the wooden sign with short holiday phrases – "Let it snow" or "Tis the season", for example. This decorative piece fills the entryway with rusticity and holiday spirit. If you want it more attractive, insert a green garland around.
19. Woven baskets for a cozy entry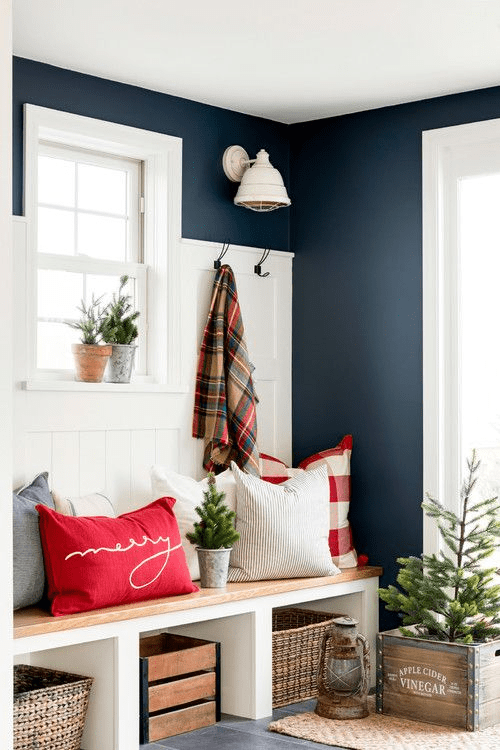 Dress up the entryway with woven baskets and mini Christmas trees. Other decorated pieces might be gingham throw pillows and blankets, old lamps, and any of your rustic flea market finds.
20. Fresh apple garland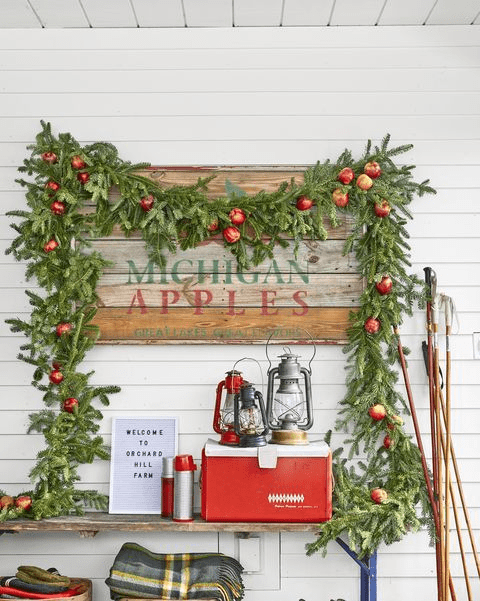 Besides berries, apples play an excellent role in breathing a holiday mood into the house. The fresh apple garland is an amazing piece of farmhouse Christmas decor that's decorated at the entryway. It'll bring an unexpected accent that helps you greet your guests in the most magical and joyous way.
>>> Read more: Top 4 Reasons You Must Have Floral Canvas Wall Art
1.7. Farmhouse Christmas Front Porch Decor
21. Evergreen door decorations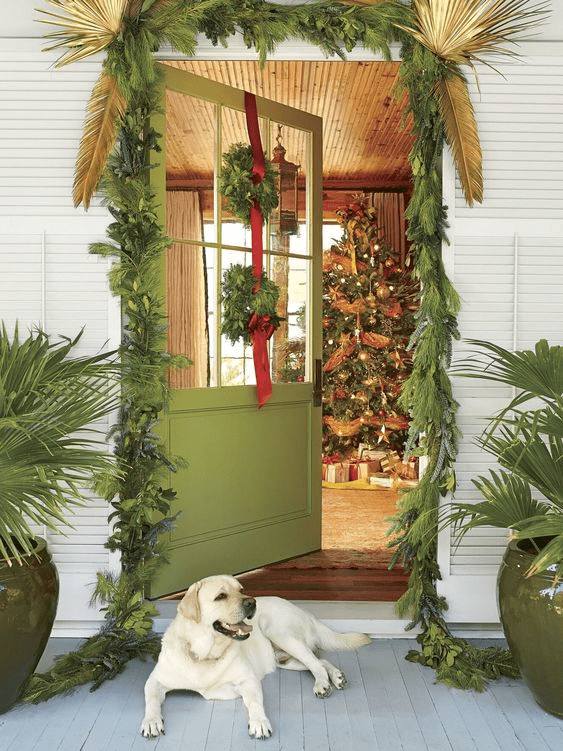 Make this Christmas full of green by inserting evergreen garland and wreaths right on the front door. These farmhouse Christmas decor pieces help bring a warm and fresh glow to your cozy nest.
22. Rustic front porch with a touch of tartan Christmas decor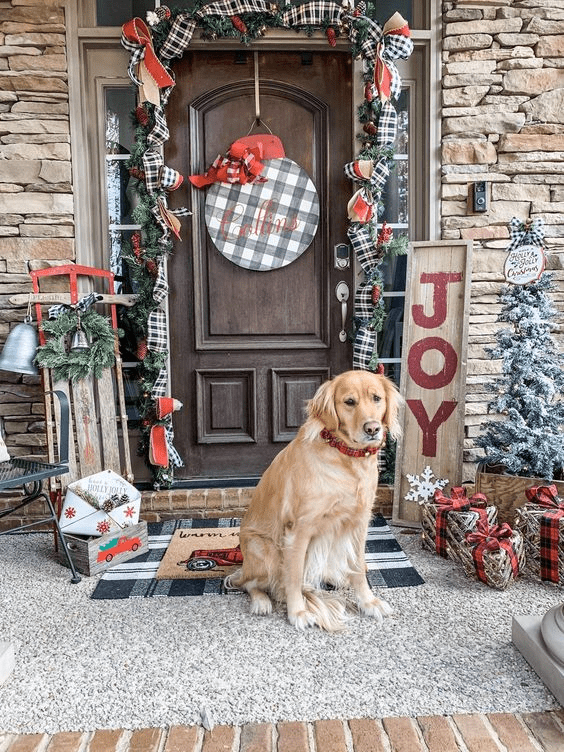 Embrace the festive mood with tartan decoration for the front porch. Tartan doormat, wreath, and garland will fill your home with joy and rusticity. Choosing red, green, or black-white tartan is a brilliant way to gain the best look.
23. Christmas outdoor chalkboard project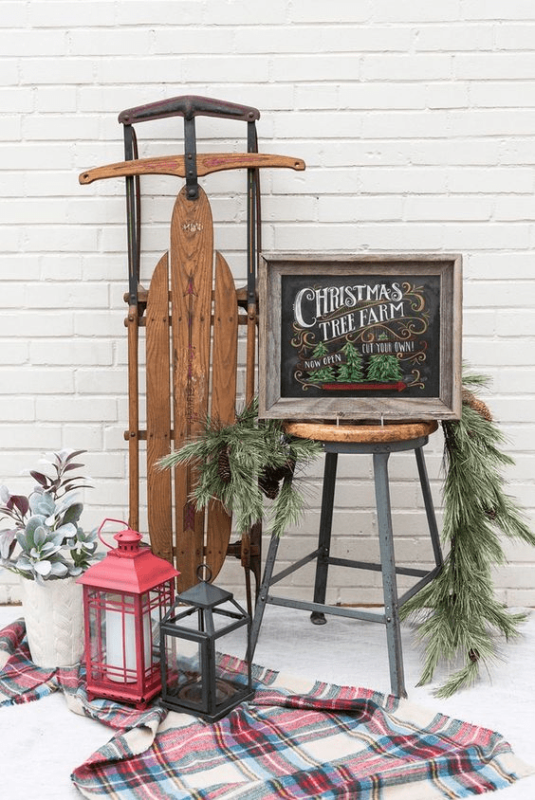 Put the finishing touches on farmhouse Christmas front porch decor by adding a vintage chalkboard. It's a sweet and unique welcome that you can make for your home.
1.8. Farmhouse Christmas Tree Decoration Ideas
24. Modern Christmas Tree Decorations
The first type of Christmas tree decorations ideas that Oh Canvas loves sharing is the modern one. Creativity is unstoppable, and the style shifts throughout the year. As a result, the ombre Xmas tree will be popular in 2021. The transition of several hues or tones is known as ombre. If you want to give your tree an ombre effect, arrange your decorations in rows based on shade or hue. Instead, you could paint the tree in an ombre pattern.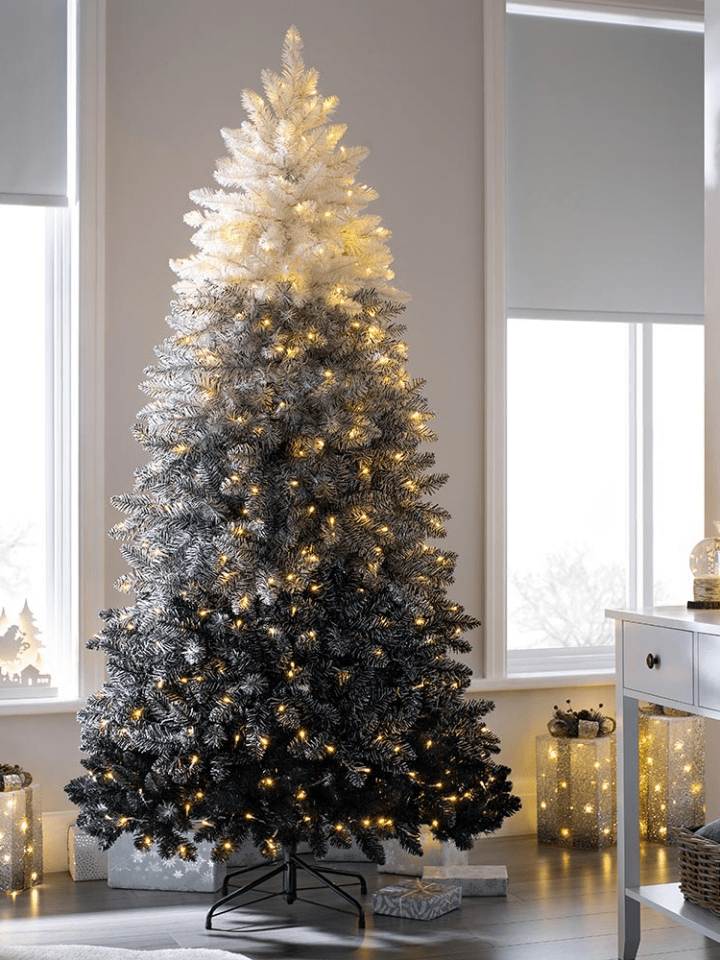 25. Outdoor Christmas tree decorations
It's a lovely way to share the pleasure of the holiday season with your loved ones, neighbors, and maybe even total strangers by decorating your home's exterior with Christmas lights and other festive accents. For the farmhouse christmas decor, lights should be wrapped around it. When it comes to enjoying the Christmas season, trees and lights provide a wonderful, joyful touch to the corner. The tree will undoubtedly impress guests with its colorful and dazzling lights.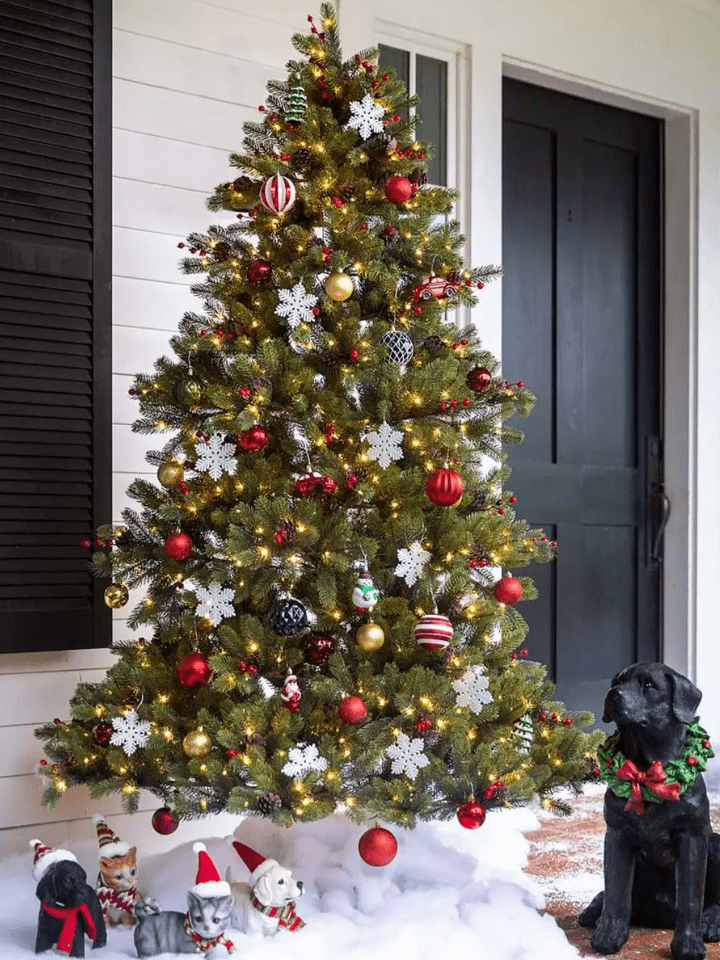 26. Farmhouse Christmas tree canvas paintings
Farmhouse canvas has an elegant and rustic look to the house. Even though it uses neutral colors to express its vibe, it can strongly call the Xmas atmosphere warm. Christmas farmhouse artwork contains the cheerful painting combined with the mindful quote that might bring positive inspirations. Hence, when decorating the house for Christmas, do not forget to attach this fantastic item to your house!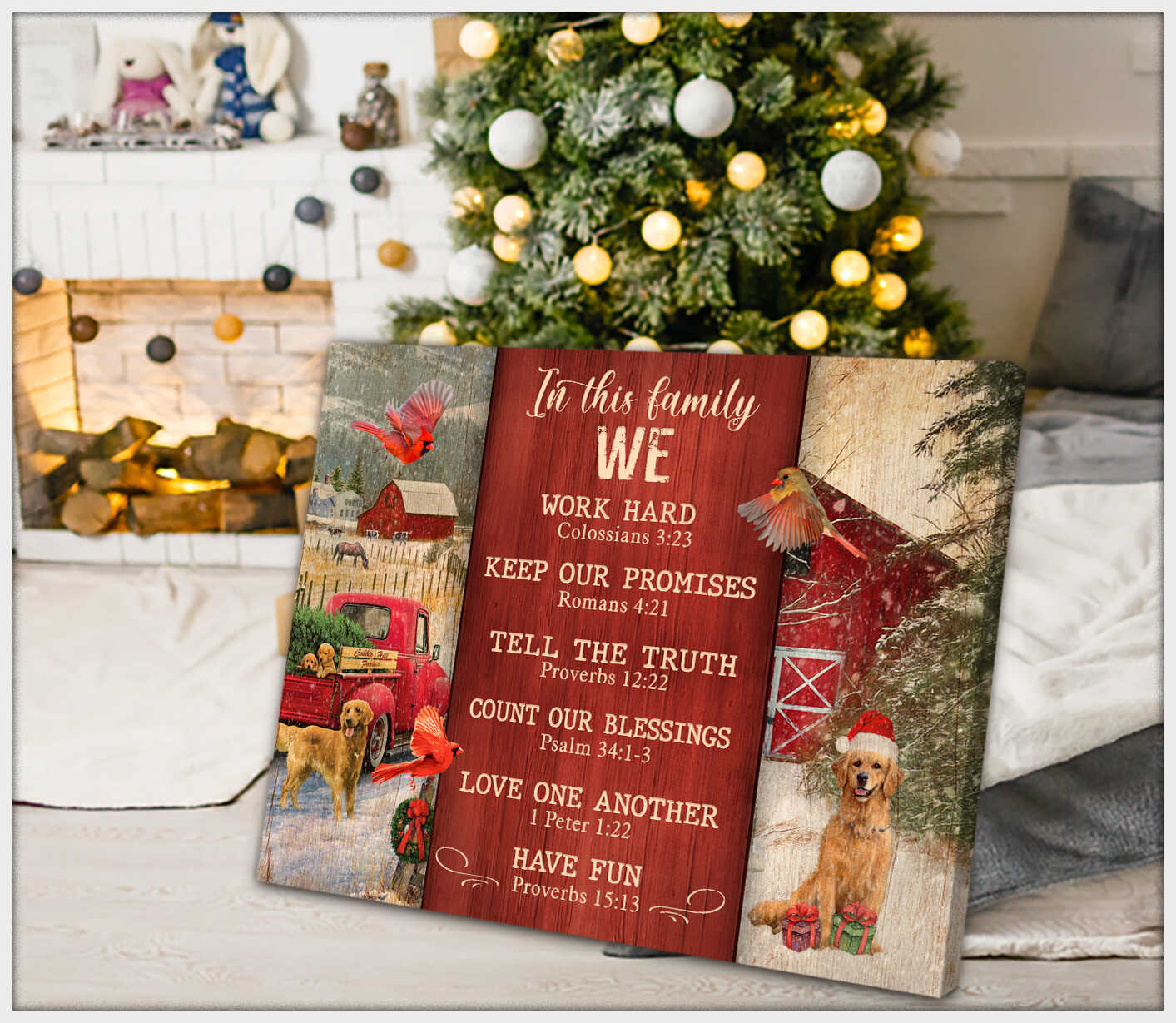 27. White Christmas tree decorations
White Christmas tree decor ideas are ideal for those who prefer an aesthetic and balanced tone in their home. It makes no difference whether your tree is green or white. The tree, when combined with white decorations, may powerfully express your style. You might buy a white tree from a home decoration shop or quickly transform a green tree to white by spraying it with white paint. Then, for a glam effect on the tree, use pastel or glittery ornaments.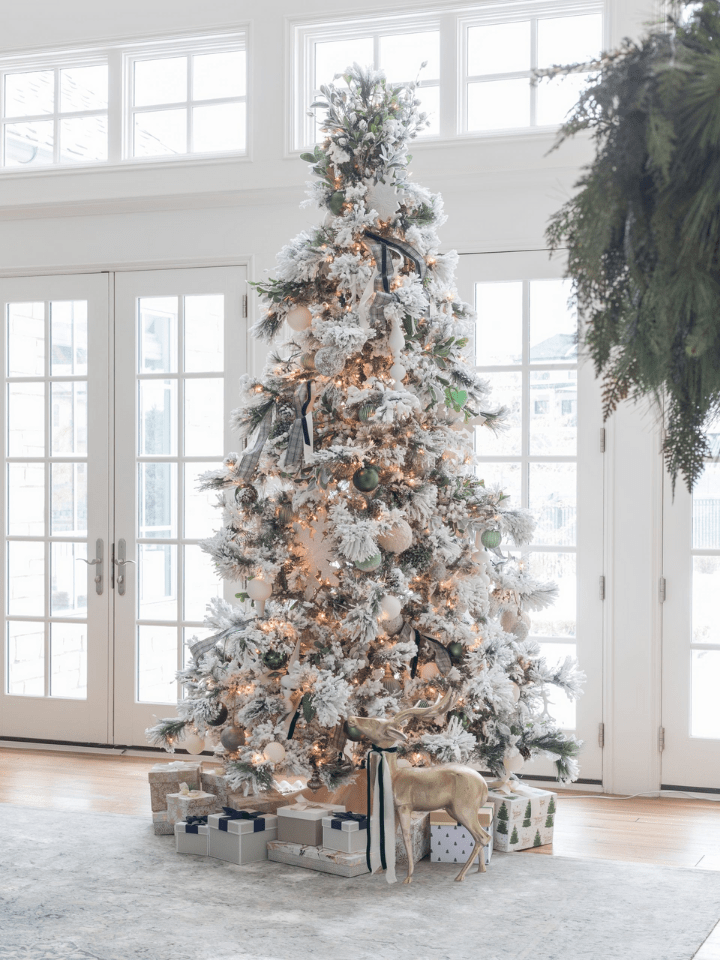 28. Black Christmas tree decorations
Consider black Christmas tree decor ideas for people who like a more contemporary look. It's a really versatile hue. As far as personality traits go, persons who choose black tend to have a strong desire for power and distinction. People in this category are often creative and passionate. Individualistic and strong-willed, they like to be in charge of their own lives and environments.
The same with the white tree, you can conveniently get it in stores or repaint it. With a black tree, you may go all out with energy and even sparkly lights.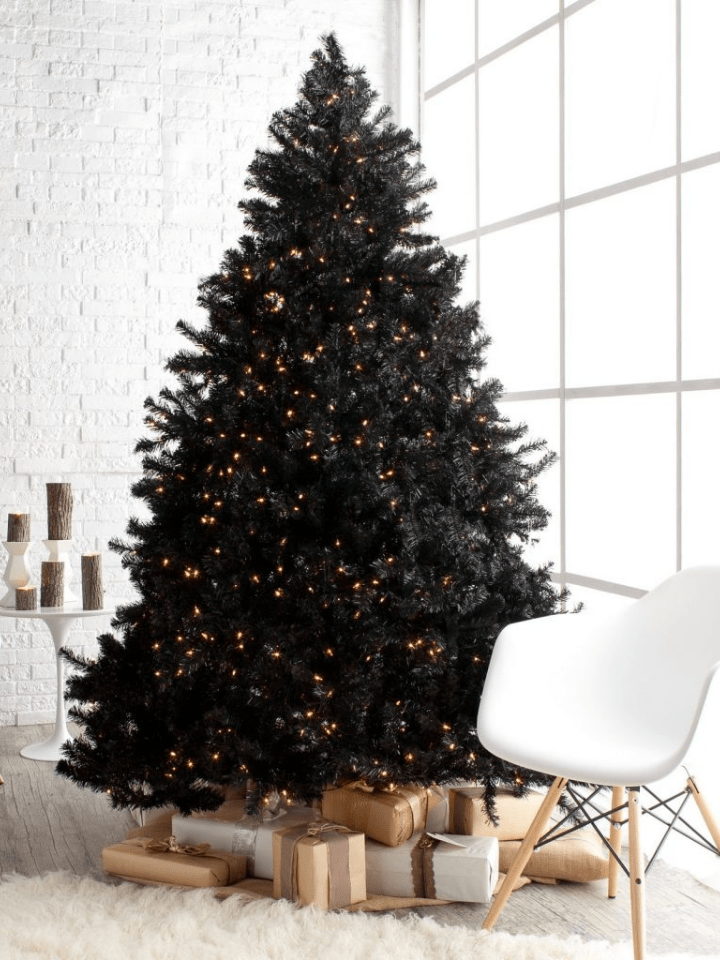 29. Black and white Christmas tree decorations
The combination of white and black for the Christmas tree decorations ideas is stunning. The white and black contrast creates a real monochromatic palette. Adding white to the black tree can bring a naturally upbeat and cheerful vibe to it. Black and white Christmas tree design ideas from minimalism to contemporary are all timeless and elegant.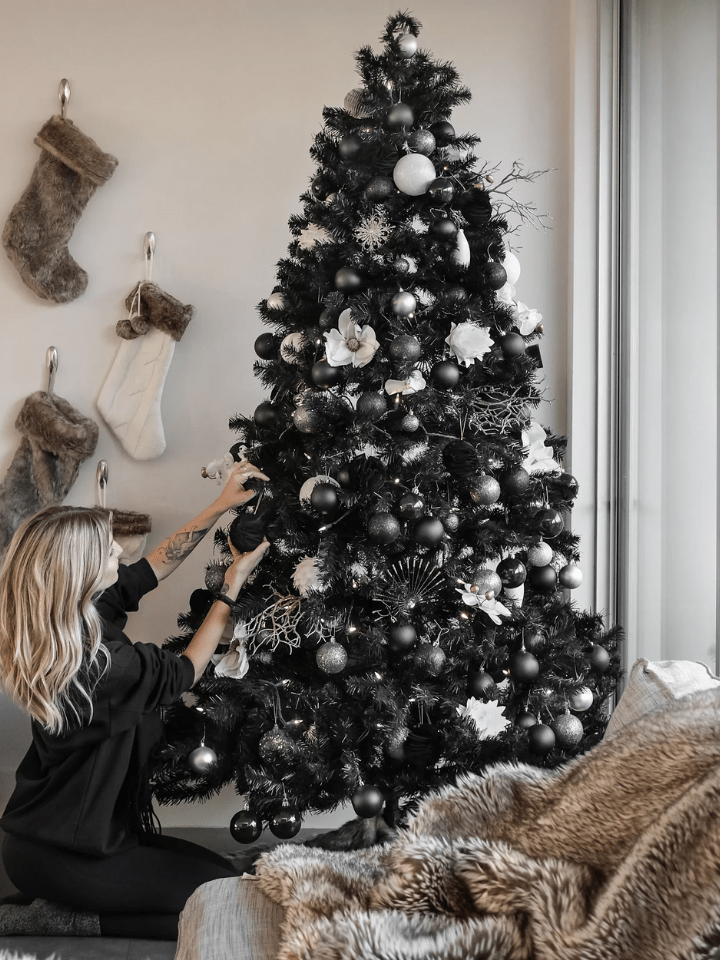 29. Red Christmas tree decorations
Red Christmas tree decor ideas are best suited for people who prefer to make a focal point in their home by using vibrant colors. When wrapping Christmas tree red decorations, call the atmosphere with a solid and striped ribbon to give it a greater appearance. It will appear like a giant present for everyone who enters your house. As a result, red Christmas tree decor ideas will perfectly provide a joyful environment on any occasion where it is placed.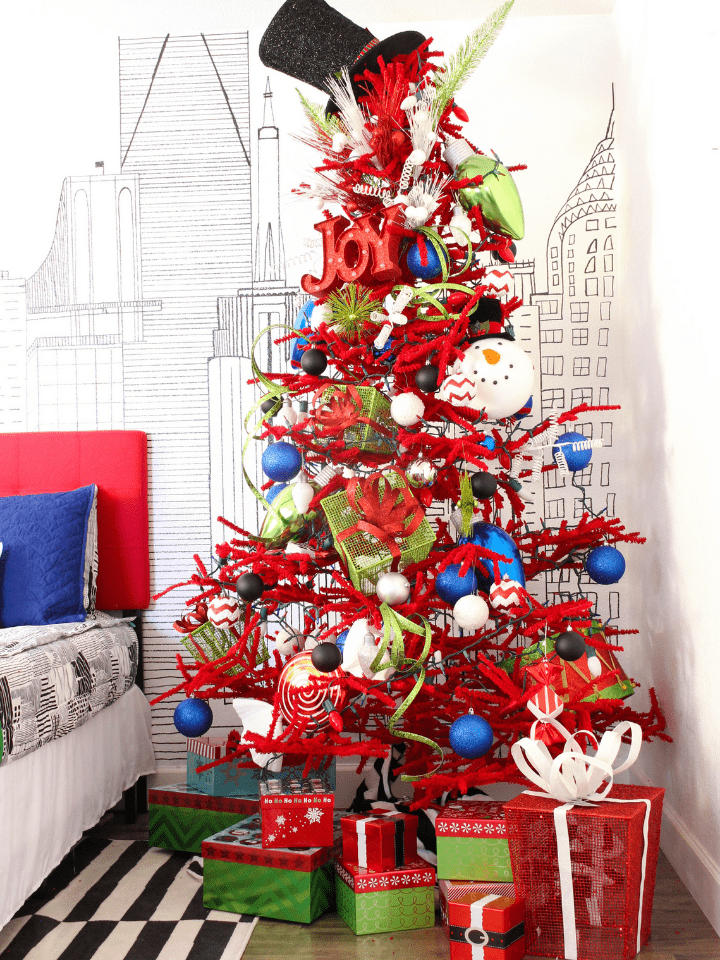 30. Red and white Christmas tree decorations
When discussing Christmas, the key colors are red, white, and green. Green depicts Jesus Christ's eternal life, much as evergreen trees remain green throughout the winter. Besides, red similarly signifies Jesus Christ's bloodshed at his crucifixion. And white, the color of snow, is always linked with the holiday season. That is why the Christmas tree decorations idea goes with red and white ornaments never go out of style.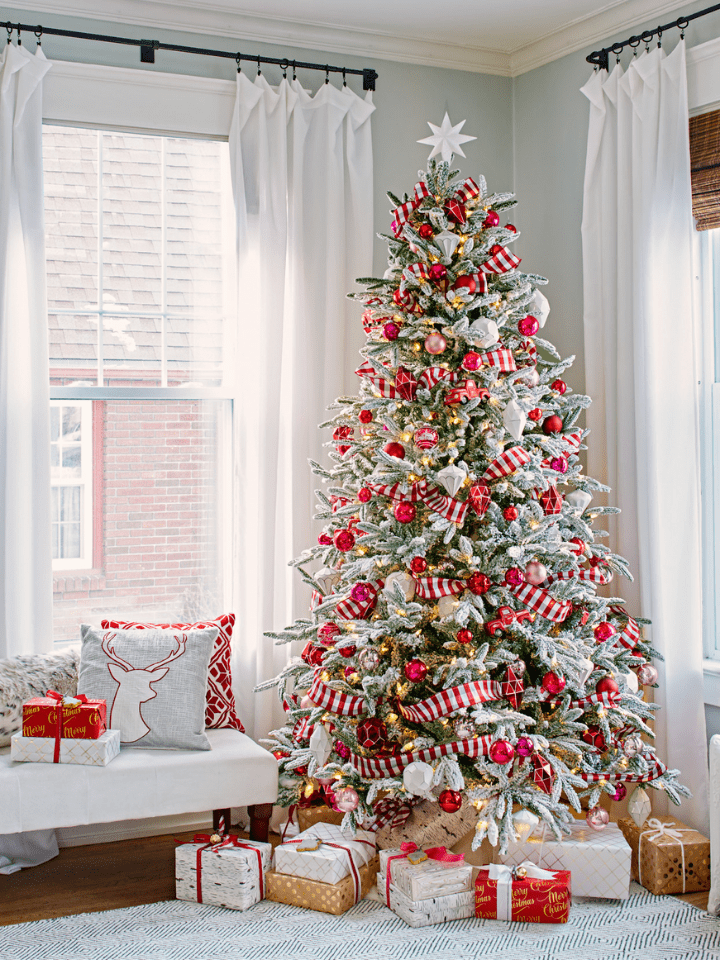 31. Gold Christmas tree decorations
Yellow is one of the most commonly used colors for farmhouse christmas decor. Golden has typically inspired a luxury sense in a setting for decades. Gold Christmas tree decor ideas are sure to provide a gorgeous glamorous touch to your living space. Once it is placed in your house, it will add a sparkling point to your interiors throughout the wintertime.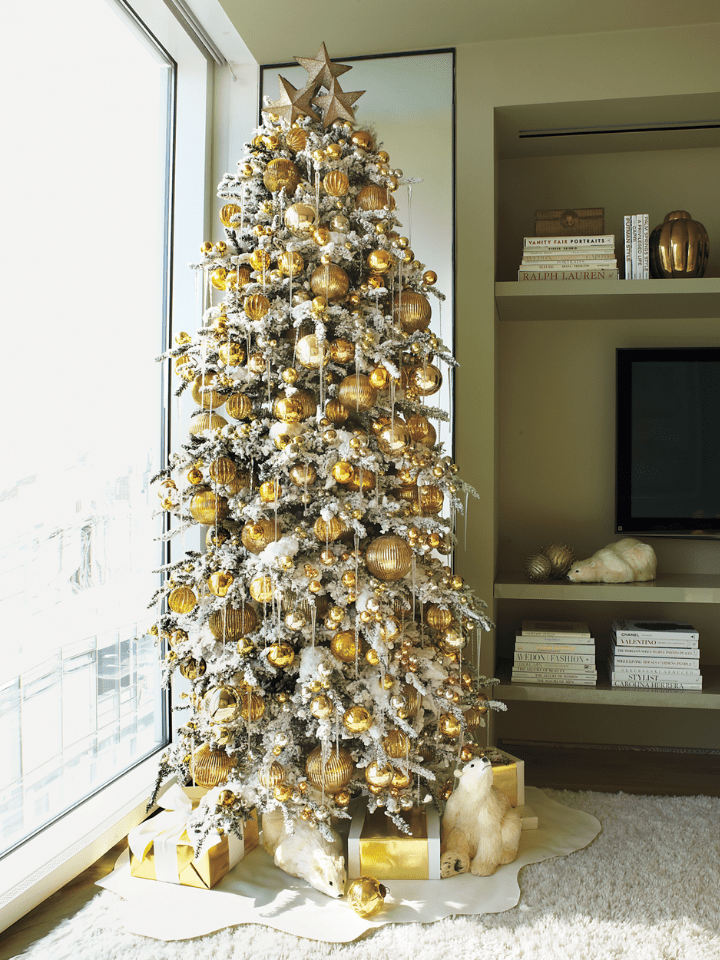 32. Red and gold Christmas tree decorations
The color theme for Christmas 2021 is brilliant in both classic and up-to-date colors. The color gold symbolizes luxury and opulence. Red and gold represent the fire on the Christmas tree, which will create the coziest atmosphere in your house. Along with the fireplace, red and gold Christmas tree decor ideas may help you bond with your family members happily.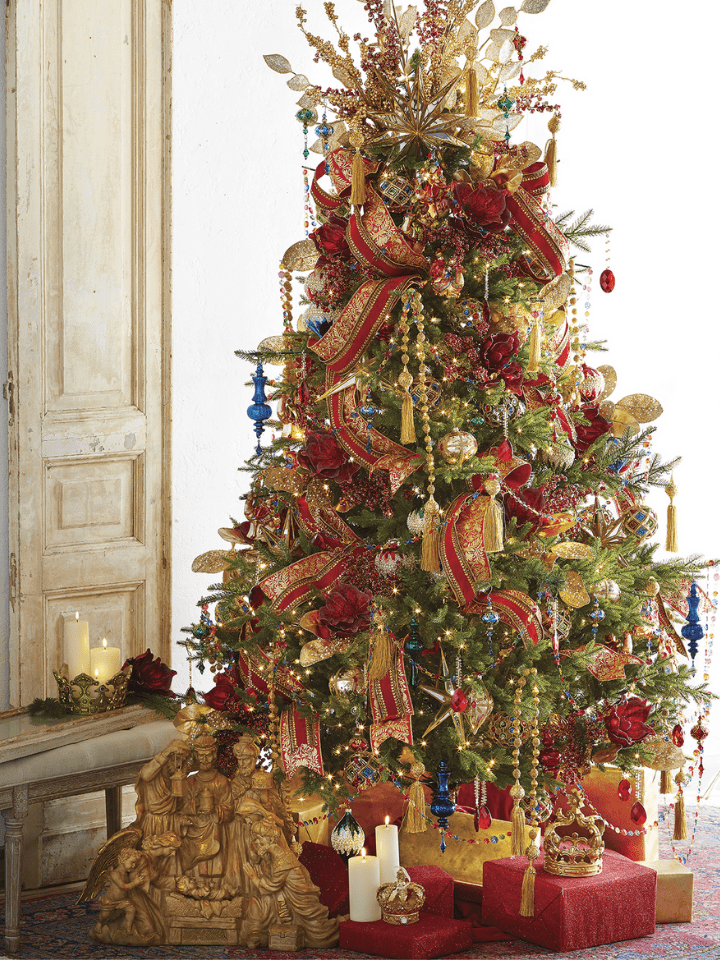 33. Pink Christmas tree decorations
If you have a great affinity for pink as a favorite, you are likely someone who is kind, compassionate, and sensual. Those who are drawn to the color pink are believed to have idealistic ideals because of their romantic outlook on life.
Cover the Christmas tree in pink decorations for a girly touch in the house. Pink Christmas tree decor ideas are frequently inspired by feelings of love and friendship. Pink trees, with this in mind, may also represent beautiful embellishments to your anniversary occasion throughout the year.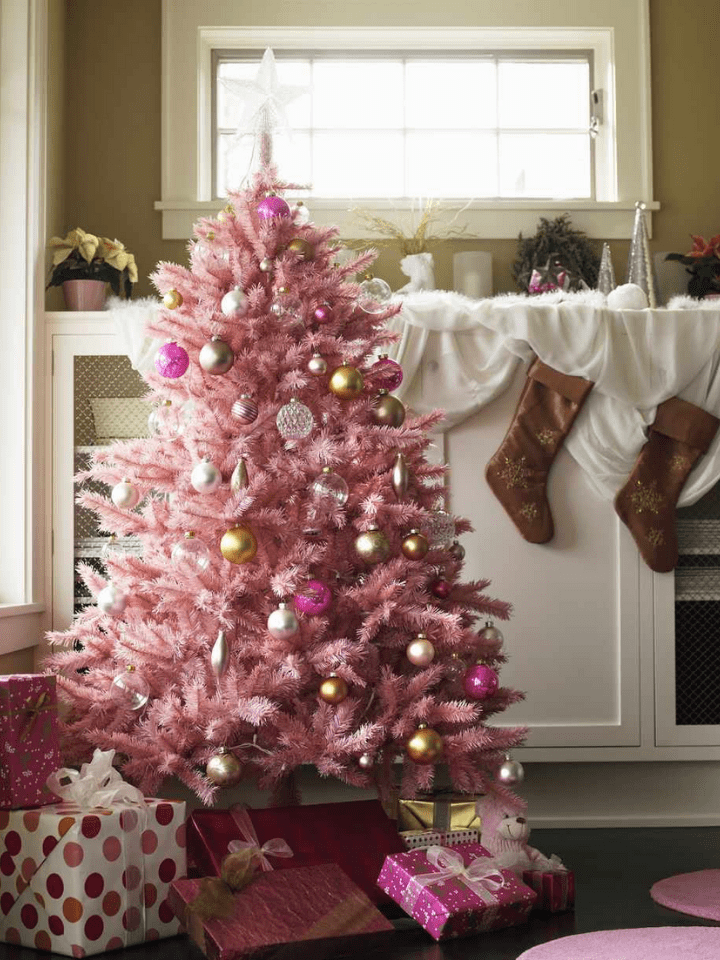 34. Rose gold Christmas tree decorations
Gold Christmas tree decorations ideas best in warm and balanced tones like red or pink. This combination is so delicate that you can definitely embrace it with ornaments like flowers, ribbons, lights, and socks, etc to really emphasize the colors and textures used. The rose color tone will make your home space more similar to the farmhouse christmas decor style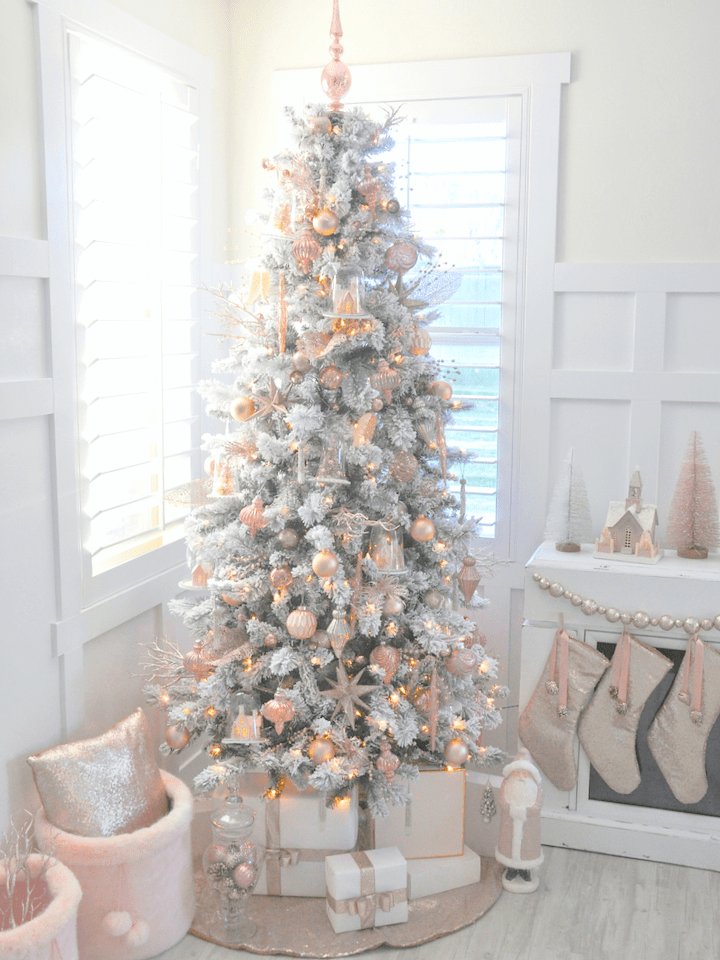 35. Purple Christmas tree decorations ideas
Purple is a soothing and pleasant hue for your personality, and it gives you an air of quiet dignity. It's because of the charming and appealing vibe that people are attracted to the purple thing. Creative thinking and dealing effectively with hardship are hallmarks of those who love this charming color.
Like the pink one, purple is associated with royalty, nobility, luxury, power, and ambition. You can get yourself a whole Christmas tree in purple shade or incorporate the color through decorations or other ways.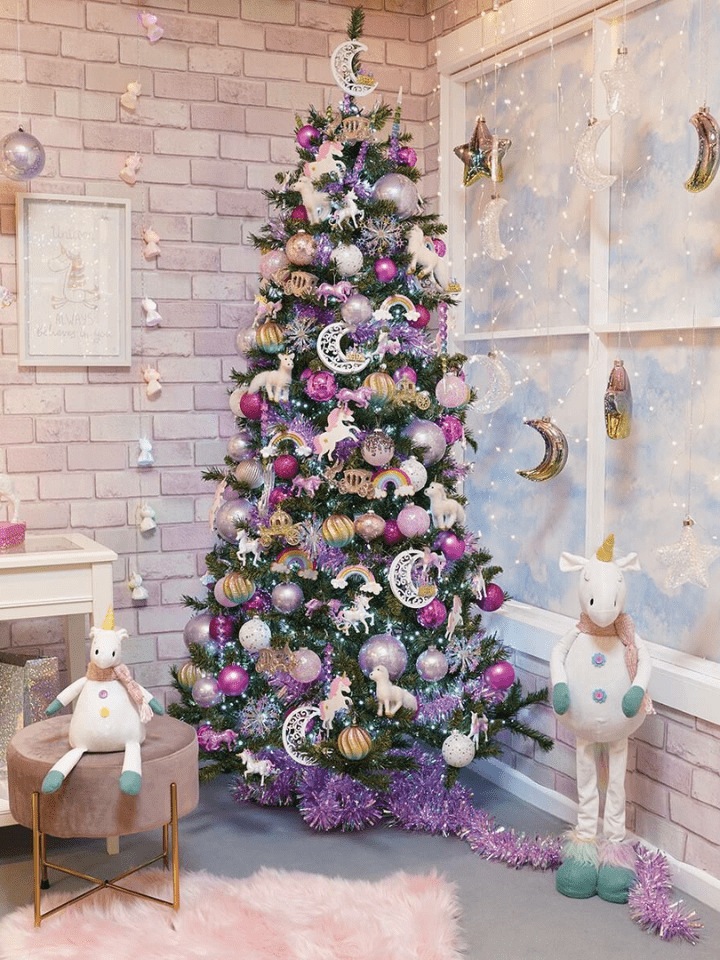 36. Blue Christmas tree decorations
Blue is a peaceful and relaxing tone that indicates intelligence and integrity. In both the sky and the sea, the color blue symbolizes openness, freedom, intuition, creativity, and inspiration. Moreover, blue is calming and soothing as well. It is said that if someone loves blue, it means that they care and want to contribute to everything they are a part of. That's how blue is favored while choosing a Christmas tree color.
In addition, dressing the Christmas tree in blue adds a coastal feel to the apartment. As a consequence, the blue Christmas tree decor idea is ideal for those who appreciate the beach and tranquility.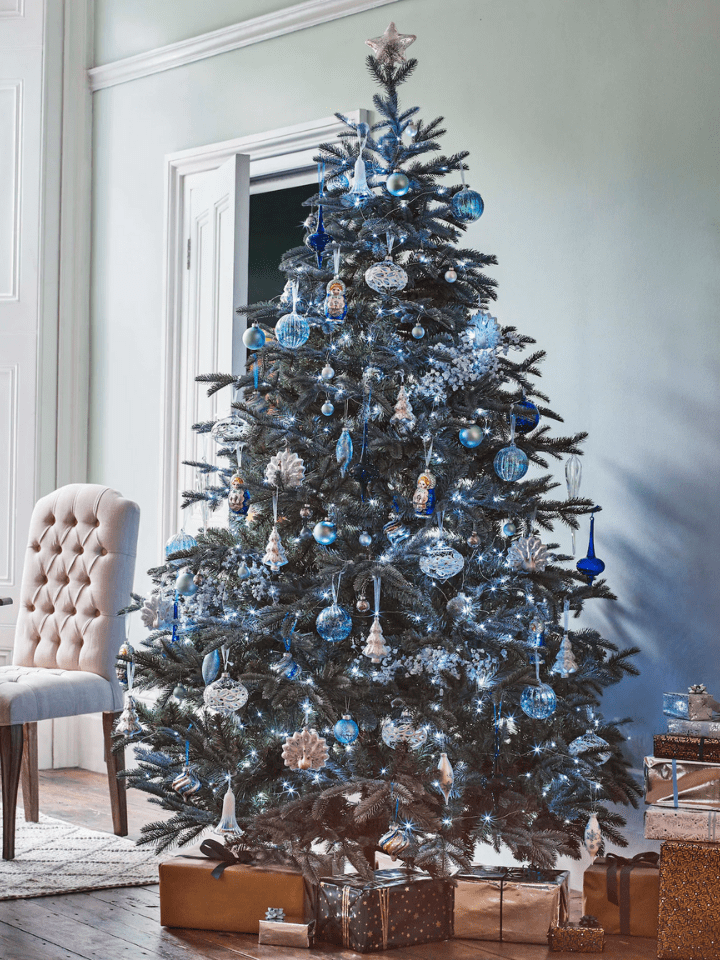 37. Green Christmas tree decorations
Grass, plants, and trees are all connected with the color green, making it a global symbol of nature. The hue of spring and rebirth also symbolizes development and rejuvenation. Thus, the green Christmas tree decorations idea is typical holiday house decor that never goes out of style. You may embellish it with little toys, gifts, paper ornaments, wind chimes, and other items. Having a green tree in your house has a calming effect on the mind and body.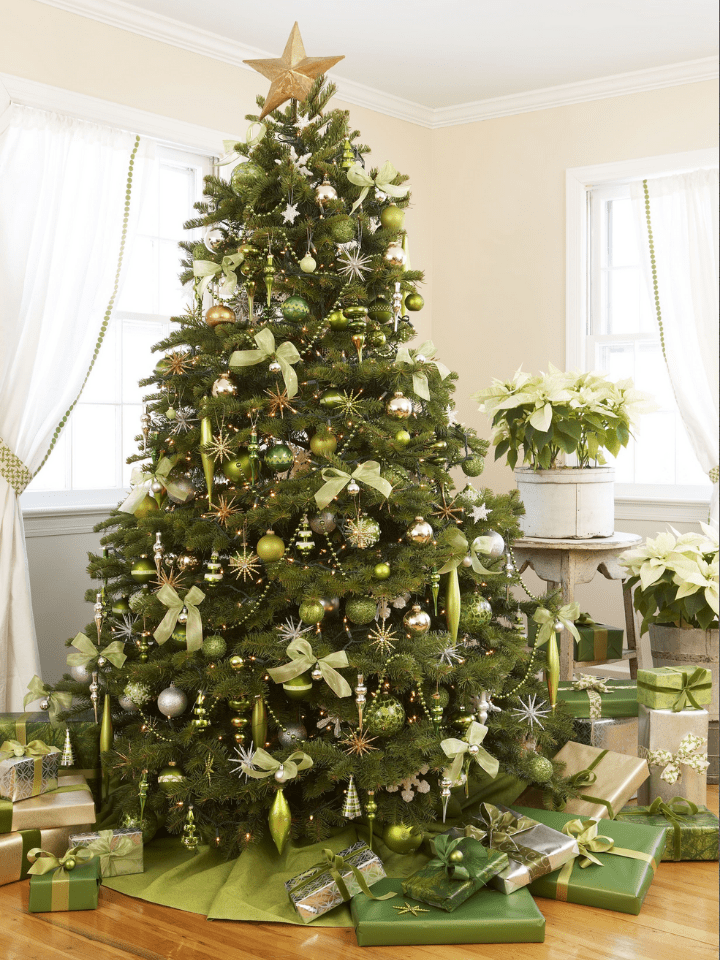 38. Silver Christmas tree decorations
For centuries, silver has been considered a mirror to the soul, allowing us to better understand ourselves and our place in the world. Silver, like gold, is typically associated with wealth and prosperity. As the color of a gemstone, silver symbolizes hope, unconditional love, and meditation.
Dressing the Christmas tree in silver is another method to get a luxurious but elegant touch. Silver Christmas tree decor ideas may also be used to describe the winter season in terms of the color of snow. Besides, if you want to go more glinting, layer on the metallic tones.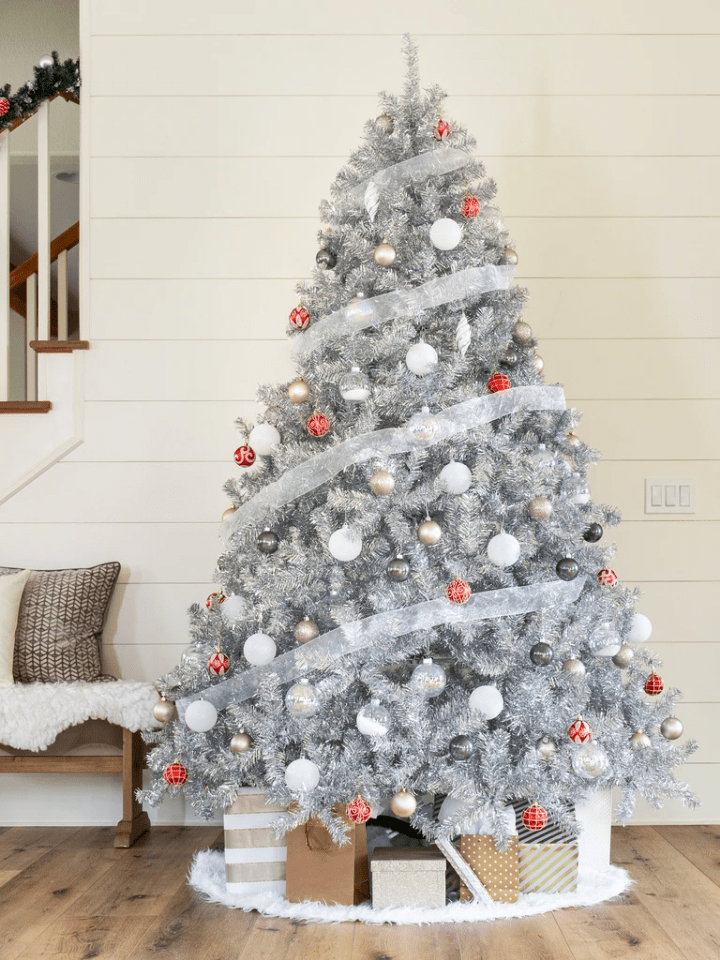 39. Dollar tree Christmas decorations
In case you love having a unique item for Christmas, we suggest considering the dollar tree Christmas decor idea. You can hang money decorations on the tree as accessories or put money in the red socks to attract people. With dollar tree Christmas decorations, you can surprise your loved ones by giving one as a Xmas present.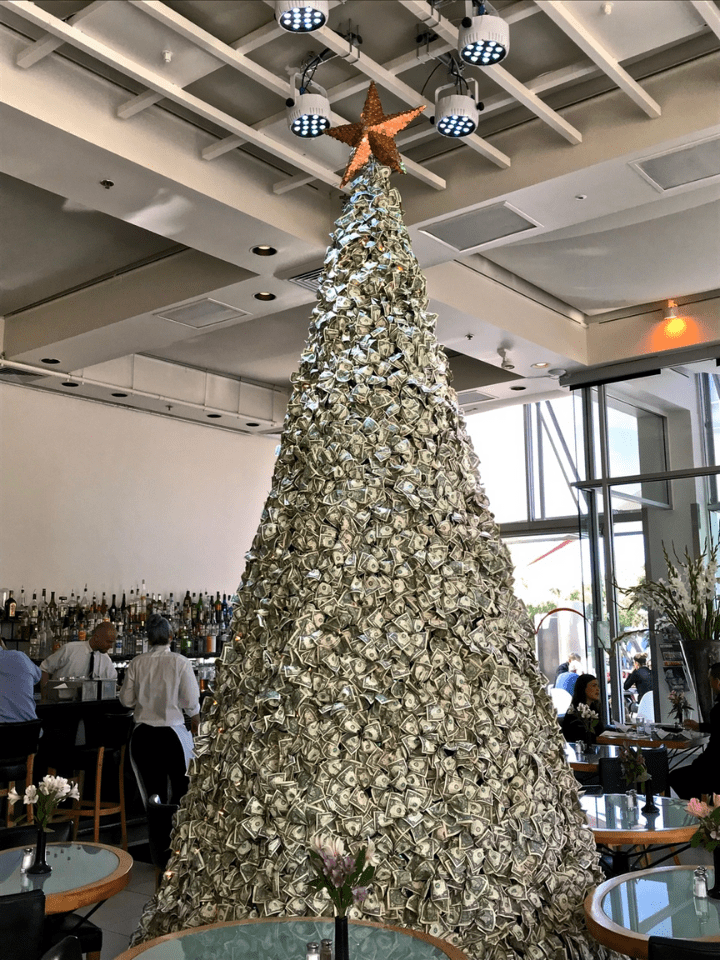 40. Mini Christmas tree decorations
Small Christmas tree decoration is the sweetest method to dress up the house. Because of the size of it, the mini Christmas tree enchants people in a lovely way. Small Christmas trees are worth your home, regardless of your vision or home decor style.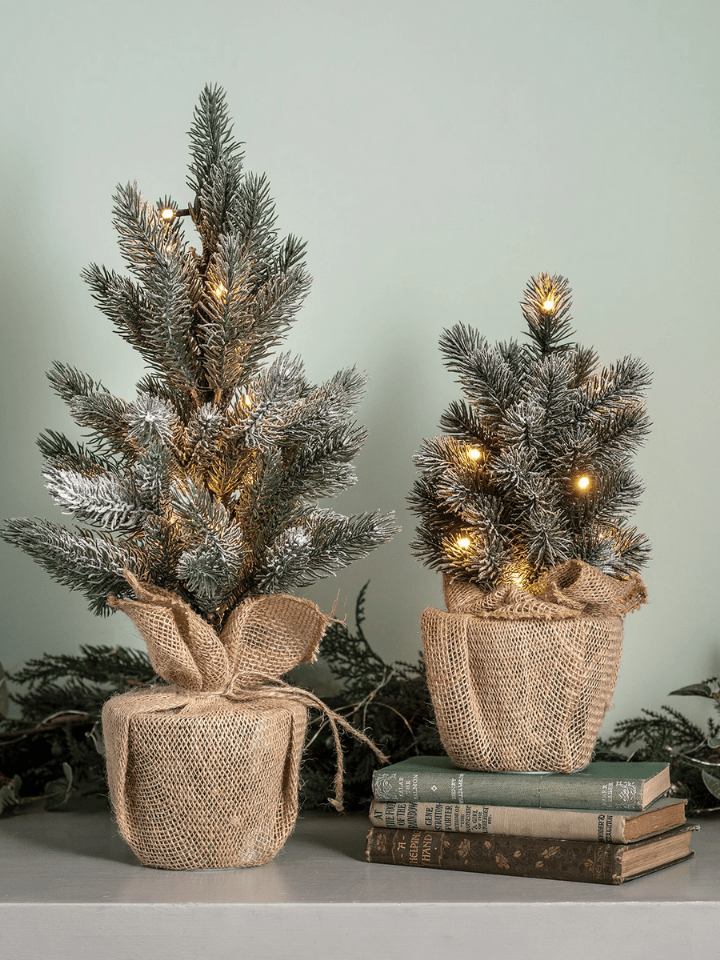 41. Wooden Christmas tree decorations
Wooden Christmas tree decor ideas are suitable for displaying in the home as a house accent. They may be displayed on a colorful tray or hung on the wall. Aside from the vivid and twinkling ambiance generated by the Christmas spirit, the wooden tree balances the tone with a neutral hue.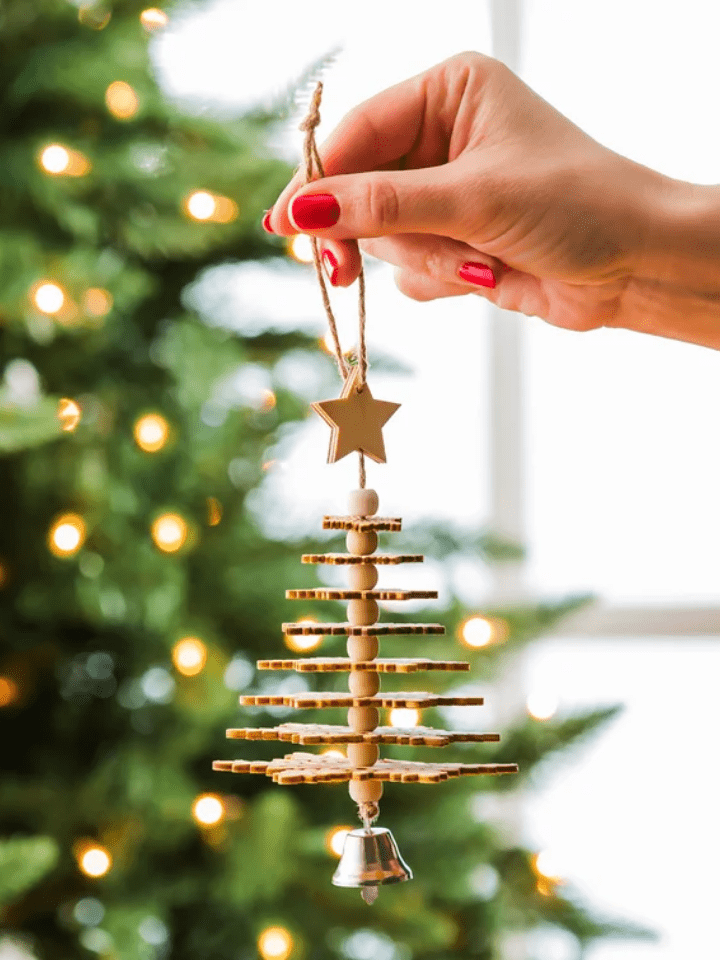 42. Rustic Christmas tree decor ideas
If you have a place that is designed with fresh whites and natural textures, consider the rustic Christmas tree decor idea. A rustic tree may be combined with classic elements such as red balls, a gorgeous rattan star topper, and plaid decorations. Pine cones and cotton pieces, as well as natural components such as a dried citrus garland, look great on it.
43. Simple Christmas tree decorations
Simple Christmas tree decorations ideas offer a traditional and timeless touch to your home. It is frequently used with white and red candies, balls, yellow stars, and brightly colored presents. Choose things with gentle tones for the greatest appeal when it comes to farmhouse décor.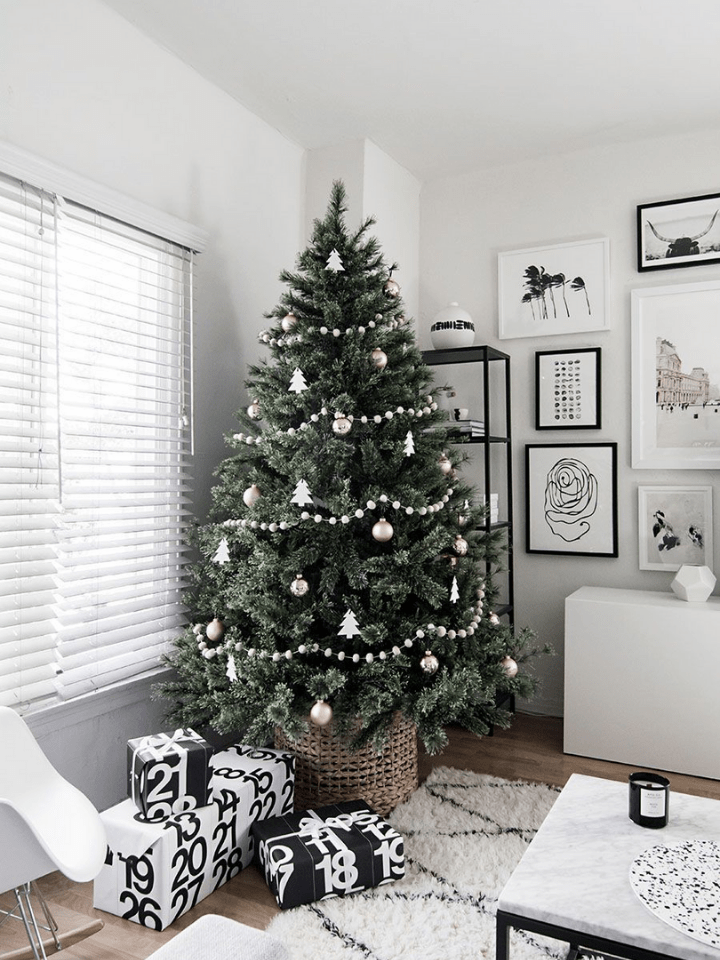 Read more:
2. 25+ Outdoor Farmhouse Christmas Decor Ideas You Might Love
We have come up with the following 20 intriguing ideas to help you decrease the time it takes to prepare for outdoor Christmas decor. Although we have carefully picked these concepts, I am confident that you may design your own styles. Make this Christmas the most meaningful one yet.
2.1. 10 Outdoor Christmas Decor Styles for Your Home
44. Lighting the house's exterior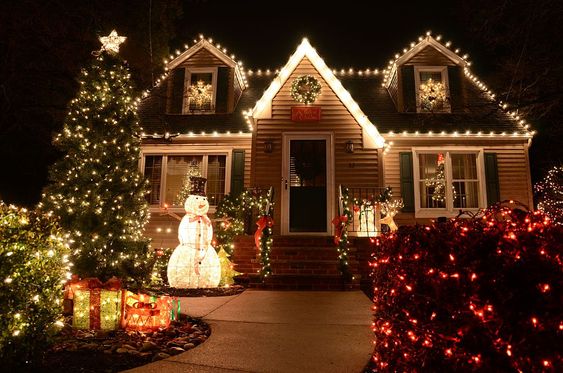 First impressions are always formed by the most intuitive of eyes. The stars began to twinkle in the sky, and the full moon emerged like a lovely fairy spreading light over the planet. By the dazzling yellow lights, a shimmering and stunning mansion is hidden somewhere in that tranquil place. Christmas Eve is bright and oddly cheerful. Isn't it more lovely to have outdoor Christmas decor for your home?
45. Utilize Florist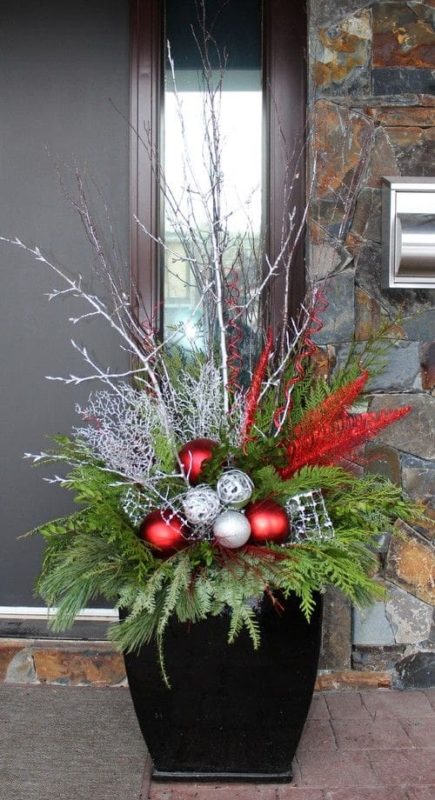 Flowers represent distinct beauty all across the world. Plant pots or flower pots are always selected for usage as home décor, party decor, or as a memorable present. Outdoor Christmas decor is no exception; we may enhance the space outside our home with a planter or flower pot. And it would be much more spectacular if it was made of ivy leaves, which is a Christmas emblem, wouldn't it?
46. Cover All of Your Aspects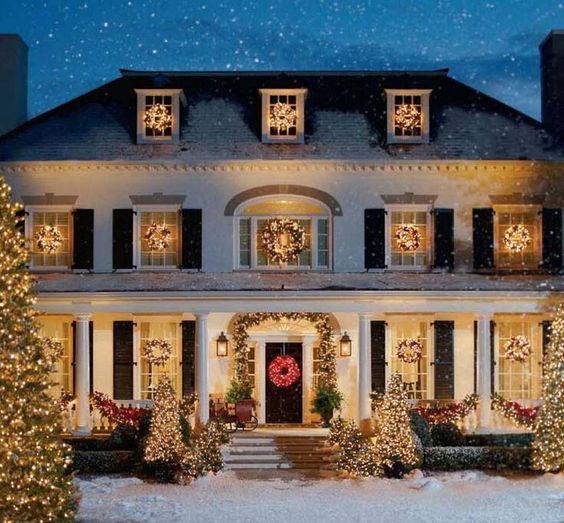 How do you avoid your Christmas decorations from becoming empty if your house has a lot of windows or a big garden? It's quite simple. Cover them with wreaths. It not only makes the home more gleaming and beautiful, but it also demonstrates God's eternal and unending love.
47. Wonderland in the Winter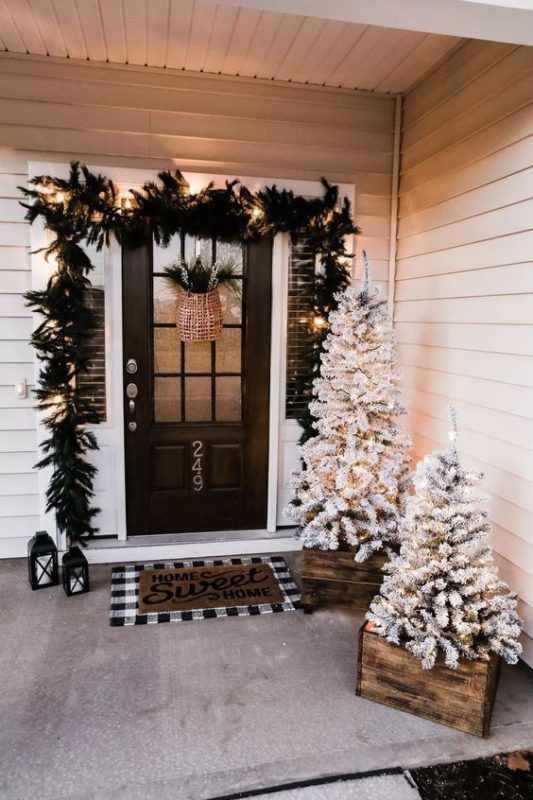 I know that many of us like the winter season. I enjoy the biting cold and the white snowflakes that blanket the sky. Because winter has a peculiar and hidden beauty, and the cold brings people together. This is also an excellent idea for your outdoor Christmas decor. With snow-covered pine trees, you may transform your front yard into a winter wonderland. Just as shades of white-blue opposition take us into a magnificent primeval forest.
48. Bring Outside Christmas Presents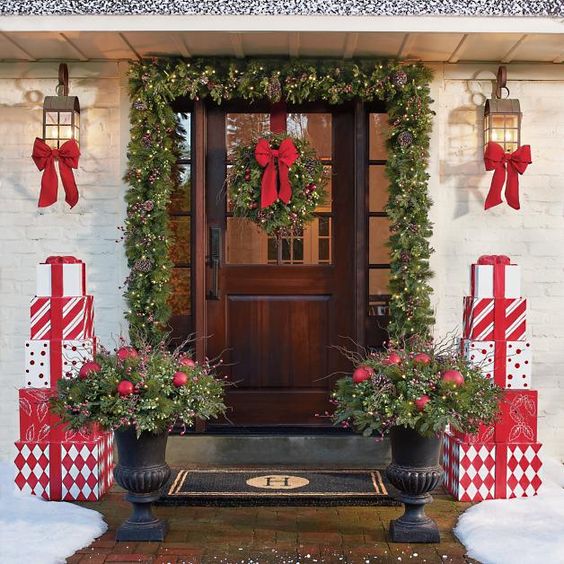 Bringing lovely present boxes outside the home to decorate for Christmas is a good idea. Red and white gift boxes are always appreciated in every Christmas environment on the planet. Each present embodies honesty, loving sentiments, and a wish for everyone's happiness. If you include them in your outdoor Christmas decor, you will leave a lasting impression on your valued guests.
49. The joyous porch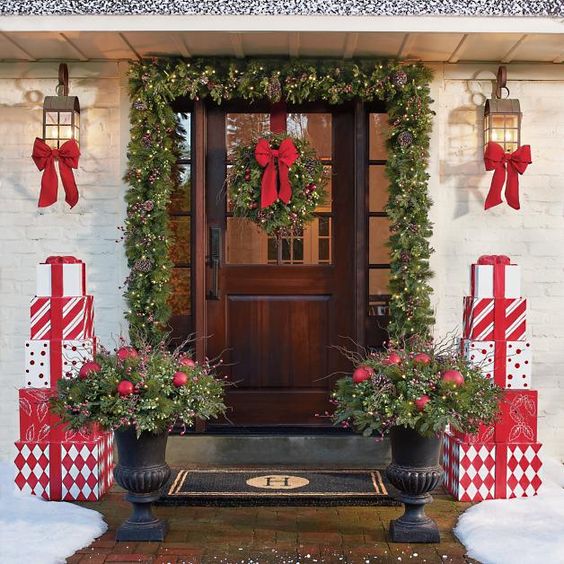 Christmas arrives with incredible zeal and pleasure. It is the expectation, hope, and desire to see family and friends. Bring that outdoor Christmas decor and you'll have a great Christmas image at first sight for your home. Harper, Graphic Holiday Ribbon to fit and light in front of Madison Cordless Greenery to frame it are top cons. A gleaming white woodland deer as little as a touch?
50. Greetings from the outside porch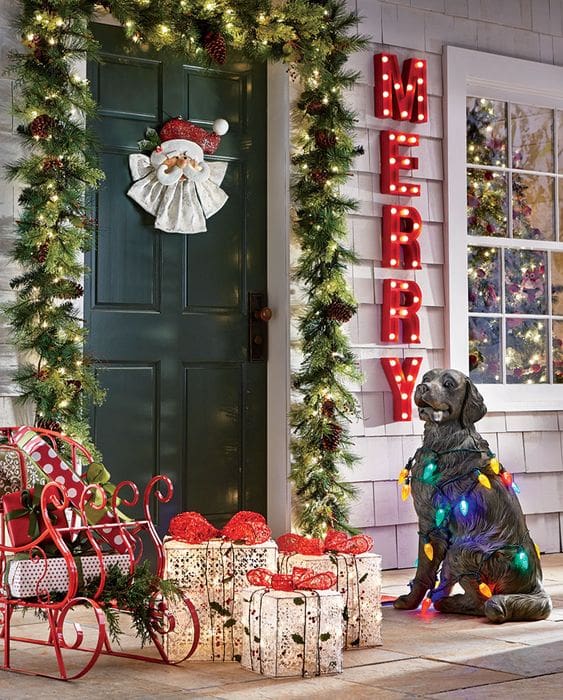 Giving guests a welcoming impression from the start will be a primary emphasis in outdoor Christmas décor. Bring the spirit of Christmas to your porch decorations with the ideal ivy, complete with gifts that can be placed wherever, and a lovely dog.
51. Simply spoken, yet charming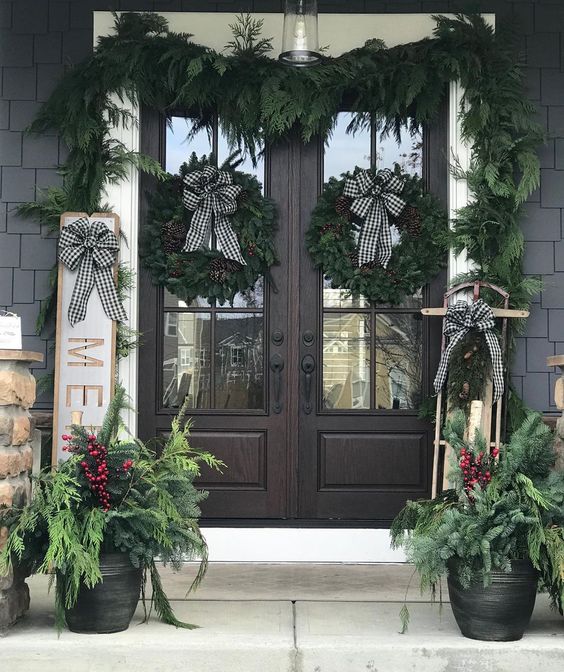 Simple, yet extremely natural and relaxing. The green tint of the trees always conveys vigor and optimism for the future. So why not use it to adorn the outside of your home for Christmas? There is no color, no glimmer of light, but it is still incredibly lovely and wonderful. When combined with the gorgeous bows, you have the ideal outdoor Christmas decor.
52. Colorful outdoor home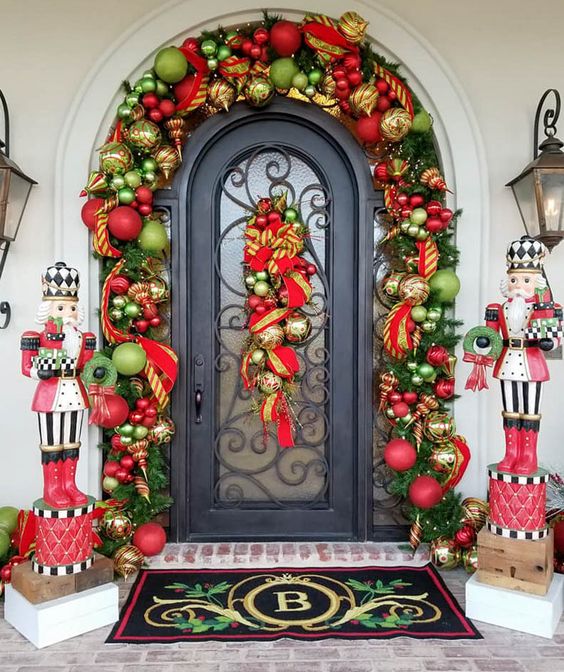 Consider this option if you want the space outside your home to be eye-catching and appealing even throughout the day. From the ball to the ribbon, the ideal blend of the key hues for the Christmas season: green, red, yellow… Everything appears to be a jumble, yet it does look oddly suited, doesn't it?
53. Fall outdoor Christmas decor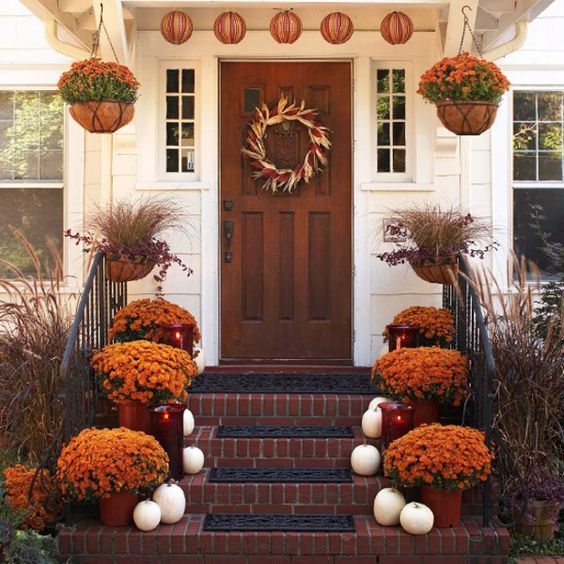 This design, I believe, will appeal to individuals who value warmth and peace. A home with autumn breath appeared amid the bone-chilling cold at the end of the year. From flower pots to laurel wreaths, the warm color, as if to remove all the cold, is ideal for the Christmas season. It may appear ridiculous, but it demonstrates a loving heart during the Christmas season of 2021. Isn't it a lovely outdoor Christmas decor idea?
2.2. 10 Outdoor Christmas decor with lights
54. A warm fireplace illuminates the room.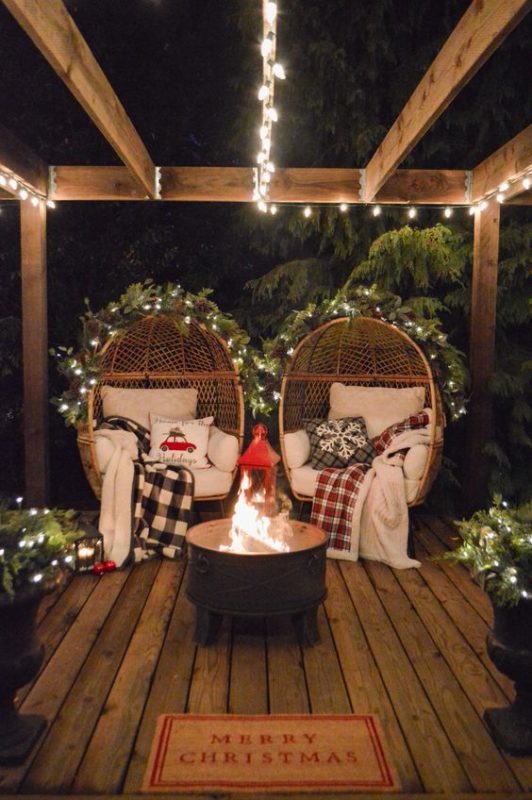 I love it, really love it. This, you see, must be an idea for decorating an outdoor Christmas decor with the most beautiful lights. A cozy and charming setting for Christmas Eve tales. What could be better than a glass of wine in hand, gathering around the fire and the laughing that lights up a little part of the courtyard on Christmas Eve?
55. Impression of a white lantern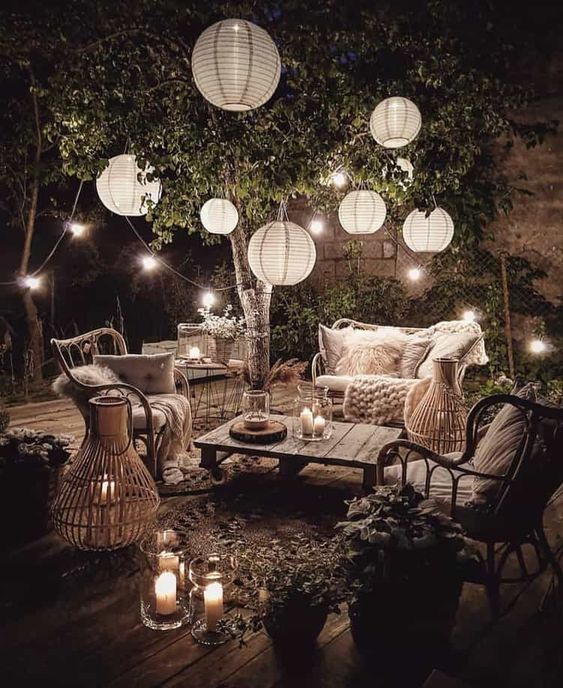 These lights take on a distinct hue when used to decorate for Christmas outside. It's no longer cozy; instead, it transports us to a more wonderful storybook realm. Do you recall the white queen from Alice in Wonderland? I'm confident that this concept will assist you in feeling as if you were living in that ideal beauty in real life.
56. Set of Snowflakes Lighting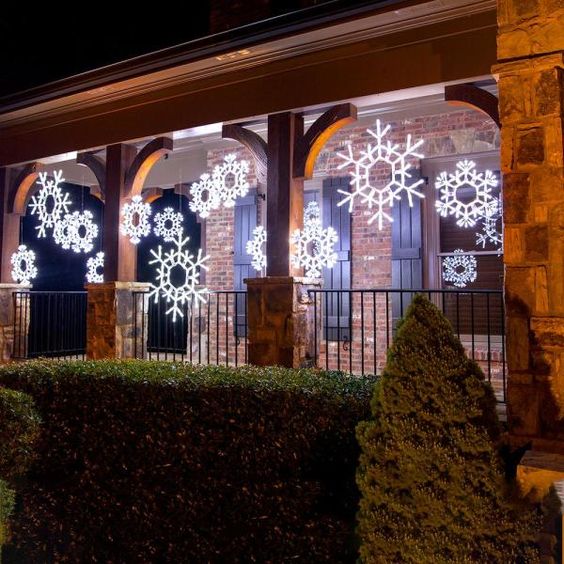 Snow blossoms are as lovely as an angel's smile as they fall from the sky. The snowflakes are intense as it flies a long distance to land. When it touches the ground, however, it rapidly melts. Snow flowers are lovely and make people happy when they see them.
It's a funny idea to use pretty snowflake lights for outdoor Christmas decor. It not only illuminates a dark winter night, but also provides faith, joy, and hope for the future.
57. Simple icicle lights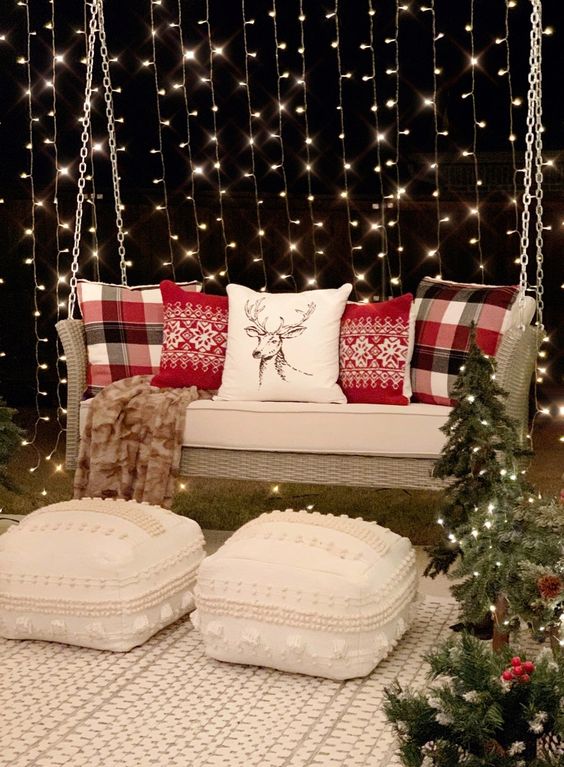 The ice-shaped lights are modest, but they make a charming outdoor Christmas decor. Make an additional swing by filling it with soft cushions with Christmas patterns. On a quiet Christmas Day, a lovely white carpet offers a gathering place for family and friends.
58. Christmas lights with stars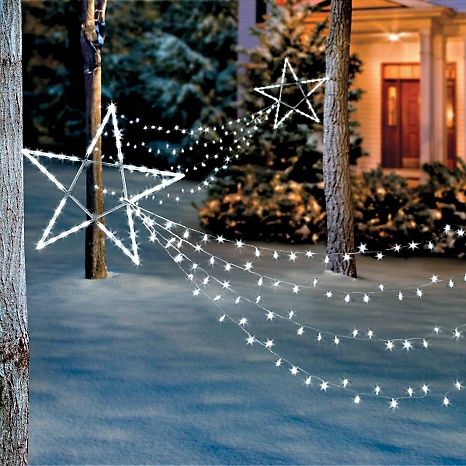 The Christmas star has a very special meaning. Believers believe that the star's brightness will dispel the gloom of the chilly winter night, ushering in a warm and joyful new spring for all species. Decorating for Christmas outside with shimmering star lights not only provides a wonderful beauty, but it also has a symbolic significance of God's promise from the previous years.
59. Pathway Lights Made of Candy Canes for Christmas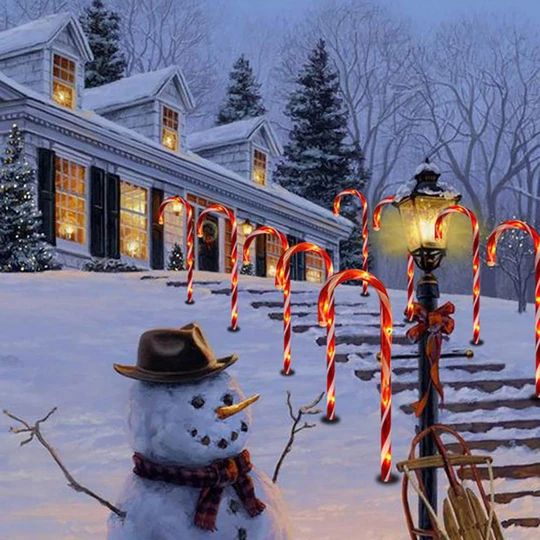 The candy stick represents Jesus' love and sacrifice. We all believe that candy is only for eating and enjoying, don't we? However, candy can also be utilized as an outdoor Christmas decor. Candy-shaped lights will illuminate your front door with the faith and light that Jesus brought to the world.
60. Firework Outdoor Christmas lights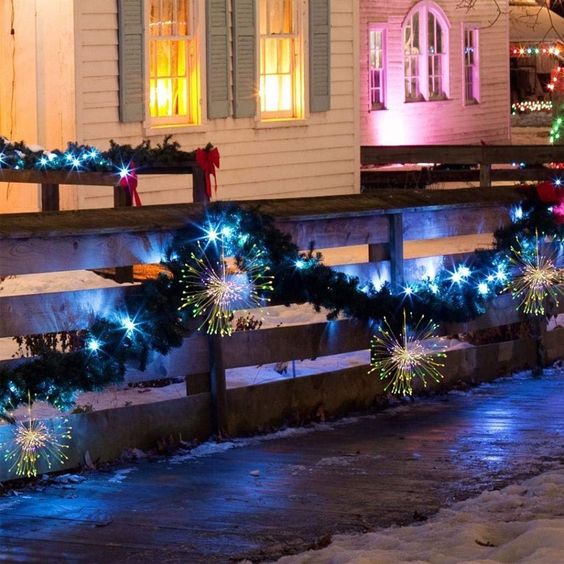 Christmas is more than just a date that marks the conclusion of an old year. It is also the beginning of a fresh chapter, a cheerful new year. These firework lights represent a bright, fortunate, and joyful start to the new year.
61. Pre-Lit 4-foot Christmas Lamp Post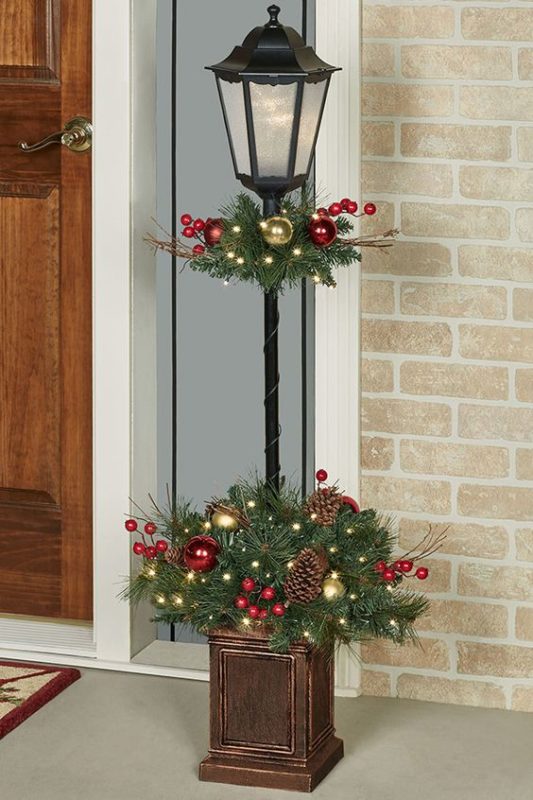 The 4-foot Pre-Lit Christmas Lamp Post appears simple but opulent and lovely. You may use it without needing to buy anything else for the fee. Simply adorning it with ivy leaves, colorful balls, or a few little pines is enough to give it a Christmas feel. Isn't it an outdoor Christmas decor idea with the most basic lights?
62. String Lights with Christmas Bells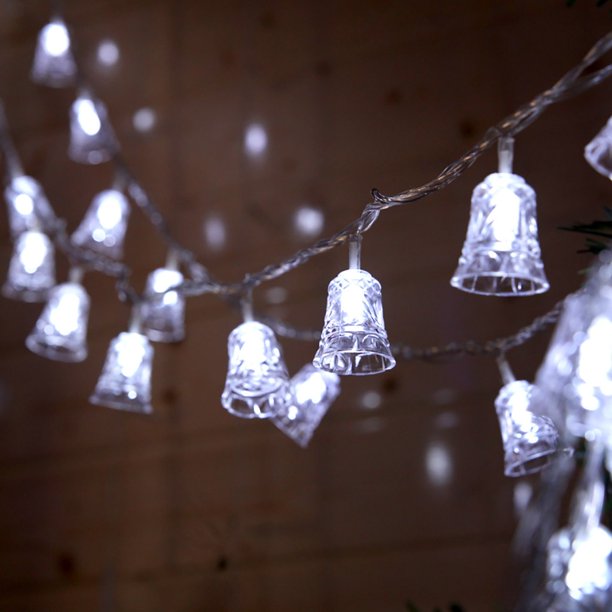 Have you heard the church bells ring? The ringing of the bell also represents the direction and reminds us that we are all valued in God's eyes. The gleaming silver bell lights will enliven the space outside your home.
63. Outdoor String Lights Christmas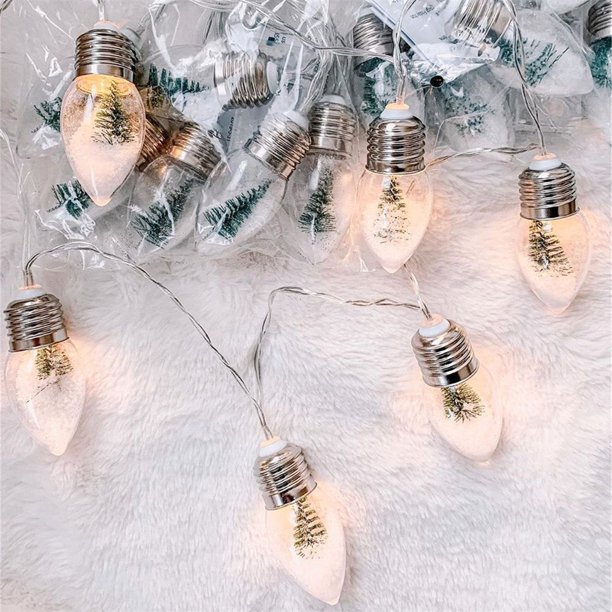 Surely these Christmas lights are one of the most beautiful. Use it to decorate your home's outdoor Christmas look more fairytale and vintage. The Christmas space with white snow and Christmas trees seems to be shrunk in just a pretty lamp. It's a great decoration for Christmas Day.
2.3. 8 Large Nutcracker Outdoor For Decorating Christmas
64. Giant Christmas Inflatables Nutcrackers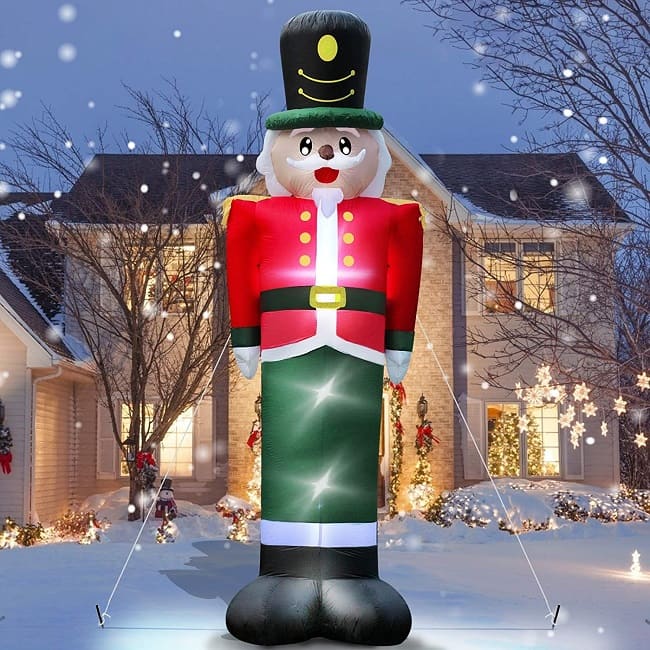 The thicker waterproof nylon used in the construction of the outdoor yard Christmas decorations is environmentally friendly. This nutcracker soldier is a work of art. Can be utilized to decorate an outside yard, garden, or lawn, as well as a party! The bottom pocket is intended to hold a substantial item.
65. Christmas Inflatable Nutcracker Soldier
The illuminated Christmas soldier creates an eye-catching outdoor lawn ornament for your family, visitors and is an excellent choice for festively adorning homes, workplaces, yards… At night, this beautiful inflatable decoration with LED lights will illuminate your yard and dazzle your guests.
66. Christmas Bowler Soldier Nutcracker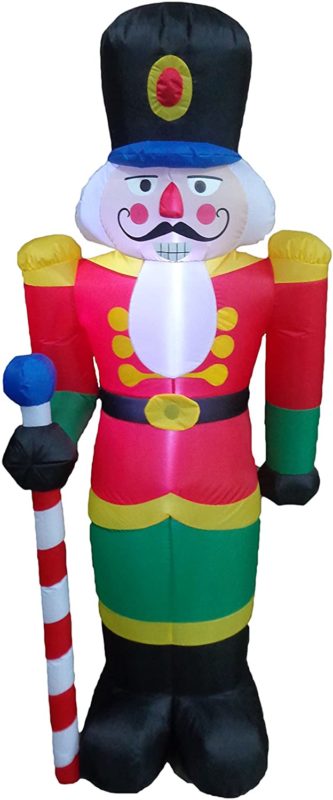 This inflatable Christmas decoration is illuminated on the inside. When you return home, you might notice a charming Bowler Soldier smiling and paying honor to you. The inflatable yard ornament is ideal for outdoor Christmas decor, allowing you to have a fantastic Christmas party.
67. Wooden Nutcracker Soldier

Hand-painted, consistent color, vibrant, and long-lasting. The full image of the nutcracker soldier is lovely and inventive. The classic nutcracker doll is used as home décor, collectibles, and Christmas decorations, as well as party favors, contributing significantly to the ambiance during Christmas and theme parties.
68. Nutcracker Ballet Trumpeting
When you and your visitors snap a photo selfie with enormous Christmas outdoor decor sculptures, these Christmas soldiers will declare that it is Holiday Time. This outdoor holiday nutcracker statue is ideal for holiday homes, outdoor Christmas decorations, or store displays of Christmas decor.
69. Giant Inflatable Nutcracker
The Nutcracker is dressed in typical nutcracker garb and carries a candy cane scepter. This Holiday Greeting is visible throughout the day and night thanks to the LED lights.
70. Exhart Nutcracker King Soldier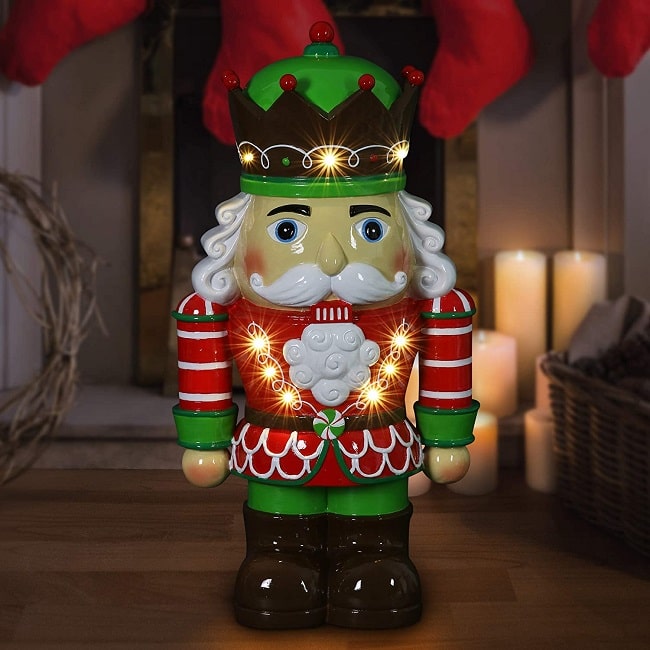 This outdoor Christmas decor nutcracker is a great addition to any holiday décor! This LED décor nutcracker figurine is hand-painted and manufactured of weather-resistant resin. This nutcracker Christmas decoration may be used inside or outdoors at any time of year.
71. Nutcracker Christmas Soldier

This illuminated ornament is a lovely way to infuse your outdoor Christmas décor with a bit of seasonal whimsy! That is correct! This nutcracker statue is one of the most thoughtful presents you can give a loved one, and it is certain to put your family or friends in the holiday spirit.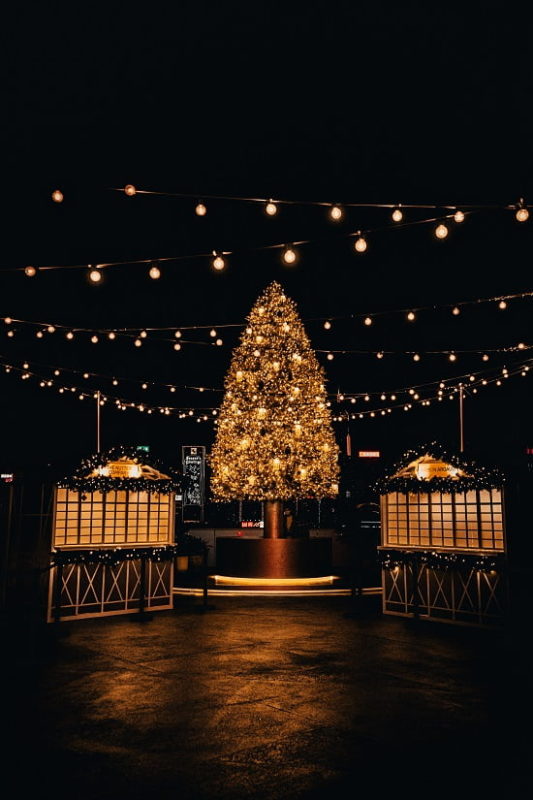 By applying these tips for farmhouse Christmas decor, we believe that you'll have the warmest holiday to celebrate with your family and friends. In case you're thinking of vintage canvas artwork for your living space, visit Oh Canvas site for the most rustic and stunning pieces. We have a wide range of Christmas farmhouse canvases that are able to add festive touches to your house. Our prints are also excellent Christmas gifts for your family, relatives, colleagues, and more. Don't hesitate and start the home transformation now!
Read more: