With the rapid pace of the growing trend towards urbanization, people have a tendency to find styles that come back to the 60s of the last century. Decorators again turned their attention to the rustic style for the house, called farmhouse. So let explain with Oh Canvas what is farmhouse style, what types of the farmhouse are, and how to get that into your house!
1. What is Farmhouse Style?
Farmhouse decor is a warm, relaxing, and cozy style for your home. In particular, one of the most noticeable characteristics of this particular design is its clean features and carries the breath of classic countryside. With the neutral tone as the key color of this decoration, this design is a perfect match for those who love simple things.
2. Elements for Decorating In Farmhouse Style
2.1. Neutral Color Palette
Neutral colors like gray, beige, taupe, and white are used in most modern farmhouse-style homes to make them look like they were built in the 1800s. Some colors may be used, but most of the time they are soft colors like sage, aqua, or yellow. Every now and then, someone will add a lot of color, like teal or red.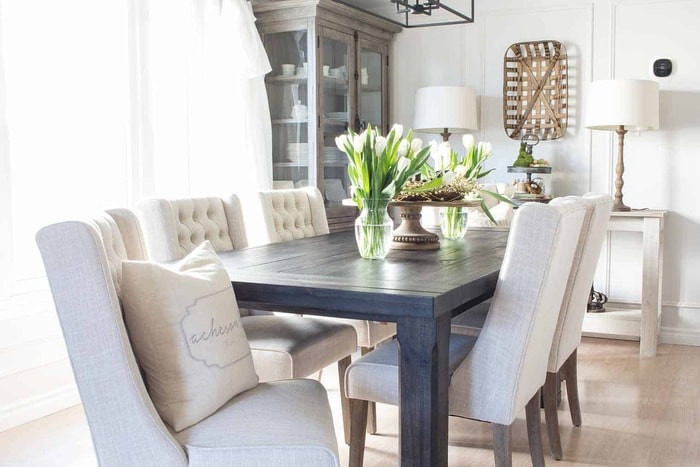 2.2. Texture – Signature for Farmhouse Style
In any style, textures are very important to keep a space from looking flat and boring when it's all the same color. This style is known for its chunky knits, linen, grain sacks, and more. Multiple finishes of wood also tend to add a lot of texture to farmhouse-themed rooms.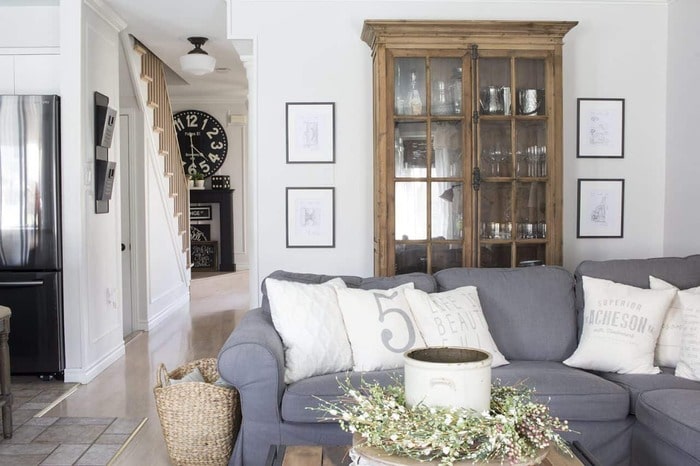 2.3. An unfinished or natural piece of wood is called a wood piece
People who decorate their homes in this style often use unfinished or stripped wood. Most of the time, this is done by having one big piece with wood that is visible, like a dining room table or a bathroom vanity.
2.4. Painted Pieces
When you have ideas for decorating in farmhouse style, you have to use things that have been passed down. If you don't like the way they look, you can paint them to match your other decor.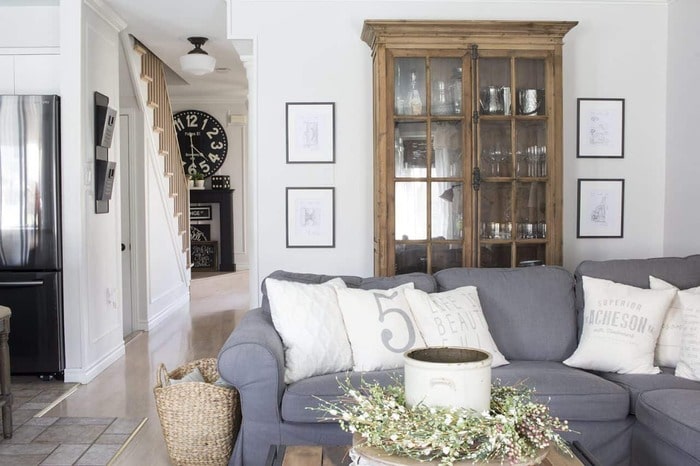 2.5. Gathering Areas that are practical and functional
Another thing that makes farmhouse-style rooms unique is that they are both practical and functional. Like open concept kitchens, big living rooms decor ideas, and so on.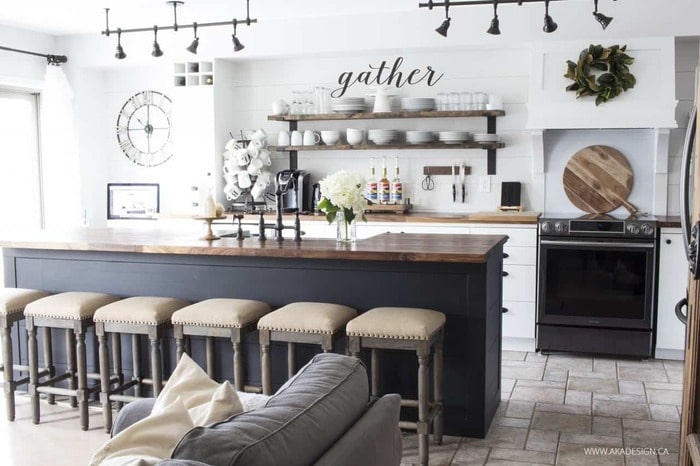 2.6. Elements of architecture
A favorite way to decorate in the farmhouse style is to use architectural elements, either those that are part of the house or that are used as pieces of decor. There are things like real or even fake exposed wood beams, corbels and pillars as well as hardwood floors, shiplap, and more.
2.7. The Apron Sinks
Of course, no farmhouse kitchen would be complete without a sink with an apron front on it. But the finishes have changed. They now come in stainless steel, acrylic, and cast iron, and they all look very different. In a kitchen with simple white shaker cabinets, apron front sinks add a lot of country charm right away. Plus, they can be used for everything from washing that huge lasagna pan to bathing the dog.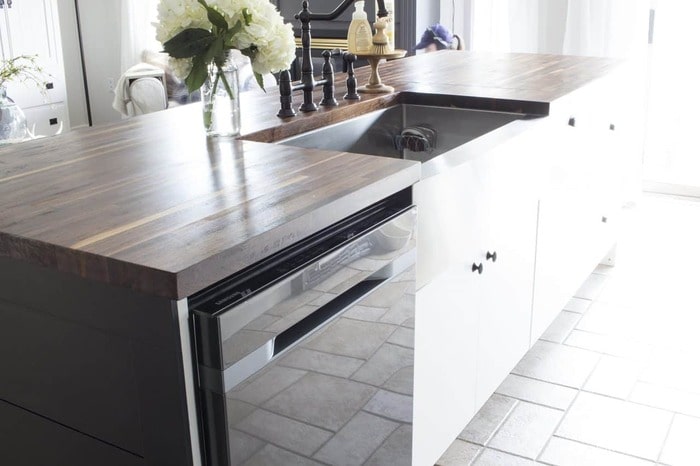 2.8. An Old Piece of Furniture
In a real farmhouse, you'd find things that had been passed down. So, if you want to make your home look like a farm, you need to have some old furniture. Don't go over the top or have a lot of old things. One or two wells will do.
2.9. Open Shelving
This tends to go well with places where people can meet in a casual way. Open shelves let your practical, everyday-use items be a part of the decor and show them off. Open shelving is very popular in farmhouse-style kitchens, but it can also be found in bathrooms, bedrooms, family rooms, and dining rooms. It can also be found over the toilet. Often, the brackets and shelves themselves are both beautiful and useful.
2.10. Shiplap or other wood wall decor would be a good idea
If you were talking about farmhouse style, you wouldn't be talking about it without talking about shiplap. According to Wikipedia, true shiplap is a type of wooden board that is used as exterior siding on homes, barns, sheds, and outbuildings. It is also a rough-sawn pine paneling that is used in barns and historic homes.
But most of us don't live in old or historic homes that have real shiplap under the drywall, so we have to make it look like it with simple horizontal planks. Several walls in our homes have been "shiplapped," including a bathroom with pine tongue and groove planks and a kitchen and laundry room with cheap plywood cut into strips. We've done this before.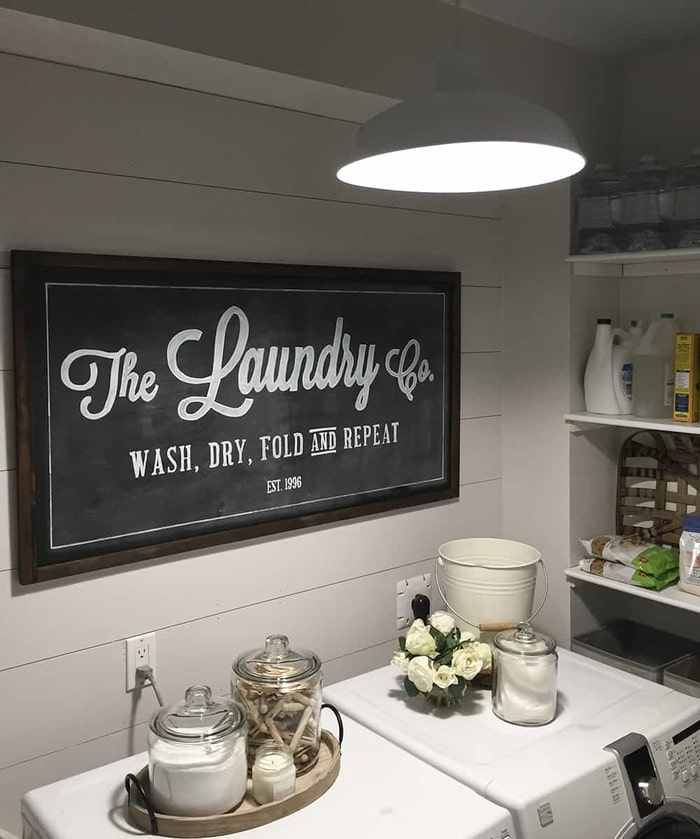 Read more:
3. Types Of Farmhouse Style – What is your favorite style?
Farmhouse style is especially popular in kitchen decoration for families in recent times. Farmhouse design adds color to the kitchen with a variety of design styles to create farmhouse-style kitchens that combine many different shades. Eating meals in a fresh kitchen like this is such comfortable than ever!
3.1. French Farmhouse
The French farmhouse style mixes the rustic elegance of the French countryside with the bright, airy, and clean ambiance of the American farm. The broad windows and simple design of an American farmhouse may be seen in many French farmhouses. Sconces, painted brick, dormer windows, and fine landscaping complete the French sense of this design.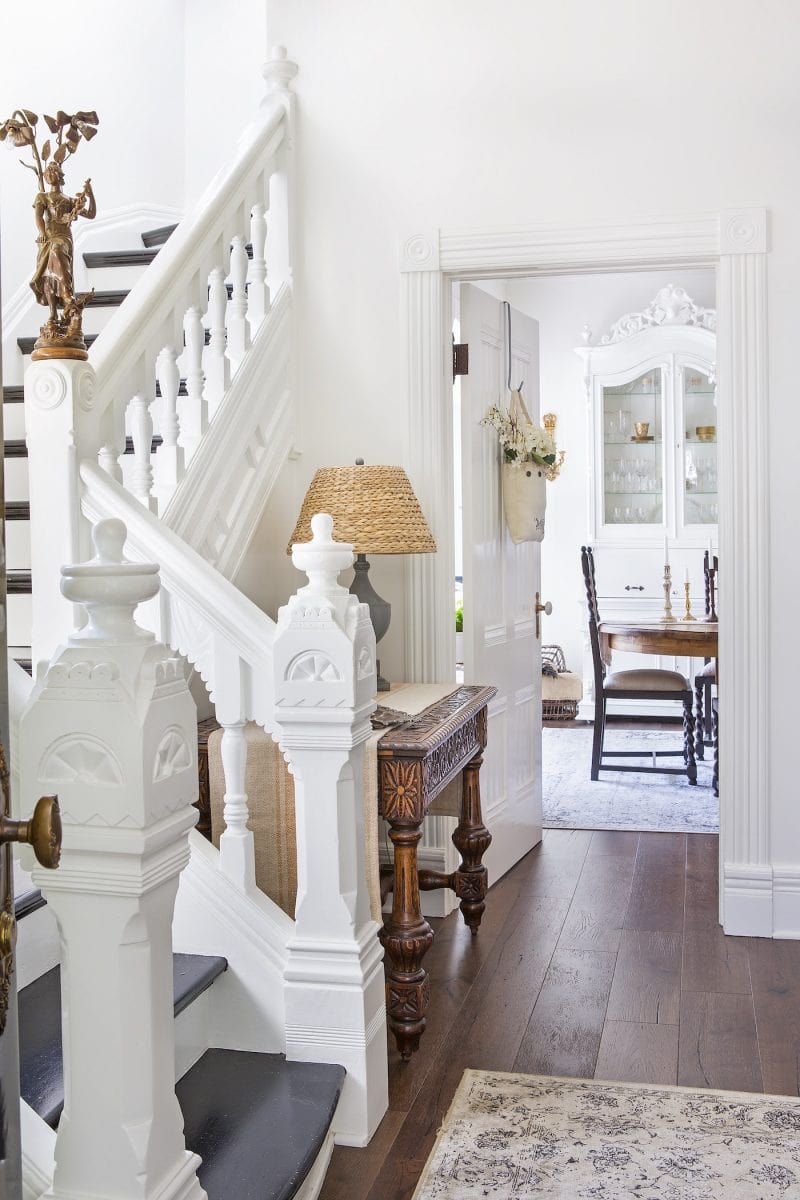 3.2. Rustic Farmhouse
Unlike other farmhouses that are slightly soft and gentle, rustic farmhouse focuses on features rather than appearance. Use raw materials (old crates, chicken wire, etc.) along with the above earth color to give your home a rustic feel. Because of using mainly items with a rough shape and cold colors, it is one of the styles that show very distinct masculinity. You can embellish a few more elements that accent the lightness by using flowers, feminine patterns, and lace fabric.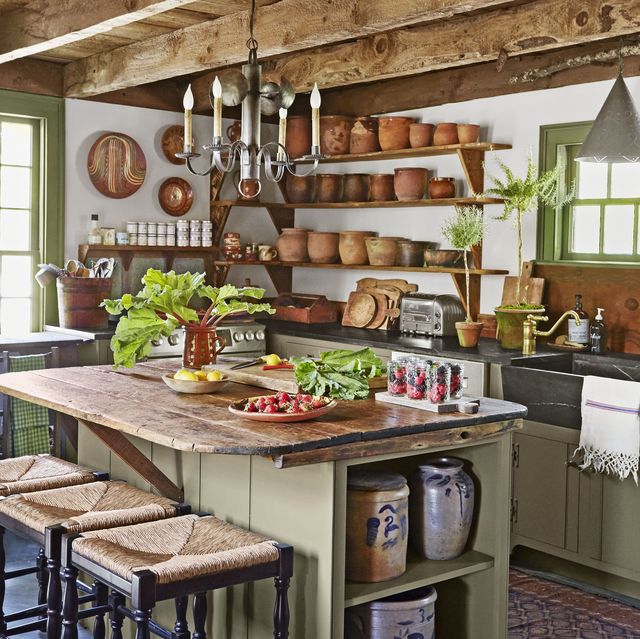 3.3. Scandinavian Farmhouse
Sweden and Denmark are the inspiration behind the Scandinavian farmhouse decor. The main feel of this style is rustic. The rustic touch from the above 2 countries plus the authentic feeling of the American farmhouse. Scandinavian farmhouse style often uses unfinished wood and large windows are the highlight. In addition, the 2 main colors White – Black create a contrast for your room.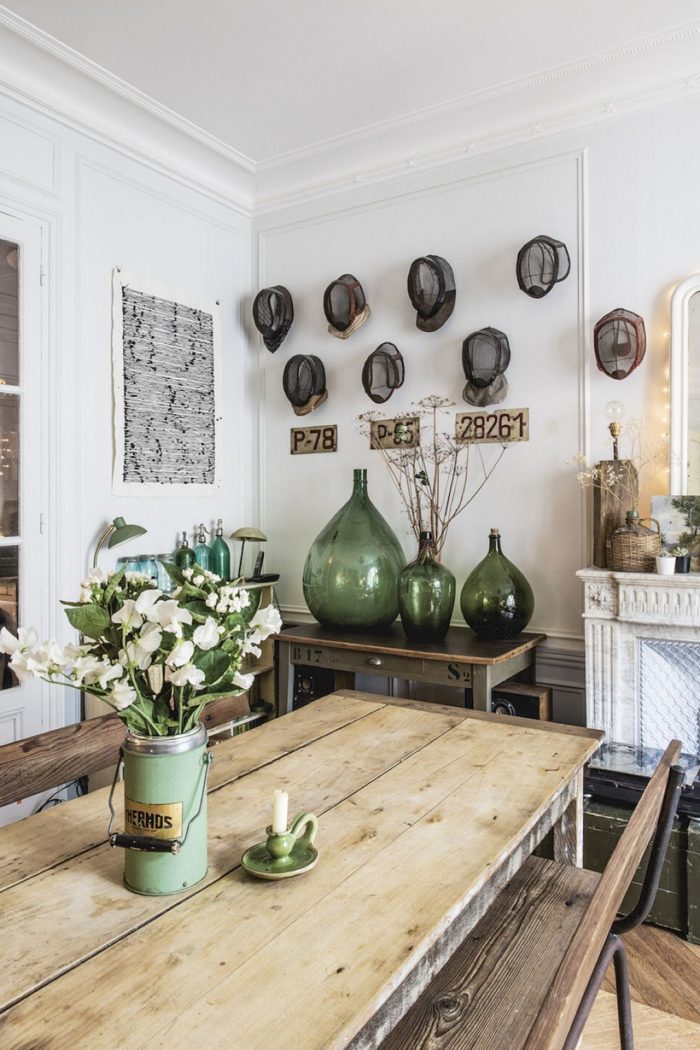 3.4. Modern Farmhouse
The modern farmhouse style combines contemporary design with a farmhouse aesthetic but still captures the inspiration of farmhouse life. The relaxing, pleasant farmhouse style has been modernized with sleek lines, gleaming embellishments, and softened color palettes in contemporary farmhouse decor. Stainless steel appliances, granite worktops, and elegant lighting may replace the rustic components in favor of a more refined look.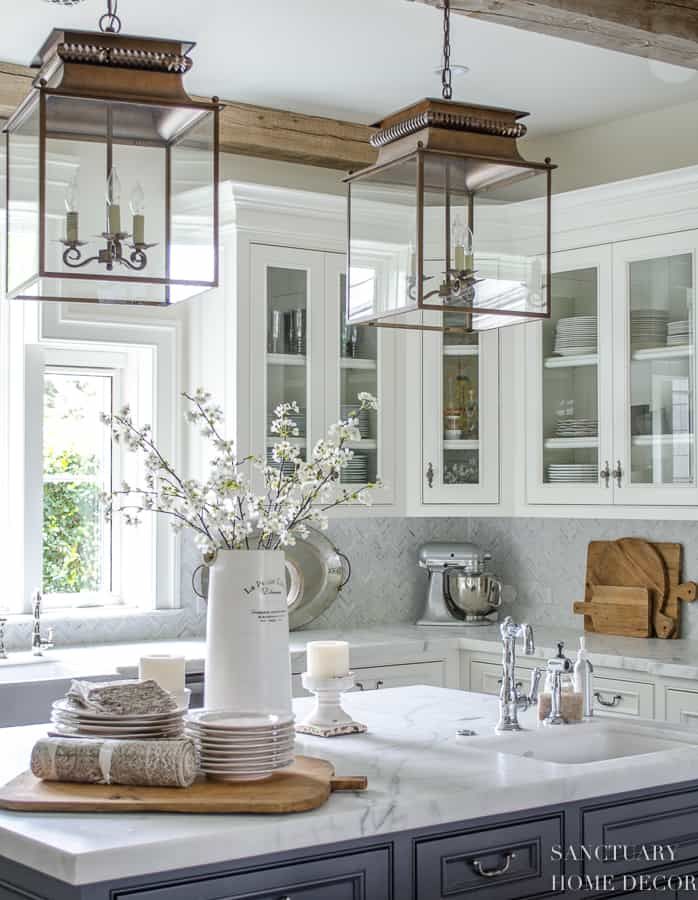 3.5. Traditional Farmhouse
Previously, farmhouses were created on farmland to protect and shelter the owners and their families. An old-style in the past reappeared with the traditional farmhouse style. Style inspired by the farmhouses of the original settlers. However, it also incorporates simple decor and some more suitable furniture while preserving tradition and classics.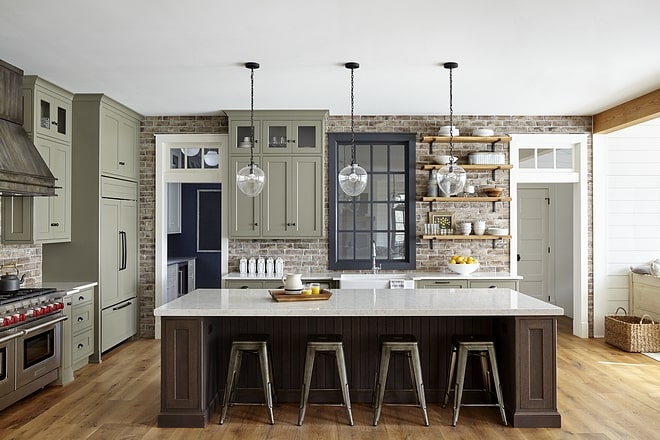 3.6. Coastal Farmhouse
The interesting combination of coastal and farmhouse styles creates the coastal farmhouse style. The farm-style tends to have deep colors or the use of wood and metal has a soft retro feel. As for the coastal style, it will give you a feeling of peace and tranquility as if you were enjoying a vacation in a seaside house. These two styles work together perfectly to bring a fresh, quiet atmosphere to any home. If you are a lover of marine life but cannot do it, this design will be your best choice.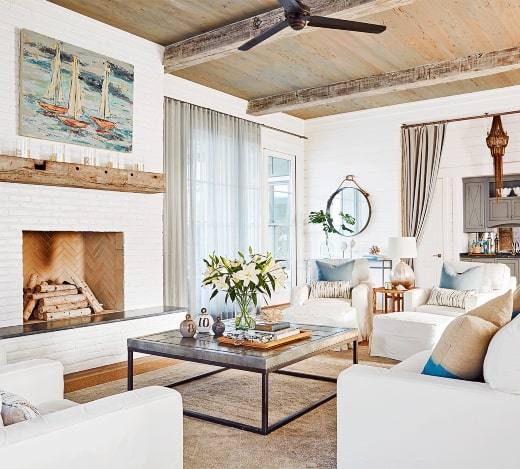 3.7. Colonial Farmhouse
Unlike being inspired by Danish and Swedish such as the Scandinavian farmhouse style, Colonial farmhouse decor embodies the charm deep in the old world, with motifs and styles embodied for centuries. This style brings a sense of nostalgia as well as reflects the heroism of previous decades.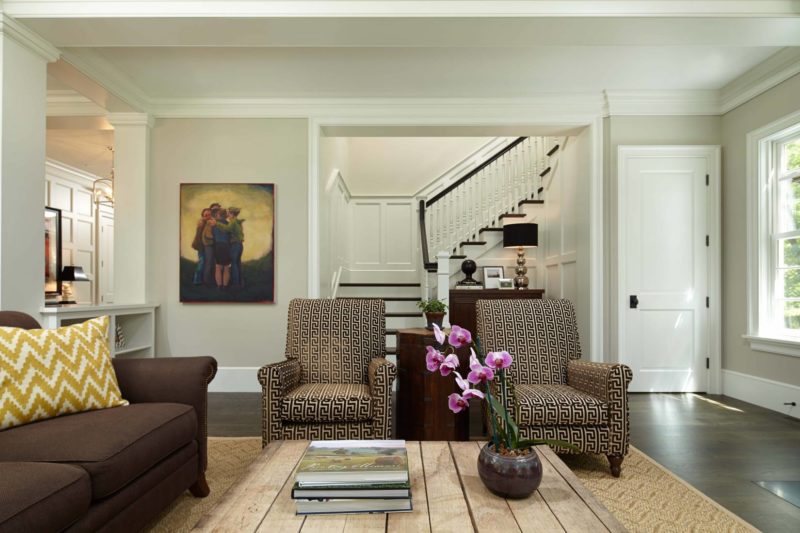 3.8. Industrial Farmhouse
The industrial farmhouse is a style that uses elements that tend to factories or warehouses, representing the style of a modern penthouse in a large city. To alleviate the dryness and monotony, however, this style is combined with a bit of country decor, resulting in both originality and fun.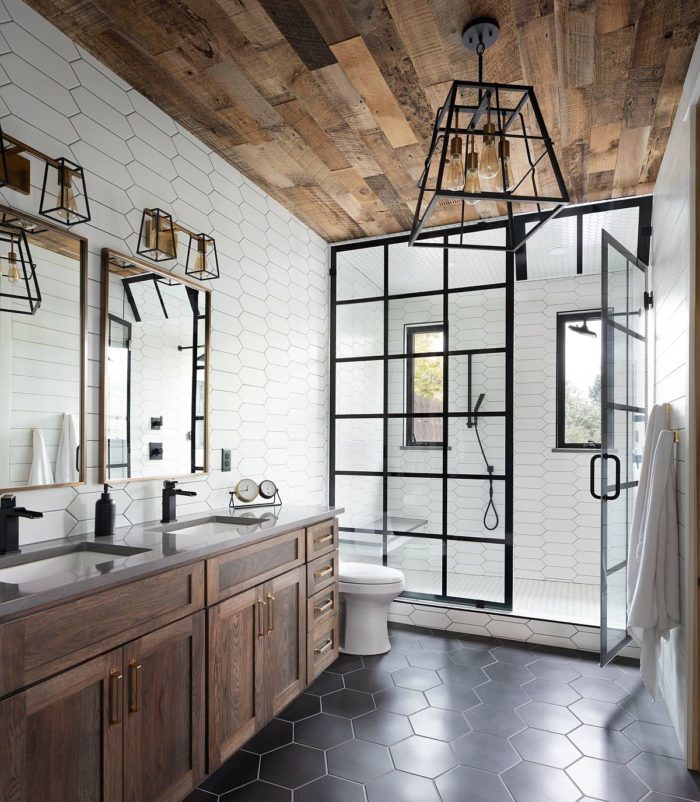 >>> Further Reading: Top 5 Basic Ways To Approach American Farmhouse Style
4. 10 ways to get farmhouse style in your house
You can watch the clip below about 10 ways to get farmhouse decorating style in your house
Or read the post below
4.1. Neutral Colors on the Walls
Although they appear muted colors at first glance, neutral colors often have underlying hues that change depending on the light source. Even though they are not on the color wheel, they perfectly work well with primary and secondary colors since they are neutral.
You must ensure the consistency of the wall paint color between rooms. You can choose a soft beige, cream, or even gray for your wall paint. The choice of simple colors will help make the atmosphere in your farmhouse decor look softer and more comfortable.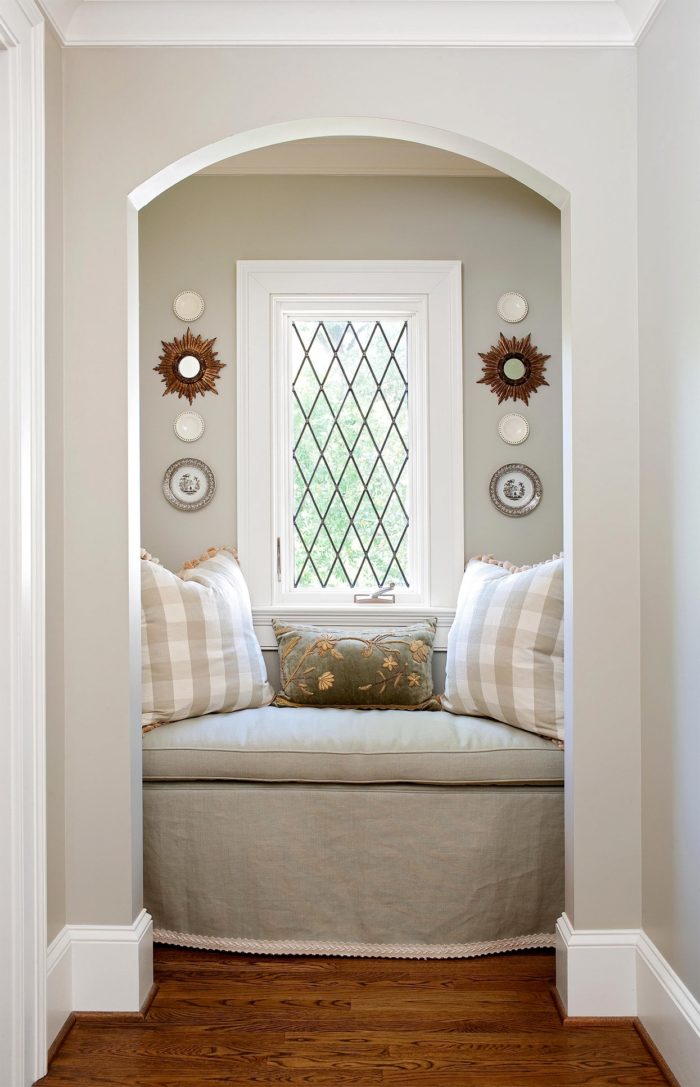 4.2. Leave the mall
One of the best tips for farming setup is to simply avoid shopping in the mall. Instead of shopping at your typical canning stores, I recommend going to antique farmhouse style stores or maybe looking for websites that sell custom products and make your own special product selection.
Find unique items that will add personality and charm to your home. Avoid decorating your entire home with mass-produced items, find yourself or create your own decorations to make it warm and true for you.
4.3. Incorporate dimension
One thing you can often see is that the farmhouse-style houses are walls with all kinds of objects, colors according to different rules and layouts. Learn about Beadboard, shiplap, or wainscoting and decorate them for your home. A comfortable combination of different elements will blow your mind due to its creativity!
4.4. Mix Old and New Elements
In new and old, it is a very impressive mixture because both urban decorating depictions are kept while keeping the old classic by old objects. The intersection between the new and the old is an important factor in farmhouse style. When you know how to put the traditional and modern items together, your house will become one-of-a-kind ever!
4.5. Avoid Bright Colors
In addition to using white, light cream, or gray in your wall background, you should be limited to incorporating light colors in your countryside decor. Neutral colors are still the best choice if you want to pursue this style because it provides a warm feeling. Hot colors like red, orange, purple,… Of course, you can still design your style but use it sparingly.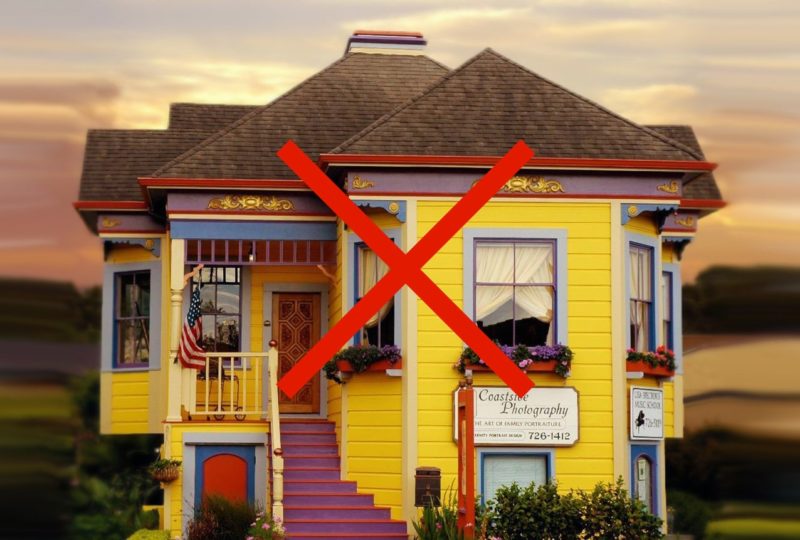 4.6. Use with Wire Basket
To make your home look more farmhouse-like, a rope basket is a plus! Large open-hole baskets will give your home a rustic and farm feeling. More specifically, they can be hung on the wall, storing items in the kitchen or in the living room to create a sense of lightness.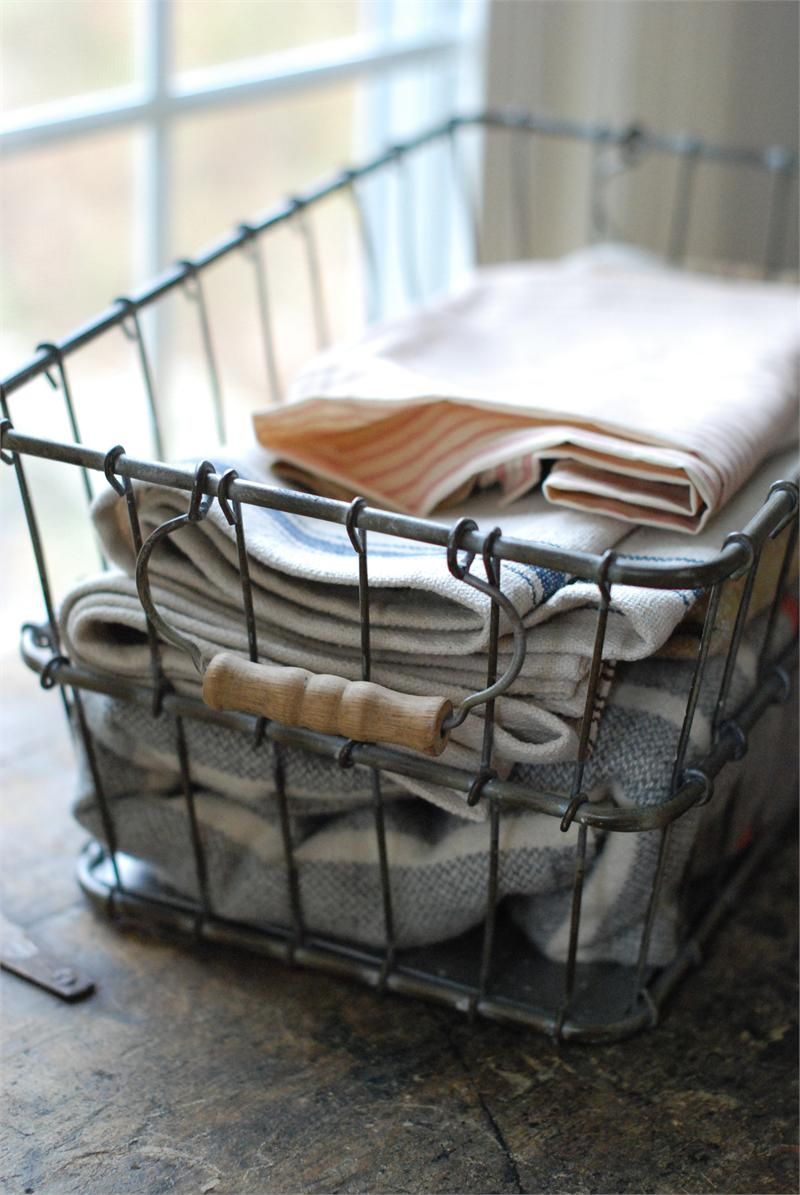 4.7. Decorate the house with canvas paintings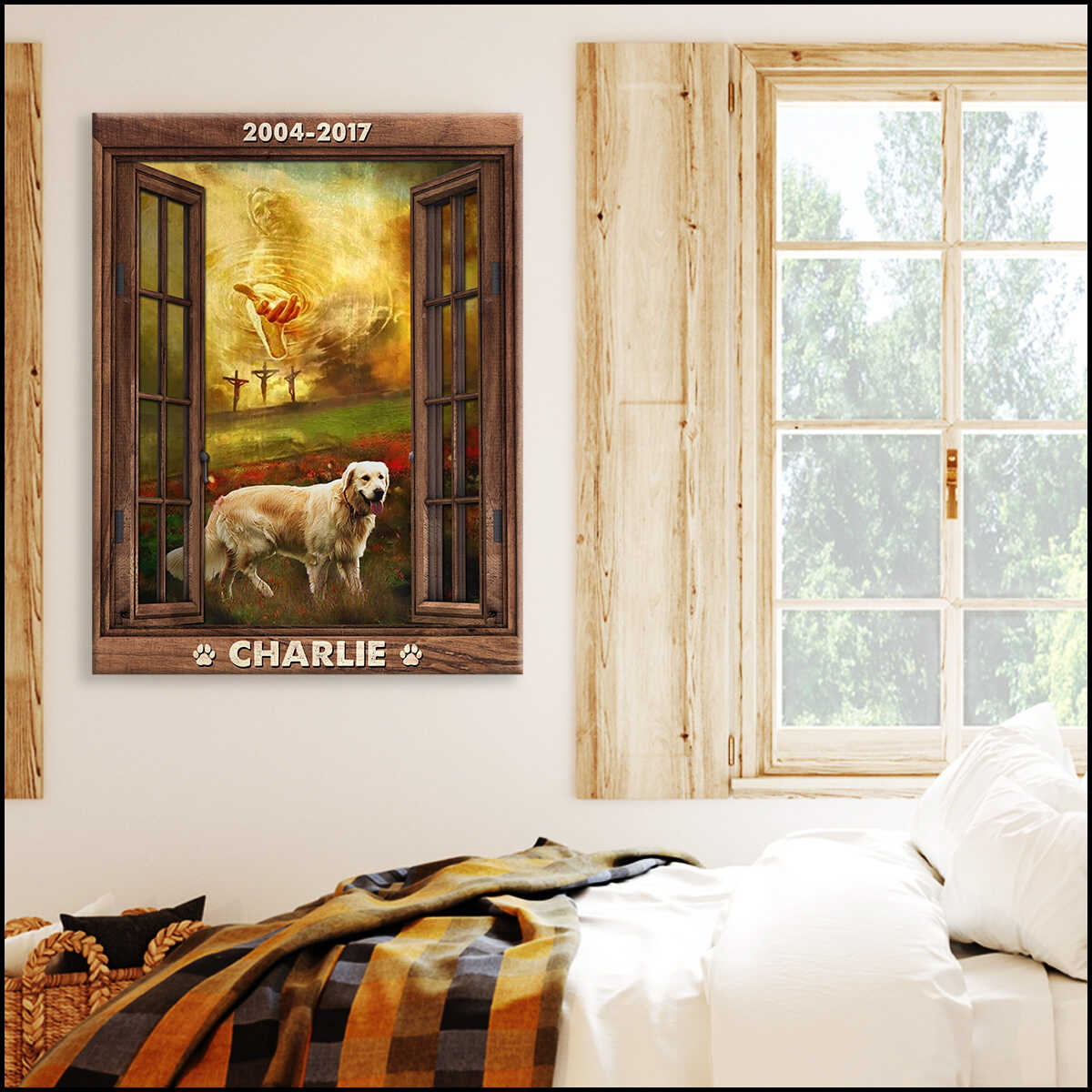 Besides the farmhouse decor, a farm wall art to hang in the living room or kitchen is a great idea to increase the elegance of your home. You can choose a template or floral canvas wall art your style, can incorporate memories in your life, it will be the most wonderful and meaningful decoration.
4.8. Incorporate Wood
Wood furniture is chosen to be placed in most houses. There may be some farmhouse styles that do not use wood, but using them in the house will implicitly assert that you are pursuing it most clearly. In addition, aesthetically, wood is still the optimal choice for your home's appearance.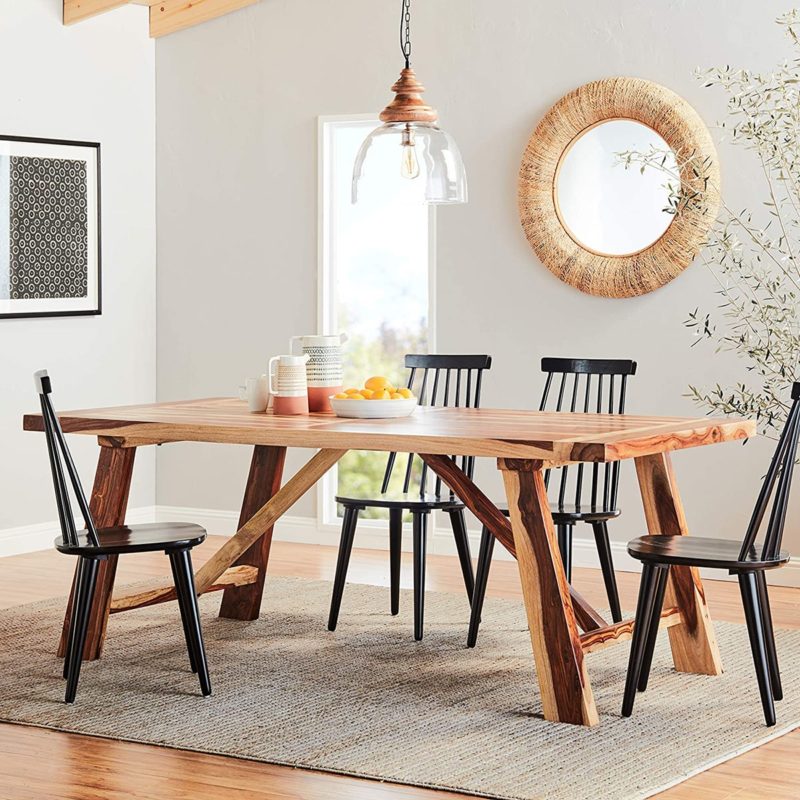 4.9. Farmhouse Light Fixtures
Light is one of the fastest factors that help people change feelings in any space, besides the sound element. The use and change of lights will help you both save a lot of money in changing and quickly create a new feeling for others visiting your home, or, for your family members. Elegant and worn-in sense is achieved by combining wood, metal, and glass in a unique way.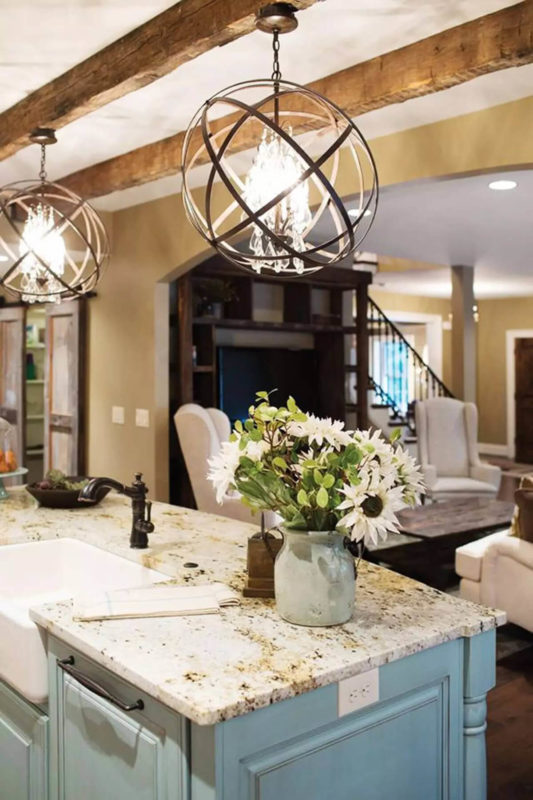 4.10. Paint Out Furniture
Using some old furniture is a good thing to save money as well as give your home a farm feeling. But if they look worn off, they have the reverse effect. Therefore, do not forget to refresh them with paint to create uniformity for the furniture in the same room. Prior to repainting, you may need to remove any flaking or peeling paint.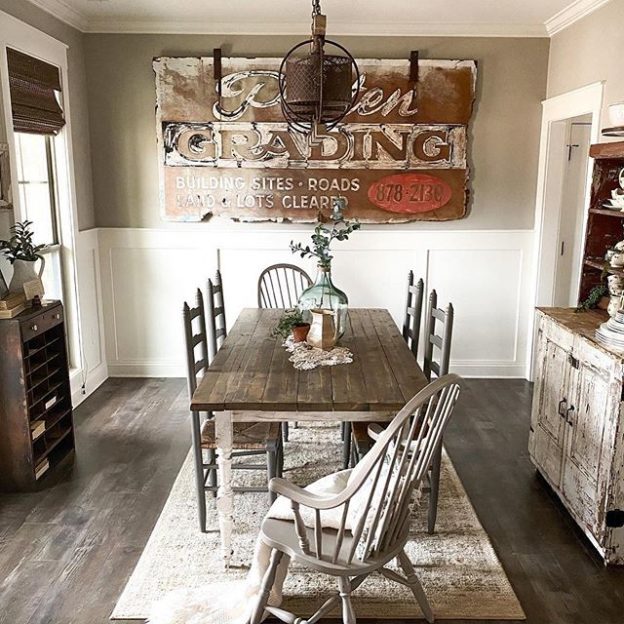 Oh Canvas hopes to give you the most useful information about home design ideas on this blog. Above are the easiest tips to get farmhouse style in your home. If you have any suggestions for making the house look better, do not hesitate to hit the comment box below!
Read more: