The innocence of the past, the tractor driven by Dad, the animals lying on the field, the sun shining all over the place, and so on. It is difficult to discover a fresh environment like that in the city nowadays. However, Oh Canvas has a fantastic tip to treat your mind. Decorating your home in an urban farmhouse decorating to bring back memories of the good old days in the country. You can immerse yourself in the country feeling even if you live in a modern home!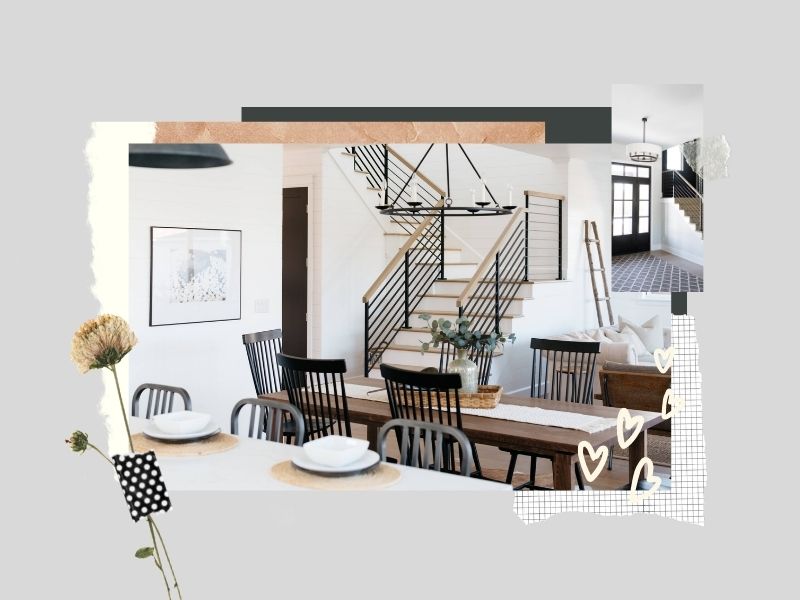 1. What is Urban Farmhouse Style?
A modern farmhouse home style is a "country"-themed home decor style. It is a mix of modern and urban ideas. It's a home decorating style that brings the country into the city. Mix traditional and modern styles with a neutral color scheme and many metal and natural elements to make it cozy and casual. Building a new home in the middle of a city is unnecessary. When you want to make your home look like an urban farmhouse, mixing and matching country-themed decor is the best way to do it. I think that Modern and Urban can be used together.
Pieces with a rough finish, driftwood, barn wood, used decor, old windows, pickle jars, brick walls, an image of a farm animal, and more will make your urban farmhouse's modern style look great. The gray and white monochrome decor will make the look perfect.
Many people think that a country-themed home will be messy. Many people think an urban farmhouse's modern look is cleaner than the old one. This floral arrangement will sound and look natural and clean because of the floating shelves, wooden garlands, and a vase made from recycled glass that is part of it.
2. 10 Ways To Get Urban Farmhouse Style To Your Home
2.1. Material Mix
A sense of warmth comes from natural things in any room. You get an interesting look when you mix a sleek wooden farmhouse table with chairs with spindle backs in black or tan. There are leather cushions that add a modern twist to the mix.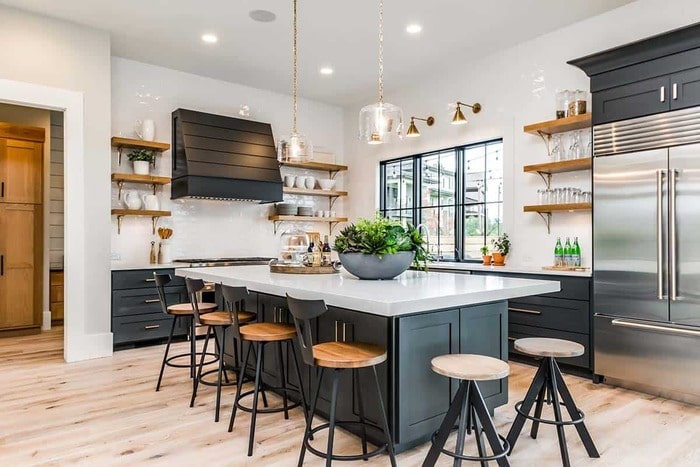 2.2. The Material Contrast
Woods and fabrics warm the room, but onyx and marble make the room look cool and modern. There are also coasters and table platters you can use if you don't want to spend a lot of money on new kitchen worktops made of marble or onyx.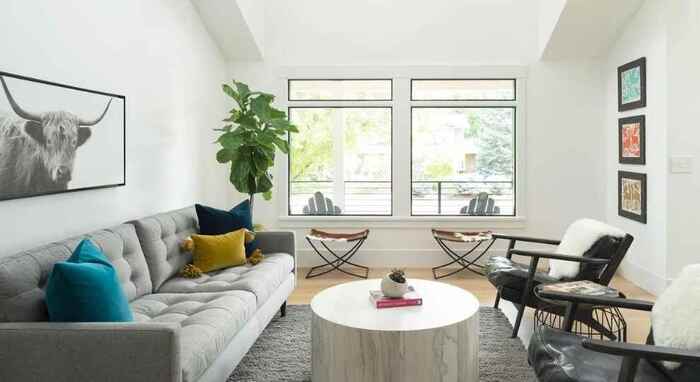 2.3. The modern mix of urban farmhouse
High-gloss elements and shiny metals are used in modern styles. Mixing old and new things like these lovely metal and glass lanterns is a good idea.
2.4. Urban Farmhouse Style with Animals And Quotes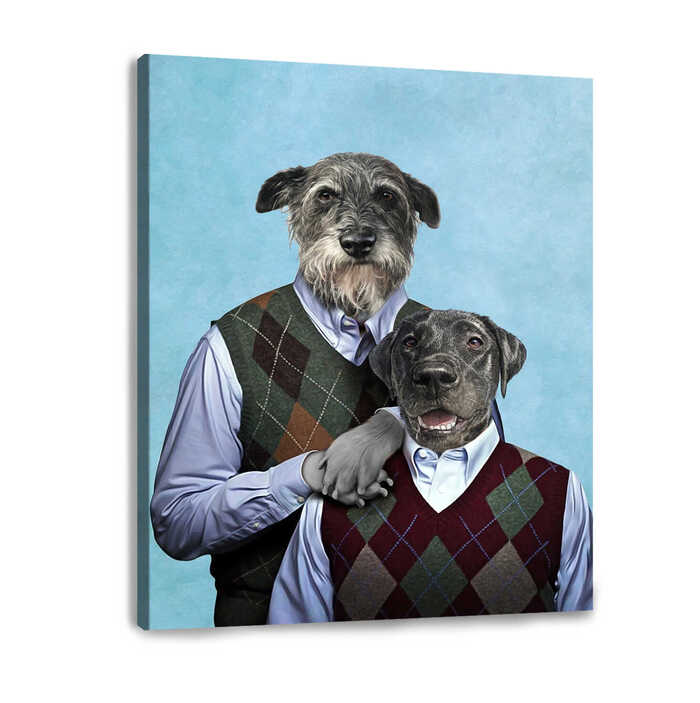 Shop Now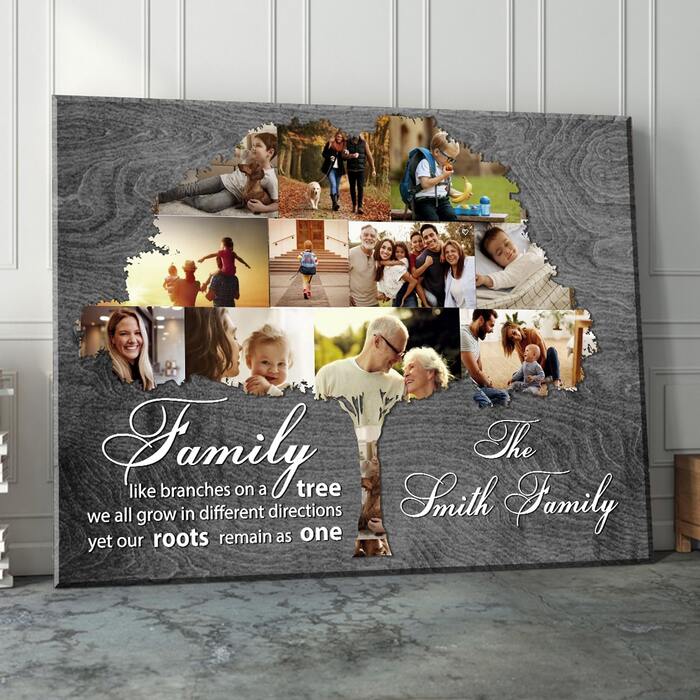 Quotes and animals printed on demand are one of the most popular ways to decorate your home. You can get them for any price. Another thing you can do is put real or fake plants in pots. When you want to add color to a dark place, this method can help. It will also go well with wood and metal-based things. Plants like Pilea, Fiddle Leaf Fig, and Herbs are some of the most popular ones to have inside.
Succulents are another type of plant that looks great in a modern farmhouse. If you are a very busy person but still want to stay in an urban farmhouse style home and you don't have time to water plants, succulents are the best choice for you.
2.5. Making a statement
The wall is a good place to start when you want to make your point. Some people put up removable wallpaper. The wallpaper can be changed at any time, which is good. Also, there are many different and endless designs to choose from that will match your personality and taste.
Another thing I didn't think would work the best is to use rustic rugs and animal prints. I thought it would look messy and hard to match with metal and wood. That's not true. I found that it works best and looks great!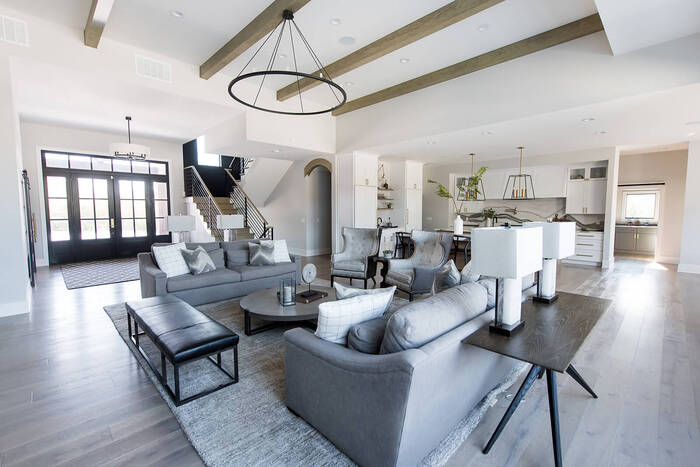 2.6. Make sure everything blends
We think the best color scheme for your home is one that looks like what it's like to live on a farm. They look like eggs, hay, and grass. When it comes to wood, I like to see whitewash colors because it is a common part of the farmhouse style. The whitewash color will make the home look more like a modern farmhouse. With an iron door or cabinet pulls, your home will look beautiful!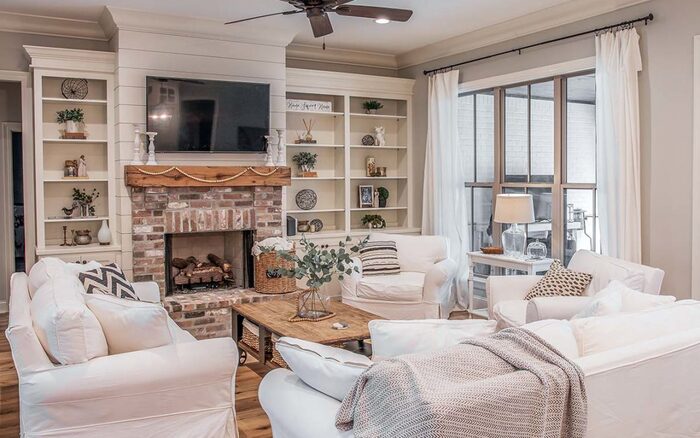 2.7. Turn On the Lighting
Don't forget that lighting is important to make your modern urban farmhouse look good. An old wooden chandelier with rope and twine or a mix of metals would be a good choice for this room. The lights will surely add some sparkle. The lights will also make your materials and statement stand out.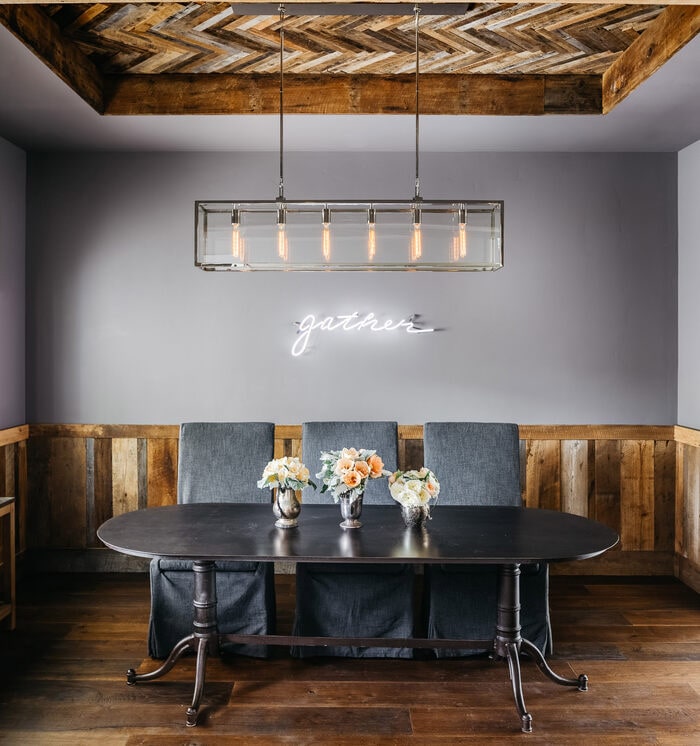 2.8. Use Texture
You should make sure that your pillows and throws have a lot of beautiful textures to look at. To get the look of an "urban farmhouse," you need to use leather, wool, sheepskin, and fake furs and velvet. Pillows and throws are the keys to giving your home a sense of depth.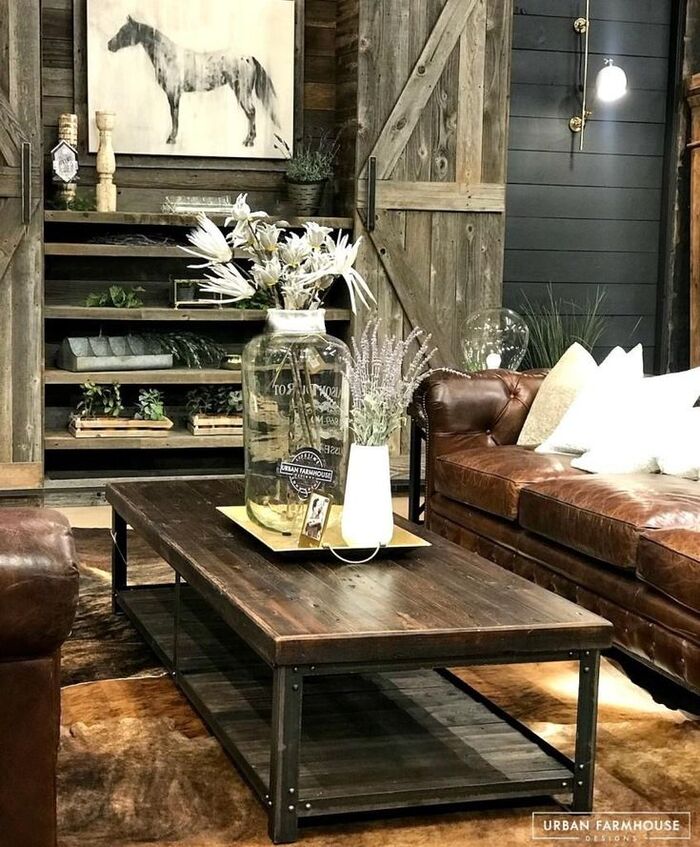 2.9. Accessories can help you play better
Then, fill your old bowls with acorns, leaves, and pine cones. Place them on a side or corner table. Old jugs and vases filled with flowers or feathers look great with your texture. This will make your home feel more like a nature-themed place if you uniquely use these old things.
Do the same thing in your kitchen. It's great to have wire baskets, open shelving, and big old glass jars where you put ingredients. Use aprons that are grey or have natural tones to make your urban farmhouse kitchen look even more beautiful.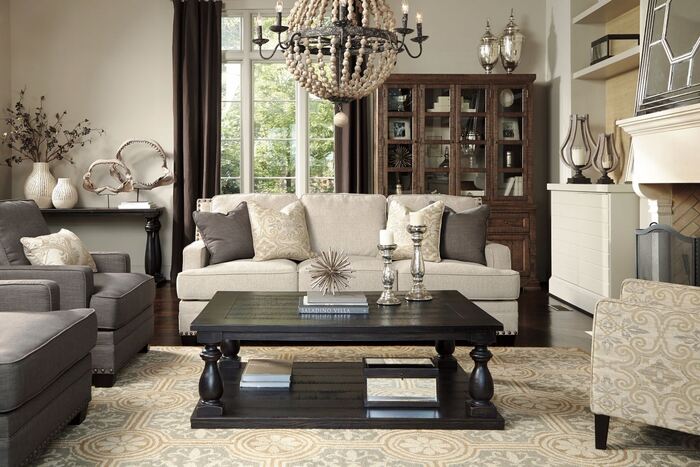 2.10. Furniture is very important
Buy furniture from weathered or reclaimed wood to make your home look like a modern farmhouse. If you already have a coffee table and want to give it a new look, I'd suggest making the top look like it's been weathered. This will make your home look more like an "urban farmhouse," which is what you want to do.
They come in various styles, from weathered wood to reclaimed wood. You can make your home all rustic or have a more modern shaker look. You can always use your own things to get the look you want. Take a look at my coffee table makeover to see how I did it. This is another easy way to change the look of your furniture. You can also change the hardware. Add new pulls made of porcelain, wrought iron, or wood to give your home a new look.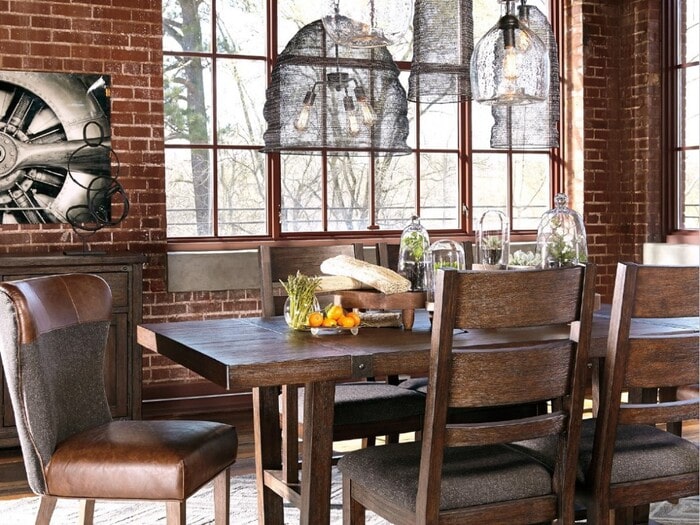 >>> Read more: 30 Best Rustic Decorating Ideas for Your House in 2022
3. Urban Farmhouse Style Decorating Ideas
Urban Farmhouse Decorating For Living Room
3.1. Wooden floor to stay cozy in the vibrant city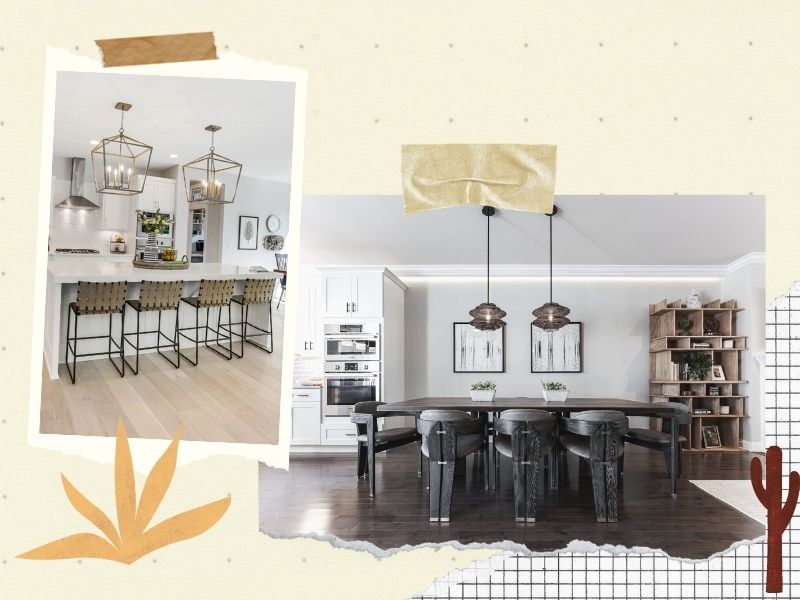 A warm sensation may be evoked by wood in a home. If you are a kind of high-fashion person, I suggest applying the dark color of the wood floor. On the other hand, the light tint of the wood floor is ideal for those who appreciate elegance. In an overview, both types fit the modern farmhouse as well. Think about the fresh days when you run around the house or play on the field with your barefoot. With this type of floor, you may experience the pure sensation of touching your foot to the ground. 
3.2. Bold colors cover the sofa to highlight the welcome guest place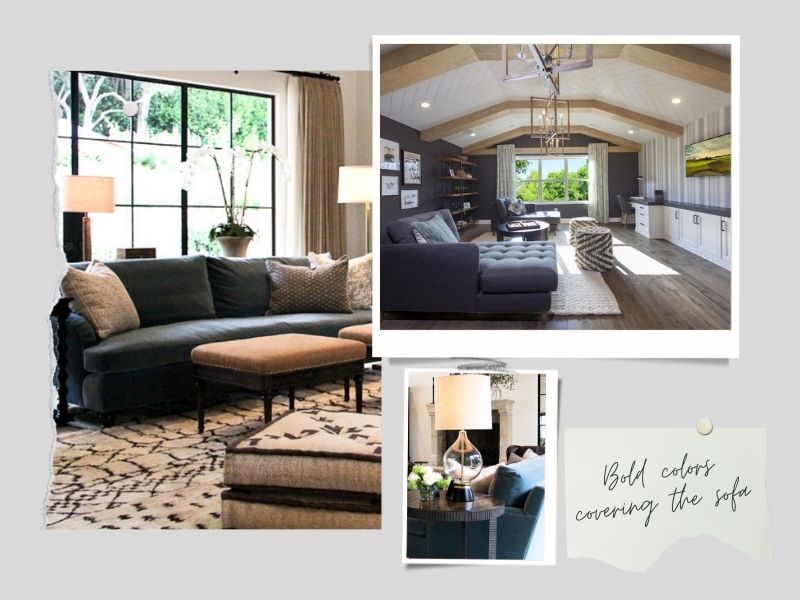 Put a bold color in your living room to remark the balance of color combinations. The sofa is an important item in the house to welcome your guest. This area should be the most beautiful place to make an inviting vibe for anyone visiting your house. Because dramatic colors are less matched than neutral hues, you must also pay attention to the rug, curtain, cushions, etc. To make your space feel more spacious, we recommend that these pieces use the same colors as the sofa or neutral tones. 
3.3. Oh Canvas farmhouse canvas wall art hung on the wall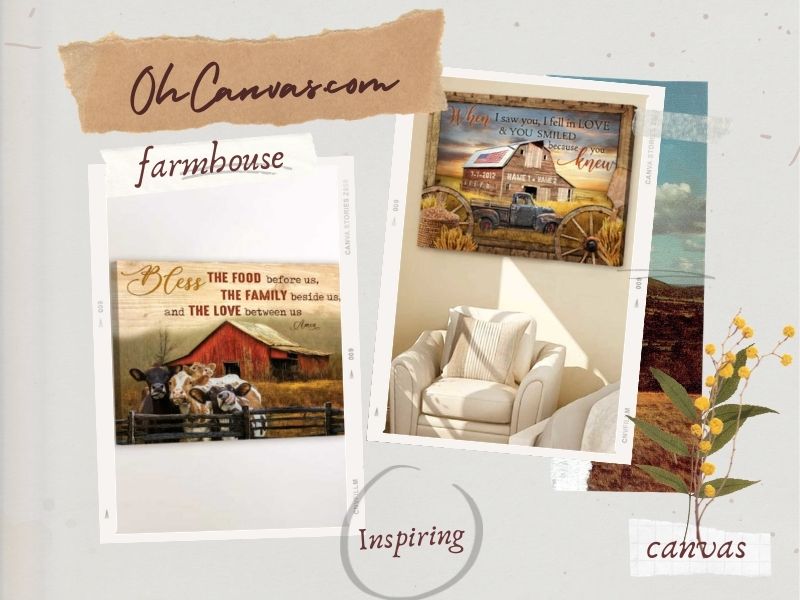 Do not let your wall plain.  A bare wall is OK, but I do not advise you to do anything with it. Because walls take up the greatest space in your home, they should say something important. I recommend combining a wise phrase and an attractive photograph on a rustic canvas. The art print describes the sight of the field, cows, etc. It is important to add a country feel to your city home.
Urban Farmhouse Decorating Ideas For Dining Room 
Comfortable and warm are not easy to come together with. Think about your family, including 3 generations having dinner together and discussing anything in their days. It exemplifies that mixture. The term cozy perfectly represents being both comfy and warm at the same time. The kitchen is the symbol for that pretty adjective. 
3.4. Metal pendant lights for the high-style dining room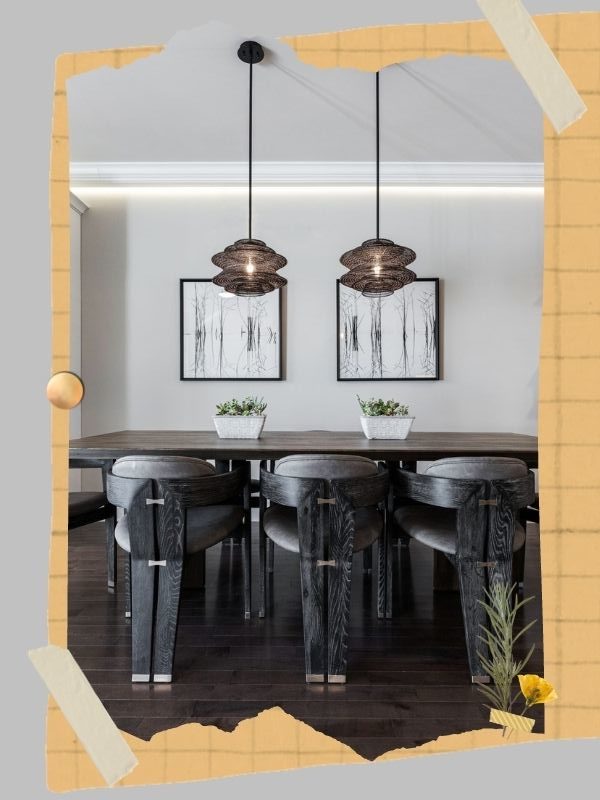 Begin with the metal ceiling light to nail your kitchen lighting ideas. Different materials and textures improve the overall appearance and make the home more intriguing and surprising. Each area has its individuality, yet they all work well together. Metal adds a sturdy but elegant touch to your kitchen. This item is a perfect home decoration to remind me of the old scene with my grandpa. When I look at the metal pieces, I think of the shovel used for digging, hauling, and hauling bulk materials. 
3.5. Metal basket to contain the eggs or fruits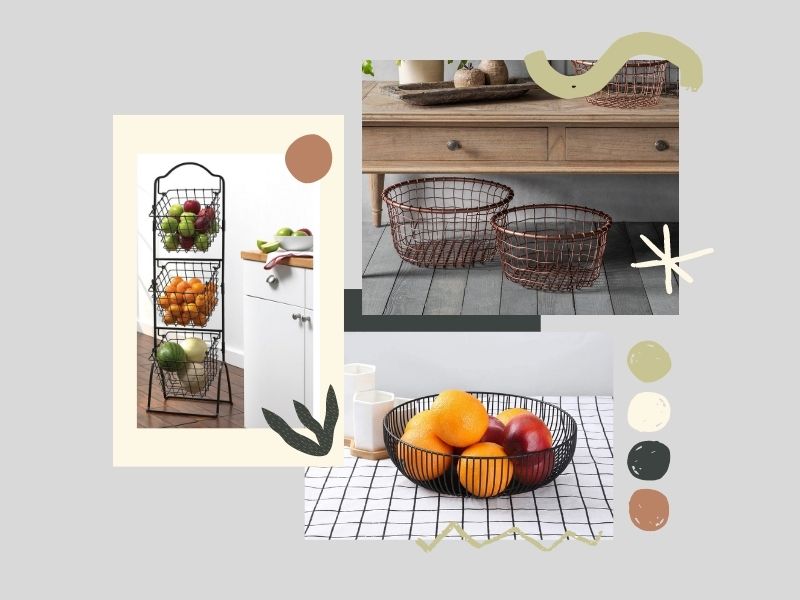 The modern farmhouse style is the ideal marriage of a classic rural aesthetic with a more minimalist contemporary design. This appears to be my mom's and grandma's kitchen. I cleaned the fruits and eggs acquired on the farm and placed them in the metal basket.
Remember, my grandma told me that when it comes to a full basket, it symbolizes abundance. It means a basket full of eggs might represent contentment. These wire basket storages provide an out-of-this-world experience for transforming your home into a gorgeous and magnificent look. They are not only robust enough to hold your goods, but they are also lightweight.
>>> Read more: 70+ Rustic And Cozy Farmhouse Christmas Decor Ideas In 2022
Urban Farmhouse Decorating Style For Bedroom
"Every child's bedroom is as important as a telescope orbiting the planet Earth or a philosopher's study." – Jerry Spinelli
Do you remember your best place in the house when you were young? You could do whatever in that space and dive into your unique imagination. Let's call that vibe once again in your own house now!
3.6. Wooden bed to warm up your relaxed space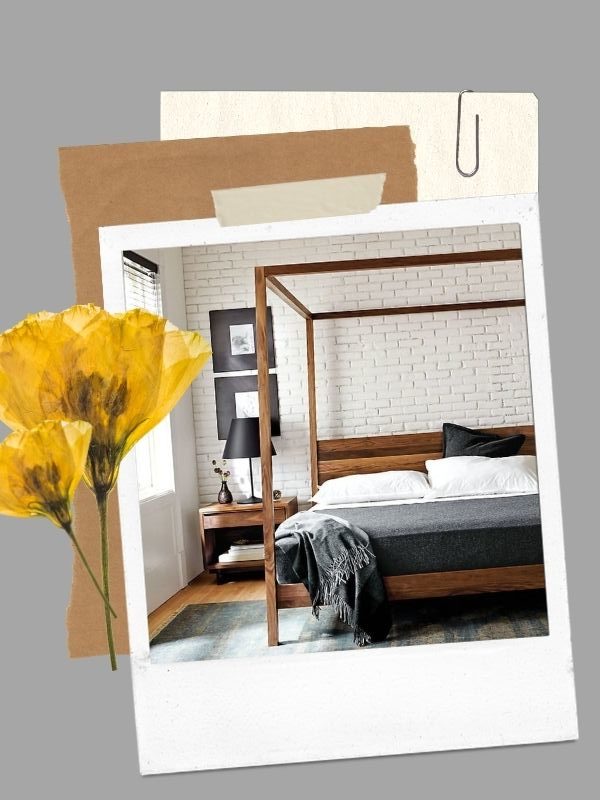 Wooden beds are extremely durable and simple to maintain compared to other materials. Because of its durability, wood has traditionally been the most commonly utilized material. Touches of wood may make your environment seem just as cozy.
This bed has a special place in my heart because it was where I spent my youth. Every night until I fell asleep, Mom told me dozens of stories. The fragrance of wood is something to which I am attracted. Furthermore, because wood is a poor conductor of heat, it can resist weather extremes. Your hardwood bed will survive for centuries if properly cared for. My grandparents' generation utilized the bed I slept on as a youngster.
3.7. Metal and wood nightstand is the best idea to make this area look solid
Your nightstand adds aesthetic to your urban farmhouse bedroom but may also serve other uses. As a general guideline, the top of your nightstand should be level with or slightly higher than the top of your mattress. When someone is lying on the bed, it is much easier to reach above rather than below to grasp something.
Metal and wood items complement your urban farmhouse style vibe well. The strong nightstand frame emphasizes the modern style, while the wood drawers call to memory the farmhouse atmosphere. Furthermore, metal will give your bedroom a modern feel. This combination's design is simple, yet it exudes elegance.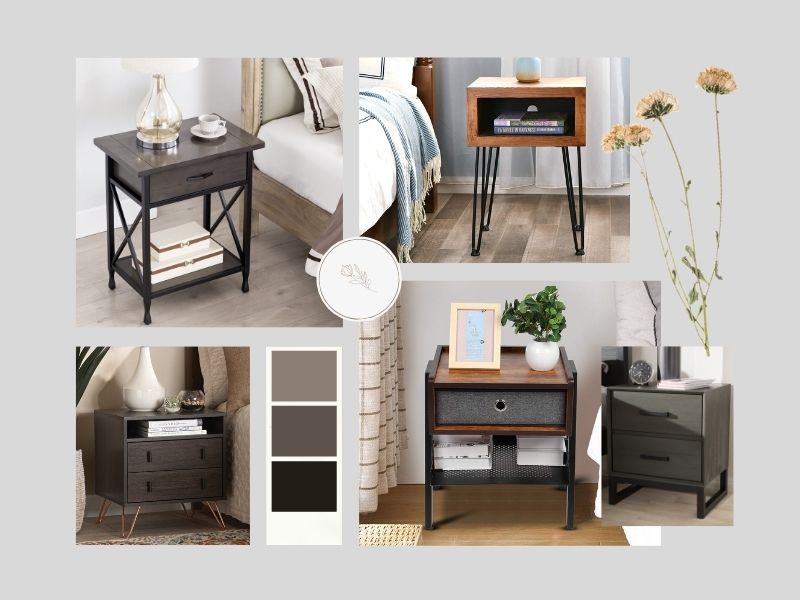 The urban farmhouse design is ideal for bringing back and reminding you of all the nice things you have learned in the country. Opportunities, connections, and convenience are still readily taken in the tranquillity mood. The above are sensible recommendations we make for those preparing to design or enjoy designing a lively and soothing atmosphere. We trust that this blog will be beneficial to you. If you have any brilliant ideas, please immediately share them with Oh Canvas!
Read more: