The Christmas atmosphere filled the home with the start of decorating Christmas trees. Whether you're a pro at decorating for the holidays or just getting started, making a show-stopping centerpiece for the table is always fun. Oh Canvas will share all the insider tips and tricks for how to decorate a Christmas tree, from finding the perfect spot to the last glittering flourish. Additionally, in this post, we've gathered the most exquisite pine tree decoration ideas of the year for you. Get ready for a trip that will leave your Christmas tree glowing with joy.
How To Decorate A Christmas Tree: 11 Easiest Steps
Step 1: Set up your tree
1.1 Tree Placement and Preparation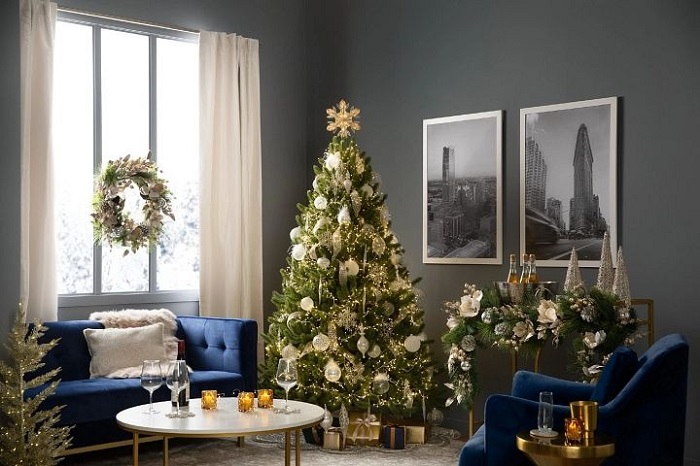 Your tree's placement has a big impact on the overall festive atmosphere. Locate it where it will be the focal point of your living room or near a window so that you can enjoy it from all sides.
1.2. Fluff and shape the tree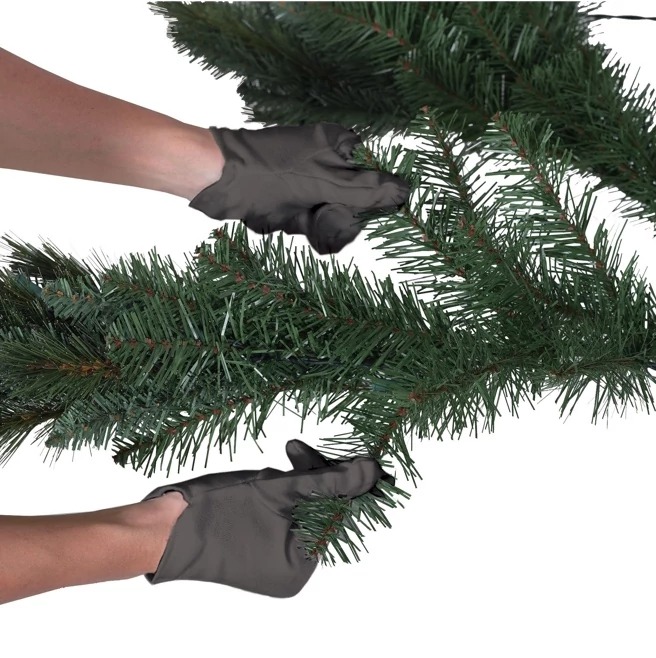 The artificial tree will look more realistic after being fluffed. If you want your tree to look fuller, try separating the branch ends and bending them in different directions. Then, begin at the bottom of the tree and work your way up to look for any wide spaces between branches. As you locate these spaces, bend nearby tree branches to fill them in.
Pro Tips:
When fluffing your tree, protect your hands by donning a pair of gardening gloves. You might check for photographs of the real tree species you are modelling your fake tree after. The desired shape and direction to bend the branches can then be achieved.
The best ways to keep a real tree looking fluffy are to avoid radiators and other heat sources that deplete its moisture content and give it lots of fresh tap water daily for nutrition. With the tree in its proper place, it's time to start the decorating fun.
Step 2. Choose a style for your tree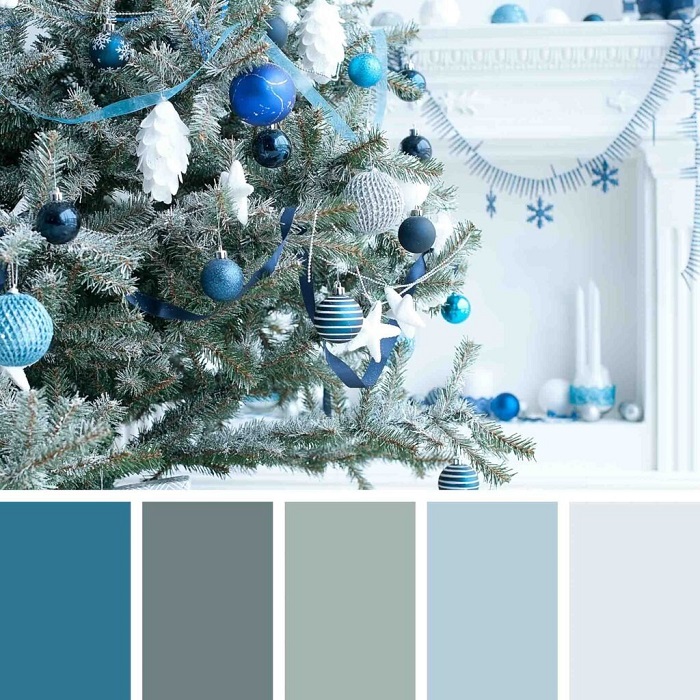 Think about the final look you want your tree to have before selecting ornaments and decorating a Christmas tree. Your inspiration can come from anything: a pastime, a favorite holiday tradition, an ornament, a design aesthetic, a color scheme, or even a single hue. Once you've settled on a theme, it'll be easy to discover complementary accessories. For example, a Christmas tree motif could be "rustic cheer," "music," "art deco tree," or "winter wonderland."
Pro Tips:
You should still use a color scheme, even if it has nothing to do with your theme. If your tree sticks to a color scheme, it will look more professional. Decide on the dominant hue and two supplementary hues.
You might pick a neutral scheme with traditional white, silver, and gold. Add some blue, green, or red for a splash of color.
If you're having trouble visualizing how all of the elements of your theme will come together, try making a mood board. You may get a clearer picture of the finished product and know exactly what materials you'll need to construct your tree.
Step 3. Start with the lights first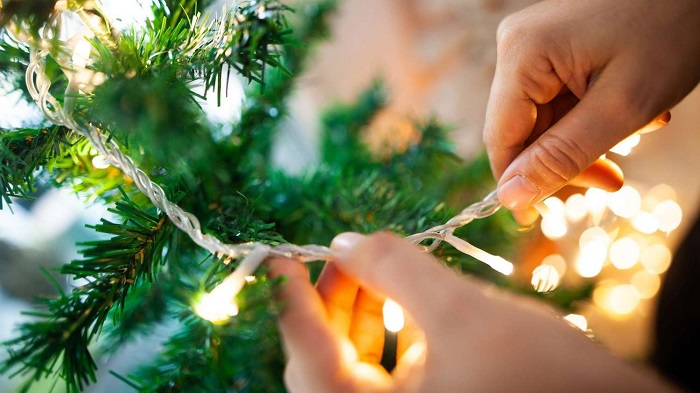 When decorating a Christmas tree, it's best to begin at the base and work your way up. Keep your string lights near the trunk by weaving them up and down between the main branches. When you reach the top of the tree, go back down and weave more lights in among the limbs. Move the lights to the outside branches this time. This is the perfect way to illuminate your tree from within!
Pro Tips:
Before stringing your lights on the tree, make sure they are operational.
Choose your string lights according to whatever wire will go with the tree the best; most string lights include wire strands that are either black, white, or dark green.
Light strings can be either clear (white) or multicolored, depending on personal preference and the atmosphere you like to create. Use a combination of clear lights on the inside and colored lights on the outside to make your tree stand out.
The lighting professionals recommend using 100 bulbs, or 5 meters, of lights for every 2 feet of Christmas tree. That's 300 bulbs, or 15 meters, to decorate a tree that's only 6 feet tall.
Step 4. Add ribbon or a garland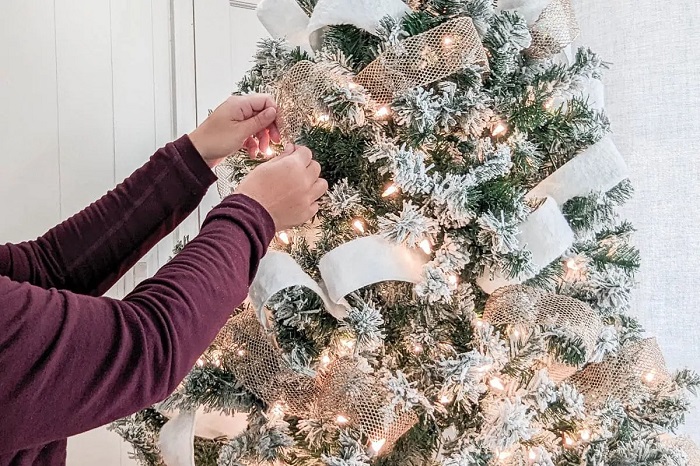 Anything from a thick ribbon to a garland with tiny beads can be used. There are some guidelines for garland decoration, so choose an item that suits your concept. The garland should be uniformly spaced and hang loosely from the tree's principal branches as you decorate from the tree's crown.
Pro Tips:
To decorate a Christmas tree with garland, you should use around two strands for every vertical foot of the tree.
Because of their malleability, wired ribbons are frequently used to create garlands in various shapes, including loops, rolls, and stars.
As with lighting, feel free to mix and combine. Use ribbons of contrasting widths and textures to draw greater attention to your Christmas tree.
Step 5. Hang your ornaments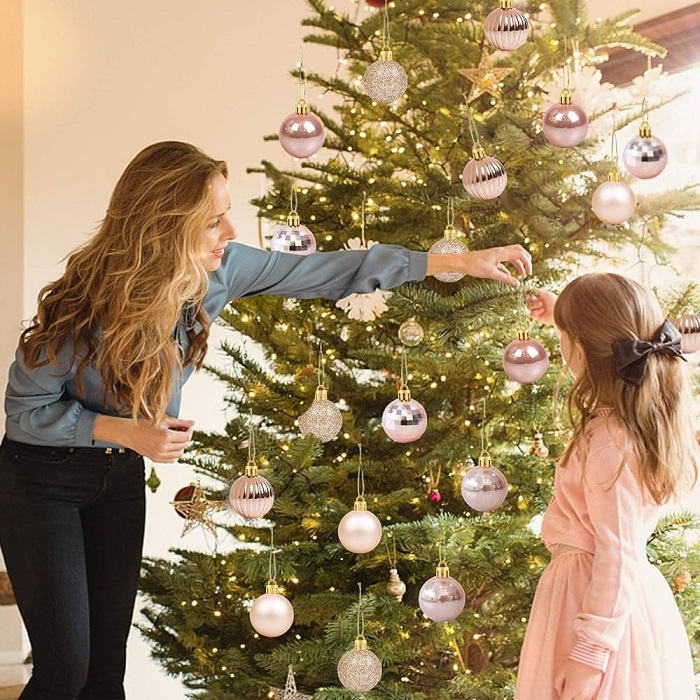 Put the larger ornaments on the tree first, then work your way down to the smallest ones. Place your favorite decorations (especially those that contribute to your theme) in the most prominent locations around the tree for impressive impact. Then, evenly distribute the larger decorations around the tree and fill the remaining space with the smaller and medium-sized ornaments.
Pro Tips:
Large decorations are best hung near the tree's top, where the limbs are thickest.
If you want your tree to look more three-dimensional, hang some ornaments near the trunk and others further off.
Step 6. Balance your decorations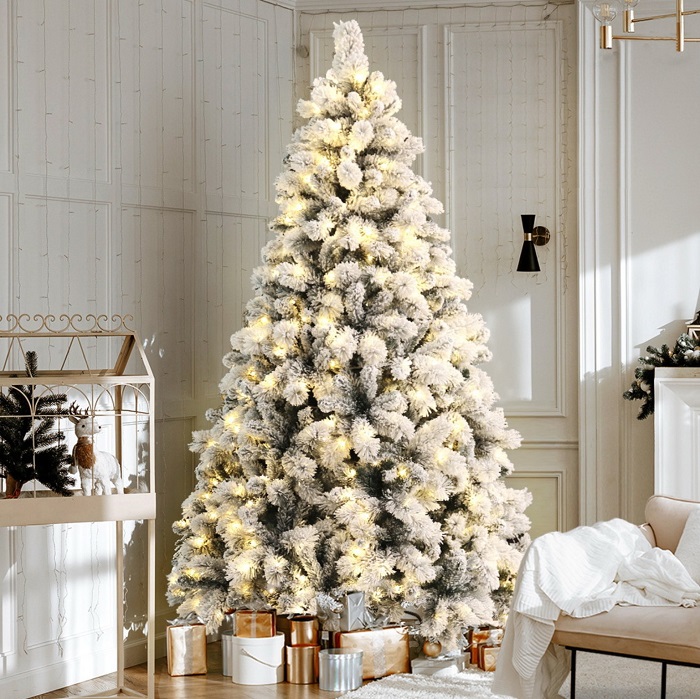 Make sure the tree doesn't have a spotty, uneven appearance. An elegant and lovely tree will feature a well-balanced arrangement of lights, ornaments, and other decorations. Divide the tree into thirds (top, middle, and bottom), decorate one part at a time, starting at the top, and check your work as you go. This ensures that everything is uniformly spaced and that no two ornaments are near one another.
With all the ornaments you'll be placing on the Christmas tree, it's important to get the placement just right. Begin decorating a Christmas tree's branches with the largest ornaments, and work your way down. As you decorate your tree, you can quickly see how it is coming together.
Step 7. Add texture with clusters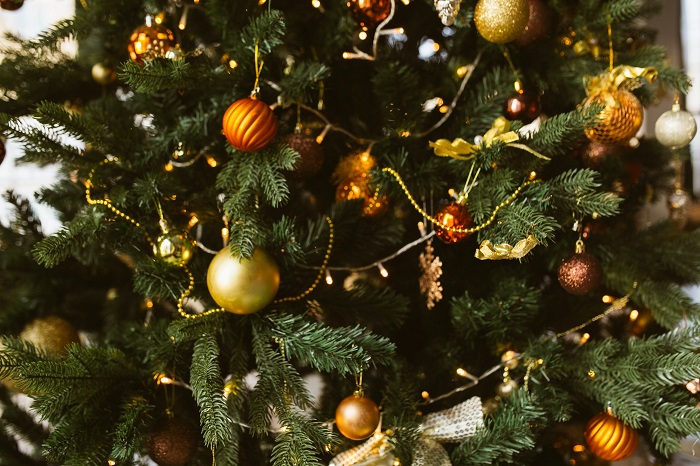 Combining several ornaments will give the tree a unique texture. To adorn the tree, use no more than three or four distinct kinds of ornaments (not including your special ornaments) of varying sizes, shapes, and colors. Put one of each kind of Christmas ornament in a small cluster, and keep going until the tree is covered with contrasting decorations. This will add a touch of style to your tree while maintaining symmetry and harmony.
The exciting part of decorating a Christmas tree is here: the decorations! The number of decorations you choose to place on your tree will depend on personal taste and the size of your ornament collection, but here is a general rule of thumb.
Pro Tips:
We recommend placing 10–15 regular-sized ornaments per foot for trees shorter than 9 feet. If your tree is 9 feet or taller, we recommend 12–20 ornaments per foot.
Always remember that you can use fewer decorations for a more understated look or more for a more opulent one. Your personal preferences are the deciding factors.
Step 8. Fill the space with tree picks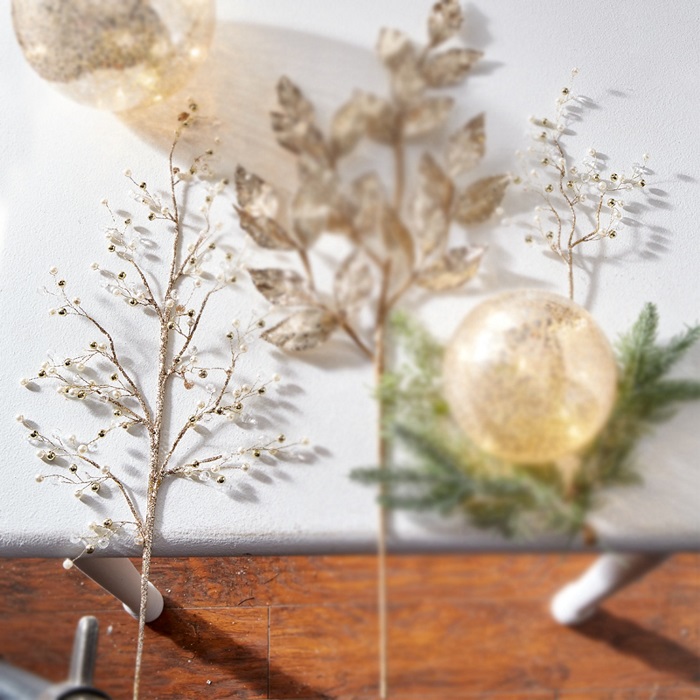 Without dominating the other decor, tree picks have a subtle beauty. Tree picks are little decorative accents that can be affixed to a Christmas tree by inserting the pick's stem into a limb. They are useful for covering any bare patches left by larger ornaments and garlands. On the other hand, they are ideal for sprucing up the tree with some vibrant color!
Pro Tips:
There are many different designs of tree picks. Most have a natural theme, including sparkly twigs, branches, feathers, berries, and pinecones.
You may also use floral wire to bundle a few select picks to make eye-catching clusters all over the tree.
If you have extra tree picks, you may decorate wreaths and garlands to carry the holiday spirit throughout the home.
Step 9. Add fragrant decorations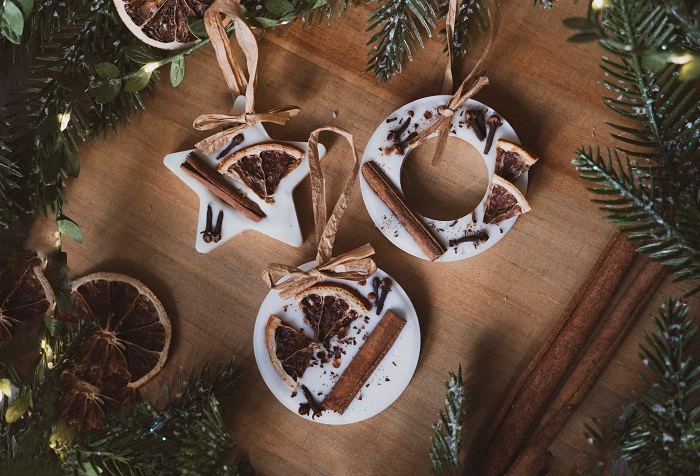 Nothing beats the scent of pine, cinnamon, or even citrus to bring back warm memories of the holidays. Even if you burn a candle or spray perfume, the scent may not last. Candles and ornaments that release a subtle aroma can be hung instead. Fragrant flower arrangements are another option. Popular choices include snowy pinecone ornaments in massive sizes, ornamental birds' nests, and Christmas-themed flower arrangements.
Step 10. Choose the appropriate tree topper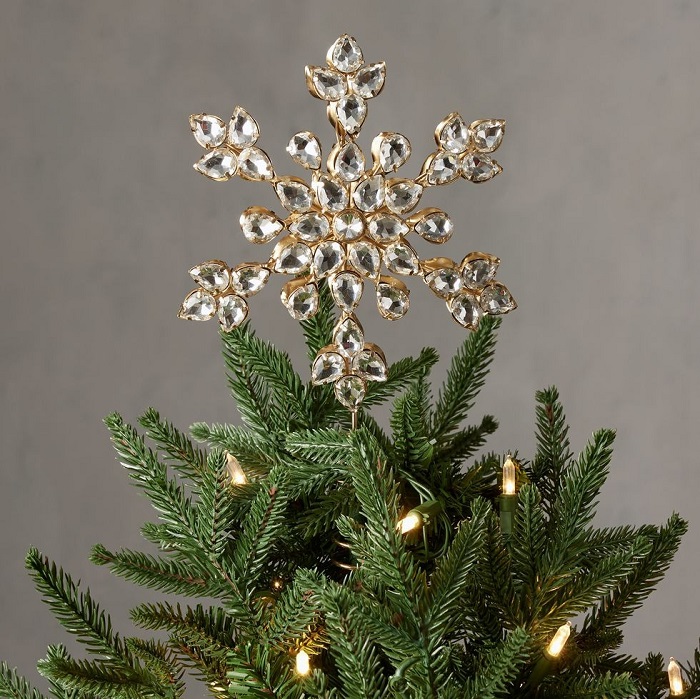 The tree topper is the last touch to decorate a Christmas tree's aesthetic appeal. Choose a tree topper whose hue complements the tree's overall color scheme. Although stars and angels are the traditional choices for tree toppers, you have many more options. For example, you may use a big bow, a bouquet, or any other design with your theme. Consider creating your own tree topper at home if you can't find anything you like on the market.
Step 11. Complete the look with a tree skirt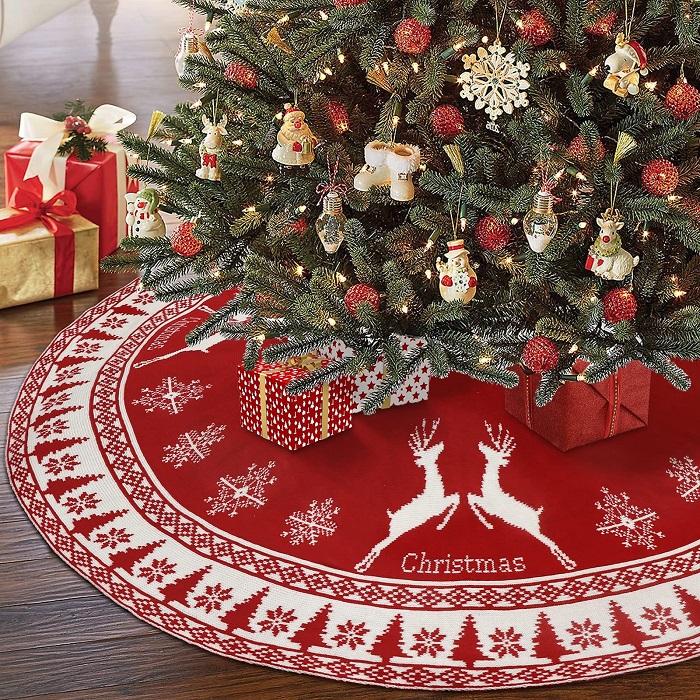 Tree skirts are a great way to keep your flooring safe and give your tree a well-rounded appearance. These skirts cover the stand that keeps your tree up while clearing up fallen pine needles if you have a live tree. Choose a tree skirt that fits in with the overall motif. These skirts cover the tree stand and simplify picking up dead needles from a living tree.
Pro Tips:
Fabric is the most common material for tree skirts. However, wicker and galvanized metal are also creative alternatives.
You can lay down some white fabric and set up a family of snowman decorations to create a winter wonderland or a little hamlet around the tree.
Generally, your tree skirt should be wide enough to cover the tree stand but not extend past the tree's lower limbs.
Presents under the tree are a necessary component of each Christmas tree. Put your Christmas train, nativity scene, or hamlet under the tree this year.
18 Gorgeous Christmas Tree Decorating Ideas In 2023
1. Modern Christmas Tree Decorations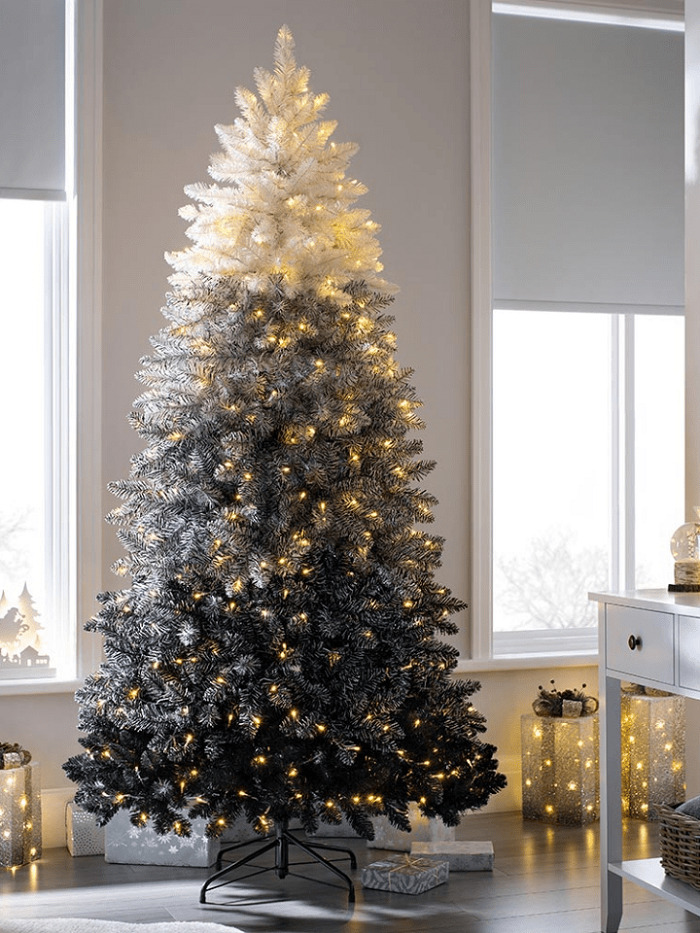 The first type of Christmas tree decoration idea that Oh Canvas loves sharing is the modern one. Creativity is unstoppable, and the style shifts throughout the year. As a result, the ombre Christmas tree will be popular in 2023. The transition of several hues or tones is known as ombre. If you want to give your tree an ombre effect, arrange your decorations in rows based on shade or hue. Instead, you could paint the tree in an ombre pattern.
2. Traditional Christmas Tree Decorations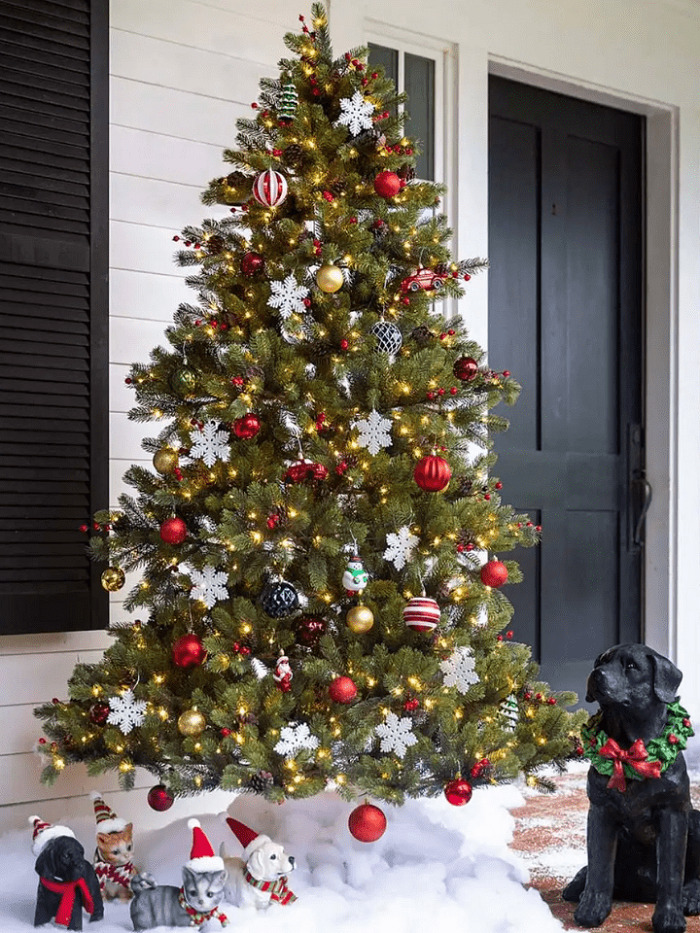 It's a lovely way to share the pleasure of the holiday season with your loved ones, neighbors, and maybe even total strangers by decorating your home's exterior with Christmas lights and other festive accents. For the farmhouse Christmas decor, lights should be wrapped around it. When it comes to enjoying the Christmas season, trees and lights provide a wonderful, joyful touch to the corner. The tree will undoubtedly impress guests with its colorful and dazzling lights.
3. All-White Christmas Tree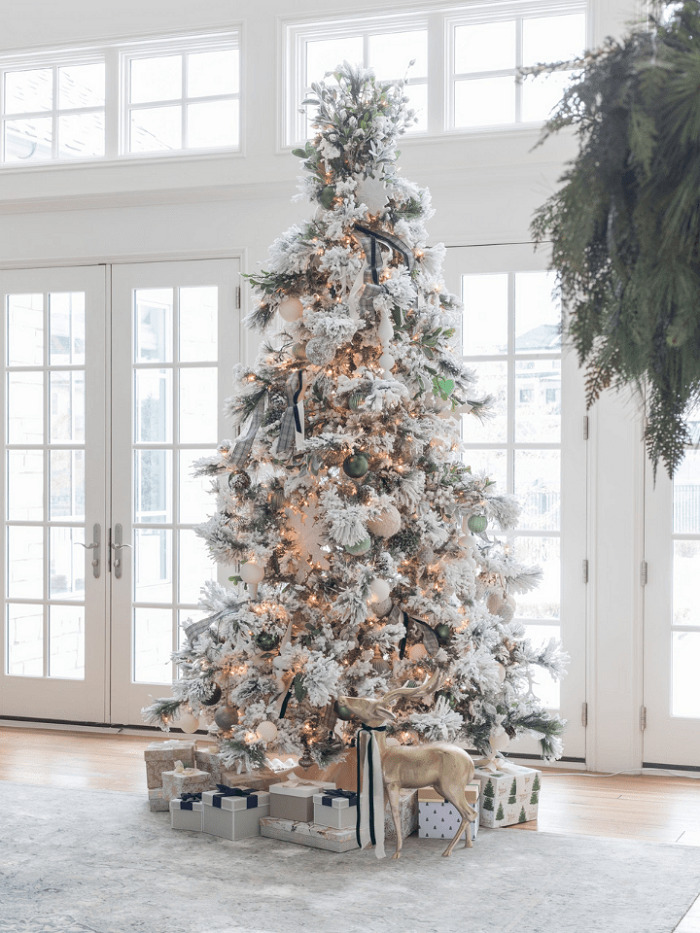 White Christmas tree decor ideas are ideal for those who prefer an aesthetic and balanced tone in their home. It makes no difference whether your tree is green or white. When combined with white decorations, the tree may powerfully express your style. You might buy a white tree from a home decoration shop or quickly transform a green tree to white by spraying it with white paint. Then, use pastel or glittery ornaments for a glam effect on the tree.
4. All-Black Christmas Tree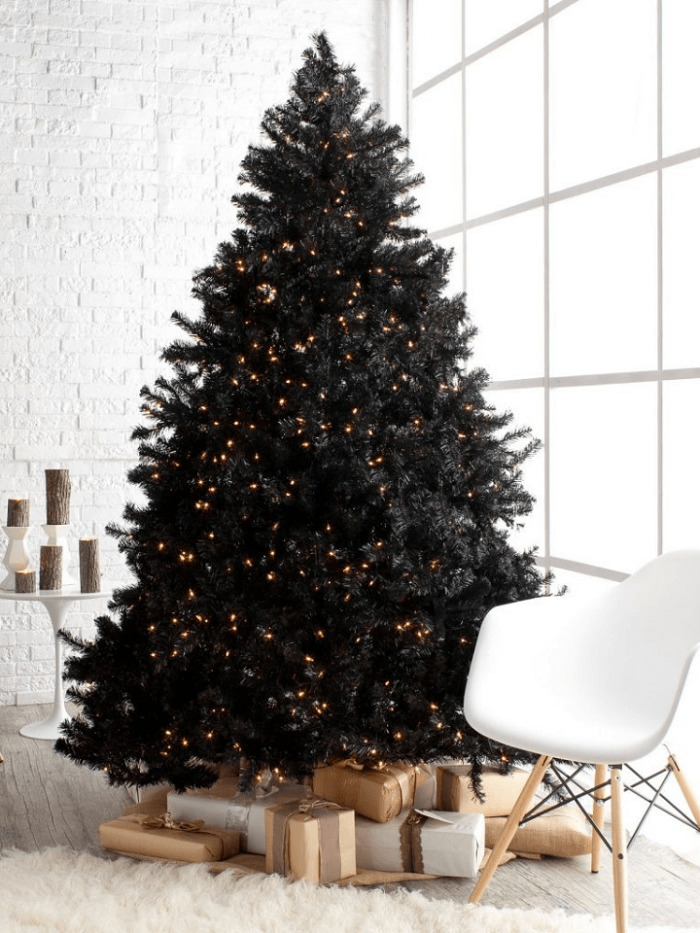 Consider a black Christmas tree idea for people who like a more contemporary look. It's a versatile hue. Regarding personality traits, people who choose black tend to have a strong desire for power and distinction.
People in this category are often creative and passionate. Individualistic and strong-willed, they like to be in charge of their own lives and environments. The same goes for the white tree; you can conveniently get it in stores or repaint it. With a black tree, you may go all out with energy and even sparkly lights.
5. Black and White Christmas Tree Decorations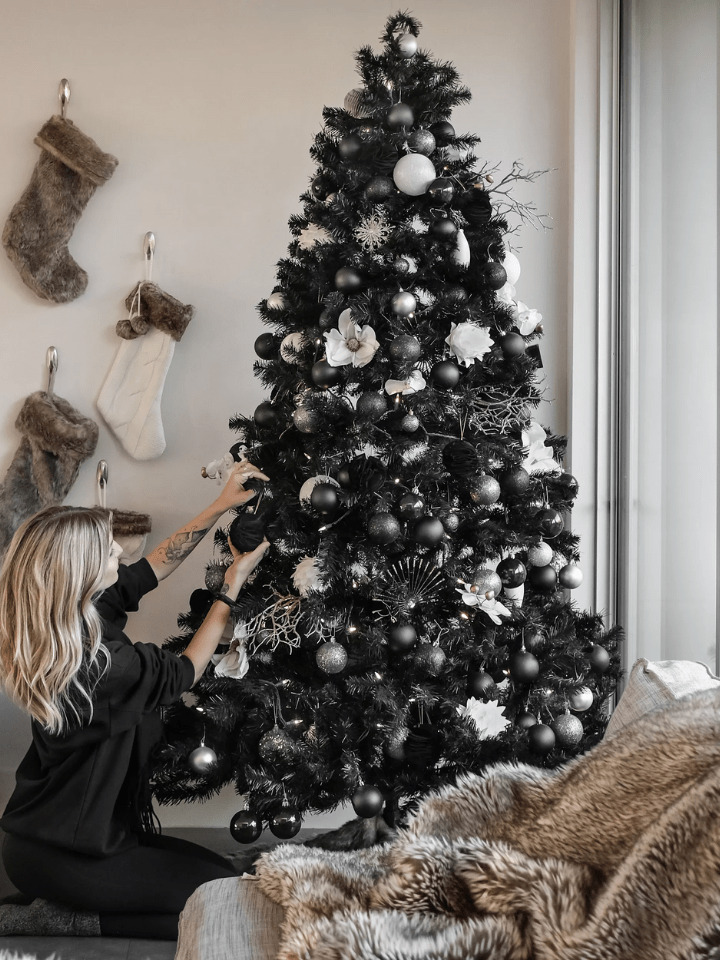 The combination of white and black for the Christmas tree decoration ideas is stunning. The white and black contrast creates a real monochromatic palette. Adding white to the black tree can create a naturally upbeat and cheerful vibe. From minimalism to contemporary, black-and-white Christmas tree design ideas are all timeless and elegant.
6. Red Christmas Tree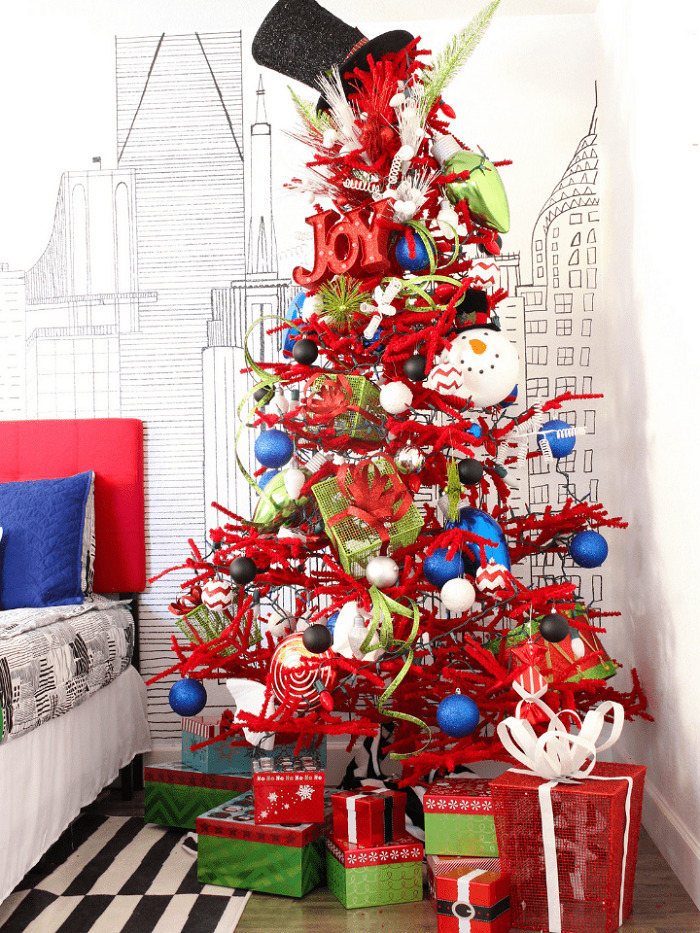 Red Christmas tree decor ideas are best suited for people who prefer to make a focal point in their home using vibrant colors. When wrapping Christmas tree decorations in red, decorate the atmosphere with a solid and striped ribbon to give it a greater appearance. It will appear like a giant present for everyone who enters your house. As a result, red Christmas tree decor ideas will perfectly provide a joyful environment on any occasion where it is placed.
7. Red and white Christmas Tree Decorations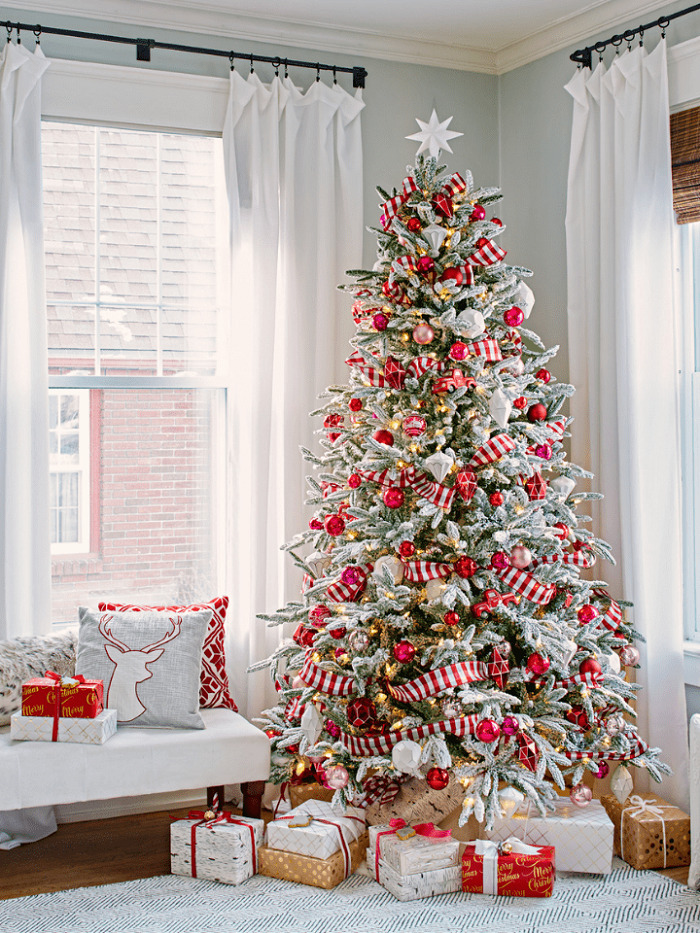 When discussing Christmas, the key colors are red, white, and green. Green depicts Jesus Christ's eternal life, as evergreen trees remain green throughout the winter. Besides, red similarly signifies Jesus Christ's bloodshed at his crucifixion. And white, the color of snow, is always linked to the holiday season. That is why the Christmas tree decoration idea goes with red and white ornaments, never going out of style.
8. Gold Christmas Tree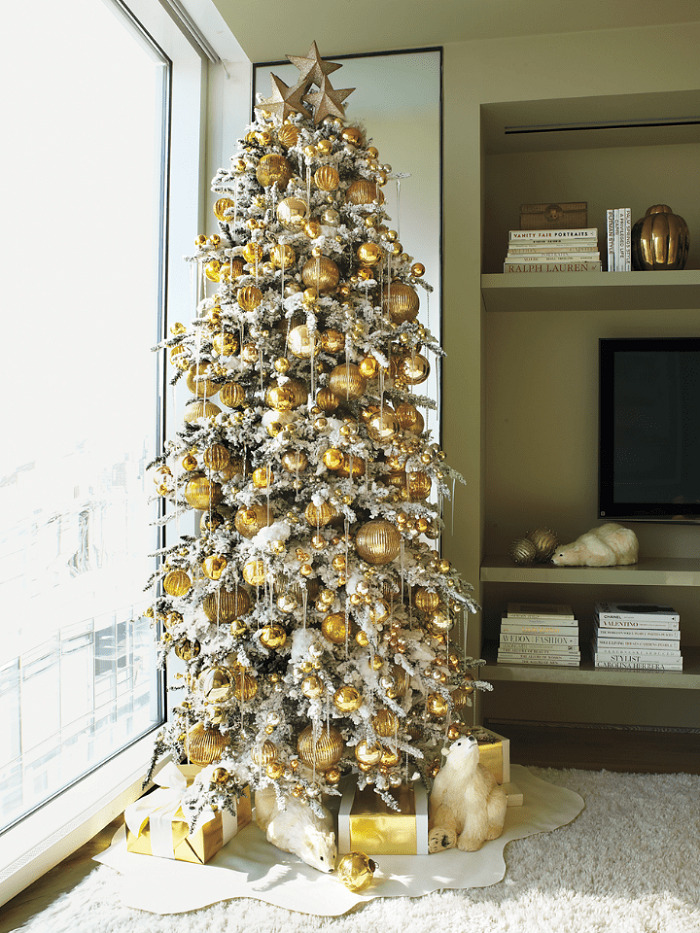 Yellow is one of the most commonly used colors for farmhouse Christmas decor. Golden has typically inspired a luxury sense in a setting for decades. Gold Christmas tree decor ideas will surely provide a glamorous touch to your living space. Once placed in your house, it will add a sparkling touch to your interiors throughout the winter.
9. Red and gold Christmas Tree Decorations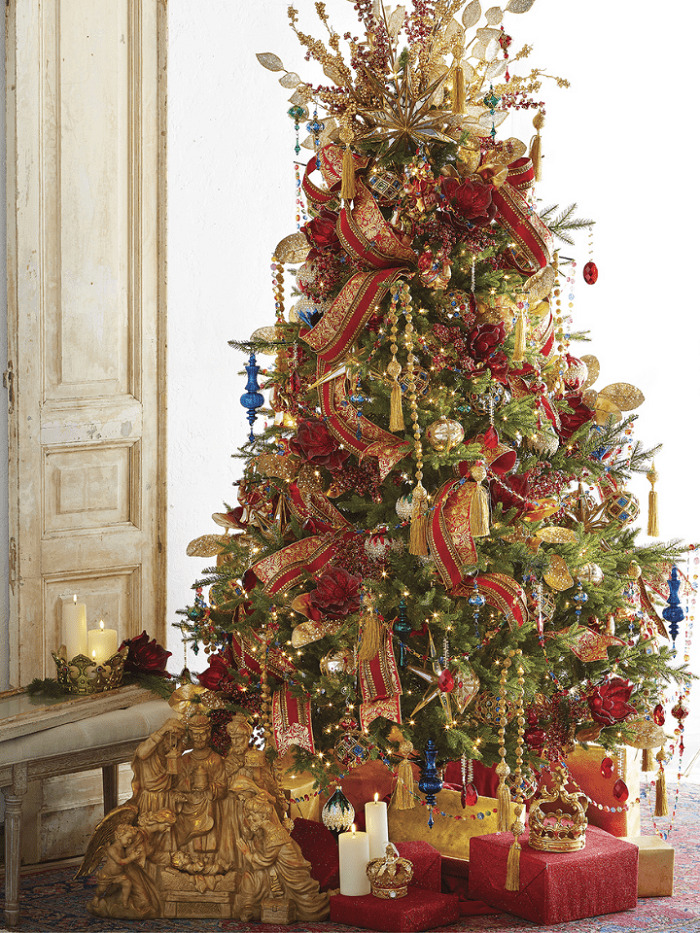 The color theme for Christmas 2023 is brilliant in classic and up-to-date colors. The color gold symbolizes luxury and opulence. Red and gold represent the fire on the Christmas tree, which will create the coziest atmosphere in your house. Along with the fireplace, red and gold Christmas tree decor ideas may help you bond with your family happily.
10. Pink Christmas Tree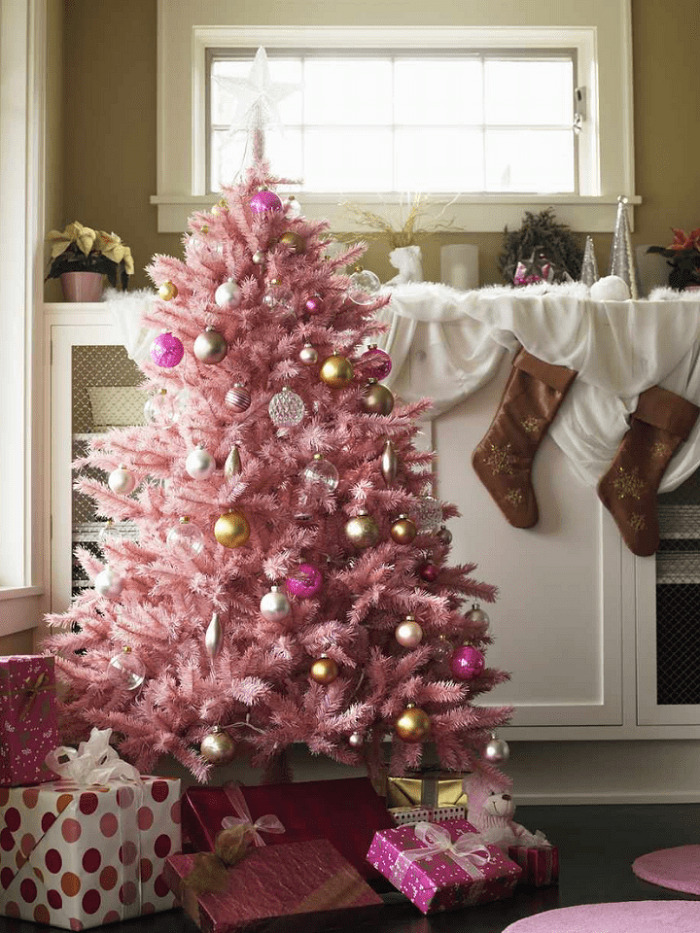 If you have a great affinity for pink as a favorite, you are likely kind, compassionate, and sensual. Those drawn to the color pink are believed to have idealistic ideals because of their romantic outlook on life.
11. Rose gold Christmas Tree Decorations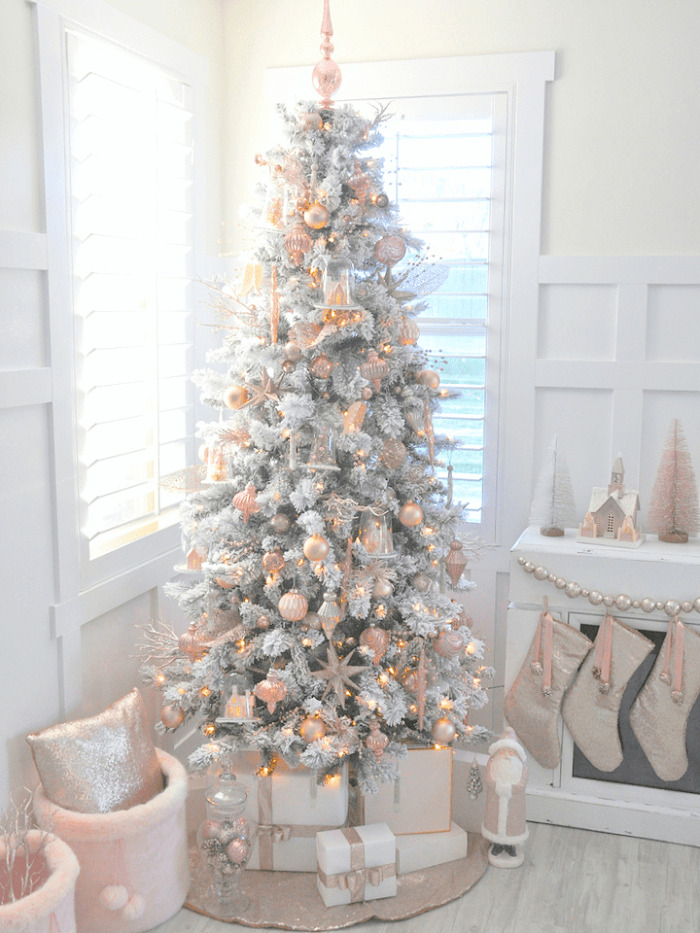 Gold Christmas tree decorations are best in warm and balanced tones like red or pink. This combination is so delicate that you can embrace it with ornaments like flowers, ribbons, lights, socks, etc, to emphasize the colors and textures used. The rose color tone will make your home space more similar to the farmhouse christmas decor style
12. Purple Christmas Tree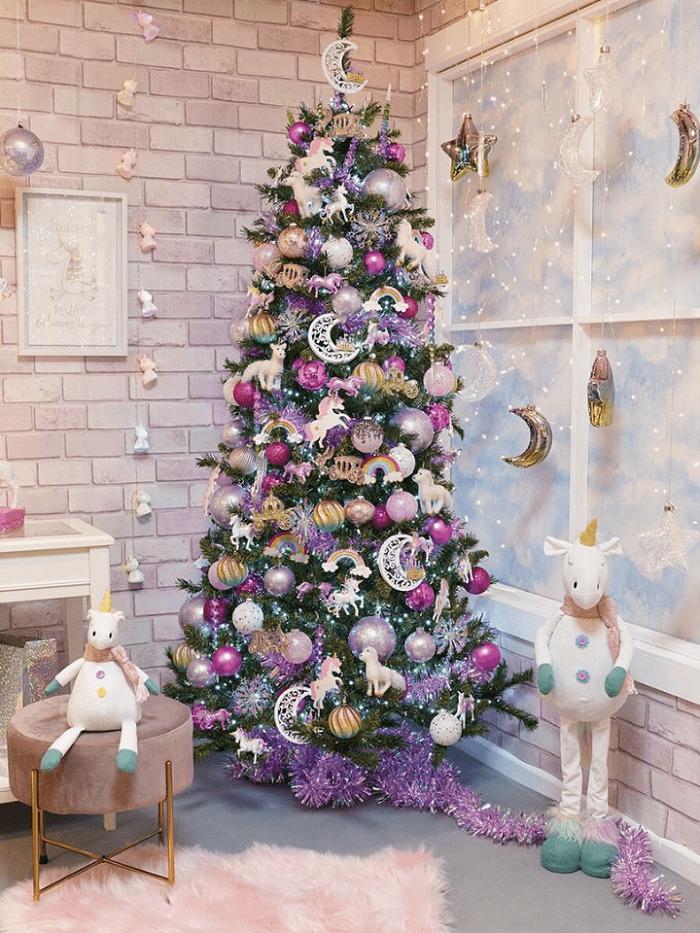 Purple is a soothing and pleasant hue for your personality, giving you an air of quiet dignity. People are attracted to purple because of its charming and appealing vibe. Creative thinking and dealing effectively with hardship are hallmarks of those who love this charming color.
Like pink, purple is associated with royalty, nobility, luxury, power, and ambition. You can get a whole Christmas tree in a purple shade or incorporate the color through decorations or other ways.
13. Blue Christmas Tree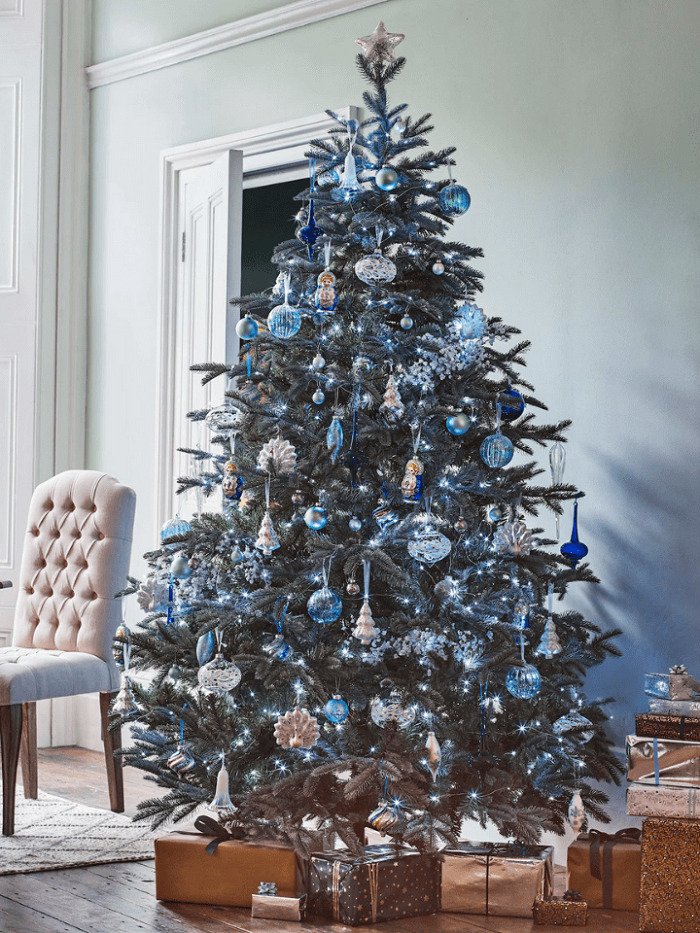 Blue is a peaceful and relaxing tone that indicates intelligence and integrity. Blue symbolizes openness, freedom, intuition, creativity, and inspiration in the sky and the sea. Moreover, blue is calming and soothing as well. It is said that if someone loves blue, they care and want to contribute to everything they are a part of. That's how blue is favored when choosing a Christmas tree color.
In addition, dressing the Christmas tree in blue adds a coastal feel to the apartment. Consequently, the blue Christmas tree ideas are ideal for those who appreciate the beach and tranquility.
14. Green Christmas Tree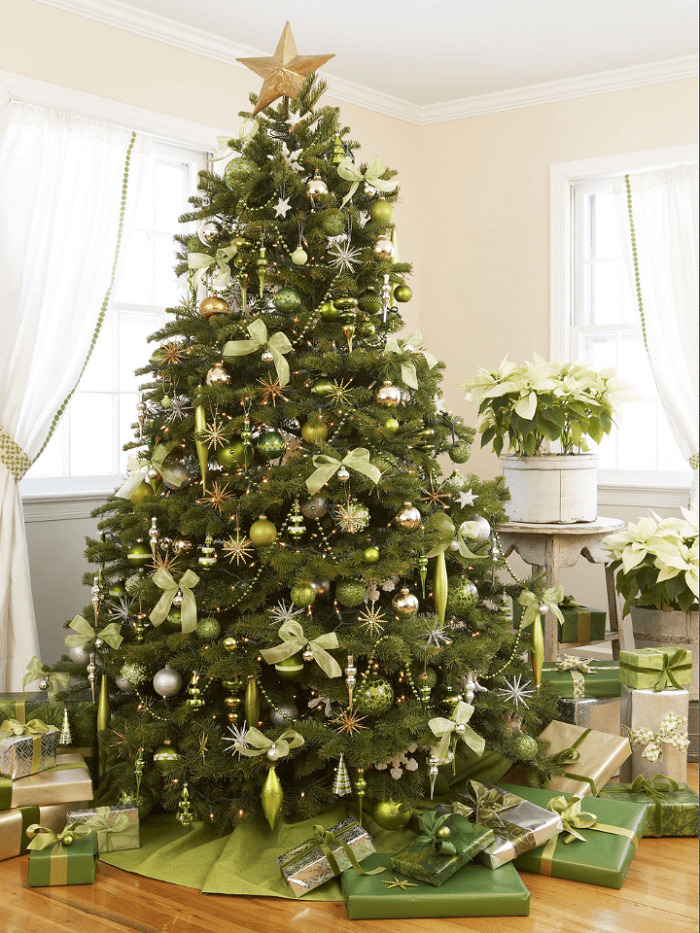 Grass, plants, and trees are all connected to green, making it a global symbol of nature. The hue of spring and rebirth also symbolizes development and rejuvenation. Thus, the green Christmas tree decoration idea is typical holiday house decor that never goes out of style. You may embellish it with little toys, gifts, paper ornaments, wind chimes, and other items. Having a green tree in your house has a calming effect on the mind and body.
15. Silver Christmas Tree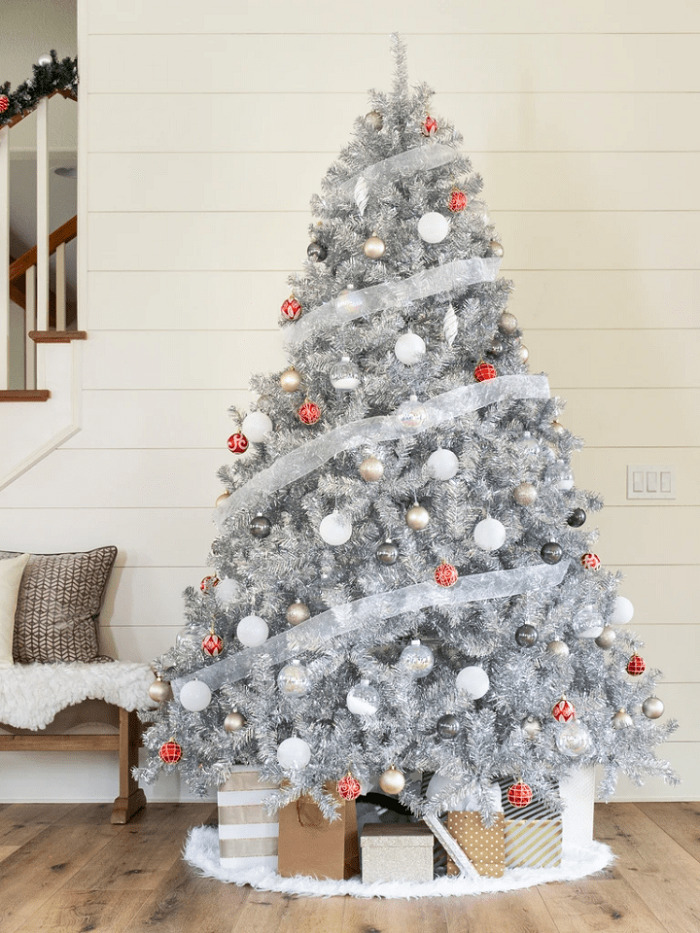 Silver, like gold, is typically associated with wealth and prosperity. As the color of a gemstone, silver symbolizes hope, unconditional love, and meditation. Dressing the Christmas tree in silver is another way to add a luxurious but elegant touch. Silver Christmas tree ideas may also be used to describe the winter season in terms of the color of the snow. Besides, if you want to go more glinting, layer on the metallic tones.
16. Dollar Tree Christmas Decorations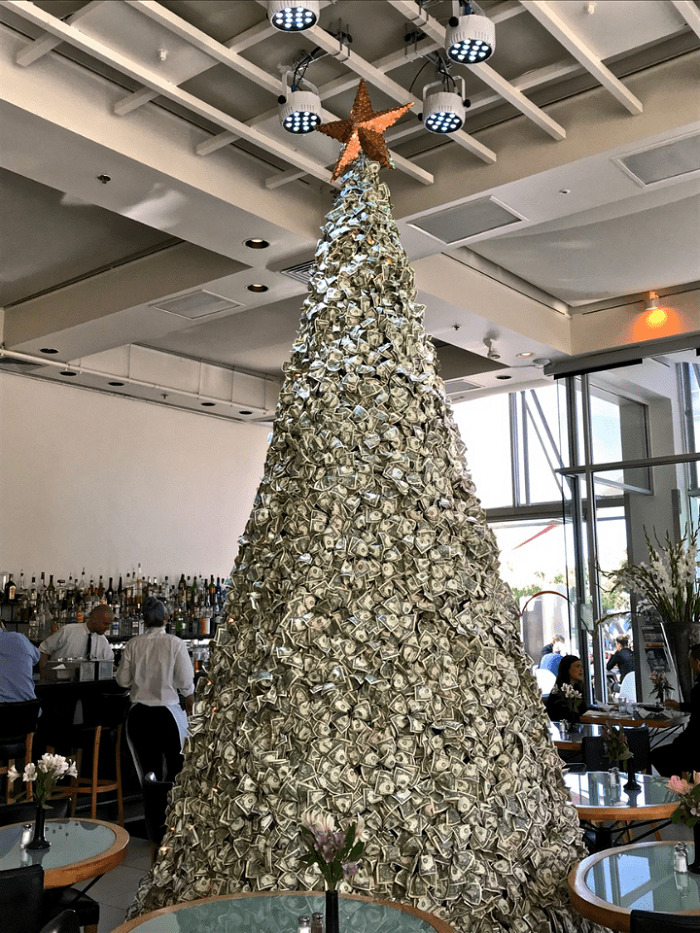 If you love having a unique item for Christmas, we suggest considering the dollar tree Christmas decor idea. You can hang money decorations on the tree as accessories or put money in the red socks to attract people. You can surprise your loved ones with dollar tree Christmas decorations by giving them a Christmas present.
17. Rustic Christmas Tree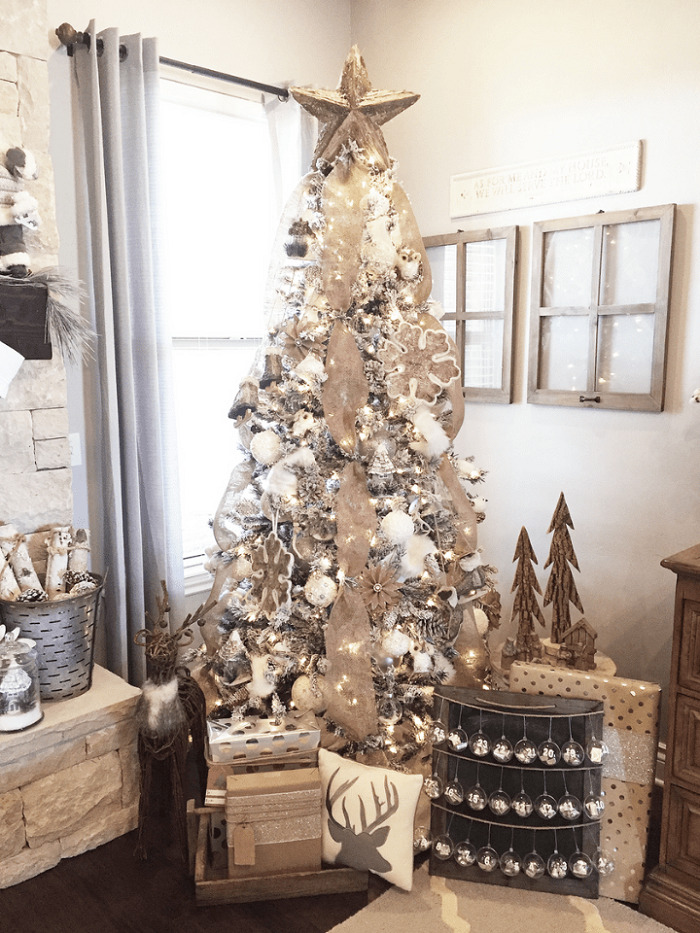 Consider the rustic Christmas tree decor idea if you have a place designed with fresh whites and natural textures. A rustic tree may combine classic elements such as red balls, a gorgeous rattan star topper, and plaid decorations. Pine cones, cotton pieces, and natural components such as a dried citrus garland look great.
18. Simple Christmas Tree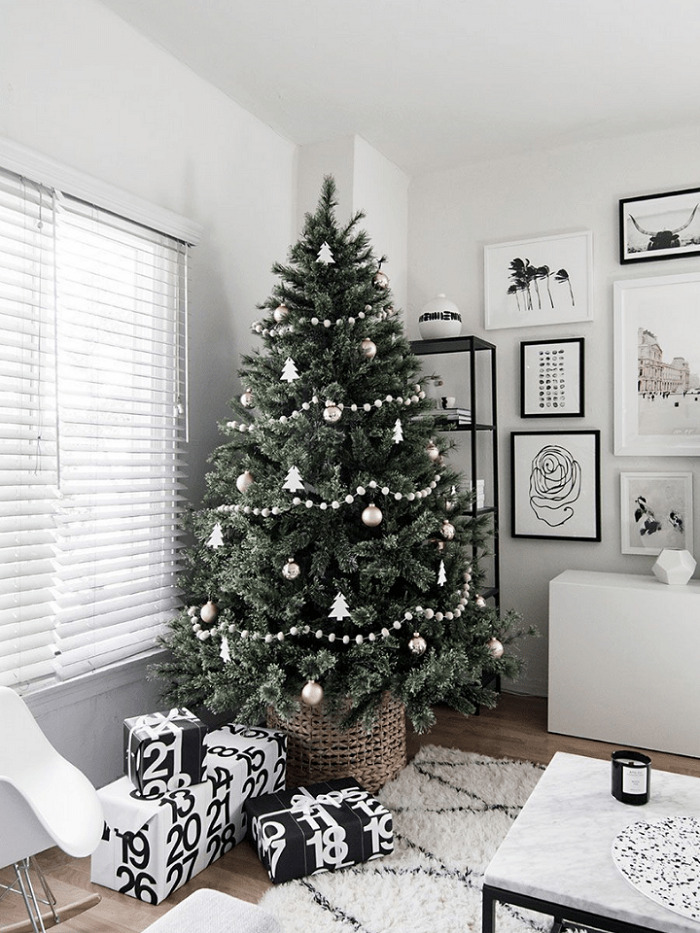 Simple Christmas tree decoration ideas offer your home a traditional and timeless touch. It is frequently used with white and red candies, balls, yellow stars, and brightly colored presents. Choose things with gentle tones for the greatest appeal regarding farmhouse decor.
>>> Maybe you're curious about:
Decorating a Christmas tree is more than just a fun activity; it's a time to honor history, express individuality, and bond with loved ones. You may create a wonderful centerpiece that encapsulates the season's spirit by sticking to a theme, making your own ornaments, or letting your imagination go wild. Choosing a Christmas tree is just the beginning; topping it off is another chance to leave a mark and make memories that will last a lifetime. Get together with loved ones, soak up the festive atmosphere, and let the Christmas tree's glowing bulbs shed light on the season's wonder. Have fun with the decor!