Christmas is coming up, bringing with it a symphony of joy and celebration. A sense of camaraderie filled the room as families clustered around the roaring fireplace, bathed in the warm, ethereal glow of glittering lights. Laughter flooded the air, combining with the pleasant melodies of shared stories, weaving a tapestry of happiness and connection. These simple yet magical things together create lovely, cherished moments that gently twirl within the embrace of the heart.
Adorn your home with the ageless beauty of Christmas decor ideas and immerse yourself in the season's magic. Let the lights bring you cheer, the ornaments tell a tale, and your home becomes a haven of holiday magic. By using any of Oh Canvas's many holiday-themed design concepts, you may turn your home into a winter wonderland to express your holiday spirit.
Let the countdown begin!
Sparkling Ornaments For X Mas Decoration Ideas
1. Twig Ornaments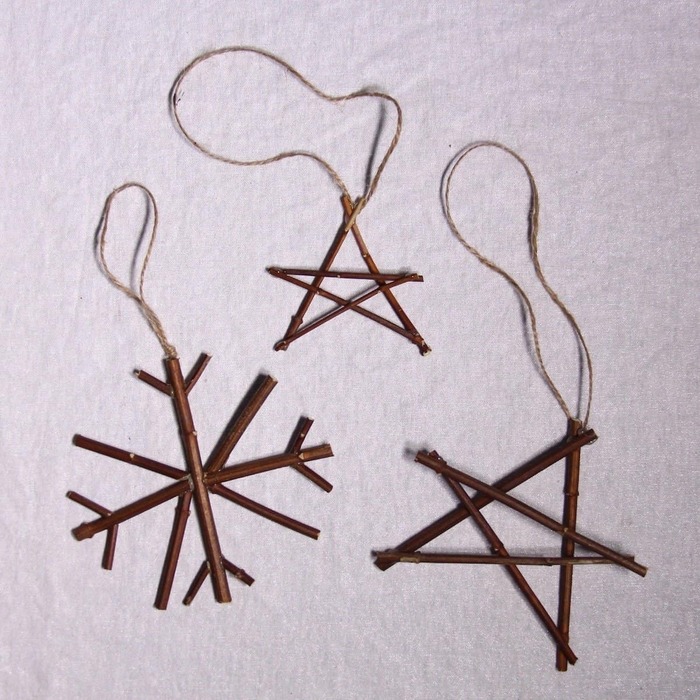 Spread holiday cheer by adding some Twig Ornaments to your cozy, magical holiday decor. These enchanting nature-inspired adornments transport the beauty of the great outdoors into your cozy abode, imbuing your Christmas tree with a sprinkle of woodland magic. Made from delicate branches, each piece is lovingly shaped to capture the essence of the enchanting season. With their unique and natural allure, these ornament ideas effortlessly stand out amidst the glimmer and sparkle traditional Christmas decorations.
2. Confetti Ornament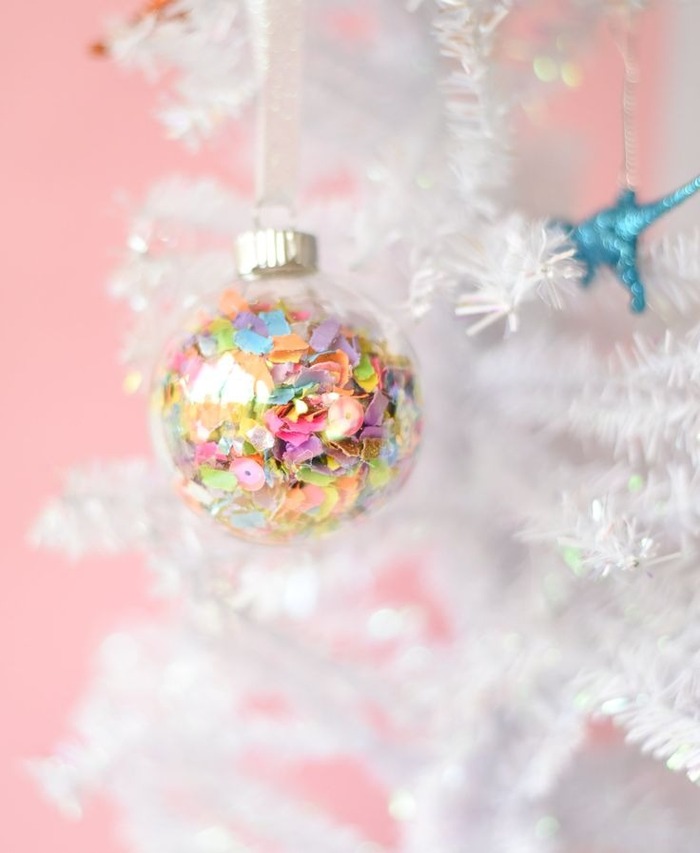 Sprinkle a flurry of merry cheer onto your holiday festivities with Confetti Ornaments. These merry decorations are adorned with sparkling, glistening confetti, creating a festive and spirited visual delight. Whether hanging from the branches of your beautiful Christmas tree or delicately decorating garlands and wreaths, these beautiful Christmas ornament ideas will add a joyful and magical atmosphere to your holiday parties.
3. Spindle Ornaments
Enhance your festive adornments with the everlasting charm of these X mas decoration ideas, spreading Christmas magic throughout your home. Enveloped in the enchantment of Christmas, these delightful ornaments showcase exquisitely crafted spindles that evoke a nostalgic aura of yesteryear. The enchanting intricacies and elegant contours make them a refined addition to any merry display, bringing a sprinkle of sophistication to your Christmas adornments.
4. Tis the season for Salt Dough Ornaments
Making Salt Dough Ornaments is one of the most wonderful Christmas decor ideas to express your holiday mood and add a touch of magic to your holiday décor.
These festive and merry handmade treasures bring a heartwarming and joyous touch to your Christmas tree. Crafted from a magical blend of snowy salt, enchanted flour, and sparkling water, each ornament is a wondrous canvas awaiting your artistic expression. Immerse yourself in the enchanting spirit of the holiday season as you embellish your tree with these delightful, handcrafted ornaments.
5. Stamped Clay Ornaments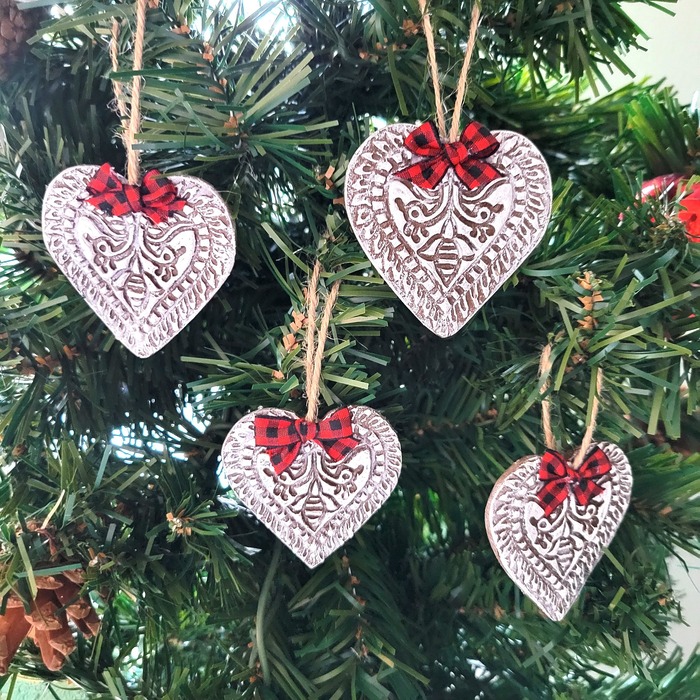 Infuse your festive decor with a sprinkle of artisanal magic by crafting Stamped Clay Ornaments. Fashioned from malleable clay and with elaborate patterns, these delightful and unique Christmas ornaments infuse your merry ensemble with a touch of handcrafted charm. The festive stamped patterns bring a delightful and enchanting effect, transforming them into a dazzling highlight on your Christmas tree.
6. Wood Bead Ornaments
Whether hung on the branches of your Christmas tree or used to embellish garlands and wreaths, these ornaments seamlessly blend with rustic and modern Christmas decor ideas. Their versatility as a blank canvas for other colors makes them ideal for classic color combinations like red and green and more daring modern color combinations. They can be used to decorate mantels, make mobiles, or even as part of table centerpieces.
7. Red Truck Xmas Ornament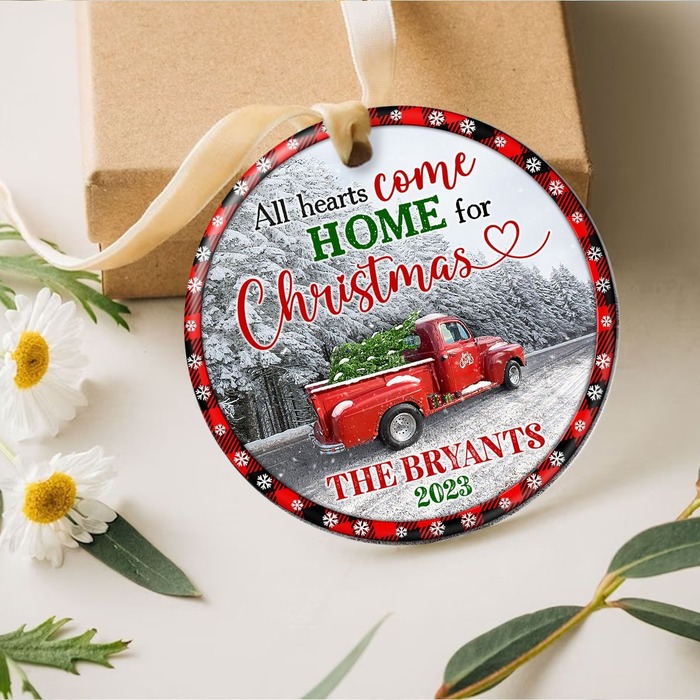 The red truck shines like a beacon of Christmas past among the other Christmas ornament ideas. Its small size, decked out with wreaths and heavy with the spirit of the season, perfectly reflects the essence of holiday travels and cherished Christmastime recollections. The red truck ornament on the tree is like a delightful storyteller, telling tales about the wonder of winter travel and the excitement of Christmas.
8. Personalized Photo Christmas Ornament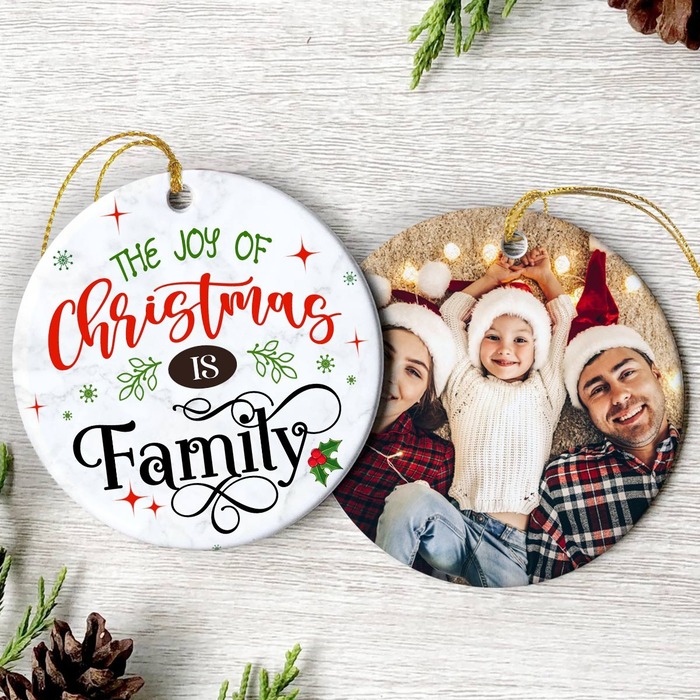 Within the delicate frame of the personalized photo Christmas ornament, memories come alive like whispers of joy frozen in time. Photos tell stories, and the whole tree becomes a memorial to happy times and shared memories. Every time you look at the tree, you'll be transported to a new chapter in the story of your love as told by the ornaments you've hung on it. This family photo ornament is also a thoughtful Christmas gift idea for grandpa that he'll love.
9. Festive Brush Stroke Ornaments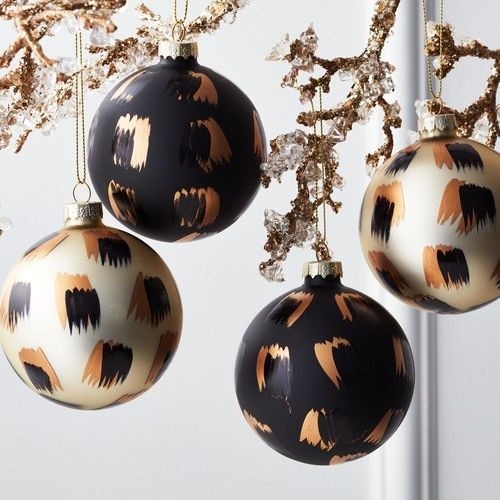 Brush Stroke Ornaments are a contemporary take on classic ornaments, injecting color and style into your Christmas holiday decor. Like a painter's canvas imbued with the holiday spirit, these decorations are covered in vibrant and bold brush strokes. Decorating with a wide variety of colors, from traditional reds and greens to trendy metallics and pastels, gives you plenty of room to express your individuality.
10. Jolly Bauble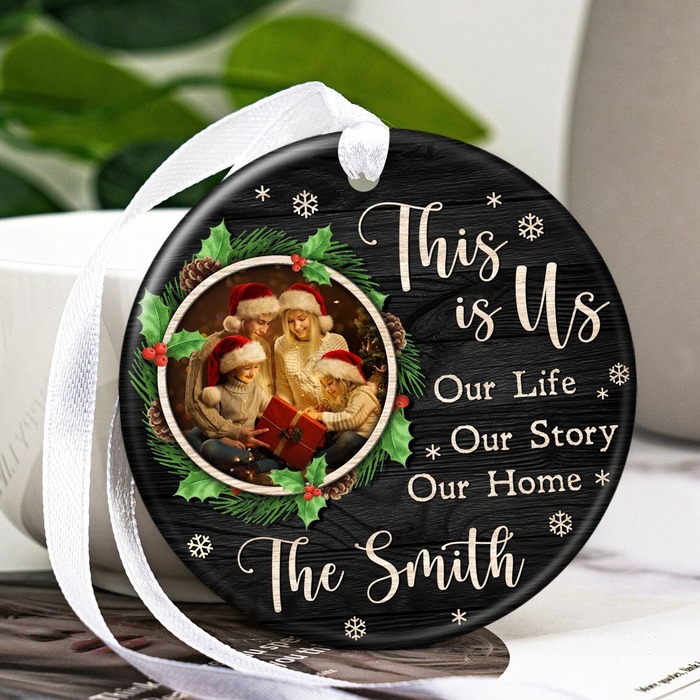 Deck the halls with the joyous and festive ornament designed to fill your heart with Christmas spirit. This jolly ornament exudes merriment and cheer, showcasing festive hues, enchanting patterns, and perchance a heartwarming sentiment. May this delightful ornament be a constant symbol of the merry Christmas spirit and the blissful moments accompanying this magical time of year.
11. Jingle Bell Assorted Ball Ornaments Set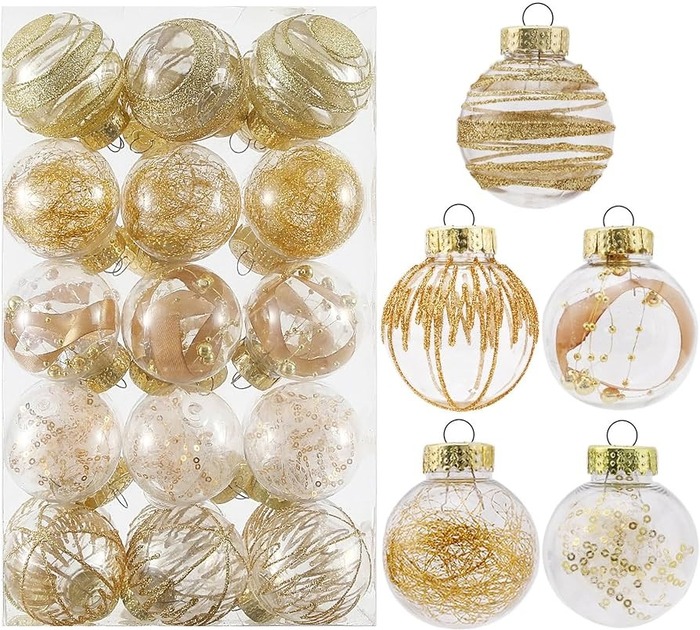 Each ornament in this beautiful set is decorated with lovely jingle bells, instantly making your space feel more festive. These charming little bells not only create a delightful auditory experience, but they also have the magical ability to transport you back to cherished memories of joyous holiday celebrations. Whether you're looking for a traditional, modern look or something a little different, these beautiful Christmas decor ideas are sure to give your space a festive feel that is full of joy and magic.
12. Sparkling Christmas Tree Ornaments Set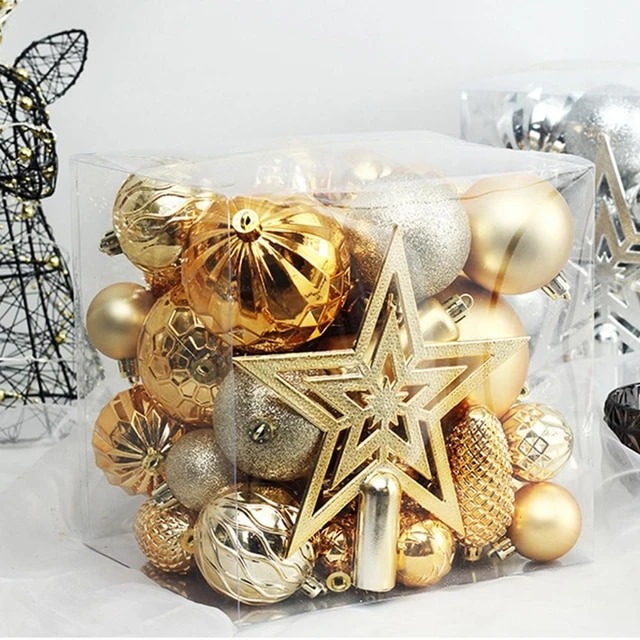 Each ornament, from classic forms like balls and stars to more unusual and ornate ones, works together to create a beautiful symphony of holiday style. These unique Christmas ornaments are not only a lovely addition to your Christmas decor, but they will also become treasured heirlooms thanks to their longevity and high level of craftsmanship. By decorating your tree with these glittering gems, you're producing an aesthetic display that captures the spirit of the Christmas season.
Inspiring Christmas Fireplace Decor Concepts
13. Putz houses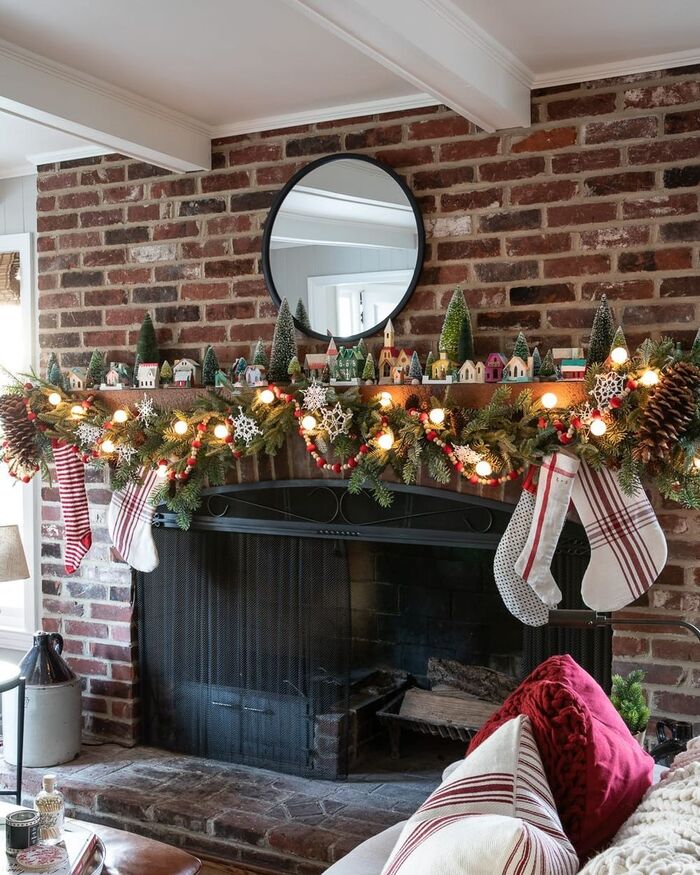 These fireplace Christmas decor ideas have the magical ability to turn any fireplace into a wintry wonderland. These delicately made cottages will bring back fond memories of simpler times and make a welcome addition to your holiday decor. Whether it's covered in fake snow or illuminated by Christmas lights, this fireplace concept display is sure to brighten up your holiday decor.
14. Winter Woodland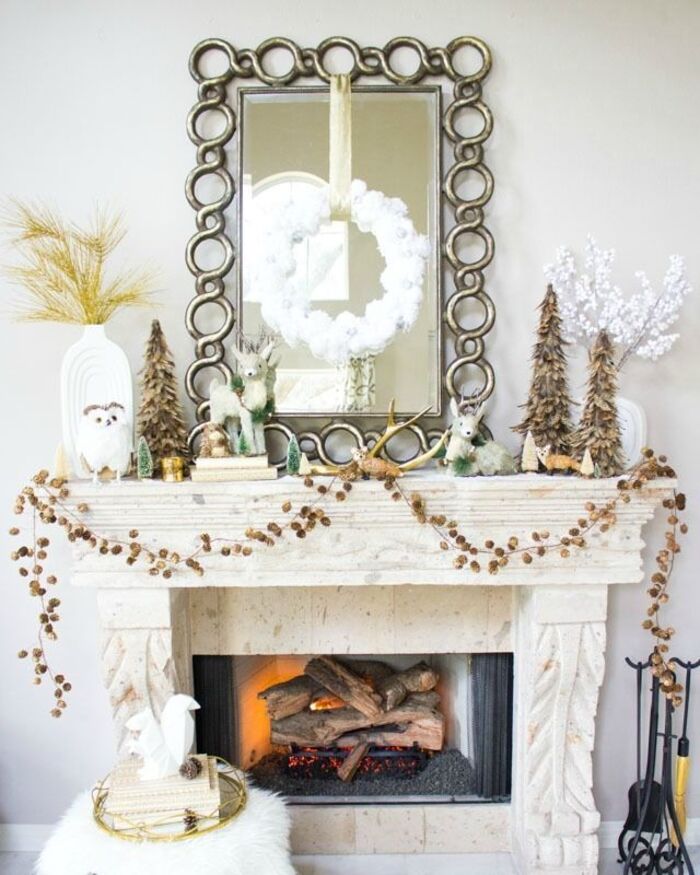 Enjoy the peacefulness of nature with a fireplace decked out in a winter theme. Put together a forest-inspired mantelscape by including pinecones, evergreen branches, and icy accents. The earthy tones and rustic textures create a comfortable feel, inviting the spirit of winter into your house. Enjoy the soothing sounds of nature without leaving your living room by lighting a fire.
15. Scandinavian Christmas Village Mantel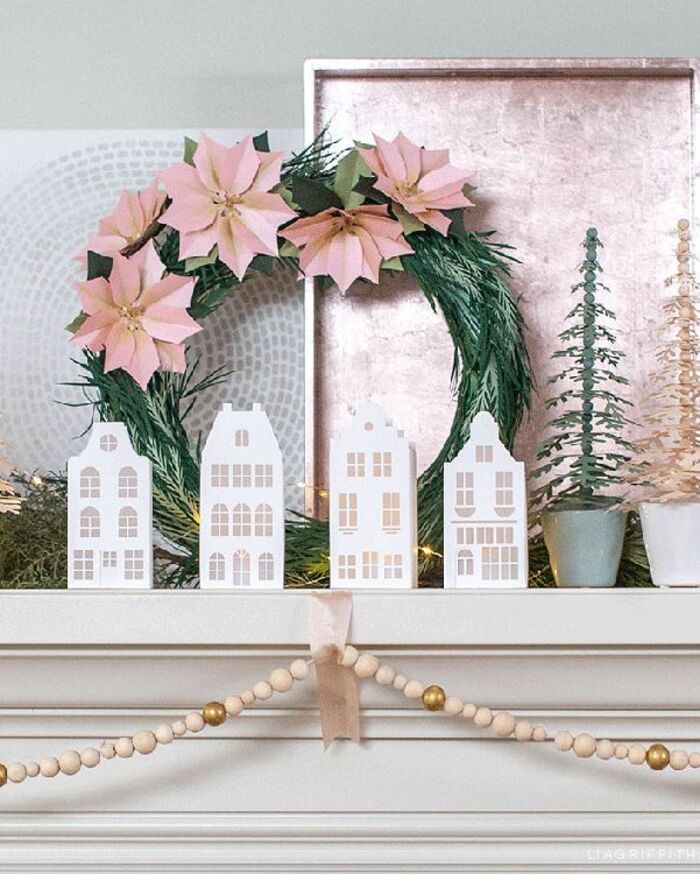 Looking for Christmas decor ideas with simple designs, neutral colors, and minimum accessories? This holiday, decorate your mantel with the Christmas Village for a touch of Scandinavian minimalism and elegance. Make your celebration look chic and current by focusing on clean lines, neutral hues, and minimal embellishment. In keeping with the Scandinavian desire for order and harmony, miniature homes and furnishings should be organized symmetrically.
16. Classic Christmas Mantel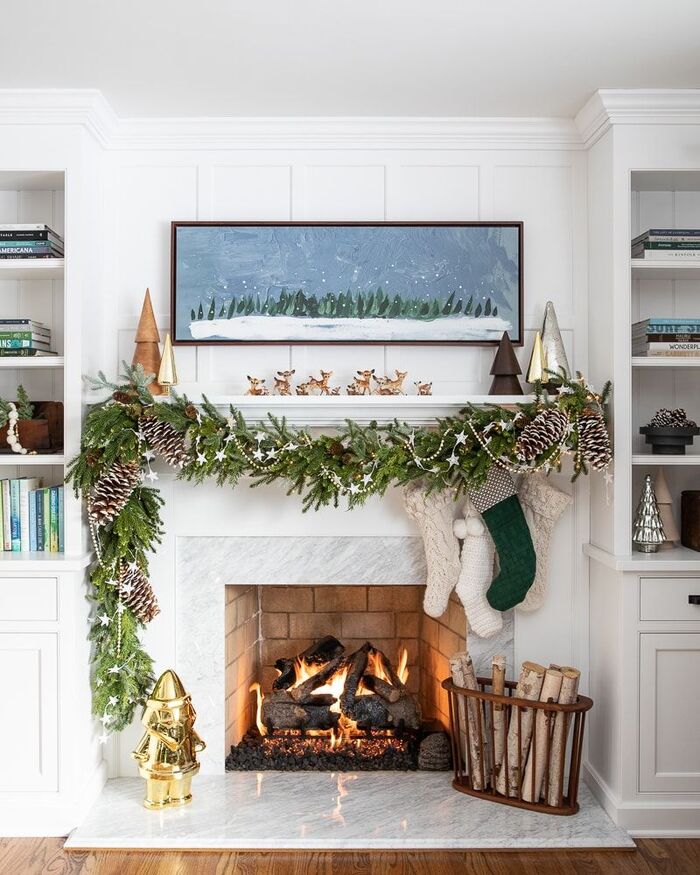 The centerpiece of these Christmas mantel decor ideas often includes a beautifully adorned wreath or a timeless arrangement of stockings, each one patiently waiting to be filled with holiday surprises. A symmetrical arrangement of candles, nutcrackers, and cherished family heirlooms adds a touch of sophistication, creating a scene reminiscent of yuletide celebrations from days gone by. The soft glow of twinkling lights or candlelight illuminates the display, casting a warm and inviting ambiance throughout the room.
17. Romantic Christmas Mantel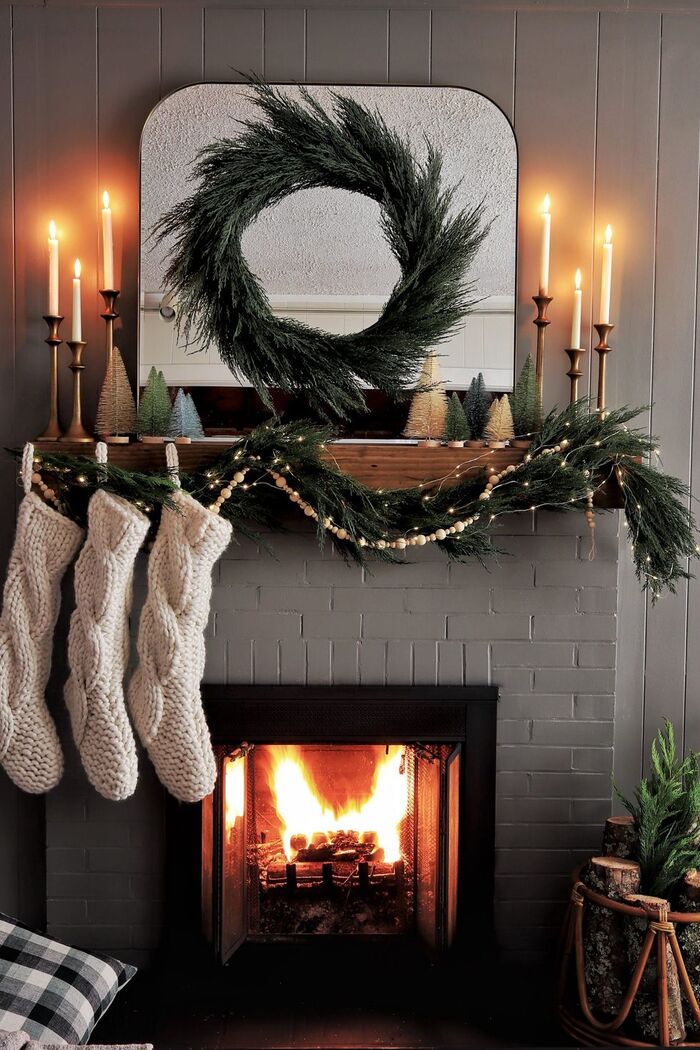 This fireplace Christmas décor will provide a sense of magic and romance to your hearth this holiday season. A romantic holiday scene is created with flickering candles, lacy accents, and muted blush tones. Create an inviting atmosphere by decorating with vintage candle holders, draped fabrics, and plush fabrics. During the holiday season, turn your fireplace into a cozy spot for two.
18. Simple Christmas Mantel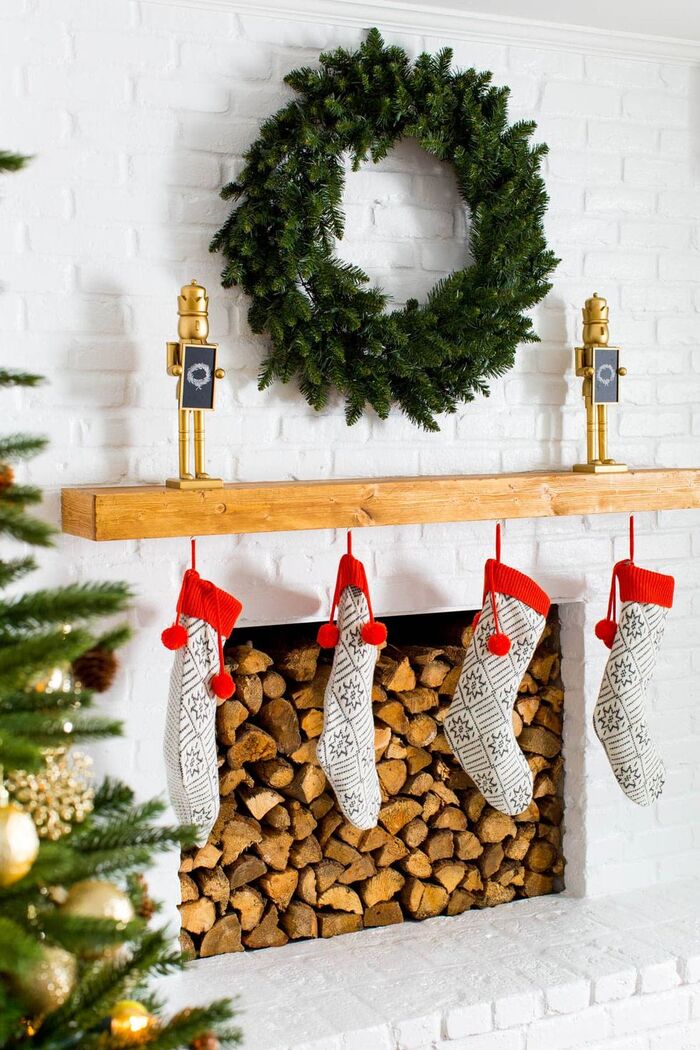 Recognize the value in less this holiday season. A modern and calming fireplace mantel is the result of simple design and a muted color scheme. Recognizing that "less is more," let a few well-chosen elements do the talking. This Christmas holiday decor idea will make your vacation home feel more up-to-date and sophisticated.
19. White, Gold, Blue Christmas Mantel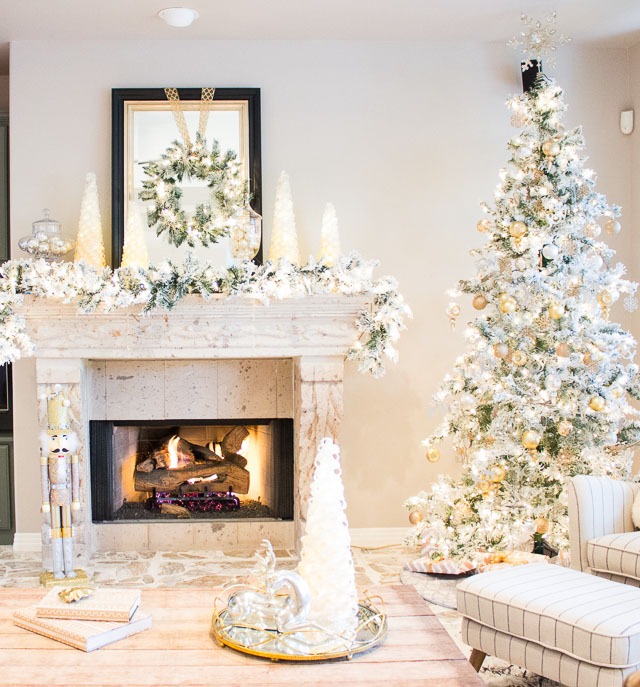 Create an indoor winter wonderland with white, gold, and blue x mas decoration ideas. This luxurious color palette is the perfect complement to your fireplace accessories. Embellish your mantel with golden ornaments, pure white decorations, and blue lighting to conjure the peaceful beauty of a winter wonderland. This idea will elevate your holiday celebrations to the next level.
20. Winter Wonderland Christmas Mantel
This gorgeous winter-themed Christmas holiday decor is perfect for setting the atmosphere in front of your fireplace. This exhibit, with its sparkling snowflakes, silver garlands, and frosted decorations, is reminiscent of a winter wonderland from a children's novel. Make your home a warm and inviting winter getaway by gathering around the fireplace.
21. Pampas Grass Wreath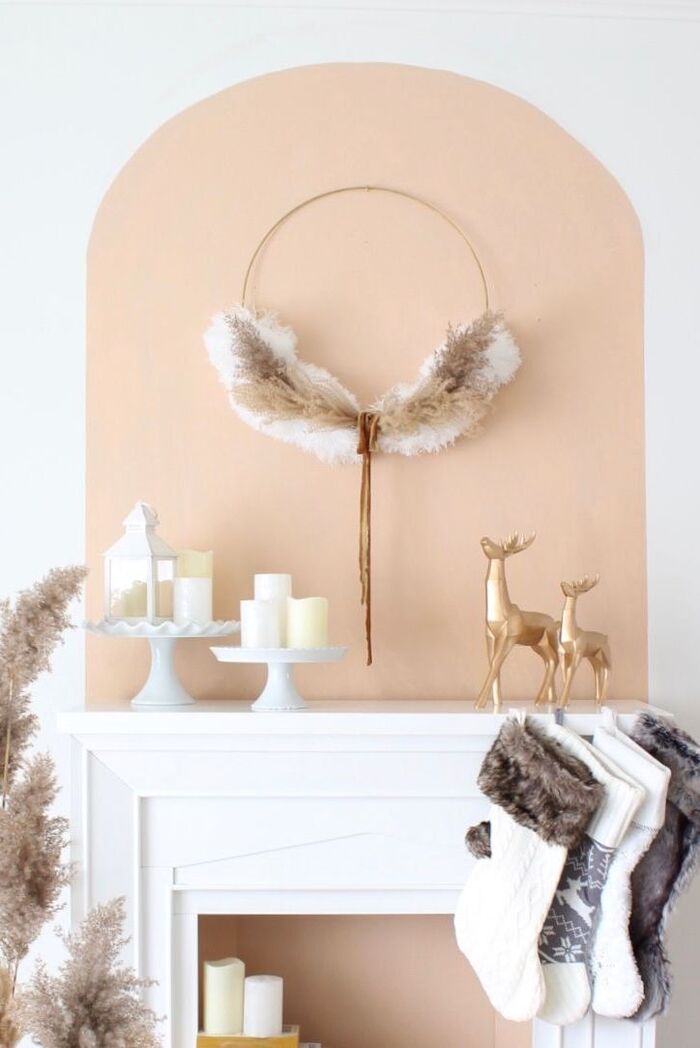 Adorn your hearth with a Pampas Grass Wreath for a touch of bohemian flair. The pampas grass plumes add a touch of softness and nature to your Christmas decor ideas. This fireplace Christmas décor idea, when combined with minimalist touches and earthy tones, makes for a fireplace display that is both fashionable and warm and welcoming.
22. Stocking Hanger Boxes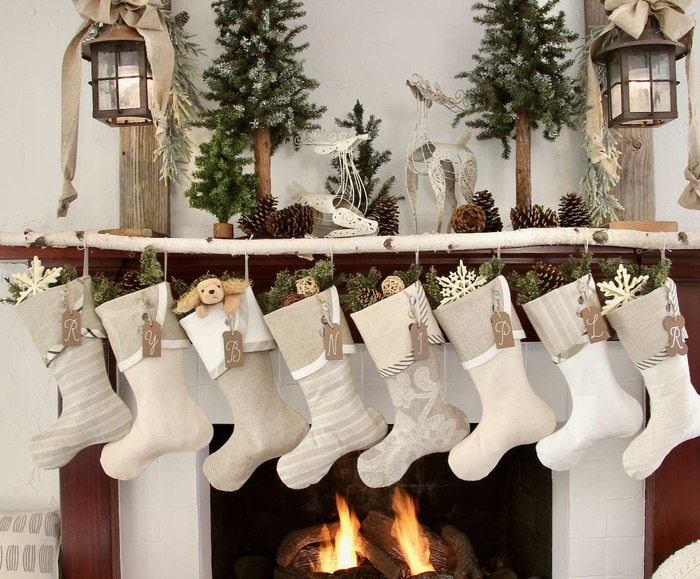 The standard stocking display can be taken to a new level with the help Christmas mantel decor ideas. These one-of-a-kind fireplace accessories are not only practical but also provide a stylish touch to your stocking display. Place them in a neat, symmetrical pattern, and stuff each one with sweets and other items. This idea not only improves the aesthetics of your mantel, but also increases the joy and excitement of the Christmas season.
Interesting ideas for Christmas gifts for family member in 2023 you might love:
The Greenery Christmas Decor Ideas Wreaths And Garlands
23. Wild and Wispy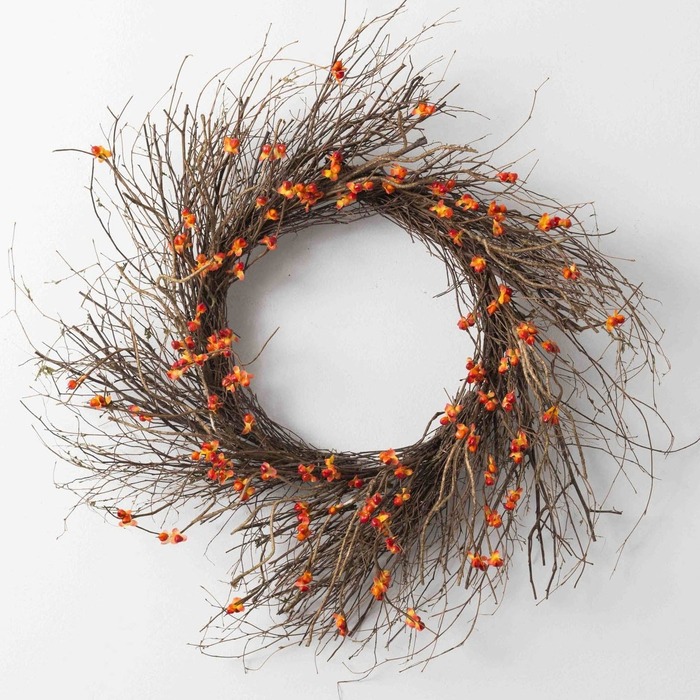 The untamed splendor of nature can be celebrated with the Wild and Wispy wreath. Crafted with a free-spirited arrangement of dried grasses, twigs, and delicate blossoms, this wreath captures the mood of a winter meadow. Its natural and fanciful aesthetic will bring a touch of bohemian festive cheer to your home while bringing the enchantment of nature indoors.
24. Fresh And Free-Flowing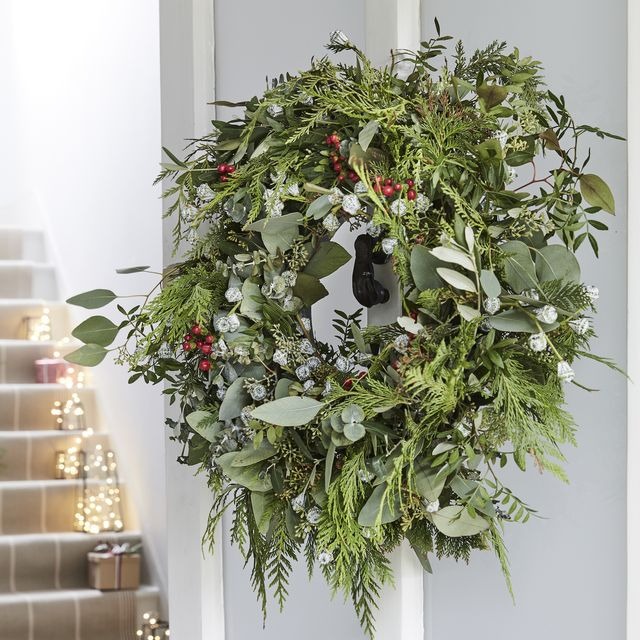 A Christmas holiday decor idea that is both fresh and free-flowing is a wonderful way to usher in the holiday season. This wreath, made of rich greenery, cascading vines, and seasonal blooms, reflects the splendor of a flourishing garden. Inject your home with the revitalizing aroma of fresh foliage and the festive colors of the season by hanging this wreath on your entrance or over your fireplace.
25. Fruitful Arrangement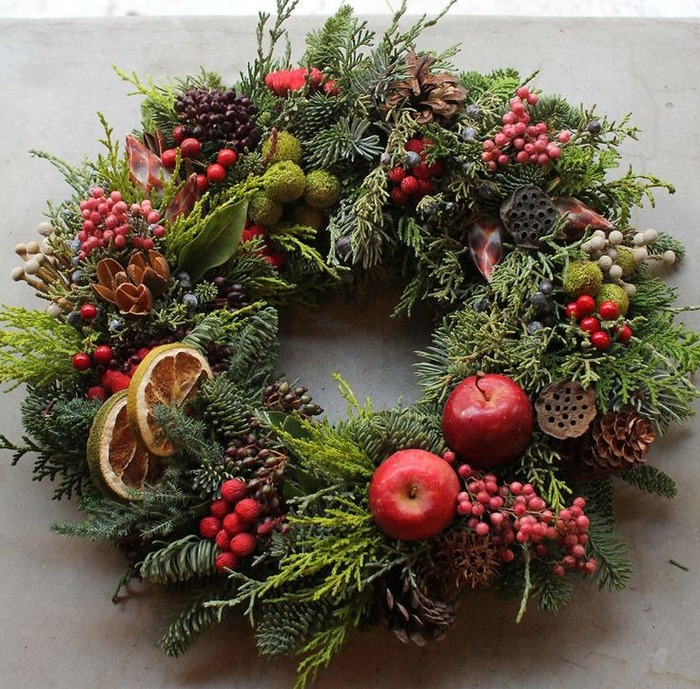 The vibrant colors and holiday cheer of a Christmas wreath from Fruitful Arrangement will take your Christmas decor ideas to the next level. This modern spin on a traditional wreath features an abundance of berries, citrus fruits, and foliage. The rich colors and textured decorations will be the showpiece of your Christmas party.
26. The Dapper Deer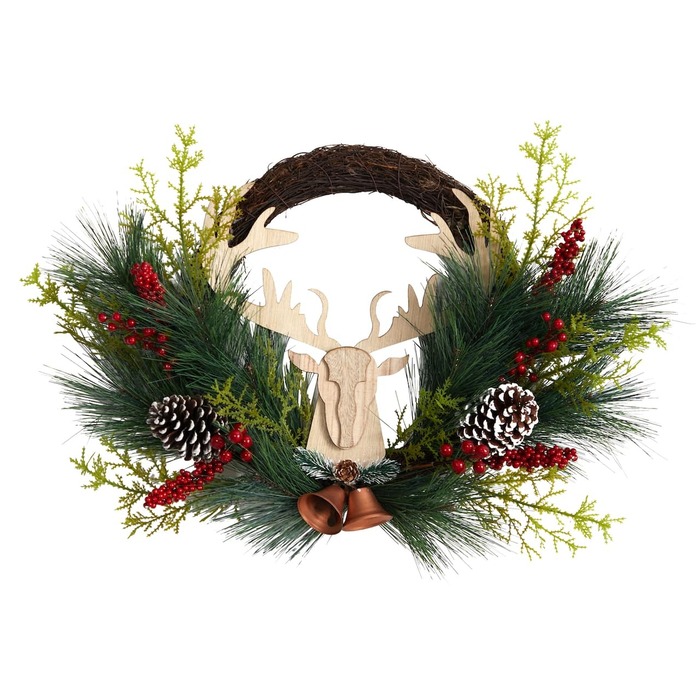 Bring some whimsical forest charm into your home with The Dapper Deer holiday wreath. This wreath has a touch of rustic elegance, with its little deer figurines perched among the evergreen foliage. These elegantly dressed deer will look great in your holiday display and bring a special touch to your home.
27. The Snowy Pinecone Wreath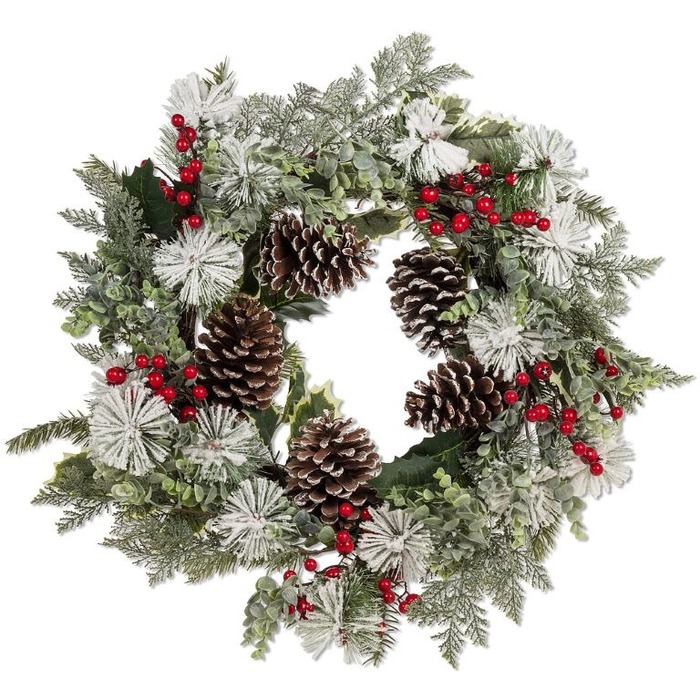 These front porch Christmas decor ideas capture the peaceful beauty of winter. Each pinecone has been given a little coating of fake snow to create the effect of woodland in the early morning hours after a fresh snowfall. This winter, hang this wreath on your door or above your mantel to make your home feel more like a winter wonderland.
28. Ornament Wreath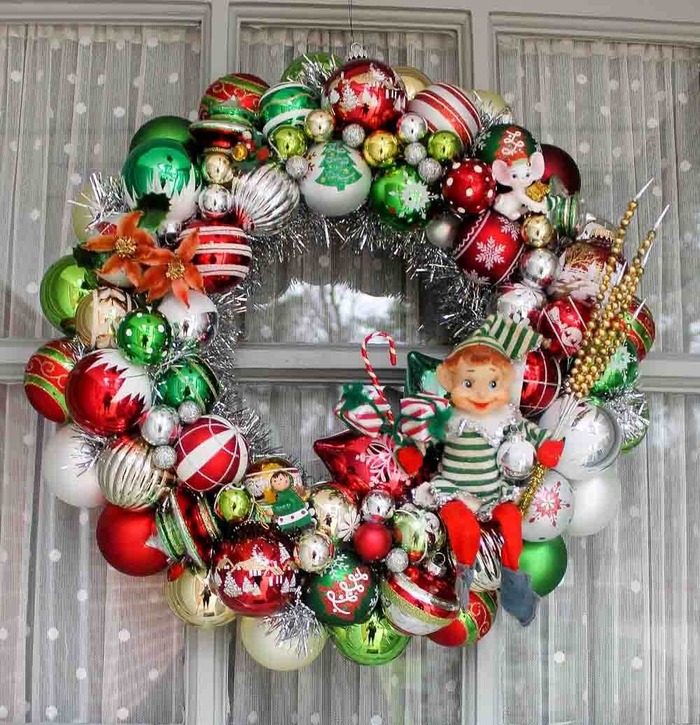 Put some holiday glitz into any room with this beautiful ornament wreath. This magnificent work of art radiates holiday cheer with its kaleidoscope of ornaments in a rainbow of colors. The colorful arrangement adds a bit of whimsy to your decor, expressing the atmosphere of fun and celebration that distinguishes the Christmas season.
29. Old-Fashioned Charm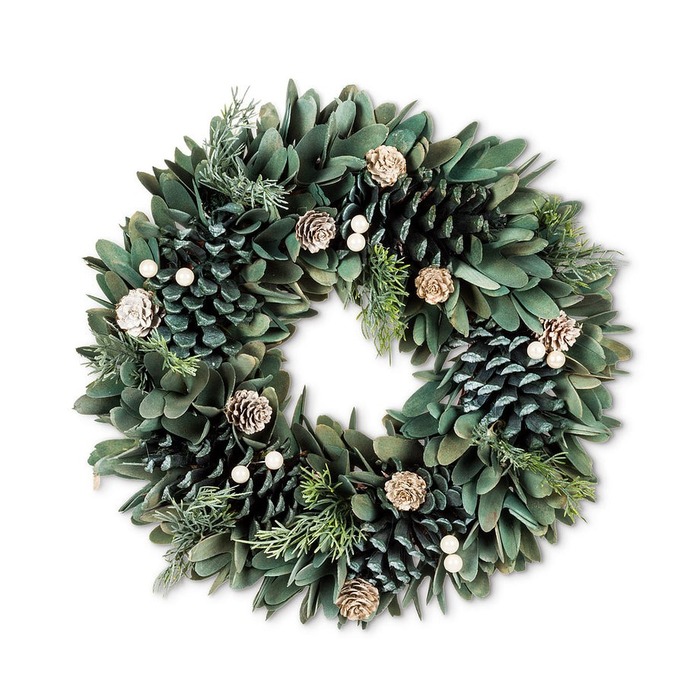 The Old-Fashioned Charm x mas decoration ideas will make you feel like you've stepped back in time. This wreath is reminiscent of the timeless splendor of Christmases past with its handmade vintage decorations, lace, and traditional holiday symbols. Display it with pride on your door to convey an everlasting sense of warmth and familiarity to visitors.
30. The Cranberry Wreath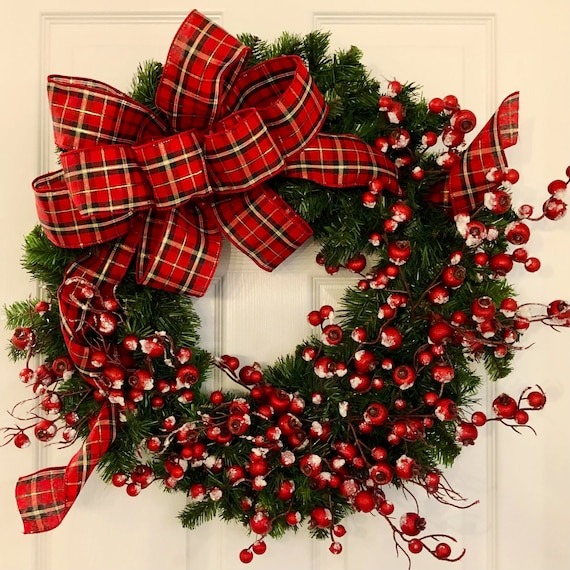 This Christmas holiday decor is a great way to inject some deep color into your holiday decor. The bright red berries on this wreath create a cheerful and welcoming atmosphere. The Cranberry Wreath is an eye-catching and seasonally appropriate decoration for your home, whether you use it to adorn your front door or as a table centerpiece.
31. Customized Christmas Wreath Art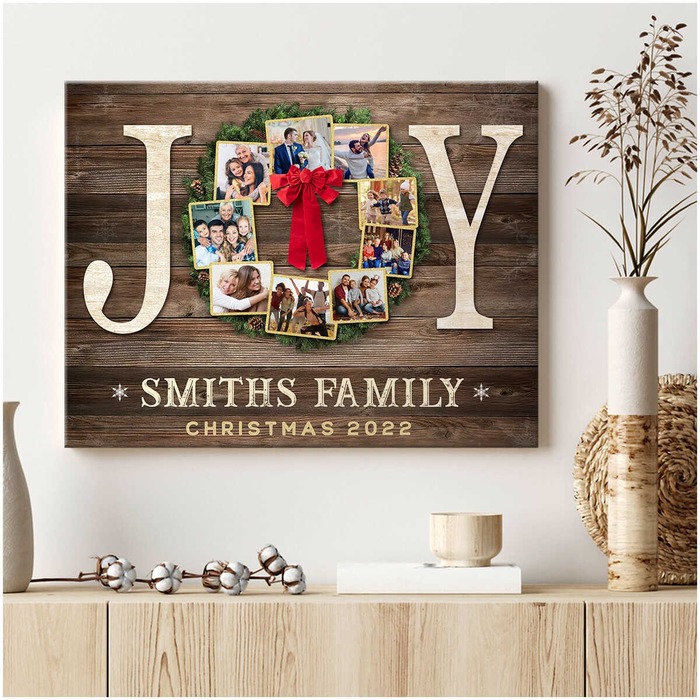 Try one of these creative canvas print Christmas decorating ideas in place of the usual laurel wreath. You can hang it above your fireplace to create a colorful and heartwarming family tribute. The Christmas canvas is transformed into a family reunion thanks to the austere leaves of the wreath. The laurel wreath that surrounds the family photo is a touching reminder of the importance of loved ones and the relationships of family at the holiday season's core.
32. Frosted Trimmings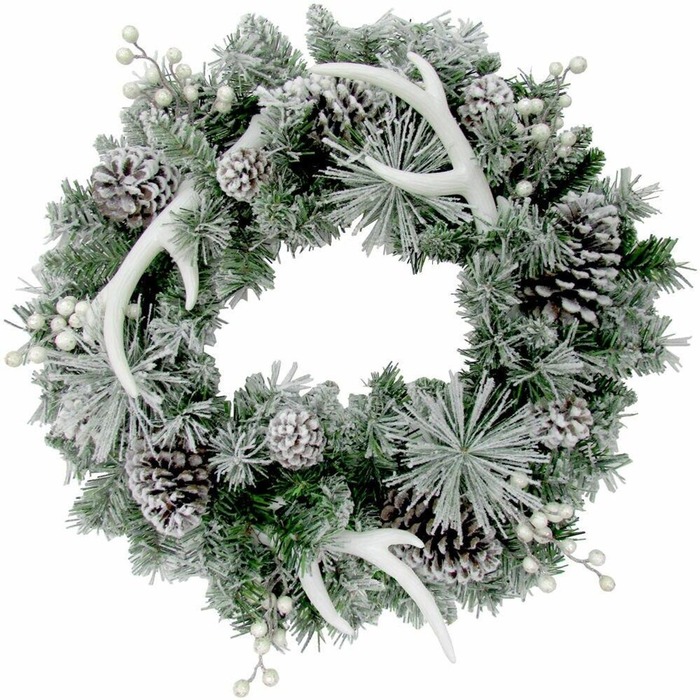 This Christmas wreath was designed to evoke the peaceful serenity of a winter morning. A light layer of fake frost adds a dreamlike quality to the frail branches and foliage. The tranquil beauty of a snowy landscape is captured in this wreath, making it a lovely complement to your holiday Christmas decor ideas.
33. Pinecone Wreath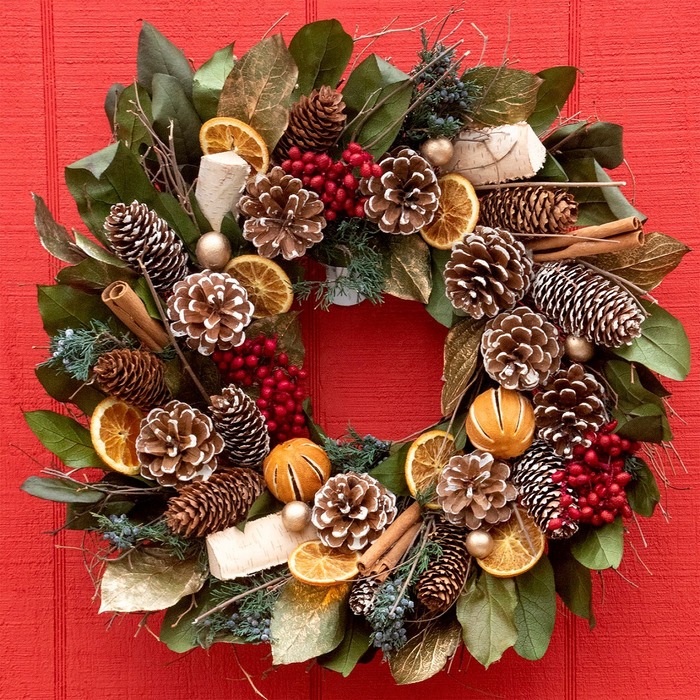 Carefully made from the everlasting allure of pinecones, this accessory is a tribute to nature's innate beauty. Whether you hang it on your front door to welcome guests or above your fireplace to set the mood for the holiday season, this wreath will bring a true sense of warmth and charm to your home. This excellent pinecone wreath is the perfect complement to your Christmas decor, lending a touch of rustic charm and warmth to your house.
Christmas Centerpieces For Tables That Wow Stylish Settings
34. The Elegant Holiday Tablescape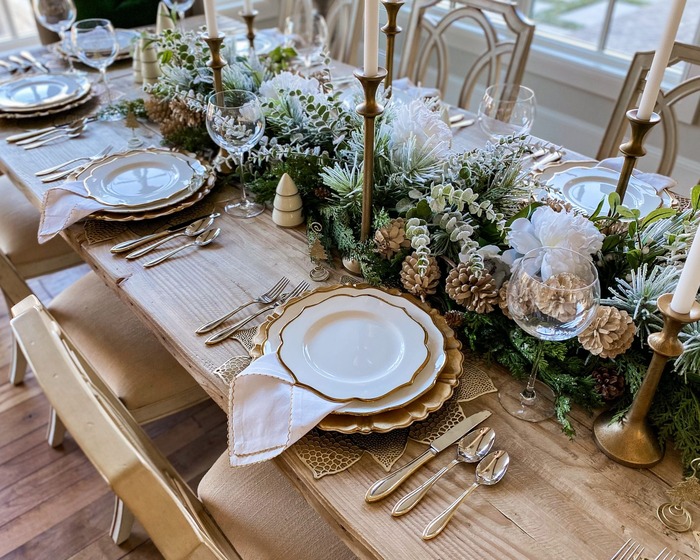 This Christmas holiday décor is the perfect way to set the tone for a classy and joyous holiday celebration. This elaborately planned setting is both sumptuous and inviting, thanks to its thoughtful combination of classic components and lavish trimmings. Everything about this tablecloth radiates elegance, from the shining candlesticks to the exquisite china and luxurious linens, giving it the ideal setting for a memorable holiday gathering.
35. The Blue Christmas Tabletop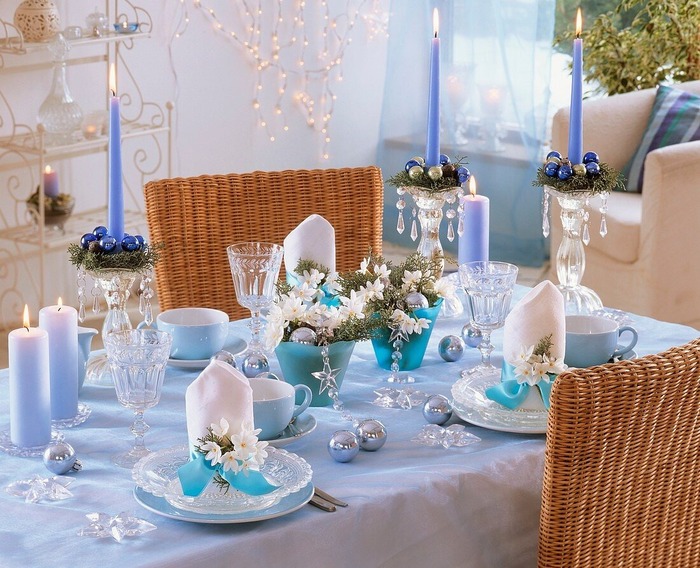 It will bring a sense of calm and coolness to your holiday meal. This lovely tablescape delves into the depths of the winter blues by blending various tones with sophisticated design. Everything, from the azure table runners to the icy blue glasses, was carefully chosen to create a serene and beautiful setting that evoked the magic of a winter wonderland.
36. The Green Zebra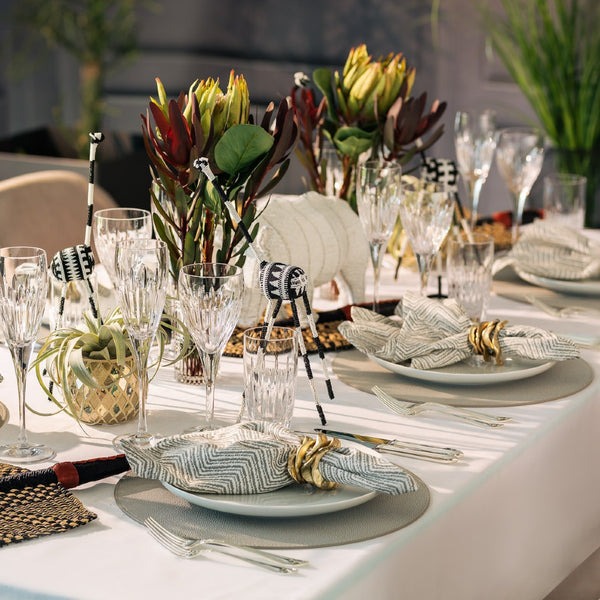 This tablescape will make a dramatic impression with its vivid green tones and zebra-patterned accents. This contemporary centerpiece will be a welcome addition to your holiday table. Your eating experience will be as visually intriguing as it is celebratory thanks to the varied and colorful decor, which features everything from lush greenery to bold patterns.
37. Plaid Tablecloth
Embrace the timeless appeal of Christmas decor ideas to offer a classic and comfortable atmosphere to your holiday dinner setting. The iconic crossing design brings a bit of warmth and nostalgia to your table, whether it's in a classic red and green pattern or a more modern color palette. This idea for a tablescape elegantly combines classic elements with modern touches, making for a warm and inviting setting for your holiday meal.
38. Metallic Vases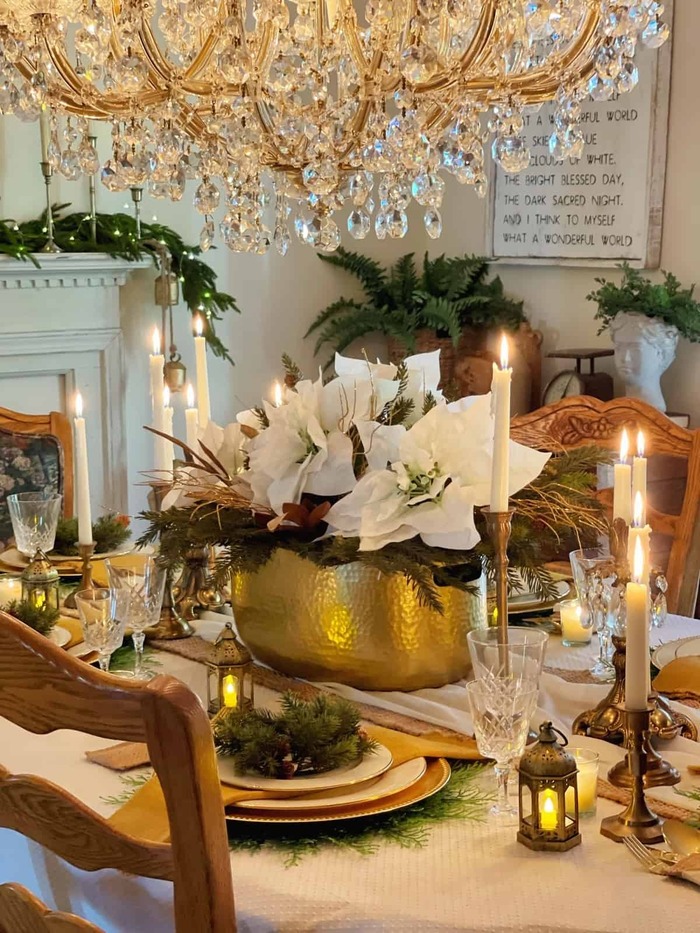 The shimmering allure of metallic vases will take your Christmas decor ideas to the next level. These shiny additions, whether gold, silver, or copper, elevate the atmosphere of your meal. These silver Christmas centerpieces for tables are the perfect finishing touch to an exquisite tablescape when filled with seasonal blossoms or evergreen branches.
39. The Swedish Christmas Display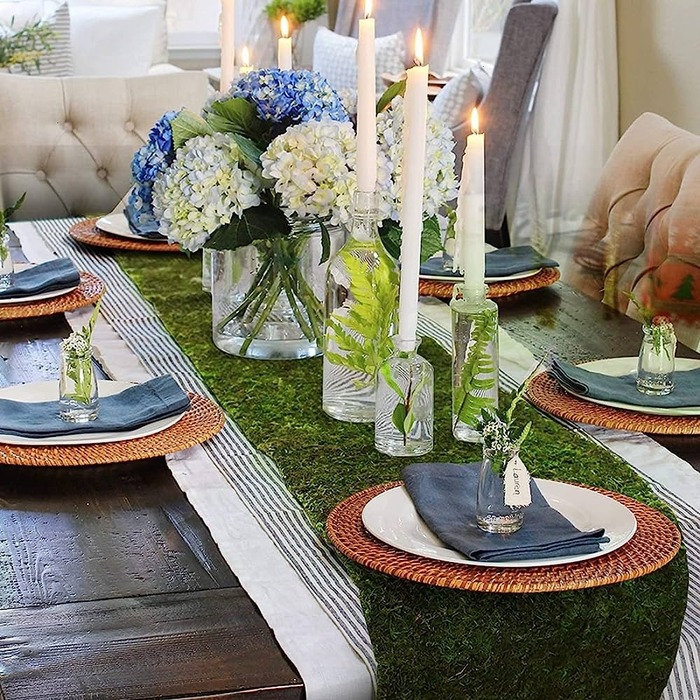 This Christmas holiday decor will transform your home into a wintry paradise, perfect for impressing your guests. This tablescape's clean lines, natural components, and muted color palette are reminiscent of Scandinavian minimalism. The simple candlesticks and subtle ornaments all work together to create a peaceful and harmonious environment, just like a Swedish winter.
40. Moss Runner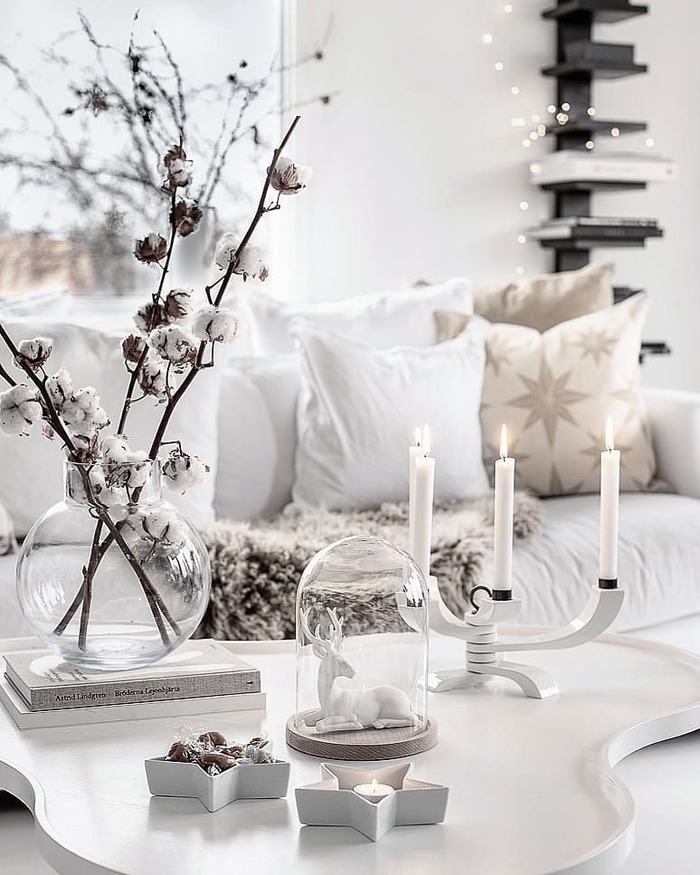 Invite nature inside with this beautiful table setting. A bed of rich moss serves as the focal point of this naturalistic centerpiece, providing a textured and earthy base for your holiday table. The Moss Runner tablescape, when accessorized with wooden accents and understated decor, creates the spirit of a joyful woodland environment with its rustic and organic touches.
41. Christmas Crackers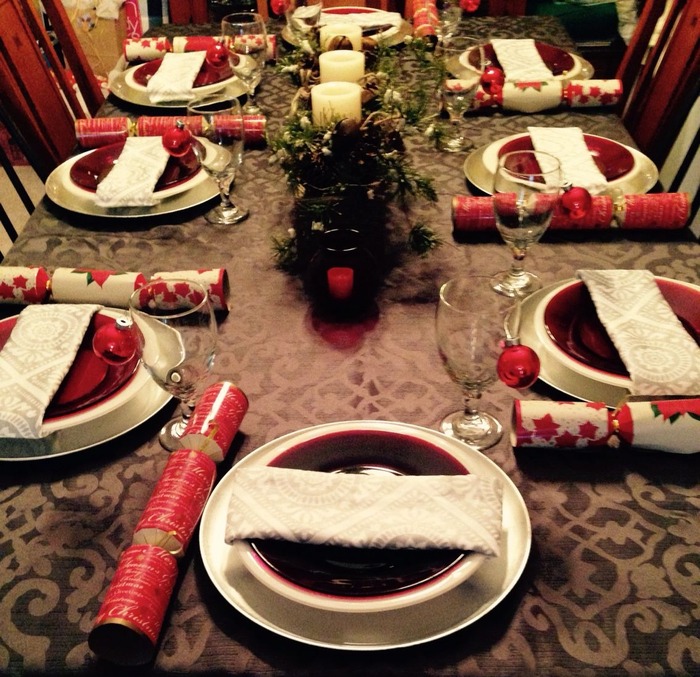 Holiday tables aren't complete without a few Christmas Crackers to keep guests on their toes and laughing. These party favors have dual purposes as lovely table decorations, as well as hiding places for small gifts and seasonal mementos. Use a wide range of hues and patterns to tie everything together, and let your guests enjoy the thrill of discovering something new while they feast in celebration.
42. Festive Napkin Rings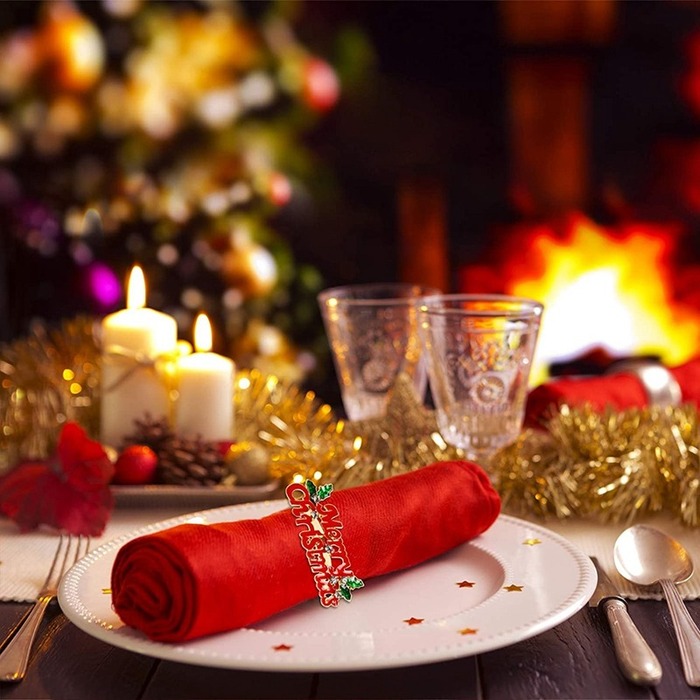 Napkin Christmas centerpieces for tables with a festive design will take your table setting to the next level this holiday season. Whether they flaunt glittering ornaments, lovely festive motifs, or personalized accents, these colorful napkin rings become little yet dramatic statements on your table. Add a touch of festivity to each place setting with these beautiful accents.
43. The Belle Noel Table Runner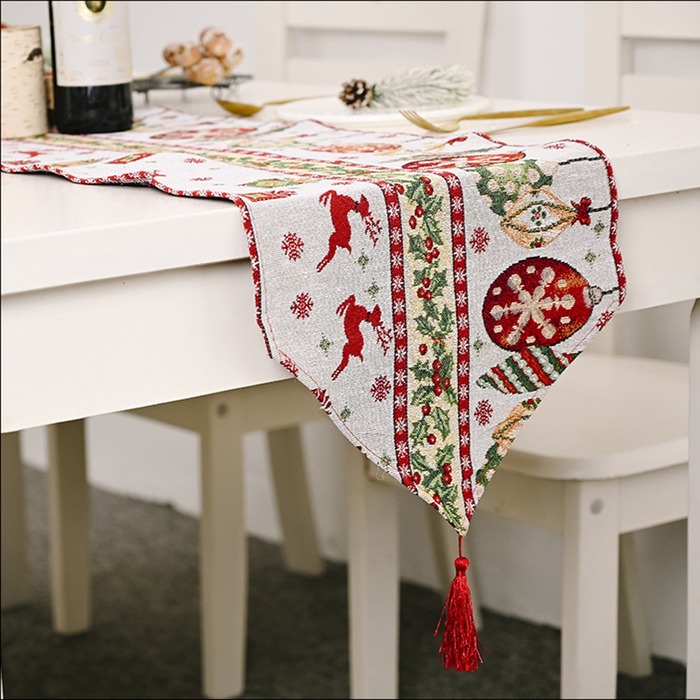 This is a refined and sumptuous complement to your holiday set, capturing the classic beauty of the season. This luxurious item is the showpiece of a sophisticated and festive table arrangement, thanks to its elaborate design and luxurious materials. The Belle Noel Table Runner will bring a touch of elegance to your festive meals and parties, turning a simple meal into a magical occasion.
We hope you've been inspired to turn your house into enchanted winter wonderlands, where every ornament has a story to tell, as we end our tour of magical Christmas decor ideas. Celebrate the spirit of the season by decorating with all the cheer of your imagination and the comfort of your traditions. Let the holiday season's joy, love, and everlasting wonder fill your homes. Merry Christmas!