Currently, floral canvas wall art can be considered an indispensable item in everyone's home. Since the dawn of time, floral patterns have been one of the most popular in interior design. When it comes to floral wall art, you have a wide variety of choices because they come in so many different hues and patterns. This article will point out their importance and suggest great home decor paintings from Ohcanvas. Let's take the time to explore more amazing information about floral canvas wall art.
Why should you choose Floral canvas wall art?
1. Floral canvas wall art displayed a high aesthetic value.
Nature and flowers have long been an inspiration for writers and artists. Therefore, the paintings containing them also convey unique poetic values. A house, no matter how modern and expensive it is, becomes empty without the presence of art decor paintings. Decorating your space with floral canvas wall art will increase the aesthetic value of your home. Therefore, a beautiful bedroom painting is an indispensable item that makes your space romantic and makes you feel passionately loved in your private space.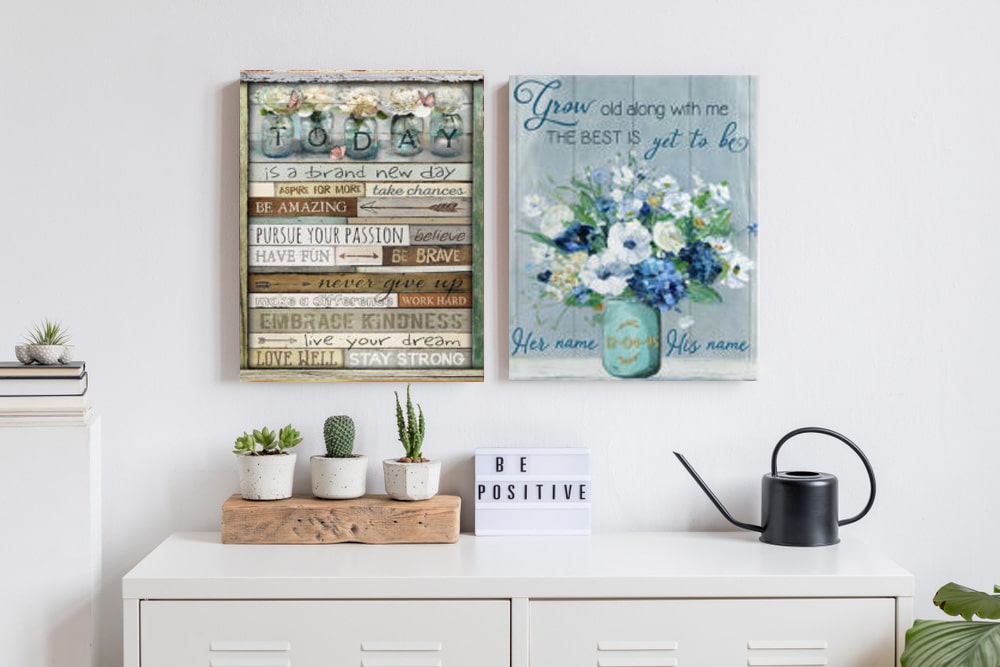 2. Floral canvas wall art brings mental health benefits.
As people become more and more concerned with their spiritual life, the need for a charming room becomes more and more important. A recent study shows that the quality of a person's living space has an enormous influence on their personality as well as their mood. You can't have a good night's sleep or a lucid mind while you sleep in a bedroom where you feel dreary and cramped.
Just a few simple moves can turn a boring room into a gorgeous room with pictures of flowers and plants. What could be more wonderful when you wake up every morning to enjoy these vibrant pictures. Not only does it improve your mood, but it also promotes your energy to have a stunning day.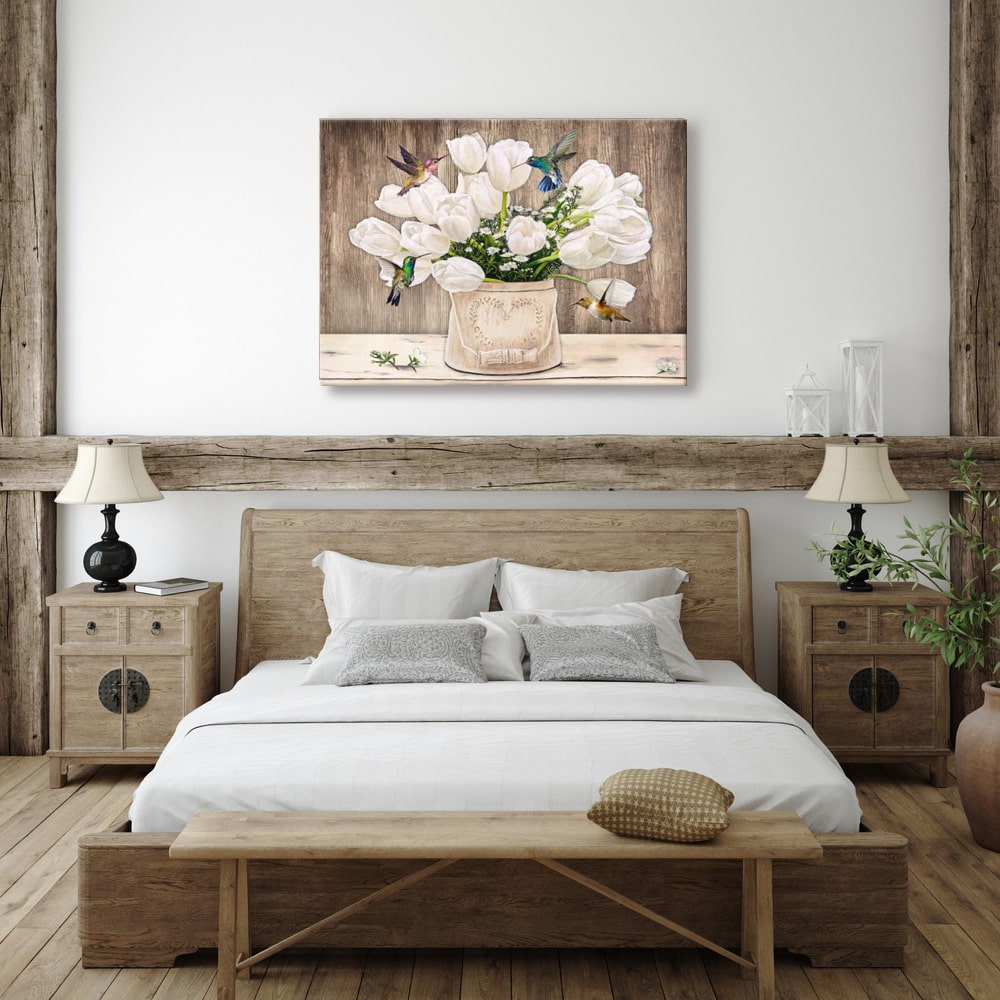 3. Express your individuality through Floral canvas wall art.
Floral canvas wall art is the best way to express the ego of the owner of the room. Whether you have a gentle personality or a liberal personality, decorating paintings in this farmhouse wall style is a way for you to express your inner self. It not only shows your taste in a subtle way but also demonstrates your type.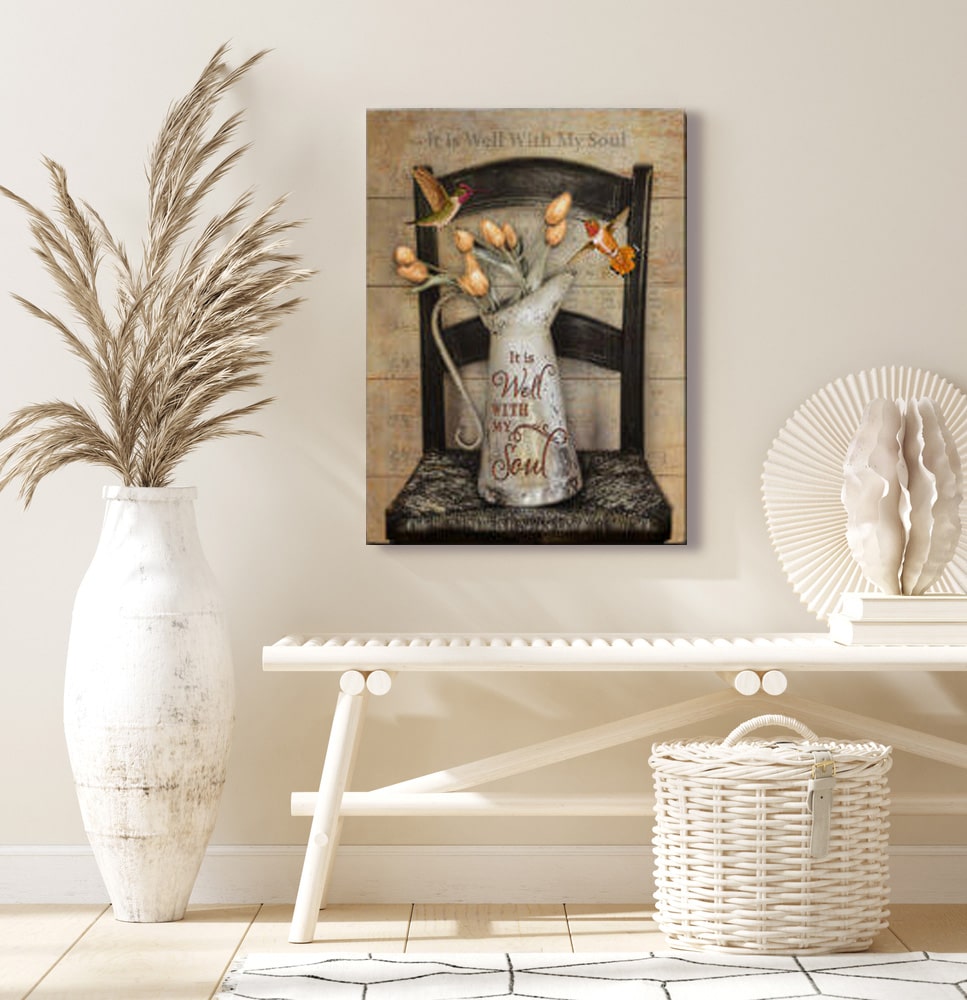 4. Floral wall art is a special present.
If you find something interesting or particularly eye-catching for gifts, you will want to opt for floral canvas wall art that has been printed on canvas. These paintings are very meaningful gifts to deliver to relatives and friends. It's wonderful when your parents, children, or friends suddenly receive a beautiful wall painting that matches their taste. It not only shows your affection for the people who you love but also shows you are a very delicate person in understanding the preferences of the person you want to give.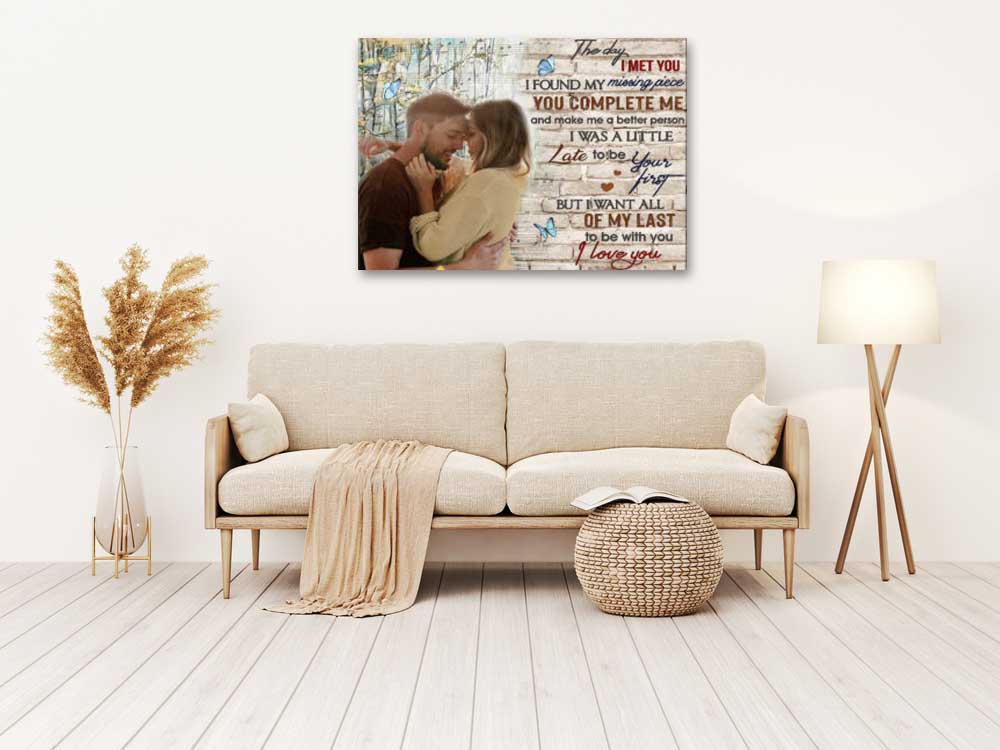 >>> Read more: 30 Best Rustic Decorating Ideas for Your House in 2022
The trend of Floral canvas wall art in this year
Floral and botanical canvas wall art
Floral and botanical prints are a good way to boost the visual interest on your wall. This is a style that really immerses you in a garden full of flowers and sunshine. This floral canvas wall art will surely be a piece you look forward to if you're looking for a painting that will inspire positive energy with each glance. Take pleasure in this hummingbird artwork whenever you're feeling down and out in the face of life's difficulties. The phrase God Says Your Are is means to never doubt your ability to endure adversity since you are stronger than you realize.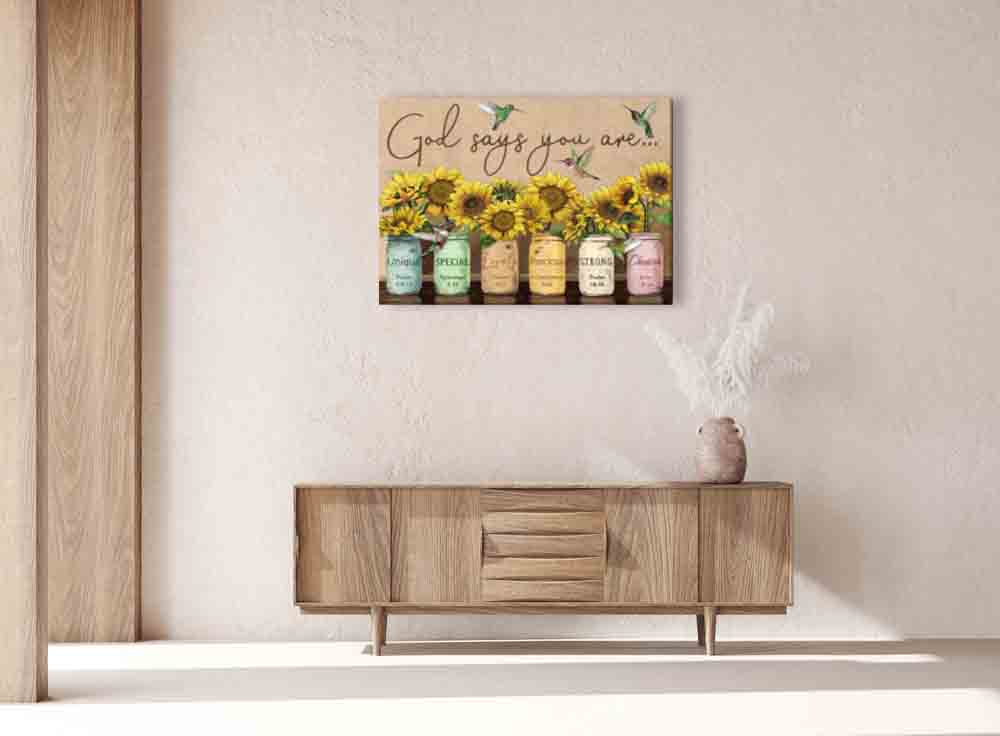 Hummingbird canvas wall art
This is a typical type of floral canvas wall art and one that you will generally see in every home you enter. These help them express their admiration for nature and animals. You'll be able to cultivate a garden of your own with our beautiful hummingbird canvas.
Colorful flowers and adorable hummingbirds breathe new life into your home's decor and add a delightful scent to the air. We've all experienced the ups and downs that life has to offer. Even in the face of adversity, you must keep your dignity. You'll be alright if you tell yourself "Today I Choose To Be Happy" every morning.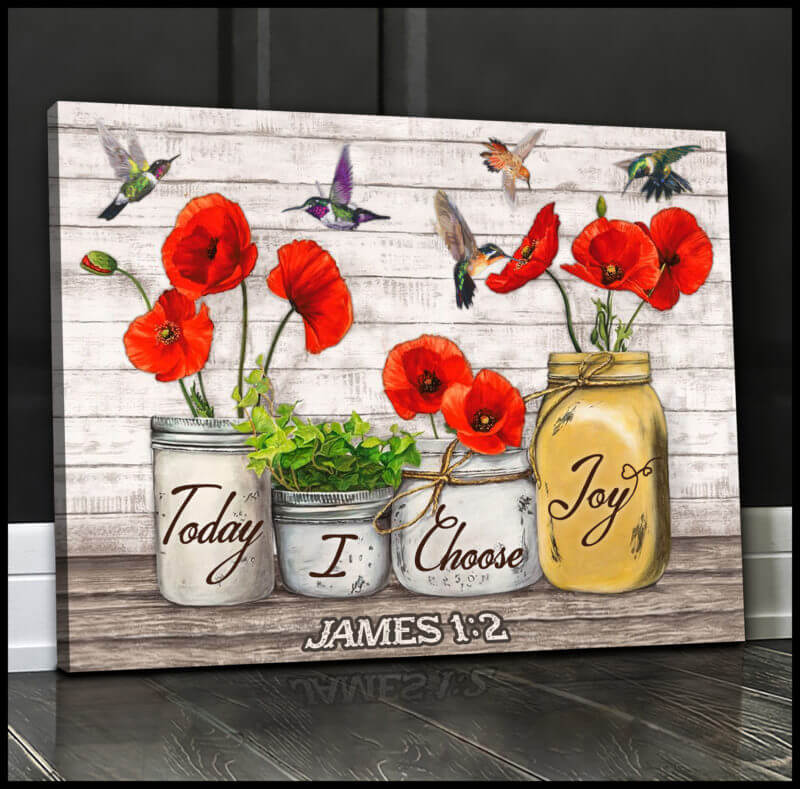 Dragonfly canvas wall art
If you are looking for floral canvas wall art that can impress at first sight, a dragonfly canvas wall is a primary choice. These canvas walls make you probably have in mind images of the genuine countryside – the preferred place of dragonflies. Paintings in our floral canvas collection, such as this one, include a striking blue background.
In any part of your home, this floral and hummingbird-themed artwork will bring a unique flair. In spite of the numerous tragic events that occur on a daily basis, the quotation "And I think to myself what a wonderful world" emphasizes that the world has a beautiful side that is well worth appreciating.
Butterfly canvas wall art
As many brilliant and vibrant colors as imaginable, these butterfly canvas walls will make you feel like you're immersed in a fairy forest. As a fan of sunflowers and butterflies, this piece of floral canvas wall art decor is a must-have. Anyone who sees it will get a warm, inviting feeling from the soothing palette of earthy tones.
As a bonus, it adds a sense of history and character to any room in your home. Seize this wonderful canvas featuring sunflowers and butterflies while you still can! Alternatively, consider donating it to a member of your family or a close friend. "Every day is a new beginning" is an awesome message for them to hear.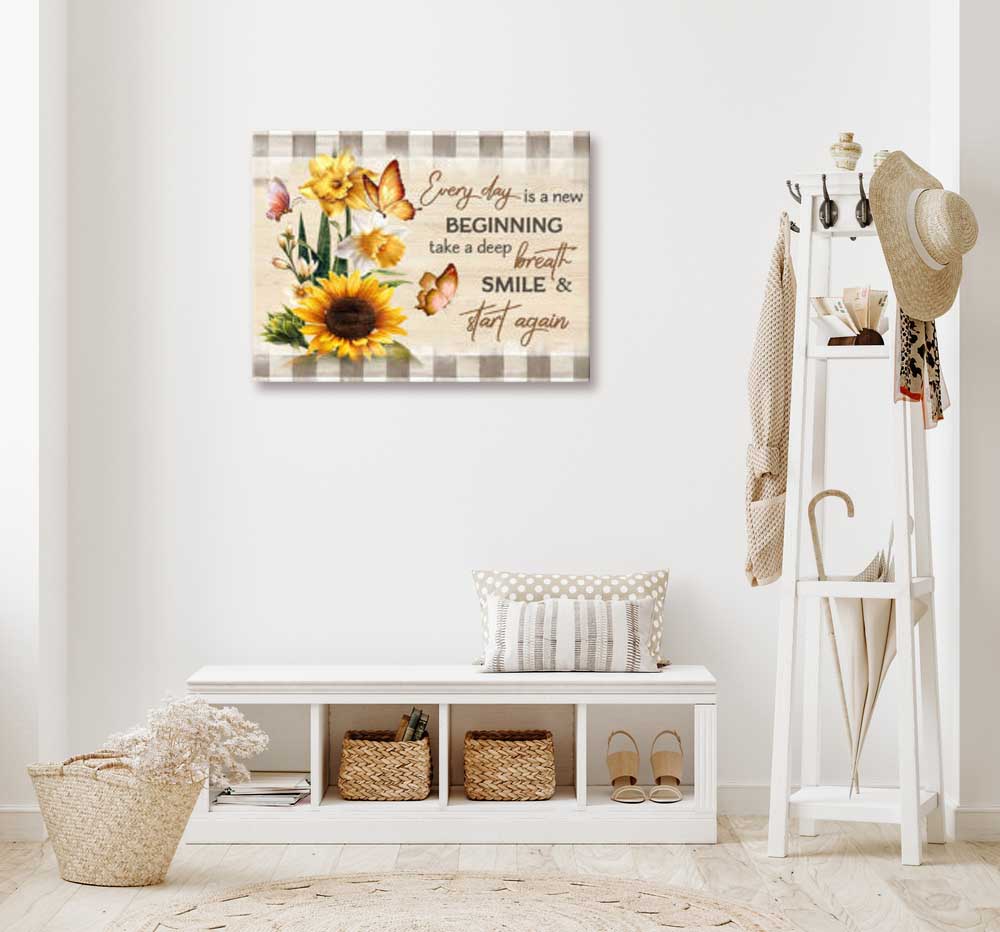 Those are the reasons why you should not hesitate anymore, and choose immediately a floral canvas wall art to refresh your personal space. Let these amazing customized canvas paintings plainly reflect your faithful love of nature. Don't miss out on the chance to brighten up your home with art like this! If you'd like to purchase something from our OhCanvas store, please do so right now!
Maybe you 're interesting: