Welcome to the world of modern farmhouse decor, where contemporary style and rustic allure blend in perfect harmony. This well-liked approach to interior design has won the favor of both homeowners and people who are just interested in the subject of design thanks to the compelling combination of simple and quaint features. Whether you are drawn to the uncomplicated lifestyle of a farmhouse or the streamlined elegance of modern aesthetics, modern farmhouse decor offers the ideal harmony between the old and the new.
To help you make your home a fashionable and comfortable sanctuary, Oh Canvas will go through the fundamentals of this design and provide some modern farmhouse decor ideas to get you started. Get ready to experience the elegance and simplicity of combining traditional country style with cutting-edge modern design.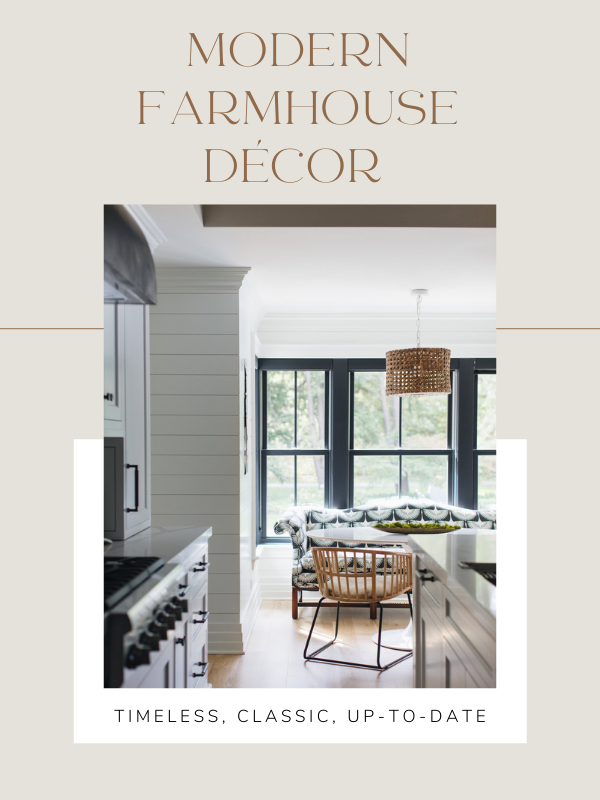 Tips For Achieving Modern Farmhouse Decor
1. The Living Room And Kitchen Have Been Expanded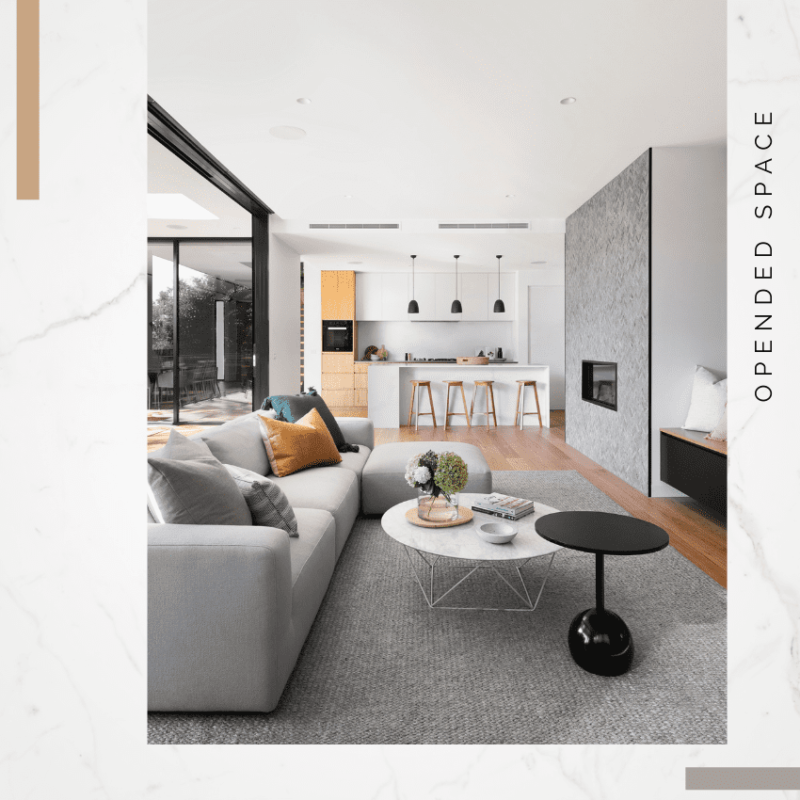 The enlargement of the room distinguishes the modern farmhouse decor in the interior to make it as comfortable as possible. Because of its ventilation, elegance, and harmony, open space is one of today's most popular ideas. The open area allows light to travel throughout the internal space, providing a space that connects the living room to the bright kitchen, with no hidden or dark corners. The placement of big windows throughout the house lets in natural light, producing a room that is always light, bright, and expansive.
2. Bring In Lots Of Natural Light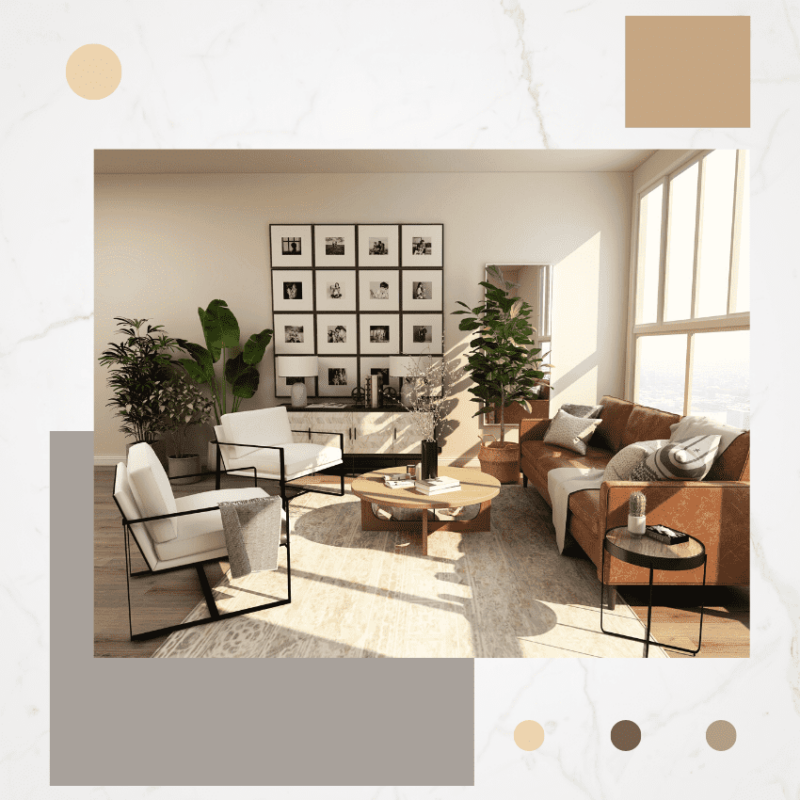 Natural light is a never-ending source of energy for a new day. Inside modern farmhouse interior designs, light is usually favored. Although we may utilize artificial light from lamps, natural light is still more concentrated.
One technique that architects of this style frequently employ is broad window frames. Large windows let in lots of natural light and cool air. Bedrooms, like corridors, sometimes require extra lighting. Simultaneously, with the window, pick extra flower pots or tiny decorative plants, which may decorate and give a gentler sensation to the interior space.
3. The Ideal Match Of Wood And Metal Furnishings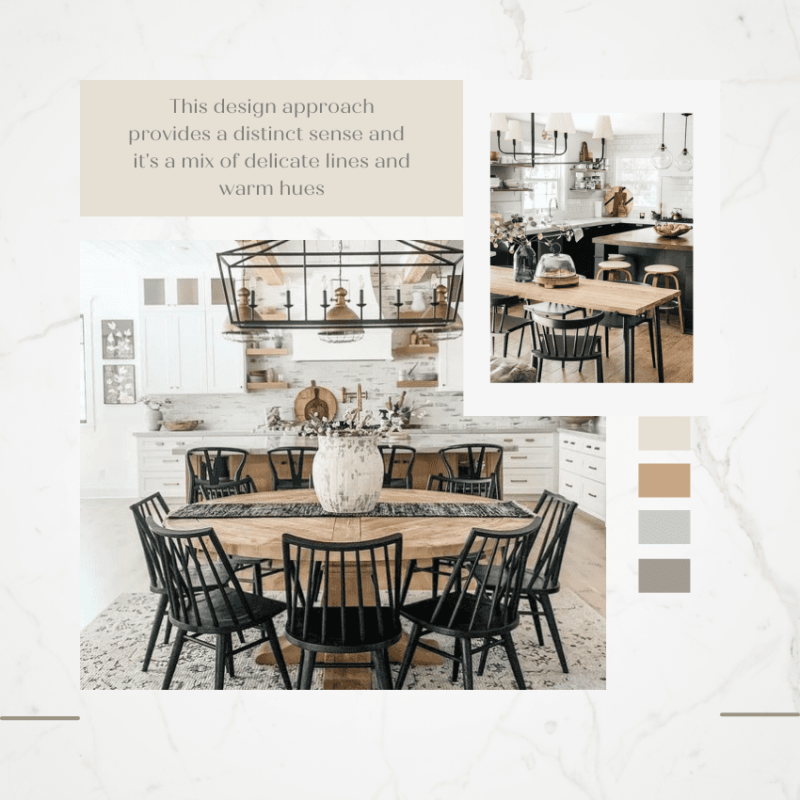 Because a contemporary farm combines rustic, traditional, and technical aspects, it is a modern of the new era. And, as we all know that wood represents historical traditions, and metal furniture reflects the twenty-first century. Although these two materials have been mined and utilized for hundreds of years, this design approach provides a distinct sense. It's neither harsh nor wet but a mix of delicate lines and warm hues. All of this contributes to creating a beautiful environment in this farmhouse-style interior.
Modern farmhouse design interior uses wood a lot since this is the most solid and traditional material when building a house. Wood can add to your house the rustic inherent in this style. When moving to other innovations, this original factor still highlights modernity. Keeping the light colors on the bare wood, oak wood works best when you love the pleasant and pure space.
4. Make A Nice Environment
With a modern farmhouse space – you can unwind your mind and body
People are more open-minded than ever before, and their expectations are greater. A house is not only a place to live, a place to rest every day, a place to shelter from rain and sun. But it is also a place to unwind after a long day at work. Work is exhausting, therefore, the environment must be cool. A contemporary farmhouse must maintain it's interior cool and airy. As a result, the usage of modern farmhouse interior textures to keep things light and airy is something to think about.
5. Bring The Outside Inside Your Home
Bring the outside inside your home
Bring some touches from the outdoors inside to accentuate the modern farmhouse interior design. Consider utilizing stone or brick to surround the wall of a fireplace, for example. Stone or brick always conjures up images of grandeur and elegance in old palaces. Arrange or clean them sensibly, and they will always add refinement to your house. Bring potted plants into a house corner for cooling and a fantastic decorating concept for modern farmhouse decor.
6. Modern Architecture That Is Cozy
Cozy Modern Architecture Dining Room
Large, contemporary spaces might appear cold and uninviting without a few warm decor touches. Use exposed rafters, weathered wood treatments, and textured furnishings to create your style of the eating area. Unfinished pine beams were kept to emphasize the organic character. Black high-back Windsor dining chairs and an industrial-style pendant lamp contrast the white and wood tones in this modern farmhouse design interior.
7. Reconcile Styles And Periods
Charming modern farmhouse design bedroom
Combine modern and old components to create a farmhouse-style interior with plenty of charm. Barn timbers line the ceiling in this farmhouse bedroom, providing a rustic texture that contrasts with the modern geometric carpeting beneath the foot. The metal bed is clothed in pure white linens and simple striped cushions in a vintage manner. A bench made from salvaged wood beams rests at its base on modern black hairpin legs.
8. Interior Design For A Reclaimed Modern Farmhouse Decor
Creative and novelty modern farmhouse interior flower vase
Nothing beats unearthing dusty treasures from an ancient farmhouse, such as battered wooden trunks and bubbled glass dishes. Rather than simply placing your farmhouse antiques on the floor or shelf where they belong, consider repurposing them. Here, recycled glass bottles are used as modern flower vases.
9. Pay Attention To The Colors Combination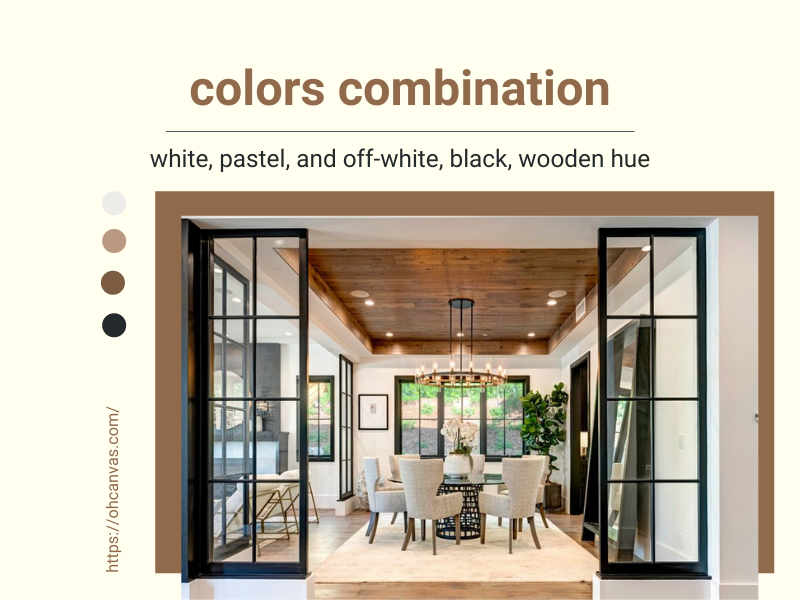 Your choice of colors for your room may reveal a lot about your personality. The trendy one, like the origin, uses neutral colors to achieve the same effect. For a brighter aesthetic, farmhouse modern decor tends to inspire white, pastel, and off-white. But there is one remarkable thing: contemporary decorating includes more eye-catching elements such as an accent wall, a vibrant rug, colorful wall art, and so on. Furthermore, black is commonly utilized in this atmosphere since it blends simplicity and modernity.
10. Set up the pop area in your modern farmhouse decor space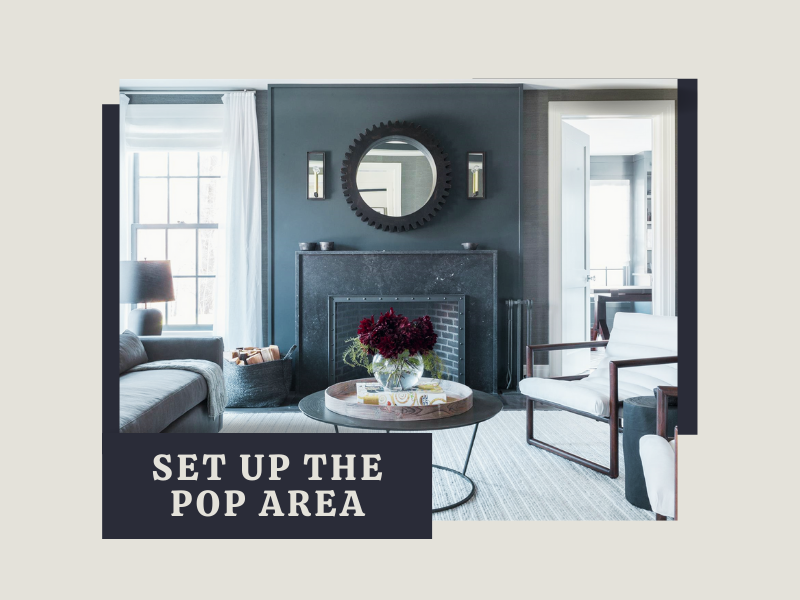 With the accent corner, we can wipe away all of the monotony. We recommend incorporating black into your decor. Black paint is excellent for emphasizing architectural details. Black interior furniture provides drama and depth to a room while also making a powerful visual statement. However, this is not compulsory. Color, on the other hand, may convey your intellect and spirit. Then, as the focal point of your home, you can use another bold color scheme based on your interest.
Elements Make The Modern Farmhouse Design Interior Stunning
11. Wooden Rustic
Wooden rustic – The soul of modern farmhouse design
Of course, wood is at the heart of the modern farmhouse interior aesthetic. As a result, how can it be overlooked in a home that strives for a modern farmhouse style? This is also simple to obtain and utilize decorating material. At the same time, it is a unique feature that provides a comfortable ancient but not obsolete yet magnificent room. In the modern farmhouse, wood is employed in a variety of ways. For starters, you might use it on your ceiling or floor. In the winter, this will maximize its efficacy in generating a heat source for the house.
Wood is also considered for cabinets in the living room and kitchen shelving. It is traditional and modern, with less fussy features than modern cabinets or shelves. The design to suit each area, each type of room, and each of their functions are what we should focus on when utilizing wood to build modern farmhouse furniture.
12. Shiplap
Add Modern Farmhouse Character with Shiplap
Shiplap is made of wood or stone planks (depending on the taste and style of the house). This is currently one of the most popular modern farmhouse decor interior furniture components. It produces texture in a clean, unfussy manner that adapts readily to diverse situations.
It might be the ceiling, a wall in the living room, or a wall in the bedroom. Because it is handcrafted, it may give warmth to an otherwise cold modern atmosphere. The ridges and gaps between shiplap panels can add to their appeal. As a result, when painting them, you must be cautious and precise. This gives your modern farmhouse space the appearance of a trip back in time, complete with unique antique details.
13. Farmhouse Canvas Prints
Farmhouse canvas prints – captured all the story on the farm life
A fantastic wall decoration as well as a cool modern farmhouse home. You may hang these farmhouse custom canvas prints on the fireplace or in your bedroom. Each graphic depicts the lines and pictures vibrantly and attractively. It reminds us of a peaceful world we long for and strive for.
When I look at these artworks, I feel an incredible vibration in my heart. Farmhouse canvas prints are also less difficult to use and care for than other forms of artwork. As a result, think about it and give it a shot. I believe that possessing it to enhance the attractiveness of the modern farmhouse interior for your room is important for a reasonable price.
Sending love for a special one with the farmhouse canvas print
14. The Barn Doors Are Contemporary Modern Farmhouse Interior Doors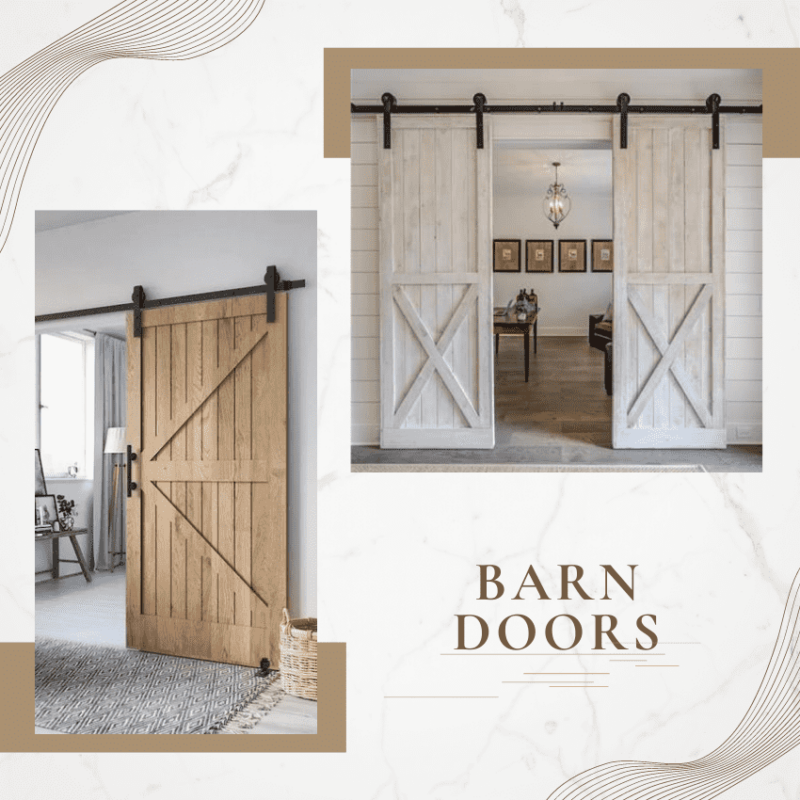 Farms offer excellent places to live. And its modern-day appeal is undeniable. The sliding doors are one of the features that set it apart. Of course, when we think of farms, we think of ancient stables or barns. So why not turn it into modern farmhouse furniture?
Stable sliding doors like a horse barn would be a fantastic addition to your house and make the modern farmhouse interior more unique. Furthermore, classic sliding doors are an option if you do not want this sort of door. Depending on the hue, it will add varied elements to your modern farmhouse space. A sliding door to the ceiling adds to the home's rustic feel. Or an office sliding door, simple but elegant – both traditional nuances and modern breath.
15. Chandeliers Illuminate A Modern Farmhouse Room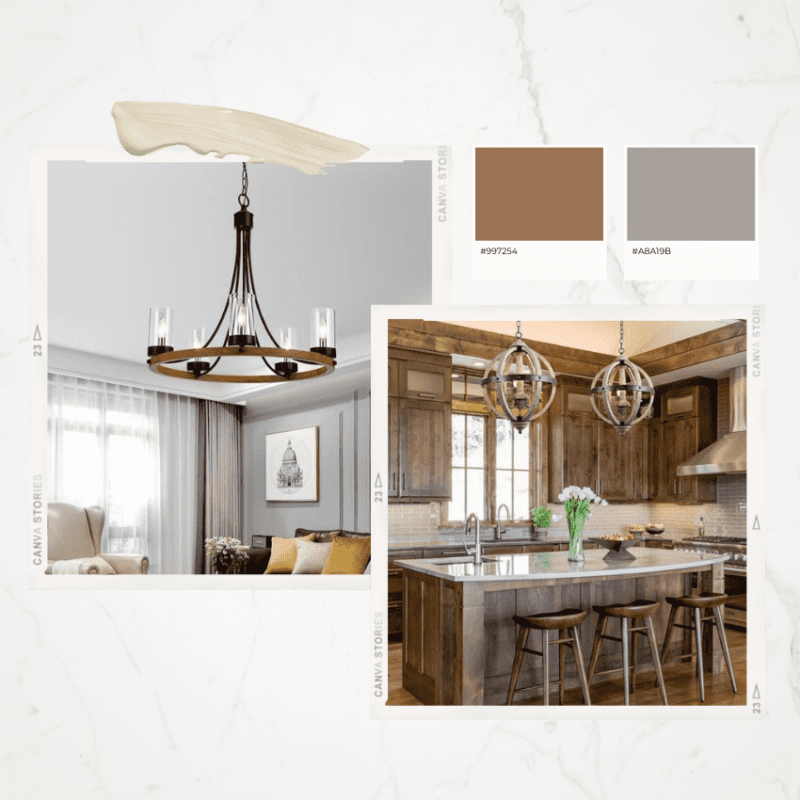 Because light is a crucial component in modern farmhouse design interior, farm chandeliers are the most effective answer to this problem. It is used as a decoration in the living room, ceiling, and middle. It evokes the elegance of elegant lines derived from contemporary metal bars. We may utilize birdcage-type lights to highlight the antique elements of the farmhouse design if we know how to mix them.
These chandeliers are utilized not only in the living room but also in the dining room, directly on the traditional dining table. You may select fantastic designs for the chandelier based on the homeowner's preferences. You may select fantastic chandelier designs based on the homeowner's preferences. It illuminates the room and provides a sense of opulence reminiscent of medieval castles.
Room-By-Room Inspiration For Modern Farmhouse Decor
Modern Farmhouse Living Room Furniture Ideas
16. Take Advantage Of Reflecting Items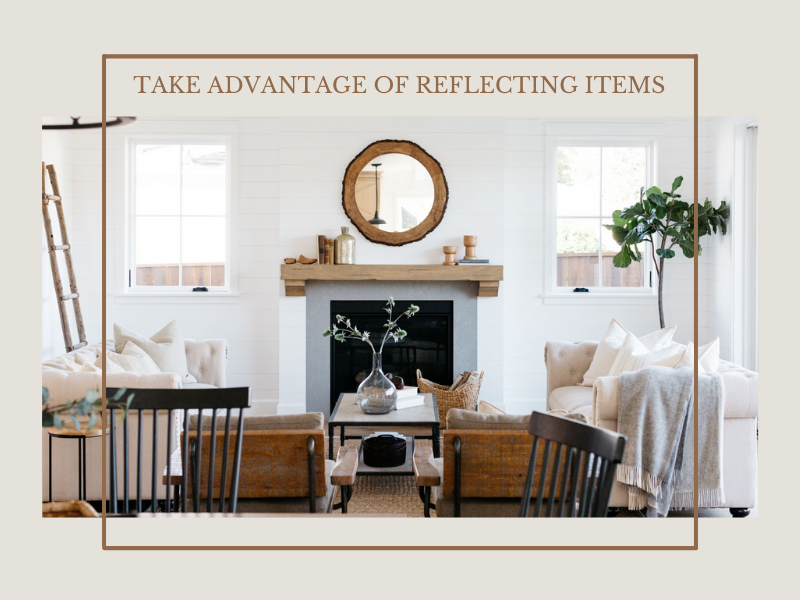 Natural light is one of the most effective methods to remove moisture from a room. It's the most brilliant light you can bring into your house since it is a healthy and natural approach to appreciating your surroundings. Making effective use of mirrors or other highly reflecting objects is another simple method for boosting the impact of natural light in a space. These items reflect light across the area, making the surroundings appear brighter.
17. Try Using White On The Guest Room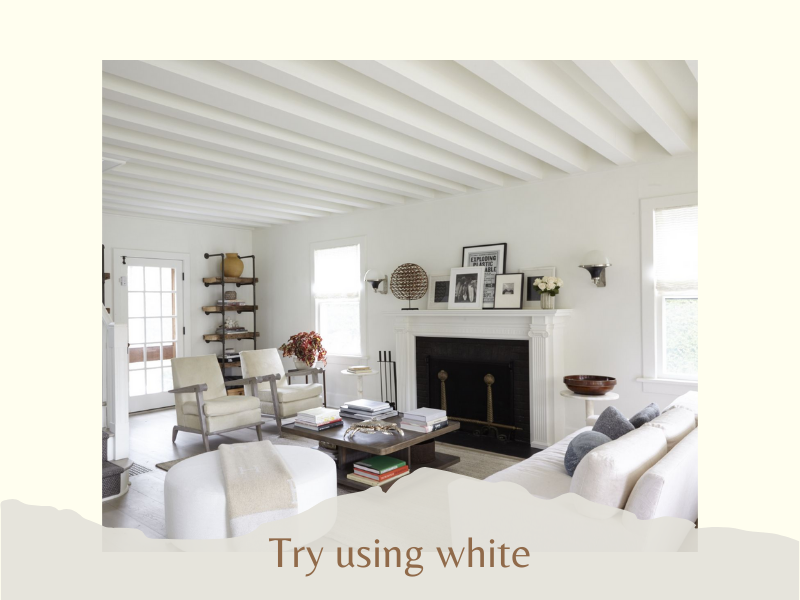 Most of the furniture and walls should be painted white to create an airy, open feeling for the modern farmhouse decor living room. The natural light of the sun, much as in nature, will bring these hues out so that they seem slightly wild and organic, creating an environment where people prefer to be comfortable and calm. Furthermore, when put in this wide area, white keeps its primary hue better than other colors.
18. Using A Bright Tone On The Wall To Make The Area Look Larger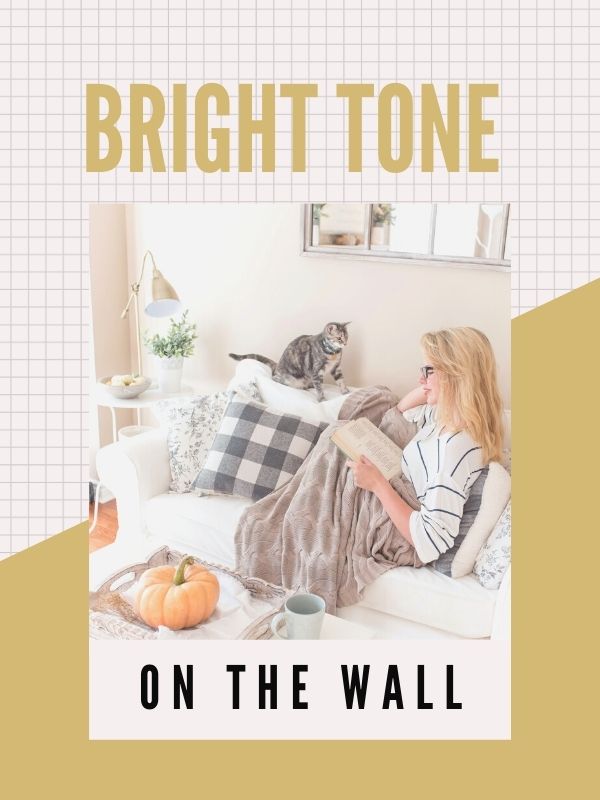 We all know that bright colors may create a sense of space and make it more inviting. Let's take that trick and apply it to your little apartment. A neutral and vibrant color should be used to paint the wall. Another option for the modern farmhouse wall decor is to use wallpaper with a colorful and basic design.
If you want a modern style in your home, create an accent wall with bold hues such as dark brown, black, and the like. Painting an accent wall in a dark color effectively pulls it back, giving the area more depth and openness.
19. Adding Greens And Flowers To Decorate Your House With Farmhouse Furniture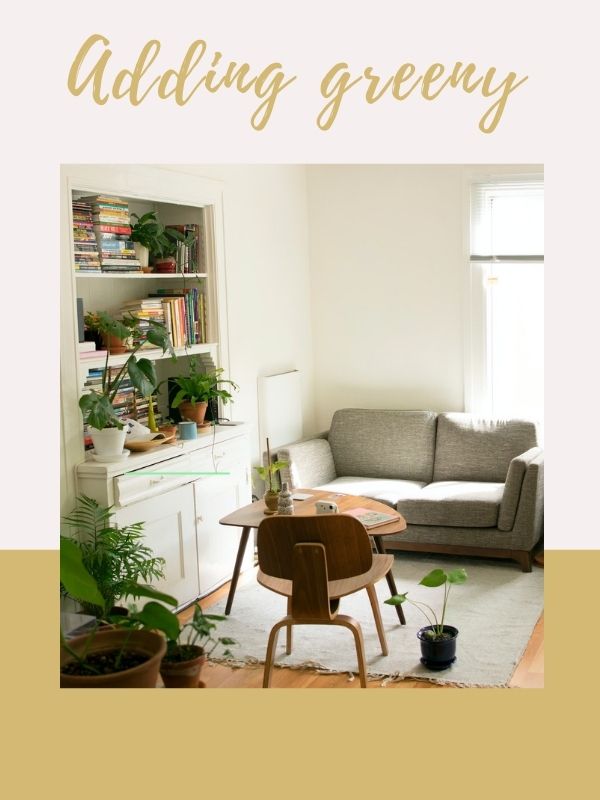 Another way to give dimension to a room is to use hanging plants or a ladder plant stand with flowers on it. Space will look taller when greens are placed at different levels. Those will make the guest room welcoming and friendly. Having those in your home will encourage you to develop healthy habits throughout these years when individuals should stay at home.
You have something to care about, something to grow up, and something to look at with curiosity. If you have a larger space, it is ideal to create a little indoor garden in your home.
20. Cottage Sofa For A Cozy Living Room
Let's look at simple seating styles on the sofa combined with soft and comfy materials. Soft tweeds, cozy wools, classic checks, linens, and ticking are excellent fabrics for a country cottage living room. Cushions soften the comfortable furniture, allowing you to breathe and unwind. A satisfactory feeling can call relaxation in your living room. Imagine how warm you feel on weekdays when you relax and soak up the sun on that sofa. Those are such soothing days! I always like coming on such a lovely day.
21. Highlight The Modern Farmhouse Sofa Set
Every living room's main point is the sofa set. Use beige, tan, brown, and white colors. There are two methods to make the sofa stand out without making the house look out of place. Adorn it with colorful pillows and blankets when it comes to vivid and soft hues on the sofa.
This type of furniture is easily paired with any farmhouse mat and curtain. On the other hand, keep the plan simple with classic pillows and the rug when it comes to dark or vibrant sofas. We recommend hanging modern farmhouse wall decor in this spotlight area.
>>> Read more: Best 10 Ideas To Get Urban Farmhouse Decorating Style
Modern Farmhouse Mini Kitchen Furniture Ideas
22. Cottage Dining Table Set To Warm Up The Environment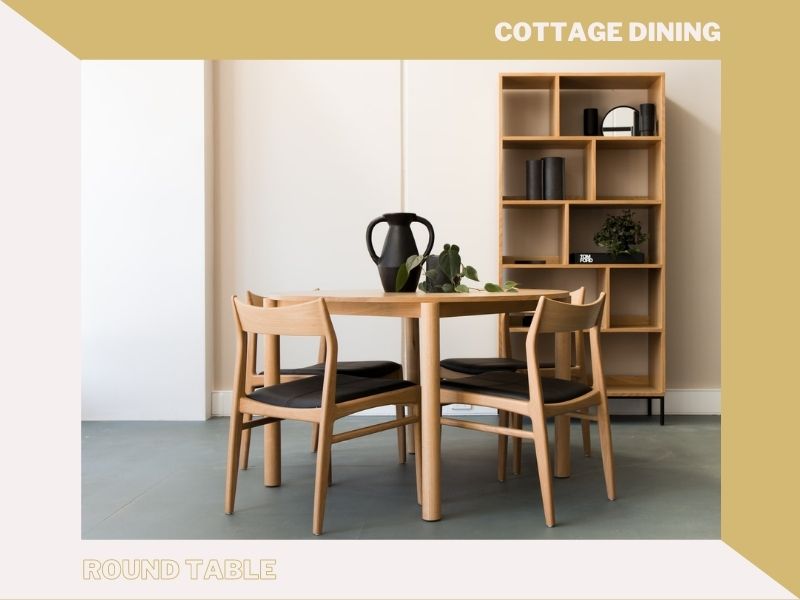 I remember eating at a round table with my siblings, mother and father, and grandparents. That memory will never be faded from my mind as surely. Because of their appearance, circular dining tables may make space feel more expansive because sharp edges appear to be cut off.
A round dining table avoids such difficulties by making greater use of space in a limited area, resulting in less bumping or crowding while attempting to sit. This farmhouse furniture item has greater room since there are no corners, allowing individuals to wander around and find their place.
23. Trick The Brain With Tempered Glass On The Wall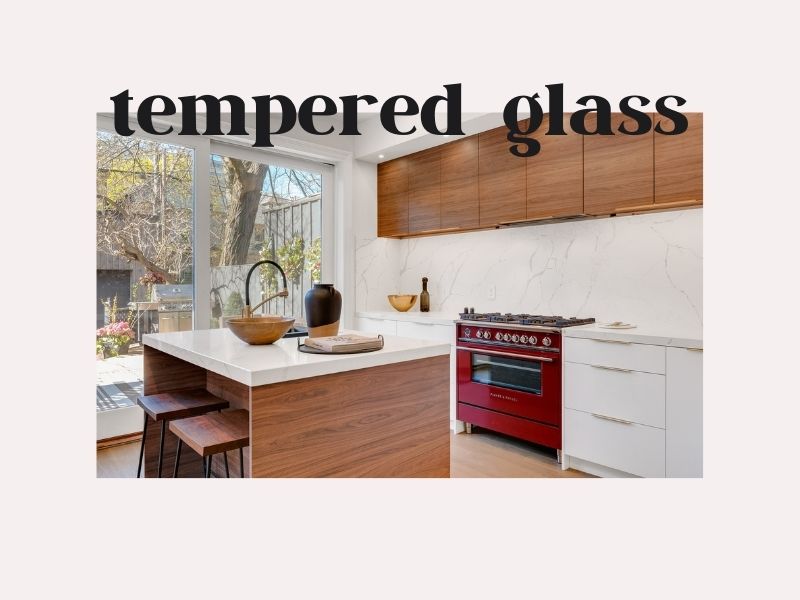 Greeting the sunshine with the tempered glass on the wall. This material can be used to replace a segment of a concrete wall or to create a tempered window in the kitchen. It will connect your inside and outside areas together, which makes your dining room larger. It is approximately four times stronger than regular glass. When shattered, tempered glass breaks into small, comparatively harmless fragments, as opposed to annealed glass, which shatters into jagged shards. As a result, this farmhouse furniture is utilized in situations where human safety is a concern.
24. Basket To Contain The Foodstuff In The Best Way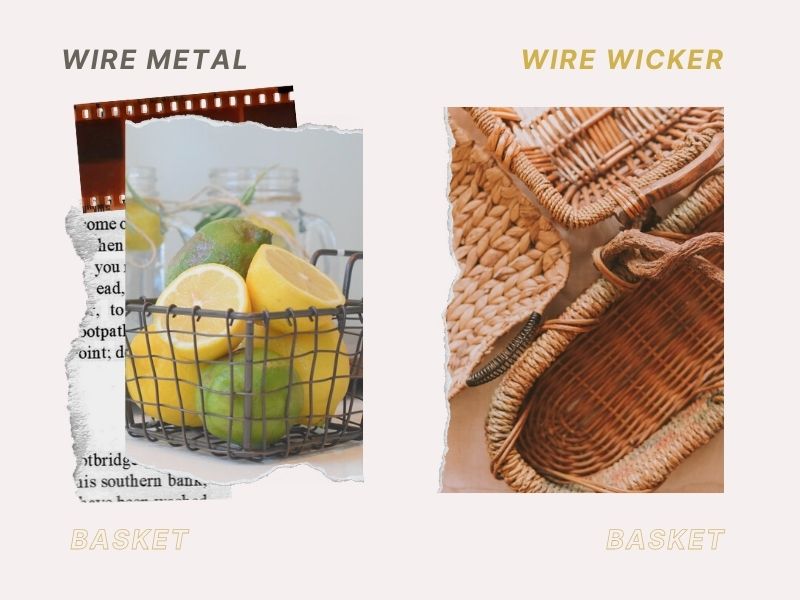 Baskets have long been a part of our culture and may readily fit into various layouts. Using baskets to optimize kitchen storage space is a simple option for a tiny kitchen. Baskets can be positioned on shelves. Then all you have to do is take the basket off the shelf to retrieve what you need. No more wasted space or misplaced items will be at the back of cabinets. A wire metal basket or a wire wicker basket is also ideal for modern farmhouse kitchen decor since it looks basic but still functional.
25. Clean White Be The Main Color On Farmhouse Modern Decor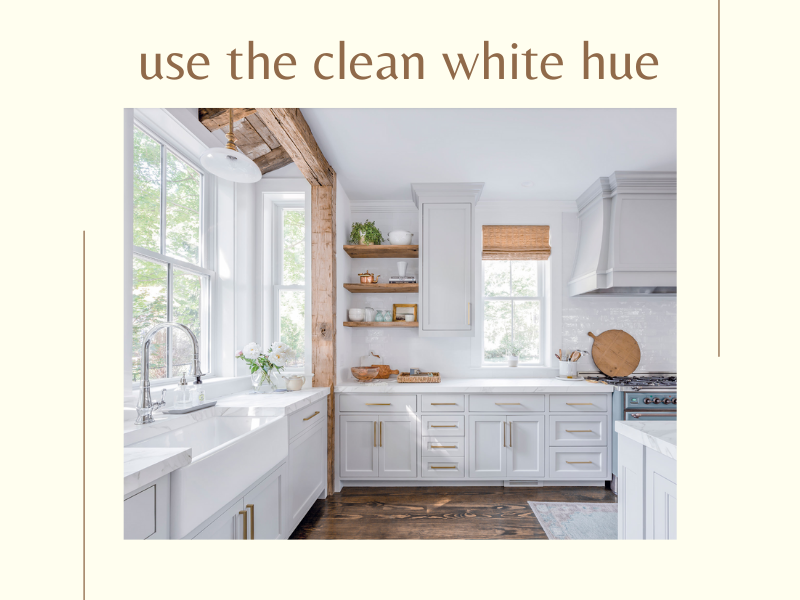 The kitchen, regardless of its form or style, is unquestionably the heart of the home. Then, this setting should be gracious and cozy. Modern farmhouse decor for the kitchen combines the imagery of rustic materials with antiquated equipment, blending a relaxed, rural vibe with a modern sensibility. The kitchen should be covered with wood, white, and a little black mood. Besides, let's place pots of flowers to warm up the vibe.
26. Add A Wooden Floating Shelf To Place Utensils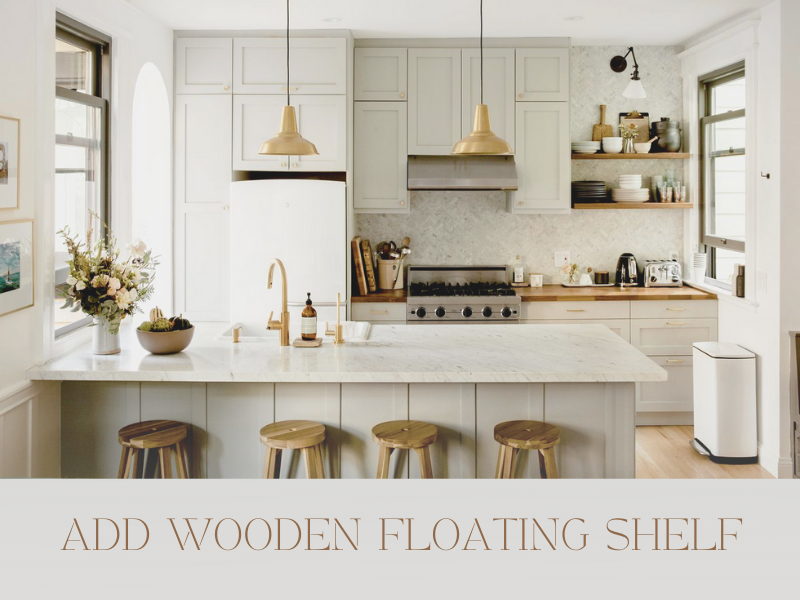 A floating shelf is an essential component in any kitchen. This shelf is excellent for any setting because it is cost-effective and easy to install. Because they require less material to produce, they are a more inexpensive choice than upper cabinets. In terms of decoration, a floating shelf may hold things of any size, such as plants, canvas, mirrors, etc. Because of its basic design, it is also simple to clean regularly.
Modern Farmhouse Bedroom Furniture Ideas
27. Bunk Bed For Children Farmhouse Style Furniture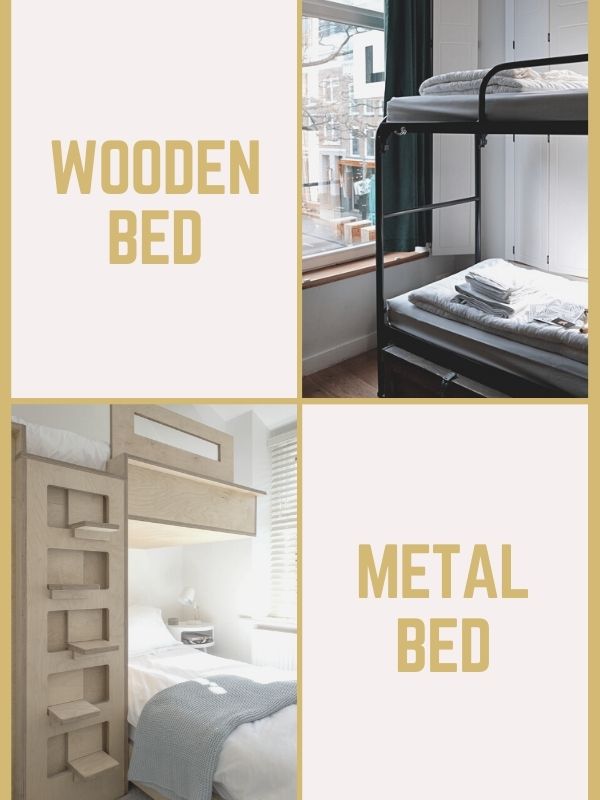 A bunk bed is a bed in which one-bed frame is placed on top of another, allowing two or more beds to occupy the same floor area as one. Hardwood, such as oak, maple, or cherry, is the best wood on a bunk bed frame. These are the most durable woods, able to resist force without breaking or becoming unstable.
However, if you want to create a modern bedroom appearance, use metal for the frame. Metal bed frames are not only extremely sturdy, but they are also safer than timber lofts and bunk beds. Metal beds are strong enough to survive years of use without deterioration.
28. Floating Shelf To Reduce Clutter In Farmhouse Style Furniture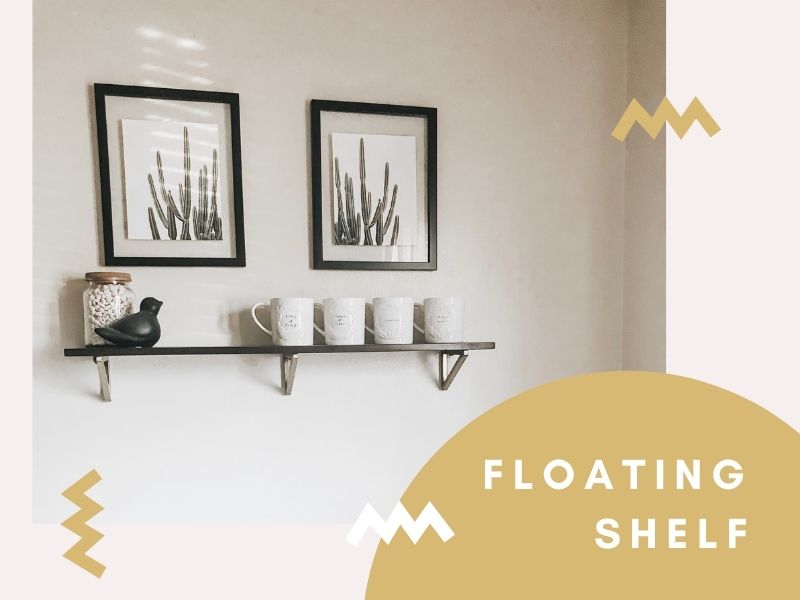 Floating shelves are one of the design's magical works, they appear to achieve every house size. They are frequently the best option whether you need extra storage or want to add some aesthetic appeal to a room. Decorate the shelf with some helpful items for your best quality of sleep. A scented candle should be placed on the floating shelf to allow the fragrance scent in your room; it can make you relax, calm, and even help you sleep like a baby!
29. Big-Size Artwork On The Wall To Inspire You Everyday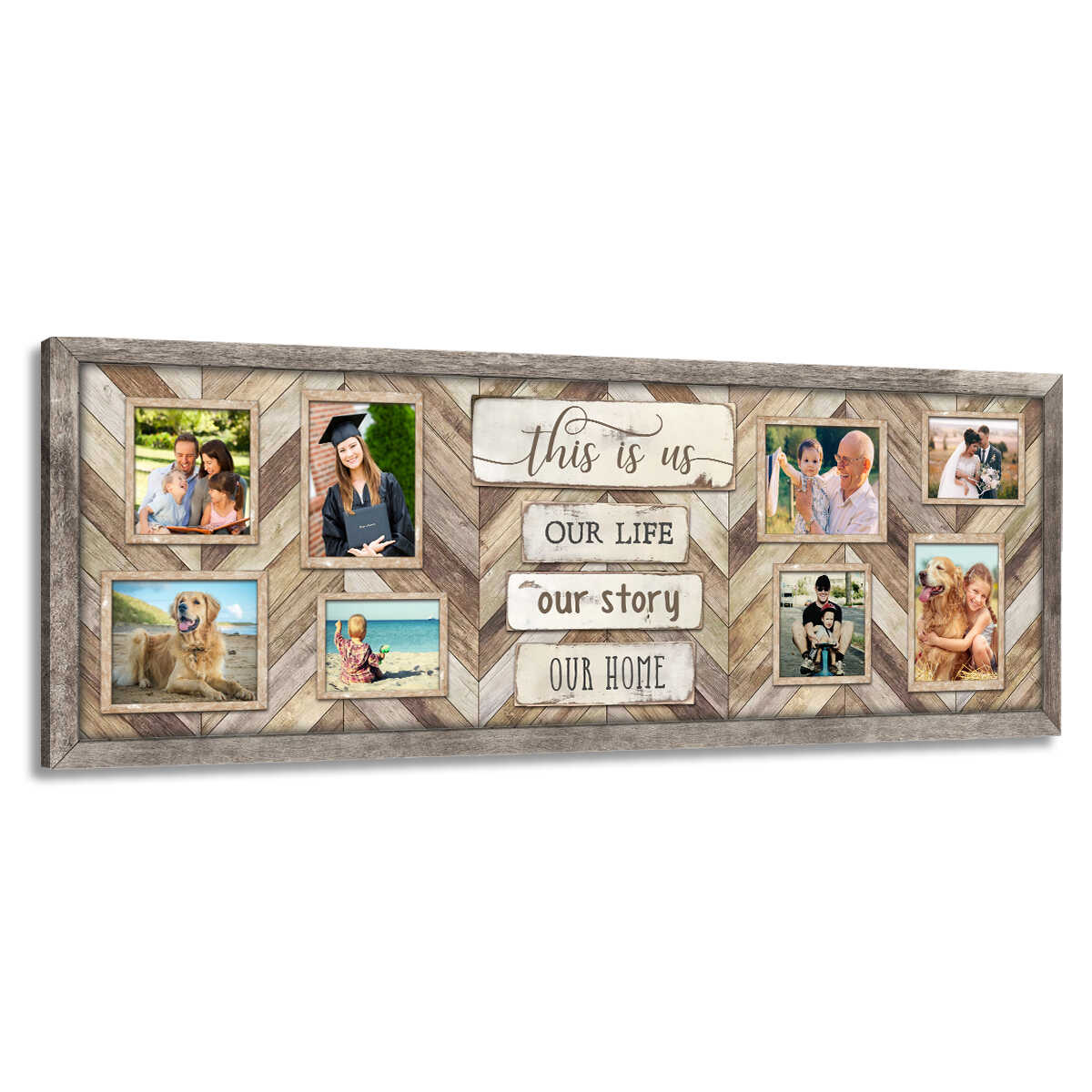 Shop Now
Shop Now
Farmhouse wall art is always an excellent idea for wall decor. It may seem illogical, but putting a big work of art in a cottage bedroom may help it appear larger for space. Pieces of this size can be used as focal points on a wall or in a room. That means you do not have to load every wall space with canvas when it comes to hanging them. An empty wall may be an important design feature to improve your décor.
Modern Farmhouse Bathroom Furniture Ideas
30. Rustic Basket To Store The Dirty Clothes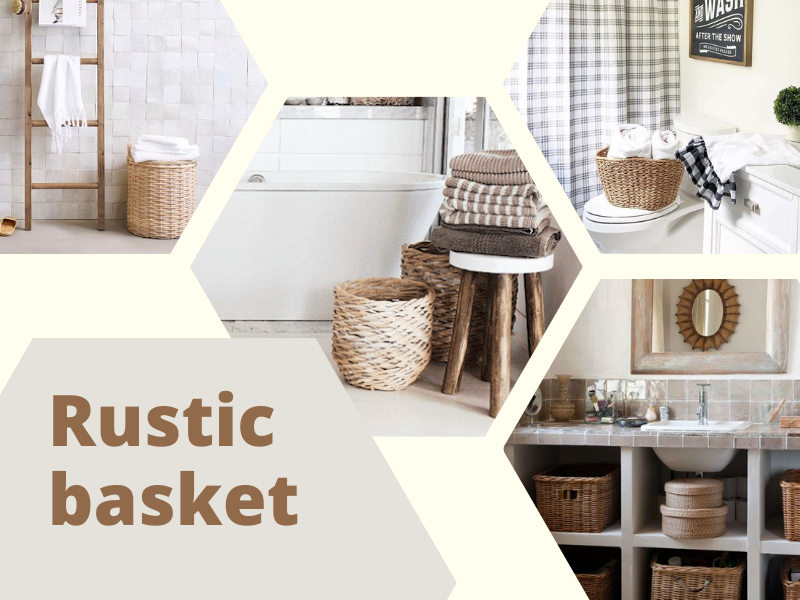 Rustic basket emphasizes natural textures, basic and earthy hues, and, overall, an uncomplicated, genuine charm. They are ideal for displaying various items, such as hand towels, toilet paper, soap, and other necessities. Even your small plant may be placed in a rustic basket. The bigger one is ideal for storing dirty laundry in the bathroom. You can put a note on each basket to find the stuff within at a glance.
31. Get The Touch Of Industrial Farmhouse Style
The farmhouse style combines a powerful, strong, urban appearance in industrial farmhouse design. Combining industrial and modern farmhouse bathroom decor elements results in a well-balanced space with moderate furniture that perfectly blends comfort and durability. We advise avoiding using shower curtains to get the styling of an industrially designed bathroom and instead go for an open-air shower or sleek glass and steel frame shower doors.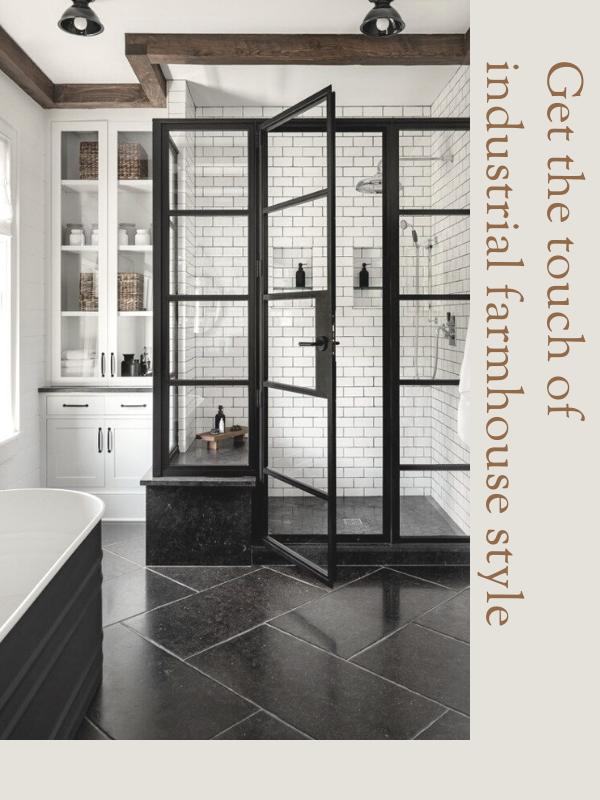 32. Modern Farmhouse Bathroom Wall Decor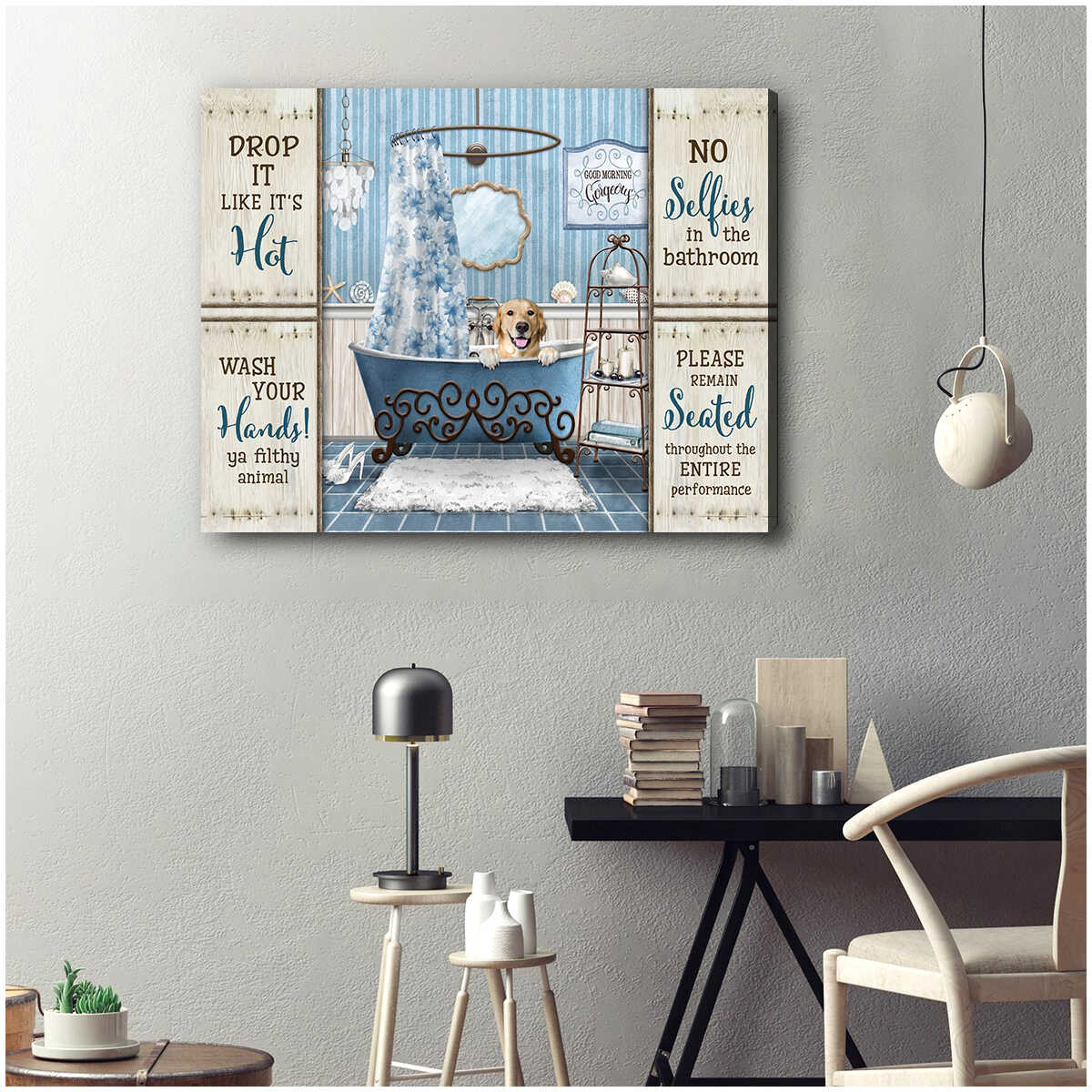 Displaying canvas prints enhances modern farmhouse bathroom decor ideas for any area. Bathroom art should be able to withstand moist and humid environments. To extend the artwork's life, you may also use an acrylic spray to seal it. Or you can choose the framed artwork as another option.
Read more:
Above are Oh Canvas tips for getting modern farmhouse decor in your house. The three areas discussed in this article to assist you in thoroughly looking at this style are the living room, kitchen, and bathroom. We hope this information is helpful to those of you who are thinking of remodeling your home or constructing a new living space. If you have any thoughts on this topic, please share them with us in the comment section below!