It's an intimidating task to find perfect gifts for boyfriend's dad, especially when you don't seem to have a close bond with him. But there's no need to worry much when you have this Oh Canvas's gift guide in hand. We've gathered the most unique, practical pieces that can win any dad over. No matter the occasion, this list is still a perfect inspiration that helps you leave the best impression on him.
Personalized gift ideas for boyfriend's dad
1. Family Name Sign Canvas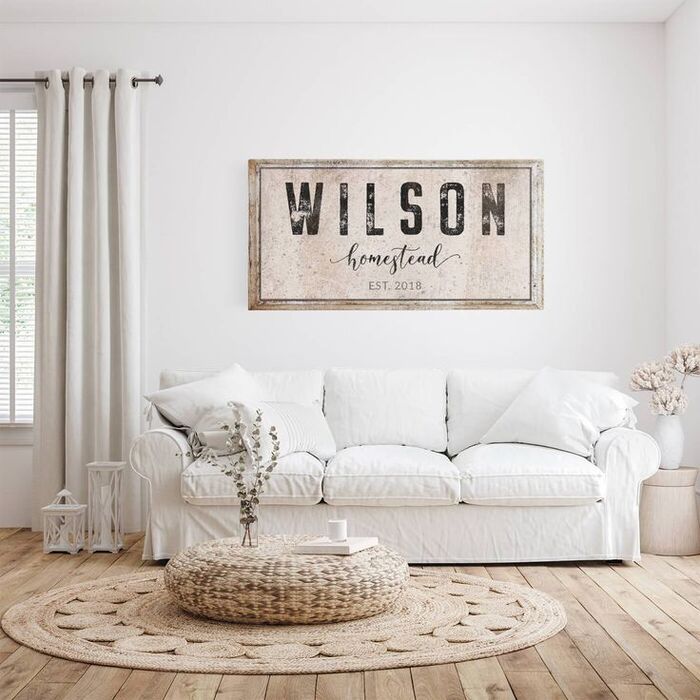 For your boyfriend's father and his family, the family art canvas sign is one of the most popular gifts you can give. He'll like it if you offer him a personalized canvas with the family's name on it.
2. "To the Best Dad" Throw Pillow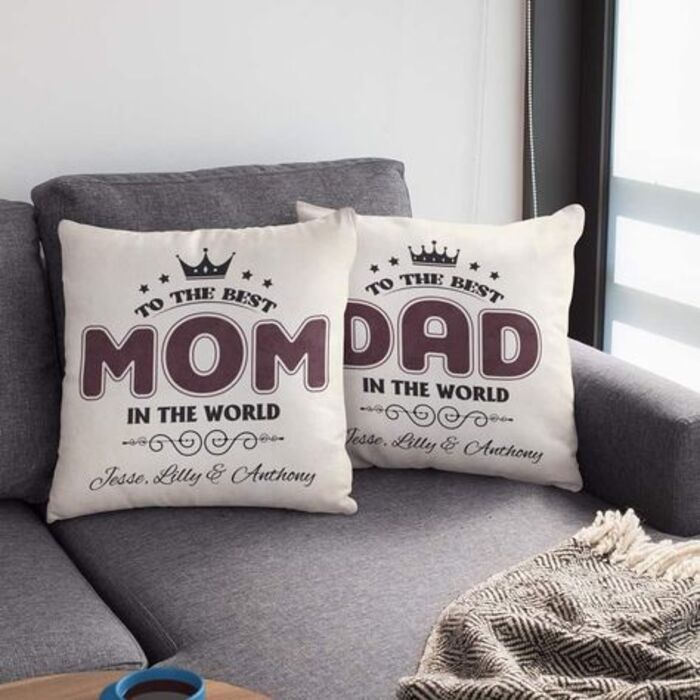 Throw pillows are a great idea for surprising your boyfriend's father with a thoughtful present. It will serve as a constant reminder of your love for him, and he can display it on his favorite couch. In addition, it's a darling piece of furniture.
3. Personalized Docking Station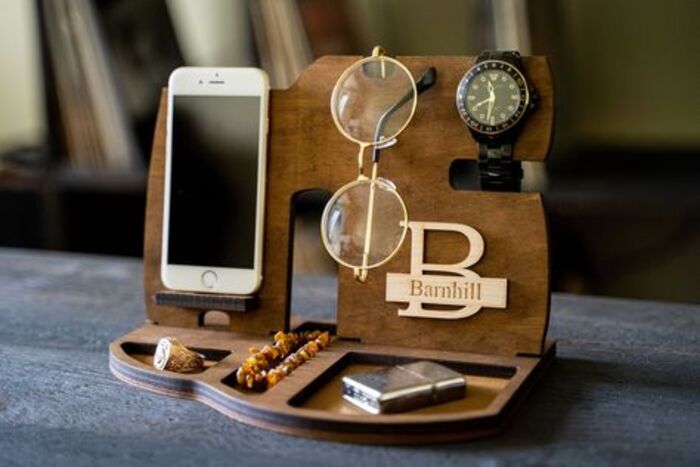 As one of the best gifts for boyfriend's dad, this docking station is both attractive and meaningful. The neatness and organization of his personal belongings will be greatly simplified.
4. Pocket Knife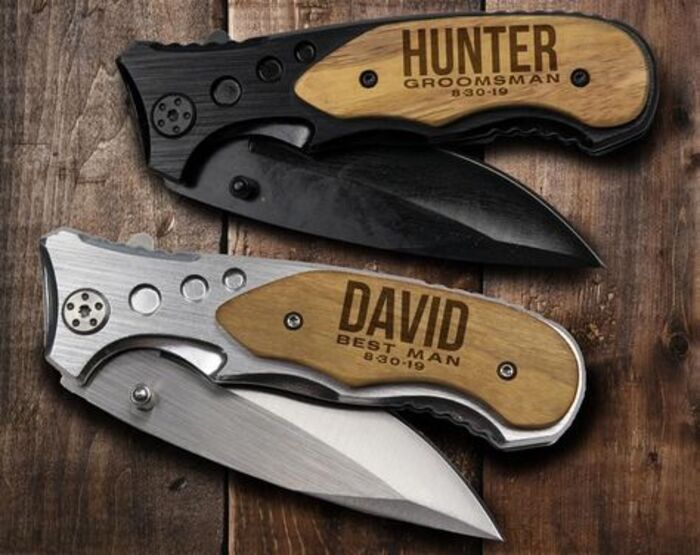 Your boyfriend's father is no exception to the rule that every man should carry a pocket knife. Don't stress if you don't know what to present him for his birthday or Christmas. You can't go wrong with this personalized pocket knife — it's both functional and sweet.
5. Custom Leather Wallet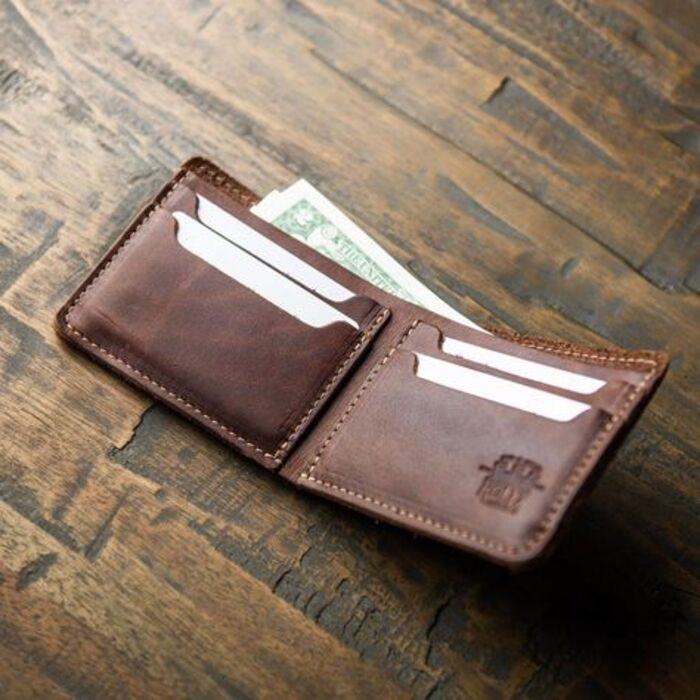 Custom leather wallets are enchanting gift ideas for boyfriend's dad to show your father-in-law how much he means to you. If he is celebrating his birthday or Father's Day, this is an excellent gift suggestion. To top it all off, you may include a personal message to make him laugh.
6. Custom Cutting Board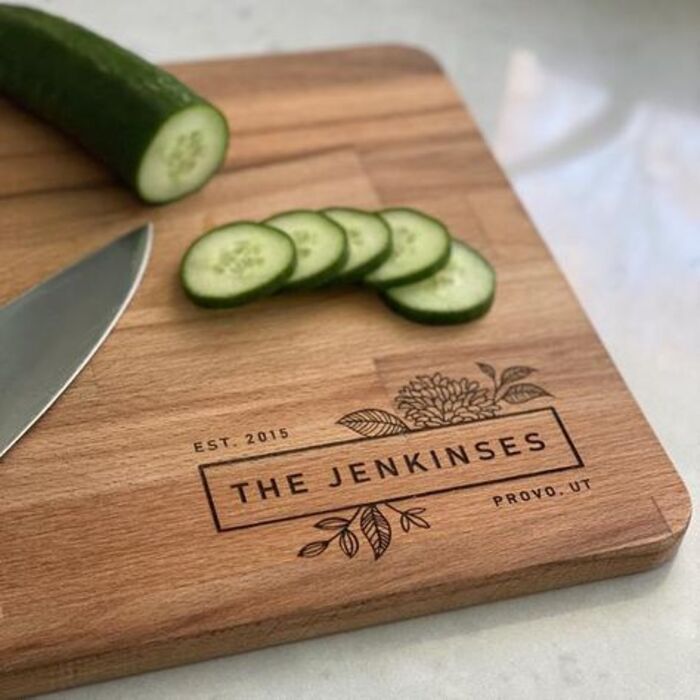 Engraved cutting boards for your father-in-law will make his supper even more special. It's a thoughtful present for any occasion, and he'll definitely put it to good use. Gifts that can be personalized are always a crowd-pleaser.
7. Family Photo Canvas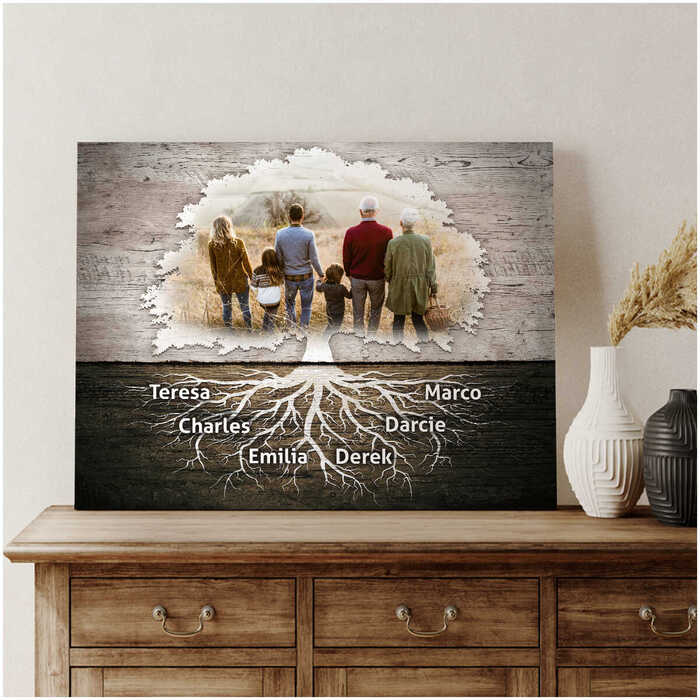 Giving parents a family photo canvas is a brilliant way to show how thoughtful and delicate you are. With a warm and rustic design, this print tends to add a meaningful charm to your boyfriend's cozy nest.
8. Engraved Watch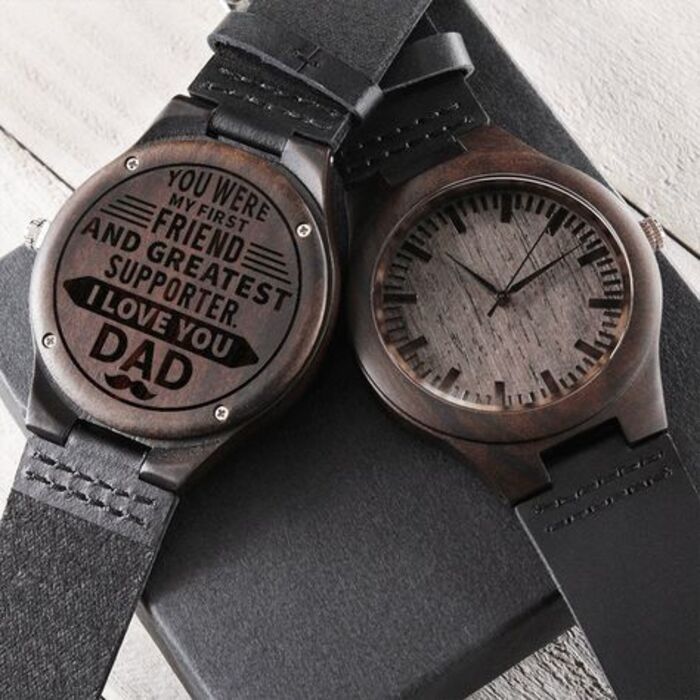 Are you stumped as to what stunning presents for boyfriend's dad for the holidays? You can never go wrong with an engraved timepiece! This clock is meant to be a cherished heirloom for its owner, who will remember it fondly for years to come.
9. Cuff Links Wood Box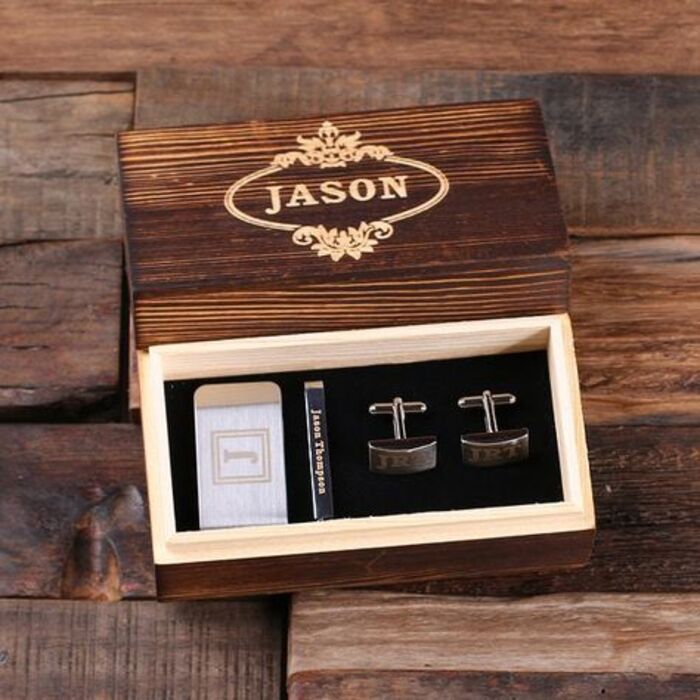 Is he having a special occasion? What may be the occasion? Perhaps a birthday or a promotion at work? You may also give him a nice wood box and cufflinks to commemorate the event. It's also possible to include a personal message in the lid!
10. Whiskey Decanter Set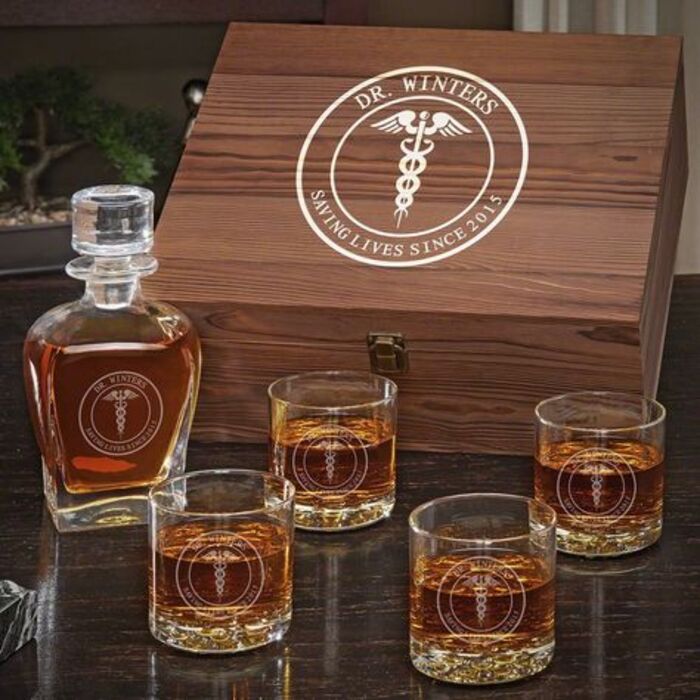 Show him how much you care with this unique gift for boyfriend's dad that he wishes to have long ago. With a personalized decanter set, you may make his birthday more memorable for everyone in the family. It's all about usefulness and aesthetics in this gift package. To make numerous unforgettable toasts, he'll use this!
11. Eye-grabbing Address Doormat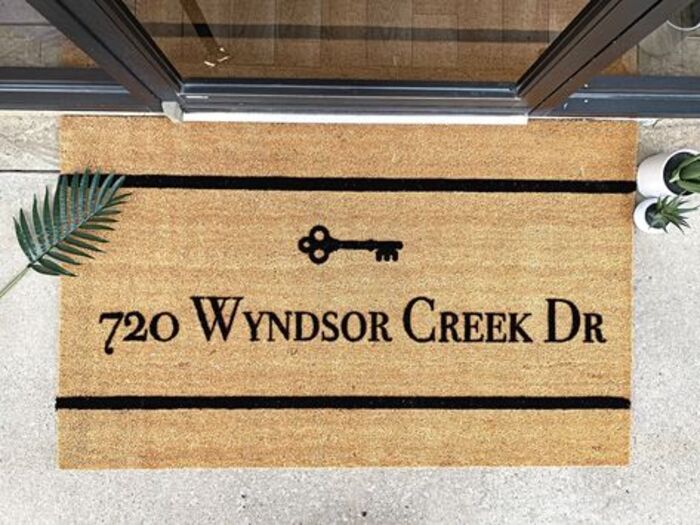 Personalized doormats with the recipient's address would be thoughtful gift ideas for boyfriend's dad. From the minute guests walk through the door, their house will have a charming, personal touch. If you're looking for a housewarming gift, this is a great option.
12. Engraved Map Coasters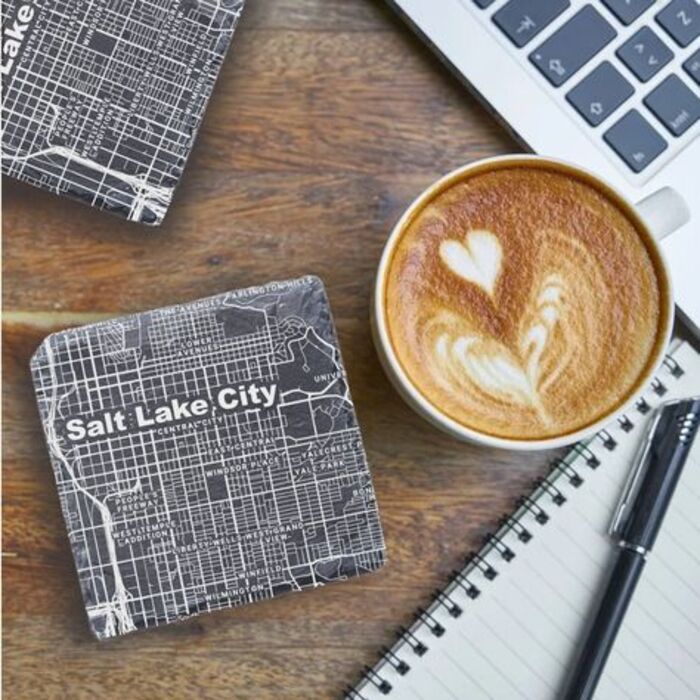 This pair of coasters can be personalized with the maps and names of different cities. Choose the places that are special to your partner's parents, such as their neighborhood or the area where they currently live. These coasters will wow them with their attention to detail.
13. Custom Cork Holder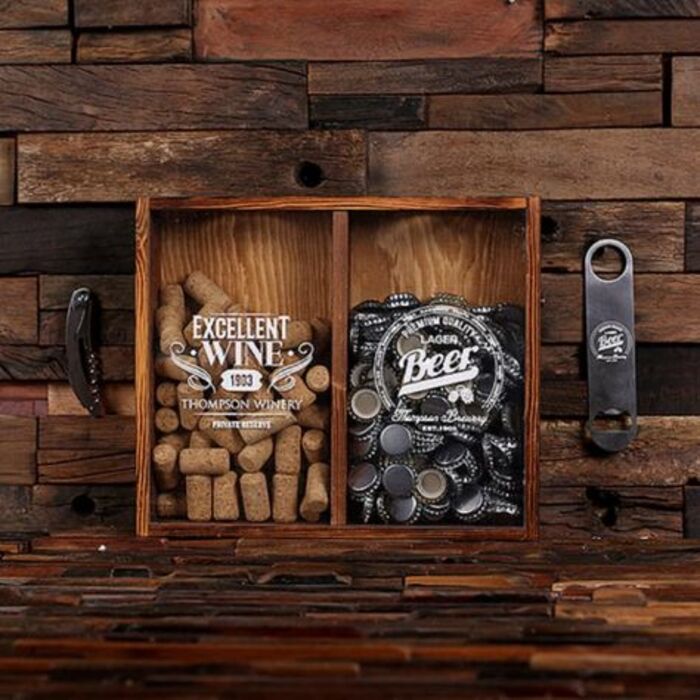 On the hunt for the best presents for boyfriend's dad that elevate his living space? He may keep all of his wine corks, bottle caps, photographs, or whatever else he collects in this shadow box. It can be hung in his living room or kitchen and helps him display his ever-growing collection!
14. Family Sunflower Canvas
It's a brilliant idea to give your partner's dad a family keepsake that he'll treasure for years to come. Elegant and charming, this canvas print will look great in his bedroom, living room, or dining room.
>>> Read more: 45 Unique Gift For Boyfriend Ideas That He's Sure To Love
Practical presents for boyfriend's dad
15. Custom Name Apron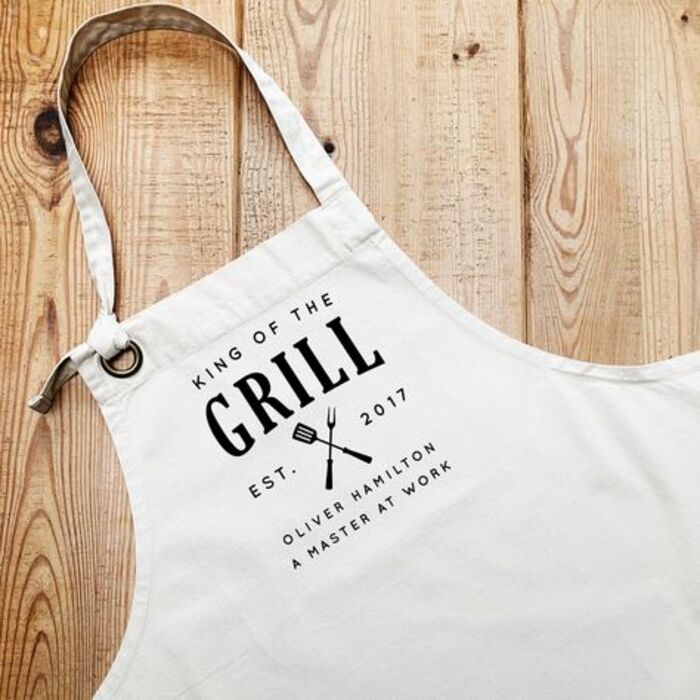 To show that he is the master of the grill, every BBQ fan should have a bespoke apron. Get one for your boyfriend's father, and he'll be delighted. When you're invited to enjoy an outdoor party with his family, you'll see his father wearing this apron and doing his professional work.
16. Compact Cheese Board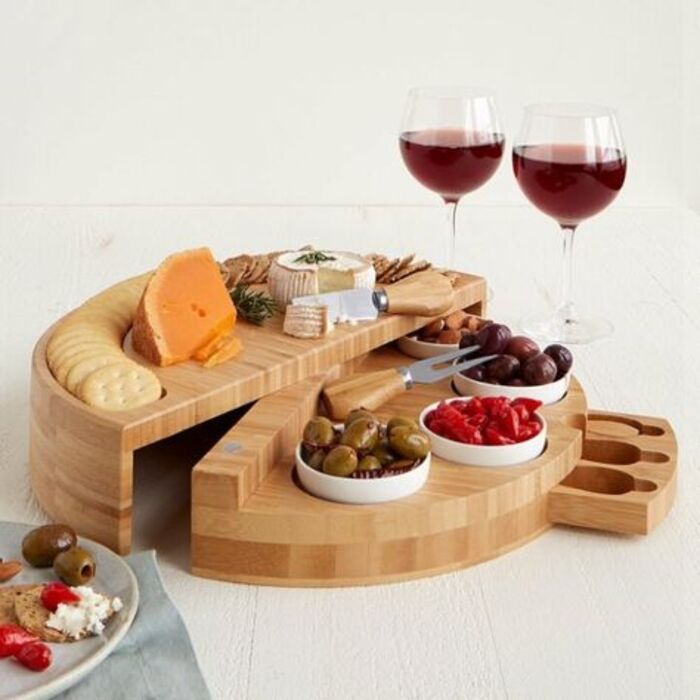 Is there going to be a holiday gathering with his family this year? We've got the right gifts for your boyfriend's dad to assist you to meet his needs. Even if his parents don't plan on serving charcuterie, this cheese board is sure to make them happy!
17. Basic Travel Duffel Bag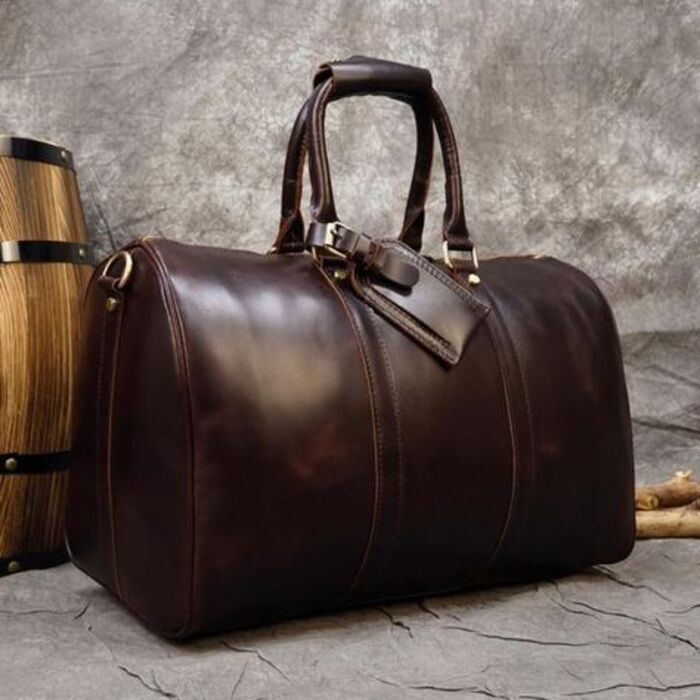 You can't go wrong with this duffel bag if you want to impress him with a practical gift. It can fit any laptop and has a lot of room for other belongings. It's also constructed of high-density, water-resistant polyester and contains a removable and adjustable shoulder strap and a back sleeve. Being both functional and comfy, he can take it with him everywhere he goes.
18. Neck Massage Pillow
A nice massage is the finest remedy for a stressful day. One of the most thoughtful gifts you can buy for your boyfriend's father is this neck massage pillow. He'll appreciate your thoughtfulness to help him unwind and de-stress after an exhausting day.
19. Self Care Package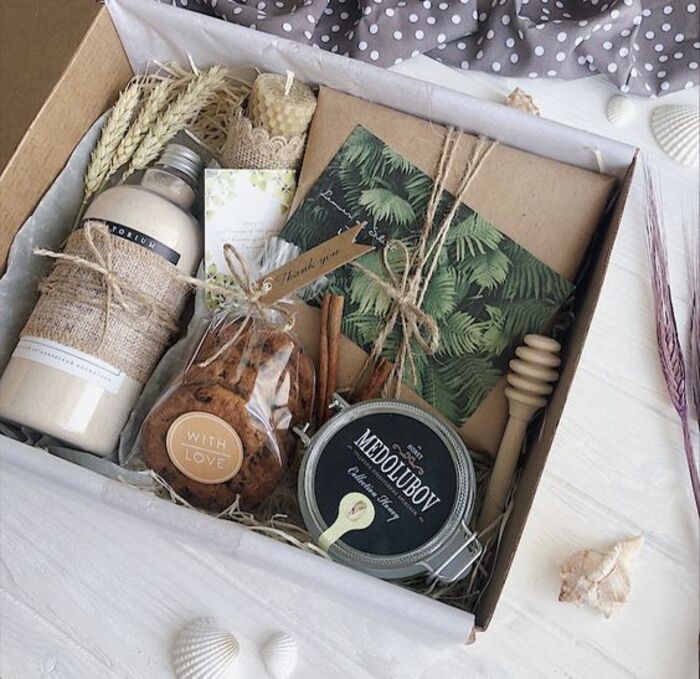 Going with stress-relief presents for boyfriend's dad for Christmas is a good idea. Considering that we're all susceptible to stress, a men's spa gift basket is a fantastic option!
20. Air Fryer
Surprise your potential in-laws with a technological gift if you want to make a good impression. Consider this oil-saving air fryer for his birthday or Father's Day to let him be full of joy and happiness.
21. Laptop Sleeve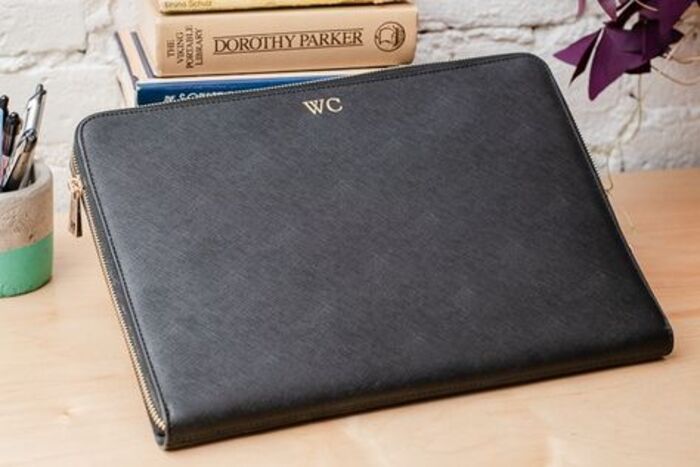 It's the perfect gift for any parent who carries their laptop to work every day. His laptop is kept safe and secure inside a padded, form-fitting enclosure. It's easy to load from the top, and the sturdy materials ensure that it will survive for many uses.
22. Spa Gift Card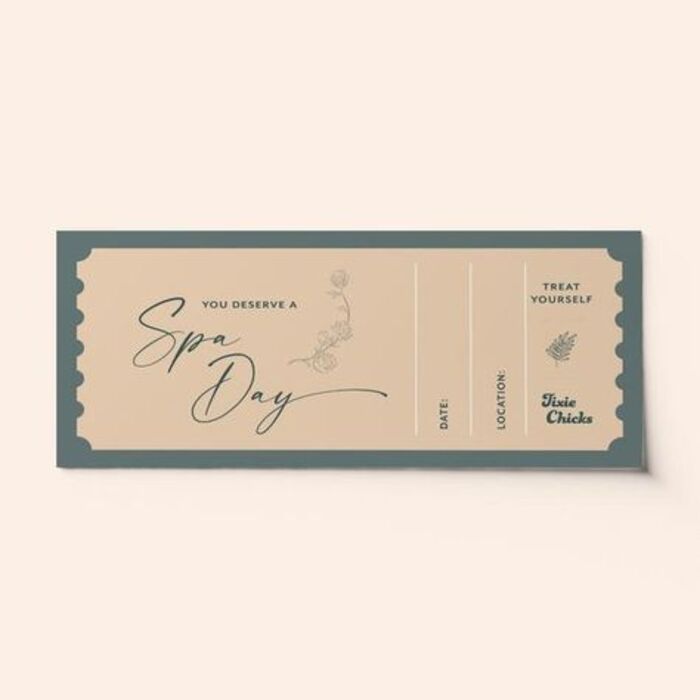 It's such a sweet gesture to give your partner's parent a spa treatment to get rid of all the aches and anxiety. Thoughtful gift ideas for boyfriend's dad like this spa gift card will never go unnoticed.
23. Gourmet Coffee Subscription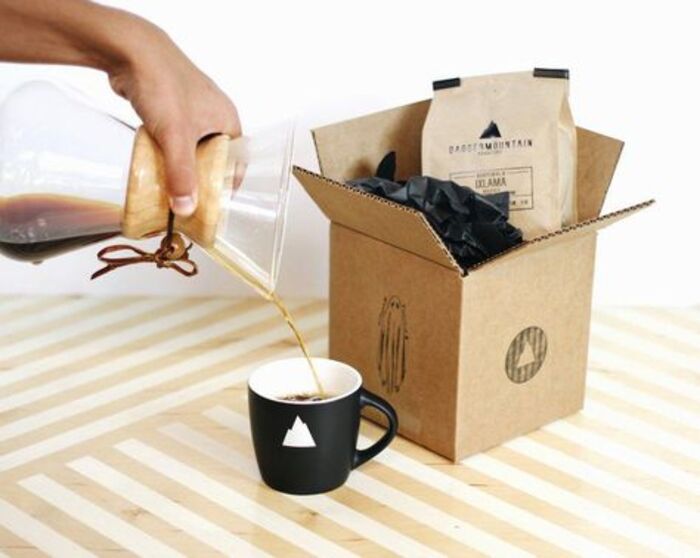 As is true for most parents, your boyfriend's father is unable to function without his morning cup of joe. He'll be in awe of this coffee subscription service! It's something he'll look forward to trying this year!
24. Cold Brew Coffee Maker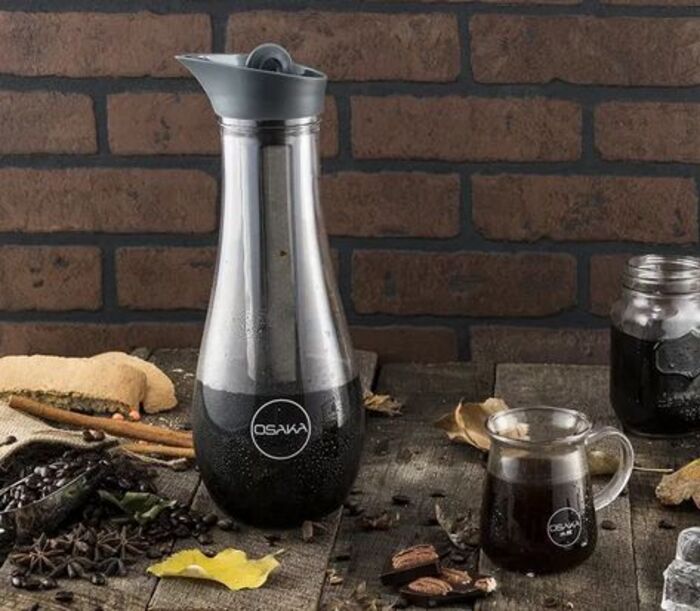 If your boyfriend's father is a true coffee connoisseur, then this cold brew coffee maker with stainless steel carafe is the perfect gift. The insulated steel carafe will fill automatically after you click the button. Pour in the ice, milk, and sugar of his choosing, and then seal the container tightly. Because no one likes to lose their cool mid-day, the insulated steel carafe keeps the coffee hot for up to 24 hours.
>>> Read more: 40 Personalized Gifts For Boyfriends That Will Make His Day
Impressive gifts for boyfriend's dad
25. Whiskey Stones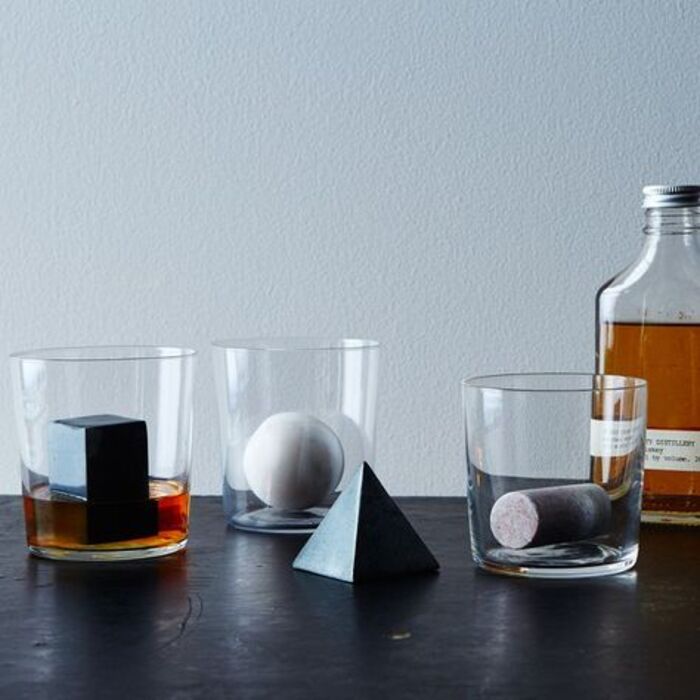 Whiskey stones are perfect presents for boyfriend's dad for Father's Day, Christmas, or any other special occasion. As an added bonus, it will keep his beverage cool, which is something he can brag about to his pals. We all win!
26. Wall-Mounted Cap Catcher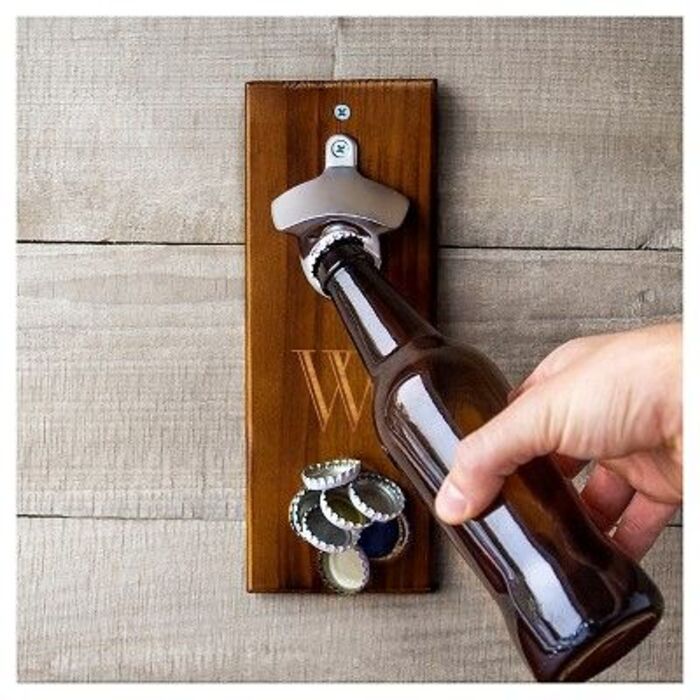 A cap catcher is one of the best gifts you can give your boyfriend's father. Every celebration can be made more special with this gift. He'll also find it a unique piece of decoration for his home.
27. Dried Fruit Gift Basket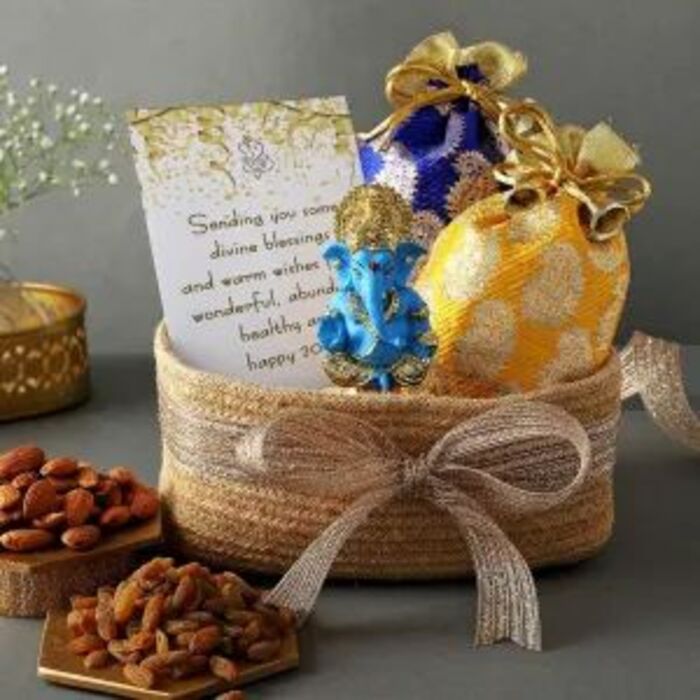 If your boyfriend's parent has a sweet tooth, this might be a wonderful Christmas present for them. With high-quality dried fruits of his favorite, this basket is sure to make his day.
28. Stemless Wine Glasses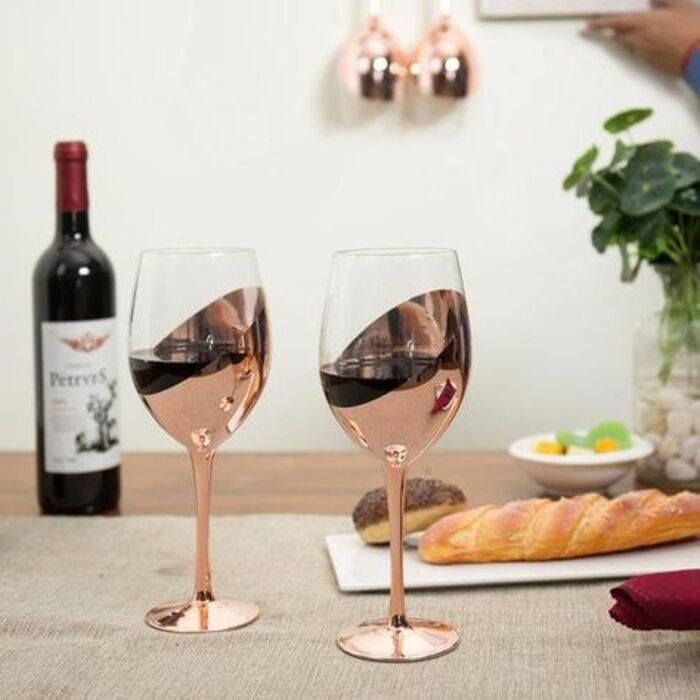 These stunning stemless wine glasses are wonderful gifts for your boyfriend's dad on his anniversary this year.
If you're looking for a way to start a conversation, go no further than these elegant pieces!
29. Candle Archive Gift Set
This candle combination is another inventive technique to encourage your boyfriend's family to warm up to you.
Candles come in a variety of aromas, so they'd make thoughtful presents for your boyfriend's parents. Even his brothers and sisters can each get one!
30. Sweet Houseplant Set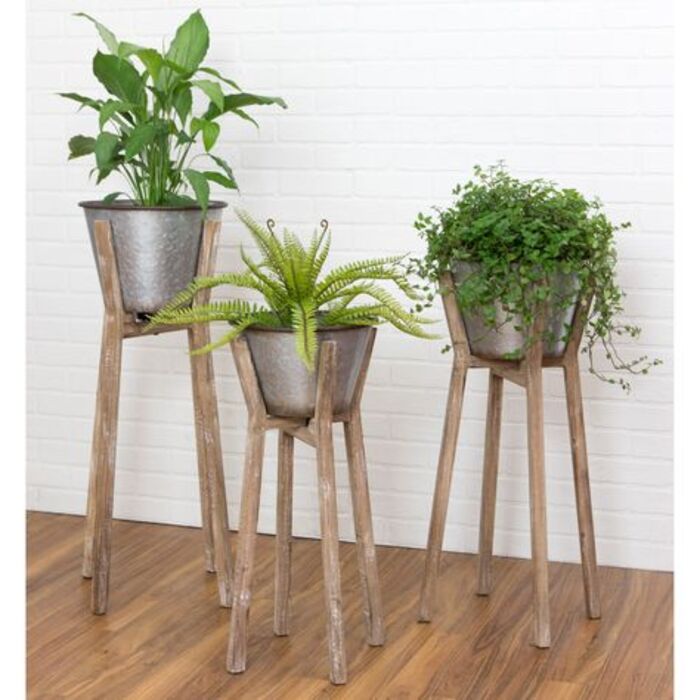 Is he a garden lover? If so, bring vitality to any room of his home with a lovely houseplant set. You can never go wrong with this for parents who are hosting the holidays and need a little help.
31. Cute Coffee Mugs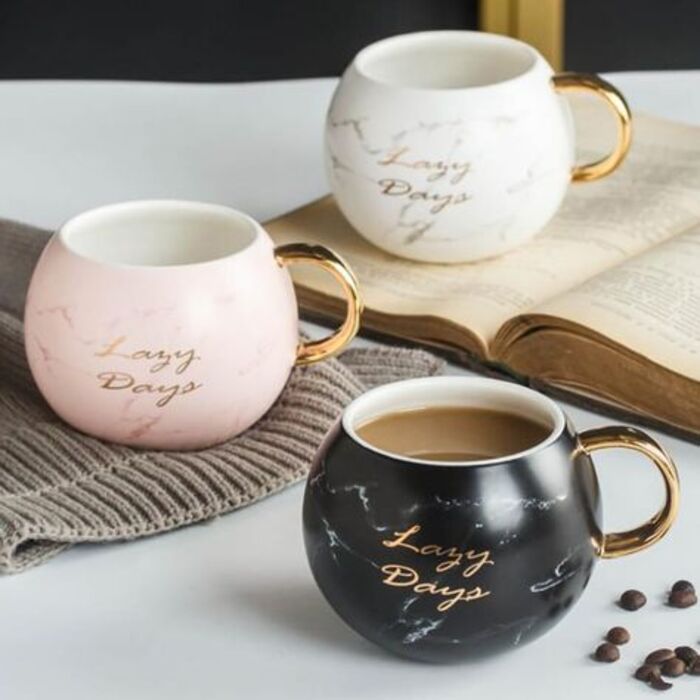 If you're seeking practical gifts for your future parents-in-law, these cute coffee mugs are a lovely choice. This thoughtful present is sure to brighten their morning cup of coffee.
32. Complete Tea Set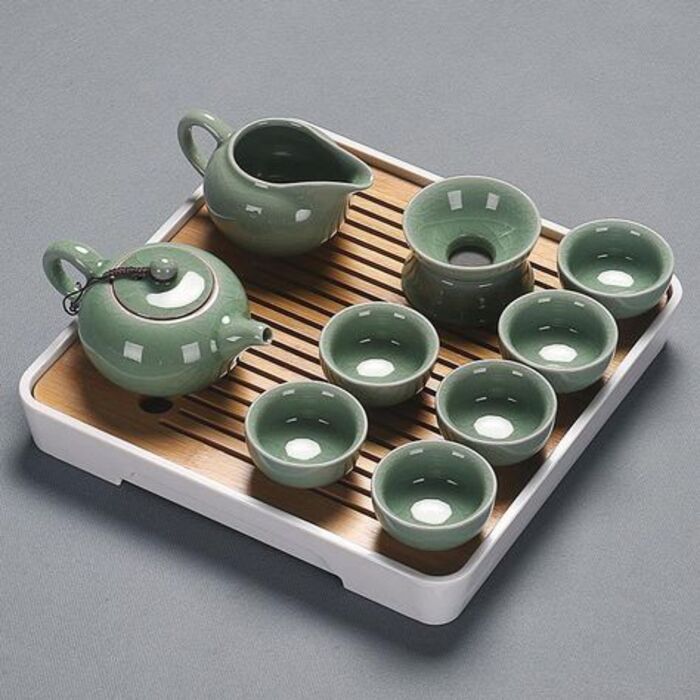 All of your boyfriend's dad's tea party necessities are included in this kit: Teapot with cover, infuser, warmer, and candle, glass cups, and tea petals. All utensils are made of strong, heat-resistant borosilicate glass and may be used on the stovetop, in the microwave, or in the dishwasher without risking damage.
33. Himalayan Salt Tequila Glasses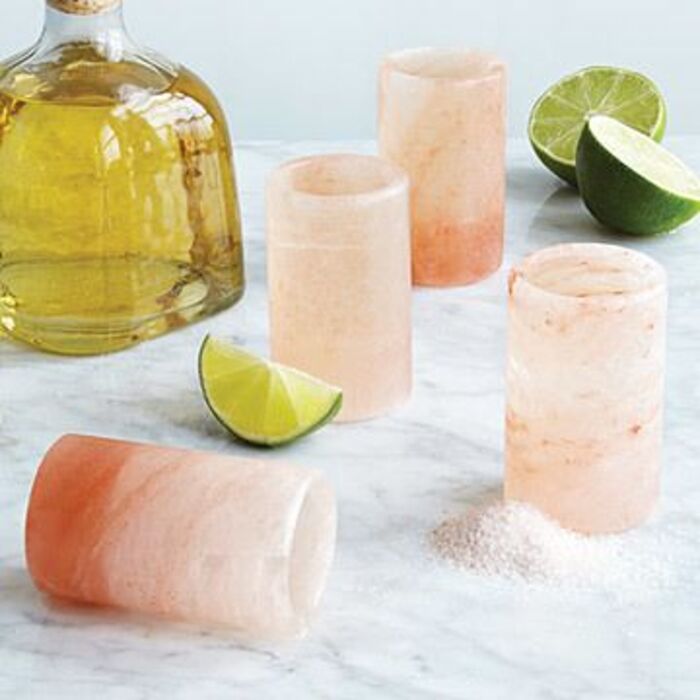 What better Father's Day gifts for your boyfriend's dad than a pair of handcrafted Himalayan salt tequila glasses? He'll not only be touched by your generosity but also be able to experience his favorite beverage in a new light. Ceramic, salt, acacia wood, and PET plastic are all used in the construction of these glasses, which makes them more stable than if they were constructed completely of salt.
34. Poker Set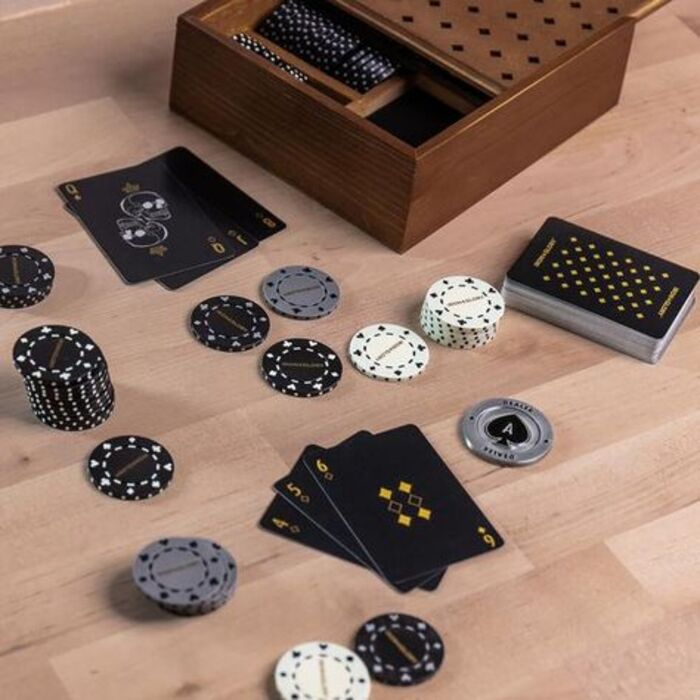 His parents will be overjoyed with this thoughtful present! With this set, they'll be able to host a poker night for their pals with ease. If they decide to take their gaming night on the road, they can easily move the set thanks to the case.
35. Wine box and tool kit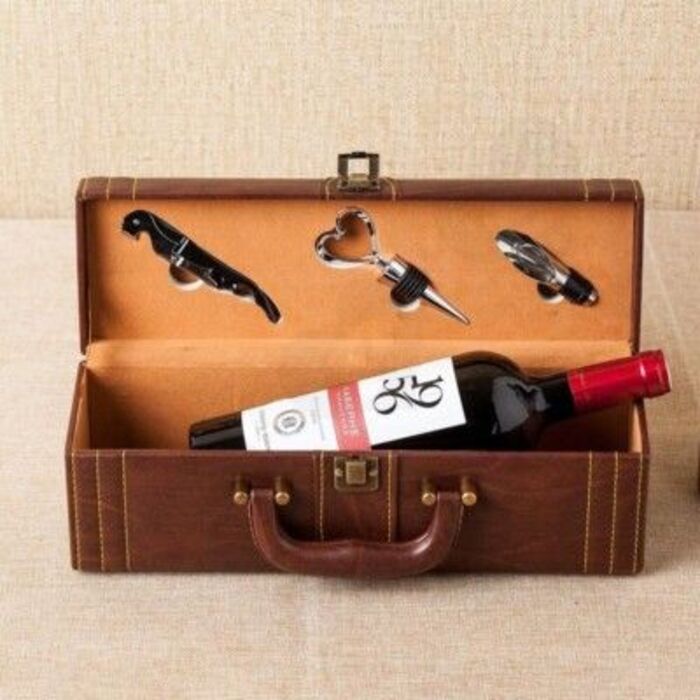 This wine box and tool kit is a great way to impress your partner's parents. It's cushioned to protect the bottle. Your boyfriend will appreciate you so much for giving such a wonderful wine present to them!
Read more:
This list is for anyone who's looking for a special way to surprise their boyfriend's dad on his birthday or Father's Day. Whether it's the first time you meet him or both of you have known each other for a long time, these heartfelt gifts for boyfriend's dad are still a way to make him feel loved and proud. Oh Canvas believes that you'll find at least one thing to wrap for this endearing man.