We're not sure who needs to hear this, but anniversary presents don't have to be formal or particularly serious to be appreciated. In fact, if you and your partner like making each other laugh, a humorous present might be the ideal way to mark this important day. Whether it's your first anniversary or your golden wedding anniversary, these thoughtful funny wedding anniversary gifts are guaranteed to brighten your partner's day. Read Oh Canvas's blog to discover the ideal suit for your scenario!
What Do you Give for Anniversary By Year?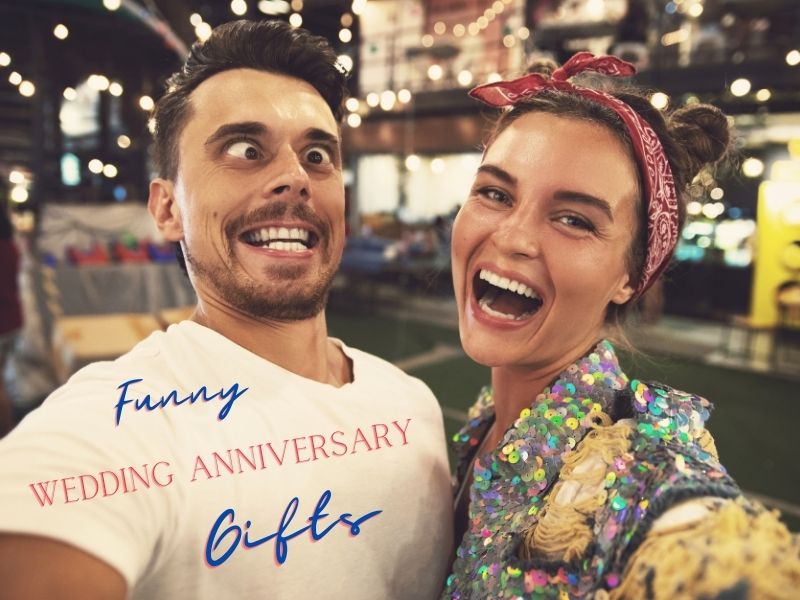 Are you shopping for funny anniversary gifts? Don't stress about coming up with anything original to give them! When it comes to yearly anniversary gifts, you don't have to stick to the typical theme and symbol. Presents like hilarious wedding anniversary gifts may also be a great way to show your loved one you care.
These gifts are ideal for a spouse, partner, friends, or parents with a great sense of humor. On their wedding day, they deserve to be entertained and maybe laugh out loud.
42+ Easiest Funny Anniversary Gift Ideas for Couples
1. Creative Pillow My Side Your Side Pillow Case Set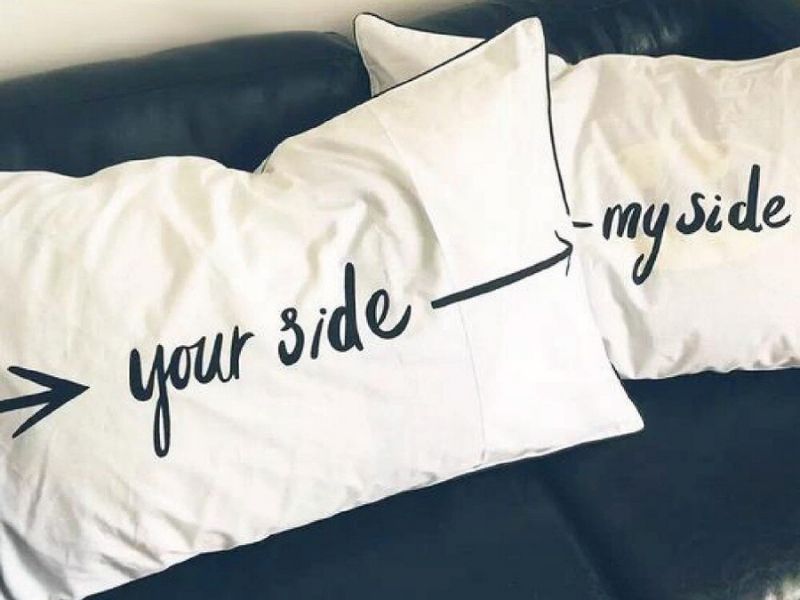 It's time to show your mate that you're prepared to share their side of the bed with these hilarious pillowcases. They're machine washable and made of soft cotton, which is ideal for funny anniversary gifts for couples.
2. Custom Marriage Pie Chart Mug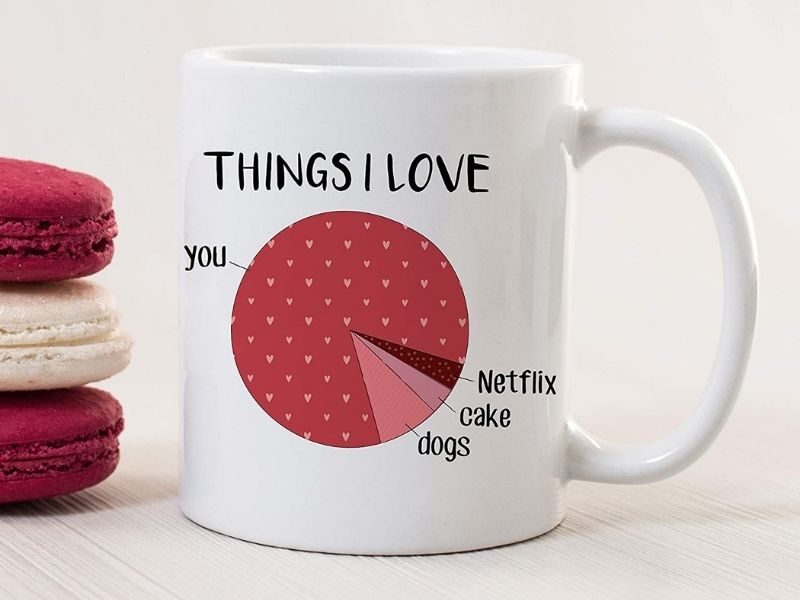 For whom? Do couples who have a cup of coffee together remain forever? For funny anniversary gifts for couples, this humorous mug is an excellent choice that can be personalized with your choice of words at the checkout.
3. Couples Split Sheet Set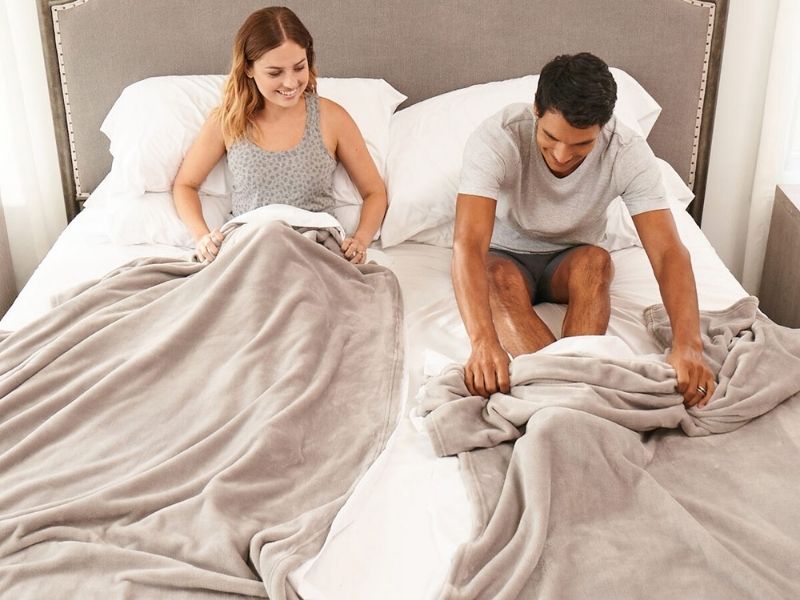 It's not uncommon for funny wedding anniversary gifts to have a combination of humor and utility. This pair of divided sheets is for you if one of you has a reputation as a blanket thief in the relationship. Sleeping with your loved one will seem more like a sleepover and less like a tug-of-war if you use a flat sheet that is divided from the top down to the not quite bottom.
4. Personalized First Anniversary Comic Book Gift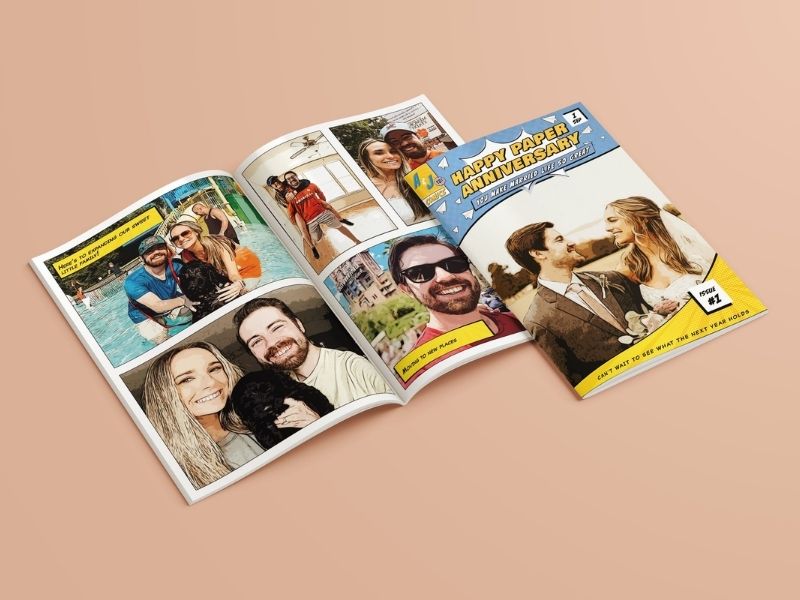 Using a simple design, you may create a keepsake of special times spent with your loved ones. Revisit your first date, reminisce about your wedding day, or compose a love letter to the person you cherish most. This is one of the funny anniversary gifts for couples that will be treasured for many years.
5. Custom Star Map Canvas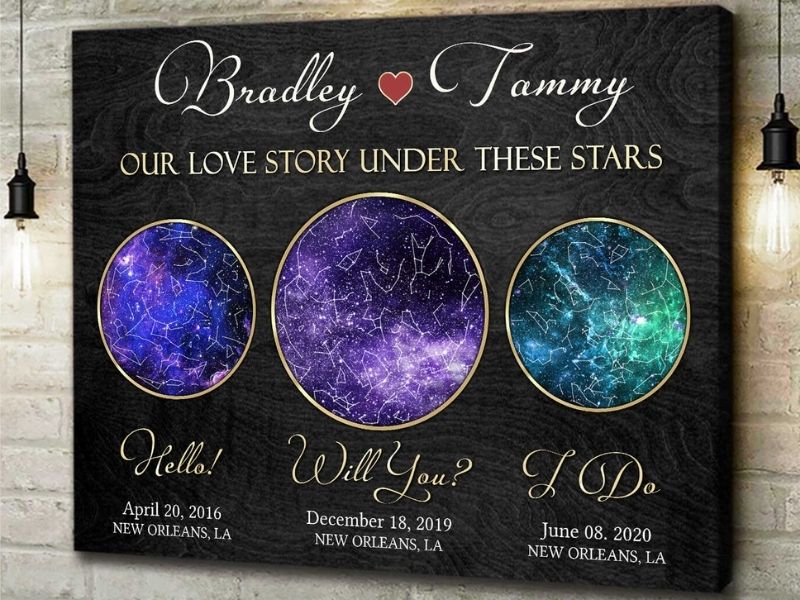 Everyone who enjoys stargazing or has a romantic outlook on the night sky gathers together. The night sky as it looked on a certain day, from a specific location, is shown in this bespoke poster. Then, it is one of the funny anniversary gifts you should not miss out on! 
6. Personalized Car Air Freshener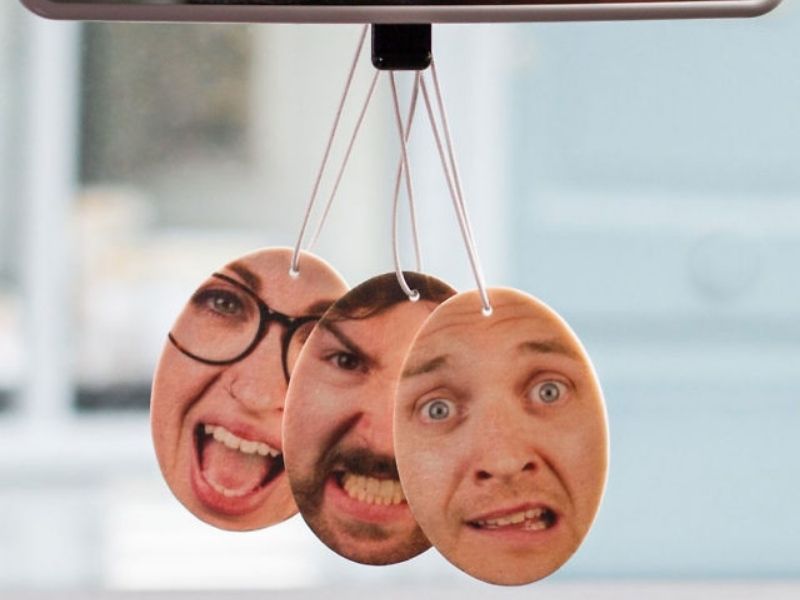 You won't be joining him on that road trip? Still, be happy that way. Fresh Face's customized automobile air freshener set ensures he will never forget about you or how you always smell like a million bucks.
7. Sleepy Head Personalized Pillow Cover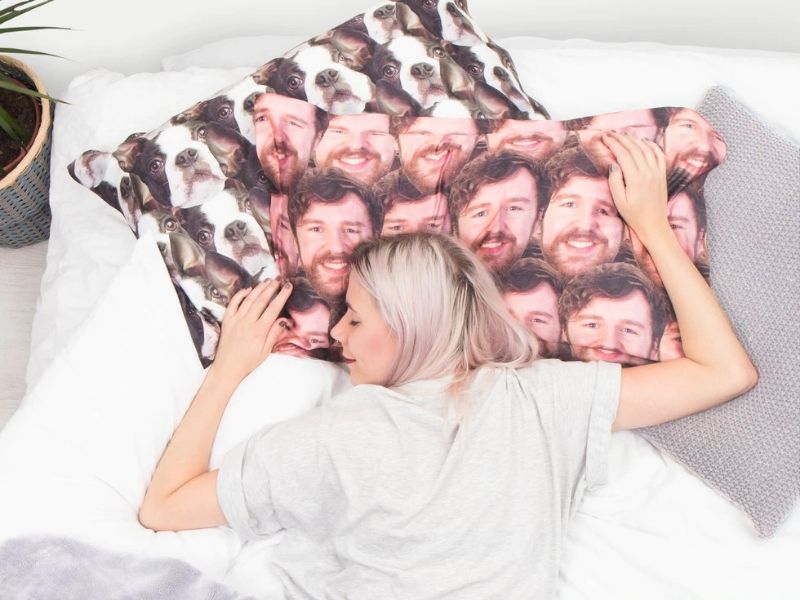 The recurring image of your face on this plush pillowcase means he'll never again complain that he doesn't have enough of you to sleep on. Do not hesitate to give him this modern 13th anniversary gift on your significant day!
8. Customized Face Pillow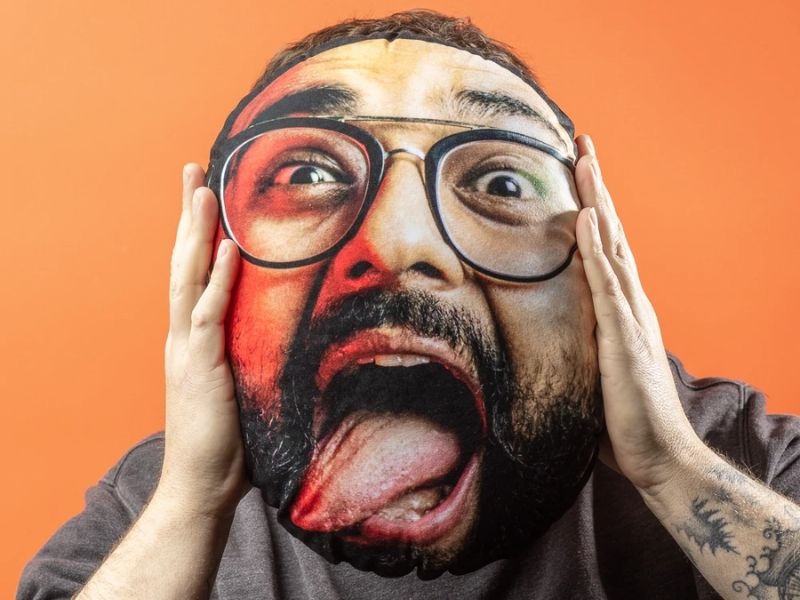 The ideal joke 2nd anniversary gift is a squishy cushion decorated with a picture of your significant other's face. You don't even have to leave your house to get your hands on one of these wacky pillows.
9. Mr. and Mrs. Aprons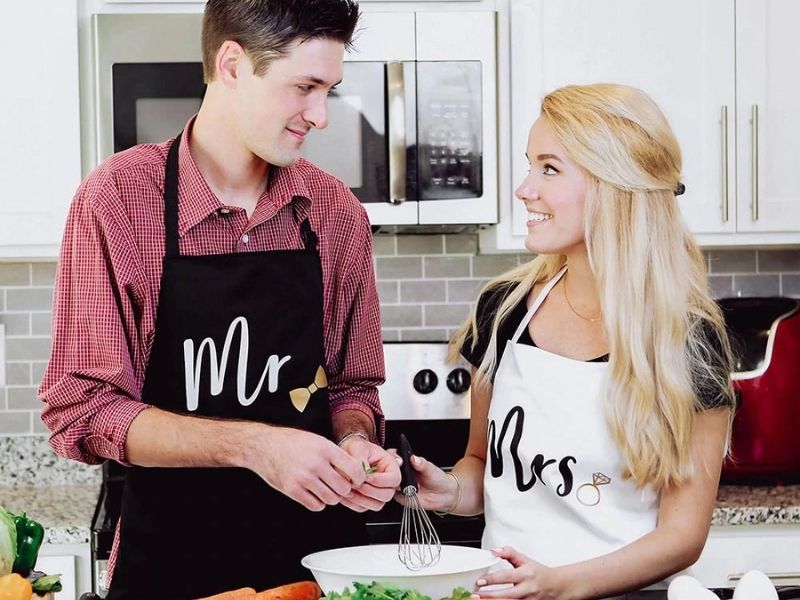 Cooking couples are more likely to remain together. If you and your significant other like spending time in the kitchen together, these funny wedding anniversary gifts are a must-have! With their wedding date imprinted on the front, these cotton smocks can be washed simply and fit snugly.
When your favorite pair wears these wedding presents, they'll be able to spend their evenings as sous cooks.
10. Message in a Glass Bottle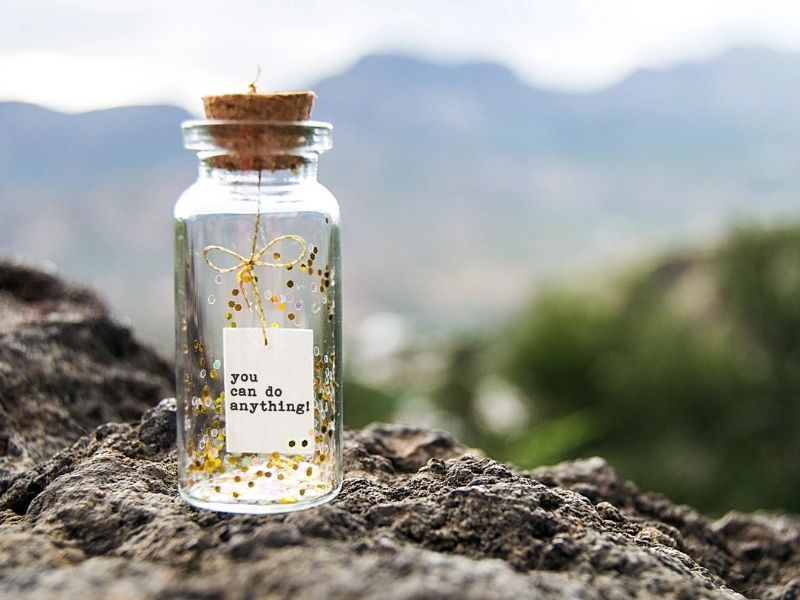 This jar has 50 lovely capsules, each with a blank sheet of paper for a little remark of affection. For a present that will both affect and thrill the recipient, include inside jokes along with heartfelt remarks. Love notes for future anniversaries may also be included in this funny anniversary gift.
11. Personalized Ticket To Love Box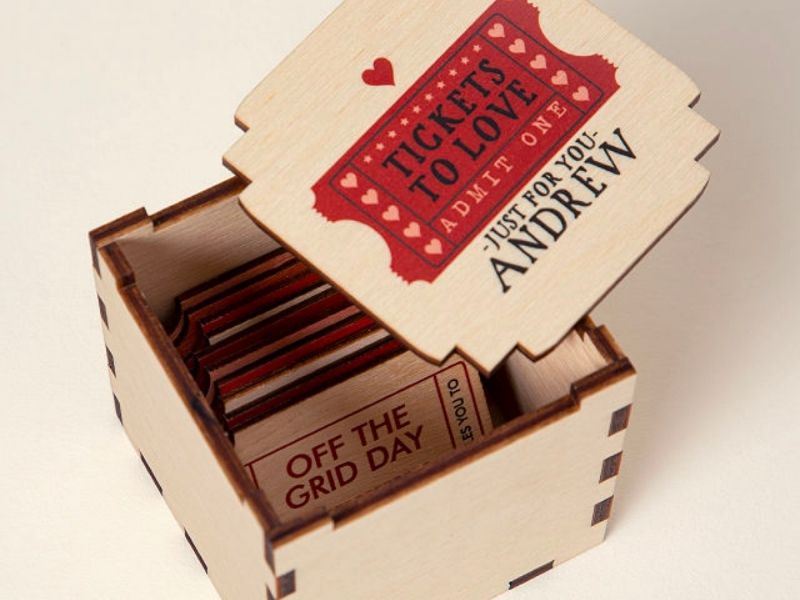 Coupon booklets you produced as a youngster are now a thing of the past. A gift box with 10 personalized tickets is a much better alternative than a handwritten and stapled booklet (you can choose from 40 options). If you're looking for something a little raunchy, this is the event for you.
>>> Read more: Top 31+ Surprised Anniversary Gift for Sister And Brother In Law
12. Funny Cat Wall Decor Oh Canvas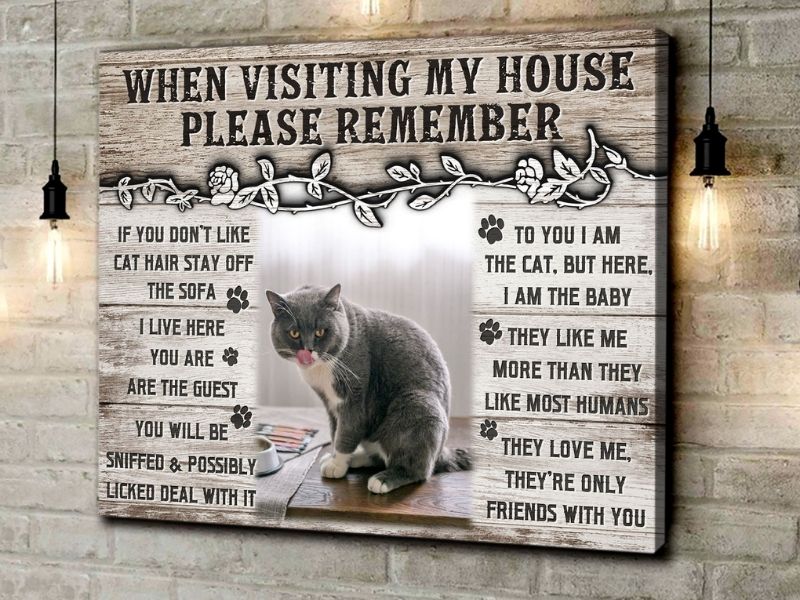 One of our funny wedding anniversary gifts is sure to make dog and cat lovers laugh. There are a wide variety of methods in which cats express their affection, but one thing they all have in common is that they never cease to be entertaining! People throughout the world will nod in accord as they recall their own furry friends.
Put up the "When Visiting My House" canvas poster in your favorite area in the house. Watch as your proud feline refuses to acknowledge you.
13. Marriage Survival Basket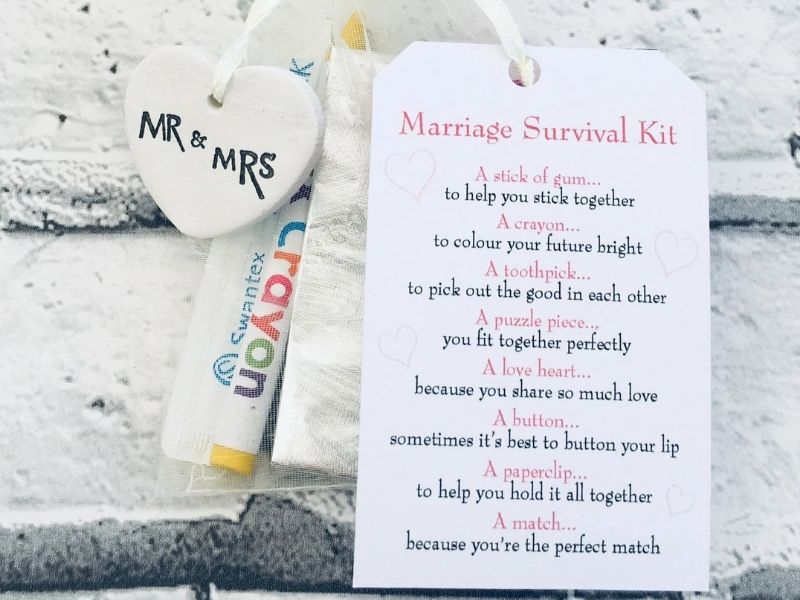 You may personalize this gift for the newlyweds with a few simple DIY steps. Make them a wedding gift basket they'll cherish long after the ceremony is over.
Some funny wedding anniversary gifts to spice up their relationship should be included together with wine or champagne, chocolate, and more. Show them that unique and creative newlywed presents are possible!
14. Happy Anniversary Wine Bottle Label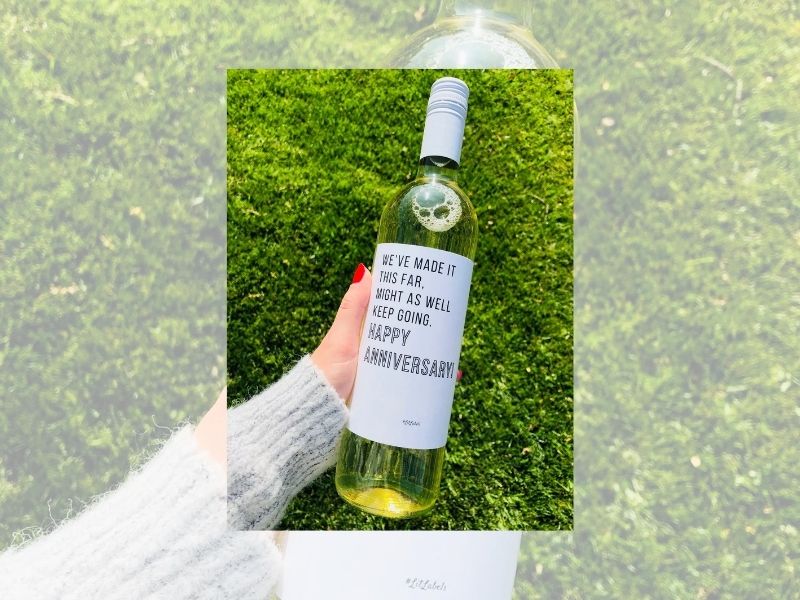 The message "We've made it this far, may as well keep going" on the label of your favorite wine bottle is 1st anniversary gift for your spouse on your wedding anniversary. Labels for glasses of champagne or brut bottles may be customized by the vendor as well.
15. Internet Dating Anniversary Card
Use this amusing anniversary card to tell your lover that they are the coolest thing you have ever come across on the internet. The inside of the card is left blank, but you may add a customized note by writing on it.
16. Personalized HourGlass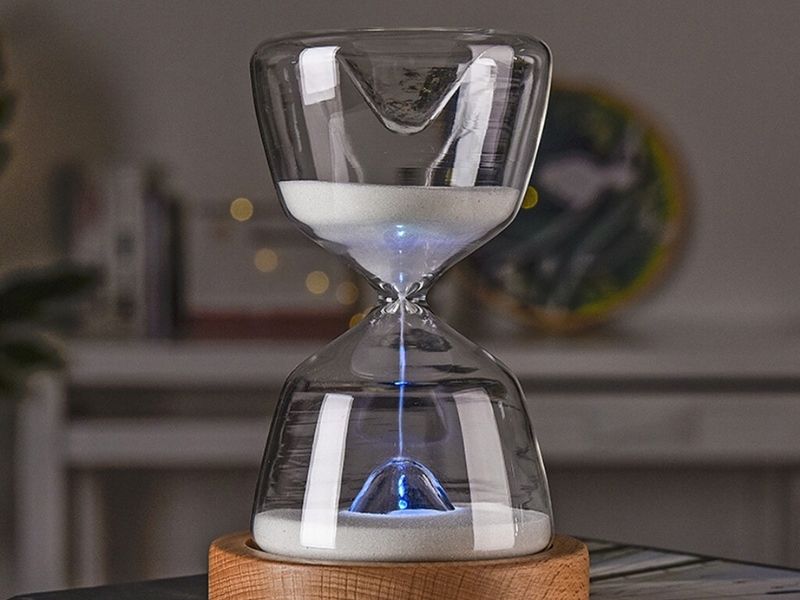 Is time slowed down by their smile? Send them a token of your appreciation. The couple's names and wedding dates are inscribed on the hourglass, which comes with a heartfelt message: "Our love is eternal." It's a lovely decoration that will serve as a constant reminder of the importance of spending time with the people you care about. Don't miss out on these funny wedding anniversary gifts!
17. What I Love About You Book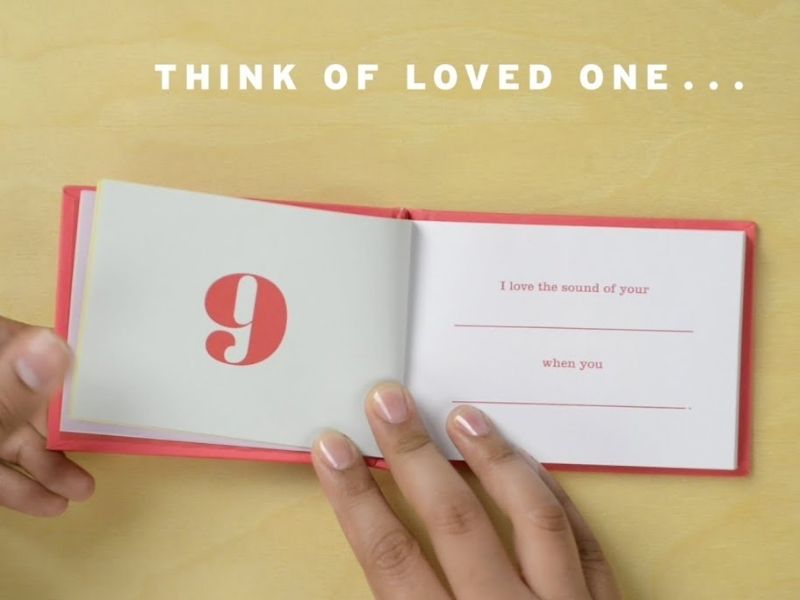 It's up to you to convey your feelings of love in this fill-in-the-blank book. Throughout, you'll discover a variety of checklists, quizzes, and ideas to help you remember important details. It's a great pastime for a date night, whether you do it together or individually before tying it up.
18. I Like Your Butt Candle
A soy candle that reads "I like your butt" is a certain way to show your sweetheart how much you care. This cheeky soy candle is scented with a combination of pineapple, passionfruit, and mango and is perfect as one of the funny anniversary gifts for your significant other.
19. Horses and Old Church Wall Art Decor Oh Canvas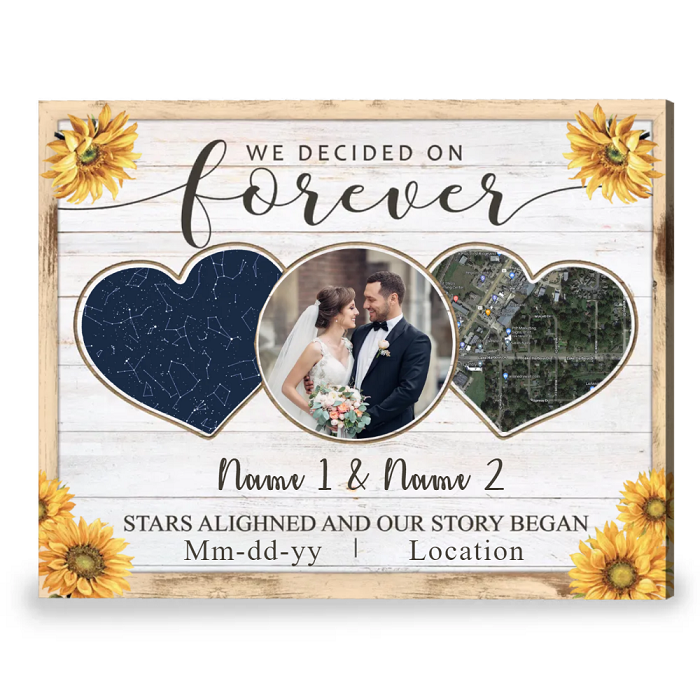 This approaching pair of adoring horses symbolize cooperation, family, and the power of many working together. As funny anniversary gifts for couples, this custom canvas print is heartfelt since you may include the date and names of your special occasion.
It's really considerate to display this wall art decor to remind you of a cold date when you finally decided to be together for the rest of your life. Then why not add it to your shopping basket right away?
20. Funny Cotton Pajamas for Couple
Goofy dog-themed pajamas are the perfect way to bring a grin to your partner's face. You may personalize the front and back of these shirts with your monograms and other text.
>> Read more: Best 90+ Romantic and Funny Anniversary Quotes for Couples
21. Thanks for Swiping Right Key Ring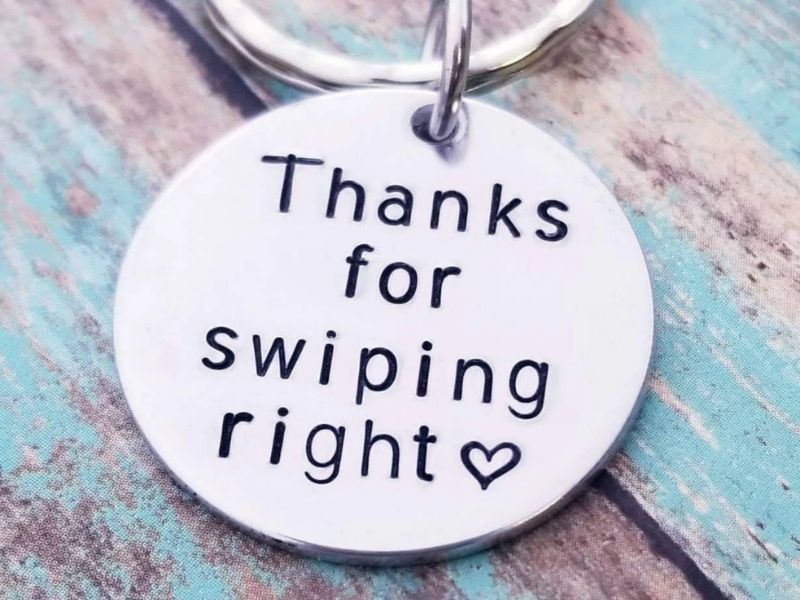 This adorable key chain will serve as a constant reminder that true love may be discovered on the internet. If you don't give expensive funny wedding anniversary gifts, this is a great alternative.
22. Handkerchief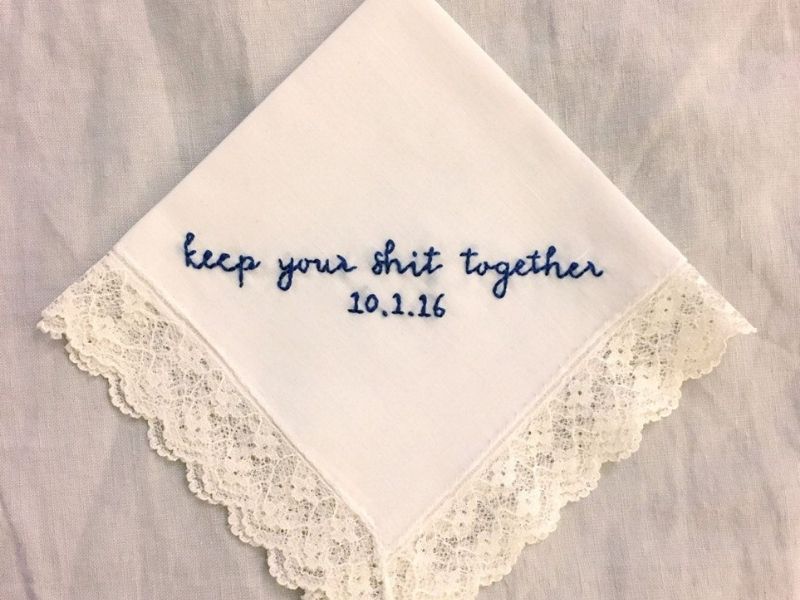 Gift them a handkerchief to remind them of the most important thing: keeping their shit together! With this unique gift, they'll be reminded of the importance of being calm on the big day!
If you're looking for funny anniversary gifts, consider this one. For a one-of-a-kind wedding remembrance, choose the thread color.
23. Stamped Anniversary Gift Spoon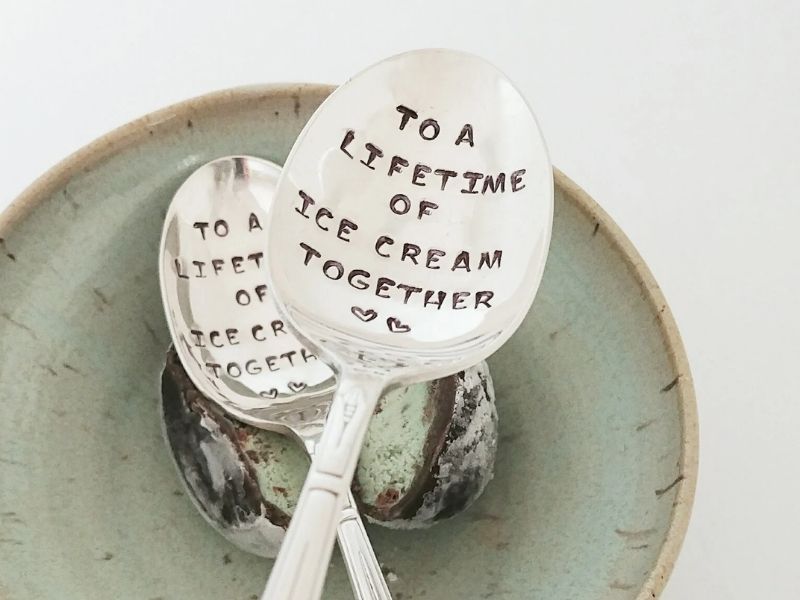 You're looking for one-of-a-kind funny 25th wedding anniversary gifts? This engraved antique spoon is a great way to show your lover how much you care about them.
24. Embroidered Toilet Paper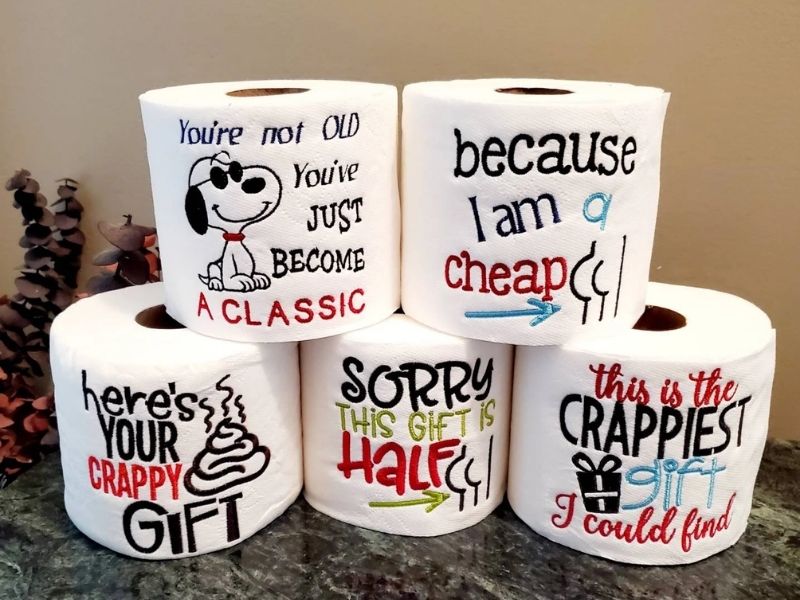 To celebrate your paper's first anniversary and the present you're giving your spouse, both should be special. This funny anniversary gift for couple embroidered toilet paper is a fun and unique way to commemorate it.
This anniversary joke present is sure to bring a smile to the face of your significant other. You can't go wrong with this one.
25. Origami Wall Clock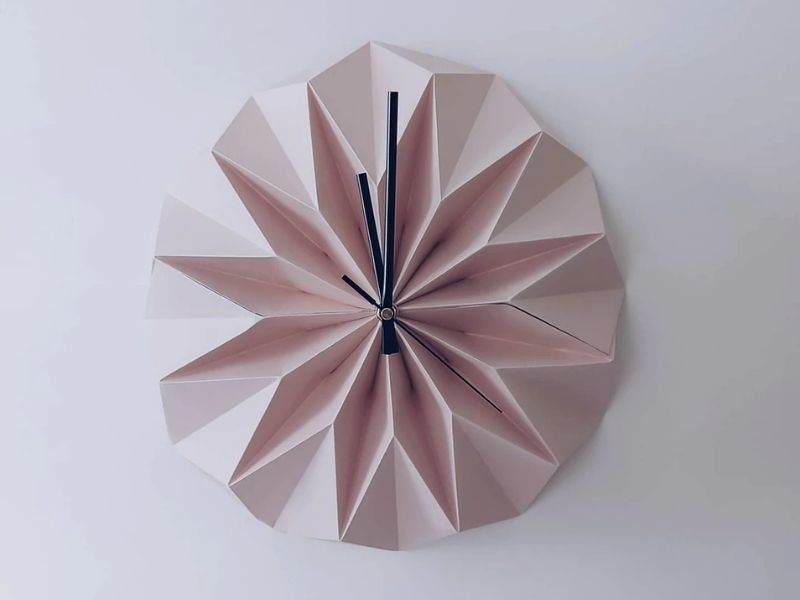 For the first anniversary, you can't decide between traditional (paper) and modern (clocks) presents. This origami wall clock ticks both of those boxes. Even while it may seem fragile, the clock is crafted from high-quality certified paper, making it more robust than it may first appear to be. Colorful pink, yellow, orange, and blue may liven up an otherwise boring wall, and so can white, soft grey, or any other neutral color.
26. Vows Art Print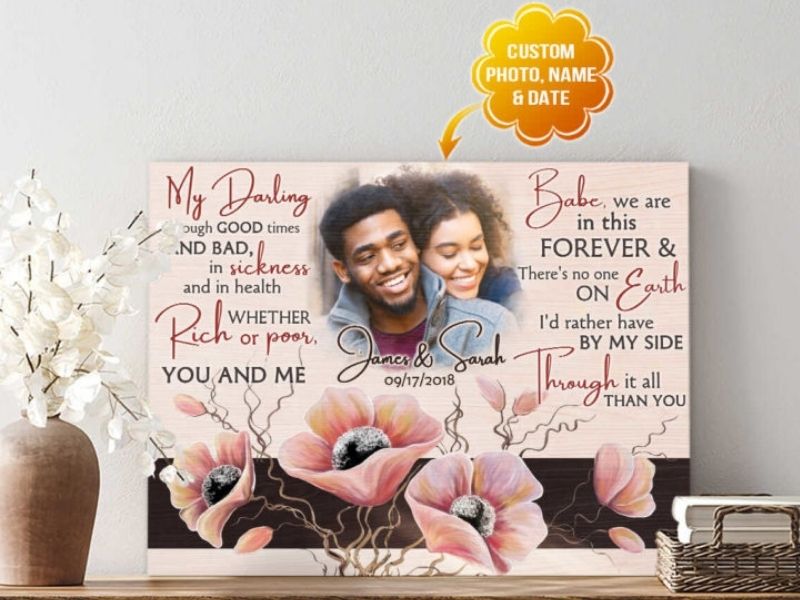 Have you and your parents been moved to tears by your vows? This personalized anniversary gift above will show your loved ones that they still mean what they say. Customize their artwork with a broad range of options from different sizes, colors, and frames.
27. Love Poems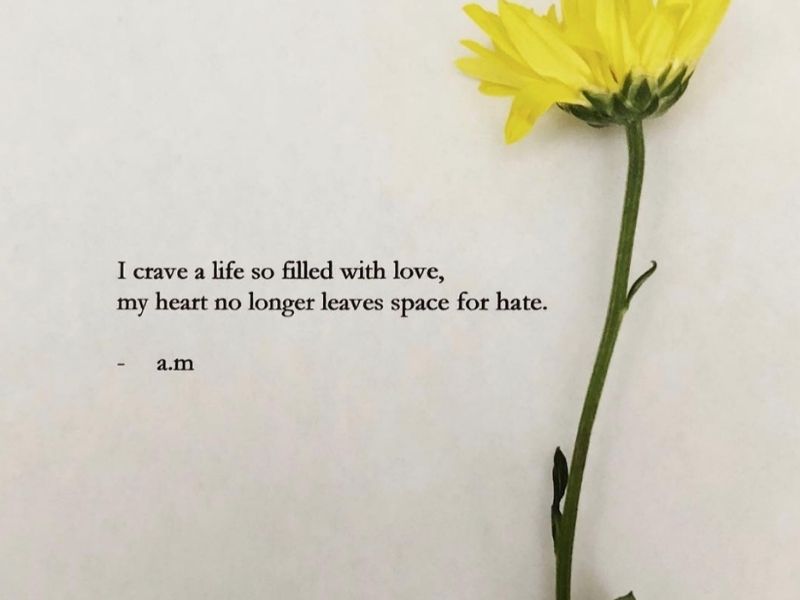 This pocket-sized collection of love poetry includes thoughts from classic authors, ancient sages, and contemporary poets. It's the ideal way to convey your feelings for your significant other via funny anniversary gifts for her.
28. "I Survived 50 Years of Marriage" T-Shirts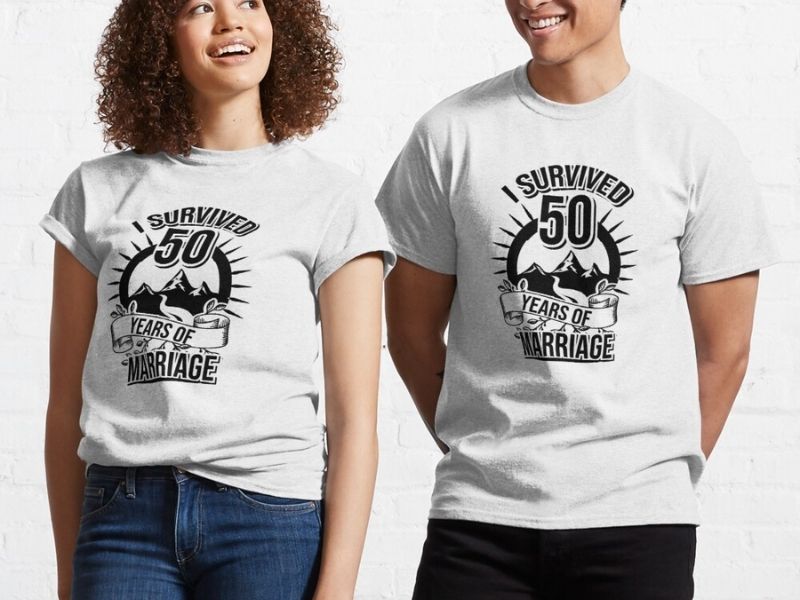 These funny anniversary gifts are ideal for a husband and wife. Wearing these two items together, the written phrases transform these plain garments into a joyful and meaningful anniversary present to commemorate the golden year.
29. Personalized Anniversary Art Canvas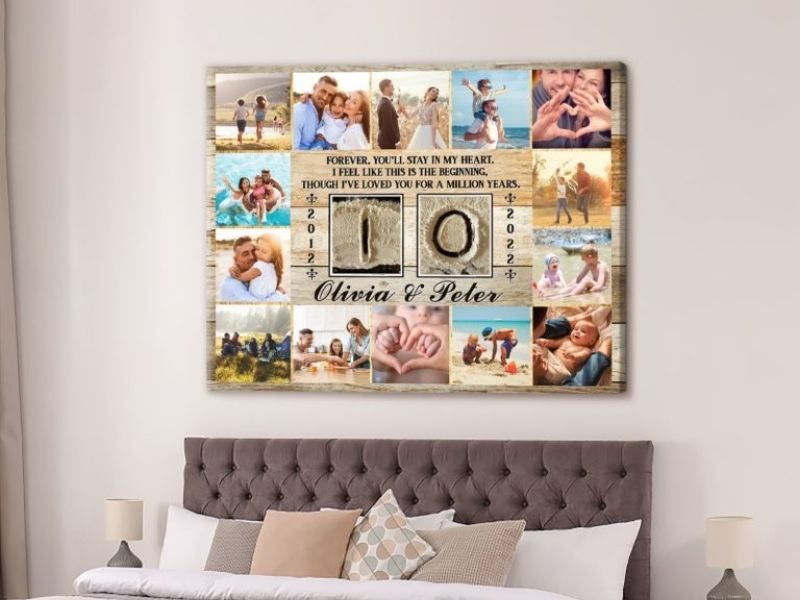 Every day, your activities serve as a constant reminder to them that they are the center of your universe. With this "Forever, you'll stay in my heart" Photo Collage Canvas Print we can finally tell them.
This lovely canvas artwork is a funny anniversary gift for couple. You owe it to your lovely spouse to spoil them on key occasions like your wedding anniversary or their birthday. You don't even have to wait for a special occasion to gift it to them; you may do it on Valentine's Day or even as a surprise.
Customize this funny anniversary gift by uploading your own images and changing the names. A high-quality picture collage canvas print honors their presence in your life.
30. Couples Underwear Set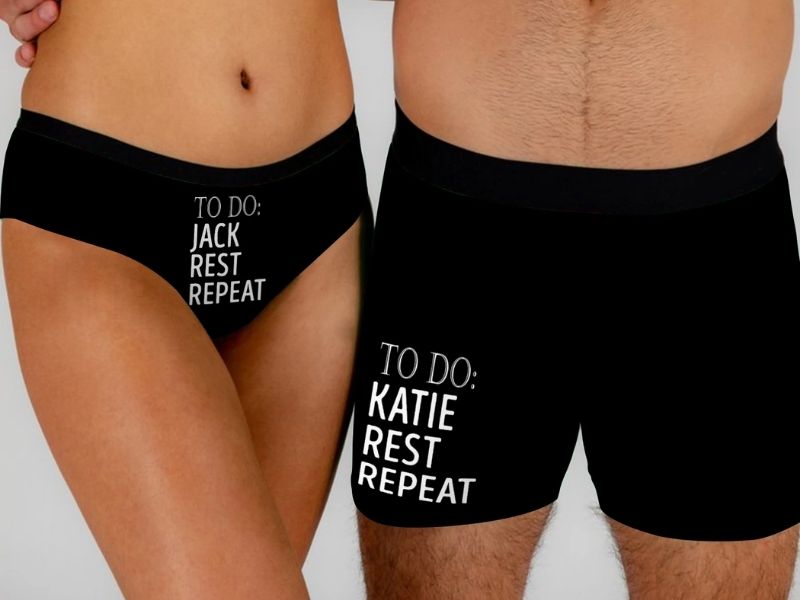 Get him this couple's underwear set for funny wedding anniversary gifts if you're seeking to surprise him. This is a one-of-a-kind gift for someone who isn't afraid to display his fun side. It's a wonderful wedding gift for a couple that enjoys making each other laugh!
31. Custom Bobblehead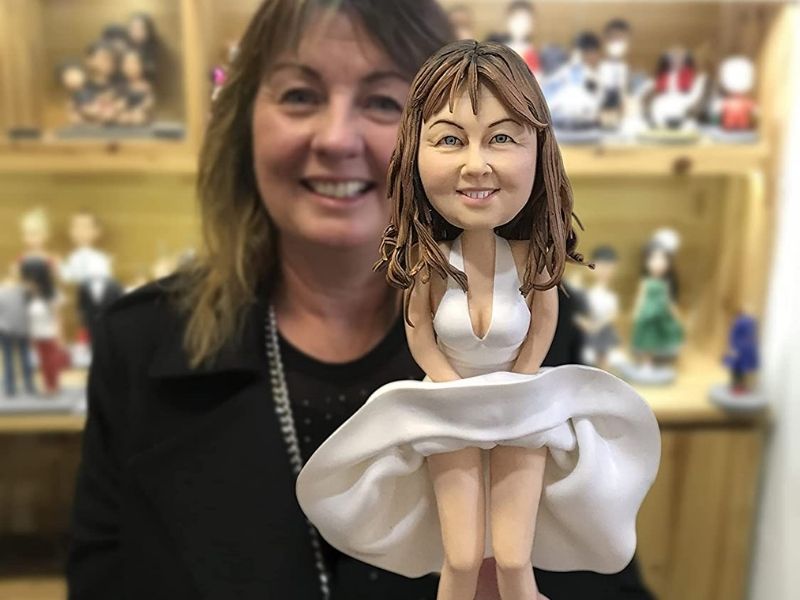 You've been shopping for what can be gifted to parents on their anniversary. Couples with a sense of humor will love these personalized bobbleheads as gifts. They'll love seeing themselves dressed up as their favorite characters.
32. The Love Bank Wallet Card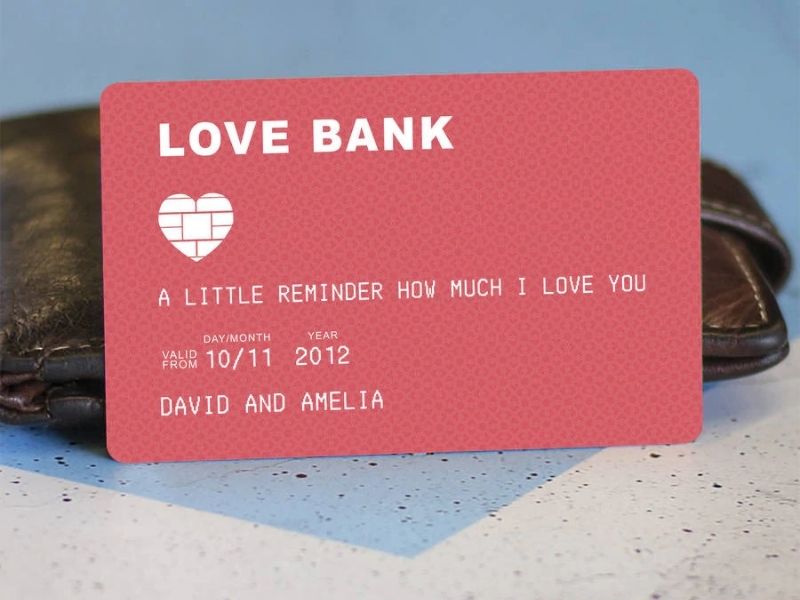 The majority of individuals don't leave the home without their bank and credit cards. When he gets home from the office, surprise him with this lovely tchotchke. Include a humorous remark or message with your purchase of this funny anniversary gift for couple!
33. Personalized Wedding Spoons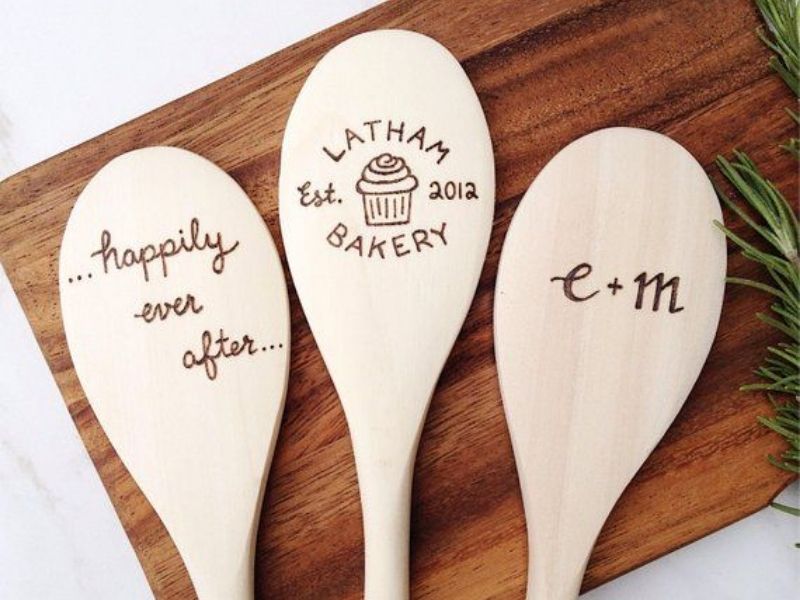 The newlyweds who like a cup of coffee and a crossword puzzle will appreciate the thoughtfulness of receiving personalized teaspoons as a wedding present. Choose funny anniversary gifts with a message that's tailored just for them. These spoons may look out of the ordinary as wedding favors, but guests will adore them!
34. Couple Funny Towel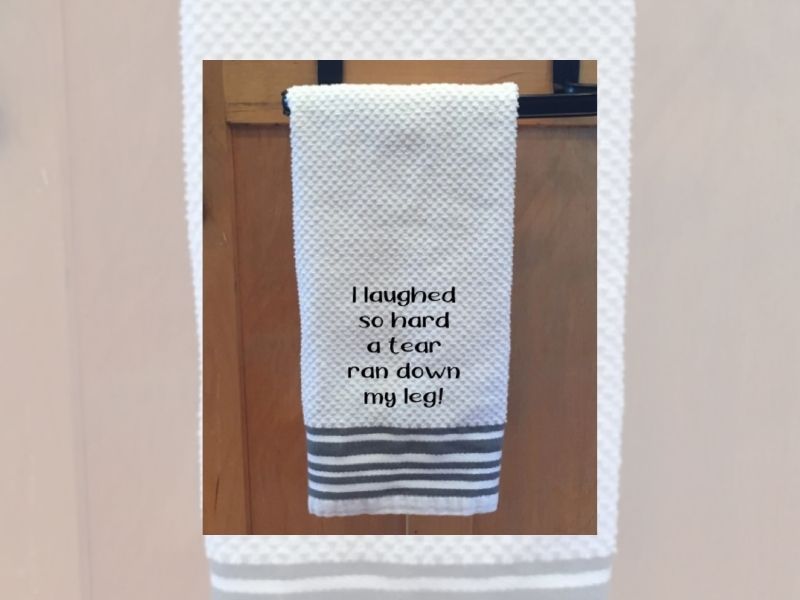 This towel is perfect if you're looking for a funny anniversary gift for couple. You may get a towel for him, her, or both of you.
35. "This Belongs To" Boxer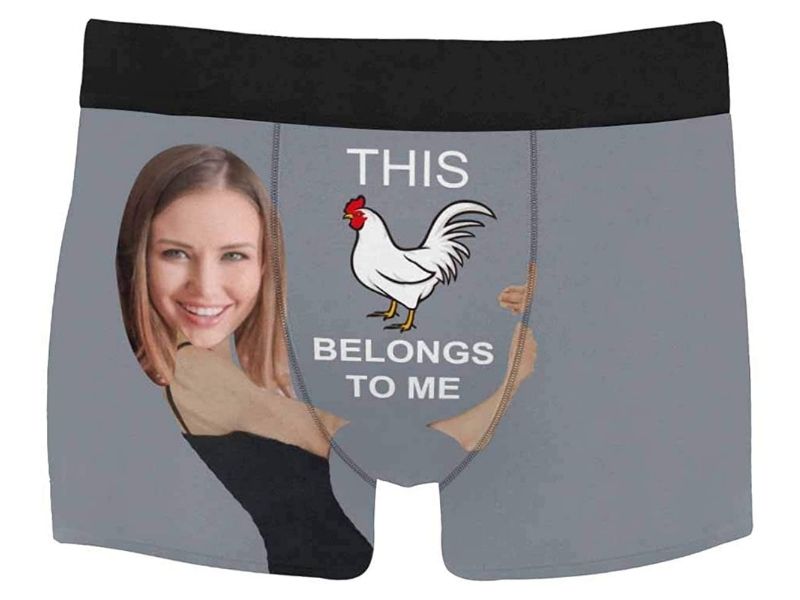 When you get him these boxers, he'll be thrilled with your naughtiness. It's a funny anniversary gift for couple who don't mind letting the world know who's won their affections. Wearing that will make him grin sheepishly every time.
36. Fart Blanket Gift Box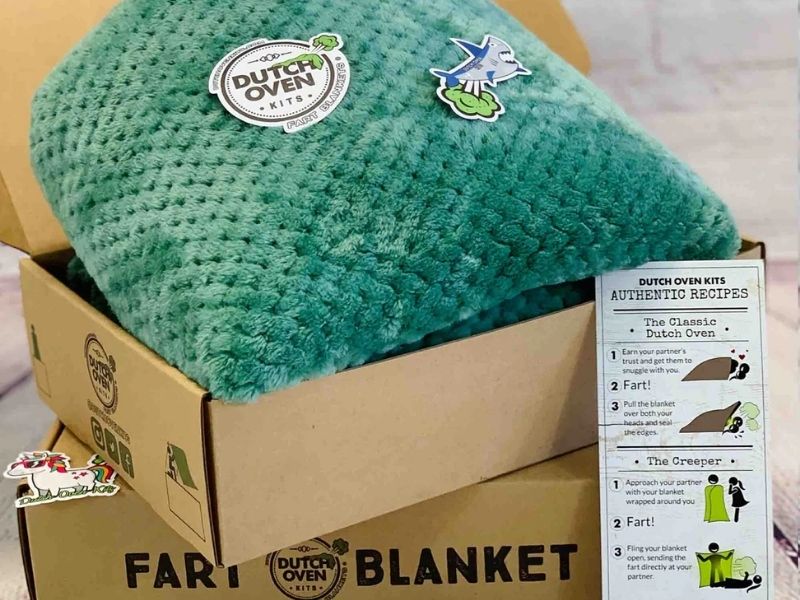 Have you exhausted all of your options for funny anniversary gifts? For the man in your life, you can't go wrong with this fart blanket. However, the softness of the cloth will make you want to get an extra blanket for yourself! '
37. A Pair of Photo Socks
Looking for an out-of-the-box way to commemorate her anniversary? Buy these funny anniversary gifts for your leading woman and make her laugh out loud. They're ideal for lounging about the house in the cold. Make them laugh out loud by using bizarre images!
38. Funny Popup Anniversary Card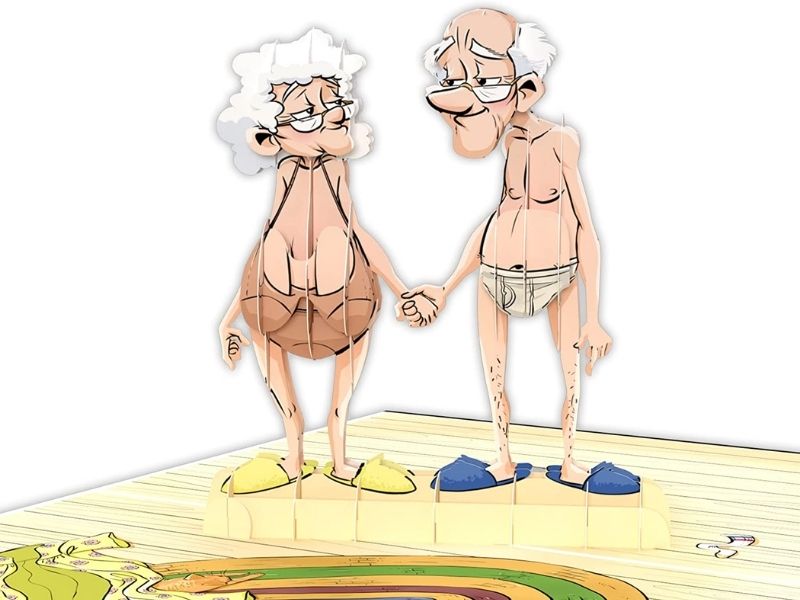 Last year, did your buddies perform a prank on you? With this hilarious pop-up card, you can make them wet their pants on their anniversary. After opening it, they will be shocked to see an elderly couple's private parts. Isn't it just the funniest thing ever?
39. Spooning Frame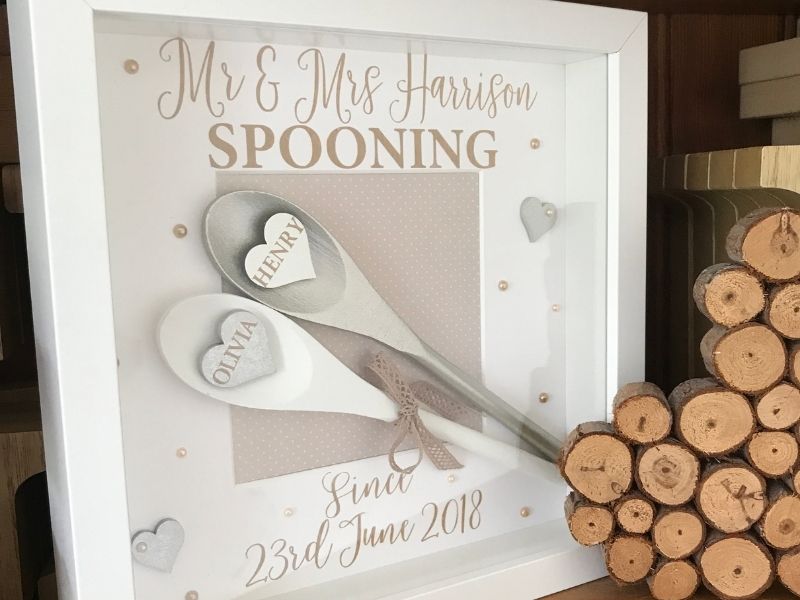 This spooning frame is a funny anniversary gift since it's both charming and humorous. In addition, it serves as a reminder of your shared accomplishments. It's also a smart DIY choice if you're on a limited budget.
40. Sweet Anniversary Gift Basket with Funny Sayings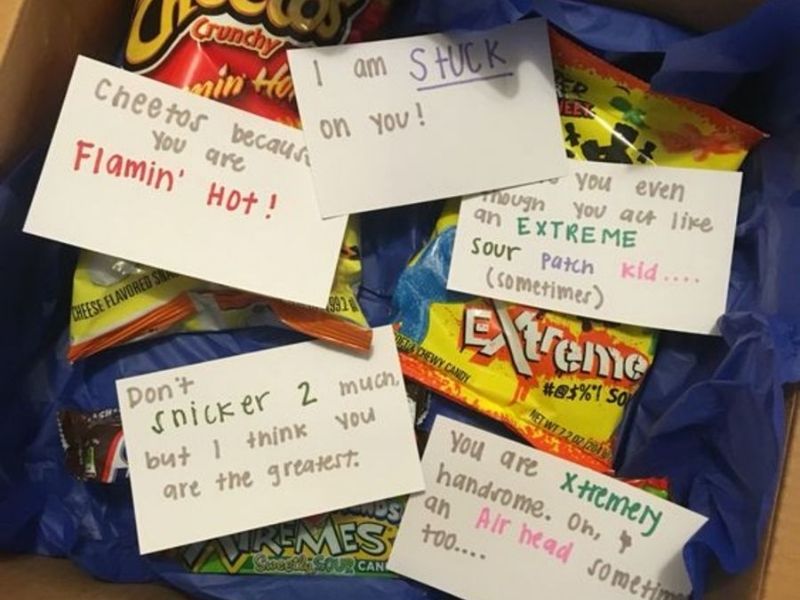 Make your spouse happy by giving them a DIY funny anniversary gift for couple. This DIY gift basket is excellent if you want to surprise your spouse with a fun little present. Open it and watch their faces light up with laughter!
41. Head Case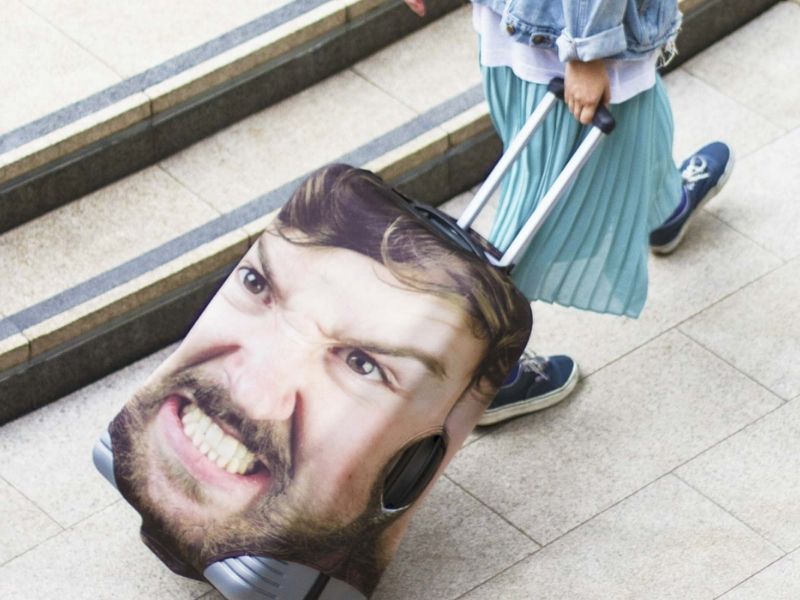 With this luggage case, she won't be able to get away from you even if she packs her things and heads to her mother's house!
42. Custom Star Map Gift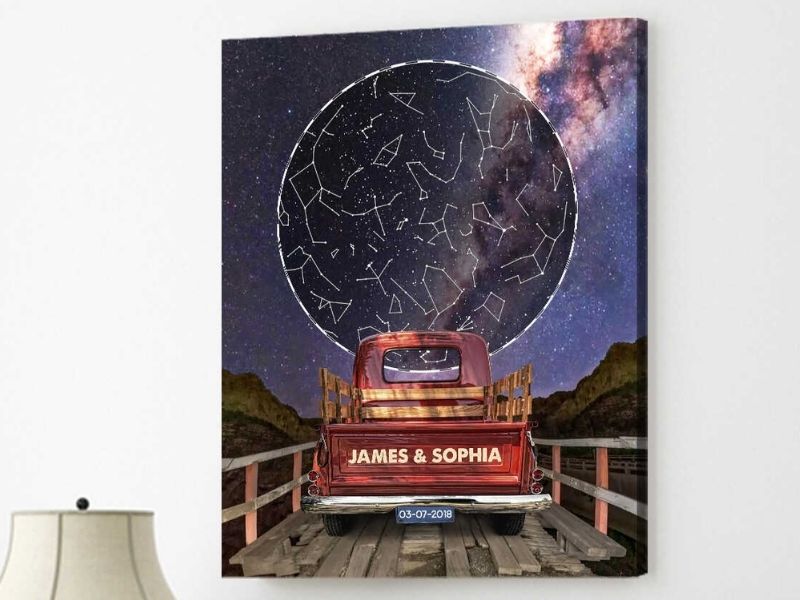 There are many ways to celebrate a special occasion, and a canvas print is a wonderful way to commemorate one. There are times when it seems as though the stars have aligned in your favor. A star map framed poster, "It All Began Under This Sky," shows that they did.
For an important occasion, this customizable night sky map accurately depicts luminaries' locations. Your first kiss, first date, first date with your special someone, or the day you met your other half may all be represented by this star map. Your names, dates, and particular places are all that are needed for this constellation painting wall décor.
This is an excellent funny anniversary gift for the one you care about most. It is available in a wide range of colors, so it can go with just about any kind of interior design. Your significant other will always remember that night if you give them this gift of the sky.
Read more:
Q & A for Funny Wedding Anniversary Gifts
1. How can I make my anniversary special?
Go for a stroll down memory lane
Create a Well-Thought-Out Scavenger Hunt
Prepare a Delightful Meal
Surprise them with heart-shaped objects all around the place.
Act out your first date
2. What is the color for 16 year anniversary?
On your 16th wedding anniversary, congratulations to you or your favorite couple! The colors representing the 16th anniversary are Emerald Green, Red, or Silver. You might believe your reservoir of clever 16-year anniversary gift ideas has gone dry after so many years of coming up with the ideal present. Time to take a look at Oh Canvas's post.
3. What should I write in my anniversary post?
If you are looking for funny anniversary to couple messages, you have come to the right place. A cheerful and funny message will be good medicine to strengthen your relationship.
Today, tomorrow, always.
Cheers to yet another trip around the sun.
Life with you just keeps getting better.
When you're married to your closest friend, time speeds by.
Thank you for another year of happiness with my best friend.
Definitely, saying "yes" to you was the best decision of my life.
I promise to always love and cherish you.
Life is better with you at your side.
4. What do you write on an anniversary card funny?
It's true that the finest love tales don't end.
When did we start to feel like we'd been married for a long time?
I still vividly recall the details of our nuptials.
Yes, you can count on me to keep you around.
With you, every year is a special one.
The greatest is yet to come.
The finest choice I've ever made is celebrated with a toast.
Almost 50 years of marriage… But who is keeping track?
Funny wedding anniversary gifts have become a popular trend. Why not along with Oh Canvas, throw in a few jokes here and there to lighten the mood? It'll be a day to remember for the happy couple, and they'll be able to laugh about it for years to come! In any case, people are more likely to recall fun wedding gifts. So, what are you waiting for?