Celebrating your first year together is important because it marks the fact that you both belong together in adulthood. However, it may be complicated to think about which 1st anniversary gift to choose that both of you will relish. This article from Oh Canvas will surely be a wise suggestion for your situation. Hence, if you love to surprise and please your other half on this remarkable occasion, do not miss out on this blog!
What is the 1st Anniversary Gift Called?
Even though a year may seem short, every happy couple will tell you that it is not easy. To make the trip between two strangers who have fallen in love with each other and can continue to be with him/ her is an achievement few can do.
In the first year, the contrasts in thinking and lifestyle become more apparent as they are unveiled. As a result, 1st wedding anniversary celebration of love is more than just a new marriage milestone anniversary. It is also a journey for you and your partner to reflect on the good and bad times that have gone by. Moreover, to strive harder together to achieve your future dreams.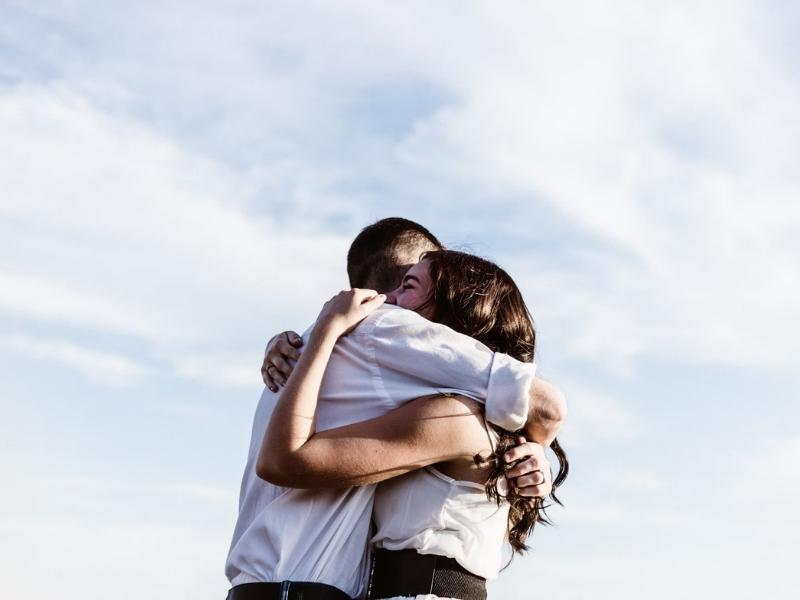 Paper symbolizes the fresh start of young marriage. Therefore, people traditionally turn this material into anniversary gifts by year. Besides, a clock is considered a good marker of time together. Therefore, choosing a clock as one of the symbolic anniversary gifts is the most modern option for this or even the next year.
Traditionally, the first anniversary gift is made of paper since your life as a married couple is still blank. For first anniversaries, the American National Retail Jewelers Association recommended clocks on its "modern theme" list of presents published in 1937. Carnations, gold, and yellow are also connected with the first year anniversary theme.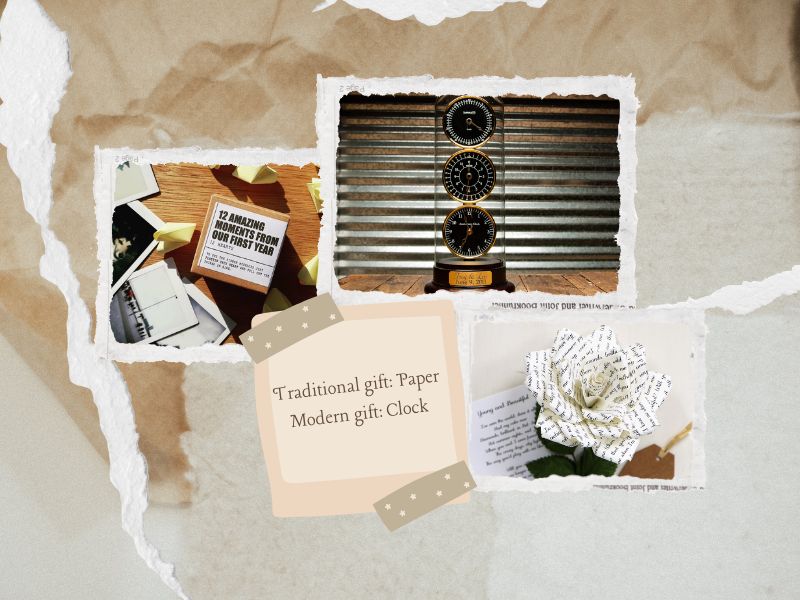 For additional recommendations about what to get your loved one on your special day, check out the rest of this article.
Top 41+ Gracious First Anniversary Gift Ideas
Traditional 1st-Anniversary Gifts
1. Personalized Photo Gifts
Even after a year of living together, you probably still have a lot of unadorned space in the home. As a top choice for paper anniversary gifts, this personalized photo gift is what we suggest.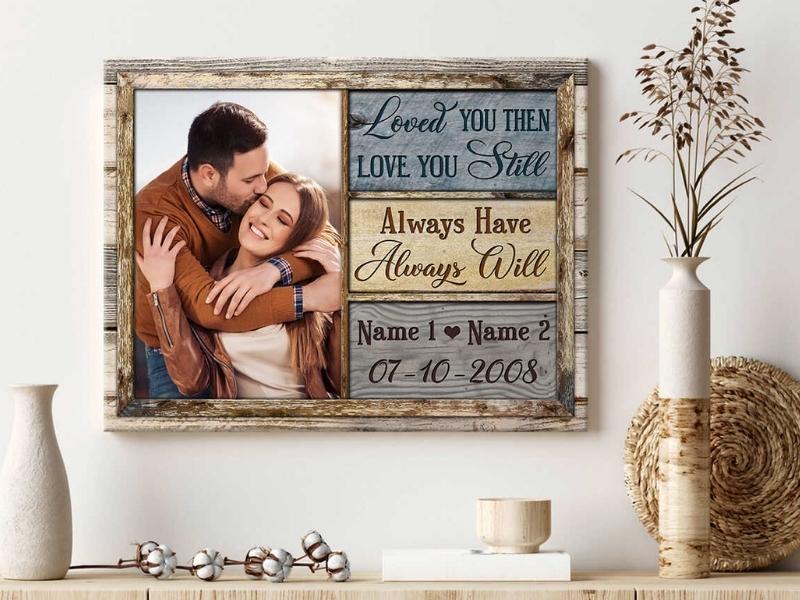 You and your partner will feel closer to each other when this piece of art is hung in your home. It will also make your home a warm, elegant, and lively atmosphere. Thus, make 1st wedding anniversary become yours now!
2. A Best-Selling Novel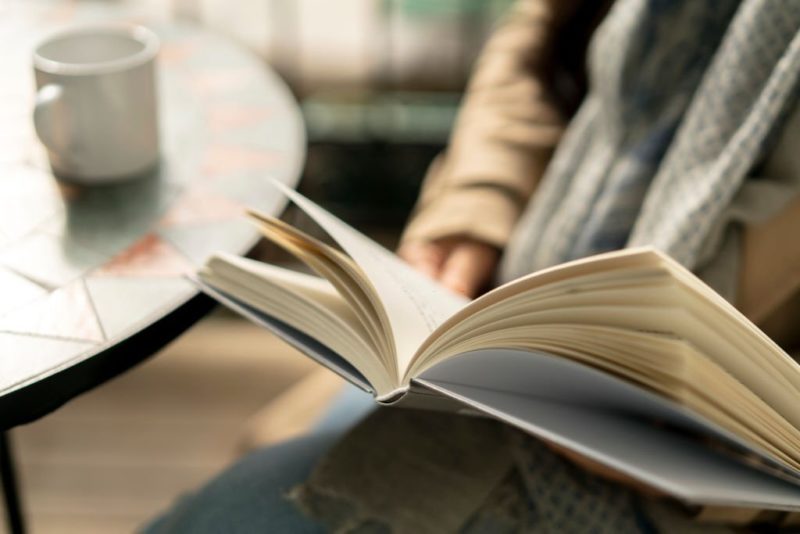 Did your book-loving partner make a hint about a new thriller by their favorite author? As a perfect and practical gift, anything fresh out of the press is a must.
3. Date Night Cards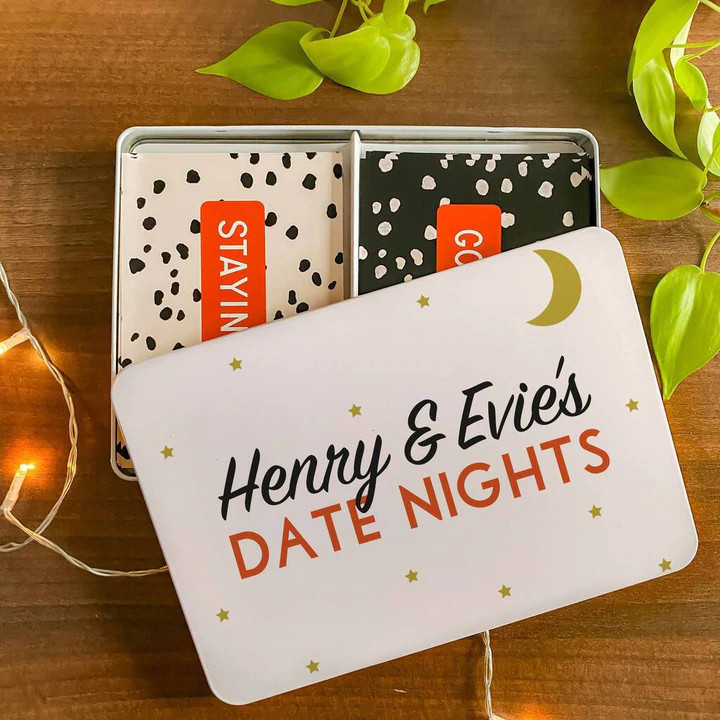 This box of 52 date night suggestion cards is one of our favorite keepsakes presents for a first wedding anniversary. Using 52 cards means committing to one date a week for 52 weeks, but that won't be a problem when the ideas are this amazing!
>>> Read more: Top 30 Unbeatable 20th Anniversary Gift Ideas for A Couple
4. Personalized Copper Foil Notecards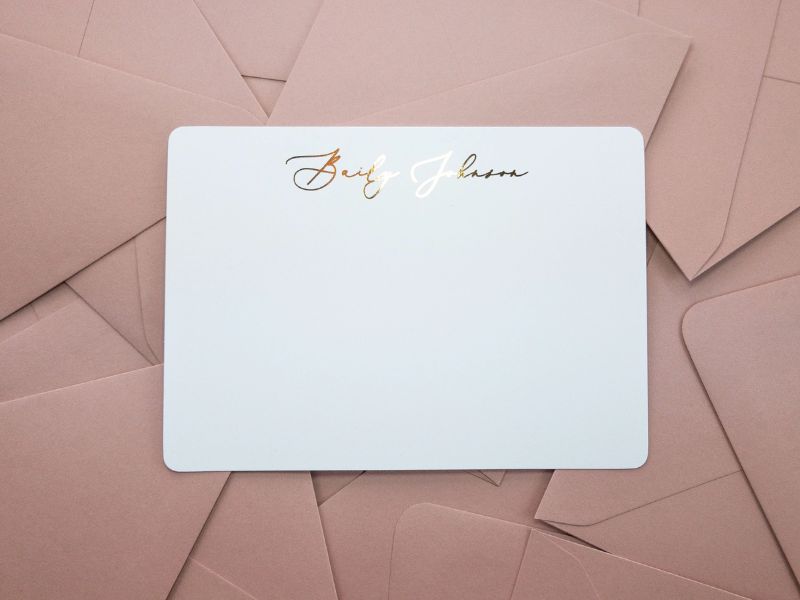 There's something unique about the printed word and mail you can't obtain with text. When your messages arrive on customized stationery, like this gold-foil set, that emotion is enhanced.
5. Origami Clock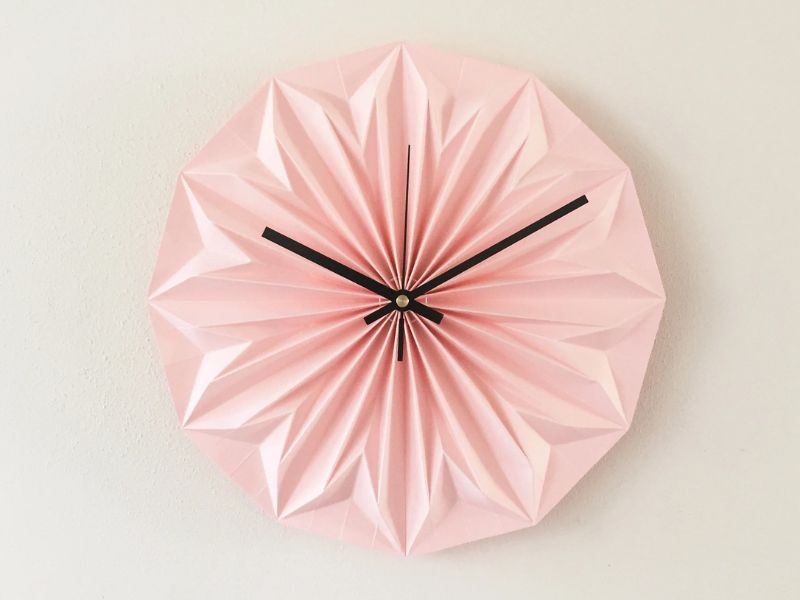 This is a thoughtful present that may be created by hand or purchased, but either way, it's full of meaning. Make sure the clock style you choose is compatible with the rest of your home decor so that you'll really want to put it up.
6. Wedding Photos Album
The first year of living and being together must have been a lot of unforgettable things. But the deepest thing still in the heart is the moment you two became each other at the marriage ceremony in front of everyone, and that moment is preserved through your wedding photo book.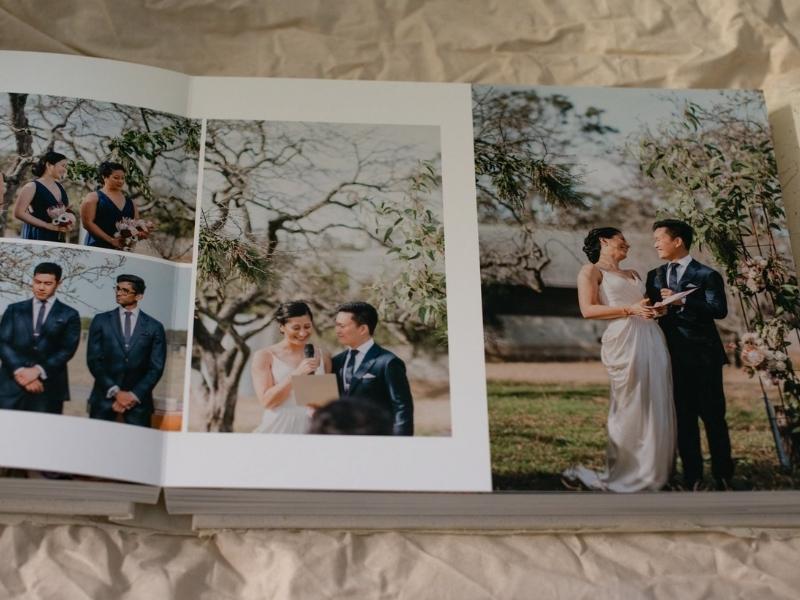 Let's create a wedding album to remember anniversary celebrations between two people. This 1st wedding anniversary will be a momentous item that will enable the two of you to navigate and enjoy life's biggest moments.
7. Photo Puzzles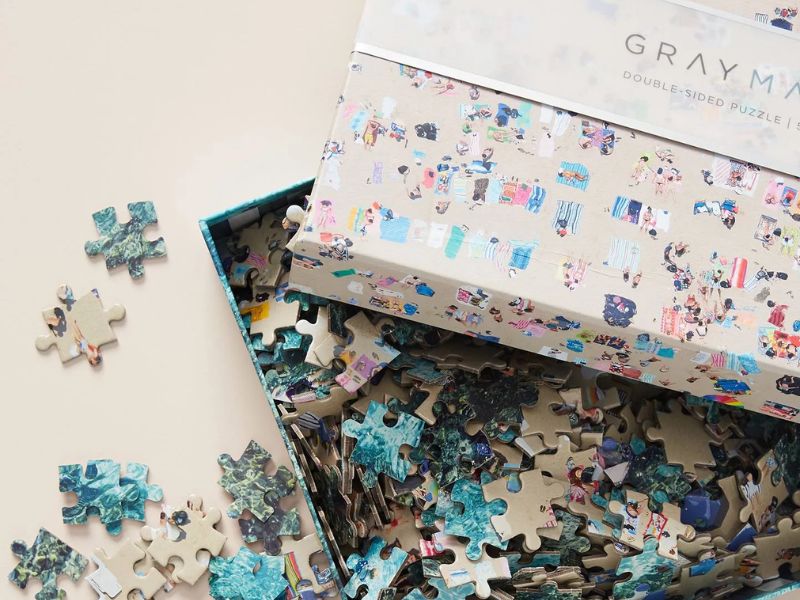 Engage your boyfriend in a fun puzzle game during those times when you're stuck at home. He'll love piecing together the puzzle that connects your grin to the wonderful past.
8. Wall Art for Modern Gift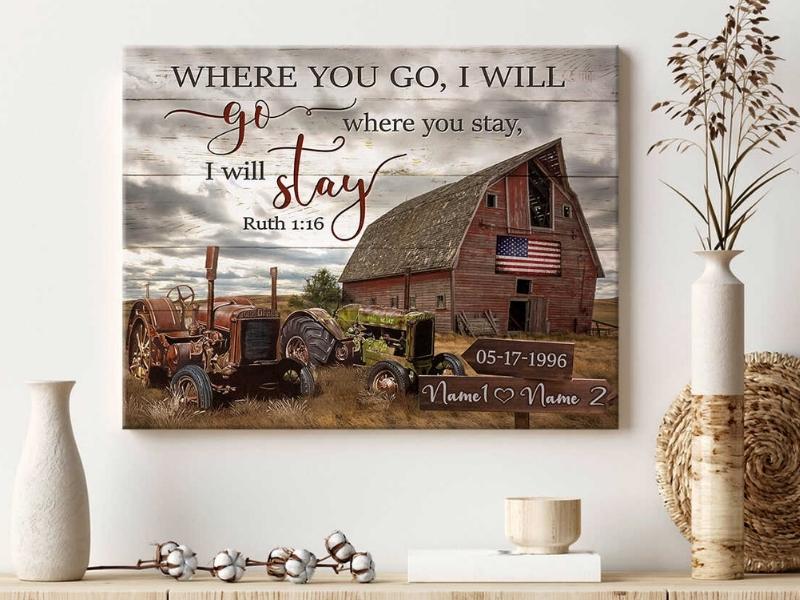 This is a creative gift that they will treasure for many years to come. Once you have this home decor, hang it over your bed or bedroom so that you and your other half will always remember that special day. As a result, it is one of the lovely paper gifts you should not miss out on.
9. Wildflower Seed Paper Cannon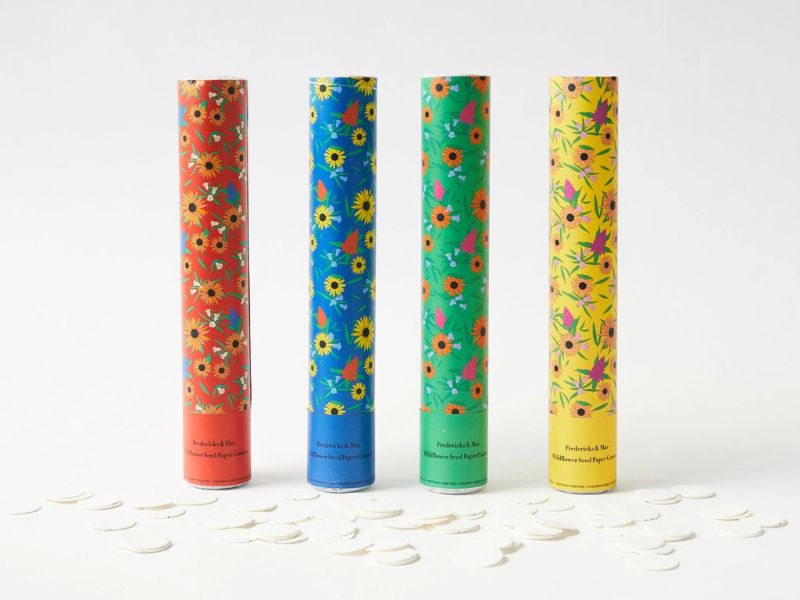 Paper packed with wildflower seeds is used to make these confetti cannons. They can burn one in the backyard to celebrate their first year together. And by their second, they'll have a garden full of black-eyed Susans, cockscomb, and sesame blossoms.
10. Large Silver Paper Bowl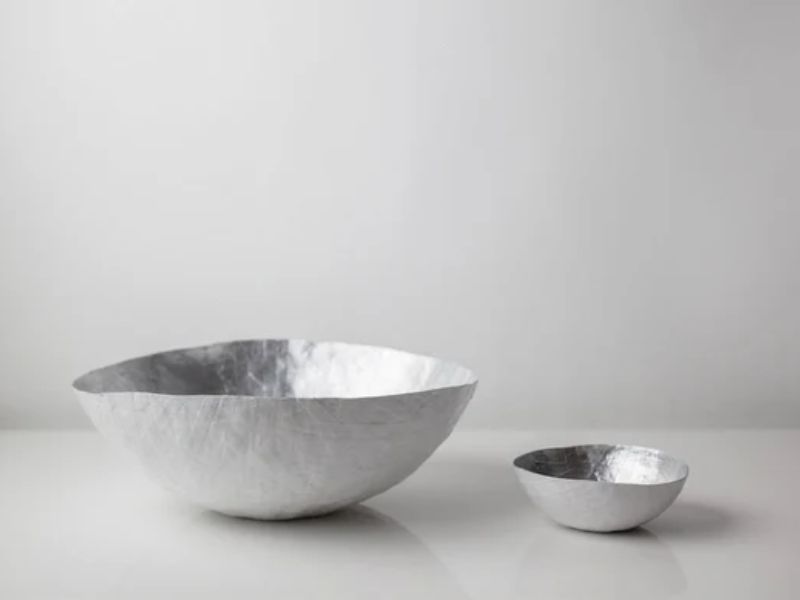 This adorable bowl, which we recommended, is a terrific first anniversary gift. It would be ideal for storing jewelry and other small items.
11. Origami Crane Earrings
The crane, a symbol of peace and good fortune, has appeared in several popular television shows and movies throughout the globe. Your pair is a big lover of tiny, meaningful items of jewelry. If you are looking for a unique first anniversary gift for couples, this is your thoughtful gift idea.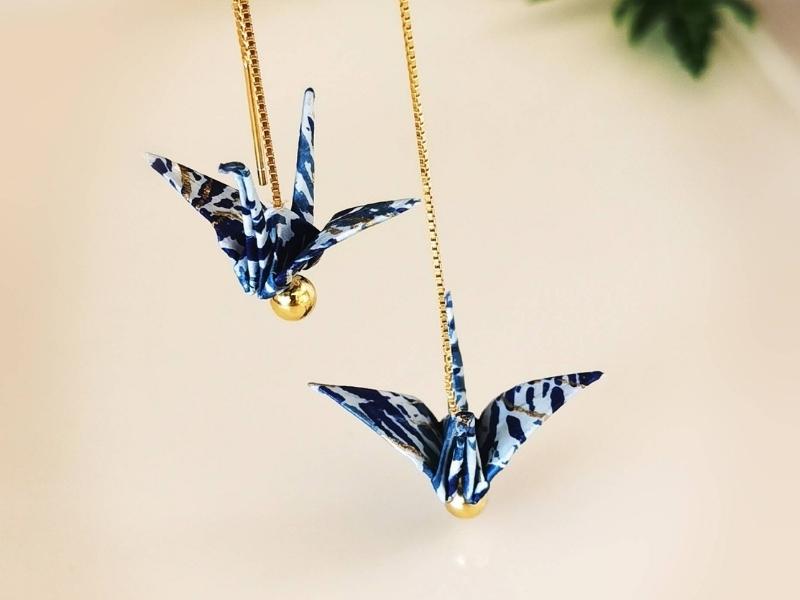 A pair of delicate origami crane earrings are a thoughtful work of art. Wearing these earrings, you and your partner seem to be blessed by God, surrounded by protection, good fortune, and calm at all times.
>>> Read more: Top 46 Sweetest 4 Year Anniversary Gift Ideas For Him & Her
12. Scratchable World Map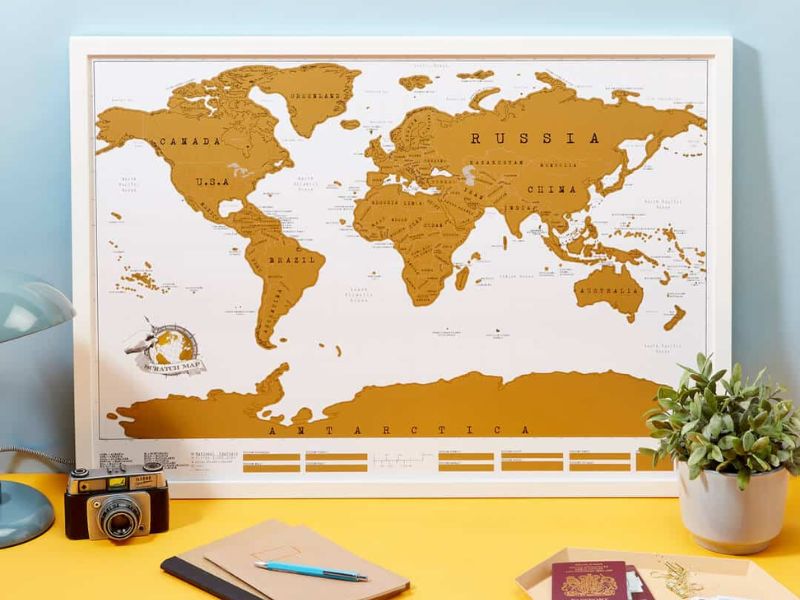 This scratchable map is an excellent 1st anniversary gift. Use a coin to remove the coating to reveal a colorful, detailed map behind the gold covering of the nations and states you've visited.
13. Snapshot Combined Photos
Nothing can preserve the best memories like photos and videos. All the moments in the past are filled with feelings and thoughts full of emotions every time you look back.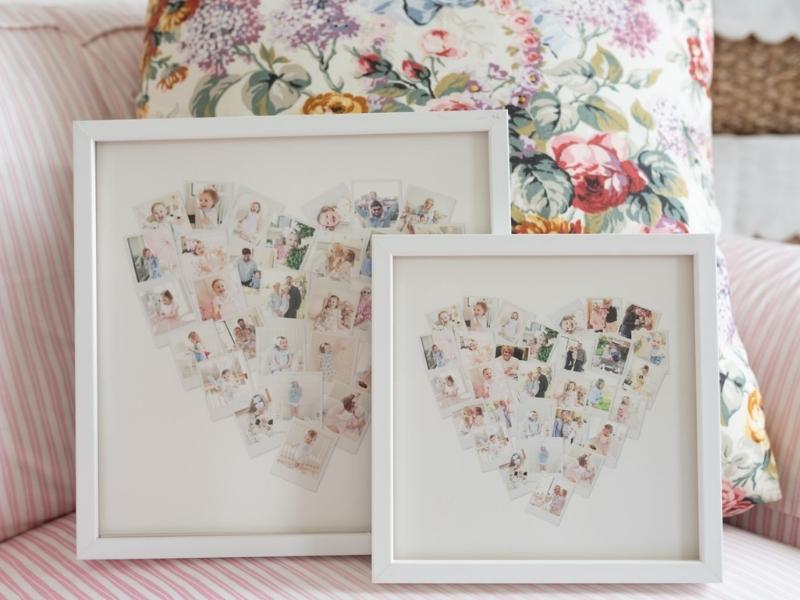 And you can turn those memories around by incorporating snaps in an impromptu composition or the shape of a heart, circle, or square. All will create a sweet traditional gift that will shake your heart every time you look at this excellent gift.
The highlight of these modern first-anniversary gift ideas is that you can freely choose which photos, no need to be too beautiful or impressive.
14. Paper Flower Vase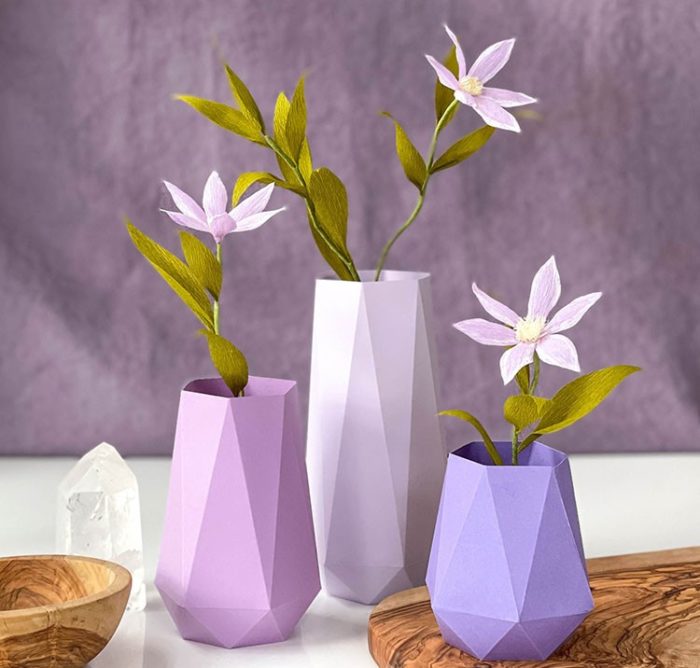 This handmade paper flower vase is created entirely out of paper and would make a lovely present for a first wedding anniversary. This ideal gift will surprise and delight the recipient.
15. Personalized Custom Star Map
Romance and calm are closely associated with the constellations, which is why they have long been a popular date night destination for couples throughout the world.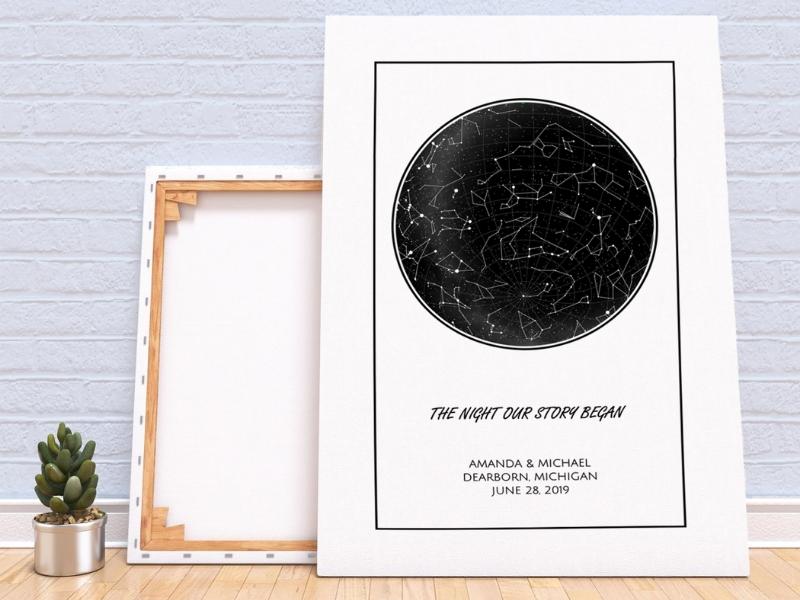 A special traditional first anniversary gift might be a personalized multi-star night sky map with the name, wedding date, and other personalized stationery. Remember to spend time nurturing your most precious relationship by putting this home decor on the wall in the corner.
16. Paper Flowers Bouquet
There is no need to spend too much money on paper flowers; hence, they are becoming a popular trend in first anniversary gift ideas. It encapsulates the creator's emotions and holds these flowers for a long time in its cozy interior.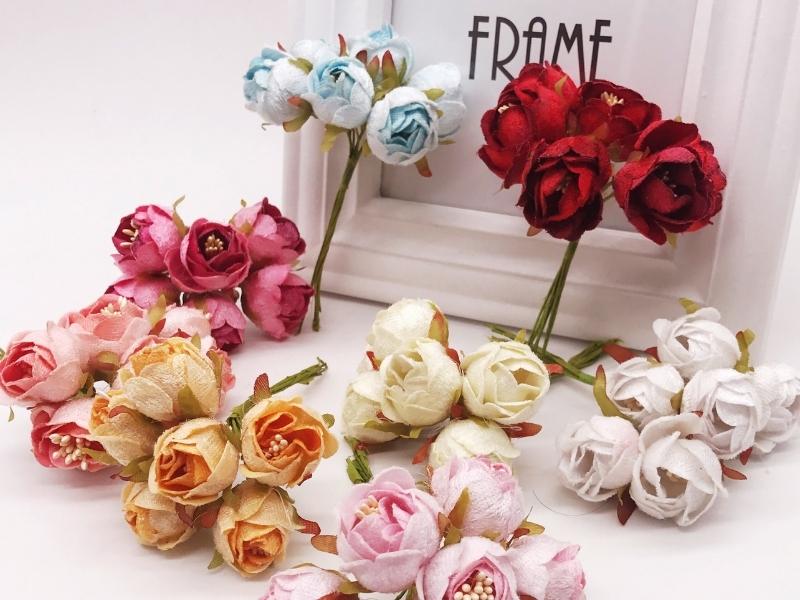 Tissue paper, crepe paper, paper plates, or other home objects may be used to create your own. Make a little flower garden in your romantic house with this idea! Simple yet cheerful and creative, one year wedding anniversary gifts are guaranteed to please the other half.
17. Personalized Flower Wedding Ornament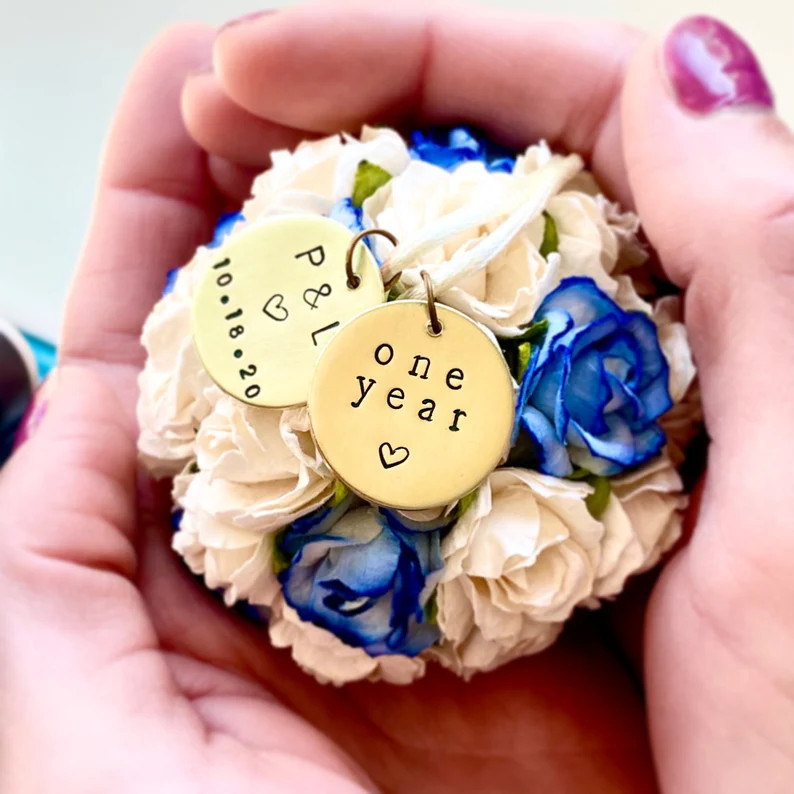 She will treasure it for years with this flower ball and stunning charms to remember the occasion with your initials and wedding date. The ideal present for your first year of marriage!
18. The Yearly Anniversary Journal
The paper anniversary diary may be used to tell the tale of a couple's love in addition to a photo album. Messages to one another, photos, and badges may all be added to each page.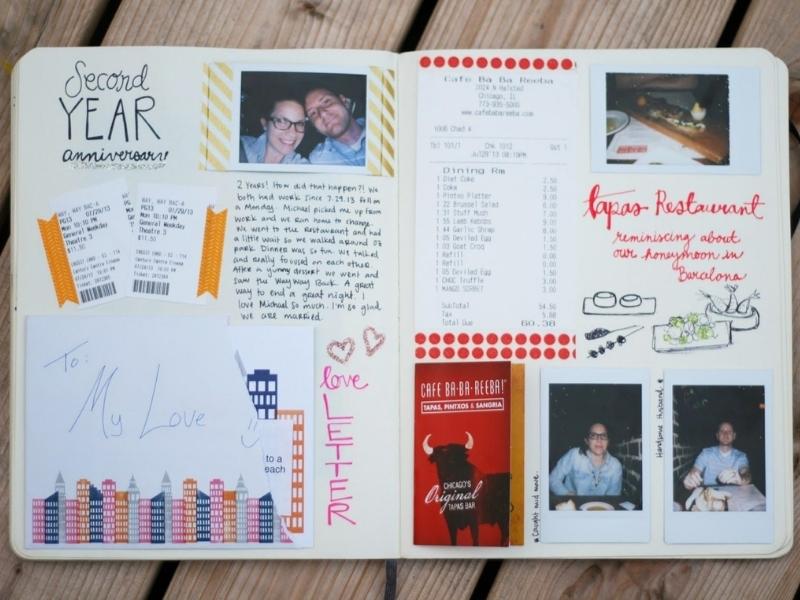 You may choose from a range of sorts, such as where you met, designated anniversaries, or wedding vows, to find traditional and modern gifts for married couples on one year anniversary.
Every time you open this item, your spouse will be reminded of how you've gone the extra mile to celebrate a moment that's special to the two of you.
>>> Further reading: Top 30 Thoughtful 5th Anniversary Gifts For Him & Her
Modern 1st-Anniversary Gifts
Giving a clock is an important milestone and a reminder that you should save time; every passing second should be an incredible experience. And so, when living together, you should always be in harmony and happiness and cherish each other so that you will not regret it later.
19. Farmhouse Wall Clock – Modern Gift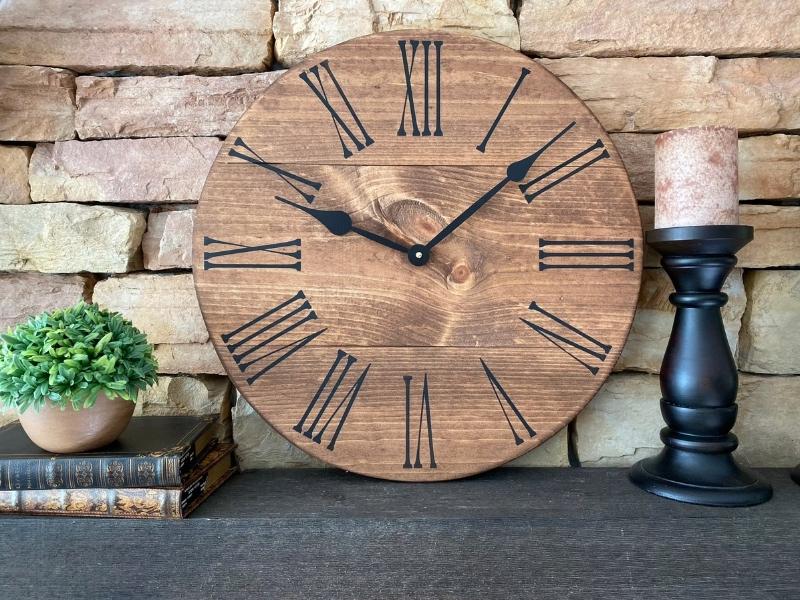 This first wedding anniversary gift idea featuring a design teeming with natural life would help bring a touch of the natural world to your house. You can choose the texture engraved with the couple's name and date to create an outstanding part of the house.
20. Cream Cake for One Year Anniversary Gift Ideas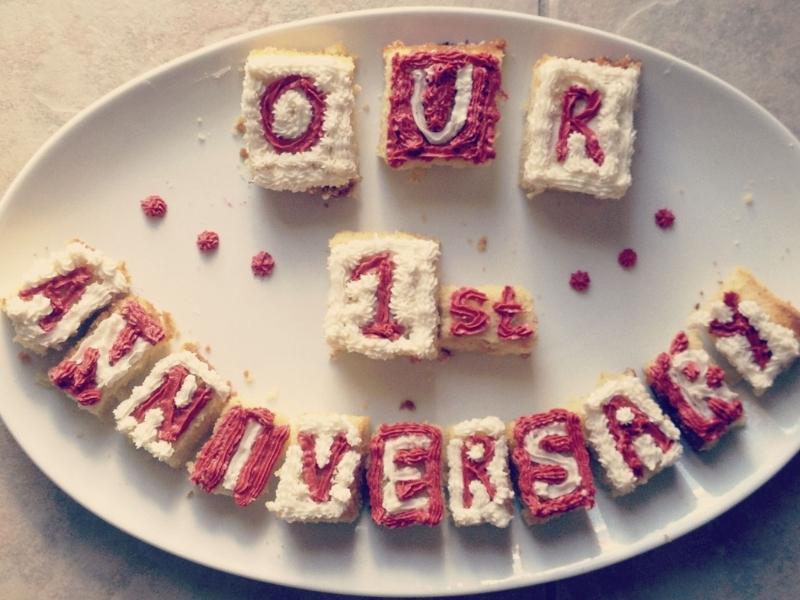 It is common for honeymooners to send a cream cake as a 1st wedding anniversary gift to celebrate their paper anniversary themes. Depending on your taste, you can make a suitable one by yourself or buy it from the bakery shop.
21. Canvas Gifts For First Wedding Anniversary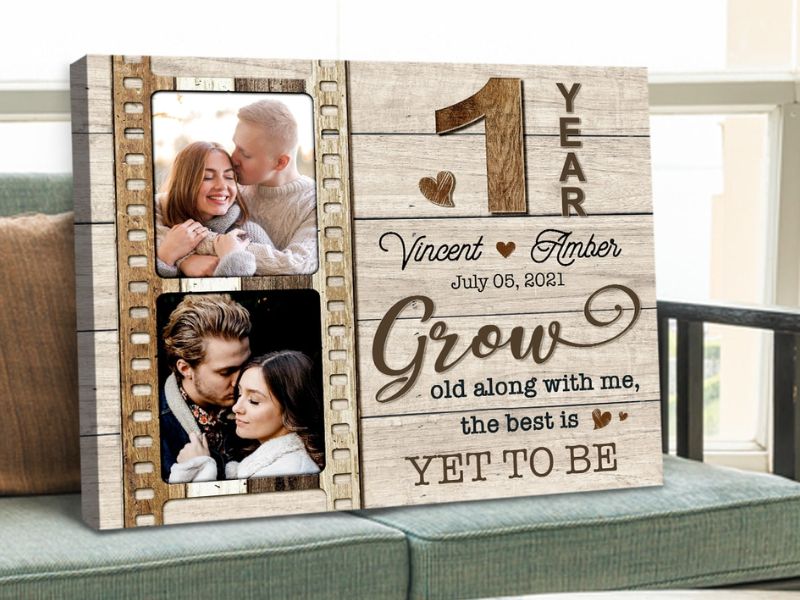 An impressive first-anniversary celebration is a requirement for every relationship. The phrase "Grow old along with me, the best is yet to be" painted on a canvas is a touching sign of love for making it through your new beginning of the marriage. You have customization options of adding up to two images, names, and dates to showcase the good times you've had together the past year.
22. Love & Attraction Candles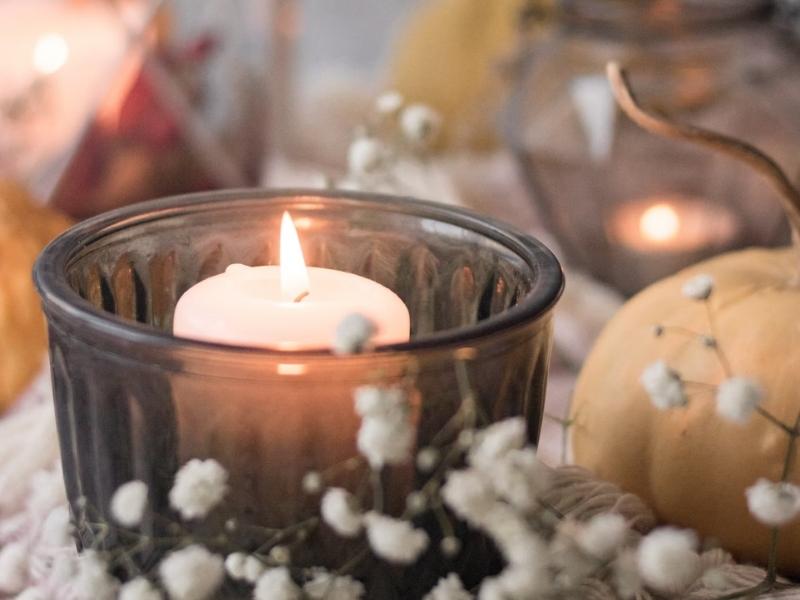 Many people associate the scented candle with the first anniversary gift. It is a sign of respect and honesty. Candles are also a modern sign of romance and pleasant feelings in the spiritual lives of individuals, thanks to their dazzling light and pure, delicate aroma.
23. Necklace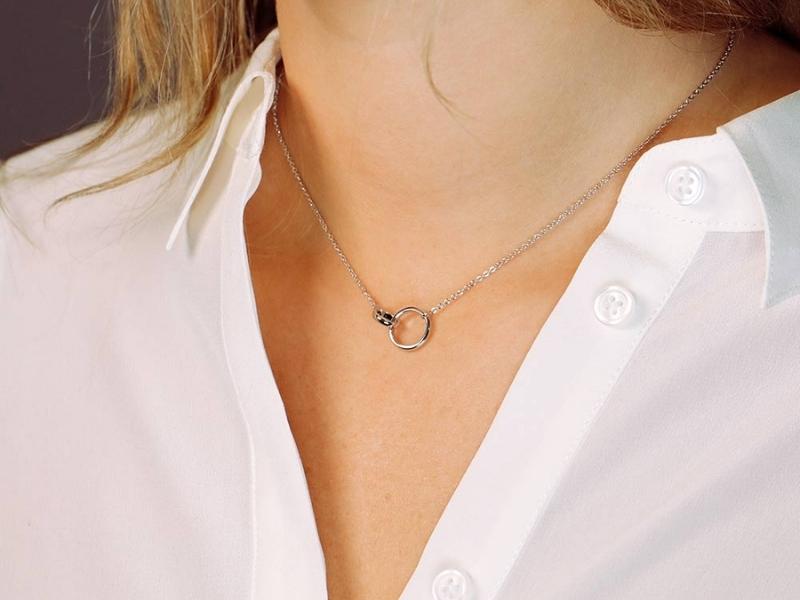 Interlocking circles or hearts are a symbol of everlasting love and the powerful emotion they evoke when placed together in a certain context. First anniversary gifts for her, like necklaces, undoubtedly come to mind most frequently when it comes to traditional first anniversary metal gifts.
24. Custom Day Cufflinks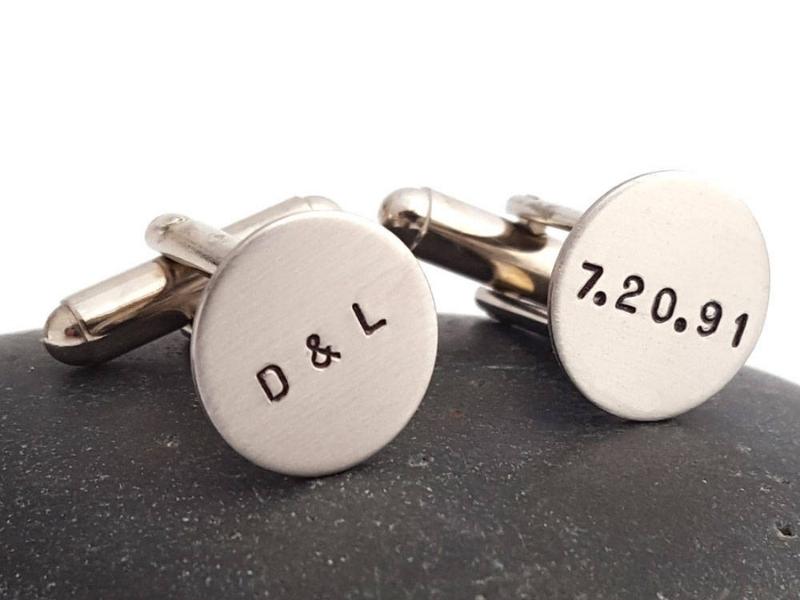 These custom cufflinks are the perfect way to celebrate your big day. They may be personalized with your name and wedding date. You may then email it to a store that will engrave it on this stainless steel bracelet, then your first anniversary gift for him is complete in a better way.
25. Couples Travel Love Map
\In the situation that you and your loved one both love traveling and discovering the planet together. This is one of the perfect traditional gifts.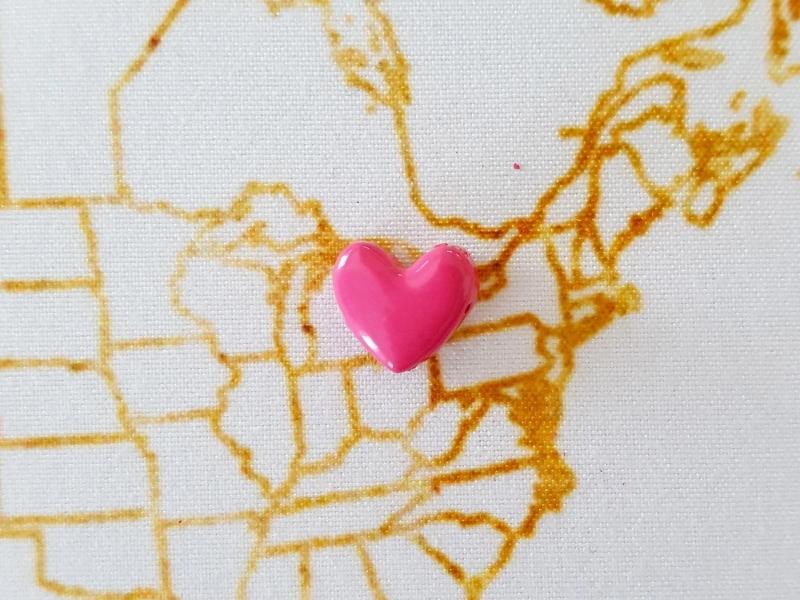 Simply add a little heart mark on the significant spots where you and your partner have been or desire to go. For example, you may put a marker in the spot where you proposed to travel or where you first met, went to lunch, went to the movies, and so on.
26. Lyrics Song Gift Canvas Print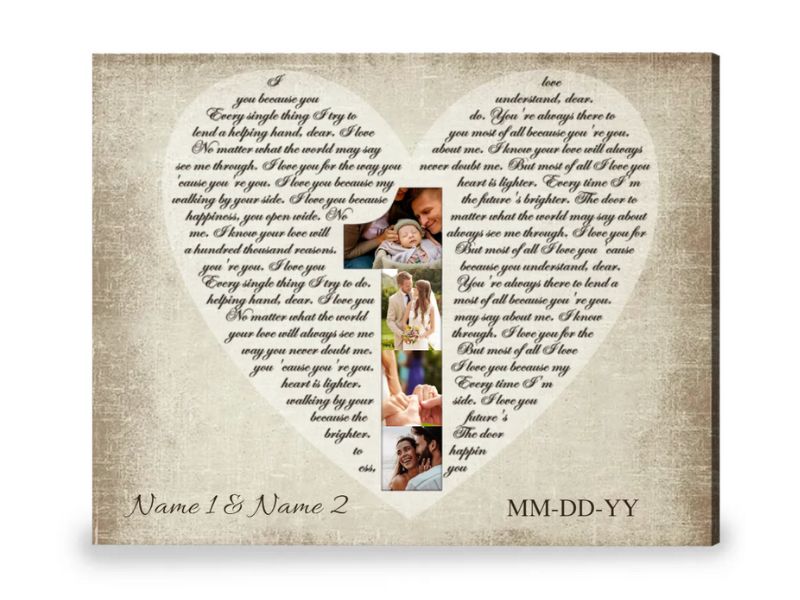 What music comes to mind when you think about your beloved? It may be the music you first danced to when you met, the song at your wedding, or the sound chosen by the event planner that plays while you walk down the aisle. Then, the best presents for a new couple would be canvas paintings with the song lyrics in the form of a heart.
27. Engraved Wooden Watches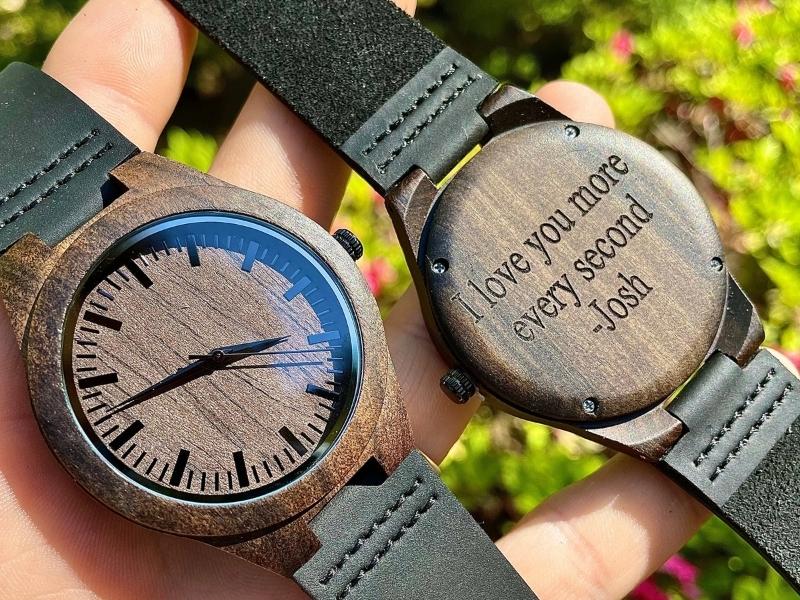 You can personalize your custom wooden wristwatch as a 1st wedding anniversary gift for couple. Engrave the name of you and your partner, the date, and a sweet message so that you both remember and belong to each other every time you wear it.
28. Farmhouse Wooden Keepsake Box
Does your favorite couple like to keep wonderful memories through pretty little items? If yes, then this jewelry box is definitely for you. Among the 1 year anniversary gift for husband, we found this to be the most poignant one.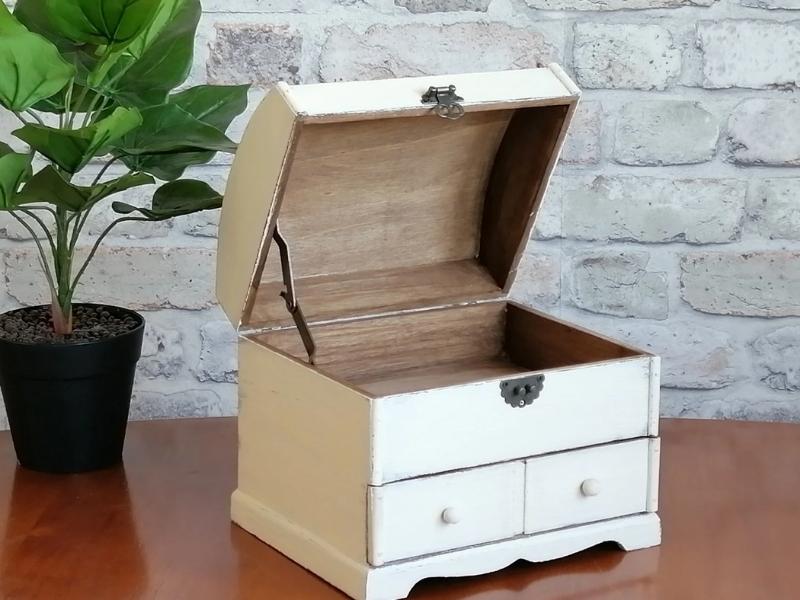 You and your partner can hang it in the bedroom or living room. If there are common items that you both want to keep, such as wedding invitations, or love letters sent to each other when you were in school, you can keep them. Later, when the two open up and look back, this thing will be as emotional as possible.
29. Monogrammed Engraved Cutting Board
Couples who live together often spend time in the kitchen, cooking together and discussing their busy day. And this new cutting board is indispensable when preparing food.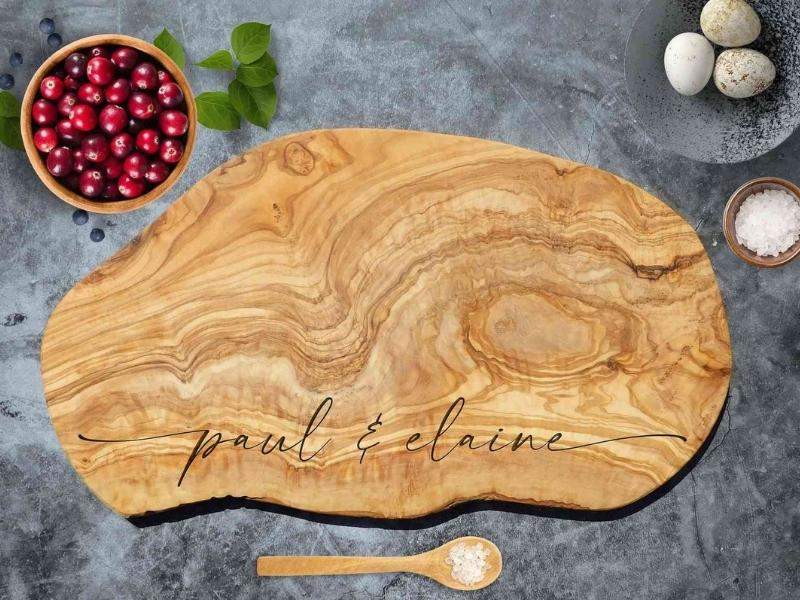 This thoughtful 1st wedding anniversary gift for couple is also the optimal gift, commemorating and highly applicable. On the cutting board, you can engrave your couple's name.
30. Personalized Wedding Song Wall Art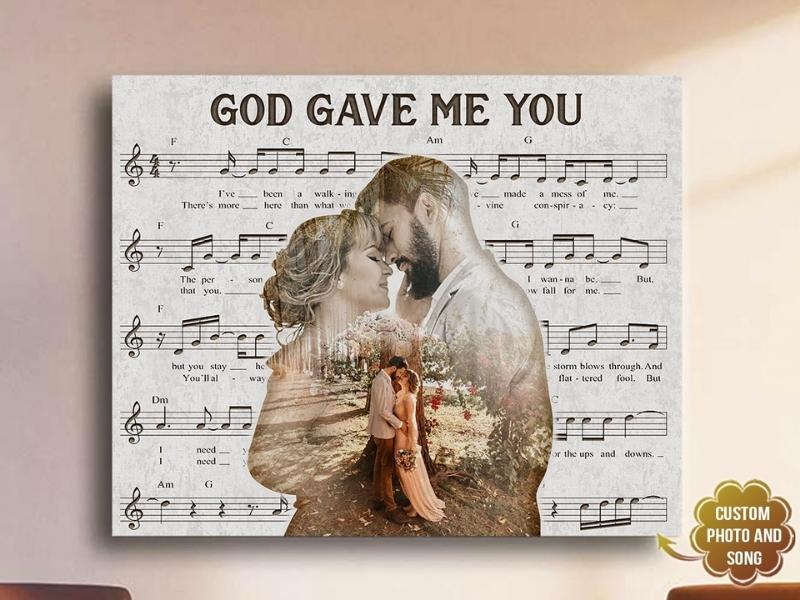 The thoughtful canvas painting is also a great idea for those who want to commemorate their 1st anniversary. Also available is this custom wall art with the topic of your big days, such as the lyrics of your favorite wedding dance song or your first dance song. They will appreciate this gorgeous gift for years.
31. Meaningful Bracelet
Made by professional artisans with recycled gold plated material, this bracelet will make the perfect gift for you and your other half. On the bracelet can be engraved the name, and date you want. In addition to being unique, this 1st anniversary gift idea also has a timeless value so that every passing day feels meaningful after many years of living together.
32. Wood City Map Coasters
In addition to the tool mentioned above, the cutting board, in the kitchen there are also customizable items that can be personalized with deep meaning. This set of coasters is very eye-catching and very aesthetically pleasing. We suggest you customize the details on this coaster with a city map of places you like.
33. I Cross My Heart Canvas Print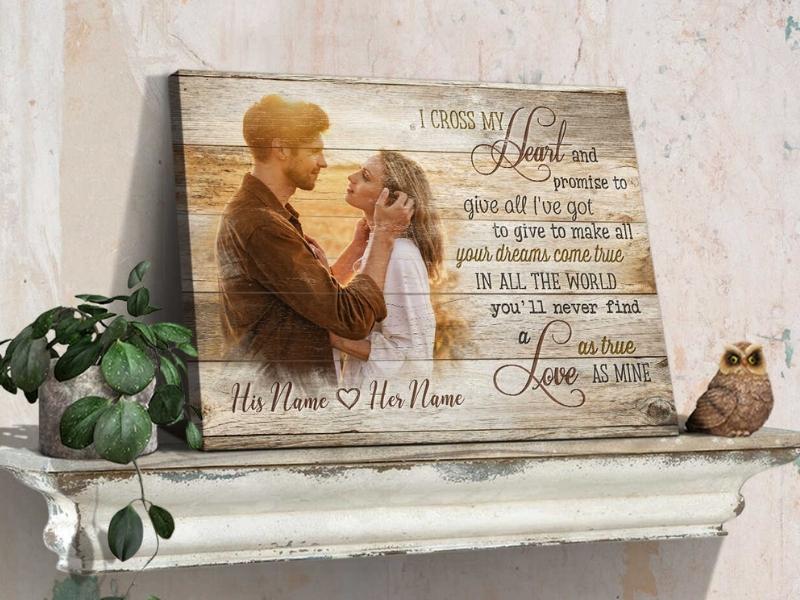 Consider a customized gift for the newlyweds, something that will always be remembered for years and may perhaps become an heirloom. You may customize the I cross my heart picture' wall art so that your lover feels appreciated and happy on the big day. Add it to your shopping basket and give the finest paper anniversary present ever.
34. Pearl Wire Tree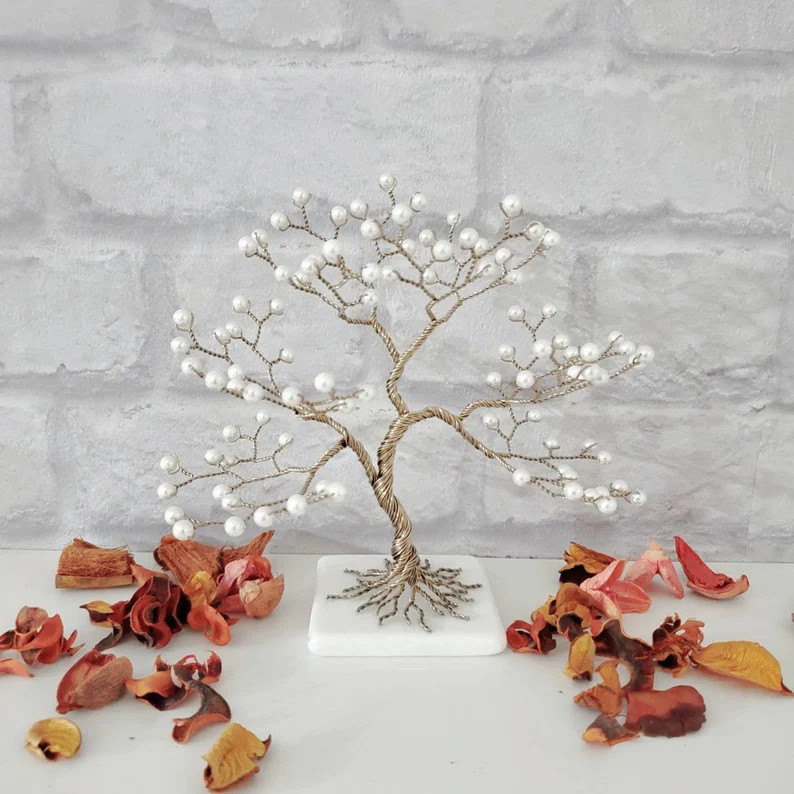 This pearl wire tree will brighten up any space. It gives a feeling of luxury and elegance. Furthermore, the pearl is the ideal item to celebrate a special milestone. Any couple who receives this perfect gift will cherish it for many years.
35. Gemstone Bracelet
When we talk about gemstone bracelets, we're talking about healing stones that are wrapped around your wrist in a bracelet.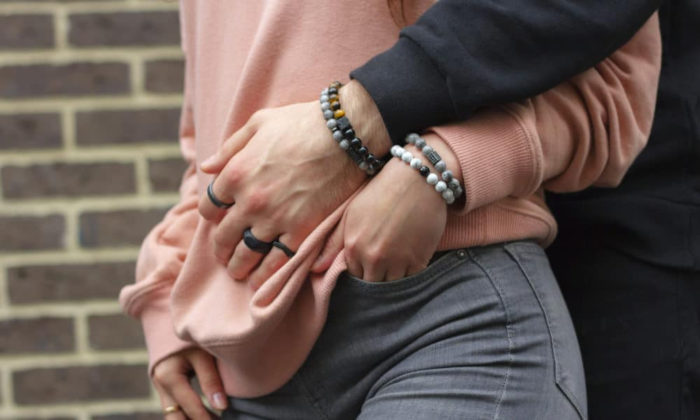 Wearing gemstones close to your skin daily is an excellent approach to connecting with and tuning into their natural healing abilities. As a result, giving a couple a gemstone bracelet for the couple is one of the best gifts for 1 year of marriage.
36. Instax Mini Album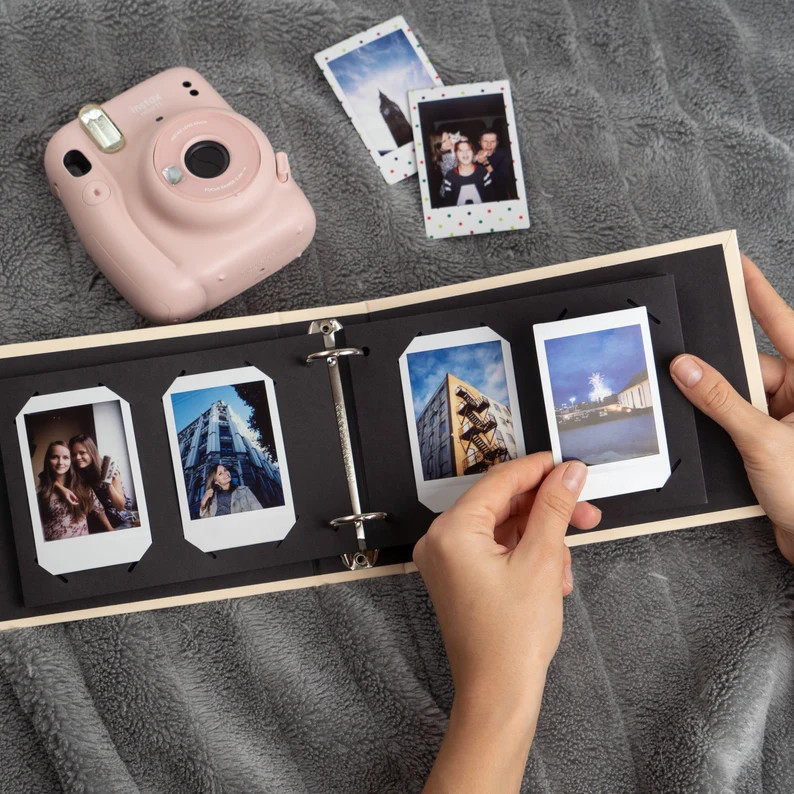 Make their day special by giving them the first volume of an Instax mini-album series they'll look forward to adding to each year. To make the most of the striking cut-out cover, pick your first photo wisely.
37. First Anniversary Gifts in Glass
With this artistic gift, you can remind your husband of a song you love. Add a great shot and personalize it with your preferred album or wedding music. He plans to keep this item handy for his workstation.
38. Gold and Glass Jewelry Box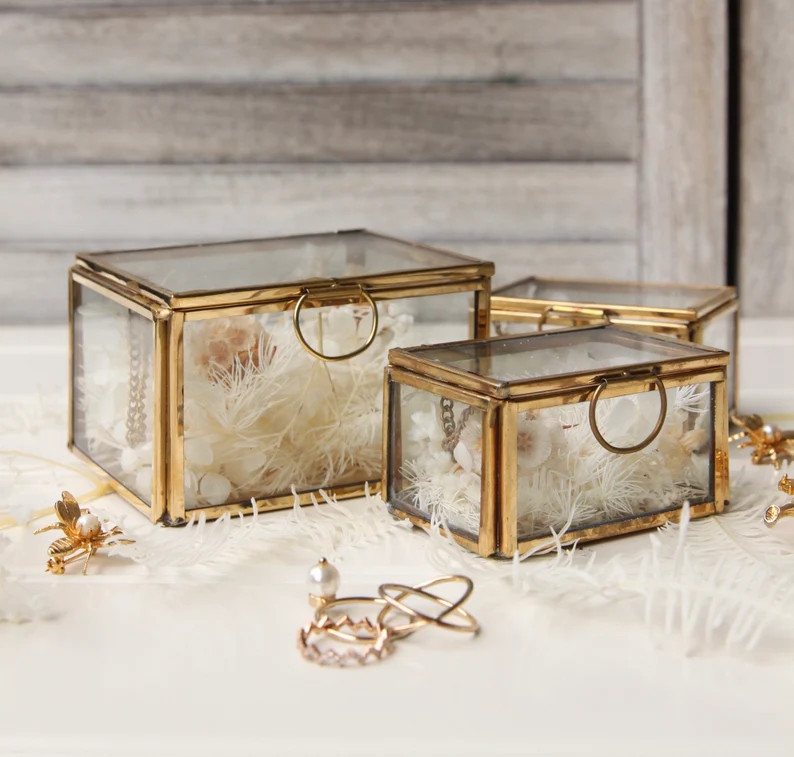 For the first anniversary, a jewelry box is a traditional gift idea, and this particular one fits in nicely with the year-old anniversary motif. In addition to the rose-gold color and customization possibilities, this item has a luxurious feel.
39. Personalized Art Print For First Wedding Anniversary
Enhance your cozy home with this picture framed print marking your one year together. What a lovely way to celebrate the first finest times you've had together.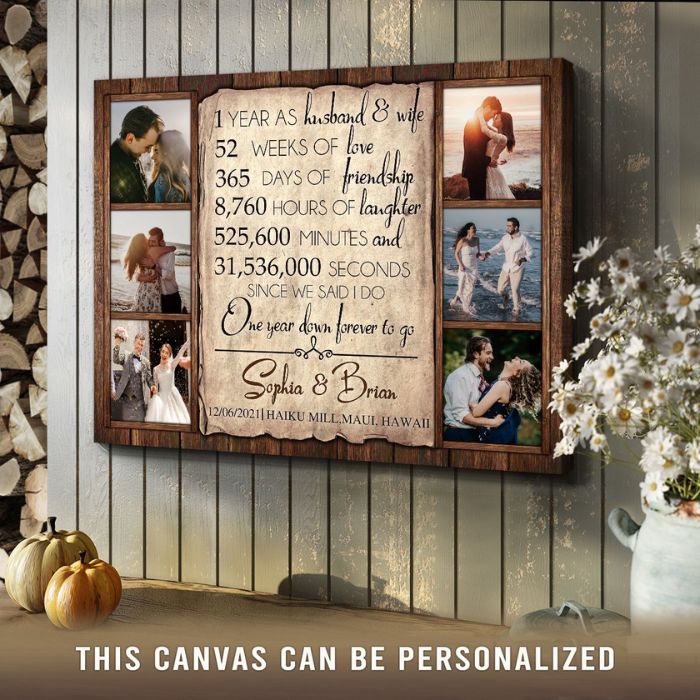 It's easy to design this unique anniversary gift idea; add the couple's names, wedding day, and wedding year, and attach 6 images. The result is a beautiful picture collage you will appreciate on your special anniversary.
40. Relationship-building Card Game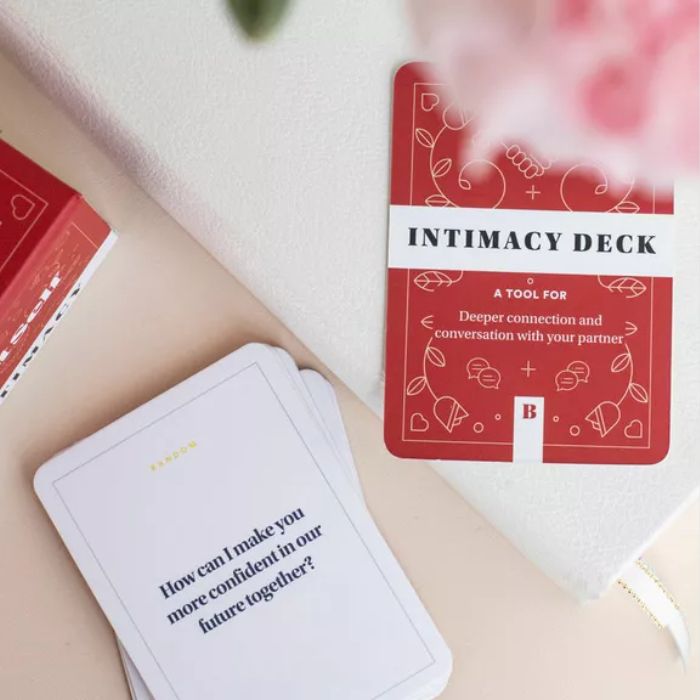 The happy couple may enjoy this mood card game on their anniversary wedding night together. These questions are great for couples who want to get to know each other better and can also be used with friends and family. The married couple will appreciate how it can create meaningful conversations.
41. Unique Anniversary Gift For a Couple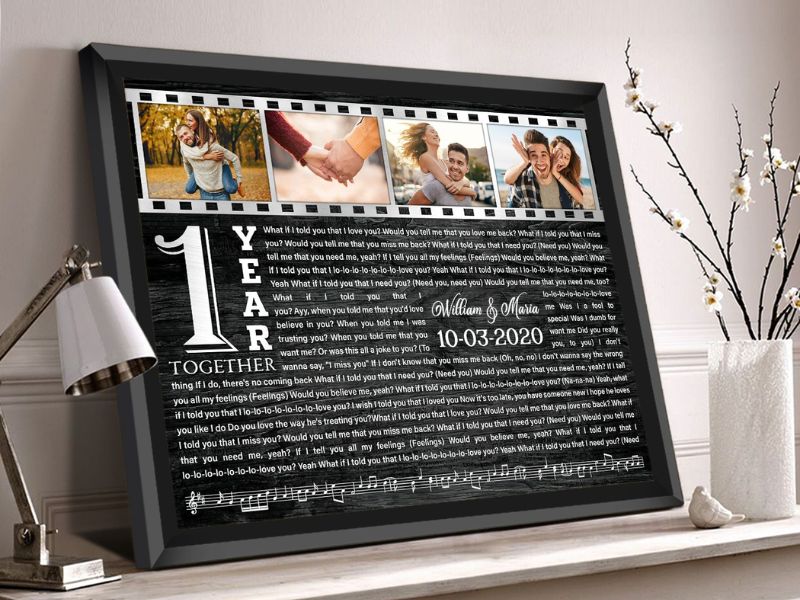 Our Unique Anniversary Gift For a Couple with customization options will surely be a hit with your special someone in the early stages. Put the date and your names next to the lyrics of a song you both like, and you're set! That's very cute, how romantic! Put it in your home office, hallway, or bedroom, and you'll get compliments every time!
Q&A about 1st Anniversary Gift
1. What is the tradition for the 1st wedding anniversary?
Paper is the traditional gift on your first wedding anniversary. The strands on the paper represent the strength and interconnectedness of your growing love. Paper can also be thought of as a blank slate, symbolizing the start of a new life together.
2. How can I make my first anniversary special?
Reminisce about your first meeting
Arrange a Picnic
Reserve a Room in a Romantic Hotel
It's a Good Idea to Take a Second Honeymoon
Get Gifts Made-to-Order
Cook a Delightful Meal
Dance
Get a Tattoo
Go on a Boating Trip
Watch a Film Under the Stars
3. What should I gift my husband on our first anniversary?
Personalized Canvas Art
Rings in the Traditional Style
Gift Box For Men.
Engraved Cufflinks.
Husband and Wife T-shirt
Photo Lamp
Personalized Passport Holder
Apple Watch
Sesame Flowers
Personalized Comic Book
4. What should I get my wife for our 1 year anniversary?
Sentimental Anniversary Journal
Original origami
Printed Vows
A Stylish Gold Timepiece.
Customized Stationery.
Custom Jewelry Box.
Memory Photo Book.
Meaningful Sheet Music Canvas Art
Anniversary Flower
Silk Loungewear
Wedding Ring
>>> Further reading:
Various 1st anniversary gift choices are available here! These suggestions above hold priceless treasures that only the two can appreciate. Additionally, the modern or traditional theme reminds the couple that they must always be there for each other, no matter how many tragedies they face. Based on your couple's qualities, perspectives, and thoughts, you may refer to Oh Canvas' suggestions.