Celebrating your first year together is important because it marks the fact that you both belong together in adulthood. However, it may be complicated to think about which 1st anniversary gift to choose that both of you will relish. This article from Oh Canvas will surely be a wise suggestion for your situation. Hence, if you love to surprise and please your soulmate on this remarkable occasion, do not miss out on this blog!
What is the 1st Anniversary Gift Called?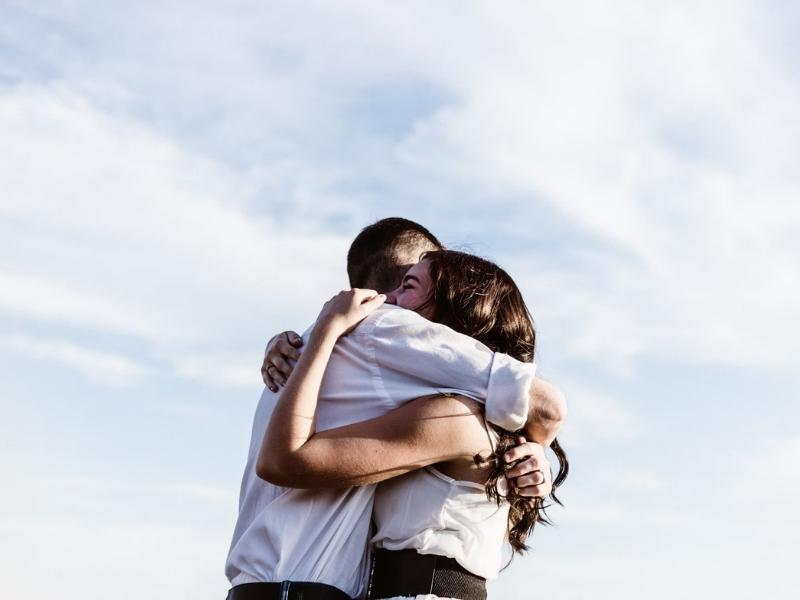 Even while a year may seem like a short period, every couple will tell you that it is not an easy year. To make the trip from two strangers who have fallen in love with the other and can continue to be with him/ her is an achievement few can do.
In the first year, the contrasts in thinking and lifestyle become more apparent as they are unveiled one by one. As a result, the 1st anniversary of love is more than just a significant milestone. It is also a journey for you and your partner to reflect on the good and bad times that have gone by. Moreover, to strive harder together to achieve your future dreams.
That's the reason why people turn papers into traditional anniversary gifts by year as it represents the fresh start that marriage provides. Besides, when it comes to time together, a clock is thought to be a good marker. As a consequence, clocks are modern anniversary gifts by year.
For additional recommendations about what to get your loved one on your significant day, check out the rest of this article.
Top 20 Gracious 1 Year Anniversary Gift for Couple
1. Personalized Photo Gifts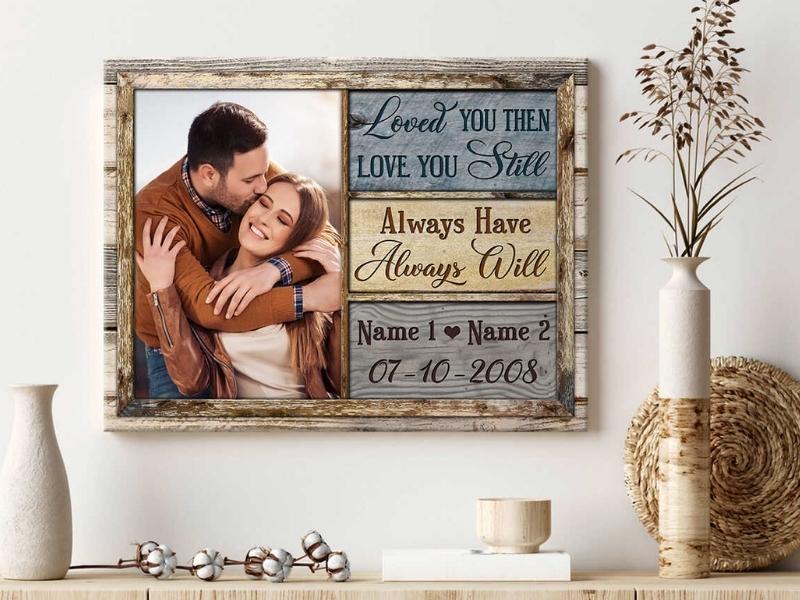 Even after a year of living together, the two of you probably still have a lot of unadorned space in the home. As a top choice for 1 year anniversary gift ideas, this personalized photo gift is what we suggest. You will find everything from florals to birds or butterflies at our store.
If you'd like, we'd be happy to work with you from ideas to completion on custom wall art. We also have ready-made examples on our website if you need them at any moment. There are several items in each category that are favored and receive excellent feedback from the most customers.
You and your partner will feel closer to each other when this piece of art is hung in your home. It will also make your home a warm, elegant, and lively atmosphere. Thus, make it become yours now!
2. Farmhouse Wall Clock – Modern Anniversary Gifts by Year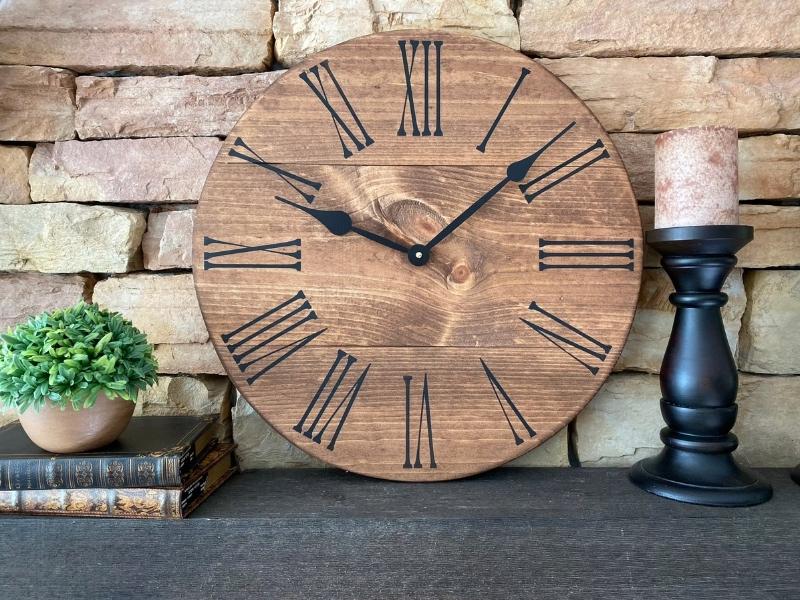 Giving a clock is an important milestone and a reminder that time is precious, every passing second is a memorable moment. And so, when living together, you should always be in harmony, happiness, and cherish each other so that you will not regret it later.
This 1 year anniversary gift for a couple in addition to such a meaning is also a great contribution to the interior of the house if you are a follower of the farmhouse decoration style. You can choose the texture, engraved with the couple's name and date to create an outstanding part for the house.
3. Wedding Photos Album – Traditional Anniversary Gifts by Year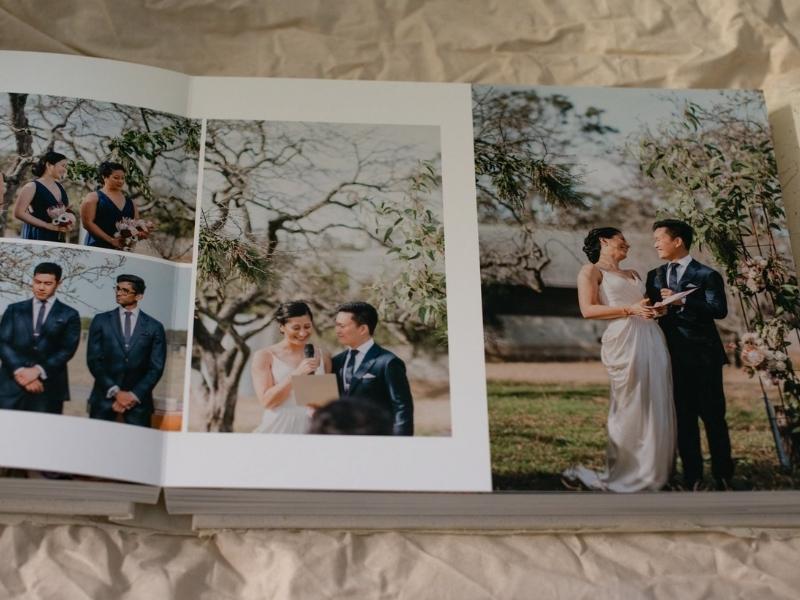 The first year of living and being together must have been a lot of unforgettable things. But the deepest thing still in the heart is the moment you two became each other at the wedding ceremony in front of everyone, and that moment is preserved through photographs.
As the paper is considered one of the traditional anniversary gifts by year. Let's create a photo album to remember those beautiful moments of the two of you. You can customize the layout design, the content of the cover page, the content inside, and the various sizes of each image. This 1 year anniversary gift will be a momentous item for the two of you that every time you look at it, you will be heartfelt.
4. Cream Cake for 1 Year Anniversary Gift Ideas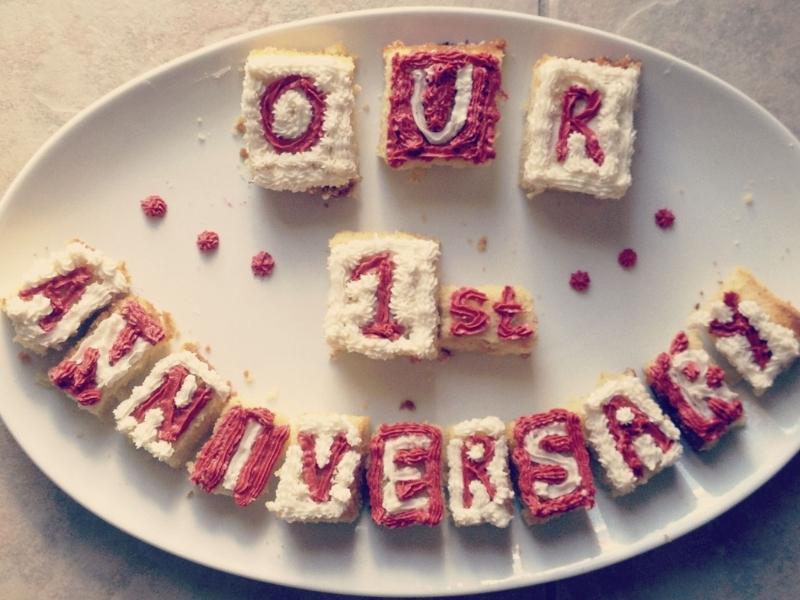 It is common for honeymooners to send a cream cake as a 1st anniversary gift to celebrate their first anniversary. Depending on your taste, you can make a suitable one by yourself or buy it from the bakery shop.
5. Love & Attraction Candles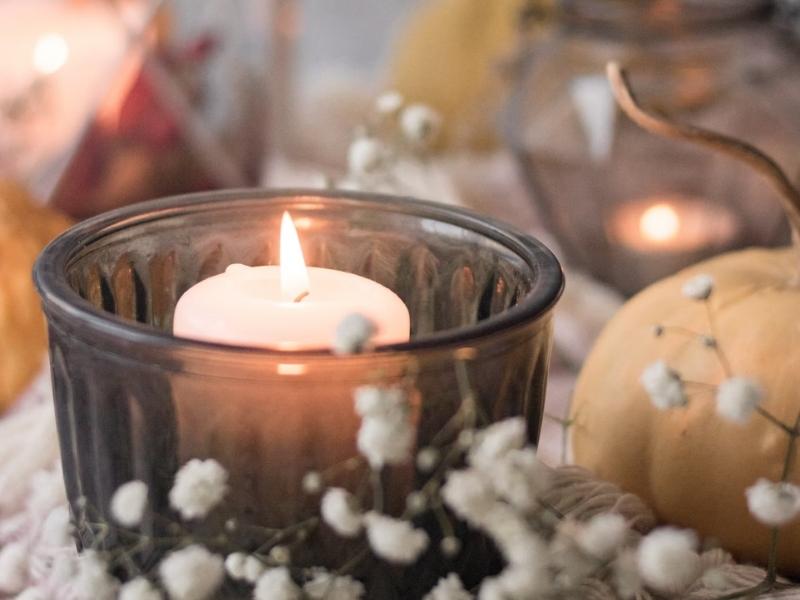 Many people associate the scented candle with the 1st anniversary gift. It is a sign of respect and honesty. Candles are also a sign of romance and pleasant feelings in the spiritual lives of individuals, thanks to their dazzling light and pure, delicate aroma.
Depending on the preferences of the pair, you may pick from a choice of scented candles in various sizes, colors, and smells.
6. Photo Collection Wall Art for 1st Anniversary Gift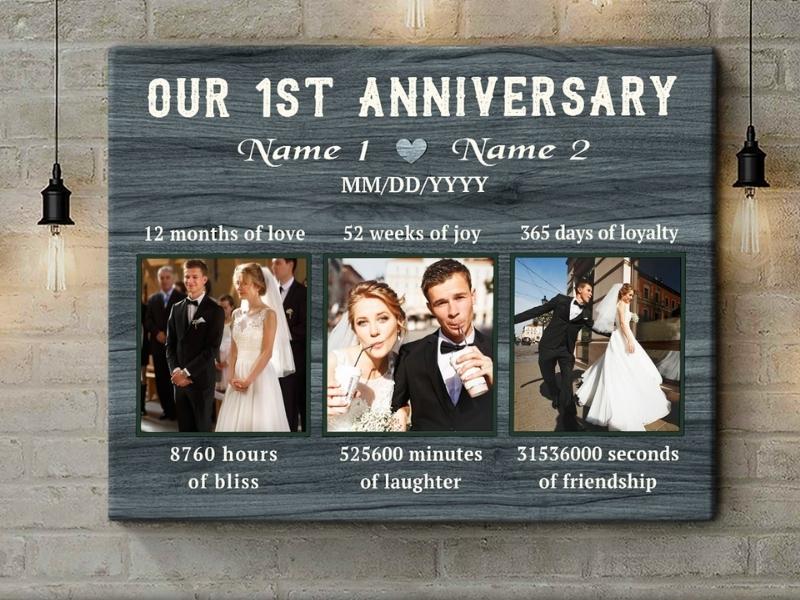 Do you recall the promises you made to each other during the wedding? Those words are inscribed on the pillar of the sacred oath that both of them swear to one other. You may have a present engraved with your couple's vows on a frame or backdrop of your choice, depending on the color.
It includes the names of the couple, the date and venue of their wedding, and an oath of fidelity. Once you've done that, hang it over your bed or bedroom so that you and your spouse will always remember that special day.
When two individuals pledge, they are expressing their most honest and deepest sentiments for each other. Displaying them as part of the decor of your house will ensure that they are constantly visible to you and your guests. As a result, it is a lovely 1 year anniversary gift for couple that you should not miss out on.
7. Origami Crane Earrings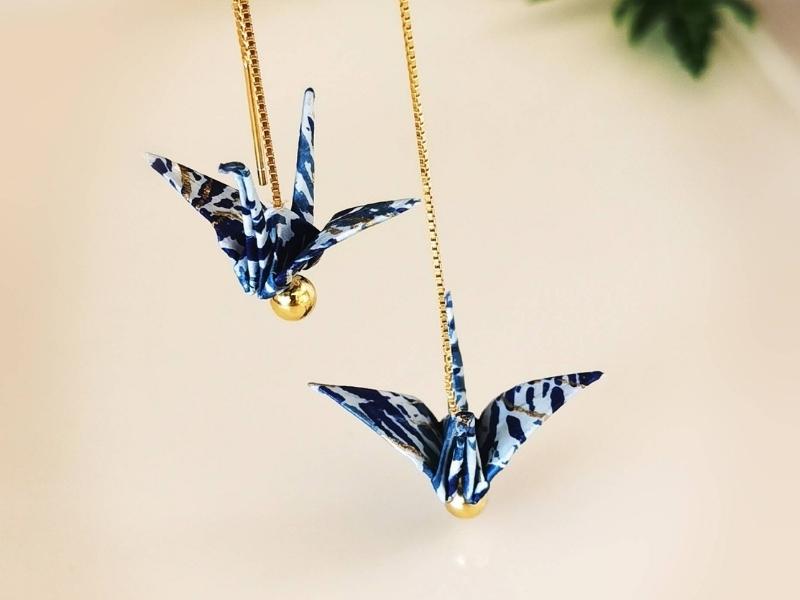 The crane, a symbol of peace and good fortune, has appeared in several popular television shows and movies throughout the globe. Your pair is a big lover of tiny, meaningful items of jewelry. If you are looking for a unique1 year anniversary gift for couple, then this is the gift for you.
A pair of delicate origami crane earrings are a work of art. Wearing these earrings, you and your partner seem to be blessed by God, surrounded by protection, good fortune, and calm at all times. Handmade earrings by trained craftsmen may be customized in terms of metal kind (gold, silver, or copper), as well as length (shorter or longer string).
8. Necklace Anniversary Gifts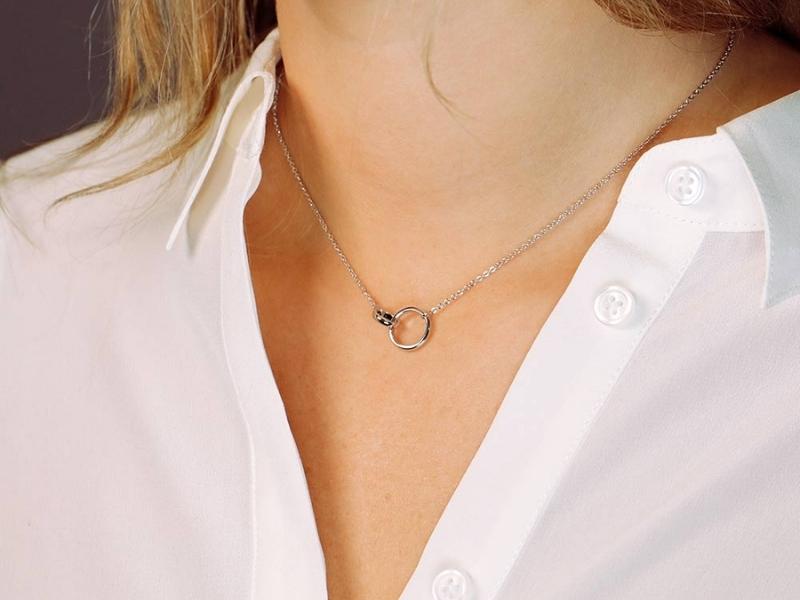 1 year anniversary gifts for her like necklaces undoubtedly come to mind most frequently when it comes to anniversaries.
Pendants are available in a variety of materials and many forms, including gold and silver. Interlocking circles or hearts are a symbol of everlasting love and the powerful emotion they evoke when placed together in a certain context.
9. Personalized Custom Star Map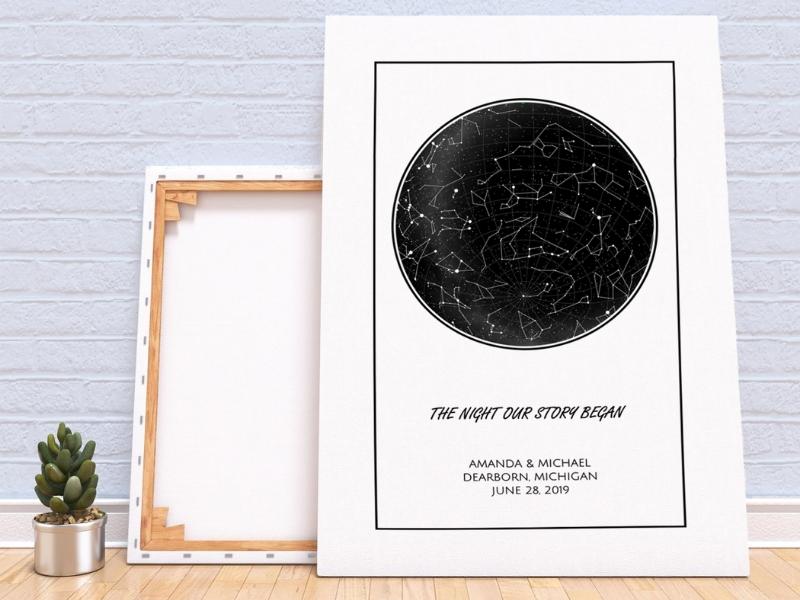 Romance and calm are closely associated with the constellations, which is why they have long been a popular date night destination for couples throughout the world.
A special 1 year anniversary gift for a couple might be a personalized multi-star night map with the name, wedding date, and other personalization options. Make a statement about your relationship and warm up your relationship by putting it on the wall in the corner.
10. Paper Flowers Bouquet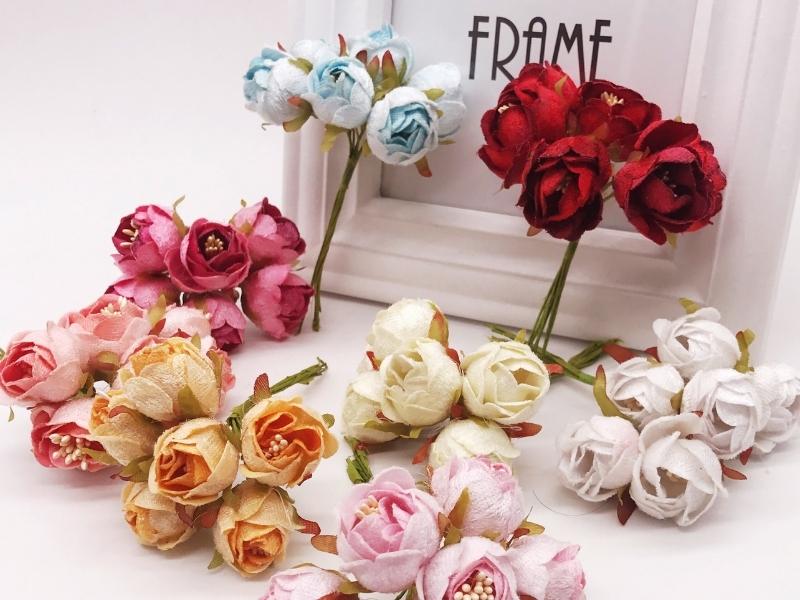 There is no need to spend too much money on paper flowers, hence, they are becoming a popular trend on 1 year anniversary gift ideas. It encapsulates the creator's emotions and holds them for a long time in its cozy interior.
Tissue paper, crepe paper, or other home objects may be used to create your own. Simple yet cheerful, this 1st anniversary gift is guaranteed to please the other half.
>>> Read more: Top 30 Unbeatable 20th Anniversary Gift Ideas for A Couple
11. Custom Anniversary Day Cufflinks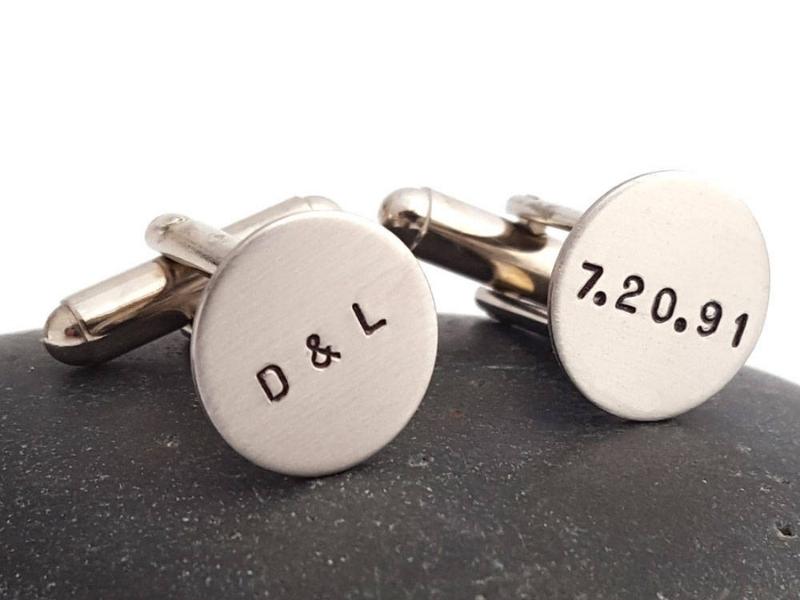 An anniversary couple's jewelry collection should include a set of rings with a strong bond. The cufflinks may be personalized with your names and an important date.
You may then email it to a store that will engrave it on this stainless steel bracelet. In that way, your 1 year anniversary gift for him is now complete!
12. Couples Travel Love Map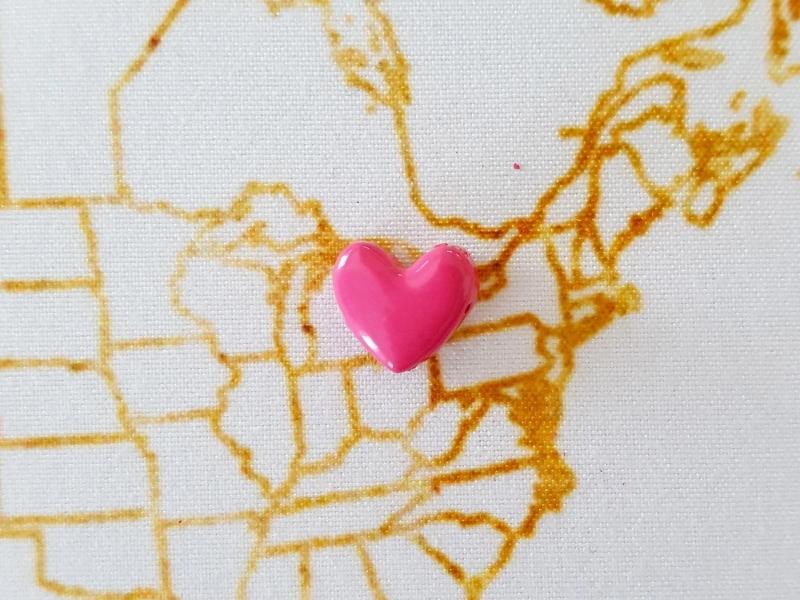 In the situation that you and your loved one both love traveling and discovering the planet together. This is the perfect 1st anniversary gift. Customizable in color (white on a gray background, for example), as well as any additional decorations.
Simply add a little heart mark on the significant spots where you and your partner have been or desire to go. As an example, you may put a marker in the spot where you proposed to travel or where you first met, went to lunch, went to the movies, and so on.
13. The Yearly Anniversary Journal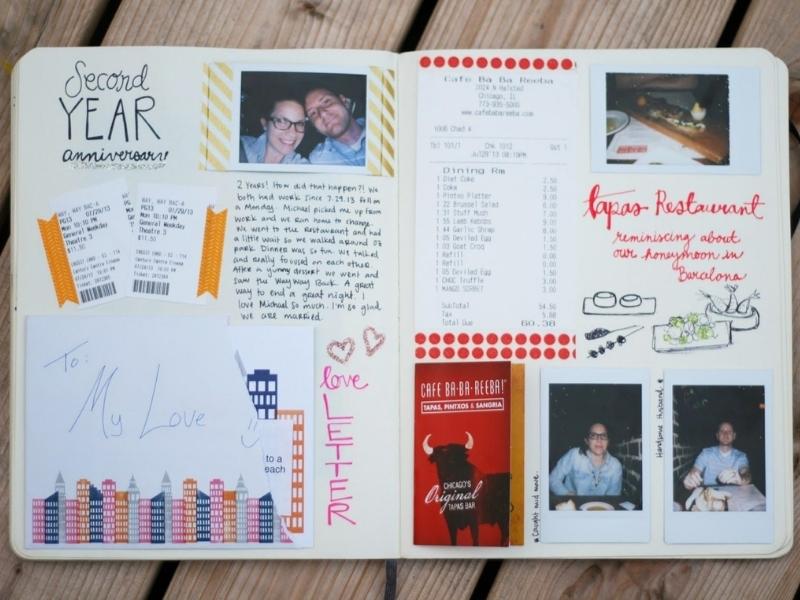 The anniversary diary may be used to tell the tale of a couple's love in addition to a photo album. Messages to one another, photos, and badges may all be added to each page. You may choose from a range of sorts, such as where you met, designated anniversaries, or wedding vows, to find the 1 year anniversary gift for couple. Every time you open this item, you will be reminded of how special it is.
14. Engraved Wooden Watches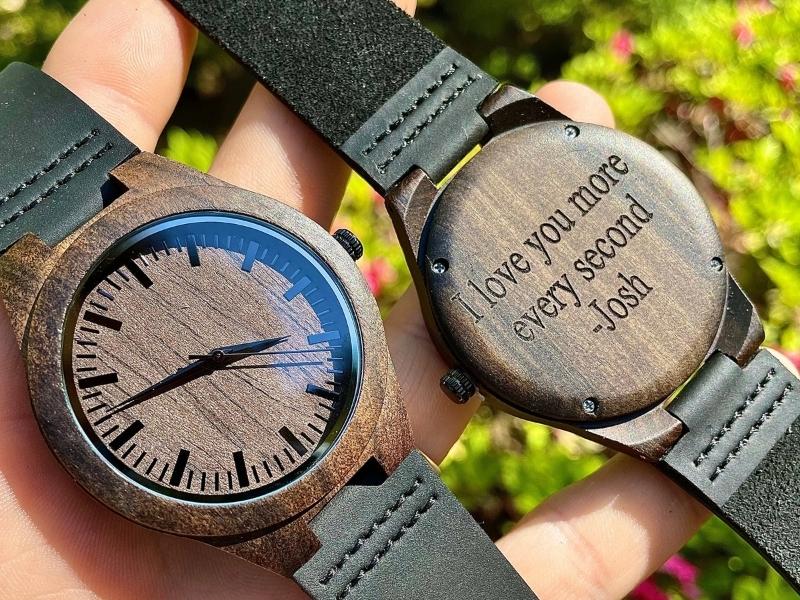 Watches are essential and easy-to-use items for everyone. Within the scope of this article, we suggest that you can personalize your custom wooden wristwatch as a 1 year anniversary gift for couple.
You can't help thinking of this special item when you take a look at this. You can engrave the name of you and your partner, the date, and a brief message so that you both remember and belong to each other every time you wear it.
15. Farmhouse Wooden Keepsake Box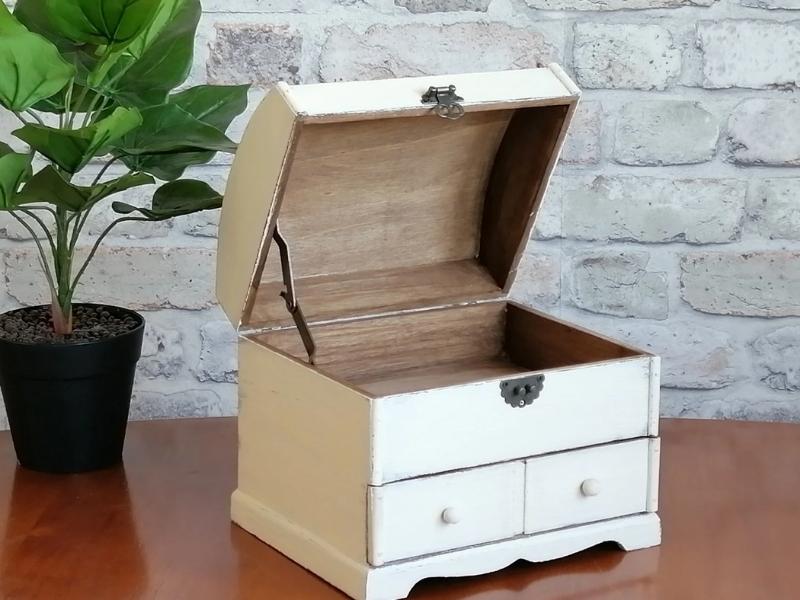 Does your couple like to keep memories through pretty little items? If yes, then this keepsake box is definitely for you. Among the 1 year anniversary gift for him, we found this to be the most poignant one.
You and your partner can hang it in the bedroom or living room, if there are common items that you both want to keep such as wedding invitations, or letters sent to each other when you were in school, you can keep it. Later, when the two open up and look back, this thing will be as emotional as possible.
16. Monogrammed Engraved Cutting Board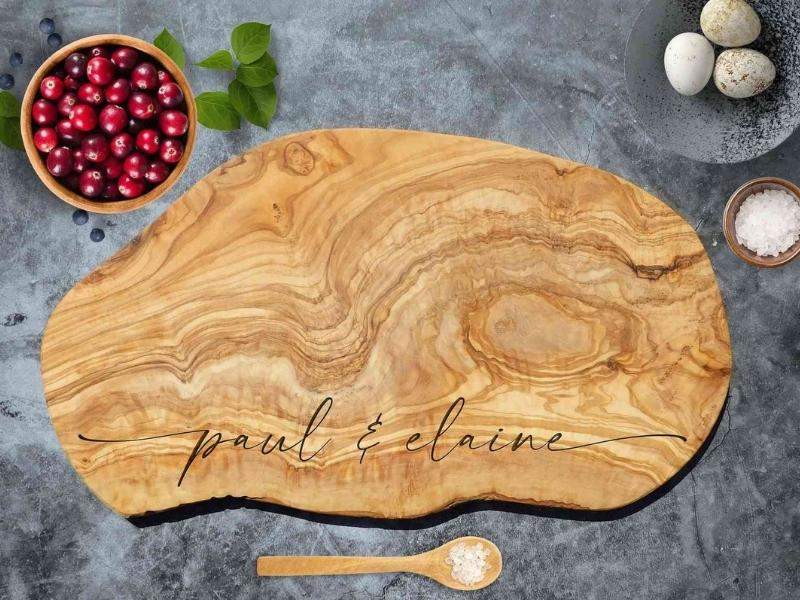 Couples who live together often spend time together in the kitchen, cooking together and talking about their busy day. And this new cutting board is an indispensable item when preparing food, isn't it? This 1 year anniversary gift for couple is also the optimal gift, both commemoration and highly applicable. On the cutting board, you can engrave your couple's name.
17. Personalized Wedding Song Wall Art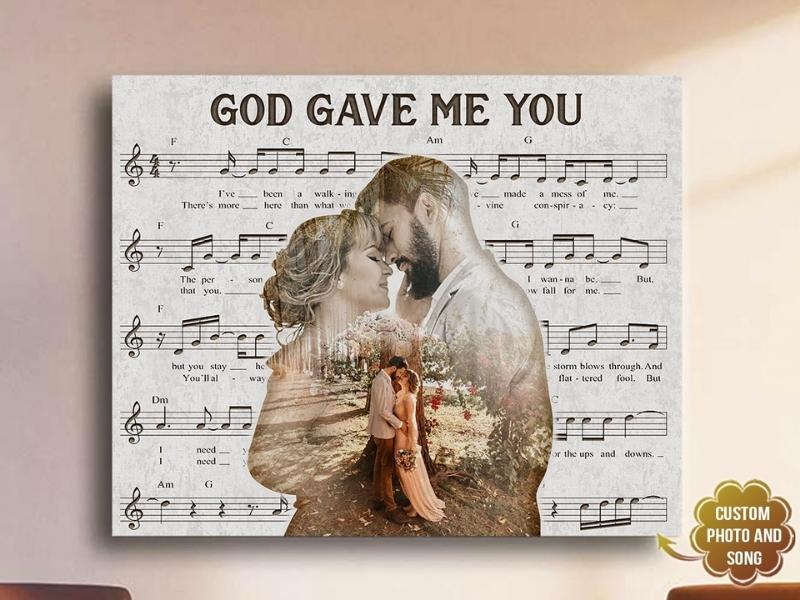 The canvas painting is also a great suggestion for those who want to commemorate their 1st anniversary. Also available is this custom wall art with the topic of your special day, such as the lyrics of your favorite wedding song.
The uniqueness and passion of the pair are celebrated with traditional anniversary gifts by year. As long as you want, you may change your picture, date, month, and even the lyrics of your favorite song. If you want to have a special first anniversary with him, get this first wedding anniversary present immediately!
18. Meaningful Bracelet – 1 Year Anniversary Gift for Couple
Made by professional artisans with recycled gold plated material, this bracelet will make the perfect gift for you and your other half. On the bracelet can be engraved the name, date you want. In addition to being unique, this 1st anniversary gift also has a timeless value so that every passing day feels meaningful after many years of living together.
19. Wood City Map Coasters
In addition to the tool just mentioned above, the cutting board, in the kitchen there are also customizable items that can be personalized with deep meaning. This set of coasters is very eye-catching and very aesthetically pleasing. We suggest you can customize the details on this coaster with a city map of places that you like.
20. Snapshot Combined Photos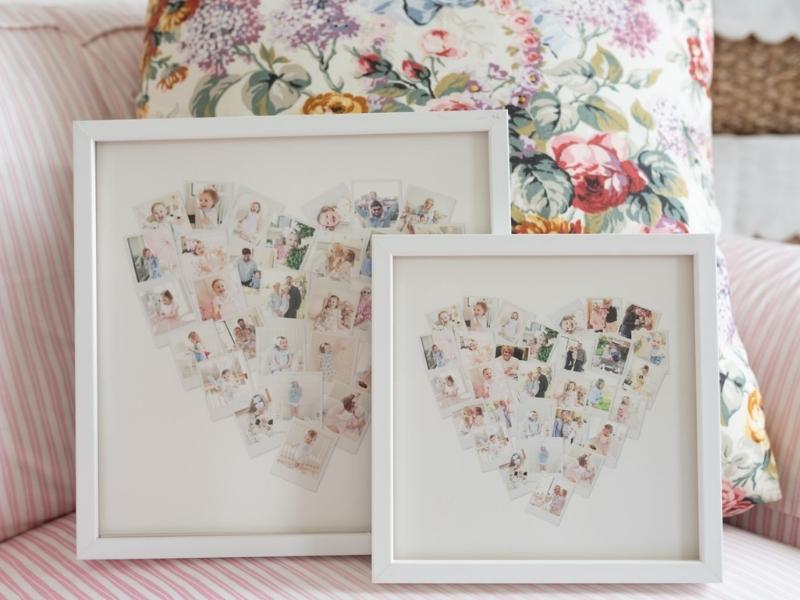 Nothing can preserve the best memories like photos and videos. All the moments in the past are filled with feelings and thoughts that every time you look back, they are full of emotions. And you can turn those memories around by incorporating snaps in an impromptu composition or the shape of a heart, circle, or square. All will create a sweet gift that will shake your heart every time you look at this 1st anniversary gift.
The highlight of these 1 year anniversary gift ideas comes from the fact that you can freely choose which photos, no need to be too beautiful or too impressive.
21. I Cross My Heart Canvas Print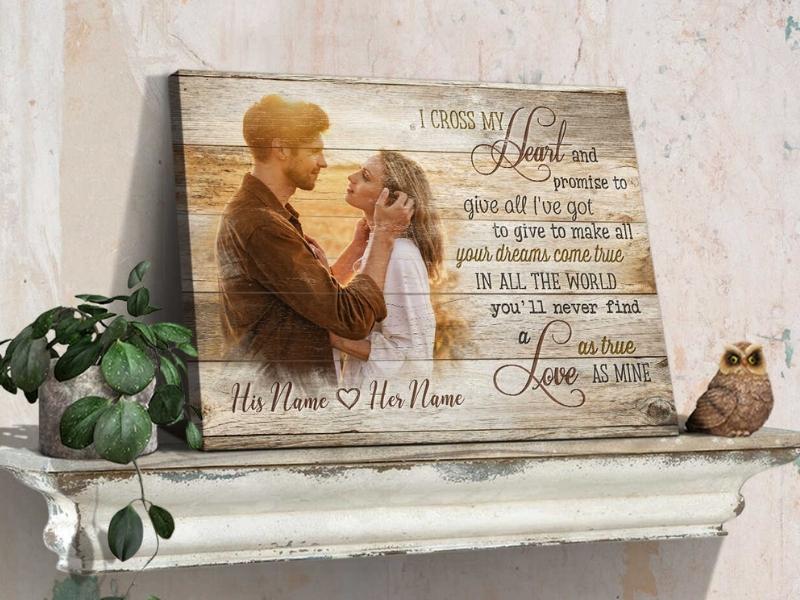 The personalized canvas with the text "I Cross My Heart" is a sweet way to show a couple's love. Consider a customized gift for the Wedding Anniversary, something that will always be remembered and may perhaps become an heirloom. Add it to your shopping basket now and give the finest wedding anniversary present ever.
Today, each individual has several meaningful and unique anniversaries. On a wedding anniversary, people offer heartfelt wishes and thoughtful presents. But many individuals still don't know what present to offer or how to give it meaningfully. So, we think this heart wall image canvas is a good option. You may customize the I cross my heart picture' wall art so that your lover feels appreciated and happy on the big anniversary.
>>> Further reading:
Paper or pricey gifts hold priceless treasures that only the two of them can appreciate. Additionally, the present serves as a reminder to the couple that they must always be there for each other, no matter how many tragedies they face. Based on your couple's qualities, perspectives, and thoughts, you may refer to Oh canvas' suggestions. Traditional and contemporary 1st anniversary gift choices are available. It's the most important day of your life, so make it a special occasion for your loved ones.