Congratulations! Having been together for 13 years is really something to be proud of. And one of the best ways to commemorate the event is by presenting a romantic gift. Find out more about the significance of the 13th anniversary gift in the blog post below from Oh Canvas. Find meaningful gifts for your spouse or the newlyweds, and you'll be all set!
What is the Gift for 13 Years of Marriage?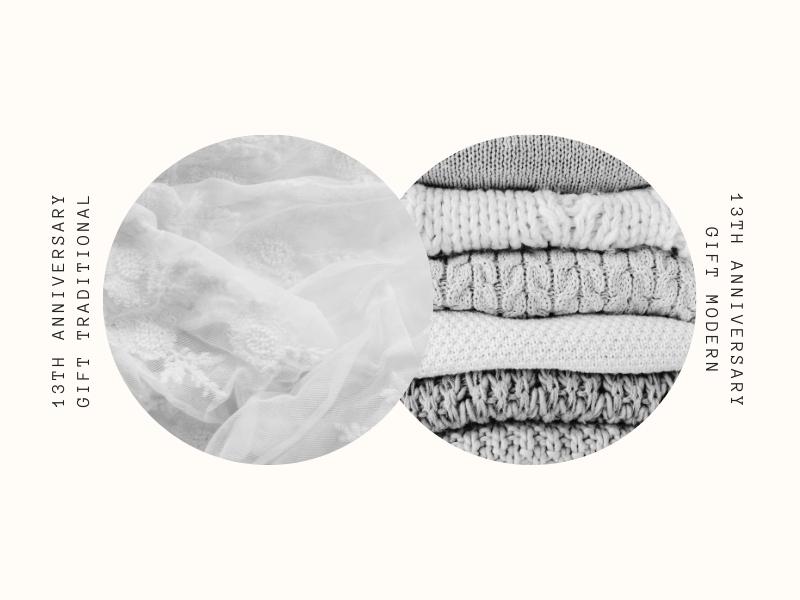 13th Anniversary Traditional Gift
Lace symbolizes the intricate beauty of your marriage and is a traditional gift for a wedding anniversary. It is the intricate beauty and special care it needs to stay together, exactly like a 13-year-long love. Keep reading to discover the greatest lace presents on the market, from stylish lace-up shoes to lace-pressed patterns for every sort of spouse or pair.
13th Anniversary Gift Modern
Furry fabrics and textiles are contemporary interpretations of the modern gift for the 13th anniversary. The softness and coziness that come from being in a committed relationship are embodied in these fabrics. If you want a more contemporary look, you'll find no shortage of alternatives. Throw blankets, robes, and slippers, anyone?
50+ 13th Wedding Anniversary Gift Traditional and Modern
Lace Anniversary Gifts For Him
Despite the fact that the traditional and contemporary presents all seem to be female, things are not always as they appear. To make it a little simpler for you to locate the ideal and perfect gift for him, we've done some research. From traditional lace to modern textiles, with these 13th year wedding anniversary gift ideas, you can say, "I love you" in the most thoughtful way!
1. Lace Cufflinks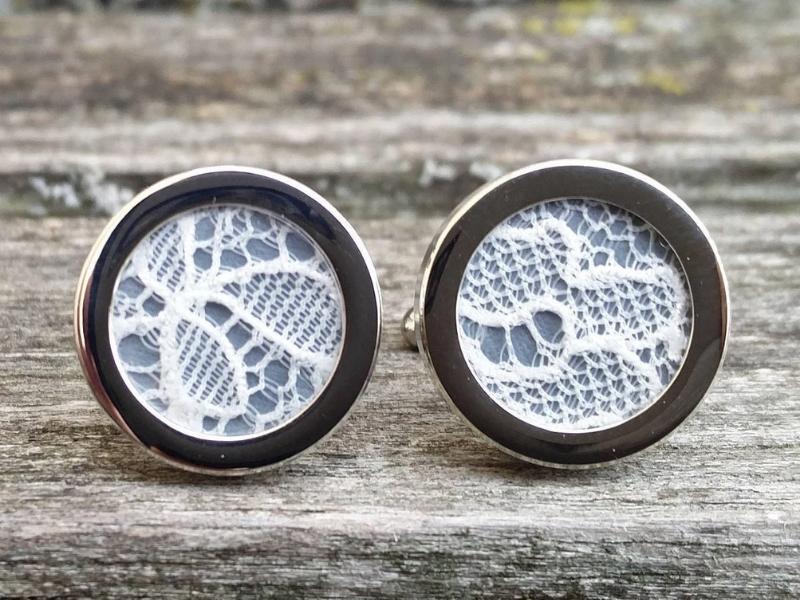 Lace cuff links are a great way to add a personal touch to your spouse's formal attire. It's possible to choose between antique bronze or stainless steel, as well as seven other lace colors. For a 13th anniversary gift for husband, how about this?
2. I Wish I Met You Sooner Canvas Wall Art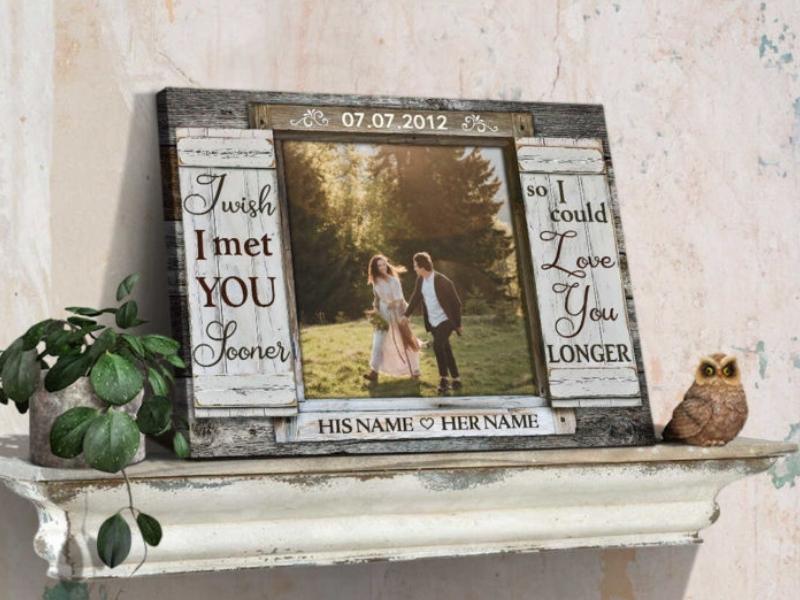 There are many methods to express your undying devotion to your significant other. If I had known about you sooner, it'd have been easier for me to love you more deeply. This 'I Wish I Met You Sooner' canvas artwork is the perfect 13th anniversary gift for him.
Add a picture of you and your loved ones and their names to personalize it. The more special your connection becomes, the better off you'll both be. It doesn't matter whether your companion keeps the picture present on their desk at work or at home; they'll feel the love!
3. Lace Tie
Traditionally, lace anniversary gifts for him include anything with a lacey design or genuine lace on it, such as a necktie. With its elaborate, delicate designs, the tatted lace tie undoubtedly adds attention to his overall appearance. As an added bonus, he'll always think of you whenever he sees it on him.
4. Linen Table Cloth with Lace Design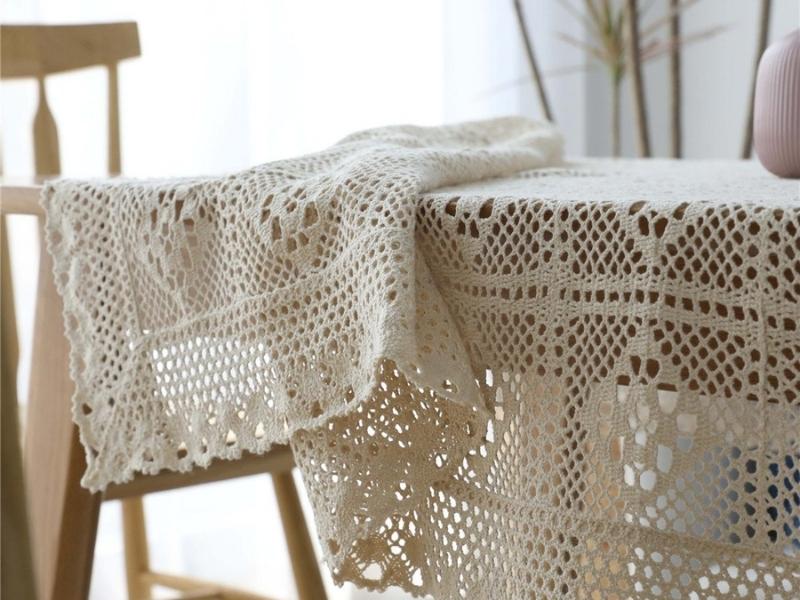 A gorgeous linen tablecloth with a lace edge is guaranteed to delight anybody who enjoys hosting dinner gatherings for friends and family. With just the proper amount of sweetness to make it smooth and friendly, it's got a trendy feel!
5. Dream Catcher with Lace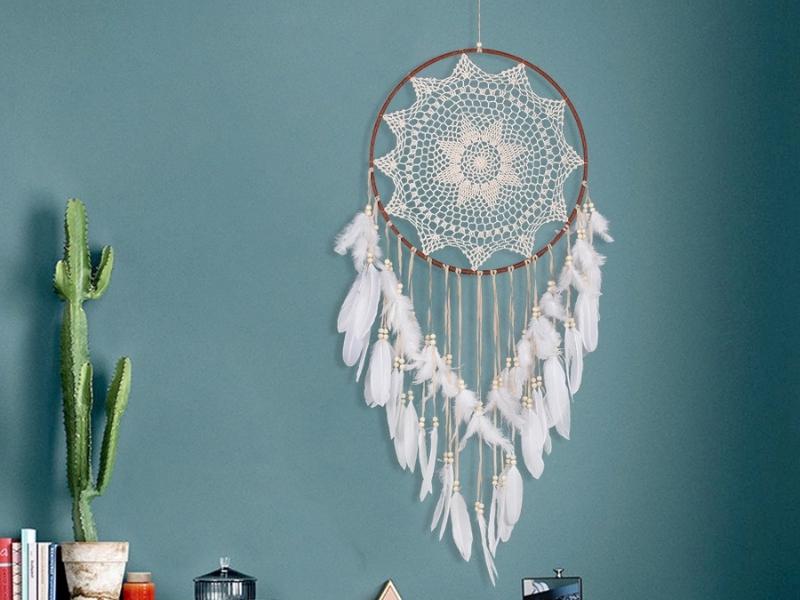 You can't go wrong with this lace-adorned dream catcher for the 13th anniversary gift for husband. It'll look great next to your bed and help you and your partner get a good night's sleep on your anniversary and every night afterward.
6. Lace Fabric Lingerie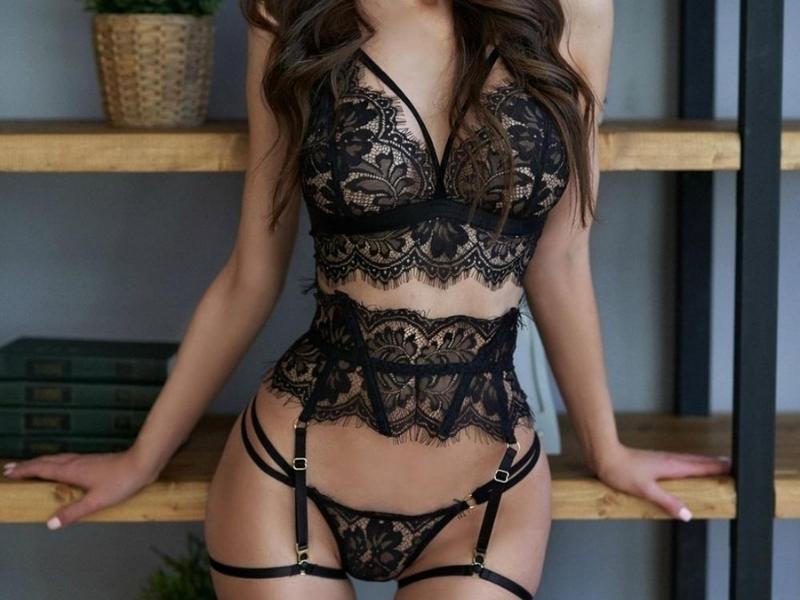 What a wonderful surprise 13 year anniversary gift for him and for you! You and your significant other may celebrate your anniversary in the comfort of your own home by picking out some beautiful lace fabric lingerie (and getting him some new boxers or briefs). Making a romantic and burning date night for him with this lace fabric lingerie.
7. Best Wedding Anniversary Gifts With Bible Verse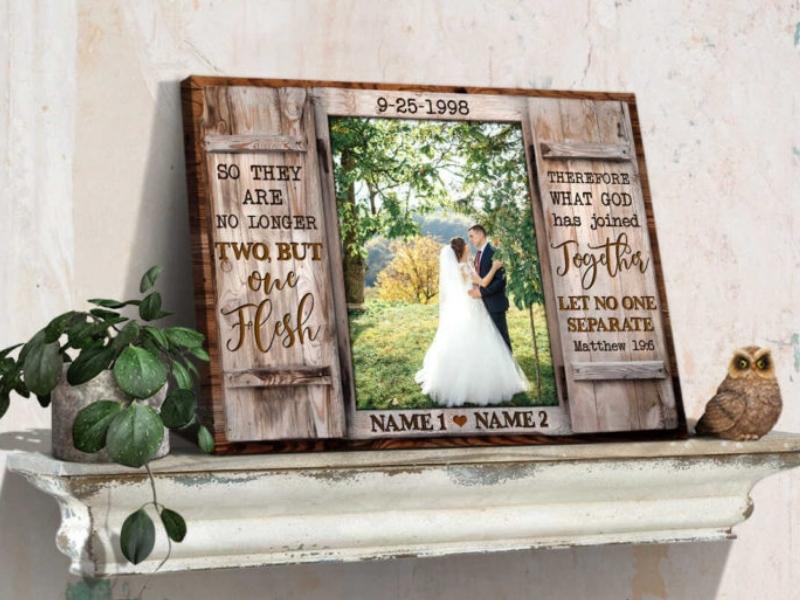 Bridal décor, wedding gifts, and even anniversary modern gifts for the happy couple may all benefit from this picture canvas print. The couple's love for one another and for God is shown in this painting via the use of an encouraging Bible quote. Upload a favorite wedding picture and the names of the happy couple to make this to be a unique gift.
This picture canvas print is a wonderful 13th anniversary gift for the bedroom or dressing table. To commemorate the union of two people, the wall art may be displayed in the foyer or living room.
8. Personalized Lace Wedding Happy Anniversary Card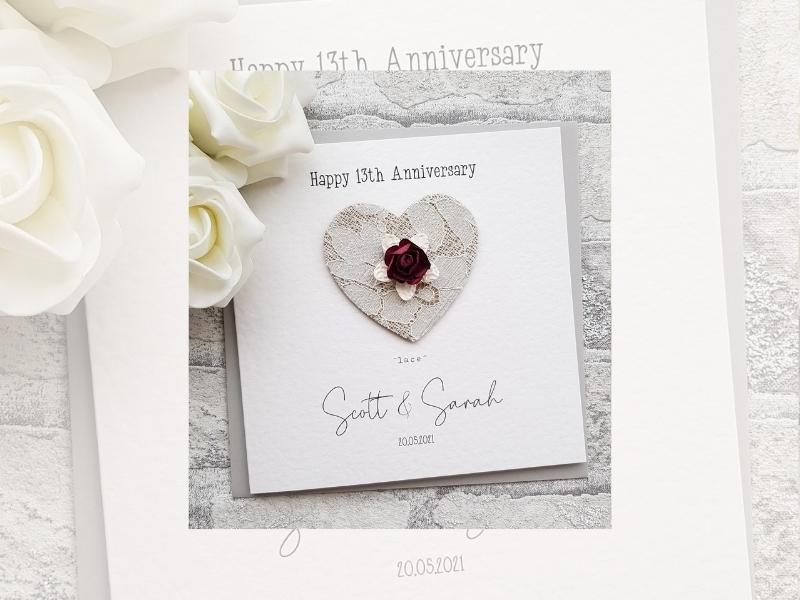 Pick up a 13 year anniversary gift that your spouse will like and complement it with a handcrafted lace-themed note if lace isn't going to win him over. While still keeping with tradition, you've given him something he'll really appreciate. Lace and more modern textiles come together on this sweet little card to create a card that he is sure to like.
9. Lace Double Deluxe Hammock
It doesn't matter whether you're hanging out with your significant other or taking a solitary nap in this hammock for two. To celebrate your 13th wedding anniversary, this dress has lacey fringe embellishment.
10. Plush Rug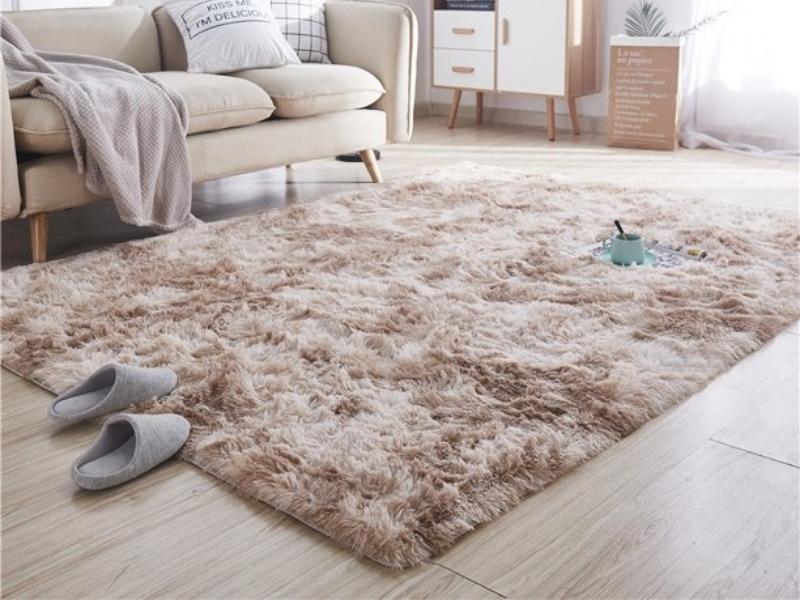 A new rug is a great way to incorporate textiles into a room that is both beautiful and functional. With its lace-like design, super soft, and the 13th wedding anniversary color of white, this hand-knotted style is an excellent contemporary present choice.
11. Lace-inspired Compass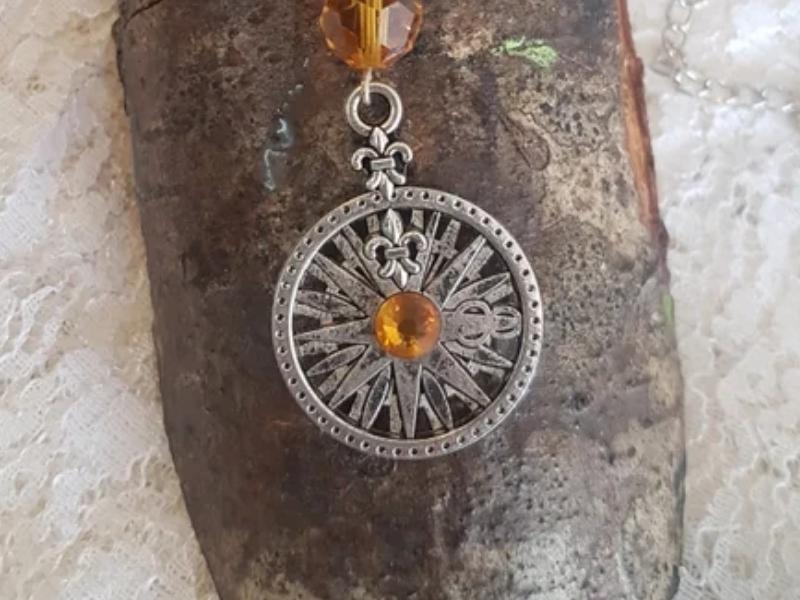 This beautiful memento compass is an excellent 13th anniversary gift for him who likes going on romantic getaways together for the 13th wedding anniversary. If you want to make it especially special, you can even have a message engraved within the lid.
12. Classy Lace-inspired Cup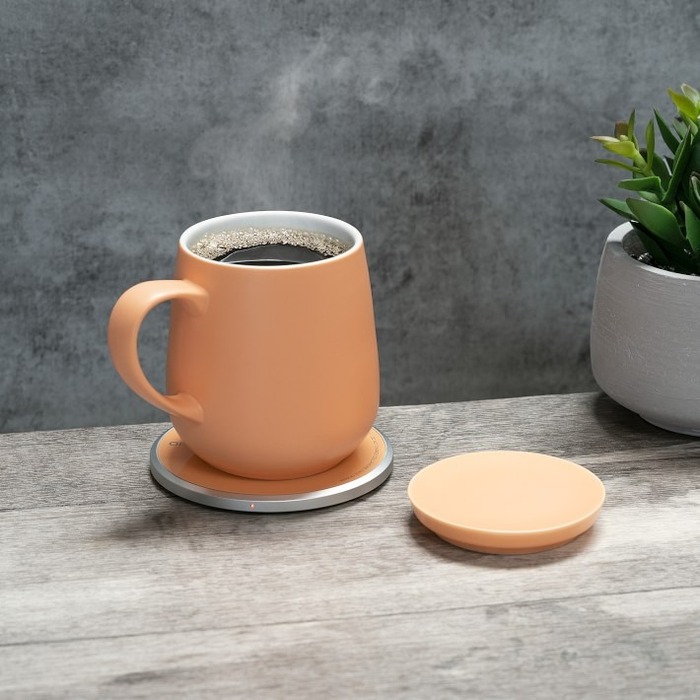 Create a stylish cup of hot beverage for your loved ones with this handcrafted ceramic cup. Featuring a hand-carved chrysanthemum blossom and gold-gilded rim, this piece of home décor is sure to draw attention.
13. Sheepskin Hot Water Bottle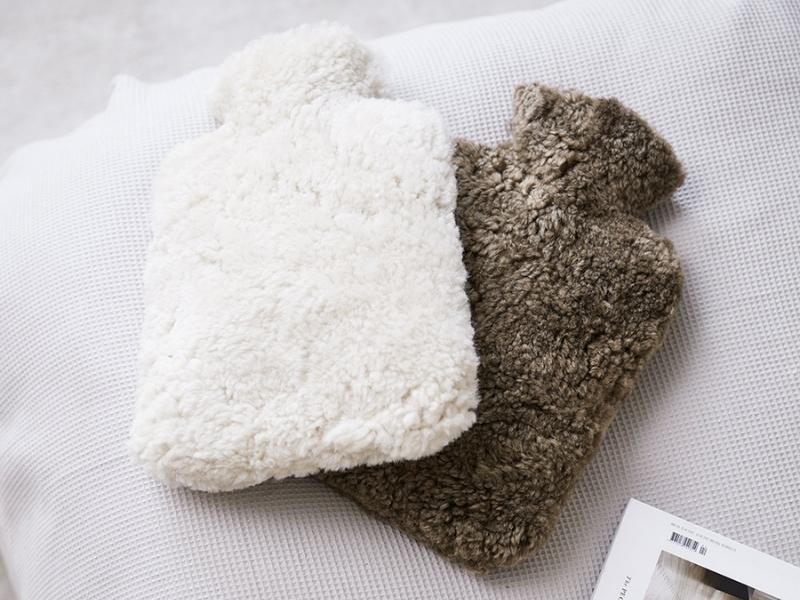 To keep it fluffy, this curly sheepskin hot water bottle cover travels from Scotland to New Zealand. This curly sheepskin hot water bottle cover is a unique and considerate gift that will keep your companion warm and cozy on chilly days. Perfect for unwinding with after a long day or a refreshing stroll, it is made to accommodate most standard-sized hot water bottles. This 13th anniversary gift for husband will warm your partner's cockles after a stroll or a long day at work.
14. Large Sheepskin Throw
A luxurious sheepskin throw, responsibly sourced, will provide a touch of coziness to your living space. Super soft and cuddly, the sheepskin is available in a neutral color and is the perfect 13th anniversary gift for him.
15. Faux Fur Throw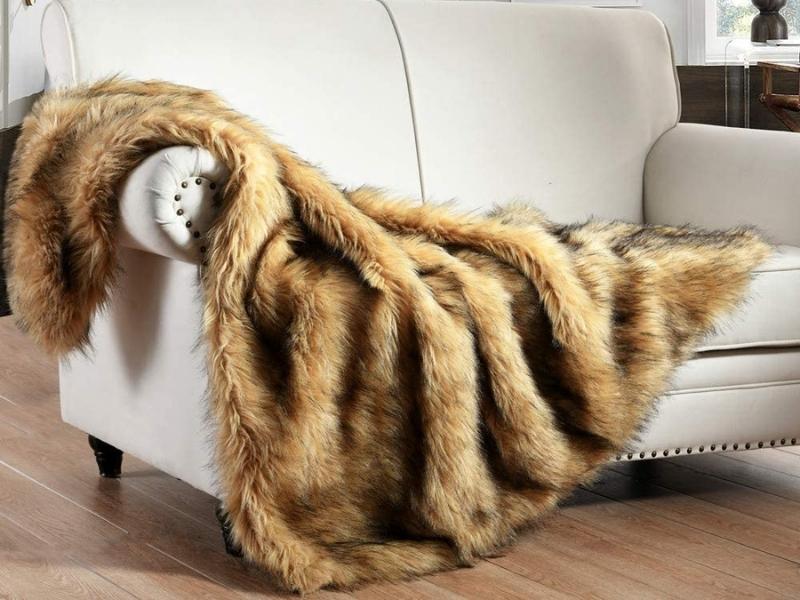 One of life's simple joys is unwinding on the couch with a nice book or TV show. Those times are already precious, but a faux fur throw will make them even more so. Beautifully crafted for utmost coziness and ease, these throws will make every night spent with your partner feel special. You can find the perfect one for your home's color scheme and design preferences among the many available options.
>>> Read more: Top 47+ Soothing 12th Anniversary Gift for Husband, Wife & Couples
Lace Anniversary Gifts For Her
For the most part, your wife's 13th wedding anniversary should bring back memories of how much she means to you, rather than the present she got. Make the event even more special with one of our 13th year wedding anniversary gift ideas.
16. Personalized Photo Gifts Canvas Print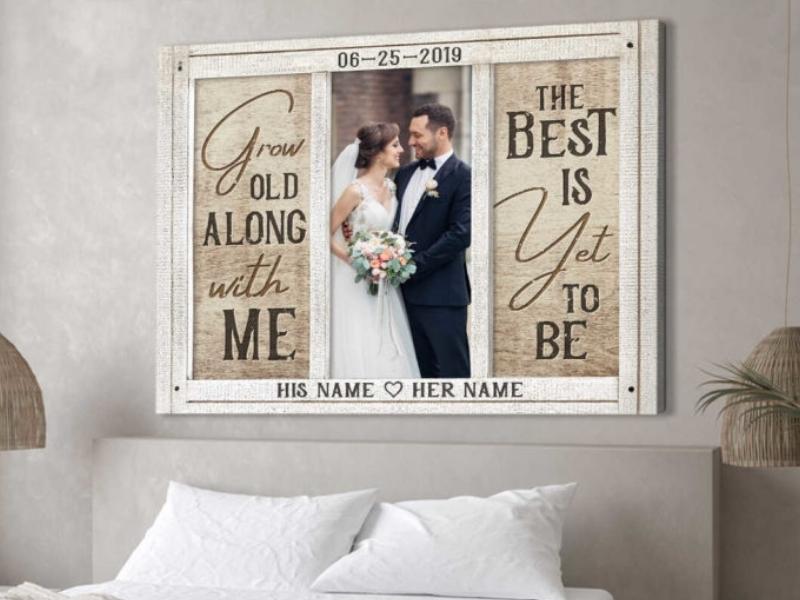 It's a wonderful way to mark your wedding anniversary by giving your spouse a unique 13th anniversary gift for her. In addition to displaying names and dates, you can also show a picture on this canvas. Perhaps a picture of your wedding day, or a picture of you and your partner together, is what you're looking for in this case. When your lover sees the picture with the saying "Grow old with me, the best is yet to be," they'll know how kind you are.
If you're searching for a great gift for your wife, this is a sure bet. You may display this charming print in your house as a reminder of your long-term relationship.
17. Lace-inspired Ring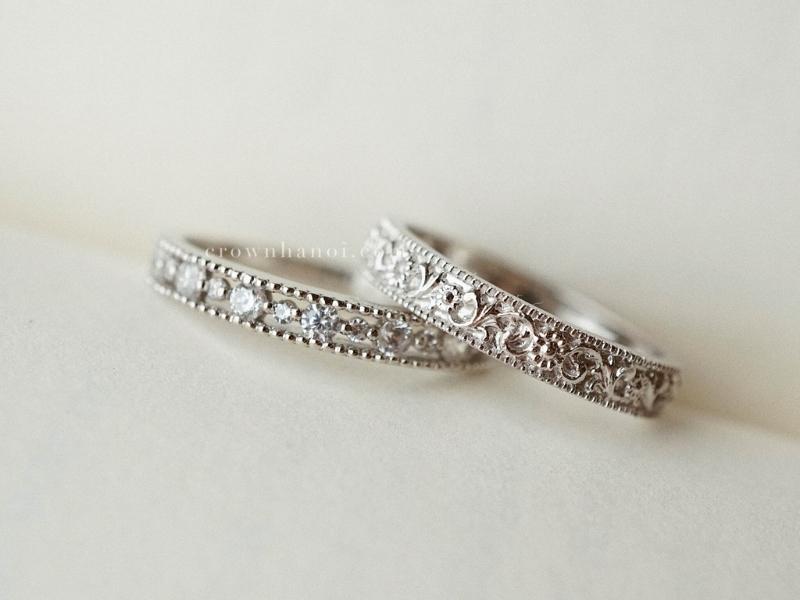 Celebrate your 13th wedding anniversary in style with this exquisite ring, meticulously crafted to capture the ethereal beauty of delicate lace. Enhance her style with this exquisite ring adorned with a stunning faux pearl. Whether worn individually or combined with other rings, it effortlessly elevates your overall look.
18. Gold Chandelier Earrings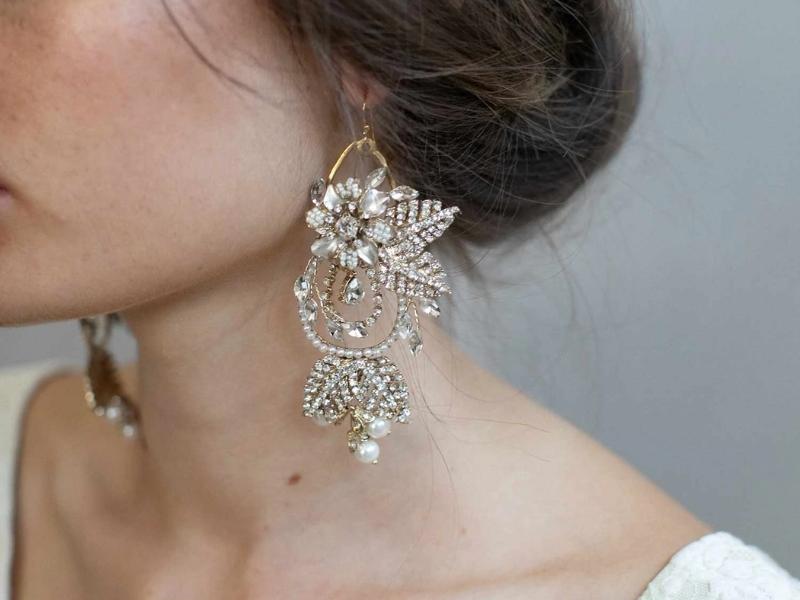 Try these gold chandelier earrings if your spouse loves to accessorize their attire with spectacular jewelry. What's our own favorite aspect about it? Intricate lace patterns are embellished with crystals. On your 13th wedding anniversary, take your spouse out for a romantic date night to celebrate the special occasion and try on all their new jewelry.
19. Pearl Lace Choker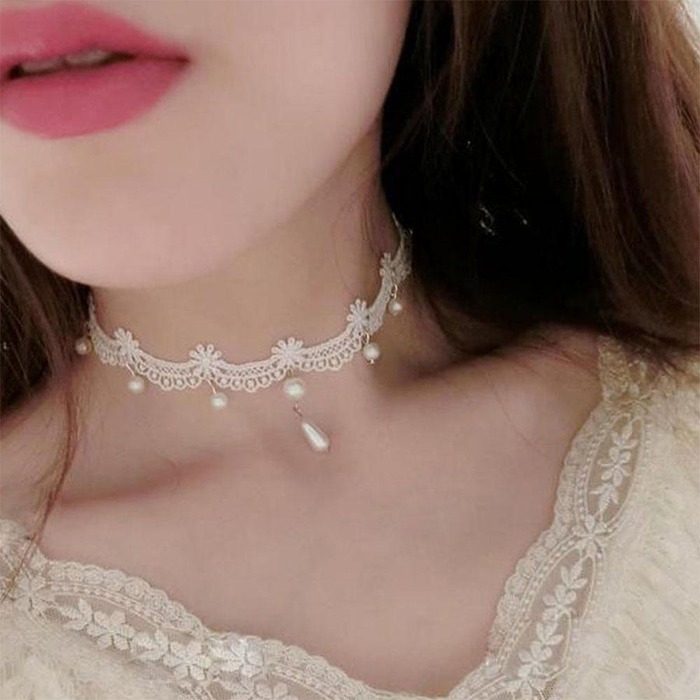 There is no doubt that chokers are returning. The iconic lace choker from the '90s gets an exquisite makeover with this pearl version. When combined with the wedding dress, she will be the most stunningly gorgeous lady in the entire world.
20. Elegant Lace Fabric Dress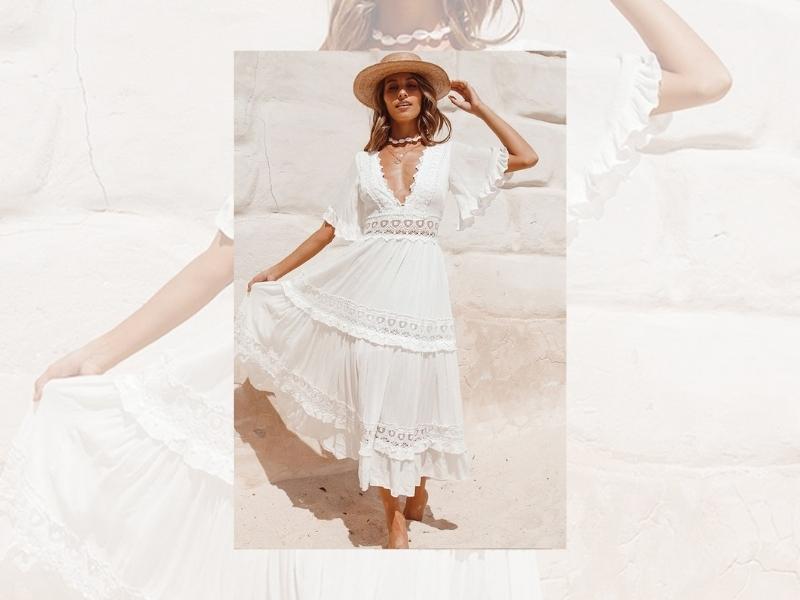 A lace dress is a summertime staple that is unquestionably seductive and feminine at the same time. An athletic, holiday-inspired appearance calls for a shorter cut, while an old-fashioned, vintage-inspired style will have her feeling like a glamorous actress from the golden era of Hollywood. The 13th anniversary dinner you've been arranging calls for an elegant gown, and this gold chantilly lace number has just the thing.
21. Short Lace Nightgown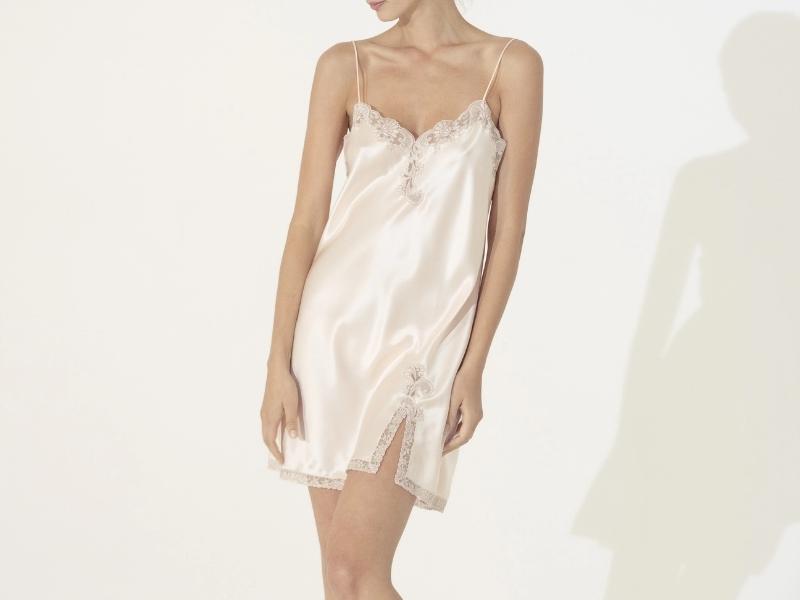 Ensure that all sleepwear lace anniversary gifts for her are fashionable and stylish. Try on our luxurious lace and silk collar and behold the height of sophistication and opulence. Give your woman the royal treatment and she'll feel like a shining princess.
22. Lace Clutch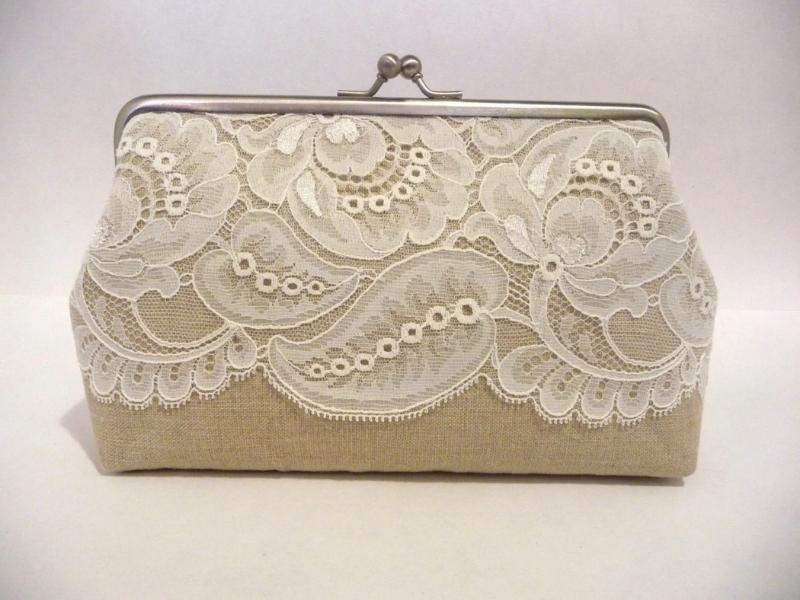 If you and your wife plan on dressing up a lot in the future, this beautiful handbag is a must-have accessory. You may wear this lace-patterned tote bag to a formal occasion, such as a wedding or a black-tie gala, or even to an anniversary celebration.
23. Lace Print Scarf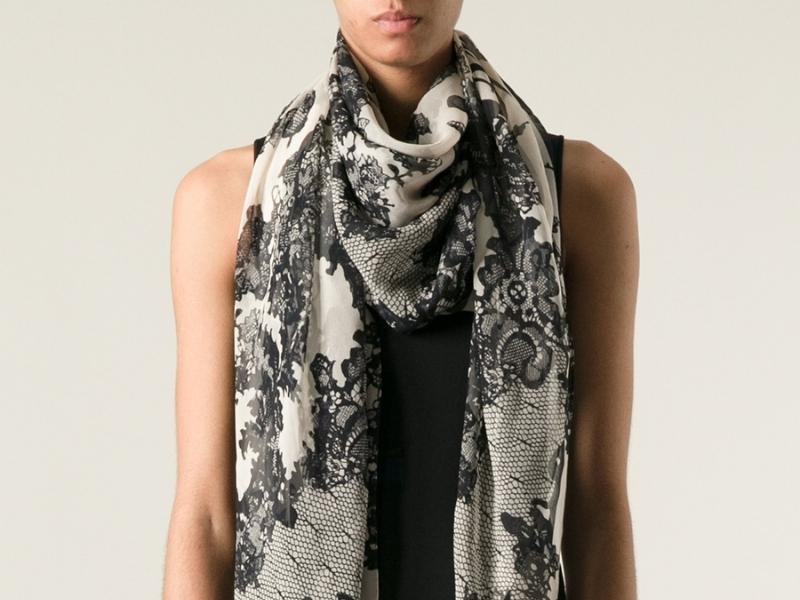 Whether your spouse is a fan of lace, this scarf is an excellent way to show her that you respect her thoughts. The lace design has a modern design that makes it great 13th anniversary gift for her who desires a connection to the past.
24. Vintage Lace Patterned iPhone Case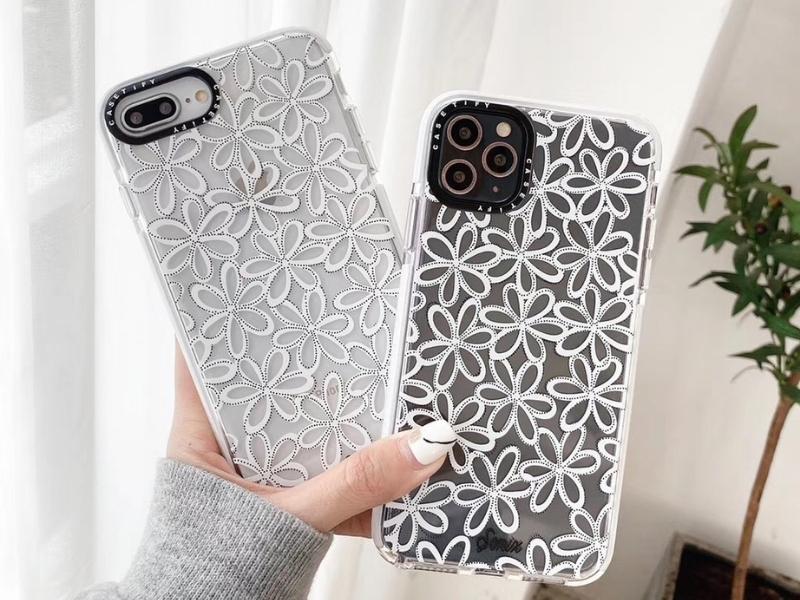 If your spouse spends a lot of time on the phone, you might want to get them a gift that they can use every day for your 13th wedding anniversary. This cute case for your iPhone successfully marries retro design with cutting-edge features. The classic and exquisite lace design on the cover is complemented by the sturdy material that will keep your phone safe from harm.
25. Any Song Lyric On Canvas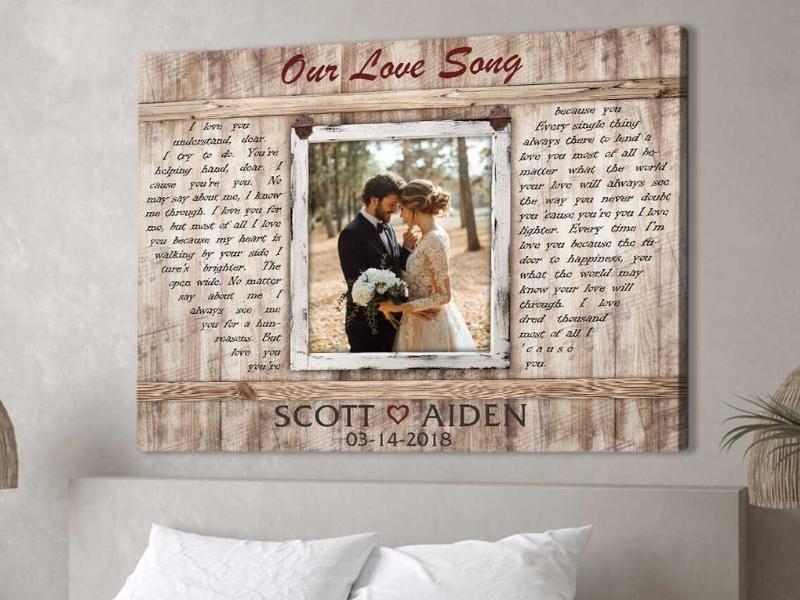 When you think about your lover, do you have favorite music playing in the background of your mind? Whether it's the music from your wedding ceremony or your first dance, you may add it to your personalized picture gift and create a wonderful anniversary gift for your spouse.
It's a breeze to personalize this Anniversary Song Lyrics Canvas Print in the shape of a heart. You only need to send in the words of your favorite song, together with your names and the wedding date, and you'll get a beautiful heart-shaped song lyrics canvas print. A lovely canvas on which you may picture your bride in a white wedding dress and the music that connects the two. This keepsake will serve as a constant reminder of your kind 13 year anniversary gift.
26. Lace Heart Necklace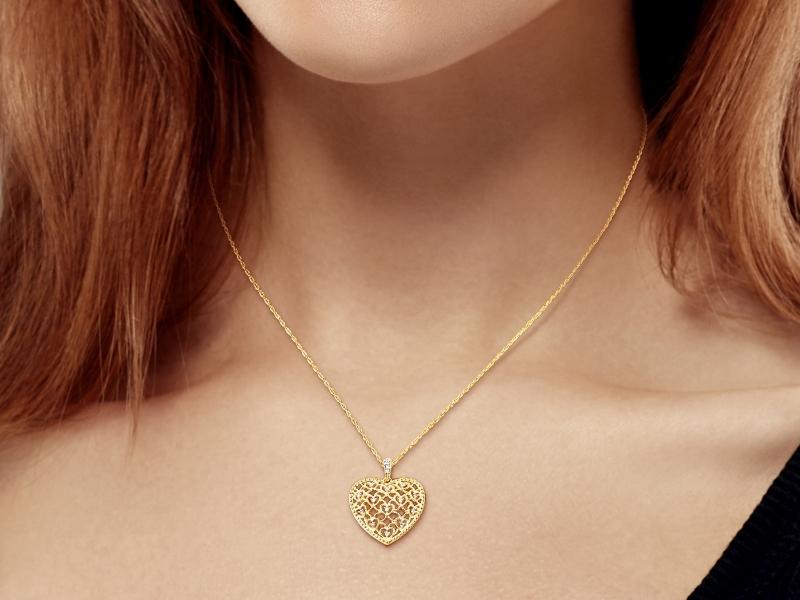 Lace and love are both beautifully portrayed in this gold necklace, which is especially appropriate for the couple's 13th wedding anniversary. This necklace is made of old lace and will be a keepsake for her. She may not be able to wear her wedding dress every day, but she will always be able to remember that special day.
27. Lace Fabric Lingerie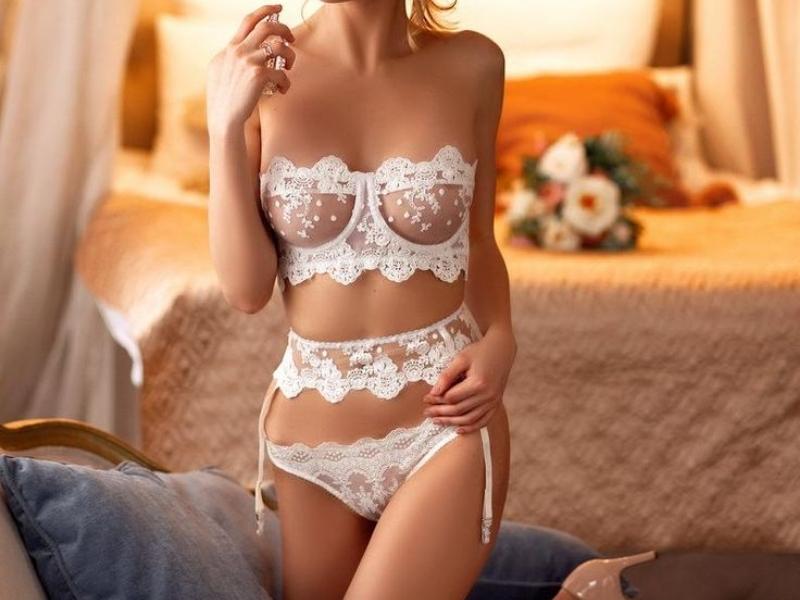 This bodysuit is made from high-quality fabrics, making it both comfortable and long-lasting. It is built to give you the most protection and comfort possible without restricting your range of motion. The stunning color and elaborate detailing make it a very remarkable and one-of-a-kind piece that you'll enjoy for years to come.
28. Silver Lace Textured Hoops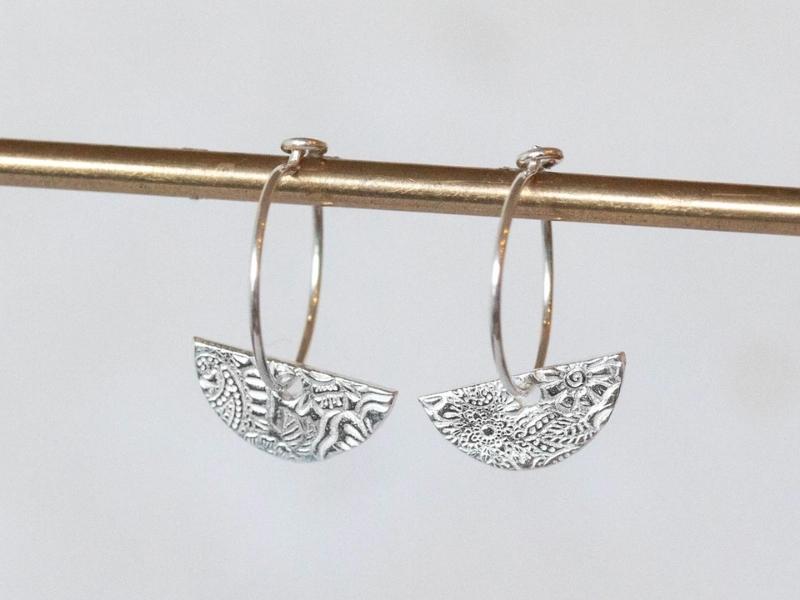 If you're looking for a unique and thoughtful lace anniversary gift for her, consider gifting her these beautiful carved hoops. Made from high-quality materials, these carved hoops are both sturdy and comfortable to wear. They're made to hold you in place and shield you from the elements without limiting your range of motion. The delicate lace work makes them an heirloom-quality gift that your significant other will cherish forever.
29. Luxury Candle with Lace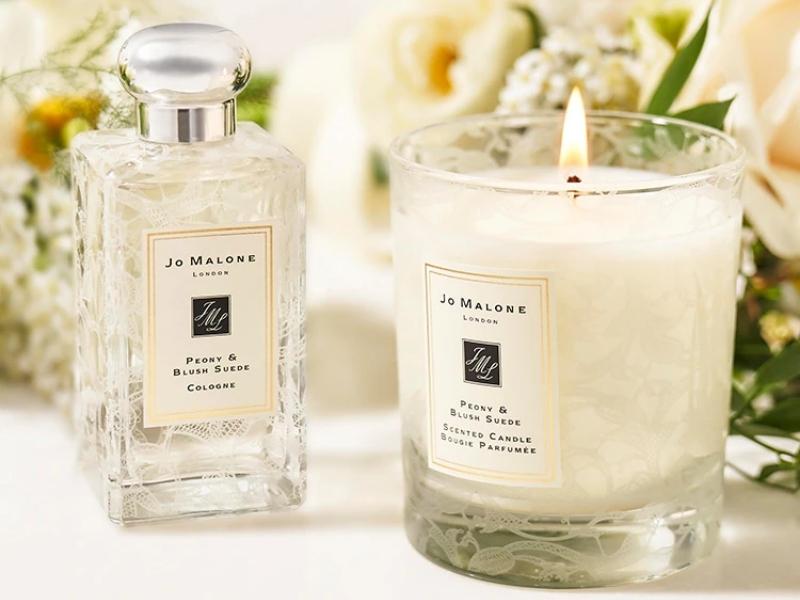 This exquisite lace-etched jar is a perfect 13th anniversary wedding gift that will delight your partner with its beautiful design and delightful fragrance. The lace embellishment on the jar gives it a refined look that is perfect for a formal setting. The peony garden aroma contained within the jar is light and pleasant, making it ideal for day-to-day use.
30. Personalized Lace Scrabble Frame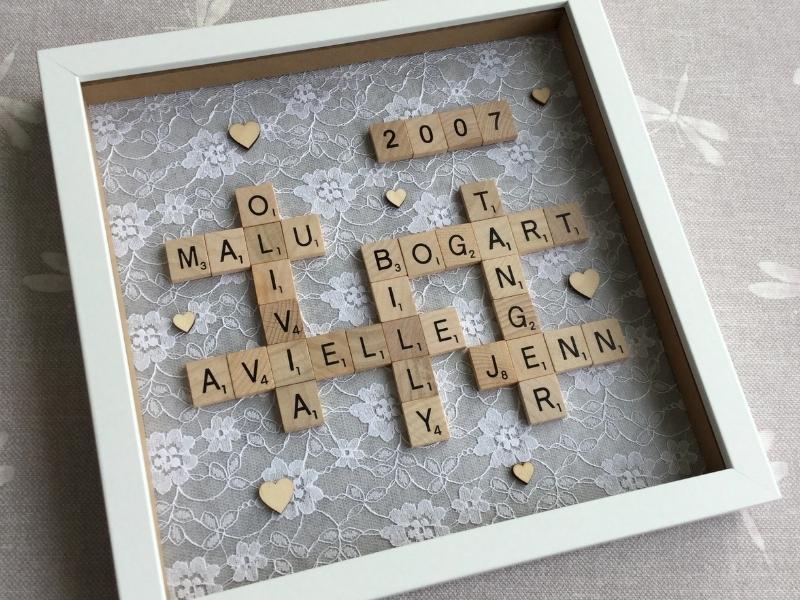 As a token of gratitude, this 13th anniversary gift for her is guaranteed to make your wife's face light up. She could even use this as a chance to show off her verbal talents! The famous tiles, all tastefully supported with exquisite lace, allow you to spell out your own phrase.
31. Lace Detailed Ladies Watch
As a 13 year anniversary gift, I believe this beautiful watch is an excellent way to discreetly include the emblem. Lace decoration on the face of the watch and a silver-plated bracelet is meant to make telling the time an enjoyable experience.
32. Shimmery Aluminum Votive Holder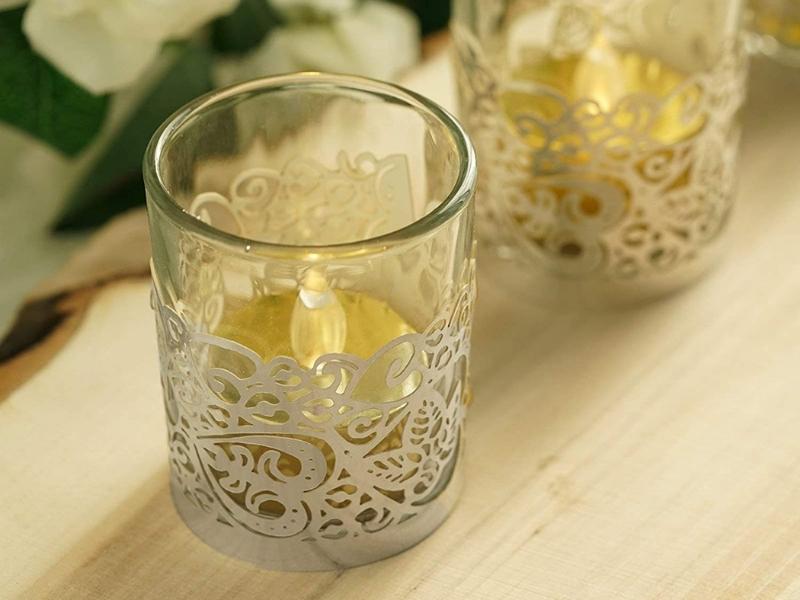 The sparkling silver votive holder is a beautiful accent piece. The holder is the perfect focal point for any table or mantel, adding a bit of sparkle and elegance to the room. The intricate lace design on the holder is a magnificent representation of the skilled labor that went into its creation.
33. Faux Fur Coat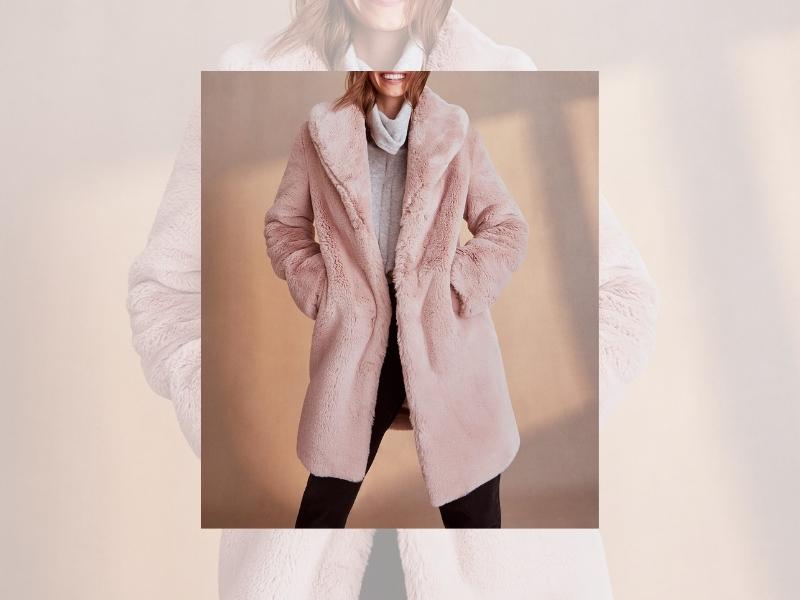 Animal rights activists are divided on the subject of fur. It's wonderful to know that you don't have to feel bad about buying your wife a furry 13 year anniversary gift if you use artificial fur. Fashion designers from over the globe have begun using fake fur in their designs, and the results can be stunning.
34. Faux Fur Collar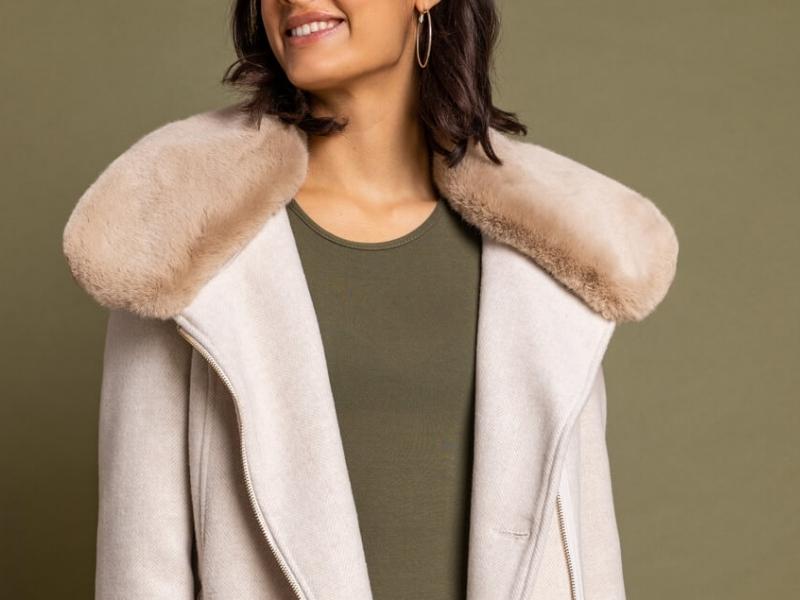 Ribboned faux fur collar elevates anything from a slouchy sweater to an everyday coat to a clean white shirt with its warmth and versatility. It's also perfect for adding a touch of glitz "above the waist" to cold-weather attire.
35. Distressed Faux Fur and Vegan Leather Tote
Get your significant other a tote bag that stands out. A lime green faded faux fur cover is paired with a super soft leatherette reverse in this eye-catching tote bag. There is ample capacity inside for your iPad and other necessities, and the inside is lined entirely in black lustrous satin.
>>> Read more: Top 44+ Charming 15th Anniversary Gift for Husband, Wife & Couple
13th Anniversary Gifts for Couples
A 13th anniversary is a great time to commemorate a particular activity you and your spouse can enjoy together. We've got great suggestions for 13 year anniversary gifts, read on to find out the great gift idea.
36. Once Upon A Time Canvas Wall Art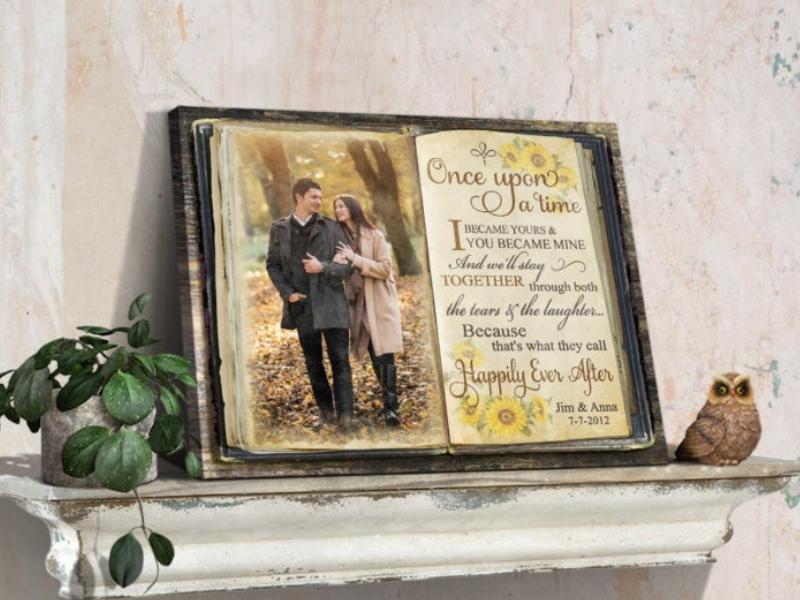 I met your mother in this way, kids. The storyteller begins by saying, "Once upon a time…". Write your own love story and its joyful conclusion on a lovely canvas poster for the family room. A prince and a princess aren't necessary since you've already written a fairy tale.
Remember special times in your relationship with this 13 year anniversary gift that you've created for your wedding. For example, it may be the first time you met; a proposal from a loved one; or the day when two individuals became one. And, maybe most importantly, the day your child was born. Every family event will be remembered by every member of the family for the rest of their life!
37. Lace Platinum Sugar Box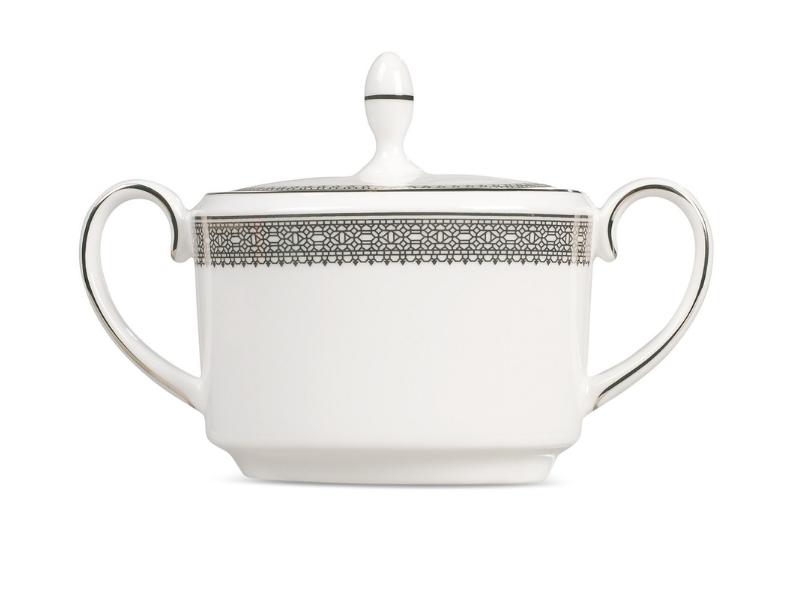 Consider giving this exquisite lace-etched sugar box as a special and memorable 13th anniversary present. The delicate lace design on the box will look lovely in a formal dining room or kitchen. It will become a treasured heritage while serving its intended purpose of keeping sugar, tea, or other small items.
38. Lace-up Sneakers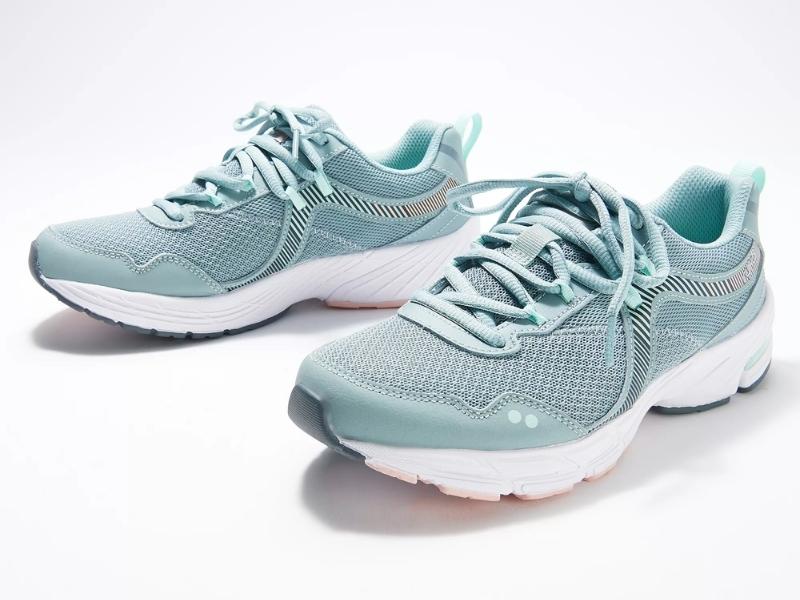 Let your imagination go wild with the lacy motif. These lace-up sneakers are a must-have for your partner's shoe collection. Choose from one of four fashionable color options to match your own style. It can be a quick last minute anniversary gift for the couple if you don't have time.
39. Chrysanthemum Tea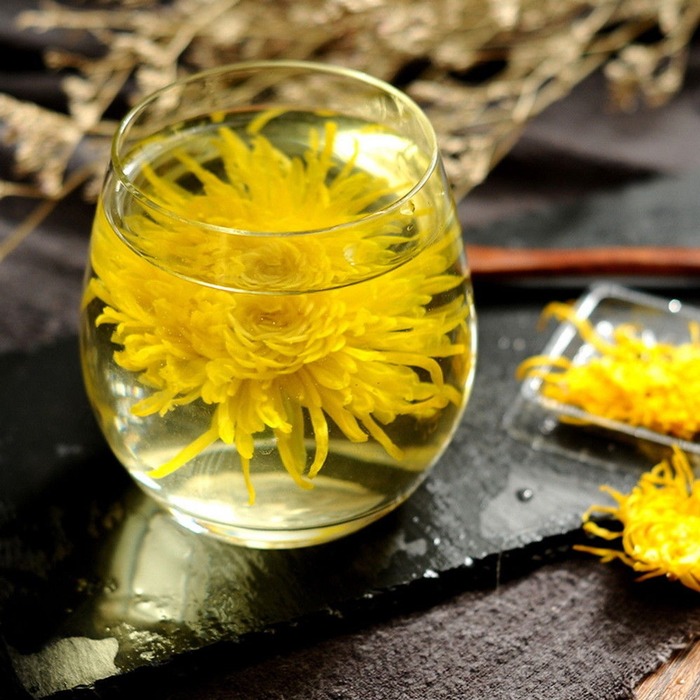 The chrysanthemum is the flower for the 13th anniversary. This tasty (and happy!) blend of organic tea is a great way to celebrate. Each dried chrysanthemum flower can be used to make up to three cups of tea. Each cup will taste sweet and herbal, with a hint of honey.
A relaxing evening spent at home with a cup of this tea, which has a naturally sweet flavor, is just the thing you need and a great gift idea for couples.
40. Personalized Location Map Mug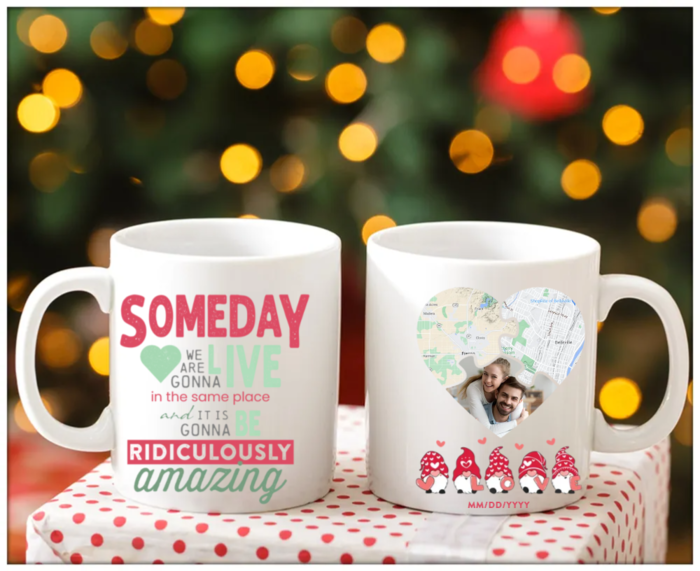 These traditional mugs are the perfect gift to commemorate a special anniversary with your loved ones. Either one would be a meaningful gift for your husband or wife, and you may select it yourself! It can withstand the temperature extremes of both hot and cold liquids. Buy this mug so you may think of your sweetheart every time you sip your morning coffee or tea.
Quick Last Minute 13th Anniversary Gifts for Wife & Husband
41. Silk Lace-Trim & Shorts Pyjama Set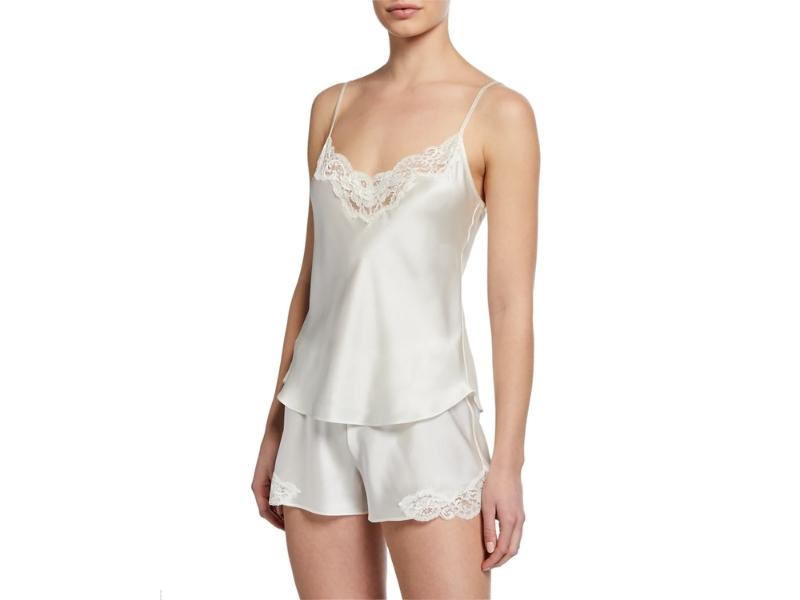 This short combo is made even more opulent by the combination of scalloped eyelash lace and pure silk. A good night's sleep is almost assured for your companion thanks to silk, which is one of the coolest textiles to sleep in. It's well worth the money as the 13th wedding anniversary gift traditional and modern.
42. Lace Daisy Straw Flip Flops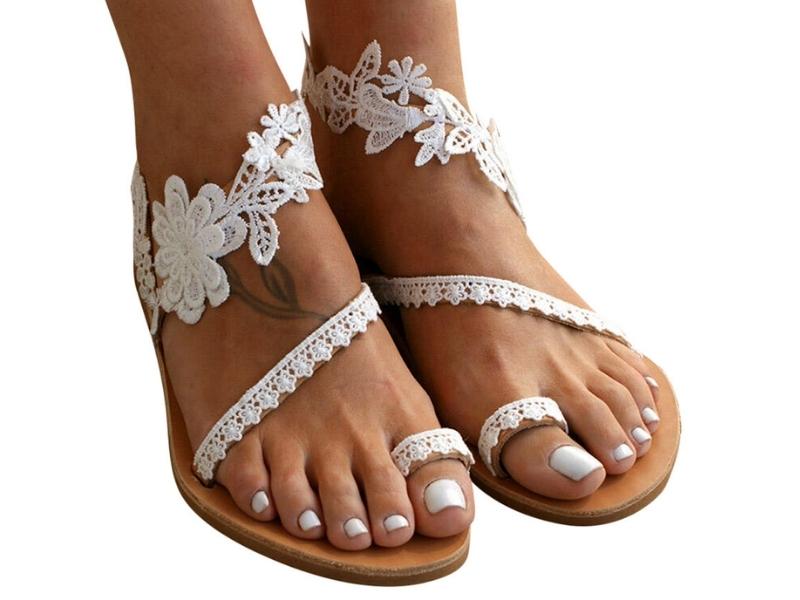 But they aren't your average flip-flops. Flip flops embellished with lace flowers and colorful rhinestones are a great way to add a little sparkle to your outfit. It's never been easier to look amazing in a casual outfit.
43. Handmade Lace Anniversary Flowers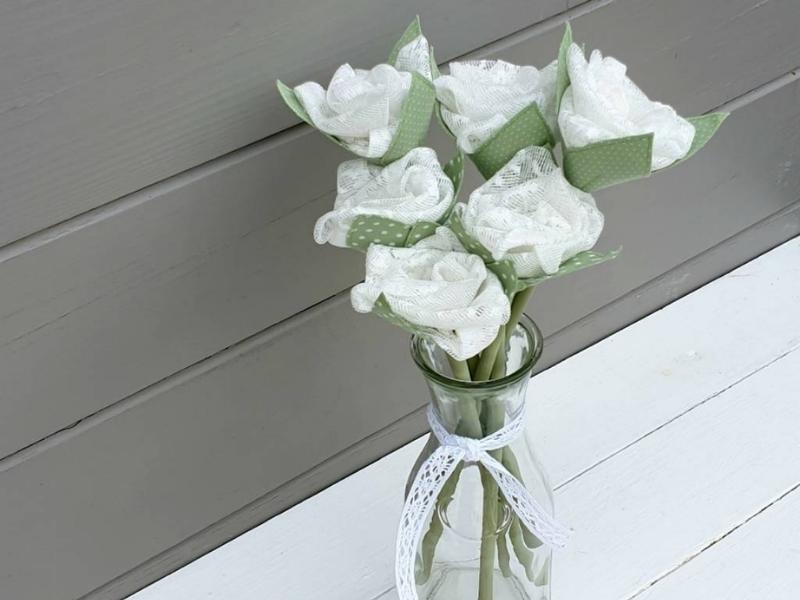 This handmade lace anniversary bouquet is the perfect way to show your loved one how much you care. You can add a personal message to the bouquet using the personalized tag that comes with it. Keep in mind that this does not absolve you of the responsibility of continuing to purchase fresh flowers for your lover on a regular basis. Giving her this meaningful gift to mark this milestone anniversary is our way of showing our appreciation.
44. Faux Fur Slippers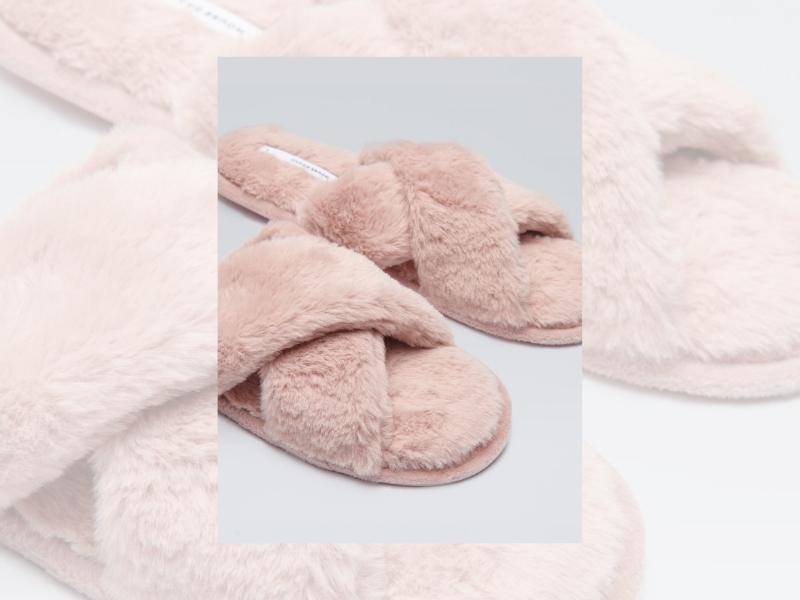 Give the gift of cozy feet for your thirteenth wedding anniversary and you can guarantee that your partner will thank you for years to come. These faux-fur slippers are warm and fuzzy without broaching into yeti territory. Warmth and comfort in one. Just like marriage really.
45. Faux Fur Cushion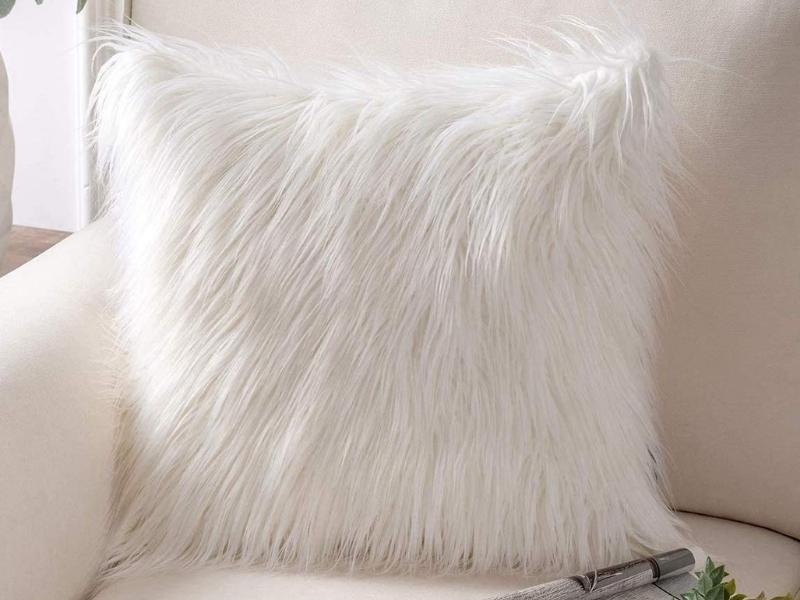 This silky faux fur cushion is a fantastic complement to any environment that requires a touch of beauty and class. The high-quality materials used to make the cushion make it both comfortable and long-lasting. It comes in your choice of four different multi-toned hues to complement your existing furnishings. The lovely faux fur fabric is warm and comfortable, so you won't have to worry about being cold anywhere you wear it.
46. Chic Fringe Wall Mirrors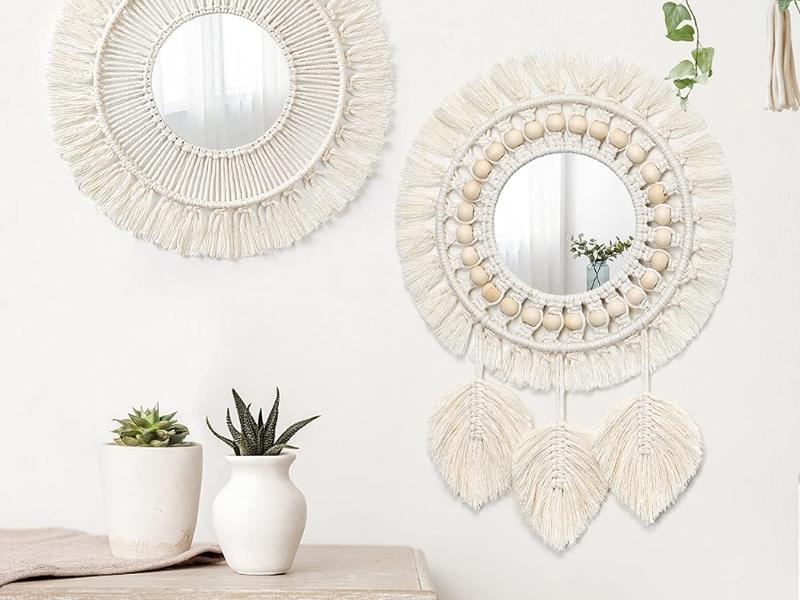 This stylish wall mirror features a unique fringed pattern that is sure to draw attention and make a statement. The mirror was created to be the focal point of any room and to reflect your inner glitz and elegance. The mirror's stunning fringed design is a monument to the fine craftsmanship that went into making such a stunning object. The mirrors are easy to install and remove, so you can experiment with different configurations until you find the one that best suits your taste and decor.
47. Faux-fur Puff Beanie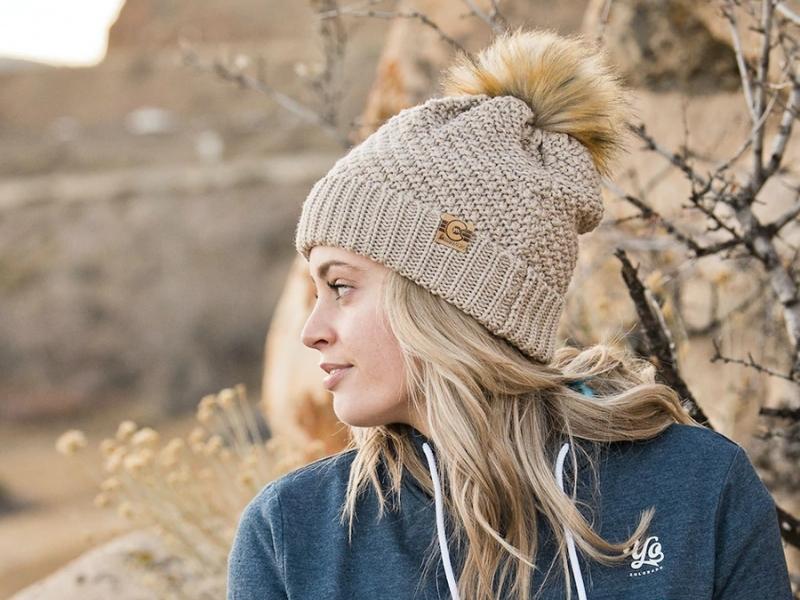 They'll need a cozy beanie to keep their heads warm when the weather begins to chill down. To keep you toasty, this gift for 13th wedding anniversary is constructed of a wool-blend material. In addition, a fluffy faux-fur cap completes the look!
48. Woven Blanket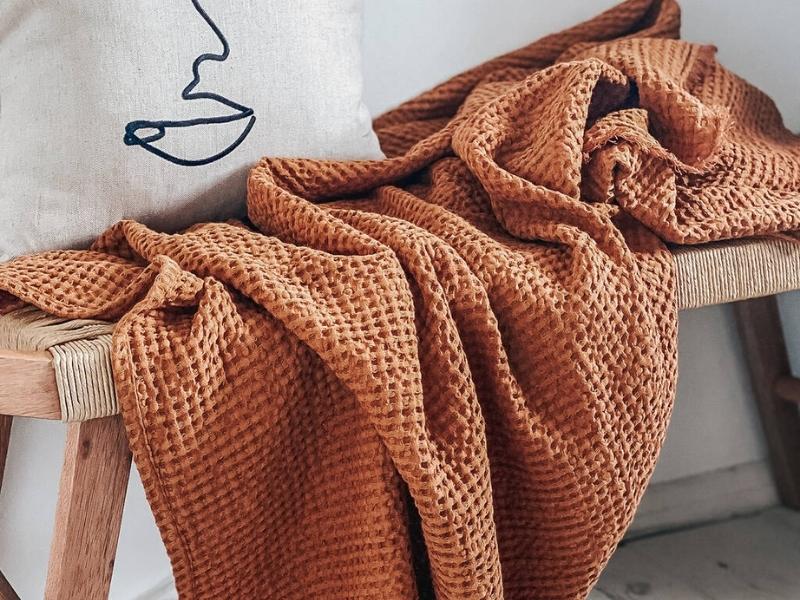 What about a weighted blanket? They'll get a nice night's sleep with this thick woven blanket. In addition, there are seven tranquil hues to pick from.
49. Woven Coasters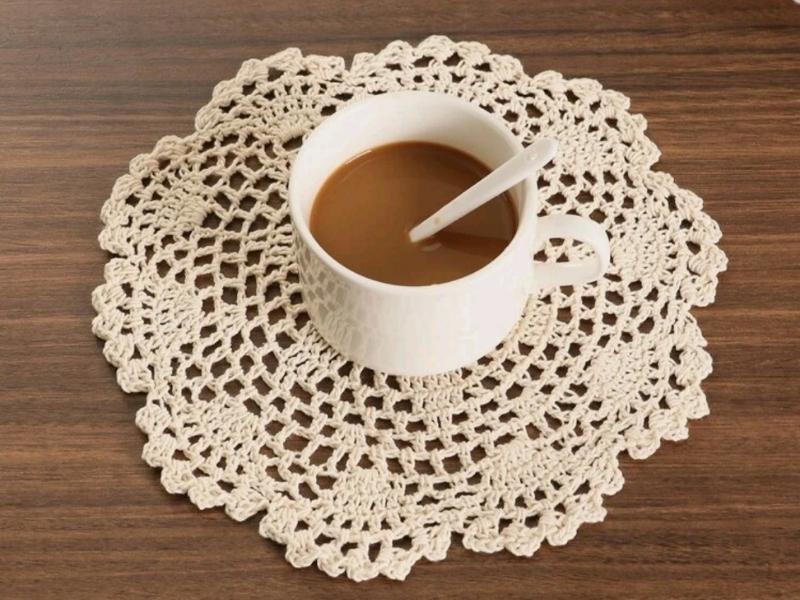 Give these woven coasters as a perfect gift to jazz up their coffee table with a touch of modern-rustic style. The handcrafted 13th anniversary gifts are available in a variety of colors, making them ideal for stylishly safeguarding furniture.
50. Namaste-themed Yoga Mat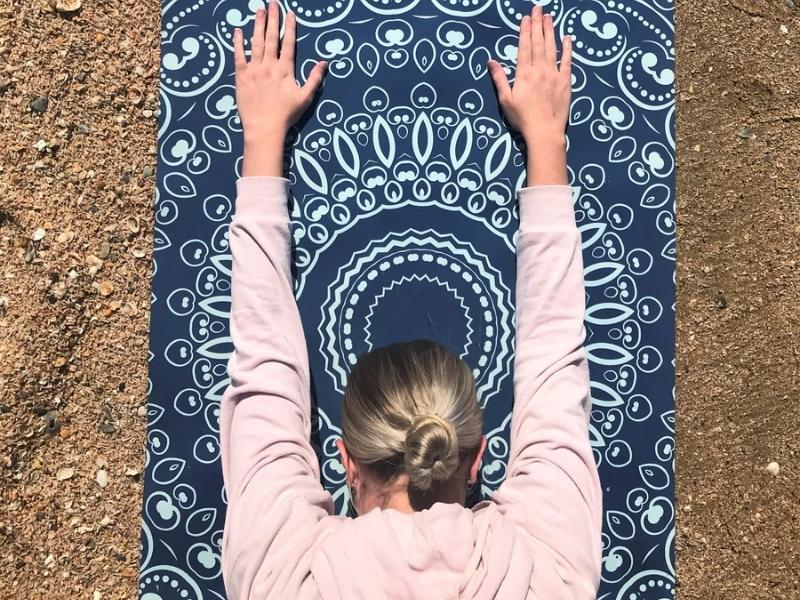 A namaste-themed romantic gift is an excellent way to show your spouse how much you appreciate their passion for yoga. This handmade rug is an upgrade over a standard yoga mat since it is softer and more pleasant to practice on.
51. Knitting Kit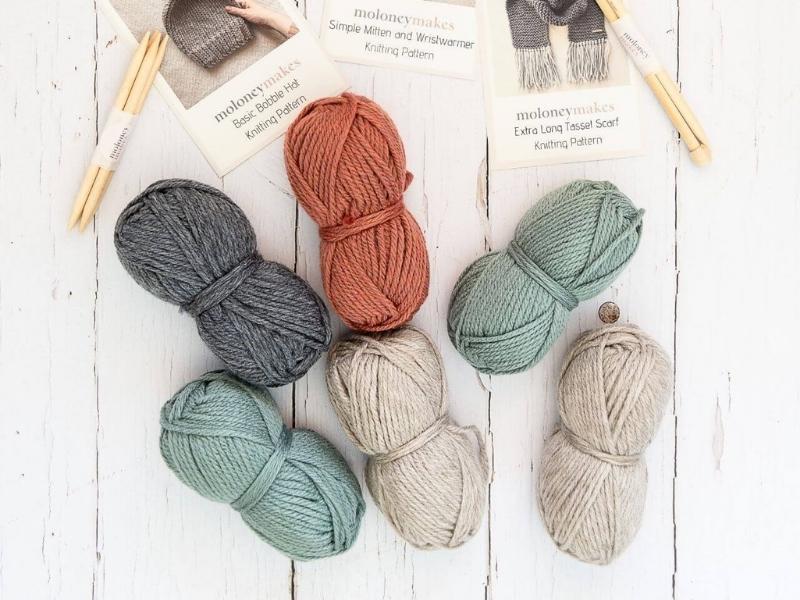 With everything they need to get started knitting, this kit is a great 13th anniversary gift modern for the crafty person in your life! Because it's geared at novices, anybody can have a good time with it, no matter what level of knitting skill they have. Moreover, there is an e-book with full knitting instructions and projects included!
52. A Perfect Marriage Wall Art Decor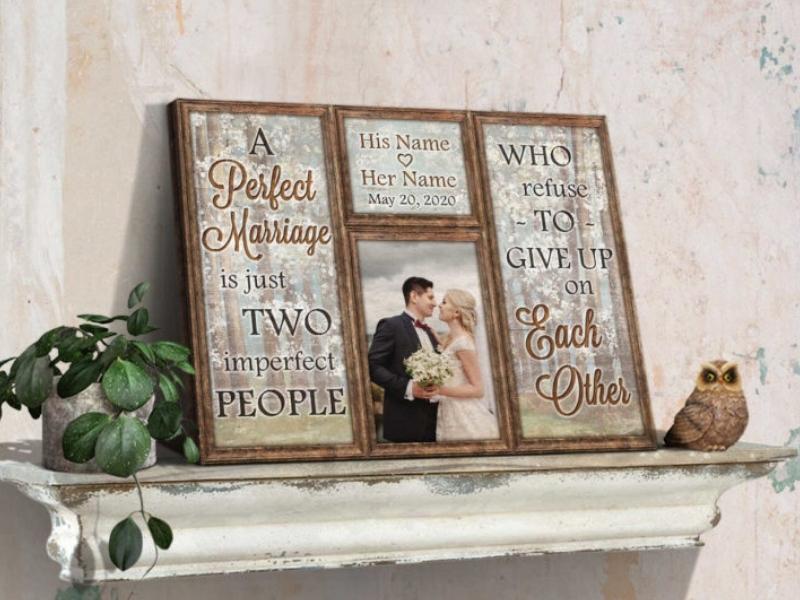 Everyone has flaws, but you two are stronger for having each other. There is no such thing as a perfect relationship, but you and your partner may be able to achieve it over time. When you do it together, it's worth it and beneficial, but it's a life lesson to learn how to build a relationship. The trip you've already taken together should be celebrated with this lovely wedding artwork.
Read more:
For your wife or husband's next wedding anniversary, do you know what to present them? Make your sweetheart feel extra special with this Wedding image painting. Many people give wall murals as wedding anniversary presents despite the fact that they're simply ornamental. With a single click on the buy button, we'll transform this marriage wall art into a unique 13 year anniversary gift for you.
If you can find a 13th anniversary gift that has sentimental value to you as a couple, it will be all the more special. Regardless matter the path you choose, expressing your love for your spouse is the most important thing. You and your husband have been inseparable for a long time. For the next 13 years, Oh Canvas hopes you will have the happiest life together ever!