Retirement is a significant juncture in one's life. It is the time that someone has after a period of hard and dedicated labor. The question then becomes, "What are the best personalized retirement gifts?" These may be the greatest, most considerate, or most original gifts. Also, they may be presented to your parents, spouse, friends, or coworkers. If you still have any ideas, that's OK. Oh Canvas has compiled a list of the most popular engraved retirement gifts for 2023. Choose which unique retirement gift ideas can make their retirement much better.
Personalized Retirement Gifts For Her
1. The California Wine Mixer Box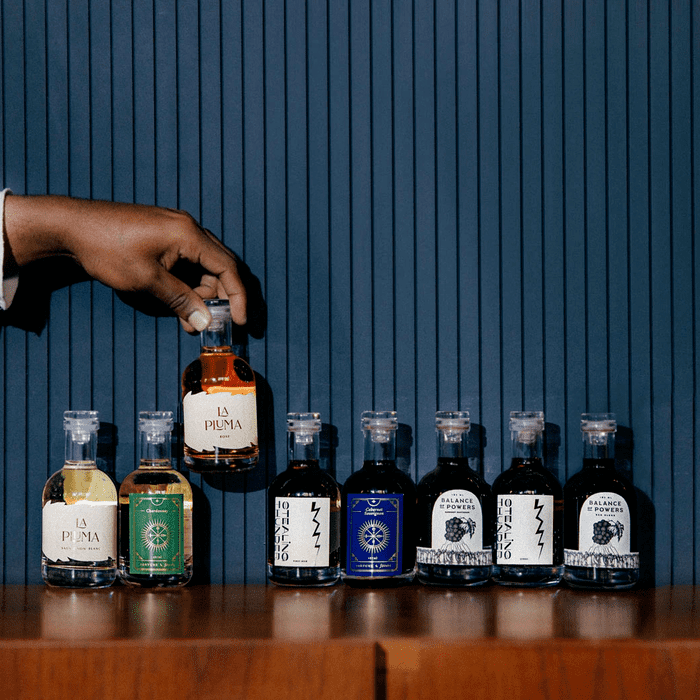 There is no greater feeling than lifting a glass in celebration of one's golden years. The California Wine Mixer enables them to raise 8 gallons of favorite wine. It will transport them on a trip to California's sun-drenched coastlines and beautiful vineyards, thanks to these thoughtful custom retirement gifts. The 8-bottle wine box flight is ideal for people who are new to wine and want to discover new varietals, as well as favorite wine enthusiasts who want to try some of California's best.
Oh Canvas Tips

Build a relationship with a store that specializes in California wine. A knowledgeable store clerk or wine section specialist who knows your taste and price range can help you find some great bottles.
2. Customized Travel Journal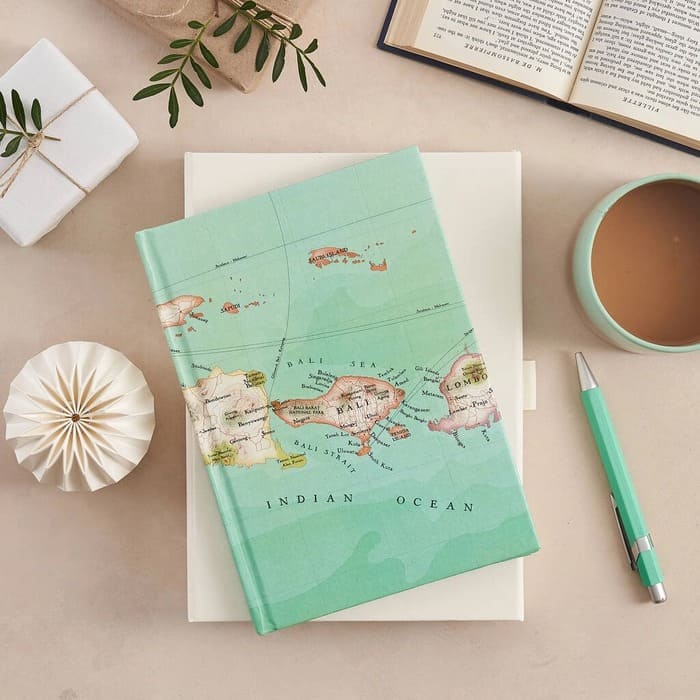 The Personalized Travel Journal is a handcrafted and fully customizable journal that contains nearly 200 pages for you to record your travels and experiences. The journals are spiral-bound with double wire and can be customized with a custom background color and cover art upon request, as well as a bespoke cover design.
3. Haus Deluxe Cocktail Kit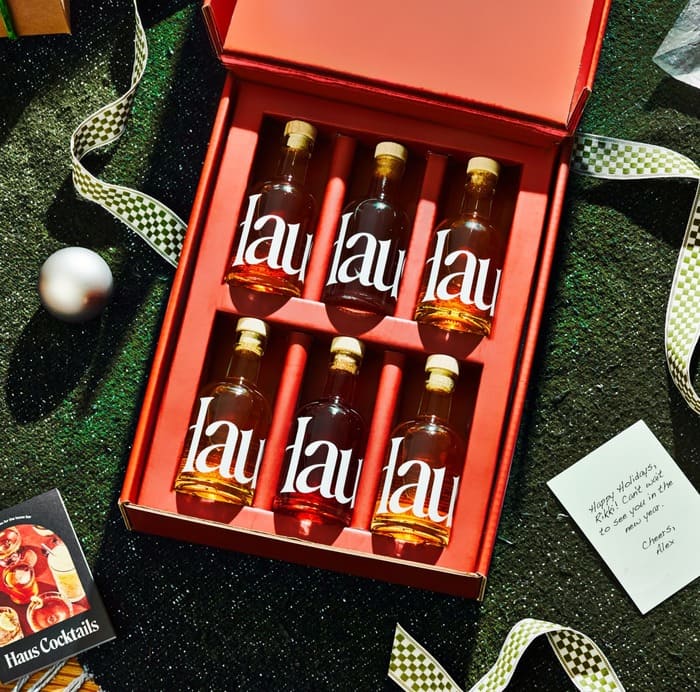 No matter if these personalized retirement gifts for her are utilized at home or in the workplace, this premium cocktail kit is a wonderful way to send off your boss in a grand fashion. Consider how much more enjoyable a retirement party might be once a few of these aperitif boxes are opened! The Deluxe Cocktail Kit comes with six natural apéritifs as well as a cocktail book that has over 20 simple and delectable recipes. Each 200ml container has enough liquid to make 2-3 cocktails.
Oh Canvas Tips

Sampler Kits are perfect for trying Haus aperitifs before buying full-sized bottles. Apéritif fans can join Haus! Members receive free shipping and special flavors, discounts, and events.
4. Luggage Tags Made of Genuine Leather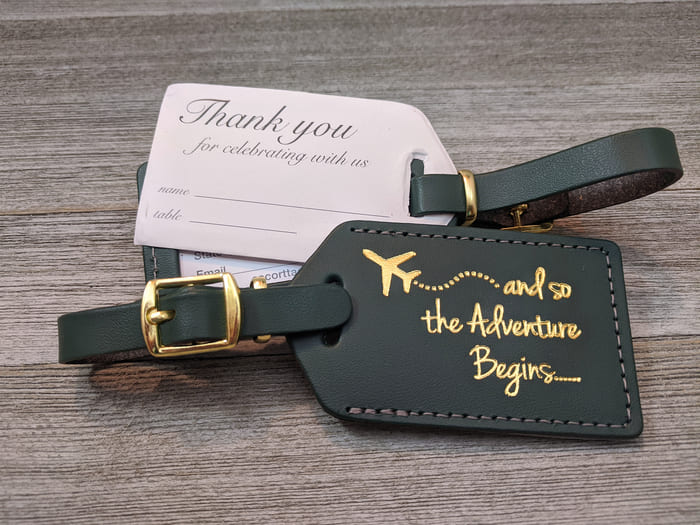 Retirement, after a lifetime of service to others, provides the ideal opportunity to travel and see other cultures. Whether you travel the world or simply want to broaden your perspective on your home nation, a baggage tag can be a meaningful gift for retiring person that is put to good use right away.
5. Take pleasure in your Retirement Bracelet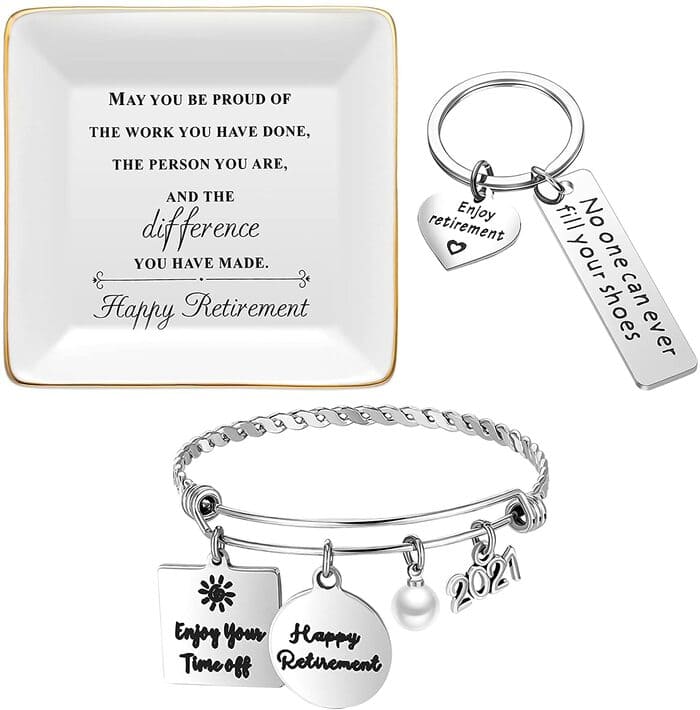 Finding the perfect retirement gift for her might be difficult. While you would like to be able to gift her something special to help her celebrate her retirement, you may not have a lot of money to spend. A meaningful bracelet is a beautiful and economical method to communicate your message without breaking the budget.
6. Letter Art Signature Sign with Retired Letters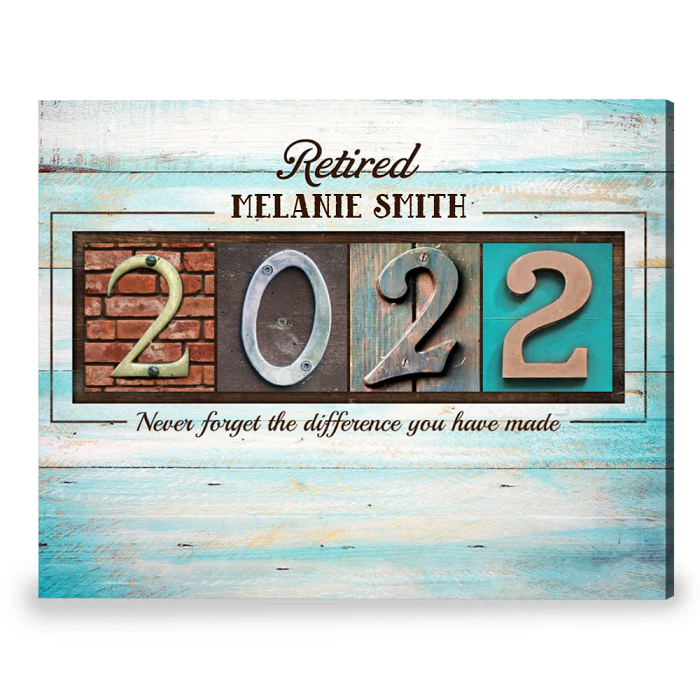 When it comes to some retirement signature ideas, this canvas print might be the perfect one. A personalized inscription, including her name and the year she has been devoted, is featured on this sign. It's a beautiful and unique piece of artwork that perfectly represents the retiree's life and work. It's the ideal way to demonstrate respect for the retiree and gratitude for their years of work – especially when personalized with a heartfelt inscription.
7. Tote Bag with a Personalization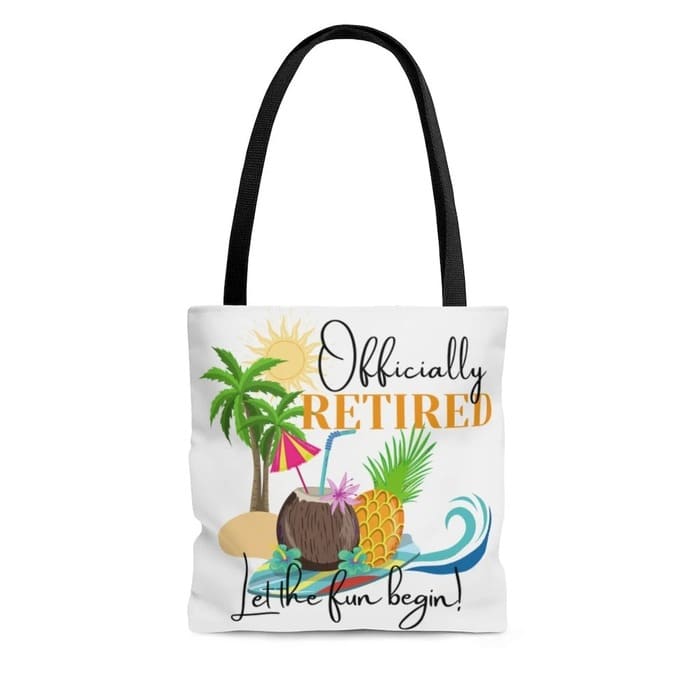 When going about their everyday activities, the majority of women are seen with some sort of bag in their hands. A customized bag, even though not all women use handbags in the traditional sense, Maybe it will be a wonderful personalized retirement gift for your mom. Take some time to consider your alternatives and come up with a creative approach to put your own spin on this wonderful present idea.
8. Canvas print of a new day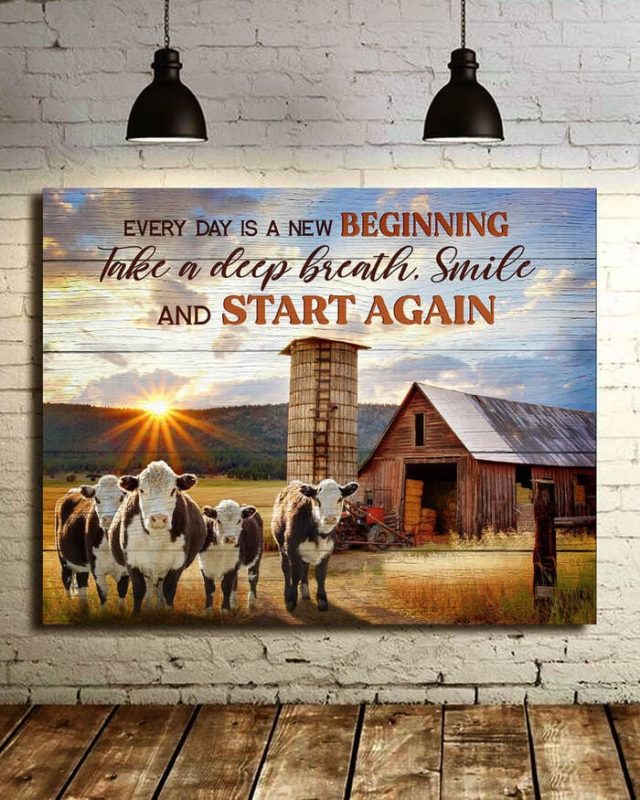 If you are seeking the best personalized retirement gifts for a retired mother, you have come to the right place. Anyone who is retiring will find this to be an excellent piece of encouraging wall décor. In addition, she will be reminded to take advantage of every opportunity to appreciate her newfound freedom through its imaginative word art.
9. Bag for toiletries
If you know someone who is retiring and enjoys time in the sun and sand, consider getting them a personalized beach bag. Choose out a beach tote that has a pattern that reminds the retiree of a favorite hobby or activity. You can personalize the tote by adding their name, initials, or a meaningful quote. With this meaningful gift, she will be able to spend more time with her grandchildren and appreciate the precious gifts of life.
10. Blanket for a Happy Retirement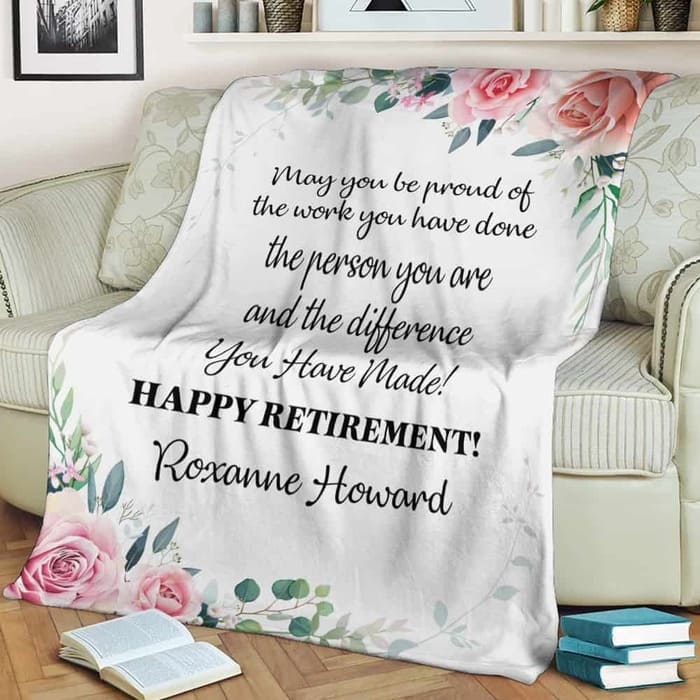 After a long day at the office, curling up with a blanket and watching movies is a lovely way to unwind. Going the extra mile for a retiree may be a worthwhile endeavor. After many years of hard work, this "Happy Retirement" customized retirement blanket is one of perfect unique retirement gift ideas for anyone who wants to assist a friend in relaxing and enjoying their time off.
11. Gorgeous Accessories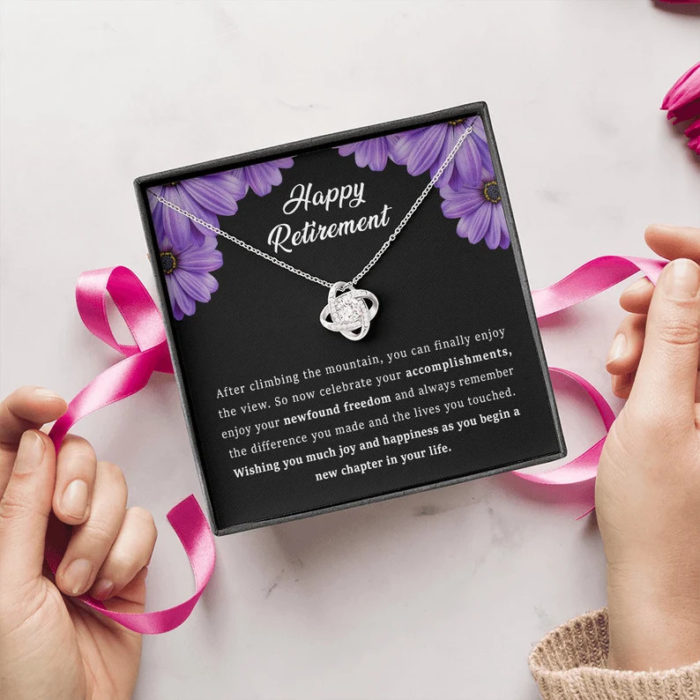 This meaningful gift, as simple as it may appear, will be remembered by your significant other for a long time. On her special day, give your retired woman a personalized necklace. Everyone on your gift list who appreciates the meaning will be touched by this delicate gesture.
12. "Enjoy the Next Chapter" Personalized Metal Bookmark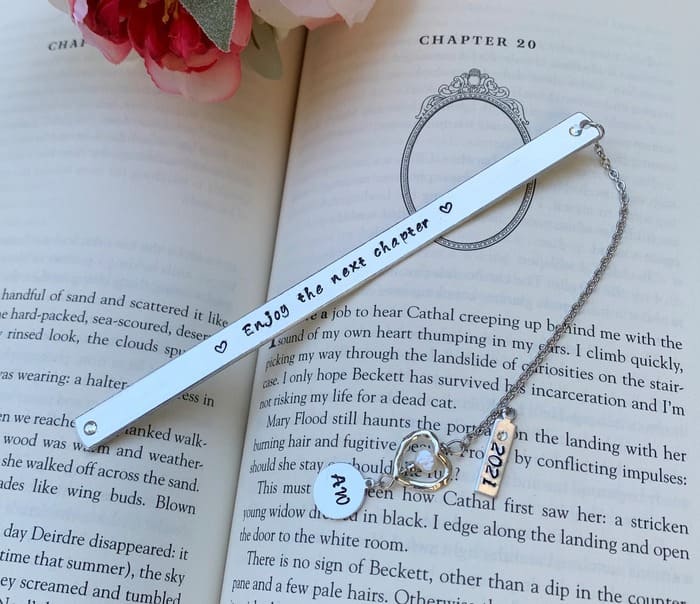 Bookmarks are the ideal present for any person in your life who enjoys reading. This personalized bookmark is a clever and reasonable retirement gift for teachers to express their appreciation for their presence in your life after they leave. Keep the living memory of them with a memorial bookmark.
13. "Rocking the Retired Life" Tote Bag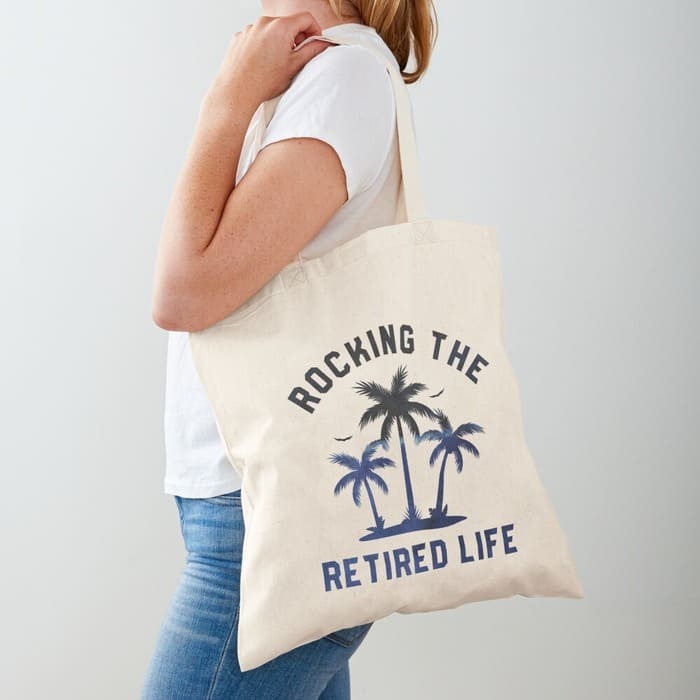 Give them a stylish, reusable tote to store their belongings in rather than a pile of cumbersome boxes that will only clutter up their desk. Cute tote bag that can be used for a variety of adventures, carrying all the necessities whether she enjoys walking, running, rock climbing, wild camping, wild swimming, paddle boarding, canoeing, surfing, or cycling.
14. "The Queen Has Retired" Stainless Steel Tumbler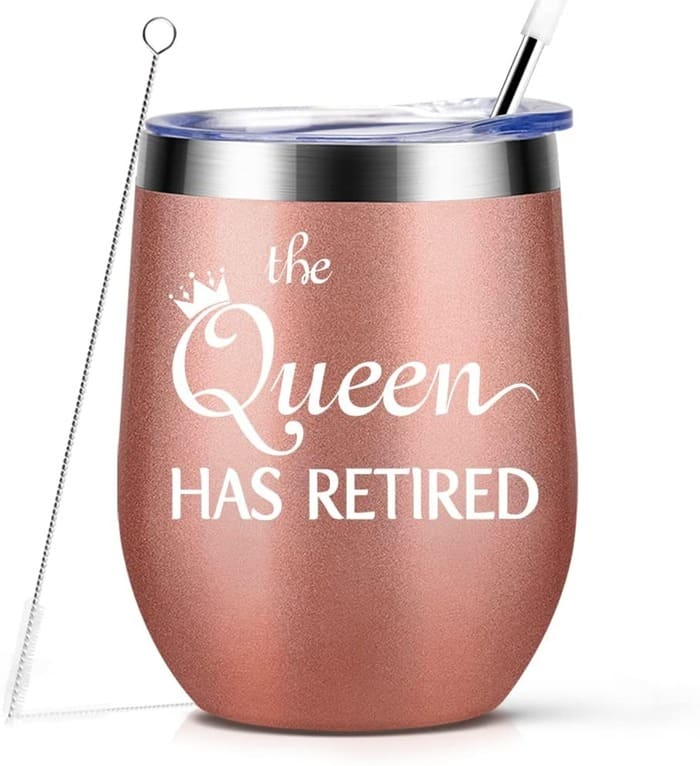 With the words "The Queen has retired" etched on the glass, this stainless-steel tumbler wine glass is the ideal summer-friendly present for the retiree who can't wait to enjoy their beverage poolside.
15. Cheryl's Cookies Cheers to You Party in a Box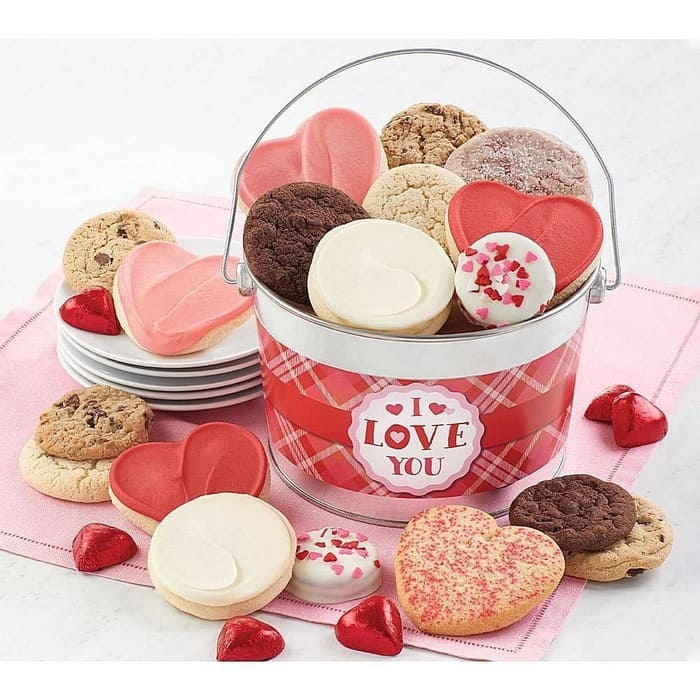 This retirement gift box is the ideal gift for retiring person who has retired and is still working from home. It is accompanied by confection pretzel clusters, cookies, butter toffee peanuts, and a fudgy cake that is sure to satisfy their craving for sweet treats.
Oh Canvas Tips

Participate in Chery's Cookie Month Club and receive 6–12 deliveries a year. 12 or 24 holiday-themed cookies are sent per order. Every month, shipments go out the first week.
16. Happy Retirement Soy Candle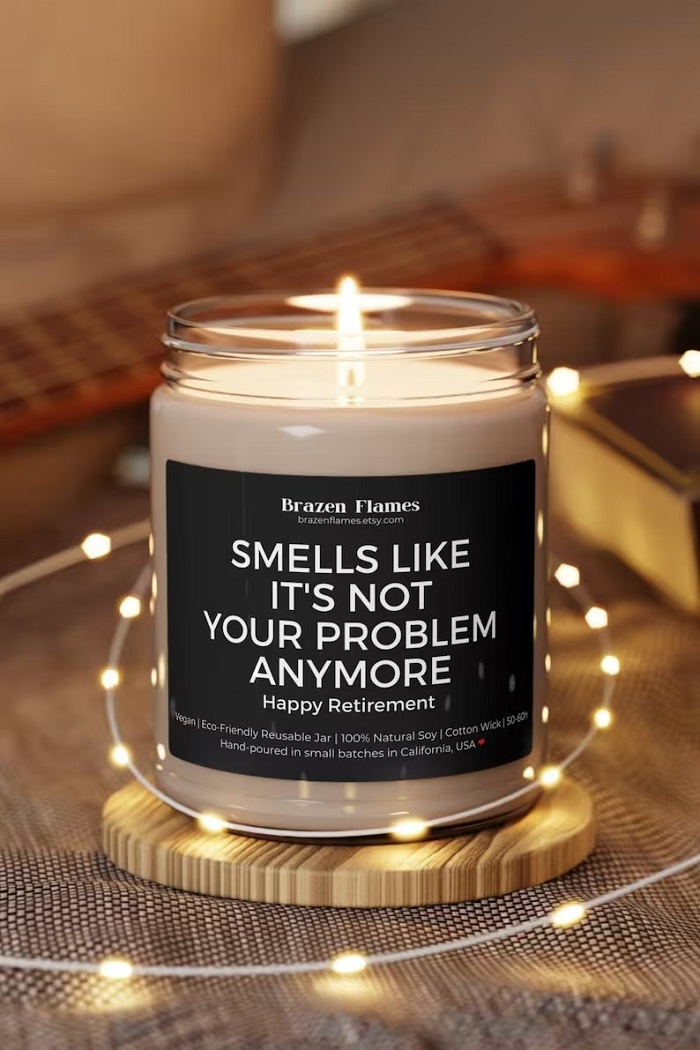 In honor of someone's fresh start, light this stunning candle. The candle, which features a simple yet elegant, a custom messages or the pre-printed text. What's especially lovely about this meaningful gift is that the receiver can reuse and retain the tin long after the flame has burned out.
17. "I'm getting out of here" Coffee Mug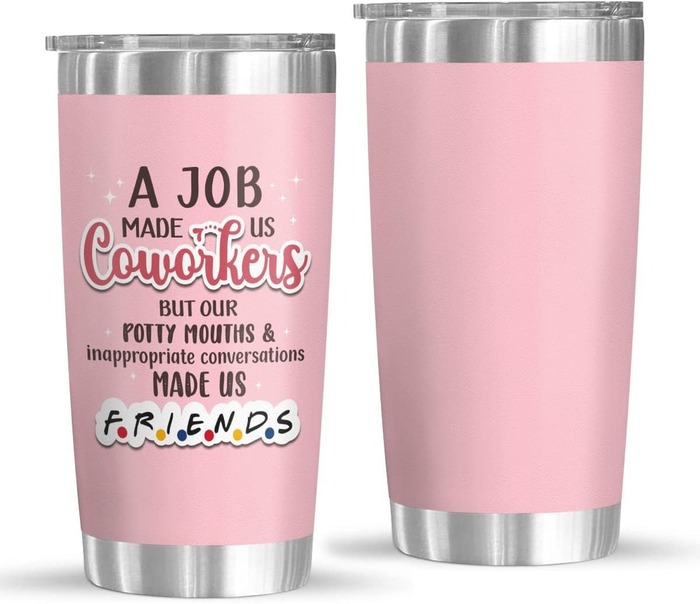 Give this personalized coffee tumbler to all of your female colleagues when you're looking for some things remembered retirement gift. Personalizing this present with her name and a loving farewell message will help to make it more intimate for the recipient.
>>> Recommend reading:
Unique Personalized Retirement Gifts For Him
18. Decanter Sets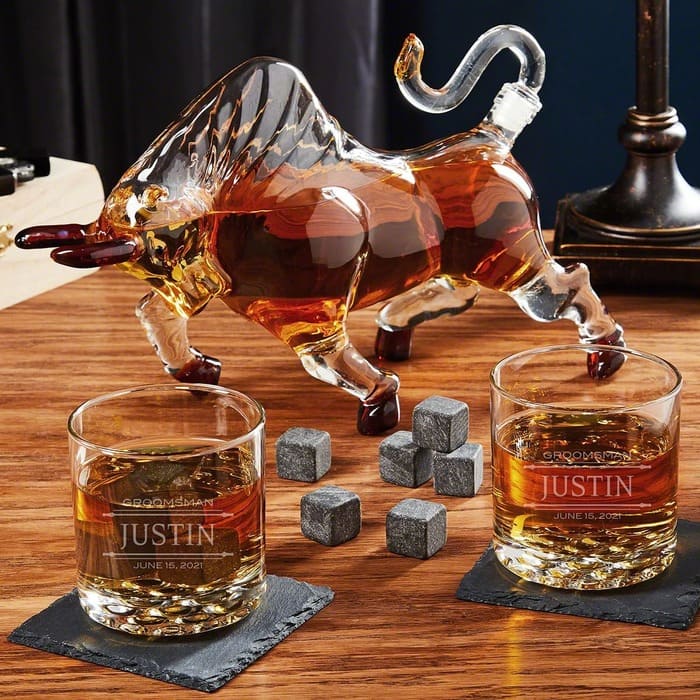 Every man wishes to be remembered for something extraordinary. Celebrate the man who deserves it with this unique decanter set! The engraved decanter is a terrific present for a retirement man boss since the phrase "Ultra Rare Edition" will make him feel special and loved beyond measure. With this set, he may enjoy that feeling every time he pours himself a glass, even after retirement!
19. Personalized Wine Decanter Gift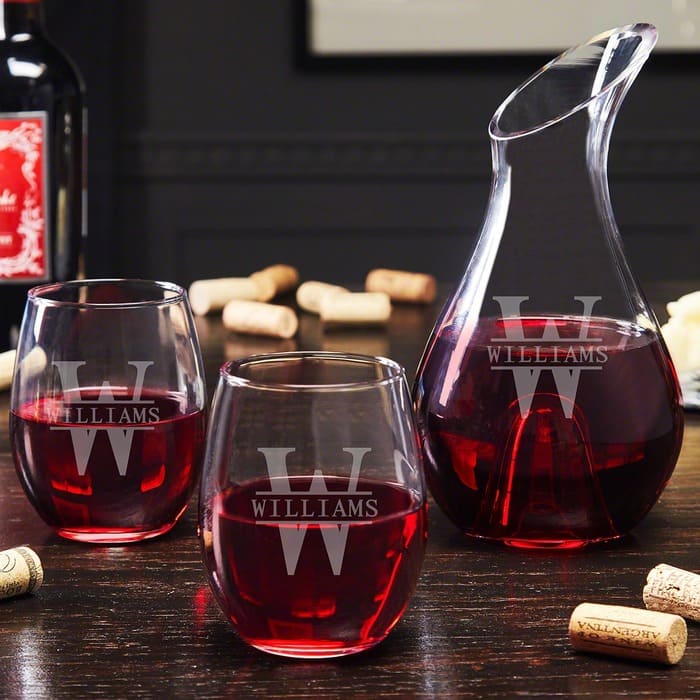 Now that he's retired, he can appreciate finer things like wine. Thanks to this personalized wine decanter, your retired man can enjoy his favorite red wines in unique ways. Even the cheapest of his favored red wines will be a new experience each time he pours from the decanter! This decanter is a must-have tool for any wine enthusiast and what better retirement present for men than something he can use as a tool?
You can have the retiree's name and initials engraved on the decanter. That your retired man is maturing like a great merlot is something to be appreciated and enjoyed. Decanters for wine or whiskey are lovely custom retirement gifts that he can use for many years.
20. A Box of Men's Retirement Gifts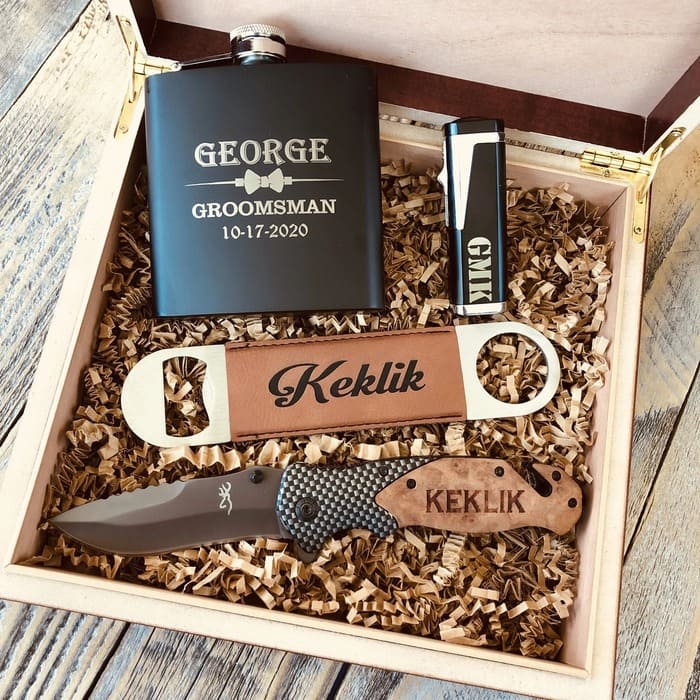 Every man looks forward to his retirement after working for 30 or 40 years. A bottle of his favorite wine is a fantastic gift for veterans, but you can make it extra special by putting it in a personalized gift box engraved with the date he retired. Fill it with pictures, cards, or other memorabilia to make it one of the most personalized engraved retirement gifts he'll ever get!
21. Cookware for BBQ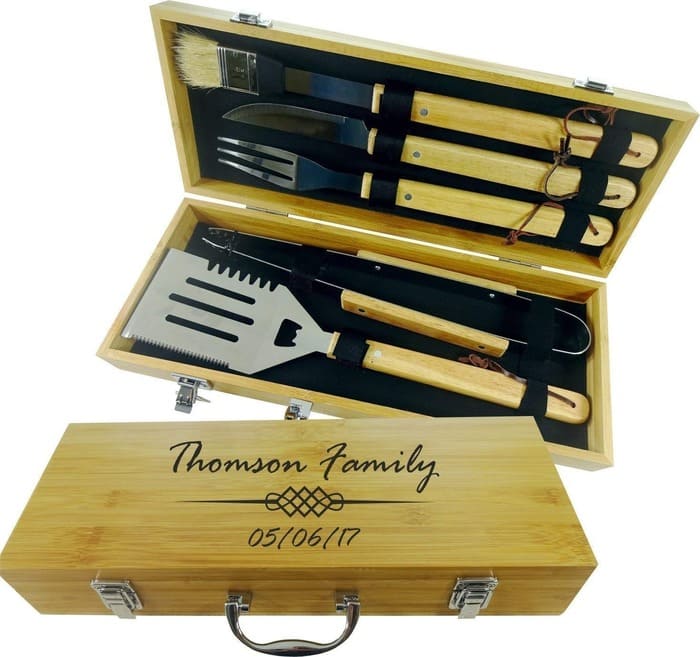 Everyone looks forward to grilling burgers, steaks, and brats in retirement. Give him the tools he needs to get started with this unique grilling set! Because these bamboo utensils are so light and easy to use, he'll want to cook great BBQ for every meal. Now with this best gift for a retired person, he'll be ready to cook up a storm or be the chef at the next picnic!
22. Decanter Set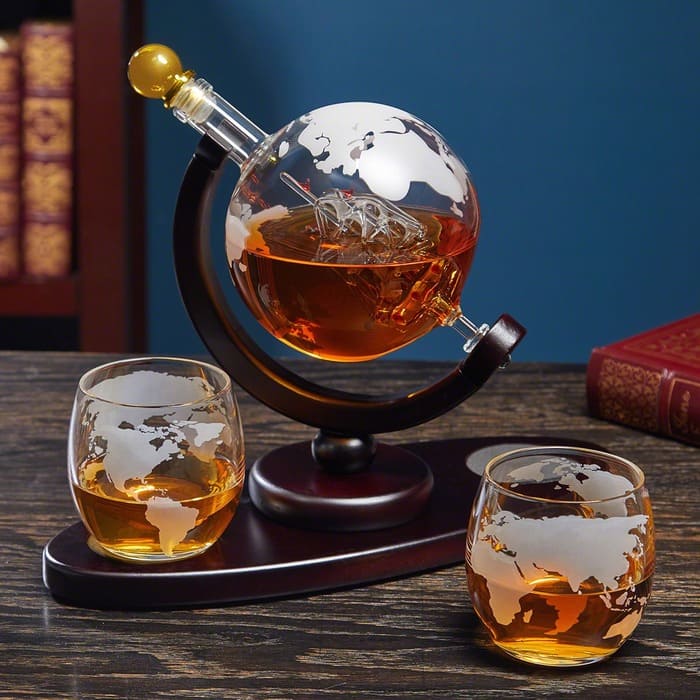 This globe decanter set is a unique retirement gift for an air force man that he will never forget in his life. The stunning decanter with a lovely glass-blown ship inside will astound him. Glassware that will look excellent in any home bar, lounge, or kitchen! This set is the best gift for a retired person in your life to have a drink with friends or his spouse.
23. Canvas print "Amazing Grace"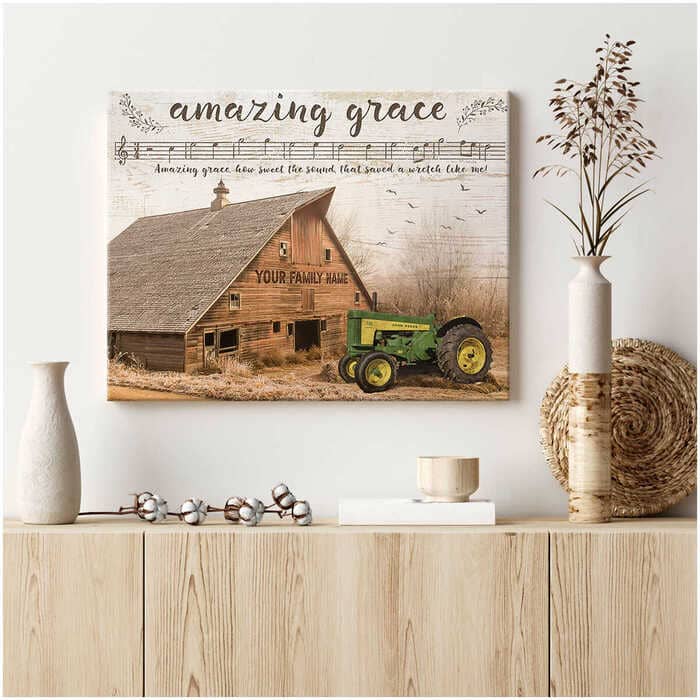 If your favorite colleague is ready to retire from school or the office, this wall painting would be excellent engraved retirement gifts for him. It is a beautiful piece of wall art that will allow them to be proud of all of the hard work that they have put in for their kids over the many years. Add her name and the date to make it a truly memorable gift for the employee who is leaving the company.
24. Own Billiard Sign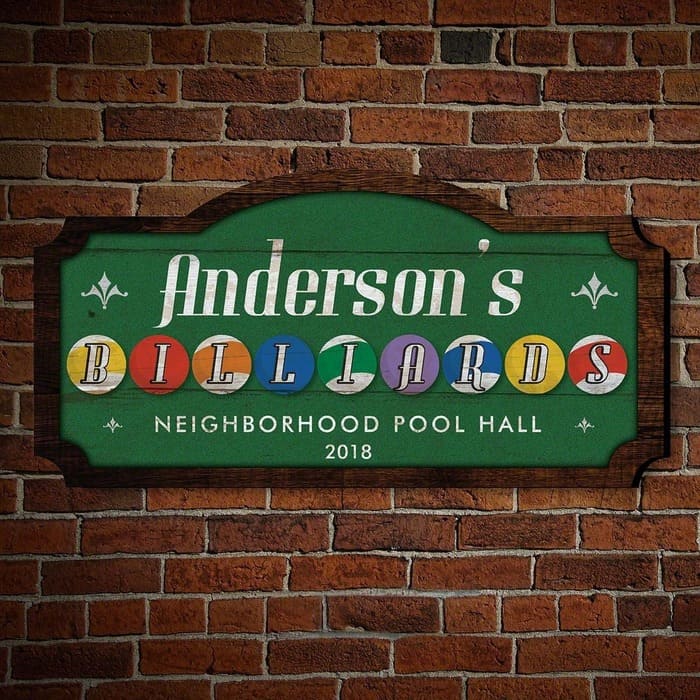 Choosing a retirement gift involves thinking about what they'll do now that they're retired. Billiard signs make great gifts! He may feel like he's always at the pool hall now. His pool table could become the local hangout for him and his billiard mates! After all, nothing shouts "Billiard Room!" like his name on a sign!
25. A Wine Cooler Than He Is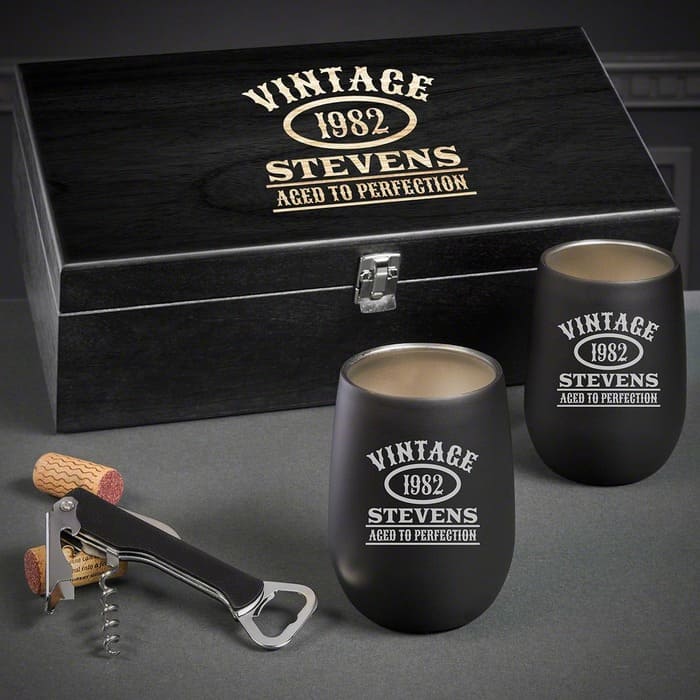 Looking for unique retirement gift ideas for dad is difficult? This personalized wine tumbler gift set is wonderful! The blackout tumbler gift set and being aged to perfection will delight retirees. His favorite wine or cocktails stay chilled for hours in stainless tumblers! Also, they're strong. So he may relax while enjoying them by his pool, on a picnic, or fishing. Great customized retirement present!
26. Classy Retirement Gifts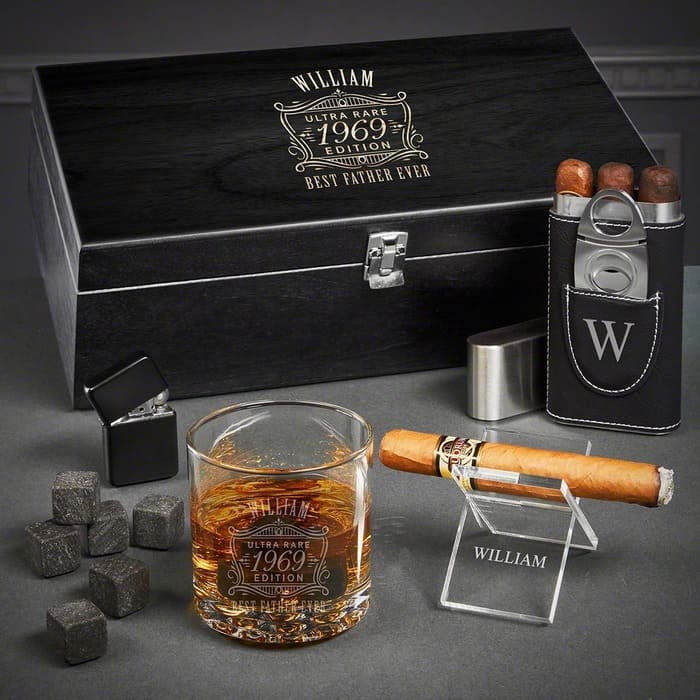 Yay! Working is finally done. Make sure he has everything he needs to celebrate his retirement with this great package of personalized retirement gifts for him! Everything from the monogrammed whiskey glass to the embossed leather-wrapped cigar case will make him happy that you went all out for him!
27. Canvas Sign for Retirement
Engraved retirement gifts are unique ways to commemorate a successful retirement celebration. Give this sign to the retired gentleman you know. Make a great first impression on them as they begin their retirement with this meaningful gift for a retiring person. This is also a retirement gift for nurses which is certain that they'll enjoy it!
28. His Stogie Lounge Sign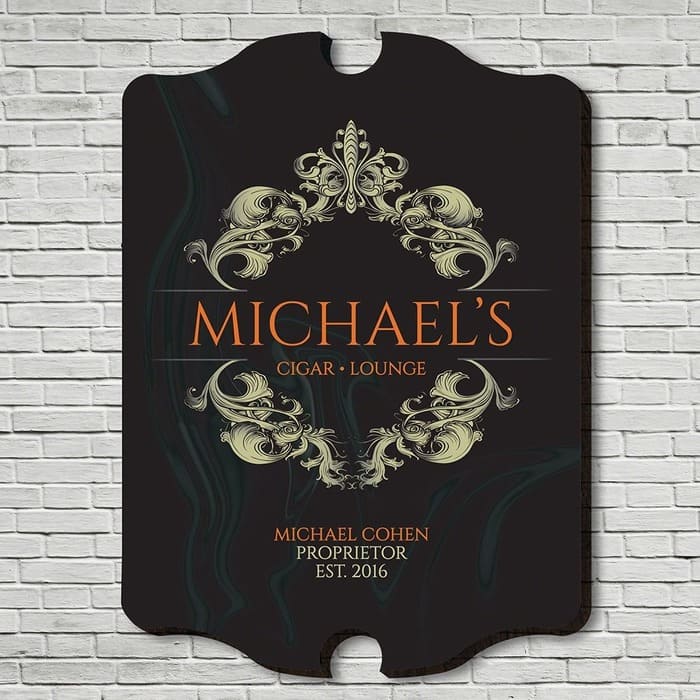 Personalized retirement gifts for him should reflect their interests. A cigar-lover is one who enjoys one at least once a week. Give him a lasting gift with this personalized cigar sign! It's the perfect approach to start or finish his stogie hangout area he's been working on for years. Plus, now that he's retired, he'll have more time to indulge in his favorite vice.
29. Retirement Clock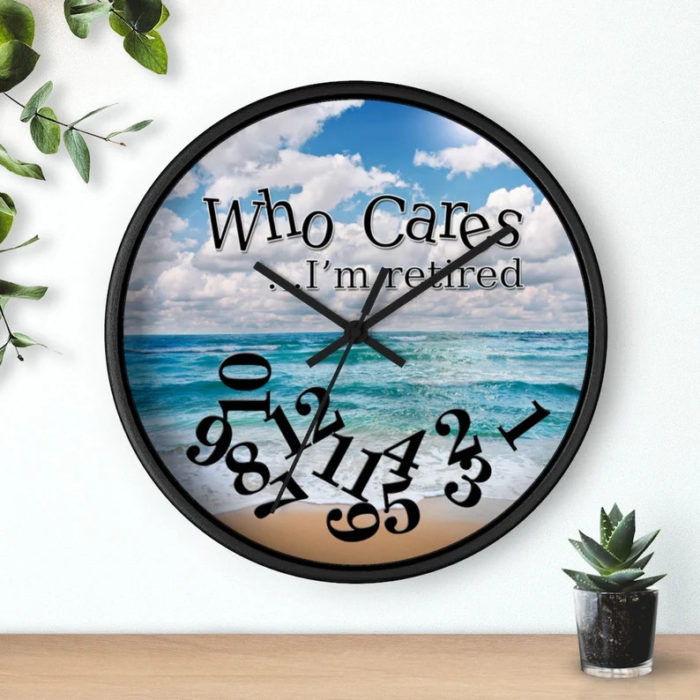 Hang this clock in their room to commemorate their retirement. It can be personalized with the name of the recipient and their branch of service. They can hang it in their living room and it will serve as a great conversation starter for anyone who comes to visit! These custom retirement gifts for your loved one can't go wrong.
>>> Recommend reading:
30. Laptop Telephone Charm Necklace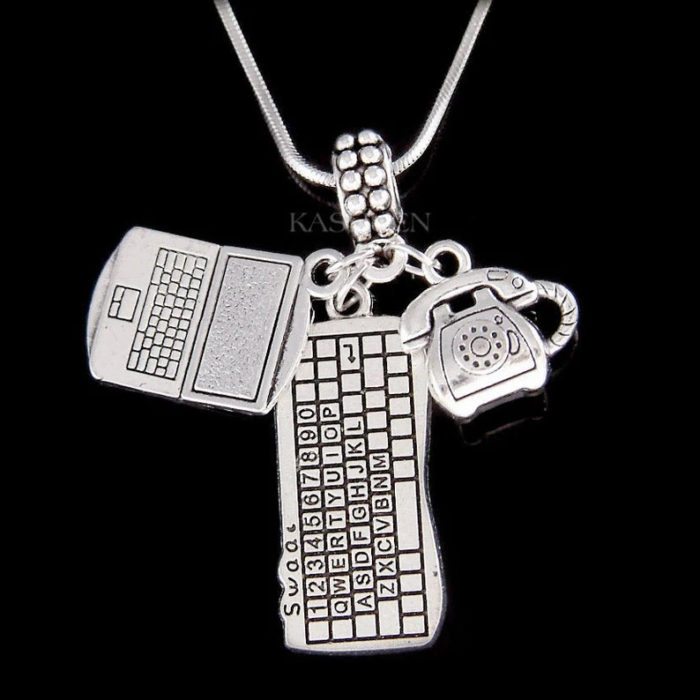 Give your colleague a one-of-a-kind office necklace. They will undoubtedly giggle when they receive this present. This funny retirement gift for your colleague reminds them of your affection at all times.
31. Box of Coffee as a Gift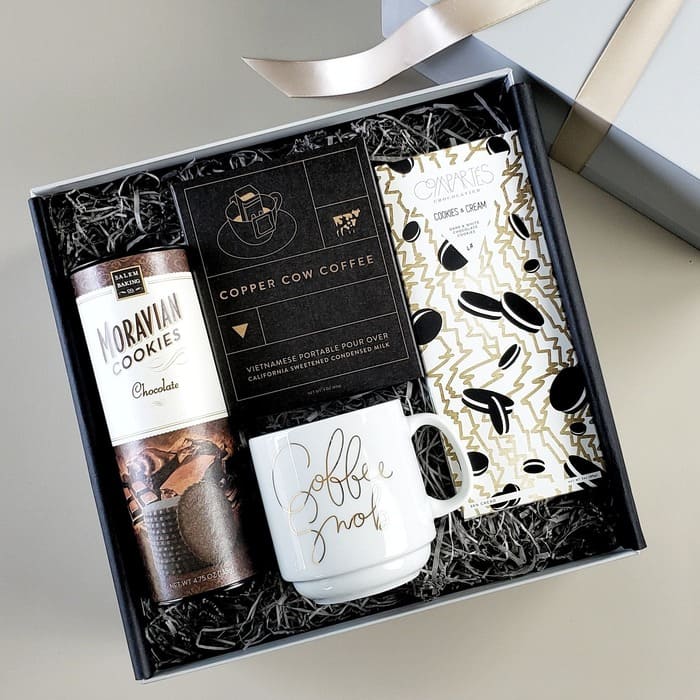 A engraved retirement gift of a Coffee Gift Box will be well appreciated by a colleague who enjoys coffee. Because sipping a great cup of coffee without the pressure of having to run to work is the ultimate sensation of freedom when you're retired. The best feeling a retiree can experience is one of contentment, and a Coffee Gift from BeanBox will help you to achieve this.
32. It's a Present for the Legend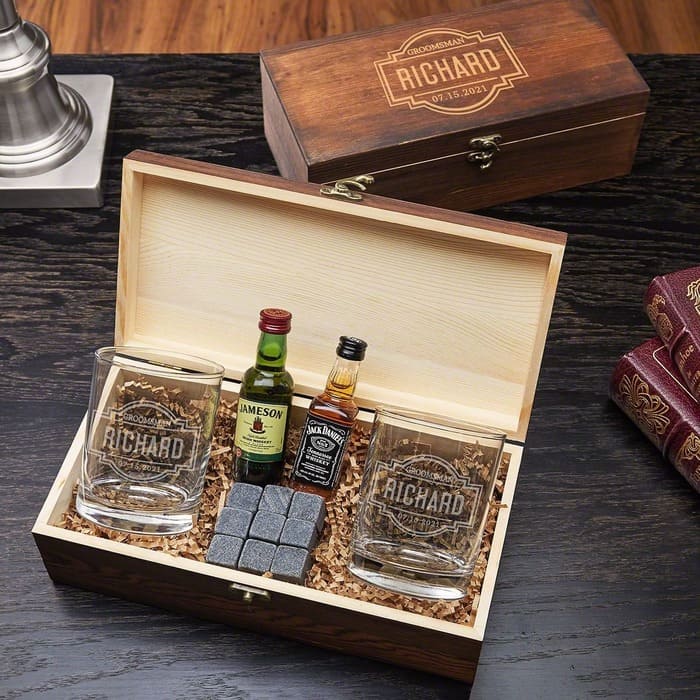 This man who is the best workmate is a living legend in your life, no doubt about it. As a result, it is only appropriate that his end-of-work personalized retirement gifts inform him of this! This personalized whiskey gift box informs him three times that he is the most legendary and mythic man you know!
Prepare to give him the most memorable gift at his retirement party by including a few little bottles of his favorite liquor so that the two of you can raise a glass to his final day of work using both of his new rock glasses.
33. Set of Flasks as a Gift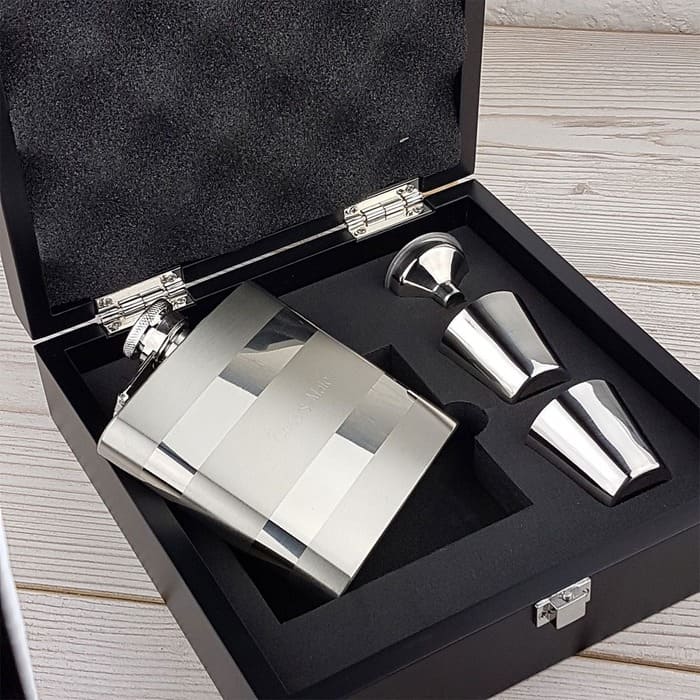 This flask gift set, while it may be on the smaller side of retirement gift basket ideas for a man, is undeniably useful and will be appreciated by him on a regular basis. After all, a flask can be used in a variety of ways. Whether he's out fishing in waders, working at his boat store, or on rare occasions, he can enjoy a few drinks while he's out enjoying himself.
34. A Sophisticated Gift Combination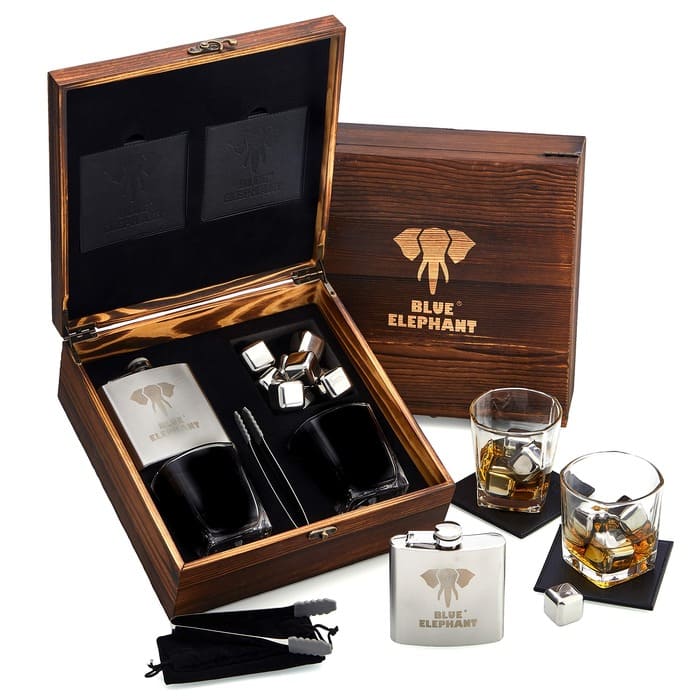 Use your personalized retirement gifts to make a coworker feel the most elegant they've ever felt. This personalized cigar and cognac gift combination will make him feel sophisticated while relaxing at home with a nice bottle of cognac and a cigar of his own design. It's one of the most charming retirement gifts you could give him!
35. Retired Coffee Mug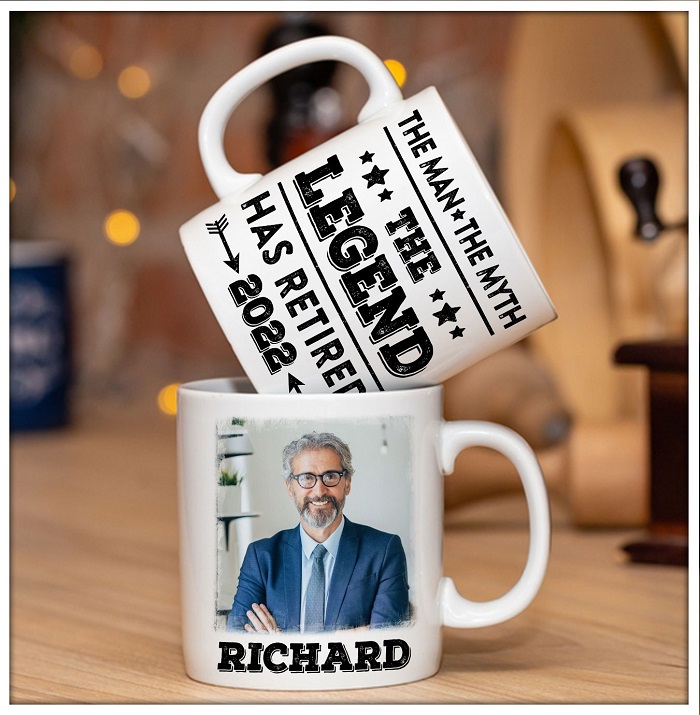 This custom coffee mug is the perfect present for a retiree. These cool mugs make excellent retirement presents if you personalize them with a name and a photo of the retiree's choice. Furthermore, hot beverages are always available, and your cup can be cleaned quickly and easily. Consuming either a cold or hot beverage is fine.
Read more:
After decades of hard work and dedication, retirement marks the beginning of a new phase in one's life. To find the greatest personalized retirement gifts, we looked into variables including value, practicality, and whether or not an item could be used in a professional environment, among others.