Who's the latest generation in your family, a new niece or nephew? Then you might be in the market for Father's Day present ideas for your sibling. Be sure to get something unique and special for your brother or brother-in-law. He won't know what to say when he realizes how much you care about him and his child. Being a father is one of life's most rewarding experiences. Take a moment today to celebrate Father's Day! Is it humorous, sweet, or useful? This list by Oh Canvas includes all of the coolest ideas for a Father's Day gift for brother that he'll cherish.
Personalized Father's Day Gift Ideas For Brother
1. Personalized Whiskey Set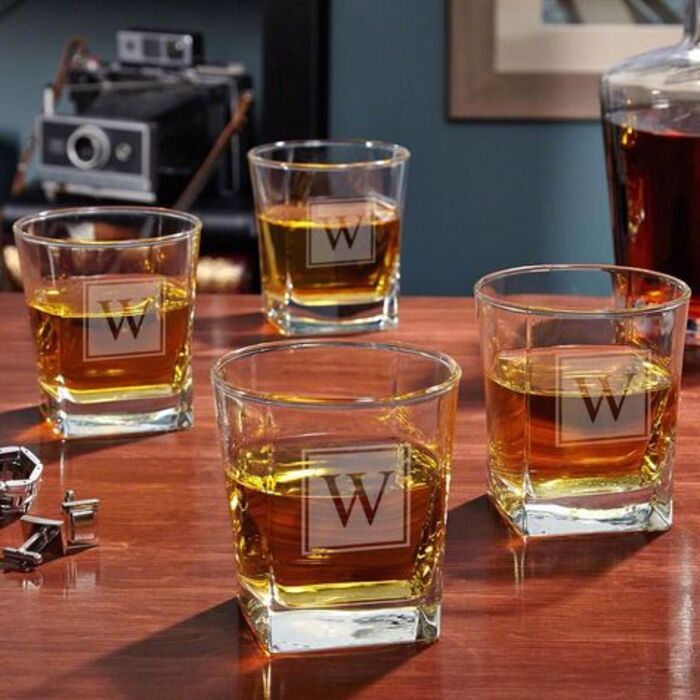 Do you want to find the ideal Father's day gift for brother? A four-piece monogrammed glass set with the letter of your choice is all you need to make him feel special. Send your best wishes for Father's Day with these 11-ounce glasses, and then raise a toast to him. They'll be ideal for entertaining guests or hosting a lovely dinner party with your family and friends.
2. Wooden Name Sign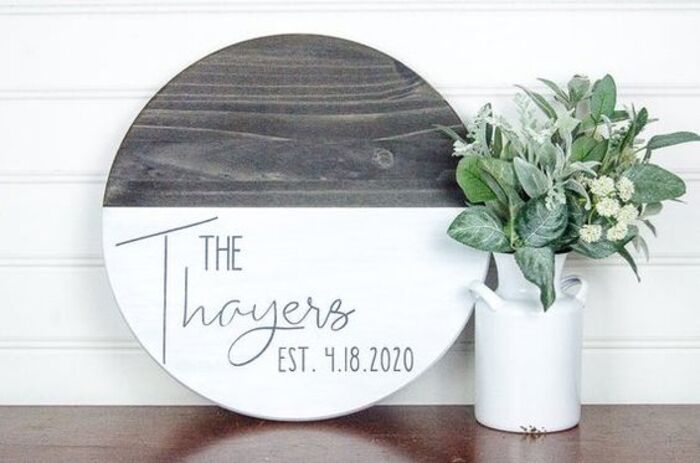 There are no rules in our house unless they're set down by Dad. This unique wooden name sign is a great Fathers day gift for brother. This personalized sign is expertly constructed to feature the name of your choice in an attractive hand-drawn style.  Decorate his garage, office, or man cave with his name and place it on the wall for all to see.
3. Canvas Gift for Dad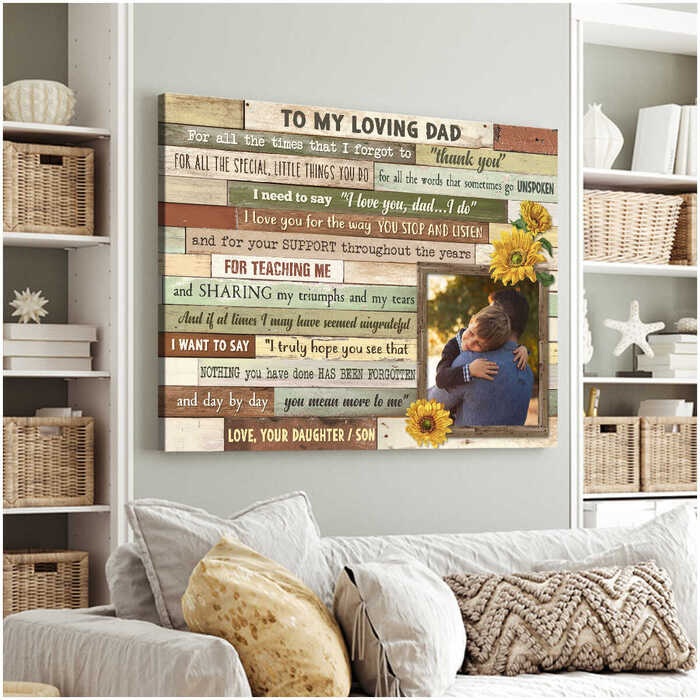 Make a new big day by presenting him with a thoughtful Father's Day gift for brother that commemorates the moment when all the planets aligned just right. Say "Happy Father's Day, big brother," and give your favorite sibling a priceless memento he'll cherish for a long time.
4. Matching Shirts for Father and Son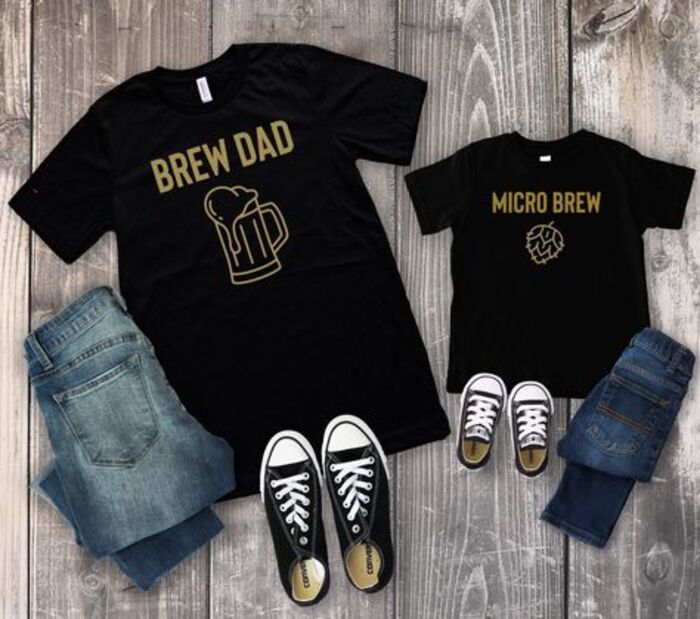 The matching shirts are a great way to show your brother or sister how much you care for him on Father's Day. They make excellent gift ideas for brother who loves sentimental moments with his beloved son. Wearing matching shirts with your brother is a sweet gesture of affection and unity.
5. Custom Docking Station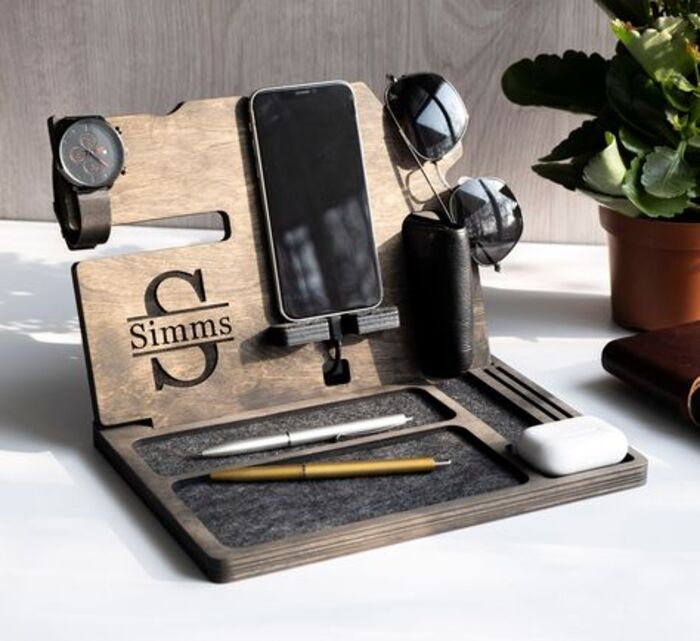 Are you looking for a gift for brother on Father's Day that would really stand out? A docking station will transform your sibling into the most well-organized person ever in time for Father's Day. This personalized docking station offers a place for all of his little essentials, like phone, wallet, keys, and more.
6. Photo Leather Keychain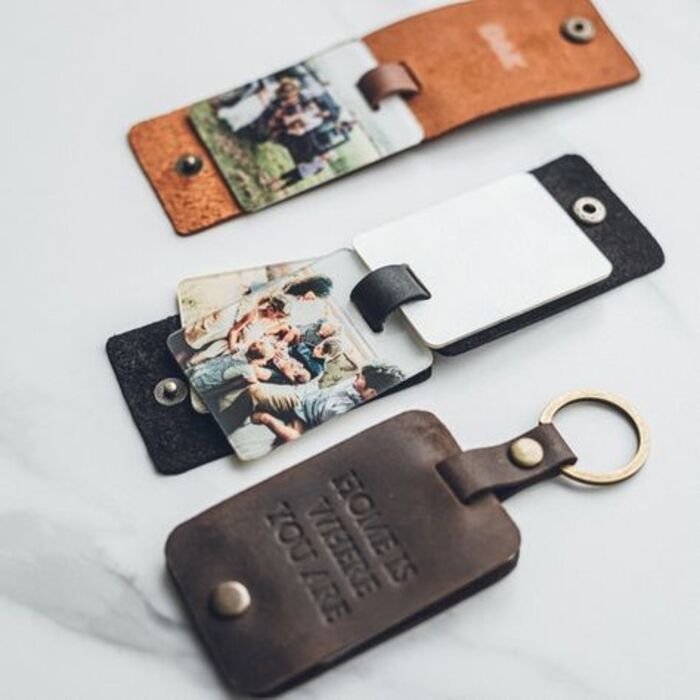 Nothing surpasses a practical keepsake as a gift for an adult brother. This photo leather keychain is a great way to keep his favorite memories close at hand, whether they're of his family, friends, or even a pet. To ensure that his keys never go missing, hang them from the gorgeous leather keychain!
7. Custom Photo Mug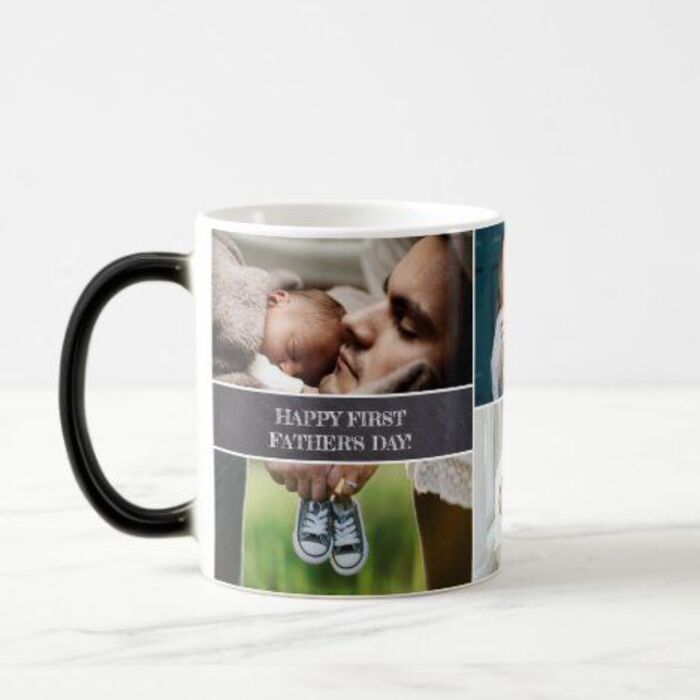 A Custom Photo Mug will put a smile on his face every morning. Use this useful and adaptable mug to show off your most treasured photos in style. You can make a one-of-a-kind souvenir out of any mug by having a photo printed onto it. His morning cup of coffee will taste even better with this kind Father's Day gift for brother!
8. Personalized Wallet
A personalized men's wallet is a great way to show your brother some love while also helping him stay organized. This custom accessory is ideal as a present or a reward for him because it satisfies both his practical needs and his desire to stand out from the crowd. This handmade wallet is perfect for his needs, with separate slots for credit cards, bills, and identification.
9. Custom Engraving Knife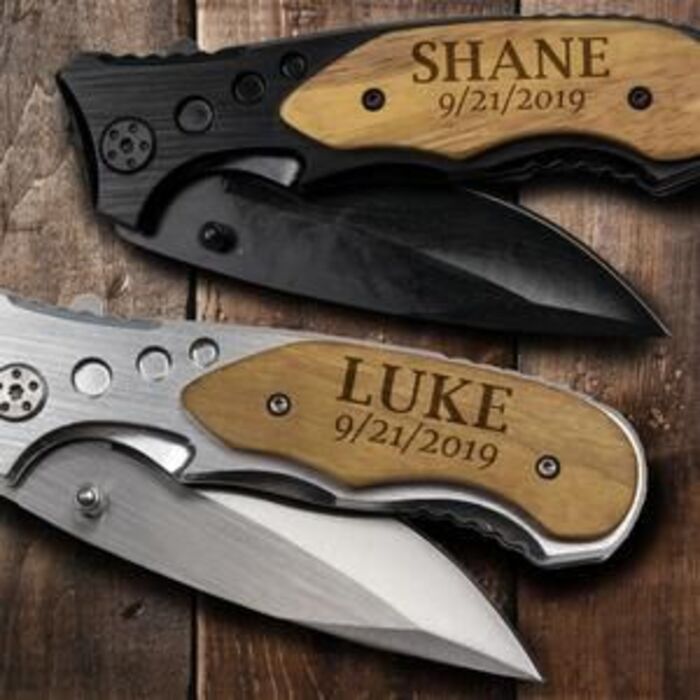 This guy is always on the hunt for a good pocket knife. He uses them for everything from opening envelopes to cutting loose threads. This is a more thoughtful gift than a generic one from the hardware store; personalize it with his name or a meaningful date.
10. Dad's Spot Throw Pillow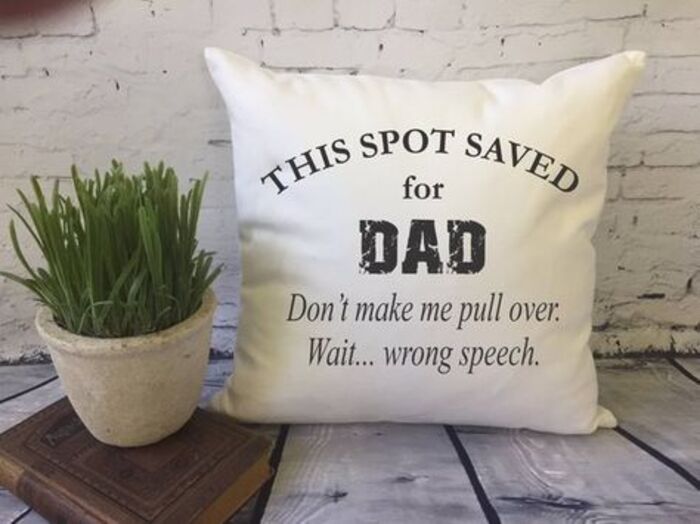 In search of the best gift for brother on Father's Day that he's sure to treasure? This impressive throw pillow is all he needs to tell the world that he's the happiest dad in this world. The design is fully customisable, so you can pick from a wide variety of colors, patterns, and fonts to create a meaningful Father's Day or other occasion present.
11. Custom Canvas Print of Dad and Baby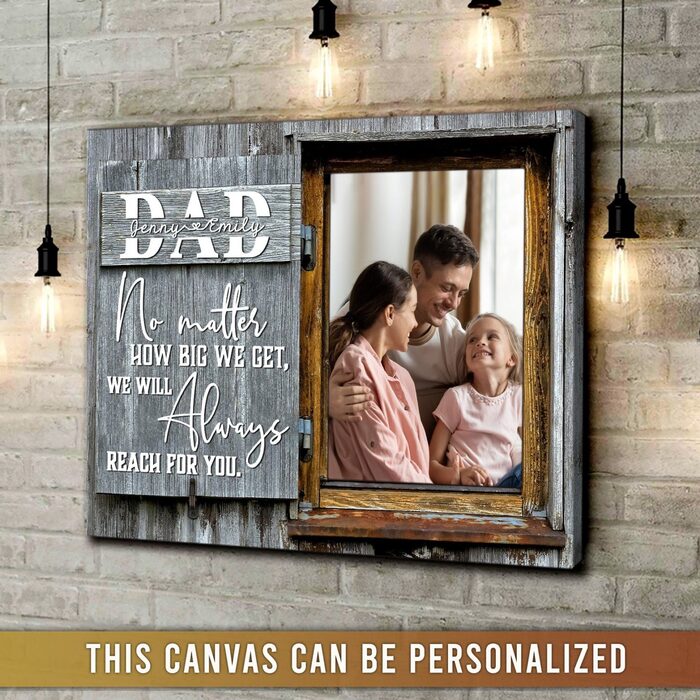 Your brother will love this sentimental present! Having this canvas artwork on his wall will remind him of the true meaning of fatherhood. Isn't this a beautiful piece of art?
Cool Father's Day Gift For Brother's Hobby
12. Gym Bag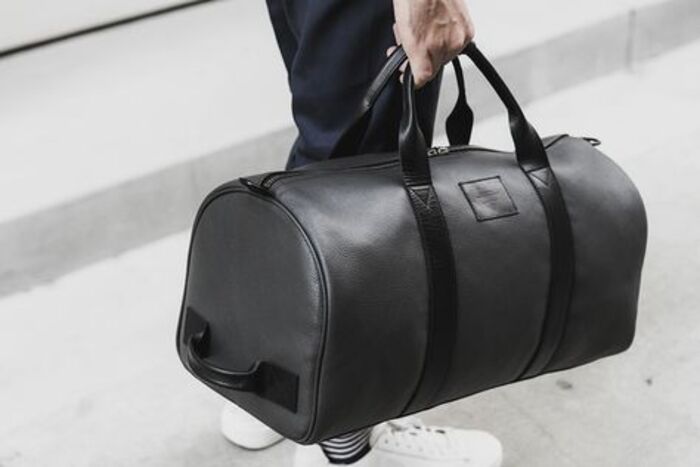 This workout bag makes a great present for brothers, fathers, and any other male in your life. The bottom and side panels are extremely durable and abrasion-resistant. With a wide, ventilated compartment for shoes and laundry, this bag is ideal for a well-organized gym experience.
13. Record Player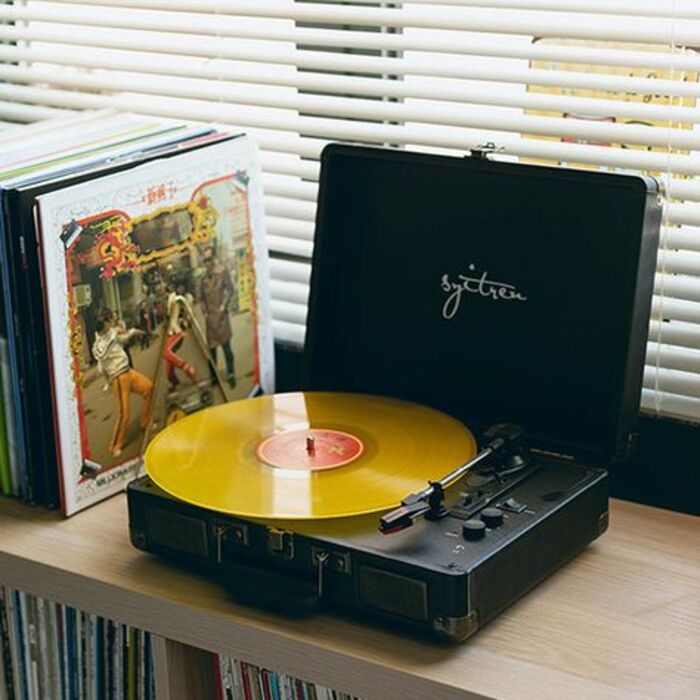 The traditional appearance of this portable record player allows you to carry your music with you wherever you go! A belt-driven turntable, built-in Bluetooth speakers, and a portable design allow anyone to enjoy their smartphone music. Give it to him together with a few of his favorite CDs for the ideal present.
14. Gaming Headphones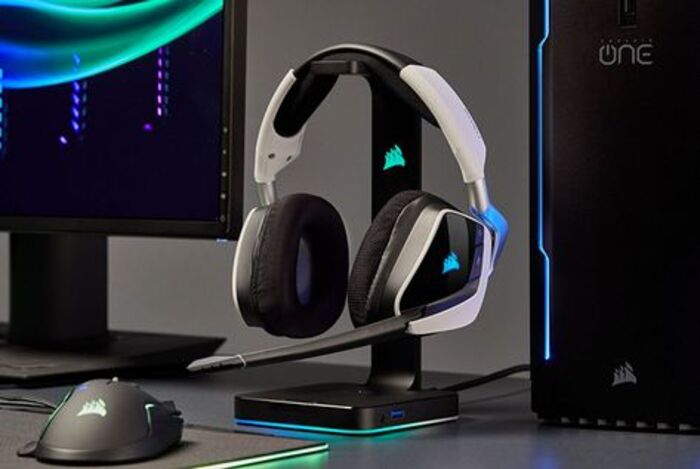 Looking for the best Father's Day gift for brother who has everything? Gaming headphones won't let him down. When your brother's playing video games to unwind, he'll be thrilled to have these at his side. With noise cancellation, he'll be able to hear every crisp high and thunderous low.
Oh Canvas Tip

The HyperX brand is among our favorites. HyperX is known for producing high-quality, wired headsets for gamers. Their wired variants provide an excellent low-latency gaming experience and are reasonably priced. And if you're looking to go cordless, the HyperX Cloud Alpha Wireless is your best bet.
15. Beers Subscriptions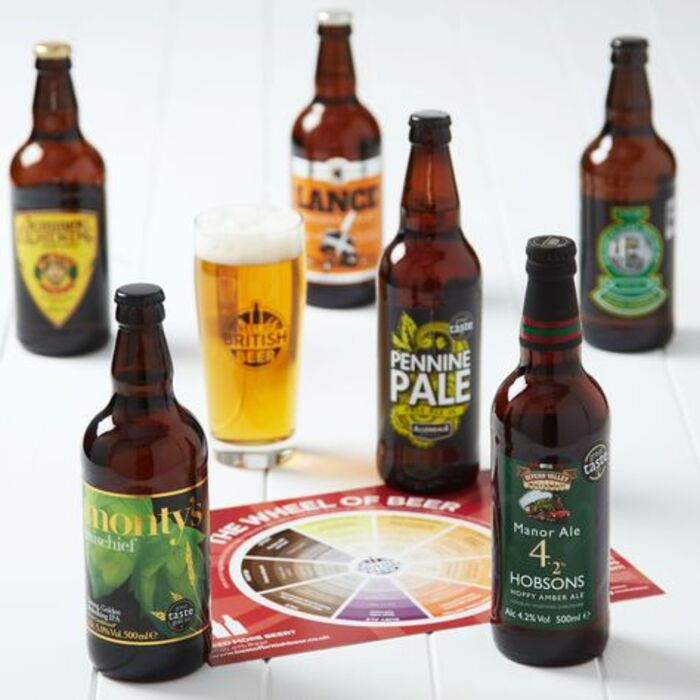 It's possible to win Father's Day by showing up with a six-pack. Each delivery features a unique assortment of craft brews, from IPAs and stouts to lagers and ales, guaranteeing a wide range of flavor profiles. However, if you really want to go the additional mile, have him sign up for a shipment of 12 or 24 craft beers every month, bimonthly, or quarterly.
16. Coffee Subscription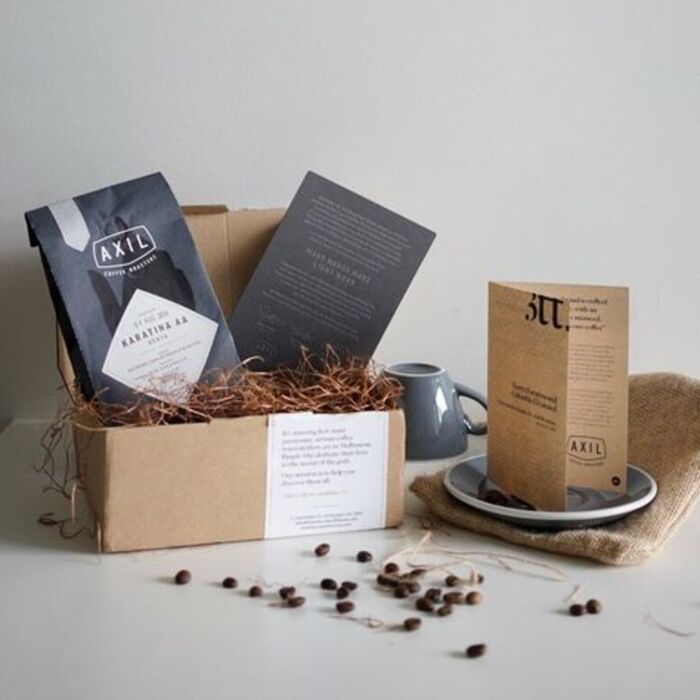 Afterward, let him take a quiz to see which coffees suit his preferences and equipment best. It's cool when he's able to determine his order frequency, grind setting, and coffee choice. This is a thoughtful gift for brother on Father's Day that he'll never reject.
17. Masterclass Membership
If there is a celebrity-taught lesson here about how to be a better father, we don't know for sure—who knows? I wonder whether Kit Harington or Joe Jonas will sign up to teach after becoming fathers themselves? As for father-child bonding, there's no shortage of creative endeavors here that can be learned and passed on.
18. Freezable Whiskey Glasses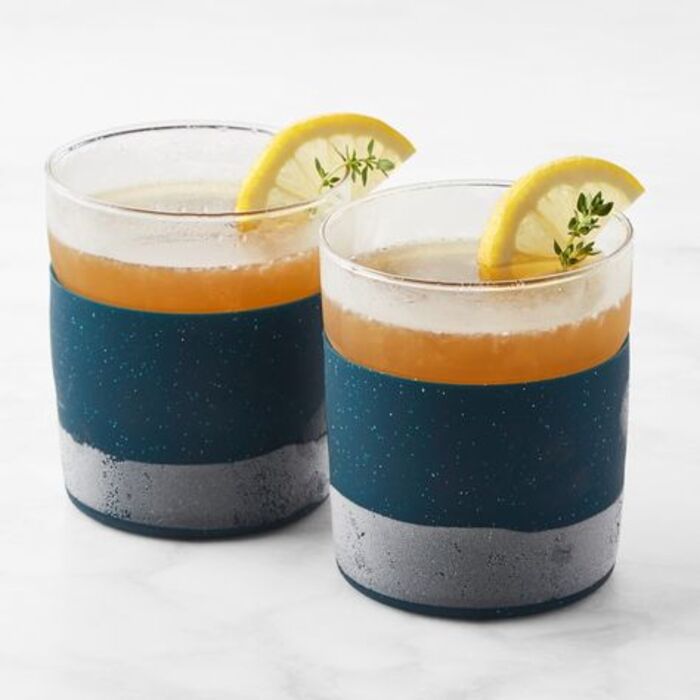 So that he can enjoy a glass of whiskey after a long, exhausting day. These whiskey glasses—or glasses for any liquid—keep his contents cold for up to four hours. These cutting-edge and functional glasses will bring a new level of sophistication to his whiskey drinking experience.
19. The Sill Monstera Deliciosa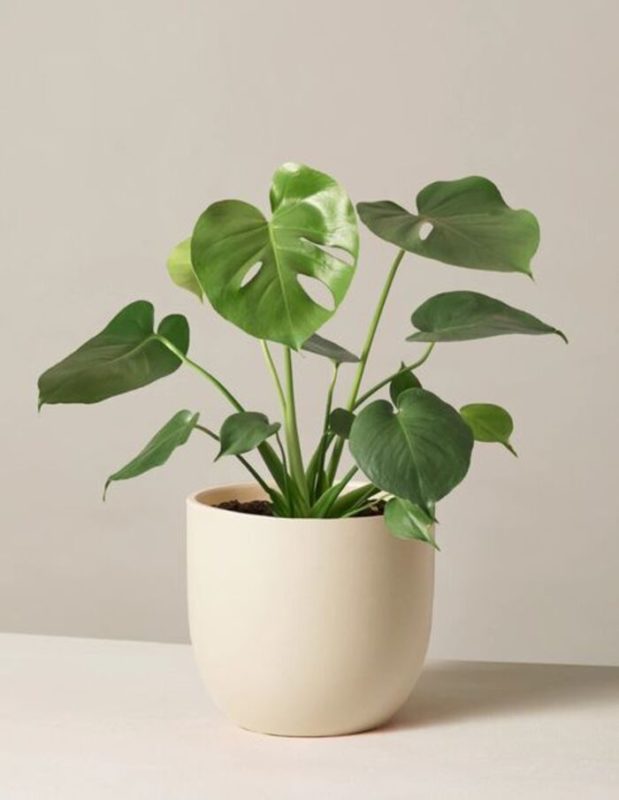 Whether or not he enjoys gardening in the outdoors, has he wandered into the indoors? Having an indoor plant in your home is a pleasant project that doesn't require a lot of time and effort. This unique Father's Day gift idea for brother will win him over.
20. Portable Bluetooth Speaker
This tiny speaker features an updated and enhanced volume, robust bass sound, and excellent Bluetooth connectivity. It's also impervious to the ravages of time and the elements. An ideal companion whether you're throwing a party or just relaxing at home.
21. Noise Cancellation Earbuds
While the Bose noise-canceling headphones are excellent, their size and weight make them unsuitable for exercising or traveling. These Bose earphones, on the other hand, are the ideal option for any father who wants to block out the hum of the daily grind. Get this amazing gift for brother on Father's Day and he'll treasure it for years to come.
Read also: 
Practical Gifts For Brother On Father's Day
22. Grilling Equipment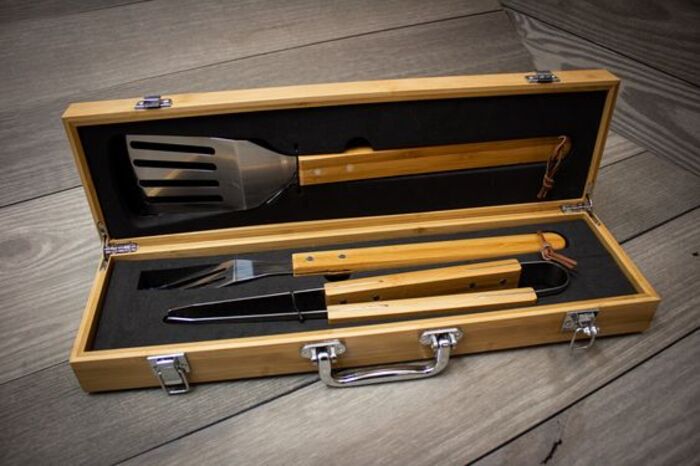 This set includes everything you'll need to become a master. In addition, it comes with a carry-on case and is made of stainless steel, which means it won't rust or break. Toss them in the dishwasher and concentrate your time on barbecuing instead of washing them!
23. Grilling Apron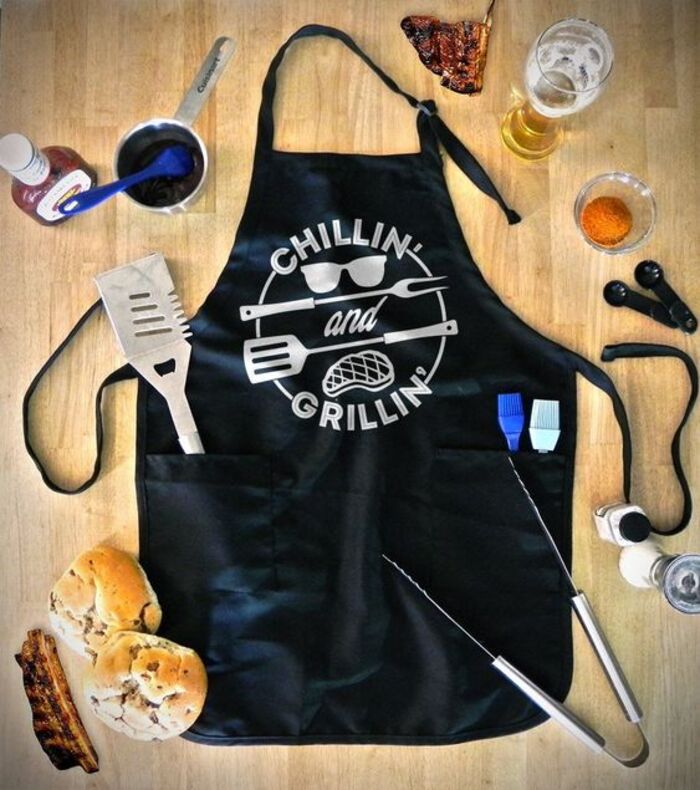 This humorous BBQ apron provides subtle elegance to your barbeque party. Fesigned to keep him looking sharp while he works his magic, this apron is the ideal present for any man who presides over the grill. It's a cool Father's day gift idea for brother who enjoys cooking, painting, or hosting a backyard barbeque.
24. One-of-a-kind Mugs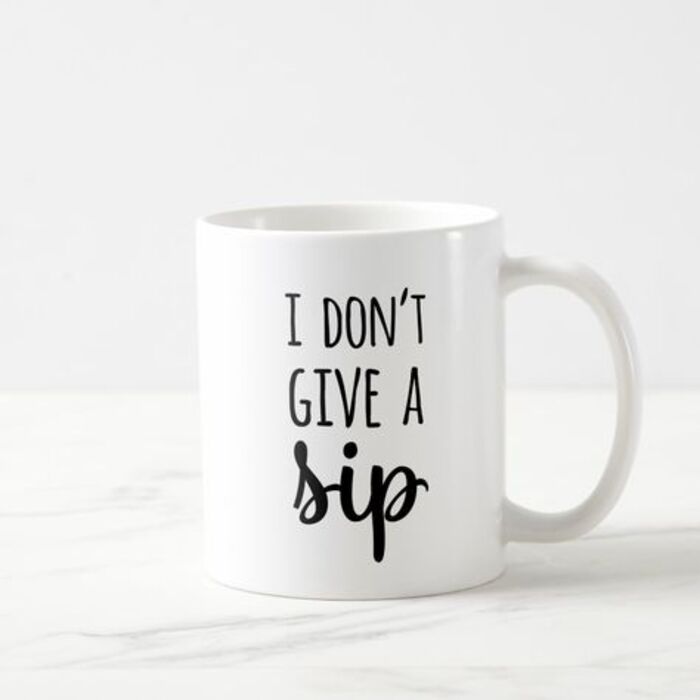 When you have a funny joke, you should never let your brother off the hook. This product, in addition to being safe for use in the microwave and dishwasher, also features printing surfaces on both sides. Because of his sturdy build, he won't be able to forget about the important occasion.
25. Emergency Equipment Set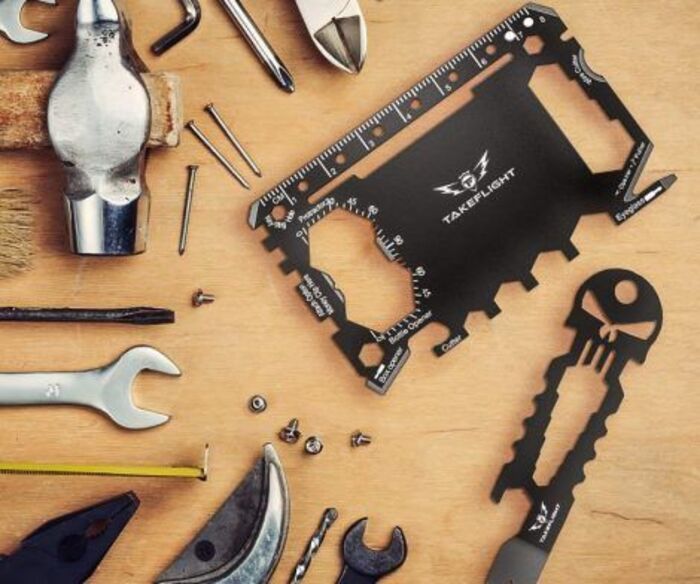 Scouting and the outdoors are two things your big brother is likely to like. This kit includes everything he needs to be prepared or to have a good time with his kids in the sun. It ensures your safety and peace of mind whenever you're out in the great outdoors. What a thoughtful gift for brother on Father's Day that you shouldn't miss out on.
26. Acupressure Slippers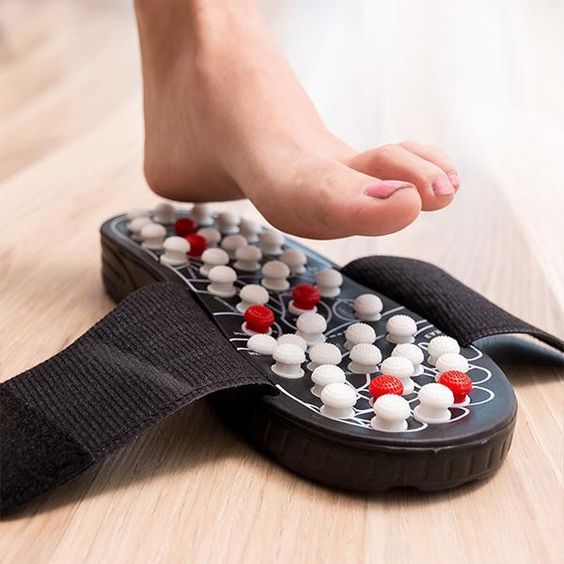 Acupressure slippers: best Father's Day gift for brotherHe's outta here with the foot rubs now! He'll soon realize how much better his feet feel after only a few minutes of wearing them, even if they're a little painful at first.
27. Sleep Therapy Sound Machine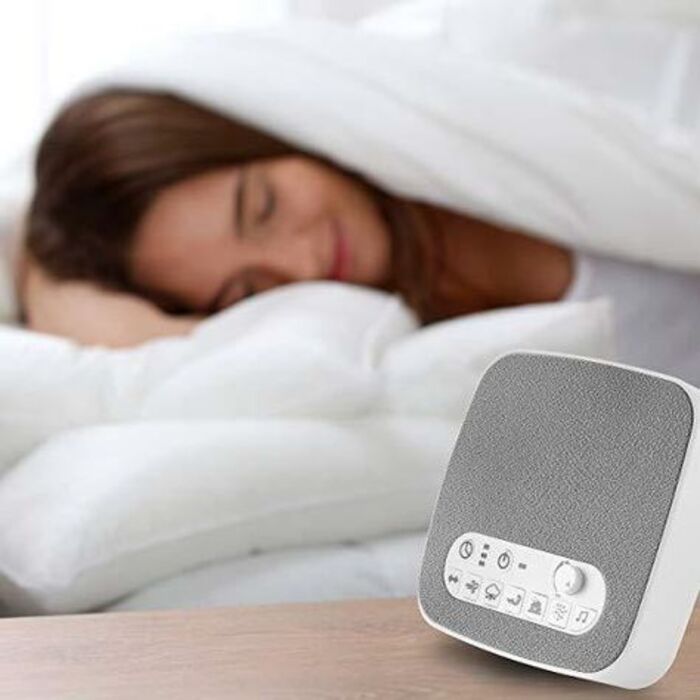 Make his life a little easier by gifting him with this helpful gadget as an impressive Father's Day gift for brother. In addition to playing soothing music, this device casts a soothing light pattern across his ceiling, aiding him in relaxing and slowing his breathing.
Oh Canvas Tip

Over the past 20 years, research has shown that white, brown, and pink noise may aid the brain in focusing, sleeping, or relaxing, especially for those with attention deficit hyperactivity disorder (ADHD). The Homedics Sound Machine for Sleep is our top pick since it's effective for both children and adults and provides a good night's sleep.
28. Concrete Fire Pit
Placing the fire pit on a level surface and applying rubbing alcohol will allow him to get the most use out of this setup. By moving the event indoors, he may create the perfect atmosphere for late-night get-togethers, family dinners, and date nights.
29. The Massager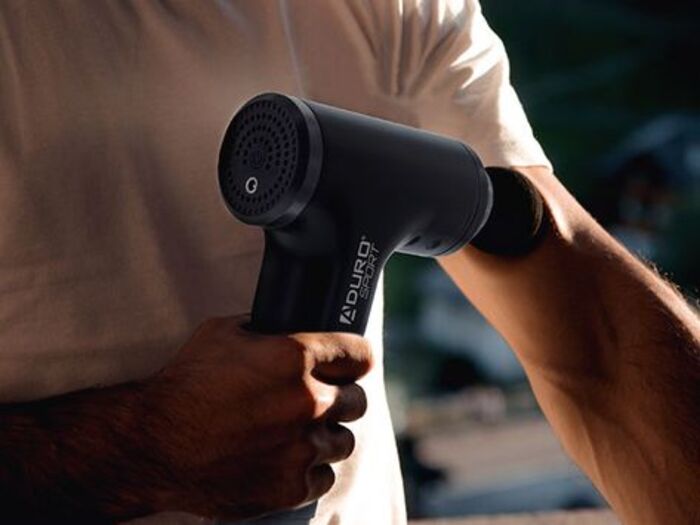 Simply switching the massage heads and adjusting the tempo will allow you to relax knotted muscles, ease discomfort, and loosen tense muscles. Each massage head zeroes in on a different problem area, such as the shoulders, arms, or calves, as its primary area of concentration.
30. Shower Steamers Gift Set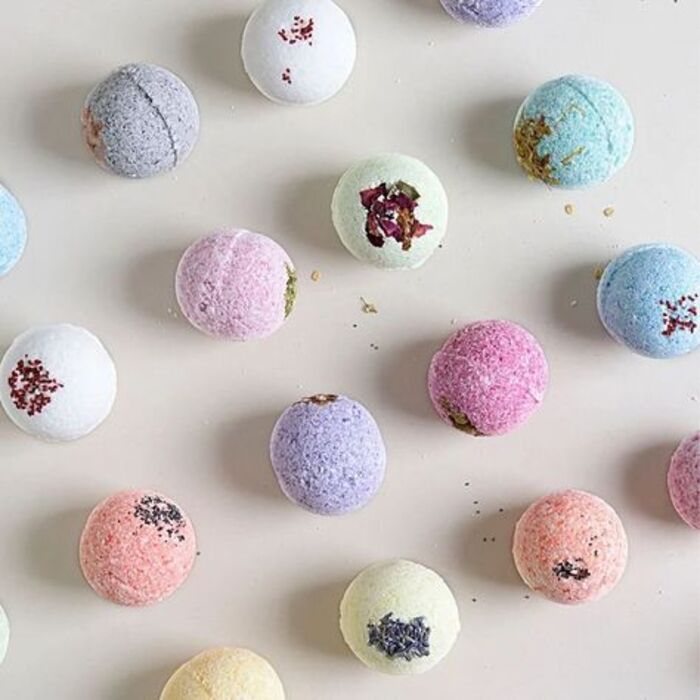 When it comes to a practical and thoughtful Father's Day gift for brother, this shower steamer gift set tends to stand out. These cubes are packed with invigorating essential oils and aromatherapy scents, so he can use one in his morning shower to wake himself up quickly.
31. Pro Tile Mat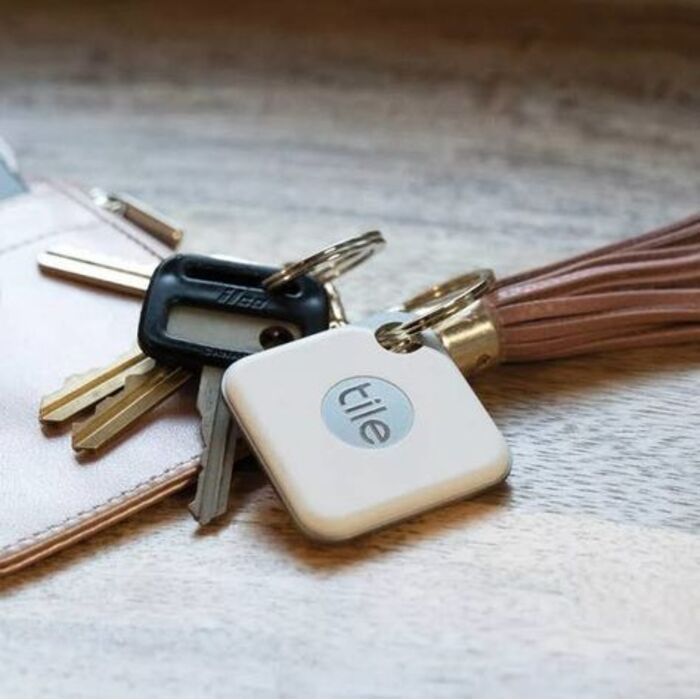 Think of his phone or wallet if you want an example: Whenever he needs something, he always manages to misplace it. When he attaches the tracker to his personal possessions, it will just take him a few minutes to locate them using the Tile app.
32. Wireless Security Cameras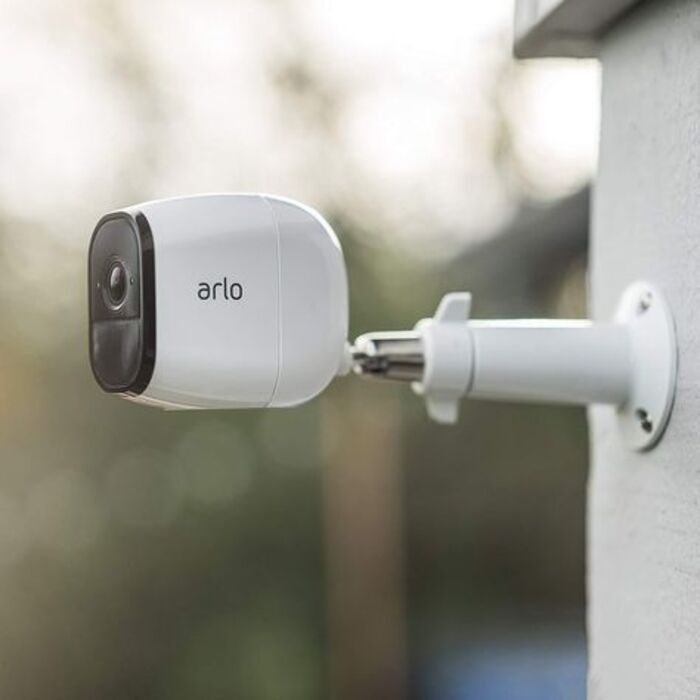 An HD security camera that can be used day or night with infrared night vision is a stunning gift for brother on Father's Day. With the monitor app, you can set up custom motion zones and receive notifications only when you want them. If you have an Alexa-enabled device, you can use your voice to monitor your house. Give your brother a safe family and a new item to play with as a present.
33. Men's Shaving Kit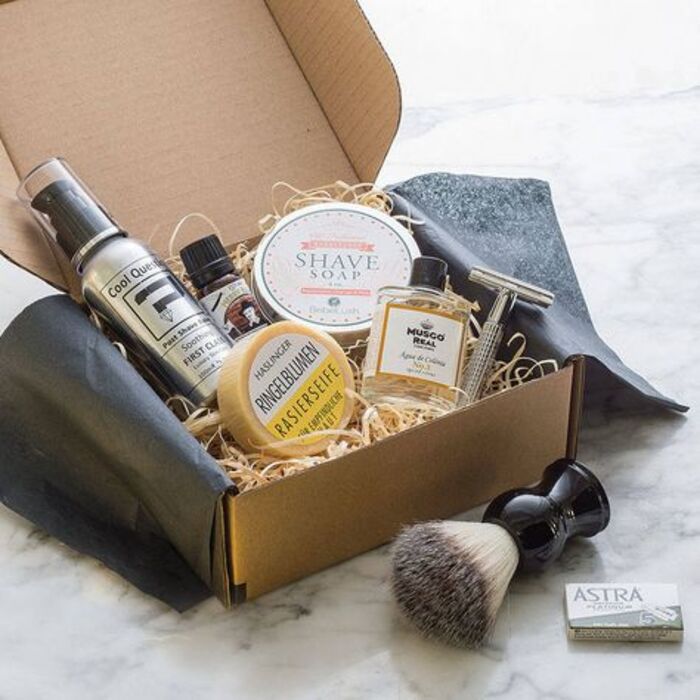 Give him a leg up in his shaving supplies with this all-in-one starter package that has everything he needs to get started. The set consists of a safety razor, priming oil, shaving cream, restorative balm, a shaving brush, and 20 refills blades. All of these items are included.
34. Multi-tool Coasters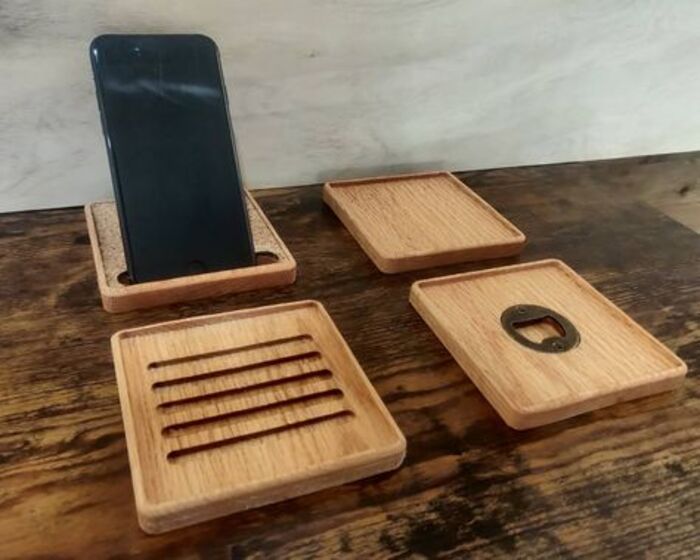 They're not your typical roller coasters. Each square can be used as a cutter, screwdriver, bottle opener, wrench, and much more! They're creative Father's Day gift ideas for brother that he'll actually use.
35. Organizing Cords Box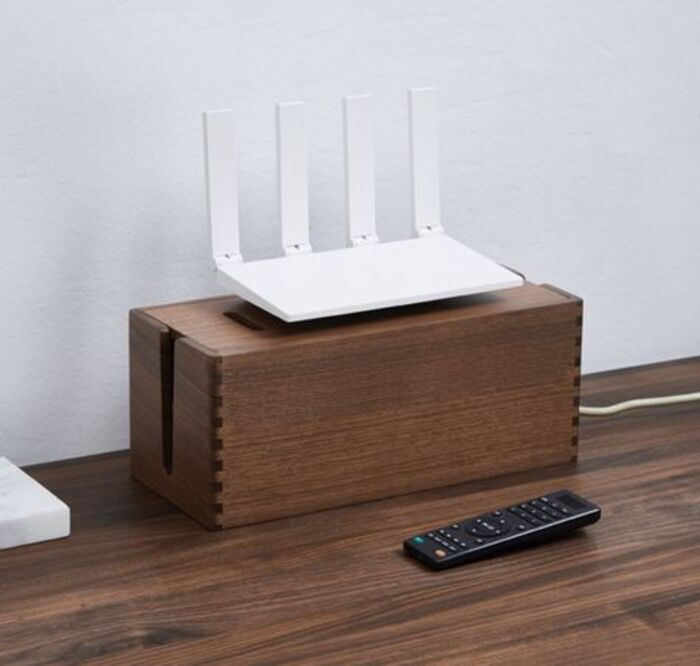 This gift will keep the kiddo from innocently biting on his charging cords, and most importantly keep him from tangling them up as his schedule gets busier. It's a must-have for Father's day gift for brother who is a gadget lover, frequent flier, and anyone else wishing to organize their cables more efficiently. You can improve the quality of his life by ordering one of these today.
Further readings:
You can use these gifts to say "Happy Father's Day" to your brother or your brother-in-law on the upcoming special day. It's a sweet way to show how much you care and how important he is to you. Find the perfect Father's Day gift for brother among these witty, sweet, and useful suggestions by Oh Canvas and you're bound to make his day.