The wedding day of your son is a significant occasion. Naturally, you want to commemorate this momentous occasion by procuring the best wedding gift for son. Consider giving your son heartfelt gifts as a way to commemorate his wedding day.
There are a variety of personalized gifts from parents to choose from, ranging from unique expressions of your affection to poignant remembrance of his boyhood in this blog. This Oh Canvas's basic tutorial will introduce you to several possibilities and some amazing ideas that will work for various personalities.
What to Give your Son on His Wedding Day in 2023?
20 Thoughtful Wedding Gifts for Son and his Wife From Father
1. Gun Whiskey Decanter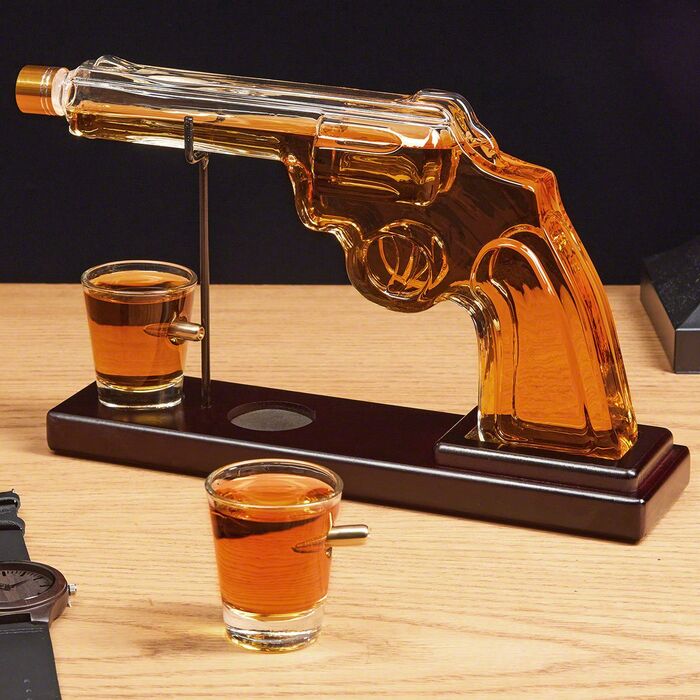 There's no better way to show your son that you care about his passion for guns than by giving him this pistol decanter as one of the manliest presents you can give him! There's even a set of shot glasses that have bullets embedded in them!
These shot glasses will look great on display in his office or his home bar, and he'll enjoy using them for a nightcap drink with you or one of your friends!
2. Engraved Compass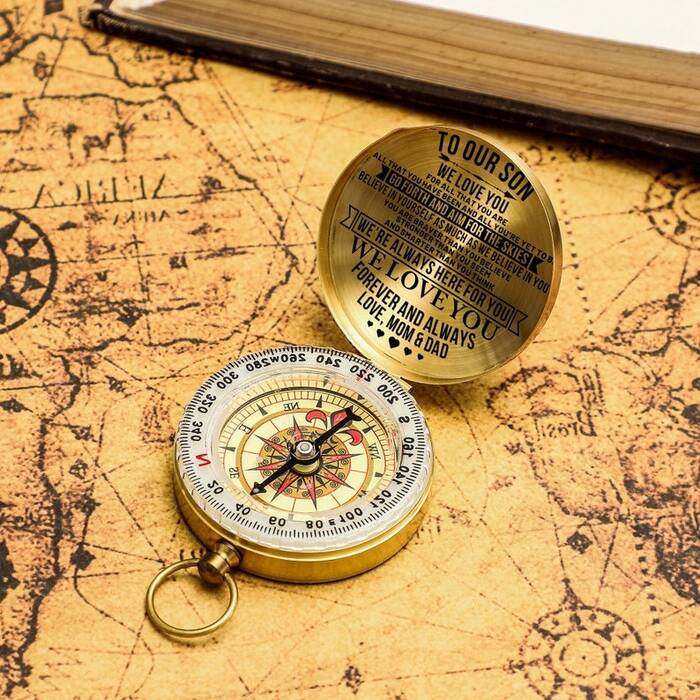 If you want to show your love and support for your son, give him a compass as a gift. In addition, this hand-forged brass pocket compass also makes a unique present that will be treasured and used to good use.
By engraving it with a customized message, you may ensure that your kid cherishes your compass present for a long time. What a thoughtful wedding gift for son!
3. Tie Collection Box
Every man has at least one collection of ties in his closet. This wooden box will assist him in creating the greatest one-of-a-kind tie collection that has ever existed. He will undoubtedly appreciate this present from his father.
4. Customized Robe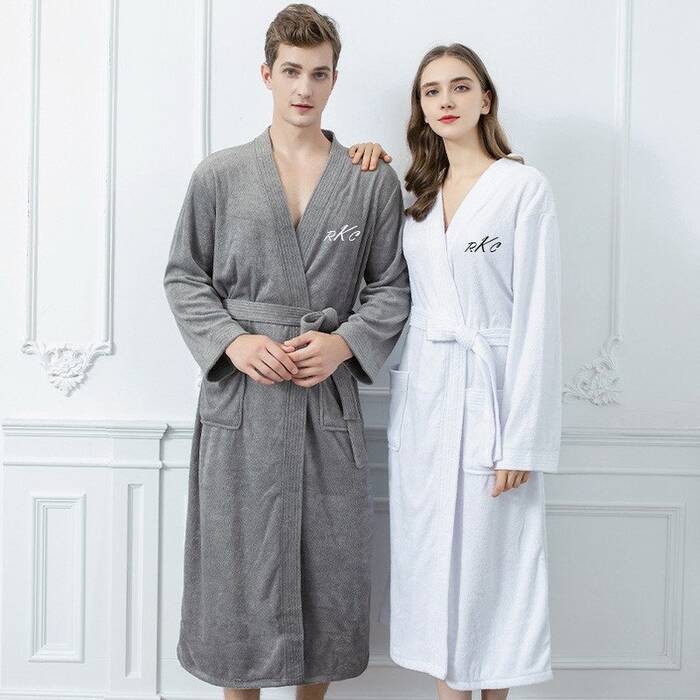 Finding the perfect wedding gift for son and his wife on their wedding day can be difficult. A custom-made soft robe is an excellent choice. Everyone may benefit from a sturdy robe, and this one is a good fit. He'll feel like a king or queen when he dons this velvety robe with his name embroidered.
5. Craft House Cocktail Set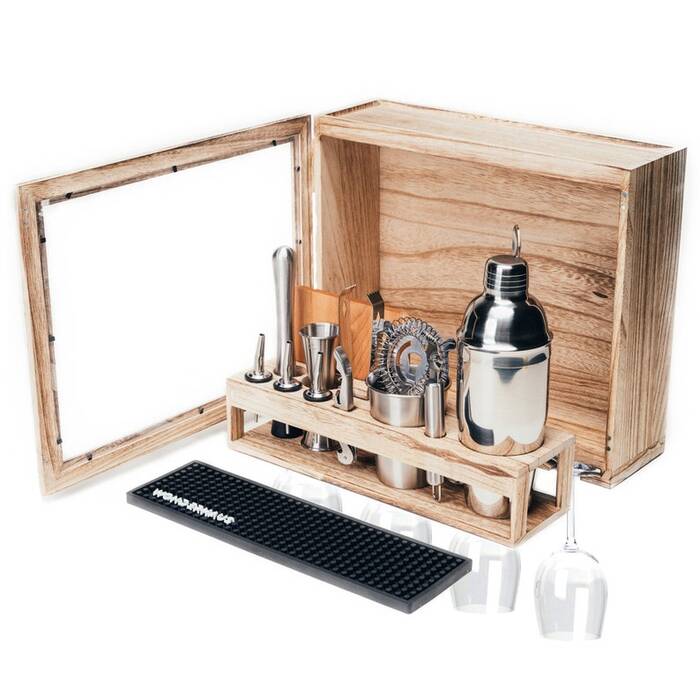 If he already has a bar at home, this stainless steel cocktail kit will help him get the most out of it. To make mojitos very minty, we prefer to use the black walnut muddler instead of the sparkling shaker and two-ounce hawthorn strainer (and anything else he wants to smash).
6. Customized Cooler Bag
He'll appreciate this insulated beer sling, which can hold up to five of his favorite canned craft beers (why not add a pack as part of the gift?). A koozie is also included for when he feels the urge to down a drink.
7. I love you the most Canvas Wall Art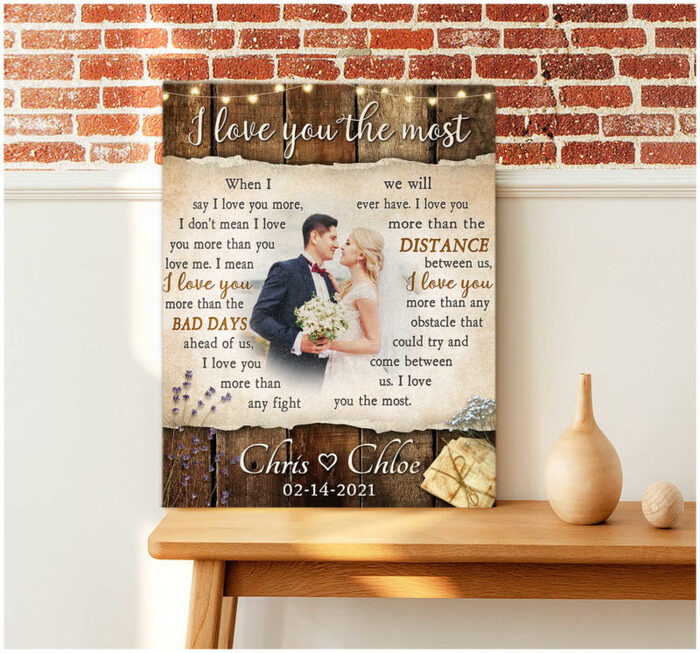 This personalized canvas print is a wonderful way to commemorate their wedding day memories. A lovely way to commemorate the marriage of your son and new wife. They'll be taken aback by the beauty of this piece of art.
9. Trolley Case Tool Set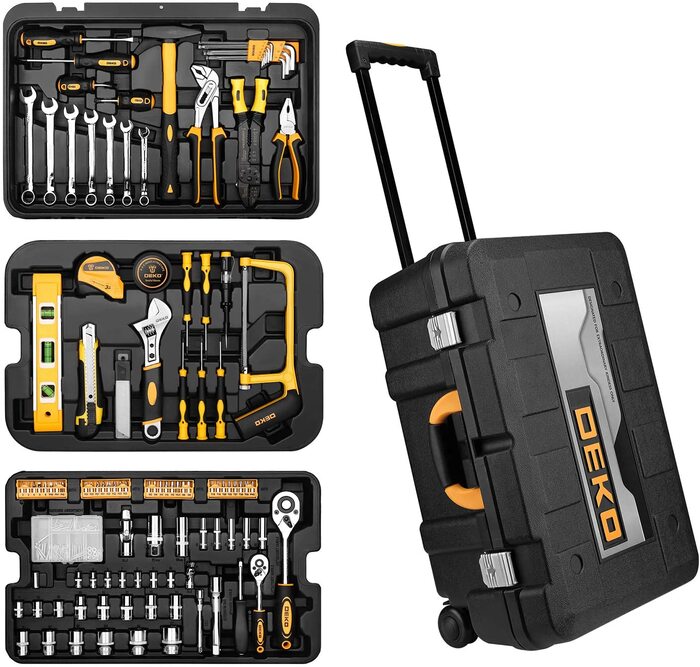 A handyman's fantasy comes true: this toolbox includes everything he needs. Everything from wrenches to pliers to scissors to a glue gun is included in this piece set. Easy to carry about thanks to its trolley case design with a long handle. He will delight in this as a special gift for son on wedding day.
10. Engraved Baseball Bat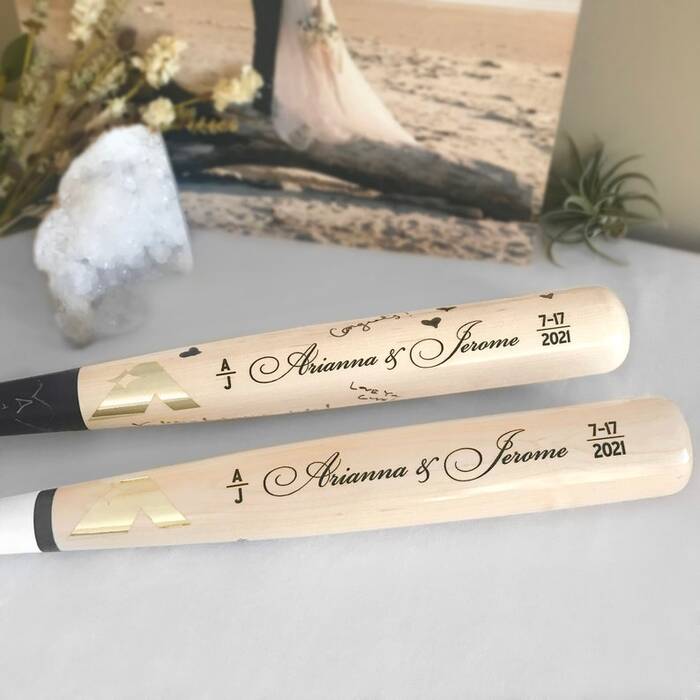 The wording on this baseball will serve as a continual reminder of how much you care for your son and will make the ideal wedding gift for son. When he sees this, he'll think of you and how much you mean to him for the rest of his life.
11. Leather Boots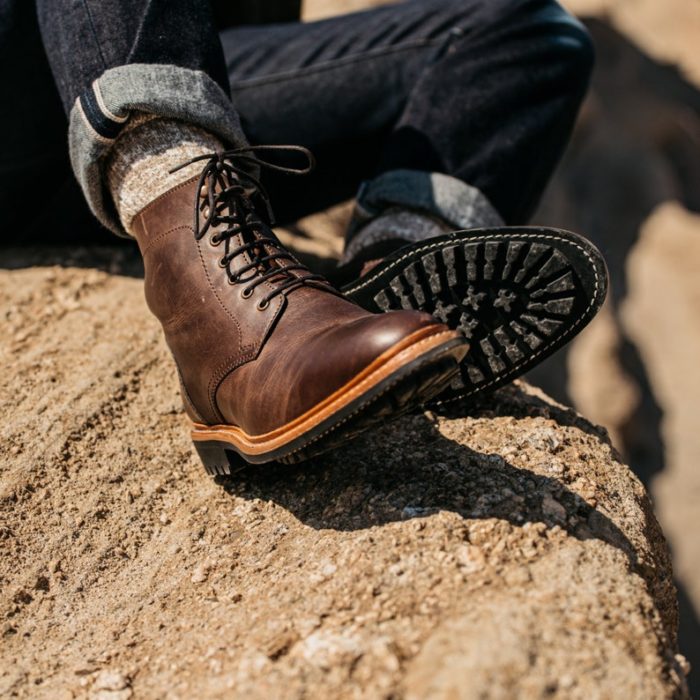 These boots are ideal for every kind of guy, no matter how tough or polished he is. Leather is a versatile material that can be dressed up or worn casually. Every guy needs a good pair of boots, and these Red Wing boots will serve him well for years to come! It also is a last-minute wedding gift if you don't have time to choose the perfect son wedding gift.
12. Fishing Gift Set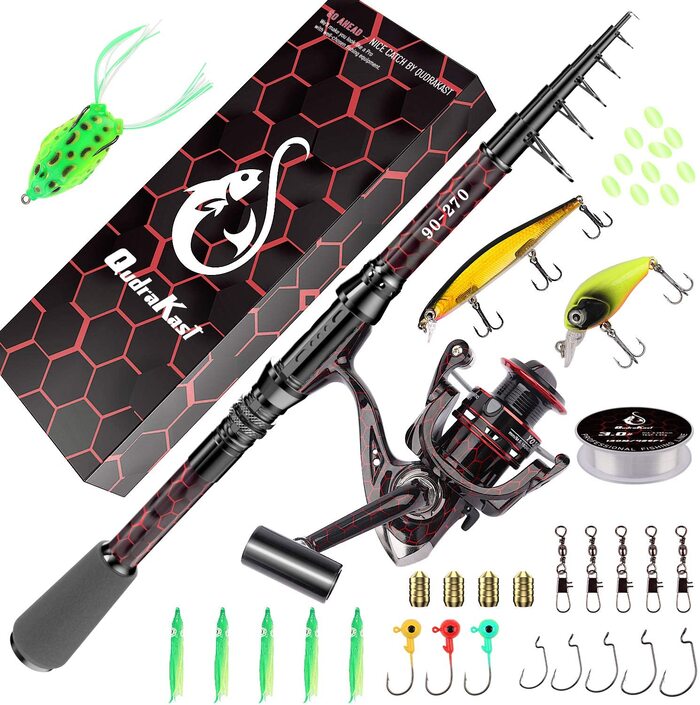 Fisherman or not, this fishing gift set is an excellent choice for any man who enjoys the sport. The jig hooks, sinker sliders, and other interesting fishing gear in this set are sure to delight him when he heads to the lake, ocean, or pond.
13. Beer Cap Map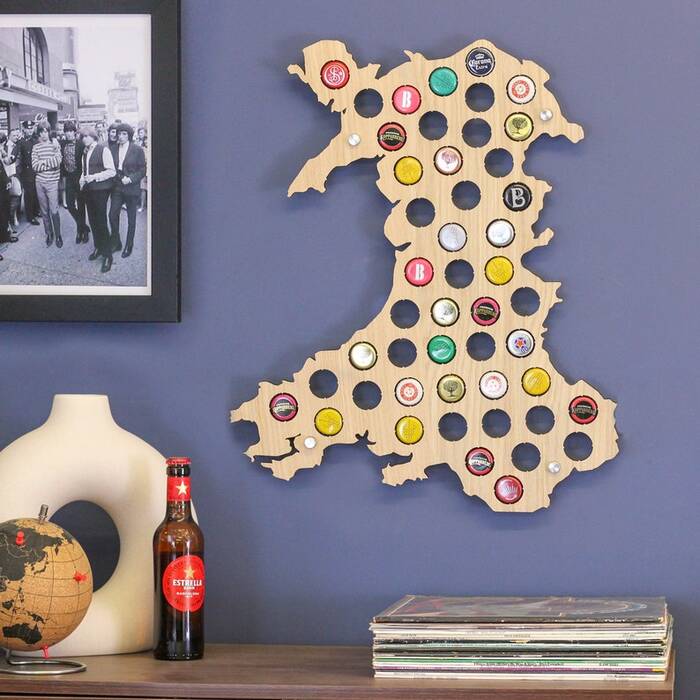 Beer cap maps of one's home state will bring back memories for anyone who grew up there or has since moved away and felt homesick. Map his state and let him fill in the blanks with beer caps while he enjoys his preferred beverage.
A trip to that section of the state can be returned to him whenever he adds a new cap to his collection. To truly make this an awesome wedding gift for son, include a beer brewed by local brewers.
14. Holding Screws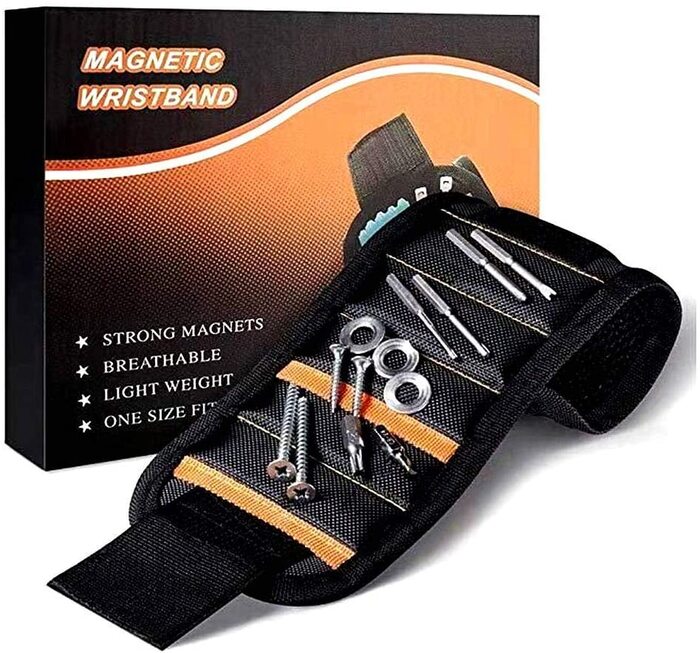 Give your go-to handyman this magnetic strap to keep screws, nails, bolts, and washers organized and accessible, whether he wears it on his wrist or belt.
15. Family Member Canvas Art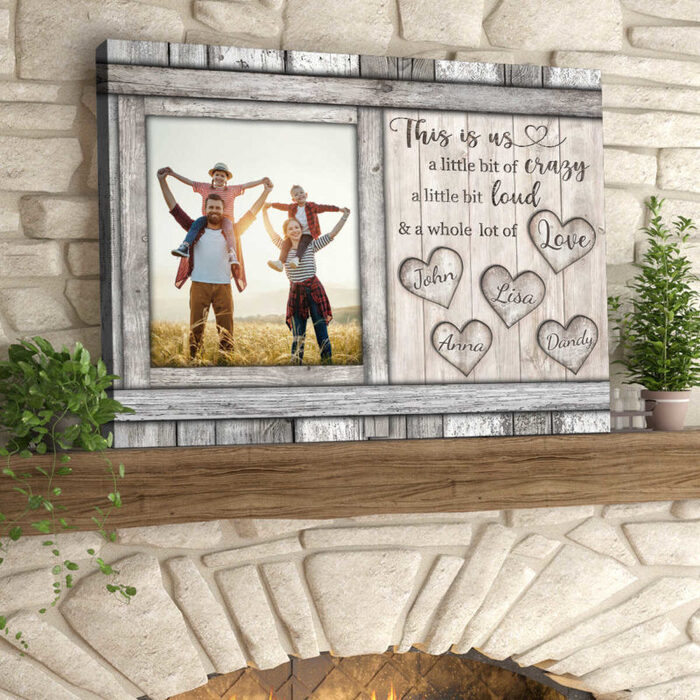 This artwork could become his home's most precious ornamental object if it comes with a stunning family image and personalized names. It attracts everyone's attention and, as a result, makes your living area feel much warmer and cozier. Don't miss out on the chance to have a personalized canvas of "A Whole Lot Of Love" displayed in your son's home.
16. Whiskey Glasses & Stones Gift Set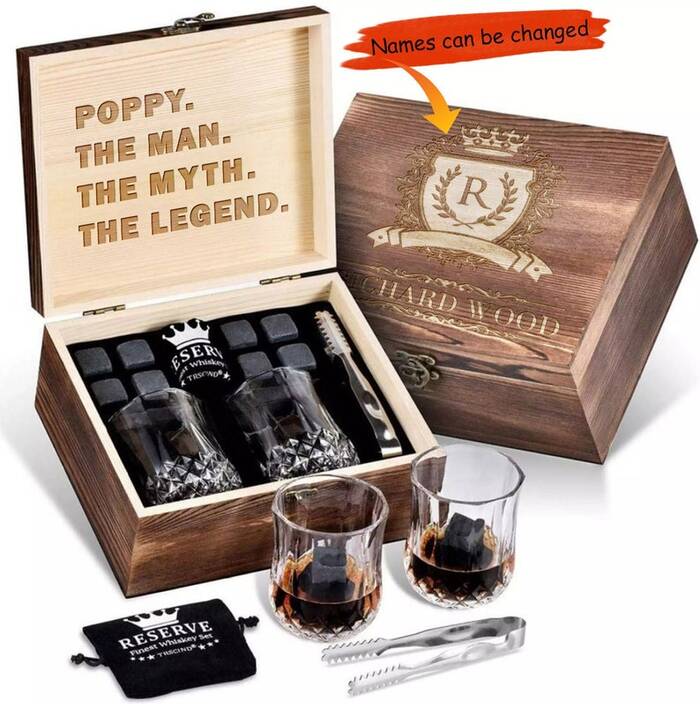 If he's a major whiskey fan, you might want to get him this set as a gift for son on his wedding day. Whiskey stones that won't melt are included in this collection for the benefit of the true whiskey connoisseur.
17. Outdoor Electric Grill
Get him a portable barbecue that he can use both inside and outside as a fantastic wedding gift for son. This electric grill is equally at home at a tailgate party as it is on the kitchen counter, thanks to its removable stand.
Oh Canvas tips

Allow enough time for your grill to reach the right temperature. Moreover, allowing the electric grill to warm while you prepare the rest of the ingredients is a great approach to optimize your time.

Important: after you begin cooking, the temperature of the grill will not rise since heat is lost via the aperture made by the food on the grill.
18. Insert Card Wallet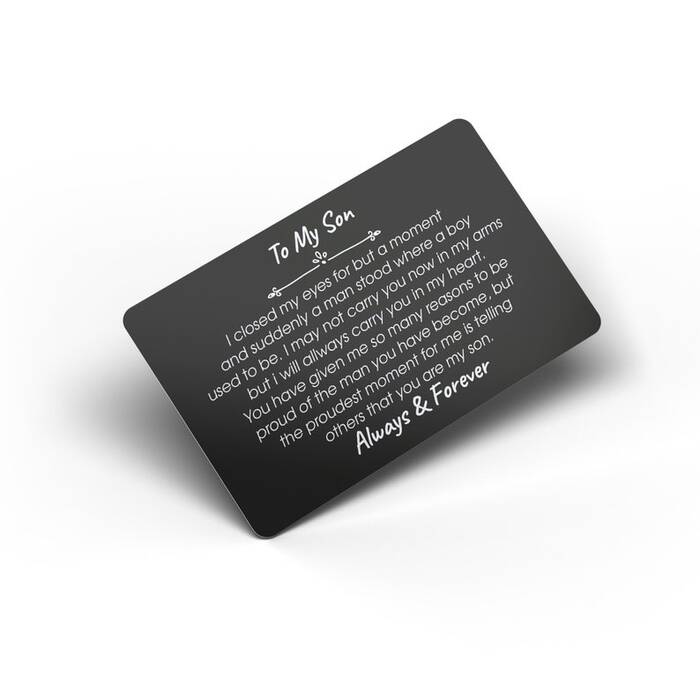 As a father, nothing beats witnessing your son wed his true love and welcoming her into their home and family. Parents' well-wishes for their son's wedding can add an extra layer of meaning to this joyous occasion. You can rest assured that your son's parents will be delighted to get the Engraved Metal Wallet Card Gift for his wedding day.
19. Ski Wine Rack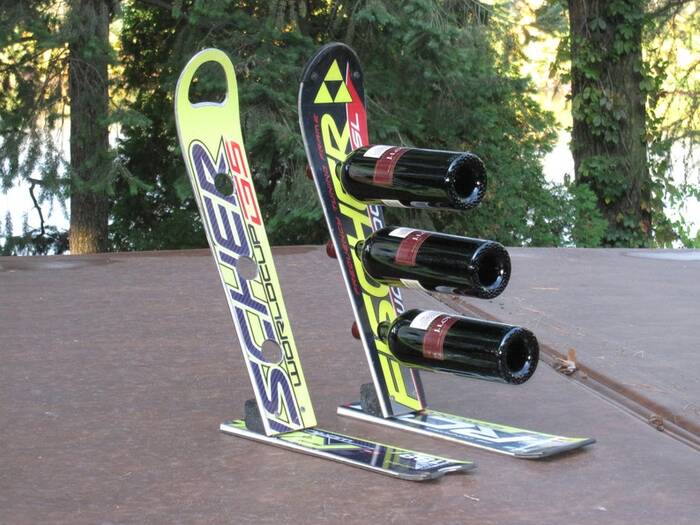 This wine rack, in contrast to the majority, is quite unfeminine. He can put it in his office or man cave to show off his favorite wines in a sporty style. It can store three bottles of wine at a time and is constructed from upcycled skis.
20. Hookey Ring Toss Game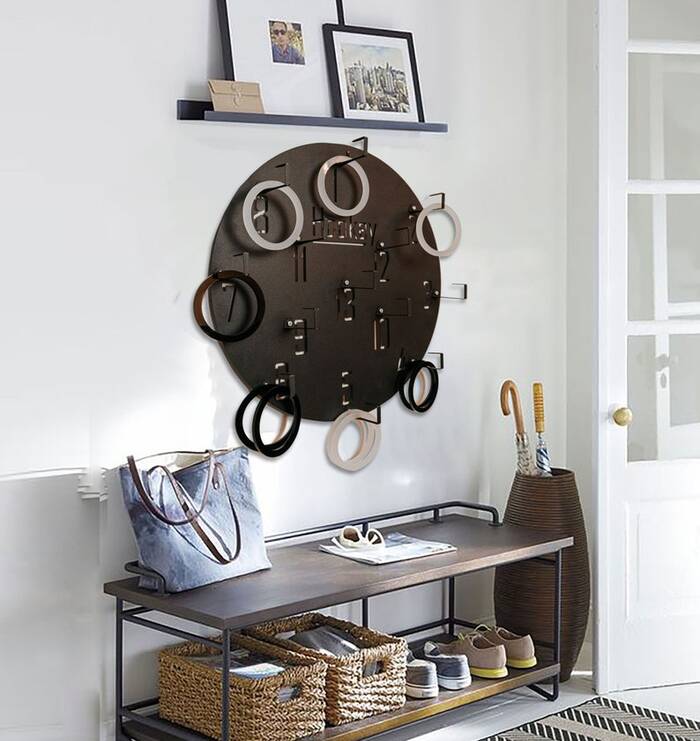 Everyone in the family will want to play this outdoor game, which he may hang in the backyard. So he won't have to stop having fun when it gets cold outside.
Read more:
20 Heartfelt Wedding Gift For Son From Mother
21. Never Fails 1 Corinthians 13 Canvas Print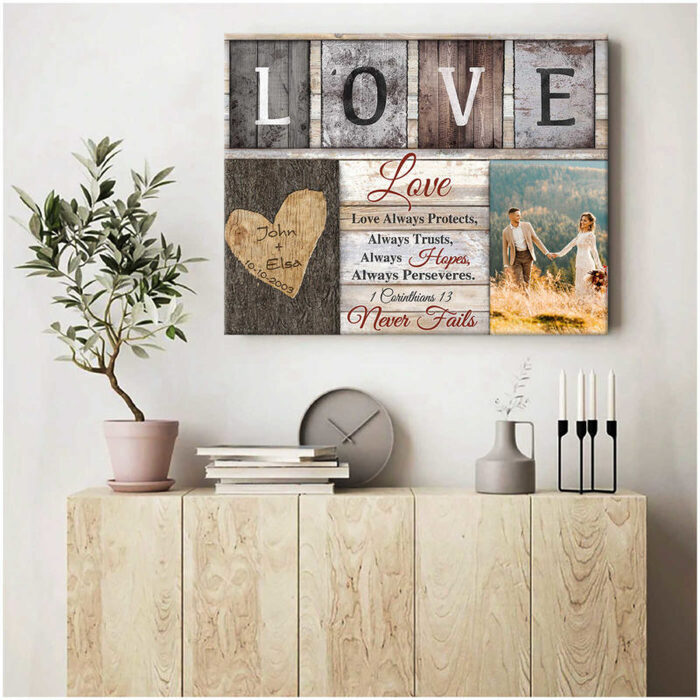 Are you looking for a unique gift for a special your son's wedding? Consider giving a beautiful blanket as a sweet wedding gift for son. This unusual gift is a wonderful way to celebrate a newlywed pair. Ideal as a piece of home decor or for a romantic evening spent cuddling up in front of the television with your special someone.
22. Music Keepsake Box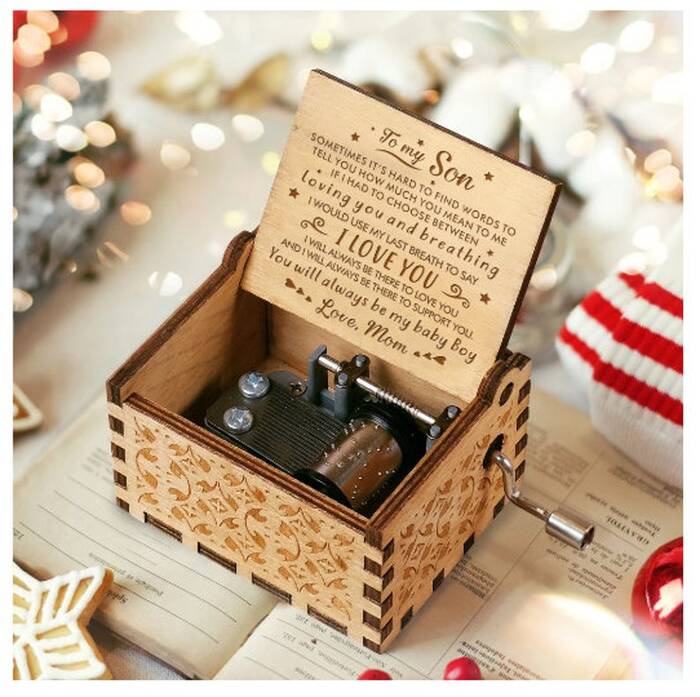 This is a creative and appealing way to keep your son's wedding day souvenirs. Acid-free drawers, vertical files, cloth bags, and stitched envelopes are all good options for storing important documents. A hand-painted monogram is added to each one.
23. To My Son Wallet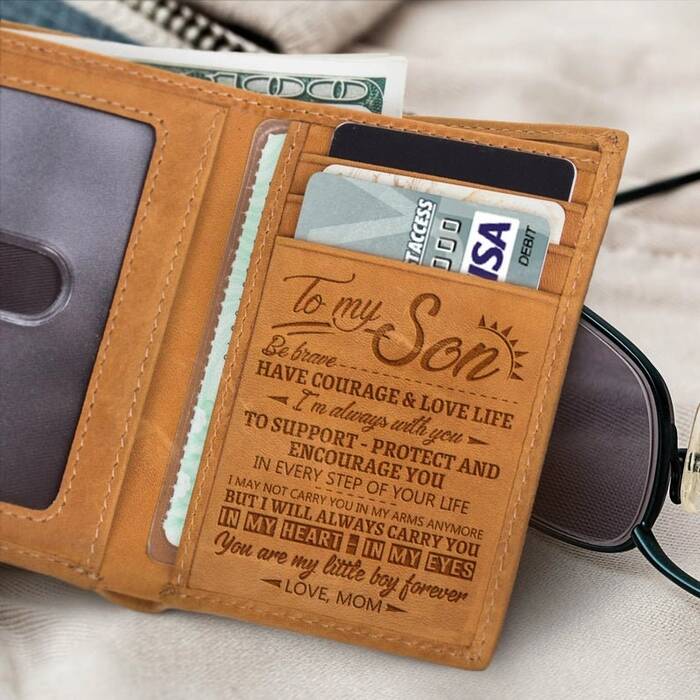 A man's wallet is an important aspect of his own style. A meaningful quote, his name, or his initials can be engraved on this one, which is handcrafted in Spain. He will miss it when the wallet is worn out and must be thrown away.
24. Customized Night Lamp
Searching for a one-of-a-kind wedding present for your son? A personalized nightlight may be the ideal solution! The lamp is ideal for generating a warm and inviting ambiance in any area, and the personalized touch makes the present even more memorable. It's a wedding gift for son and his wife will treasure for years to come, and it'll be a memorable addition to their house.
25. Wedding Custom USB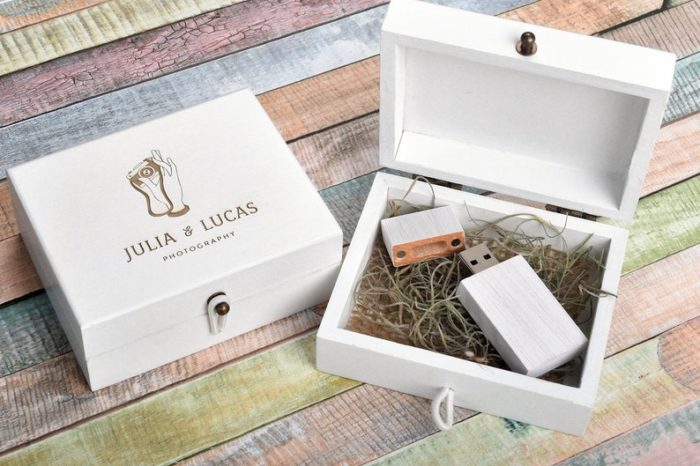 One of the most sentimental gifts you can give a boy is a USB drive that contains precious memories or gorgeous videos. This box is a personalized wedding present that can be customized with your child's name, wedding date, and any other special messages you want to send him or her over the holiday season.
26. Personalized Cutting Board Set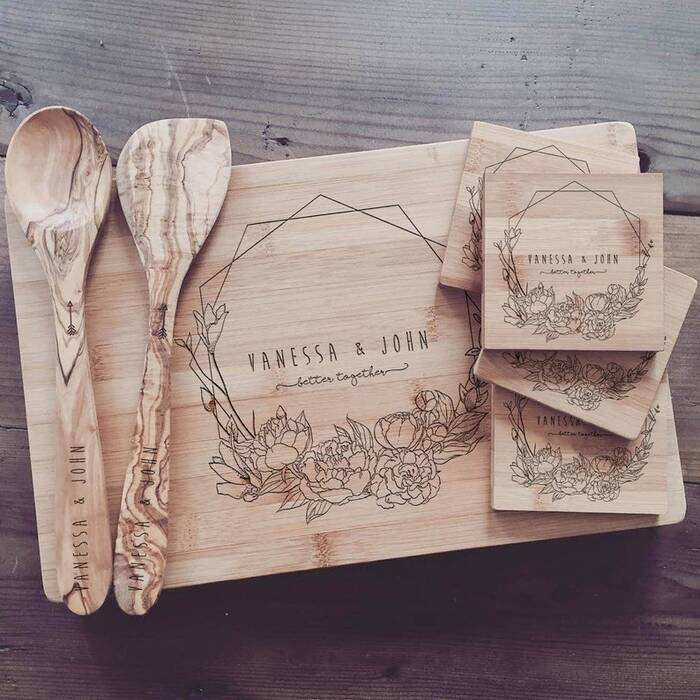 Men who cook regularly would appreciate this handsome personalized cutting board as a small gift. This cutting board is made from Sheesham hardwood, ideal for any cutting or chopping your man undertakes. Functional and masculine, this is an excellent wedding gift for son.
27. Cup and Carafe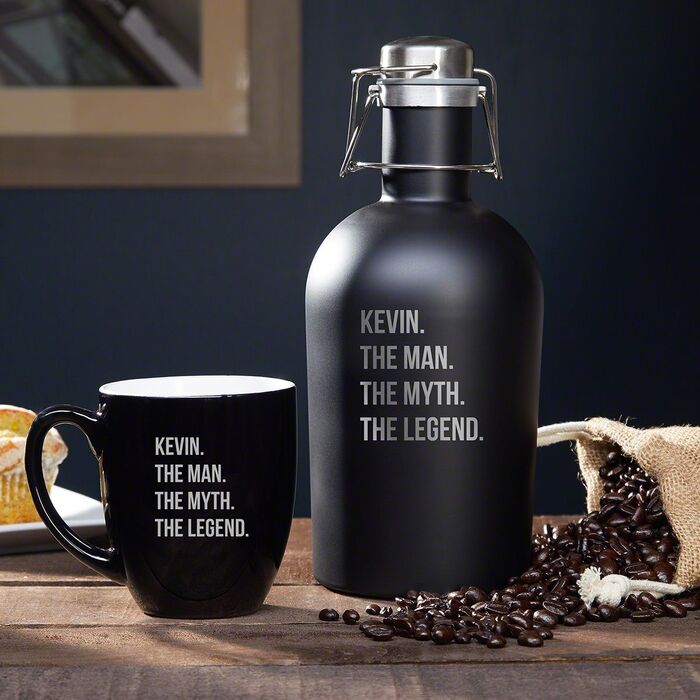 Having a cup of joe with you at all times is essential, but sometimes the amount that can fit in a standard tumbler isn't enough. This coffee carafe is a must-have for your caffeine-crazed man. You can't go wrong with a black mug that matches the carafe, and your boyfriend will love sipping his morning brew from it.
28. Personalized Handkerchief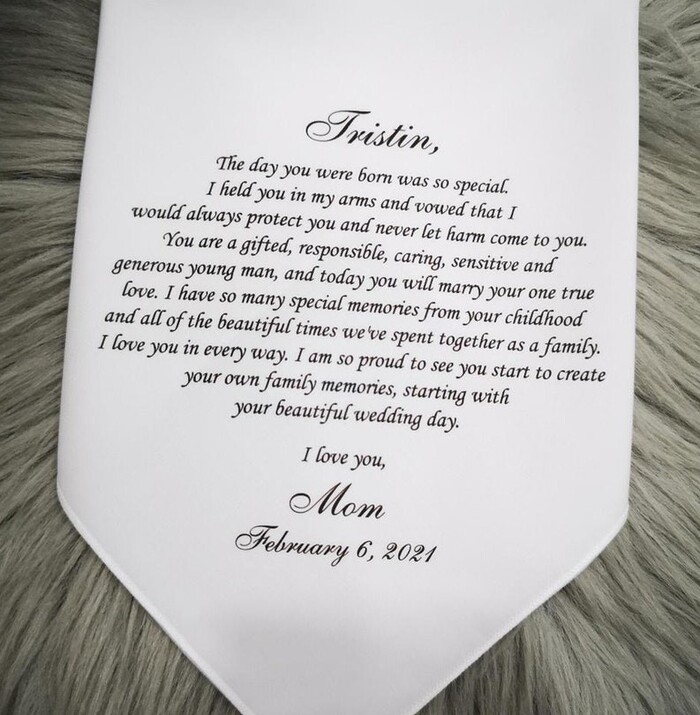 The mother-of-the-wedding groom's handkerchief acts as a reminder to your son of how much you value him. Show him how much he means to you at this moment. This heartfelt handkerchief expresses your feelings gently. The recipient will treasure that special handkerchief-wrapped letter from the heart for a long time.
29. Customized Canvas Painting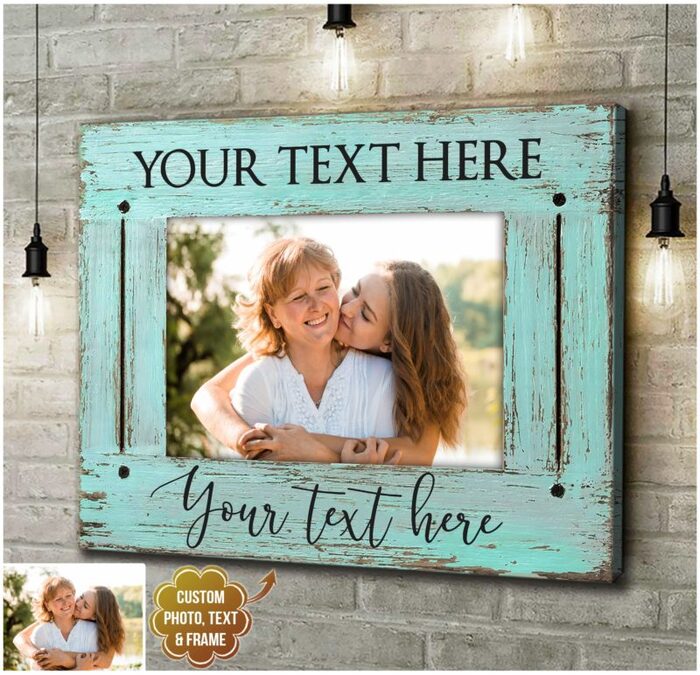 Make it clear to your cherished son that you'll always be there for him with this heartwarming wedding gift for son from mother. To preserve a special moment between you and your kid, you can include photos from his history, wedding day, or a combination of the two.
Oh Canvas tips

Make sure you choose a color that is noticeable in their home décor rather than one you see them using often. They almost never turn out the same.
30. Personalized Record Display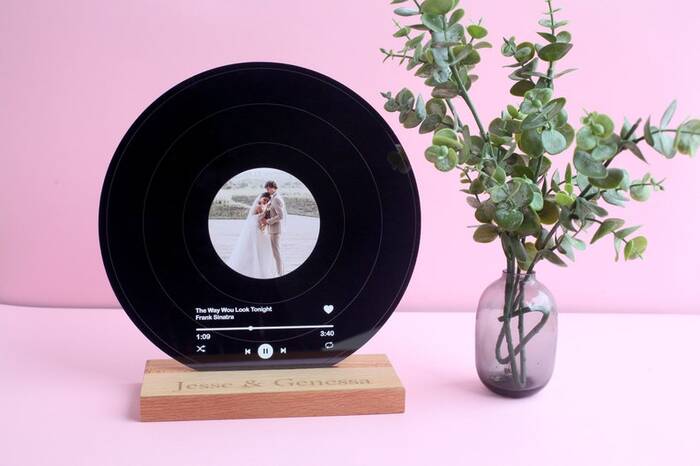 Start thinking about his favorite song, the one that means the most to him. A piece of music that brings back memories of a special person, event, or historical period. This one-of-a-kind wedding gift for son will bring back wonderful memories whenever he looks at it.
31. Personalized Accessories Storage Case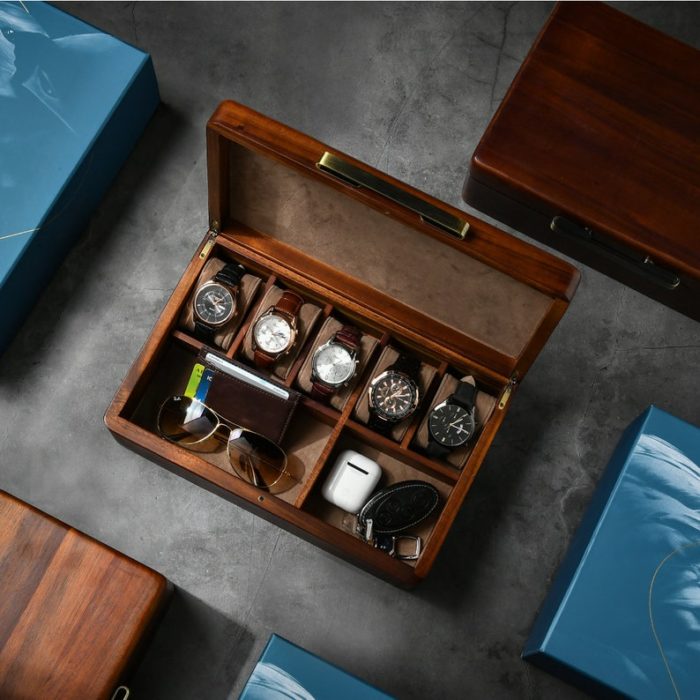 There are a lot of males I know who are obsessed with watches and other accouterments. And if they have a particular interest in collecting, they'll likely like having a designated area to store and display their wares.
This exquisitely crafted box is the ideal wedding gift for son and a handy storage solution for all of his prized possessions.
32. Love Notes Bottle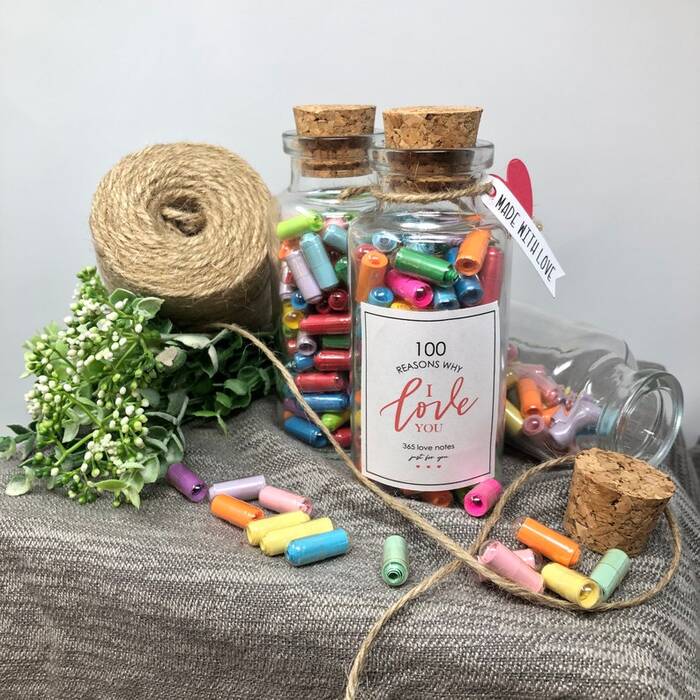 This wonderful gift of a traditional love letter in a bottle will appeal to nostalgic romantics everywhere. What better way to show him how much you care about him than to ask him to join you for an evening of movie-watching?
33. Shaving Set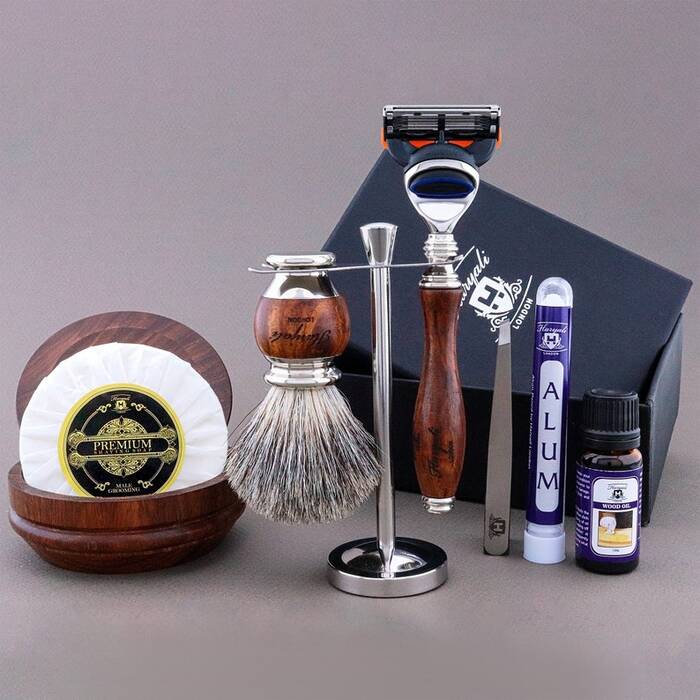 The art of shaving is timeless. Intricately designed shaving kit that includes all the essentials for an excellent shave. Since no one wants to kiss a porcupine, why not? When storing the brush, it's best to do it upside down so that it may dry out completely between uses, extending the life of the brush.
34. Meaningful Watch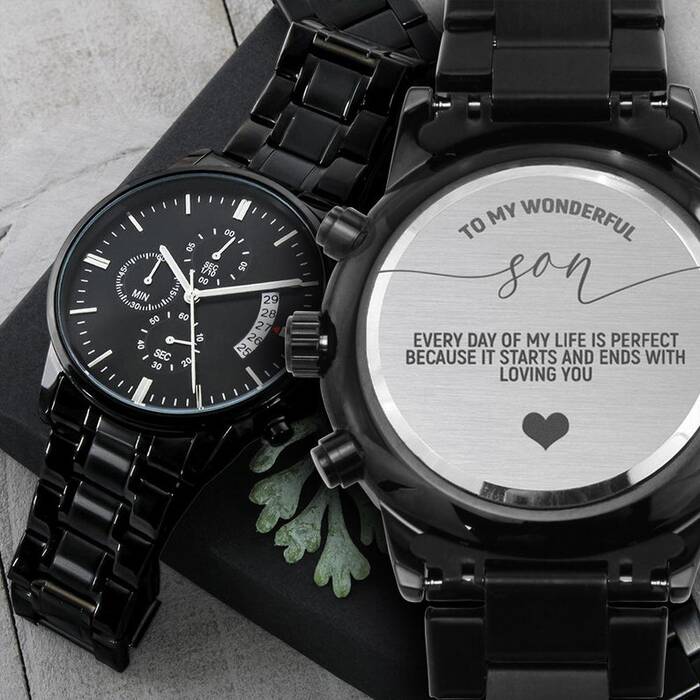 A watch is all he needs on some days. It's easy to get away with wearing this look every day, but that doesn't make it boring. You can engrave a small message on the back for a thoughtful wedding gift for your son. See how his face lights up when you give him a personalized watch as an early gift for son on his wedding day.
35. Wedding Wine Box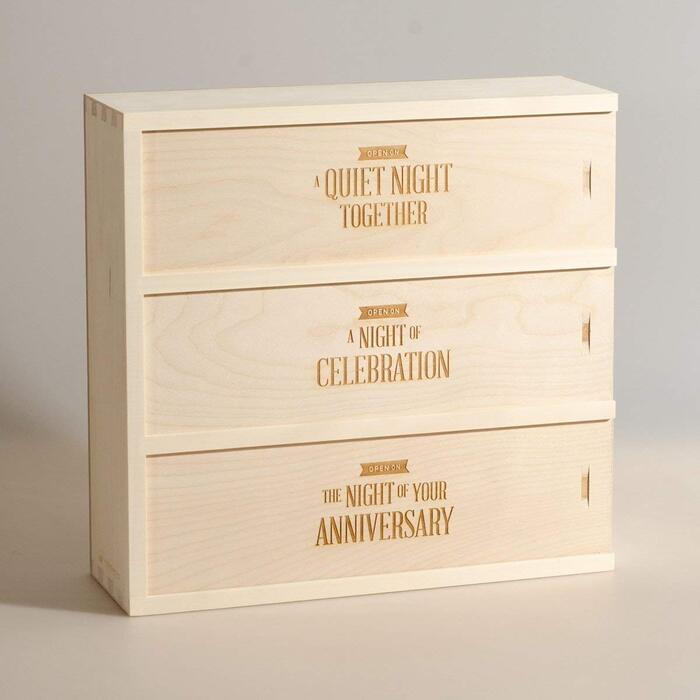 New members of your family are welcomed into the fold at weddings. Consider giving them a gift from mother to son on wedding day, incorporating your family name to make the new arrival feel at home. This wine box is an excellent choice when commemorating a significant event in your family's history.
36. Engraved Baseball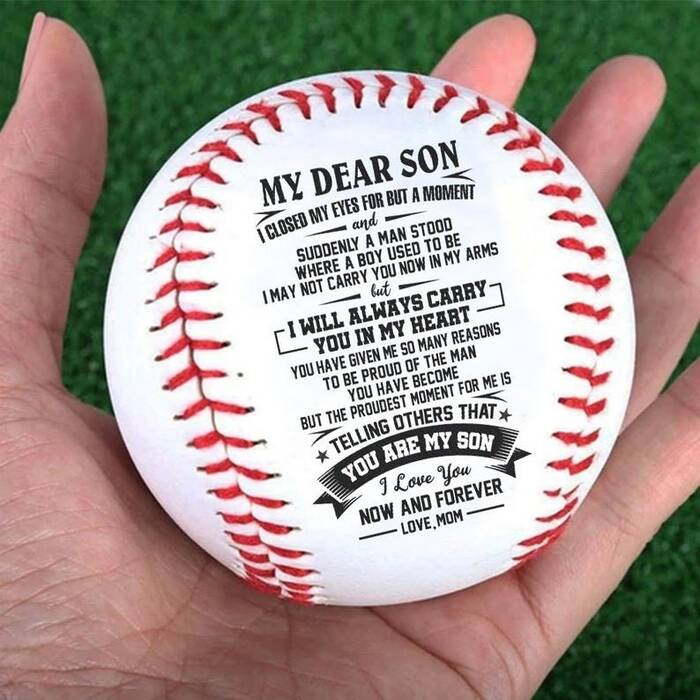 A custom baseball bat is a perfect gift for any man. The groom gift from mom doesn't have to be dull with these suits & tie full-size trophy bats. They also look fantastic on a mantle.
37. Engraved Lighter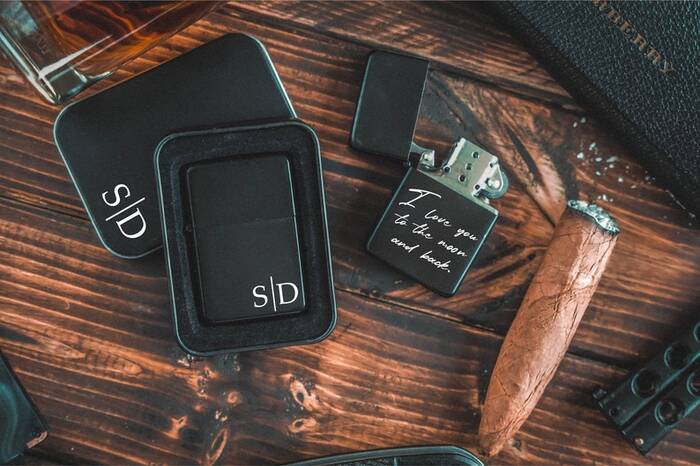 Steel with a black finish is used to make this conventional lighter, which is refillable. His eyes will light up when he sees this lighter with his name laser engraved on it.
38. Custom Beer Crate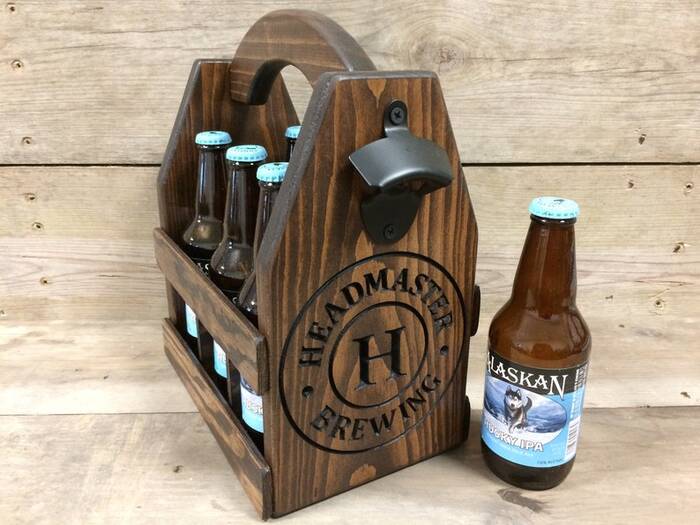 No man can resist this beer box as long as it bears his name. Craft beer can now be brought to friends' residences in the same manner as a professional!
39. Dumbbells Barbell Set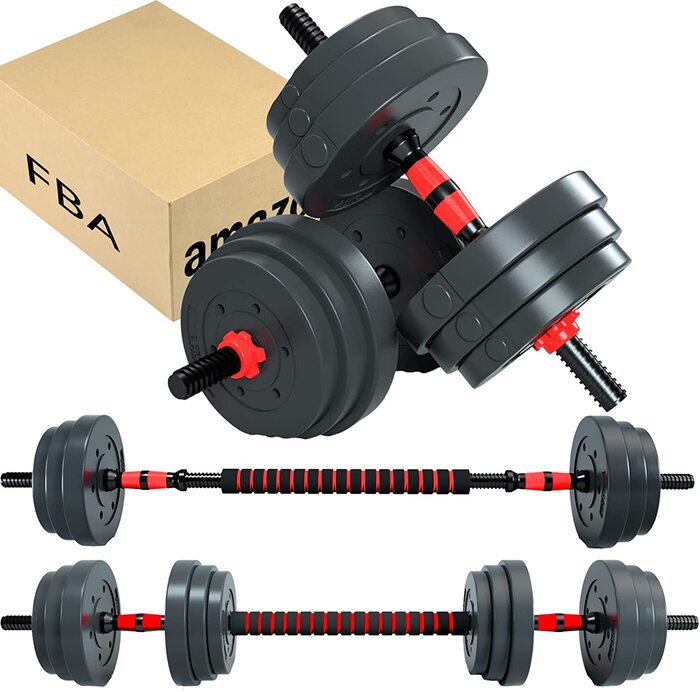 The manliest of men are extremely concerned about their physical appearance. They spend a lot of time at the gym working on their physique and bulking up. Is he the type of person you're looking for? Let's buy him an adjustable dumbbell set! Thanks to your generous donation, he'll never have to buy another set of weights again!
40. Customized Necklace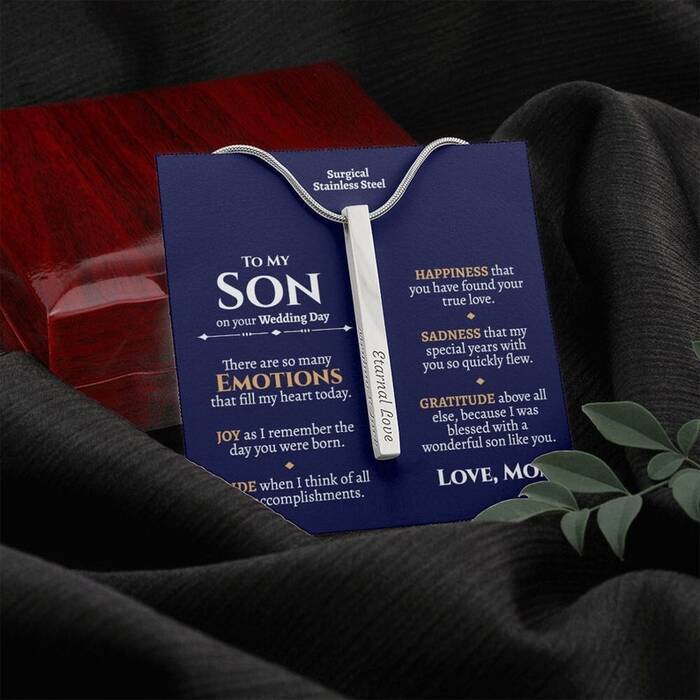 Your son's greatest and easiest gift on his wedding day is a personalized necklace with a meaningful inscription. Your loved one deserves to appreciate your priceless memories. For now, your gift will be in the hands of your son.
Oh Canvas tips

Pair your unique necklace chain with a shirt with a suitable neckline. Long chains, for example, look better with boat necks or turtlenecks, but short, choker-length chains look best with medium necklines or V-necks.
FAQs about wedding gifts for son:
What to get your son when he gets married?
Traditionally, you can give your son the wedding rings or cover for the officiant's fee, the marriage license, the bride's bouquet, boutonnieres and corsages for the immediate family, the music (band/DJ), and the alcohol during the reception, and the honeymoon.
What should you not give as a wedding gift?
A functional souvenir is usually a safe choice if you don't have a registry. Consider glass or barware, a gorgeous bowl, cutlery, a cake slice, a picnic basket, an oven dish, or a blanket. Contemporary options are art prints or coffee table books.
How much should you give your son for a wedding gift?
Avoid giving less than $150, as this is the average amount "normal" guests spend on gifts. Friends and distant relatives should spend less than close relatives. There is no maximum amount, but try not to be too generous if that makes your son uncomfortable. Even if it's "awkward" at first, conversing about these topics is necessary. Offer your assistance and financial assistance, and reassure your kid that you are always there for him.
Read more:
Giving a memorable wedding gift to your son is a wonderful way to celebrate the beginning of a new chapter in his life. As a bonus, it's a beautiful way to remind him of you while you're not in touch. Re-examine the items on our list and choose the one you believe will bring a glad tear to your son's eye. Oh Canvas has the best selection of wedding gifts if attractive canvas prints smite you and want to make them excellent gifts. Awe-inspiring pieces that can be personalized with images, names, and more will leave you speechless.