It's tough enough to choose a typical wedding gift, but choosing the greatest step son wedding gift is even more difficult. Parents must have struggled to choose a precious and significant gift that will be passed down to their son for many years. Recognizing this issue, Oh Canvas'd like to suggest 34+ heartfelt wedding gifts to help parents broaden their options. We believe that these presents will enable the family bond to grow stronger and more valuable over time.
34 Best Stepson Wedding Gift That He Will Never Forget
Thoughful Step Son Wedding Gift
1. Tie Gift Box
Silky neckties, pocket handkerchiefs, clips, and cufflinks are included in these trendy gift packages. Set yourself up for effortless, distinguished style: this collection was created with the suit-wearing, sophisticated gentleman in mind. This set is easy to put together because it is designed to harmonize without being too matchy-matchy.
2. Stainless Steel Bracelet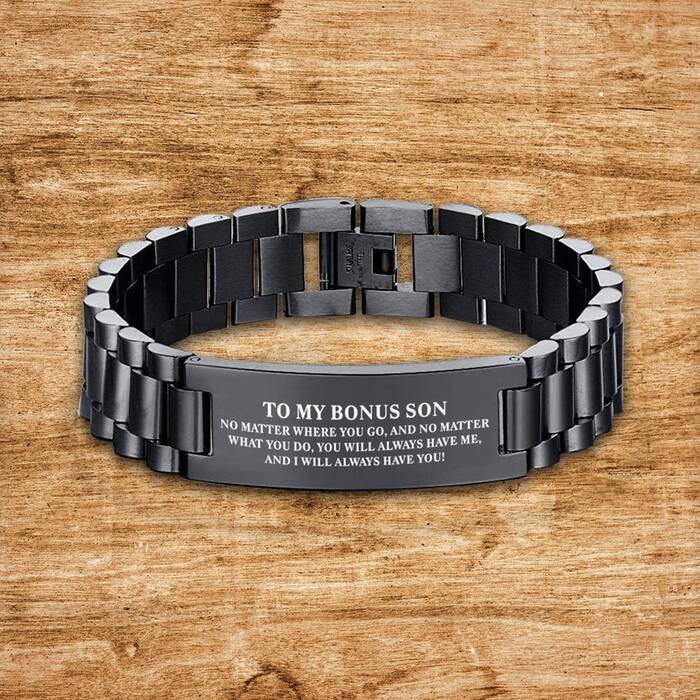 If a necklace isn't your son's style, there are lots of other fantastic gifts to consider in the same category. A stainless steel bracelet might be an excellent gift. This is a wonderful way to show you care, whether he wears it on his wedding day or retains it as a memento from his mom or dad.
3. Wedding Video Book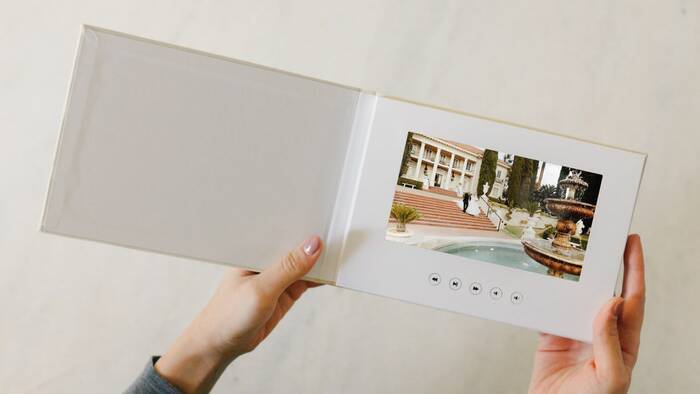 The new method to preserve and enjoy your stepson's wedding video or slideshow is with a wedding video book. It's simple to use, and it's always ready to go! This linen-bound wedding video album is not going to let him down.
4. Photo Coasters
When you have these coasters, there's no need for a wedding photo album. To add a bit of sweetness, choose four of your best images as a pair. They're the ideal accompaniment to a tumbler of whiskey or beer for your son.
5. Engraved Wine Table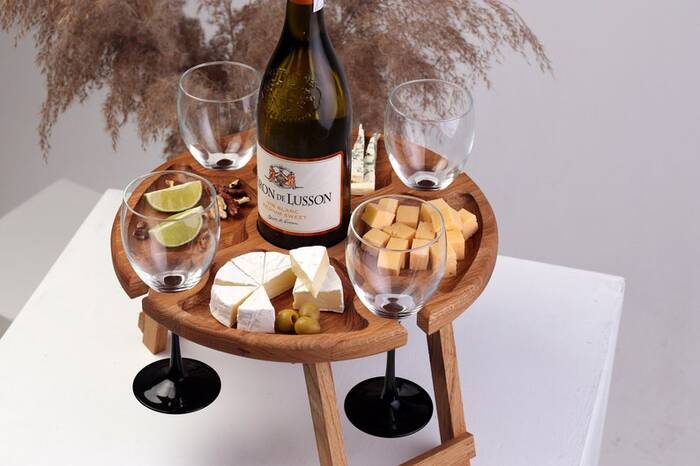 If the bride and groom love merlot and charcuterie, your son will adore receiving this personalized wine table as a meaningful step son wedding gift. For a one-of-a-kind present idea, personalize the board with names, initials, and wedding dates.
6. Beautiful Old Country Scene Canvas Art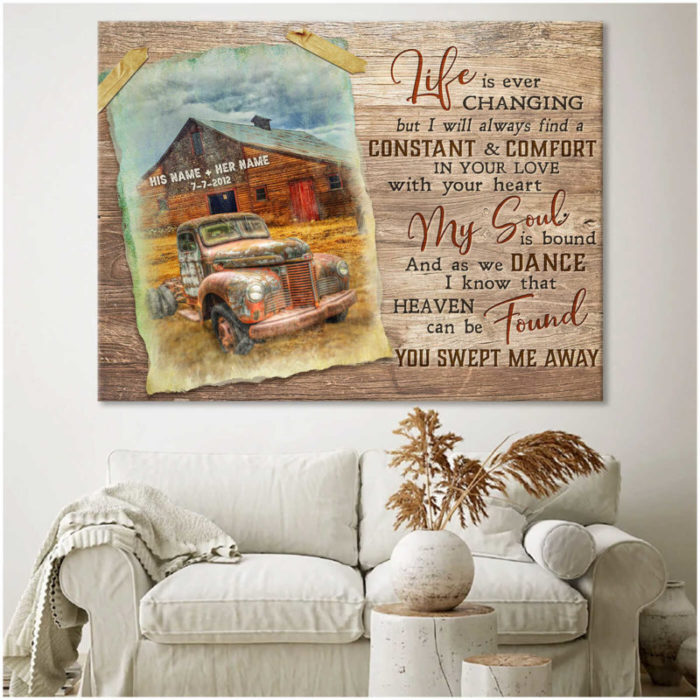 This beautiful painting will make an excellent step son wedding gift. The poetry in the painting is an excellent way to communicate your love and affection for your son. Assume you have trouble expressing your sentiments to others through words. This poetic frame is an excellent choice for you. It will encapsulate all of your feelings toward the individuals close to your heart, particularly your son.
7. Money Clip Wallet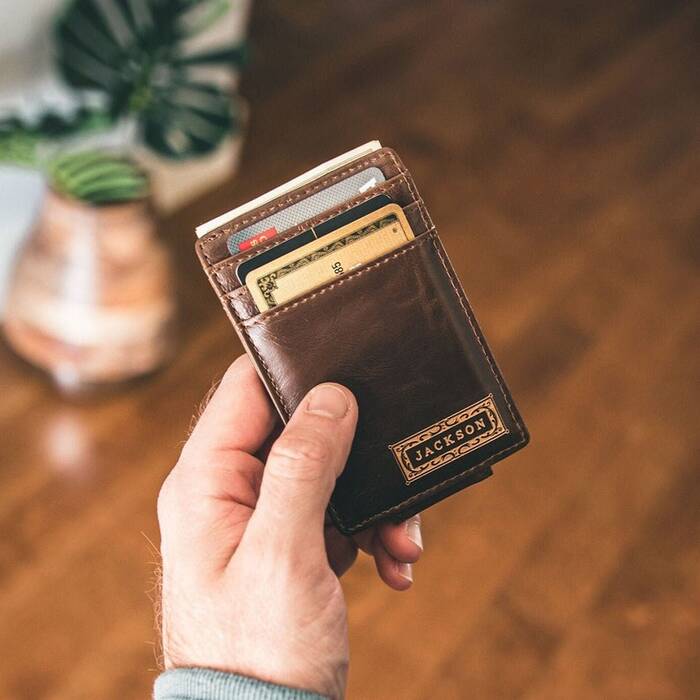 This personalized money clip wallet, hand-stamped with his name, will delight your petite heart. This is an awesome step son wedding gift you should consider. It can be personalized with a phrase such as "Congratulations," "Best Wishes," and so on.
8. To My Bonus Son Keychain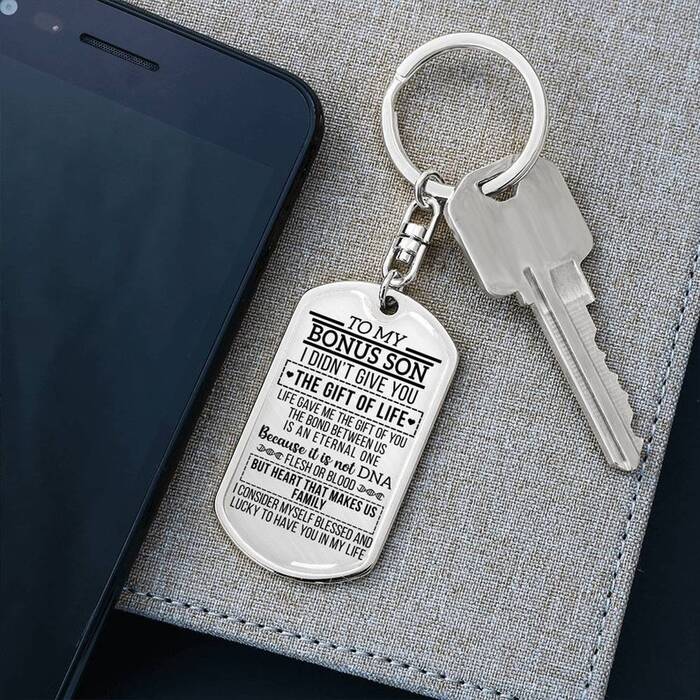 His elegant keyring is the perfect gift for a stepson who has played a significant role in your life. This keyring will add a handsome touch of sophistication to any pocket or pocketbook, thanks to its stylish black finish and shining polished stainless steel surface. This is a meaningful approach to expressing your gratitude for all of the significant roles these people have played in your life.
9. Personalized Passport Cover and Luggage Tags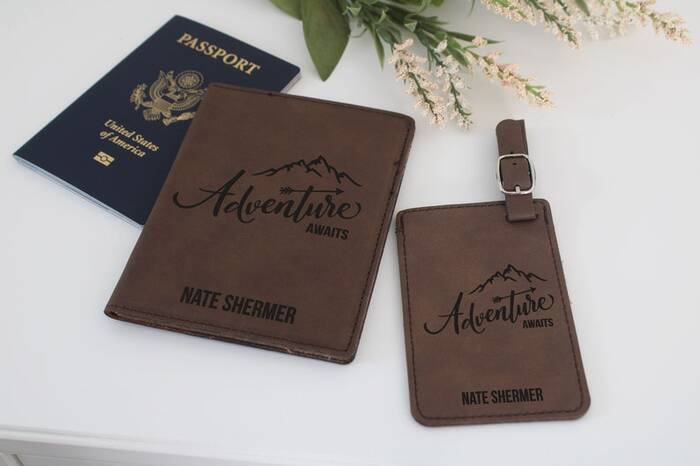 With this personalized vegan leather passport holder and luggage tag combo, they may create a classy tone for their trip. This is a sentimental step son wedding gift because of the personalized accents.
10. The Key to a Happy Marriage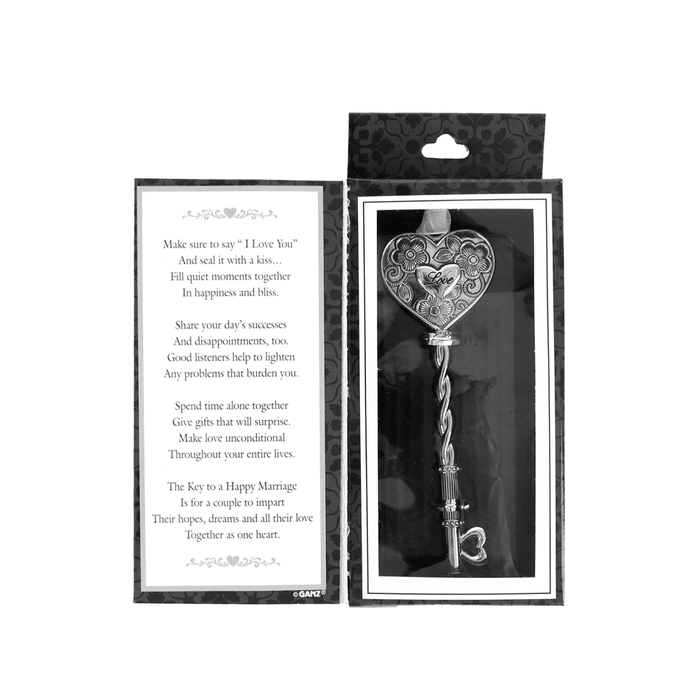 The gorgeous joyful marriage key allows your son and his wife to share their hopes, dreams, and all of their love as one heart. The Marriage Key is an expertly created symbol for opening a bright future with your son's love. On the front and back, the words "Love" and "Forever" are etched, and a white lace ribbon is provided.
11. Hello, Will You, I Do Canvas Print
This personalized wedding gift for couples is an absolute one-of-a-kind step son wedding gift. It's a ready-to-hang canvas wall hanging with a timeless classic design printed on it. It will be cherished for years if you use it to add a beautiful touch to your son's room. This wall art has a high-quality manufacturing method that gives it a long-lasting photo feel.
12. Meaningful Timepiece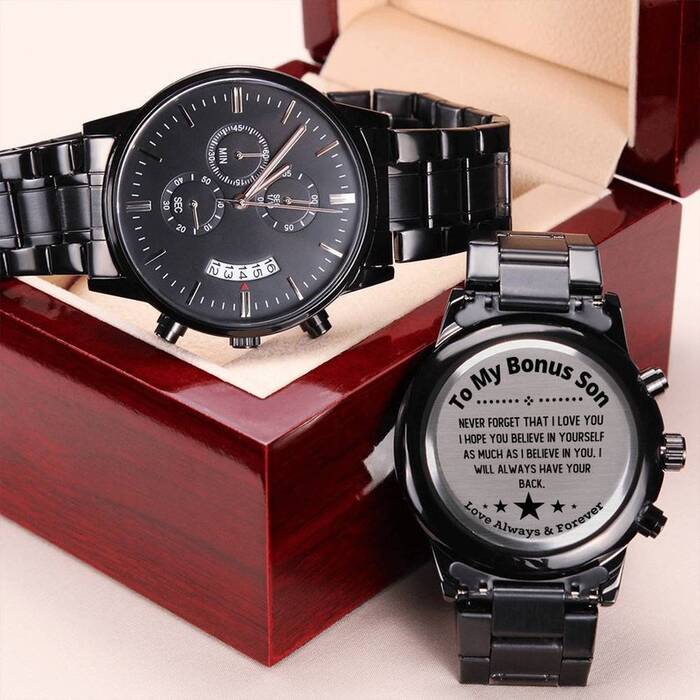 A watch is believed to be the best accessory a man can possess. If you want to take this concept to the next level, a personalized wooden watch is an excellent choice. Have a special message inscribed on the watch and watch his face light up when he opens it.
13. Flask Gift Set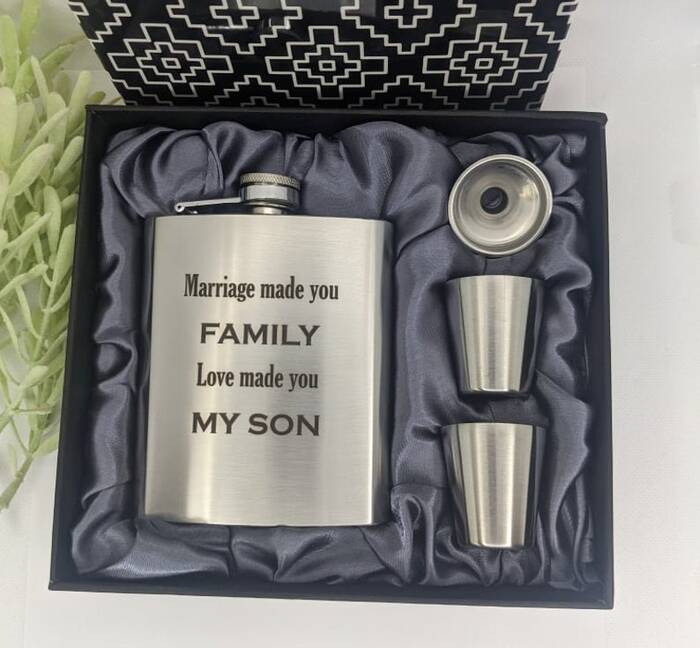 Make a stainless steel flask with his initials engraved on the side. Fill it with any yummy beverage he prefers as an option.
14. To My Son Necklace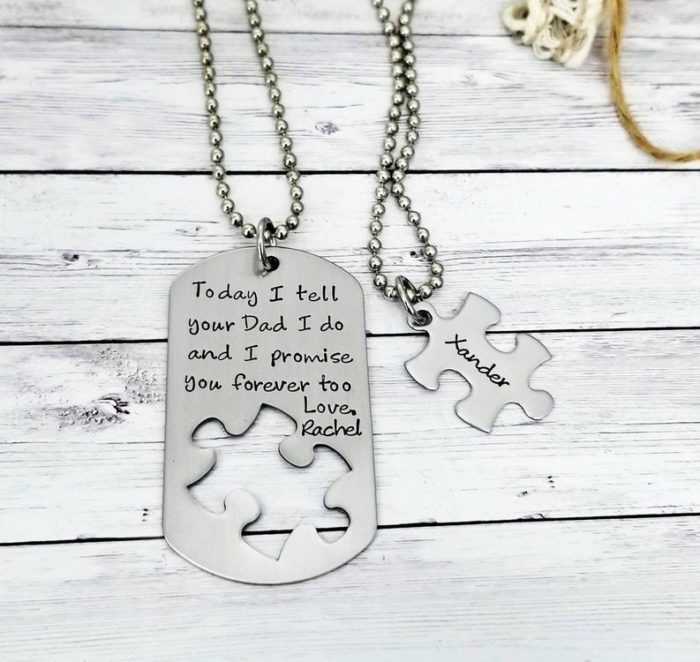 When it comes to making a person feel special on his wedding day, a piece of jewelry may often go a long way. Consider a simple necklace for the groom as a small gift that he can wear on his wedding day. This present will be treasured for a lifetime, with the charming message "to my son" encapsulating the thoughts.
15. Customized Leather Belt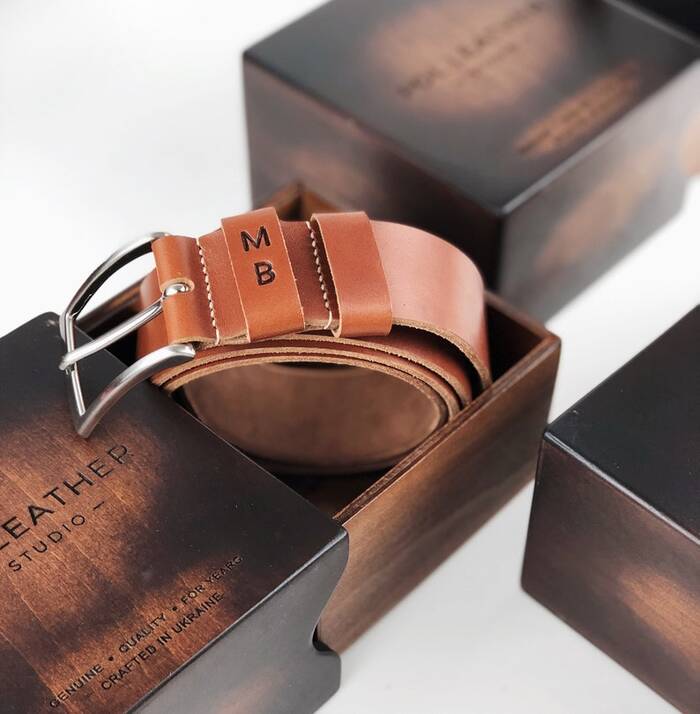 Whether his day is informal or formal, every man needs a go-to belt he can rely on. And this black leather belt will not let you down. If you're looking for a stylish step son wedding gift, this is a great option. His initials are engraved on a brushed silver buckle for a stylish yet personal touch.
16. Old Truck and Barn Wall Art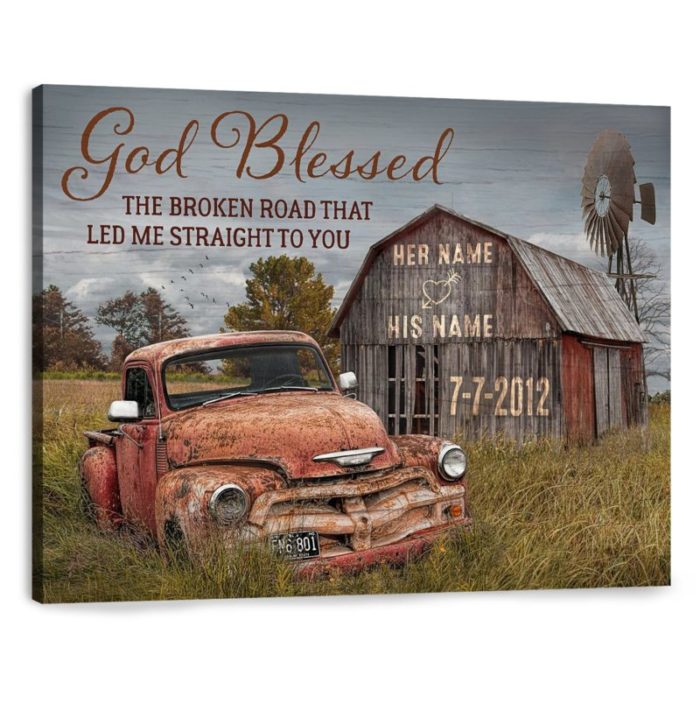 Are you looking for a unique gift to help your stepson commemorate a special occasion, such as a wedding? Consider giving a beautiful artwork as a wedding present. This bespoke gift is a one-of-a-kind way to pay tribute to a happy couple. Perfect for decoration or the special couple to snuggle up under on an especially frigid night while watching TV.
17. Customized Wedding Keepsake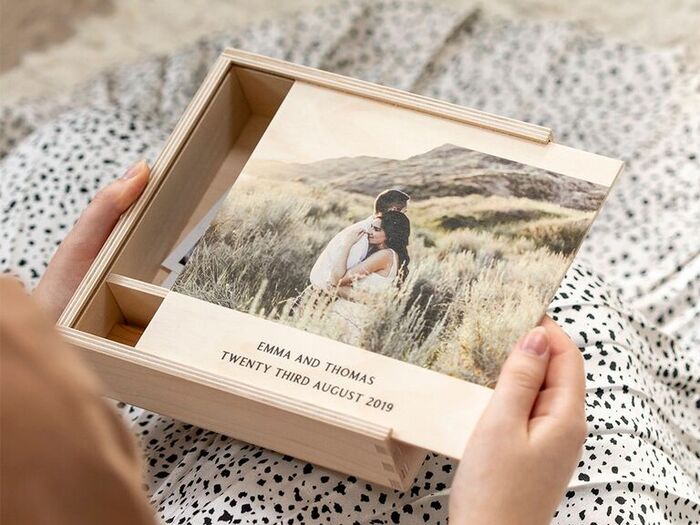 This is a unique and attractive way to store important mementos from your stepson wedding day. Acid-free drawers, vertical files, fabric bags, and sewn envelopes will keep their valuables safe. Each is personalized with a hand-painted monogram.
18. A Furry Companion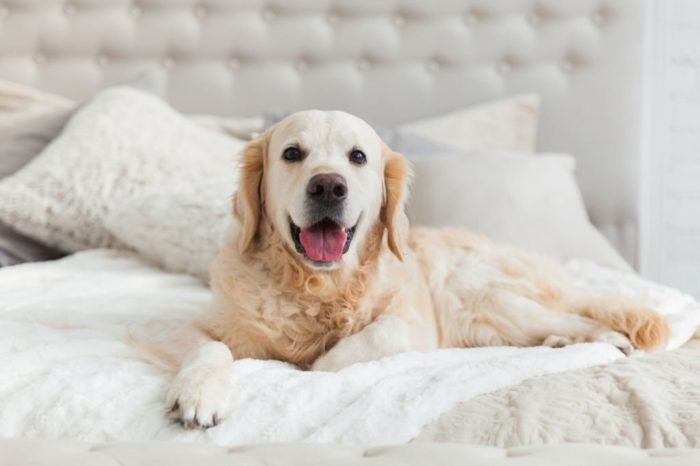 While it's one of the more outlandish suggestions on our list, including a furry companion in his new life together is always a possibility. Whatever animal buddy floats his boat, whether it's a puppy, a pig, or a goat!
Read more:
Practical Step Son Wedding Gift
19. Bluetooth Speaker Table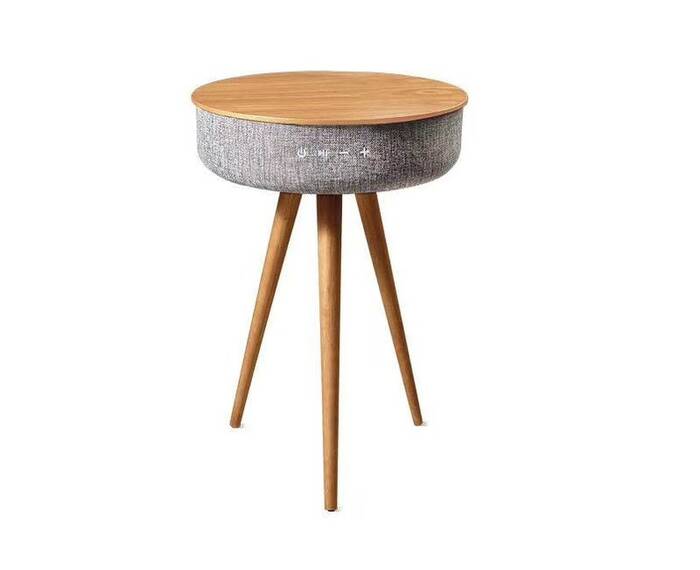 He's already made concessions and given up some items he'd kept since his freshman year in the dorms, but now that he's getting married, the groom still wants his own space. This fantastic table is a great compromise that he'll adore in any setting. It boasts a built-in Bluetooth speaker as well as a trendy design. Using the touch of his phone, he'll be able to create any mood he desires with music.
20. Multi-Tool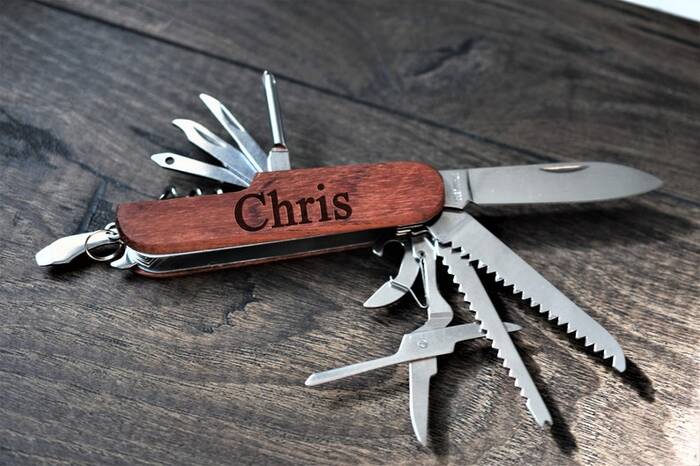 This multi-tool is a collector's treasure that he will cherish. It may be used as a screwdriver, thermometer, and LED light, among other things. Is there anything it's not capable of?
21. Mini Portable Barbecue Grill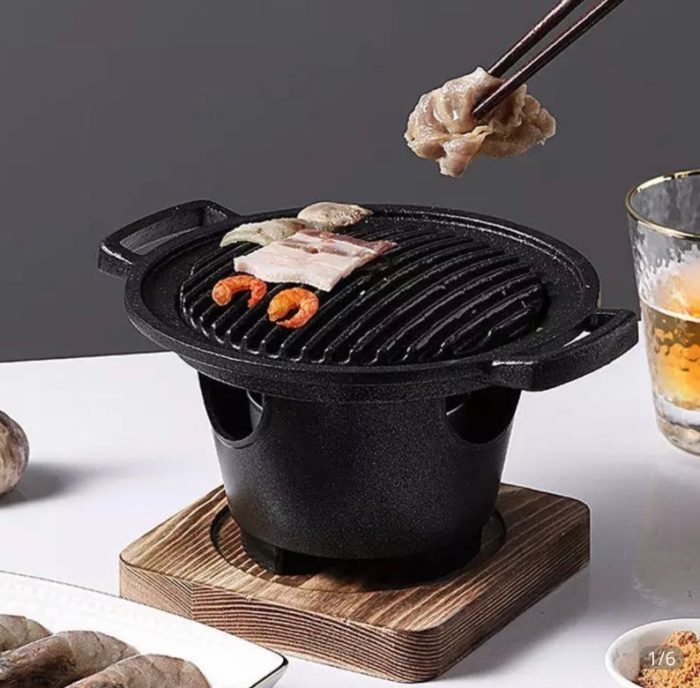 This portable burner, a present for the grill master, is all about carrying the party with him wherever he goes. When he arrives, beach barbecues, campground picnics, and tailgate parties will be elevated to new heights.
22. Alcohol Infuse Kit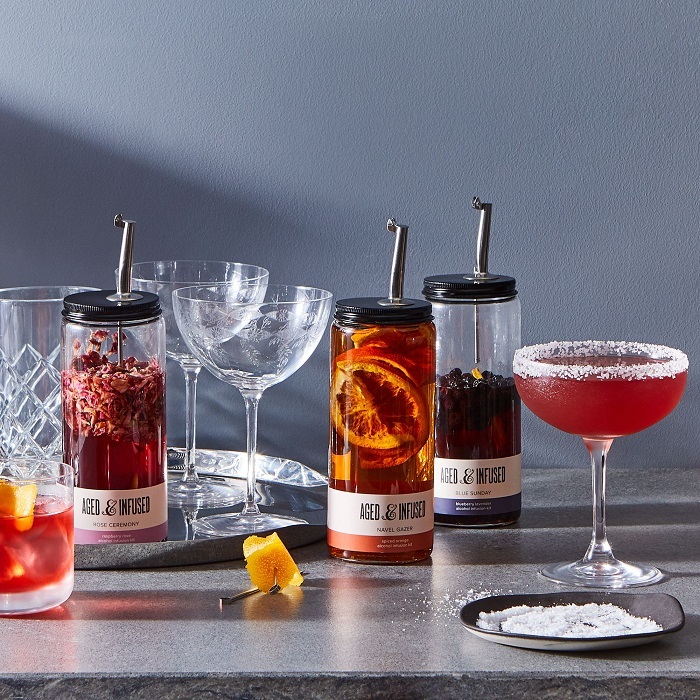 With this at-home alcohol infusion kit, he'll feel like a mixology master. The kit, which comes with dehydrated fruits and spices, makes it simple to infuse your favorite spirits with delectable flavors that bring the cocktail bar to your kitchen counter.
23. Grooming Kit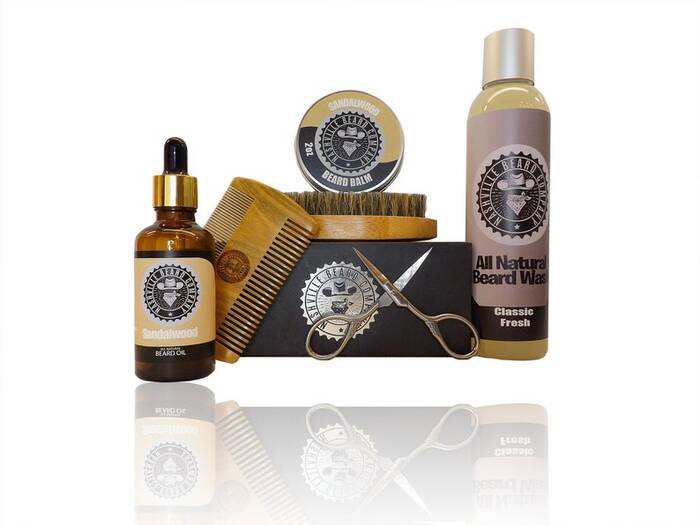 What can you do to keep your stepson kissable? A healthy beard and hydrated skin will assist! This set includes a cleanser, shaving gel, and serum to ensure that his face is in tip-top shape for a kiss from your lips.
24. Smoking Gun Infuser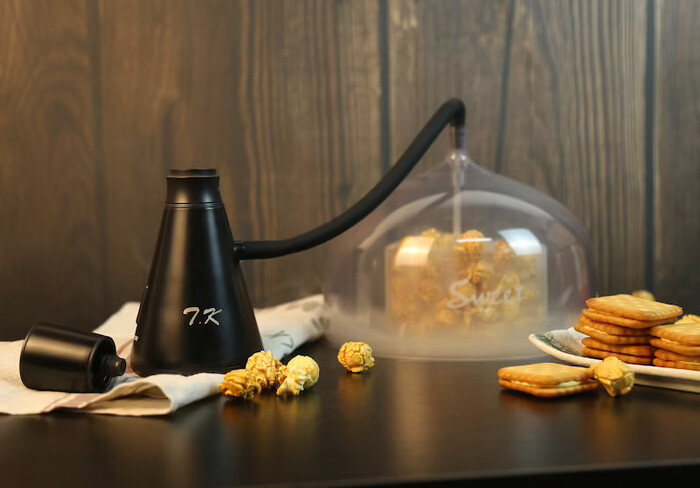 Consider this the grilling accessory your son didn't realize he needed. The battery-operated smoker infuses a rich, smokey taste into anything from meats to cheeses nearly instantaneously, and you can control how much smokiness you get. The cool factor is unrivaled.
25. Travel Toiletries Bag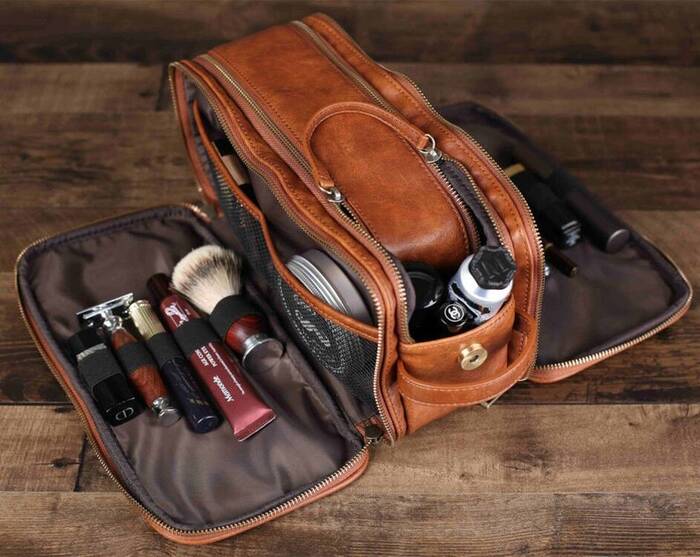 With travel-sized toiletries, you can help him conserve space in his suitcase. Shave butter, toothpaste, face cleanser, and a razor are all included in this set, which is neatly packaged in a travel toiletry bag.
26. Adventurer Backpack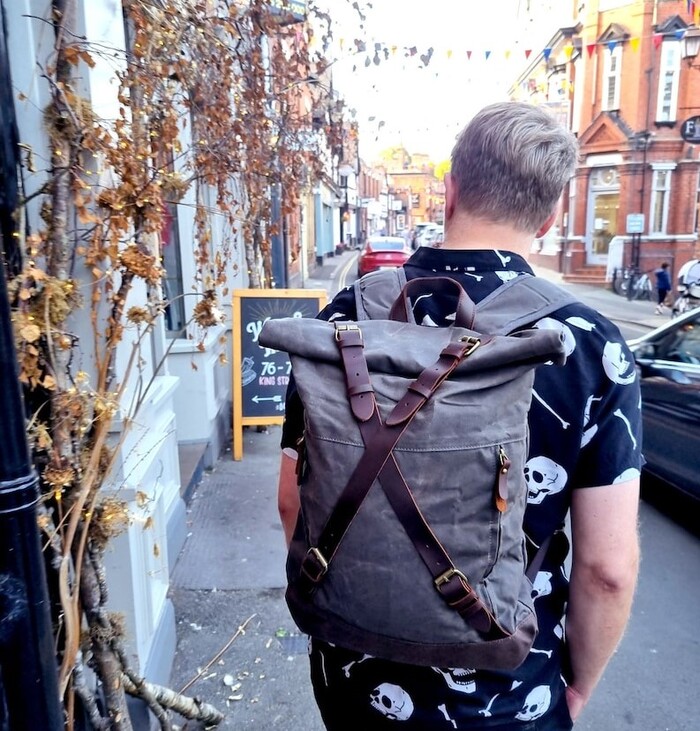 Are you looking for an ideal step son wedding gift? This bag will come in handy for hikers, frequent beachgoers, and all-around adventurers. If he prefers to wear a backpack to work, it offers a dedicated laptop pouch as well as 360-degree reflectivity for nighttime use.
27. Tie Clip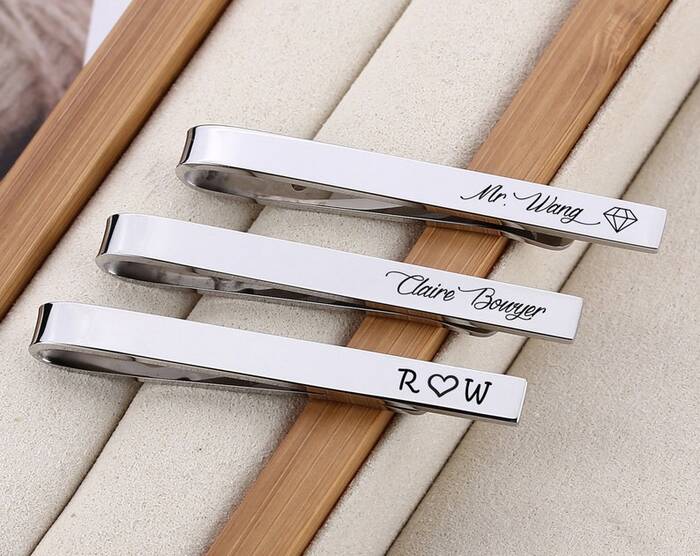 On this auspicious occasion, a cute and useful gift for your stepson. With a personalized monogram, it's available in stainless steel, copper, or brass. If your son prefers to walk down the aisle in a suit rather than a tux, this personalized classic tie clip is the ideal finishing touch to his wedding day ensemble.
28. Commuter Gloves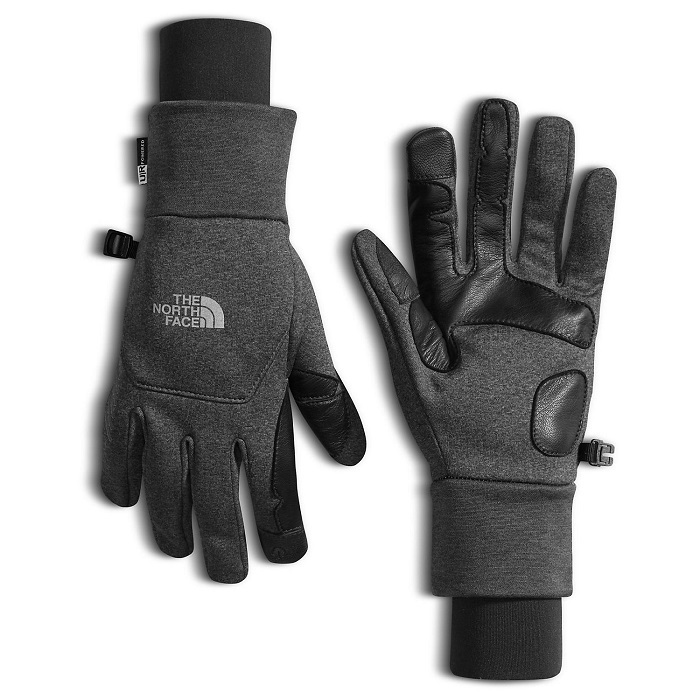 Are you looking for a gift for your difficult-to-shop-for stepson? These all-around gloves should be on your shopping list. They're touch-screen friendly, incredibly toasty and snug, and stylish enough for the commute to and from work. To match his winter coat, choose from black or grey.
29. Whiskey Toothpicks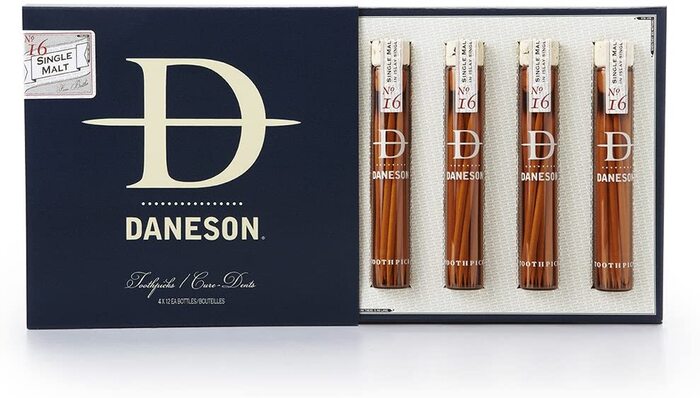 We've never met a man who doesn't enjoy whiskey-flavored toothpicks, which is why Daneson's sampler set should be on your stepson wedding gift list. This would make a great gift stuffer because there are four varieties to select from!
30. Customizable Cooler Chair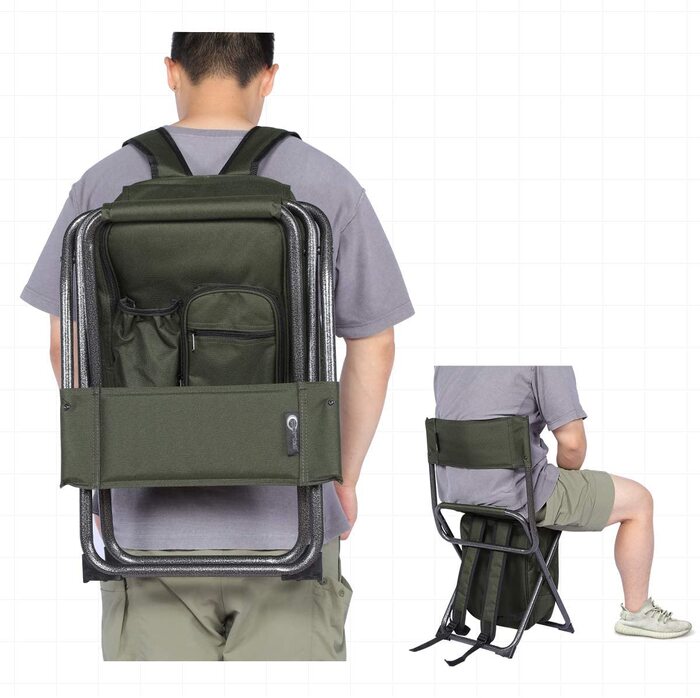 It's cooler, to be sure. It's a chair, not a table. It's neither! As a result, one of our favorite stepson wedding gifts is this cooler chair. What better way to make his next camping or hunting vacation (as a married man, no less!) unforgettable than with this useful chair? It may also be customized, which is a plus.
31. Whiskey Stones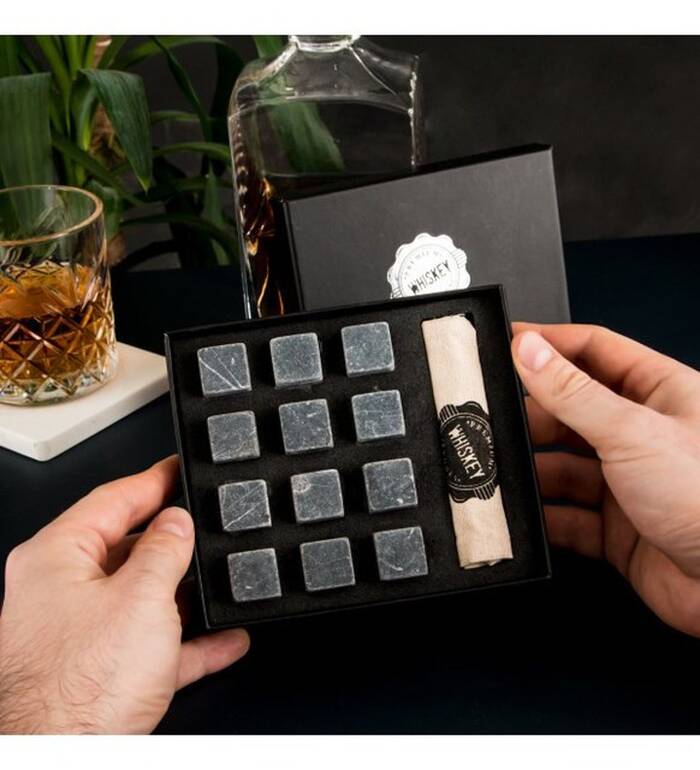 If he already has enough whiskey glasses, add whiskey stones to his cocktail hour. These small cubes, made of dark granulite rock, will keep your best man's whiskey cold but not watered down. Simply wash them, place them in the freezer, and they'll be ready to go the next time he craves a cold beverage.
32. Embroidered Jean Jacket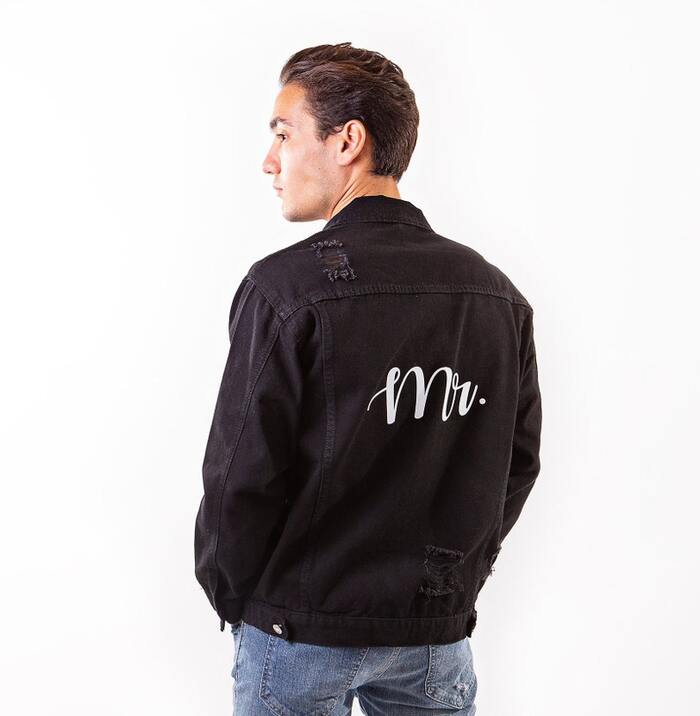 Wedding jackets are having a moment right now, so get in on the action. His married status is imprinted beneath the collar of this jean jacket. He can flaunt it in photos (and out on walks after the wedding) or keep it hidden (and smile whenever he thinks about it).
33. Garage Wall Storage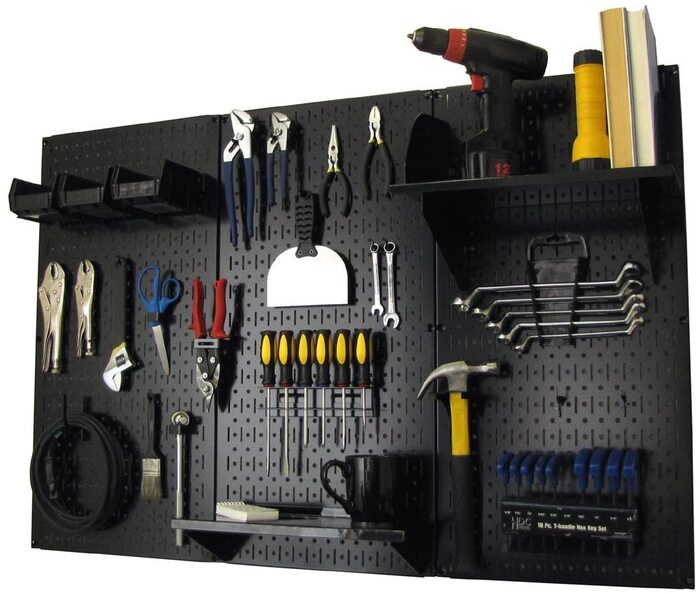 Our list of step son wedding gifts includes this garage wall organizer. It's the ideal technique to assist him in getting his new home in order following the wedding.
34. Beer Bucket Gift Basket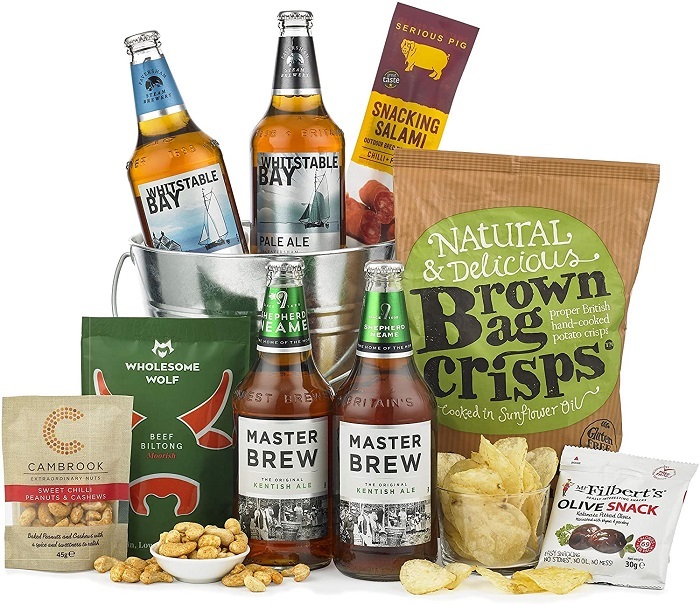 If you're shopping for a stepson who is sick or recovering from surgery, this unique gift basket should be avoided. This can be a terrific pick-up if they're just recovering from a broken bone or something less serious and their doctor thinks it's fine.
Read more:
You can't ignore the above-mentioned ideal step son wedding gift. Make a list of the things your stepson likes and let's go from there. Those who get unique gifts from you will appreciate your thoughtfulness and kindness. Check out Oh Canvas' website to discover what more we have to offer if you fall in love with our bespoke canvas art and want to give it to your son as a present.