It's the first anniversary beyond the 30-year mark, and this decade should be as memorable as the previous ones. If you're searching for a 31st anniversary gift, you may want to take it easy after last year's large celebration, or you may still want to make a major gesture. You can rely on us to help you choose a meaningful present no matter what the occasion. Let's have a look at the Oh Canvas blog!
What is the Gift for 31 Year Wedding Anniversary?
The gift for 31st anniversary has a lot of room for creativity. This anniversary does not have a customary gift theme, gemstone, or flower. As a means to commemorate the time you've spent together and the time you'll spend together, the current present motif is a watch.
When it comes to finding the perfect present for someone who likes to keep track of their time, there is a wide variety of options. A present with a personal touch will leave a lasting impression.
What to Buy for 31st Wedding Anniversary?
31st Wedding Anniversary Gift for Parents
1. Dial and Circle Necklace Box Set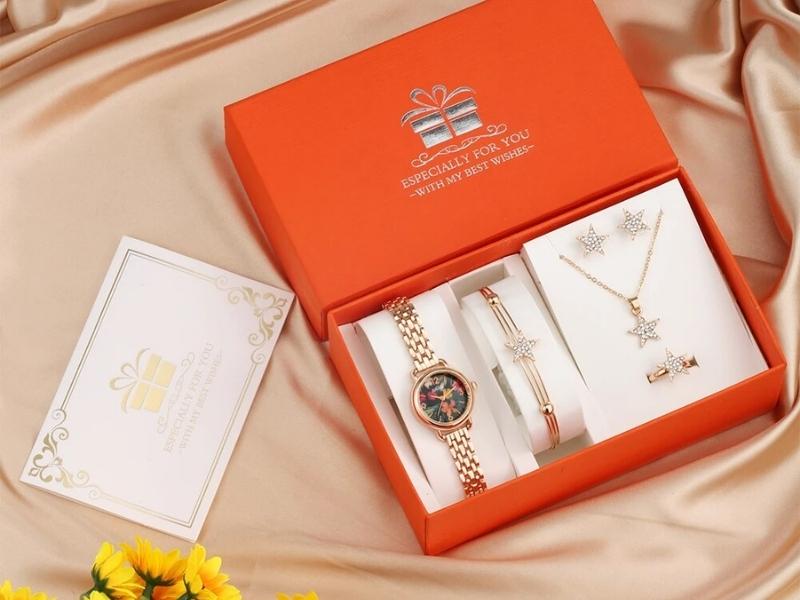 As a 31st wedding anniversary gift for parents, what could be more appropriate than a piece of jewelry or a timepiece? Both should be tried. A stainless steel circular necklace and a crystal-accented watch are included in this gift combination. You may either use it as a whole package or use it individually.
2. Shiplap Grandfather Clock in White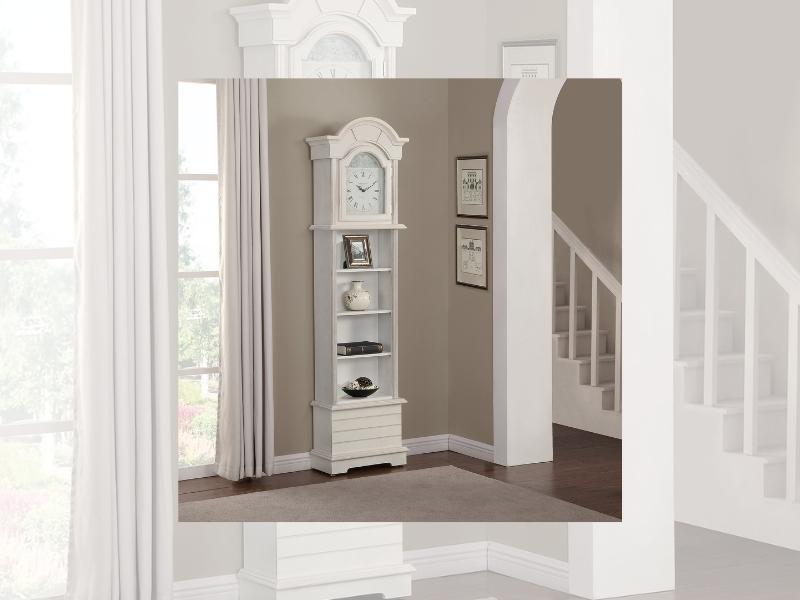 The 31st anniversary gift symbol is well represented by this grandfather clock, which would look great in any living area. Shelves abound for displaying photos and other keepsakes from your three decades of marriage.
3. Oak Watch Stand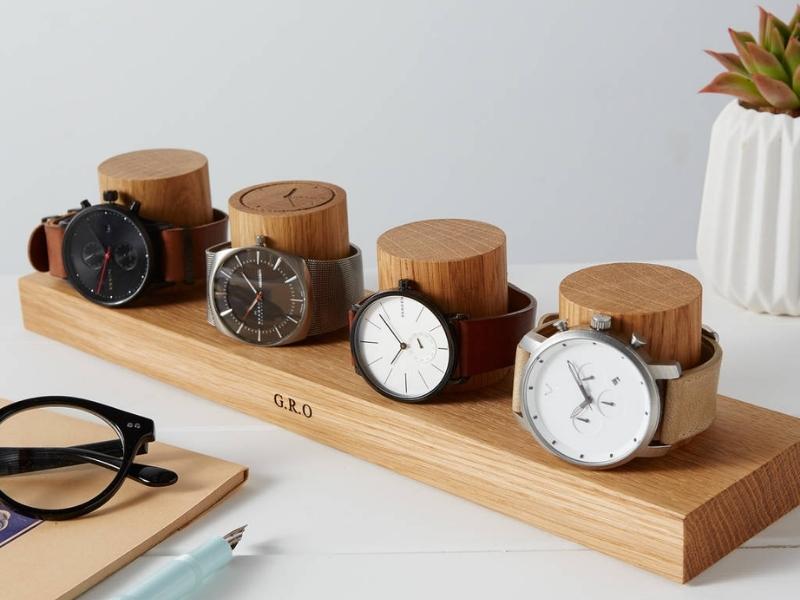 If you're a fan of watches, you'll adore this solid wood watch stands as a bedside table or desk accessory. Display and arrange their prized timepieces in style with a stand that accommodates three, four, or five timepieces. Another alternative for this 31st anniversary gift is to use an acrylic case cover to protect their watches from the elements.
4. Custom Canvas Prints
Customize your own version of God Bless the Broken Road lyrics Custom Canvas Print with your own personal message. Adding your names and the date of your wedding to the lyrics of your favorite songs makes it even more meaningful and romantic.
Your living room, bedroom, or even a quiet spot for you and your significant other to enjoy alone would benefit from a canvas print's large size and high-quality finish.
5. Nixon Regulus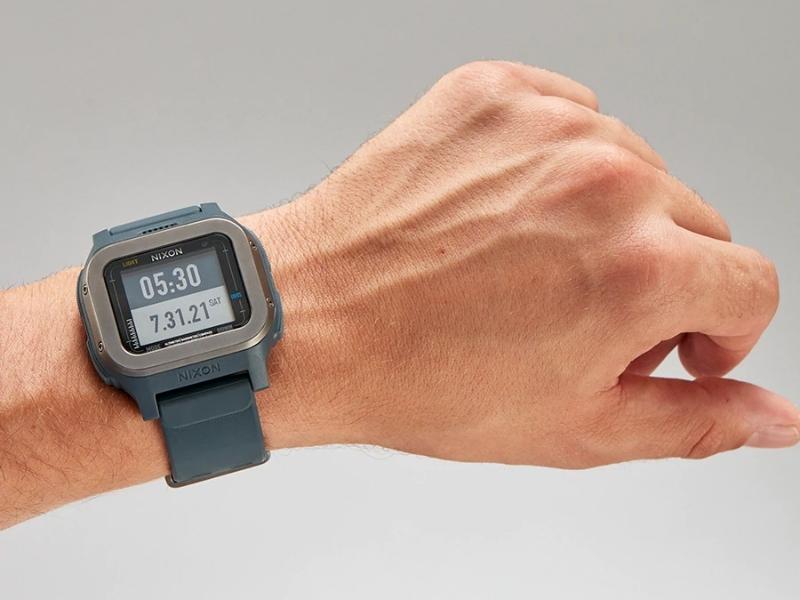 When the going gets rough, you'll want the Nixon Regulus. The Regulus was created in partnership with U.S. Special Operations soldiers and incorporates shock-absorbing materials, a water-resistant casing, an adjustable LED backlight, and twin chronographs. This is a timepiece that can withstand even the most extreme situations.
6. Esslinger Double-Flanged Spring Bars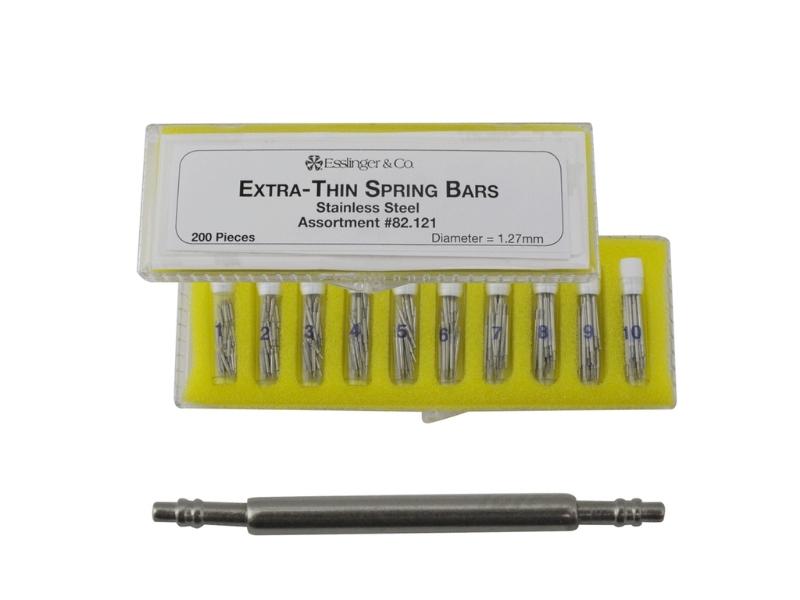 It's usually a good idea to have an extra supply of spring bars available in case you misplace one when swapping out your straps. Fortunately, they're available in packs of 10 here at a reasonable price. It's a good idea to check with the recipient to see whether they prefer 18mm, 20mm, or 22mm spring bars for their watch.
7. Friction Ball Case Back Opener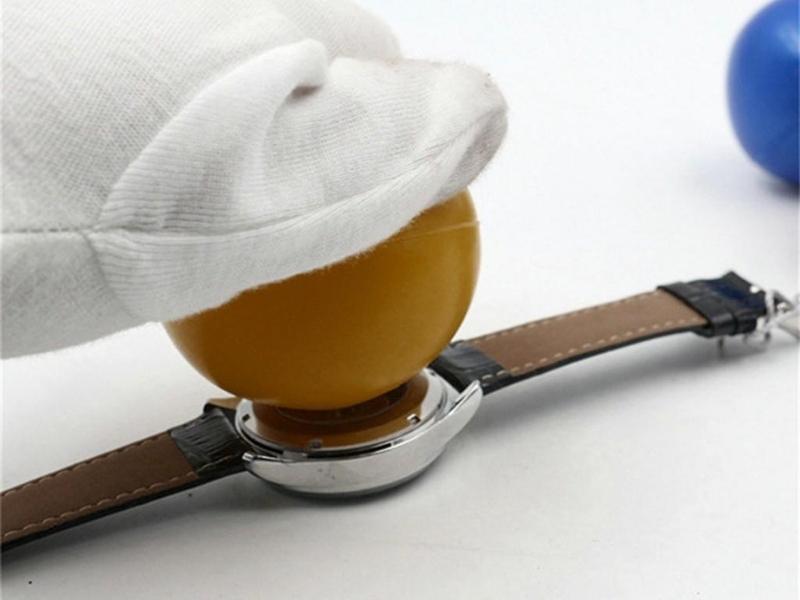 The movement of a historic watch may be checked to ensure its authenticity by opening the case back, but this should be done with extreme care. This 31st anniversary gift for your parents is inexpensive and simple to use a friction ball like this one on case backs that are screwed on.
8. Polywatch Crystal Scratch Remover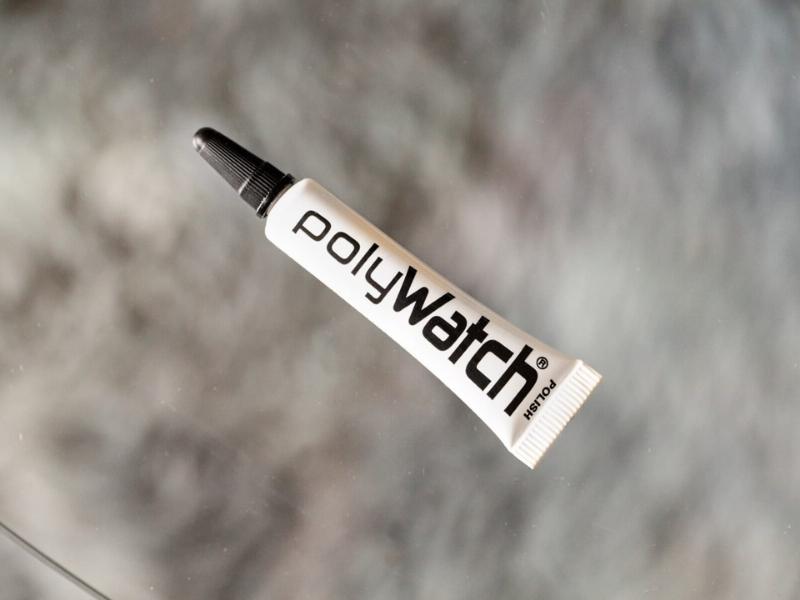 Before sapphire crystal became the most popular option for luxury watches, acrylic was the most prevalent material for watch crystals. Acrylic, which may be found on both old and new timepieces, is prone to scuffing. It's easy to use, and it'll make it appear brand new again.
9. Song Lyrics Wall Art Decor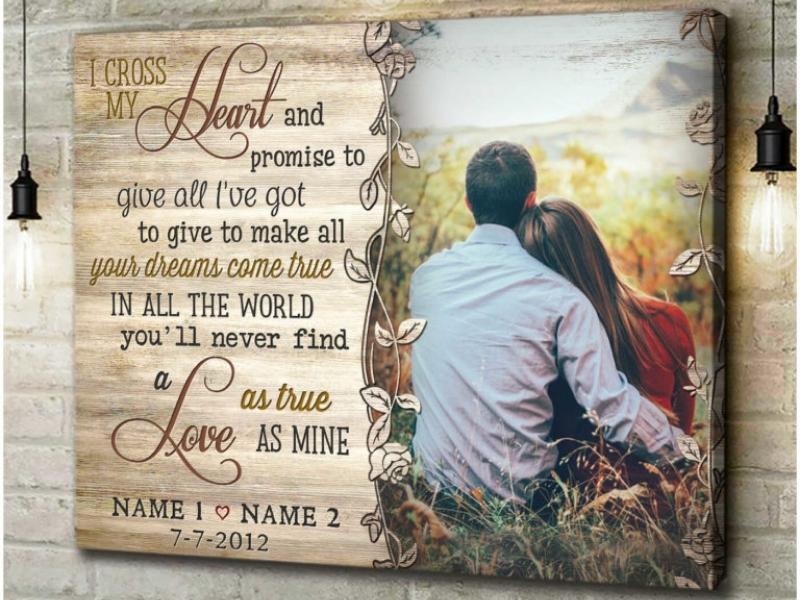 Greetings to everybody! When it comes to gifts for the anniversary by year, we can't think of anything better than this canvas print. It's based on the words of a wedding anniversary song, and it's the best way to show our feelings for our spouse. Using your own picture and picking a favorite tune might make it even more personal.
10. A Man & His Watch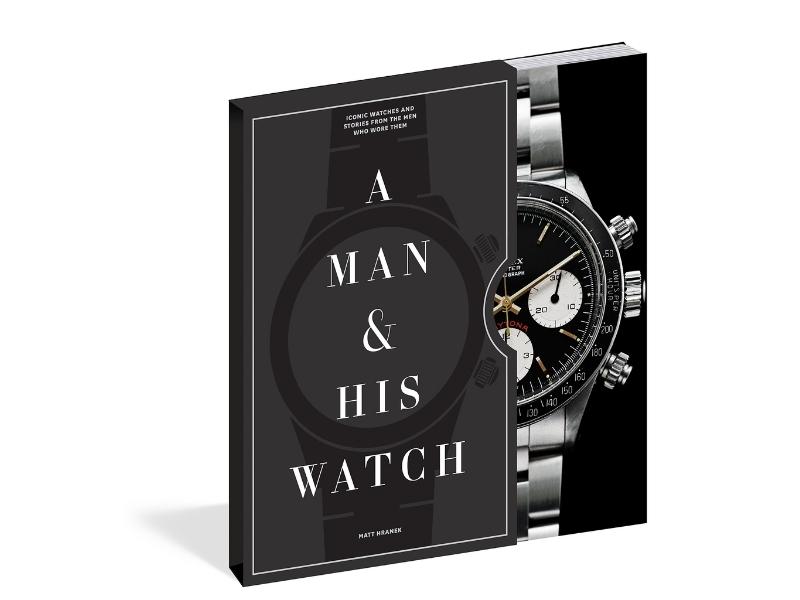 Adding a heavy hardback book filled with stunning photographs of watches to the home or workplace of a watch enthusiast is an excellent 31st year anniversary gift. While there are other watch books out there, this one is particularly well-known and enjoyable to read since it tells the lives of famous individuals and their ties with their favorite timepieces.
11. Esslinger Digital Micrometer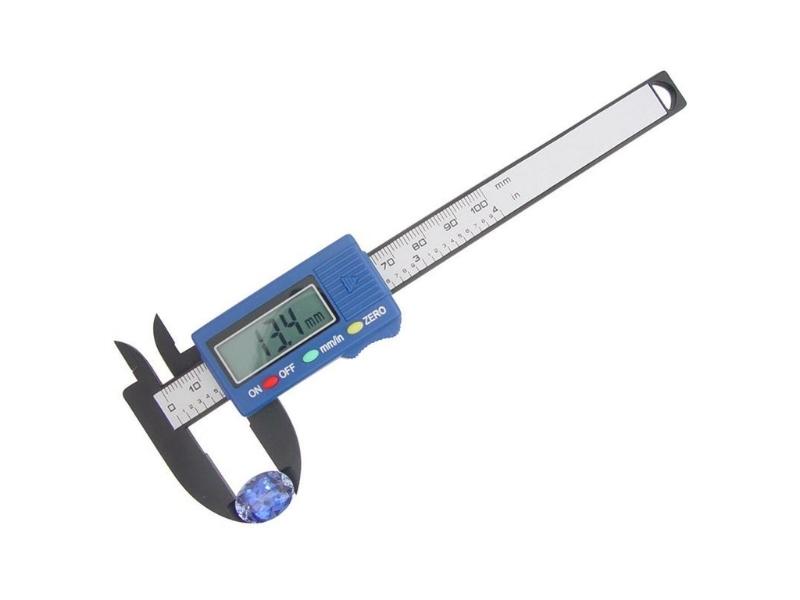 For example, a micrometer like this one may be used to measure the lug widths of a new strap. With a huge digital display, it's simple to read, and it's more exact than you'll probably ever need to be.
>>> Recommend reading: 20+ Unique 8 Year Anniversary Gift for your Lover
31st Anniversary Gifts for Him
12. Custom Star Map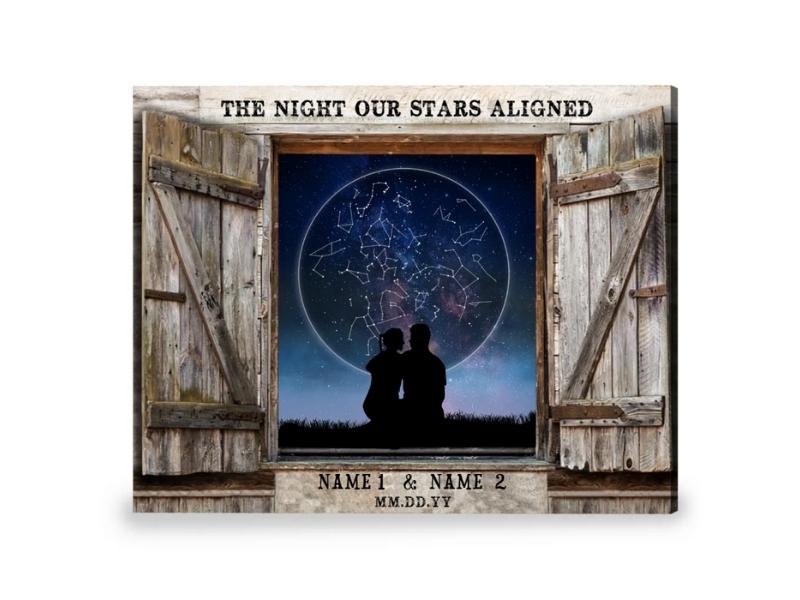 A thoughtful, customized present is a treasure to be cherished for a lifetime. For an original and heartfelt 31 year anniversary gift for husband, a personalized star map is a way to go. Reminisce about a certain time and place, such as your wedding or your most recent anniversary.
13. Garden Gears Outdoor Clock & Thermometer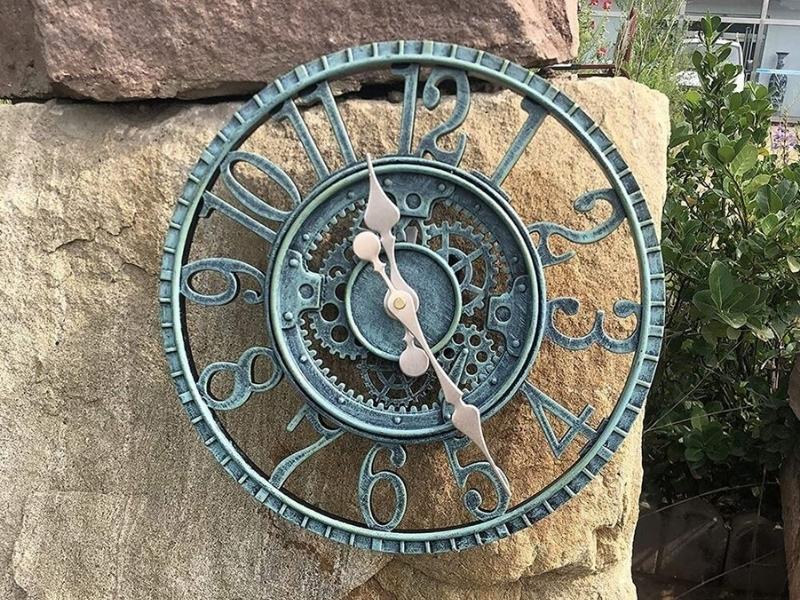 If you're looking for a contemporary 31st anniversary gift, go outside the box. Perfect for the garden-loving husband, this clock and thermometer blends industrial and stylish design elements. Just bear in mind that you'll need a place to attach it that can withstand rain.
14. Engraved Silver Pocket Watch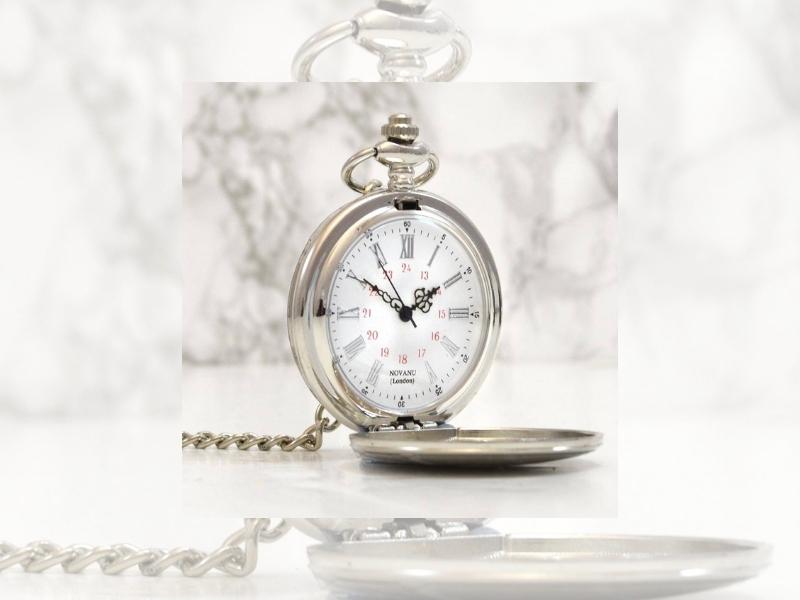 This customized pocket watch will be a treasured remembrance for years to come. A three-initial monogram may be added to the front of the card in addition to a loving message. It comes in a gift box that may be switched for your anniversary or any other special event.
15. Luxurious Watch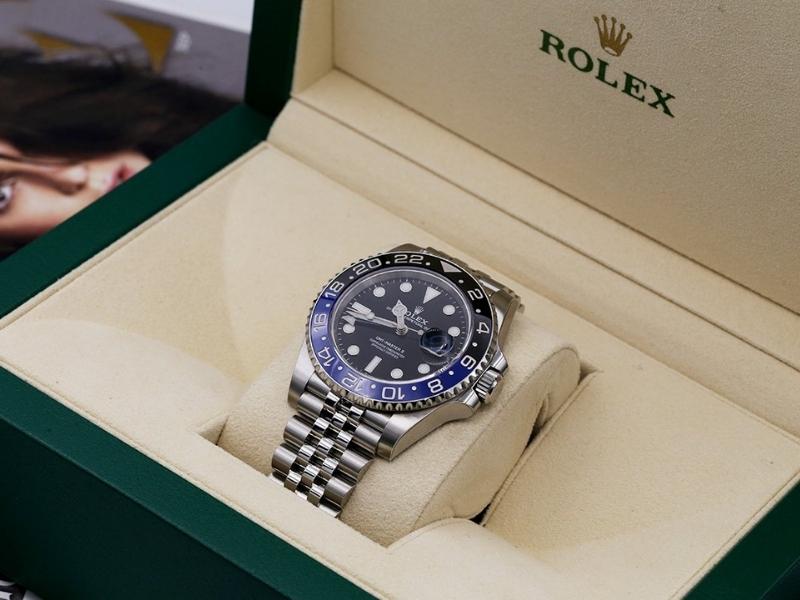 Gifting a clock may not seem exciting at first, but this should change your mind. Diamonds, stainless steel, and a three-dimensional dial are all included in the watch's luxury package.
16. Terrazzo Mantel Clock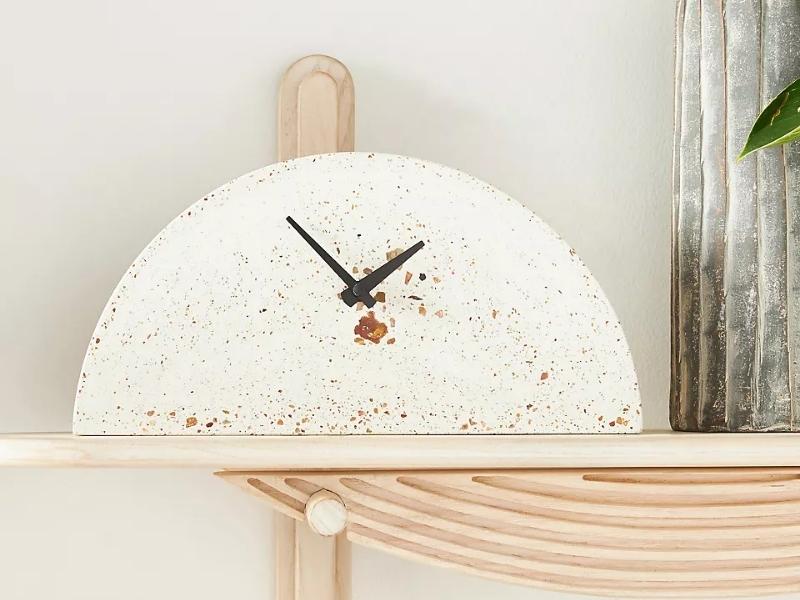 This clock not only tells the time but also adds an eye-catching accent to any room. For a fireplace, bookcase, or home office, you can't go wrong with terrazzo as a new addition. Concrete and aluminum are used in the construction of this long-lasting artwork.
17. Watch Movement Cufflinks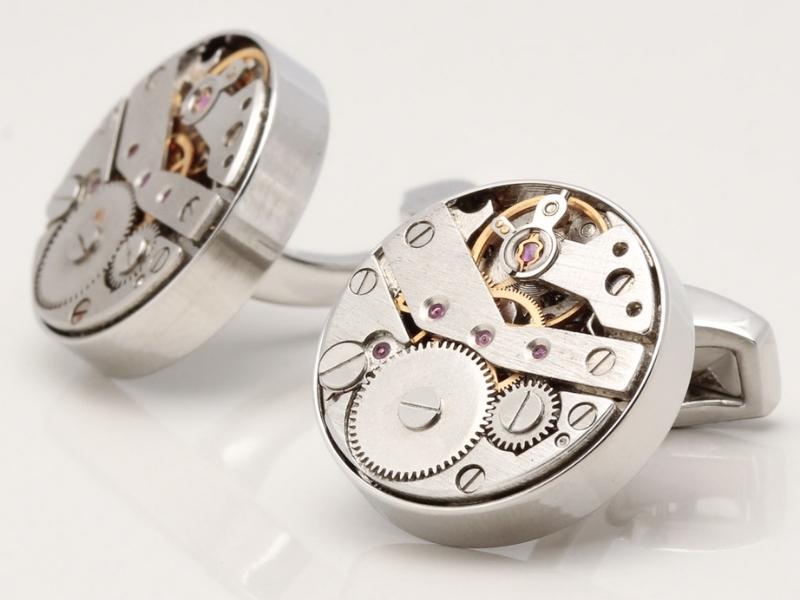 These unique customized gunmetal antique watch movement cufflinks include extremely detailed vintage watch movements featuring ruby gems and brass gears. It's a terrific 31st wedding anniversary gift for husband for the watch enthusiast in your life since you can even customize each cufflink with a special message.
18. I Choose You Wall Art Decor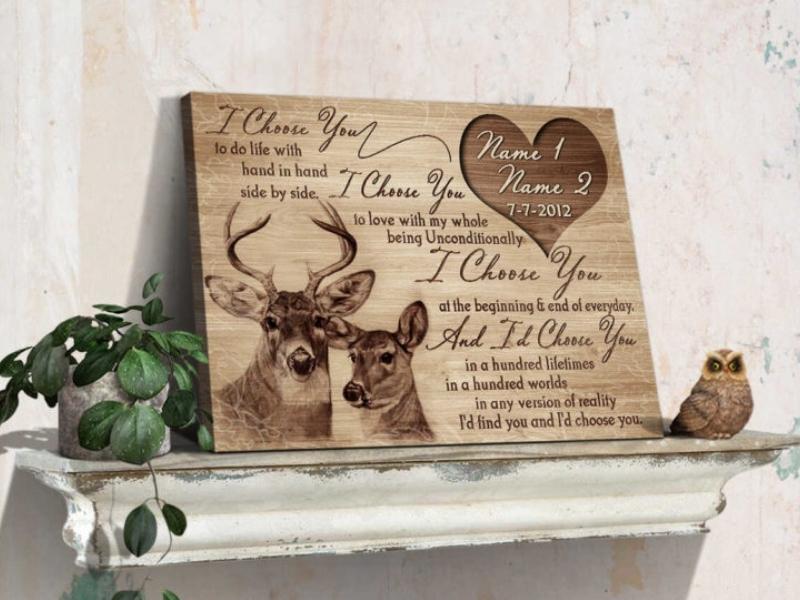 Quoted from those who are in love: "I Choose You". Marriage is about creating a lovely life that we both enjoy and aging gracefully together. An important message to be conveyed to the viewer of this canvas painting is this. If you're looking for a one-of-a-kind anniversary gift for men, go no further than this canvas print.
19. Rolex Datejust 41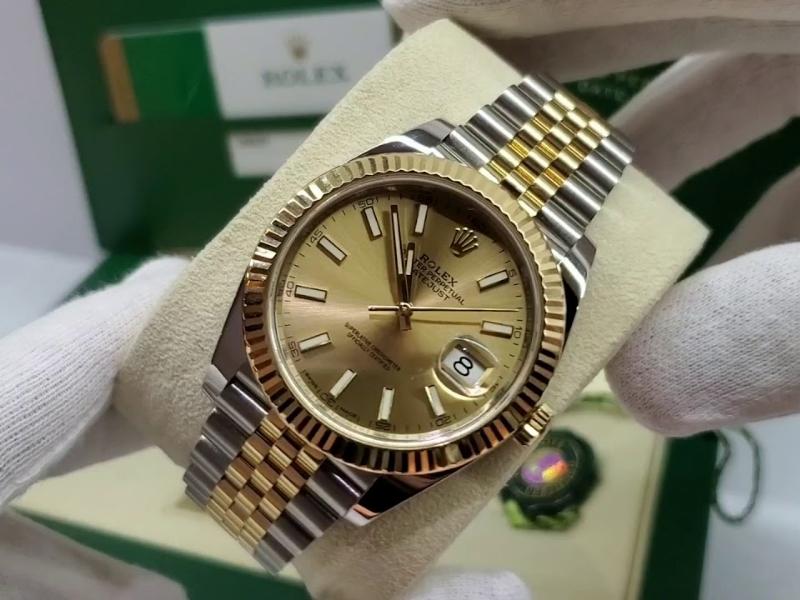 So, it seems that your boyfriend is well-versed in the finer points of getting dressed, as opposed to just getting dressed. The same care must be used while selecting a clock for a guy of this caliber.
As far as Rolex Datejust 41's are concerned, they're classics. What your engagement ring means to you, it will mean to your spouse. It's a definite thing, and you'll be hard-pressed to find somebody who doesn't enjoy this gift for 31st anniversary.
20. Emporio Armani Chronograph Mesh Watch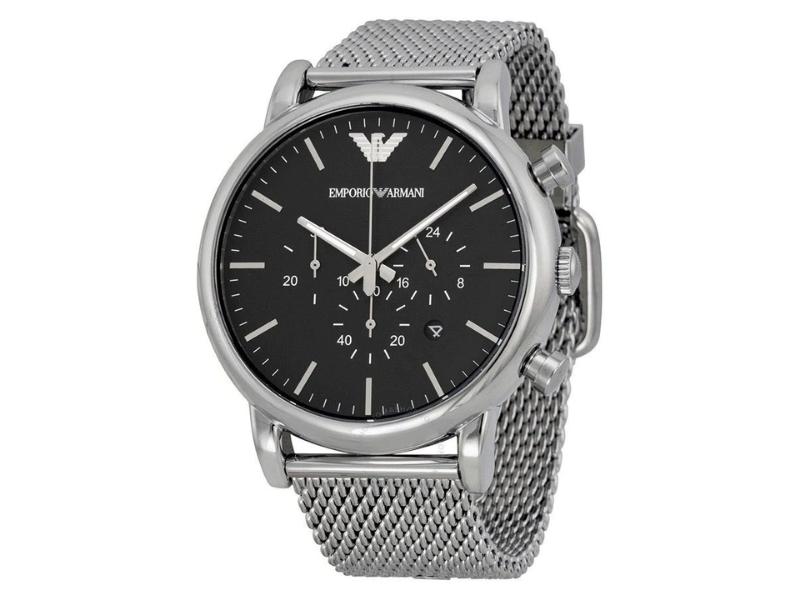 It is hard to go wrong with the Emporio Armani Chronograph Mesh. Despite the huge face and dials, the strap is luxurious and the face is circular, making it far from hefty.
21. Tag Heuer Carrera
The Tag Heuer Carrera, like the Rolex, but cheaper and with a bigger face, is a traditional choice for the minimalist. Your husband will thrilled without a doubt with this 31st anniversary gift!
22. Breitling Premier B01 Chronograph 42 Watch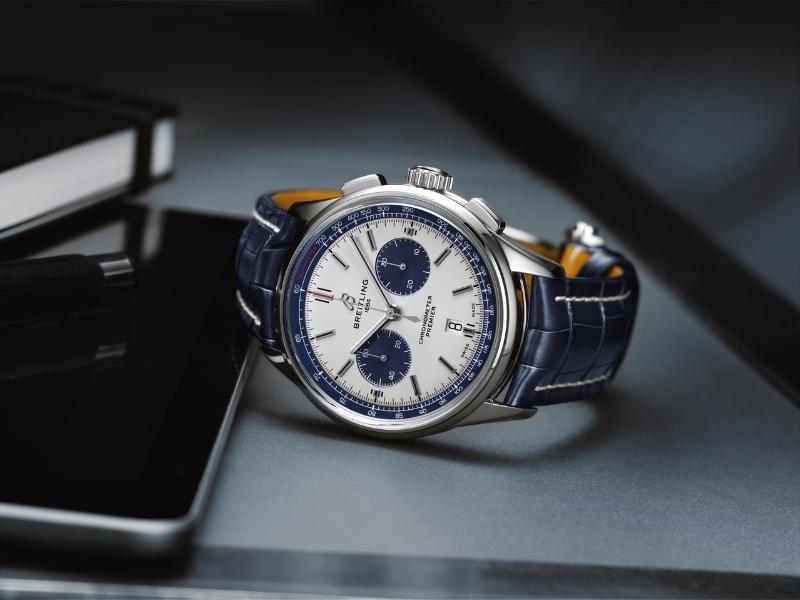 Think about a Breitling Premier B01 Chronograph 42 watch for the adventurous groom. This is a high-end luxury watch with a rotating bezel and an automated movement that is water-resistant to a depth of 30 meters.
23. Breitling Navitimer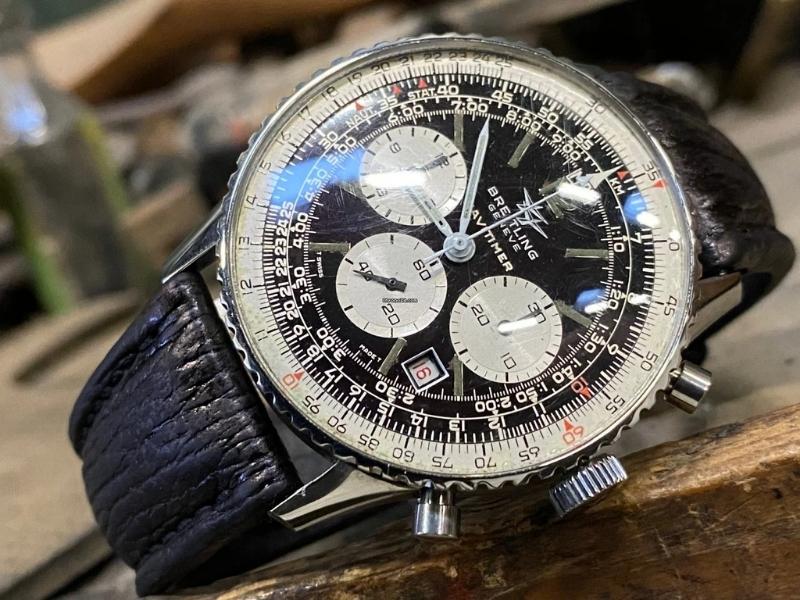 Alternatively, the Breitling Navitimer is an excellent 31st anniversary gift for husband if he prefers a metal bracelet. If you're looking for a conversation starter, this is the watch for you.
24. Once upon a time Wall Art Decor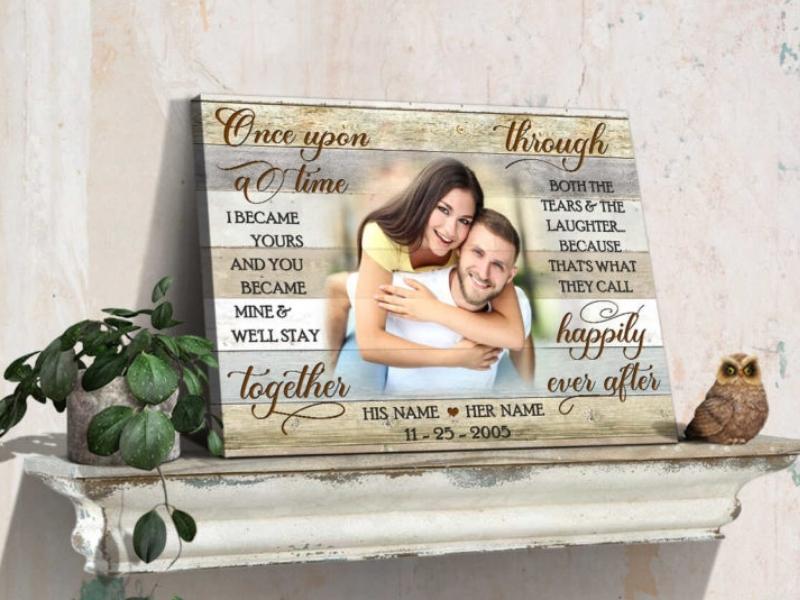 "Once upon a time…" tales are commonplace. Those are wonderful beginnings to a narrative about the two of you finding happiness together. For this 31 year anniversary gift for husband is possible to customize this canvas by adding photos of you and your partner.
25. Apple Watch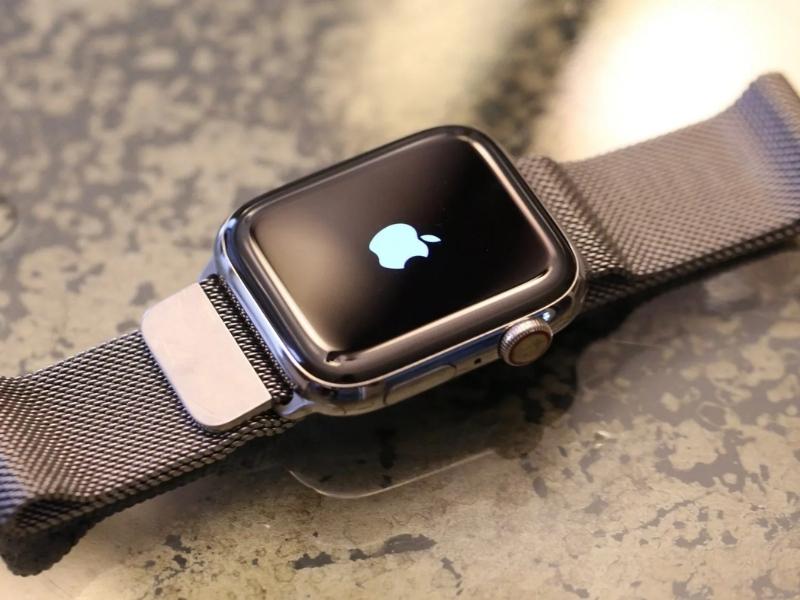 Why not buy your future spouse a watch that he can truly put to good use if he enjoys being active? He won't appear like he's wearing a computer on his wrist with the Apple Watch's sleek and understated design. In addition, the watch offers several fitness features that will please any athlete.
26. Tissot Tradition Powermatic 80 Open Heart Automatic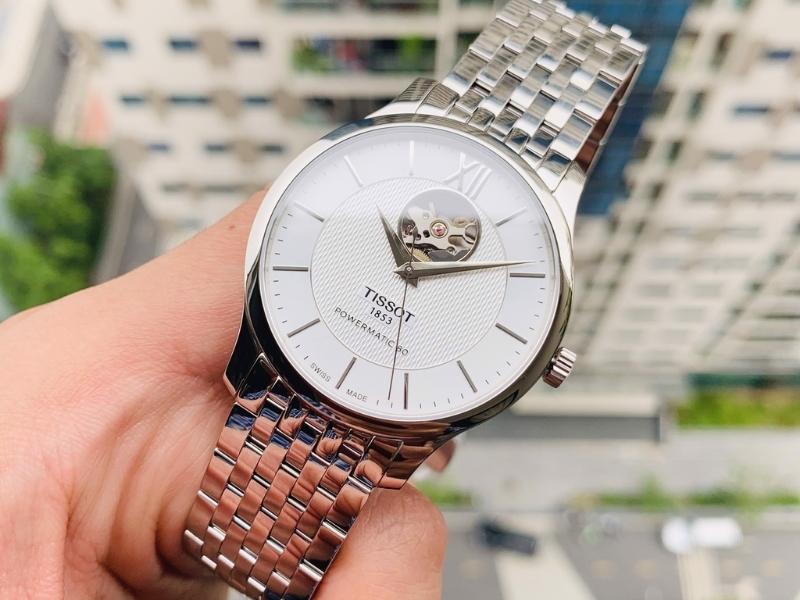 There is no way we're saying that any of the males in the aforementioned categories aren't intelligent. However, we're referring to a more academic look, like a preppy professor's. If this describes your groom, we offer the Tissot Tradition Powermatic 80 Open Heart Automatic watch as the 31st anniversary gift.
27. Frederique Constant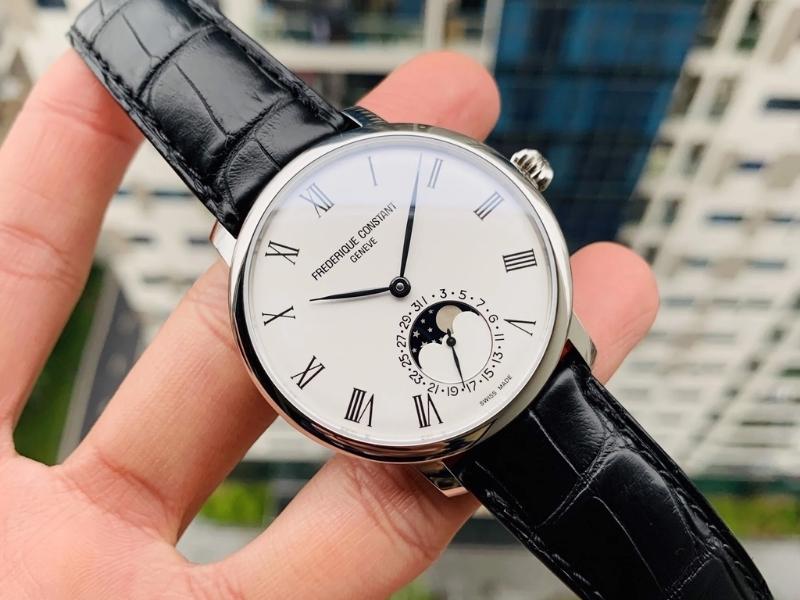 The Frederique Constant is another alternative. Without being too ostentatious, it manages to be both stylish and sophisticated. If you're looking for a high-quality timepiece as the 31 year anniversary gift, this is it.
>>> Recommend reading: 38 Easy 6th Anniversary Gift Traditional and Modern
31st Anniversary Gift for Wife
28. A Perfect Marriage Wall Art Decor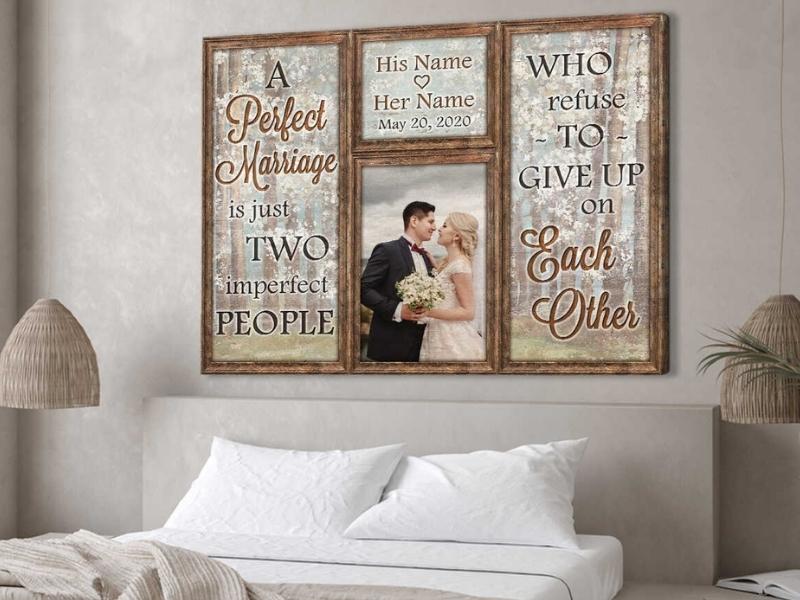 Everyone isn't perfect, but when you have each other, you're even better. There is no such thing as a perfect relationship, but you and your partner may be able to attain it over time. Building a relationship is a long-term process that is worth the effort if you do it with someone else. Using this magnificent wedding canvas, we may commemorate the trip you've already taken together as a married couple.
For your wife or husband's impending wedding anniversary, do you know what to get them? It's a wonderful way to express your thanks and love for your darling with this Wedding photo canvas. Because of their artistic value, wall murals are commonly given as 31st anniversary gifts. After making your purchase, we'll customize this marriage wall art and send it directly to you.
29. Personalized Map Clock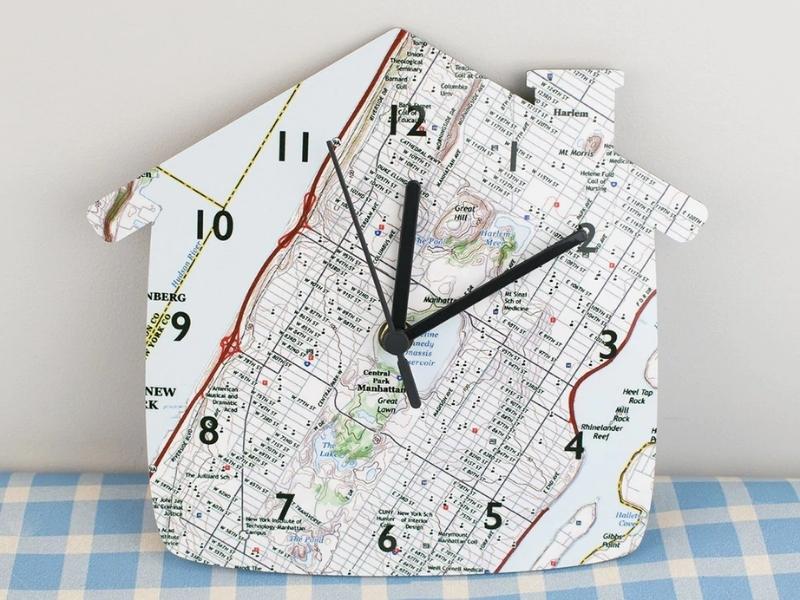 It's hard to go wrong with this marble map clock as a 31st anniversary gift for wife who has everything. For a beautiful and emotional atmosphere, choose a location from one of your favorite relationship milestones, such as where you met, where you married, or your honeymoon.
30. Travel Watch Roll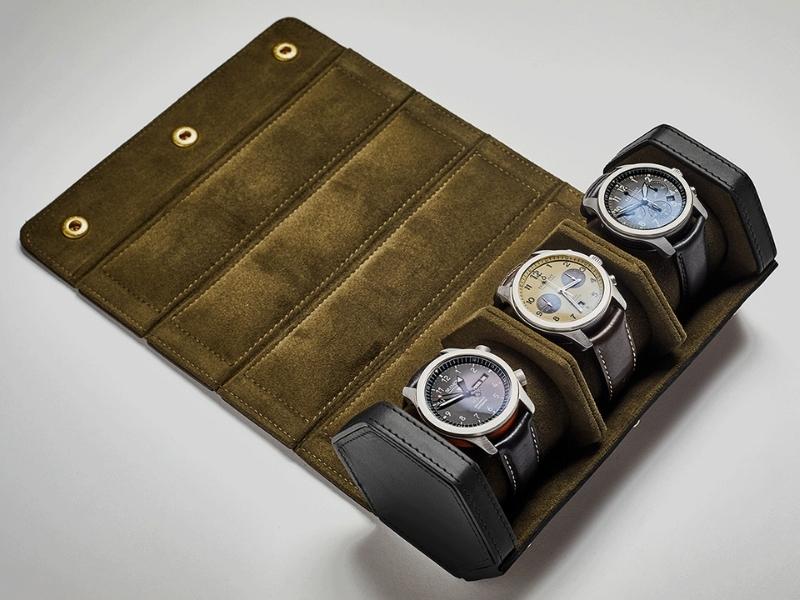 Keep your wristwatches secure with this watch roll when traveling. It has a burgundy suede interior and a detachable cushioned roll made of cross-grain calf leather.
31. Watch Repair for Beginners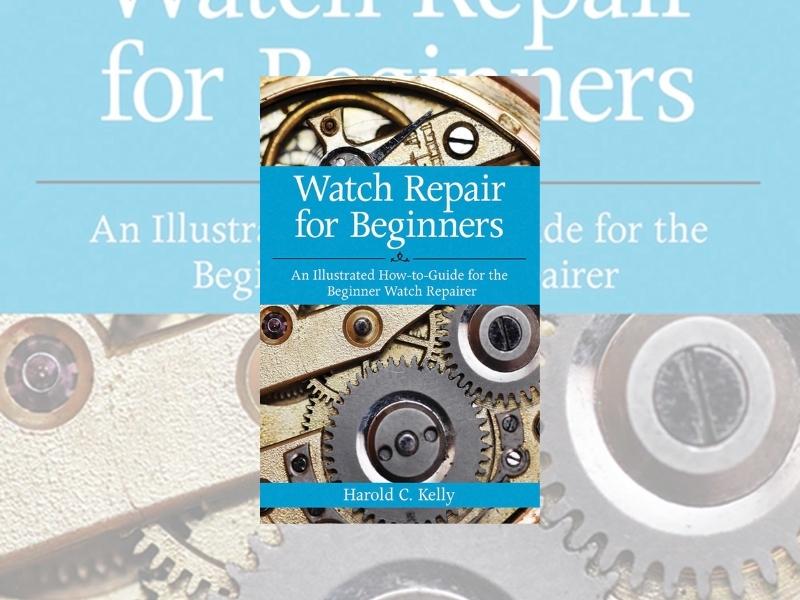 Many watch enthusiasts and tinkerers will enjoy geeking out with this 1957 publication, which is an excellent way to master the fundamentals of horological mechanics. When it comes to mechanical watches, this 31st anniversary gift for wife is still a must-read for anyone who wishes to learn the basics of watch maintenance and related topics.
32. Personalized Photo Gifts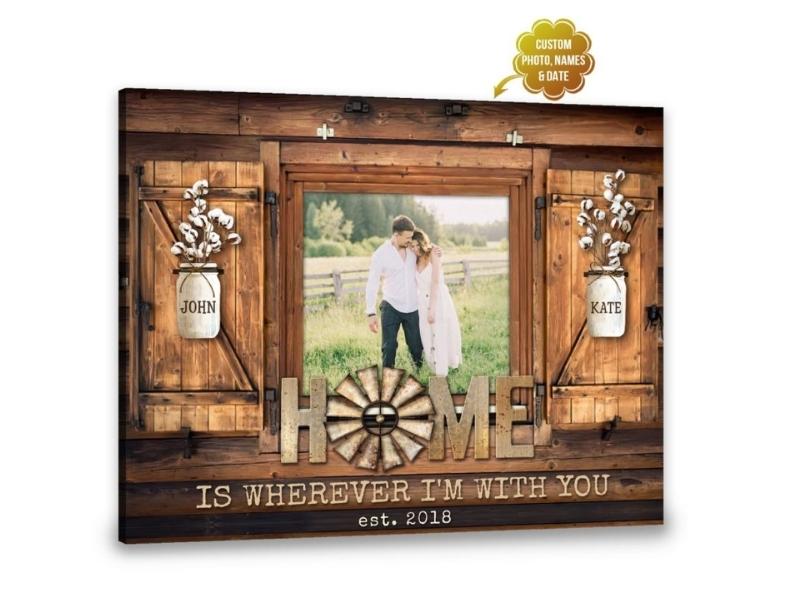 After a time in a relationship with another person, both understand how much they rely on each other and that the location they've both been searching for would always be there for them. When you think of home, you probably think of a location where you know you can always count on someone to be there to greet you and where you can always find comfort, love, and safety.
If you and your sweetheart are in a beautiful relationship, personalized anniversary presents are for you. You may give it to your spouse as a gift for 31st anniversary and put it on the wall so that every time you see it, you both feel happier and more in love with each other.
33. Leather Watch Pouch
The smooth suede texture and intriguing camouflage pattern of this leather bag make it a trendy way to keep and travel with your watch. Using just one layer of French suede, it has been treated and hand-stitched.
35. Single Watch Winder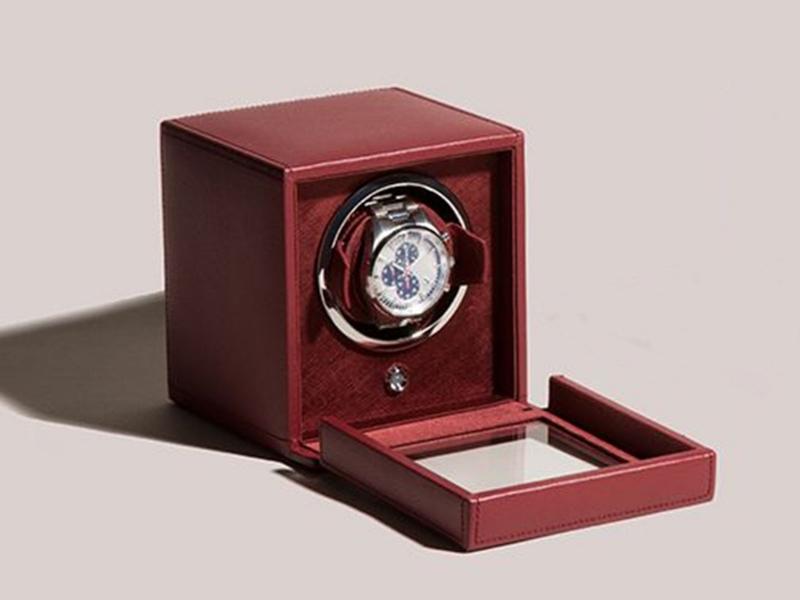 It's possible that watch winders aren't absolutely essential, but they may be handy for a variety of reasons beyond just winding up automatic timepieces. This winder is made by Wolf, a well-known manufacturer of high-quality yet affordable winders like this one, which can handle one watch.
36. Keyring Spring Bar Tool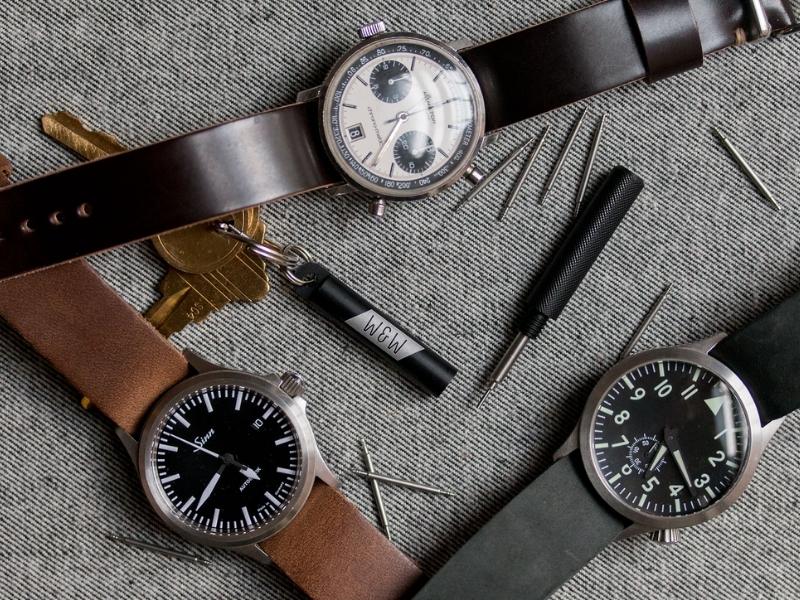 A strong spring bar tool is essential for strap changes. Conveniently small, this 31st year anniversary gift can fit in your pocket with the pointed end secured by a screw-on cap for further security.
37. Watch Parts Sculptures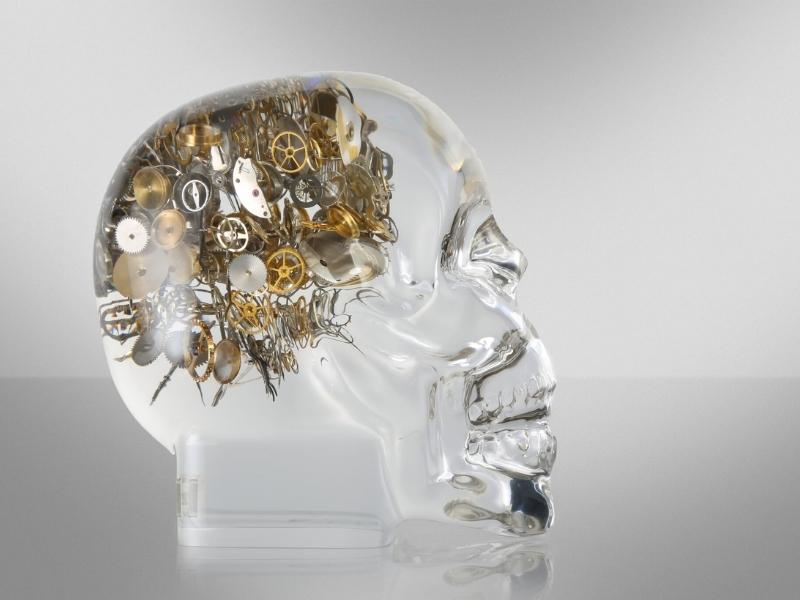 Berd Vay'e arrived on the market some six or so years ago, fast becoming a watch industry favorite when it comes to horological sculpting. These transparent cast resin sculptures employ a multitude of old watch components and are available in numerous different forms and sizes.
In addition to the Horosphere seen above, flat panels, skulls, and chess pieces are also available. A watchmaker may create a custom piece that solely employs pieces from a certain brand, but expects to spend more for it as a 31st anniversary gift for wife.
Read more:
If you're shopping for a 31st anniversary gift for a significant other or a favorite couple, you'll find a wide variety of thoughtful and lovely options on Oh Canvas's list. It is our goal that you have discovered the perfect gift for the recipient at this point. Congratulations on your 31st wedding anniversary!