There is no doubt that bachelorette party gift ideas are an important element of the girls' trip. To be sure, you and the other guests aren't expected to go crazy with gifts for the future bride; after all, you're hosting the celebration and have probably already purchased engagement and wedding gifts. You should focus on items that the bride may use at the party, gifts she can share with her fiance, or reminders to pamper herself during the weekends! Here are a few suggestions from Oh Canvas for bachelorette party gifts for bride that are sure to bring a grin to her face. Read on and get inspired!
Bachelorette Gifts For Bride Who Is Sentimental
1. Personalized Pendant Necklace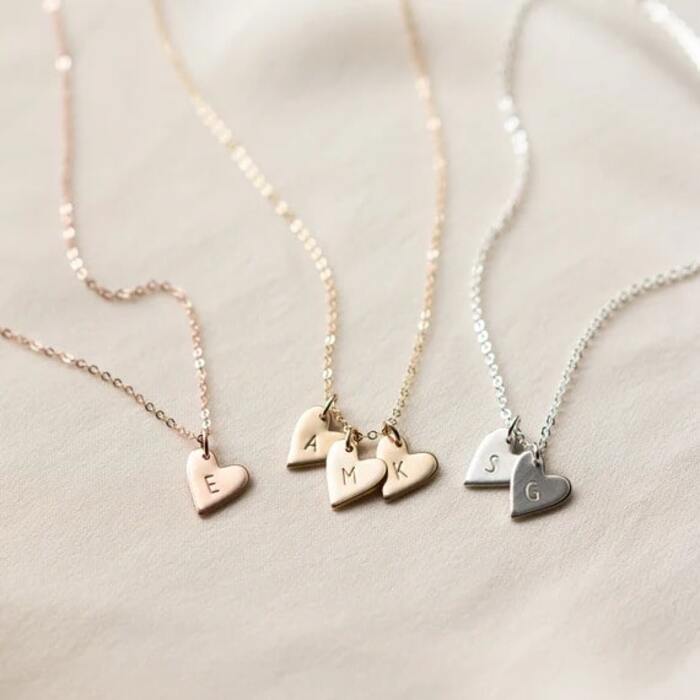 You and the bride will enjoy this sentimental present if you like custom jewelry. It's a great way to honor her future family name and a thoughtful gift for the soon-to-be bride-to-be.
2. Bachelorette Album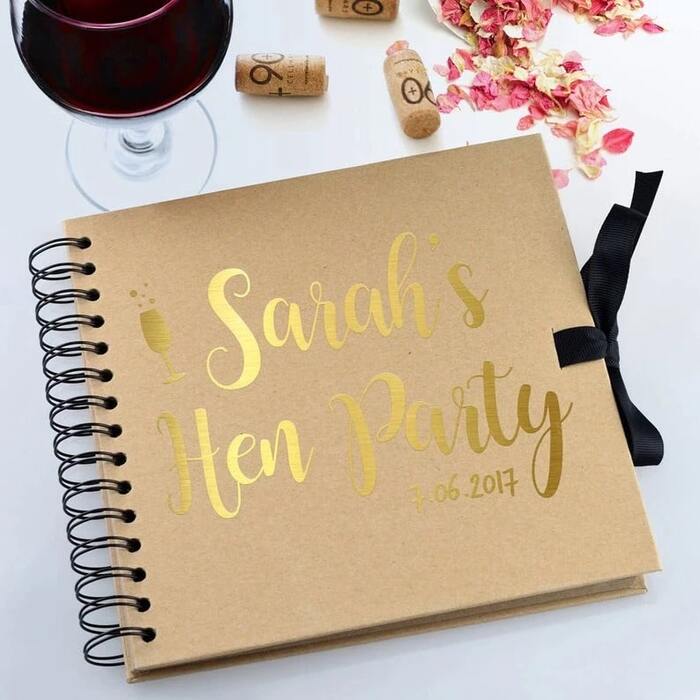 This commemorative album is sure to bring a tear to their eye. Personalize the hardback book with the bride's name, wedding date, the place of the party, funny quotes for a bachelorette party, and the year as a thoughtful bachelorette present. It's a great idea to include a photo album, a scrapbook, and other keepsakes that the bride will treasure for years to come.
3. Bride Hats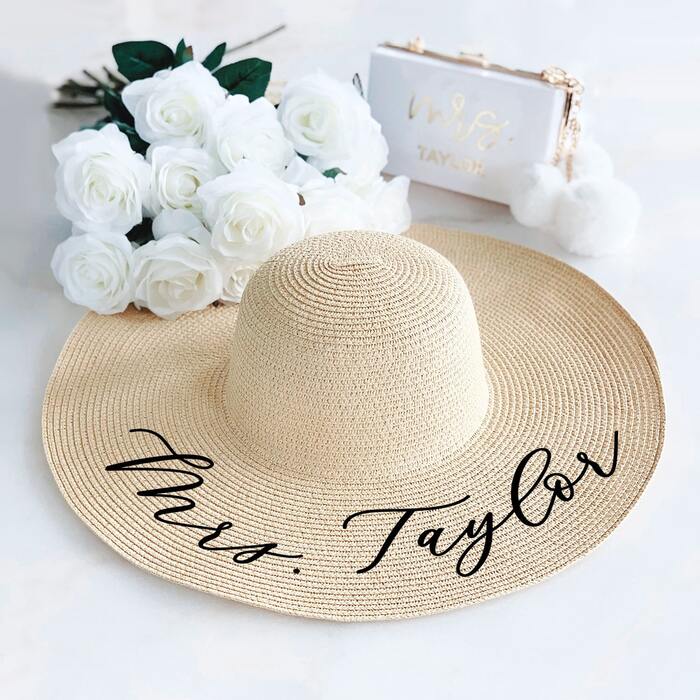 Personalized sun hats make thoughtful and practical bachelorette gifts for bride, regardless of whether the gathering takes place on the beach or the bride is planning a tropical honeymoon. This hat is available in white, pink, or tan, so customers can select the hue they like.
4. Friendship Bracelet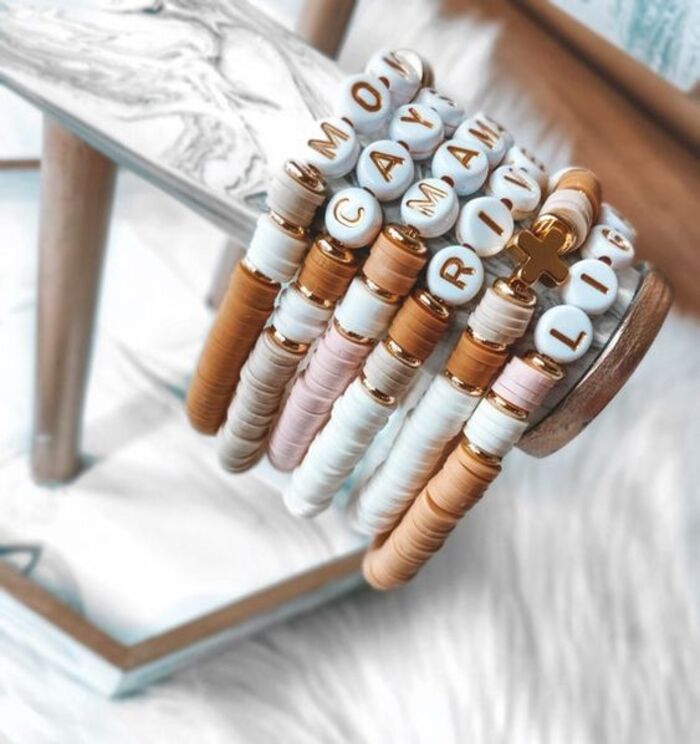 We like to think of it as a grown-up version of a friendship bracelet. The beaded bracelet can be personalized with a meaningful phrase or name in rainbow-colored letters. Be prepared for it to become their go-to accessory.
5. Stylish Passport Wallet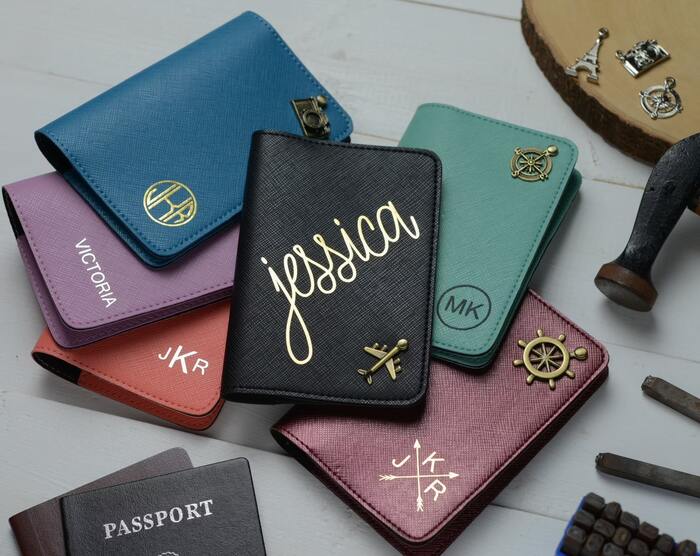 Make sure the honeymoon of the bride-to-be is a memorable one with this elegant passport holder. As an added bonus, you may pick up matching luggage tags and a matching clutch to give as part of thoughtful bachelorette party gifts for bride.
6. Bride Socks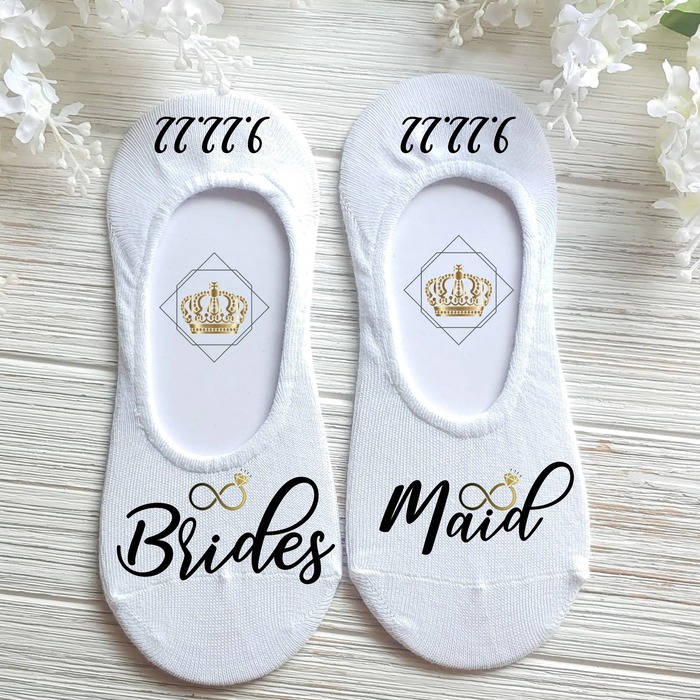 After the wedding, she'll enjoy wearing these brides' socks around on cool nights. It's a lovely present that makes her happy and proud whenever she sees it.
7. Customized Coasters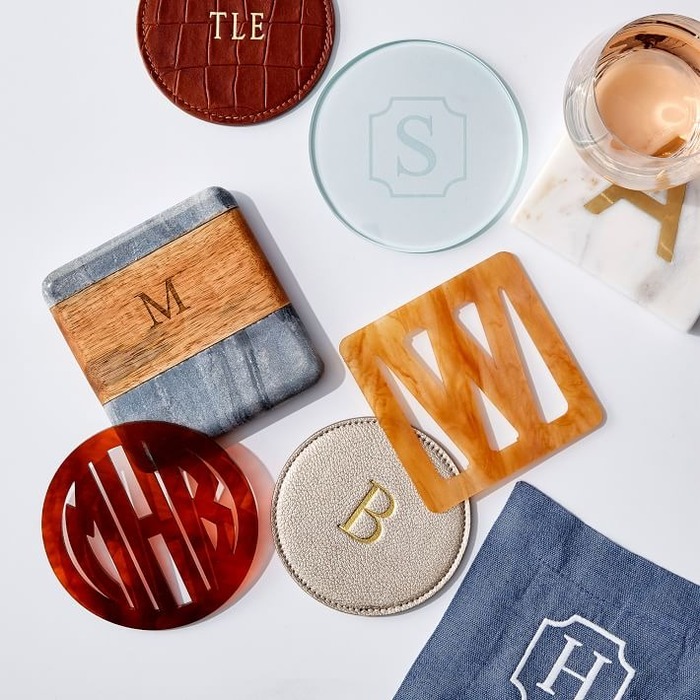 The newlyweds' wedding registry will be well-protected with these cheerful monogram coasters. If you buy two, one with the bride's initials and the other with her future husband's, you'll have two personalized coasters that make stunning bachelorette gift ideas for bride.
8. Monogram Jewelry Box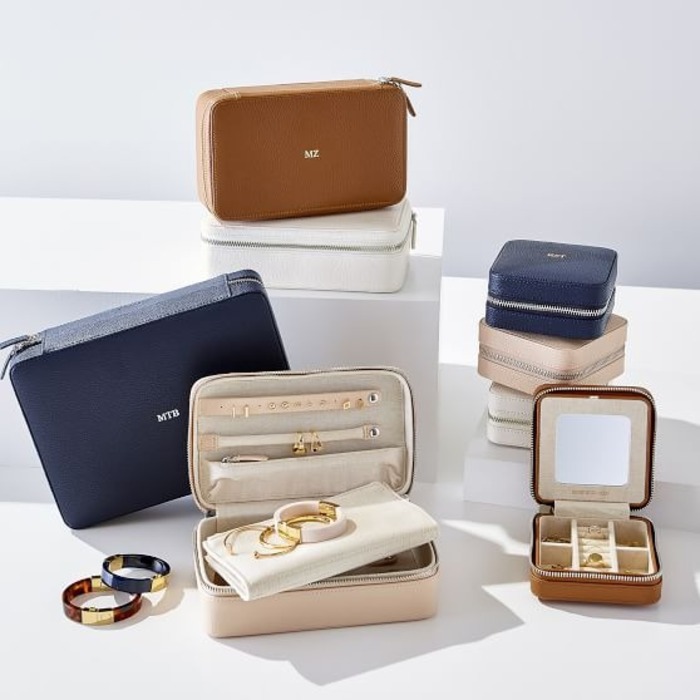 Consider giving a customized jewelry case to a bride-to-be who already has an impressive jewelry collection. From boxes to pouches, to bags, these can be found in a wide range of sizes and shapes. Get their initials monogrammed in shimmering foil or opulent embossing or debossing along the top or side of their gift to make it particularly memorable.
9. Engraved Cutting Board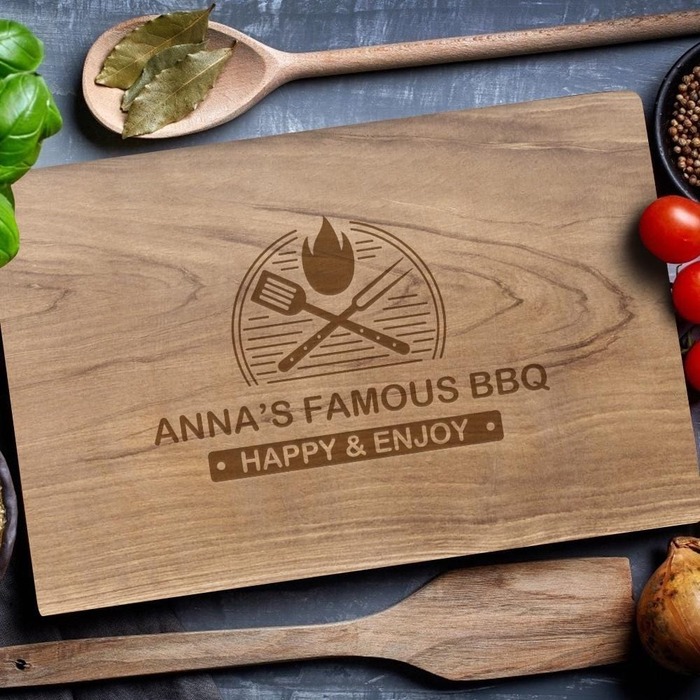 This is a personalized wedding gift or bachelorette party gift for a woman who enjoys entertaining friends and family at her home. Depending on your preferences, you can use it as a cutting board, charcuterie plate, or decorative item in your kitchen. It doesn't matter if the bride is a cook or not.
10. Stylish Tote Bag
Our bachelorette party gift ideas aren't over yet! It's excellent for bachelorette party items and even honeymoon mementos in this stylish monogrammed tote. Colorblocking in either black or navy is a fashionable choice for the bride-to-be, and you can customize the gift by adding their first initial. You can write some funny quotes for the bachelorette party on this bag.
11. Flowers Preservation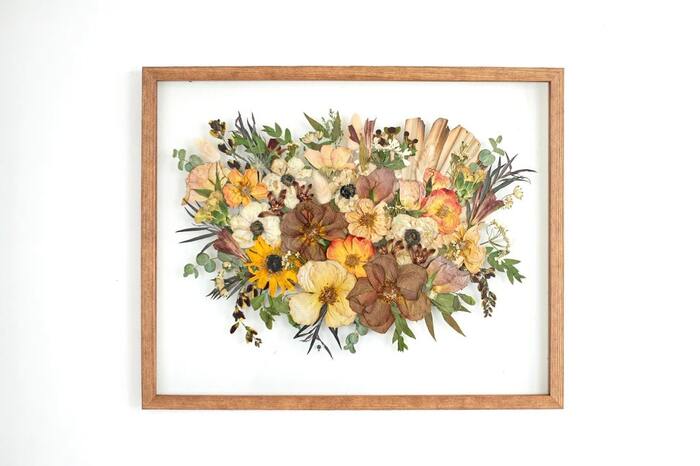 Flower preservation services can help her remember her special day forever! While planning a wedding, it's easy to forget about the importance of saving flowers. Buying this as a present helps her cross something off her to-do list and creates a lasting memory! This gift is a perfect way to celebrate her special day.
12. Eco-friendly Candles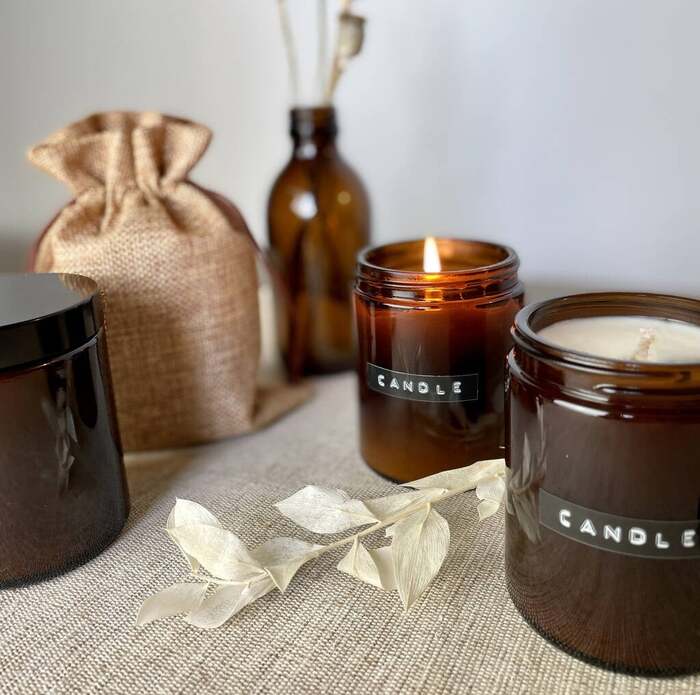 Stylish, contemporary candles are cool bachelorette gift ideas for bride. These favorite candles will make her think of you every time she lights one. It's a thoughtful way to help her relax, unwind, get sexual, and feel good about her environmental impact.
13. Personalized Mrs. Purse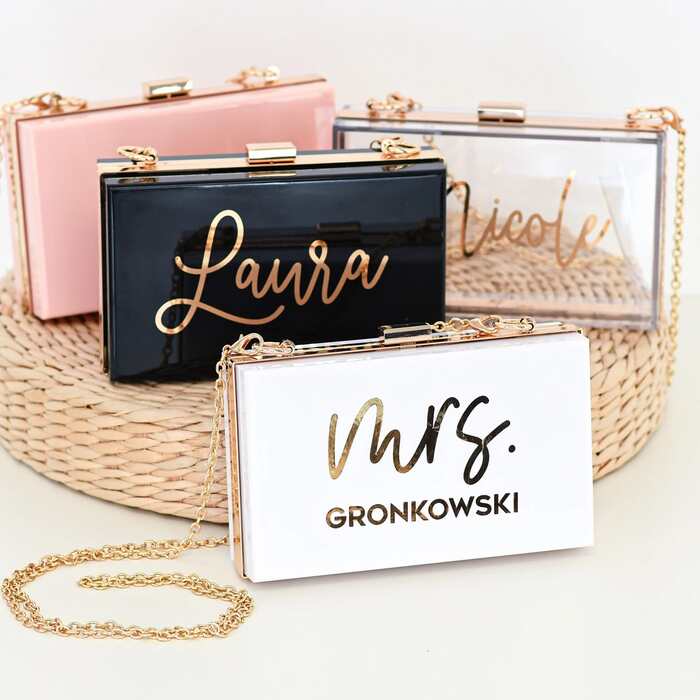 Instead of using any old pocketbook, the bride can flaunt her new status by carrying her possessions in style. In addition to being personalized with the bride-to-be's last name, and wedding date, this acrylic cross-body purse comes in different hues up to your choice.
Bachelorette Party Gifts For Bride Who Is Glam And Classy
14. Silk Wedding Robe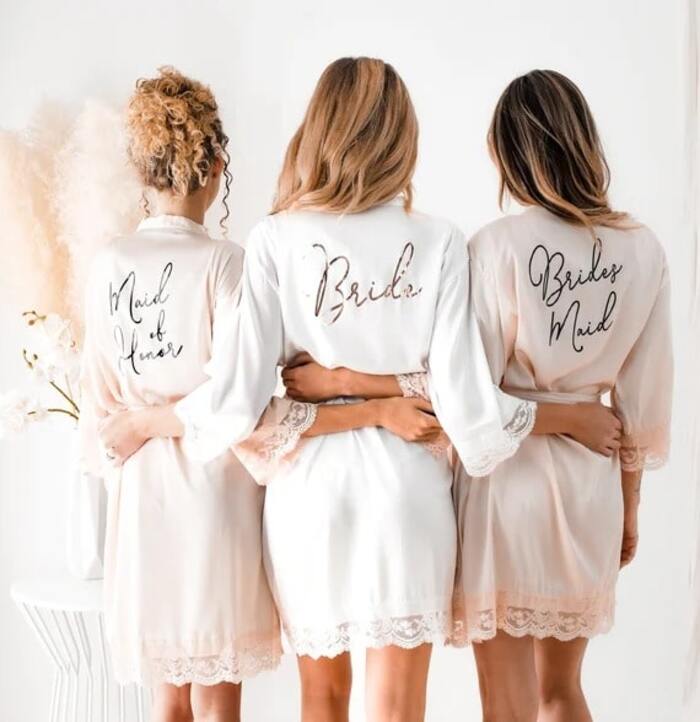 Wear it while getting dressed, on your wedding night, or on your honeymoon, and you'll look and feel like a princess. It's up to you to choose the color of the robe and the "bride" phrase on the back. It's a thoughtful present that will also serve as a priceless memento of the wedding.
15. Stylish White Pajamas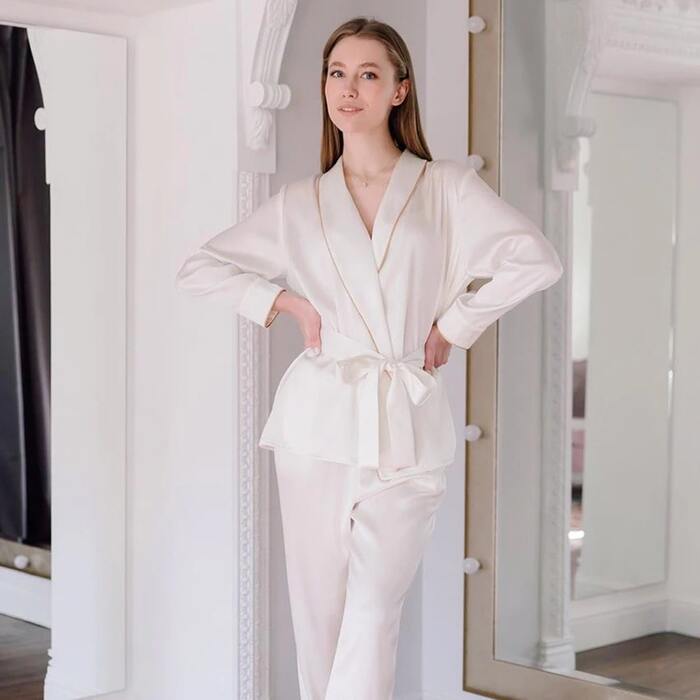 In search of classy bachelorette party gifts for bride? These best-selling silk pajamas are a great way to spoil the bride-to-be. Their pre-wedding relaxation will be elevated to a new level thanks to this unique bridal sleepwear.
16. Massage and Bathing Oils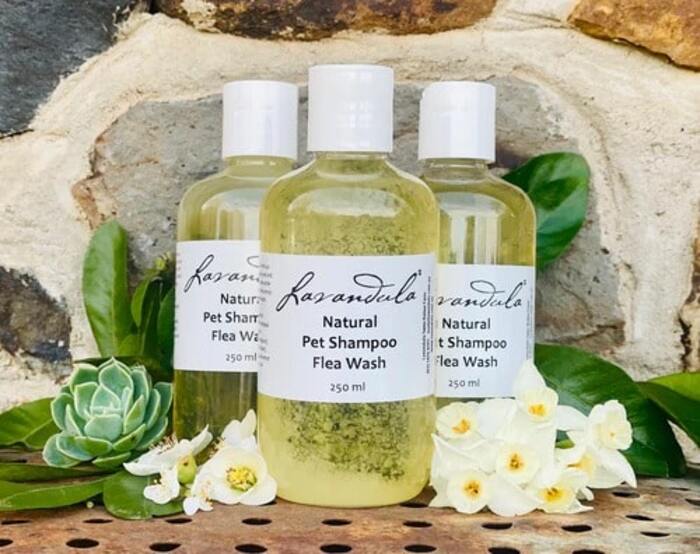 To be used with their future spouse, why not provide them with some sensual massage oil? Coconut, argan, jojoba, and castor oils will soothe their senses and leave them feeling quiet and relaxed. They'll want to display it on their bathroom vanity because it's so stylish.
17. Spa Gift Card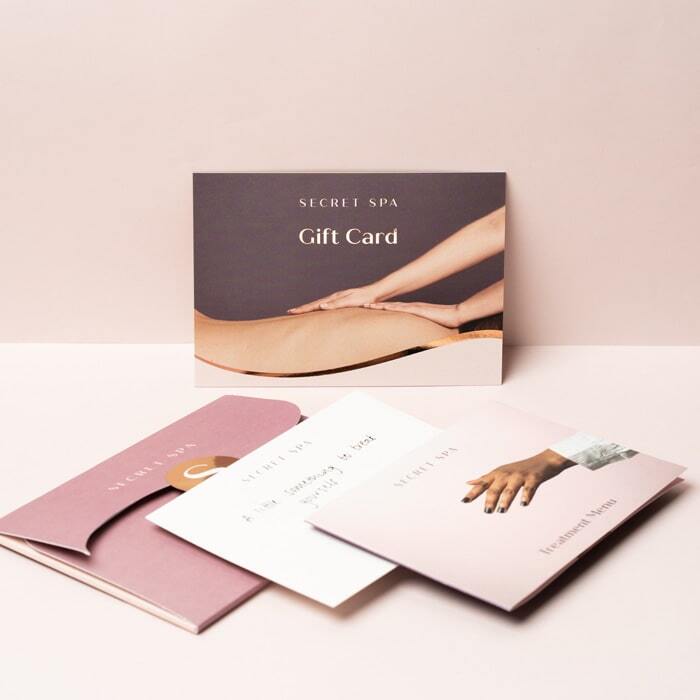 The bride-to-be will appreciate time set aside for self-care and well-being after all the wedding planning she has to do. Give the bride-to-be a gift certificate to a spa so she can have a massage, manicure, pedicure, or other services of her choosing.
18. Sophisticated Fannypack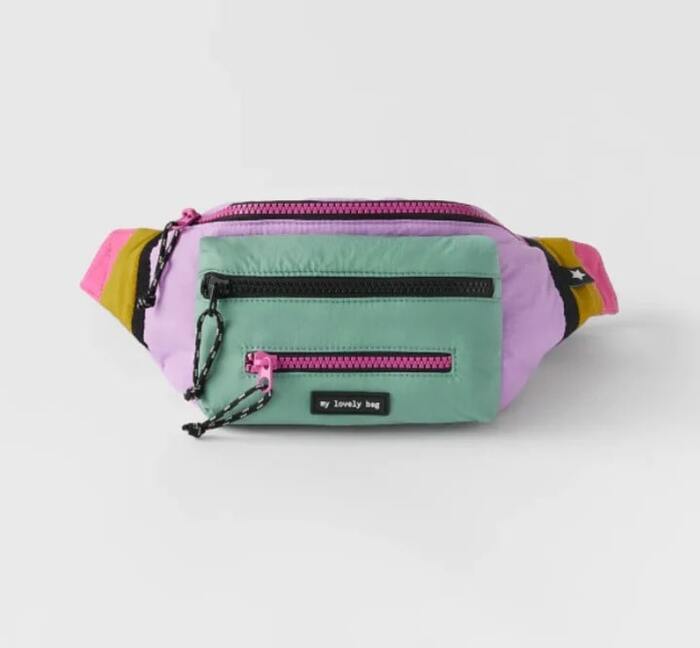 On-the-go bachelorette parties call for fanny packs; these handy pouches can store everything you need for a night on the town, from your phone to your lip gloss. The outer shell of this handy bag is made of a robust material that has been treated to repel water. It's one of the classy bachelorette gifts that she'll actually use and love.
19. Love Studs Earrings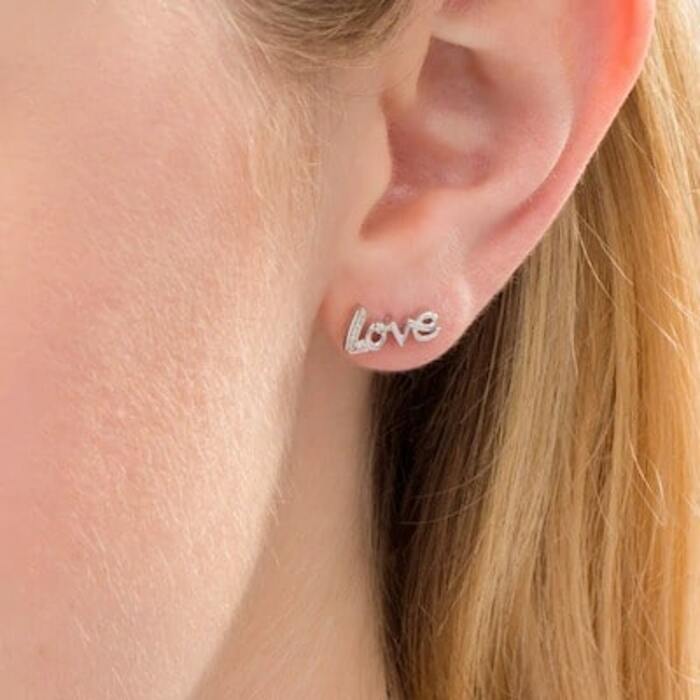 These charming earrings will win the heart of any future bride. Silver or gold stud earrings with engraved sentiments read "love" on one side and "always" on the reverse.
20. Bridesmaids Beauty Box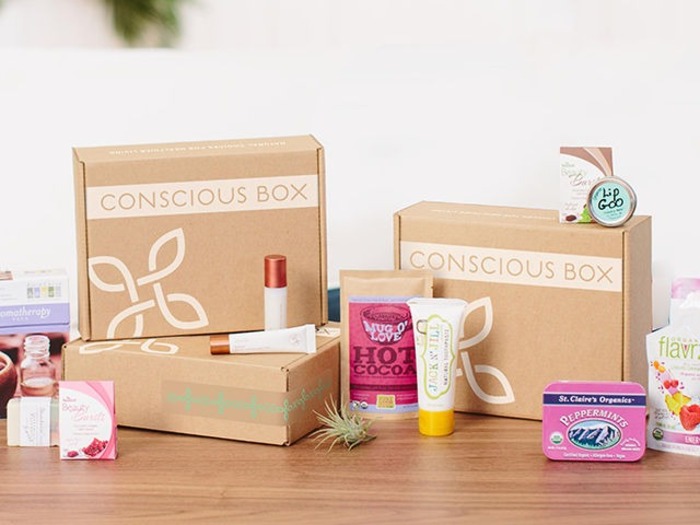 In addition to cake tasting and Champagne sipping, wedding planning may be stressful. Spoil the bride-to-be with a wedding care kit that features a facial roller, face masks, and a ring cleaner. Alternatively, you can put together your own gift set with nail polish or bubble bath, or whatever else you think she'd enjoy.
21. Personalized Bride Panties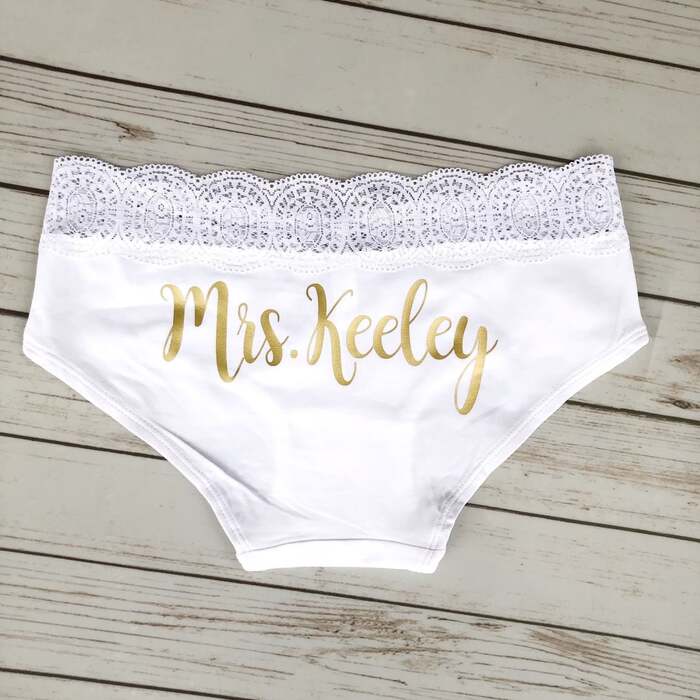 Just picture what their reaction will be to this cheeky, personalized pair of pants. Even the script color can be customized to gold, silver, baby blue, or rose gold. At the bachelorette party, it's an amusing and slightly ridiculous gift to open, making it one of the greatest funny bachelorette gifts for bride!
22. Warm Slippers
These comfy slippers are the perfect accessory for their bridal loungewear. An open toe and crossover straps ensure maximum comfort in the faux-fur style. The bride could wear them with a pair of bridal pajamas to get ready for the big day.
23. Golden Bar Necklace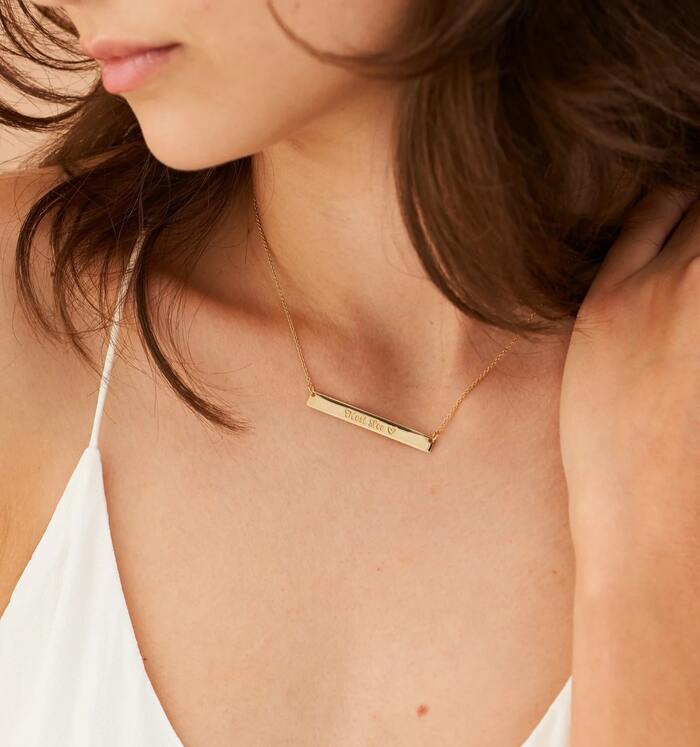 Adding a gold necklace to every outfit is a great way to accessorize. This gold bar necklace is delicate enough to blend with just about anything, yet stunning enough to draw attention. You can personalize this necklace by having it engraved with her new initials or the date of her wedding.
24. Straw Beach Bag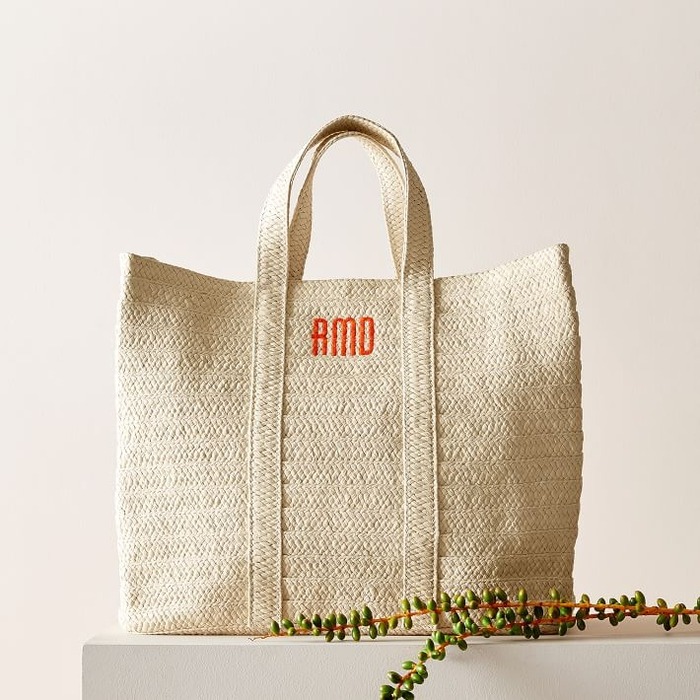 Looking for stylish gifts for bride-to-be ideas? This woven straw beach tote is perfect for your bride, whether she's off to Tahiti or the local farmer's market. With enough space for towels, fruit, and even a bottle of water, this bag is ideal for any outdoor activity.
25. Eco-friendly Underwear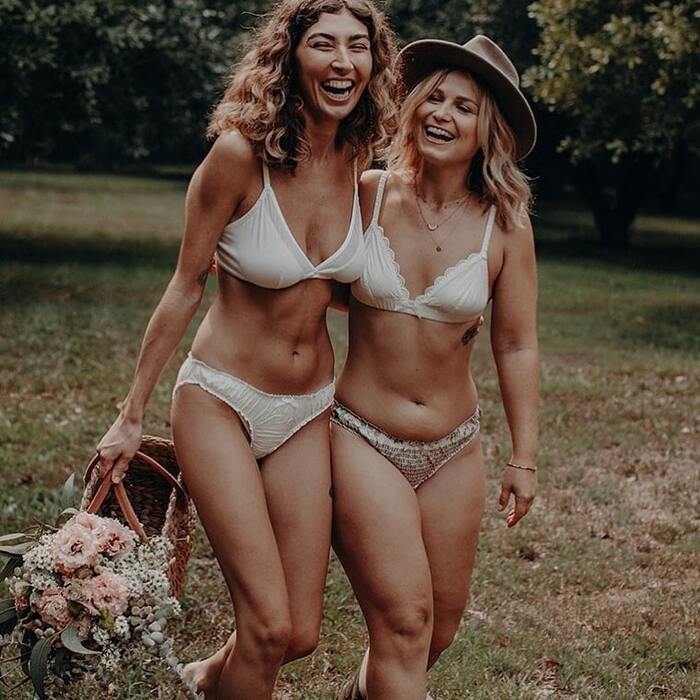 Lingerie is not everyone's cup of tea. This outfit, on the other hand, is composed of eco-friendly materials and is designed to be both comfortable and sexy at the same time.
26. Silk Scrunchies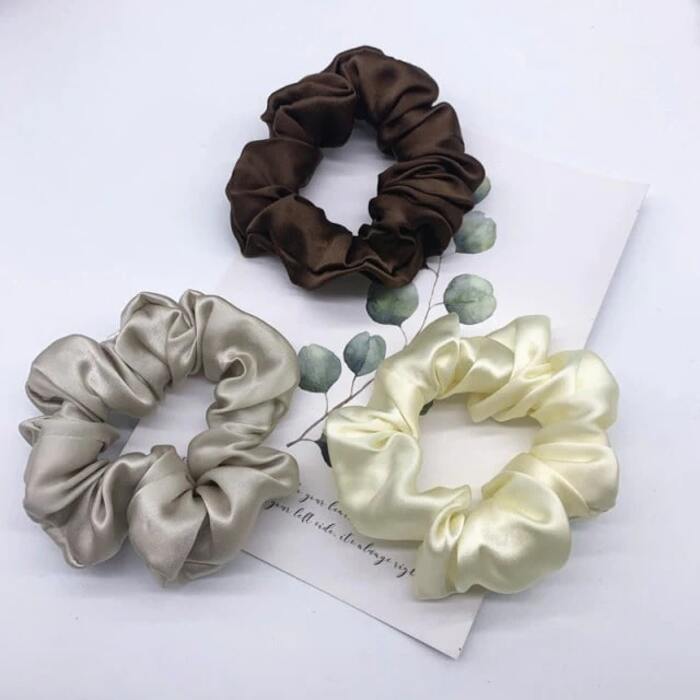 Using cruelty-free silk, these scrunchies are soft on delicate or curly hair, prevent breakage and frizz, and shield hair from typical elastic hair ties that are extremely destructive. Perfect for your bride's post-wedding breakfast.
>>> Recommend Reading: 20 Best Destination Bachelorette Party For Any Bride In 2022
Practical and Funny Bachelorette Gifts For Bride
27. Wedding Candles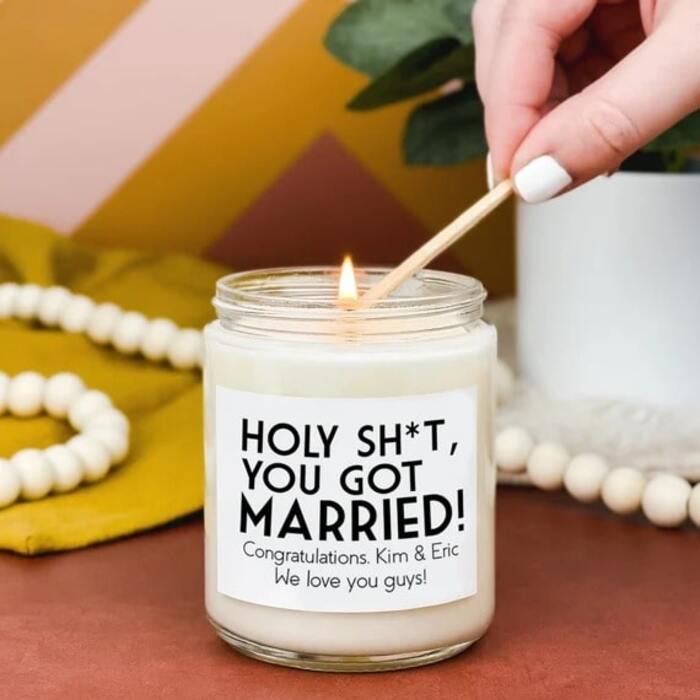 If they're a fan of candles and have a good sense of humor, this bachelorette gag gift is for them. As an engagement gift for couples, this is the ideal option for couples as well. Nine distinct smells are available, including Martini or Brunch & Gossip. The company will handwrite a short unique letter for you if you include it in your order.
28. Personalized Flask Bracelet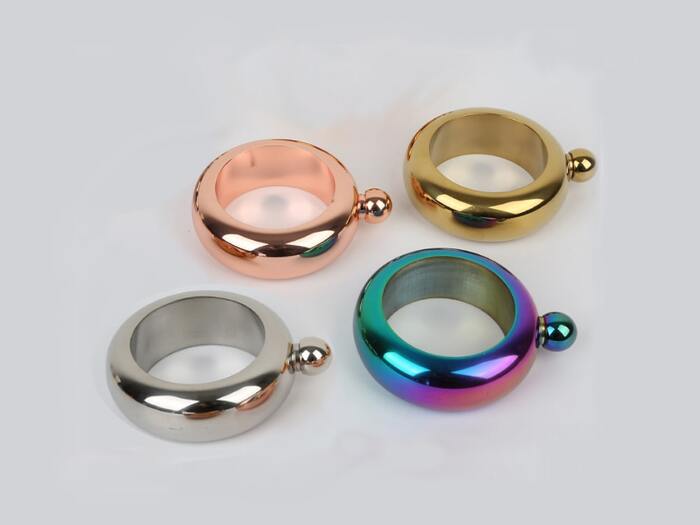 Isn't it time to surprise them with funny bachelorette gifts for bride they'll never forget? This rose-gold bangle bracelet doubles as a flask that may be sipped while on the run. For a personal touch, have it engraved with the bride-to-be's initials.
29. Playful Game Cards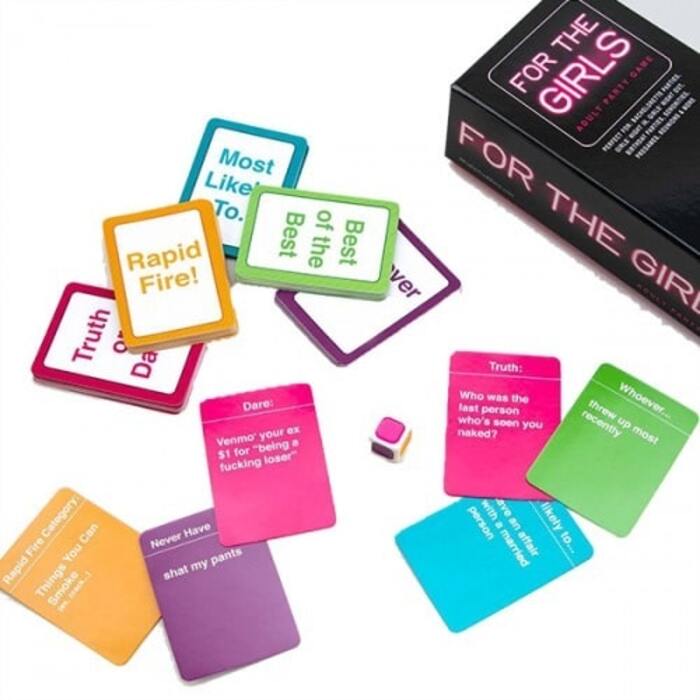 Gifts given to the bride at her bachelorette party are truly gifts for the entire group. Playing game cards is also a great bachelorette party activity at home. You can quickly get the company chuckling with this editor-approved game. "Truth or Dare" and "If You've Ever…" are two examples of mini-games included in the 500-card game. In other words, it'll enhance an already spectacular bachelorette party!
30. Cocktail Book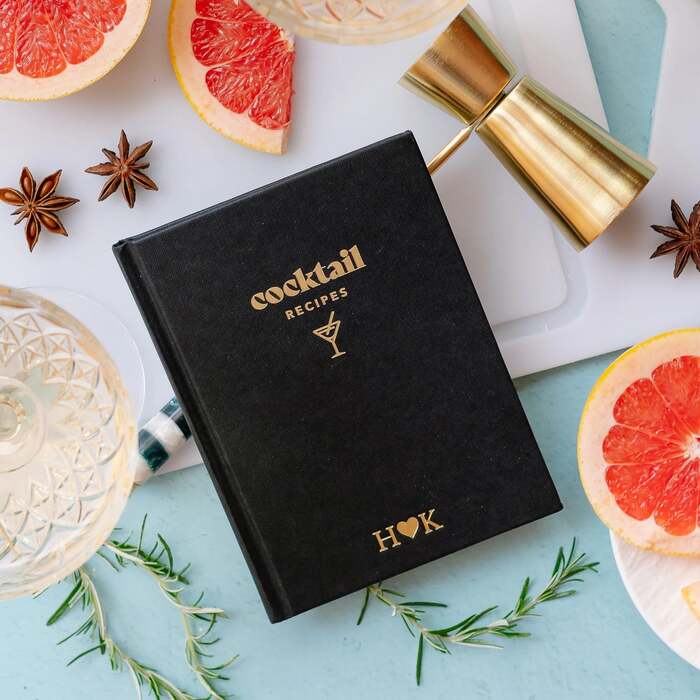 On the hunt for other cool gifts for bride to be ideas? This champagne recipe book can help the bride-to-be make her own glasses of Margarita. It's also a nice addition to the couple's collection of cookbooks because of its aesthetic appeal.
31. Instant Camera
Make sure the bride has an instant camera for her bachelorette party. For its portability and variety of color options, this is one of our favorites. Aside from the selfie mode and the automated exposure for high-quality images, there's much more for everyone to appreciate.
32. Champagne Gift Set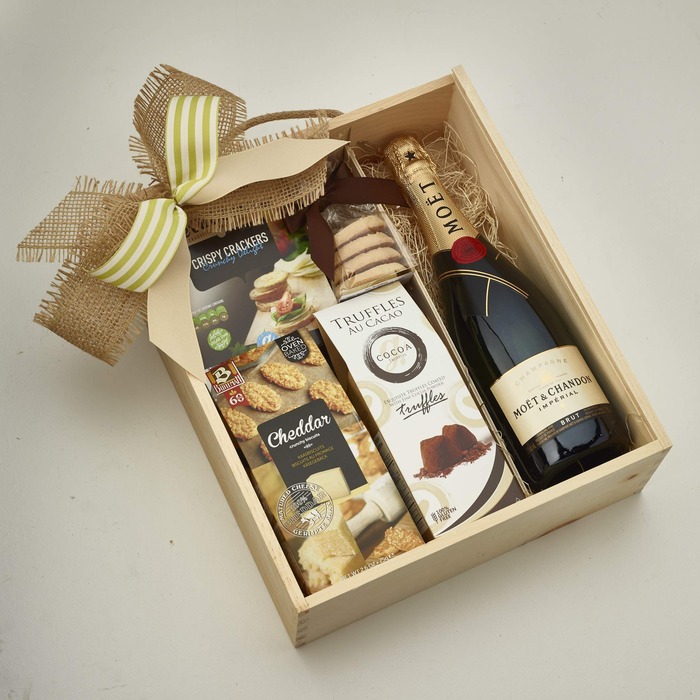 Why not send these champagne gift boxes to her door as last-minute bachelorette gifts for bride or wedding gifts for the couple? Using the artisan mixers and garnishes included in the cocktail kit, you can mix up refreshing concoctions that are filled with flavor.
33. Truth or Dare Game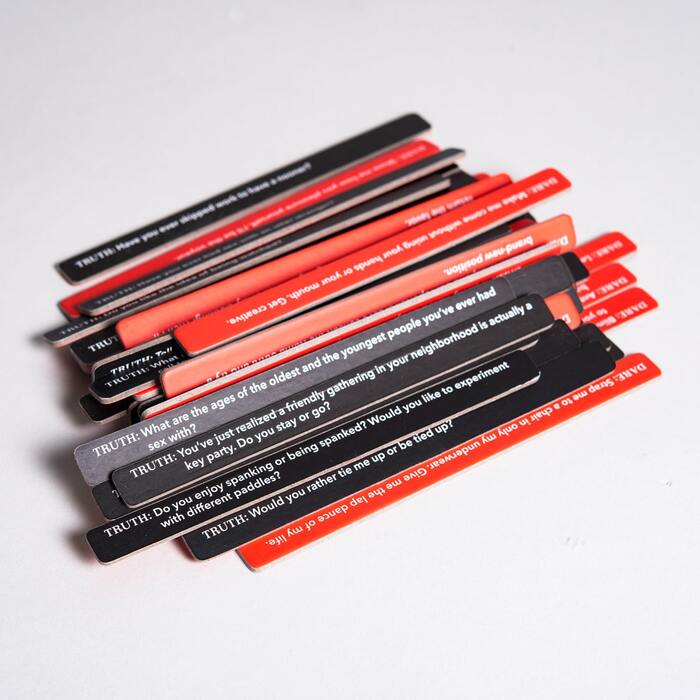 This mature version of truth or dare will almost certainly end up in the honeymoon suitcase of the bride-to-be. There are 50 pick-up sticks with 100 risqué prompts printed on either side for a hot date night included in the game. You may get this cheap bachelorette party idea from any online store.
34. Cacti Shot Glasses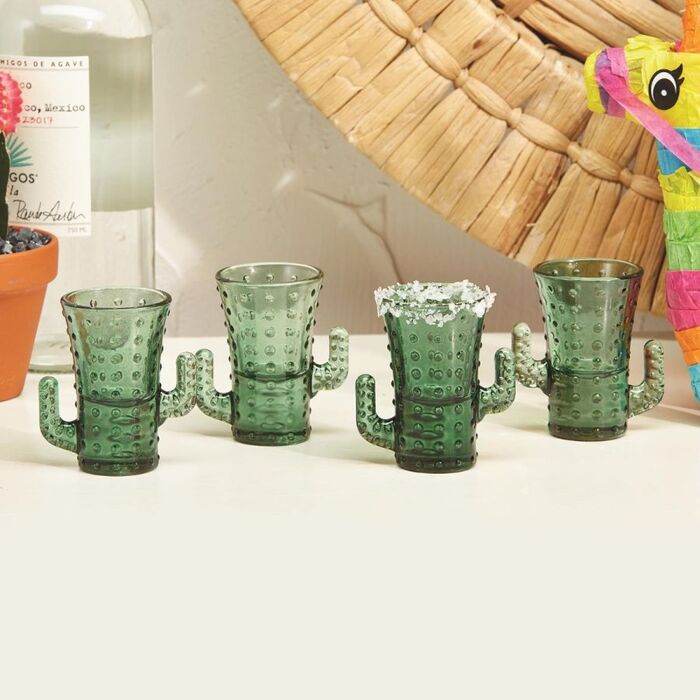 The bride will love these colorful shot glasses in the shape of a cactus to get the celebration started. They have the potential to become a go-to item for future parties and get-togethers.
35. Travel Coffee Mug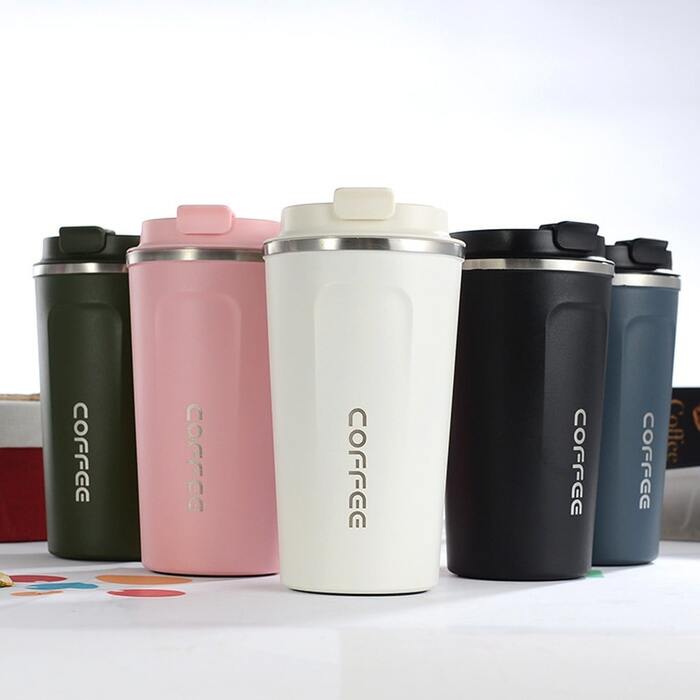 We saved the finest bachelorette gifts for bride for last: a travel coffee cup for all of their future wedding-planning meetings. Drinks stay hot for more than three hours thanks to the triple-insulated stainless steel construction. Choose a gorgeous color that is linked to the wedding theme.
36. Bartender Kit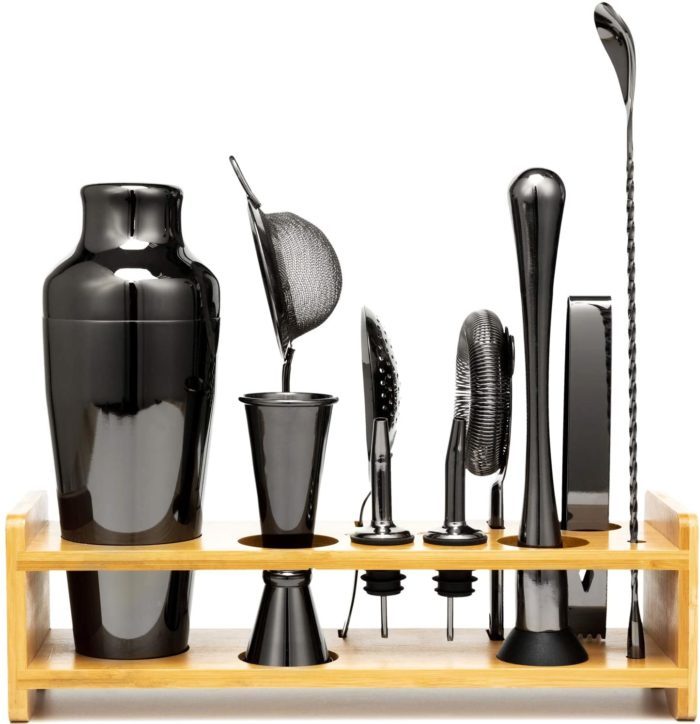 Anything relating to alcohol is always a good choice for a party gift. Your bride-to-be will adore this bartending set for her bachelorette party or any other night. After all, she has a lot to be happy about right now.
37. Wine Subscription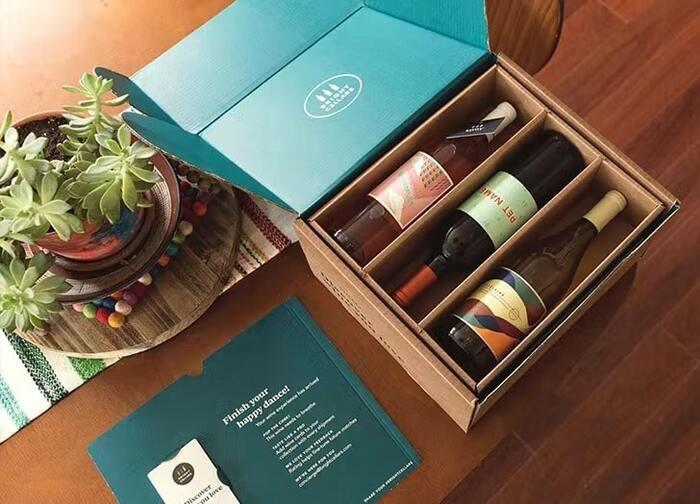 This is what we like to refer to as the bachelorette gift ideas for bride that keeps on giving. With a lovely, local bottle of red or white (or even both! ), wine subscriptions are an excellent way to help a woman relax from the stress of wedding planning.
38. Unique Cocktail Glasses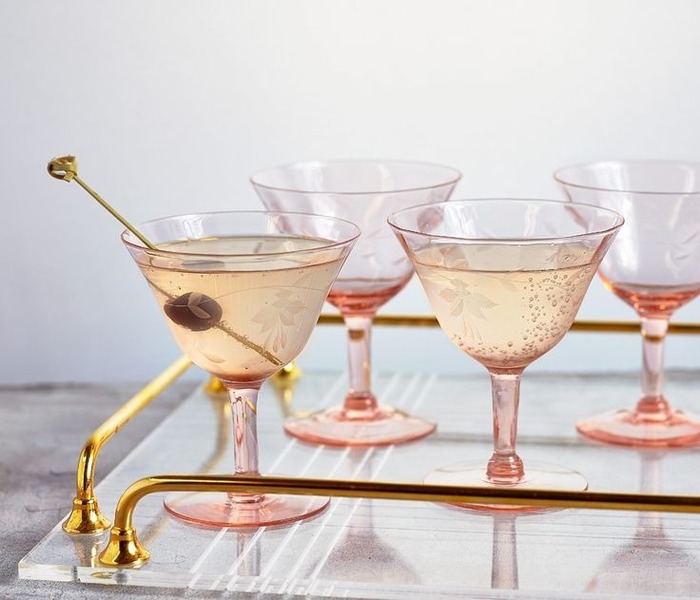 Cocktail glasses are a must-have for every home bar. Recycled glass is used to create attractive speckled white pieces that are sure to draw attention. Whether she's out with pals or sipping on a beverage by herself, these are sure to make her overjoyed on a special day.
39. Natural Tea Set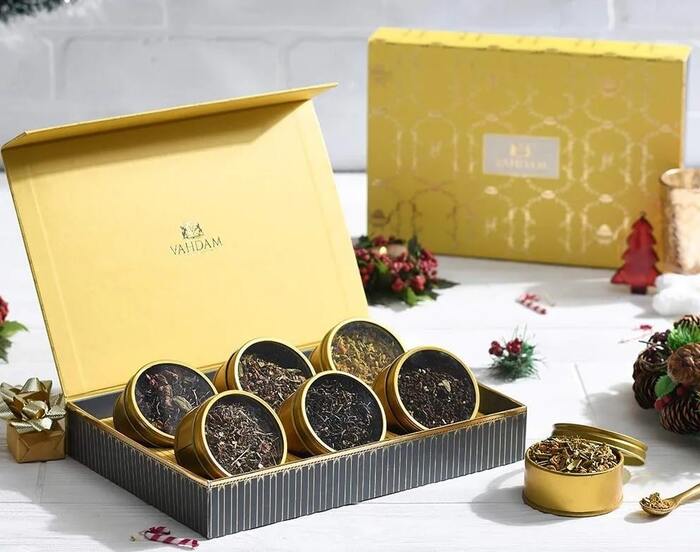 This soothing herbal tea sampling will help you slow things down a notch. Tea bags are included with this beautiful package of loose leaf teas, which can be repurposed whenever your bride is in need of some downtime. And if she's getting married, she'll need one, we're sure.
>>> Maybe you're interested in:
One of the most important and memorable events a lady can have is her bachelorette party. This necessitates a contribution of comparable magnitude! Oh Canvas has just shared with you the best bachelorette party gifts for bride that she'll be able to enjoy for many years to come. Stick to our list and you're bound to make her day!