To ensure that your bachelorette party theme is a success, you need to pick the right location and prepare a fantastic agenda. Give your team some significant swag to ensure that no one forgets the celebrations. For starters, you may hand out personalized bachelorette gifts at the start or end of the party. It's a cool and fun way to show how much you appreciate them. The best bachelorette party favors are here for your perusal. Read on and pick the most appropriate ones with Oh Canvas.
Impressive Customized Bachelorette Gifts For Her Beauty And Fashion
1. Monogram Makeup Bag
Each member of your squad should receive a personalized beauty bag. You can personalize each bag with a name in black, gold, or white and a choice of ten different bag colors. It doesn't matter if you're traveling with a group or if you're just staying put in your own city; this bag will help you keep your belongings organized.
2. Customized Beach Tote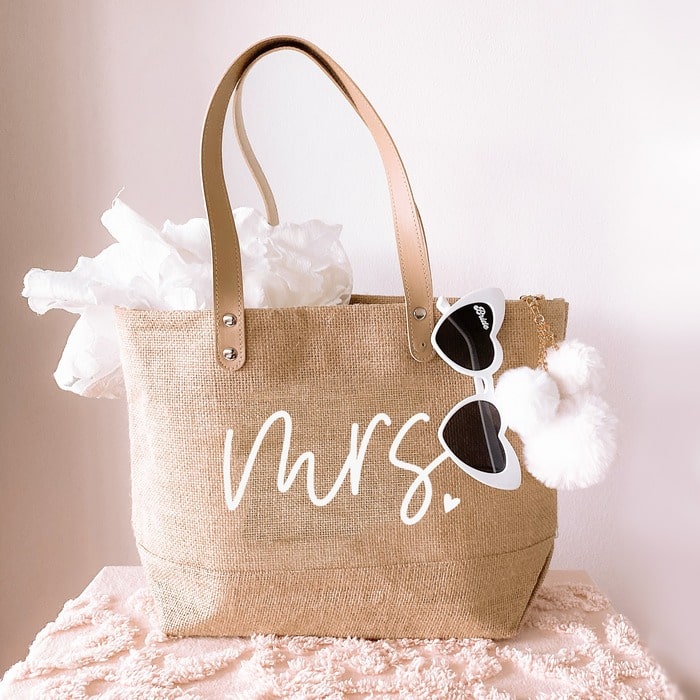 Make sure everyone is ready before heading to the beach! Anyone who's coming should get a personalized tote bag with their initials on it. A perfect gift bag filled with weekend necessities or other mementos might also be used.
3. Bridesmaids' Beanie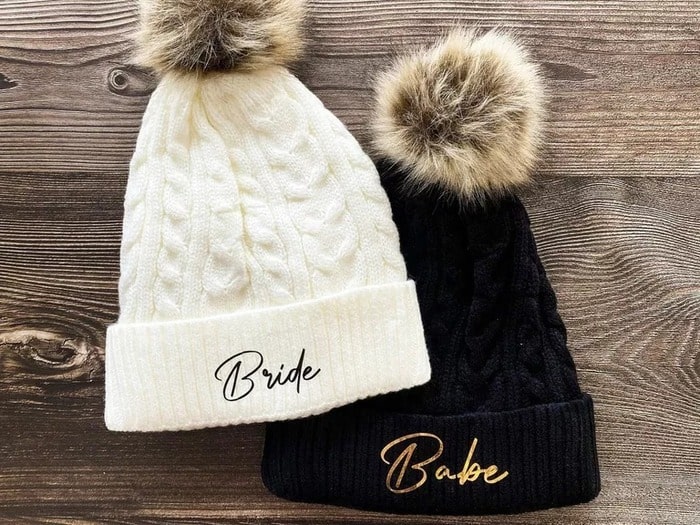 Looking for the coolest customized bachelorette gifts to show how much you care? You and your bridesmaids might enjoy a ski vacation or a winter cabin escape. Bring a warm and comfortable blanket for you and your closest friends. You can tackle the slopes in style thanks to these beanies.
4. Bride Hair Bands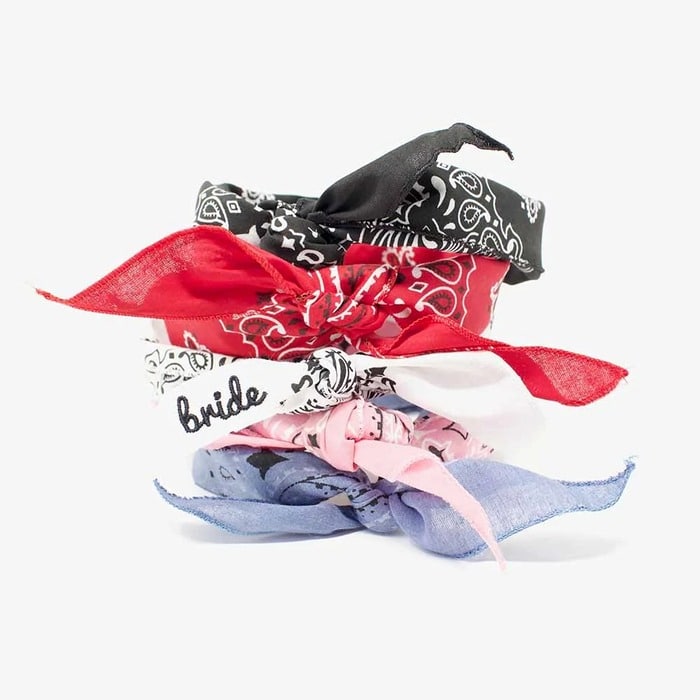 If your bride to be has always wanted a gorgeous bridal party, this will turn her special day into a fairy tale. Incorporate these hair bands into your beauty routine, or include one in your weekend essentials pack. Team Bride will be a huge hit during your bachelorette party.
5. Initials Necklace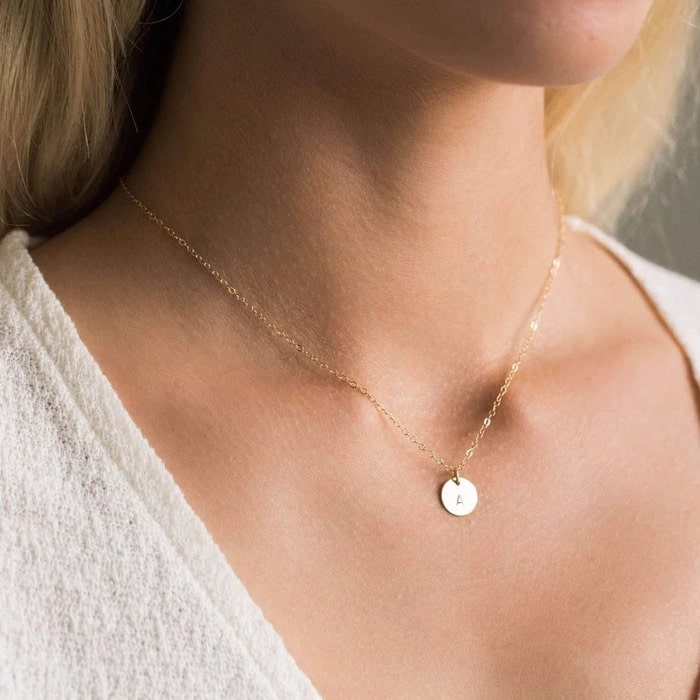 If you're wondering what bachelorette party gifts for the bride to be to get, send everyone home with a personalized necklace. Select a color and a letter for each guest to mark the occasion. It's a lovely thank-you gift that the recipient will treasure for years to come.
6. Personalized Sleeping Mask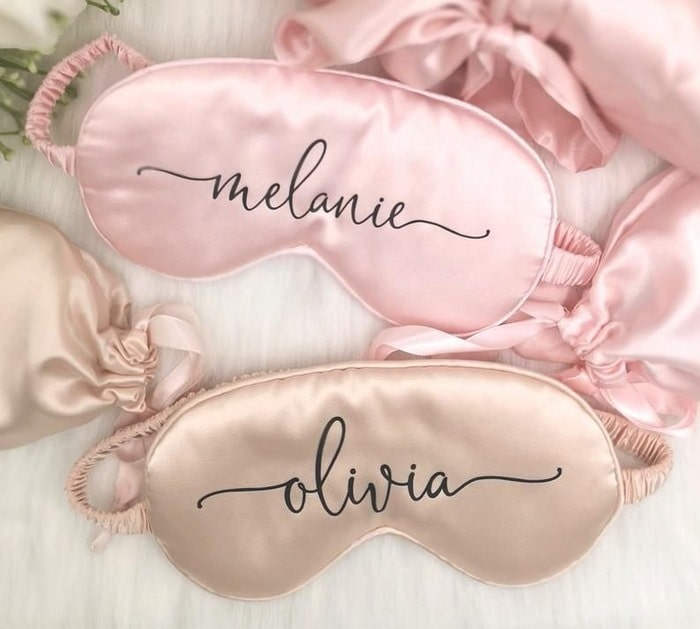 During the hectic bachelorette celebration, make sure your girls can get enough sleep with these personalized bridesmaid gifts and bachelorette shirts. Make satin sleep masks for all of the guests who will be attending. When choosing a foundation color, go with either black or white, and then choose a font color that matches that of the rest of the weekend's decor.
7. Wedding Headbands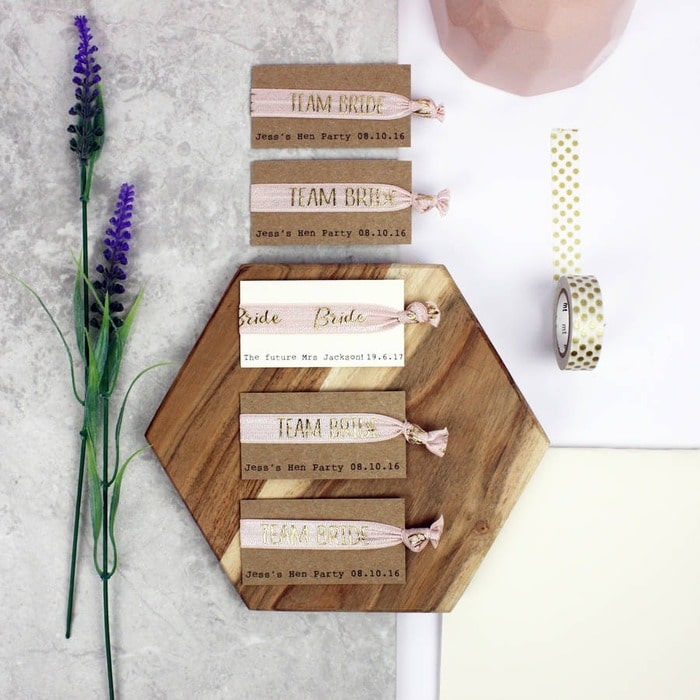 Are you searching for the cutest custom bachelorette favors for your closet friends? These adorable bandanas are perfect wedding gifts for your goodie bags if you're throwing a country wedding party. Choose a white bandana with the word "bride" embroidered for the honoree, and have their names on it.
8. Knot Bracelet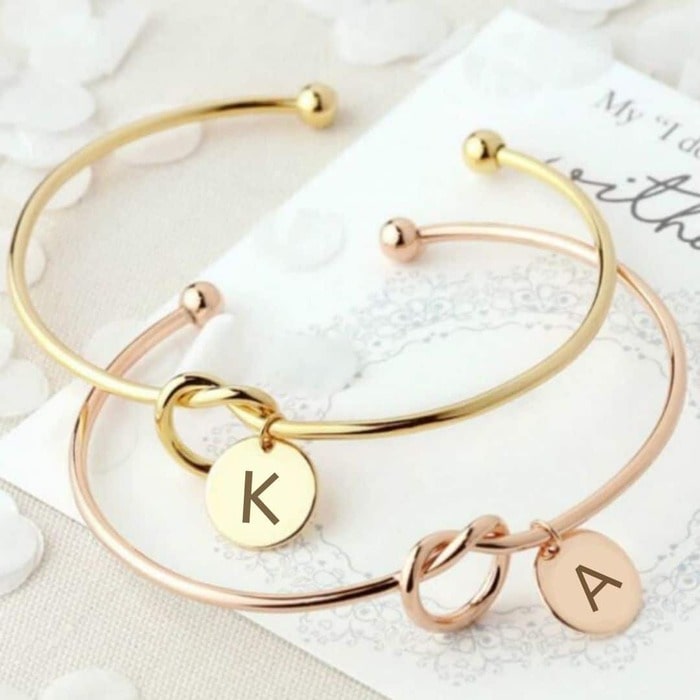 A little bling can go a long way when it comes to rewarding your workers. If you're looking for a thoughtful gift for your visitors, this knot bracelet with a monogrammed charm is the answer. There are three colors to choose from: gold, rose gold, and silver.
Personalized Bachelorette Gifts To Make Her Life More Interesting
9. Spa Kit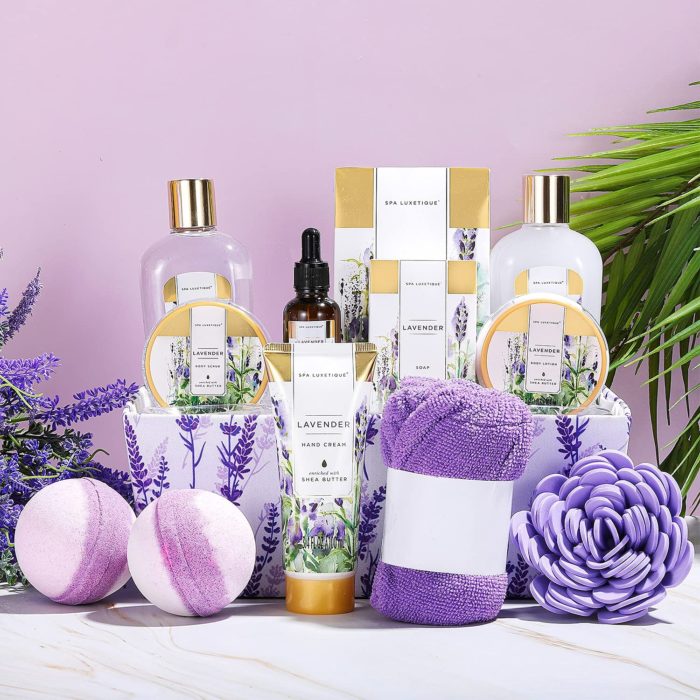 Are you thinking about spending the weekend at home? This spa kit includes a milk bath tea, a bath truffle, and whipped shea butter lotion for little extra pampering. Give your close friends a gift package to unwind and recharge after an exhausting weekend of pleasure.
10. Personalized Catchall Tray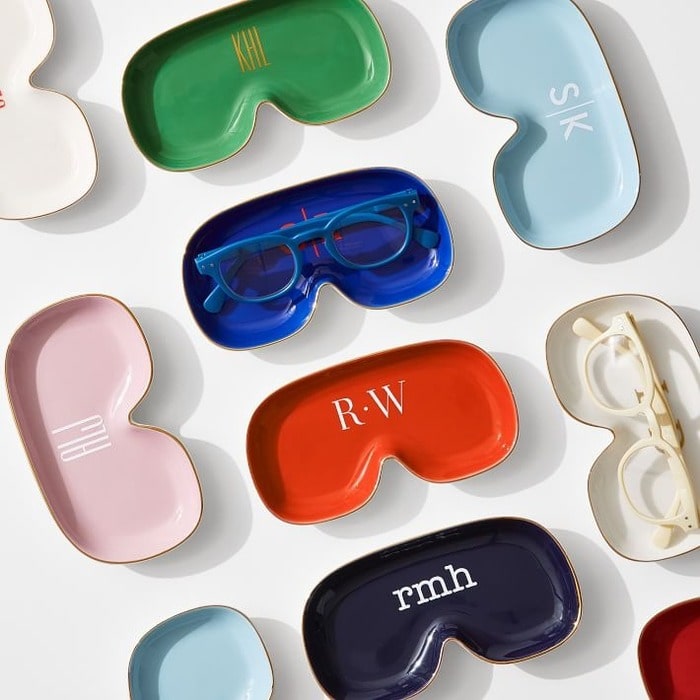 You can show appreciation for the good times you've had with your friends by stamping the personalized bridal shower gifts you give them. Each of your guests should have a unique catchall tray. Stripes or solids in various colors can be personalized with a monogram.
11. Personalized Coffee Cups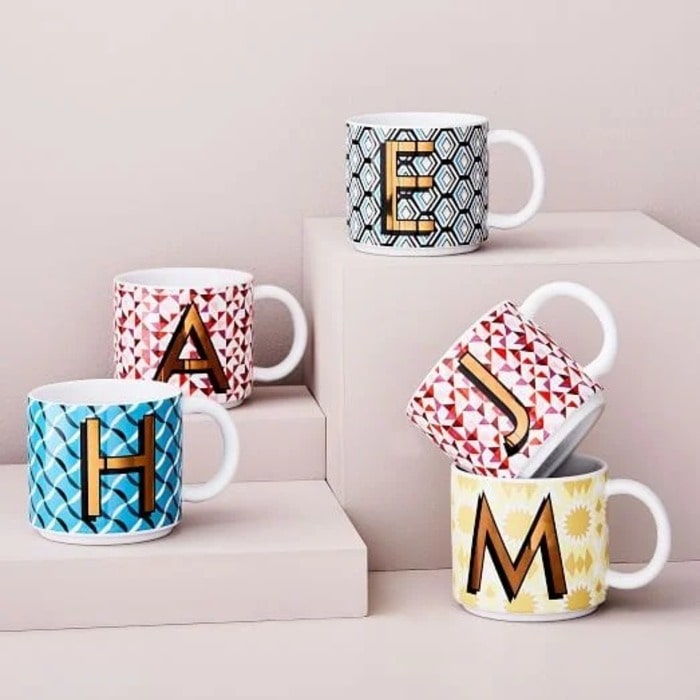 The bachelorette weekend isn't for everyone, and that's perfectly fine. Having a bachelorette party and wedding party without alcohol doesn't mean you must give up your favorite drinkware. Coffee cups with personalized initials are a stylish alternative to can coolers and champagne flutes.
12. Custom Shot Glasses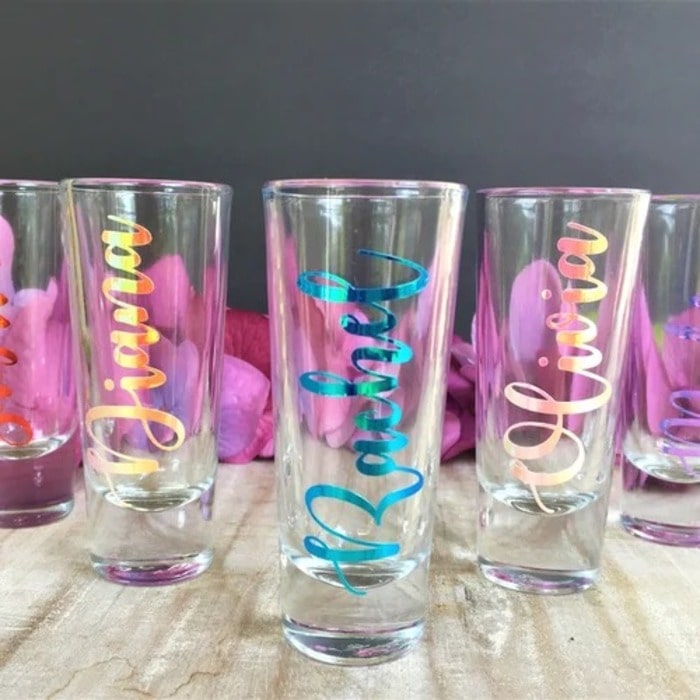 Do you have a group that enjoys having a good time? A great option for custom bachelorette party gifts would be these personalized shot glasses, which can be customized with the font color of your choice. Let's get this party started!
13. Stainless Steel Tumbler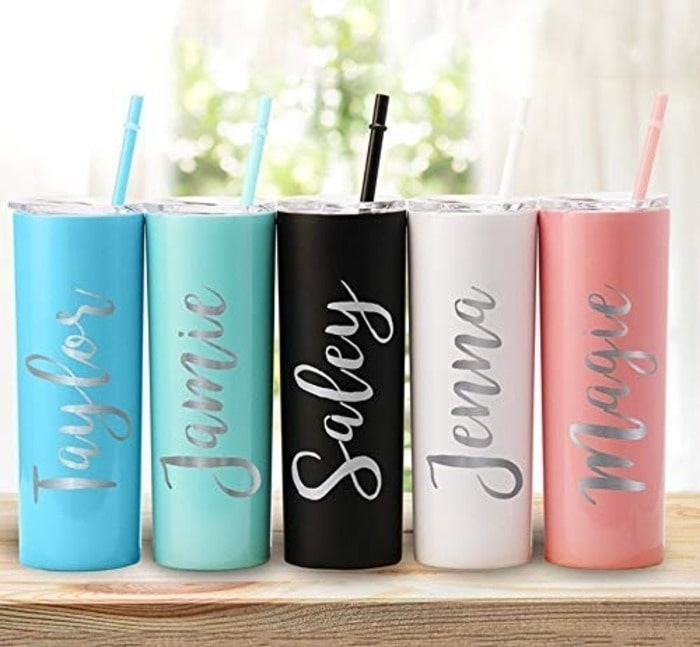 These adorable personalized bachelorette party gifts will keep your guests' drinks ice cold. Each guest can take home a stainless steel tumbler that is uniquely theirs by customizing the color and font. For long after the party's over, your bridesmaids will want to keep using these stylish cups.
14. Recycled Coasters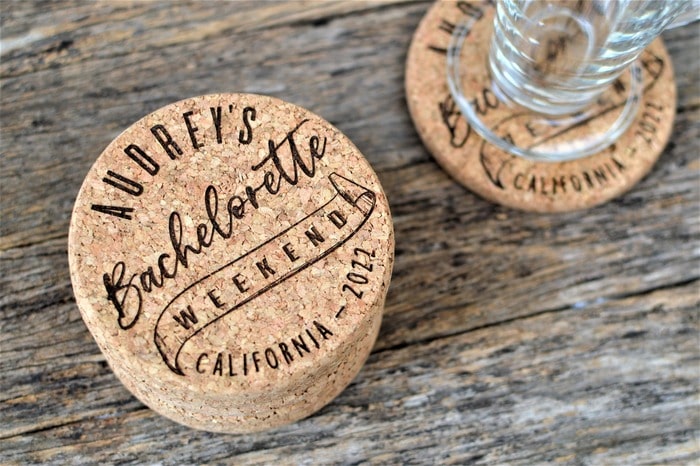 You can't have a bachelorette party without coasters; your guests will need a place to set their drinks down. Resin coasters with glittering gold rims can be customized with each guest's initials, making unique personalized bachelorette gifts that will be cherished.
15. Fashionable Bridal Socks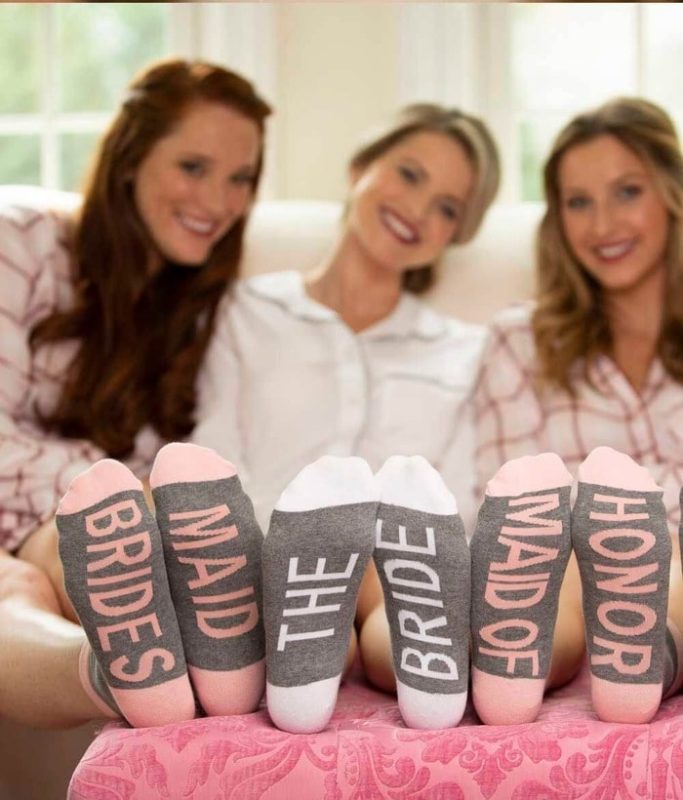 Personalized party goodies are a fun way to show your guests how much you care. Guests of all ages, from the maid of honor to the mother of the bride, can have their names embroidered on these socks. If you're hosting a bachelorette party in the comfort of your own home, these are the ideal bachelorette party favors.
16. Wedding Slippers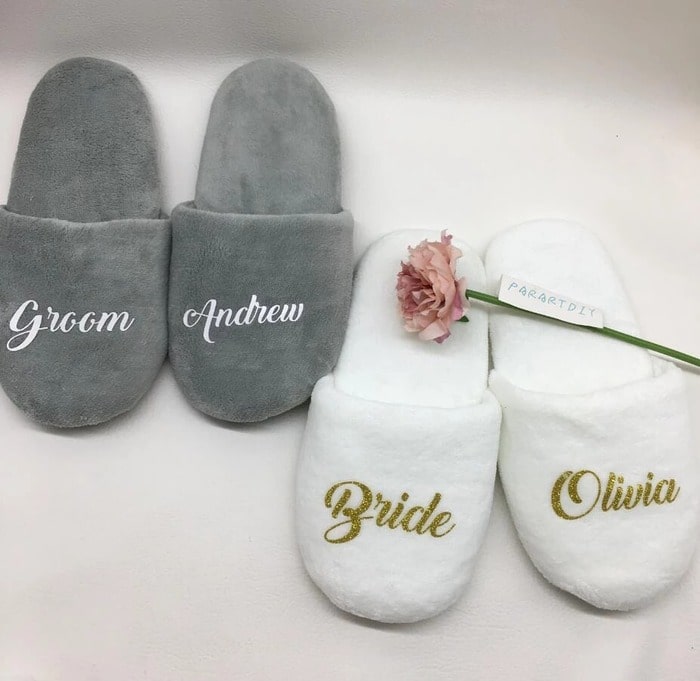 In the bachelorette party loot bags, we'd be over the moon with a pair of comfy slippers. Guests will truly feel like royalty if you customize each pair of shoes with their first initials in elegant cursive calligraphy.
17. Personalized Can Koozies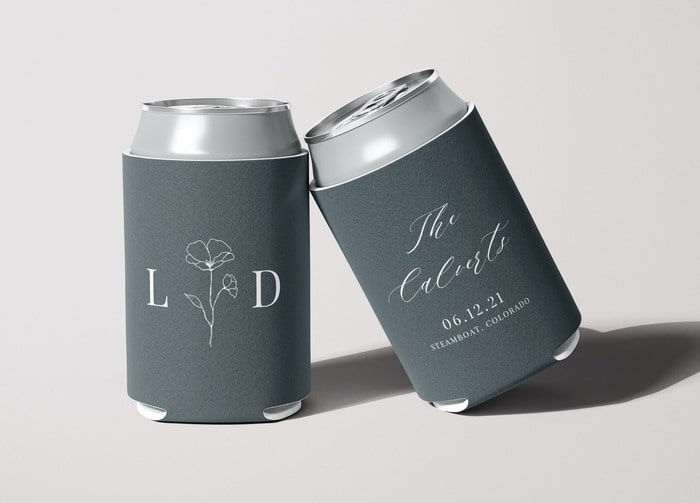 Personalized can koozies are great custom bachelorette party gifts for relaxing weekends at the beach or poolside. Using bold, eye-catching font, personalize each one with the names of your bridal party and the titles of your wedding.
18. Fanny Packs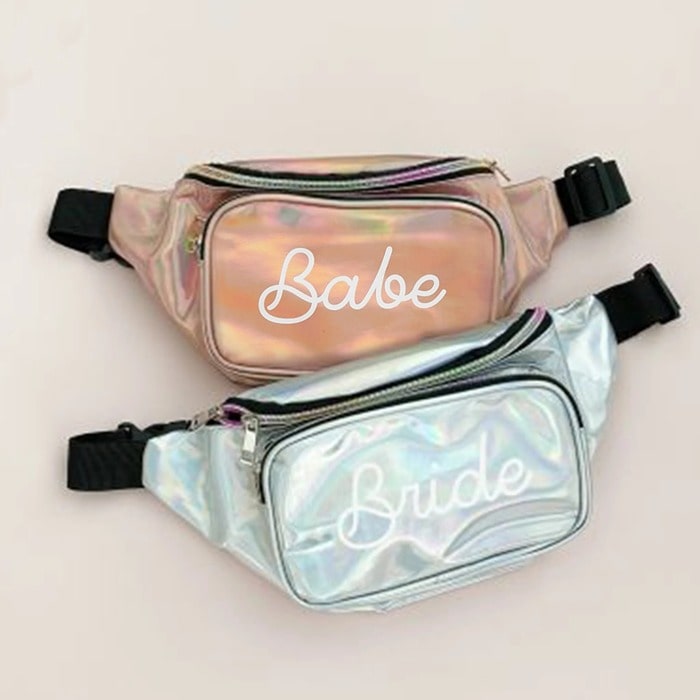 What about personalized bachelorette party favors for your closest friends? There is a resurgence in the popularity of fanny packs, and we're all in. Even when you're not on the go, you can keep your valuables safe with this convenient bag.
19. Leather Luggage Tag Gift Box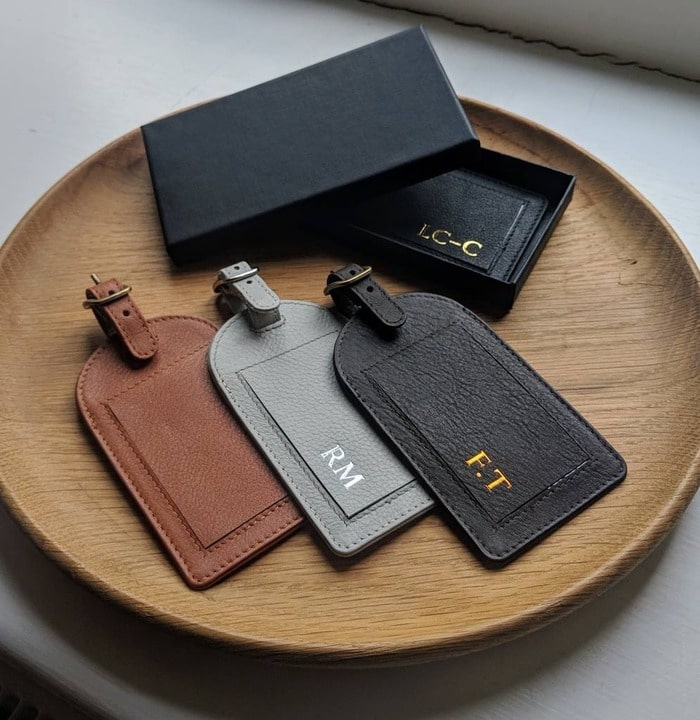 If your bachelorette party guests bring their baggage, they can use these faux leather luggage tags to personalize their bags for the return home and any subsequent trips. They're thoughtful customized bachelorette gifts that'll be cherished for years to come.
20. Flask Bracelet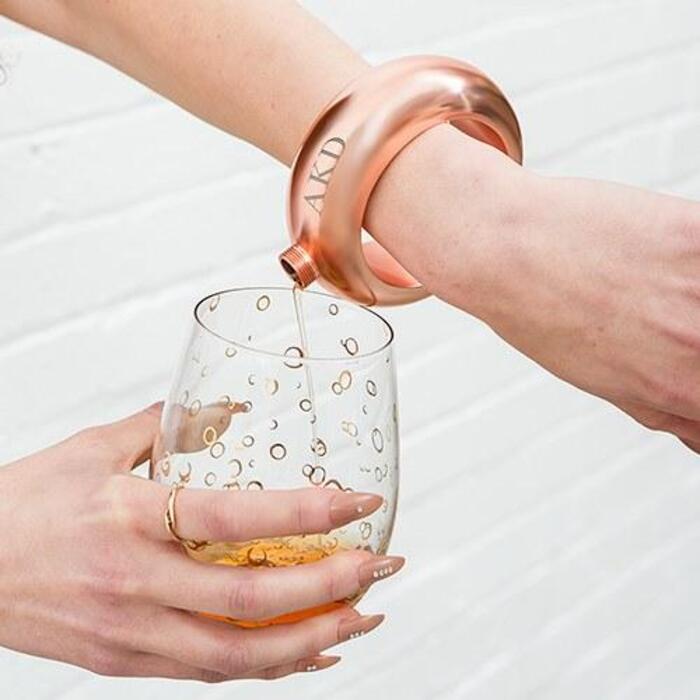 This gold and rose gold bangle bracelet serves as a flask, making it a fun bachelorette gift for the bride-to-be. This is one cool accessory with 3.5 ounces of drink capacity and the option to personalize it with her initials.
>>> Further Reading: 21 Cheap Bachelorette Party Ideas You Shouldn't Ignore In 2023
Custom Bachelorette Party Gifts For Sentimental Keepsakes
21. Tiny Champagne Bottles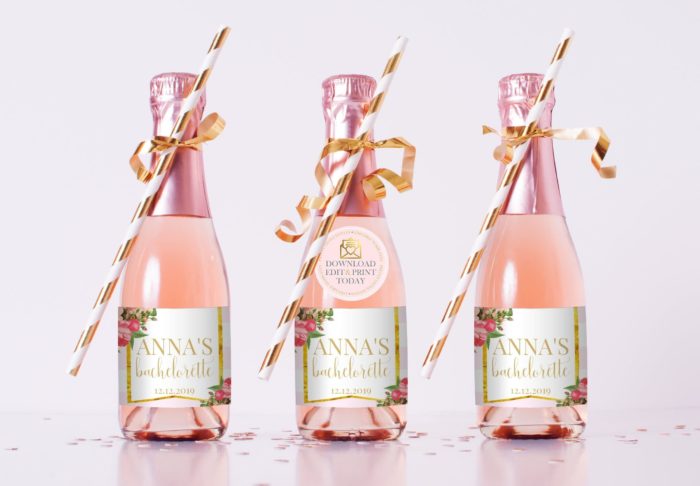 When you're getting married, there's nothing better than popping a bottle of bubbly with your closest pals! Make your own bachelorette party labels by doing it yourself. A little bottle of champagne with a ribbon-tied bow is the perfect finishing touch.
22. Custom Compact Mirror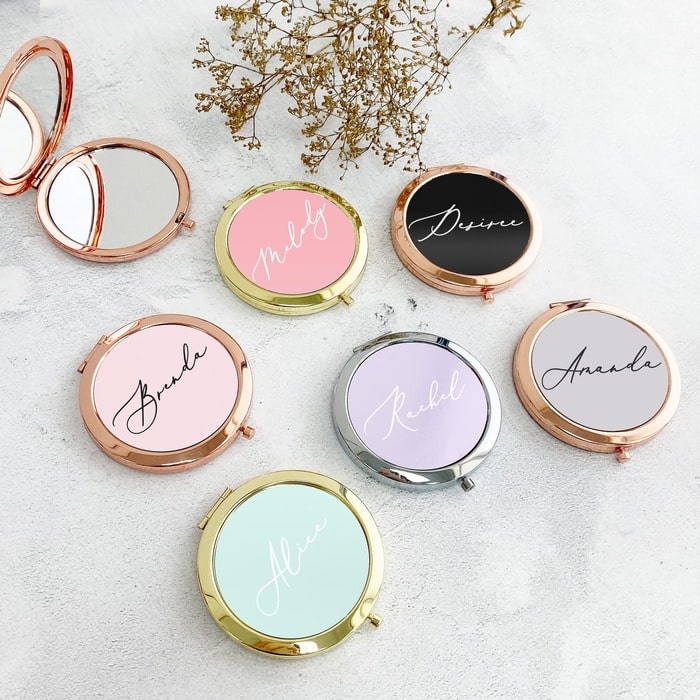 You can't go wrong with personalized compact mirrors (with the names or titles of the bride and groom) when choosing sentimental bachelorette customized gifts. Filling a goodie bag with these tiny yet thoughtful gifts is terrific. A handmade bachelorette party gift tag can be added to each bag, and you're ready to go!
23. All-In-One Photo Strip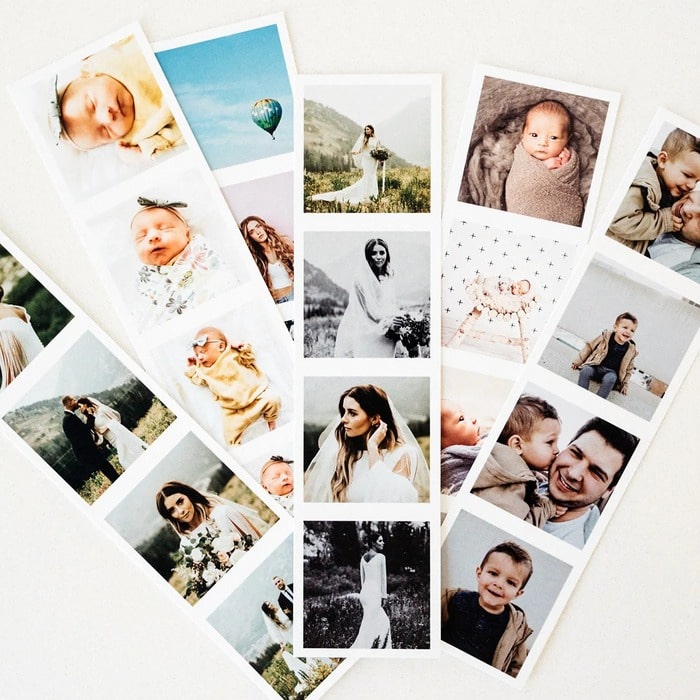 This one doesn't necessitate the hunt for a photo booth. Make a collage of your favorite selfies from over the years and send it to them as a message of gratitude for the friendship you've shared. Tell them that your own personal fairy tale friendship will live on in the pages of life for many years to come.
24. Custom Illustration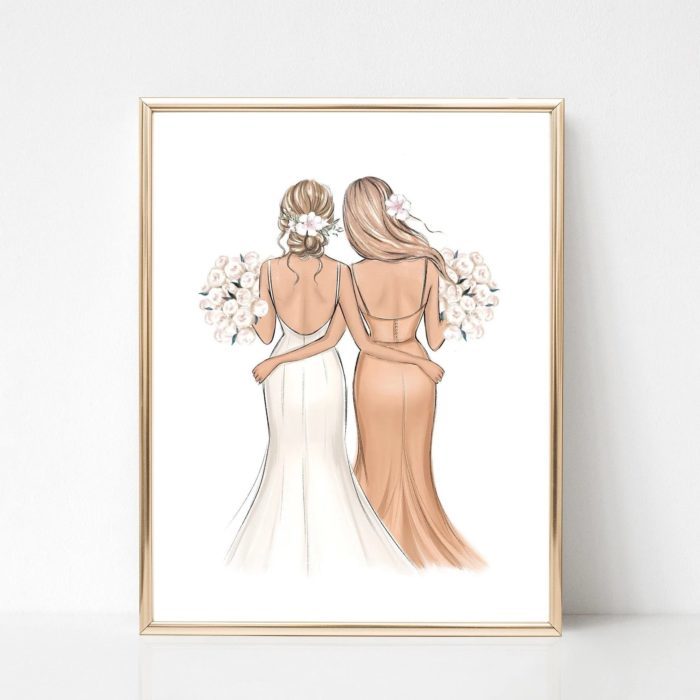 As you celebrate with your closest friends, treat them to something truly memorable. Just how much you care will be shown by this personalized illustration. The artist will produce a one-of-a-kind sculpture for you based on the hairstyles and figures you select on wedding day.
25. Cheers Bottle Opener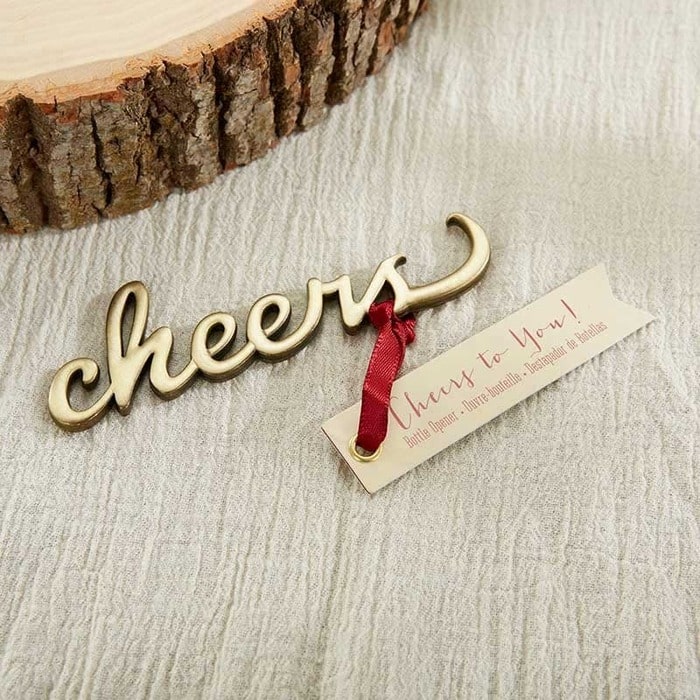 It's not too late to make a few baskets of customized bachelorette gifts for each of the bridesmaids! Be sure to add unique koozies and delectable bachelorette party snacks to your "cheers" bottle opener for the ultimate bachelorette party gift.
26. Photo Book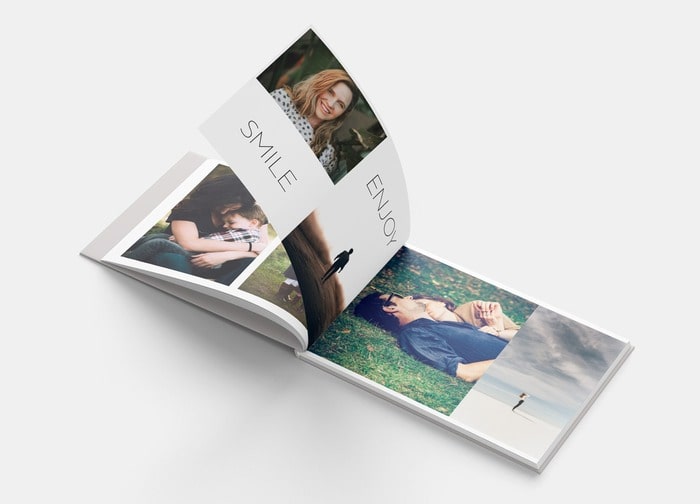 Make a point to remember the good times you've had together and the future ones to come. Mini-books containing your besties' selfies and photographs from places you've been should be made for each of them.
27. Handcrafted Bags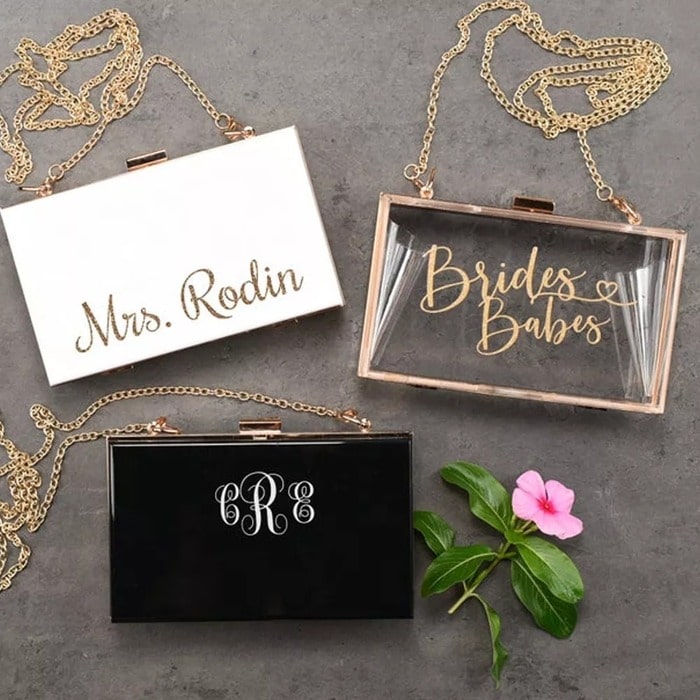 Take a cue from this bride tribe, who provided her guests with monogrammed acrylic handbags so they could all go out together in style. These personalized bridal shower gifts were also a great addition to the big day.
28. Custom Coasters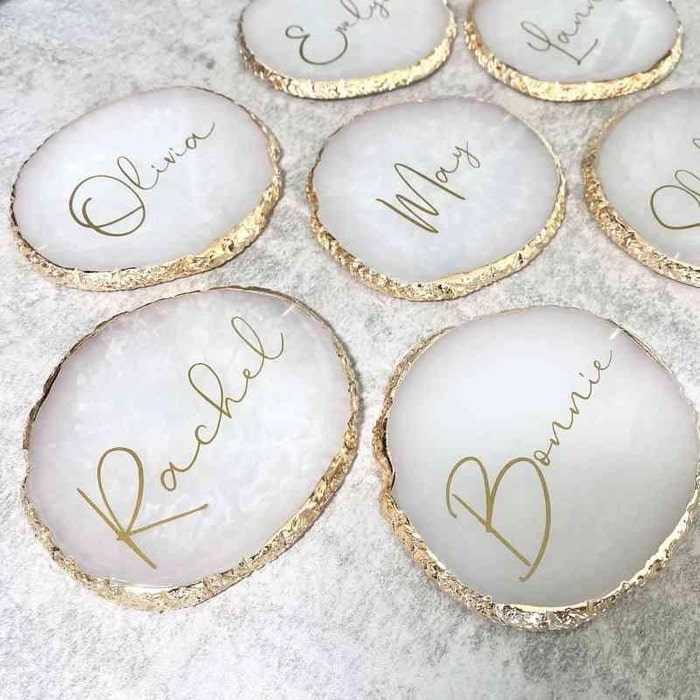 Including wine-themed party favors in the bachelorette party is a smart move. The name of the bride-to-be, the year, and the location of the bachelorette party can all be personalized on these coasters.
29. Embroidered Baseball Cap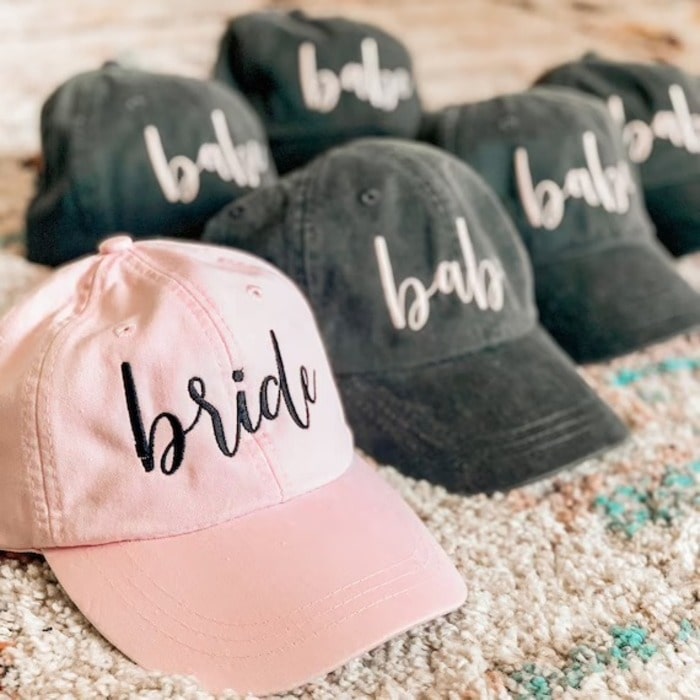 Items that can be worn all weekend long are always a success as personalized bridesmaid gifts. "Bride" and "Babe" are imprinted on the visors of these elegant baseball caps. Everyone will know what you're celebrating if you have one of these.
30. Champagne Flutes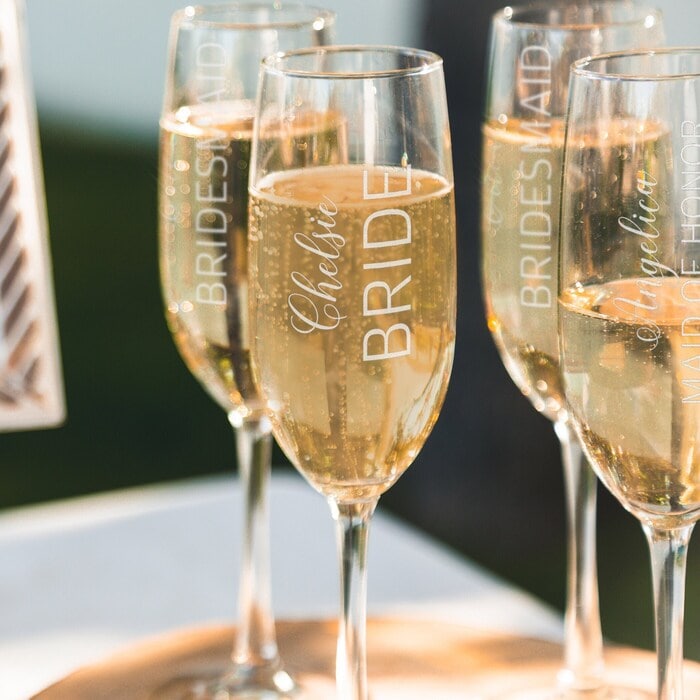 Reusable wine glasses with custom engraving are another popular gift option. Names can be customized in one of 21 color schemes, including an on-trend metallic rose gold bar. Attach bachelorette party favor tags to each one before handing them out for an extra polished look.
31. Enamel Pins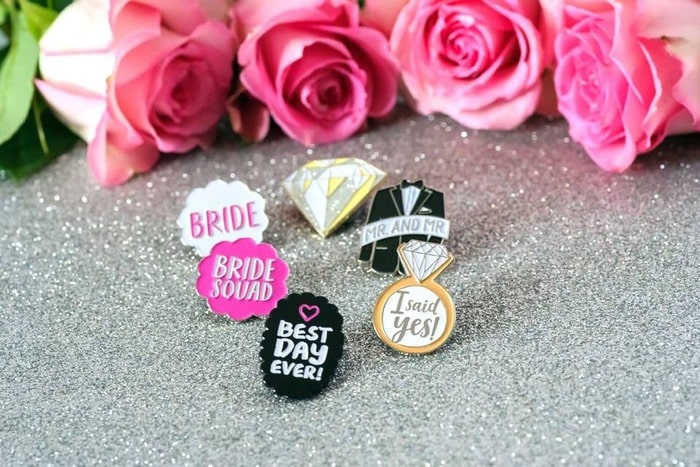 This cute enamel pin is the perfect way to recognize your bridal party as the "greatest squad ever." Your bachelorette party will live on in the hearts of your bridal party members with this thoughtful addition to their gift baskets.
32. Bachelorette Party Invitations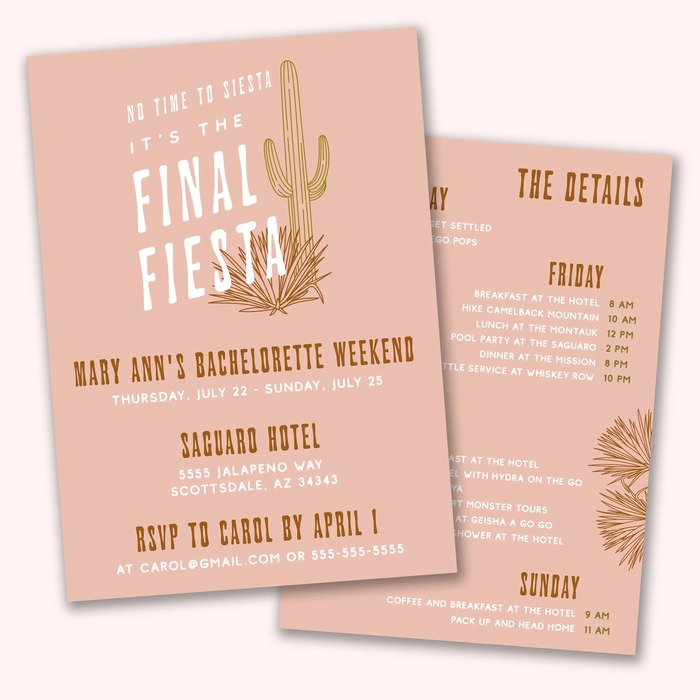 There must be guests present to have a memorable bridal party. Send out the most elegant invitations so your ladies can put the date on their calendars. These bachelorette party invitations come along with an agenda, ensuring that all guests know what the event will entail.
>>> Maybe you're interested:
Whether you're planning a relaxing weekend at the beach, a wild night on the town, or an intimate wine and cheese party at home, a simple "thank you" to those joining you in your festivities can go a long way. Don't be afraid to express your gratitude to your closest friends! It's a fun way to show appreciation and keep the celebration continuing for guests even after they've left the venue. And with all of our personalized bachelorette gifts, Oh Canvas team is sure that your bridal party can be a fairy tale!