Are you looking for the best bachelorette party favors ideas for your party? Oh Canvas has some ideas for you, whether you're the upcoming bride looking for some interesting and funny bachelorette gifts for your crew or you're the responsible MOH taking the lead on party favors. These bachelorette party favors for attendees are stylish (and reusable!) drinkware and theme-appropriate accessories.
Best Bachelorette Party Favors Ideas In 2023
Lovely Bachelorette Party Favors Ideas For Bridemaids
1. Bachelorette Enamel Pins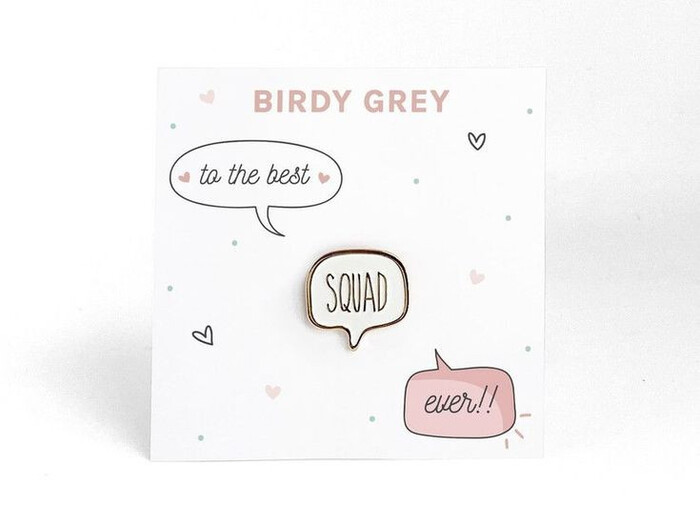 With this charming enamel pin, you may tell everyone they are the "greatest squad ever." It's a simple but thoughtful addition to bridal party gift baskets that will always bring back memories of your amazing bachelorette party.
2. Friendship Bracelet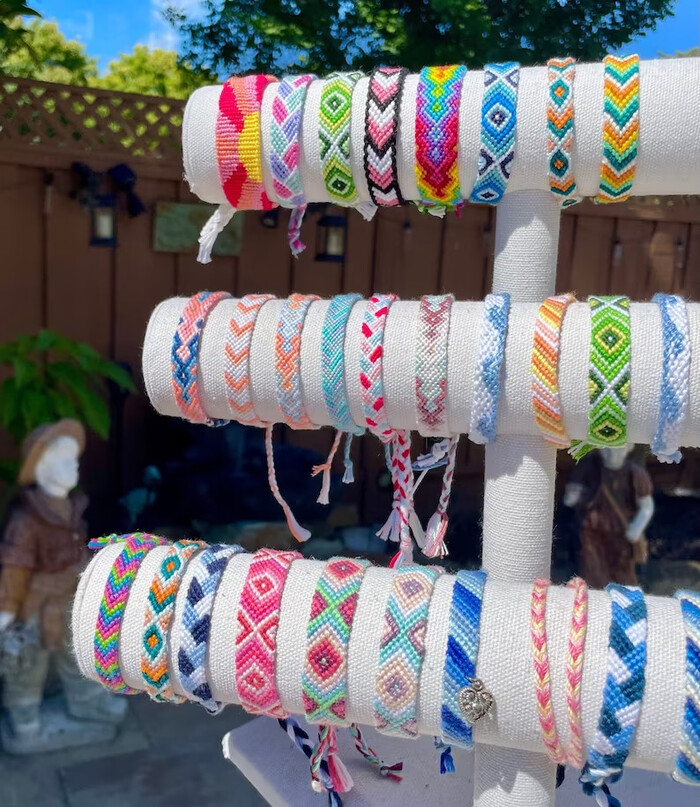 When it comes to bachelorette party favors, nothing beats friendship bracelets for their appeal and meaning. These charming pink and white infinity bracelets, which stand for your enduring friendship, are perfect for your squad.
3. Hair Clip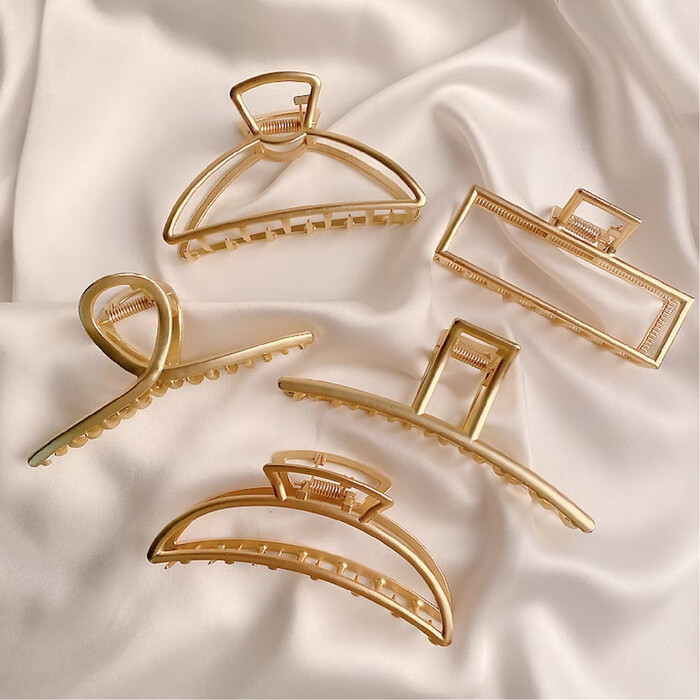 Having and holding your pals' hair! Each bachelorette party bag should have a claw clip so people can put their hair up quickly and easily while at the pool or putting on makeup. These lovely hair clips will remind your pals of your bachelorette party's joy and friendship every time they use one.
4. Face Mask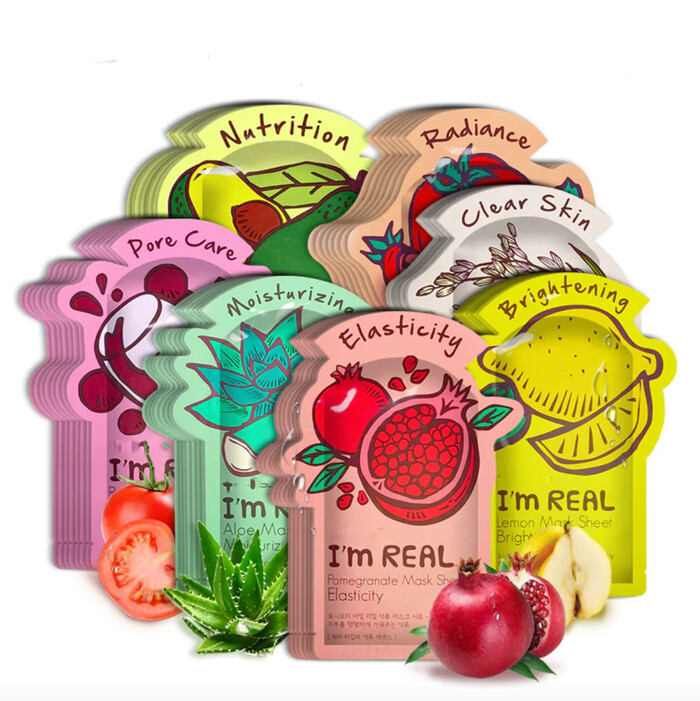 After all the bachelorette celebrations, revitalize your team with a fruity mask. This peel-off mask can open blocked pores after a late night out because it is loaded with fruit antioxidants and has a delicious scent.
5. Earrings Pack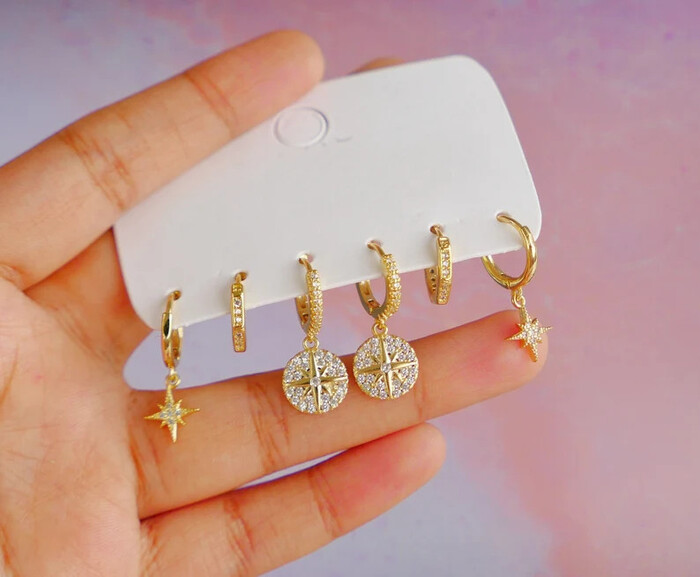 If you're looking for a favor that will impress your bachelorette party guests and stay in their memories forever, look no further than a pair of gorgeous earrings. Even though your friends and family all have distinct interests in jewelry, you may meet all of their needs by getting a four-pack.
6. Customized Cosmetic Bag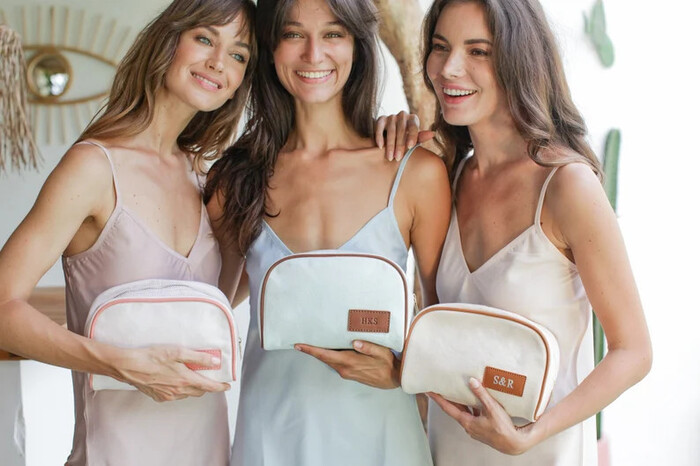 Are you looking for bachelorette party favors as party games? Give the successful bridesmaid this cotton waffle makeup bag. Or, you may have the bags customized with each person's name or initials if you want to present one to everyone in the crowd. We assure you that on the morning of the engagement, you will see these makeup bags once again.
7. Lip balm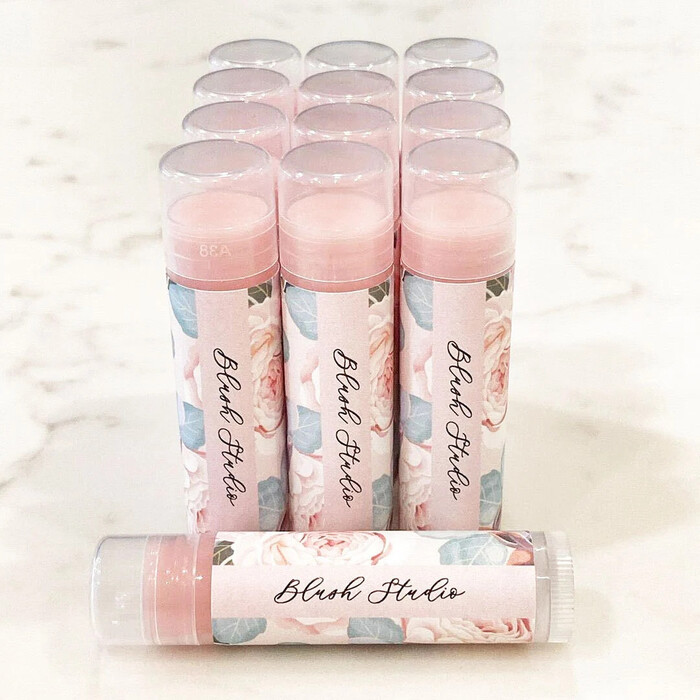 Lip balms are modest bachelorette party favors ideas that everyone may use if you're looking for small items to put in your bachelorette goodie bags. The ideal complement to visitors' welcome bags is this adorable, personalized vanilla lip balm.
8. Friend Canvas Art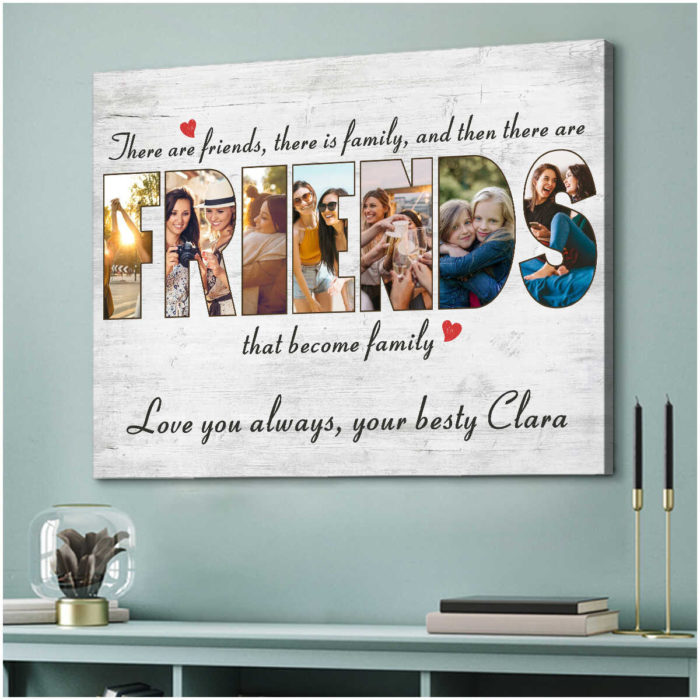 You can't go wrong with canvas prints of one of your favorite photos as personalized bachelorette party gifts, especially if you include a thoughtful, personal message in the print. They will treasure this great gift for many years to come.
9. Perfume Sample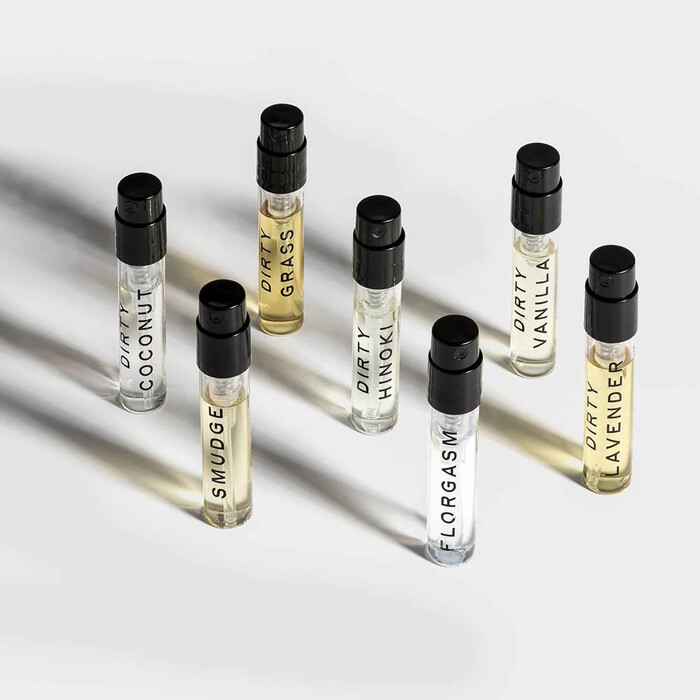 Your bridesmaids will all smell the same with this perfume. Buy a rollerball or small sample sizes of your favorite scent to put in the gift box for your squat. If the bachelorette party is in the summer, choose floral or fruity fragrances for the girls, and if it's in the winter, go with something warm and comforting.
10. Tote Bag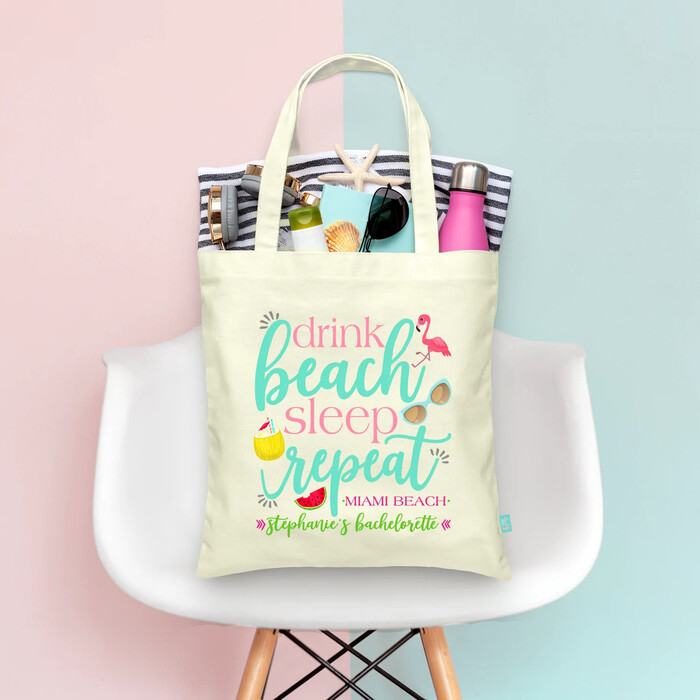 For pretty much any event, including the bridal shower, bachelorette party, or the morning of the wedding, personalized tote bags are trendy bridesmaid gifts. Stock each bag with sunny-weather necessities like sunscreen and monogrammed beach towels if you'll be poolside for the beach party.
11. Nail Box Set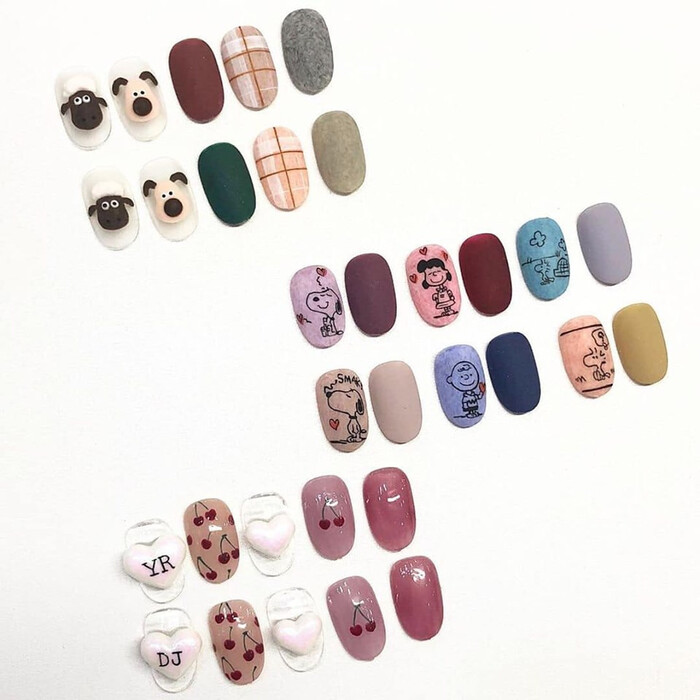 Spend less money on a manicure for your group. These lovely press-on nails can give any outfit a touch of glitz. Before going out, you can play salon, but the fun doesn't end there. They can be used again and again!
Oh Canvas Tips

Consider adding a personalized label or sticker or personalizing each nail box set with the guests' names to make the party treats extra special.
12. Personalized Towel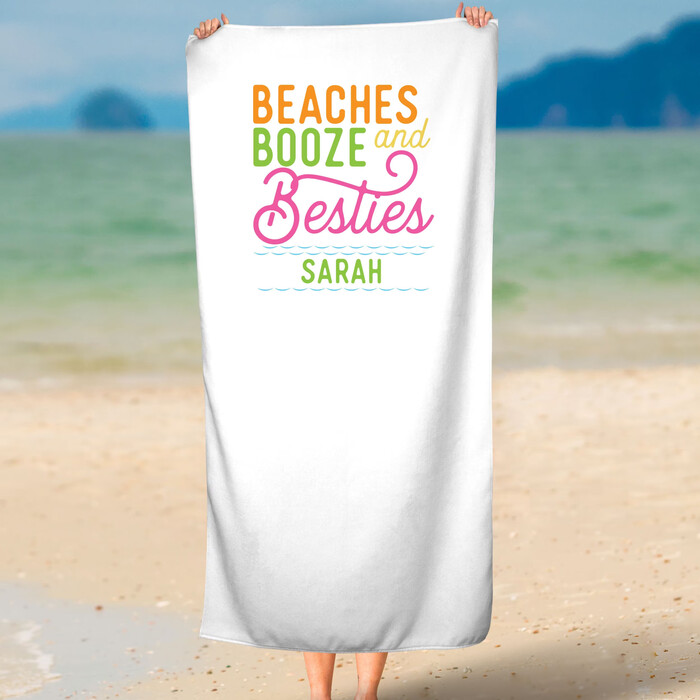 Visiting a lake, pool, or beach? Include a custom towel in the goody bags for the bachelorette weekend. Your visitors will adore the softness of these towels because they are portable enough to bring on the flight home. Simply pick a color, then add your customization—it may be the names of the participants, their wedding titles, or the location of the bachelor party.
13. Funny Tattoo
Temporary tattoos are popular with trendy girls, too! Get your crew ready for a day on the water or a night out in a beach town by picking up a couple of packets of these shiny gold nautical tattoos. They're an affordable way to include themed items in your bachelorette goodie bags.
14. Adorable Bandanas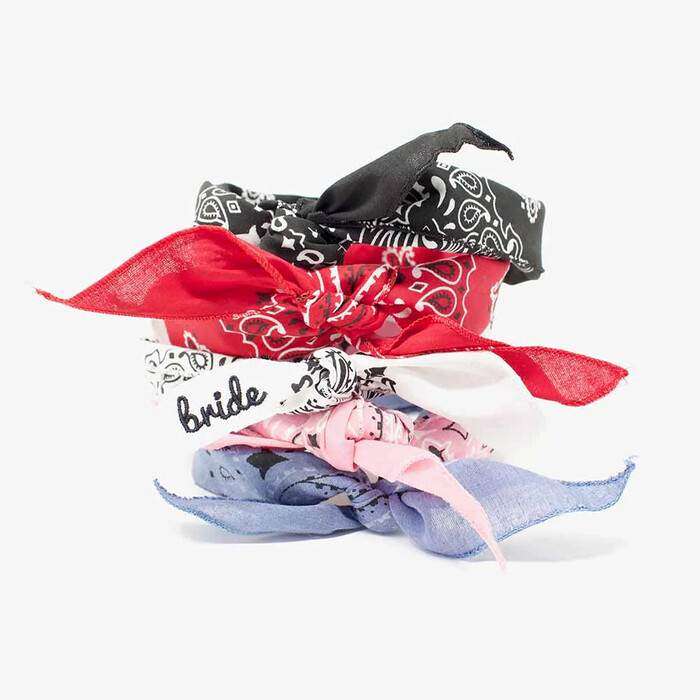 Yeehaw! These adorable bandanas will go well in your goodie bags if your bachelorette party is in the country. Pick up a white bandana with the word "bride" on it for the honoree and personalize each one with the names of your guests.
Oh Canvas Tips

Choose a pattern or design that matches the party's theme. Consider using bandanas with paisley or cowboy patterns, for instance, if your event has a western theme. Bandanas with ocean or tropical motifs are a good option if you're throwing a beach party.
15. Compact Mirrors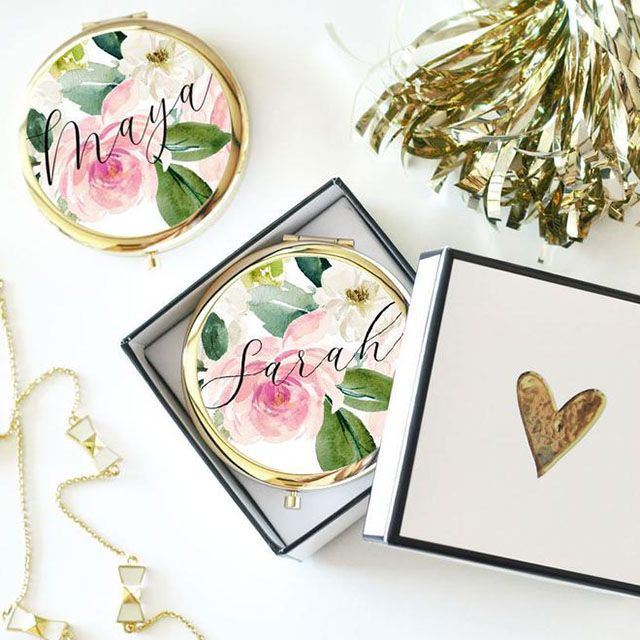 Compact mirrors customized with each person's name or the ceremony title are great bachelorette party favors ideas. These tiny yet distinctive treats are wonderful fillers for goody bags. Simply place them inside, add a handwritten gift tag to each bag, and you're ready to go!
16. Bangle Keychain Bracelets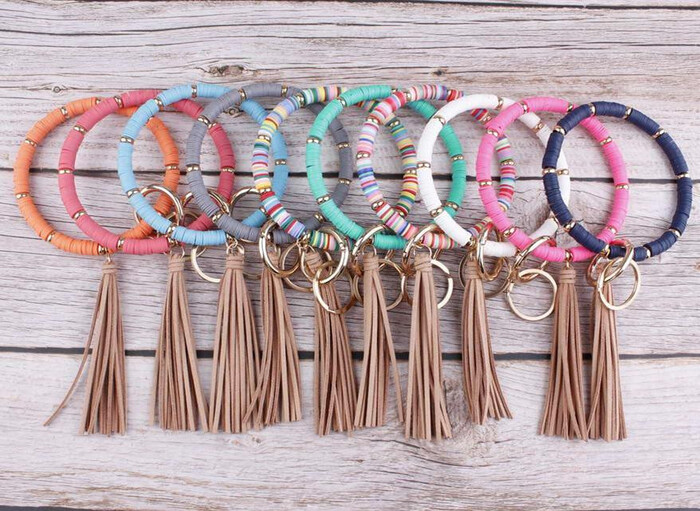 These distinctive keychain bangle bracelets are unquestionably useful take-home presents for your visitors. These bangle bracelets feature keychain attachments.
17. Girls' Night Out Pink Flask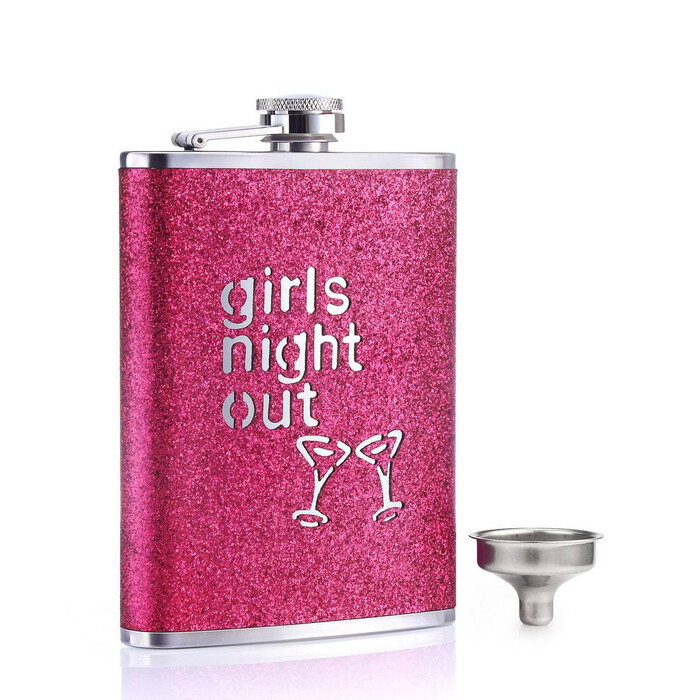 Consider the exciting and fun present bachelorette party favors! Simply put, you and your crew enjoy commemorating all of your milestones. With these Girls' Night Out Pink Flasks, you may celebrate with your bridesmaids. Give them this funny bachelorette gift at your party to show them how much you value them. This premium item serves as a reminder of how much you value her friendship.
18. Nail Polish Favors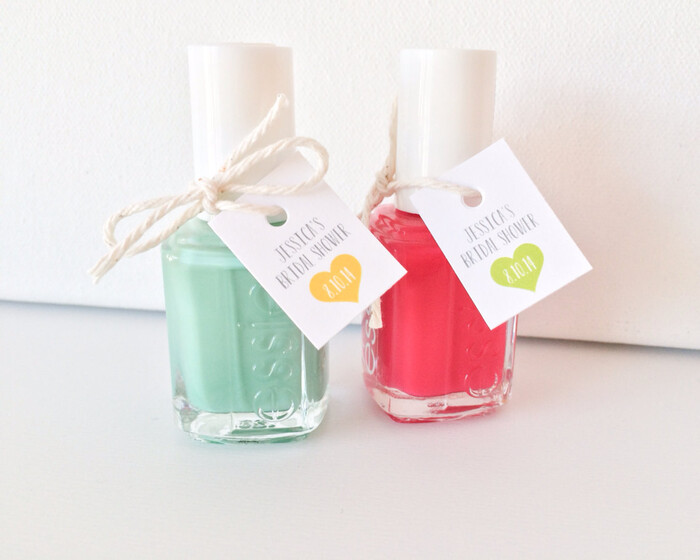 Although the tag in this image was specifically for a bridal shower, you may also get one for a bachelorette party. Simply attach the tags to your preferred nail paint bottles. Essie polish is our favorite since it looks great with just one or two coats and lasts for a very long time.
19. Trendy Scrunchies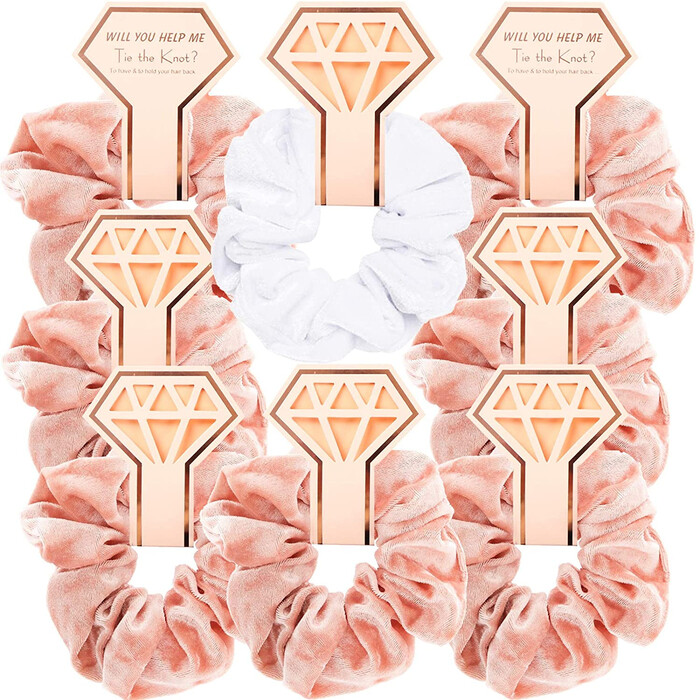 Scrunchies are used as bachelorette party favors, too! This present is available in various yellow, green, purple, and blue hues. You can choose how many scrunchies to give as a present. Additionally, it has customizable tags. You can add information about your bachelorette party to the package as well.
20. Soft Sleep Masks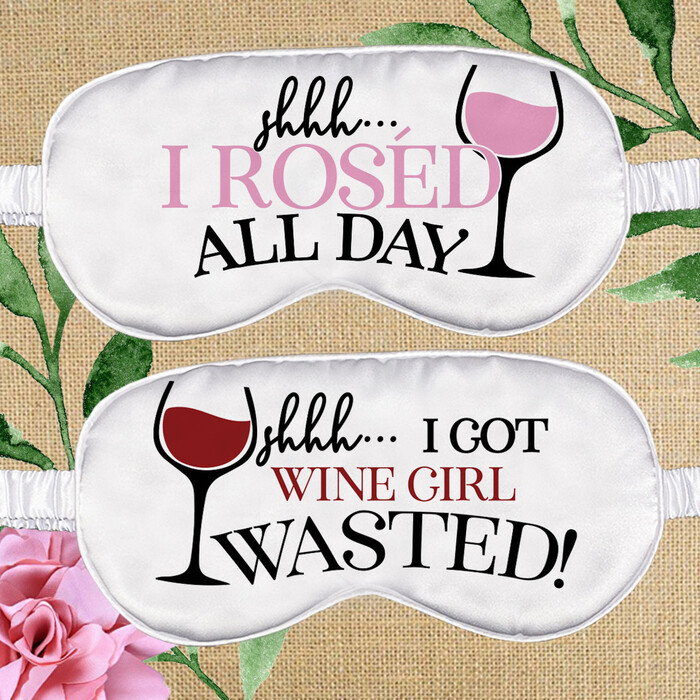 Do you need some more inexpensive bachelorette party favors ideas? Give each bridesmaid a sleep mask with a funny message written on it. After a busy weekend, they'll be useful for catching up on some much-needed rest on the journey home.
21. Love Wall Art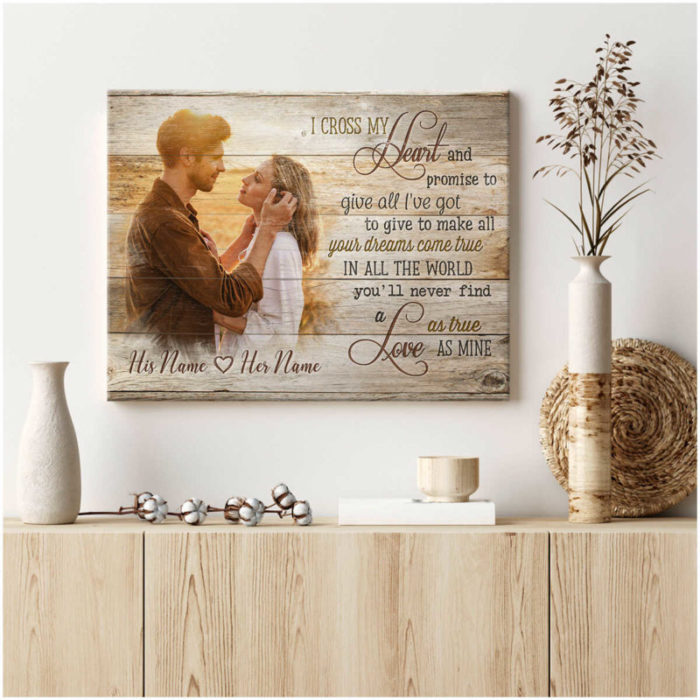 What do you think of the bachelorette party gift of customizing your favorite photo? This work is a brilliant idea for you if you're trying to decide which concepts are impressive.
>>> You can also read: Top 25 Best Bachelorette Party Activities At Home In 2023
Sweetest Ideas For Bachelorette Party Favors For Every Guest
22. Graceful Champagne Flutes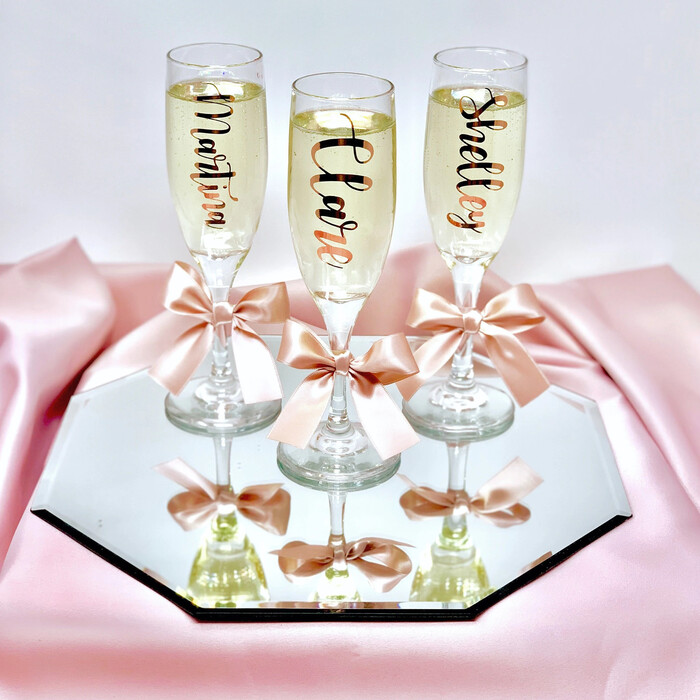 Another extremely well-liked reusable gift idea is custom wine glasses. The names come in a variety of colors, including a fashionable metallic rose-gold shade. Before giving them out, attach bachelorette party favor tags to each one for a more finished appearance.
23. Bachelorette Cup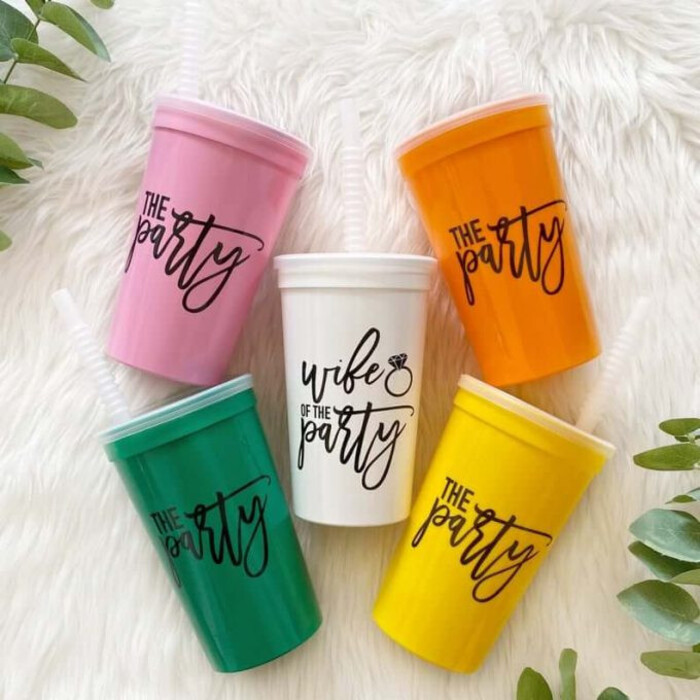 A common party favor for bachelorette is drinkware. Replace the typical wine glasses and travel tumblers with these cool monogrammed pouches to up the ante.
It's an amusing bachelorette party favor that's simple to tote anywhere, including the beach, the pool, and other public areas. You can customize funny quotes for a bachelorette party on these cups.
24. Sweet Tea Caddies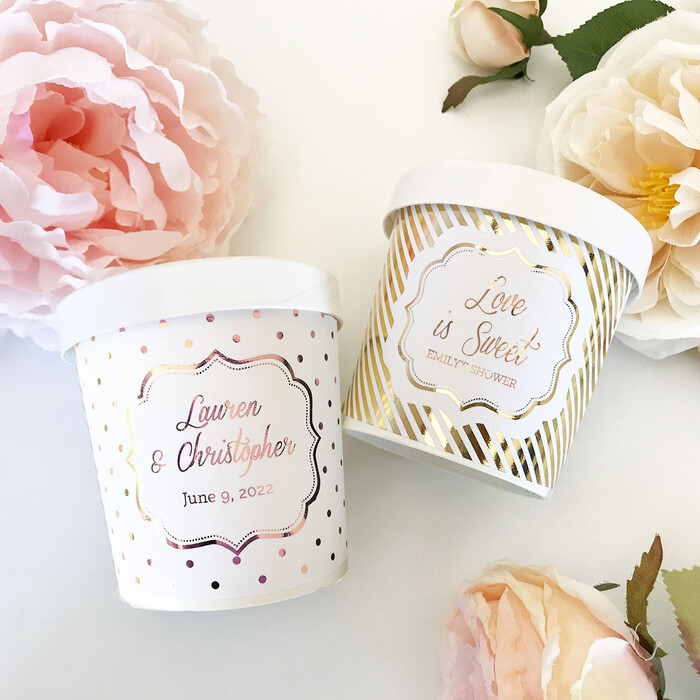 The adorable, heartfelt joke on this teapot-shaped dish will be enjoyed by all. This kind of favor is a beautiful way to capture the event if the bride-to-be prefers tea to tequila. If you also have a bridal shower planned, these would make awesome favors for it.
25. Hangover Recovery Kit Bag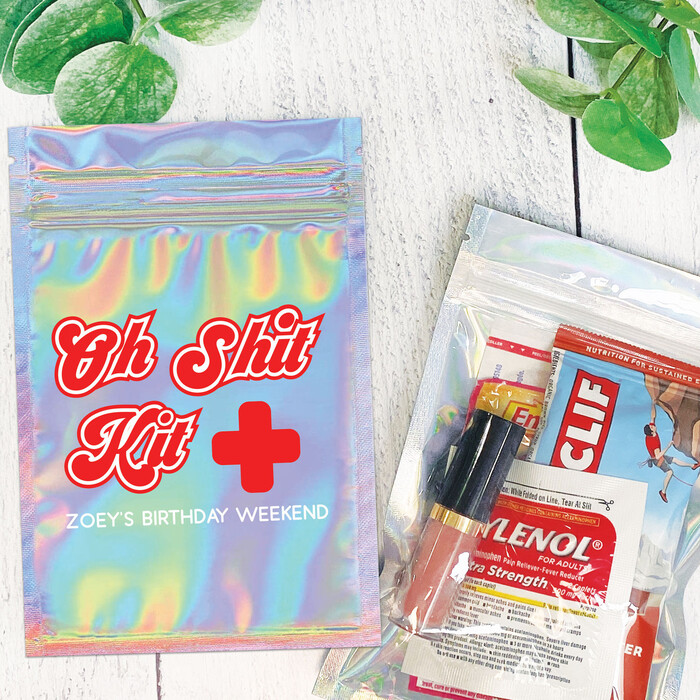 A recovery package filled with all the rations your crew needs to refuel after a night out will be welcomed by your crew. These holographic bags can be purchased separately or the vendor can pre-package them with items like lip balm, gum, and makeup wipes.
26. Heart Sunglasses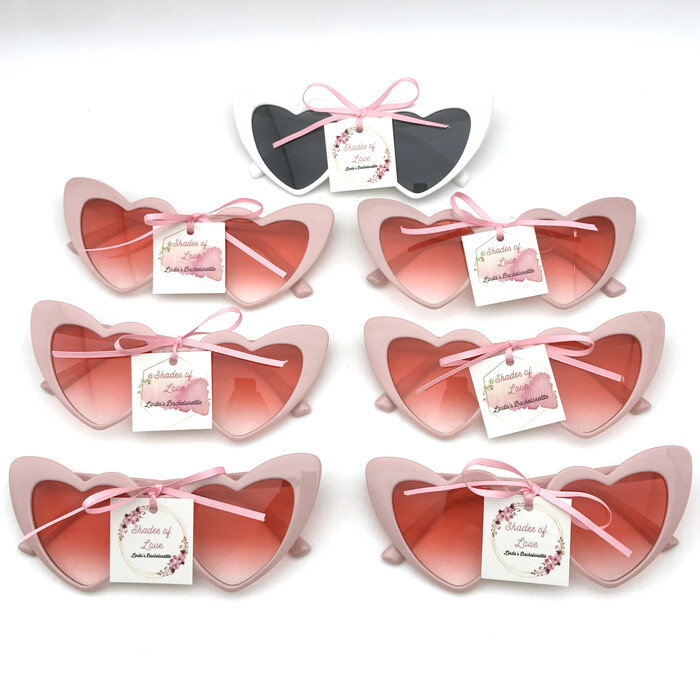 Heart sunglasses are a cheap way to make everyone feel like one huge bachelorette unit during your beach trip, and they also make for adorable bachelorette party photos.
Oh Canvas Tips

To ensure a perfect fit majority of your guests' faces, look for sunglasses that have adjustable nose pads or arms.
27. Essential Oils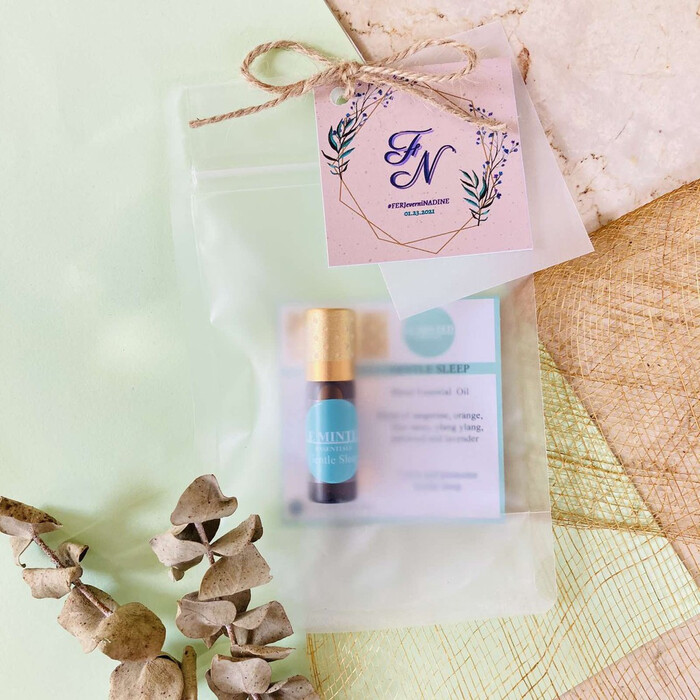 If you're organizing a pleasant vacation, you can create your own essential oil tinctures with the help of your guests. A personalized label of essential oil is always a fantastic bachelorette party favor idea!
28. Customized Slippers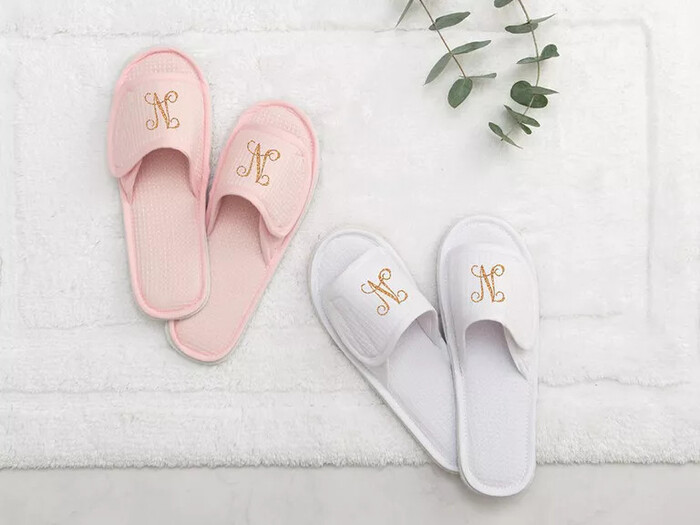 We don't know about you, but we'd be thrilled to receive a cozy pair of slippers as part of our bachelorette party favors ideas. To make each pair truly feel like royalty, have the guests' first initials engraved in elegant calligraphy on them.
29. Bride Can Coolers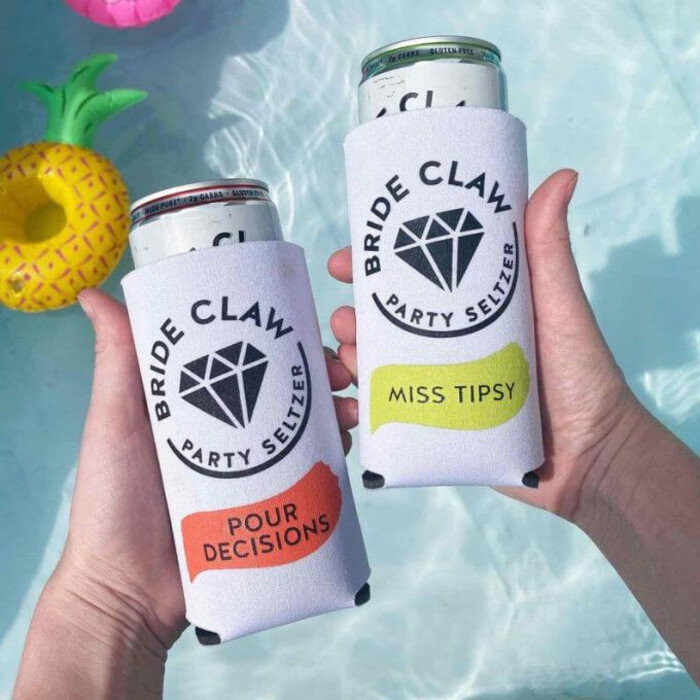 With Bride claws, there are no laws! These coolers with a slim fit are just too much fun. These mementos will be used all summer long by visitors who take them home.
30. Bachelorette Party Sun Hat Favors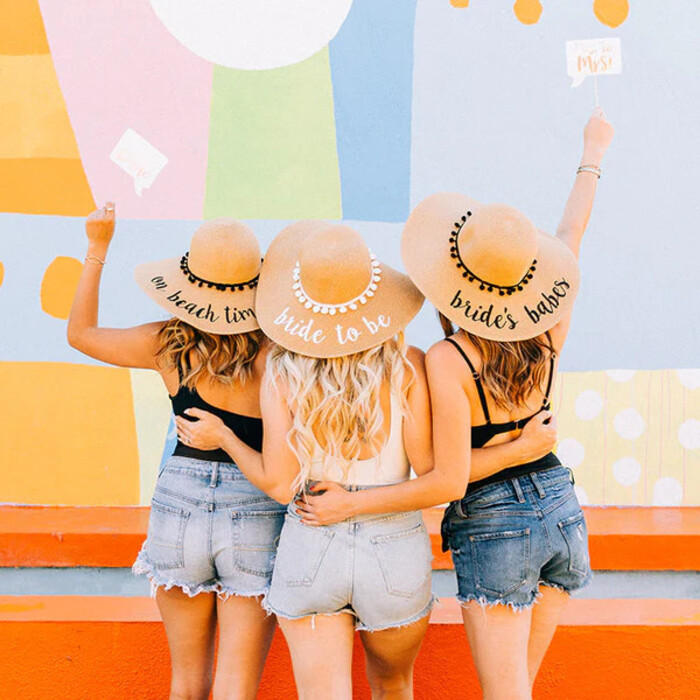 Who wouldn't like to receive a sun hat as a party treat to take home? This is among the most practical bachelorette party favors ever, in my opinion. Extra points for the adorable pom-poms and the adorable stitching.
Oh Canvas Tips

A hat with a wide brim will keep you cooler and provide more sun protection. A minimum of 3 inches should be the width of the brim.
31. Hair Ties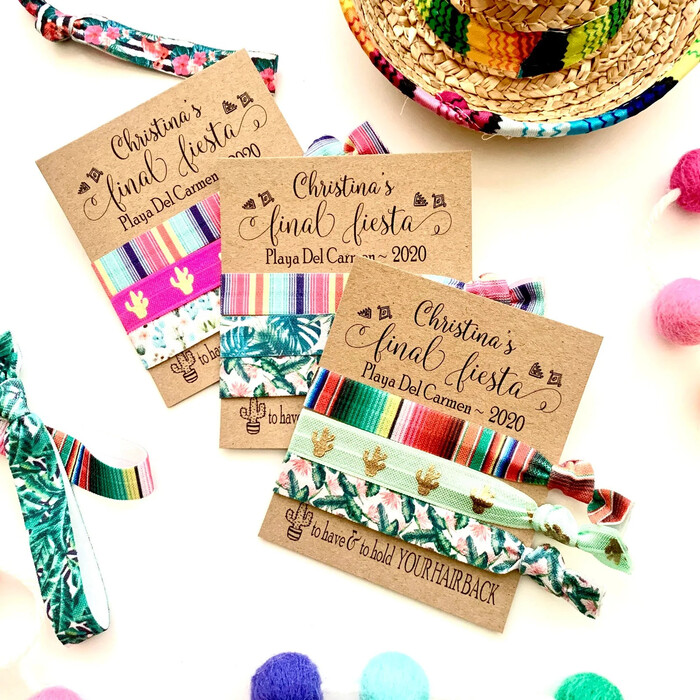 Hair ties make lovely bachelorette party favors ideas that you can use both during the party to keep your hair back and at any time after the celebration. Depending on your personal taste, we identified a few distinct designs.
32. Phone Wallets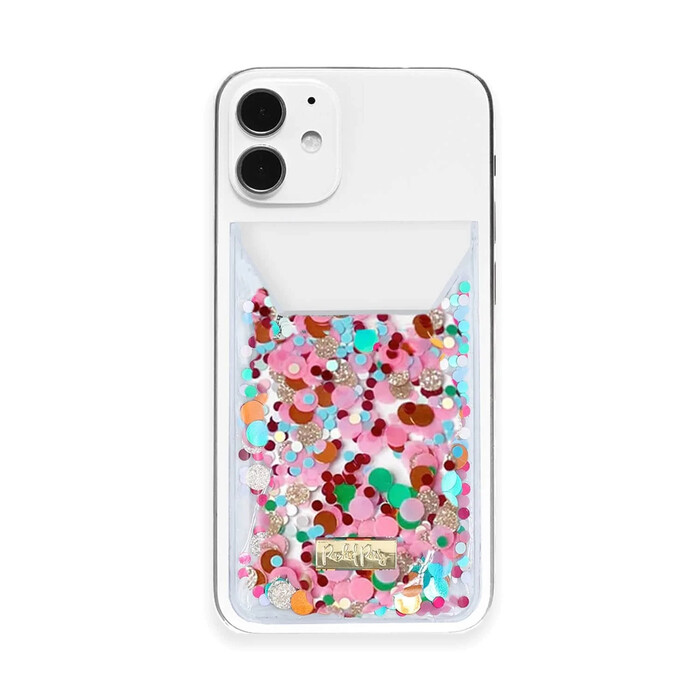 Who knew bachelorette party favors could be so adorable? With vibrant wallets that adhere to the back of their phones, you can assist your crew in keeping all of the necessities in one spot.
It's a terrific spot to store ID cards and cash, but be sure to secure it firmly—losing your wallet while on a girls' trip is the worst. To keep the theme, include confetti in the bachelorette party decorations.
33. Diamond Pens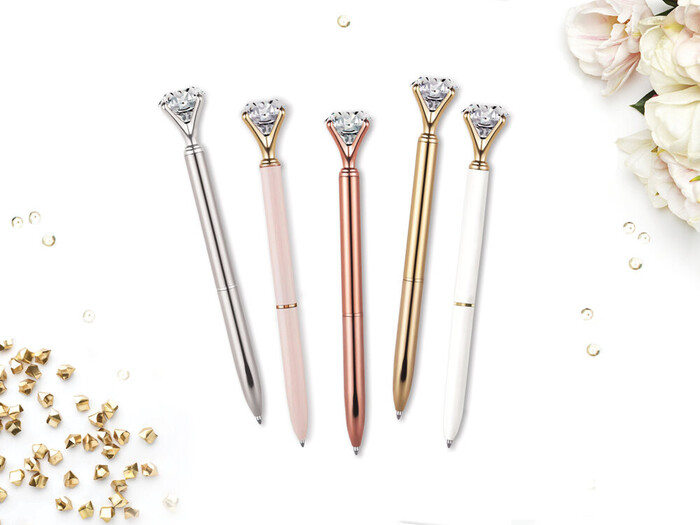 These gorgeous diamond pens were created exclusively for your bridal tribe. The metal ballpoint pen of this particular pen is topped with a gorgeous diamond. Even better, you can put it in a velvet drawstring bag that matches the color scheme of your wedding.
34. Bath Salt Favors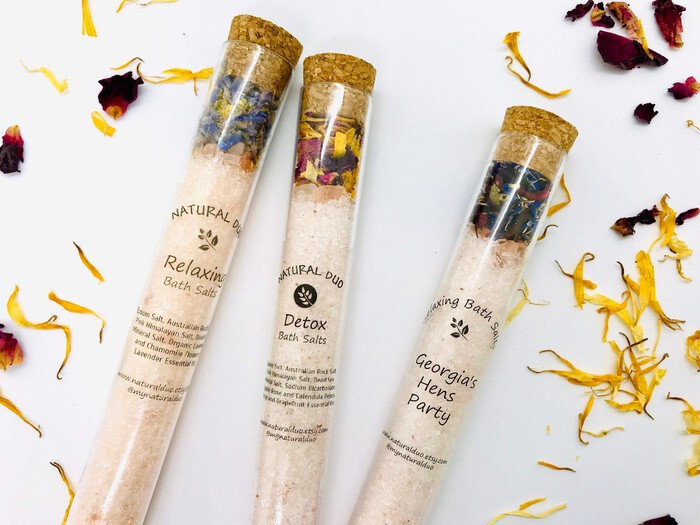 It's a handmade gift that gives your beloved woman a holistic and opulent spa experience. Given that the bath salts favors are all-natural and free of chemicals, they are guaranteed to be appreciated and used.
The Himalayan pink salt, dead sea salt, and, of course, the flowers make the test tubes seem incredibly vivid, making them ideal for your bachelorette party. A sweet little thank-you tag with your name is included with this gift.
35. Bath Bomb Gift Set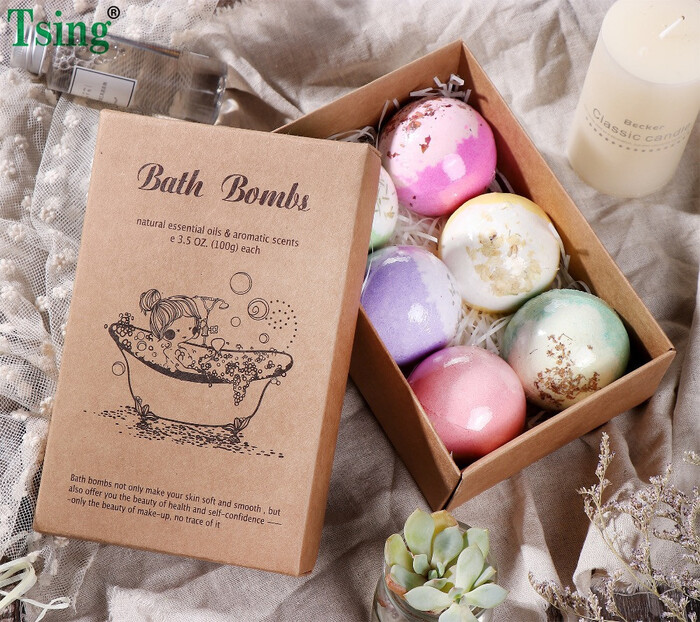 Giving someone the gift of leisure shows how attentive you are. Give your girls access to these 6 individually made bath bombs. During the stressful time of wedding planning, give your girls time to relax and recharge. This will lessen the negative effects.
Oh Canvas Tips

Bath bombs make for a fun and creative gift, so don't be hesitant to buy sets that have imaginative shapes, colors, or scents that will make your party even more entertaining.
36. Flip Flop Pedicure Set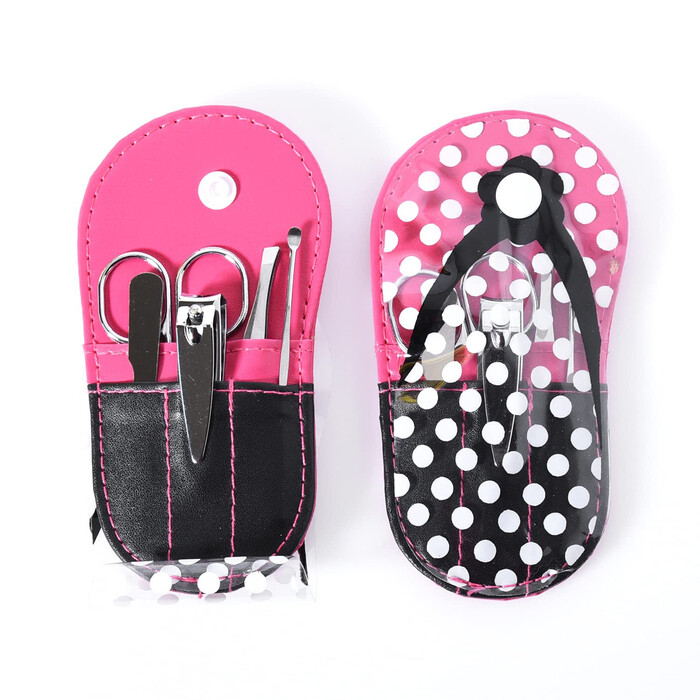 Give your ladies this 5-piece pedicure package to take home. Make Pedi time available whenever your guests want it. This gift includes tiny cosmetic kits that are ideal for your nails. It includes a cuticle tool, a nail file, nail scissors, and a nail clipper.
Each item is elegantly packaged in a flip-flop pedicure kit with pink and black polka dots. Your girls will remain on their well-groomed toes with this useful bachelorette party favors ideas!
37. Flamingo Bottle Stoppers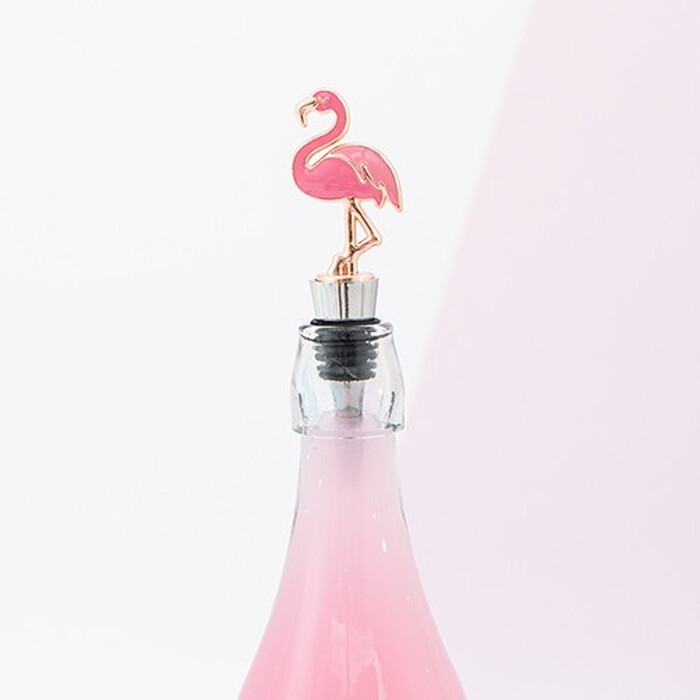 Include one of these amusing bottle stoppers in your bachelorette party gift baskets or bags along with some delectable sweet or savory treats and a great bottle of wine. We adore the flamingo design in particular as party favors for vacations or tropical-themed bachelorette parties.
38. Comfy Socks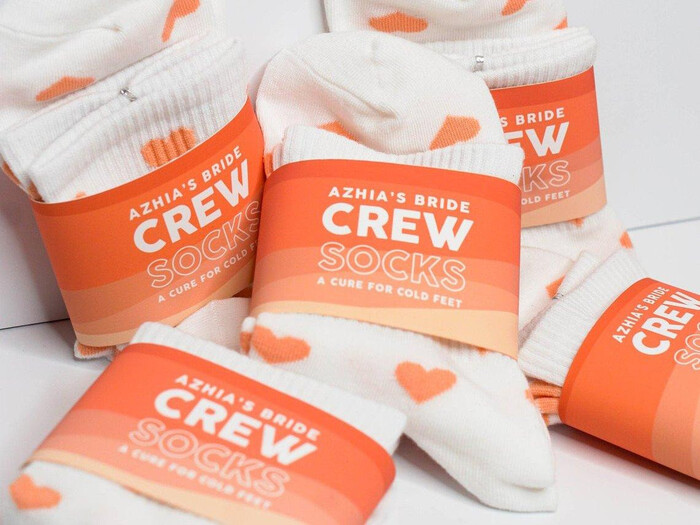 Who doesn't enjoy the comfort of fresh socks on their feet? Additionally, the fashionable crew length goes well with sneakers and athleisure. These sweet polka-heart socks will be a subtle way for your squad to coordinate. To make the ideal bachelorette swag, alter the words on the container.
39. Scent Candles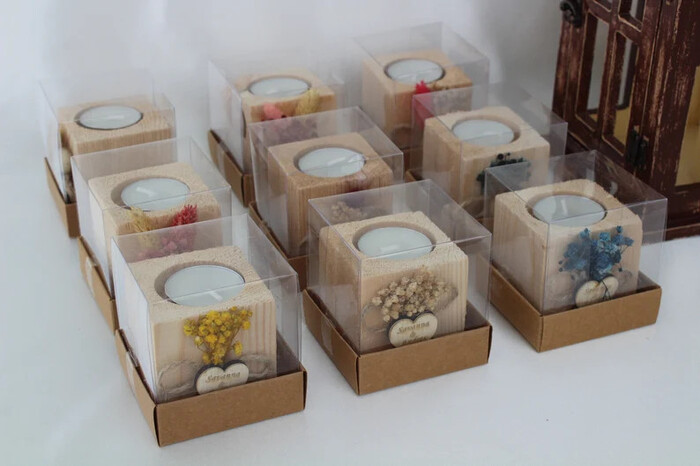 Contemporary and stylish candles make excellent bachelorette party favors ideas. It's a considerate strategy for assisting your squad in unwinding, having sex, and feeling good about her environmental influence.
40. Customized Coasters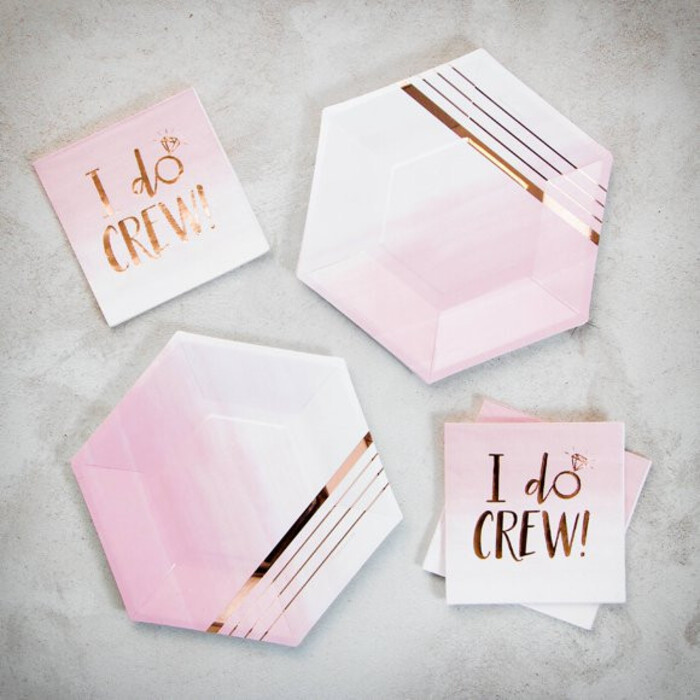 A bachelorette party would be incomplete without coasters, as attendees will need a place to set their drinks down while they mingle. A funny message can be added on resin coasters with shimmering gold rims to create one-of-a-kind, personalized bachelorette gifts that will be treasured.
>> Recommend Reading:
A woman's bachelorette party is one of the most significant and memorable occasions she may experience. Oh Canvas hopes some of the best bachelorette party favors ideas above will make your guests treasure for a long time.