The subject "what is a canvas print" is one that comes up frequently, and the majority of us are curious about the answer. You might use canvas prints to show off a vacation with the family or a timeline of your life's years. To top it all off, they're an eye-catching way to freshen up any room.
What Is A Canvas Print?
Unlike a painting on canvas, a canvas print is an image printed on canvas using an inkjet printer. Once the canvas is printed, it is stretched onto a framed canvas. A frameless border may be preferred by some, whereas framed canvas prints may be more appealing to others. Gallery-wrapping is a popular method for creating unframed canvas prints. Stretcher bars are used to bind the canvas to the frame during this step.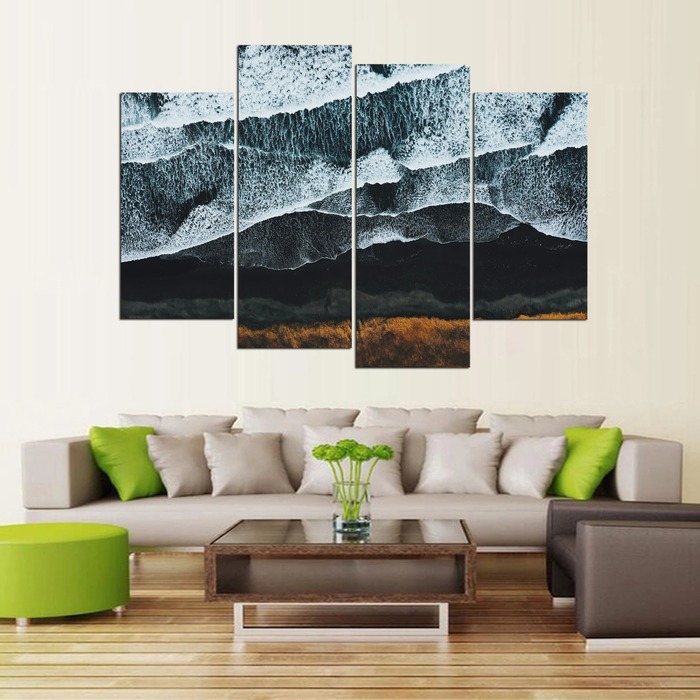 Mounted prints, acrylic prints, and canvas prints are often confused. Mounted prints are photographs that have been adhered to a support board. Preparing the photo for framing or putting it on a wall is the primary goal of this print.
A picture printed on photographic paper is transferred to an acrylic print for further processing and display. Plexiglass is the common name for acrylic sheets sandwiched around the image. Canvas prints have a more creative sense to them when compared to the other two forms of prints. This is due to their resemblance to oil and acrylic paintings in appearance.
What Is Canvas Made Of?
Hemp is used to manufacturing canvas, a robust and long-lasting fabric. Cotton and linen have taken the role of hemp in more recent times. Cotton and polyester are the most common materials used in canvas prints for the house. Differences in color accuracy are what separate these two products.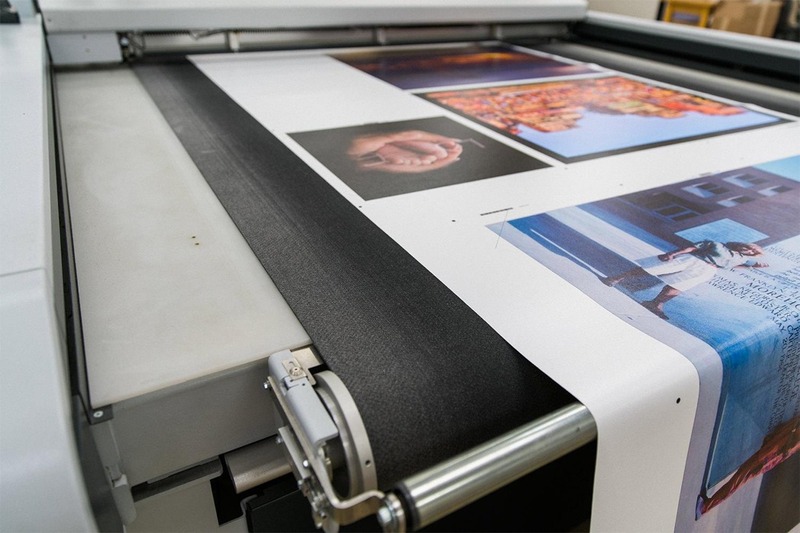 Unlike synthetic polyester fibers, cotton fibers allow the color to penetrate into their fabric. To make polyester prints more vibrant and cotton prints survive longer, is the reason for the difference.
So, which is the superior option? There's no one-size-fits-all answer to this question. Cotton prints are considered to be of a higher quality and more akin to works of art in a museum. Polyester, on the other hand, is a more cost-effective option, and it produces vibrant and eye-catching designs.
The Benefit of Canvas prints
• Durable
Have you ever noticed how museums display their artwork in enormous frames? Think about how their superior quality has remained virtually unchanged over the years.
Canvas prints' longevity is one of their most significant advantages. It appears to be well-built and has a high-quality print. It maintains its high quality for decades without deterioration.
• Sense of beauty
The images and frames are given a particular artistic flair by using canvas prints. Besides being used by individuals, they are also used by businesses to promote their products and services. It is a powerful tool for any marketing campaign.
• 3D appearance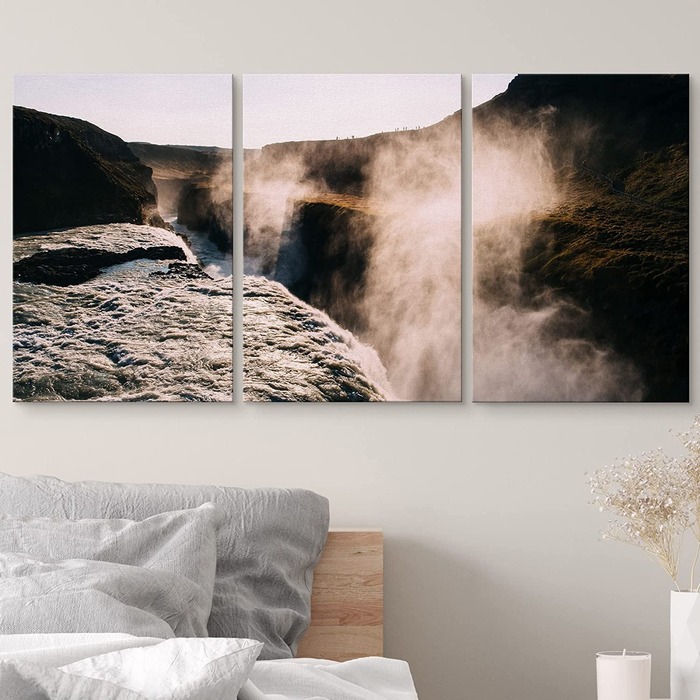 It's hard to beat the three-dimensional effect that canvas prints give off. They contribute to the overall aesthetic appeal of any shot, and they go well with just about every frame.
• It's simple to use
It's far easier to frame canvas prints than it is to frame standard frames. Your image merely needs an additional border, and then you can frame it any way you like.
• Versatile
Being timeless and traditional, canvas prints never go out of style and are constantly in demand. Modern – contemporary or traditional, it will work with any kind of interior design. Even if you later modify or redecorate the house, its aesthetic appeal will endure.
• Quite Reasonably Priced
Canvas prints are a more cost-effective option than a huge frame in this circumstance. It allows you to decorate your ideal location at a fraction of the expense.
• Glare-Free
Isn't it true that we all want our frames to have a satin-matte finish? Frames for canvas prints do just that, and they look their best in a well-lit space.
• A Wide Range of Dimensions
Do you want a giant photo of your family to greet guests as they arrive at your home? What if you're looking to decorate your children's room with adorable childhood snapshots? Canvas print frames come in a variety of sizes, styles, and designs. You don't have to think about a theme before going for it.
>>> Read more: How to Frame Canvas Art: 8 DIY Steps To Master It
Types Of Canvas Prints
1. Personalized
Your 'own' images and artworks are used to create a 'personalized' canvas print. Especially, when you like farmhouse-style houses. Gifting or decorating with it is one of the most fantastic options.
Printing Your Own Personalized Canvas Prints
To save your memories, nothing beats taking all the images you've taken on your phone and putting them in a photo album. Take advantage of this opportunity and get your photos printed and framed!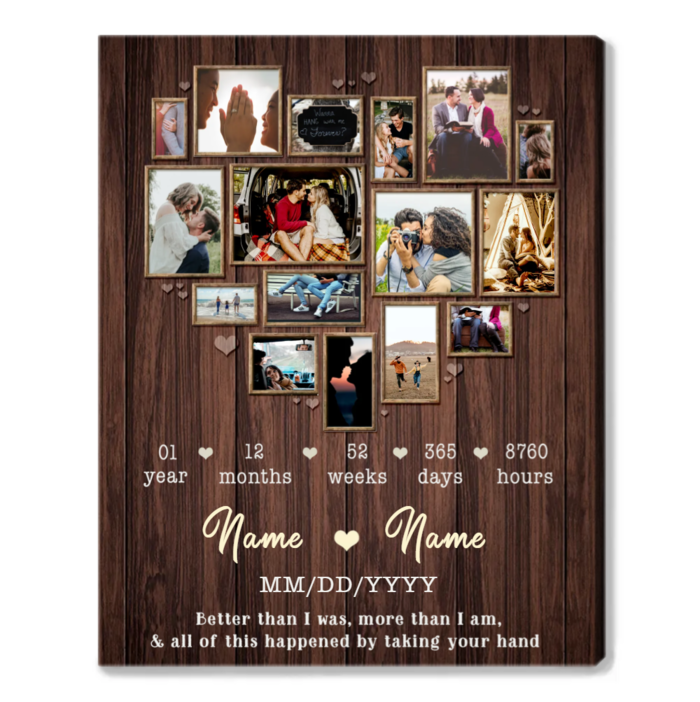 Keep in mind the vintage and rustic anniversary photos when planning your wedding. If you want to remember the good old days, you can have them reproduced on canvas and put them on display.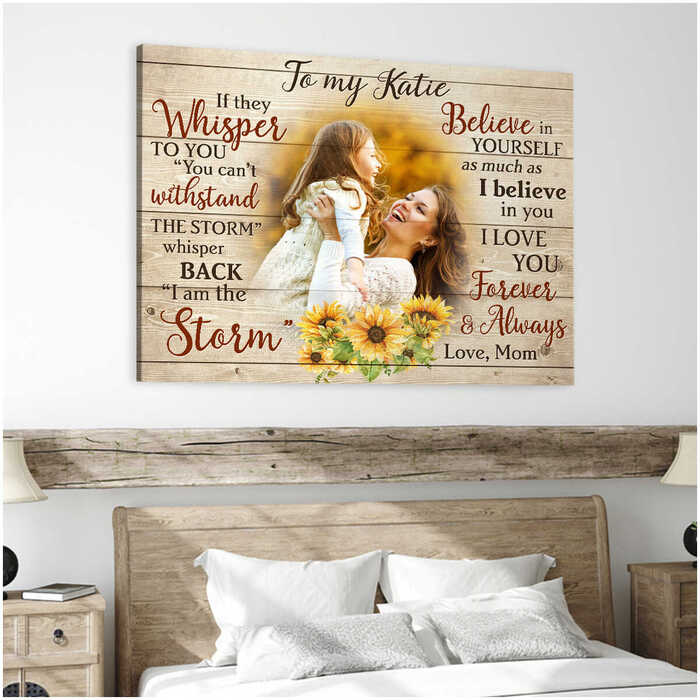 Artwork by children is a wonderful addition to any home. With a full wall of the child's artwork, it would be a treat to watch.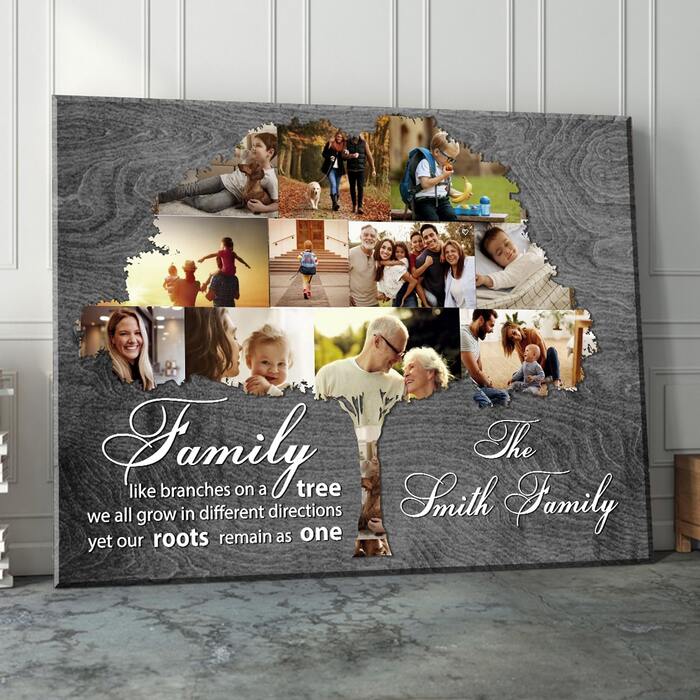 What better way to honor your grandmother's love of vintage-looking images than to make a family tree? You may put it on display for your loved ones, or you can turn it into a massive family jungle.
2. Stock images
Online portals are a good place to look for stock images. Anything from a casual photograph of a peaceful scene to a masterpiece by an established artist could be the inspiration for this piece. To complete the canvas frame, all that is required is a connection to the desired subject.
Here's a great idea:
Identify the subject of your ideal project.
• Pay attention to the brand's identity.
• Determine whether or not the color scheme blends in.
• Do you think it's professional-looking?
Make sure to begin your search with a broad and relevant term after completing all of these criteria. It simplifies the process of looking for a place to live and making friends. Image frames are a great way to display various sock photos in one cohesive design.
It's difficult to find photos of the same size in one spot. When it comes to the layout, it's not only about the size that changes. Consistency is the most important thing to keep in mind.
Image frames are the most commonly used method for accomplishing this. Using this feature, you may customize the size and shape of the photos. It creates a more professional appearance by ensuring that all of your images are straight and even.
In many cases, the image you want to utilize is exactly what you need in terms of size, color scheme, and general appearance. The graphics are the sole issue since they appear shaky and disjointed. No need to be alarmed! Add a color filter, and you'll be able to bring back the image's original hues with ease.
3. Single Panel
Straightforwardness is always a good thing! Your photo will be printed immediately on a canvas after you select it from the gallery. Single panel canvas provides a sense of depth and allows you to relive your most precious moments without the distractions of modern technology. Single Canvas Prints, on the other hand, offer a more personal touch.
4. Multi-Panel Design
When compared to a single canvas print, this is a more innovative approach. Each part of a photo is printed on canvas in this way. For a full-wall display in your new home, a split canvas print is the finest option to consider. It gives you a three-dimensional perspective from which to present your work.
>>> You can also read: How To Hang Canvas Art: A Detail Step-by-Step Guide
Canvas Prints vs. Other Alternatives
Canvas print and framed images
Canvas print and framed images are common in modern decor. So why? Framed prints match a room's color scheme and decor. The type of frame changes the photo or artwork's tone.
A black border frame keeps the focus on the art or photo. But contemporary or traditional frames show off a photo's personality. When choosing frames, consider furniture and room decor.
Canvas prints are more versatile for adorning walls. The frameless borders adapt to any style, so adding them is easy. Bright flashes of color establish fresh focal points in a room.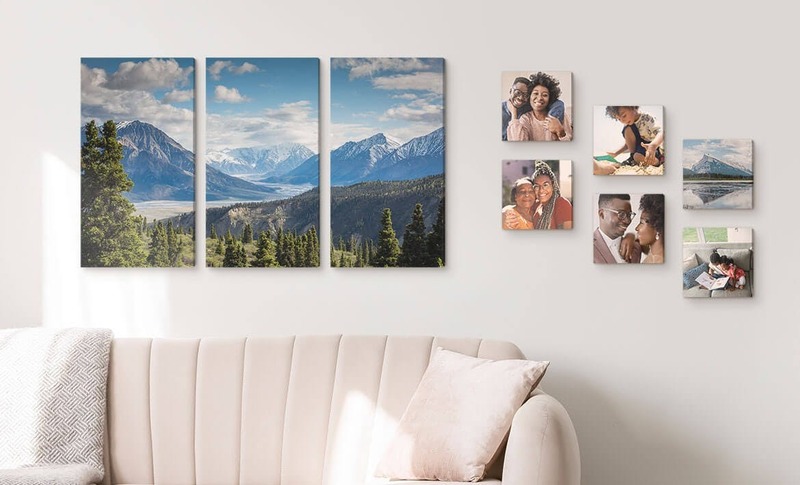 Metal and canvas prints
Metal and canvas prints produce distinct outcomes owing to the material. Metal panels 45 inches thick are elegant and tidy. With no glass and rounded sides, these prints are break-resistant. Depending on the polish, metal prints look like they have a metallic coating. This is different from canvas prints' softer substance and brighter color.
Acrylic and canvas
Canvas and acrylic prints differ in material, texture, and look. Canvas prints are printed on cotton or linen, but acrylic prints are on photo paper. Print is pressed between acrylic or plexiglass. Both types of prints feature vibrant colors, but a canvas print is more museum-like.
Art Print and Canvas
Canvas art prints vary in size, texture, thickness, and finish. Where a canvas print is on cotton or linen, an art print is on cardstock. Both options are clear and bright with vivid colors. A nonframed art print costs less than a canvas print.
Canvas Shapes And Sizes
Check out our selection of canvas sizes and shapes here. We're here to lend a hand. Take a look at the descriptions and examples we've provided below. For more information on the various sizes of canvas, please see our guide.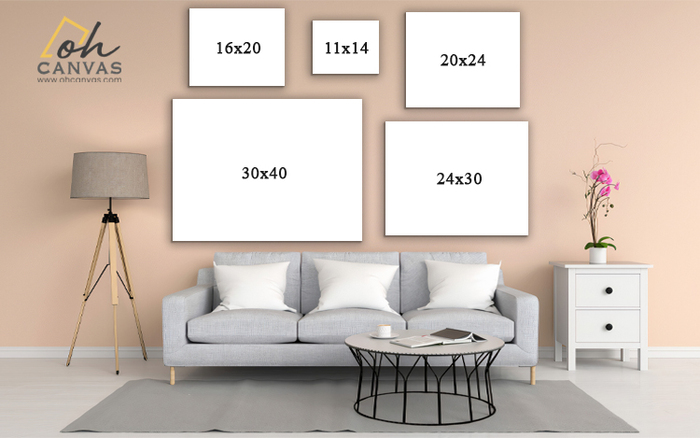 A square canvas print has the same length on both sides. Multi-canvas grids made possible by this print shape are ideal for any wall decor.
When two of the sides of the canvas are longer or shorter than the other two, the print is called a rectangular canvas print. These prints are ideal for covering gaps in an asymmetrical arrangement or for walls with uneven amounts of space either vertically or horizontally.
Canvas prints of hexagons have six sides. As a focal point in a particular room or as part of a honeycomb pattern of canvas prints, this unusual canvas shape is ideal.
It's easy to decorate your home with happy memories when you utilize mini canvas prints, easel back canvas prints, and other small art prints.
Canvas prints in the small to medium size range are ideal for decorating smaller spaces, such as the bedroom or bathroom, with many canvases.
Extra-large canvas paintings are a great option if you have a lot of wall space, a particular family portrait, or a favorite high-quality photo.
>>> You can also read: How To Print On Canvas – Ultimate Guide To Make Your Own Canvas
Common Questions About Canvas Prints
Are canvas prints tacky?
It should come as no surprise that one of the trends in the world of the home design that is now experiencing one of the most rapid periods of growth is canvas prints. On the other hand, as a result of how rapidly it is becoming a trend, there are a lot of businesses that offer tacky and inexpensive canvas prints. These tacky canvas posters are frequently marketed at an exorbitant level as well.
Is canvas better than print?
Paper printouts are preferable to digital versions if you're seeking an inexpensive choice that's also conveniently portable. Some undergraduate dorm room was decorated with a lot of paper prints, and they worked extremely well with the overall style.
Canvas prints, on the other hand, are an alternative that will last for decades longer in a variety of climates, so they are worth considering if you are searching for a long-lasting solution.
Are canvas prints worth it?
You don't have to worry about blowing your budget if you go for a high-quality canvas print because it has the ability to infuse virtually any space with additional vitality. Let's take a peek at how exciting and affordable it can be to hang personalized wall art on your home's walls. Over the course of the past several years, there has been a significant decline in the cost of having bespoke photo canvases printed.
>>> Recommend Reading:
Oh Canvas hopes that by providing you with the information presented above in response to the question "What is a canvas print?" you will be able to learn something new about this trend. A canvas print that will not become dated with the passage of time and is adaptable to a variety of diverse styles, ranging from traditional to contemporary. Is it interesting?