Many people enjoy displaying images of their families, while others choose to turn them into personalized canvas prints. To accomplish this, the frame or canvas size must be accurate. So, before you go out and start shopping for that new canvas, think about the different canvas sizes that are available. Oh Canvas's article will assist you in making this critical decision, allowing you to select the proper canvas proportions and avoid disappointment.
1. What are the most common canvas sizes?
Finding the perfect size canvas for your art piece can be difficult since you don't want to choose one that is too tiny or too large; it must be the correct size, as even a few inches can make a significant impact. This imbalance between your artwork and the wall can result, and the location where you wish to put it may not seem or feel correct.
If you're a seasoned artist, this isn't a major concern because you've been purchasing canvases for a long time. What about the novice, though? Learning about canvas measurements and understanding that all typical art canvas sizes are equivalent to picture frame sizes is the only way to ensure that the canvas you buy is the proper one. We'll go through these canvas dimensions today, which should come in handy when deciding on the correct canvas sizes for your canvas print.
1.1. Mini Canvas Sizes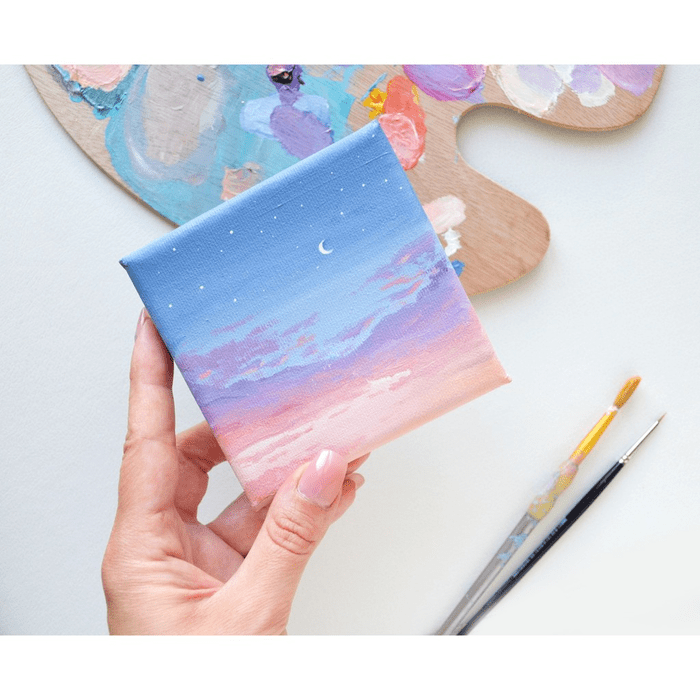 A mini canvas size is defined as a canvas that is less than 4 x 6 inches in size, with the majority of them being square. There's also an ACEO (Art Cards Editions and Originals) size, which is somewhat larger than a typical business card. These miniature canvases are perfect for making small painting proportions that can be displayed in a row on your wall. The miniature canvases include the following:
1.2. Small Canvas Sizes
When painting miniatures or producing bold or solitary images, small canvas sizes are used. They can be used to make postcards or greeting cards, and they can be scanned and made into a variety of stationery designs later. Small canvas sizes necessitate extraordinary talent and precision to create, yet the following are the most typical small canvas sizes: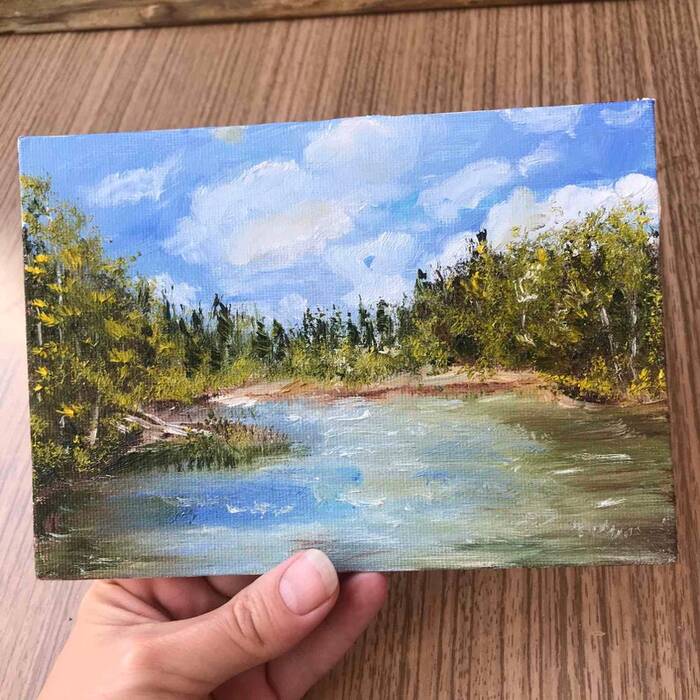 It goes without saying that a little or mini canvas would not be hung on its own in a larger area, such as the living room or bedroom. When put in a group, such as around a mirror in the entrance hall or above a desk in a home office, little canvases really shine. They work well as a focus point above bookshelves as well. Some people like to hang them in kitchens, usually around the coffee station, or in bathrooms, usually above the sink, around the mirrors.
1.3. Medium Canvas Sizes
If you're a newbie and don't know what size canvas to get, the medium size is the ideal choice. This canvas size is perfect because it provides a wider surface area for you to paint on while not being too enormous to put you off painting forever. The canvas is large enough to utilize a range of brushes and to experiment with a variety of painting styles. You won't be able to hang this picture in a huge space, but you'll still be able to make your own gorgeous artwork. The following are some of the most common medium-size canvases:
8 x 10 inches
9 x 12 inches
11 x 14 inches
12 x 16 inches
Medium canvases work well in tiny apartments' living and dining rooms, as well as home offices and guest rooms, because they don't overwhelm the walls and make the space feel cramped. If you don't have a window in your bathroom, you might place them over the tub on a blank wall.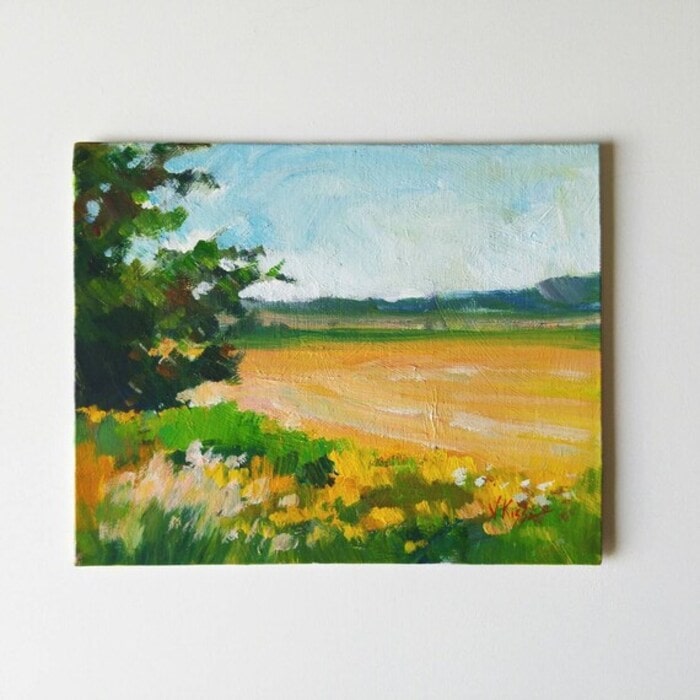 1.4. Large Canvas Sizes
Once you've gained some expertise and improved your skill level, the large canvas sizes are ideal. The larger painting size can make a statement in a larger space or serve as the focal point of your living room. This canvas size allows you to produce a vast work of art, such as a sweeping landscape view. When working on a huge canvas, an easel is considerably simpler to work on than a flat surface. With this canvas size, you will often see it used in farmhouse style home decoration, or placed in the office. The following are some of the most common large-scale canvases:
18 x 24 inches
20 x 24 inches
24 x 36 inches
30 x 40 inches
36 x 48 inches
1.5. Canvas Sizes in Square
Despite the fact that square canvas sizes are less popular than rectangular canvas sizes, they remain popular among artists since you can simply show your square canvas art pieces side by side, creating a great balance in your display. They're also available in a variety of sizes, including the following:
Mini versions, such as 2 x 2 and 3 × 3 inches, are available.
8 x 8 inches
10 x 10 inches
12 x 12 inches
20 x 20 inches
Even if you don't have a lot of wall space, square canvases work well for larger works. If you live in a tiny house with a staircase, you may make a gallery wall with medium, square, and small canvases that run the length of the wall above the stairwell.
1.6. Sizes of Shaped Canvas
There are several different shaped canvas sizes available, including circles and ovals, which are by far the most popular. Hearts and hemispheres are among the forms available. A contoured canvas is made for a specific purpose and can be challenging to frame. These curved canvases come in a variety of sizes, depending on the demands of the individual and what is accessible in stores.
1.7. Sizes of Oblong Canvas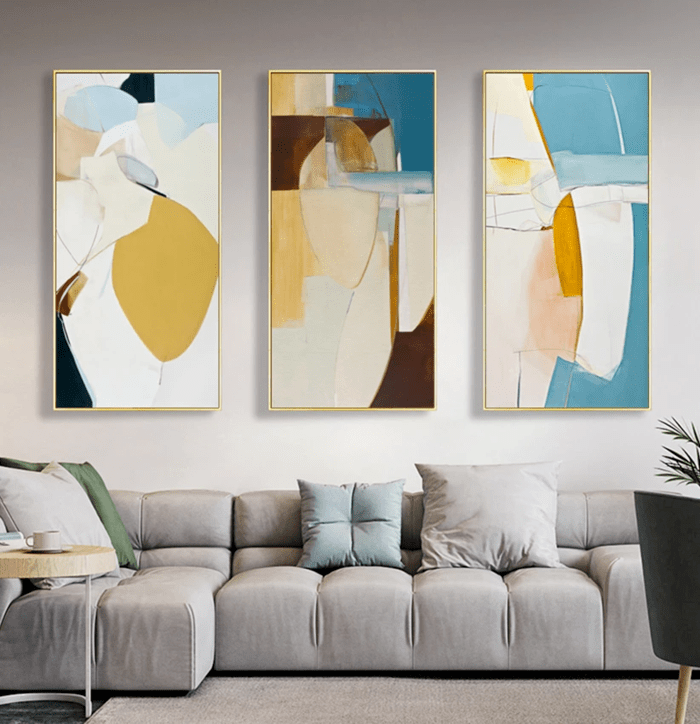 These sizes of canvas differ from rectangular canvas sizes in that they are long in one direction but short in the other, almost like a panoramic view snapshot, and can be hung in landscape or portrait orientation. They aren't the most frequent canvas sizes, but they're nonetheless employed when an artist wishes to group works together or paint a tall view or item on the canvas. One of the home styles that can make good use of Oblong Canvas is rustic farmhouse decor, which can make the wall space more cozy with art canvases. The sizes of oblong size canvases vary, however the following are the most common:
3 x 9 inches
12 x 36 inches
1.8. Canvas Sizes Made-to-Order
You can purchase a specifically sized canvas if you require a canvas that is larger than the standard sizes indicated above. You can also stretch your canvas to any size or form if you have your own. Be aware that custom-sized canvases can be very expensive, especially if they are larger sizes, and framing and hanging them might be a challenge.
1.9. Chart of Standard Canvas Sizes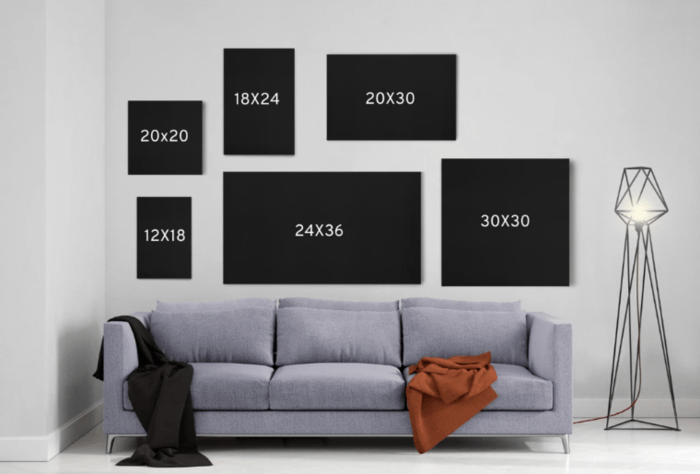 There are various alternative sizes with different dimensions to choose from in addition to these standard canvas print options. However, before deciding on the size of your project, be sure the aspect ratio is appropriate for your intended placement. Calculate the aspect ratio with the primary sizes available using the canvas size chart below:
Small Canvas
5 x 5 inches
4 x 6 inches
7 x 5 inches
6 x 6 inches
8 x 8 inches
Medium Canvas
10 x 8 inches
10 x 10 inches
12 x 9(10) inches
12 x 12 inches
14 x 10(11) inches
14 x 14 inches
16 x 12 inches
Large Canvas
18 x 24 inches
20 x 24 inches
24 x 36 inches
30 x 40 inches
36 x 48 inches
2. What to Think About When Choosing the Right Canvas Size
Painting was done on wooden panels during the Renaissance period, while currently oil and acrylic paintings are done on canvas. This is due to the fact that canvas can be stretched between wooden bars, allowing you to make larger, portable paintings. The canvas also creates a more sturdy surface, which means you'll see less cracking and warping than you would with wooden panels. You can extend your own canvas or purchase a ready-to-hang stretched canvas. There are a variety of canvas materials to pick from, and the sort of canvas you choose will be determined by your goals.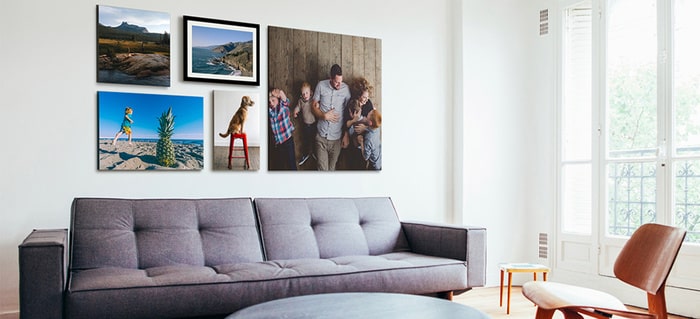 2.1. Aspect Ratio of the Canvas
The aspect ratio is the first and most critical consideration. The aspect ratio, or the relationship between the height and width of the canvas, is followed by all canvases. For example, square canvas sizes have a 1:1 ratio since all sides are the same length, whereas a canvas with a 1:2 ratio, such as a 10 x 20-inch canvas, has one side twice as long as the opposite side. This factor comes into play when you wish to paint from a print, picture, or photograph onto a canvas and need to figure out the print's ratio so you can buy the proper size canvas.
When working with typical ratios like 1:1 or 1:2, this is simple, but if you have a print that is 8 by 10 inches in size, the math can be difficult. As a result, we've included a little chart with all of the ratios that will assist you in purchasing your canvas.
Ratio Canvas Size (inches):
1:1 All Squares
1:2 10 x 20 or 12 x 24
2:3 20 x 30 or 24 x 36
3:4 9 x 12 or 12 x 16
4:5 8 x 10 or 16 x 20
5:6 20 x 24
2.2. Canvas Material
When it comes to canvas, there are just two fiber kinds to choose from: cotton and linen. Hemp and jute are also used to make canvas, and while being distinct fibers, they are also classified as extra-linen.
2.2.1. Cotton Canvas
Cotton is less expensive to use, but it isn't as sturdy as linen and hasn't been tested through time like linen has. Cotton is likewise very easy to stretch and will stay tight over stretcher bars, but linen has longer fibers and is considerably stronger because it is made from flax.
There's also cotton duck canvas, which is thicker and has a more densely woven thread than regular cotton canvas. Cotton duck canvas is widely used today and is popular since it is less expensive and may be purchased in rolls or per meter.
2.2.2. Linen Canvas
Because of the higher demand in the marketplace, linen canvas is more expensive than cotton canvas. The linen canvas is significantly smoother and has a tighter spun yarn than the cotton canvas, making it much stronger. This canvas has a tougher surface finish that allows it to withstand a lot of abuse, such as repainting, scraping, and glazing.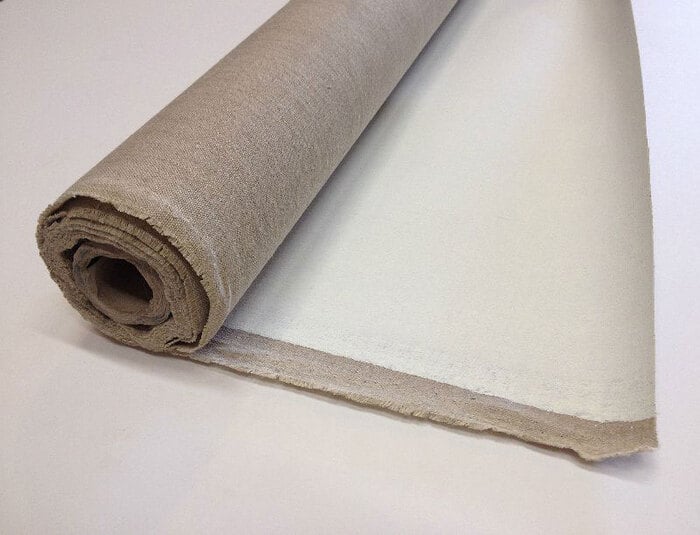 For some artists, painting on linen and using oil paints made from linseed oil, both of which are derived from the flax plant, may feel special. There's also jute canvas, which can be used for a 3D texture and is reasonably priced despite its thickness.
2.3. Canvas Weaves
You must examine not just the type of fiber material, but also the texture and weight of the weave. A canvas is measured in ounces per square yard, just like paper, and has a weight and weave (oz). If the linen is heavyweight, it can be thick and robust, or it can be densely woven.
A fine canvas has a flat surface, but a rough canvas has a more apparent weave, so you must decide whether you want a canvas that can hold multiple layers of paint or one with a smooth surface where the weave is not an issue. Portrait painters utilize a smooth textured canvas because a rough textured canvas distorts the appearance of the skin. You can choose from rough, medium, fine, and extra-fine textured canvases depending on the texture you want for your project.
2.4. Framing for Canvas – Should or Not?
Is it necessary to frame your painting? Framing is an art in and of itself, and choosing the correct frame for your painting may help it come to life. With portraits of yourself or your beloved pet, besides knowing how to clean canvas prints to last, it's better to frame them for protection and feel. There are countless kinds and types of frames to choose from, but keep in mind that the frame and the painting will be viewed together, so they must complement each other. The goal is to keep the frame from overpowering your painting.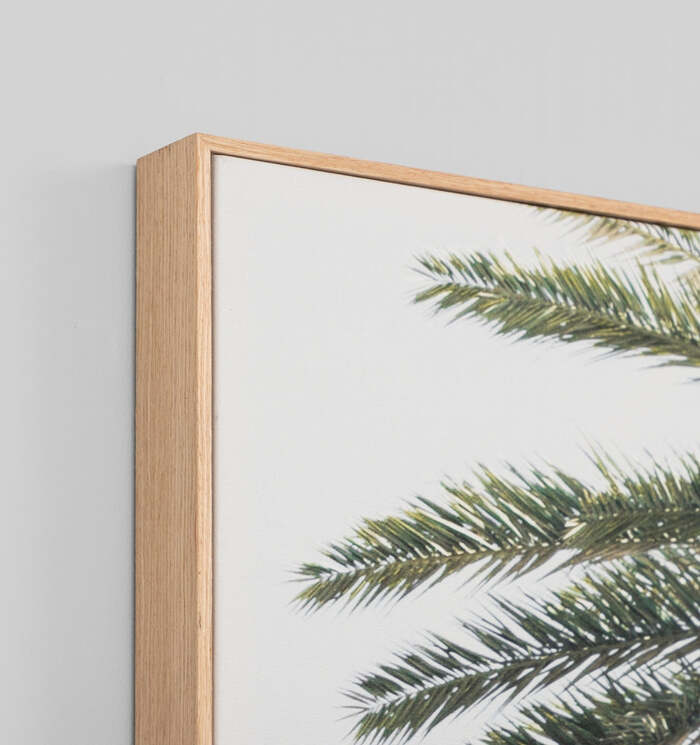 Oil paintings cure through oxidation, not water evaporation, thus even if the painting appears to be dry to the touch, it could take years to dry correctly, depending on how many layers of paint have been added to the canvas. If the oil painting is framed behind glass, it may trap moisture behind it, causing the canvas to decay due to its inability to breathe.
2.5. Budget
Unfortunately, when it comes to selecting the appropriate canvas size, the budget plays a significant impact. If your finances are tight, you may be forced to make corners, which may compromise the quality of the canvas size you wish to purchase. The size of the canvas is one of the criteria that affect the price.
The material's durability
What are you looking for? (a cotton or linen canvas)
Making a decision between a stretched canvas and a canvas panel
The canvas manufacturer and store from which you purchased it
2.6. Choose your Space to hang canvas
When deciding on the correct canvas sizes, think about where you're going to hang your painting. For example, if you're going to place a little canvas on a large wall by itself, it won't have the impact you want. A large canvas size hanging in a small, tight part of the room, on the other hand, is not ideal. Large canvas sizes should be hung in your living room, dining room, or any other room with appropriate space.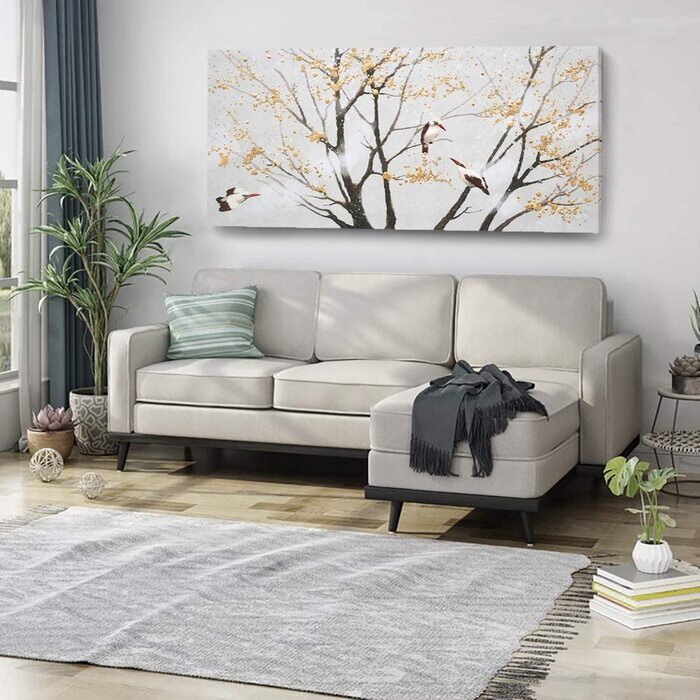 Artists have often discovered that splitting an image or painting onto several smaller canvases is preferable to using one huge or oblong canvas. When mounted next to each other, this looks fantastic. If the canvas size is still an issue, we recommend sticking with the most popular size of canvas purchased by many artists and DIY painters. The canvas size 36 by 24 inches appears to be quite popular in this regard.
Read more:
When picking the correct canvas sizes for your paintings, it's critical to have a plan. This means that sticking to the most frequent or popular canvas sizes will save you a lot of money and effort. Hopefully, after reading Oh Canvas's post, you'll be able to determine which canvas sizes is best for you to utilize and hang on the wall.