If you've been giving general gifts to your man for years on his birthday or Valentine's Day, make something different this time. Romantic homemade gift ideas for boyfriend are a sweet way to his heart. No matter what DIY skill level you're at, you'll still find these pieces aren't too complicated to make (and they won't take much of your time as well). Browse Oh Canvas gift guide below to know the best way to leave your boy speechless.
Romantic DIY gifts for boyfriend from photos
1. Heart Photo Collage Poster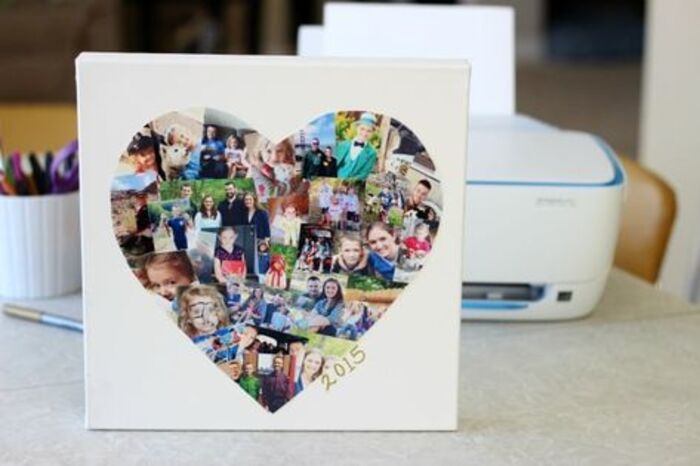 This photo collage canvas is a great way to remember the past year's most memorable moments. Get creative with all your boyfriend's photos and make it a thoughtful gift that he will appreciate.
2. Pop Up Picture Box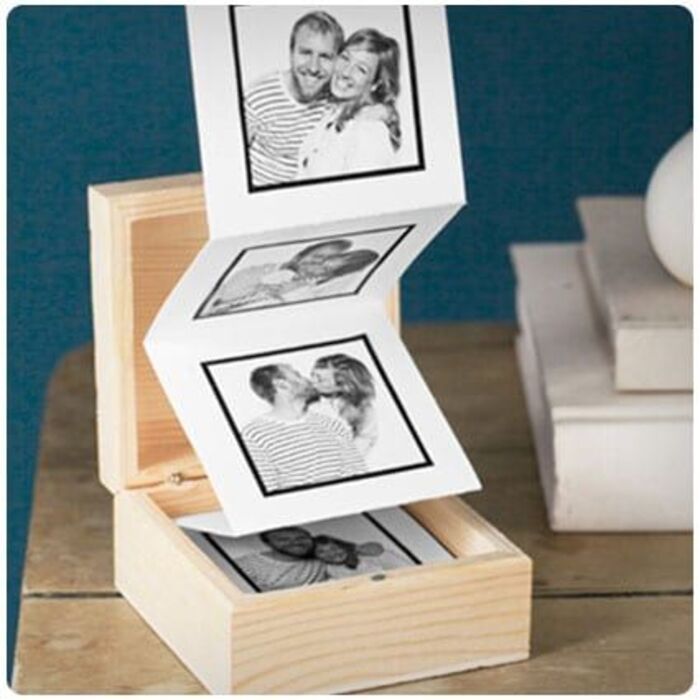 This pop-up photo box is a fun and romantic way to show off your most treasured memories. By keeping all of your favorite images close at hand, this box is one of the best romantic handmade gifts for boyfriend that never goes out of style. Put his initials on the box to make it more personal.
3. Spotify Photo Frame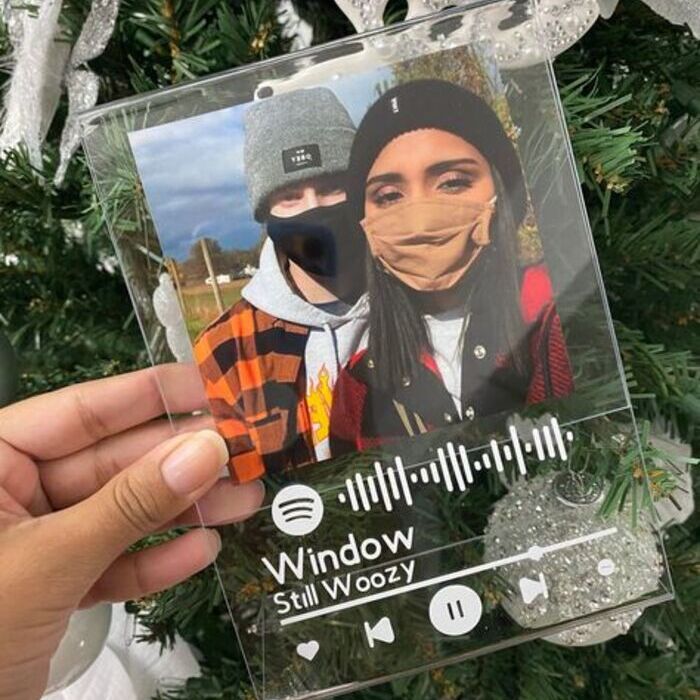 An anniversary gift that includes a song's lyrics might be very sentimental. Getting the vinyl cutting of the music may need some forethought, but the reward will be priceless. Choose a picture of the two of you that you think represents your relationship at its most romantic.
4. Explosion Box of Love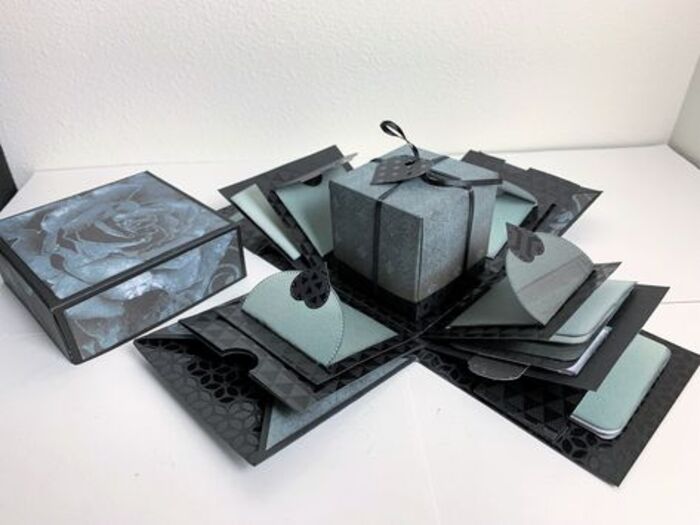 In search of romantic homemade gifts for boyfriend that bring back happy memories? This time, make a big surprise for him with this easy-to-make explosion box. If you and your boyfriend are in a long-distance relationship or haven't seen each other in a while, this unique box is a thoughtful present that he'll be happy to receive.
5. Customized Leather Keychain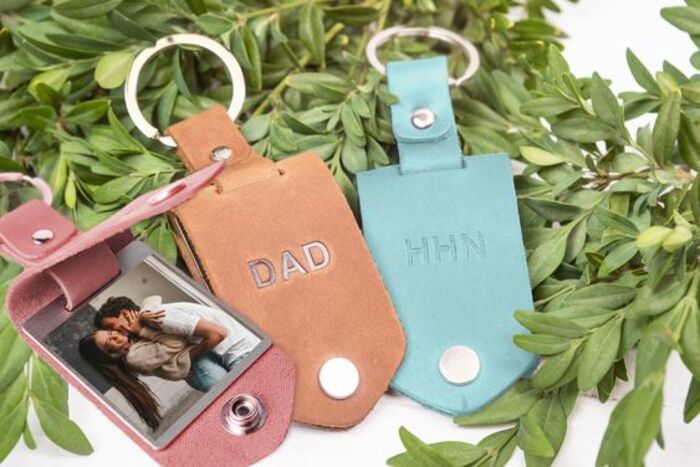 For a new relationship gift idea for him, that doesn't look like you worked too hard, this leather keychain is a great option. Leather punching kits for beginners are readily available and affordable at many craft stores.
6. Personalized Photo Ornaments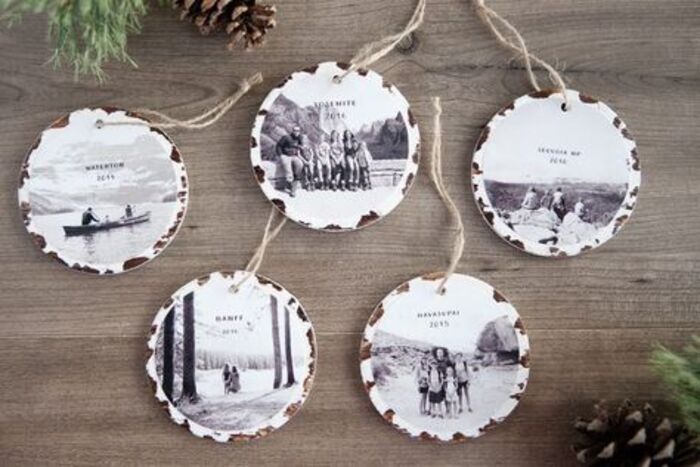 Personalized DIY ornaments are a great way to commemorate significant moments with your loved one without breaking the bank. This unique gift for boyfriend idea can be decorated with a favorite photo of both of you. Hang the ornaments you made together on the tree. Your decorations will be the star of the show when paired with the tree's magnificent lights.
7. DIY Comic Book Coaster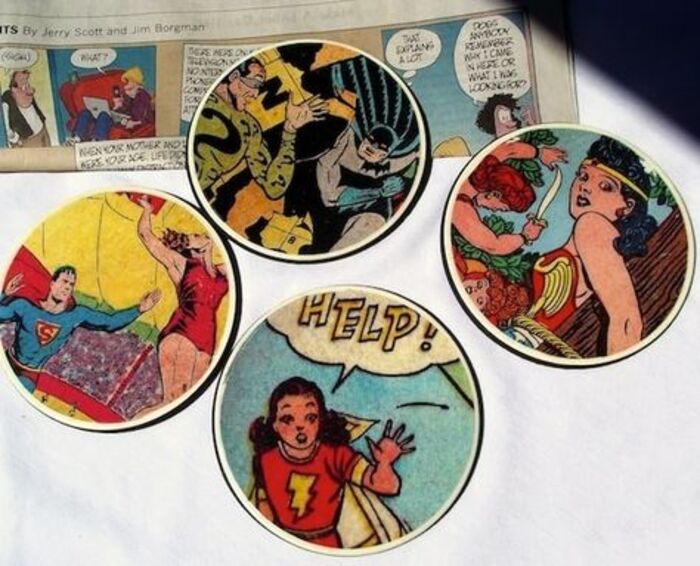 Make this simple, vintage-inspired handcrafted last-minute gift for your boyfriend if he likes comics. It's never too early or too late to show him how much you care by giving him this simple yet thoughtful present.
8. DIY Photo Bookmarks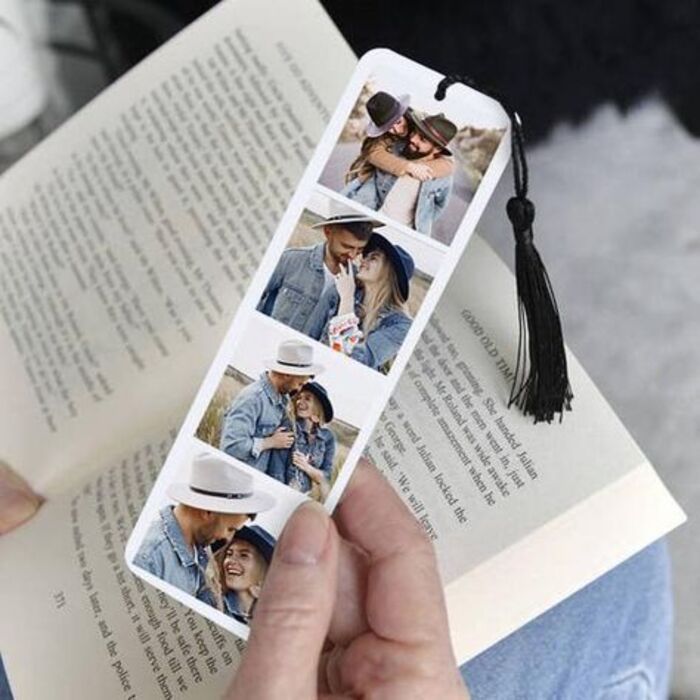 If you're looking for cheap but meaningful romantic DIY gifts for boyfriend, this is it! The photo bookmarks are very adorable, especially if he's a bookworm. Give it to your lover for Valentine's Day, Christmas, or whenever you want to irritate and amuse him.
9. Message Photo In A Bottle
Creating a message photo in a bottle is one of the most straightforward and romantic homemade gifts for boyfriend. It's quick, affordable, and only requires a few minutes of your time. Besides your significant other, you can still make some for your best friends, your sister, or even your pet to tell them how much they mean to you.
>>> Recommend reading: 43 Best Graduation Gift For Boyfriend Ideas (2022 Gift Guide)
Best romantic handmade gifts for boyfriend from mason jars
10. Heart Sweets Jar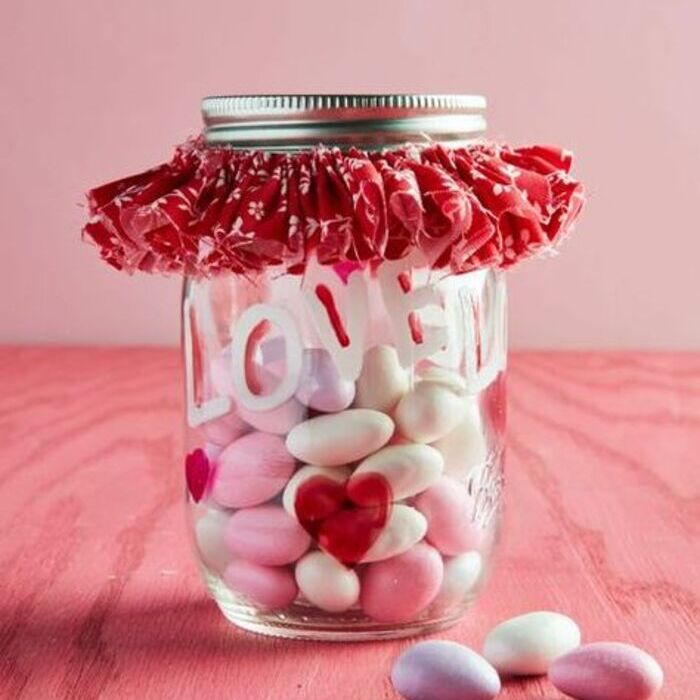 Do you know if your partner has a sweet tooth and enjoys receiving candy as a gift? Whether for Valentine's Day or an anniversary, this easy-to-make heart candy jar will delight him. Once you have the necessary supplies, all you have to do is add candy to the jar and insert your love message along!
11. Date Night Jar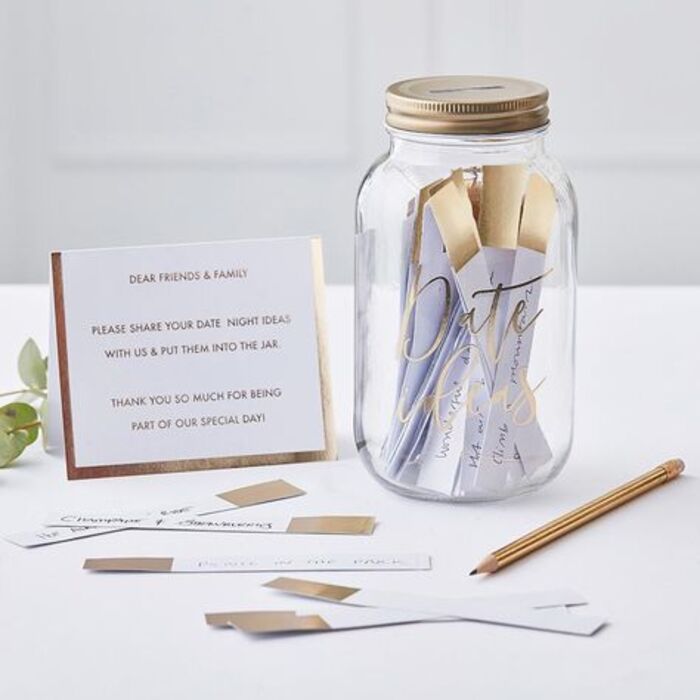 Similar to the date night cards, this jar keeps your romance going strong. Note sticks are a great way to brainstorm creative date ideas for your loved one. Each activity or subject can be given its own color code. So go ahead, grab your glue gun, and start to work on some crafts.
12. Love Notes Jar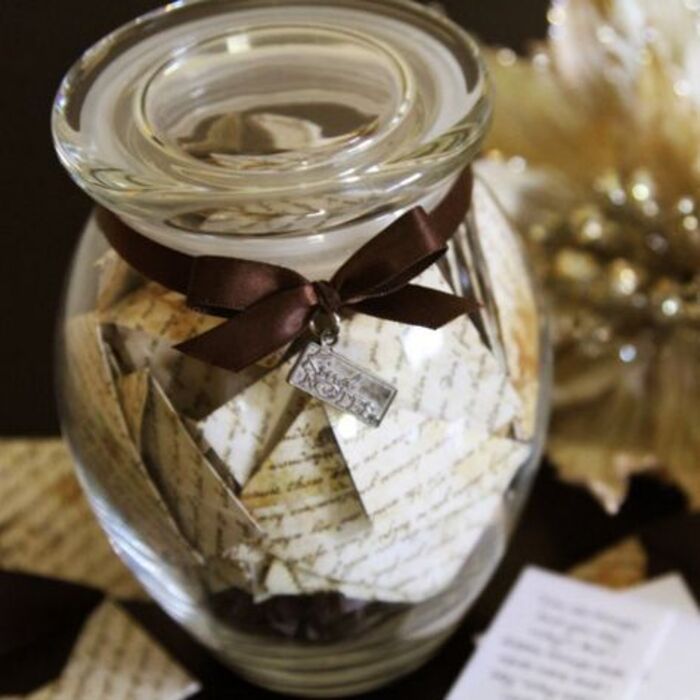 For Valentine's Day, consider giving your partner a jar filled with handwritten letters of affection. You don't need to do much more than fill a jar with messages of love and gratitude. To lift his spirits, he can turn to one of these love messages. Don't miss out on this creative idea while finding romantic handmade gifts for boyfriend.
13. Jar of Hot Cocoa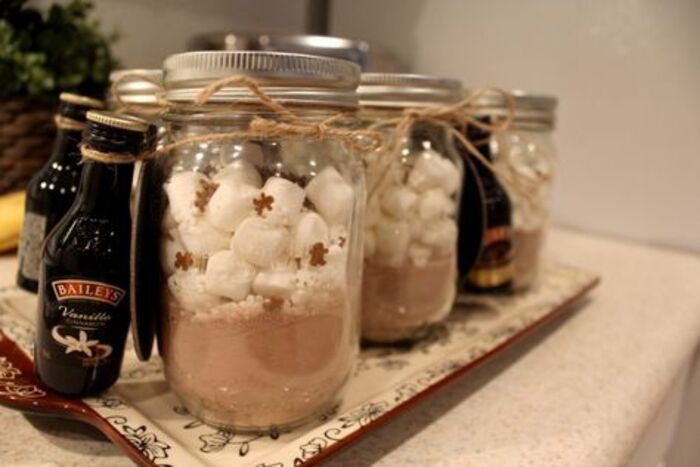 Fill a jar with hot cocoa components, such as marshmallows, chocolate, and milk, then give it as a warm-up Christmas gift for your man! Make your jar festive by adding snowflakes, red and white twine, and candy canes. You can also attach a colorful tag to the lid that lists all the ingredients and instructions.
14. Mason Jar Bouquets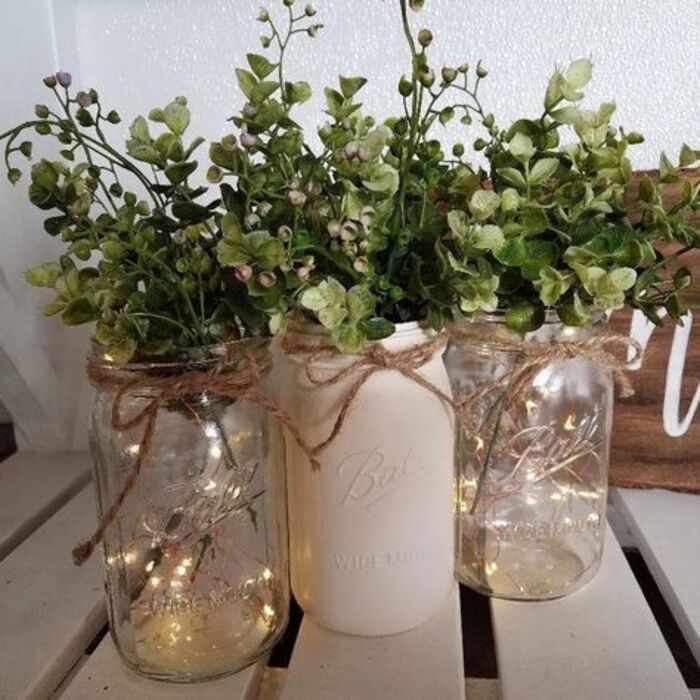 If you want to show your partner how much you love him, build mason jar bouquets for him to display in his room. They'll be a great reminder of you when you're not around.
>>> Recommend reading: 17+ Wonderful Gifts For Boyfriend Who Has Everything In 2022
Romantic homemade gift ideas for boyfriend to make a keepsake
15. Love Coupon Booklets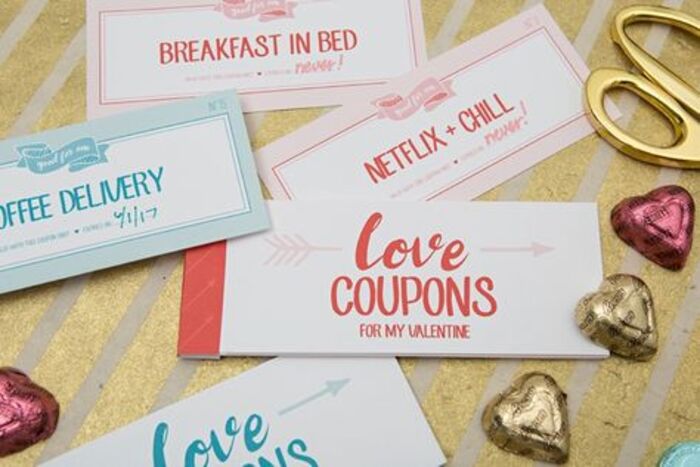 Gifting a handwritten love voucher to your partner is a simple and enjoyable way to show him how much you care. Valentine's Day is a great time to present these as a romantic and amusing gift. Things like taking out the garbage or getting a massage together can be as basic as that.
16. Custom Heart Map Art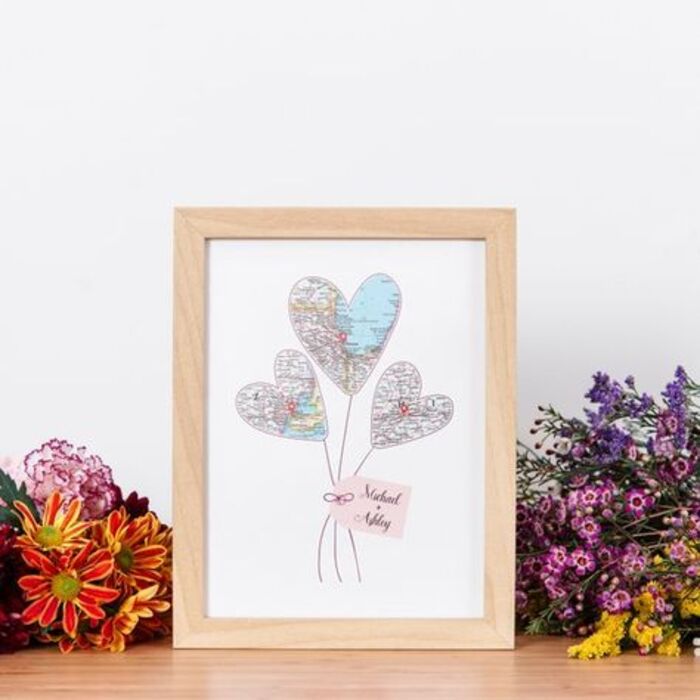 This cute DIY heart map is a terrific way to display the places you and your partner have visited together over the years of your relationship. Everywhere from your first encounter, to your most recent travel plans, make a little DIY project to show where it all started.
17. Trip Memory Box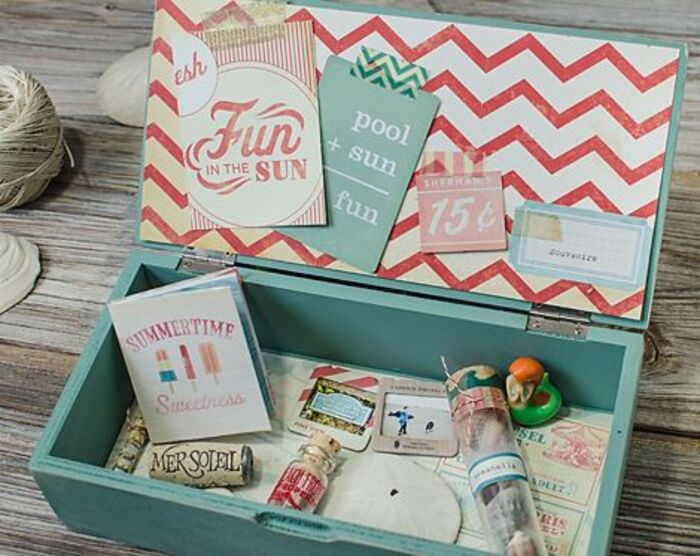 Make a vacation memory box if you and your boyfriend like to travel! Add photos, tickets, and other souvenirs from your trips to create one-of-a-kind romantic handmade gifts for boyfriend. The front of the box should feature a picture of you and your favorite travel-themed cards.
18. Charming Baseball Bracelet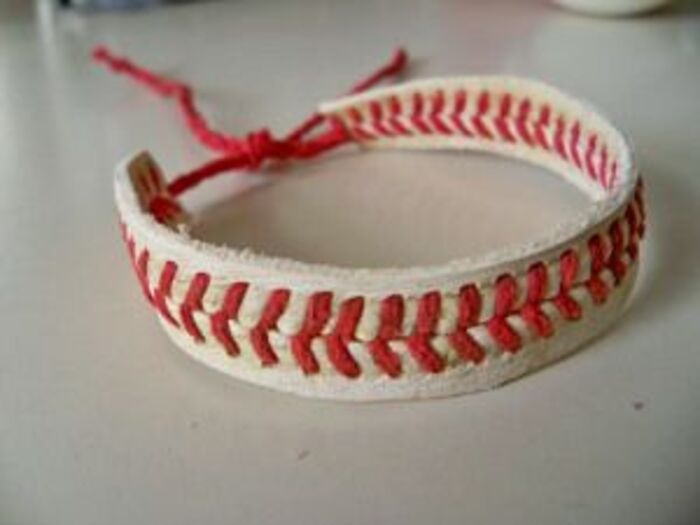 Is your guy a baseball fan? If so, with this baseball bracelet, you may give him a gift he'll treasure for years to come. A little but heartfelt present for a milestone month in your relationship!
19. DIY Painted Mugs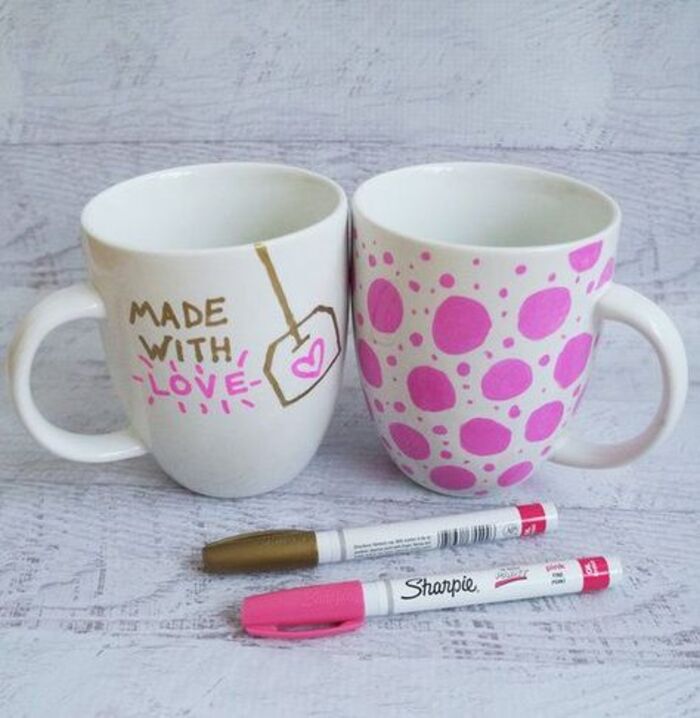 Doesn't sound like you have much of an artistic side in you? No matter how inexperienced you are when it comes to romantic homemade gift ideas for boyfriend, these mugs are a sweet option. A ceramic mug and oil-based markers are all you need for this project. Stencils are an addition to making simple unique designs.
20. DIY Zen Garden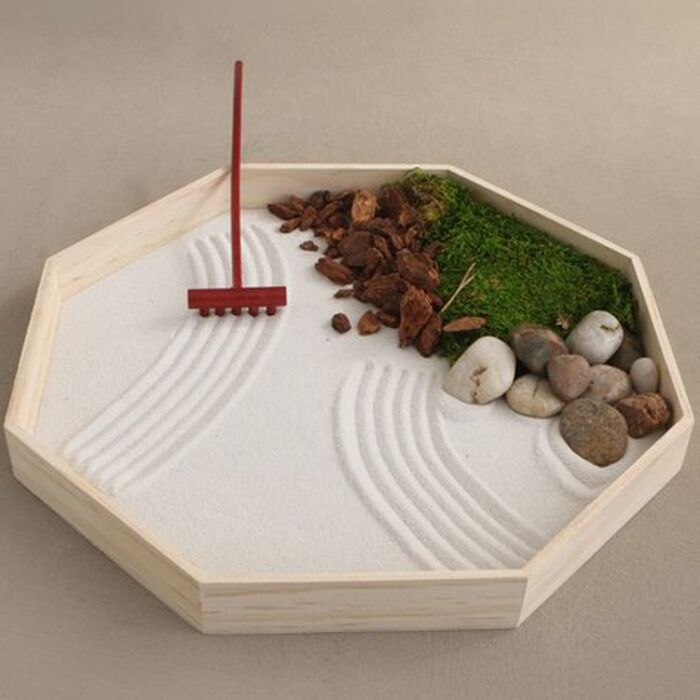 This lovely, handcrafted zen garden will do wonders for his mental well-being. When he sees how much you care, he will appreciate you more than ever before.
21. Initials Embroidered Handkerchief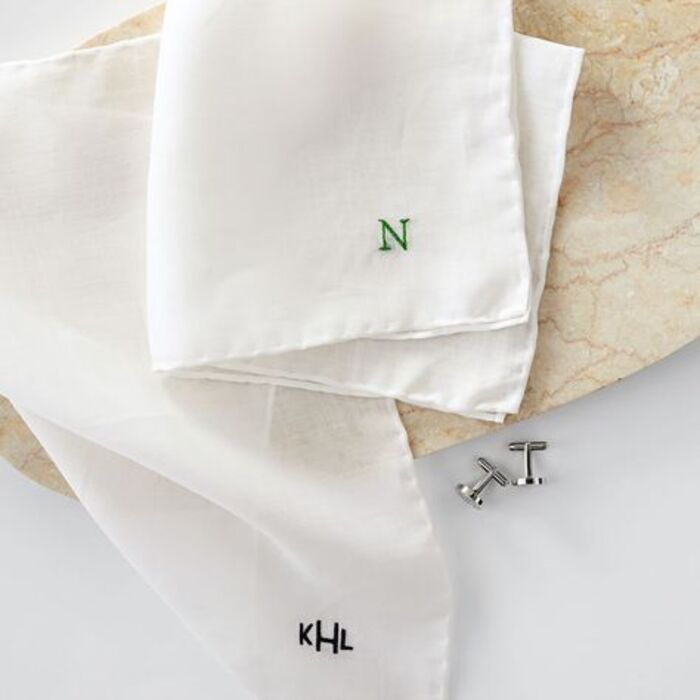 You can never go wrong with an embroidered handkerchief when you want to create classic but romantic DIY gifts for boyfriend. It doesn't require you to have a qualified skill. Embroidering his initials is enough to make this gift stand out.
22. "52 Things I Love About You" Cards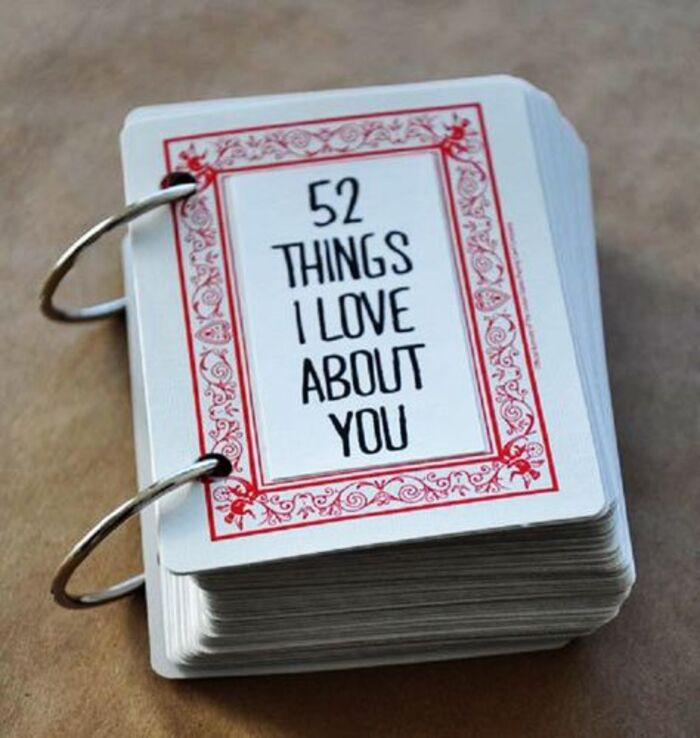 It's the perfect homemade gift for any guy. Each of the 52 cards in the deck has a unique message from you to your partner, letting him know just how much you care about him. A deck of cards, a hole punch, metal binders, and a sharpie are all you need to make this DIY present.
23. Heart-shaped Bookmark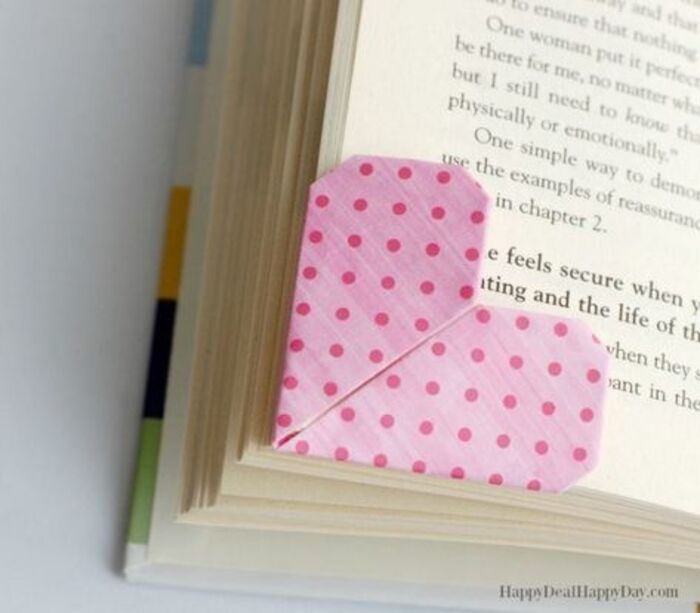 As a gift for a bookworm, bookmarks are an excellent choice. The ideal Valentine's Day present is one that is little, colorful, and shaped like a heart. He'll always remember you when he utilizes it to save his page.
24. Lavender Sachets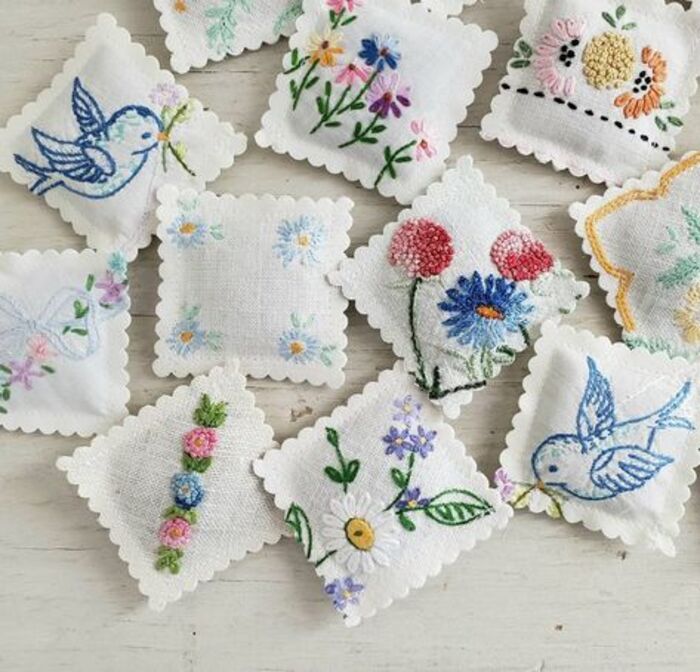 There is no need to spend a lot of money to make personalized, romantic homemade gifts for boyfriend. For his birthday or anniversary, give him these adorable lavender sachets to show how much you understand him. This thoughtful gift is an absolute must if you want to bring some peace and tranquility into his life.
>>> Read more: 40 Personalized Gifts For Boyfriends That Will Make His Day
Practical romantic homemade gifts for boyfriend
25. Slim Leather Wallet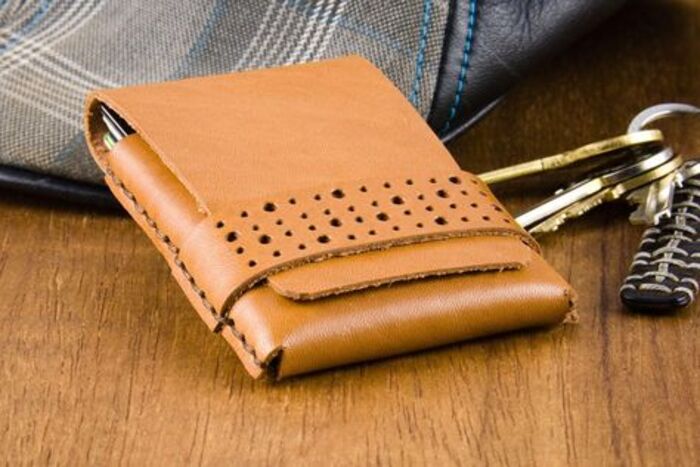 If he's been carrying the same oversized wallet for the past years, it may be time for a change. It's a fun and easy-to-make DIY gift to build this little wallet for your lover. Large enough to hold the necessities, but not so large to seem cluttered.
26. DIY Beard Oil
Give this handmade beard oil to a man who always wants to have a charming look on his face. You'll both enjoy the aroma of him using this for Christmas, and he'll love the thoughtfulness of the present. Like other romantic DIY gifts for boyfriend, this one is not cheesy.
27. Woven Paracord Watch Bracelet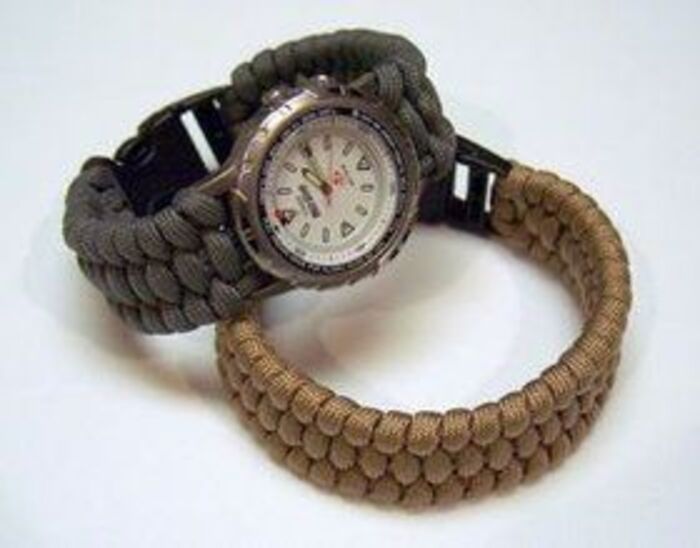 To show your partner how important he is to you, give him a gift that's both stylish and functional. Paracord is an excellent material for anyone who enjoys spending time in the great outdoors. This paracord watch and bracelet gift is a great way to get creative.
28. Woven Cup Cozies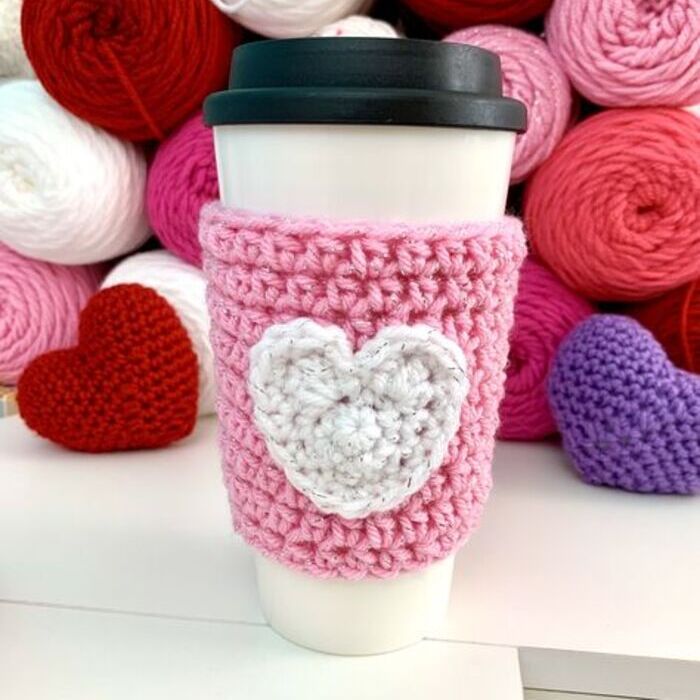 Is your man usually holding a cup of coffee? Whether he holds it on the road or at home, these woven cozies can be used with his favorite gourmet coffee mugs. To make more romantic handmade gifts for boyfriend, attach them with a heart or a sentimental image from you.
29. Date Night In Gift Basket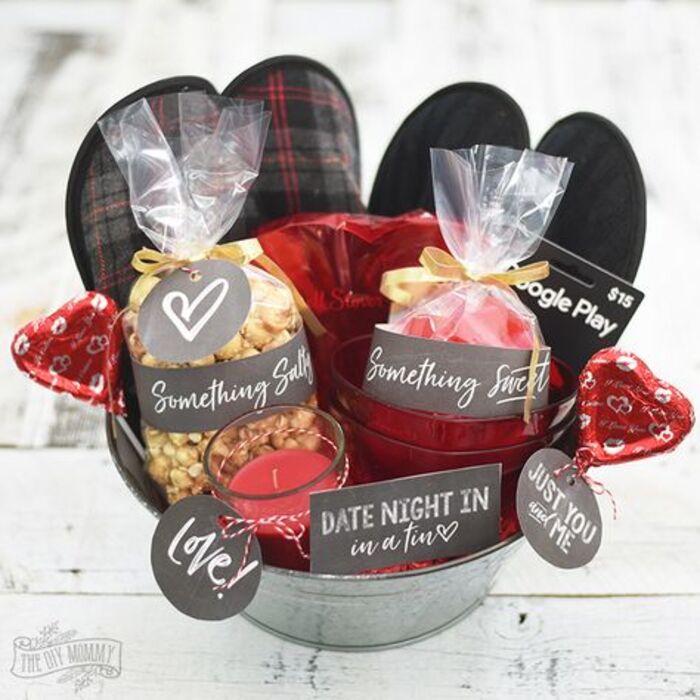 You don't have to go out to have a good time with your significant other. Make a movie night at home extra special with a date night basket full of sweet treats, including his favorite candy and gourmet popcorn; salty treats, and a bottle of wine.
30. DIY Love Letter Cookies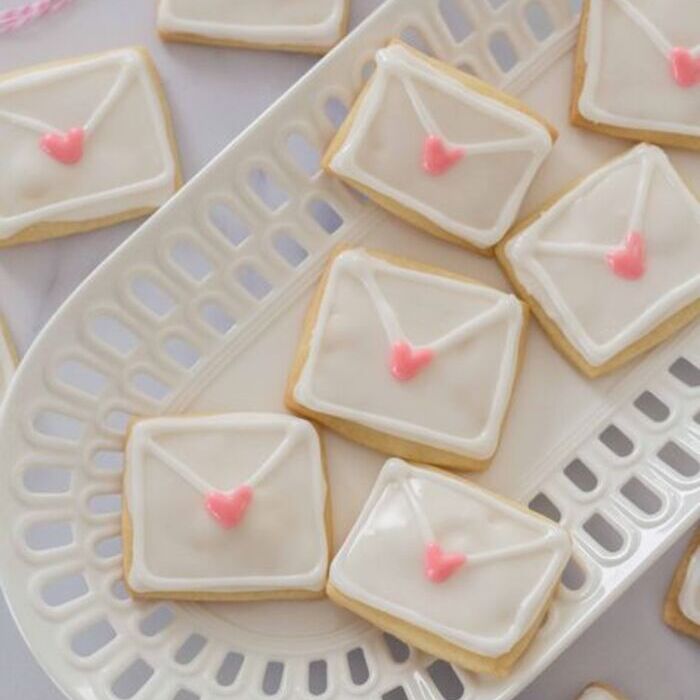 Giving food as romantic handmade gifts for boyfriend is always a safe bet. Make a batch of these love letter cookies for your lover as a pleasant surprise. You may easily make your own version of a fortune cookie. This is a great project for a baking-obsessed girlfriend.
31. Creative Book Planters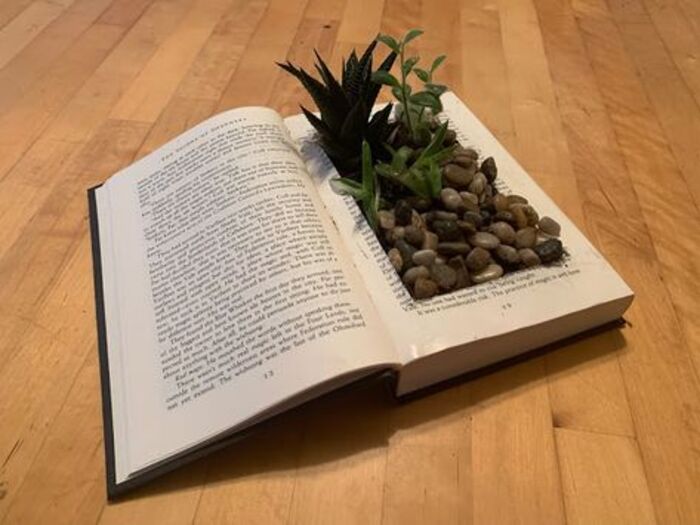 A thoughtful gift like this is sure to please a guy who is always on the lookout for unusual presents. Put together a one-of-a-kind gift that he'll be glad to exhibit, such as an old copy of one of his favorite books from a thrift store.
32. Handmade Beer Soap
Looking for romantic homemade gift ideas for boyfriend to give him comfort and relaxation? Cold-pressed beer soap is an easy and inexpensive DIY project you can do with your lover. He'll be delighted to learn that you've infused some soap with his favorite beer. For him, the final product is an amusing and aromatic gift.
33. Snickers Bouquet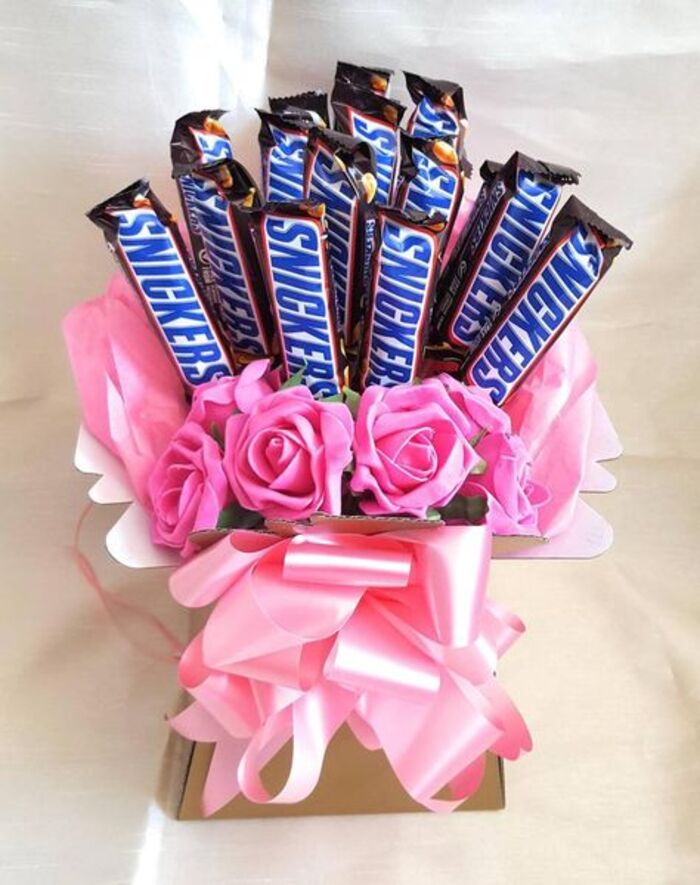 Make a Valentine's Day Snickers bouquet for your partner if he loves chocolate or Snickers, and you'll have a hit on your hands. Anyone who doesn't have the time or talent to make a bouquet of roses themselves will appreciate this creative and unique arrangement.
34. Chunky Blanket
You can use this blanket to spruce up his dorm or keep your lover cozy during the colder months. One of the best romantic homemade gift ideas for boyfriend who is hard to come by. It doesn't matter what the occasion, this blanket is always appreciated.
35. DIY Natural Candle
Smells evoke a wide range of emotions in us. Your candle should have a scent all its own so that your significant other can associate it with you whenever they smell it. If you'd like, you can combine smells to create a scent that recalls memories from your relationship, such as the time you baked a cake together.
36. Heart Tea Bags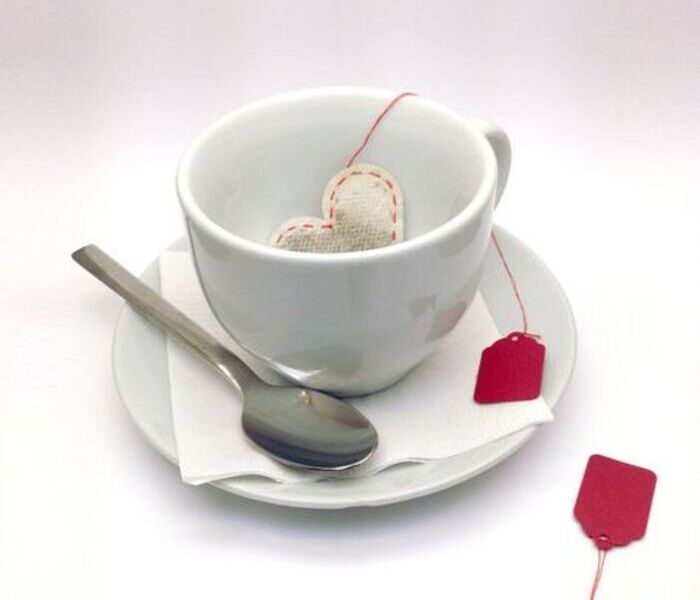 Make heart-shaped tea bags for your boyfriend's birthday this year and give them to him as romantic birthday gifts for your boyfriend. You can add a little extra sweetness to your tea by using Earl Grey, Green Tea, or English Breakfast. You'll be remembered every time he brews himself a hot cup of tea to start the day!
37. Homemade chocolate cupcakes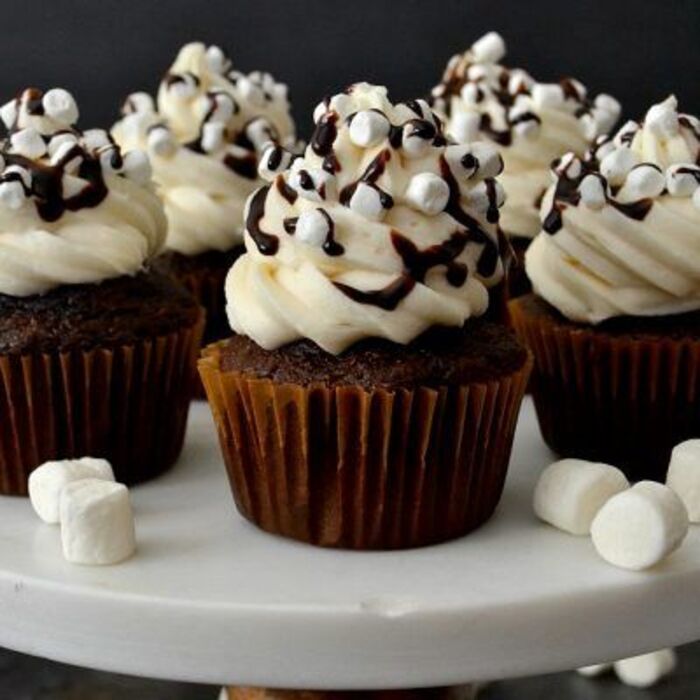 If you're questioning which romantic DIY gifts for boyfriend to give this Valentine's Day, consider making something special using your favorite recipes. In addition to showing your lover how much you treasure him, these heart-shaped chocolate cupcakes taste great. It's a sweet treat you can make for him that you know he'll love.
38. Bubble Bath Gift Set
You can pack a self-care box for your man to give him a relaxing moment after a long day at work. Complete the box with a bottle of champagne, bath salts, and a soy candle, especially if you're celebrating Valentine's Day far from each other.
Recommend reading:
If someone asks "What are the most romantic gifts?", DIY presents must be on top answers. They're always something unique that helps you leave the best impression on the receiver. With Oh Canvas list of romantic homemade gift ideas for boyfriend, we hope you find a way to make your man feel loved and special.