The best gifts for grandpa should be one that is unique and has a personal touch. Given how challenging it may be to track down the perfect and unique gift for grandpa, Oh Canvas has compiled a list of some suggestions. Those are personalized, sentimental, and practical gifts that your grandpa likes.
Grandparents are the best possible best friends that anyone could ever hope to have. Our grandfathers bring an incredible amount of love into our lives. As a result, they are deserving of our most profound gratitude not only on a specific dates like Christmas and Father's Day but also on their actual birthdays.
Personalized Gifts For Grandpa
1. Personalized Face Socks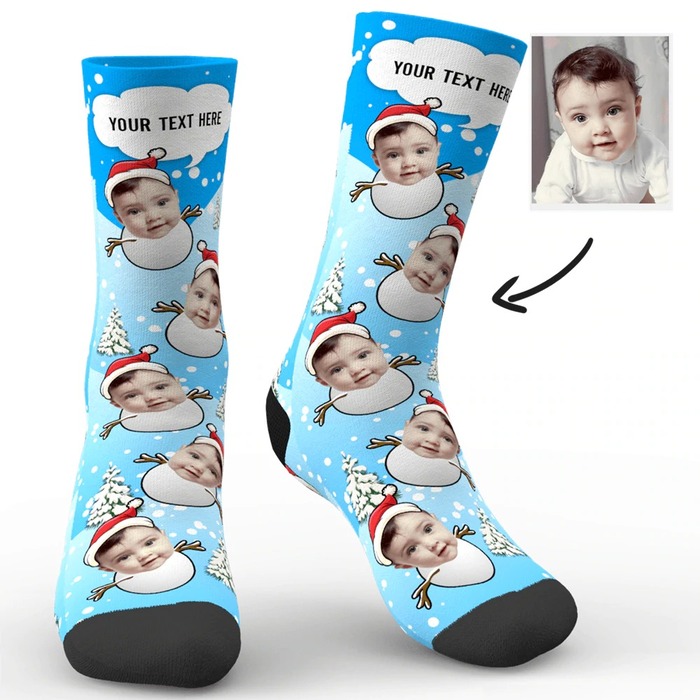 Looking for some fun grandpa gift ideas? With a pair of fun "face" socks, you can keep him abreast of the hottest trend in town. Even when stretched across large feet, the photo printing looks beautiful and is really comfortable. Upload a photo of your face, and he can spend all day admiring his favorite kids.
2. Grandfather's Ice Cream Scoop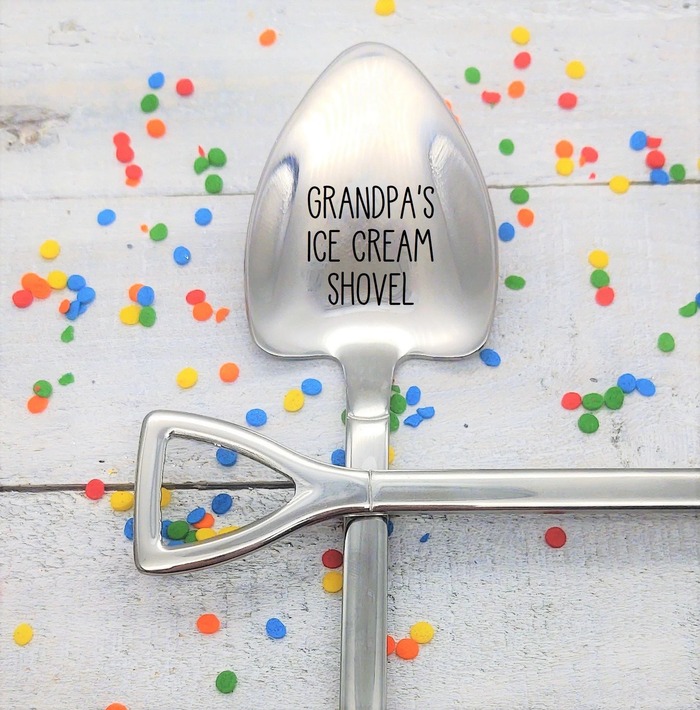 This tablespoon-sized, shovel-shaped spoon has never made Papa's ice cream dessert look so fashionable. Therefore, if you're good, Papa may share his ice cream with you! Is it a fun gift that your grandpa likes?
3. Life Story Photographic Frame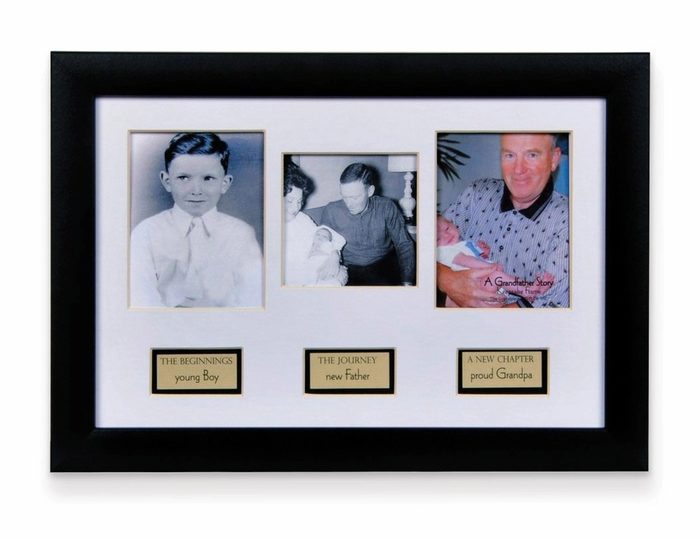 This "life story" frame is a magnificent heirloom that can be passed down through generations. The 8 x 12 traditional black frame contains three spots for family photos, and family members, each with a statement highlighting his most significant achievements. This best gift for grandfathers is supplied if you'd like to engrave your message.
4. The Shirt of the Grandfather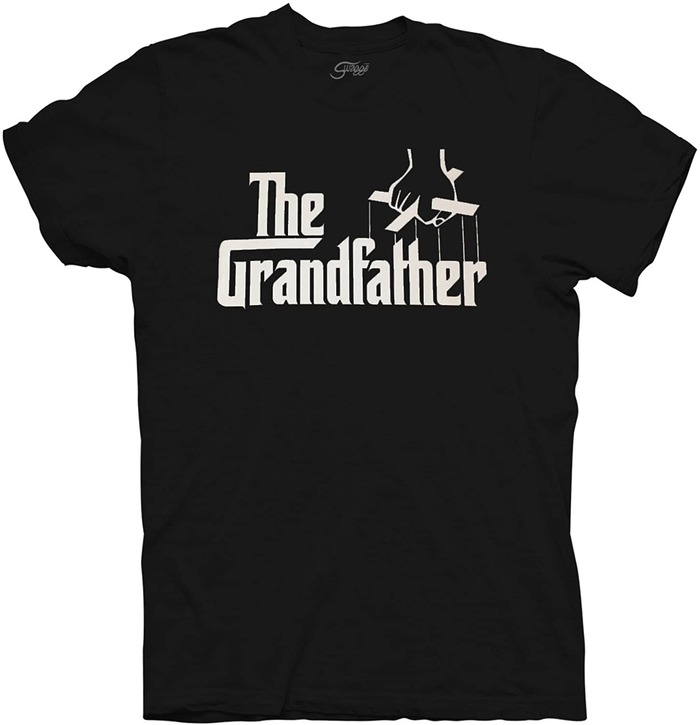 Give grandpa some street cred with this "mafioso" t-shirt that also proclaims his status as a proud Grandpa. This is one of the best gifts for grandpa composed of 100 percent cotton and has been pre-shrunk; the neck and shoulders are tapered, and the cut is classic for a looser fit.
5. Personalized Leather Wallet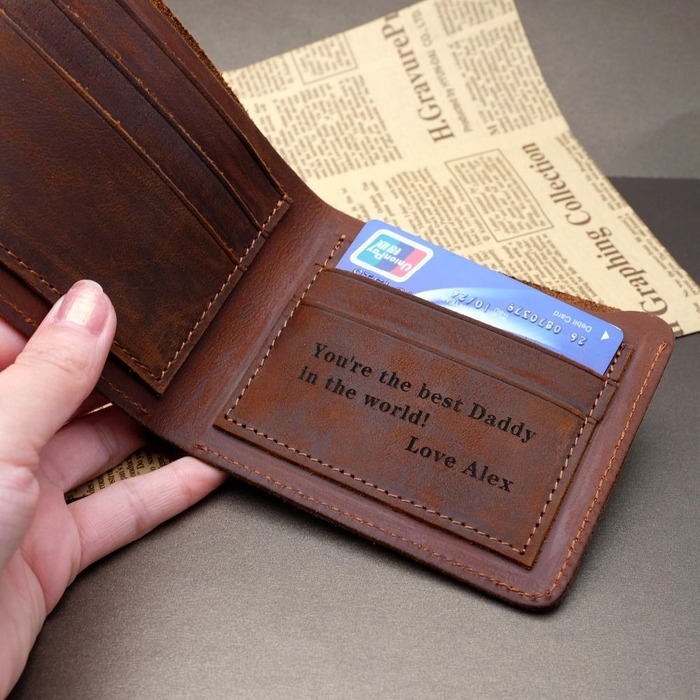 Every grandfather loves hand written notes because they hold unique importance in their lives. They portray lovely stories about his childhood, youth, and romance. These great gifts for grandpas like this will bring back memories for grandpa.
6. Customizable Leather Bookmark
How about related-bookaholic gifts for grandpa who loves reading? If Grandpa is an avid reader, this distinctive bookmark is one of the best presents for grandparents. It may be personalized with his name, a date, or a short phrase, and the leather adds an elegant touch, making it a practical, creative, and sentimental Christmas gift for book enthusiasts.
7. Customized Hammer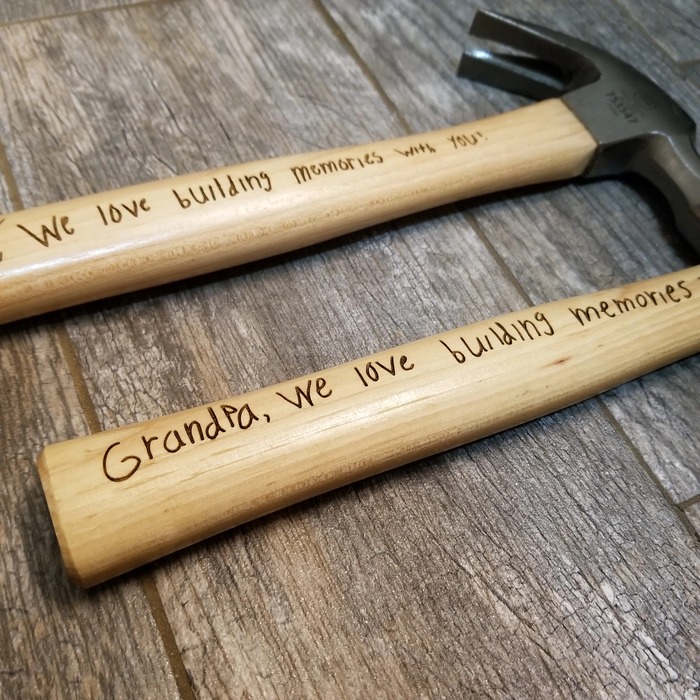 Grandpas have a unique way of impacting our lives, so let him know with a personalized note, regardless of whether you call him Grandfather, Grandpa, Granddaddy, Pop-Pop, or Pa. A personalized gift for grandpa likes to build and fix things, this is an excellent Father's Day gift idea for handy grandpa. He will feel your affection each time he strikes his hammer.
8. Personalized Grandpa's Brag Board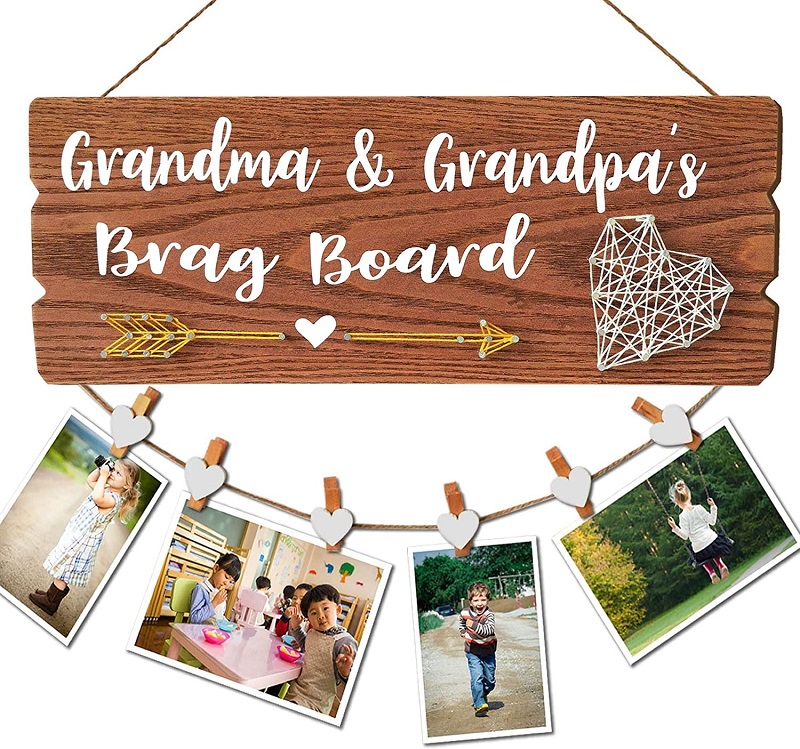 What about the best gifts for grandpa, such as these brag boards? It will be a great gift for long distance grandparents who live far away from their adorable kids. It can be personalized with his name (or the name his grandchildren call him) and includes clips for attaching photos of him.
9. Grandpa Photo Print on Canvas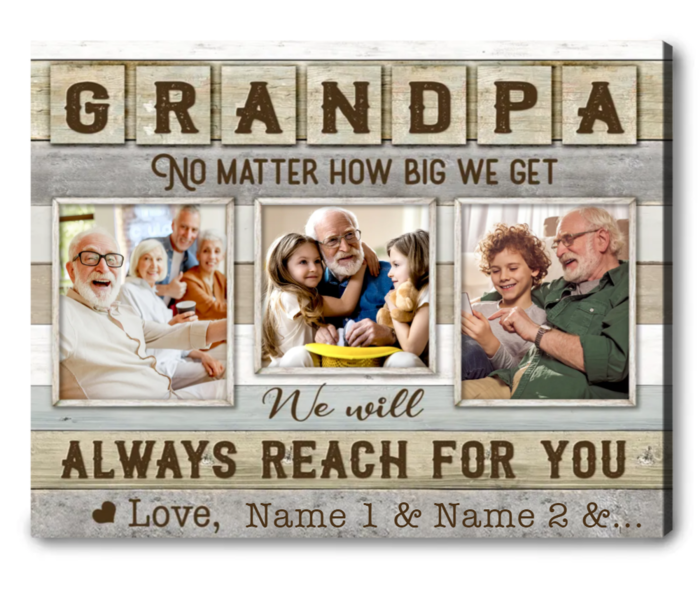 You may not live in the same state as your grandfather, but you'll always be near to his heart and he'll be close to yours. This map canvas poster is the ideal expression of this statement since it can be customized to include your respective states and a photo of you and him. It will be a great personalized gift for him that he will love.
10. Photo Collage Print on Canvas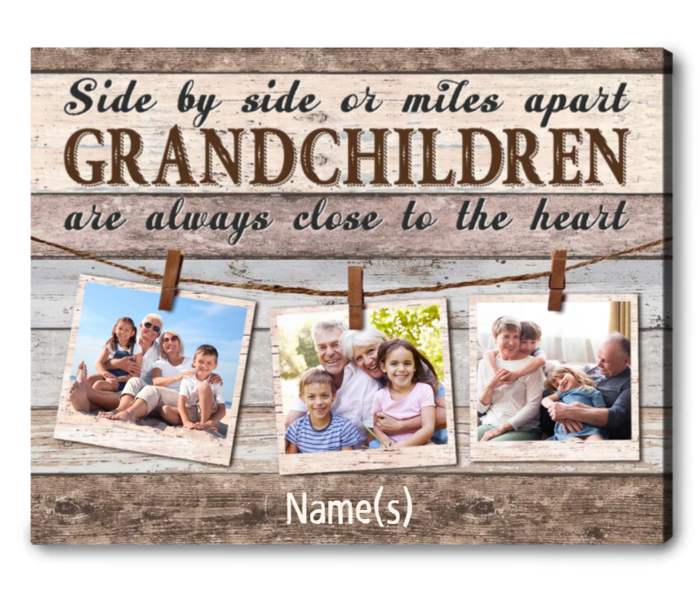 Your grandfather is living proof that age is but a number, as it has only enriched his life with love and adventure. Instead of giving hand written notes or letters, you can give your long distance grandparents a canvas print that is personalized with photos and loving messages. It is one of the most unique and emotional gifts for your grandpa that he will adore. So, why not get him this meaningful Christmas gift?
11. Family Tree Photo Print on Canvas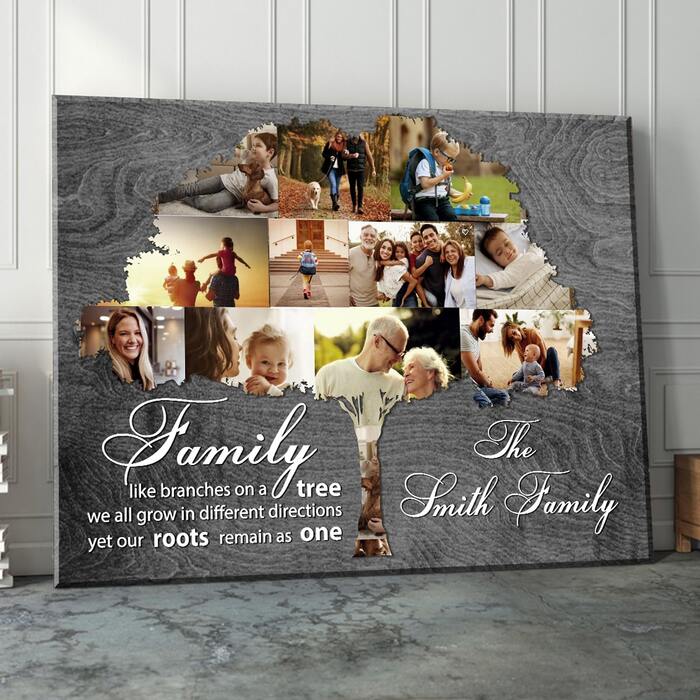 Even though his family is dispersed, the finest personalized grandpa gift ideas with pictures of family members are ones that allow him to see them all in one area. Therefore, giving him this family tree canvas print for Christmas will be the ideal approach to honor the affection he has for his family.
12. Grandkids Photomontage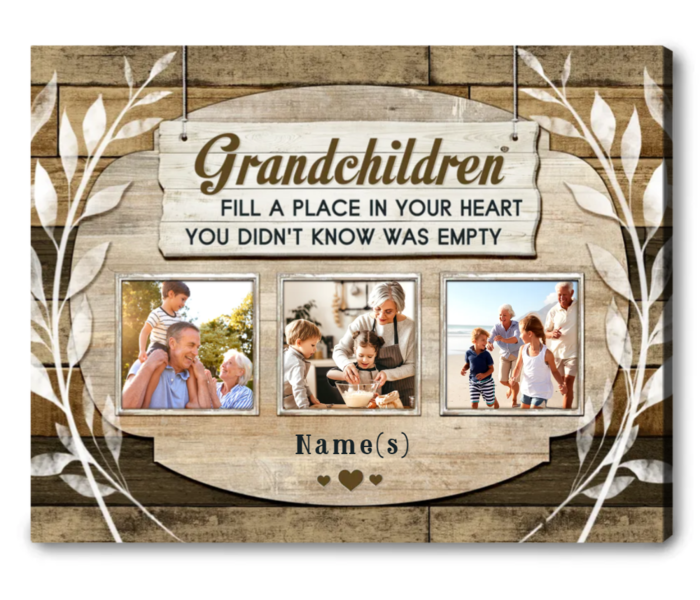 Grandchildren have the unique capacity to cheer up and warm the hearts of their grandparents. On Father's Day, get family-related best presents for grandparents that will make him pleased. We ensure your grandpa loves this gift and keeps it with him at all times.
13. We Love Papa's Customized Photo Pillow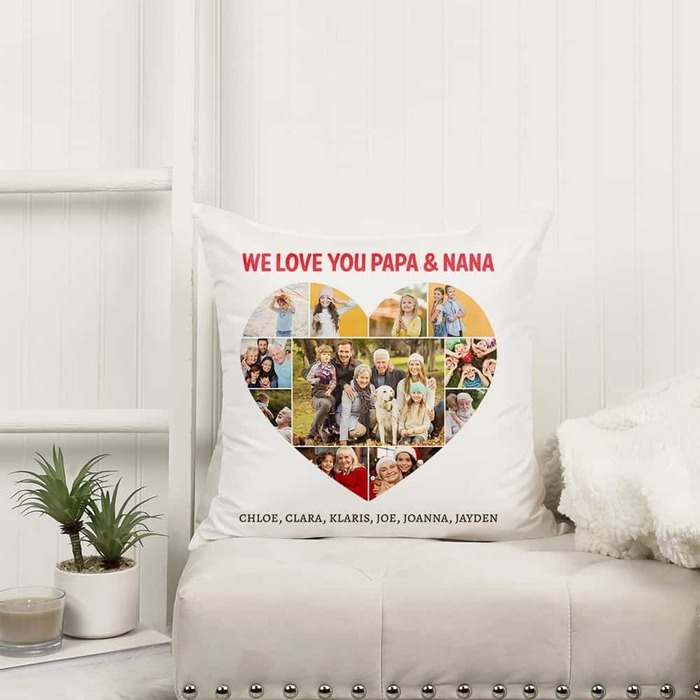 The best gifts for grandpa come from lovely and unforgettable expressions of affection from their grandchildren. Include as many endearing memories as you can recall so that your grandparents can hug you in spite of long distance grandparents.
14. Grandfather Created Photo Ornament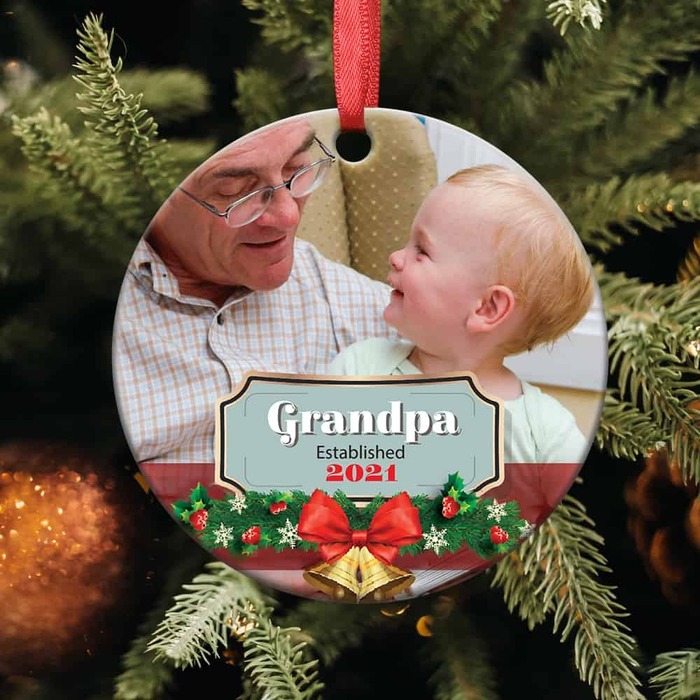 There are various grandpa gift ideas that will warm the heart of a new grandfather, but this personalized photo ornament may be the greatest. It makes two occasions memorable: the occasion on which he receives it and the first Christmas he will spend in the pleasant company of his young charge. It can be adorable and sweet Christmas gifts for him.
15. Custom Whiskey Bottle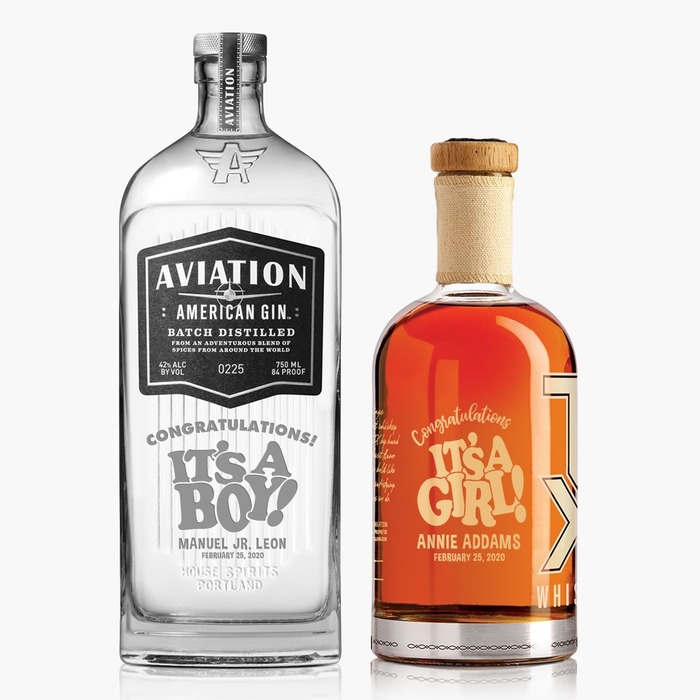 You can engrave a special message on this whiskey bottle for your granddad. You can surprise your grandpa who loves drinking with the smooth and aromatic Uncle Nearest 1884 small-batch version. Can not ignore this good gift for grandpa, right?
>>> Recommend reading: 45 Unique Gift For Boyfriend Ideas That He's Sure To Love
Sentimental Gifts For Grandpa
16. Neck Massager with Temperature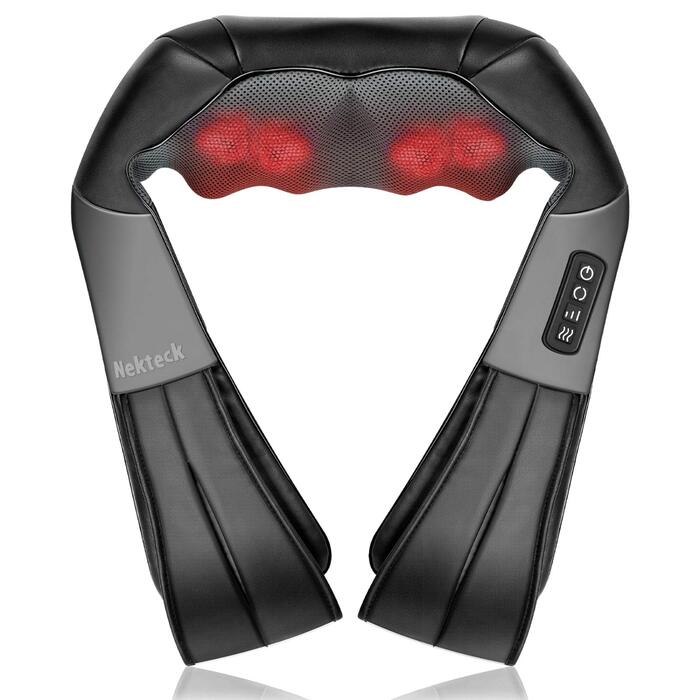 Help your grandparents relax with this exceptional shiatsu neck massager. This is one of the most thoughtful gifts for your grandpa that includes eight deep massage nodes that offer soothing heat, three adjustable settings, and a vehicle adaptor connection so he can take it with him on travels. In addition, there is protection against overheating and a 15-minute auto-shutoff if he falls asleep.
17. Portable Record Player
Bring back fond memories with this updated version of an old classic, so he may dance with Grandma as he once did. This suitcase-style portable turntable plays 7″, 10″, and 12″ vinyl records and is constructed of wood for optimal portability. Surely, this is a good gift for grandpa who loves dancing and melodious music you can find on our list.
18. Gourmet Coffee Gift Basket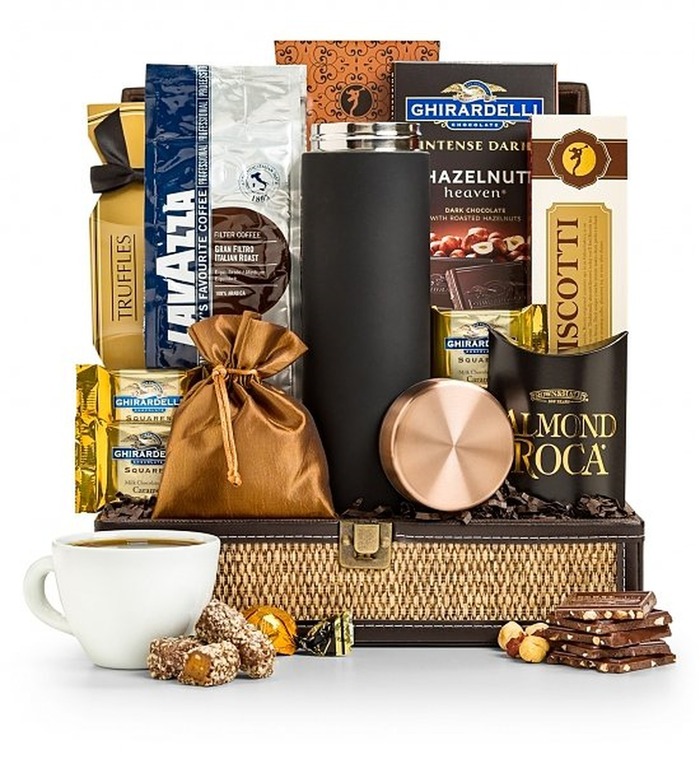 Grab your mug of coffee! This coffee birthday gift set is an excellent way to start the day. The package includes eight bags of whole bean coffee as well as a French Press. The coffee is certified organic by the USDA, and each batch is hand-roasted using entire Ugandan coffee beans. A perfect gift for grandfather to send him at the last minute during the holiday season.
19. Engraved Compass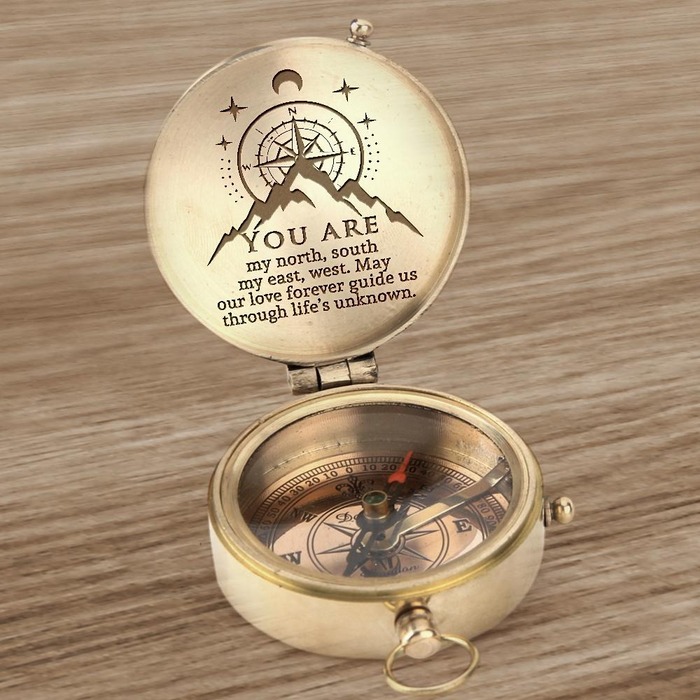 Consider this gorgeous compass as an idea of amazing best gifts for grandpa, world-traveling grandfather, or one who simply enjoys locating true north in the backyard. This customized compass is engravable on the front, back, and/or either side of the lid.
20. Toothpicks Infused with Scotch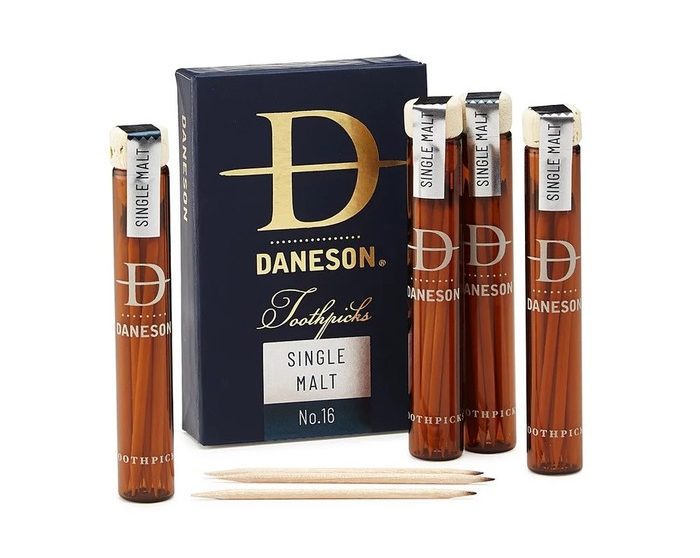 Amongst the most thoughtful Christmas gifts for your grandpa, this one can be on the top. Now, as grandpa checks his teeth, he can sip a refined version of a great single malt scotch. These toothpicks are infused with a 200-year-old Islay single malt matured in oak barrels for a distinct smokey peat flavor. Moreover, they are crafted from responsibly harvested wood. He will cherish forever this gift from you.
21. Sleep Eye Mask
A good gift for grandpa is an item that he can use to relax in his old age years. The purpose of this light-blocking sleep mask is to battle insomnia and promote a restful night's sleep. The mask is carefully shaped so that there is no pressure on the eyes. "I can finally sleep soundly. Absolutely worth it! "said one satisfied client.
22. The fabric of our Family Blanket – Americana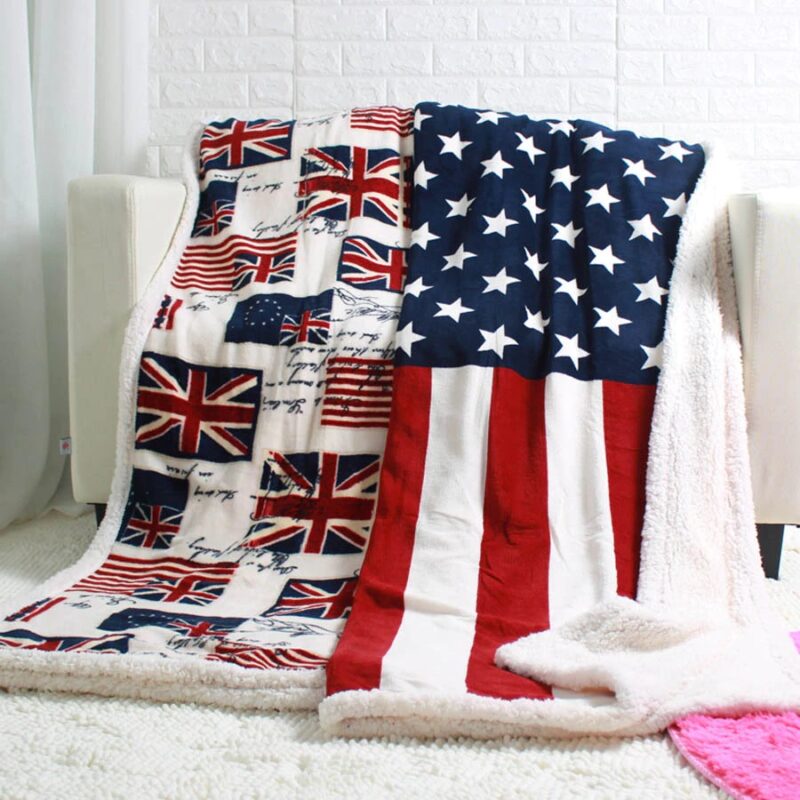 This stunning piece of wall art, inspired by precious antiques, commemorates the story of your family in patriotic colors. You may personalize each part with a family member's name, birth year, interests, or characteristics. The personalized grandpa gift ideas are printed on blanket that has been embroidered to resemble a typical American patchwork quilt.
23. Engraved Keyring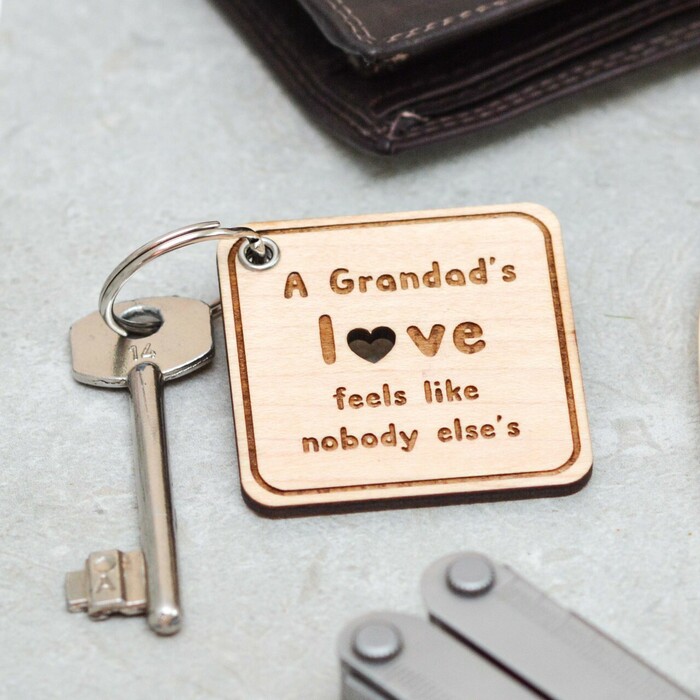 You probably handed your grandfather several of your childhood drawings, which he proudly displayed on the refrigerator. You may be an adult now, but you can preserve this memory by gifting him this engraved keychain that portrays the joy of watching you grow up.
24. Personalized Hand-Written Letter Blanket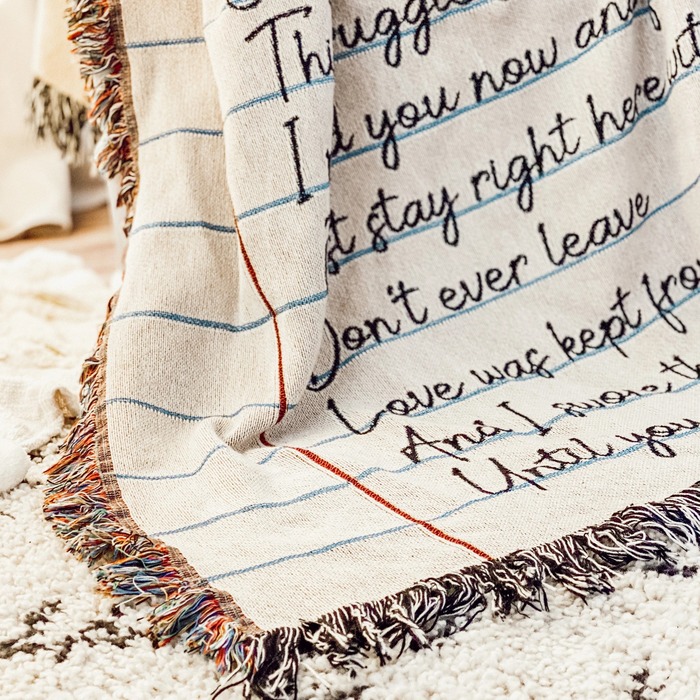 Handmade handwritten blankets with a personalized message are something lovely and the best gifts for grandpa. It blends the thoughtfulness and sensitivity of a letter with the coziness and warmth of a premium blanket. It is the most perfect gift for grandfather, and grandpa loves and surely treasures it.
25. Family Tree Personalized serving bowl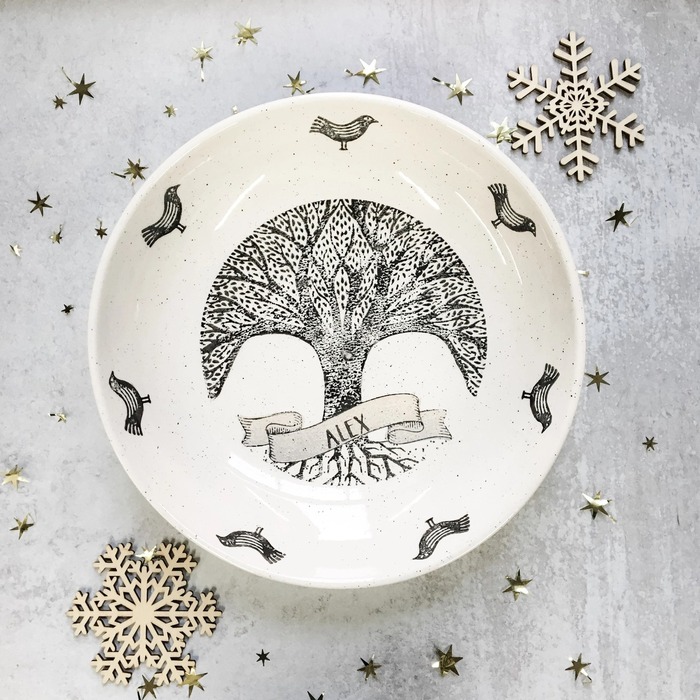 Each dish is dipped in a glaze that is suitable for consumption and can be used to serve salad, spaghetti, or fresh fruit. Whether you simply use it for special occasions or incorporate it into your dinner routine, this useful tribute to your ever-expanding family honors the love that spans generations. He'll love these the best Christmas gifts for grandpa.
26. Temperature-Controlled Smart Mug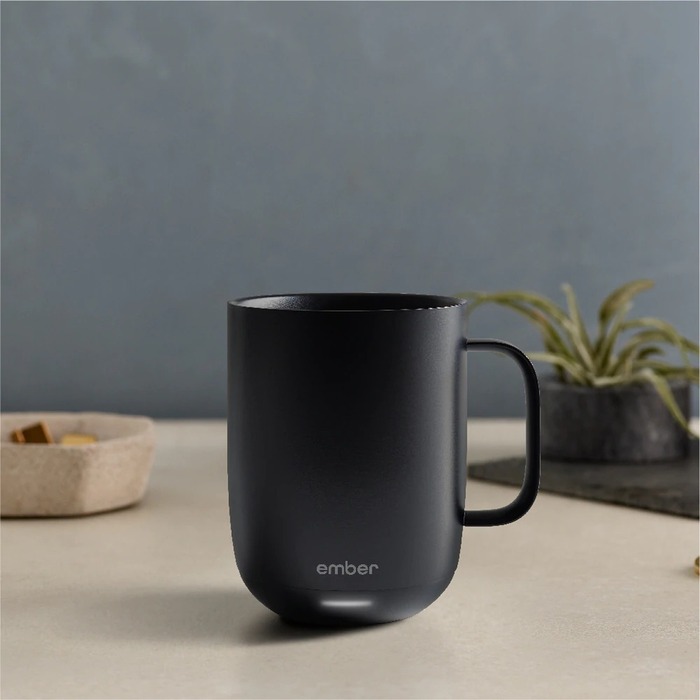 Whether grandpa prefers his coffee, tea, or water extremely hot, this Ember mug will provide the ideal temperature. This porcelain cup will maintain its temperature for a couple of hours when not connected to a charging station. Literally, he can add any drink, switch it on, and it will warm within minutes, as if by magic. Making his mornings or afternoon more exciting with the ideal idea from our list of best gifts for grandpa.
27. Portable AM/FM Radio in Red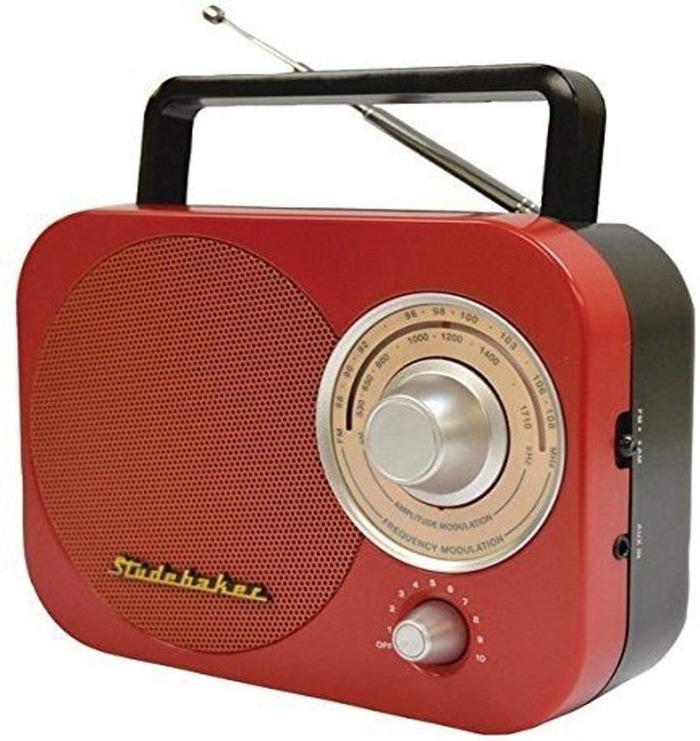 Studebaker is best known for its famous automobiles (ask your grandfather if he ever drove one), and their portable AM/FM radio is the ideal nostalgic gifts for your grandpa. It is portable, attractive, and features an auxiliary input jack in case Gramps is into technology and wants to attach his iPhone.
>>> Recommend reading: 35 Sweet Personalized Gifts For Husband That He'll Love
Practical Gifts For Grandpa
28. Cell Phone Magnifier Screen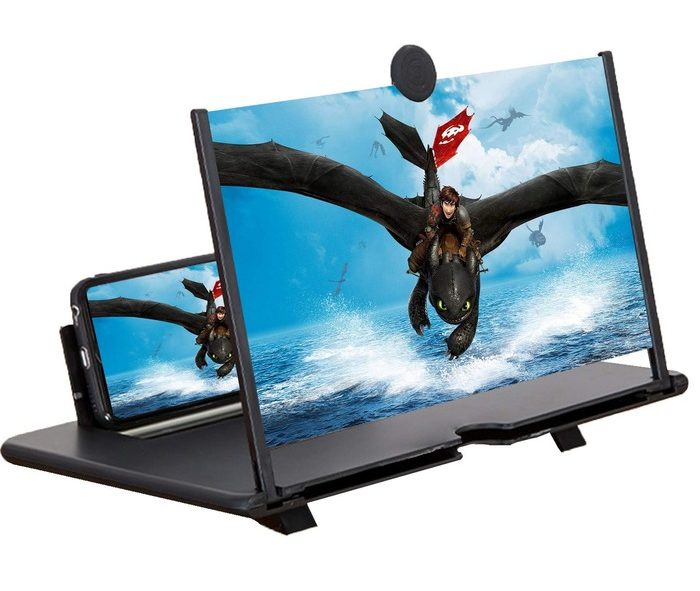 For every grandfather who has ever said, "How do you see anything on that godawful screen?" Here's the device he's been waiting for: a phone screen magnifier for crisp, high-definition images suitable for Grandpa. It is user-friendly for those who find that viewing videos on a smartphone strains their eyes. This will be one of the good gifts for grandpa he will ever need as he gets older.
29. Ugg Slippers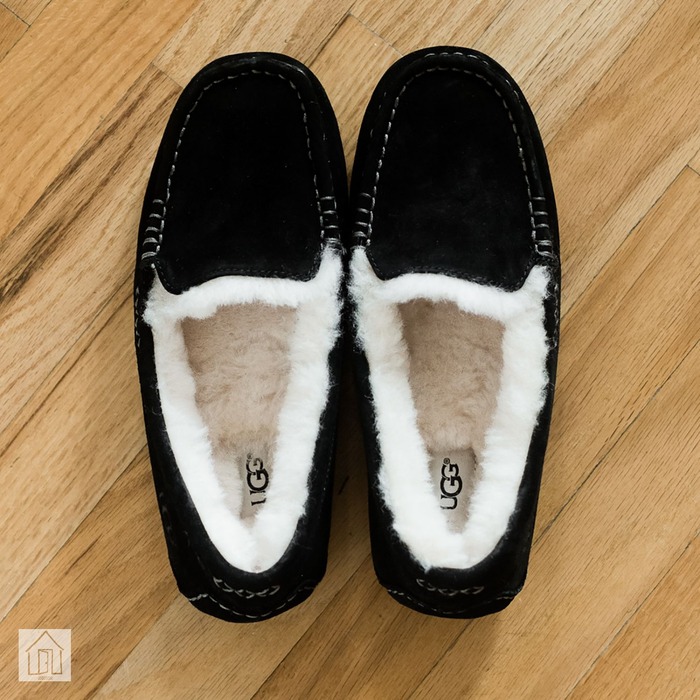 What grandfather doesn't require a pair of slippers? These Uggs are moccasins with a luxurious leather exterior and a rubber traction sole. The main component, however, is the comfortable 100 percent wool lining. The best gift for grandpa is to keep his feet warm while entertaining the family.
30. Edison Desk Lamp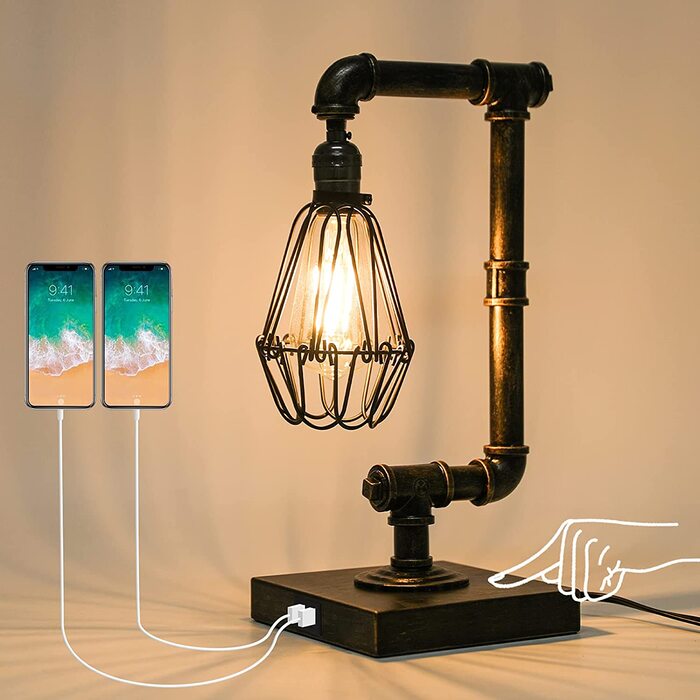 Add a touch of steampunk nostalgia to Grandpa's area with a vintage Edison lamp. Elegant yet uncomplicated, this lamp is ideal for desks or nightstands and requires no assembly. With a handy dimmer, it can accommodate any standard Edison screw-base bulb. So ensure that you give him some of these bulbs.
31. Eyeglass Holder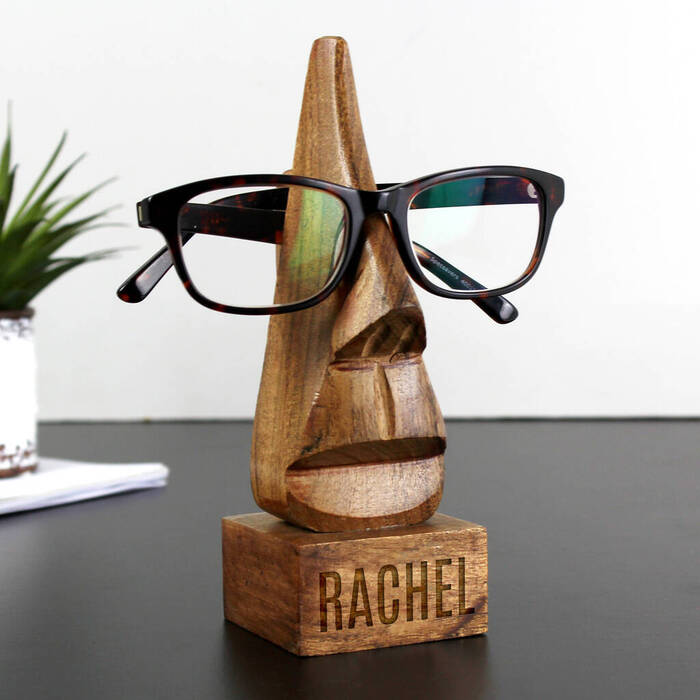 Is it your first time seeking perfect gifts for grandpas and still don't know what present he is interested in?. This wooden nose-shaped spectacle and sunglass holder looks great, but it's also rather practical—the ideal and fun Christmas gift for someone who is continually losing their glasses.
32. My Autobiography Book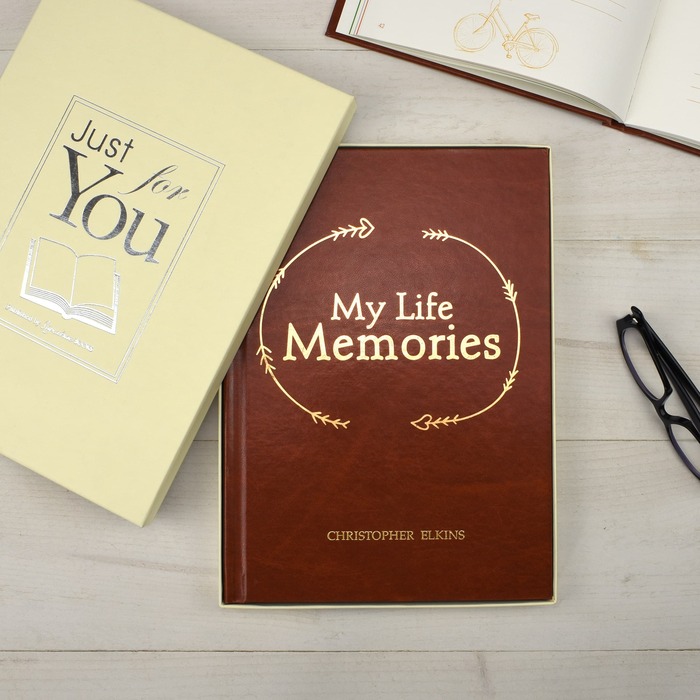 This attractively designed diary contains nine sections with thought-provoking ideas, making it a perfect gift for grandpa who loves leaving a lasting legacy of his life's stories. From first dates to enduring friendships, significant experiences to pearls of wisdom collected along the way, this book covers it all. There is even a part stating the goals he has for the future.
33. Golf Course 7-piece BBQ Set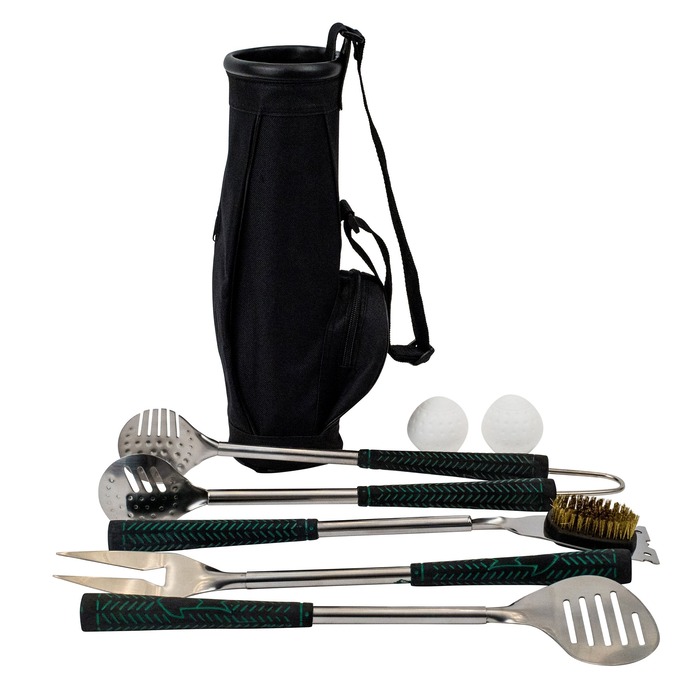 Is it your first time looking for the best gift for grandpa who loves playing golf and BBQ parties? The 7-piece golfer's barbecue set consists of a golf club-shaped barbecue spatula, power grill tongs, grill fork, 2 golf ball-shaped salt, and pepper shakers, a silicone basting brush, and a golf storage bag.
34. Folding Athletic Chair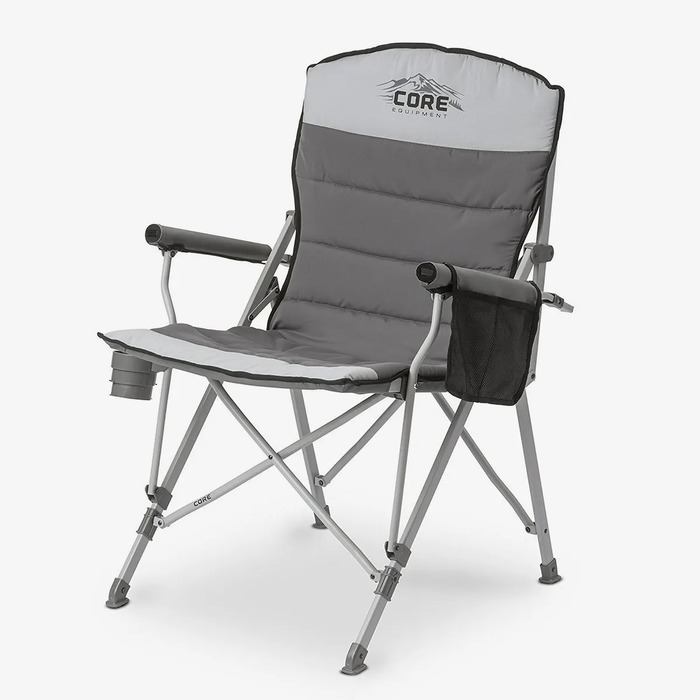 Your grandfather will always require good gifts for grandpa like these as a vital companion as you get older. This chair's robust polyester canvas seat is supported by a foldable aluminum frame. Perfect whether he enjoys camping or reading in the backyard. However, the features do not end there. There has a padded seat, padded armrests, a fold-out side table, a book-holding armrest caddy, two insulated beverage pockets, and numerous more pockets.
35. Monthly Book of the Month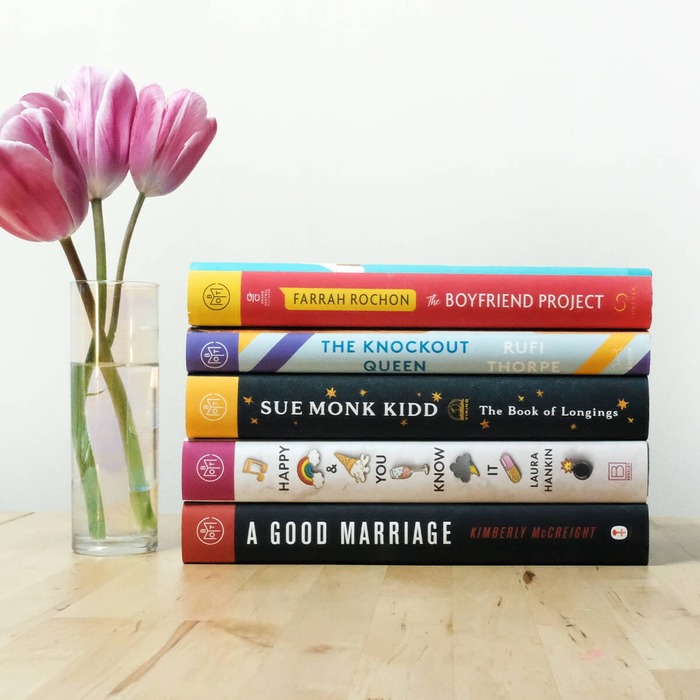 A book subscription is one of the best gifts for grandpa who loves reading. Each month, he will be presented with five enthralling books, and he will select the one that piques his interest for shipment. Emphasis is placed on new releases, novel perspectives, and debut authors when choosing books. Then, if he falls behind, he can skip a month or transfer the credits to the following month!
36. Bartender 10-in-1 Tool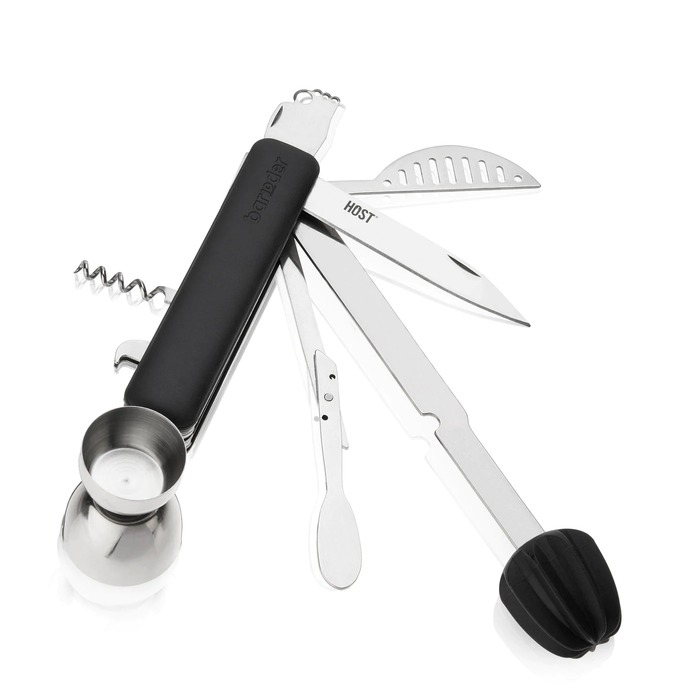 This tool is the Swiss army knife of the bartending world. With ten instruments contained in a stylish kit, Grandpa will have all he needs to create the ideal drink. It includes a strainer, muddler, reamer, corkscrew, measuring cup, stirrer, bottle opener, two knives, and a zester.
37. Foot Spa by Bubble Mate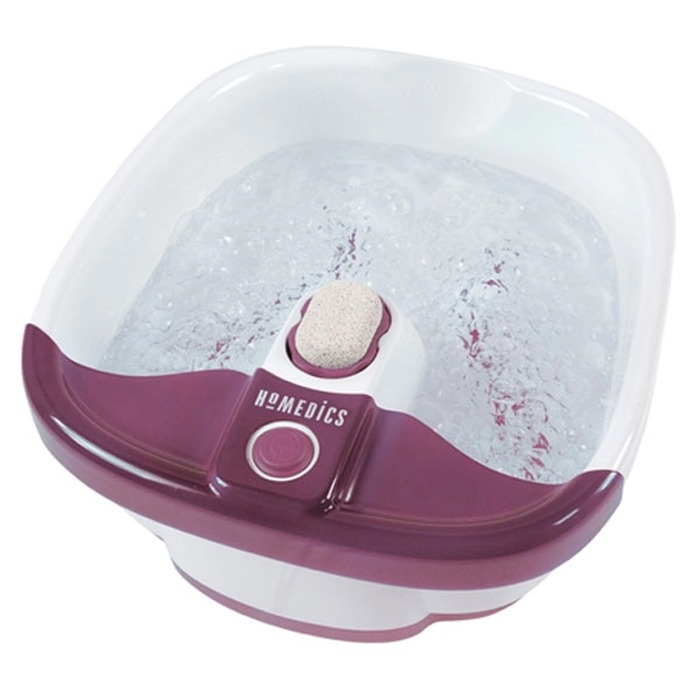 Your grandfather is unlikely to get a manicure and pedicure at a spa. Therefore, deliver the luxury to him. This at-home spa features soothing water jets, a detachable pumice stone, and no splashing. All the relaxation without any of the mess.
38. Customizable Ballpoint Pen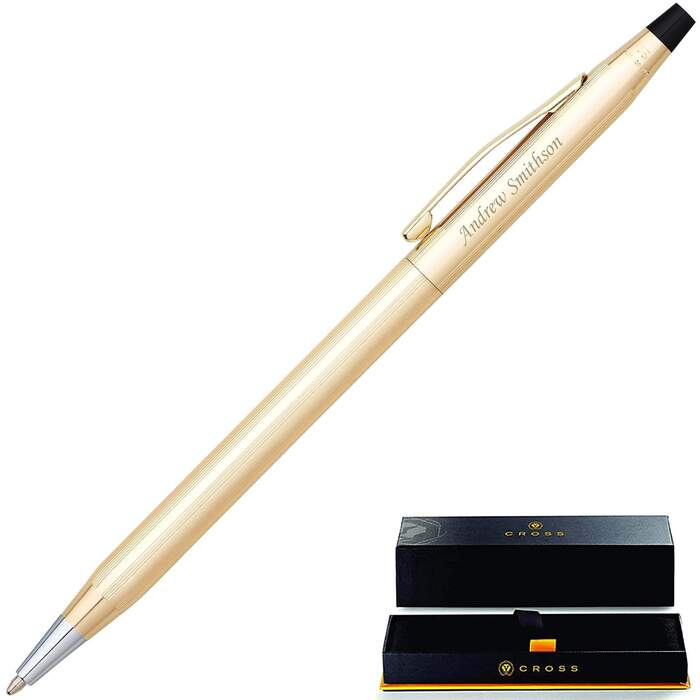 Pens are always the best gifts for grandpa who loves writing. From signing crucial documents to writing elegant letters, a personalized pen will elevate the significance of the action. Simply remind him not to lose this meaningful gift that may be personalized to your specifications.
39. Bedside Pocket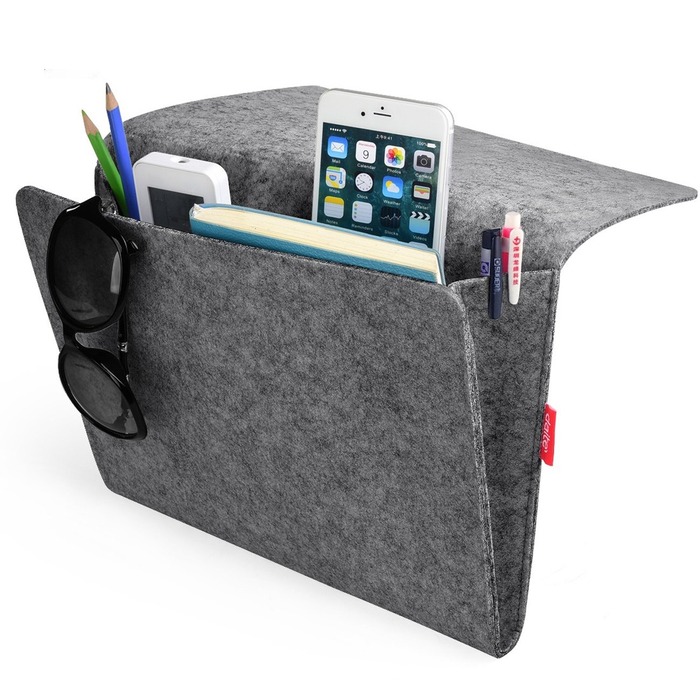 Get this pocket for him to deviate from the same old types of father's day gifts for your grandpa. This compact felt pouch will help him store his bedside or couch needs within easy reach. Simply insert the durable flap between your mattress and foundation or under your couch cushion, and the open pocket will accommodate everything from books to remote controls. The heather gray hue complements any design scheme.
40. Magnetic Equipment Wristband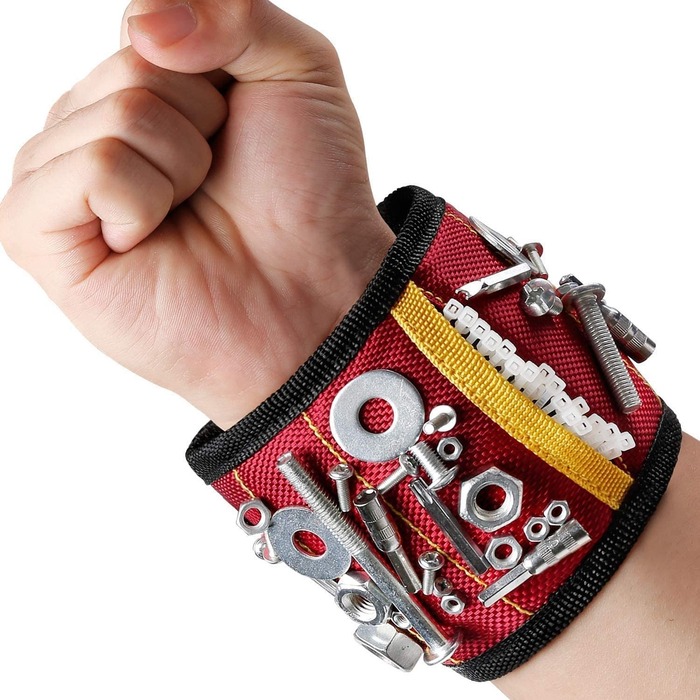 Preserve Grandpa's back and disposition while he wants to fix things in your home. This tiny bracelet has 15 super-strong magnets for keeping screws, nails, bolts, scissors, and other small metal objects that are easily misplaced. A practical gift and thoughtful gift for handy grandpa, he has no idea how much he has been missing one of these "newfangled doohickeys" in his life.
41. Activity and Fitness Tracker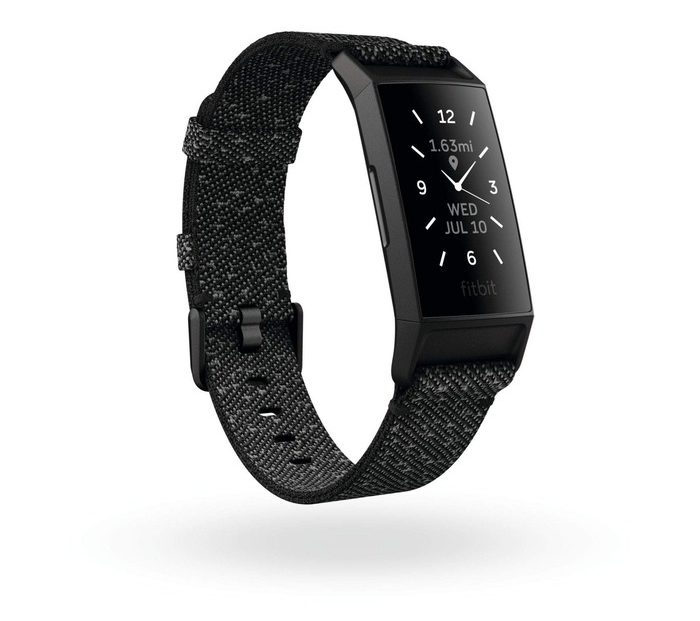 This Fitbit Charge 4 is a tried-and-true wearable that will join grandpa on walks, rides, hikes, and workouts, as seen by its more than 72,000 reviews with an average rating of 4 1/2 stars. This is the best gift for a grandpa allows your grandfather to monitor his heart rate, temperature, and calories burned, to name a few functions. He will have to pair it with his smartphone, so hopefully, he's tech-savvy enough to set it up himself (if not, you'll have to assist him). On Father's Day, you can't go wrong with the best presents for grandparents like these.
42. Personalized Golf Ball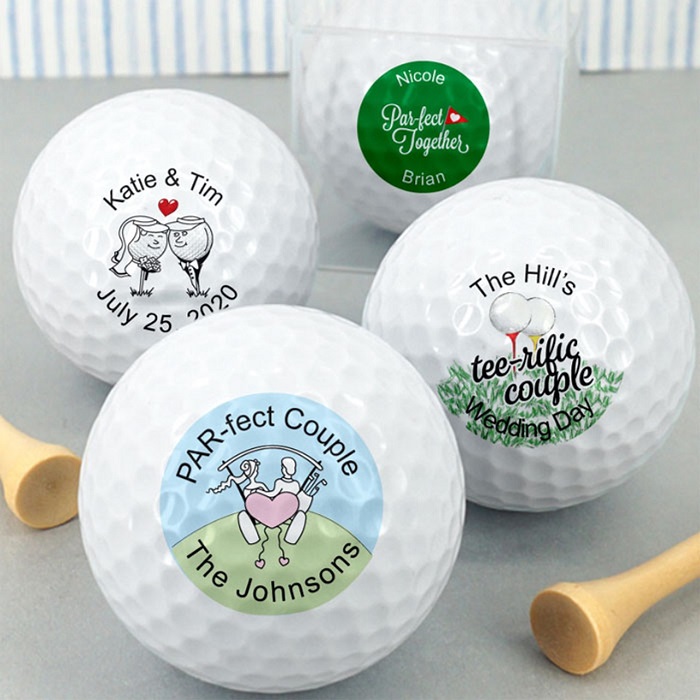 When he gets a crate of Callaways that bears his name on it, he won't ever misplace another ball again. When grandpa tees off, he'll have a grin on his face thanks to the personalized golf balls that bear his name, initials, or a unique greeting.
43. Robot Vacuum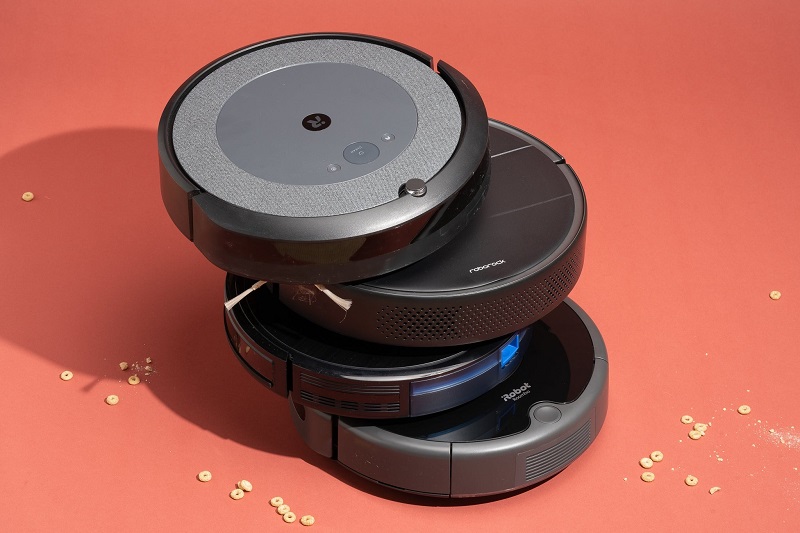 If you have not yet come up with a gift idea, allow us to explain why a robot vacuum cleaner is an ideal present for your grandparents. As things do not become more pleasant with age, elderly folks are likely tired of cleaning their homes every day. A robot vacuum cleaner can be a good use to simplify their lives.
Because they are simple to install and can perform a single task exceptionally effectively, robot vacuum makes excellent best gifts for grandpa. While some of these smart robot vacuums are just capable of mopping, others can also vacuum. And if you have the budget for it, there are even robot vacuums that can not only vacuum but also mop and empty themselves.
Read more:
To summarize, the best gifts for grandpa honor the grandpa's love for his family and create souvenirs of the wonderful memories that the grandchild shares with the sentimental grandpa. We have faith that you will be able to select a sentimental gift from the options we have suggested for you and that you will enjoy watching his face light up when he gets them.