Celebrating a couple's anniversary is a wonderful way to honor their devotion to one another throughout the years. It doesn't matter if it's their first or fiftieth wedding anniversary; receiving warm and sincere anniversary wishes for couple will brighten their day. You can count on finding a wide variety of heartfelt and original messages to send to your loved one on their anniversary with Oh Canvas. This post will give you the most romantic, thoughtful, and funny ideas on how to show affection for a special couple in your life.
Happy Anniversary Wishes For Couple
The wedding anniversary of your most beloved couple has come, and you cannot contain your excitement. We know how heartwarming it is to see a loving couple enjoying a long and happy life together. To mark the occasion, send your favorite couple your warmest, most sincere anniversary wishes for couple for a long and happy life together. If you want your well-wishes for the happy couple to stand out from the crowd, consider one of the following that was specifically written for this occasion.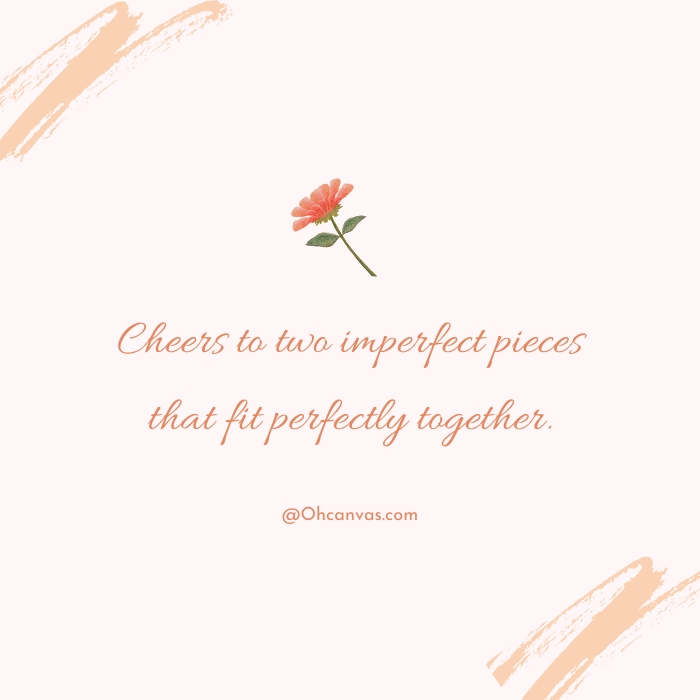 Meaningful Anniversary Wishes For Parents
Sending happy wedding anniversary wishes with a thoughtful present for parents is a wonderful opportunity to demonstrate our respect and admiration for their dedication to one another throughout the years. It's a chance to recognize the dedication and perseverance they've shown to one another over the years and to celebrate the fruition of their marriage's resilience.
1. "You have shared so much love and laughter over your years together, and I know there will be many more joyful moments in your future. I wish you all the happiness on your wedding anniversary and on every married day to come."
2. "Mom and Dad, the home you've made and your loving commitment to each other have blessed our family in more ways than we can count."
3. "It's so good to call you family, to share good times with you both, and to see how happy you make each other."
4. "You two have great chemistry and good harmony. Your marriage is like a beautiful song. Happy anniversary!"
5. "They say the moon is the reflection of the sun- but your marriage shines as bright as the sun itself. Here is a wish of love and joy for the best couple I know… Happy anniversary!"
6. "I hope every day you share together is more beautiful than the last! Happy anniversary."
7. "Falling in love is easy, but staying in love is something different. You did it. Happy anniversary!"
8. "I feel so lucky to call you both my parents. I hope you have a wonderful anniversary filled with happiness and laughter!"
9. "I hope to have a love like yours someday. Happy anniversary to Mom and Dad!"
10. "With every passing year your marriage isn't becoming old – it's becoming beautifully vintage and exquisitely priceless. Happy anniversary."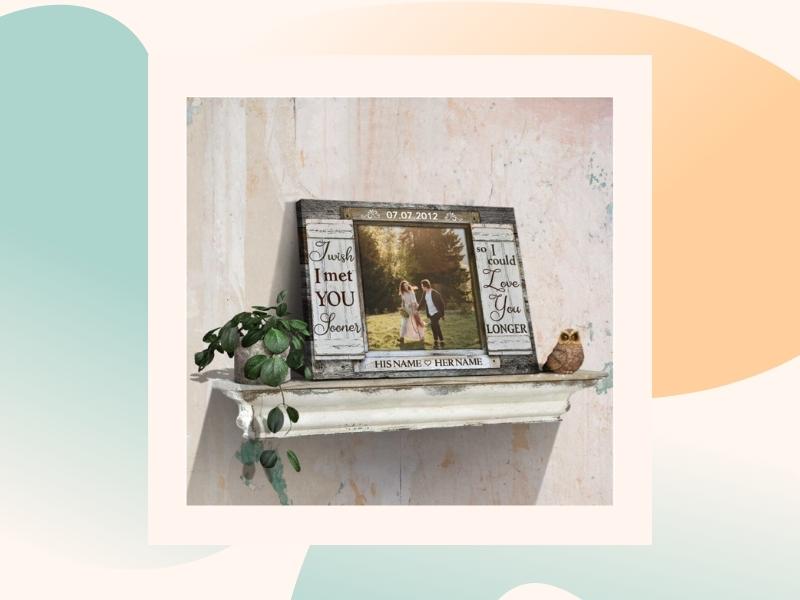 11. "You are the perfect example of true love and commitment. Best wishes for the most beautiful couple!"
12. "As the diamonds that you wear on your wedding rings, may your love for each other continue to sparkle and shine forever. Happy anniversary."
13. "A romantic anniversary is a time to celebrate today's moments of joy, yesterday's great memories, and share hopes of tomorrow. Wishing you both a happy anniversary and many more to come."
14. "30 years together as a couple is truly a remarkable achievement. I feel privileged to know a couple that has been together this long. Congratulations to the two of you as you mark this wonderful and sweet anniversary."
15. "So lucky to have parents who still love each other as much today as the day they got married. Your marriage restores my faith in love."
16. "Happy Wedding Anniversary to both of you! Your marriage is so inspiring to us! May you keep finding more reasons to be happy every day! God bless you!"
17. "Your marriage is one of the most beautiful bonds that I have ever seen. You guys deserve a big appreciation for making it such a strong one. Happy anniversary!"
18. "The number of years you have spent together tells about your marriage more than we can ever say about it. You two are just unbelievably awesome. Happy anniversary!"
Happy Anniversary Wishes to Friends
One of the best ways to demonstrate concern for friends and their happiness is to send heartfelt anniversary wishes for couple to them. Including a unique and romantic present for celebrating their remarkable milestone is a good idea if you also want to offer a wedding anniversary gift for friend as well.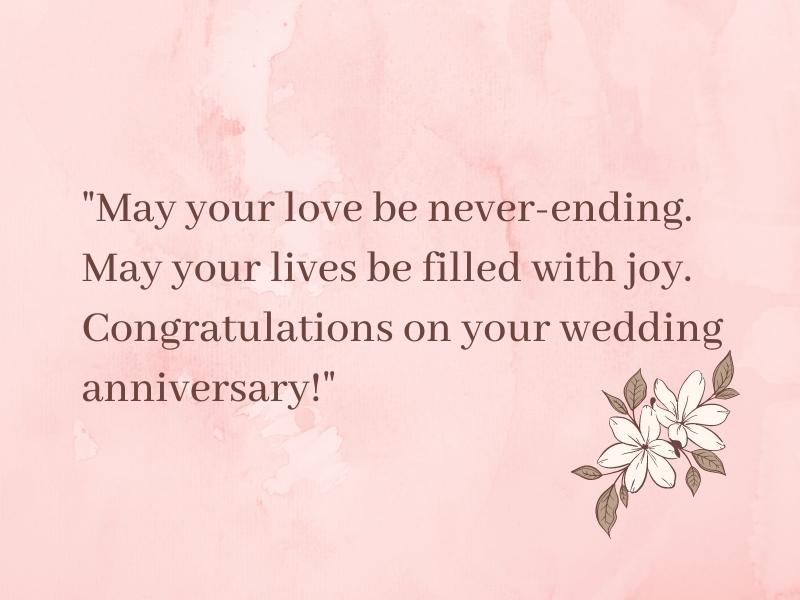 19. "God truly made you two only for each other. And he brought you together just to show the world what a happy marriage looks like. Take my heartiest good wishes for you!"
20. "Wishing a perfect pair a perfect day."
21. "I wish you all the joy, happiness, and love marriage can give. Happy wedding anniversary, my friend, you deserve it."
22. "These wishes come from a deep place in my heart. I wish you both will have an amazing anniversary together. I love you both so much."
23. "This date marks the most special day of your life. I always pray for the most successful marriage life for you my friend, and I wish you many more years of a happy life."
24. "You have shown the world that when two people love each other truly, nothing can weaken the bond they share. All my best wishes to you on this special occasion!"
25. "May the love you have shared in your first five years of marriage grow stronger as you grow old together. Happy anniversary – here's to everything you have to come!"
26. "Congratulations on another year of falling deeper in love with each other. Happy anniversary!"
27. "This is the first anniversary of hopefully many more to come in honor of your lovely union. Happy marriage anniversary friend."
28. "It's hard to believe that the little brother who followed me around for all those years has now been married for ten! I'm proud of you, little bro. Happy anniversary to the both of you!"
29. "Friends like you are phenomenal! It is extraordinary to be acquainted with a couple who show each other unconditional love and patience. On your anniversary, may you know how awe-inspiring your relationship is!"
30. "Knowing people who are friendly, humorous, and kind is a blessing! Having this day to honor a couple with such rare qualities brings me great joy! Happy Anniversary!"
31. "Many people may have forgotten what happened on this day some years ago, but I remember and want to assist you in thankfully commemorating the wedding anniversary party. Best wishes my friend."
32. "Like colors of the rainbow, you two are better when you're together. Happy wedding anniversary day."
33. "You two are an inspiration to those lucky enough to know you. Happy anniversary."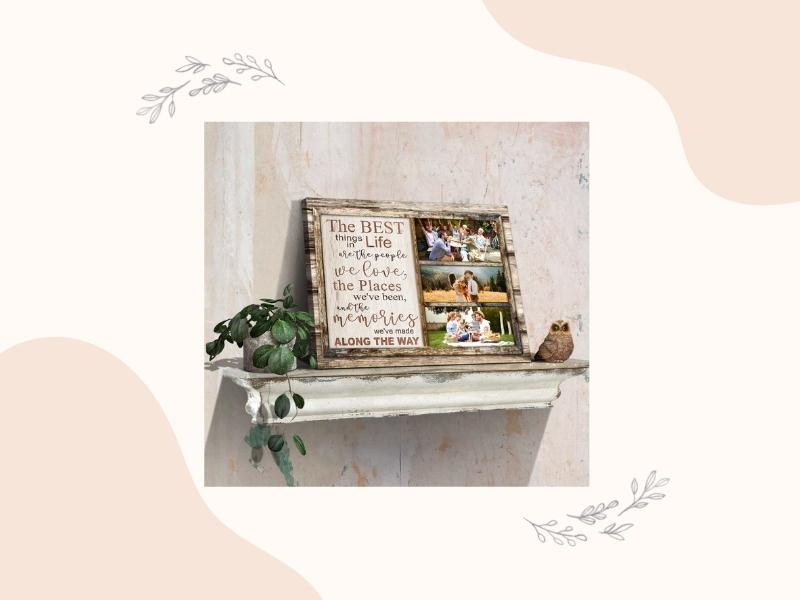 34. "Happy first anniversary to my favorite couple. Congratulations on another year spent with love and laughter!"
35. "Wishing you a lifetime of happiness. Happy Anniversary to my favorite couple."
36. "My warmest wishes to a lovely couple. Wishing you the best anniversary ever!"
37. "May your love be never-ending. May your lives be filled with joy. Congratulations on your wedding anniversary!"
38. "I'm thrilled to be able to share this day with you two. Congrats on your special day."
39. "Hoping you two have a beautiful life and an endless love story. May you celebrate your love forever and ever."
40. "Best wishes on your wedding anniversary, dear friends. Hope you are happily married till the end of the world!"
41. "Love makes the world go round, and in your case, it seems to be spinning at a good clip. Best wishes friend."
42. "You two are the best couple I know. If it snowed on your anniversary day, I'm certain your love for each other would make snowflakes fly. Congrats friend."
43. "May your lives be filled with adventure and your love be never-ending. Happy anniversary."
Enhance the couple's special day by selecting something from:
Happy Marriage Anniversary Wishes
Celebrating your wedding day through fond memories is the most romantic thing you can do. Getting in touch with your romantic side is as easy as remembering your wedding vows and the people you celebrated them with. Give your sweetheart anniversary wishes for couple from us, and personalize them with one of these heartfelt anniversary inscriptions.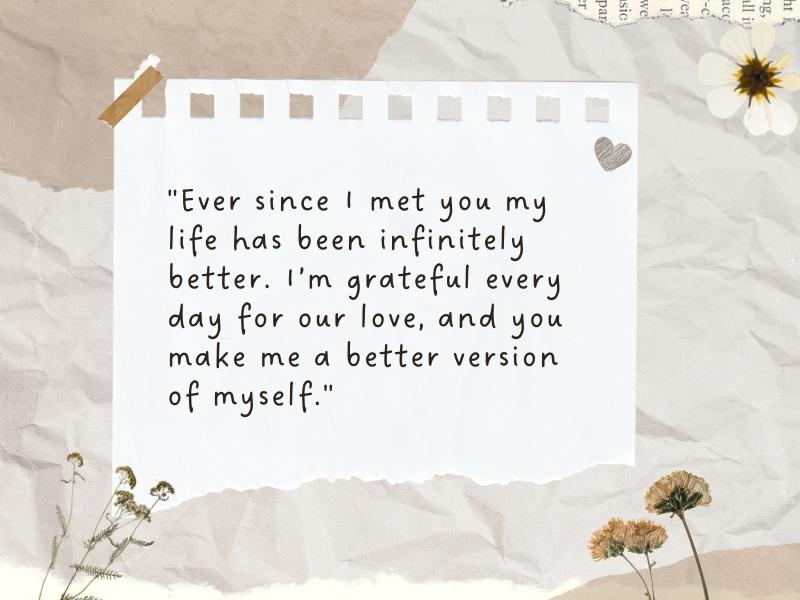 Romantic Anniversary Wishes to Wife
Are you struggling to find some sweet anniversary wishes for wife to express how much you love her? Writing a love letter to your wife with sincere admissions or penning a lovely message with an anniversary gift for her will stay long after for the years to come. Only a few well-chosen words can do wonders for her on this special day of your marriage.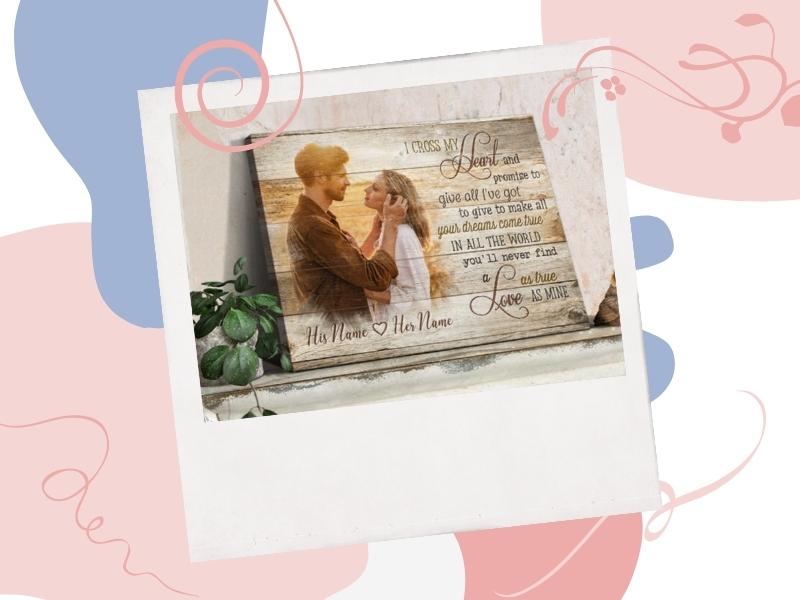 44. "You make this marriage thing look easy! Here's to another 20 years."
45. "Here's to many more years with my better-in-every-way half. Seriously, marrying you was the smartest thing I ever did."
46. "The best marriages are built on teamwork and I'm lucky to have had you on mine since day one. Here's to another year of always being on each other's side."
47. "Happy anniversary to the only person in the world that I want beside me every day and every night for the rest of my life. I love you, sweetheart. Happy anniversary!"
48. "I want to thank you for everything you do for me and the kids. You make managing our home, taking care of the kids, and having a career look so easy. How did I get so lucky? I love you, honey."
49. "Never in my wildest dreams could I imagine that I would find you and that you would make my dreams come true. Our little family is everything I could have hoped for and more. Happy anniversary!"
50. "Completing a year full of love and happiness makes me hopeful for our future together. Happy 1st Anniversary, Love."
51. "Happy Wedding Anniversary Wishes to you, dear wifey! I cannot believe it's been another perfect year with you by my side. Thank you for being my partner in crime, my confidante, and the love of my life."
52. "My friends tease me and call me 'blessed' because you fell for me. The truth is, I fell too. I fell very very hard right from the time I met you. I am proud to call you mine. Happy Wedding Anniversary."
53. "Writing a Happy anniversary wish for you should be easy. You are my world and you have changed my life but there are not enough words in the dictionary to describe my love for you. Thank you my dearest wife, for filling my life with so much love and light."
54. "I didn't think it was possible to love you any more than I did on our wedding day, but somehow my love only grows stronger every minute we spend together. Happy Anniversary."
55. "Ever since I met you my life has been infinitely better. I'm grateful every day for our love, and you make me a better version of myself."
56. "God has truly compensated your ugly face by giving you such a beautiful wife. I'm glad you have a happy marriage together. Trust me, I'm having one, too! Congratulations!"
57. "I wish I had more marriage anniversaries with you than my age. It's so sad that I wasn't married to you since my birth. But I'll be celebrating my marriage with you till my death!"
58. "I went searching for you the moment I heard my first love story, not realizing how blind I was. Lovers don't meet in the middle of anywhere. They've always been in each other."
59. "Today, we celebrate the best decision you've ever made – making me your wife and the mother of your kids. Happy anniversary, honey!"
Happy Anniversary Wishes Husband
Even if you're unsure how to approach your beloved husband, sending him a heartfelt word of praise always goes well. It's a sweet method to express feelings of affection and love together. Use these touching anniversary quotes and phrases in your anniversary gifts for him.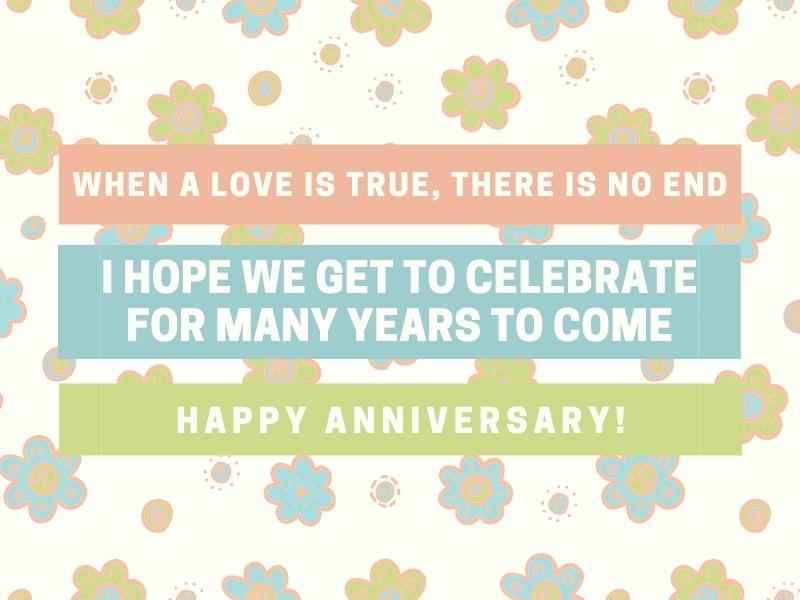 60. "One year with you was beautiful, now looking forward to spending every birth with you! Happy Anniversary to my breath and lifeline!"
61. "Happy Anniversary! May God continue to bless you and keep you happy."
62. "I wish you a happy anniversary, my love. Remember the good times and leave the bad behind; reminisce about joyful memories while ignoring the sad. Take pleasure in a love that has endured so long that even angels are singing a song of joy."
63. "How lucky am I to be married to a man like you? Happy anniversary, [name], and here's to many more years."
64. "Today, on our anniversary, I want you to know how much I've enjoyed annoying you all this time and how excited I am to keep doing it forever."
65. "Happy Anniversary! It's such a blessing to have you in my life!"
66. "May the sun always shine on the path we share, the moon always shines brightly in our hearts, and the shooting stars always keep a close watch on us everywhere we go. Happy Anniversary, love."
67. "Happy Anniversary my love. Thank you for being the kindest, funniest, most thoughtful person I know."
68. "When a love is true, there is no end. I hope we get to celebrate for many years to come. Happy anniversary!"
69. "I didn't think it was possible to love you any more than I did the day I married you, but somehow my love only grows. I love you today and always."
70. "To the man who somehow successfully plays the role of a friend, savage lover, guardian, and my kid all by himself. Happy Anniversary baby. How are you the biggest pain in my neck and the biggest piece of my heart at the same time?"
71. "Happy Wedding Anniversary love. You are so perfect at being a husband and father. It fills my heart with pride and joy to see you living life to the fullest and being there for the kids through everything."
72. "I still remember the way my heart leaped when you got down on your knee and asked me to be your wife. Of course, I said yes, and I'd say it all over again. Yes to you. Yes to this life we've made. Thousand times YES to our love!"
73. "Happy Anniversary, dear! Your love is one-of-a-kind and will last a lifetime. It's the kind that gets stronger over time and inspires others."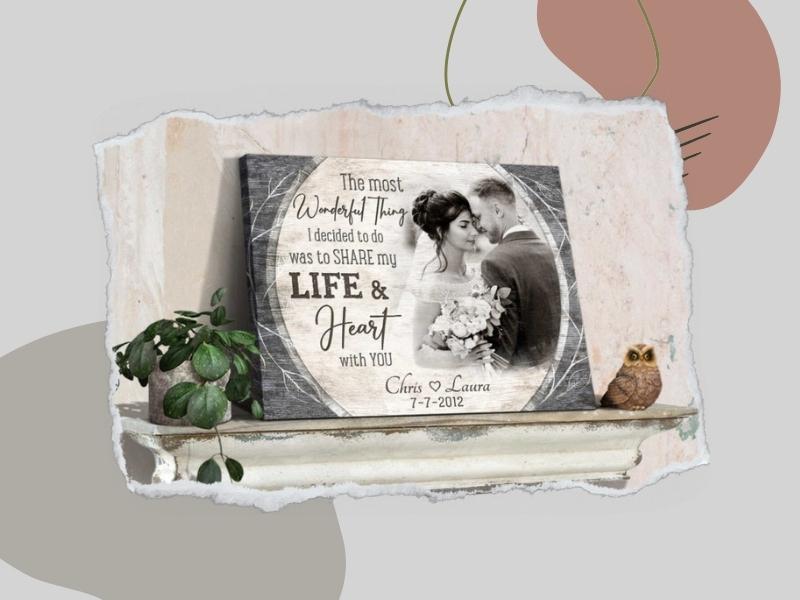 74. "You are my fairytale and my happy ever after. I love you."
75. "Thank you for making me feel loved every day for the last 50 years. It has passed by in the blink of an eye and I have enjoyed every moment. Happy golden anniversary to us!"
76. "I don't know why more people aren't jealous of you – you married the most beautiful, funny person in the world. I guess I did OK with you too…"
77. "I can't wait to see what's to come for us. Thanks for sticking with me – there's no one I'd rather experience life with!"
Read more:
To get the most out of a piece of writing or speech, you don't have to utilize your own words. If you know where to find it, you'll be able to locate a professional wordsmith who can help you articulate your feelings to the people you care about. Oh Canvas hopes this post could bring the most useful and thoughtful happy anniversary wishes for couple to make your loved ones touchy. If this blog is helpful, don't forget to hit the 5 stars button below!