Are you looking for some kind words to include in a card for heartfelt 10 year anniversary quotes? On such a memorable day, it can occasionally be challenging to express your true feelings and emotions. A lovely letter might help you express to your lover all you've been meaning to say and enhance your relationship. Check out Oh Canvas's collection of touching words for your partner to make him or her smile and feel loved.
10 Year Anniversary Quotes For Any Couple
1. "Even after enduring the ups and downs of life, our marriage is still strong. My dear, congratulations on finishing 10 years of our marriage".
2. "I appreciate you putting up with my temper tantrums, giving me breakfast in bed, and putting up with my snoring. I intend to bother you for a very long time. Congratulations on our tenth wedding anniversary!"
3. "When we initially met, I had my doubts about how things would turn out. The happiest years of my life, however, have been the past ten years. Many happy returns!"
4. "My luck must be the best there is. Even after 10 happy years of marriage, my wife still has the appearance of a college student. Love, Happy 10th wedding anniversary".
5. "I can't believe it has already been ten years. My heart was thumping against my sternum as I drove you to the airport in a taxi, and it feels like only yesterday. I was hoping you would return".
6. "Ten years of marriage are being commemorated! Enjoy some champagne to celebrate your early anniversary, a stroll through your first garden of flowers, and many other firsts that you should keep for later".
7. "Wow. Ten years ago today, God planted the seed of love in the world. I won't disappoint you, my darling. Nobody else would have given me a chance, but you did. You weren't concerned about my error".
8. "WHAT?" has been shouted from the other room for 99% of our marriage. And I treasure the remaining 1%!
9. "Love may be blind, but becoming married causes it to open your eyes".
10. "Hey, today marks ten years since the day you proposed to me. Our lives have been on an emotional roller coaster ever since, but never forget that I adore you. Happy Anniversary!!"
11. "Many congratulations! Though it's amazing to consider how far we've gone in the past ten years, what really hits me is how much further I want to go with you. Here's to the next ten years. Love".
12. "Whether it was doing the dishes, picking up our toys, or putting up with my odd jokes, I want to thank you for improving my life in all the little ways".
13. "To every plan, we're putting together. Every memory we're creating. Happy 10th anniversary, and thanks for letting us get away with everything from our happiness to yours".
14. "We succeeded, honey! Nobody expected us to, but here we are, carrying 10 years' worth of love, laughter, and craziness in our baggage. Many congratulations!"
15. "Do you recall the day of your wedding or your first kiss anniversary? You may remember these amusing new anniversary emojis from when they were available on Twitter".
16. "Oh, bless, there have been many highs and lows over the past ten years, but as I reflect on everything we've been through, it's difficult to recall a time when we didn't laugh as much as we did. I'm heartened by it".
17. "I only want to irritate you for the rest of my life. Cheers to another year!"
18. "When we initially met, I had my doubts about how things would turn out. The happiest years of my life, however, have been the past ten years. Many happy returns!"
19. "I seem to recall that everything was bad and that we did a lot of lying down. Happy 10th wedding anniversary to the most respectable, attractive woman I have ever met and the incredibly sweet partner I still get to love after 10 years".
20. "We've been married for ten years already? That's crazy! That's one of my favorite parts, and I do that!"
21. "Although 10 years ago feels like a very long time, it doesn't even come close to the remainder of our relationship. We're still excited about what is ahead!"
22. "I want to express my gratitude for your dedication to making these 10 years pleasant, enjoyable, and worthwhile. I love you more than you can imagine. I'm relieved that, ten years ago, we managed to escape our craziness".
23. "You two have made the last ten years together meaningful. Without you, I wouldn't know how to take advantage of all the beauty life has to offer".
24. "Finally, after ten years, we can look back on the previous ten years and laugh at the absurd things we've done. Although it can be hard to realize that this is our life, I can assure you that everything has been incredible".
>>> Curious about Romantic and Funny Anniversary Quotes for Couples?
10 Year Anniversary Quotes To Wife That'll Make Her Cry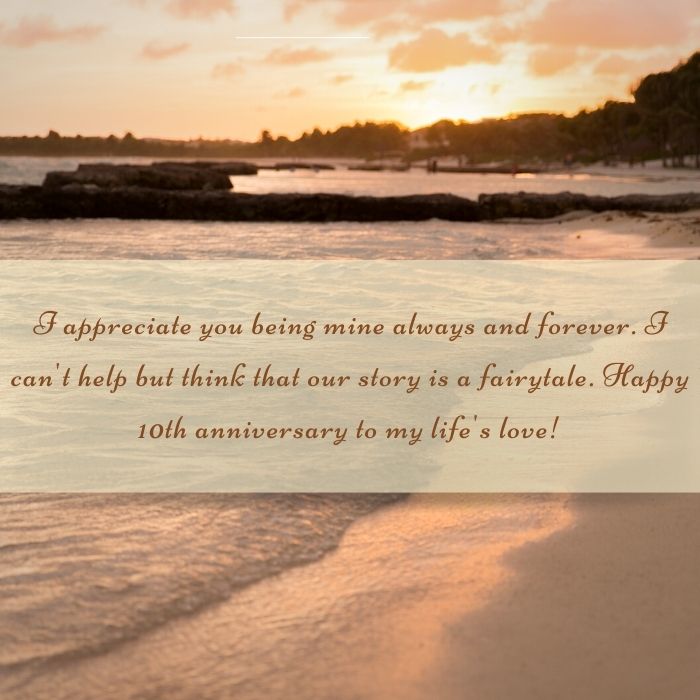 25. The next ten years of our lives together officially start today. You are the only one I would rather share them with. I've grown more in love with you as the years have gone by and as we've gained experience. So let's look forward to a happy, joyful, and loving future.
26. Even after all these years, I continue to adore you more and more. You are my heart, soul, and the realization of my desire. To have you in this life with me is such a blessing. I'm grateful for your intense love for me. I adore you a lot.
27. I sincerely thank you for being the best wife and mother I could have asked for. You have always put our family first and supported me throughout my career. I adore you a lot!
28. More than words can express, I adore you. I'm complete in every way because of you. You have my undying affection and I will always be grateful. Happy 10th wedding anniversary, my sweetheart! I'm looking forward to our upcoming ten years together.
29. I cherish our marriage more and more every day. I simply can not picture going another second without you. You really have improved my quality of life! I will continue to adore you forever because I do!
30. I'm married to you. You are my life's beacon. I can't imagine living another second without you by my side since you are all I desire in this life. Our love just deepens with time, and you never cease to astound me with your beauty and grace. I will always protect you because I love you more than anyone else.
31. I appreciate you being mine always and forever. I can't help but think that our story is a fairytale. Happy 10th anniversary to my life's love!
32. Ten years have gone by so swiftly. Being with you every day is a treat. I adore you, and I can't wait to see what the future holds for us.
33. As new people enter our lives, they improve them. You, my sweetheart, are the one who has improved my life the most.
Love is beautiful, but it is not always simple. I am glad that, despite everyone's predictions that we would fail, we persevered.
34. Because of you, we have been in love and a relationship for ten years. You are my pillar of support, my source of motivation, and my strength. Cheers to another year!
35. It seems to get better every year that goes by. That's why I adore you. Since the day we first met all those years ago on that chilly January morning, you have been both my life partner and my dearest friend. When you have a companion in crime like you by your side, life is a lot of fun.
36. Every day I feel like celebrating because I'm with you. I count it a blessing to have you by my side, and I love you. I adore you. Cheers to ten years!
37. May the moon always shine brightly in our hearts, the sun always shines on the route we travel together, and the shooting stars always keep a watchful eye on us everywhere we go. Love, Happy 10th Anniversary.
38. The majority of successful couples devote their entire attention to their jobs. But we manage to establish the ideal balance, chasing success through business, love, and pleasure. Happy anniversary to you, my wife.
39. Happy anniversary to you, my love. Reminisce about happy memories while avoiding unhappy ones; remember the good times while leaving the bad behind. Enjoy a love that has endured for so long that even angels are praising God.
40. True love that endures and develops through time hasn't been possible for everyone to find. My wife, it has been a tremendous blessing to have found you. May we enjoy many more years of growth and benefits in our relationship.
41. Remember that we are also a source of light and hope for others as we celebrate another year of love and joy. I sincerely hope you'll hold onto the lovely love that unites us inside of one another forever. Cheers to ten years!
42.  "Ten years of development, hardships, and happiness. I don't think there is anything in the world I would ever trade these memories for".
43. "The years have passed by so quickly! We recently got married, but it feels like yesterday. Years later, I still feel the same way about you that I did on the day of our wedding: I love you more and more every day".
44. You are undoubtedly the ideal wife a man could ask for. I am extremely fortunate to have you because you encourage me when I'm down and drive my demons away.
45. "Even after ten years, I still find it hard to comprehend that we ended up together. I adore you more than I can ever express since you are my soul mate. You complete me in every aspect, and I am so grateful to have you in my life".
46. "We're marking the first decade of our marriage today, my love. We both want to thank you! I am so ecstatic that words fail me. I hope we will continue to celebrate our love for many years to come".
47. "Cheers to ten years, sweetheart! Being by your side feels better than anything. Love is the cornerstone of these successful ten years. Because you're here with me, my daily activities make sense. May our love always be the same".
48. "The choice to marry you has been the best of my life. You have increased my joy through your love. God created us to be with one another. I hope we will continue to be friends forever. Greetings on the occasion of our tenth anniversary!"
>>> Don't miss out on this post about tips for the best anniversary gifts by year!
10th Wedding Anniversary Quotes For Husband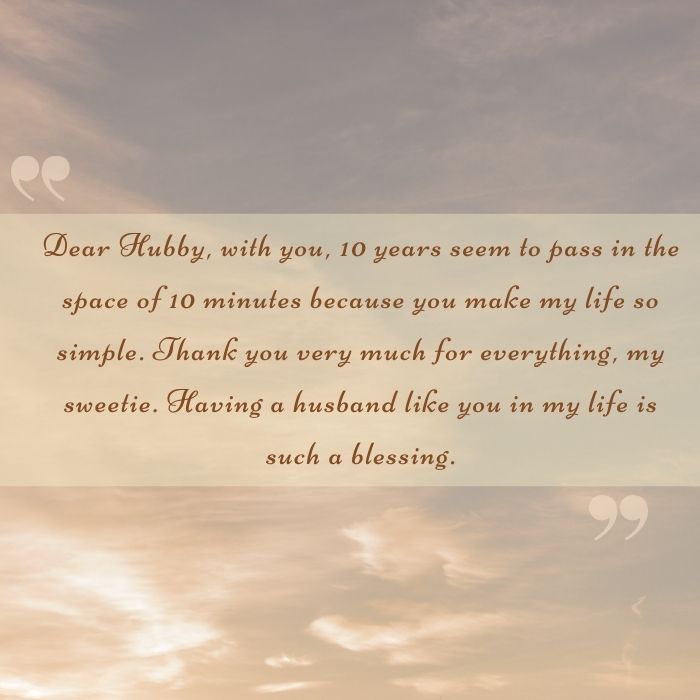 48. "I've been deeply in love with you ever since the day we first met. That affection has not faltered even after ten years. Cheers to another year, my wonderful spouse".
50. "Life is simple when your best friend is also your life mate. Happy 10th Anniversary to the person who means the most to me.
Cheers to reaching this significant turning point in our lifelong path. I hope we do even more. Happy Anniversary!"
51. "Happy 10th wedding anniversary to my soul mate. Our love is becoming stronger with each year that goes by, and I hope it will blossom forever".
52. "On this, our tenth wedding anniversary, I can't help but go back to the day I went down the aisle to marry you. Since then, my affection for you has only increased".
53. "Everything that occurs in life does so for a reason. I firmly believe this because it helped me find my true love. Cheers to ten years!"
54. "I'm thrilled to be celebrating ten years of our relationship with you. wishing for a bright future".
55. "Finally, ten years have passed since we first met. I look forward to many more decades! Cheers to ten years!"
56. "Ten years ago, there were still many beautiful years ahead of us! Dearest, best wishes to you on our anniversary!"
57. "Life and relationships are not without challenges, but the most crucial thing is to persevere through them and be committed to one another".
58. "You are, and always will be, mine. I appreciate you sticking by my side. Dearest, happy tenth wedding anniversary.
Although it has had its ups and downs, we should be proud of ourselves for having made our marriage work. Here's to many more years of being together!"
59. "Happy tenth anniversary handsome, I still get butterflies in my tummy whenever I look at you!"
60. "After ten years of putting up with one another, but still developing a deeper affection for one another every day, I appreciate everything".
61. "Love, Happy 10th wedding anniversary. I'll never forget how you kept me by your side the entire way".
62. "We have experienced both highs and lows, good times and bad, and yet we are still here and stronger than ever. I'm grateful that you have been my support throughout the years. Happy 10th wedding anniversary to my soul mate".
63. "I decided to become your wife on this day ten years ago, and it was the wisest decision I've ever made. Happy 10th wedding anniversary, husband!"
64. "Ten years into our marriage, I still find it hard to realize how much our family and I have enjoyed the journey together. There is love in the air, and love always wins. Happy tenth wedding anniversary, my love".
65. "I could never have asked for a better husband than you. And without your love and devotion, today would not have been possible. Happy 10th anniversary, my love!"
66. "Dear Hubby, with you, 10 years seem to pass in the space of 10 minutes because you make my life so simple. Thank you very much for everything, my sweetie. Having a husband like you in my life is such a blessing".
67. "Every event in life has a purpose. I think this because it helped me find my true love. Happy 10th anniversary, my dear.
We have two wonderful children, a wonderful home, and have been married for ten years. These numbers have led to a lovely life for us together. Cheers to ten years!"
68. "After ten years of marriage, your love for me is still quite strong. I'm delighted you continue to be the same. I hope to see you this way forever. Happy 10th wedding anniversary to you both!"
69. "Today is the tenth anniversary of our union, and I can't help but remember the day I walked down the aisle to propose to you. My affection for you has only increased since then".
70. "Cheers to ten years, husband! No matter what, you are always ready to put up your best effort at any time or location. You are my only child, and I am very proud of everything you have accomplished and what you have given to our family".
>>> Recommend Reading:
We sincerely hope that you will enjoy reading all of these happy 10 year anniversary quotes. Ten years of marriage is an accomplishment in and of itself. Make them understand that what they have accomplished merits celebration. On their anniversary, send your friends and family members these lovely verses.