Wedding anniversaries remind couples of all the fantastic times they've had.  When a couple celebrates their anniversary, it doesn't matter whether it's their first or their 50th. So if someone's wedding anniversary is coming up and you want to make it special, you're at the correct place.
The following are some of the greatest 50th anniversary quotes that you can use to send to your spouse, family members, friends, and coworkers. Now is the perfect time to share these kind words with the people you care about. Scroll down to read Oh Canvas's post.
50th Anniversary Quotes for Parents
1. "Being deeply loved by someone gives you strength while loving someone deeply gives you courage." – Lao-Tzu
2. Fifty golden years together filled with sharing, love, and trust. Congratulations!
3. "Love has no age as it is always renewing itself." – Blaise Pascal
4. "An anniversary is a celebration of time passed together, but in truth, your love transcends time. You can touch on both with this quote. – Franz Schubert
5. "Love is something eternal—the aspect may change, but not the essence." – Vincent van Gogh
6. Congratulations to my wonderful parents. May your love always be golden. The strength of your love is beautiful.
7. Blessings on 50 years of marriage, dear parents. Beloved parents, my sincerest wishes for a beautiful day of celebrating 50 wonderful years.
8. "The heart that loves is always young." – Greek Proverb
9. "You are the parents that all kids hope to have; you are the couple that all lovers hope to be, and you both are the pillars of support that every family wishes it had." – Anonymous
10. "True love doesn't come to you, it has to be inside you." – Julia Roberts
11. It takes 50 years to turn marriage into gold! Happy wedding anniversary!
12. May every moment spent together to bring a smile to your faces and strength for more than 50 years together. Happy Golden Anniversary!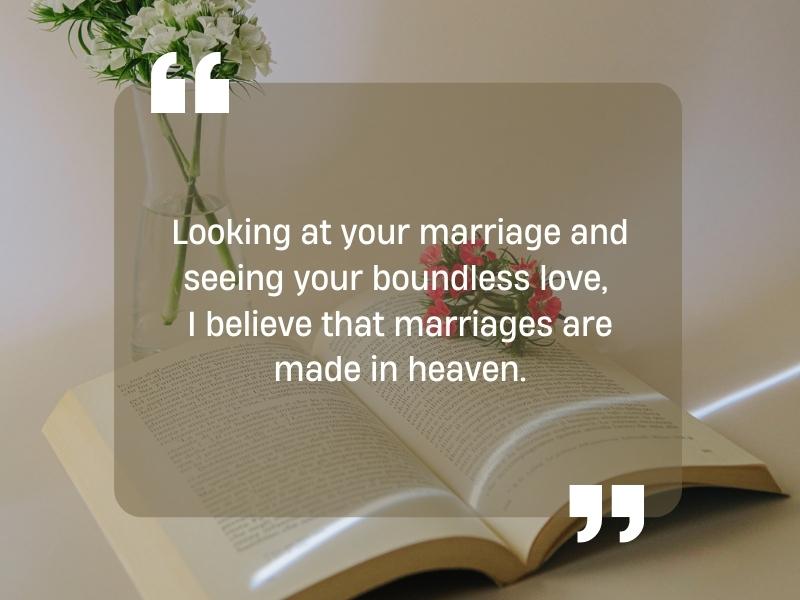 13. They call 50 years the Golden Anniversary; the two of you shine and are great examples of what a marriage should be.
14. Parents, you are the perfect pair. Congratulations on achieving 50 wonderful years of wedded bliss.
15. Over the past 50 years, your hearts have sweetly bonded into one. Thank you for teaching me about love, Mom and Dad.
16. To my loving parents, you have shown the world what it means to love. Best wishes as you celebrate your first 50 years.
17. "An anniversary is not divided into mere hours of a day but measured in each moment when two never stop being one." – Byron Pulsifer
18. "Living together for fifty years often comes with rough patches, but also lots of beautiful memories. May this special day and the years to come be filled with love, joy, and happiness! Happy golden anniversary!" – Unknown
19. "An anniversary happens to be a celebration of the partnership, trust, love, and tolerance." – Angela Hopkins
20. "Chains do not hold a marriage together. It is threaded, hundreds of tiny threads, which sew people together through the years." – Simone Signoret
21. The beat of love, The heat of love, And the feat of love Have been mastered completely by you, my beautiful parents. Happy 50th wedding anniversary mum and dad!!
22. Blessings on celebrating 50 years. A lovely pair, An answer to prayer. Fifty years of marriage you've shared.
23. Mom and Dad, you both are an inspiration to us all. You have taught us that love must be taken care of with respect, care, and forgiveness. This is to we love you. Happy 50th Anniversary!
24. "Looking at your marriage and seeing your boundless love, I believe that marriages are made in heaven." – Tom Mark
25. "True love doesn't happen right away; it's an ever-growing process. It develops after you've gone through many ups and downs, when you've suffered together, cried together, laughed together." – Ricardo Montalban
>>> Don't miss out on this post about tips for anniversary gifts by year!
50th Anniversary Quotes for Wife
26. Wishing you a happy 50th wedding anniversary. Thank you for making me smile and feel loved always.
27. I hope the upcoming years are happier and merrier than the last 50 years. Happy 50th Anniversary.
28. "That we arrived at fifty years together is due as much to luck as to love, and a talent for knowing, when we stumble, where to fall, and how to get up again."
29. "I loved you since I found that you are absolutely perfect. When I found that you are not perfect, my love for you was even more." – Angelita Lim
30. "We took our marriage vows 50 years ago. Darling, please let the love in our marriage continue 'til death does us part. Happy anniversary!"
31. "On our anniversary, I'm reminded that I love you more with every year passes. I'm your lady and you're my man – nothing can come between us."
32. "I saw that you were perfect, and so I loved you. Then I saw that you were not perfect and I loved you even more." – Angelita Lim
33. "I'm in love with you, and I'm not in the business of denying myself the simple pleasure of saying true things." – John Green
34. "I love being married. It's so great to find that one special person you want to annoy for the rest of your life." – Rita Rudner
35. "It takes 50 years to turn marriage into gold. Wish you maintain this flame and never turn cold! Happy wedding anniversary!" – Unknown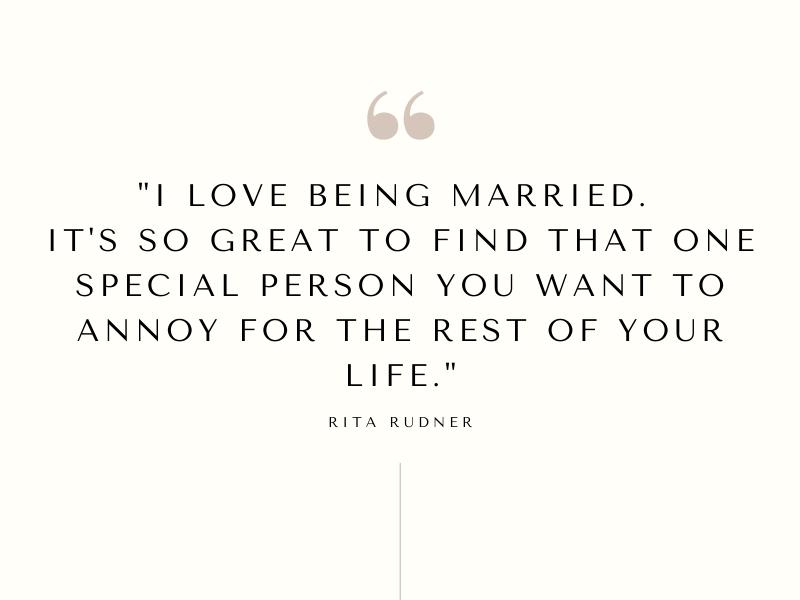 36. "By all means marry; if you get a good wife, you'll be happy. If you get a bad one, you'll become a philosopher." – Socrates
37. "You are my best friend as well as my lover, and I do not know which side of you I enjoy the most. I treasure each side, just as I have treasured our life together." – Nicholas Sparks
38. "I loved you then, I love you still, I always have, I always will"
39. Wishing you a prosperous 50th wedding anniversary. Thanks a ton for making me smile and feel loved always.
40. Happy golden jubilee, my loving hubby! You and I are destined to be each other's forever, so may we get to spend another 50 years together!
41. Happy anniversary, dear. Sending you love and hugs on your anniversary. May the love keep growing the essence of our relationship!
42. Happy 50th anniversary to you, my darling! It was a great pleasure to spend 50 years of my life with a kind, humble and loving woman like you!
43. Happy anniversary to you! Love, we have reached the golden number of fifty hands in hand, just like we had promised each other on our wedding day.
44. Happy 50th wedding anniversary! Wishing you great health, joy, prosperity, success, and the best of luck on our golden anniversary. You're my darling.
45. Congratulations to my sugar wife! I wish you lots and lots of love and happiness today. Darling, I love you for many years to come. May our marriage remain perfect, fingers crossed!
>>> Curious about happy anniversary wishes?
50th Anniversary Quotes for Husband
46. We have changed over the years, but the sparkle in your eyes is as bright as ever, and my love for you is even stronger.
47. "I love you very much, and it is something that I am speaking from the bottom of my heart." – John Green
48. "Coming across the proper person happens to be the secret of a successful marriage. You know that it is everything right in case you like to spend all the time with your partner." – Julia Child
49. "Love is an open secret, the most obvious thing in the world and the most hidden, with no way to how it keeps its mystery." – Rumi
50. "50 years ago two people got hooked, and today a golden recipe they have cooked! Happy wedding anniversary!" – Unknown
51. "Our wedding was many years ago. The celebration continues to this day." – Gene Perret
52. Our anniversary is a time to look back at the good times and a time to look ahead to live our dreams together. Our anniversary is a time to look back at the good times and a time to look ahead to live our dreams together.
53. You're the only team I ever want to play on.
54. Thanks for being my handyman even when nothing between us ever feels broken.
55. Happy anniversary to the love of my life and here's to many more years of happiness to come.
56. Thanks for never streaming a Game of Thrones episode without me by your side.
57. Another year together and I'd still choose you over a room full of puppies.
58. "In life, it's not where you go, it's who you travel with." – Charles Schulz
59. Congratulations on a love story that has stood the test of time—50 years and counting!
60. "Today, on our anniversary, I want you to know how much I've enjoyed annoying you all this time and how excited I am to keep doing it forever."
61. "I didn't think it was possible to love you any more than I did the day I married you, yet every day I do. Here's to our love."
62. "I love you so much I might even let you pick what takeaway we order tonight (I get to choose the boxset though). There's no one else I'd rather snuggle on the couch and be in bed by 10 pm with."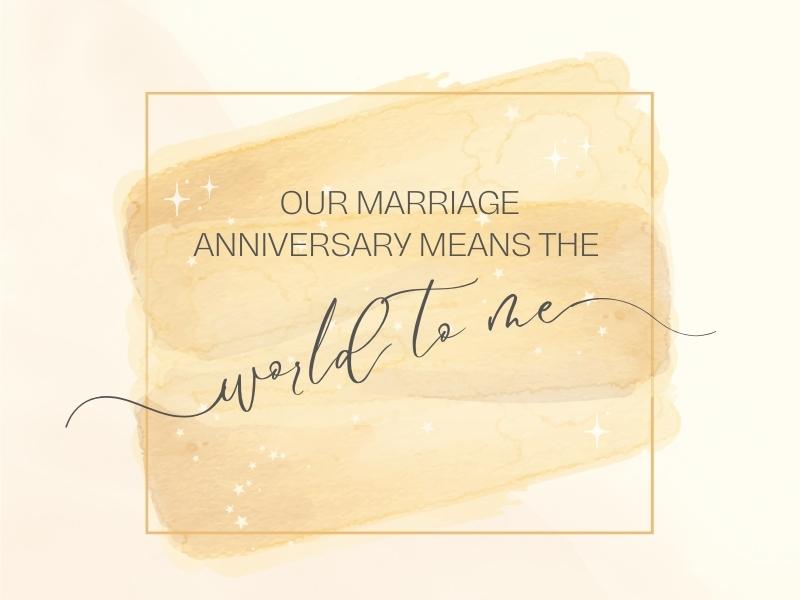 63. "Sometimes I wonder how I put up with you, but then I guess you put up with me too. Call it even? I love you."
64. "There are lots of reasons why I've stayed married to you for so many years. You make a nice tea, you pay for Netflix, you buy me pizza and you laugh at my jokes. Here's hoping it continues… Happy anniversary!"
65. "Husband, I love you more and more each and every day. Except for last Tuesday. You were pretty annoying then. Happy anniversary!"
66. "I don't know why more people aren't jealous of you – you married the most beautiful, funny person in the world. I guess I did OK with you too…"
67. I must be lucky because I found the kind of love they write novels about. Thank you for being the best husband one can ask for!
68. I didn't know you would become my life when I met you for the first time. But you did and your faith and tenacity made me believe in love. I love you so much more than you know (name). Happy Wedding Anniversary.
69. There are times when I wish I would have found you sooner. We could have been a part of each other's milestones from the start. What we have now is so precious, and I am so glad I share this journey with you. Happy Wedding Anniversary love.
70. With you, every day is a huge gift. And the best thing about our relationship? We never enjoy this gift or carry its weight alone. Happy Wedding Anniversary love.
>>> Get more fun with funny anniversary captions!
71. True love conquers all, if it wasn't for the love we have for each other we would not be celebrating this anniversary. Happy 50th anniversary to the most romantic man.
72. They say true love is blue, but I say it is blue. Blue because that is the color of peace and tranquility, you loved me and I found peace. No words can describe our journey together. Wish you a happy golden wedding anniversary
73. When I look back all I can see is pure happiness. Life with you has been beautiful. Happy 50th anniversary husband!
74. You are such a wonderful person. I will never forget the moments we have shared for the past 50 years. Happy 50th wedding anniversary!
75. Our marriage anniversary means the world to me.
76. "You know how much I love you? Count all the leaves of a tree sprouting in spring. Do you know how many days I want to be with you? Count all the stars you can see at night." – Unknown
77. "Marriage has no guarantees. If that's what you're looking for, go live with a car battery." – Erma Bombeck
78. "I couldn't imagine where I'd be without you two, literally! Happy anniversary!" – Anonymous
>>> Further reading:
A Golden Wedding Anniversary may be celebrated in a meaningful and loving manner by using one of these 50th anniversary quotes.
To commemorate the Golden Jubilee, you may include these sentiments in a card or speech. Keep in mind that this is an important milestone in a marriage, so be sure you mark it. Make your loved ones know how much you care about them with these guides from Oh Canvas.