16 years of marriage is a significant achievement. There's no doubt that now the occasion calls for a party to mark a memorable time in your life. These fabulous 16th anniversary gift suggestions from Oh Canvas can help you discover the perfect treat for your spouse, who deserves nothing but the sweetest.
What is the 16th Anniversary Gift?
If you want to celebrate momentous occasions of your life, you can't miss yearly anniversary present choices that are both contemporary and classic. Wax is a traditional gift for the 16th anniversary and candles are the perfect combination for this occasion. It's like a beautiful metaphor that represents the love, passion, and light that a married couple shares. The modern gift for a 16th wedding anniversary is silver hollowware like serving trays, bowls, and even silver-themed home décor are all possibilities.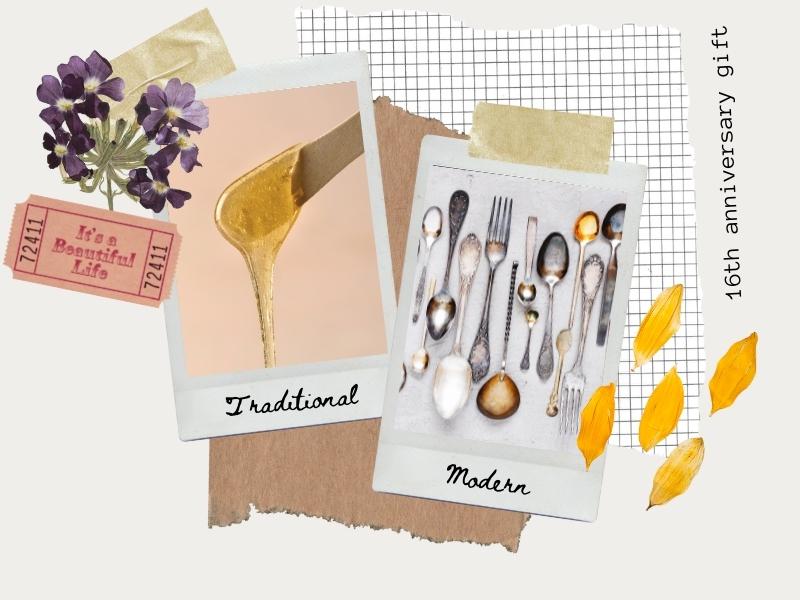 Every special chapter in the married life has its own gemstone. Besides wax and silver, the Peridot known as the stone for for the 16th wedding anniversary gemstone might be chosen for the traditional and modern gifts. This stunning green gemstone is renowned for its association with love, prosperity, and protection.
Finally, the official flower chosen to represent the milestone is the statice. Sea lavender also referred to as the enchanting blooms of the ocean, showcases a plethora of vivid hues that captivate the senses. These delicate flowers hold a profound symbolism, embodying the essence of remembrance and serving as a gentle reminder for couples to embark on a nostalgic journey, reliving the cherished moments they have shared together.
16th Wedding Anniversary Traditional Gifts
A sweet 16 wedding anniversary is a beautiful occasion. You and your mate have been married for a long time now, and you're about to celebrate two decades of dreamy partnership. Your relationship has come a long way over the years and this milestone is a terrific time to express to your sweetheart how much you appreciate them.
You've gotten to know your partner quite well after 16 years of marriage. Even before he says something, you may have his favorite dish delivered to his door from one of the many nearby eateries.
1. Personalized Candle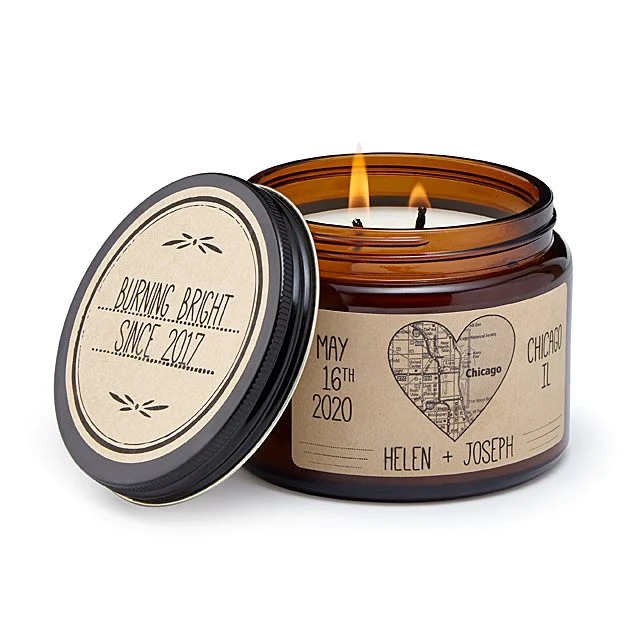 This lovely candle, which has the names of the special couple in script type, would make a great gift for anybody celebrating their 16 year anniversary. Custom labeling including a place, anniversary date, and your name, with the words "Burning bright since [wedding year]," appears on the lid.
2. Splatter Dots Candle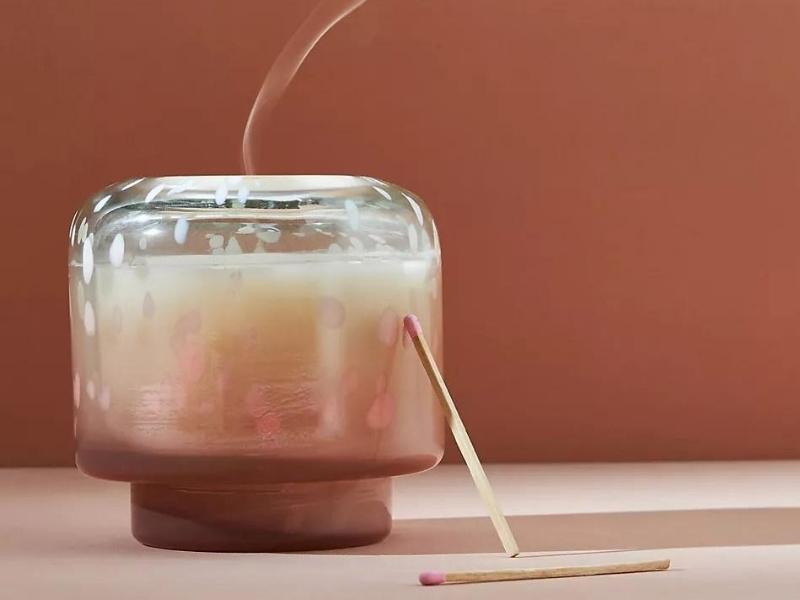 Just look at the beauty of the hand-poured wax theme and premium aroma oil in this gorgeous candle. We recommend that you get this perfect anniversary gift for him as soon as possible.
3. Sentimental Wax Seals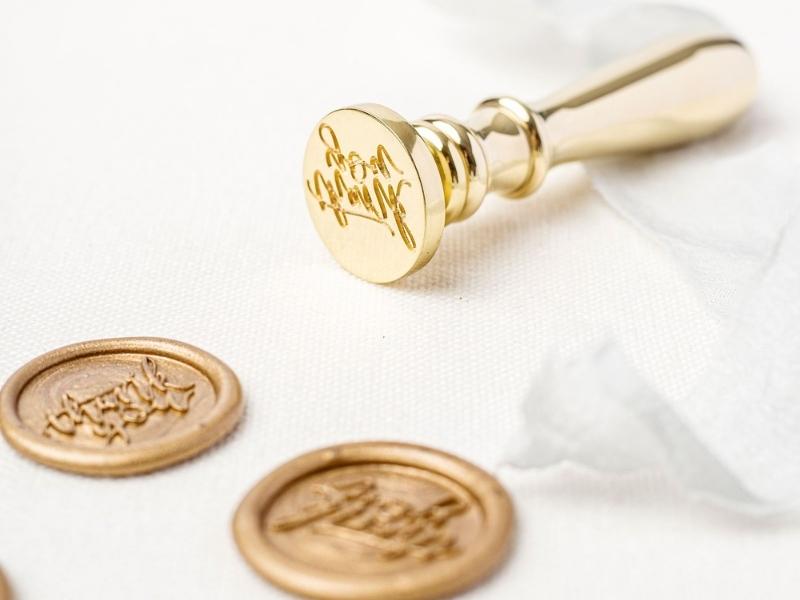 These exquisite, self-adhesive wax seals will elevate your personal communication. In addition to being available in a wide range of font styles and colors, those 16th anniversary gifts may be customized for the happy couple's own style and taste.
4. Fragrance Wax Warmer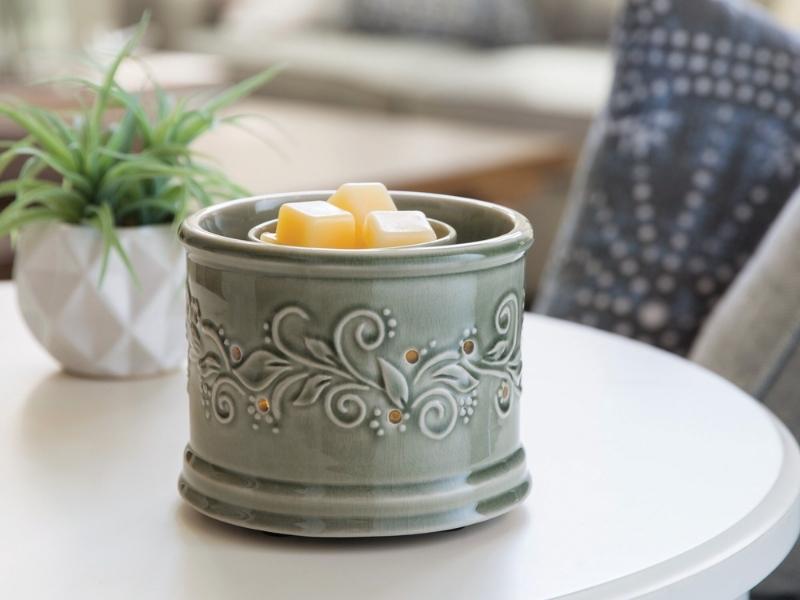 A beautiful wax warmer is a wonderful way to enhance the ambiance of any area. The warming plate on this 2-in-1 fragrance warmer may be used to melt both waxes and candles. After a few minutes, you'll be able to detect the scent that you've selected.
5. Beeswax Soap for Men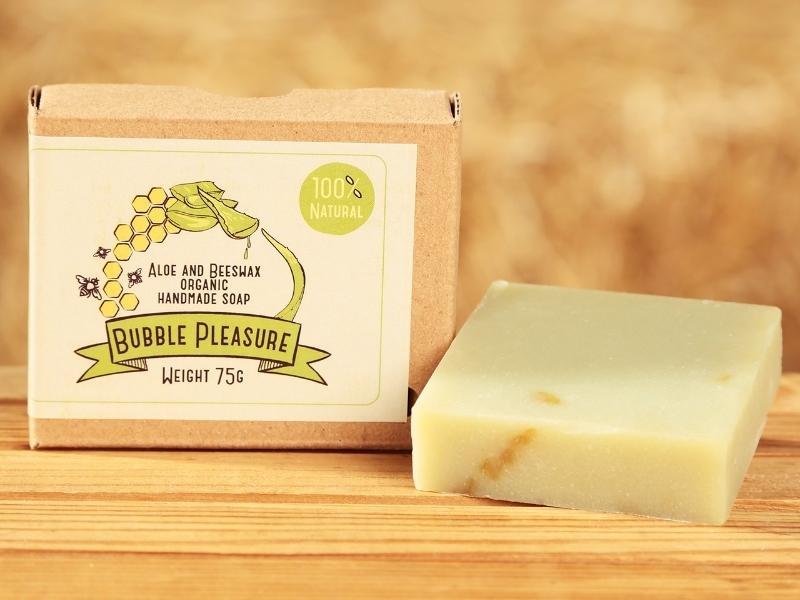 For the man in your life, nothing says "I love you" like a luxurious handcrafted bar of soap. Beekeeper soap is a terrific 16th wedding anniversary gift for him since it is produced with just natural components. This highly sought-after soap's core component is ground bee pollen. In addition to gently exfoliating your skin, it also fills your skin with all the benefits that bee pollen has to offer.
6. A Spicy Candle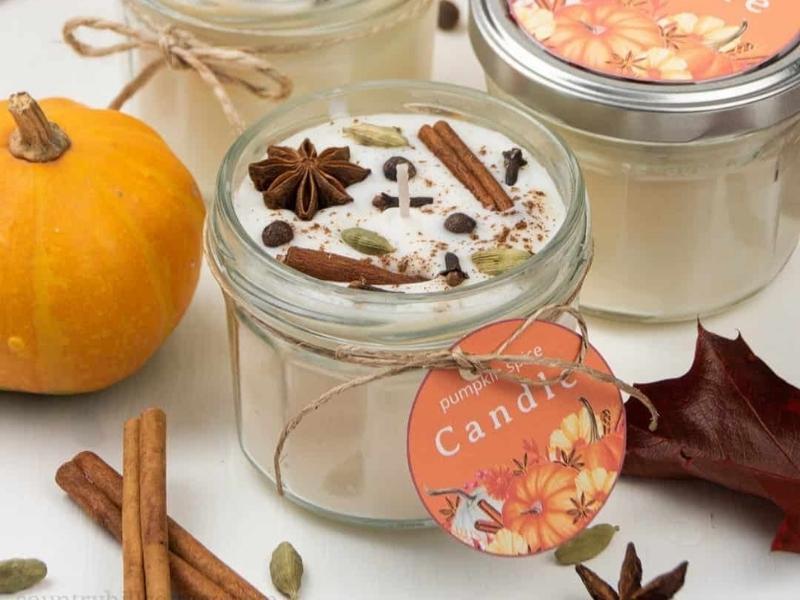 You can't go wrong with a Capri Blue candle for a 16th anniversary traditional gift like this one. You'll find the perfect gift tones of sugared oranges and mountain greens, as well as tropical fruits like pineapple and apricot, in the smell.
7. Silver Plated Sugar & Creamer Set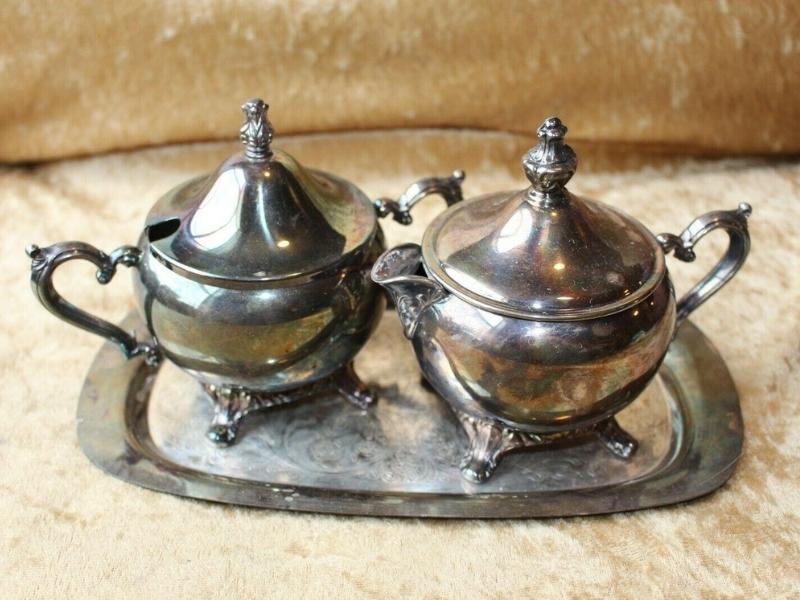 The sugar and creamer set is designed with a focus on simplicity, making it a versatile addition to any cutlery collection. With a truly thoughtful gift for a 16th wedding anniversary, you can take the atmosphere of your afternoon tea experience to the next level.
8. Sterling Silver Plated Rectangular Butter Dish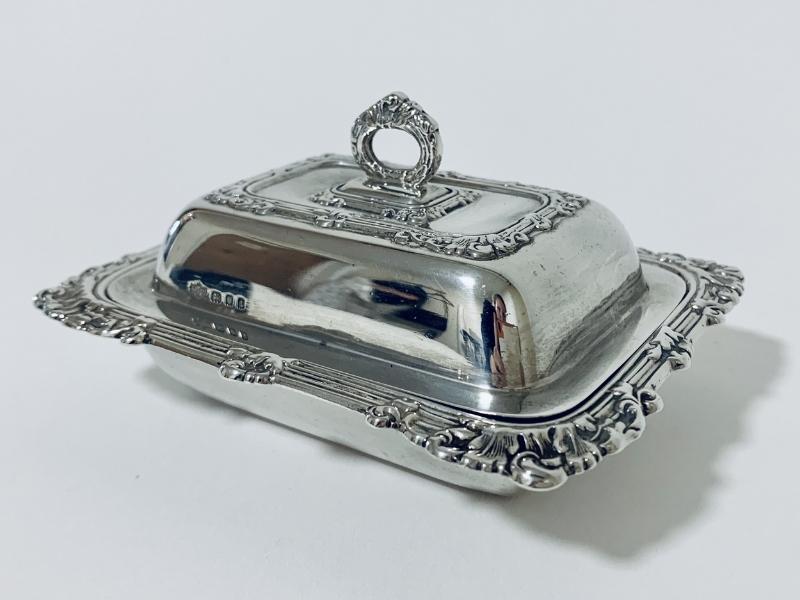 This butter dish is both modern and classic, making it an ideal 16 year anniversary gift for him for both home décor and antique enthusiasts. Every day of the year, its clean lines will look great on your dining room table.
9. Masculine Luxury Scented Candle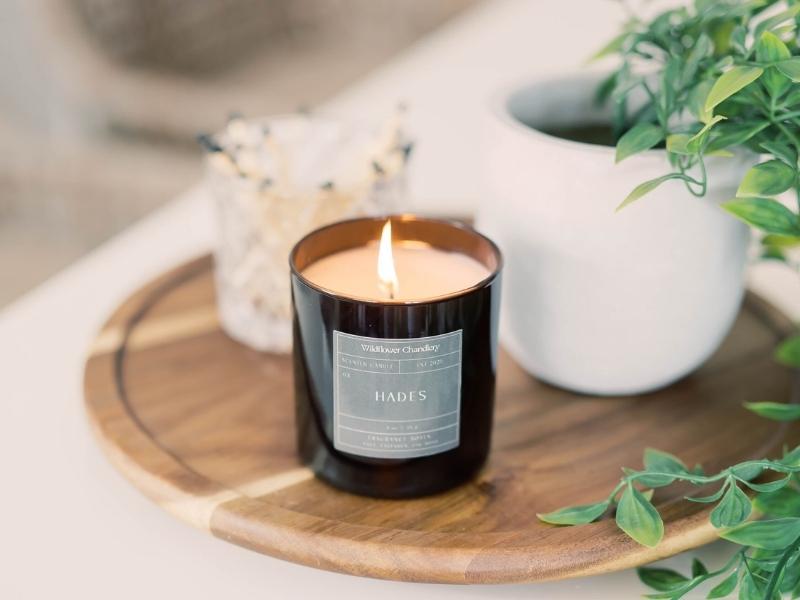 Candles are an excellent method to include wax in a 16 year anniversary gift wax for him. Those with the most sumptuous look, neutral or subdued hues, and wonderful smell are the most sought-after. It's time to get your hands on House of Hackney's Serpentis (pomegranate, pepper, spicy wood) candle, Penhaligon's Blenheim Bouquet (citrus and spice), or Tom Daxon's Under Milk Wood (amber and sandalwood).
>>> Read more: Top 34+ Useful 17th Anniversary Gift for Wife, Husband & Couple
10. Custom Song Lyrics Canvas Print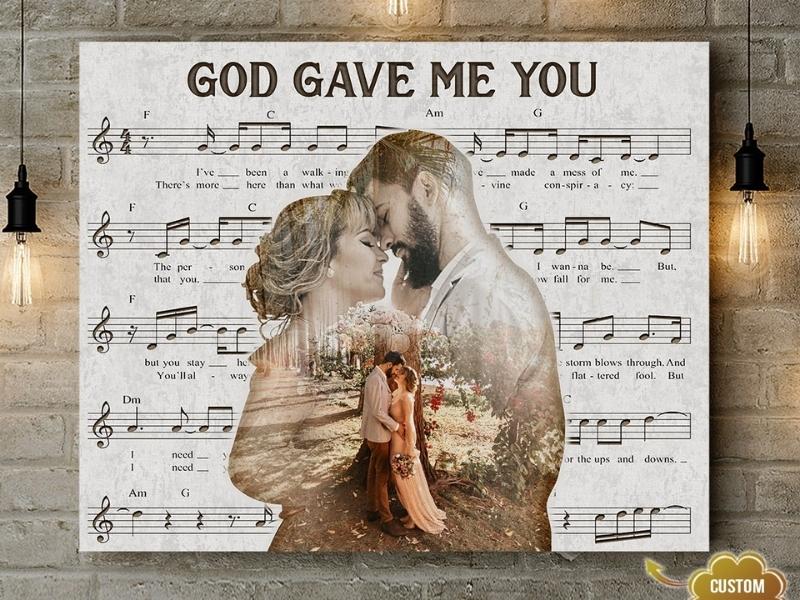 This nostalgic design is sure to bring a tear to the eye of even the toughest woman. This custom canvas print will serve as a constant reminder of your unconditional love for each other. The words of your favorite song will be playing in her brain as she gazes at this 16th anniversary gift for wife.
11. Organic Crème Lipstick Made with Wax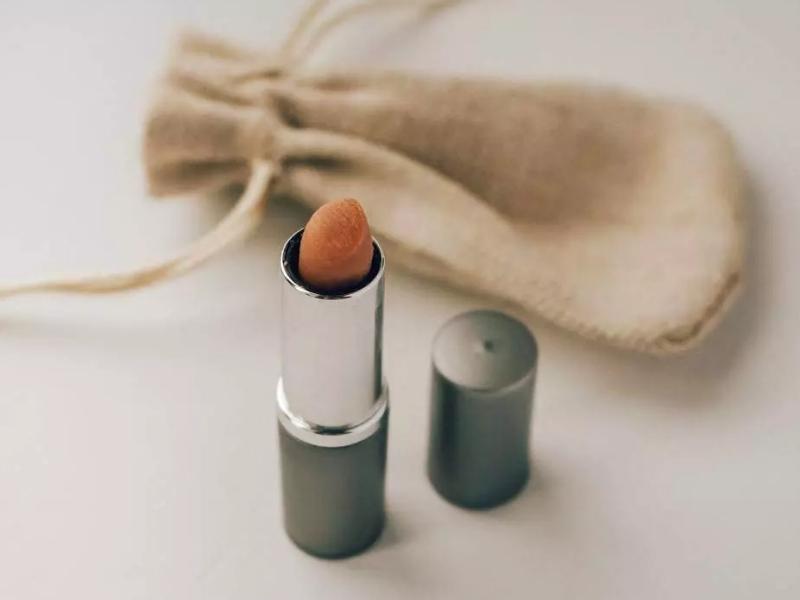 Now that you've discovered Brazen Crème Organic Lipstick, your hunt for the ideal lipstick is done. These opulent hues are sure to put a smile on her face all day. Crushed and composted bamboo packaging is an environmentally friendly 16 year anniversary gift for wife. It is possible to recycle the inner casing in your usual trash collection.
12. Burning Rose Candle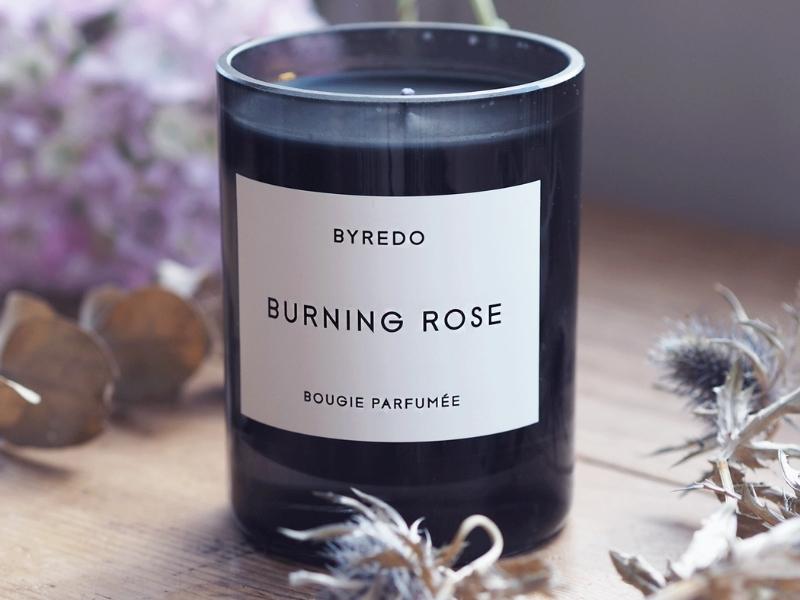 These candles are normally kept for special occasions like happy anniversary of 16th because of their high price tag. Anyone who loves the smell of roses will fall in love with the Burning Rose aroma.
13. Chic Candle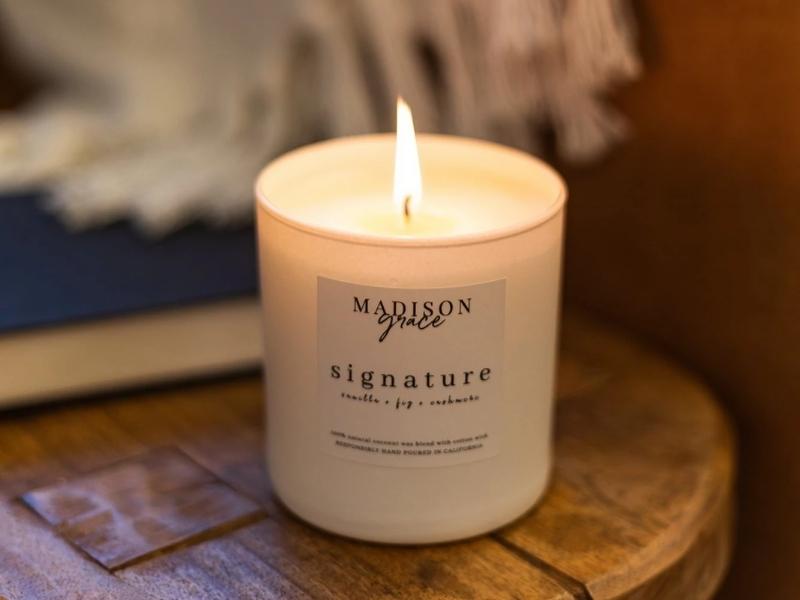 Rich, fragrant candles are ideal 16th anniversary gifts for romantic date evenings at home. Tuberose, a flower associated with sensuality, is used in this luxurious Diptyque rendition. Candlelight is a natural in-camera filter, which means everyone looks their best.
14. I Love You to the Moon & Back Candle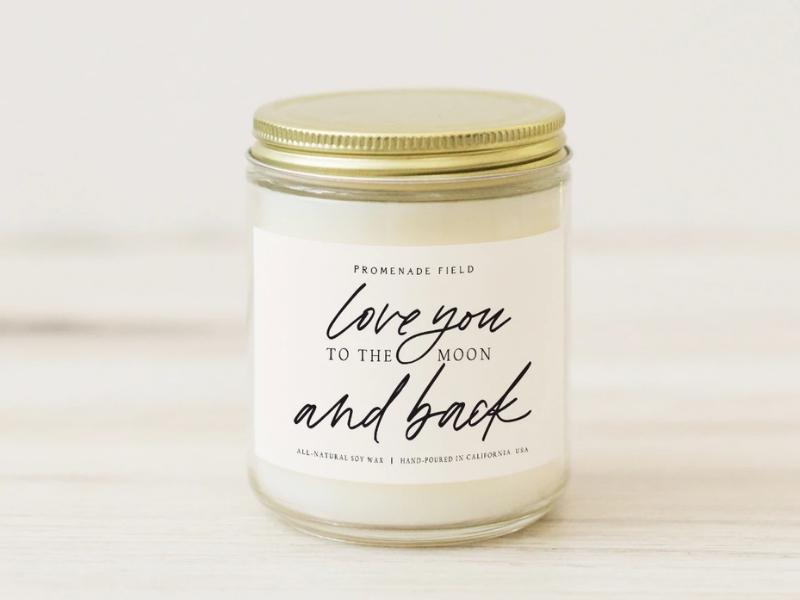 Your house will fill with the aroma of a hand-crafted soy wax candle as it burns. Enhance your home's atmosphere by selecting from a variety of scents. Make your 16th wedding anniversary gift more unique by adding the name of your sweetheart. Candles in a recyclable glass jar with a pewter top and a pure cotton wick.
15. Colorful Wax Candle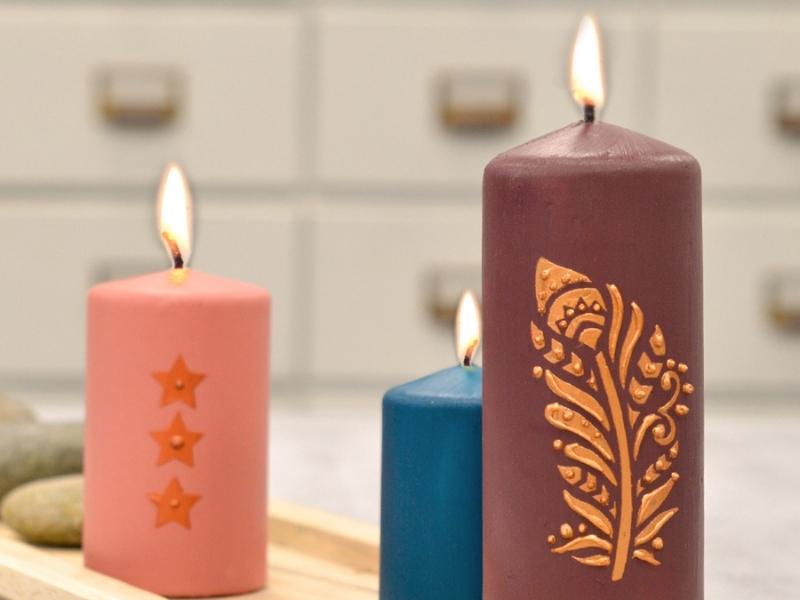 The combination of a handmade wax candle and this candle is a lovely year 16 anniversary gift. This candle will fill any room with a lovely light and a delicate smell. This may be placed on any desk, shelf, or table, and it will fill the space with a lovely scent.
16. Peridot Candle
When it comes to the special anniversary gift for your spouse, light a custom-made peridot soy wax candle is a good idea. This candle's gentle light will brighten whatever space it's placed in. Peridot is known as the evening emerald because of its pale green tint, which signifies power.
For centuries, the peridot crystals in volcanic ashes were thought to have healing powers, as well as prosperity and development, all of which are essential to any successful marriage! Your relationship will deepen and become more beautiful if you can work through any issues that may have arisen.
Read more: Top 27 Surprised Anniversary Gift for Sister And Brother In Law
Modern 16th anniversary gift ideas
What should a modern gift give on its sixteenth anniversary today? Silver holloware has replaced traditional china as a modern gift for a 16th wedding. Provide illustrations such as silver dishes, serving trays, and other household accents. The modern gift is silver holloware, but why? This material is a sign of your commitment to each other as you celebrate your past 16 years together.
17. Personalized Street Sign Canvas Print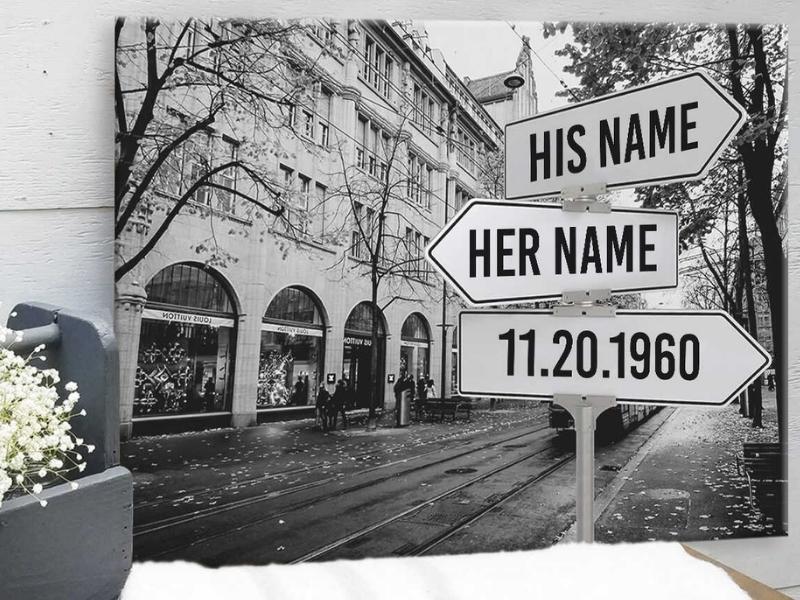 If the two of you were meant to meet, it was my destiny or just by happening to be in the right place at the right time. This customized street sign custom canvas print as the 16 year anniversary gift for him is a great way to commemorate your undying love for one another. This gift is also a lovely way to express your true love to your spouse for the next anniversaries.
18. Silverware Bookmark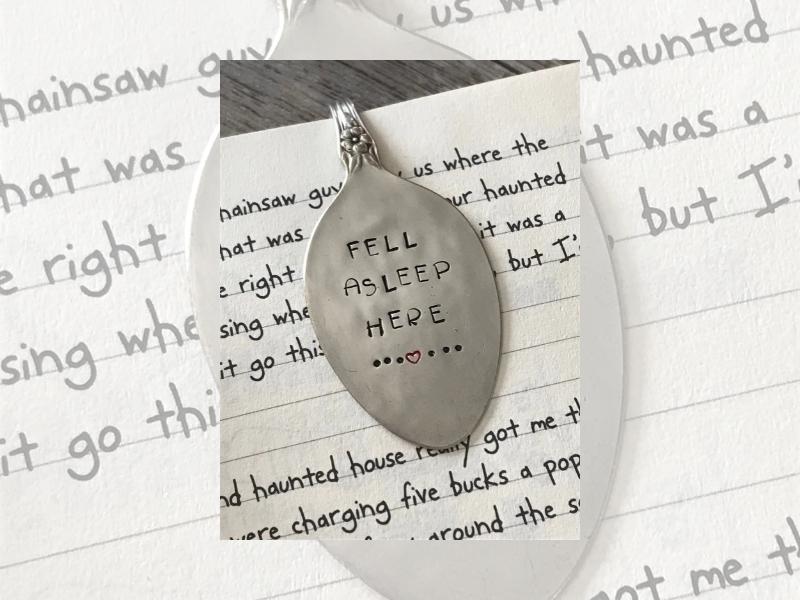 The enthusiastic reader in your life will appreciate a cutlery bookmark. Create a one-of-a-kind bookmark by personalizing it with your own message. A thoughtful and long-lasting 16th wedding anniversary gift for my husband to receive it.
19. Personalized Coffee Spoon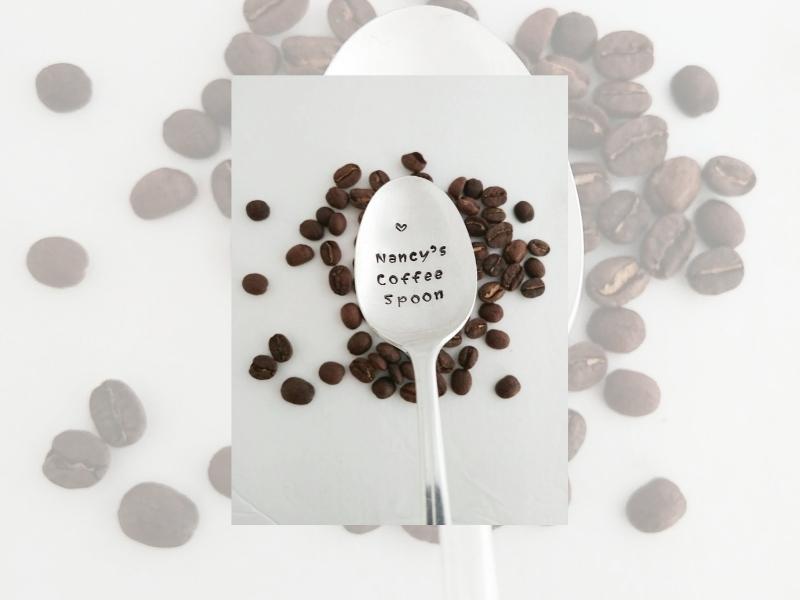 What a sweet way to show them how much you care! Make a special coffee spoon for your loved one. Every time your beloved adds sugar or creamer to their cup of coffee, they'll think of you. Put a sweet nickname or the name of your beloved on the spoon's handle. Coffee lovers, this is a lovely way to commemorate your happy anniversary of 16 years!
20. Personalized Silver Mug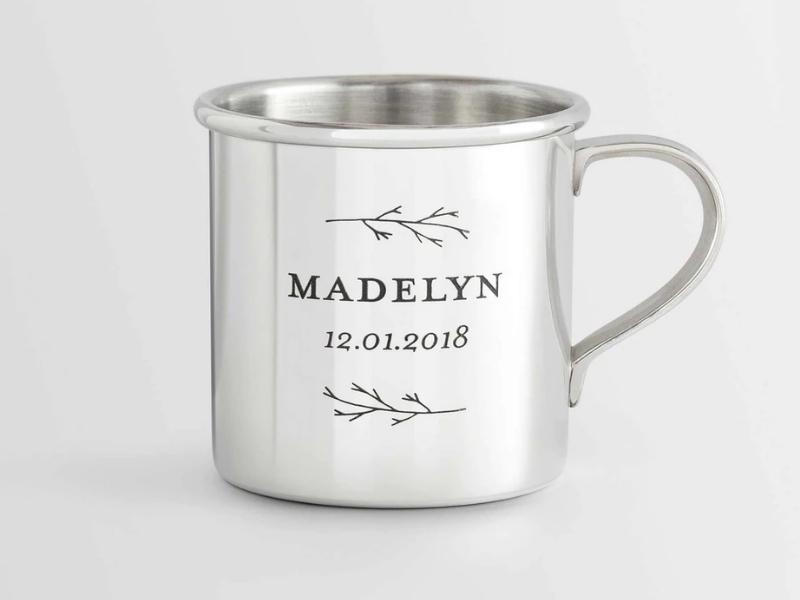 This elegant stainless steel silver-plated ice bucket is the perfect way to serve beverages. A selection of beautiful monograms may be added to make it a unique piece of entertainment equipment. Why not giving this lovely gift for your special couple?
21. Sleek Ice Bucket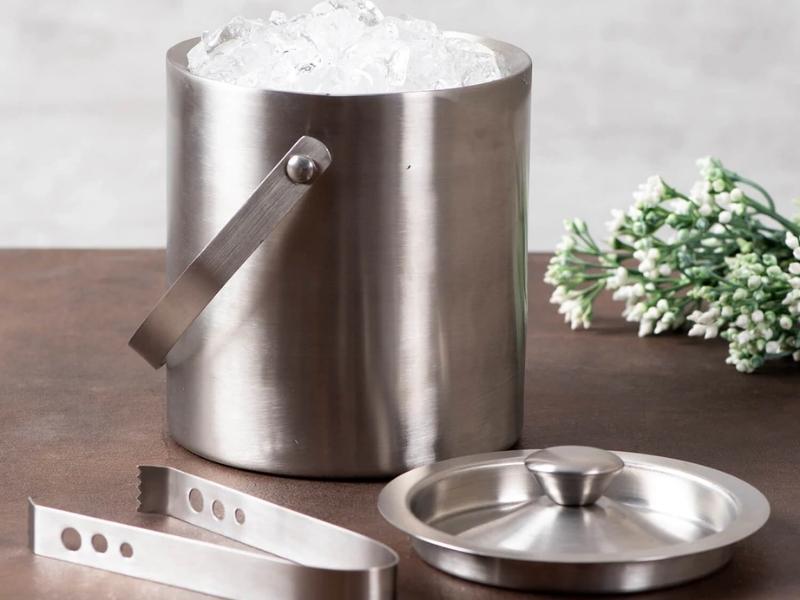 Don't be afraid to break with tradition and give him silver barware instead of silver holloware as 16 year anniversary gift for him. Consider giving him this cool rocket-shaped cocktail shaker as a modern gift if he likes to mix his own drinks. With this item, you never know what strange concoctions he'll concoct.
22. Rocket Cocktail Shaker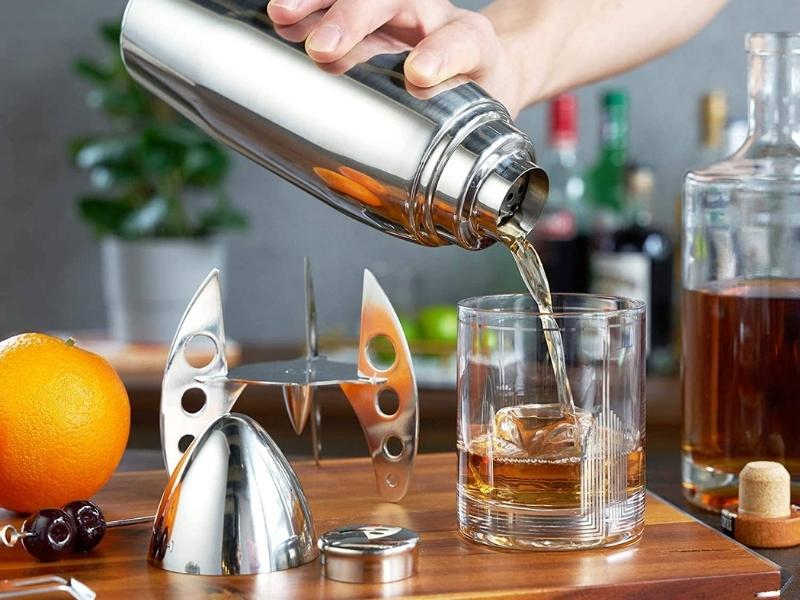 If silver holloware will go down like a lead balloon, buck tradition by focusing on silver barware for his 16th anniversary gift. If he enjoys making his own cocktails, consider giving him this stellar rocket-shaped cocktail shaker. Who knows what otherworldly cocktails he'll whip up with this guy!
Read more:  Top 44+ Charming 15th Anniversary Gift for Husband, Wife & Couple
23. Statice Flower Ring
Statice flowers are incorporated into the design of these handmade resin rings to honor the sweet 16 wedding anniversary. Each ring may be customized with gold or silver flakes to make it even more stunning. Genuine flowers, blue petals, and pink hues are used to create each floral band combination. This ring is a wonderful way to show your loved ones how much you care about them.
24. Statice Seeds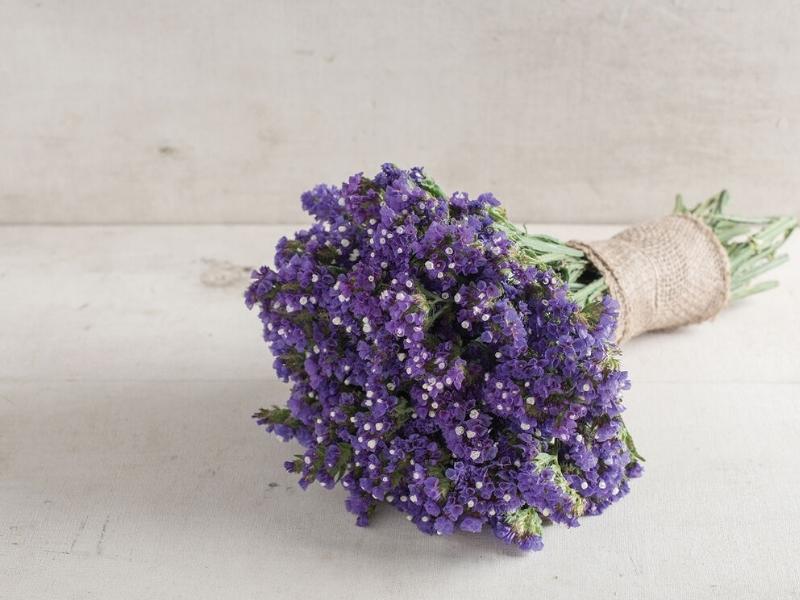 Like the undying love you've shared through the years, these statice flower seeds will flourish and bear fruit. As a newbie gardener, you may achieve lovely results from these plants as 16th anniversary gifts because of their delicate pastel buds and simple maintenance.
25. Silver Vase for the 16th Anniversary Gift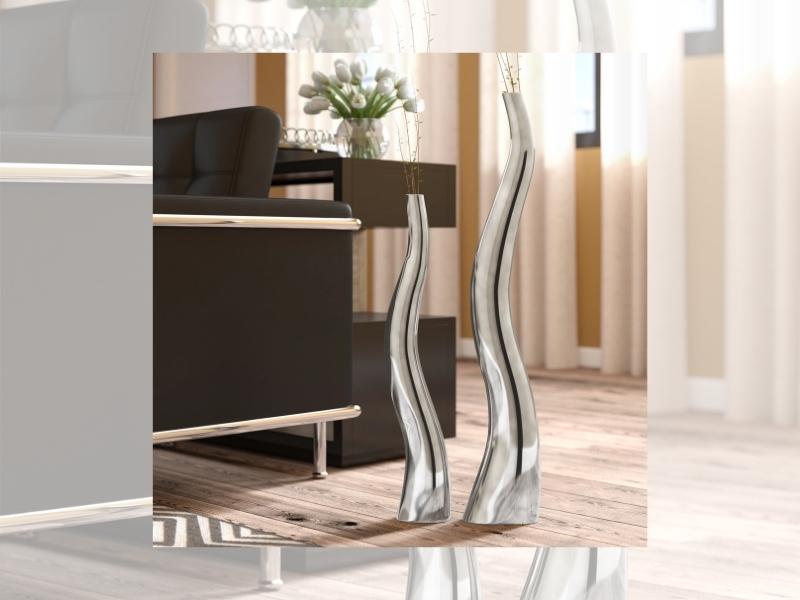 If silver holloware isn't going to pique her interest, try a different serving dish. Give her a silver vase and a lovely flower arrangement as a beautiful gift. Statice should be included in the bouquet as a tribute to the original flower. These sterling silver tubular vases are a beautiful way to commemorate your 16th anniversary modern gift.
26. Silver Snack Bowls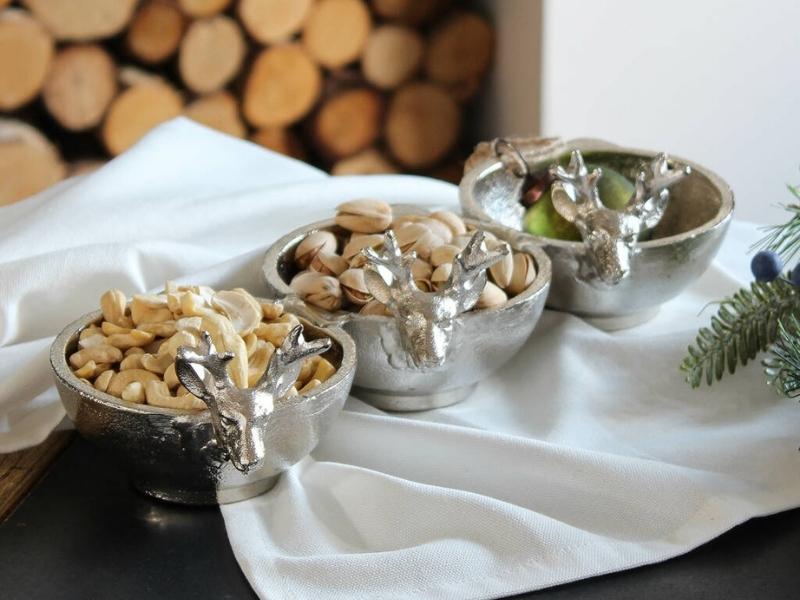 Durable stainless steel with a mirror front and a matte inside coats your bowl. Fill with your favorite candies or nuts and share them with your significant other. Although it isn't silver, these 16 year anniversary gifts still has a nice aesthetic. Fill your glass to the full and savor every last drop.
27. Personalized Song Lyrics Gift Canvas Ideas For Couples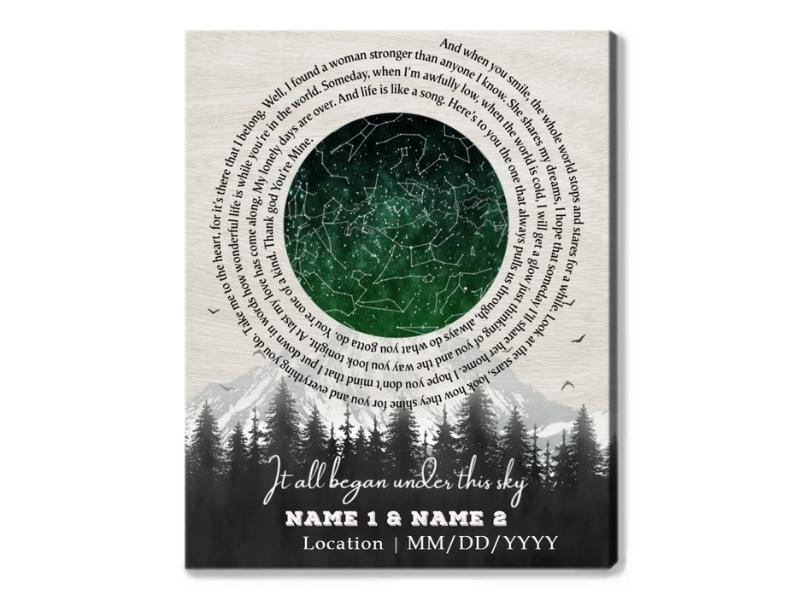 Looking for a personalized 16th anniversary gift for wife? Perfect for your home or office! As an additional option to this wall art, try adding the words to a favorite song that has particular significance to you. Your upcoming anniversary will be commemorated with a romantic night sky and heartfelt song lyrics written just for you two.
Unique 16th wedding anniversary gift ideas
28. Snowflake Scented Candle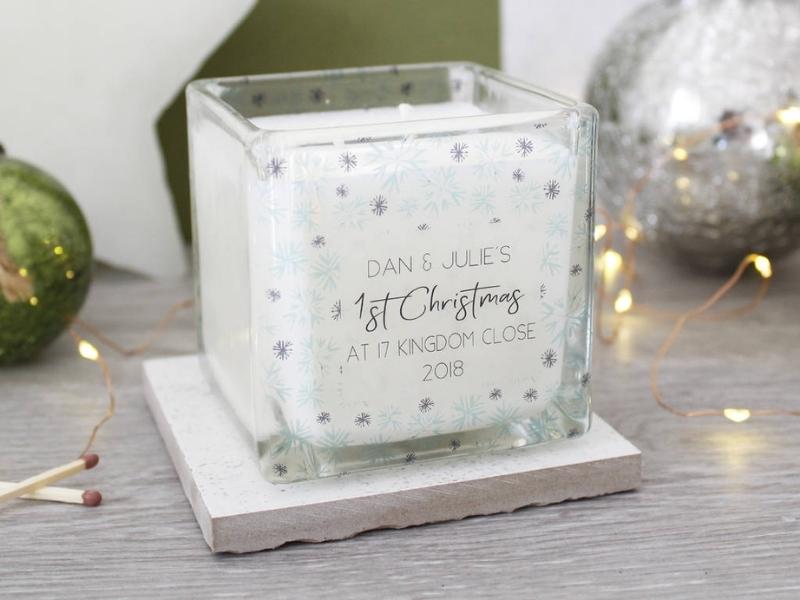 The piney aroma of the holiday season fills your house with the beauty of this candle. With its vibrant hues and cutting-edge style, this 16 year wedding anniversary gift for husband is a visual feast for the eyes and the ears.
29. Spiral Song Lyrics Canvas Print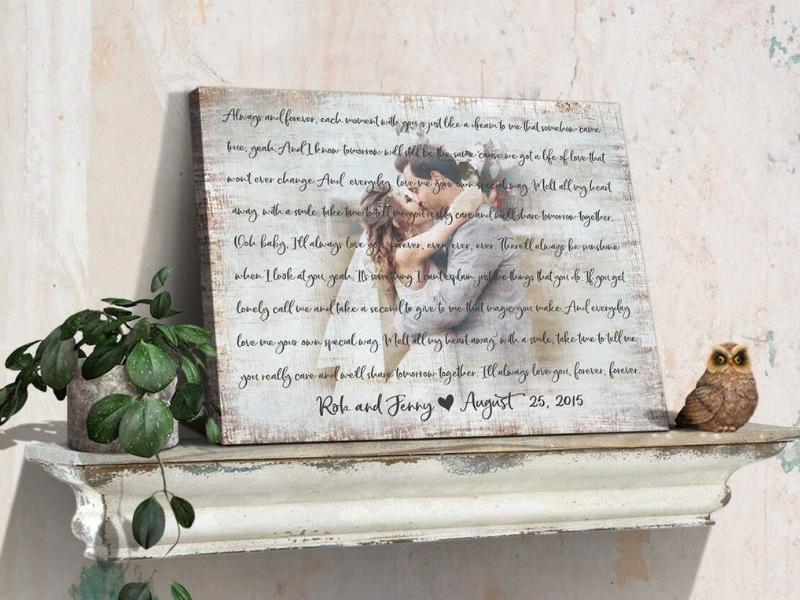 Make him feel like it was only yesterday that you had your first dance together. This custom photo canvas print of song lyrics is a thoughtful 16 year wedding anniversary gift for husband that he is sure to appreciate. Take a look back at your wedding day and remember how happy you were.
30. Keepsake Hands Casting Kit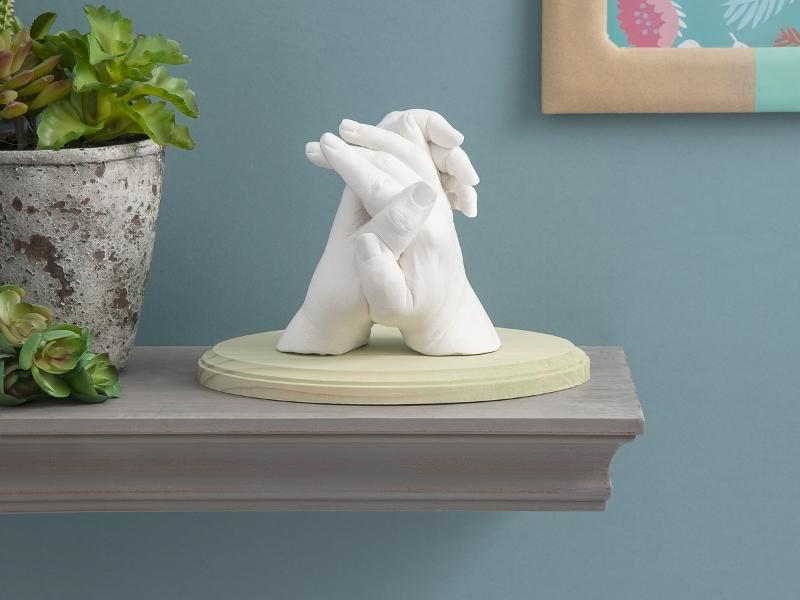 In the midst of it all, he's been there to hold your hand through the good times and the bad. This keepsake hands-casting kit as the 16th wedding anniversary gift for him is a great way to show him how important he is to you. It's a simple and enjoyable project that the two of you can work on together and then show off around the house.
31. Eternity Rose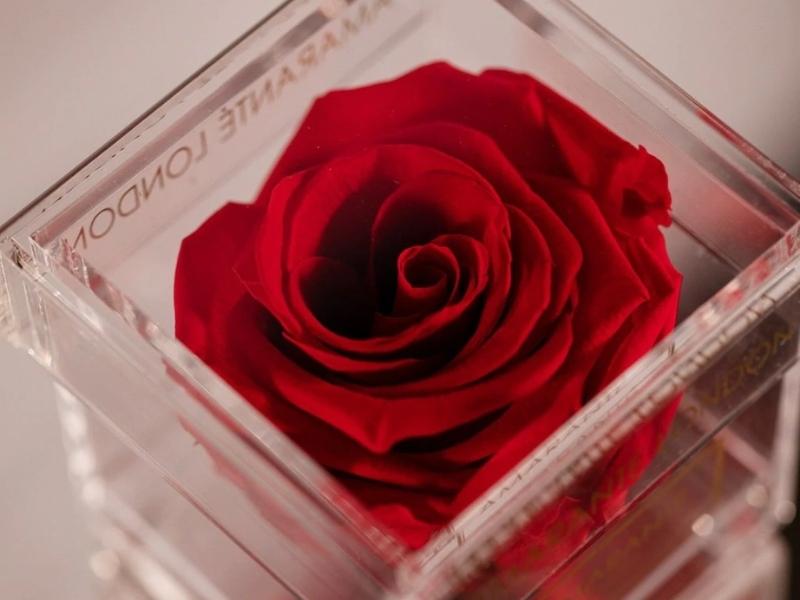 An everlasting rose is always a safe choice, and this red or silver kind blends the color associated with the couple's 16th anniversary theme perfectly. Instead of withering and dying after a week like a fresh rose, this one keeps its color and fragrance for up to three years.
32. Wax Molds to Make Your Own Romantic Candles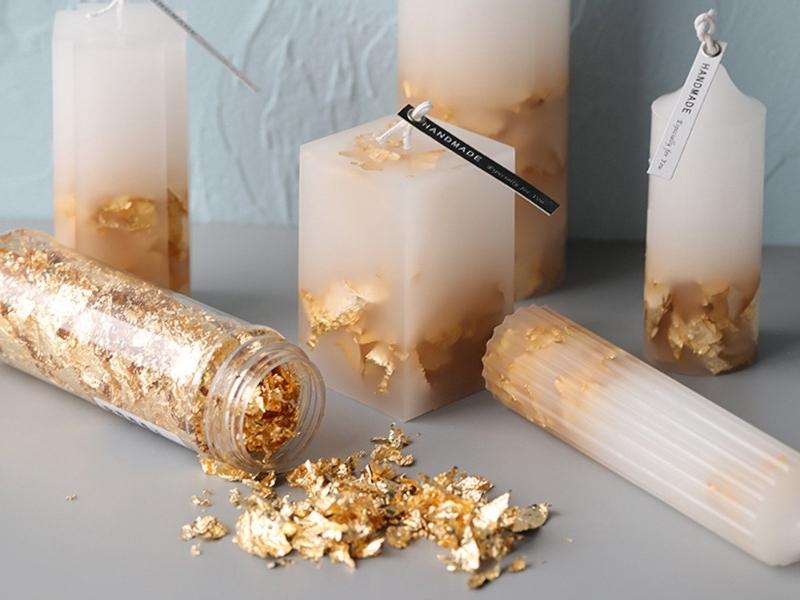 With these silicone molds, you and your spouse may create your own candles. It's a wonderful way to mark your big day! Together, discover and practice a fascinating (and maybe romantic) skill. This 16th anniversary gift for wife is possible to use these molds again since they are well-made and durable? A great way to spend time together with your favorite couple!
33. Personalized Message Candle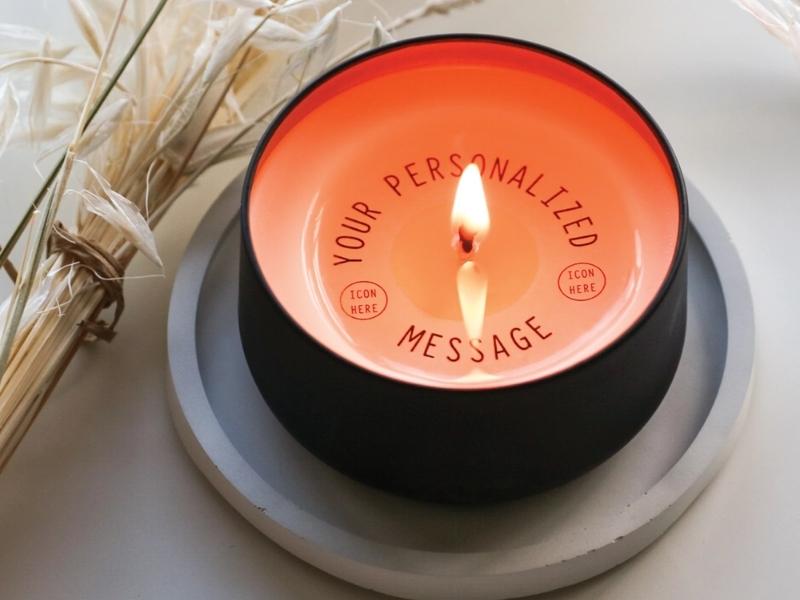 This lovely candle may be made even more special with the addition of your own custom message. If you'd like, you may even upload your own image. This 16th anniversary candle is a great concept for a soy wax candle produced by hand. The glass jar may be used to hold flowers after your candle has burned out.
34. Wax Tablets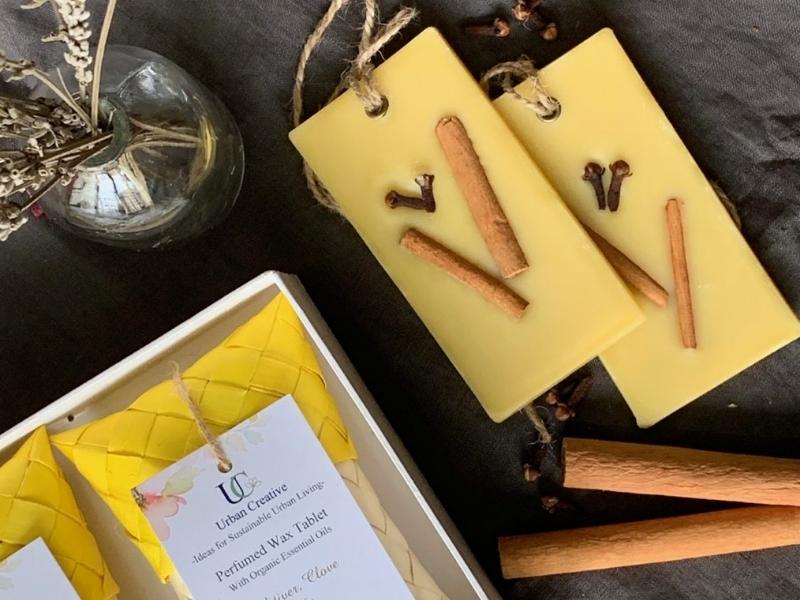 If you're looking for something to freshen up your wardrobe, these hand-crafted wax pouches are the right solution. All-natural components include soy wax, beeswax, dried botanicals, and essential oils in each tablet.
35. All Of Me Loves All Of You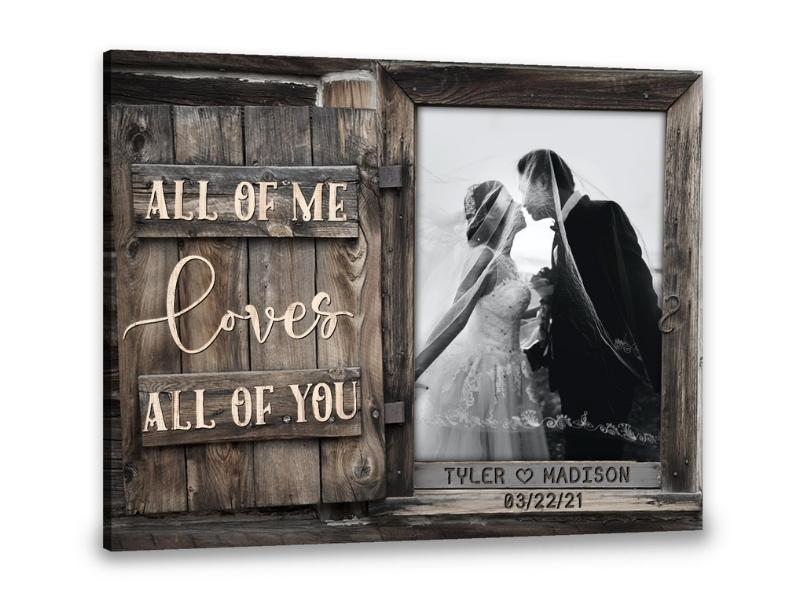 When John Legend composed this song about his wife, he got it perfectly. As a result, even after all these years, you still adore her. This unique custom canvas print is sure to bring a smile to her face and warm her heart when she receives this great 16th anniversary gift for her. You can add your wedding photo and wedding date on this canvas and make it a special one.
36. Elegant Black and White Floral Silverware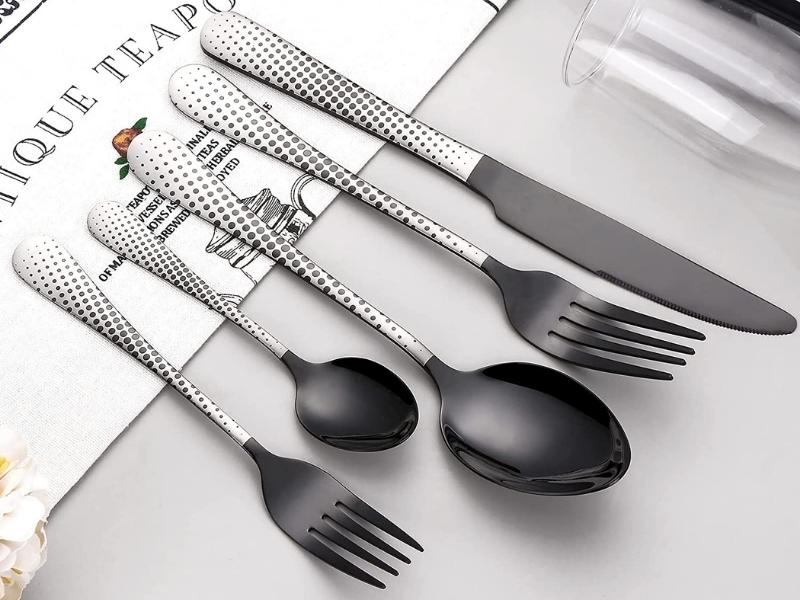 The eye-catching black cutlery set with a mirror-polished finish is the ideal table setting for any special anniversary dinner party or a casual meal at home. This stainless steel set as the 16th wedding anniversary gift adds sophistication and beauty to any dining setting.
37. Candle Making Workshop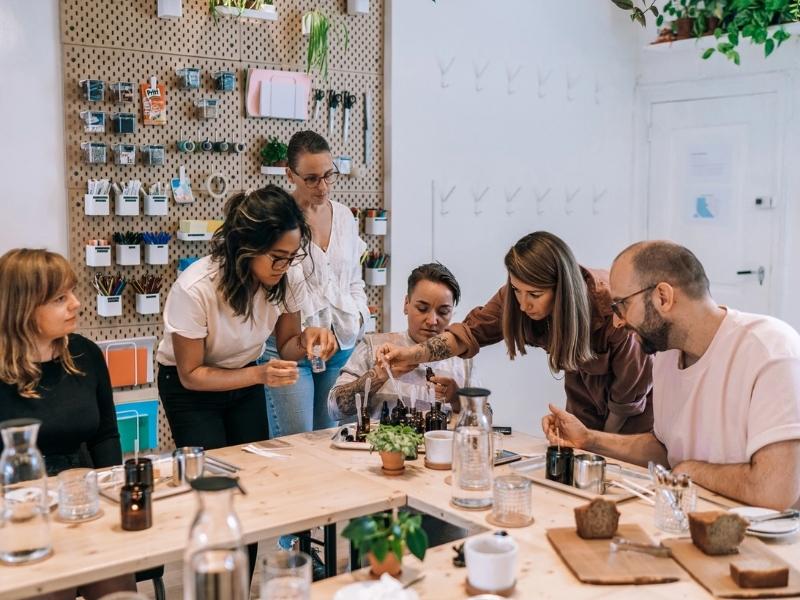 You and your significant other are in search of a romantic adventure. Candle-making is a fascinating field that allows you to unlock your imagination. Enjoy the process of creating your own unique scent by melting wax and combining essential oils. Each of you will go away with a unique, one-of-a-kind piece of art from the event. You'll be reminded of your 16th wedding anniversary every time you light it.
How to Celebrate a 16th Wedding Anniversary?
Although the 16th wedding anniversary does not have an official name, we also call it as the "Sweet 16"! On your 16 year anniversary, you may relieve some of your first memories, which is the perfect way to celebrate your union.
Perhaps not the same ones as your beloved, going back to when you were both 16 and (in most instances) still didn't know each other. But nonetheless to a time when you began to grasp the significance of finding the perfect partner for a future life of marital happiness. So this year, you need to go all out and relive your adolescence as a 16-year-old, vibrant, carefree, and, of course, married.
Read more our ideas for next anniversaries:
The best 16th anniversary gift can be found in our chosen selection of Oh Canvas ideas, which includes anything from silver holloware to classic anniversary gifts that are guaranteed to warm her/ his heart. Surprise your spouse with a present that will bring a tear to their eye and pleasure to the heart. It's a lovely reminder of your long-standing, committed partnership and unconditional love.