If you want to surprise your girlfriend on her upcoming birthday, you've come to the right place. Oh Canvas has rounded up the most romantic homemade gifts for girlfriend that tend to make her beam with joy. Whether you just met her or both of you have loved each other for years, this gift guide is a cool way to show how much she means to you. Make something gorgeous for her and she'll know that you're the best boyfriend ever!
Best romantic handmade gifts for girlfriend: Beauty and Wellness care
1. Heart-Shaped Bath Bombs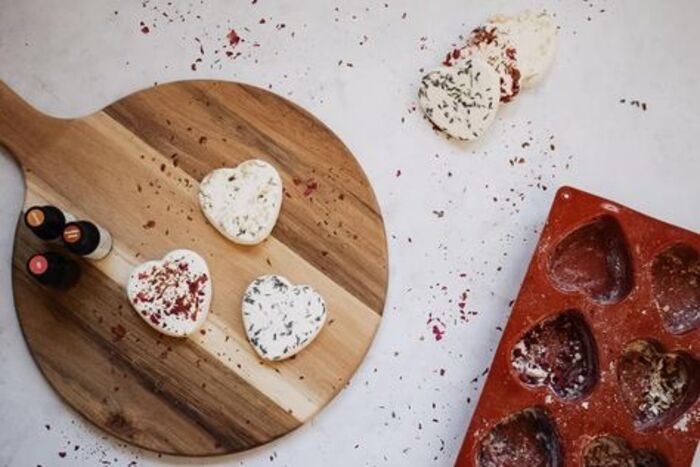 If your hard-working girlfriend needs a little "me time", these bath bombs are a great way to show her how much you care. When it comes to happiness, it's hard to argue with the power of basic substances like strawberry, watermelon, peppermint, or coconut oil. They're the best DIY gifts for your girlfriend ever!
Materials Needed:
Dry ingredients like baking soda, citric acid, cornstarch, and Epsom salt
Wet ingredients like coconut oil, water, essential oil, and food coloring.
How to do:

Gradually mix dry and wet ingredients in order, then pack the mixture into heart-shaped molds.
Optionally, add decorations like dried flower petals or biodegradable glitter.
Allow the bath bombs to set for at least 24 hours, then gently remove them.
Store in an airtight container for a fizzy bath experience.
2. Homemade Bath Salts
This thoughtful present idea is the perfect way to show your girl how much you appreciate her in your life. Natural bath salts will help her relax after a long day at work. They're romantic DIY gifts for girlfriend that she's sure to use.
3. Rice Heating Pads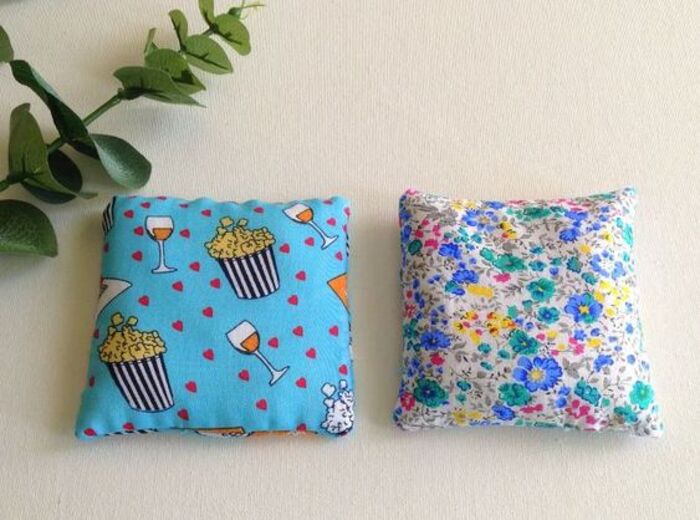 If you're looking for something basic, this is it. Giving a heat pack as a gift is a smart way to tell her that you love her the most. They're useful for relieving her tired muscles while also being reusable.
Materials Needed:
Soft, durable fabrics
Rice
Needle and Thread
Essential Oils (Optional)
How to do:

Create a heating pad by cutting two fabric pieces, sewing them together, and creating a pocket.
Mix uncooked rice with essential oil for a soothing scent; fill the pocket with rice, ensuring less rice allows for better flexibility, and secure it inside.
Test and heat the pad by microwaving it for 30 seconds before use.
Tips:
Safety: Be cautious not to overheat the pad, and always test the temperature on your skin before prolonged use.
Storage: Store the heating pad in a cool, dry place when not in use.
4. Monstera Drop Dish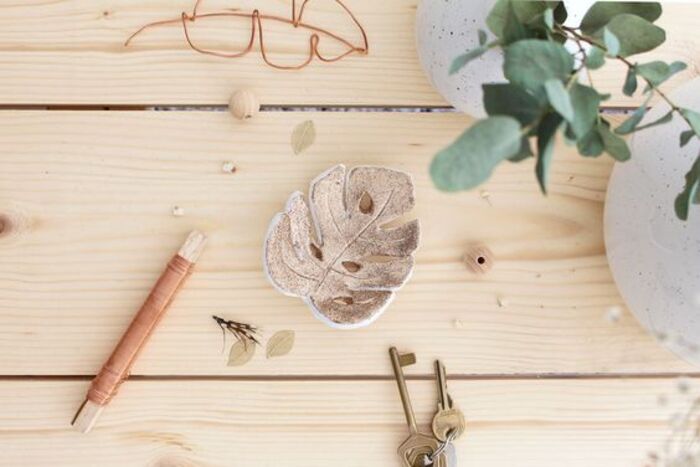 This time, create a one-of-a-kind keepsake for her that she'll cherish for years to come. The monstera drop dish is a gorgeous piece to help your girl show off her jewelry collection. It's still a charming decorative item that tends to spruce up her nightstand. If you're in need of romantic handmade gifts for girlfriend, this dish will come in handy!
5. Strawberry Heart Soap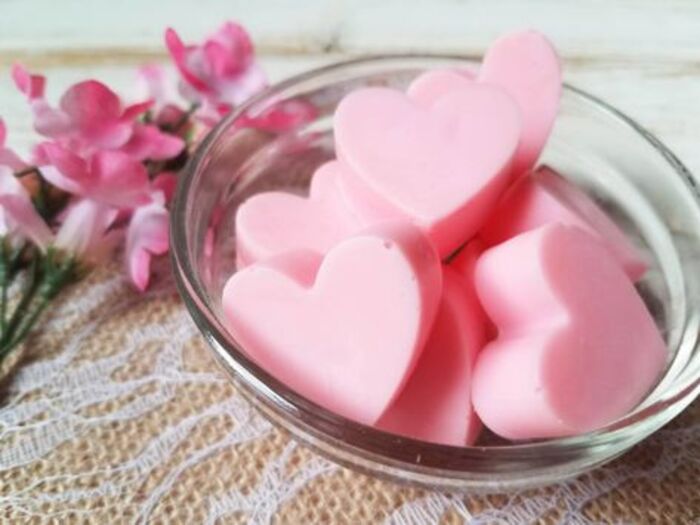 The best gifts for your girlfriend are the ones you make yourself. This strawberry soap will be a hit on her birthday. It's a quick and easy method to tell her how much you care. She'll feel over the moon when seeing this special present!
6. Tube Bead Necklace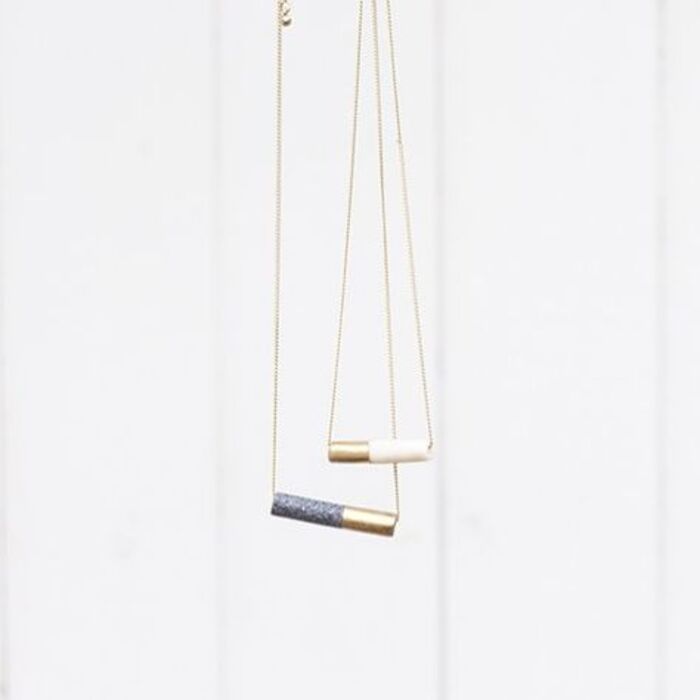 Looking for the best homemade gifts for girlfriend that make her proud and loved? This easy-to-make necklace is elegant and refined, and it's sure to get her excited. As a gorgeous and considerate gift idea, she can wear it every day while thinking all about you.
7. Glitter Druzy Earrings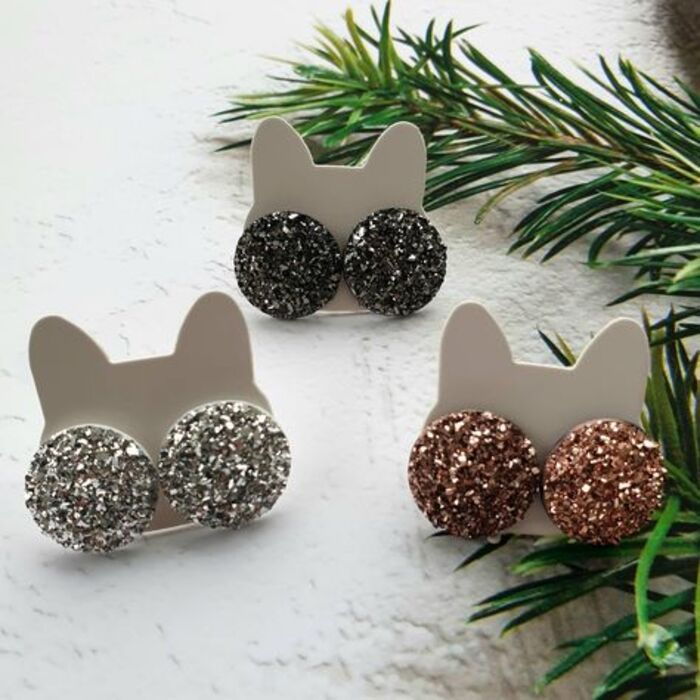 These glitter druzy earrings are the perfect accessory to make your girlfriend look even more beautiful. These earrings will quickly become a favorite, whether she wears them for a formal event or simply to jazz up her everyday look. She will absolutely enjoy these handmade gifts for girlfriend on her birthday, which are both fashionable and sentimental.
8. Stacking Wire Bangles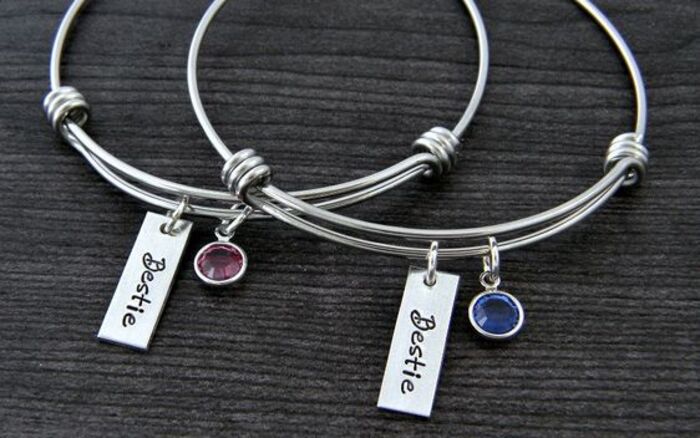 Make her a fashionable bangle that she'll never want to take it off. To bring this unique present to the next level, customize the pendant with her name or initials and include her birthstone for an extra touch. It'll become one of the best romantic DIY gifts for girlfriend that she'll treasure for years.
9. Clay Pendant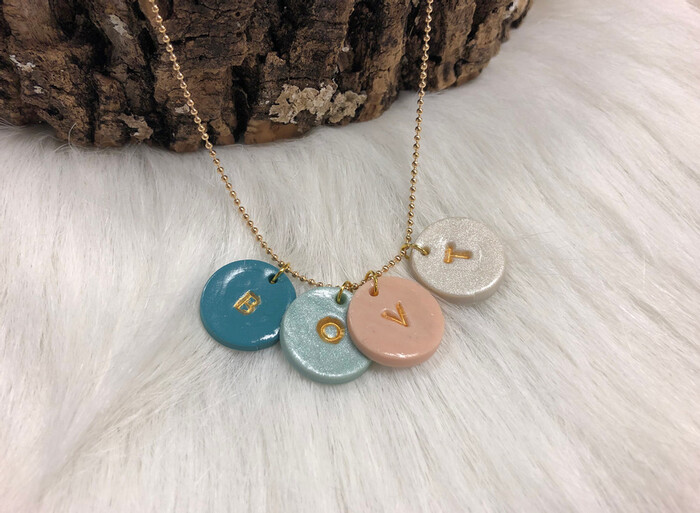 Give your girlfriend last minute diy gifts for girlfriend she'll treasure forever: a clay necklace you made from scratch. You may easily make these unique items, which are a reflection of your care and imagination, using only a few inexpensive materials. These clay necklaces are a classic and meaningful way to communicate your emotions, whether you're making them for a special occasion or just because.
10. Charm Bracelet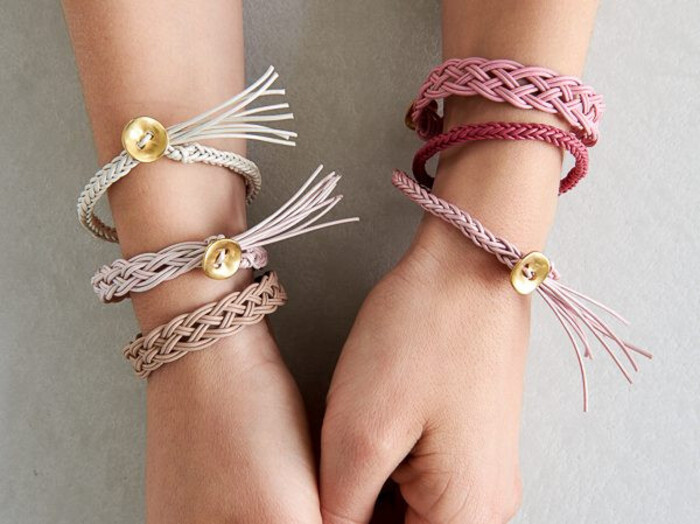 It's time to surprise your girl squad with these complete charm bracelets for the upcoming friendship day. The bracelets appear gorgeous because of their vibrant hues. They're also straightforward and inexpensive to create.
Materials Needed: Bracelet chain and charms; jump rings; lobster clasp and spacer beads (optional)
How to do:
Setting up your bracelet chain and charms.
Thread jump rings through the charm and bracelet chain hole, repeat this process, ensuring they are evenly spaced, using round-nose pliers.
Optionally,insert spacer beads between strands for variety.
Review and adjust charm placement and spacing, and close jump rings securely.
11. DIY Pearl Ring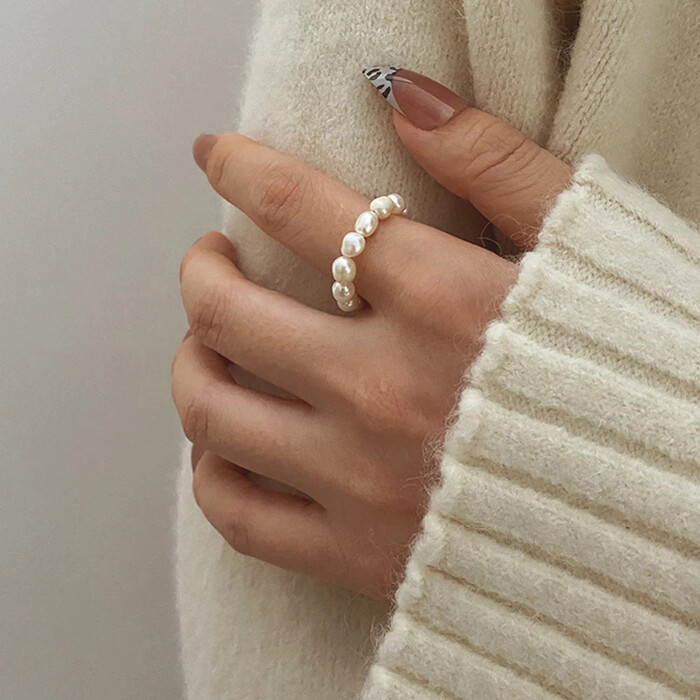 If your girlfriend's birthday is coming up, these pearl bead stitch rings are the perfect DIY gifts for girlfriend. There is something magical about the combination of small golden beads and larger white pearl pieces. This ring would look great with her formal attire.
>>> Read more: Top 38 Funny Gifts For Girlfriend That Will Make Her Laugh
Woodworking romantic homemade gifts for girlfriend
12. Ring Holders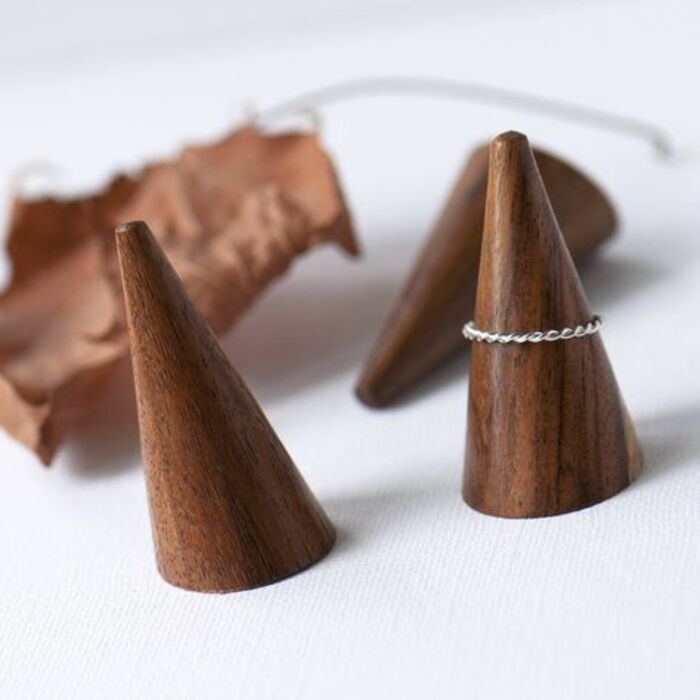 It's not complicated at all to make your sweetheart these wooden ring holders. They're simple gifts but they're sure to leave the best impression on her. She'll find how useful these holders are when they keep her rings clear and well-organized.
13. Etched Cooking Utensils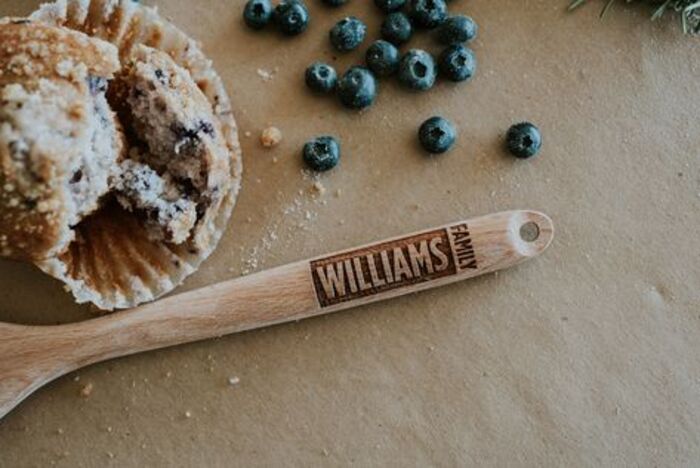 This charming craft is a great way to commemorate the anniversary date with your soulmate. As a token of your affection, it's a low-cost and straightforward memento. These etched cooking utensils are romantic DIY gifts for girlfriend that she'll treasure the most.
14. Handmade Love Sign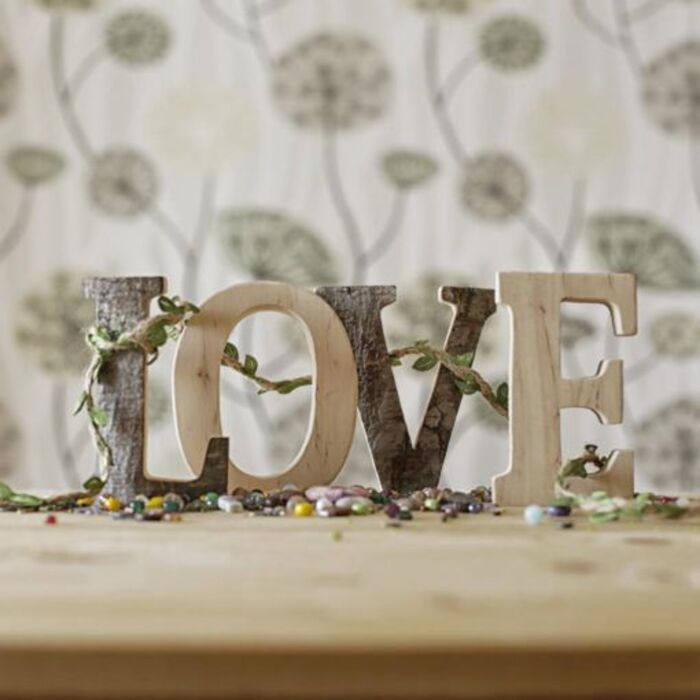 If you're looking for a creative way to show your love, this handmade love sign is a brilliant option. Adorable and impressive, it'll stand out to be a charming present that any girl will adore. Plus, it's super easy to make so grab this chance to surprise your soulmate with a heartfelt crafted piece.
15. Wooden Earrings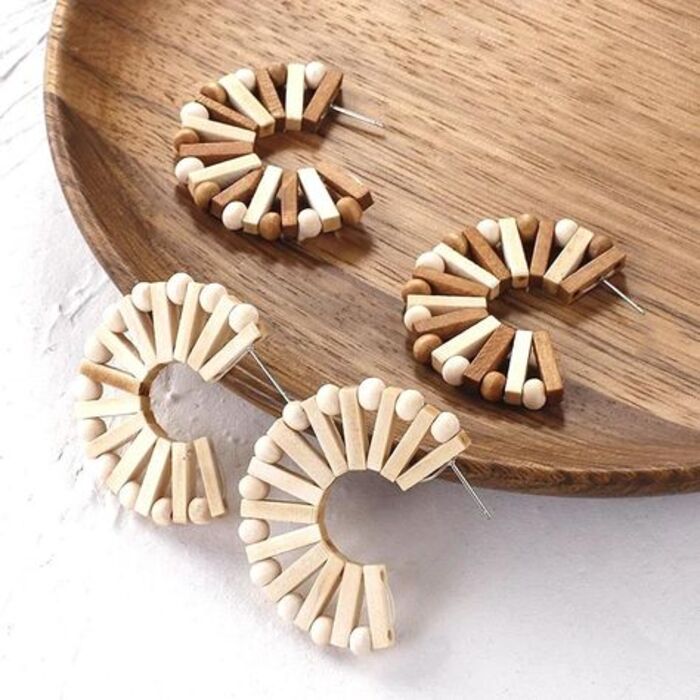 It's not wrong to say that the wooden earrings are romantic handmade gifts for girlfriend that'll make her utter "Wow". A delicate, gorgeous couple of earrings is not just something that elevates her outfit, it's a piece of keepsake that shows how much you treasure her. These earrings are too adorable to take off. She'll love wearing them to parties or whenever going out with her.
16. Scrabble Picture Frame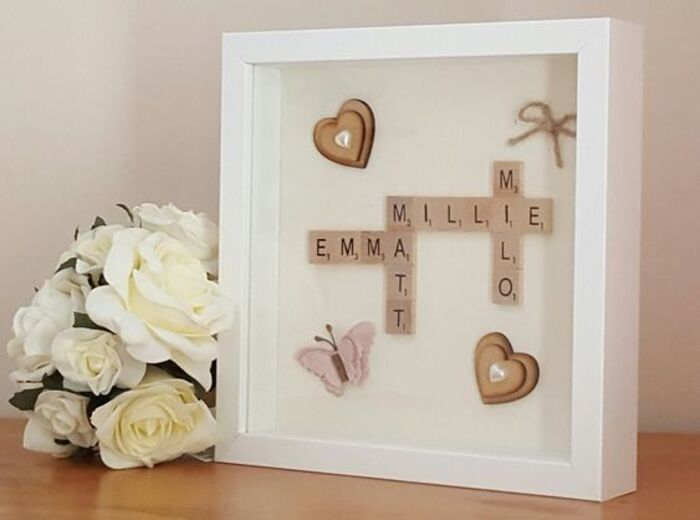 Any girlfriend will be surprised the most when receiving handmade gifts from her boy. If your girlfriend is far from you, it can be a meaningful long-distance gift for girlfriend. It's a sign to let her know how much she's treasured in this relationship. If you want to bring a happy smile to her face, don't skip this scrabble picture frame featuring the names of both of you. It's a meaningful keepsake that she'll be eager to display in her room.
17. Wooden Herringbone Tray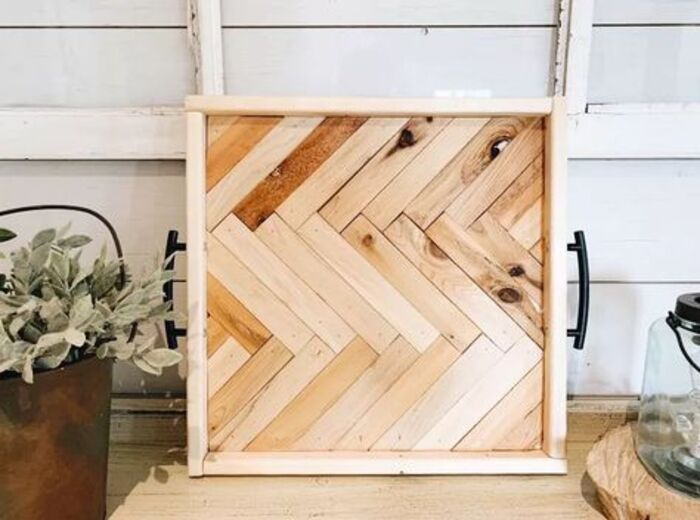 Do you want to create a wooden item that helps spruce up her home? then take a look at this adorable herringbone tray. Being practical and vintage, she can use it to add an attractive touch to her kitchen or living room. Try accomplishing this tray if you're finding romantic homemade gifts for girlfriend.
18. Wood Jewelry Organizer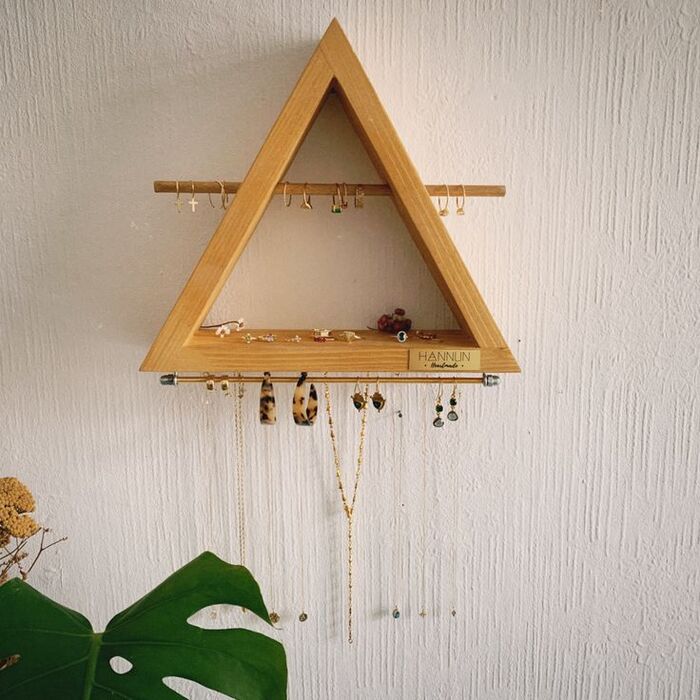 The wall-mounted jewelry organizer is a great way to keep her jewelry in place. A wide range of hooks will allow her to store different types of accessories, from thick necklaces to scrunchy bracelets. Gift this stunning piece to your girl and she'll realize how talented you are with woodworking.
19. Wooden Book Ends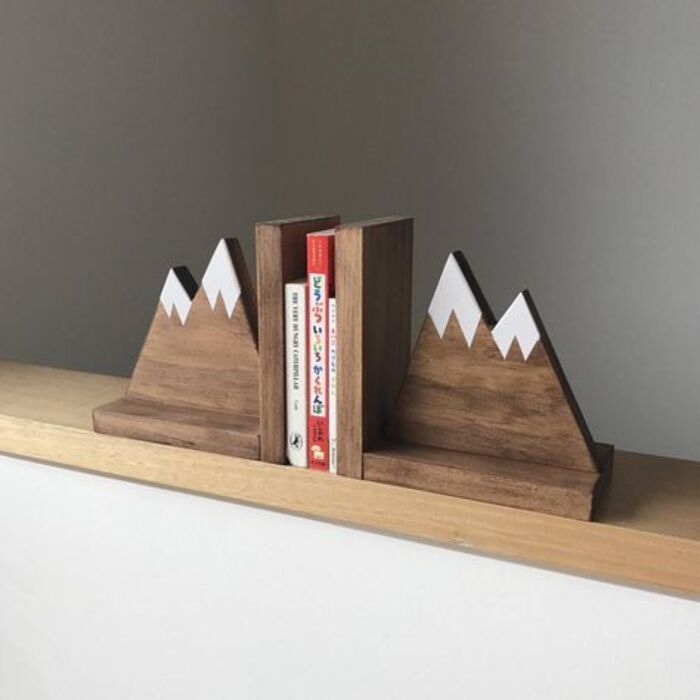 On the hunt for cute homemade gifts for girlfriend on anniversary that are practical? These rustic mountain bookends will add flair to any book collection. Accented by their unique design and vintage colors, they may be placed on any surface, including a desk, tabletop, shelf, mantel, or countertop.
20. Lap Desk with Storage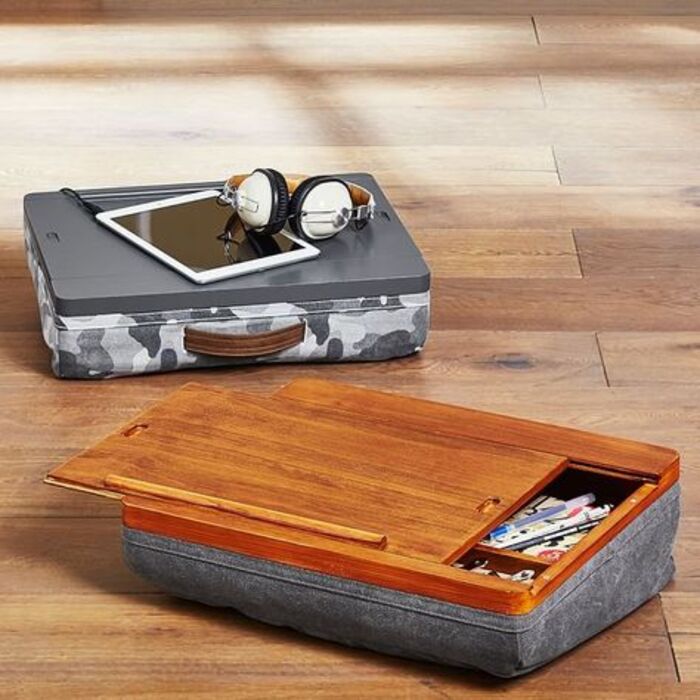 With this DIY laptop desk as a gift, she'll be excited to tell you're the best boyfriend that she's ever met. It'll help her a lot when she has to work with her laptop all day. Extra storage is for saving her essential things, such as stationery. What a perfect handmade gift for a girlfriend!
>>> Read more: 52 Best Simple Gift For Girlfriend Ideas (2022 Gift Guide)
Romantic DIY gifts for girlfriend from mason jars
21. Herb Garden In Jars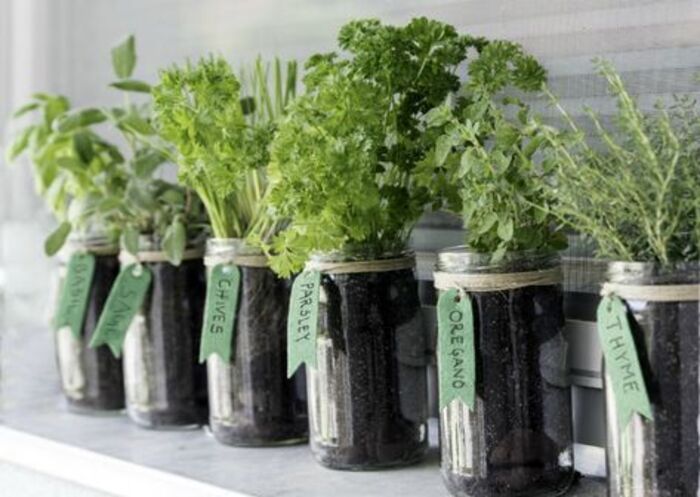 It's never an outdated idea to give your woman a herb garden in jars. She'll appreciate your thoughtful gesture a lot when having fresh herbs right in her kitchen. To make this unique present more adorable, have a name tag for each jar and include the initials of both of you. She'll find it interesting to water and take care of them every day.
22. Date Night In A Jar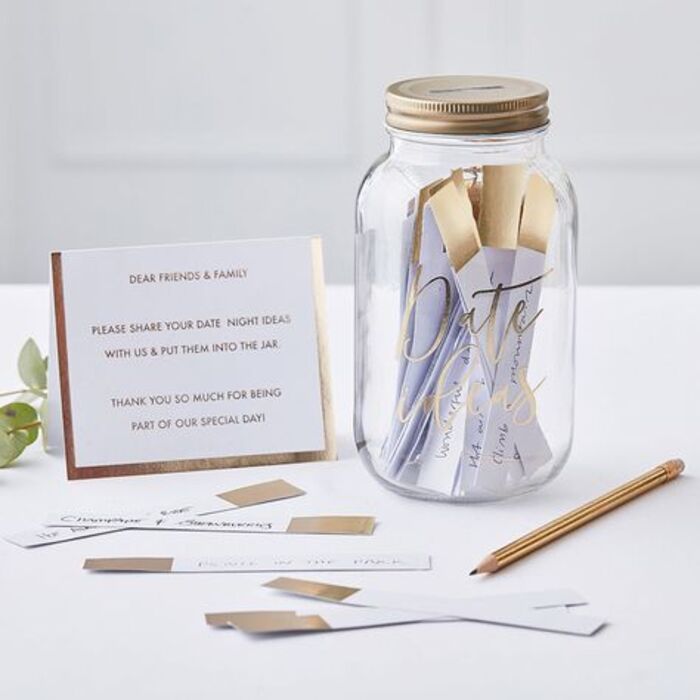 Are you looking for romantic DIY gifts for girlfriend that make her excited? A date night in a jar gift idea is sure to win her over. From now on, both of you will have a fun time choosing what you're going to do on every date. There's no need to think, just pick.
23. Homemade Snack Jars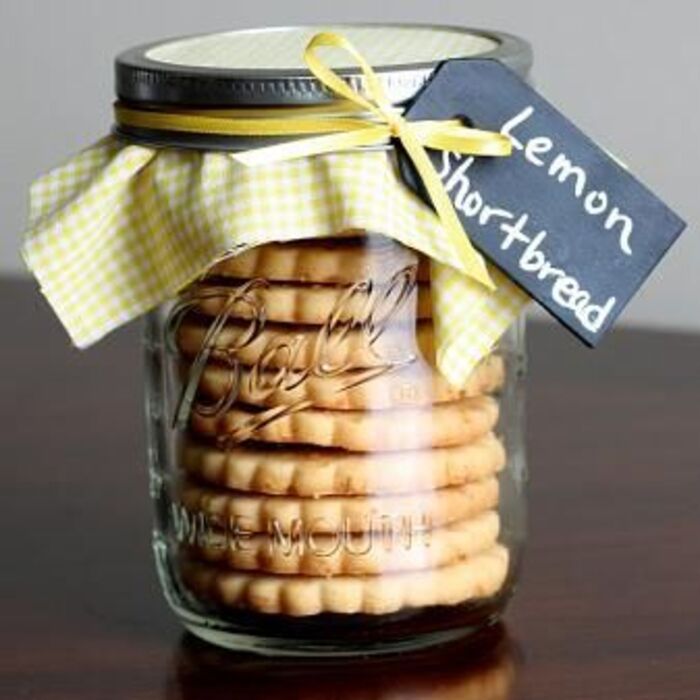 Is your girl fond of having snacks every afternoon or when she's watching a movie? If so, these DIY jars of snacks will satisfy her taste. Just include some of her favorite types and you're bound to create the best romantic homemade gifts for girls that she's ever received.
24. Spa Pampering Jar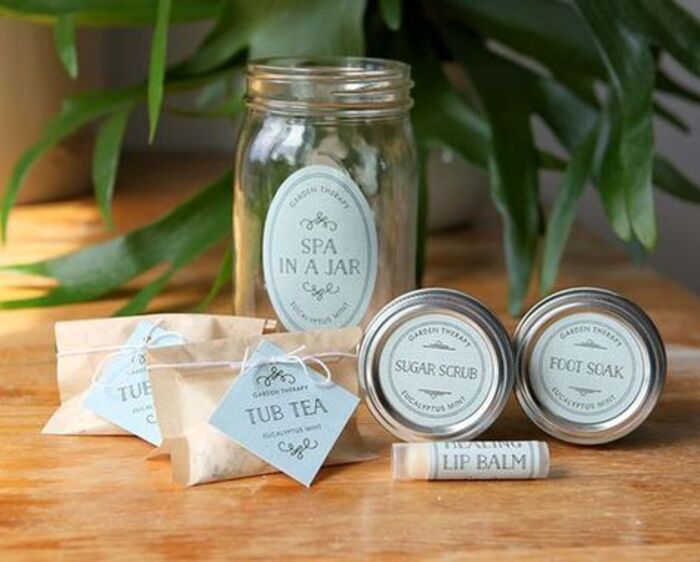 Tell your girl how much your care about her by giving her a little pampering via this spa in a jar. From foot soak and lip balm to body srub, include different essential things in this jar to get her the most relaxing experience after long days at work.
Materials Needed
Glass jars (clean and aesthetical), labels, ribbon and instructions tag
Spa Essentials: such as bath salts, bath bombs, scented candles, facial masks, and relaxing teas or herbal infusions.
How to do:

Gather an assortment of spa items and place each in separate small containers or bags to keep them organized within the jar.
If the jar is transparent, consider creating layers with different items for an aesthetically pleasing presentation.
Attach decorative labels to each section, and include an instructions tag for each item.
Decorate the jar with ribbons, embellishments, or a personalized note for the recipient.
25. Mason Jar Snow Globe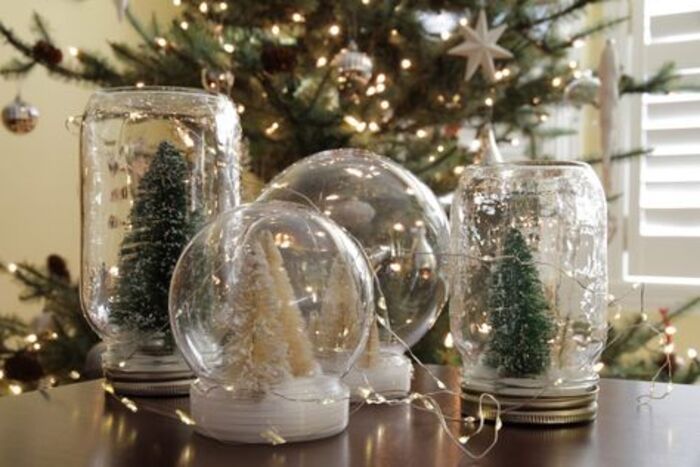 Within five minutes, you can create a stunning snow globe in a mason jar! Turning a snow globe upside down and watching the glitter flakes dance their way to the bottom is a spectacular experience. Snow globes created out of mason jars will catch her eyes while being romantic homemade gifts for girlfriend that she'll adore.
Cute DIY gifts for girlfriend: Decoration and Others
26. Crystal Candle
It's hard to find someone who doesn't enjoy the smell of a freshly lit candle. This crystal one will be a delight of her day but it's not easy to make, to be honest. Once you've decided to go with this gift, it'll cost a lot of time, effort, and money, of course. However, we believe that this candle will become the most adorable item that she's received so far.
27. Cute Polaroid Magnets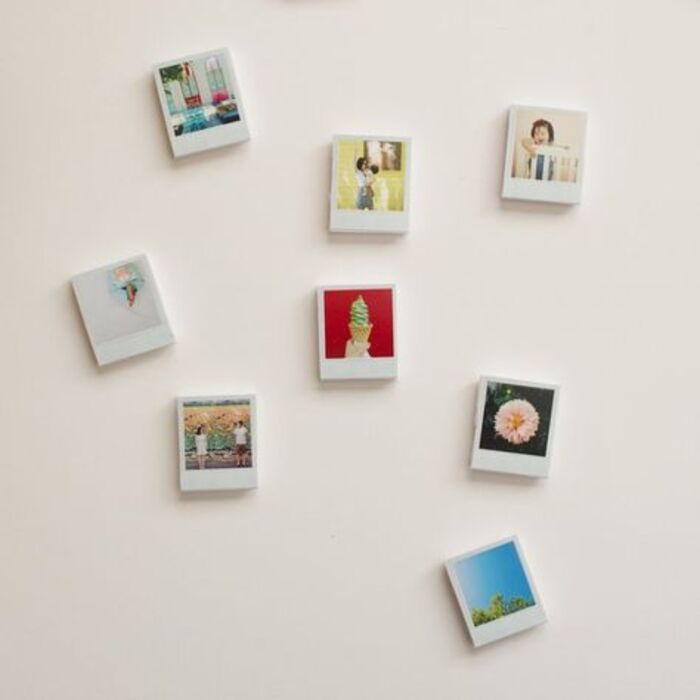 Your girlfriend will be giddy with delight over this unique craft idea! You and she will be able to display the most heartfelt moments with each other at home or at work. With these easy-to-make Polaroid magnets, you don't have to keep shopping for sweet treats for your partner anymore.
28. Faux Agate Cheese Board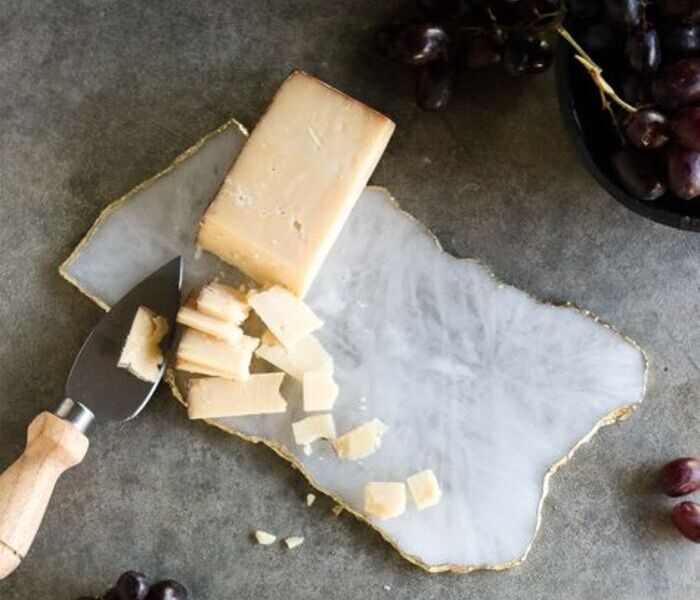 If you're on a budget, you can't miss out on this faux agate cheese board for your girlfriend's birthday gift. Elegant and shiny, it's sure to bring an impressive touch to her kitchen. She'll be proud to present it to her friends and family while also appreciating your lovely gesture.
29. DIY Map Hearts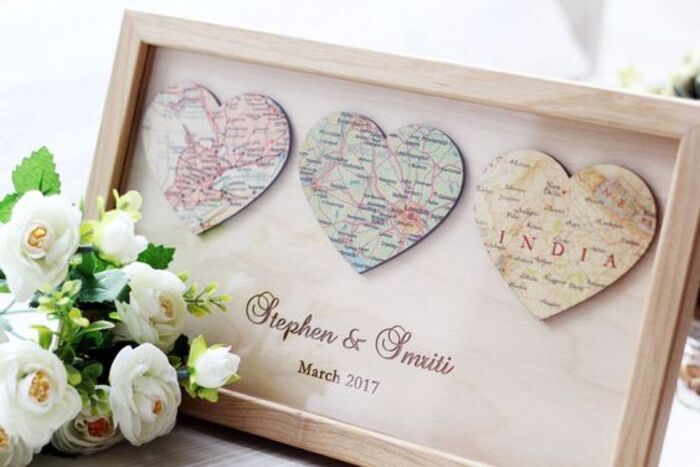 For the sweetest surprise, consider these cute homemade gifts for girlfriend on anniversary — a heart map that's bound to capture your special moments. This one-of-a-kind item was made just for the two of you and includes your names, the date of your anniversary, and maps showing where you both currently live. Just think of how happy she will be to add this meaningful piece to her room, where she will always be greeted by love and happy memories.
30. Homemade Photo Clock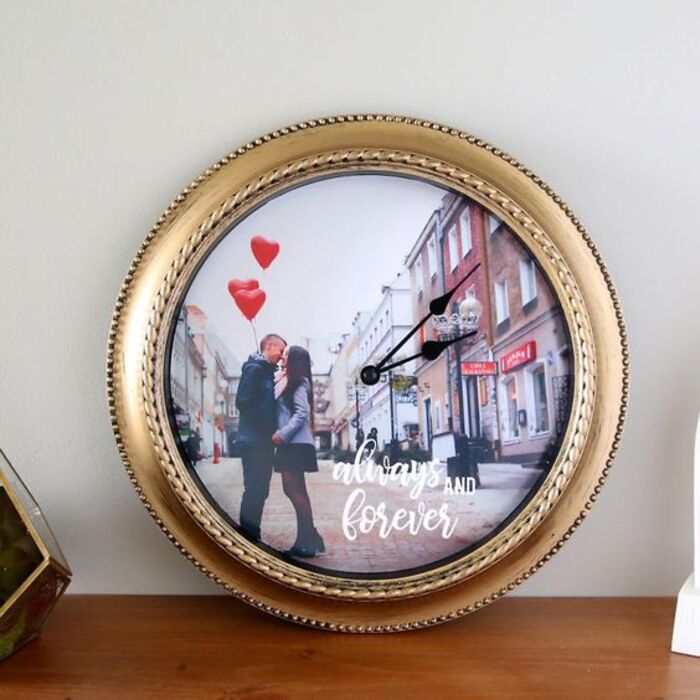 When you have a special occasion to celebrate, you may make special romantic homemade gifts for girlfriend like this photo clock. A photo frame and a clock will combine to become the coolest thing she's ever seen! Your girl will think about you whenever she sees it, every minute, every hour, and every day.
31. Standing Floral Monogram
Creating a DIY Standing Floral Monogram is not only a delightful crafting endeavor but also a perfect way to express love through cute homemade gifts for girlfriend on anniversary. Pick out a monogram of your letters cut from wood or cardboard and add some flair by decorating it with colorful artificial blooms. This sweet and thoughtful anniversary gift for her will brighten her home with a touch of nature while also reminding her of the wonderful times you've enjoyed together.
32. Spotify Code Keychains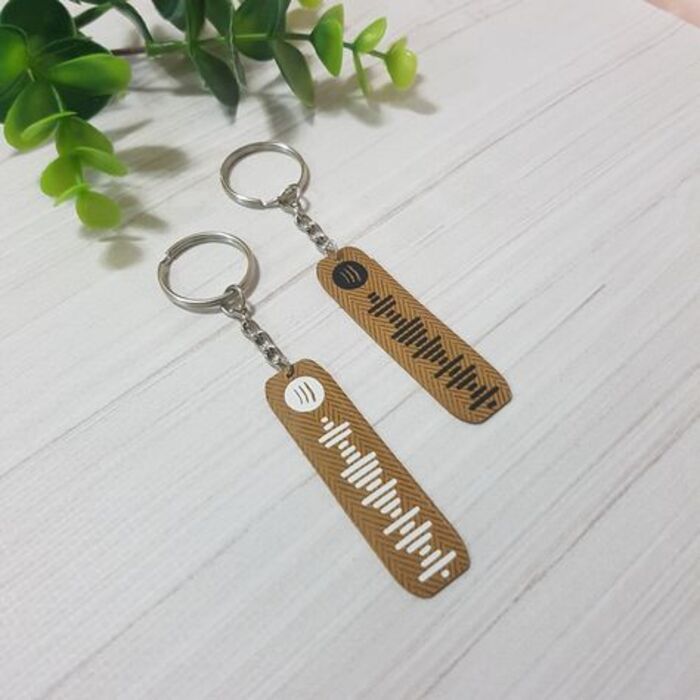 Simple but sweet accessories might make your lover fall in love with you again and again. She will be thrilled to get this thoughtful handmade gift from you on her birthday or Christmas holiday this year. Roll up your sleeves and make these keychains the most romantic DIY gifts for girlfriend that make her full of joy.
33. Avocado Tree
When it comes to surprisinglylast minute diy gifts for girlfriend, an avocado tree will do a better job than you might think. Using a container and an old avocado pit, you can cultivate a little avocado tree for free. Your girl is sure to love how this plant adds a fresh and charming touch to her home.
34. Custom Pet Coasters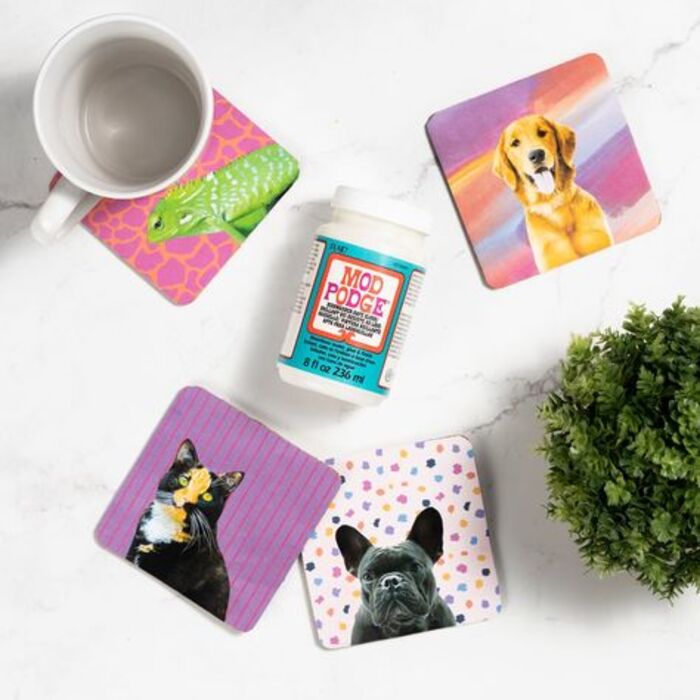 Inquiring minds want to know: Do you and her come from separate places? This charming craft is a great way to commemorate your unlikely union. As a token of your affection, it's a low-cost and straightforward memento. Best anniversary present for a girlfriend we've ever heard of!
35. Pressed Flower Frame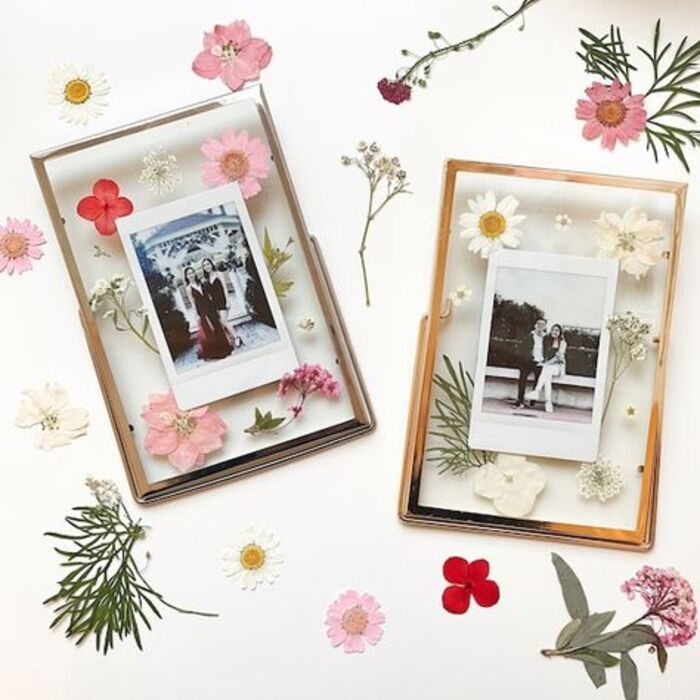 Creating a memory box out of a pressed glass frame is a simple (and inexpensive) handmade gift for your woman. Give her something she'll cherish forever: some old polaroid photos of the two of you, some fresh flowers, and maybe even a handwritten note. It's a bonus that this craft is so simple to put together.
36. Camera Insert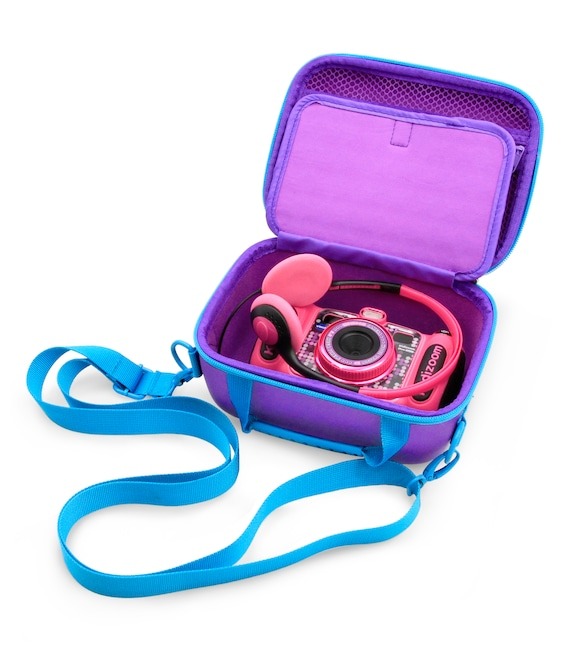 If you're dating a girl who loves photographing, this camera insert is truly made for her. It's a soft bag that helps her store and secure essential pieces like additional lenses. She'll find it useful to have this bag with her wherever she goes for taking photographs. It stands out to be a thoughtful idea when you're seeking romantic homemade gifts for girlfriend.
37. Handmade Laptop Clutch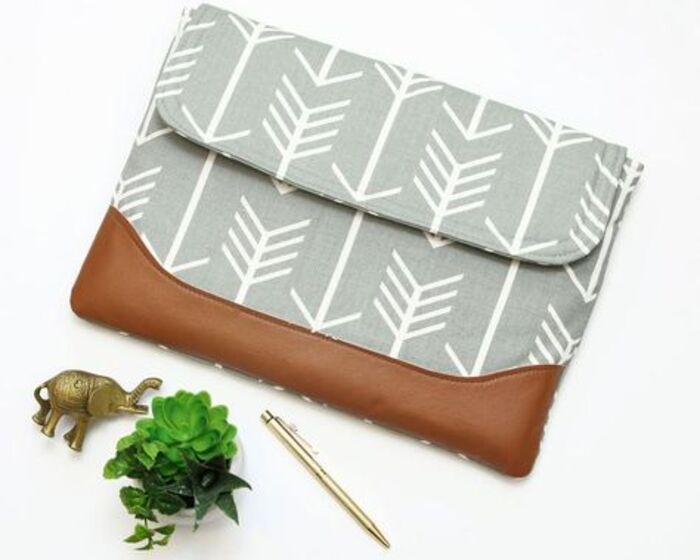 The handmade laptop clutch is a unique and stylish accessory that combines functionality, style, and personal touch. It features a magnetic snap closure for laptop security and a stylish design for essentials like folders, phones, and USB cords. This unique creation seamlessly combines the sentiment of handmade gifts for girlfriend on her birthday with the practicality of a chic laptop clutch.
38. Clay Flower Planter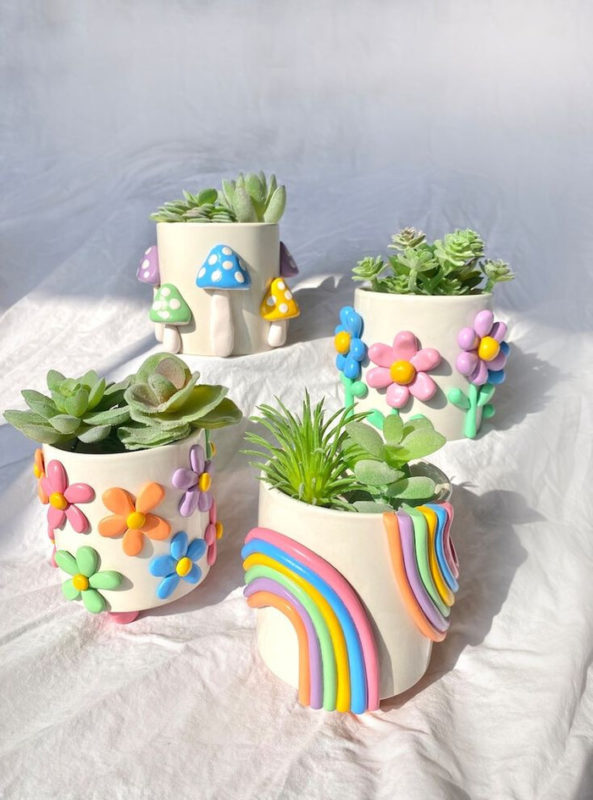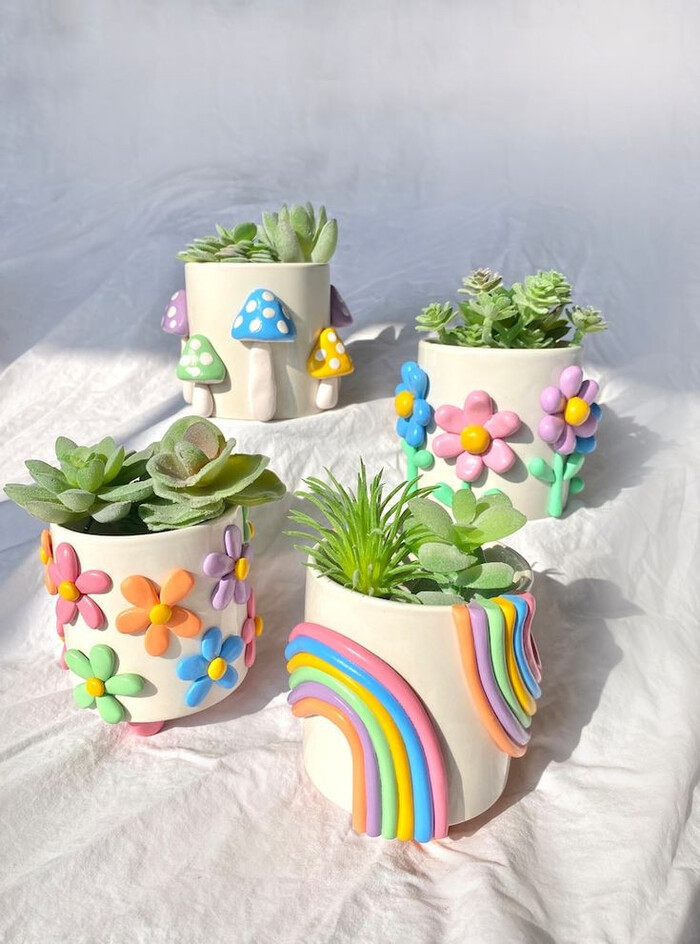 For those seeking last minute DIY gifts for girlfriend, consider giving your plant gift a unique and personal flair by embellishing it with delightful clay petals.With so many hues at your disposal, it's easy to make something that complements your thoughtful present perfectly. It's a simple and sweet way to add a personal touch to a last-minute gift for someone you care about.
How to do
Cover your workspace with plastic wrap or newspaper.
Roll out the clay to your desired thickness, shape the planter into a desired form, add decorative elements, and create drainage holes.
Allow the clay to air-dry completely, then paint the planter with acrylic paints. If desired, apply a clear sealant to protect the surface.
Fill the planter with your favorite plants or flowers after drying and sealing.
39. Cork Pin Boards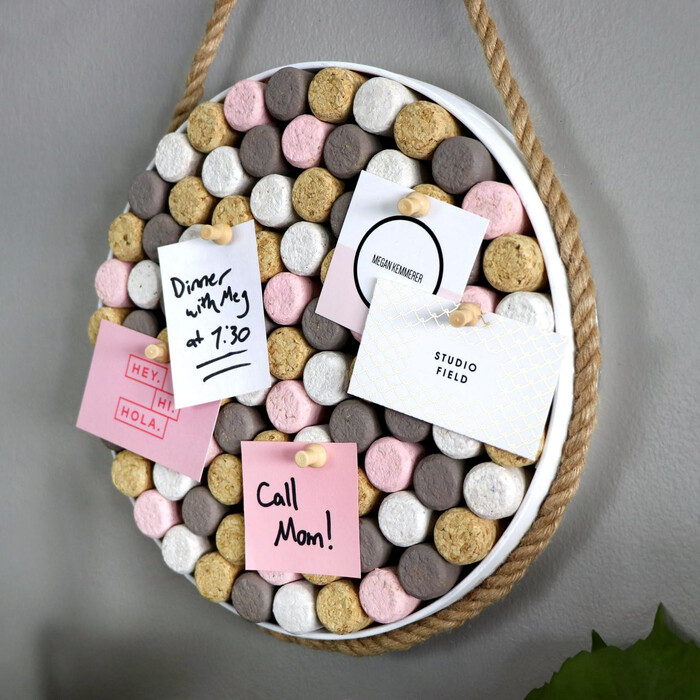 These handcrafted cork boards have beautiful painted patterns and designs in a variety of aesthetics. They'd look excellent on the wall above your daughter's desk. Get some cork boards and some paint to get started on this project.
Read more:
Romantic homemade gifts for girlfriend are an excellent way to show how thoughtful, and sincere you are. She'll love every piece that you make and treasure it for years to come. Thus, once you've decided to make her birthday or Valentine's Day the best day ever, don't miss out on this gift guide. Oh Canvas believes that you'll make her feel proud and special.