Being in a long-distance relationship really sucks. Though the high-end technology keeps you well connected, it can not replace your lover in real life. But don't let the distance separate you and her apart. It's time to prepare the best gifts for long-distance girlfriend to bring you two closer. You'll find it priceless to see a look of surprise and happiness on her face when she unwraps your gift in front of the camera. Check out Oh Canvas's gift guide, and you're sure to have an unforgettable virtual date night with the love of your life.
Custom long-distance relationship gifts for her
1. Custom Wooden Mixtape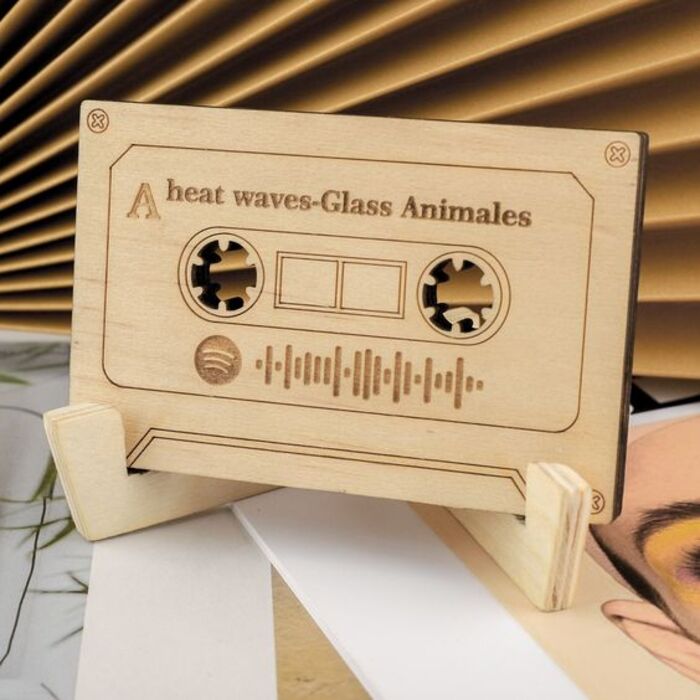 There is no cassette player for this wooden mixtape, but it is an excellent alternative to the plastic '90s version. Your finish touch might be her name, a Spotify code of her favorite song, or a QR code that points to a playlist you make on your preferred music platform. Isn't that awesome?
2. Engraved Wooden Gift Box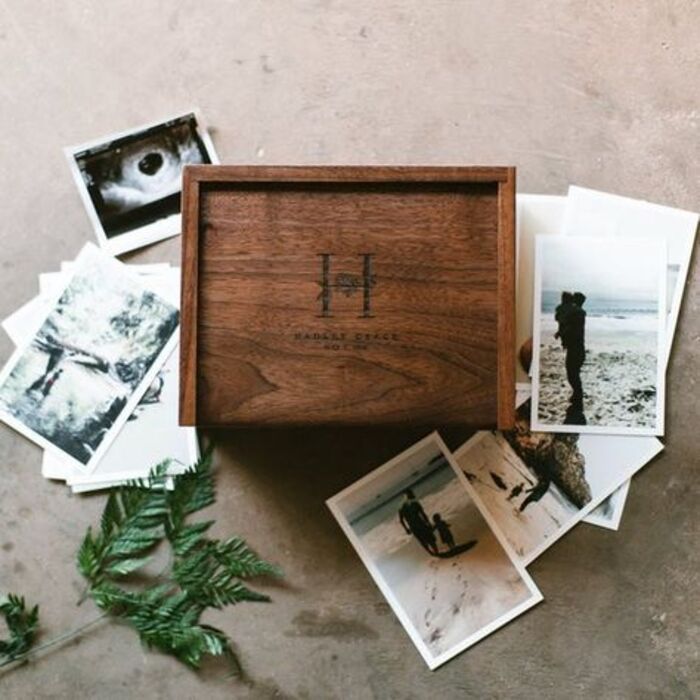 You can never go wrong with a custom wooden gift box when seeking the long-distance touch gifts. Whatever the contents of this box are, remind your girl that you're devoted to making this work, no matter how many states or oceans there are between you. Put some chocolates in there to keep it basic and romantic.
3. Capsule Messages In a Bottle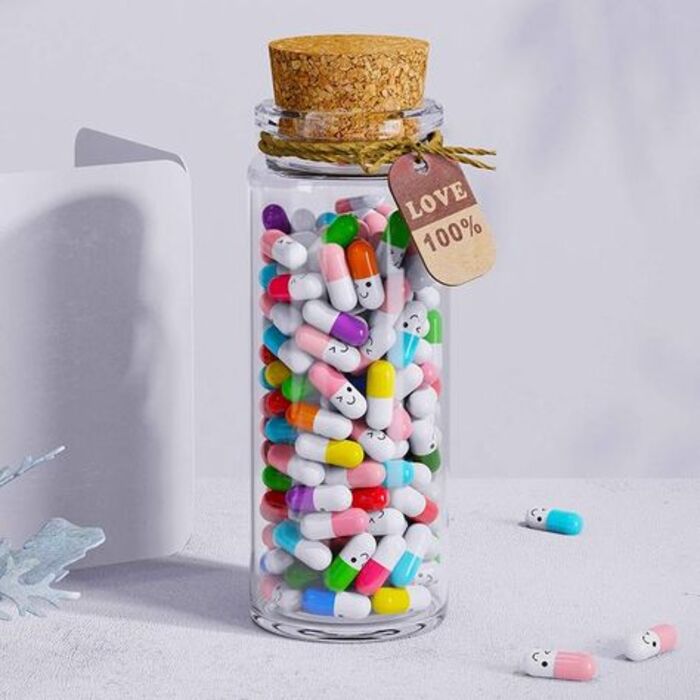 Take a look at these colorful little pills with a secret love note buried inside if you need a daily "dose" of your lover.
Gift her this bottle so she can open it up and read love letters whenever you're away. Include jokes, flirtatious zingers, and even cute drawings to excite her.
Oh Canvas Tips

How you display the message in a bottle might make all the difference. Think about putting it in a present box or basket together with other thoughtful gifts like flowers or chocolates.
4. Custom Song Album Cover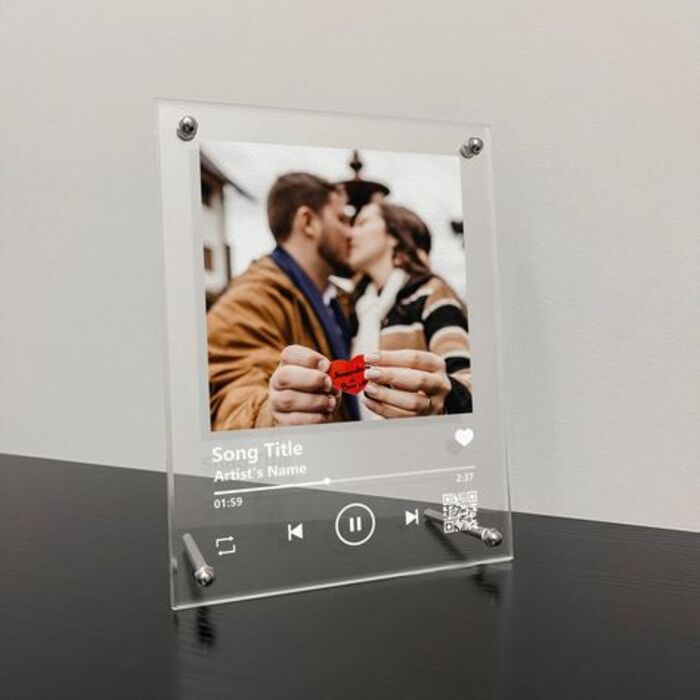 "Our song" has been elevated to a new level by this cover. The elegant acrylic tile is personalized with the lyrics to a song that is special to both of you.
With a Spotify scan code, anyone who sees it will be able to immediately start listening. What a great idea for long-distance gifts for her.
5. Printed Wooden Bookmark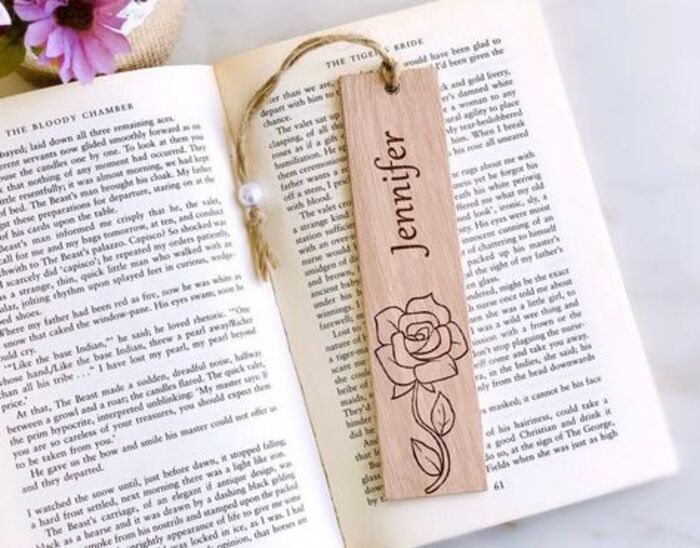 This personalized bookmark is a wonderful alternative for someone seeking a thoughtful present for girls. With her name on it, she's sure to realize how much she means to you no matter where she lives.
6. Custom Photo Calendar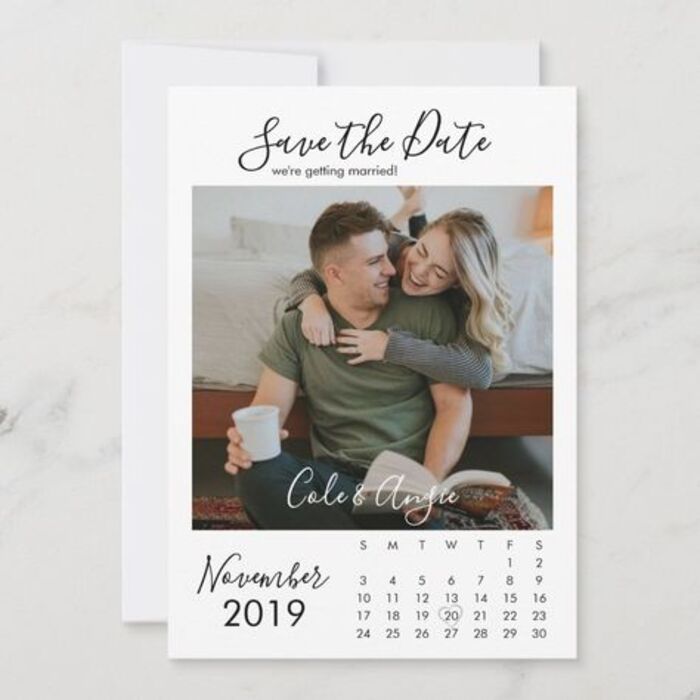 A photo calendar of the two of you is one of the cutest gifts for long-distance girlfriend. She can write down the next time you see her and cross off the days in between, waiting for time to fly by.
7. Custom Photo Canvas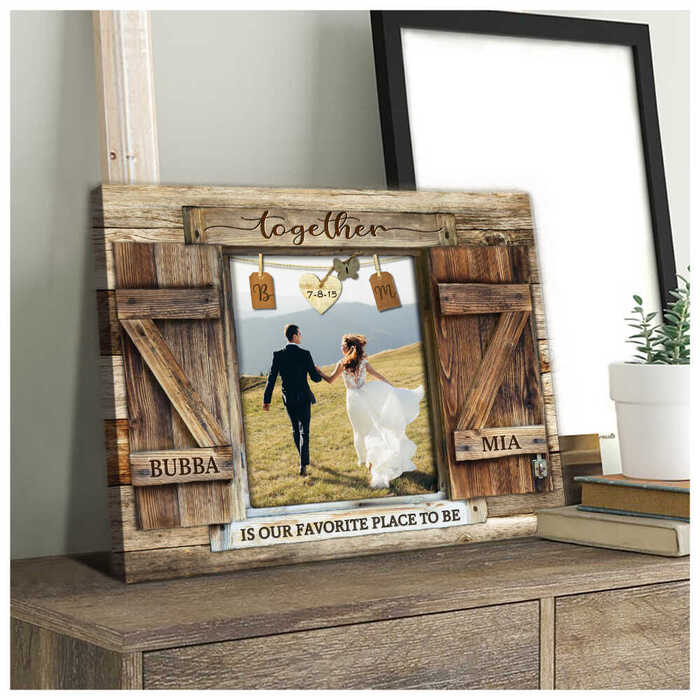 This photo print is a sweet personalized gift if you're looking for artwork that preserves your memories with her. Have it hung in her room; she'll feel less lonely since she knows you're always there with her daily.
8. Digital Photo Frame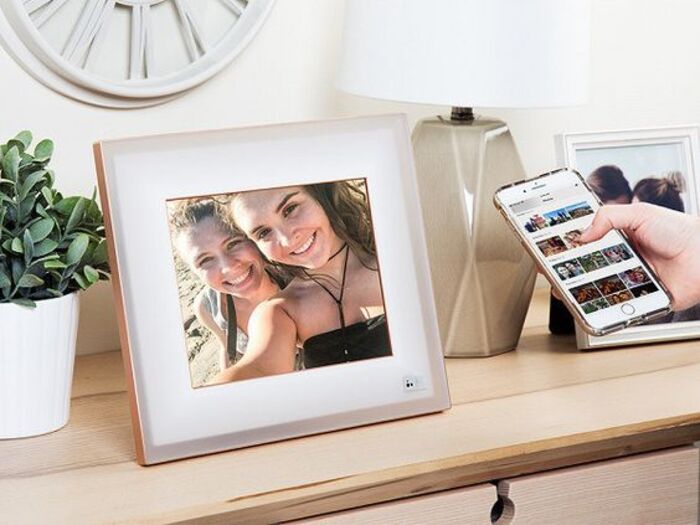 Using this digital picture frame, you can email and upload photos directly from your smartphone. What a great idea to surprise your loved ones with new images!
9. Compass Keychain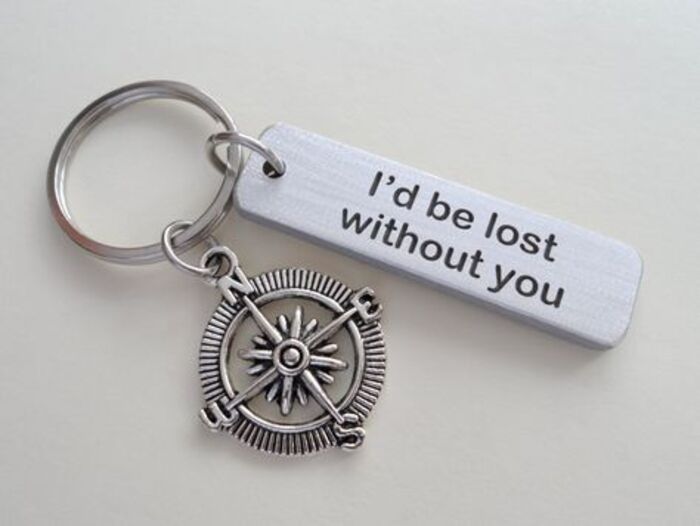 On the hunt for charming virtual gifts for girlfriend that make her beam with joy? This keychain will increase the amount of time your significant other spends thinking about you throughout the day. This is also a wonderful reminder that love knows no bounds.
10. Bamboo Recipe Box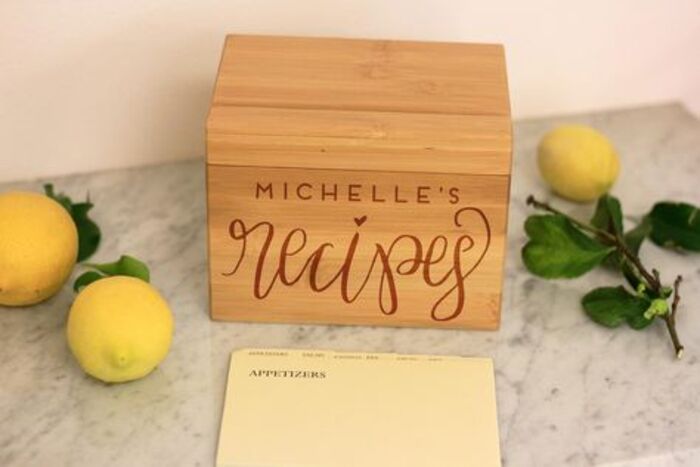 Even if you're not able to cook together right now, this recipe box is a great substitute. Recipe cards with step-by-step directions for your partner's favorite foods can be stored inside. When you come to visit her, you'll be surprised by how her cooking level increases.
11. Rustic Mason Jars Canvas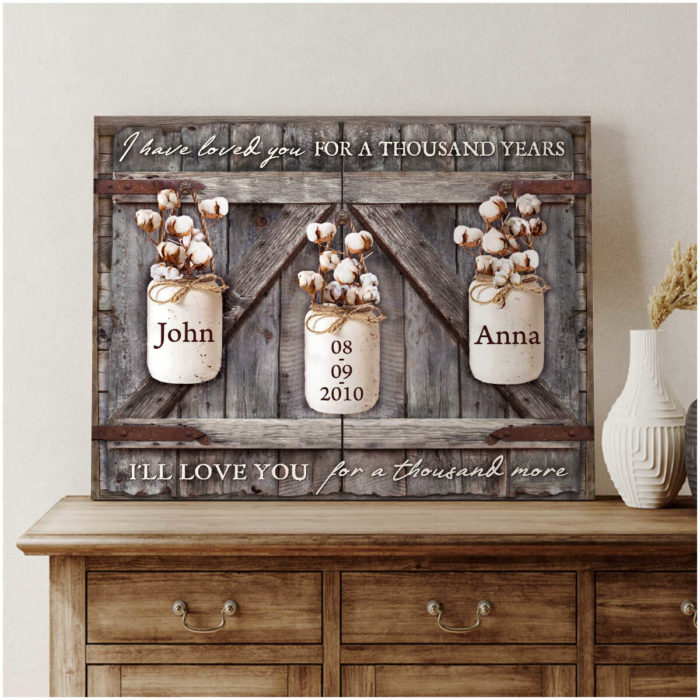 In search of the best virtual gift for girlfriend that she'll treasure for years to come? A personalized canvas print will be a home decor elevate her living space and make her feel loved at the same time. With this canvas as a great gift for her birthday or Valentine's Day, you're sure to bring a smile to her face.
12. Custom Coordinates Cuff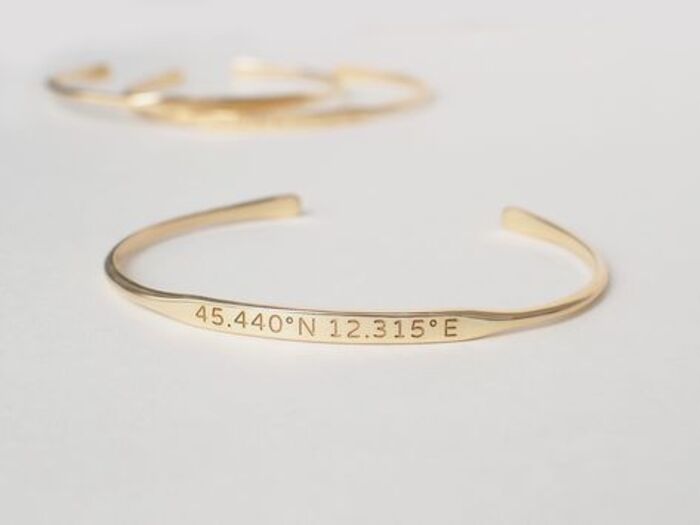 The long-distance bangle isn't as corny as some others. Your special someone will always feel near to you, no matter where she is, thanks to this stylish cuff is a meaningful custom gift for your girlfriend with the coordinates of where you live.
13. Sound Wave Acrylic Art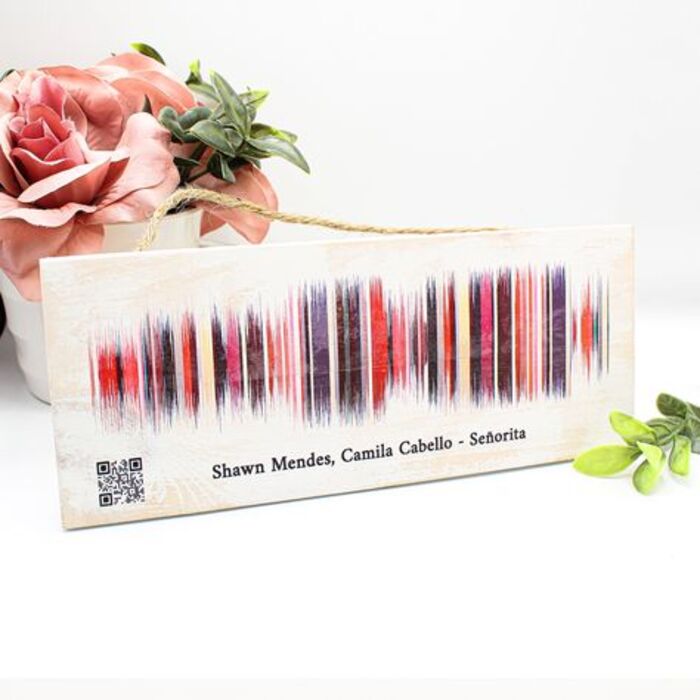 If you and your significant other have a "song" together, this piece of acrylic art will help showcase it in a romantic way. There's also a QR code so she can listen to the song whenever she misses you. Don't miss out on this charming piece when you're finding the best surprises for long-distance girlfriend.
14. Dual Time Zone Wall Clock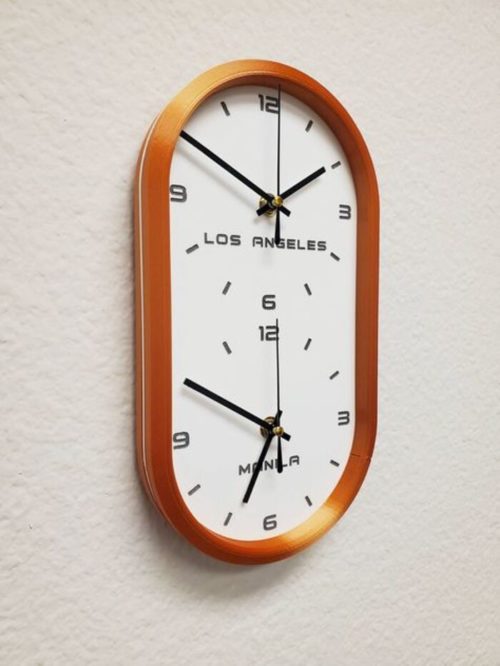 It's a delicate way to show your love for your sweetheart. A handmade clock with two different timezones is a great reminder that you always think about her. These great long-distance relationship gift ideas also cure a girl who is homesick and too sentimental.
15. Romantic Photo Canvas Wall Art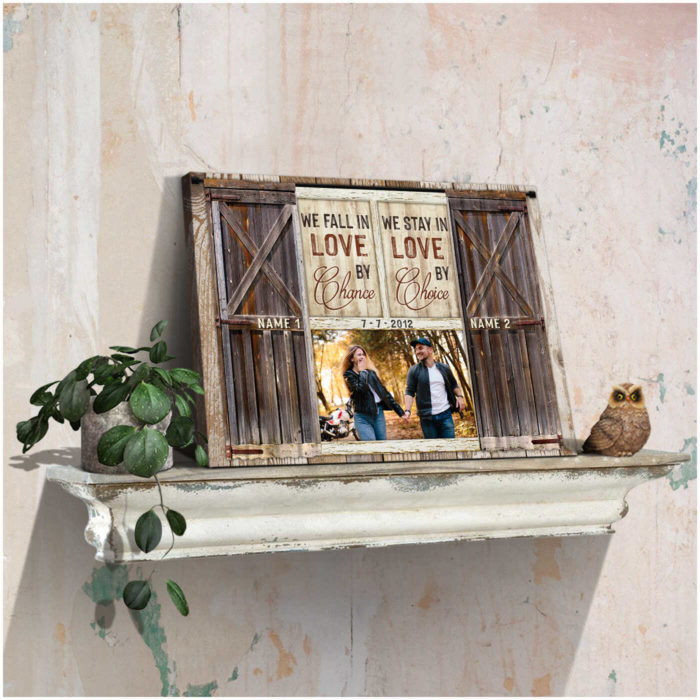 If you're finding the most romantic gift to show how much your girlfriend means to you, give her this rustic canvas with which you can personalize your photo and name. This gift reminds her of her beloved and thoughtful boyfriend when she was living far apart.
16. Puzzle Piece Keychains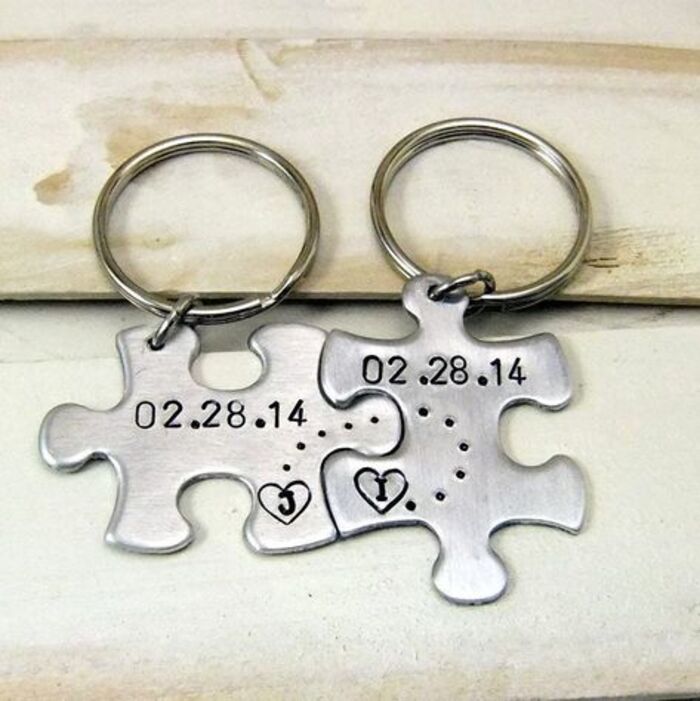 How about a custom set of keychains for you and your lady? These cute long-distance relationship gift ideas will be the best gift for long-distance girlfriend. It's a daily reminder of your love, showing you're always with her throughout the journey.
17. Morse Code Bracelet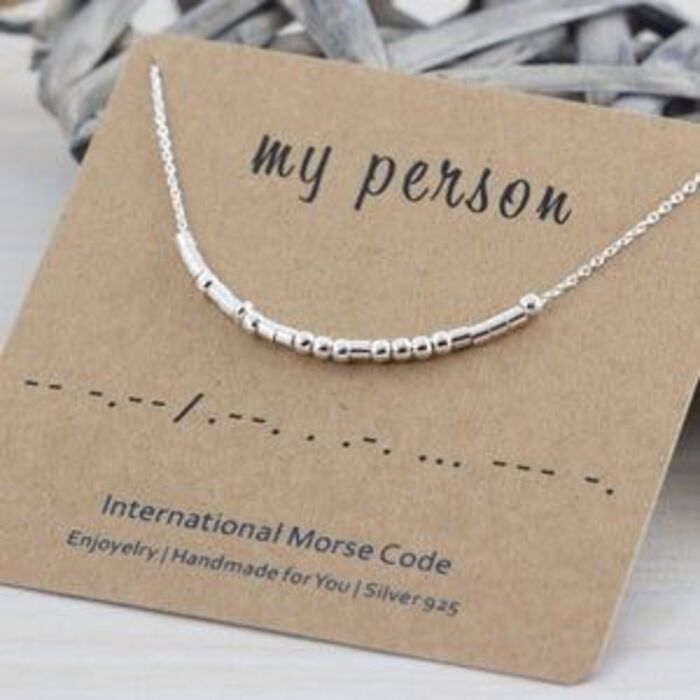 Even if your significant other isn't a big fan of jewelry, she'll adore how this bracelet reminds her of you whenever she glances at their wrist. Get one for yourself so that both of you can share a little romance together.
18. "God Knew My Heart Needed You" Canvas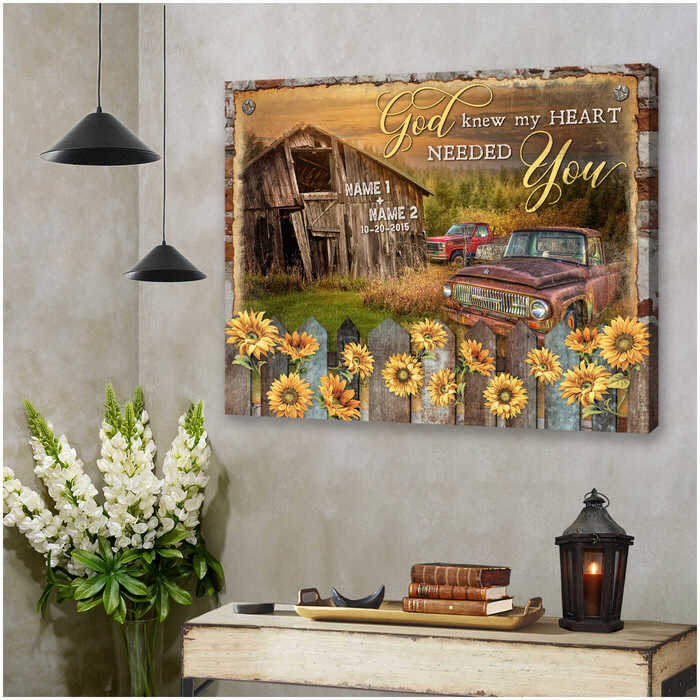 Tell your partner how much you love her by gifting this heartfelt "God knew my heart needed you" canvas. Rustic and charming, this print will surely add the warmest touch to her room. Get this canvas now and make it one of the sweetest long-distance relationship gifts for her.
19. Leather Passport Holder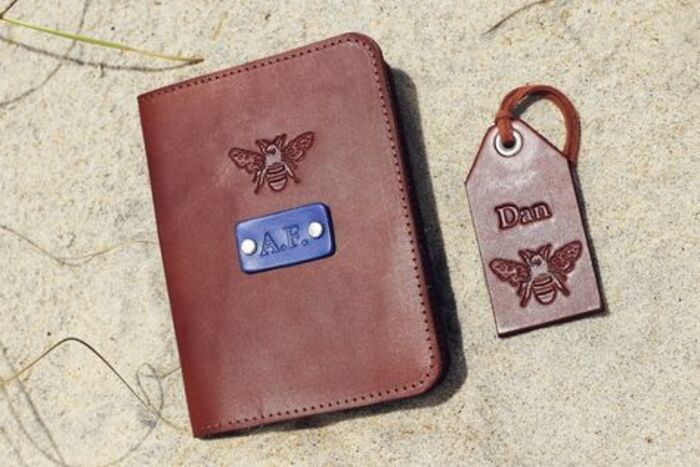 If you're planning a trip to see each other abroad, this luxurious passport case is the perfect accessory. Put in your love letters or a picture of yourself so that she keeps it right next to her passport at all times.
20. Leather Photo Keychain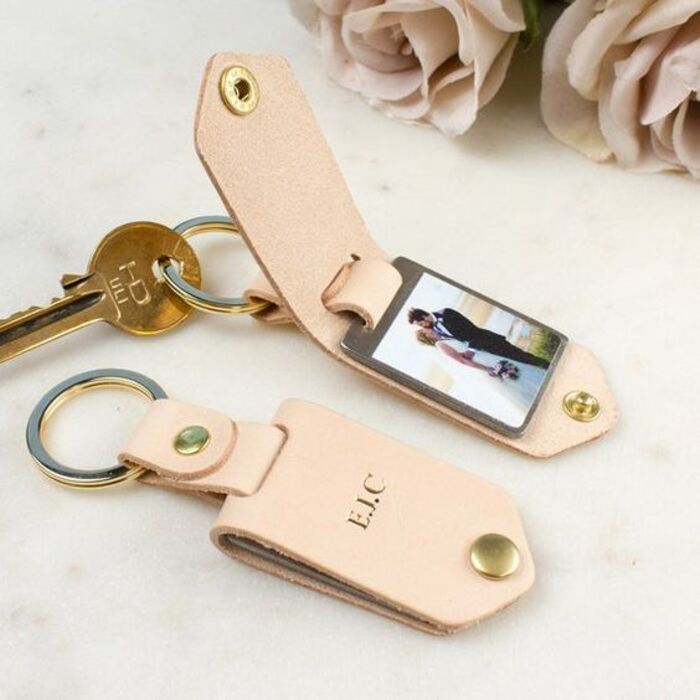 Each of the photographs on this keychain may be customized for your companion, providing her with a convenient way to recall all the special moments spent together.
Oh Canvas Tips

Consider the keychain's size fitting correctly in your girlfriend's pocket or purse. Ensure that it can hold all the keys she needs without being overly large.
>>> Read more: Top 42 Best Luxury Gifts For Girlfriend (2022 Gift Guide)
Cute gifts for long-distance girlfriend to make her less lonely
21. Touch Bracelet Set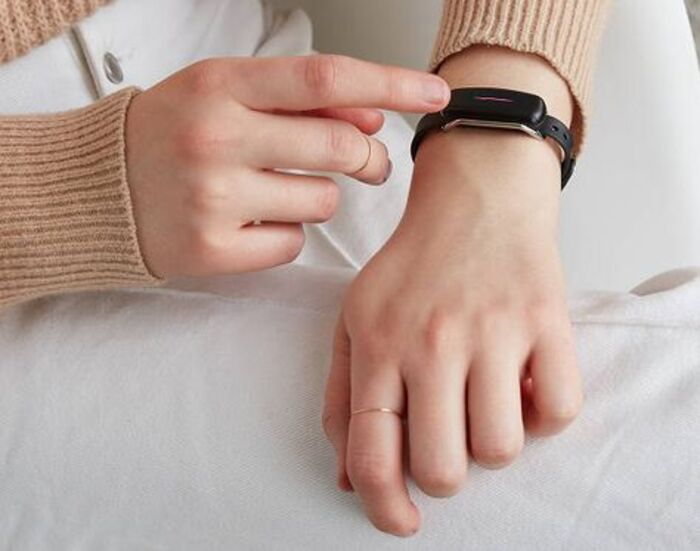 With these waterproof, rechargeable long distance bracelets, you'll always be in sync with your significant other. When you're thinking about her, touch the bracelet, and hers will light up and vibrate. Sounds interesting?
22. Sill Hoya Heart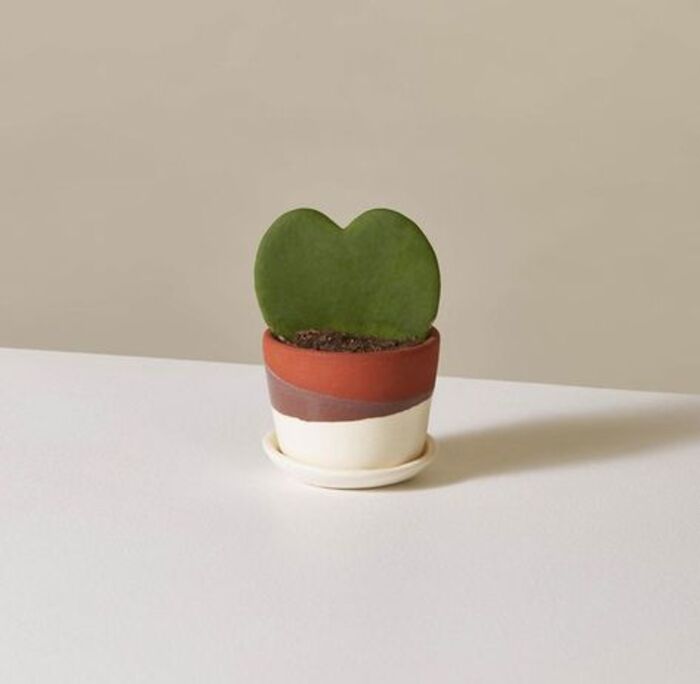 Trying to find creative long-distance gifts for girlfriend? Send them a little bit of your heart, if that's possible. This plant is so easy to maintain, even those who lack a green thumb can grow one by themselves.
23. Flowers Subscription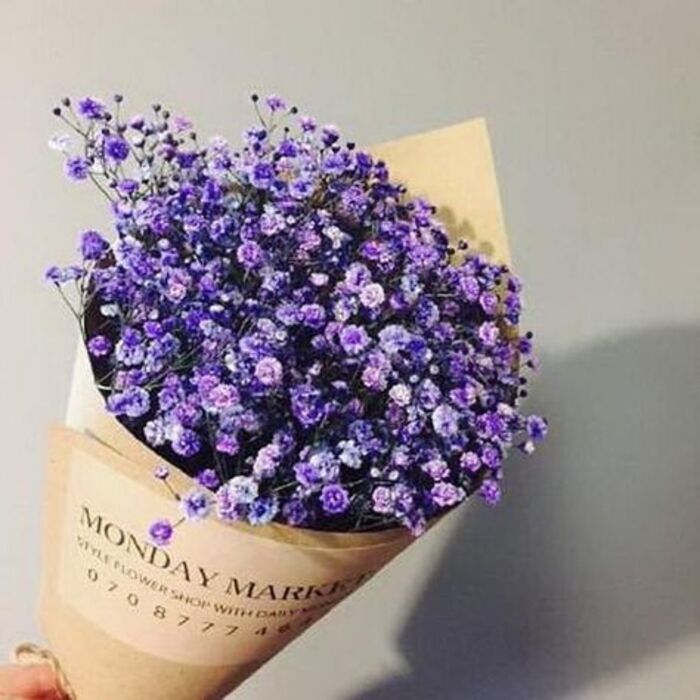 Don't worry if you can't physically deliver a bunch of flowers to her door on Valentine's Day. You can send her gorgeous flowers using this subscription service as flowers for long distance relationships. Opt for her favorite types; don't tell her you to send them until they arrive at her door.
Oh Canvas Tips

Make a note of her favorite flowers or colors. By considering her interests, you may select a subscription that she'll appreciate.
24. Kissing Mugs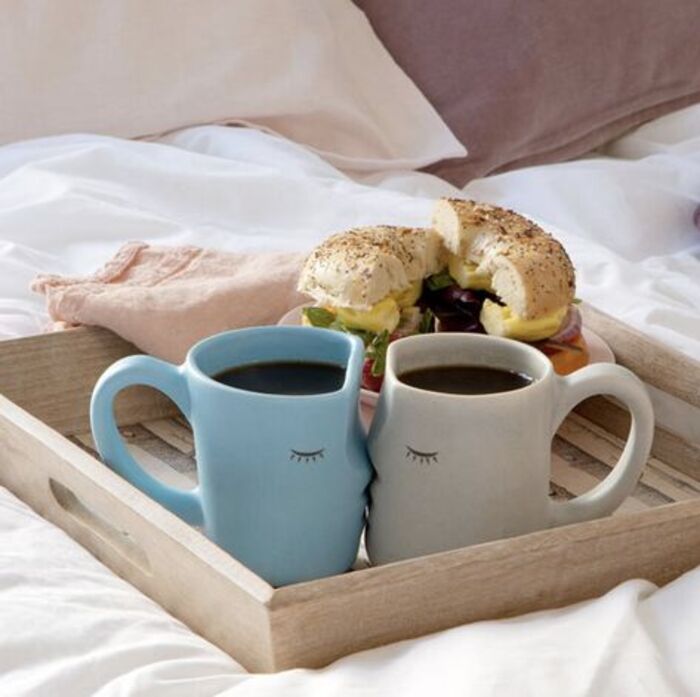 Kissing mugs are cute surprises for long-distance girlfriend that'll make her insane. Long video chat dates call for plenty of coffee, and these mugs are just what both of you need.
25. Wi-Fi Touch Long Distance Lamps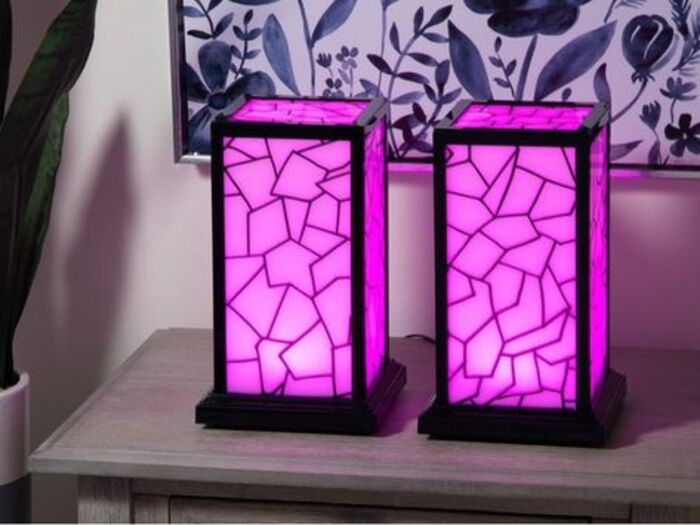 Having some regular contact is the most romantic thing we can imagine for a long-distance love. After purchasing the connected bracelets, you'll need these lamps to complete your romantic gift.
To change the color of your significant other's lamp, you must touch its top once you've connected it to Wi-Fi. Place it next to your bed to give yourself the impression that she's right beside you.
26. Hands Casting Keepsake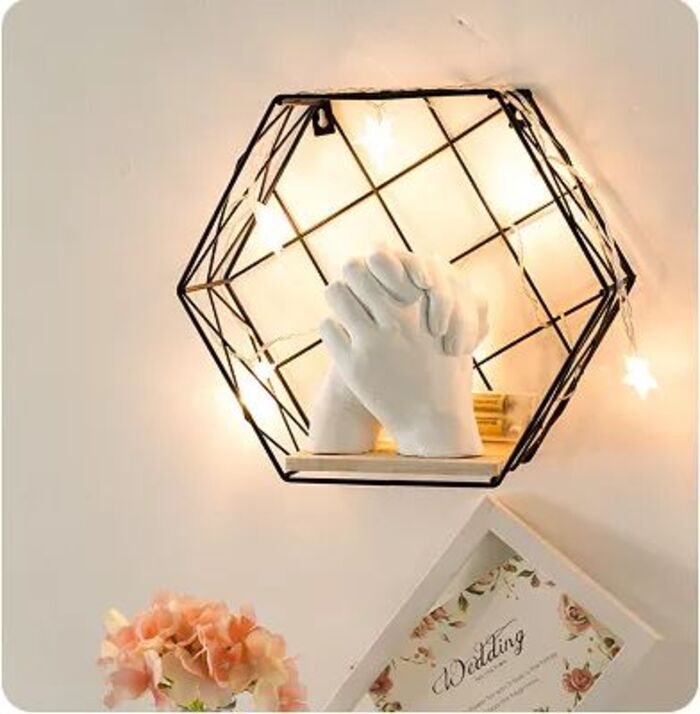 This time, surprise your lady with this hands-casting keepsake as the best virtual gift for girlfriend. When you and your lover are together, this kit allows you to create a heartfelt plaster keepsake. When you're apart, she'll be able to see it and remember you all the time.
27. "Loving You" Canvas
Have you ever told your sweetheart, "Loving you is a wonderful way to spend a lifetime"? If not, send her a unique gift this time to let her know your deep love regardless of the distance.
28. Scratch Off Movies Poster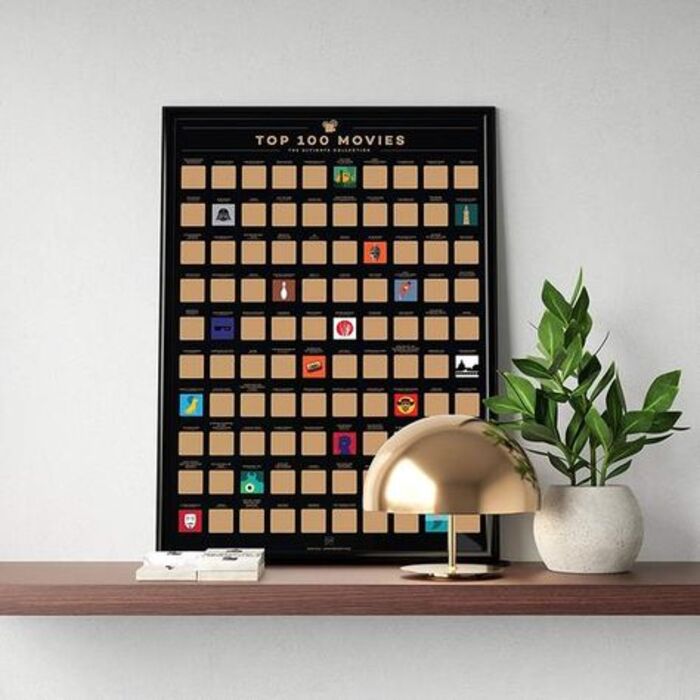 Invest in two posters: one for you and one for your girlfriend. A fun way to spice up your virtual date nights is to watch the 100 greatest movies of all time through video chat and mark each one off as you go.
29. Hug This Pillow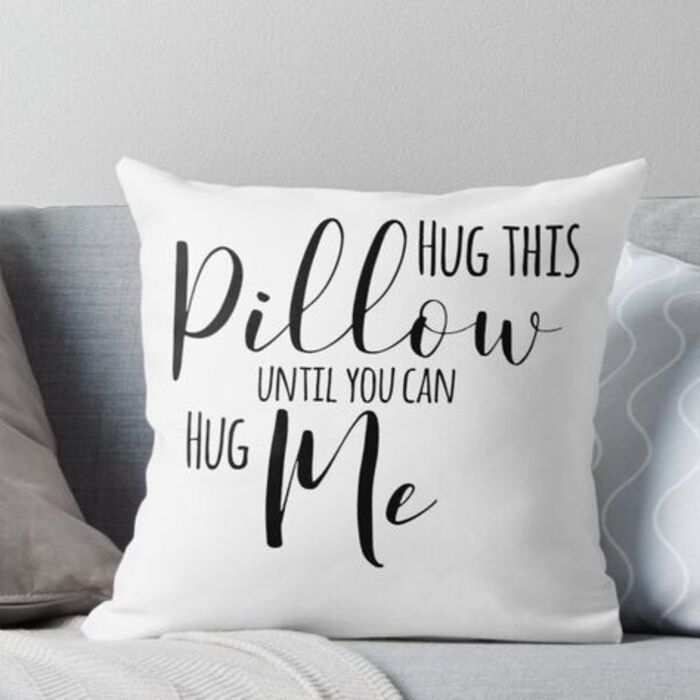 When it comes to cute long-distance gifts for girlfriend, this charming pillow is a must-have. Every night she gets into bed, seeing this pillow is the perfect remembrance of you.
30. Adorable Pet Canvas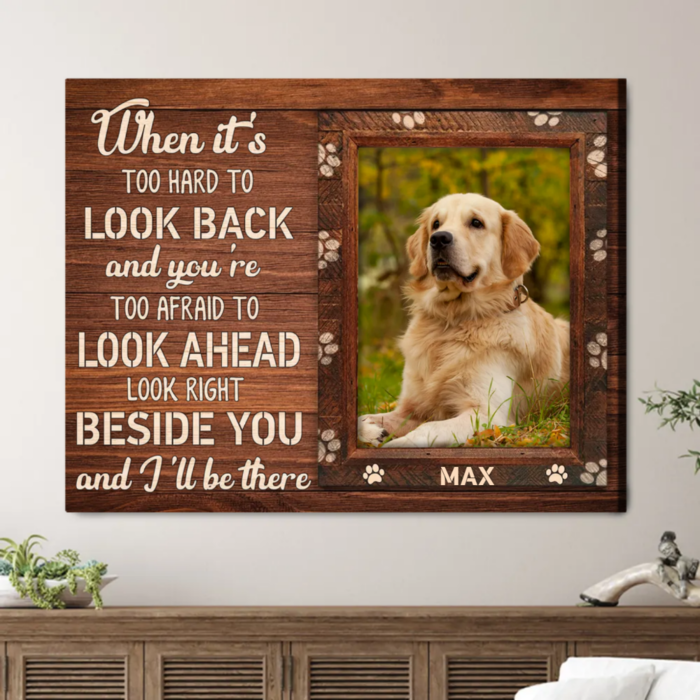 This unique gift is for any girl who adores her boyfriend's little puppy a lot. Besides being a cozy piece of decoration, this print is a strong motivation for her through harsh times living far from home.
31. Lovebox Spinning Heart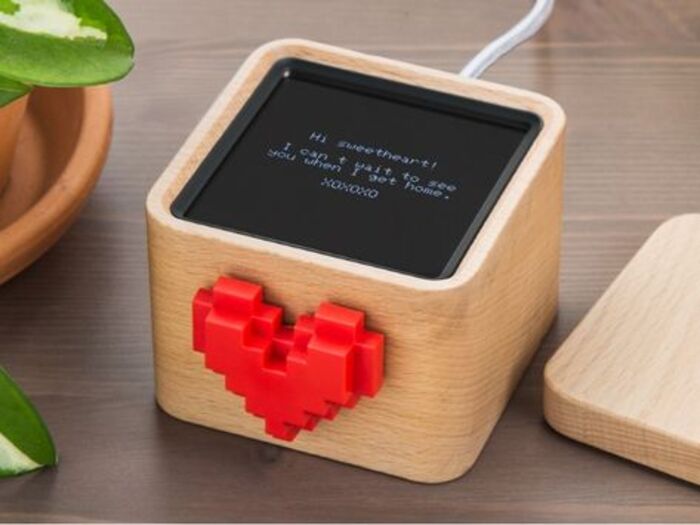 This Lovebox Messenger is one of the most popular long-distance gifts for her that she'll fall in love with.
You can send a special message to your other half or favorite person using an app that alerts her with the spinning heart on the box. With this last minute gift, she'll be able to read your sweet message at any time or place.
32. Handmade Ceramic Mug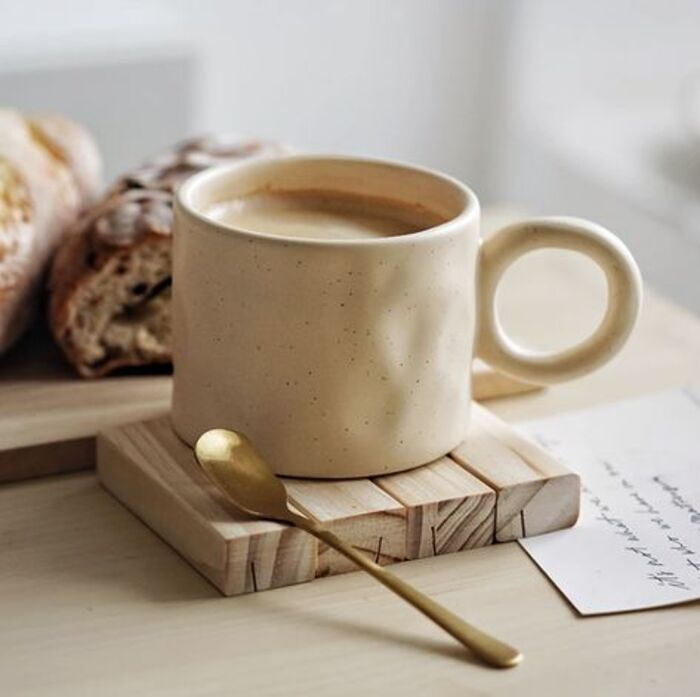 Long-distance romances are sweeter when they find a way to feel connected. Having a cup of coffee together in a handcrafted ceramic mug will make the experience even more memorable.
>>> Read more: 31 Cute I'm Sorry Gifts For Girlfriend To Heal Her Pain
Virtual gifts for girlfriend who needs care and pampering
33. Aromatherapy Diffuser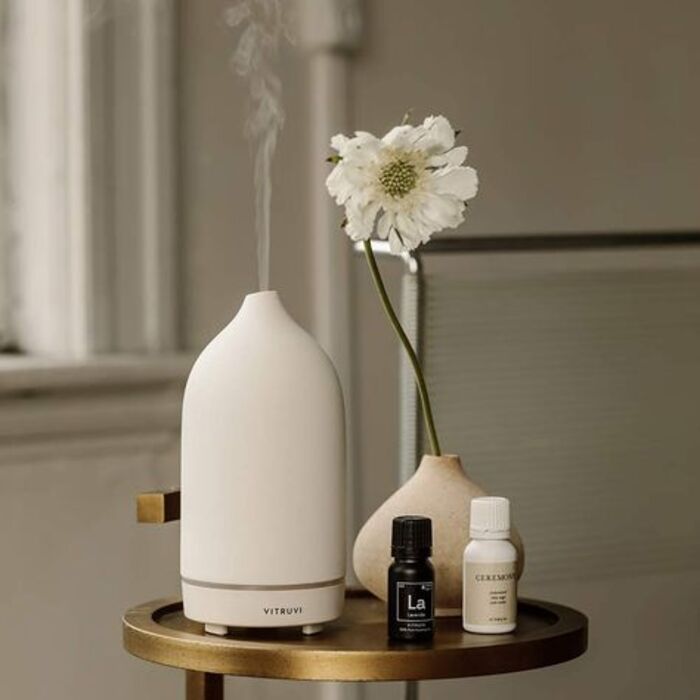 Smell is well-known for its ability to elicit intense emotional responses and recollections. There is a good chance that the essential oils in this diffuser set may bring back memories of you and your significant other.
34. Sea Salt Candle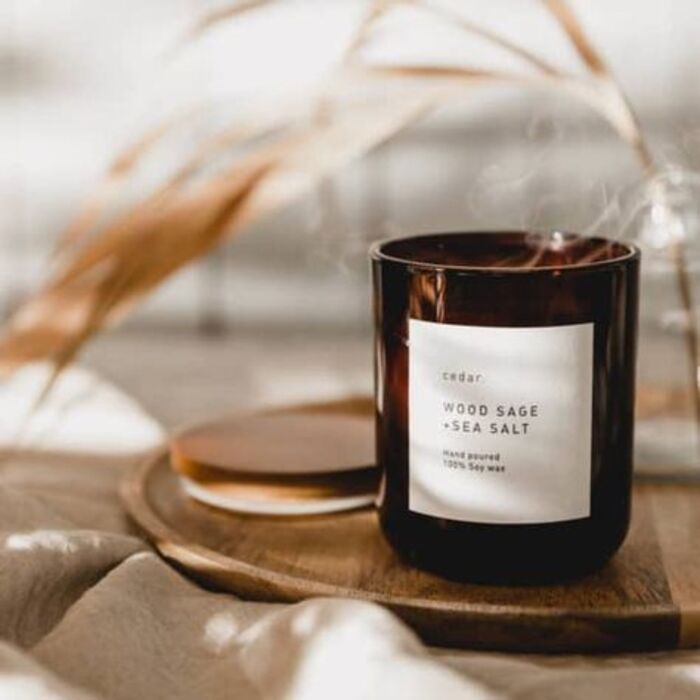 Candles with the distinctive scents of popular perfume brands may be found everywhere. Get her this sea salt candle, and it'll become the best gift for long-distance girlfriend that she's received so far.
Oh Canvas Tips

If she lives in a student's house with only one small room, you should pick a smaller candle with a milder aroma. If the person's home is large, you may want to get them a larger candle, one with two or three wicks, or perhaps a set of candles.
35. Coffee Sampler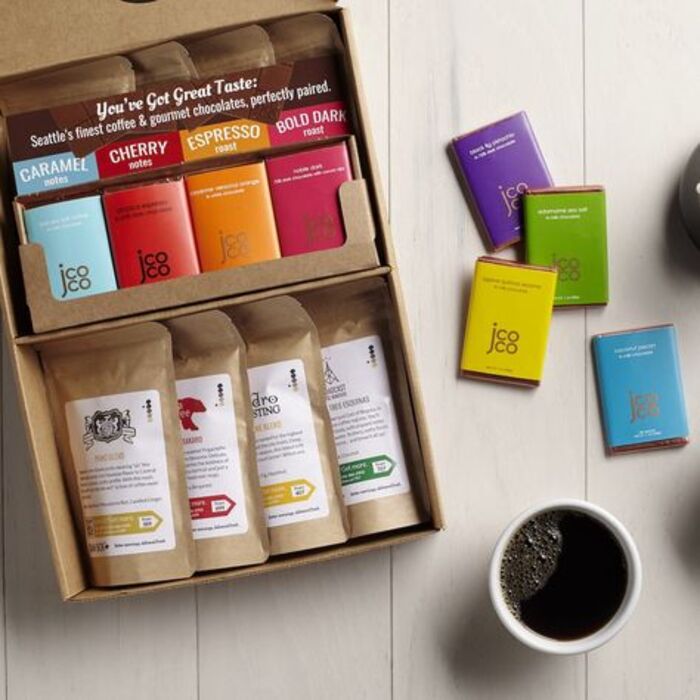 To help your partner get out of bed in the morning, send her this coffee care package with a cup of your handmade brew as an alarm clock. A new cup is available daily, so she can experiment with different flavors. Of course, nothing beats yours.
36. Duffel Weekender Bag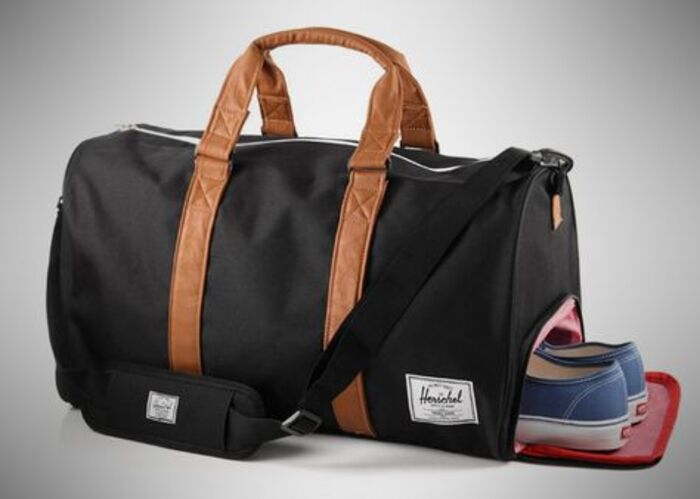 A tough duffle bag is a must-have for practical gifts for long-distance girlfriend who frequently take weekend travels back and forth. This one is made of strong material and features a separate shoe compartment. When she's not on the road, she can use it as a gym bag.
37. Aromatique Room Spray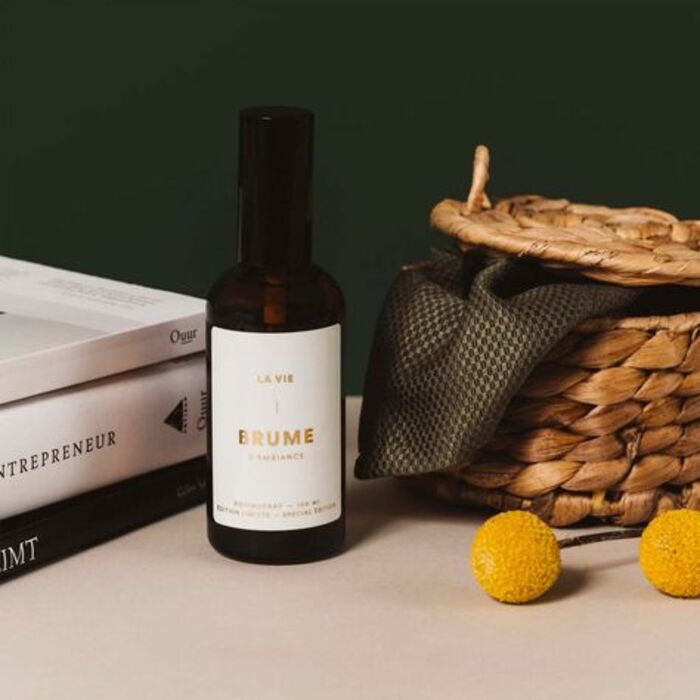 Even though you don't live in the same house, you can still find some commonalities. You and your long-distance partner can enjoy the same heavenly room spray. Your visit to her will be like a homecoming.
38. Yoga Mat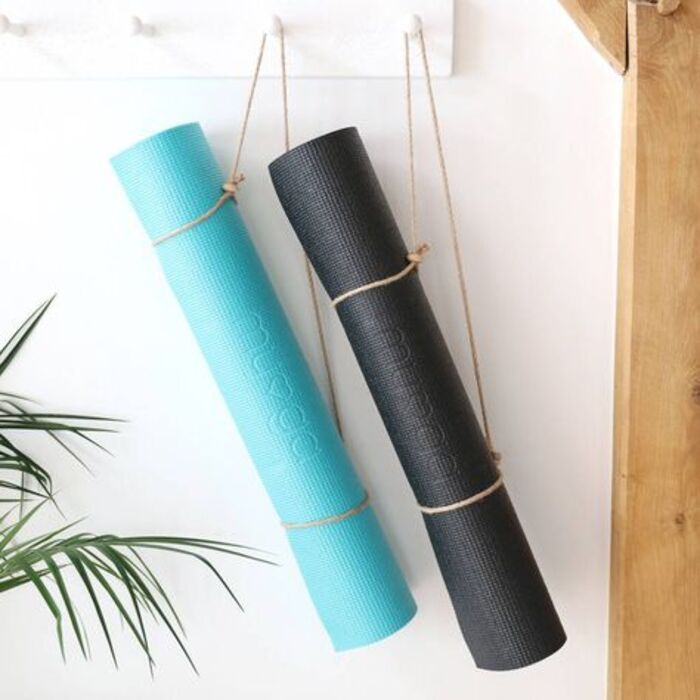 This sleek, non-slip mat will come in handy for all of those online yoga sessions she's been having. This best gift for long-distance girlfriend is an amazing way to show how thoughtful you are.
39. eGift Card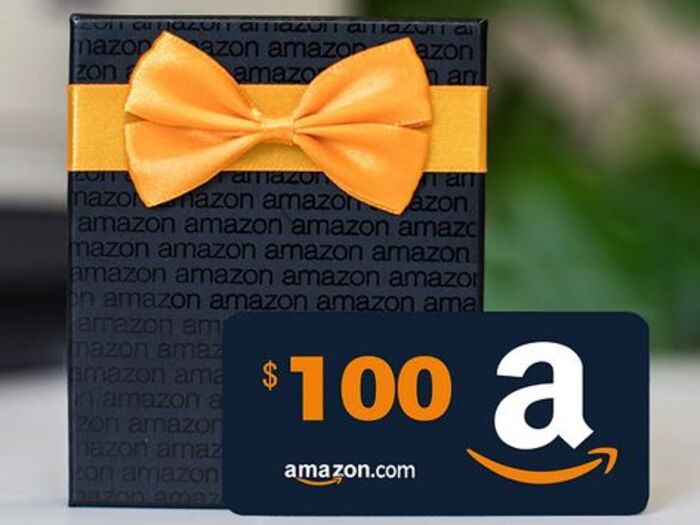 We could see a movie together! You can choose a new Prime release to watch with Zoom by sending her a gift card. A special bonus for re-creating the same luxury popcorn recipe!
40. Full Body Pillow
Practical long-distance relationship gifts for her are all about focusing on the times you miss being with your partner the most. The nighttime is a specific case. Not as wonderful as you, this cushion still serves her with warmth and comfort as she's with you.
41. Airbnb Gift Card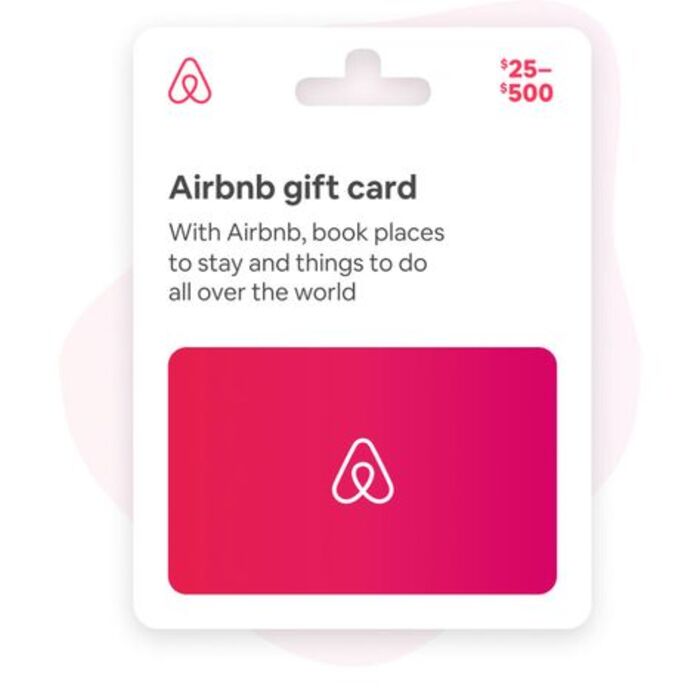 Plan a trip where you and your lover meet halfway instead of flying to your place or the other way around. With this gift, she'll be eager to see and travel with you.
42. Travel Suitcase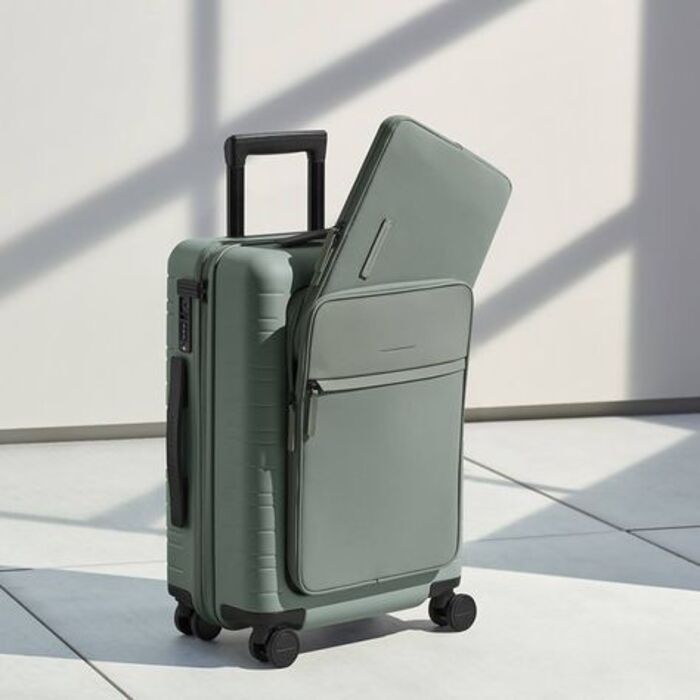 Don't let the lugging get in the way of the fun when she finally arrives to see you or when you take that trip you've been planning. Simple, stylish, and roomy are just some of the best features that make these suitcases cool virtual gifts for girlfriend.
43. Triangle Cushion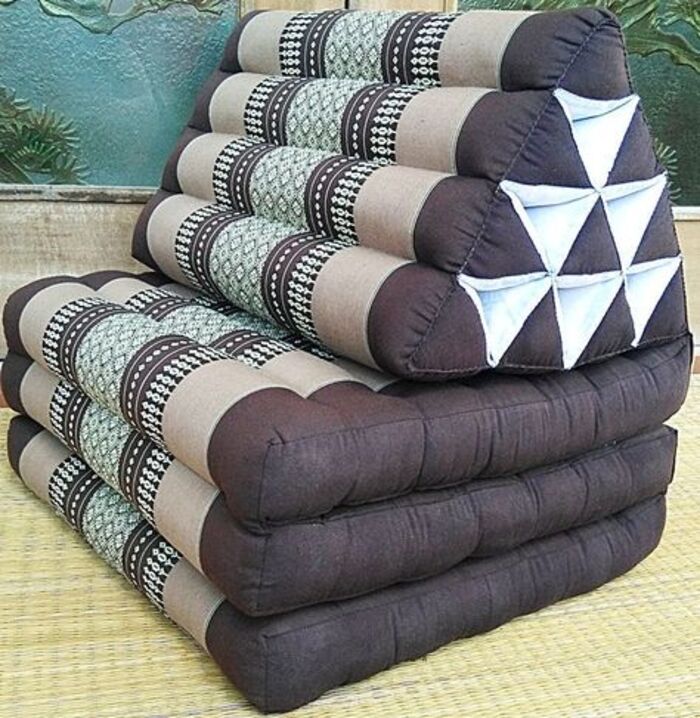 To make a long-distance relationship more bearable, give your lover something that will make her feel more at home. This pillow may be adjusted to suit her height and weight, so she can stay upright and comfortable while conversing for long periods of time.
44. Pro Stream Webcam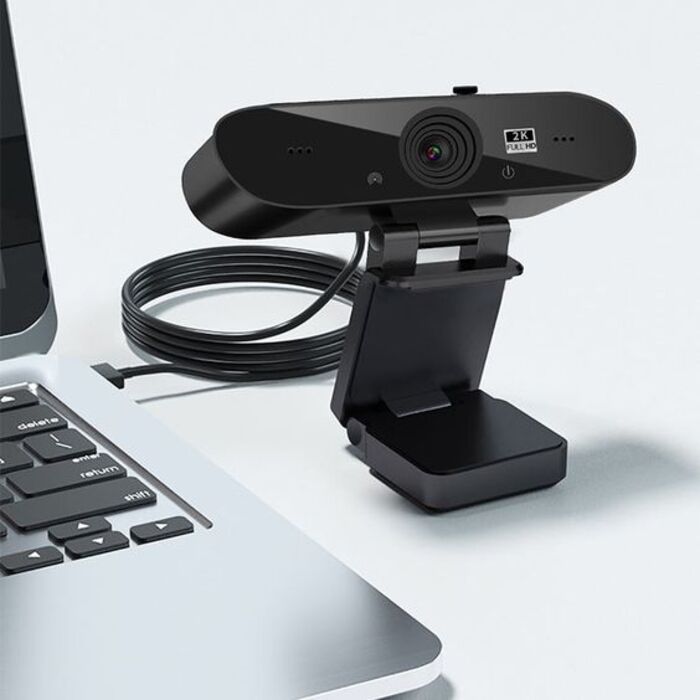 It's time to embrace FaceTime as the decade's most popular date method for long-distance relationships. Video chats are more fun when you have a higher-quality camera. You can never go wrong with this webcam for surprises for long-distance girlfriend that make her proud and satisfied.
45. Noise-Cancelling Headphones
If you're in a long-distance relationship, you'll need a nice pair of noise-canceling headphones to help you communicate. They're also great for blocking out distracting background noises like airplane engines or horns.
Read more:
It's a challenge that you're in a long-distance relationship. You might feel sorry when your girl has a difficult time and she needs a warm hug from you (but can't). And you're trying to compensate for this loss to make her feel loved and less lonely. It's when special gifts for long-distance girlfriend do the part. Revise Oh Canvas's list above, and you'll find at least one thing to send her this holiday.