It doesn't matter how you look at it, celebrating 27 years of marriage is a reason to rejoice. Despite the ups and downs, you've made it this far, and you deserve a thoughtful 27th anniversary gift that commemorates your accomplishment (and all the wonder that lies ahead!). If you want to make your significant other or a favorite pair happy, spend some time reading Oh Canvas's blog!
What is the 27th wedding anniversary meaning?
Celebrating your twenty-seven years milestone is a remarkable anniversary to remember, and there are meaningful ways to commemorate this special occasion. Both traditional and modern 27th-year wedding anniversary gifts are worth considering.
These days, sculptures (or handmade sculptures) are commonly given as unique gifts for couples on this anniversary; they represent the grace and long-enduring marriage of your undying love for one another. And in other traditions, the 27th anniversary of a marriage is also marked by a special song. The ability of music to transport us back in time makes it an especially thoughtful gift.
Even though the twenty-seven years has no traditional gemstones, colors or anniversary flowers associated, it doesn't mean a beautiful bouquet or piece of jewelry can't be given. Thinking about orchids that come in a rainbow of colors, you may pick the ones that mean the most to you and your significant other to create the perfect bouquet. Or perhaps a piece of amethyst jewelry, a beautiful purple gemstone associated with spiritual development and warding off evil.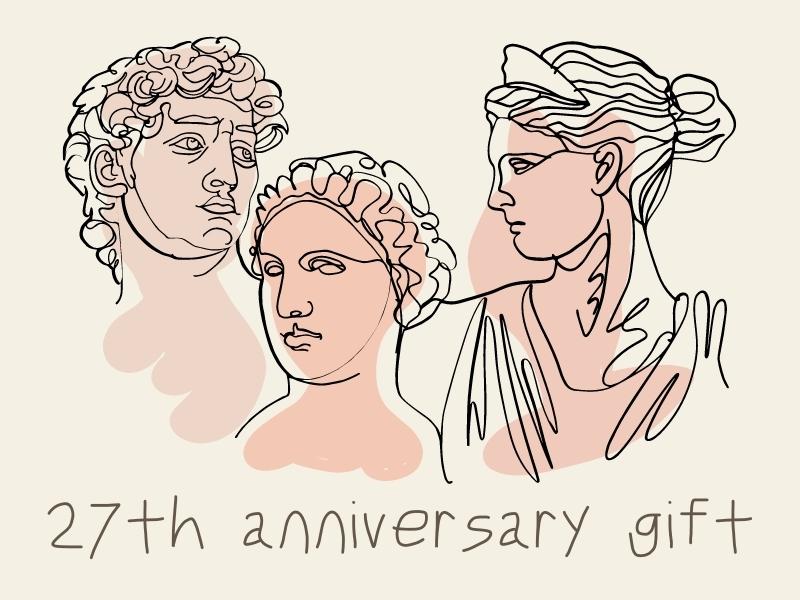 Take a pottery lesson and create your own modern sculpture, or take a trip known for its sculptures and bring one back as a souvenir. If you don't like sculptures, you might prefer a custom-made piece of jewellery or a decorative ornament instead.  Whatever you decide ưhat to gift for your other half on your 27th wedding anniversary, it will be a chance to show your spouse how much you love and value the time you've spent together thus far.
What Do You Get For A 27th Anniversary Gift?
27 Year Anniversary Gift for Wife
1. So they are no longer two Oh Canvas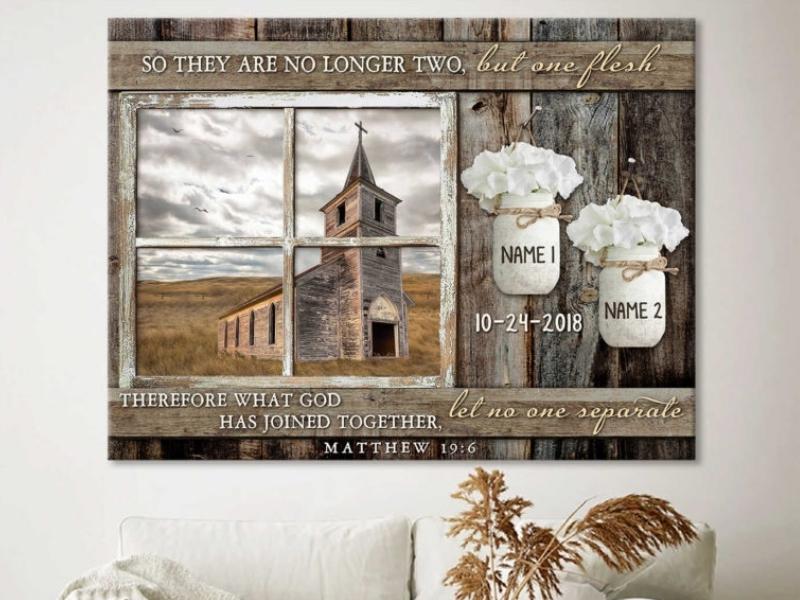 This 27th anniversary gift will show them how far they've gone as they celebrate their 15th anniversary as a married couple. In Matthew 19:6, it's said that when two or more people join together as one, God is pleased. This line depicts a strong and close friendship.
Add the couple's names and the date of their wedding, and you'll have the nicest gift ever. Take advantage of this offer while supplies last!
Oh Canvas tips

Gifting framed artwork or a stretched canvas that is already hung is a kind gesture. You'll save them the trouble of finding a suitable place to hang your gift by making it easy for them to do.
2. Rainbow Glass Infinity Sculpture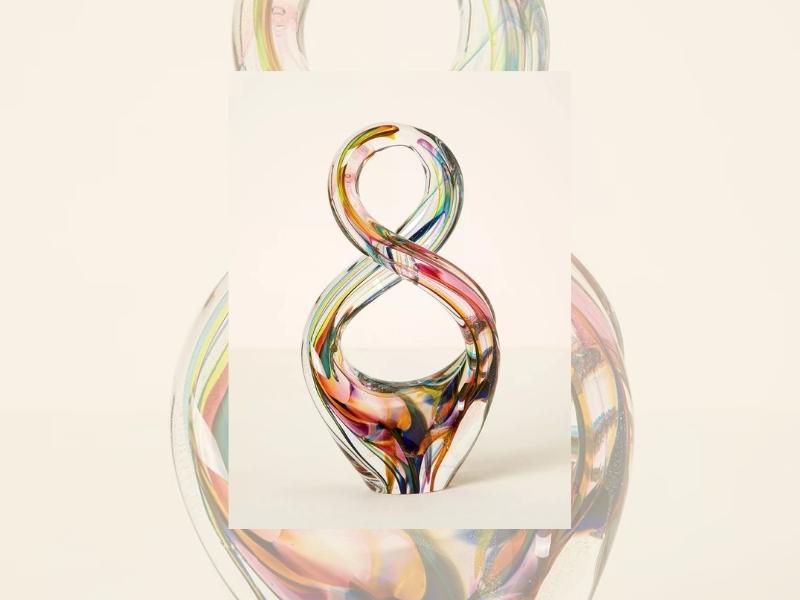 Among our favorite things about this rainbow, glass sculpture is its beauty and vibrant color. Your eternal love for each other will be symbolized by the infinity sign and a splash of color from the multicolored glass.
3. Naturals Ceramic Wedding Figurines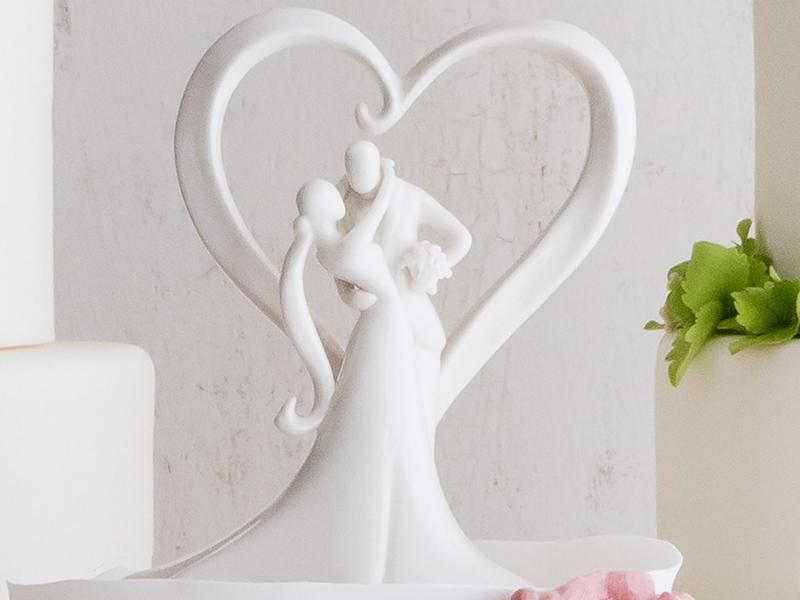 Consider this gorgeous and romantic couple figurine if you want to go with modern anniversary themes for your anniversary gifts by year. An ideal 27 year anniversary gift for wife, this sculpture may be used in any space of the house.
4. Rooted in Love Swing Sculpture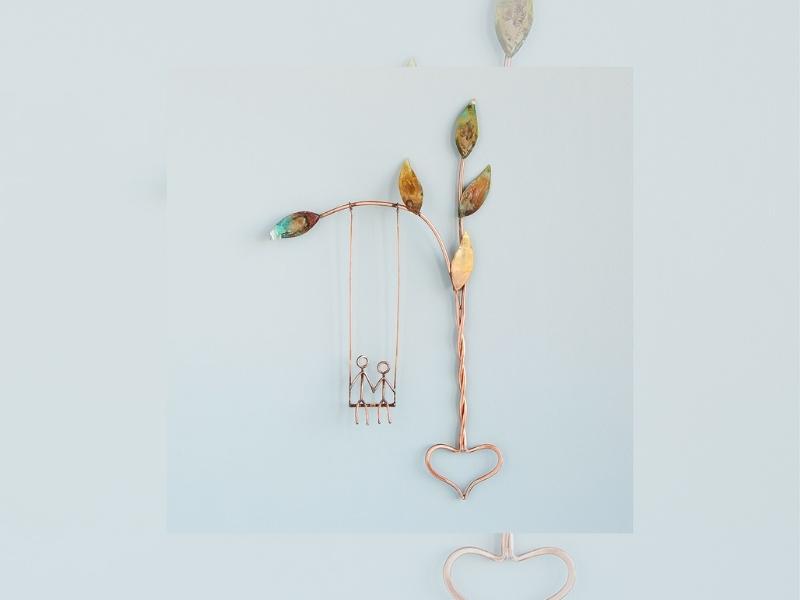 An anniversary gift of a hand-sculpted copper sculpture is a great way to show your lover how much you care. Choose between a happy couple or a family of three, four, or five children to celebrate your love and family in this copper sculpture. The cherry on top? The swing has a lot of power!
5. Handmade Linen Crossback Apron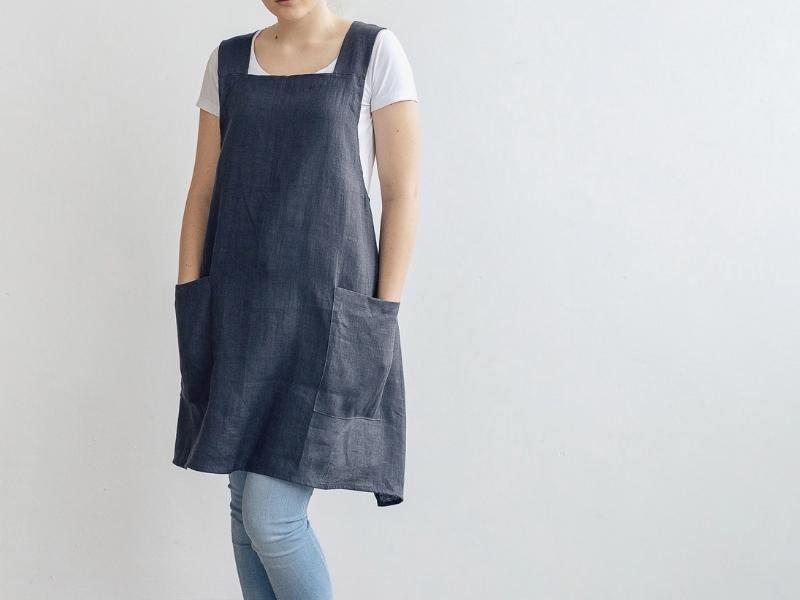 Using a handmade linen apron that crosses nicely behind the back and features two enormous side pockets, you can keep your clothing clean while looking stylish.
6. Color Wheel Pendant Necklace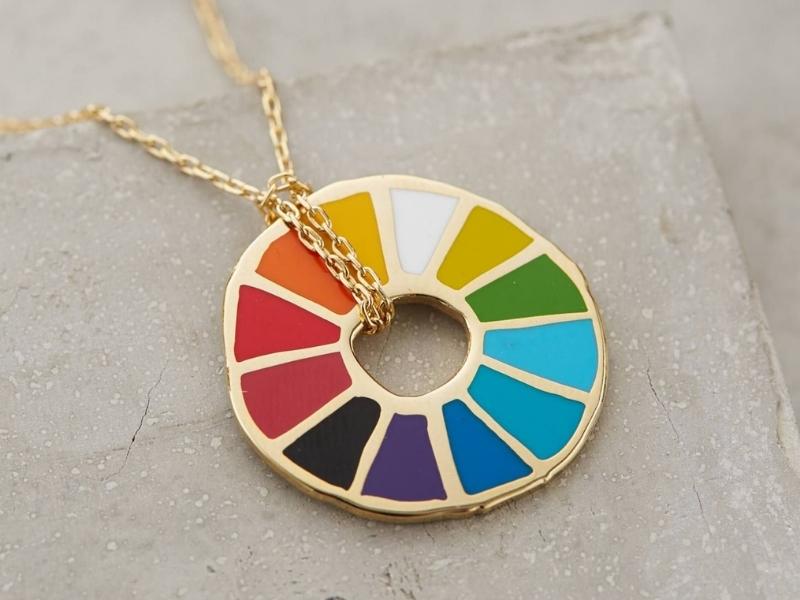 This is more than simply a pretty necklace; it's a blazing demonstration of your flair for originality and good taste. The pendant of this one-of-a-kind necklace is shaped like a colour wheel, displaying a spectrum of colours that can perk up any ensemble. The colour wheel is a visual treat, but it also has symbolic meaning for artists and designers.
7. Natural Dye Kit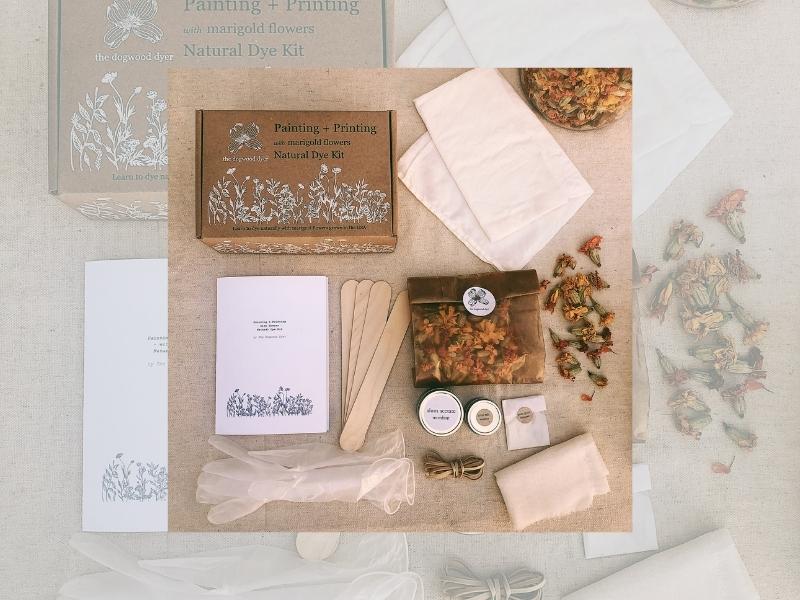 The art of tie-dying has undergone a radical transformation. You'll find everything you need in this kit, including instructions on how to dye 13 feet of cloth in a variety of pastel colors.
8. Paint Brush and Palette Earrings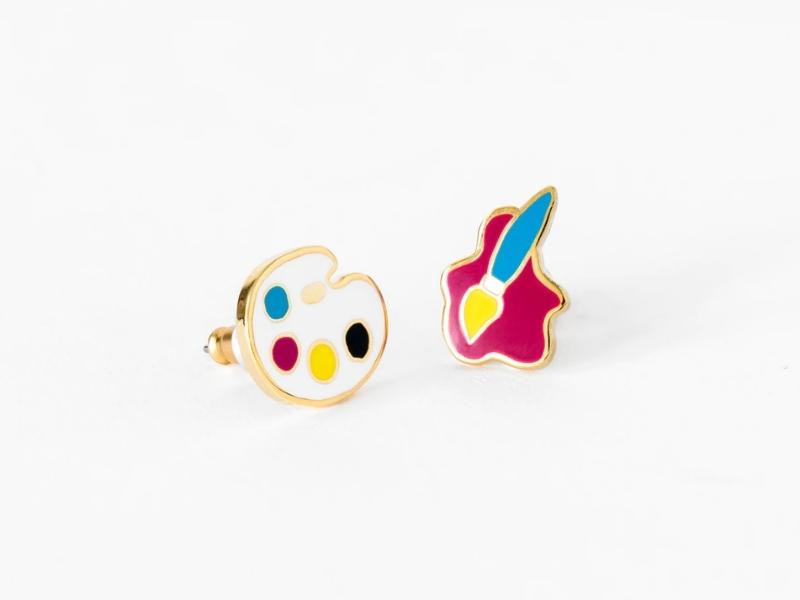 Even if you're not a visual artist, these beautiful enamel earrings can liven up any look. She will love this 27th wedding anniversary gift for wife for the first time she sees it!
9. Tractor and Vintage US Barn Farmhouse Wall Art Decor Oh Canvas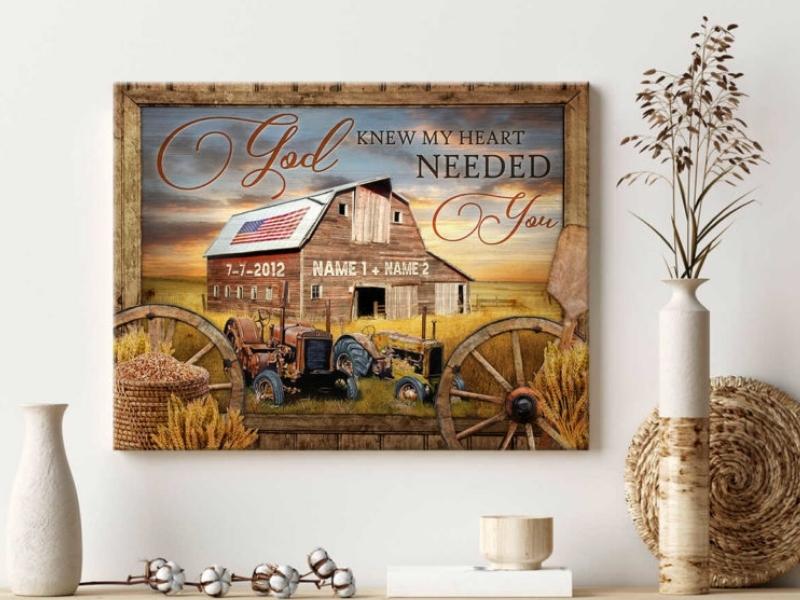 That's why God has the plan to bring you back together with your loving spouse. We trust that our hearts will never fade, no matter what happens. Engrave your special date and name on the old barn to serve as a constant reminder of how much you care for one other. We wanted to help you express your love for your spouse in the most attractive way possible, so we made this stunning anniversary gift for her!
10. The Met Store Rodin The Secret Mini Sculpture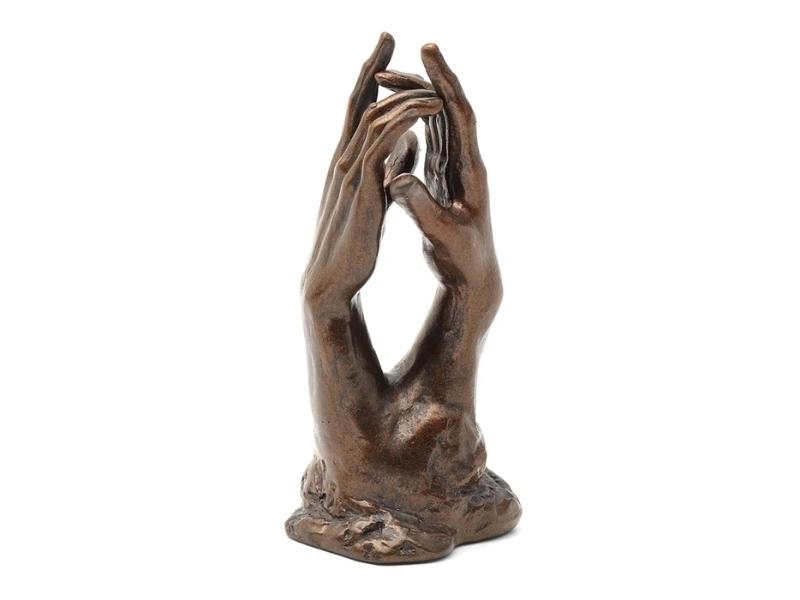 Auguste Rodin's Study for the Secret inspired this unexpected, but nonetheless appropriate, small sculpture for this centennial celebration. Described as containing "an intangible mystery," it shows two hands that are almost joined. It's ideal for both romantics and art enthusiasts.
11. Alabaster Tealight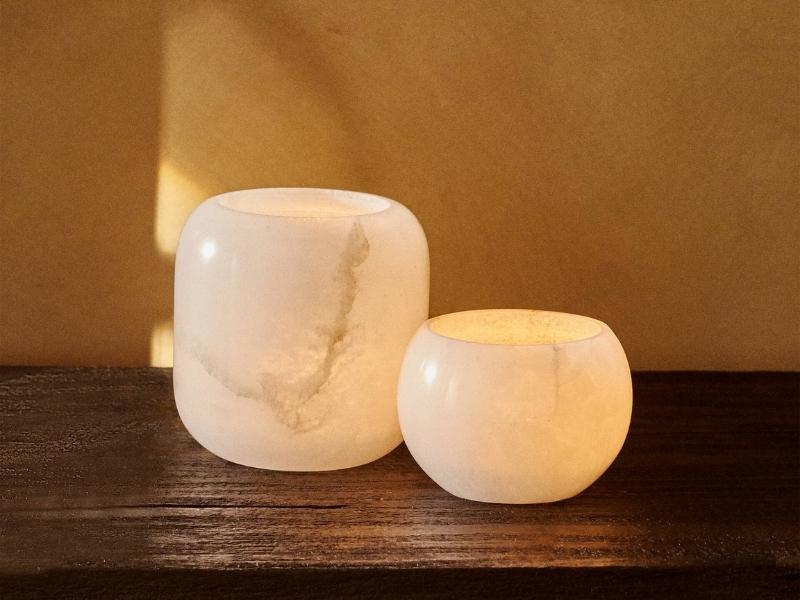 These alabaster tea lights are sculptural and minimalist in design. Make a statement in any environment with their soft-focused light or use them as fun centerpieces. Handcrafted, each piece tells a unique tale about the stone it was carved from, with its own delicate crystals and natural hues.
The stones are all unique. Because each alabaster is crafted one at a time by hand, each piece is unique in shape and color. Mix & match your way to the ideal 27th anniversary gift for wife.
Oh Canvas tips

Place a little amount of sand on the bottom of the tea lights to prevent overheating. Put a plate or layer behind the alabaster candle holders to keep them from heating up your furnishings.
12. Caress Sculpture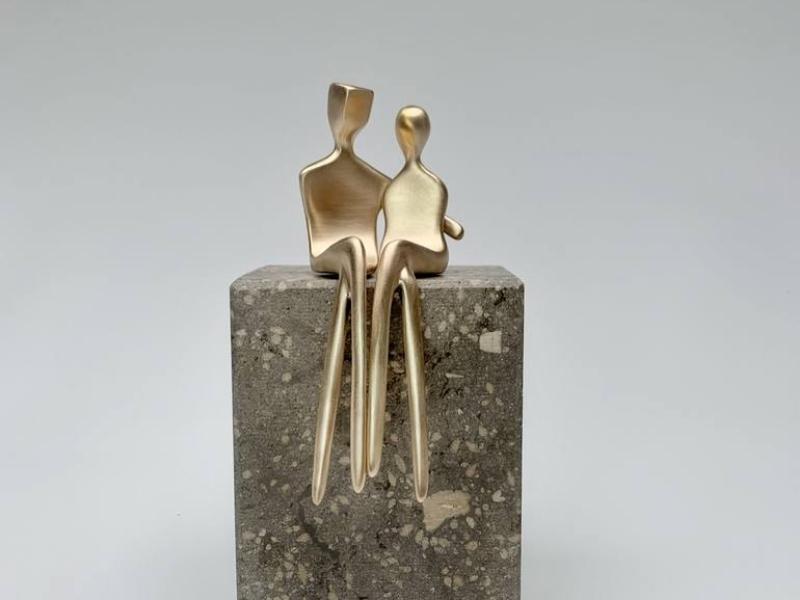 It is possible that the person you are in love with enjoys visiting art exhibits to appreciate wonderful works of art. Isn't it time to give her a 27th anniversary gift she'll never forget? She'll fall in love with this Caress sculpture right away! For everyone to see, she'll put it on display in the living room.
13. Porcelain Pink Rose Figurine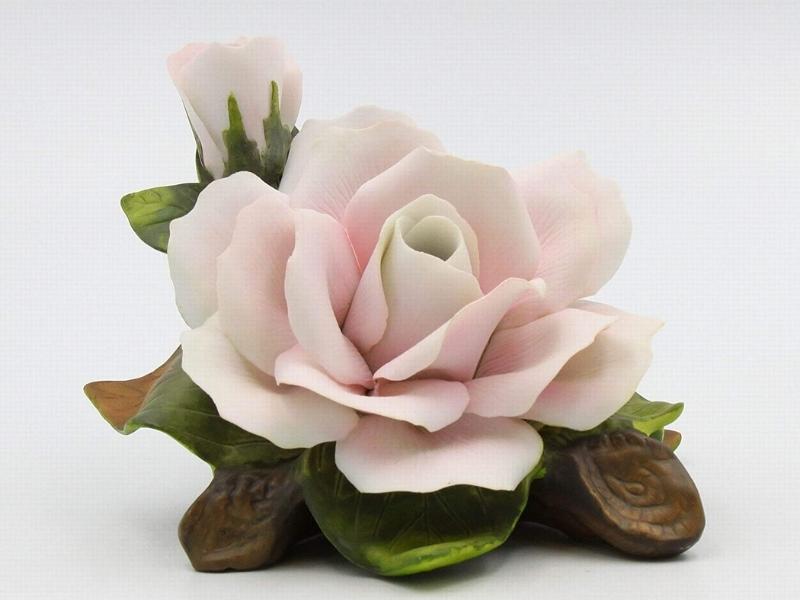 What a lovely piece of porcelain sculpture this is. This sculpture, which is hand-painted to resemble a rose in bloom, is stunning in its attention to detail and the brilliant pink, green, and brown hues it brings to any room. It's a perfect 27 year anniversary gift for wife and a home décor item since it's just eight inches tall.
14. Huggie Hoop Earrings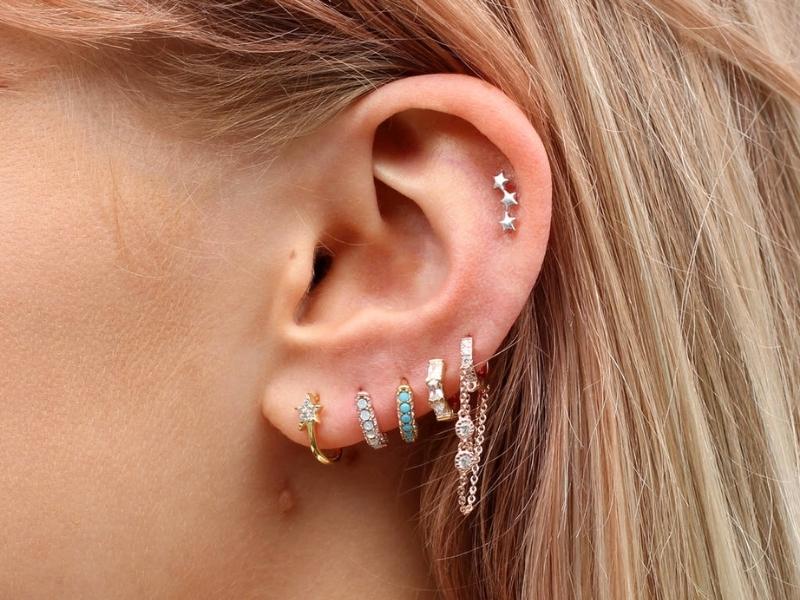 Earrings with a melting, sculptured form seem like works of art hanging from any piercing. Despite their modest size, they nonetheless manage to create a big impression. These 27th anniversary gifts for her may be worn with everything, from a sweater and jeans for a day of errands to a black dress for a night on the town.
Oh Canvas tips

It is recommended that those with several ear piercings choose cartilage earrings with an endless clasp since they are the least heavy. Besides, since latch huggies are larger than endless and hinge huggies, these are the items we suggest you wear in the first earring hole.
15. Terra Cuff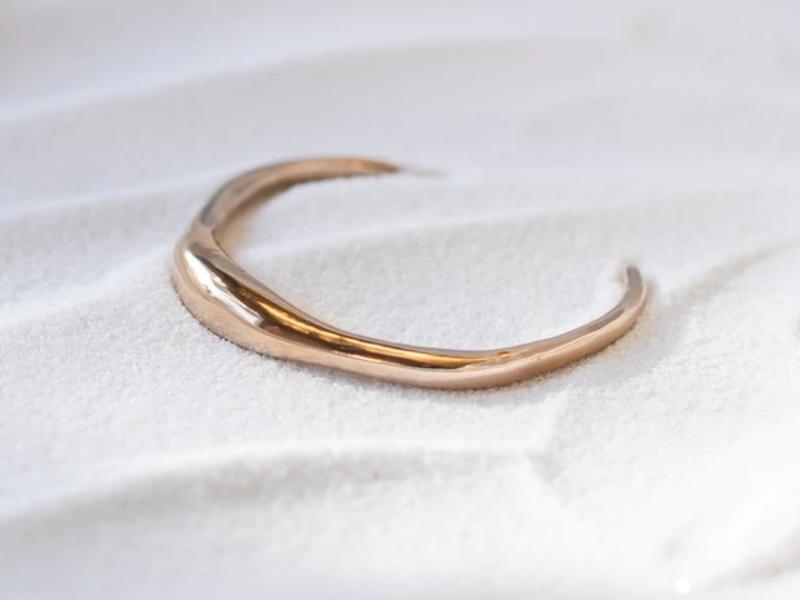 The Terra cuff has a basic yet elegant design that will quickly become a wardrobe mainstay. An airy dress or a strong pantsuit looks well with this form. The thickness varies from 25 millimeters to one centimeter throughout the band, giving it a waved sculptured appearance.
16. Lace-Up Sandals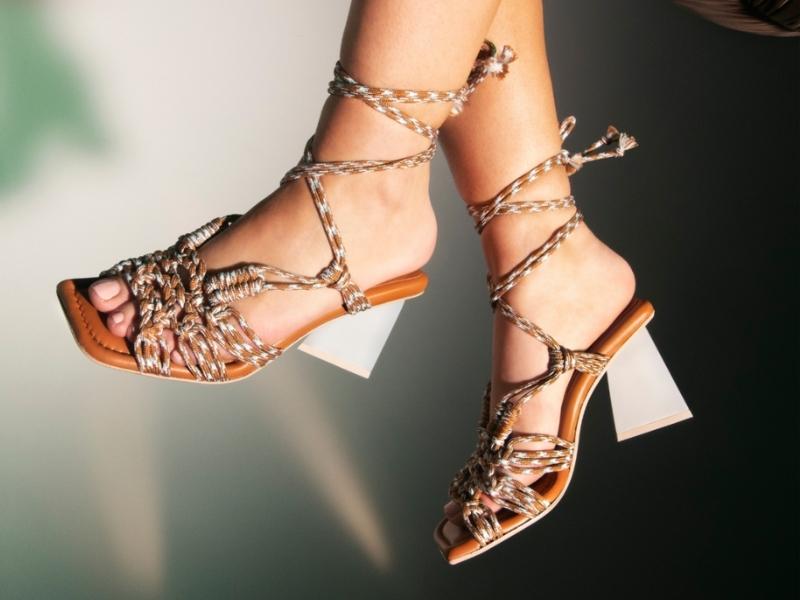 These shoes with a sculptural heel are perfect quick last minute anniversary gifts for her who enjoys clean lines and architectural features in the 27th year.
17. The Most Wonderful Thing Personalized Canvas Print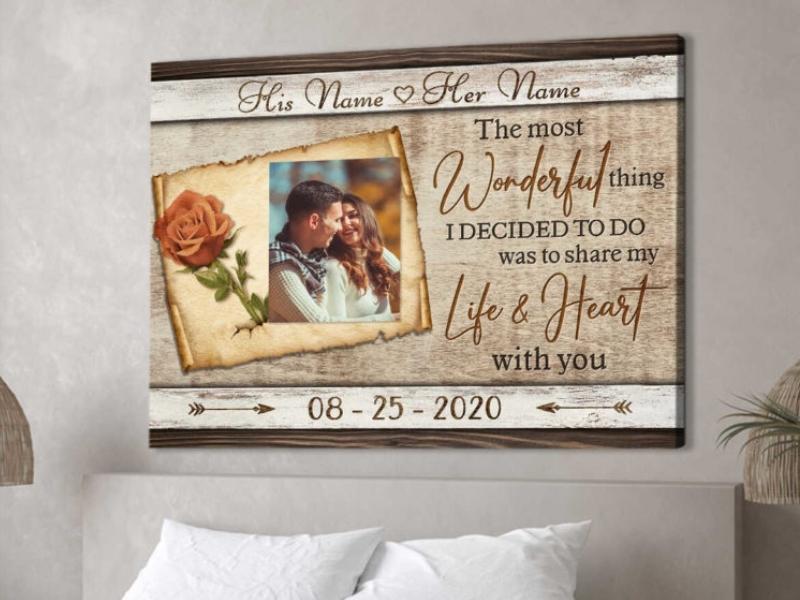 Do you find a gift that really meaningful to demonstrate your affection after 27 years together? Read the phrase, maybe this is the most romantic love quote you've ever read.
This customized canvas print is a great way to show off your most prized possessions. What's more, this canvas may be used for all anniversary celebrations in your relationship, whether it's your wedding day, your first date, or when you got engaged. Besides, this great gift will look great on the wall in your lovely home.
If you're looking for gifts for 27th anniversary for her, this print is a sure bet. We have no doubt that it will be welcomed with joy and pride by everybody.
>>> Recommend reading: Top 32+ Gorgeous 28th Anniversary Gift for Wife, Husband & Parents
27th Wedding Anniversary Gift for Husband
18. The Two of Us Sculpture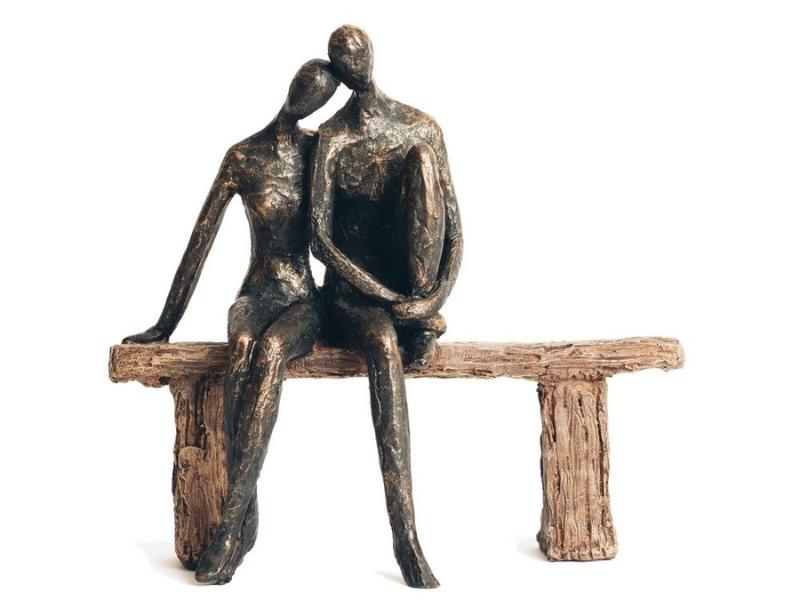 As the best 27th anniversary gift for husband, we really like this bronze sculpture of a seated couple. It's a basic but dramatic statement piece for your house, thanks to the love pair sitting next to one other.
19. Watercolor Palette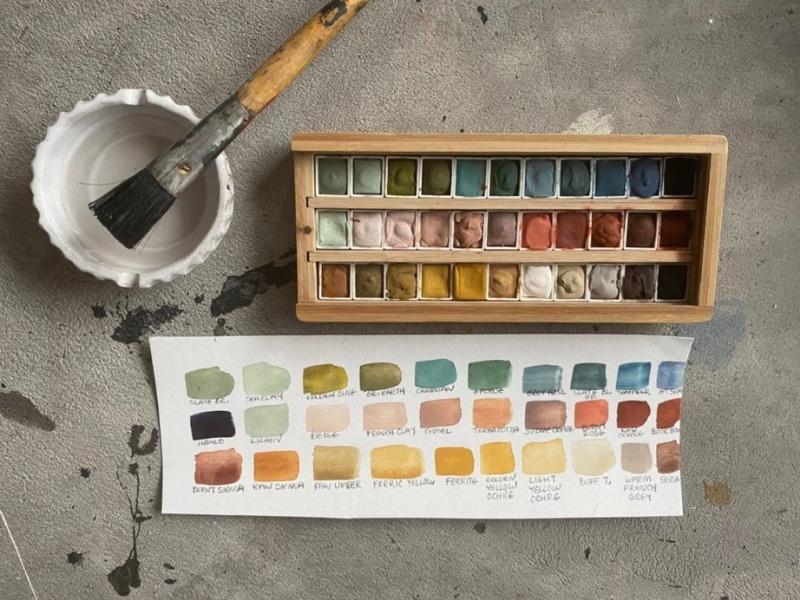 These eight watercolor cakes, six paintbrushes, 40 sheets of watercolor paper, and a wooden palette are all included in this all-in-one painting kit.
20. Petal Paint Palette & Cup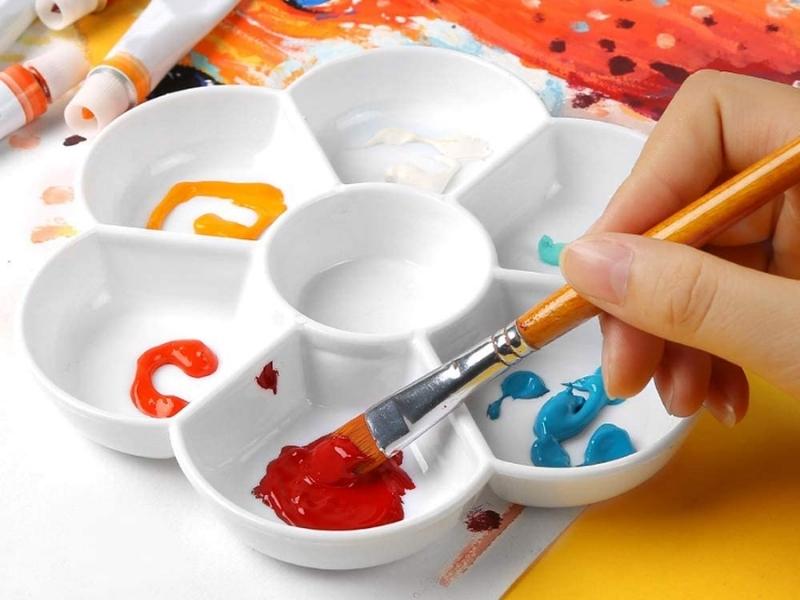 This floral-shaped ceramic paint palette contains six notches for brush resting, eight wells for storing paint, and a basin for washing brushes. This 27th anniversary gift is the perfect addition to any artist's workstation.
21. Monogrammed Paint Water Cup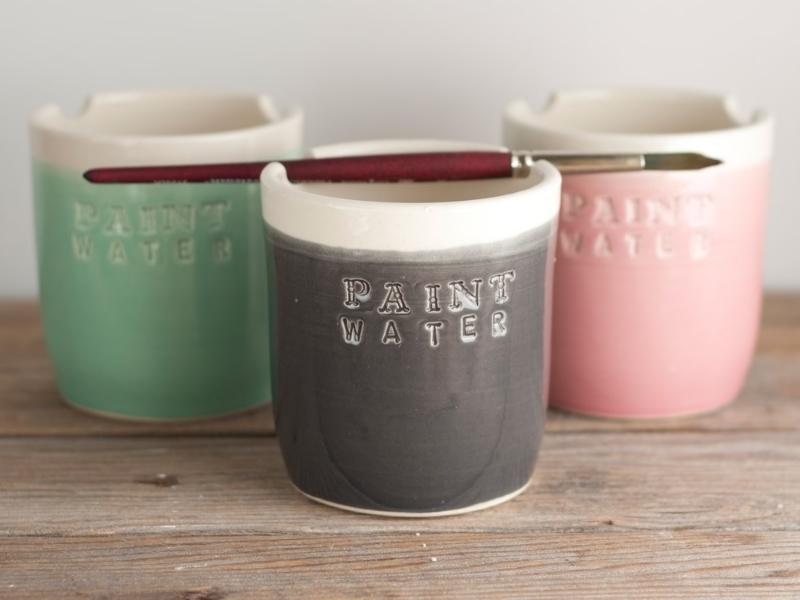 You may personalize a ceramic paint water cup for your favorite artist's 27th anniversary with a special message. The interesting aspect that it can be personalized with his initial makes this present very special.
22. Colorful Studio Chair Decor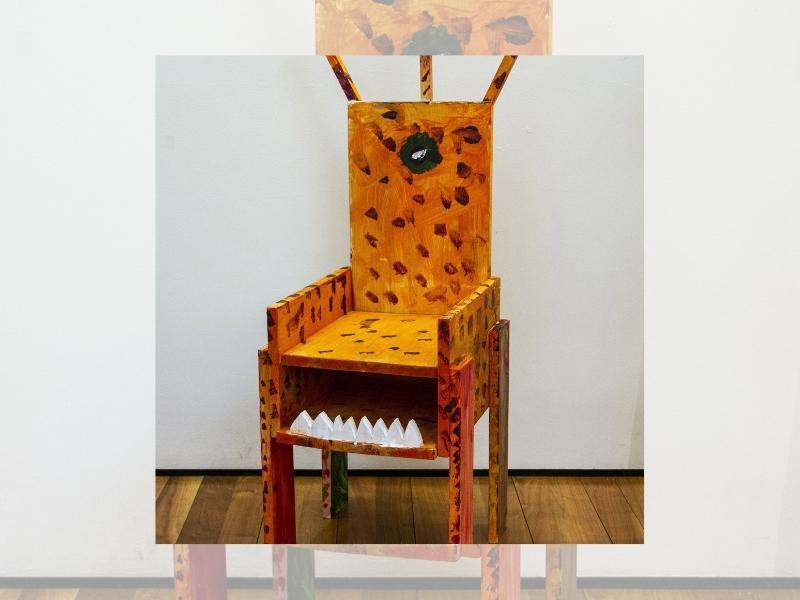 Is there a shortage of… motivation in your artist's studio? Decorate their workspace this Christmas season with a colorful chair, a roll of crazy wallpaper, a new stool for back problems, or some coffee cups or cushions printed with their own work! 'Tis the season!
23. Personalized Photo Canvas Print Oh Canvas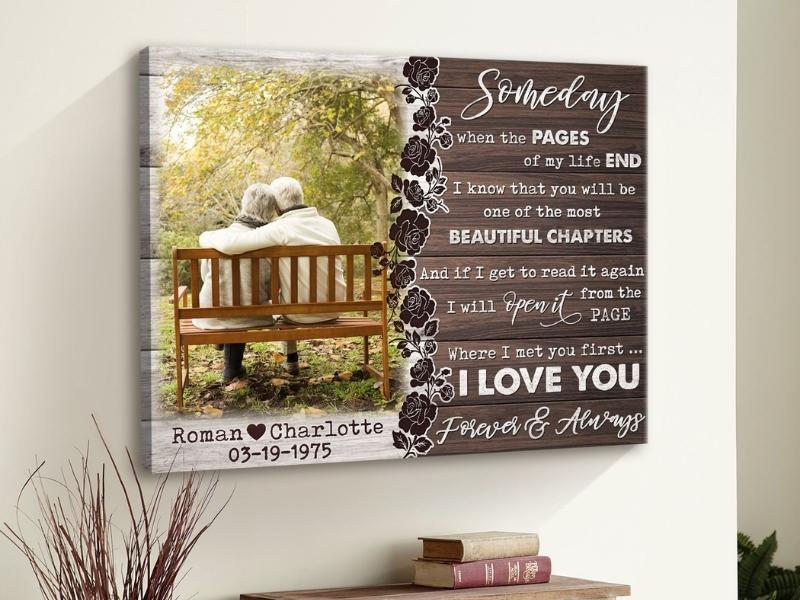 Love that lasts is hard to come by, but when you do, the feeling is so sublime that you swear to cherish it always and never let it go. With this Forever and Always Custom Photo Canvas Print, you can give your true love a keepsake they'll cherish for the rest of their lives.
If you're looking for 27th-anniversary gifts for him, this personalized anniversary present is a great option. We can create a beautiful Photo Canvas Print for you and your significant other only by providing us with your first and last names and the date of your first date.
24. Jade Love Birds Sculpture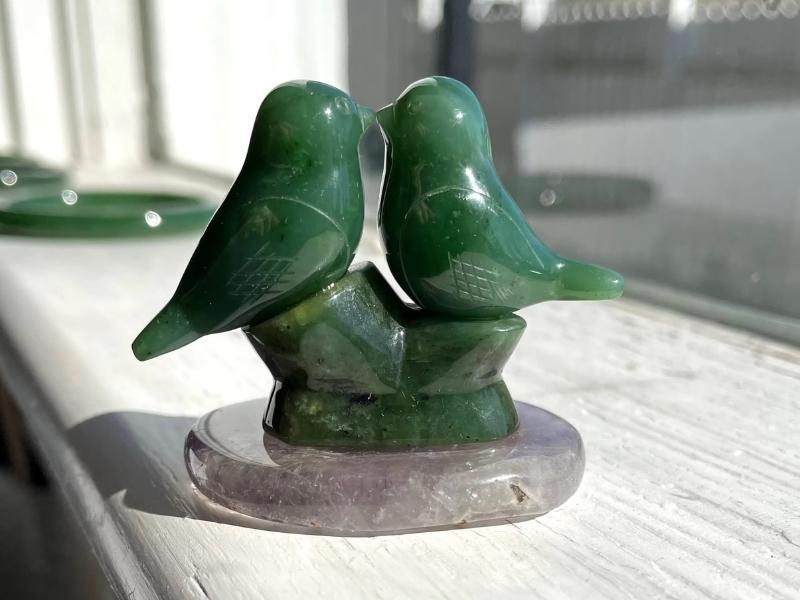 These adorable lovebirds are wonderful anniversary jade presents for your significant other! If your spouse is a fan of figurines, give them to him as a 27 year anniversary gift for husband. He'll be able to show off the lovely present you got him on your wedding day to everyone!
25. Spirit Sculpture Candles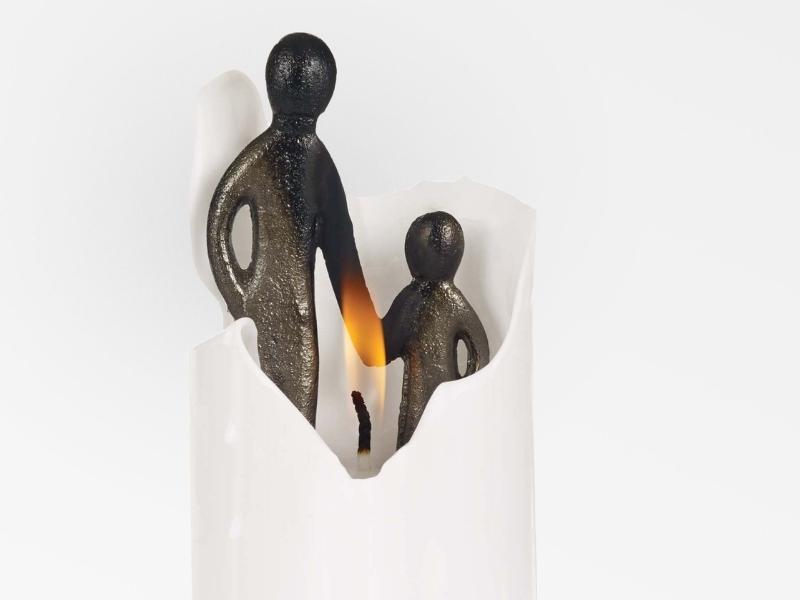 People who appreciate one-of-a-kind artwork will like these sculpture anniversary gifts. A cast-iron sculpture is concealed behind these unassuming white pillar candles. Once the wax is gone, he'll be able to appreciate its true beauty. In order to have a good marriage, spouses need to treat each other with respect and tolerance.
26. Bronze Family Hugging Sculpture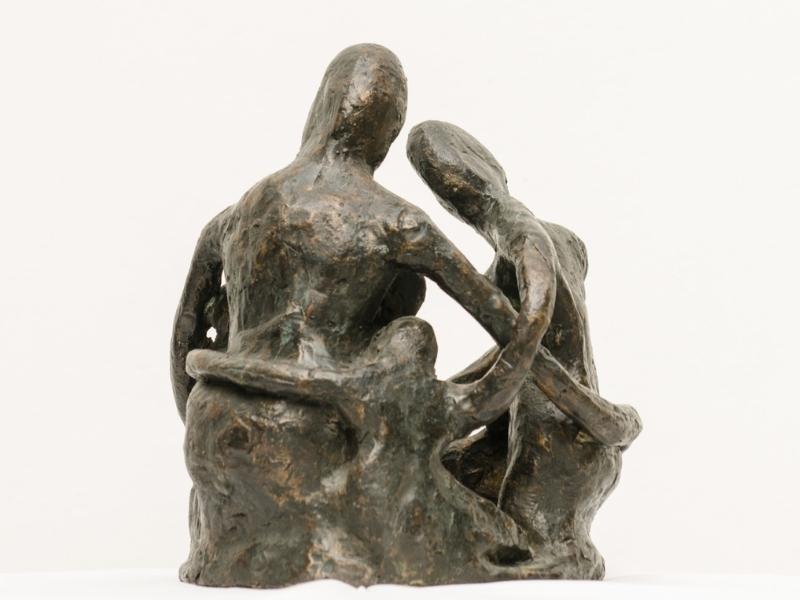 Add this touching sculpture to your shortlist of 27 year anniversary gifts. Your wife will be encouraged to form a close-knit family because of the artwork's depiction of a family embracing. Gifts made of bronze are often given to couples to symbolize their union's sturdiness and longevity. Besides, its attractiveness will immediately win her over!
27. Anding White Ceramic Vase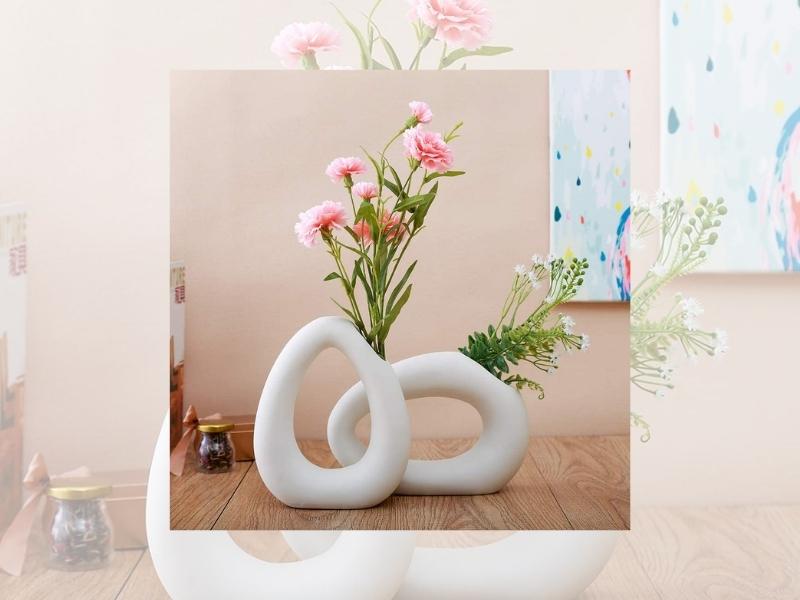 These ceramic sculptural vases will make a big impression during your anniversary. For cocktail tables or huge tablescapes with smaller glass vases mixed in, they look stunning with a matte finish and a variety of shapes and sizes.
28. Love Sign Vases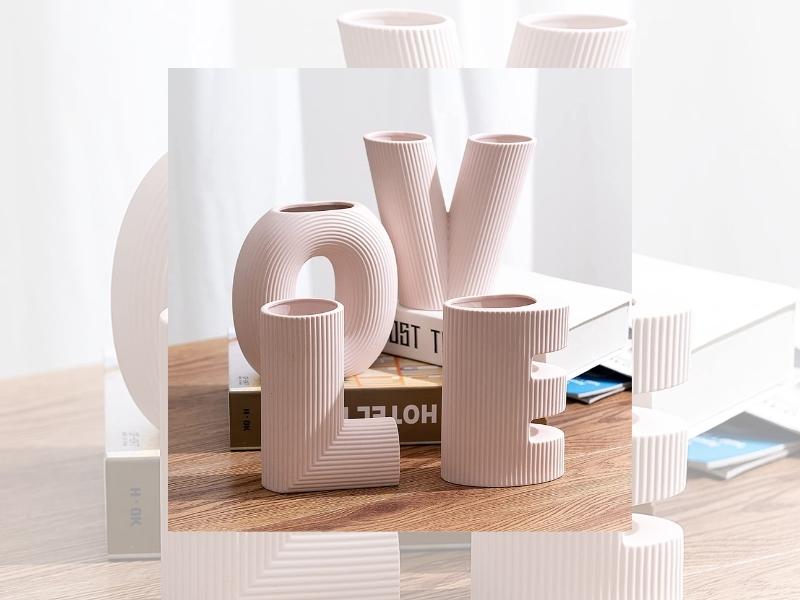 These colorful ceramic vases are another sculptural concept that adds a dash of fun and creativity to any surface. With its modern design, this set is ideal for a 27th anniversary gift for husband.
29. Stone Diffuser
To get the best of both worlds, you don't have to sacrifice elegance for essential oil-infused decor anymore. With its ceramic shape suggestive of artistic sculpture, this ultramodern aromatherapy diffuser not only smells fantastic but looks fantastic as well.
30. Personalized Couple Canvas Happily Ever After Oh Canvas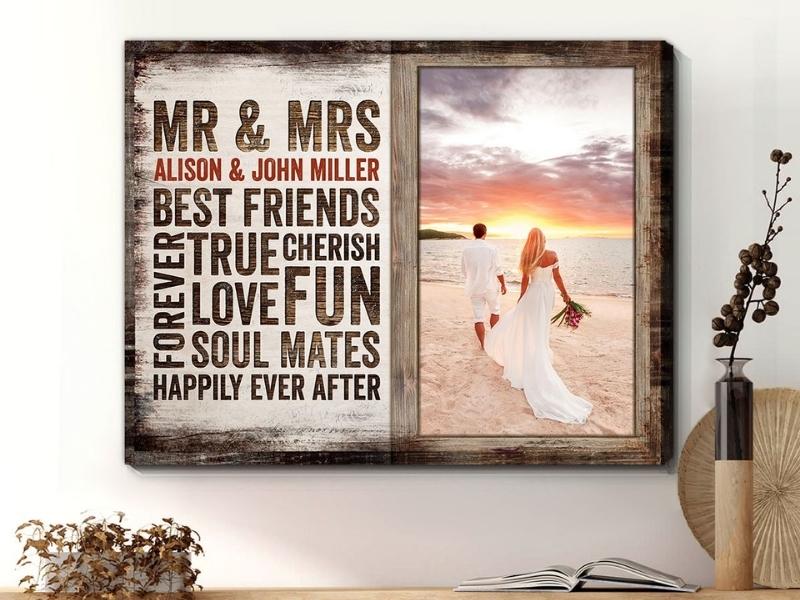 Make the wedding even more memorable by giving your guests a lovely Personalized Gift in the form of exquisite word art. A beautiful unique work of art that will be treasured for years to come is the outcome of our Housewarming Gift Ideas For Couple Personalized Couple Canvas Happily Ever After Ohcanvas.
This means you can give them to your wife or husband for any occasion, be it a wedding, an anniversary, a birthday, or anything in between. If you're looking for unique and special 27th anniversary sculpture gifts, this customized couple canvas wall art decor is for you. To help your spouse constantly remember the good times, place it in a prominent place within your home. Please add this item to your shopping basket!
>>> Recommend reading: Best 37+ Handy 29th Anniversary Gift for Husband, Wife & Parents
Parents Gifts for 27th Anniversary
31. Modern Minimalist Matte Pastel Mini Ceramic Vase Collection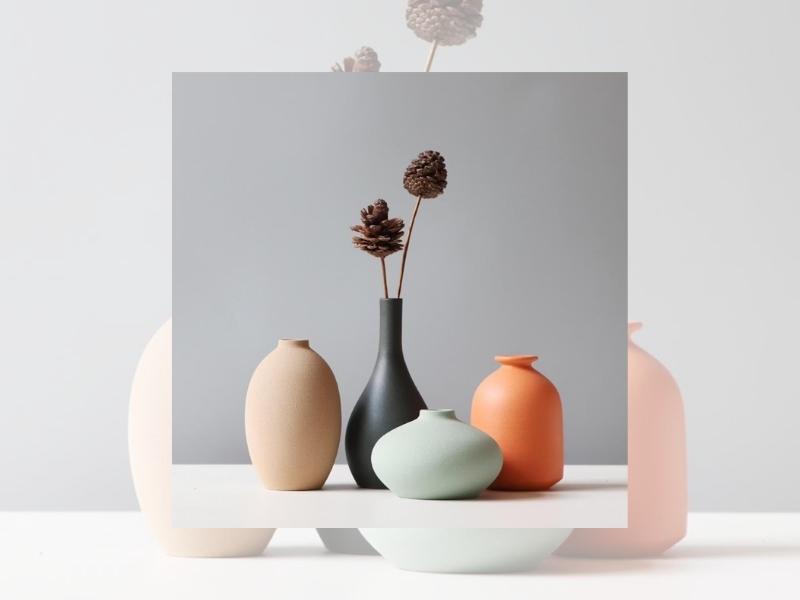 Instead of signing up for a pottery class, why not get a gorgeous ceramic vase set? These vases would be a wonderful present for any pair, and pottery is a great fit for the contemporary 27th anniversary gift.
32. A Public Art Tour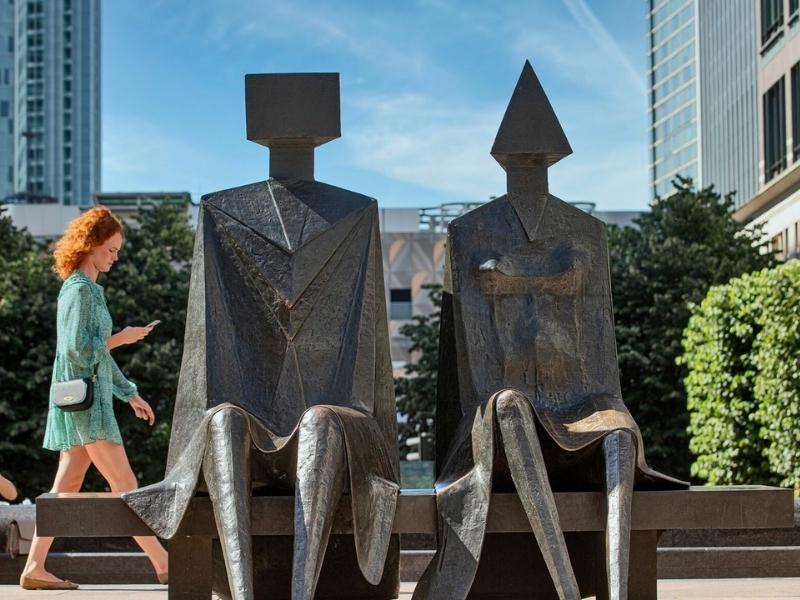 Some gifts for 27th anniversary don't need to be wrapped in a gift box! Take a tour of your city's public art to show your appreciation for your artist. Make a list of the installations in your neighborhood and study intriguing information about each one. They'll have an unforgettable day if you include a memorable lunch stop!
33. Sculpted Hand-Painted Figure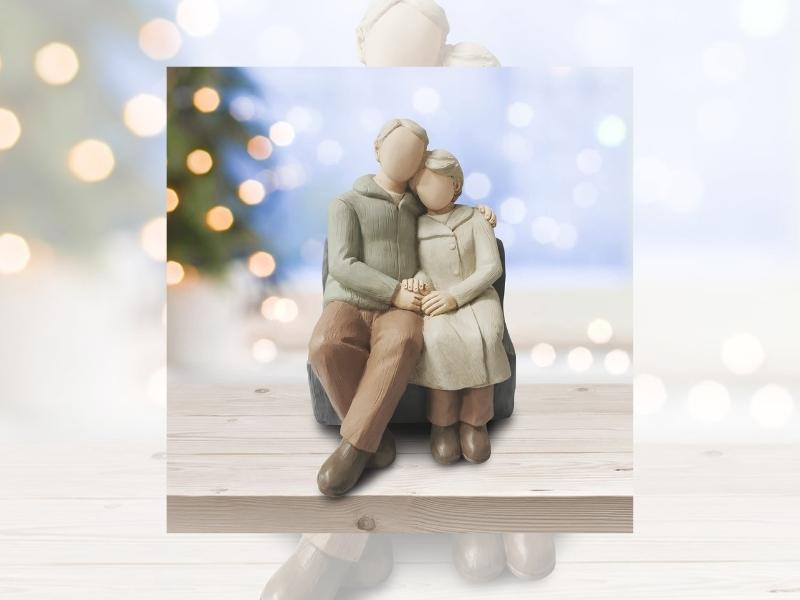 This Willow Tree Sculpted Hand-Painted Figure is a lovely 27th anniversary gift. This carved sculpture depicts a loving couple. This gesture shows the couple's love for one another in a lovely way. This gift will make your parents' 27th wedding anniversary even more memorable.
34. Couple Horses Dibs on forever with you Oh Canvas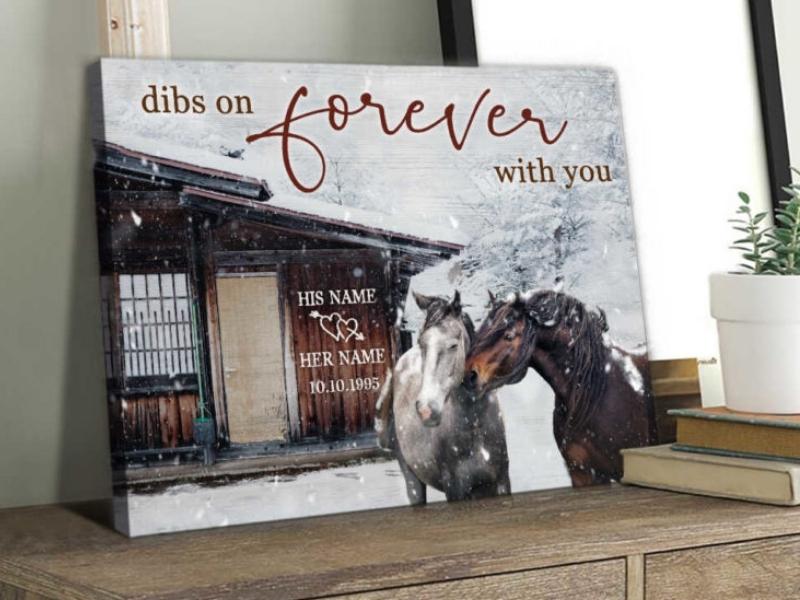 Are you looking for a thoughtful 27th anniversary gift for parents? For what you're looking for, this canvas is exactly what you're looking for. It is said that horses are a symbol of all of these qualities as well as beauty, aristocratic grace, and boundless energy. Your home will have a romantic and meditative atmosphere thanks to this adorable coupling horse.
When paired with these symbols, this wall art for parents is sure to melt the hearts of both of your parents with its caring message. Don't pass up the chance to tell your parents how much you appreciate and cherish them. Get it today while it's on sale!
35. Kissing Sculpture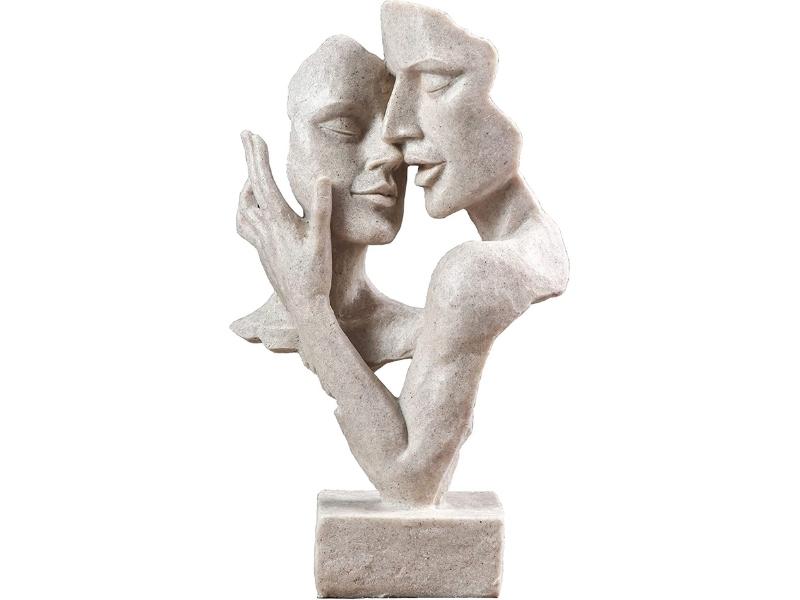 When it comes to home design and anniversary gifts by year, we want to see love on display. This 27th anniversary gift can conquer any heart for sure!
36. Ceramic Anniversary Couple Figurine
I think this is a lovely ceramic couple figurine. It's around the weight of a pound and a half. Gifting this lovely couple figurine on their 27th wedding anniversary may be a great idea. This figurine is guaranteed to be a hit with your parents. You don't have to think twice about picking this one up. High-quality materials have been used in its construction.
37. Family Sculpture Figurines
This is a great time to commemorate the last 27 years with some miniatures of your family. This custom-made wooden box can accommodate your whole family, whether it's two, three, or more people.
38. Mother and Father Willow Tree Sculpture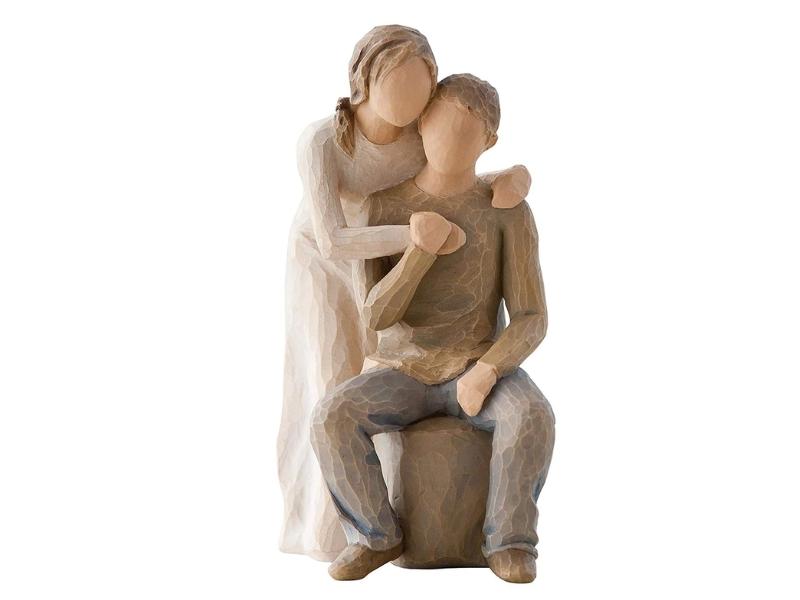 Beautifully depicting unconditional love and loyalty are these delicately simple sculptures. In their 27 years of marriage, your parents have also reflected this attitude, making it the ideal 27th anniversary gift for parents.
39. Fancy Pillar Candles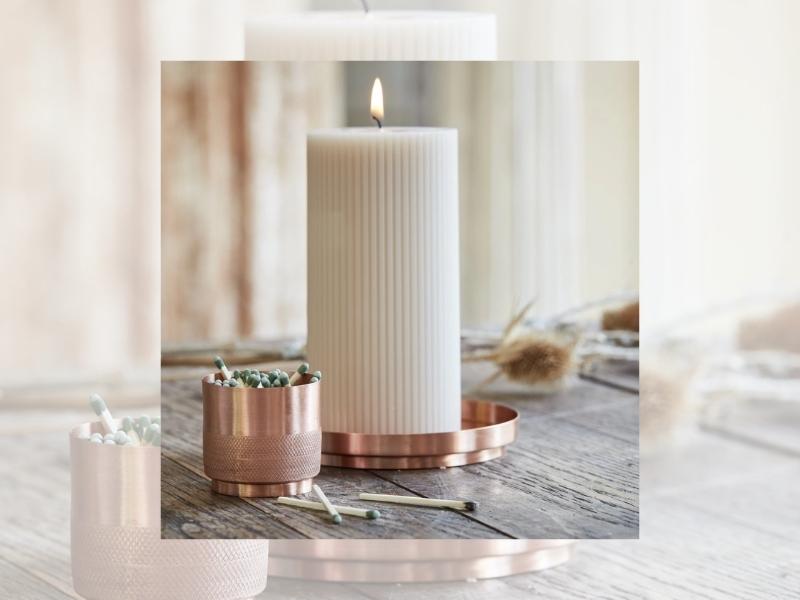 There is a slew of new molded and pillar sculptural candle alternatives available right now. If you can't afford to put them all over the place, consider a few in crucial spots like the dessert table or the couple's table. A sleek pillar holder or a tall glass votive would be a beautiful way to display them.
Oh Canvas tips

Adding a ribbon to your candle gift will make it more attractive. Nonetheless, ensure that your recipient can quickly and simply open your gift by tying the ribbon in a simple, flexible bow.
40. Pamela Love Cora Locket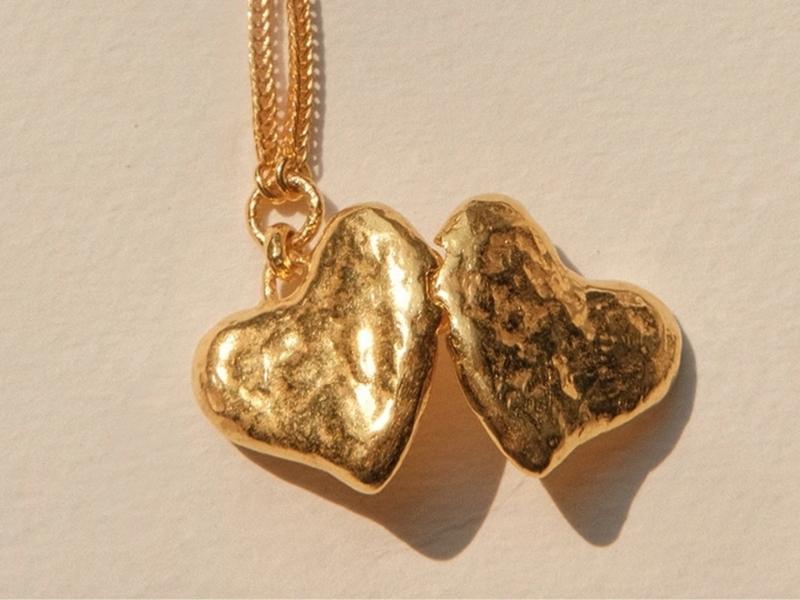 By updating the traditional locket, this item honors the most romantic customs of our history. Sculptural and undone, it's constructed of 14k gold plate over reclaimed brass and seems both modern and classic.
41. Music Wall Art Anniversary Gifts Oh Canvas
With the Song Lyrics Guitar handmade canvas print, you may jot down the lyrics of your favorite song. Singing like there's no tomorrow is the only way to live, no matter how old you are or how long you've been together. This guitar-shaped customized 27th anniversary gift is filled with lyrics from a recipient's favorite songs.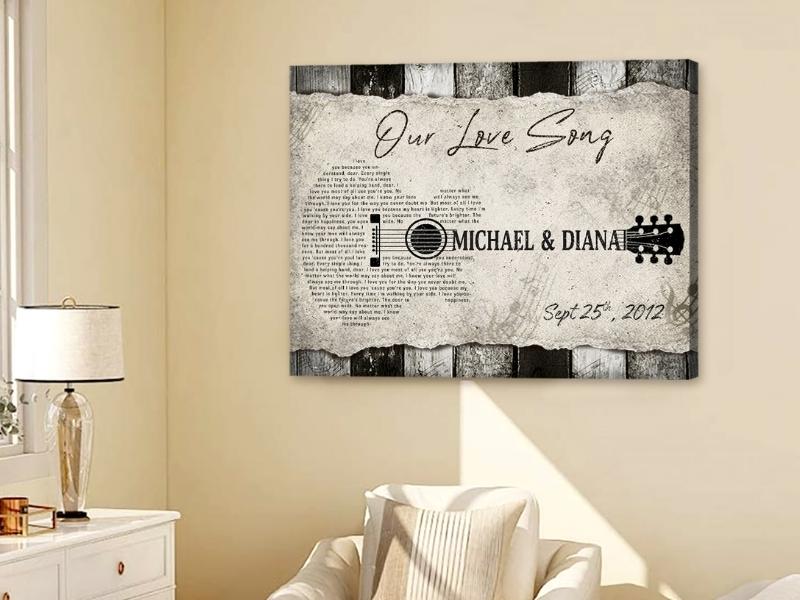 To celebrate love, hang the handmade canvas artwork in a place where you could dance. This is the one item of décor that has been lacking from your house for the last several years. Personalize it with the names and wedding dates of you and your spouse. Still, a long way to go after 27 years of marriage!
Read more:
Art is more than just something to look at; it stirs the soul. When it comes to gift-giving, it's not only about exchanging actual goods but also about exchanging feelings. The delight and surprise that the 27th anniversary gift gives to the heart are what make it such a special occasion. This holiday season, show your loved ones how much you care by giving them a one-of-a-kind present that says it all. Once again, congratulations on your anniversary from Oh Canvas with love!