How do you thank your parents for all they've done throughout your upbringing? Wedding gifts for parents are a wonderful way for you to express your love and gratitude to your parents. And, of course, what to get for parents on special occasions is always a concern for each child. If your parents' wedding anniversary is approaching and you're stumped as to what to get them, this article will offer some unique ideas for meaningful wedding gifts to convey your gratitude.
Messages conveyed through wedding gifts for parents
Wedding gifts for parents are a way of saying "thank you" for all of their upbringings
When your Mom and Dad get married, you are the gift that symbolizes their love. Parents are the ones who hear your first sobs and remember every detail of your childhood. In your moments of weakness or failure, your parents are always by your side.
They are also the ones who suffer the most when they see us in pain, and they are the happiest when they see us succeed and have a fulfilling life. The thankfulness of our parents may not be enough throughout our lives, but little wedding gifts for parents are also able to spread our deepest gratitude for the sacrifices made by our parents for us.
Wedding gifts for parents convey well-wishes for their love
A wedding day is one of the most important milestones in everyone's life. It is the day when a couple promises to live together for the rest of their lives in front of hundreds of relatives. Because of the importance of the wedding day, even after the couple has entered the initial stage of marriage, they review the memories together every year to this day so that both can respect and love each other and be more responsible for this marriage in the long run.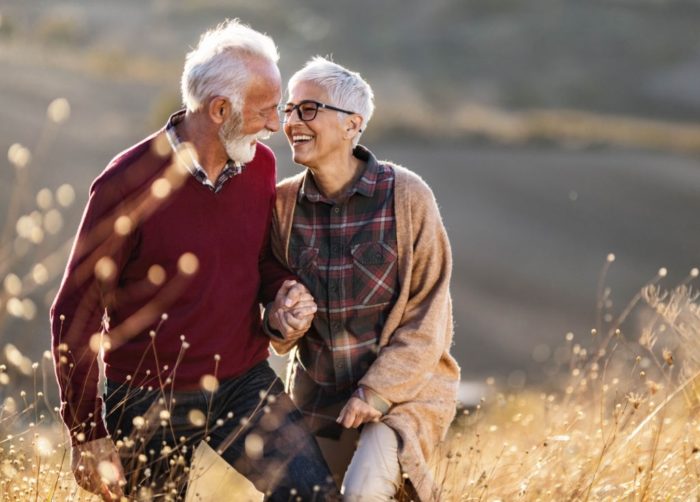 We all know that married life is full of ups and downs, therefore a long-lasting marriage is a source of admiration for many. A little wedding gift for parents is meant as wishes for a sweet and romantic marriage of parents. Hope they will always live happily and happily until the end of their lives.
35 Wedding Gifts Ideas For Parents You'll Want To Try
Best Wedding Gifts For Parents In 2022
1. Wedding Canvas Art
Parents and family will undoubtedly have many happy recollections from their time living together. There is nothing better than a personalized canvas painting by printing photos of parents or the whole family together; it will offer joy and happiness to everyone who sees it and remembers memories. Personalized canvas paintings are the best wedding gifts for parents.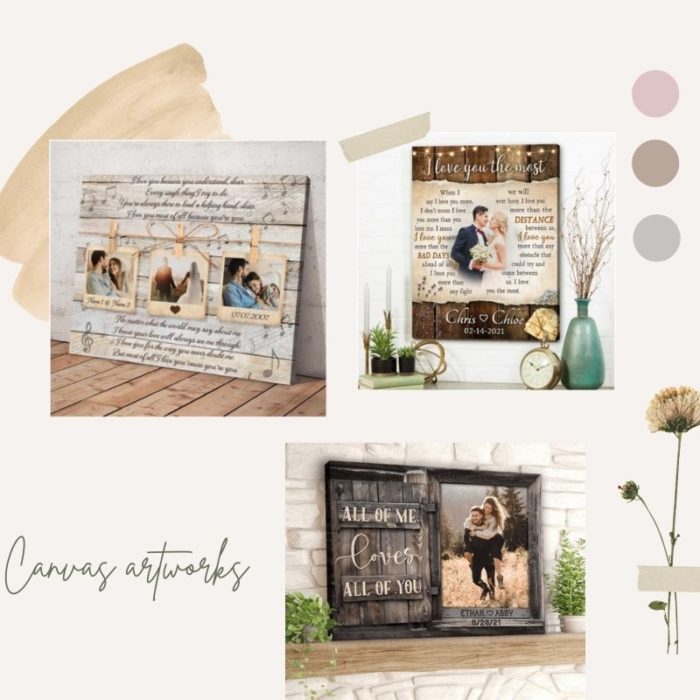 It not only captures a special moment but also serves as a reminder of a significant milestone in the family's development. Time may fly, but these personalized wedding gifts for parents are worth a thousand words when it comes to telling your children about their grandparents' youth.
2. Bless Our Home Canvas Art
This family tree is a wonderful way to show off your expanding clan. If you're looking for a personalized wedding gift that can be used by both parents and grandparents, this is a great option. Celebrating already-existing ties can have a significant impact on a family's emotional well-being when planning a wedding.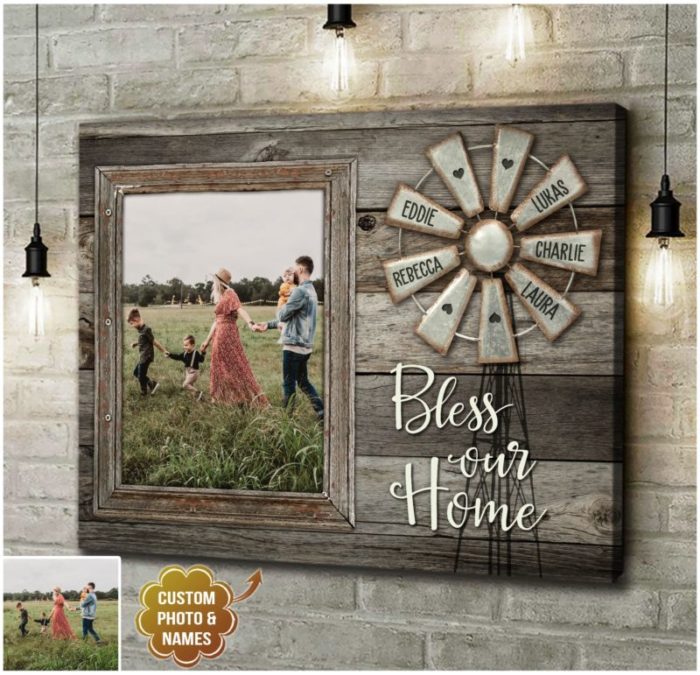 3. Family Portrait Canvas Print
You can show your parents how much you appreciate them by framing a wedding photo of your family. This stunning picture frame is the perfect way to commemorate one of the most significant events in your life.
Wedding Gift Experiences & Vouchers For Parents
4. Romantic dinner
In today's hectic world, many families will likely find it impossible to spend time together over a family meal, opting instead for a quick dinner outside. Because there is no time to confide in and share the joys and sorrows of life, the entire family becomes increasingly estranged. Let's go to the kitchen and make a good dinner as a gift for your parents' wedding anniversary.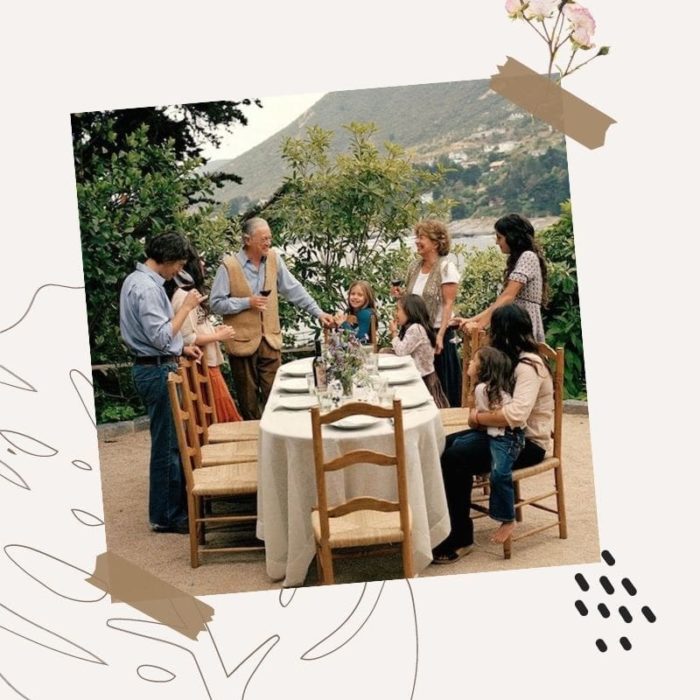 Cooking has also become a lot easier because there are a lot of videos on social networking sites that show you how to make a variety of cuisines, from simple to sophisticated. So, whether you're a guy or a woman, if you do it with your heart and patience, your parents will be moved and won't be able to blame you.
5.  A travel trip
The older we get, the more we appreciate the time we spend together. A long trip to be able to forget about daily worries, review memories, and live more fully is what many people desire. It can be said that a surprise trip for wedding gifts for parents is also a delicate choice.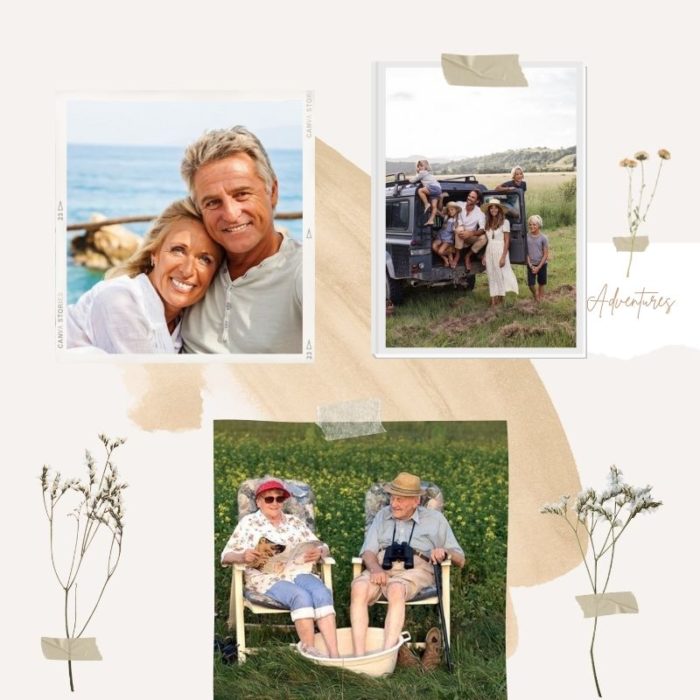 Material gifts often become meaningless if you don't really care about your parents' love life. As they get older, parents will need more and more memories of their spouse, family, and children. Sometimes in this hard life, they accidentally forget the memories, the sweetest things of a long time.
6. Spa Gift Voucher
A relaxing spa experience is also a great wedding gift for parents. Give your parents a set of spa vouchers for the weekend so they can unwind.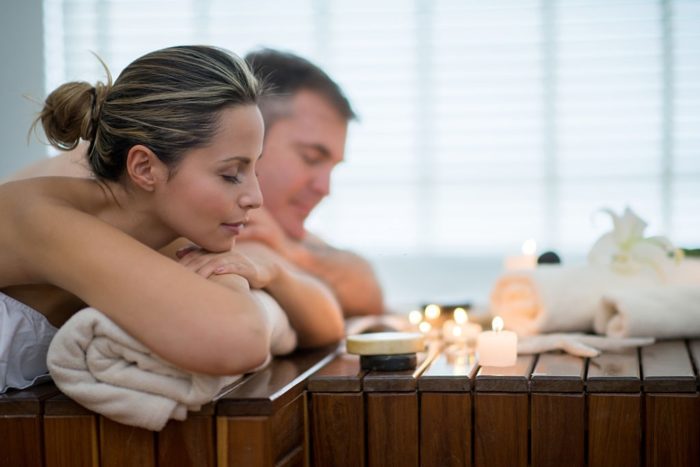 >>> Read more: 37+ Trendy Personalized Wedding Gifts For Guests In 2022
Creative Wedding Gifts For Parents That They Will Love
7. A Photo Diary
How about an album of pictures from the old days with your parents as wedding gifts for parents? Not too expensive but you will need a lot of time to collect it. Spiritual gifts are more valuable than material gifts. Buy a guestbook outside the business, embellish it with various textures to make it more attractive and pleasant, and post all the photos you find. If you can enter each page of the notebook, don't forget to add the words of love, maybe just wishes or thanks, but it will make your parents extremely emotional.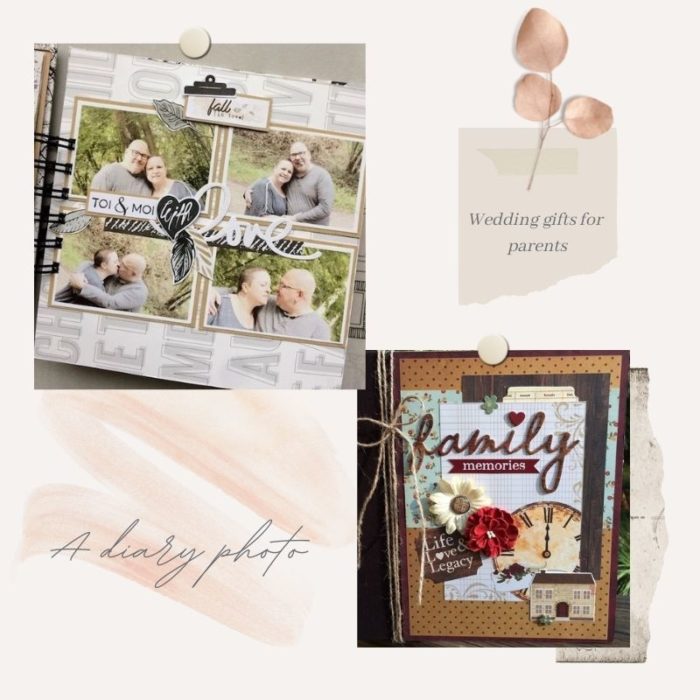 8. Wines
People consider wine as a gift from God to man. There is no food or drink that can make people so easily upset. Enjoyers can use many senses at the same time to capture the essence and elegance of the wine glass. That is probably the meaning of wine that many people will feel the first time they enjoy it. Recently, Harvard University has conducted scientific studies and shows that wine can fight age and prolong life.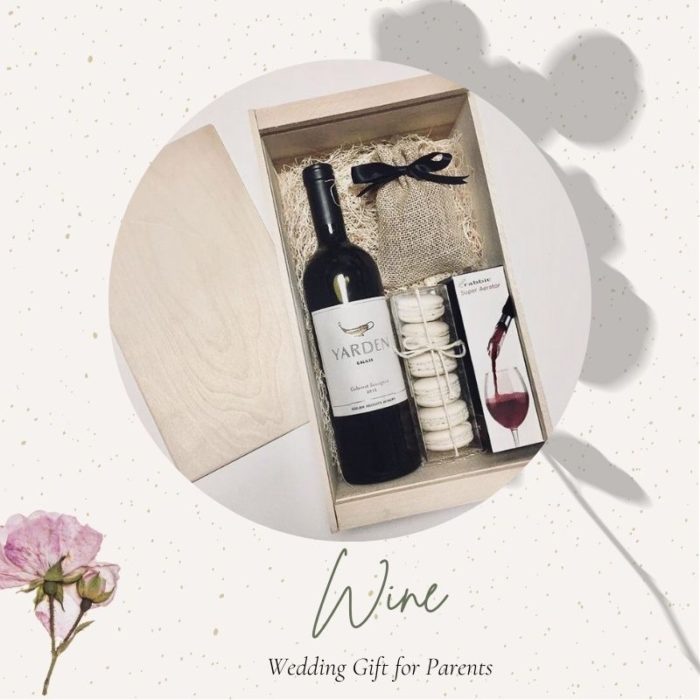 The substances in wine will prevent harmful factors for health, and at the same time enhance and stimulate the body's appetite and appetite. One of the other important effects on the body is that wine helps people sleep deeper and better. Because of the great benefits and profound meaning of a bottle of wine, this must be a great wedding gift for parents
9. A spiritually significant book
Any of us must know the great value that books bring. Books have been the intellectual teacher of mankind for thousands of years. Giving books as a way to bring harmony to the soul, giving stories, feelings, and secrets to understanding each other. Giving books is a way to explore your heart, interests, or emotional vibrations.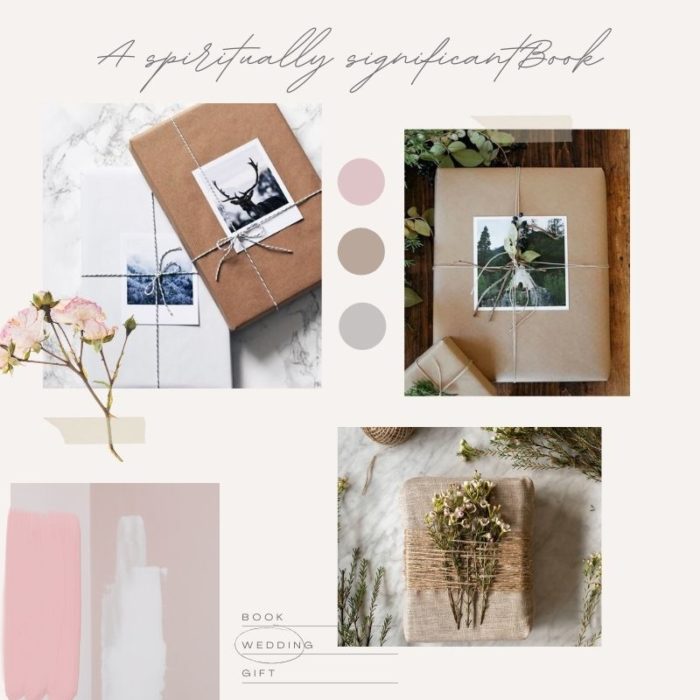 Therefore, these wedding gifts for parents have a very sacred and precious meaning for parents. If you are wondering what to give your parents' wedding anniversary? Our simplest advice is to give books, topics about family, psychology, life, health…
10.
Wedding Handkerchief Gift
When it comes to wiping away wedding day tears, these embroidered handkerchiefs are a must-have for any bride. You have the option of either using one of the pre-written greetings for mum or dad, or you may be creative and write your own.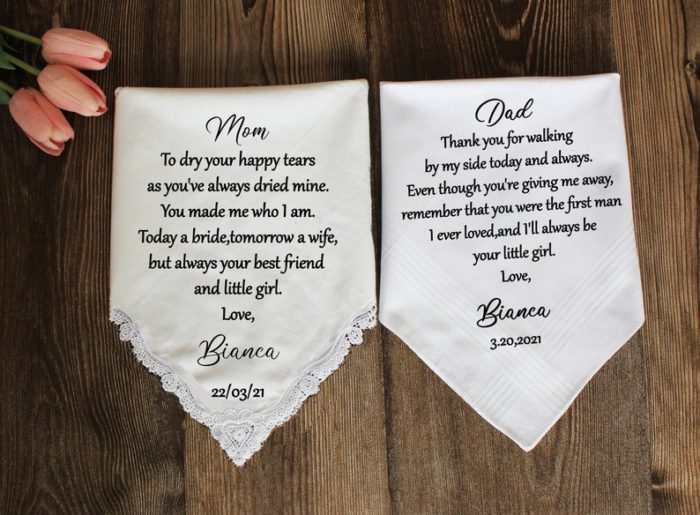 11.
Personalized Wooden Spoon Set
If your parents enjoy cooking, this personalized spoon and spatula set is a great gift idea. Their names and wedding date appear on one, while a thank-you message appears on the other. Wood is used to creating this chef-grade equipment, which will serve her well for many years.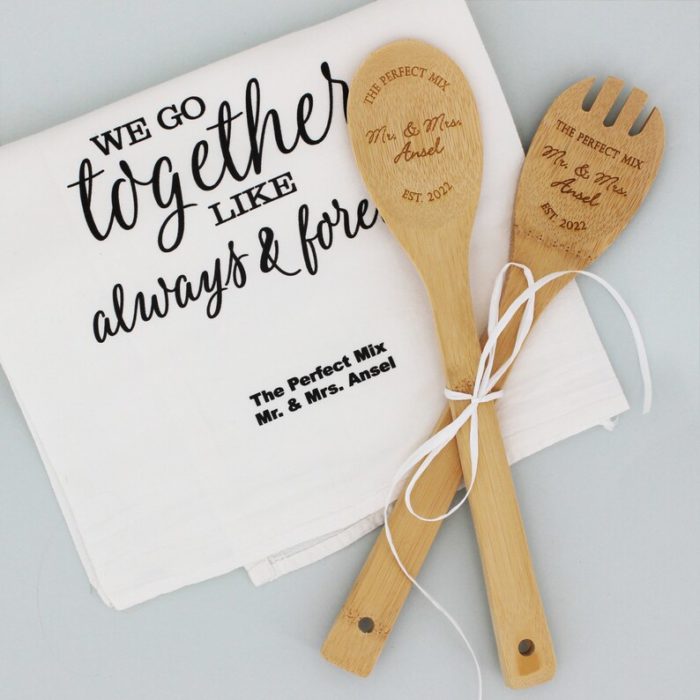 12.
Couple Slippers
These are the perfect slippers for anyone looking for something warm and cuddly. Foam padding and a rubber outsole let you wear them outside for a few minutes at a time, and the faux fur lining makes them incredibly comfortable. There are alternatives for both men and women, so you may give your parents matching sets of gifts. They can be personalized for an additional personal touch.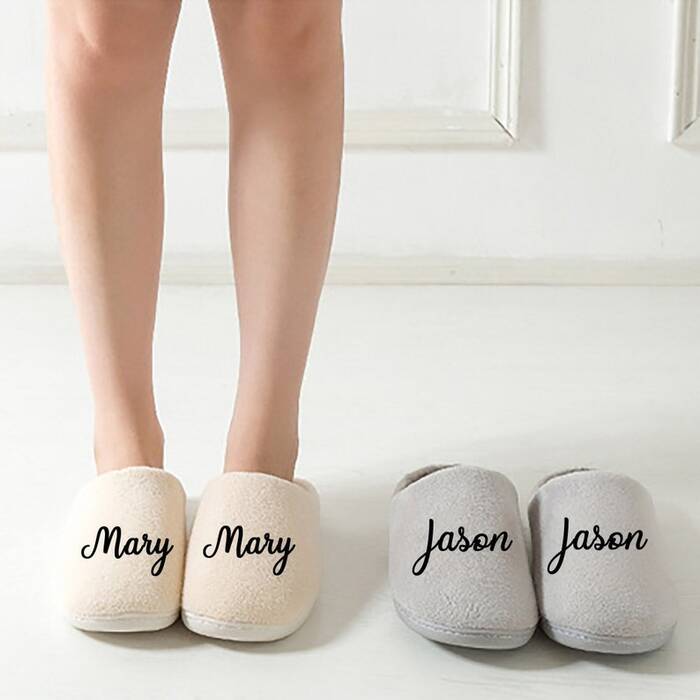 13. Garden Tool Set
Gardening tools, such as this one, make thoughtful presents for your parents, who may already be known for their green thumb. Seven high-quality steeled tools, a lightweight stool, and an easy-to-carry storage tote are all they need to get started planting.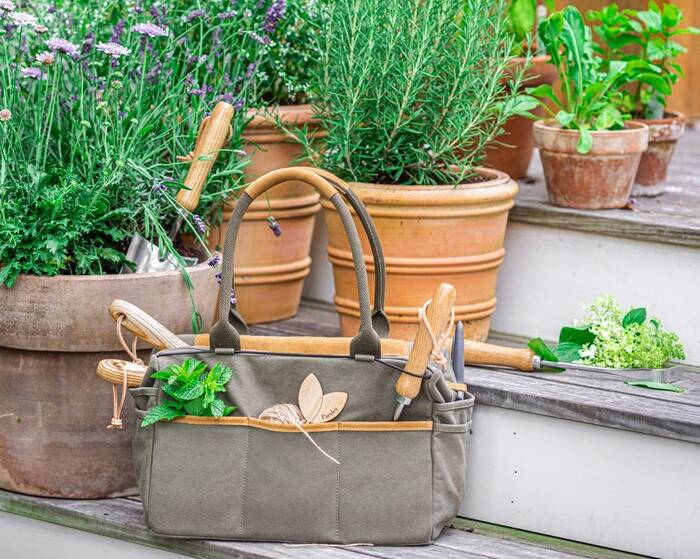 14. Soft Sheet Set
We're prepared to wager that your parents haven't bought new sheets in a while, despite the fact that you just registered for some. They'll love these, which are created from Eucalyptus and are buttery soft, and smooth. They're sure to be a hit.
15. Family Celebrations Charms
Never forget the birthday or anniversary of a wedding couple's parents once you've married them. Wedding gifts for parents can't be more heartfelt than these personalized family celebration charms and the accompanying sign. The sign can be updated each year by parents.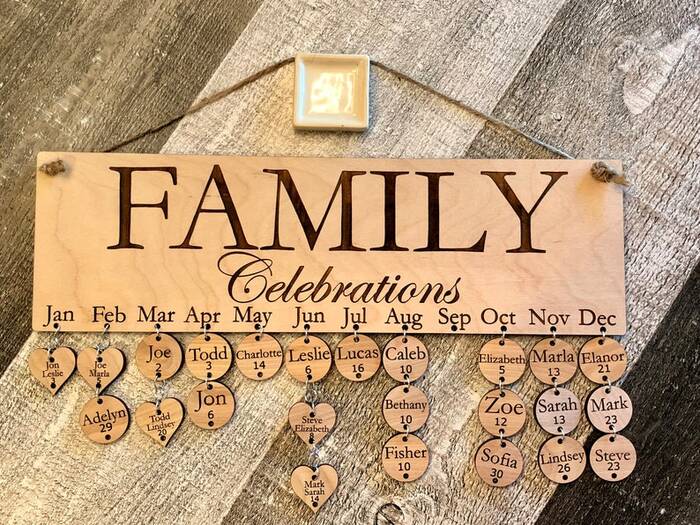 16. Wine Cork Wall Art
Trying to find a wine-themed gift for your parents? Make sure to get your parents something they'll like as a wedding gift. In the form of his favorite state, this wall art elegantly contains several wine corks.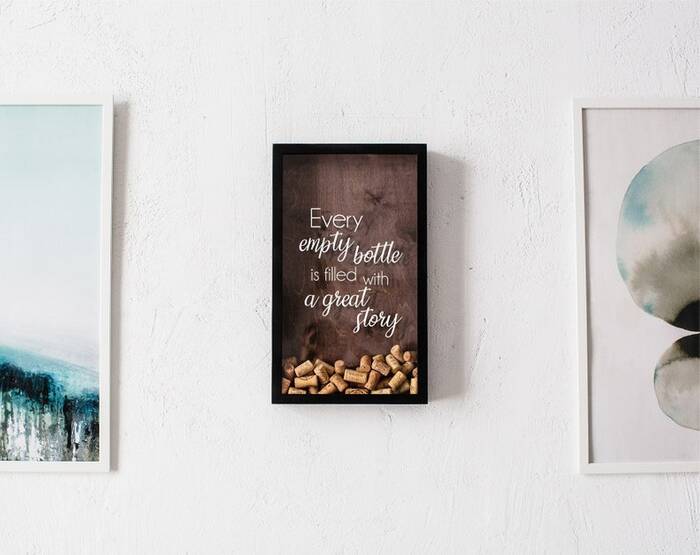 17. Customized Wine Barrel
These kabob grilling baskets are the ideal low-cost and straightforward gifts for parents on wedding day. The perfect wedding gift for the parents of the bride and groom. Ideal for grilling a variety of foods to suit a variety of palates and dietary restrictions.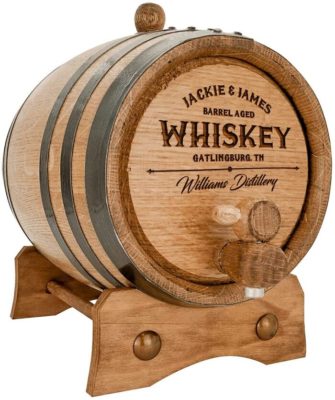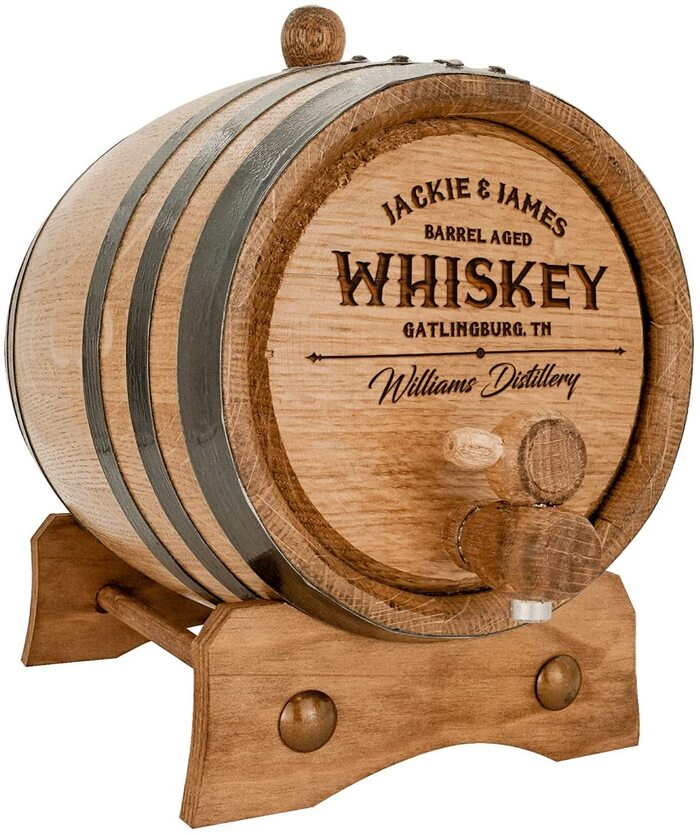 18. Bonsai Tree
As a thank you for their help with the wedding, the happy couple's parents would appreciate a bonsai tree as a wedding gift. You may start with a seed and watch as it grows into an adorable tree, much like your relationship. Any gardener or plant enthusiast will appreciate this thoughtful present.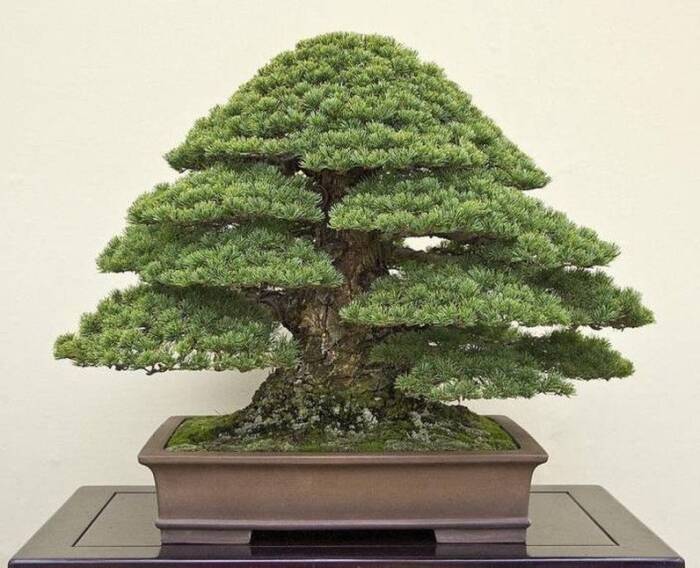 19. Custom Wooden Book Rack
During the celebration of their marriage, let your parents' love of literature shine through with this one-of-a-kind wooden bookcase. The books are removed from a shelf and hung on the wall instead. If you're looking for a novel method to showcase your books, this is it!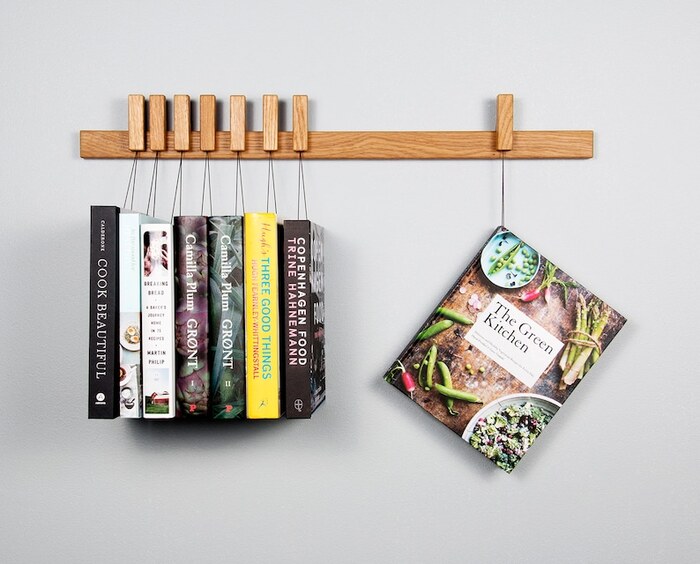 20. Spa Gift Basket
Spa gift bags are perfect for sending a relaxing massage to your parents during the stressful wedding planning process. It's a no-brainer when you've exhausted all other options for wedding gifts for parents and you're running out of time.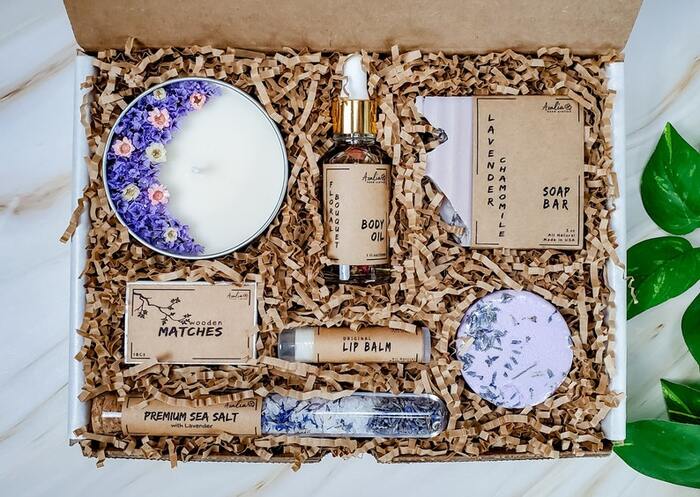 21. A pair of wedding rings
A new set of gold wedding rings to replace your parents' old ones is a creative wedding gift for parents. Couples' rings are an incredibly vital and necessary thing. It's worn on everyone's ring finger as a reminder to be responsible for their tiny family, to be patient, and to love one another.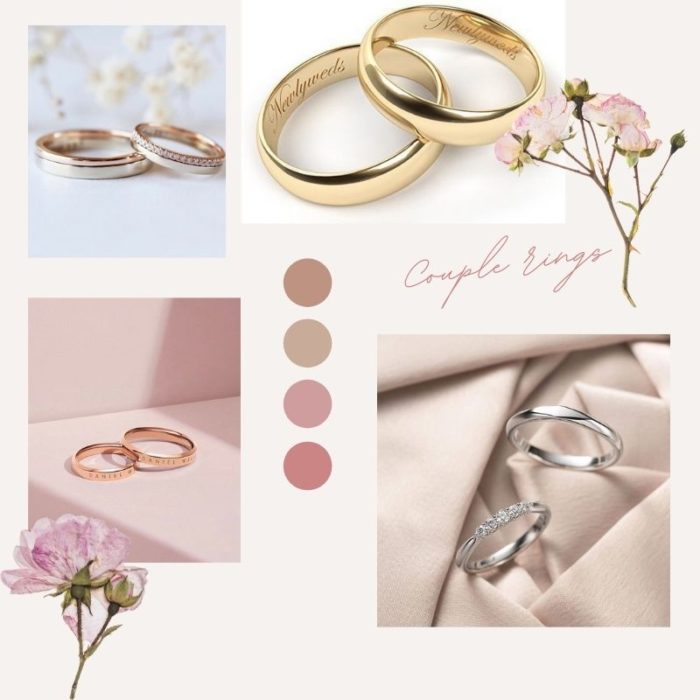 Let's mark those milestones with wedding rings that mean a lot to our parents. 20-year or 30-year milestones are remarkable milestones that affirm marital love to be full; Let's celebrate those milestones with wedding rings that mean a lot to your parents.
22. Commemorative Clock
You can't go wrong with any of these thoughtful presents for your parents. You can express your gratitude for the time you spent with your parents with this personalized clock that comes with a pre-written inscription.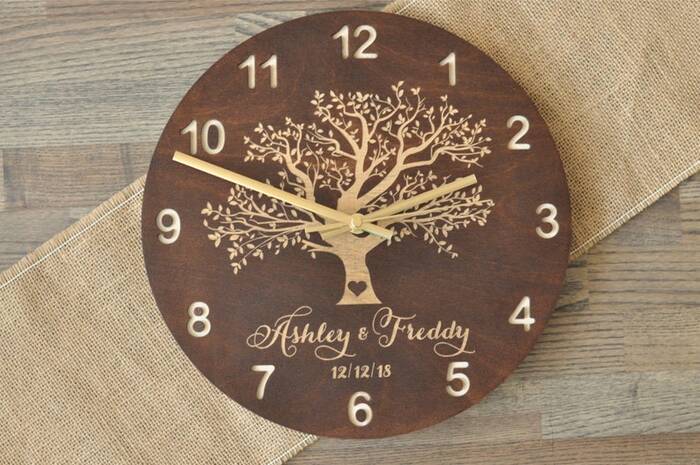 23. Coffee Gift Set
Makes you feel like you can take on anything. This coffee basket is a wonderful way to show your parents how much you care. They'll know you care about them when they take a drink of this fine coffee during a peaceful moment.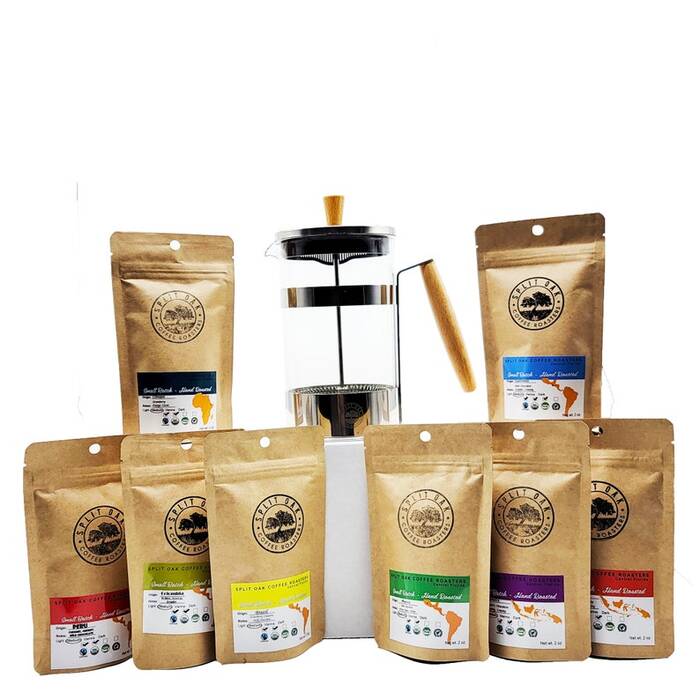 >>> Maybe you're interested: Best 33+ Thoughtful Wedding Gifts for Second Marriage 2022
24. Love Language Card Game
Any relationship can benefit from learning each other's love languages. With 150 thought-provoking questions spanning a wide range of topics, the newlyweds can have a unique kind of date. Each partner is given a card with a question on it, and they must choose from one of the five available categories to answer the question on the card.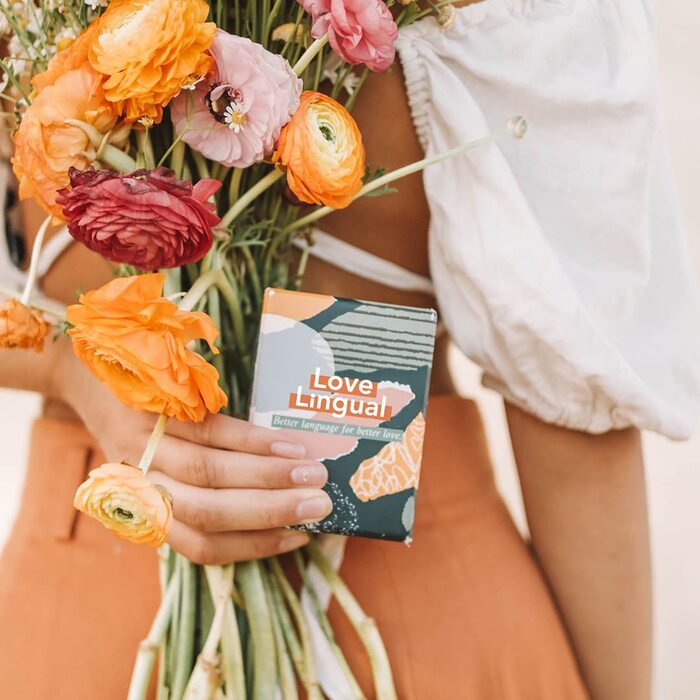 25. Engraved Photo Crystal
Photographs of their children are always sought after by their parents, and this is no exception. You can engrave a photo of your family wedding photo, your wedding day, or a personal memory. Because they come in a variety of sizes, you may pick the one that best suits their desk or table. Your parents will be amazed by these wine barrels as wedding gifts for parents.
26. Mom and Dad Tumblers
This tumbler set is likely to be a hit with both mom and dad. It's a considerate wedding gift from child to parents that they'll love. You can give it to them on its alone, or you can include it in a gift basket with other goods they'll love, like coffee or tea. Reusable straws are included with these stainless steel travel tumblers, which also feature double-wall vacuum insulation.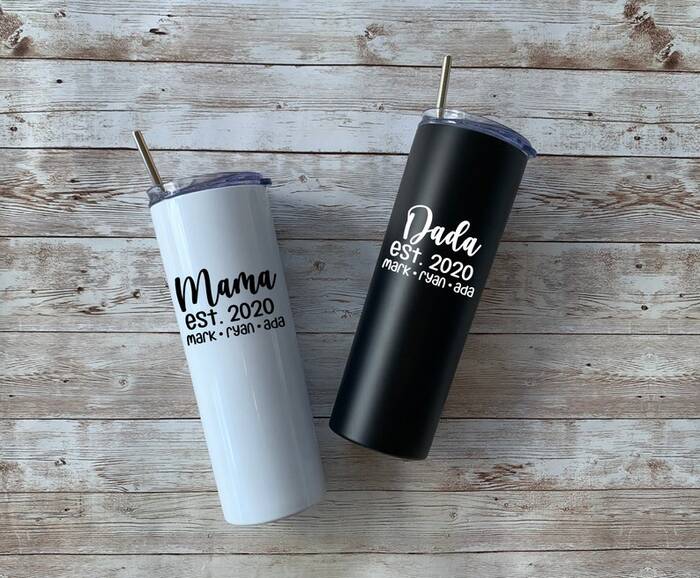 27. Hand Casting Set
A do-it-yourself package for creating a unique keepsake for your parents at home. It comes with a user manual that is illustrated with photographs and diagrams. The unique recipe for casting recreates the couple's hands down to the tiniest of details. The components are non-toxic and safe for use on the skin. To begin, a hand mold must be made, a process that takes no more than three minutes. An hour later, the cast is completed.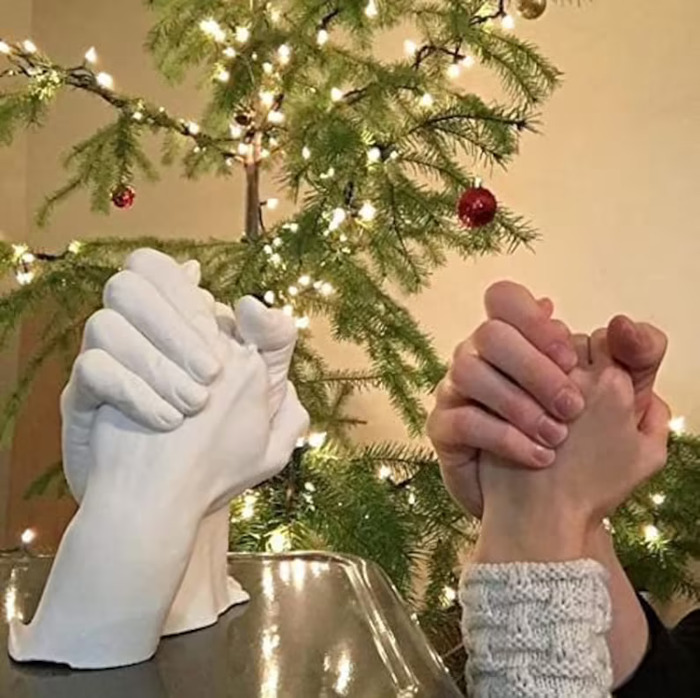 28.
Sushi Making Kit
In 2022, we were all reminded that we need to learn how to cook our favorite cuisine. This sushi-making date night kit is a great way to spend an evening with your significant other and learn a new skill at the same time. Everything you need to get started making sushi is included. For couples with young children, I'm sure they'd gladly let you babysit so that they could enjoy their date night without having to worry about the kids.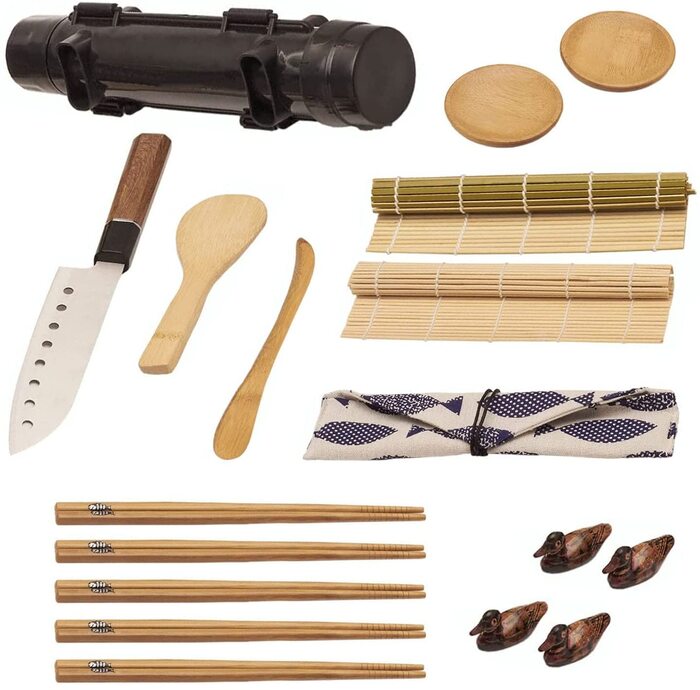 29. Cookware Set
A brand-new cookware set is the ultimate expression of my affection for you (and your cooking abilities). Cookware made of hard-anodized aluminum is more durable than stainless steel because of its solid, non-porous, and extremely wear-resistant shell. Because no oil or butter is used, the food is healthier, and cleaning is a breeze. It is really an appropriate gift for the mother of the bride, you should try it.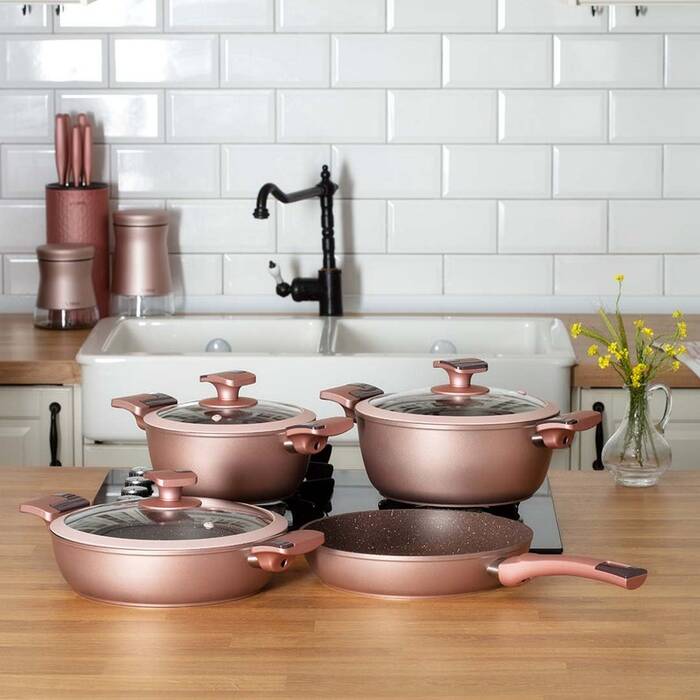 30. Personalized Picnic Table
This is the cutest thing we've ever seen! With this foldable picnic table, your parents may relive their adolescent years by escaping to a secret location for some alone time. For a bottle of wine and some nibbles, it's the perfect size The name and anniversary date of your parents can be laser engraved on the sideboard. Isn't it the best? Allowing them to take their feast with them wherever they go is made possible by this ingenious folding table.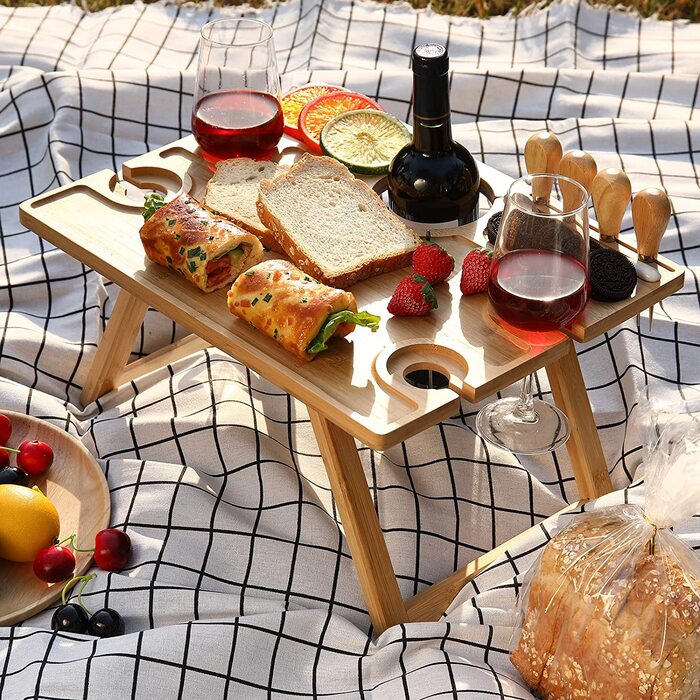 31. Customized Wind Chimes
Not only do these silver wind chimes have a stunning appearance, but they also produce a fantastic sound! The paddle can be personalized with the names of your parents and their wedding date for a unique keepsake.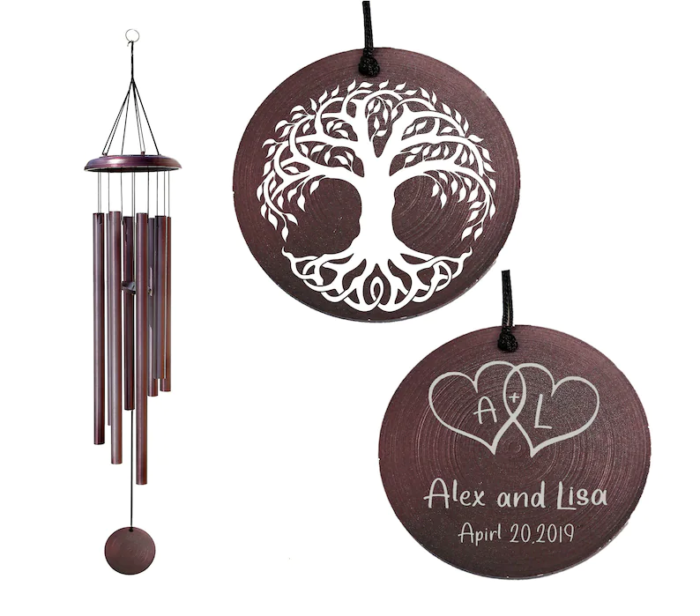 32. Organic Herbs Gift Set
Parents who enjoy cooking together may appreciate these organic herbs set, which includes olive oils with flavors such as garlic, lemon, chili, and basil. These herbs set is a thoughtful wedding gift you should consider.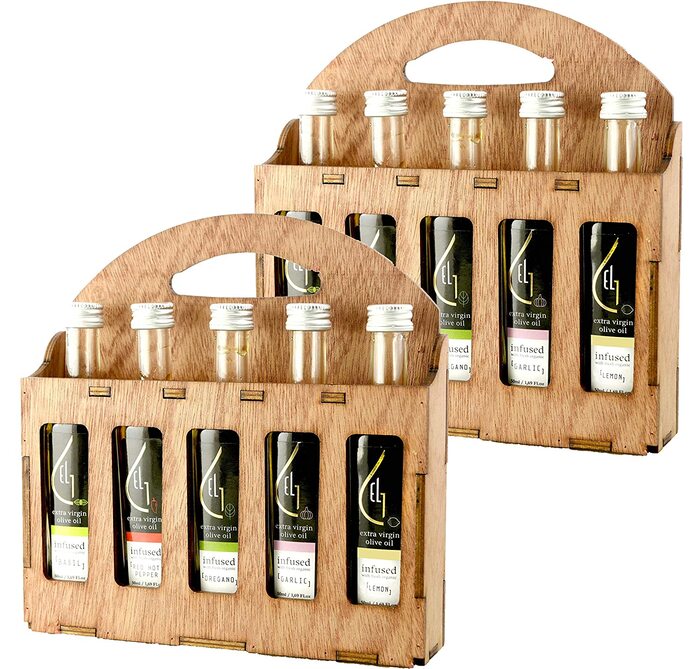 33. Sealing Stamp Makers
Email may be taking the place of handwritten letters, but this sealing wax kit could bring the lost art form back to life. Your own personalized monogram will soon appear on all of the thank you note that the happy couple sends out to guests.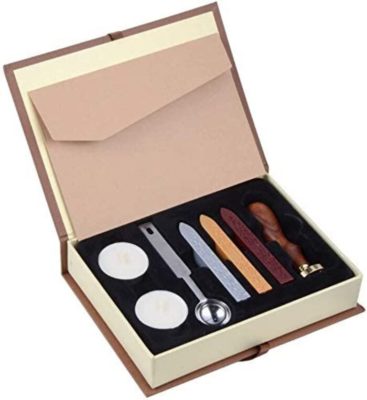 34. Embroidered Bath Towel Set
Look no further if you're looking for functional wedding gift ideas for parents without going overboard. Consider this monogrammed, three-piece bath towel set. In addition to the monogram, you can choose the thread color for the monogramming.
35. Neck and Back Massager
Your parents deserve a little pampering after all the time and effort they put into raising you. To make up for all the times you've been a literal and metaphorical pain in the neck, give them this back and neck massager.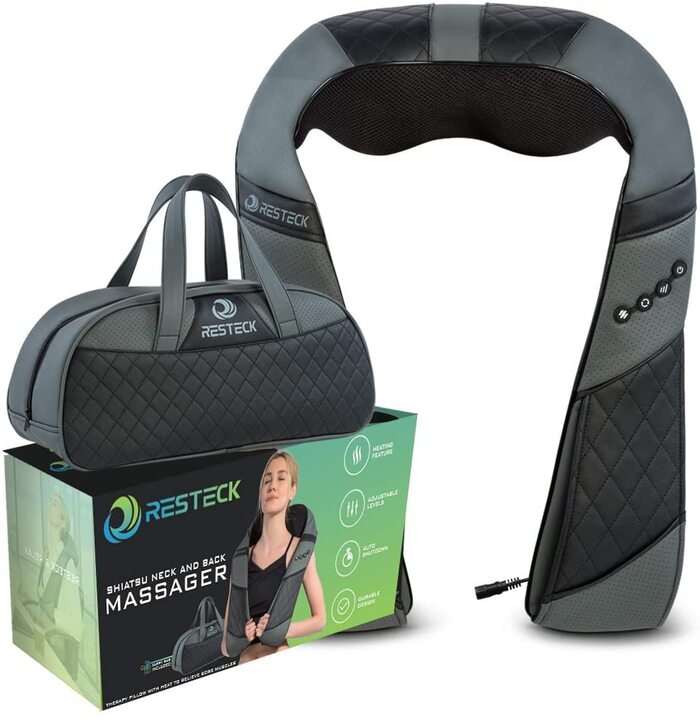 Sweet Personalized Wedding Gifts For Parents
36. Custom Welcome Mat
How parents can make anyone feel at home in one of the most wonderful things about them. With a custom-made mat that's as welcoming as the people who live there, you can help yours freshen up their front door. It's a lovely wedding gift from child to parents that they'll treasure for a lifetime.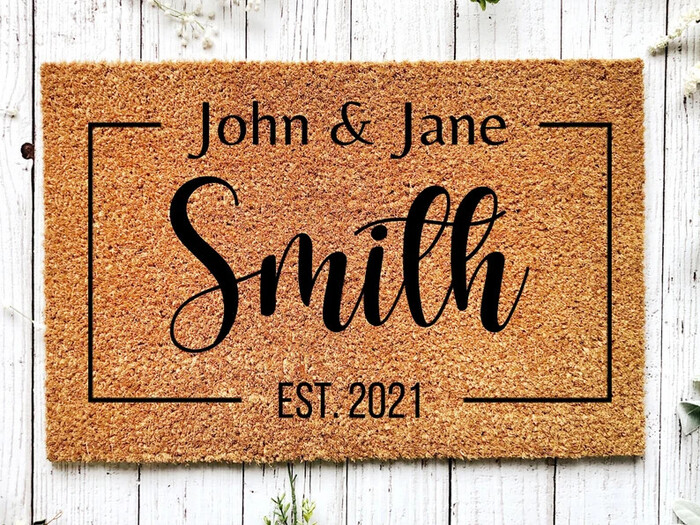 37. Family Tree Serving Bowl
With personalized gifts for mom and dad, this family tree serving bowl is something she'll use again and again. She'll be able to bring it up at family dinners or one of her spectacular dinner parties and make it a talking point.
38. Personalized Family Mugs
Isn't it true that everyone has a favorite mug? What if, instead of buying generic ones from the store, you had them personalized? Your mug will never be stolen again with the cartoon images of your family members printed on these lovely mugs.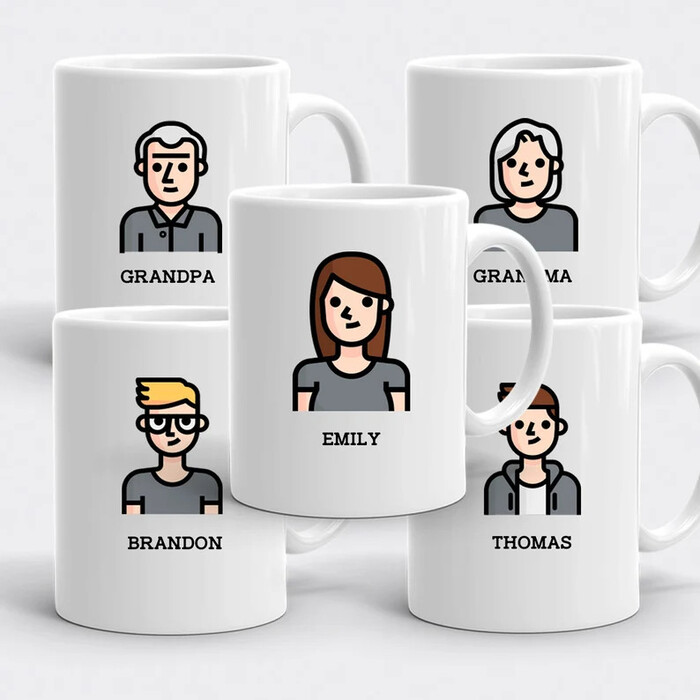 39. Leather Key Chain
Your parents will appreciate a personalized leather key chain for their car and house keys. Make a classic and effortless impression with this leather keychain. You can also add a personal message to the backside of the ring. With this thoughtful present, they'll never lose track of their keys again.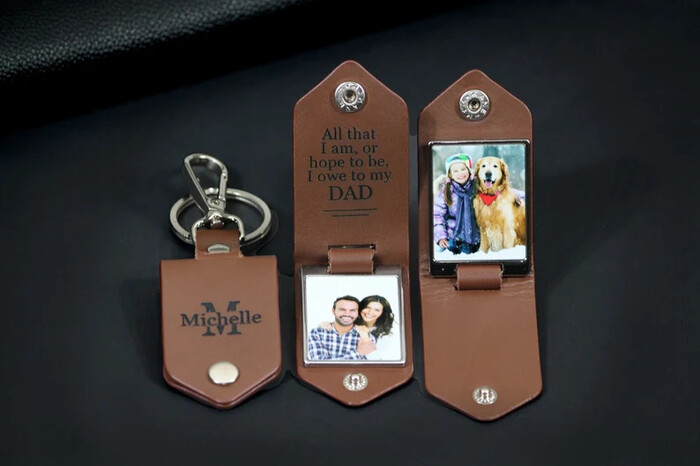 40. Wine Decanter Set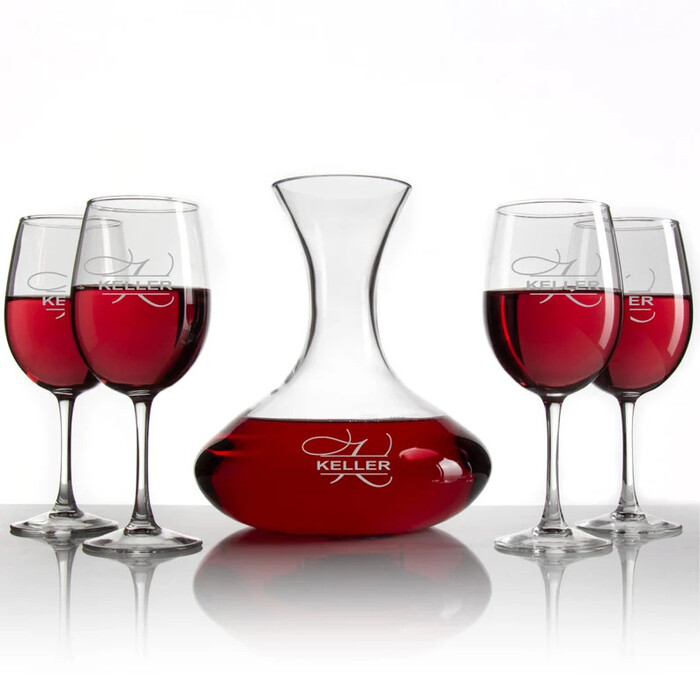 Wine decanter sets are a great gift idea for your parents who enjoy a glass or two of wine now and then. This chic glass carafe not only looks great at a dinner party but also holds full-bodied wines well.
41. Mom Wine & Dad Beer
In honor of your parents, you can celebrate them with a personalized wine and pint glass set, no matter what the occasion. To show how much they mean to you, their glasses are engraved with sweet, loving messages.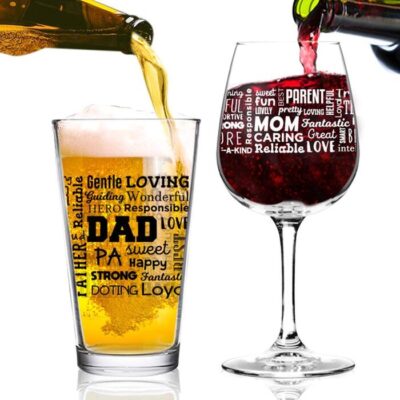 42. Custom Photo Coasters
What every mother has said at some point is "Use a coaster!" Rather than forcing your father to hide the watermarks on the table, why not give your parents an anniversary gift that will please your mother, honor your parents' love, and prevent your dad from having to hide them? You win, you win, and you win. These adorable custom photo coasters, feature a polaroid icon design printed with your favorite photos and custom captions, are excellent gifts for parents on wedding day.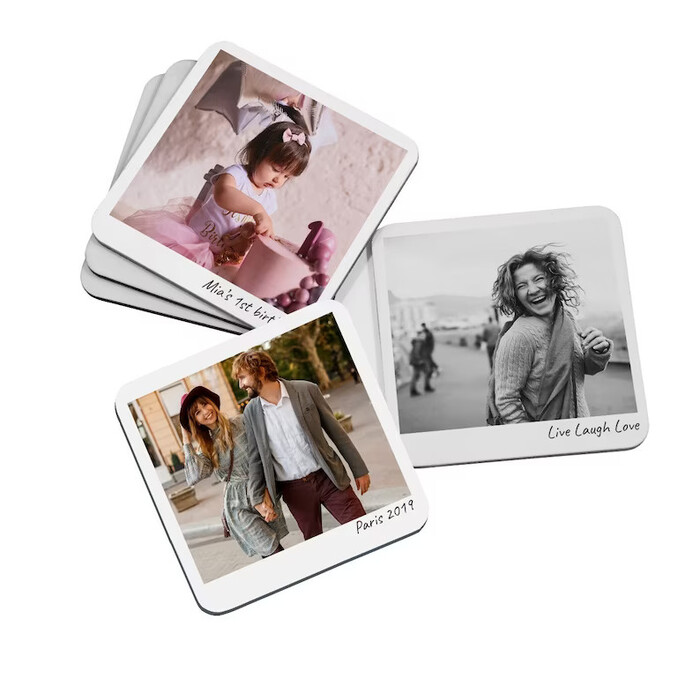 43. Customized Photo Clock
Isn't this a beautiful way to show your parents how much you care about them? The lovebirds will be reminded of how quickly time flies when they're having fun with this personalized wooden clock in their living room.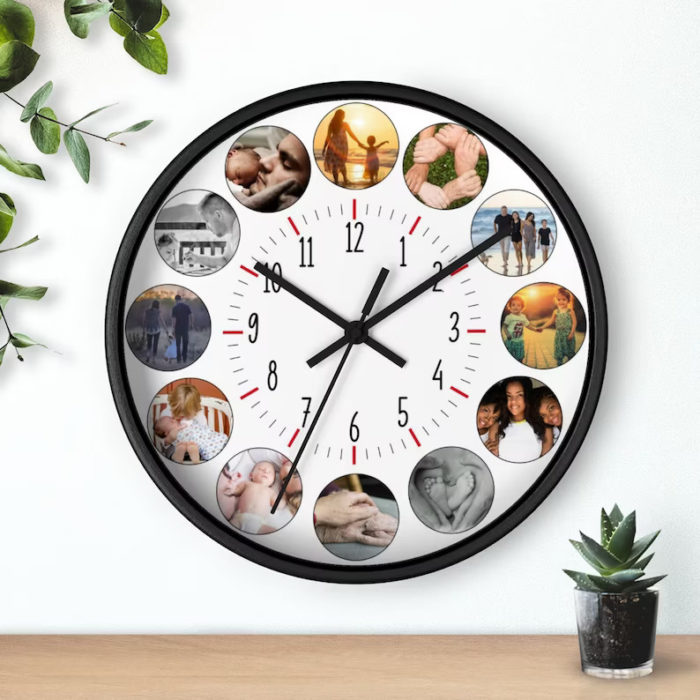 44. Ceramic Tea Set
It's a great idea to get your parents a handmade tea set if they prefer tea to coffee. They'll be overjoyed to receive this thoughtful wedding gift from you to their parents.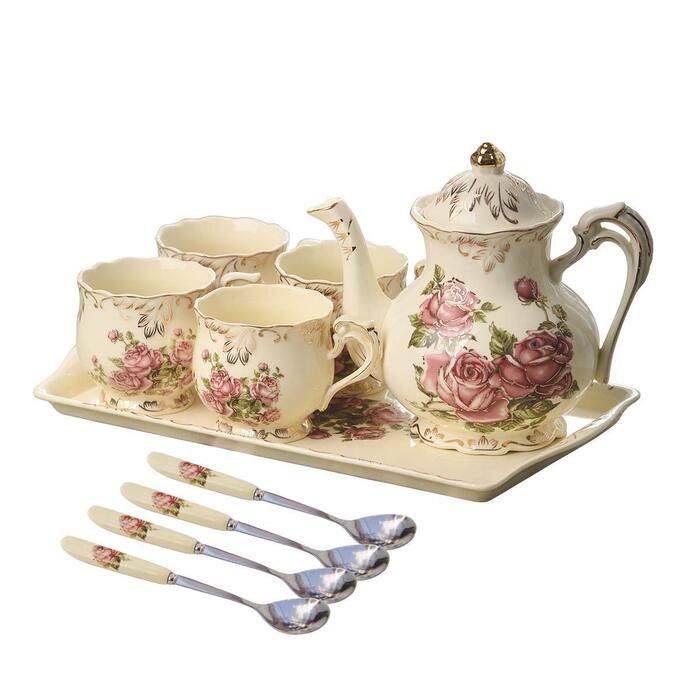 45. Photo Blankets
This is one of the best-personalized gifts for parents who already have everything. At first glance, they'll be speechless by these eye-catching, high-quality blankets. Photos of your childhood, family gatherings, grandchildren, or pets look great on this display.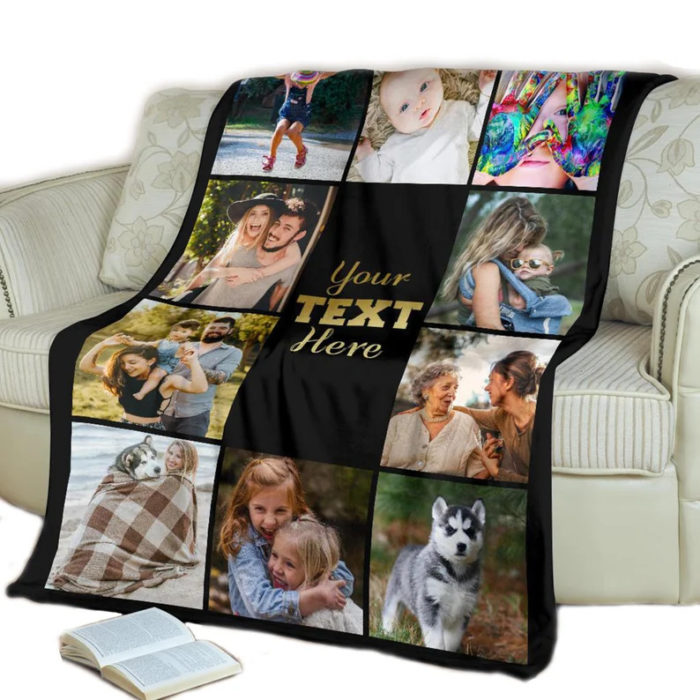 FAQ about Wedding Gifts For Parents
How can I surprise my parents?
1. First, say "I love you."
2. Write them a letter.
3. Put paper hearts or smileys in a jar or shoebox.
4. Cleaning your parents' house will delight them.
5. Cook dinner and then tidy up.
6. Make a point of calling them once a week.
7. Send them a care gift including their favorite candies and snacks from childhood.
8. Send a touching story or article to a parent.
What do you get parents that have everything?
1. e-Gift Certificates & Gift Cards
2. Customized Pillows
3. Plant Pots
4. Personalized canvas art
5. Personalized doormat
6. Foot Massage Shoes
7. Basket of Cookies
8. Mini Photo Printer
9. Set of wine decanters
What is the best gift for mom and dad?
1. Family Love Canvas Print
2. Family Tree Canvas
3. Mug for the Whole Family
4. Shoulder Relief Pillow System
5. Scented Candle
6. Foam Pillow
7. Sanitizer for Smartphone
8. Fitness & Sleep Tracker
9. Paperwhite Kindle
10. Set of Spa Gifts
How much to spend on parents' gifts?
Aim for something sentimental within your budget, whether it's $50 per person or $100 for a pair. Thankfully, there are thoughtful gifts available in practically every price range. Also, a handcrafted or handwritten present, such as a meaningful note or a charming thank-you poem, is quite fine.
>>> Read more:
Hopefully, the following 34 ideas for wedding gifts for parents will assist you in finding the best present for this special occasion! If you are still wondering where to buy attractive artworks for gifts, we guarantee our canvas paintings will be an item to solve your problem. You can visit some of our best-sellers.